Oyster sauce vs oyster flavored sauce. Some say that they're basically the same. Others insist that there's a distinction in their quality. But what's the right answer?
In today's article, let's pit oyster flavored sauce against oyster sauce to see whether the differences between them really matter. In addition, I'll also include some good oyster sauce brands and substitutes, so make sure to read the post till the end.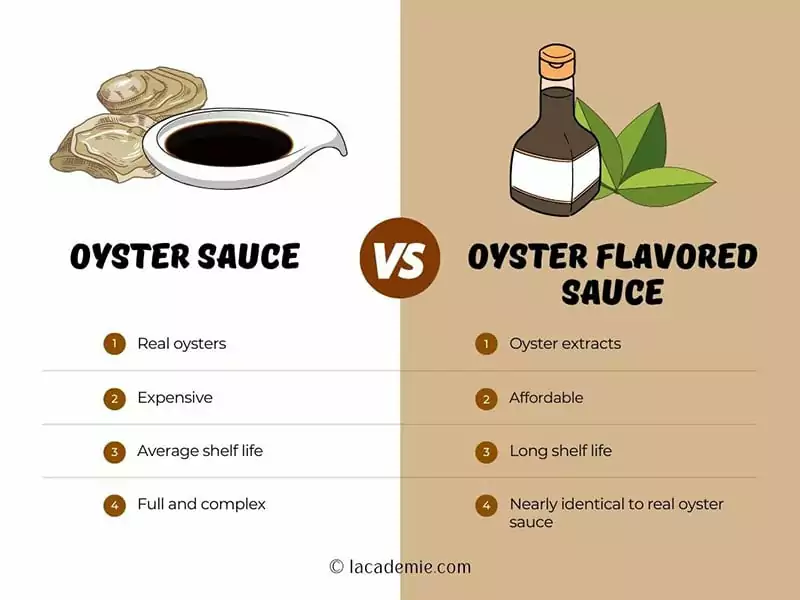 What Is Oyster Sauce?
Let's start with some basic information about oyster sauce – the "real" one, I mean.
Oyster sauce is a commonly used condiment in Chinese, Thai, Vietnam, Malay, and Khmer cuisine. It's dark brown to black in color and has a thick and syrupy consistency.
Lee Kum Sheung – a man living in Guangdong Province, China, is widely believed to be the father of this famous sauce. Lee used to make a living by cooking and selling oysters at his food vendor.
The story goes that on one day in 1888, Lee coincidentally let a batch of oysters cook for too long. To his surprise, the overcooked oysters' broth then turned into a gooey, flavorful sauce.
In the end, Lee didn't get to sell the oyster like he meant to initially. Instead, he ended up with the now well-loved oyster sauce. This sauce also helped him found his first company – Lee Kum Kee, which over time became a giant in the condiment industry.(1)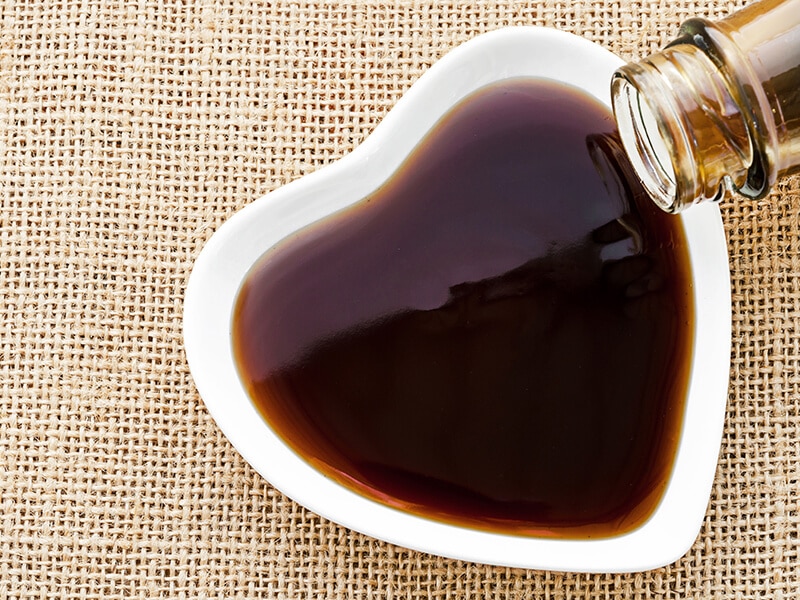 True oyster sauce is supposed to be made precisely like how Lee originally did it: boiling tasty kinds of oysters for hours on end until the broth caramelizes into a thick, dark sauce.
You can often find "real" oyster sauce in good Asian markets. Oyster sauces made by the traditional method will have the best quality and a rather steep price tag.
To make the sauce more affordable and fit for mass manufacturing, most modern oyster sauces are made in a different way, resulting in the so-called oyster flavored sauce.
Learn how to make oyster sauce the traditional Chinese way. Watch this video to know:
3 Reasons Why People Love Oyster Sauce So Much
One of the biggest reasons for oyster sauce's popularity is its incredible taste. This sauce is an umami powerhouse with a caramel-like sweetness and savory flavor that's subtly reminiscent of its seafood roots.
There's still more to learn about the flavor of oyster sauce, but I think that's enough to give you a rough idea.
Although this sauce is not very aromatic, it still possesses a crowd-pleasing fragrance. Thanks to its non-offensive smell, the shellfish sauce is an excellent choice for an array of recipes.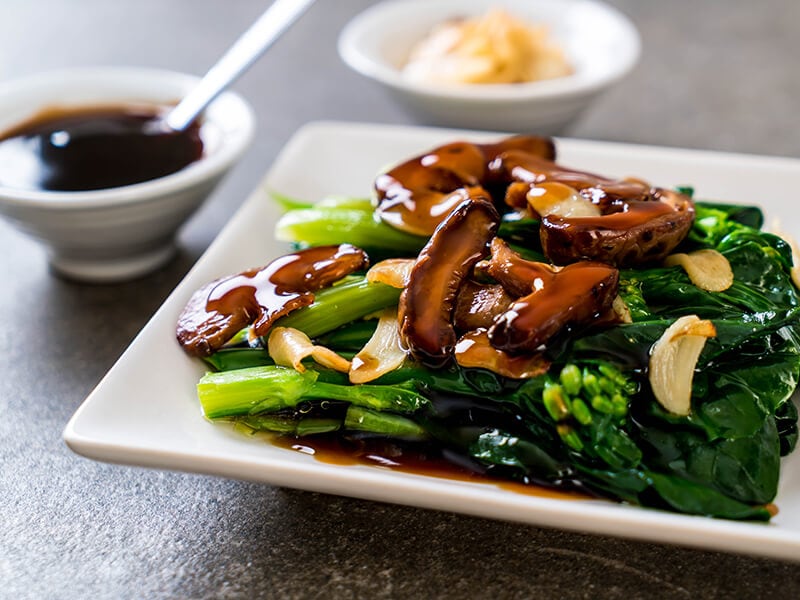 You'll frequently see it in many Asian stir-fried recipes, meat or fish marinades, and even soups or braises. Oyster sauce can also be used straight out of the box to drizzle on vegetables or as a table condiment.
Outstanding taste, pleasant smell along with extreme versatility, what not to love about oyster sauce?
What Is Oyster Flavored Sauce?
As mentioned above, oyster flavored sauce was created as a cheaper version of true oyster sauce. To achieve this, sauce-making companies certainly have to cut some corners. In this case, actual oysters are replaced with oyster extracts or essences.
The extracts will be mixed together with salt, sugar, and soy sauce. Cornstarch and caramel color are also added to give the mixture the right thickness and a deep color.
The result of this process is a sauce with a flavor profile, consistency, and color that's nearly identical to the real oyster sauce but takes much less time and money to make.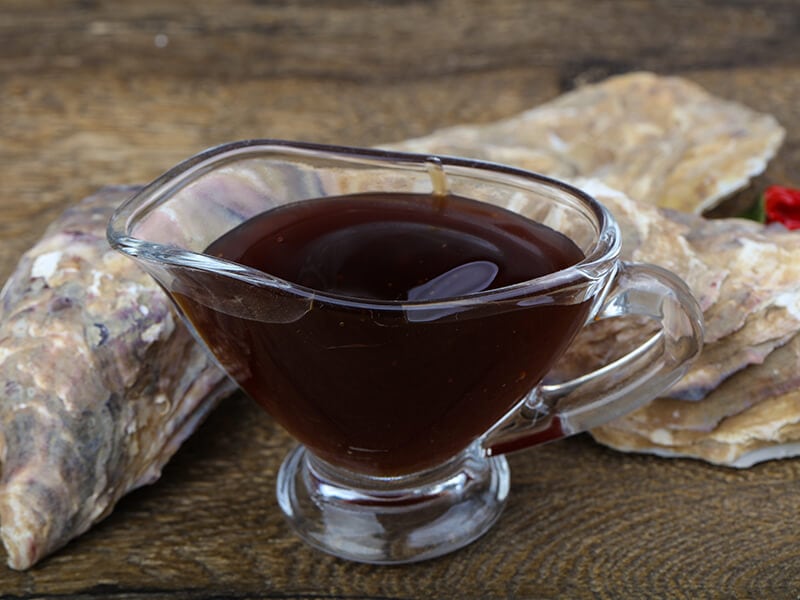 Oyster Sauce Vs Oyster Flavored Sauce
Now that you know how oyster sauce and oyster flavored sauce are made; let's get to the most important question: is the gap between them really that big?
| Characteristics | Oyster sauce | Oyster flavored sauce |
| --- | --- | --- |
| Main ingredient | Real oysters | Oyster extracts |
| Price | Expensive | Affordable |
| Shelf life | Average shelf life | Long shelf life |
| Flavor | Full and complex | Nearly identical to real oyster sauce |
The first thing you'll notice is the difference in price. True oyster sauce will typically be more expensive than oyster flavored sauce. This is because oyster sauce uses real oysters and requires more time to cook.
However, the flavored sauce will last longer compared to the standard shelf-life of oyster sauce as it includes more preservatives. Depending on the storing condition, oyster flavored sauce shelf life can be as long as 2 years after opening.
Traditional oyster sauce is considered the superior-tasting one as its flavor is fuller and more complex. However, you'll have to be more meticulous when using it in cooking, as the authentic oyster sauce can taste a little overwhelming if overused.
Oyster flavored sauce is meant to mimic the taste of the genuine one, and it does an outstanding job of that. While it's true that the flavored one isn't on the same level as the organic oyster sauce in terms of flavor, most people won't even notice the difference.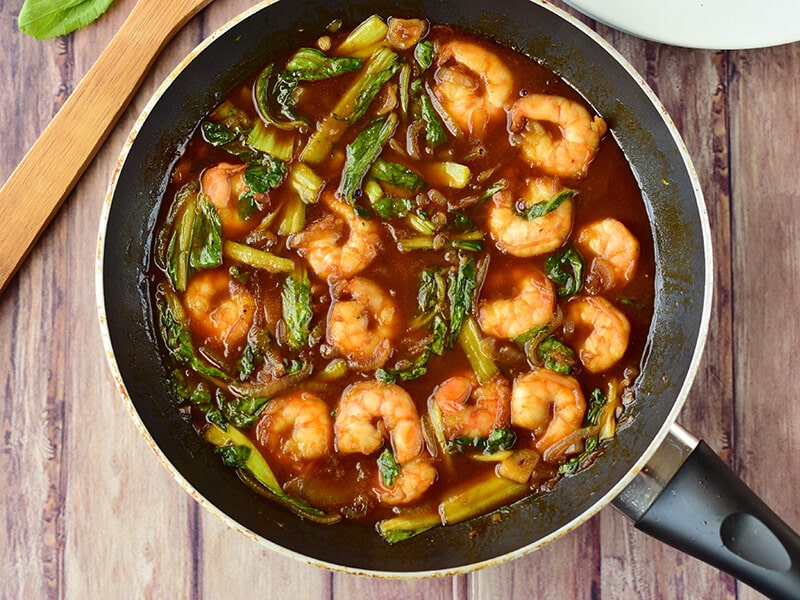 You'll have to be a bit mindful when buying oyster flavored sauce, though, as some brands use chemical-made oyster flavoring instead of natural oyster extracts.
To prevent you from accidentally getting the lower-quality type, I'll leave some oyster sauce recommendations in the next section so keep scrolling.
The Best Oyster Sauces To Buy
As promised, here are 5 of the best oyster sauces the market has to offer. If you're wondering which brand to buy from, you can't really go wrong with any of these sauces.
Lee Kum Kee premium oyster sauce is a product of the company founded by the father of oyster sauce himself, so there's no surprise that it has top-notch quality. The sauce contains 40% oyster extract and is revered for its rich taste and thick consistency.
It's a bit on the pricey side, though, so if you're looking for a cheaper option, you can opt for the Lee Kum Kee Panda Brand oyster sauce, which has about 11% oyster extract.
Maekrua is one of the most beloved oyster sauce brands today, and for good reasons. Thanks to its high oyster extract content (about 30%), this sauce has a full and deep taste. It's also MSG-free, which is a big plus for many people.
Megachef oyster sauce got its complex, smoky flavor from the large, fresh oysters caught in the Gulf of Thailand. This sauce is among the purest oyster sauces you can buy as it contains no MSG, gluten components, artificial flavorings, or added preservatives.
Is there a way to enjoy oyster sauce if you're a vegan or allergic to oysters? Well, if you're asking that question, then VegeCyber vegetarian mushroom oyster sauce is what you need.
Although it is made from mushroom extracts, this sauce boasts an incredibly oyster sauce-like taste and consistency.
You can also make your own vegan oyster sauce by following this video:
Wok Mei oyster sauce strikes a great balance between price and quality. It provides an affordable answer to the question of whether oyster sauce can be gluten-free or not and is also quite flavorsome.
No Oyster Sauce? Try These Alternatives Instead!
Everyone knows that oyster sauce is great for cooking, but what to do if you run out of oyster sauce? Well, the most obvious answer is to go get a new bottle, but it's not always that simple.
In those situations, you can turn to the following condiments for a fitting oyster sauce alternative.
| | |
| --- | --- |
| Oyster sauce alternatives | Substitution ratio |
| Soy sauce | Half the amount as oyster sauce |
| Worcestershire sauce | The same amount as oyster sauce |
| Hoisin sauce | The same amount as oyster sauce |
| Kecap manis | Half the amount as oyster sauce (increase based on taste) |
| Mushroom stir fry sauce | The same amount as oyster sauce |
| Fish sauce | A few drops equal the necessary amount of oyster sauce |
| Black bean paste | The same amount as oyster sauce |
Soy Sauce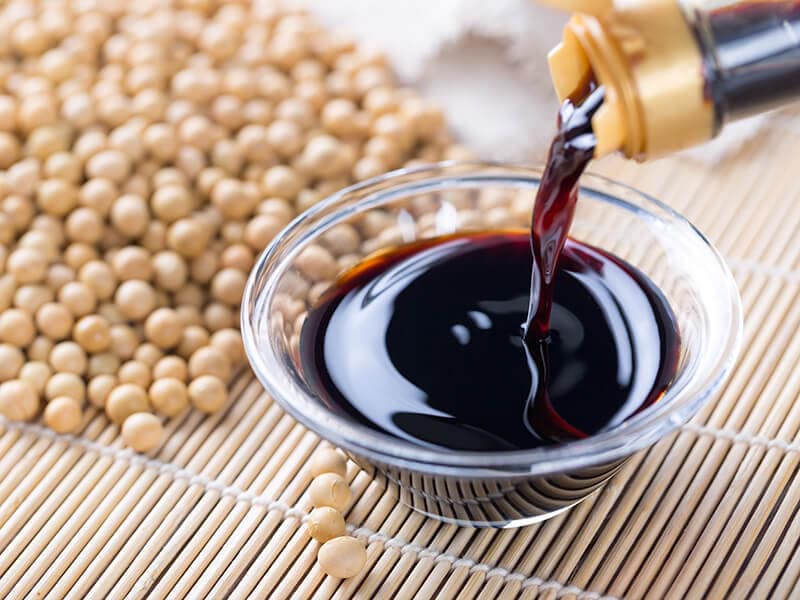 Soy sauce offers the same umami punch that oyster sauce is known and loved for, which is why you can use it effectively as an oyster sauce alternative. However, it's more salty and liquidy than the shellfish sauce.
Compared to oyster sauce, soy sauce has a much longer shelf life, which means you almost never have to think about matters like can soy sauce go rancid. And if you remember to store soy sauce in the fridge after each use, your soy sauce will always taste like day one.
To shorten the flavor gap, try adding a little sugar and mix well. This should give the soy sauce more sweet notes and bring down the saltiness a bit.
For soy sauce, you should use about ½ the amount of oyster sauce needed.
Worcestershire Sauce
Worcestershire sauce is a dark brown condiment with lots of umami flavor. It also has a sweet-sour taste and a dense consistency that's quite similar to oyster sauce.
However, it's a little lacking in the salty department. To make up for this, you can mix it with some soy sauce and sugar.
If you're one of those people who wonder if Worcestershire sauce can spoil, rest assured. It's one of the few sauces with the longest shelf-life out there.
If you want to use Worcestershire sauce to replace oyster sauce, do so in a 1:1 ratio.
Hoisin Sauce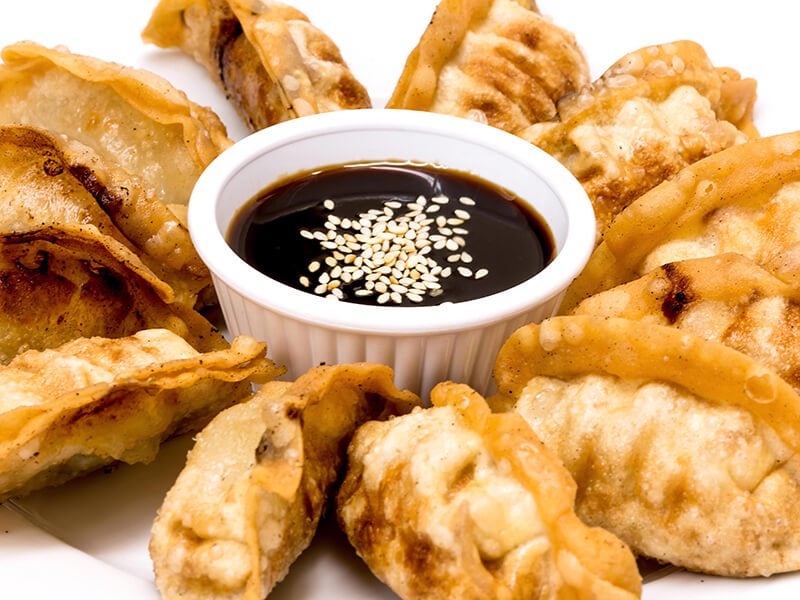 Hoisin sauce has the same sweet and salty flavor profile as oyster sauce, making it a suitable replacement.
The main differences between hoisin sauce and oyster sauce lie in their sweetness level and texture. Fortunately, there is a way to shorten these gaps.
To create a more oyster sauce-like flavor, blend hoisin sauce with an equal amount of soy sauce. Doing this will increase the sauce's salty traits while reducing its sweetness.
After mixing, feel free to use it as a 1 to 1 substitution for oyster sauce.
Kecap Manis (Sweet Soy Sauce)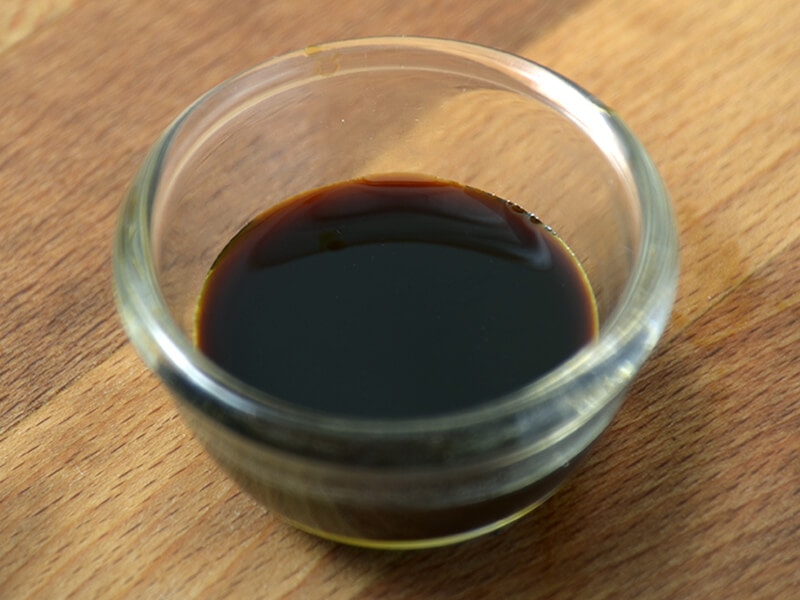 Kecap manis is a sweet soy sauce of Indonesian origin. It's thick, syrup-like in texture and, as the name implies, is very sweet thanks to the generous use of palm sugar.
If you want to use sweet soy sauce as an oyster sauce stand-in, you should start with ½ the amount of oyster sauce required. If you don't mind the potent sweetness, you can add a little more. Just be careful not to overdo it.
Mushroom Stir Fry Sauce
Mushroom stir fry sauce makes an excellent substitution to vegetarian oyster sauce since they're both made with mushrooms or mushroom extracts.
Other flavor enhancers and cornstarch will usually be included in the sauce, which makes it all the more similar to the oyster-based condiment.
To utilize mushroom stir fry sauce as an oyster sauce alternative, simply use the same amount.
Fish Sauce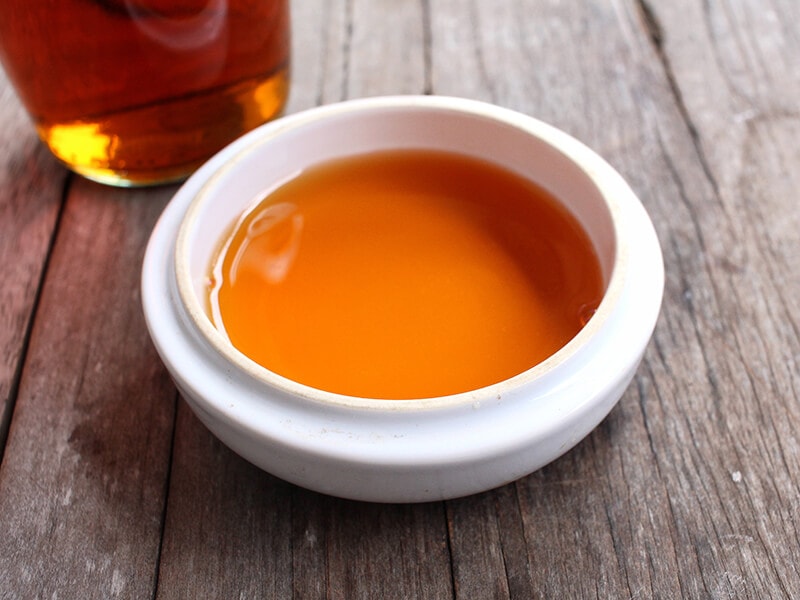 Fish sauce is made from raw or dried fish and is very intense in both taste and smell. It has a watery consistency and amber color. These characteristics are some of the reasons why fish sauce is quite different from oyster sauce. However, with the right amount, you can still use it in place of oyster sauce.
Due to its pungent nature, a few drops of fish sauce is more than sufficient to replace oyster sauce in stir-fry and deep-fry recipes.
Black Bean Paste
Black bean paste is mostly known as an essential ingredient for the tasty Jajangmyeon (Korean black bean paste noodles). This thick paste has a dark color, rich, savory taste, and a neutral smell. In other words, it makes a perfect replacement for oyster sauce.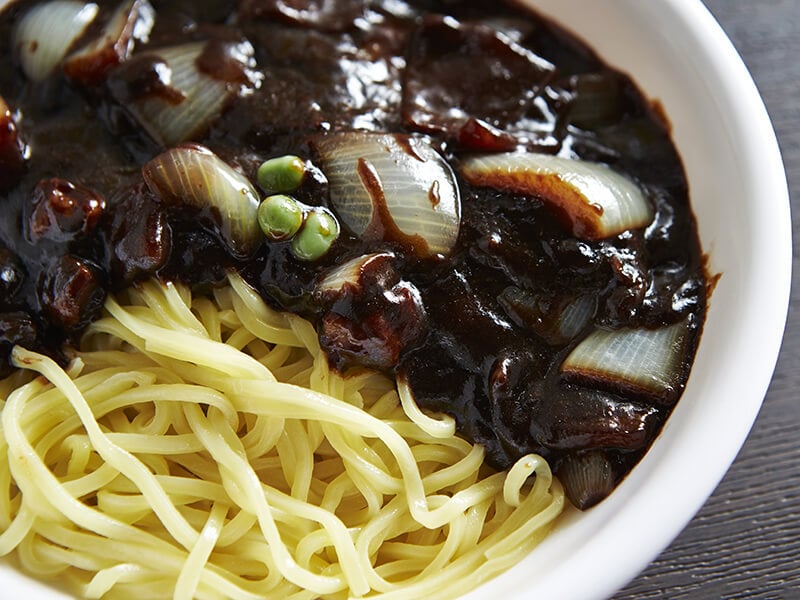 If you want the paste to have more sweetness, try mixing it with some sugar and the mushroom stir fry sauce mentioned above.
For black bean paste, use the same quantities of oyster sauce that the recipe calls for.
Making black bean paste is simple and you can do it right at home. Watch this video:
FAQs
Below are the answers to some of the most frequently asked questions regarding oyster sauce and oyster flavored sauce. If there is something more that you want to know, chances are you will find that information here.
The Best Oyster Sauce Is What You Have At Hand
You can't turn a good dish into a bad one by using oyster flavored sauce. Likewise, even the purest of oyster sauce won't be able to salvage a lousy meal. In the end, your cooking skill is what matters the most so don't be too fixated on getting the most authentic sauce
Can you differentiate real oyster sauce from oyster flavored sauce? Comment your answer down below. It'll also be a big help if you can leave this post a like and share it with your loved ones.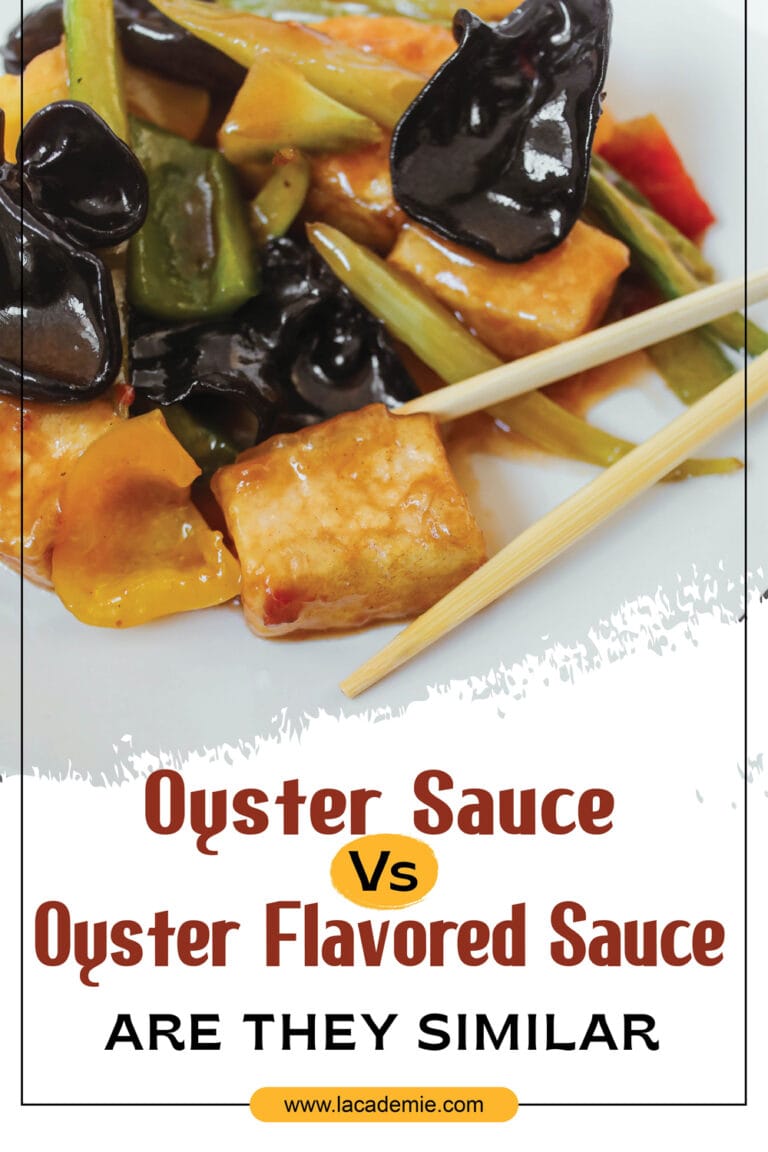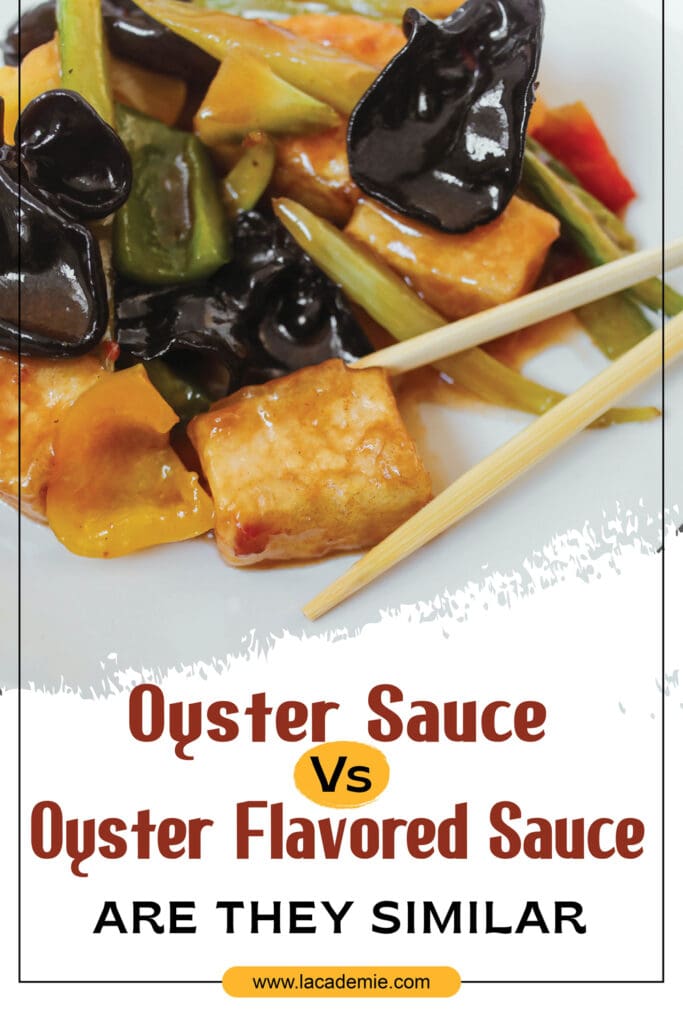 References
Contributors to Wikimedia projects, (2005). Oyster sauce – Wikipedia.