Are you struggling with how to thicken teriyaki sauce? For this Asian deliciousness, having the right consistency is as important as the taste. The sauce should be thick enough to integrate all the flavor and give a glossy glaze to the foods.
The good news is there are multiple ways to thicken teriyaki sauce! Depending on your needs, your allergies, and what you have in the kitchen, you can always gather yourself and do it. So may I walk you through this article to get a better understanding!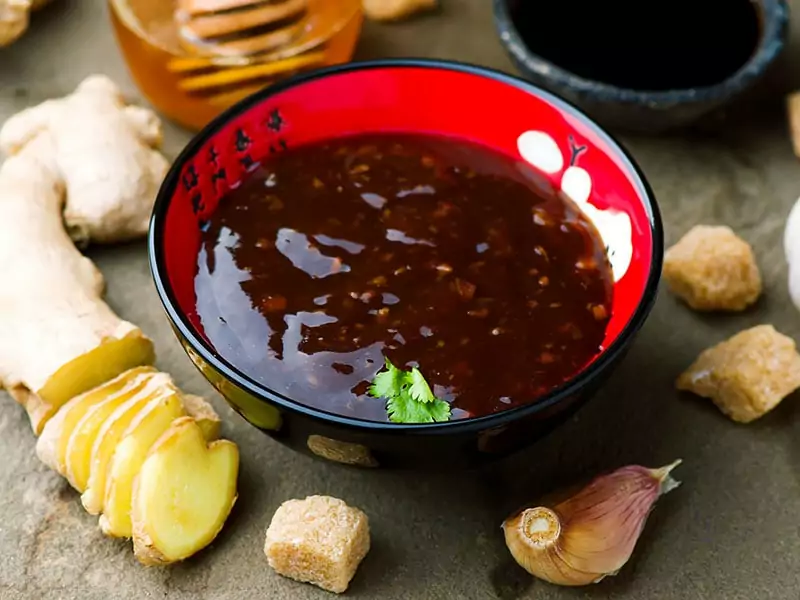 What Is Teriyaki?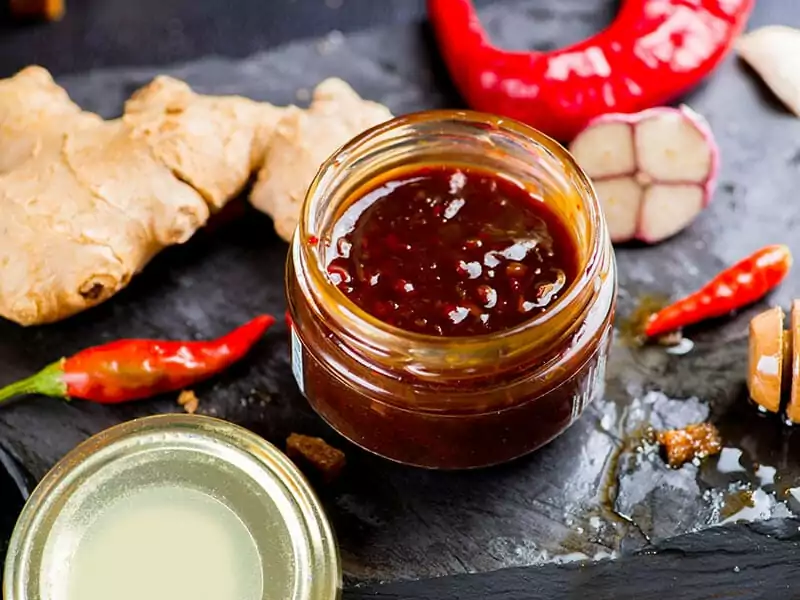 Nowadays, teriyaki has been well known as a delicious Japanese sauce, which can be used for dipping, spreading, or cooking. But the name is actually based on a traditional cooking technique.
"Teri" (照り) represent a thick and glossy mixture of soy sauce, sake, and sugar; while "yaki" (焼き) means broiled or grilled. When combined, teriyaki describes a cooking method; foods will be dipped first then glazed several times with the "teri" mixture during grilling or broiling (1).
You can find different recipes with multiple ingredients, which might affect the vegan characteristic of teriyaki sauce. Still, the original teriyaki only includes 3: soy sauce, brown sugar, and sake (which sometimes can be alternated by mirin for a sweeter taste) (2).
Teriyaki Sauce And The Marinade Version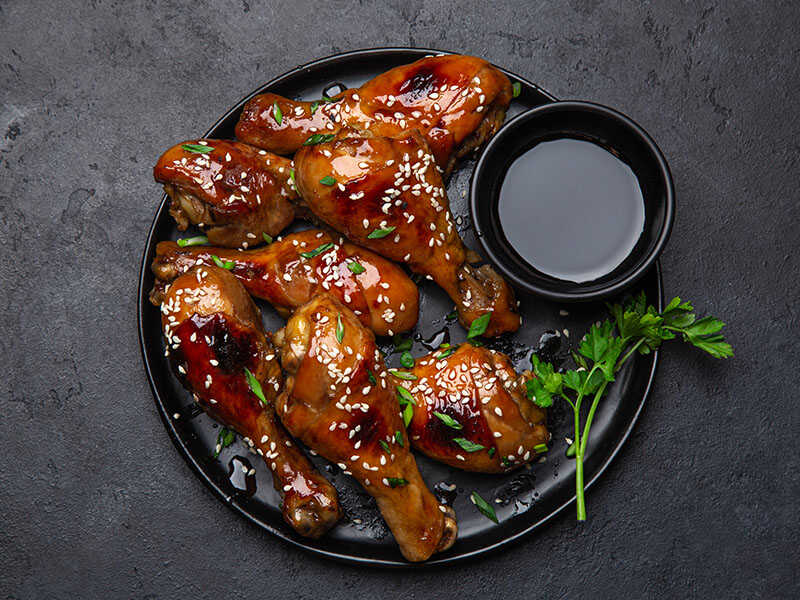 As for the meaning of the name, teriyaki is meant to be a thin mixture used for marinade or spreading grilled meat. The most common dish with this method is the teriyaki chicken, which usually comes with rice and fresh vegetables.
The sauce version needs to be thicker, not to be drippy when dipped. That's why we are here – to find out the best solutions for thickening lip-smacking and irresistible teriyaki sauce, so let's skip the chat and get right into the methods!
Thicken Teriyaki Sauce Without Affecting The Taste
Depending on your needs, there are multiple choices for thickening teriyaki sauce while maintaining its flavor. However, the consistency of the outcome mixtures will be different depending on the agent you've chosen.
Heat Method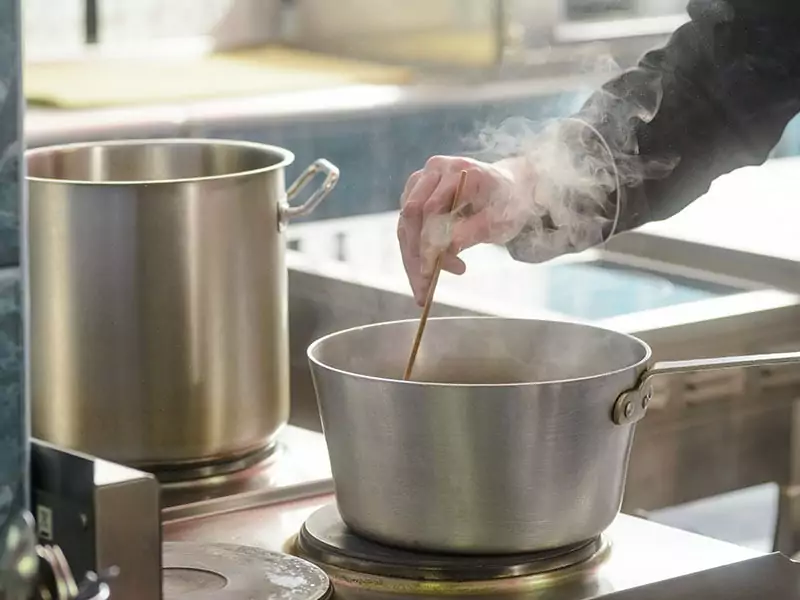 Heating is the traditional method for thickening teriyaki sauce. This method can apply to both homemade and store-bought teriyaki sauces. As it contains sugar in the mixture, the longer you leave your sauce on the heat, the thicker it will be.
Similar to any caramelized sauce, your teriyaki will get thicker as it cools down, so don't cook your sauce for too long, or you'll get a teriyaki candy. If your sauce is too thick, mix 1 teaspoon of water into it, and repeat until you get the consistency you're after.
However, it will take your time to do this method since the mixture should only be simmer, not boiled, to avoid burning the sugar. So if you want immediate enjoyment for your dishes, consider the following methods.
First Choice For Thickening Teriyaki Sauce: Cornstarch!
I would consider cornstarch to be the best thickening agent for teriyaki sauce, as the general flavor of cornstarch will not affect your sauce's flavor or color. And cornstarch will give a nice smooth consistency compared to other methods, such as using cornstarch swap-ins.
In fact, I'd say that cornstarch is also the best way to thicken the consistency of spaghetti sauce, baked beans, chili, and many other dishes that require thickening. So, if you ever feel like you're at a loss as to how to make your dish thicker, think of cornstarch first!
For homemade teriyaki sauce, you can measure cornstarch in your mixture before heating it, and the appropriate ratio is 4 tablespoons of flour for 1 cup of liquid.
But if you are still not happy with the thickness of your teriyaki or the store-bought sauce is too thin. Follow the instruction for the best thickness:
Step 1: Make A Slurry
Add cornstarch and water into a small cup with an equal ratio if you measure them by spoons.
Make sure that you're only using cold water for slurry, and use a fork to break lumps if there are any.
Step 2: Heating Your Teriyaki Sauce
Set your sauce on low heat to simmer; avoid boiling it.
Step 3: Add Slurry Into The Sauce
Mix your prepared slurry into the simmering teriyaki sauce spoon by spoon until you're happy with the consistency.
Step 4: Adjust The Consistency
Add a teaspoon of water if your sauce is too thick. Keep in mind that the sauce will thicken a little more when cooled down.
Step 5: Leave The Sauce On Heat
Allow your teriyaki sauce to simmer for at least 1 minute to excuse the corn flavor from your sauce.
If you worry about whether teriyaki sauce is free of gluten, cornstarch is one of the best choices since this ingredient contains zero gluten. You can also follow this instruction using alternate starch, including potato, arrowroot, rice, and tapioca. Arrowroot starch might be the best thickener for teriyaki, yet it's not an easy-to-find ingredient.
Watch this video to know more:
Baking Powder Method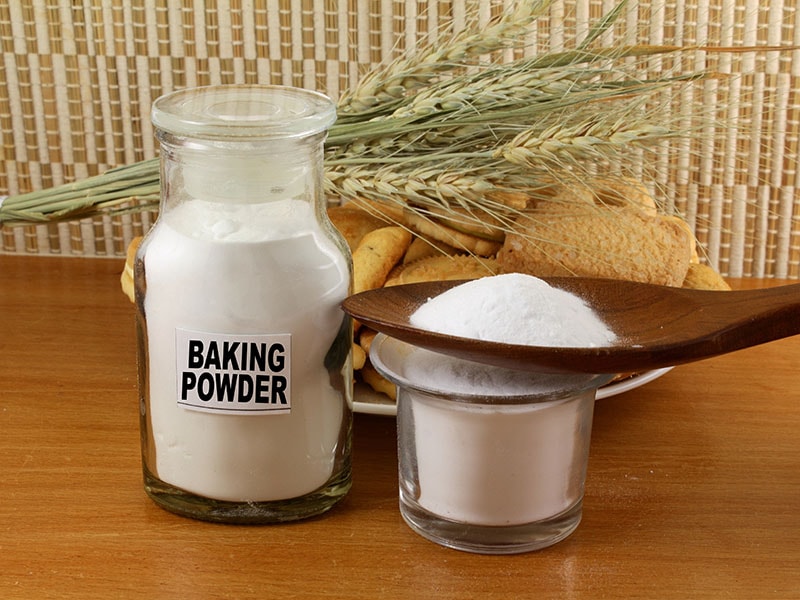 Though baking powder is more famous in baked goods and dessert making, one of the best ways to make the batter rise; you would be surprised to know that it's a useful thickening agent for teriyaki sauce as well.
Cornstarch and other starches can be less effective when thickening teriyaki sauce with acidic ingredients, such as lemon, vinegar, or pineapple juice. In this case, you will want to use baking powder instead, which can also neutralize the acid.
However, since the baking powder is pretty bitter and salty, you might want to be careful using it to avoid the unwanted taste. There's nothing worse than ruining your teriyaki sauce into a bitter dipping sauce.
Similar to the cornstarch method, you will have to make a slurry of baking powder before adding it into a simmering teriyaki sauce. If you're not satisfied with the consistency yet, make sure to taste your sauce before adding another spoon of slurry.
Thickening Teriyaki Sauce With Xanthan Gum
Xanthan Gum is an effective thickener for teriyaki sauce, even though just a pinch of xanthan gum can quickly bring your sauce to a gummy texture. Therefore, this instruction will be a bit trickier.
Step 1: Prepare A Mixture Of Xanthan Gum
The ratio for this method is half a teaspoon of xanthan gum for each tablespoon of hot water. Mix well until your mixture imitates a paste.
Step 2: Heat Your Teriyaki Sauce
On a pan, bring your teriyaki sauce to a simmering temperature.
Step 3: Add The Mixture In
Add a few drops of xanthan gum mixture into your teriyaki sauce. Then constantly stir it for at least 3 minutes.
Repeat this step until you're happy with the consistency.
Step 4: Remove The Lumps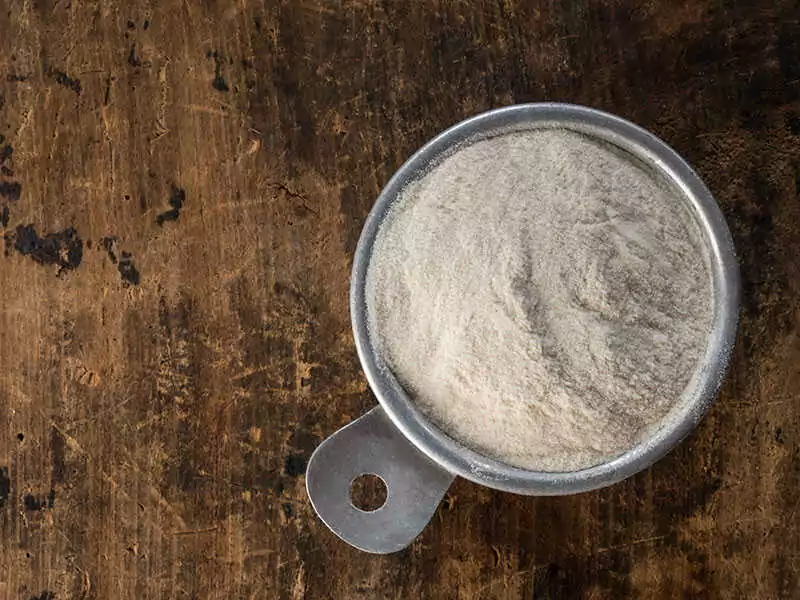 You can use a strainer to remove lumps from your teriyaki sauce, though I recommend using a blender for extra smoothness.
The three above methods are gluten-free options to thicken your teriyaki sauce without changing its taste. If you're not in hand with any of those three ingredients, continue reading to find the solutions.
Wheat Flour Method
Flour is likely a must-have in every kitchen. Though this thickening method is simple, it comes with some disadvantages, especially for teriyaki sauce:
Wheat flour contains gluten.
The resulting sauce will be milky.
The consistency will be pretty lumpy.
Last but not least, the common method is demanding butter, which will slightly change the taste of teriyaki sauce.
To avoid an alternating taste, you can use sesame oil instead since it can be used as an ingredient for extra tasty and glossing in the traditional teriyaki sauce.
So if you can't find any substitute thickener agent and don't mind the disadvantages of this method, here's the instruction for thickening teriyaki sauce with wheat flour.
Step 1: Cook The Flour
For the right thickness of teriyaki sauce, use 4 tablespoons of flour and an equal amount of oil for each cup of liquid. Heat the sesame oil in a pan first, then add flour.
Step 2: Make A Roux
Stir the flour on medium heat for 1-2 minutes to make a roux; it should look like wet sand at this stage.
Step 3: Pour In Your Teriyaki Sauce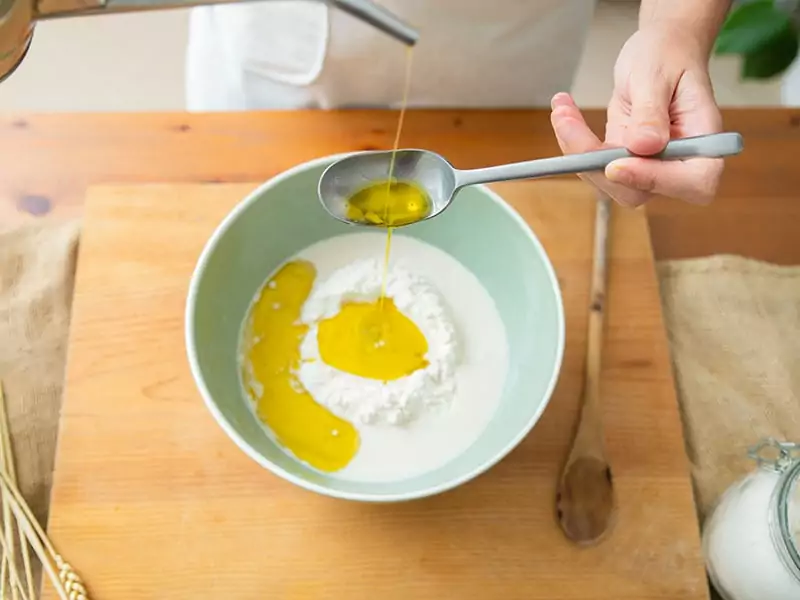 After the flour is cooked, lower the heat and add your teriyaki sauce little by little. Stir your sauce until you're pleased with the consistency. If there are lumps, use a fork or a whisk to break them.
It's important to measure the flour amount in this method since adding flour into the heated sauce will only give you a lumpy mess.
The given methods above are to retain the taste of teriyaki sauce while thickening them. However, there are other methods that can give extra deliciousness to your sauce. Let's keep walking through this article for delighted information!
Tasty Thickening Methods For Teriyaki Sauce
Try these alternative methods to thicken teriyaki sauce and give it an extra deliciousness! You may find these methods more effortless than the previous ones, and I'm sure you won't regret trying them out!
Roux Or Beurre Manié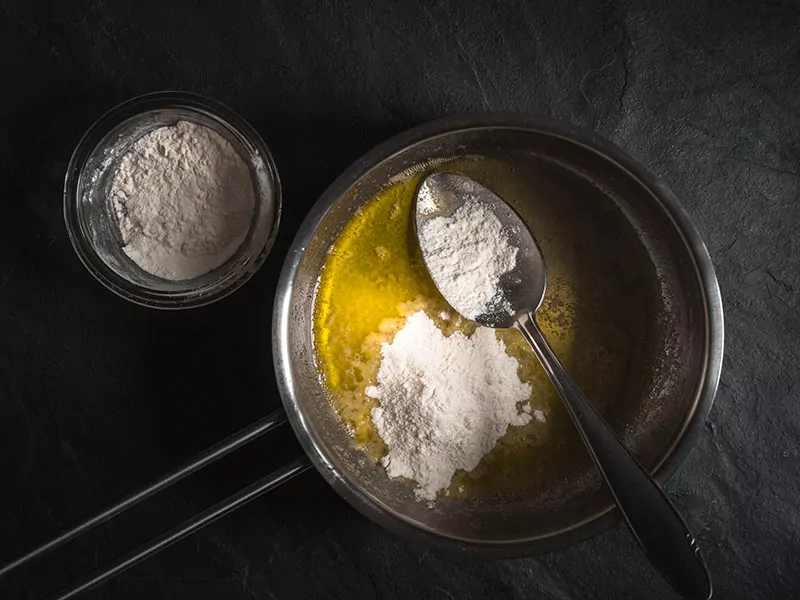 As mentioned before, using butter and wheat flour to make roux can give teriyaki sauce a rich taste. You can follow the instructions of the wheat flour method in the previous section, but the butter needs to be melted first.
There's another way to thicken teriyaki sauce using the same ingredients: beurre manié. In this instruction, I will also show you how to store it so that you can thicken your sauces any time you want to.
Step 1: Mix Butter With The Flour
Mix the butter and wheat flour with an equal amount on a floured surface.
Step 2: Knead It Like A Dough
Knead the butter and wheat flour to make a fine beurre manié.
You can now use the beurre manié to thicken teriyaki sauce
Step 3: Thicken Teriyaki Sauce
Use doubled sauce for each part of beurre manié for the perfect thickness.
Heating your sauce to simmer first, then simply add the beurre manié, then stir well to dissolve the beurre manié, and enjoy your meal.
Step 4: Store Your Beurre Manié (Optional)
Separate your beurre manié into small pieces, wrap them in plastic, and place them in your freezer. When you wish to thicken your sauces with them, simply add frozen beurre manié into the simmering sauces without defrosting them.
Watch this video to know more:
Chilled Butter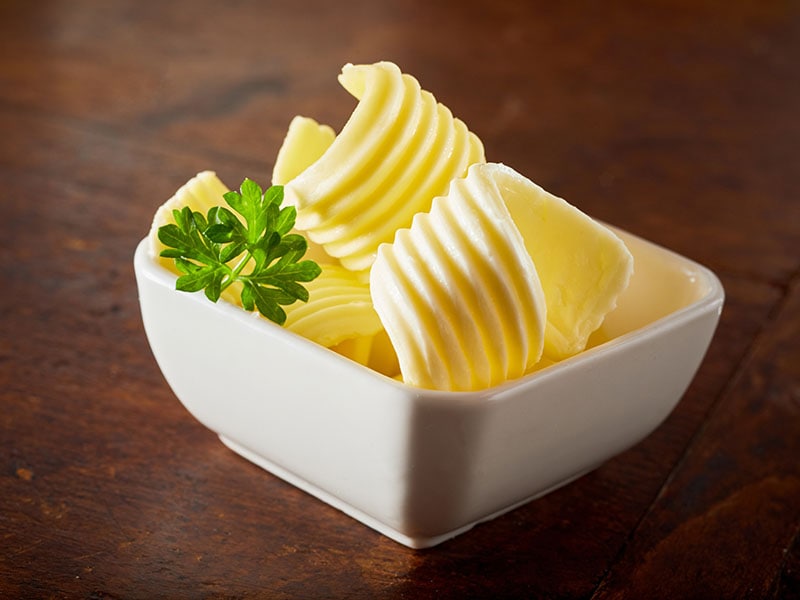 Chilled butter is another interesting method for thickening teriyaki sauce, especially if you're a fan of this ingredient. The richness and aroma of butter combined with the strong flavor of teriyaki sauce will create an incredible experience.
Though this method simply mixes the chilled butter with warm teriyaki sauce, it's complicated to determine the right sauce temperature and butter amount. What's more, the butter should be stored in a guaranteed airtight butter keeper; otherwise, its taste might affect your sauce.
Your teriyaki sauce should only be warm enough to melt the butter but not completely. If you pour the simmering sauce into butter, all you can get is a greasy liquid. On the other hand, too much butter will overpower the teriyaki sauce taste.
Mustard Powder Method
Mustard powder is famous for the spiciness and health benefits that it could bring. Surprisingly, it can be a thickening agent for teriyaki sauce.
Step 1: Mix Mustard Powder With Teriyaki Sauce
Add an equal part of mustard powder into the teriyaki sauce and mix them well together.
Step 2: Bring To A Simmering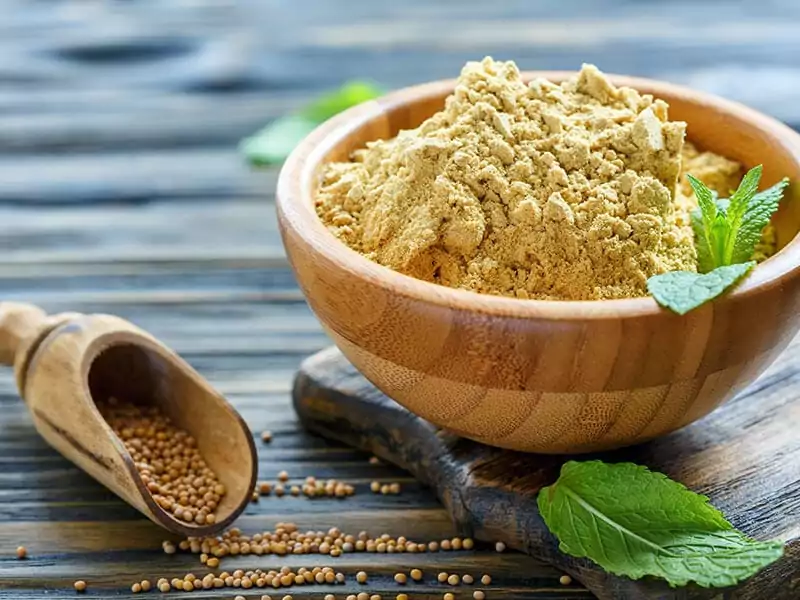 After making sure that there's no clump in the mixture, heat them on medium-low heat and constantly stir for at least 2 minutes.
Using this ingredient will give your teriyaki sauce a touch of spiciness – an excellent companion for burger or meat dishes.
Sweetening Methods
This method is a pretty lookalike to the first one of this article; if your teriyaki sauce already contains any types of sweeteners, you can simply place it on medium-low heat to thicken the sauce.
But in case you want to increase both sweetness and thickness of your teriyaki sauce, here are some of the methods that you can try:
Brown Sugar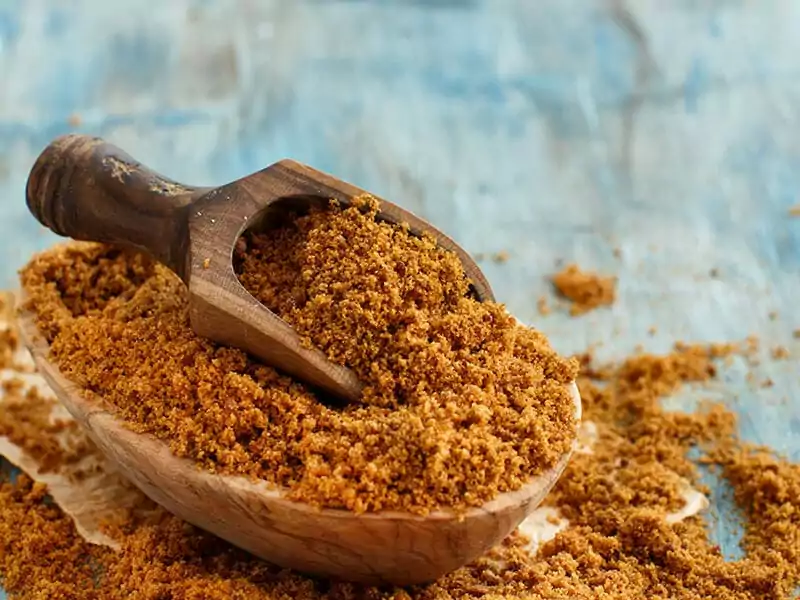 Like any sugar, brown sugar can be used as a thickener and sweetener to sauces. However, the brown one prefers teriyaki sauces over other sugar since it is already in the original recipe.
If you want some extra sweetness and thickness to your teriyaki sauce, consider adding 1 to 2 teaspoons of brown sugar into it and bringing it to a simmer until you're happy with the consistency. The molasses will keep thickening your sauce as long as you heat it (3).
Honey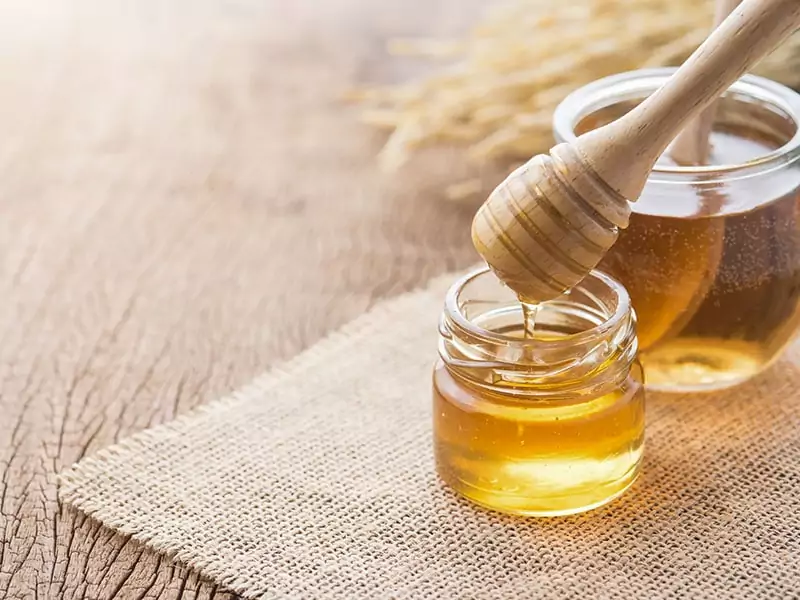 If you want a healthier and none-heating method, honey is another way to thicken and sweeten teriyaki sauce. You can pick thick and pleasantly-sweet Manuka honey, Clover honey with faint floral notes, or buttery Fireweed honey.
As honey is already a thick liquid, you can use it to adjust the consistency of teriyaki sauce without putting them onto a pan. All you need to do is mix in 1 teaspoon of honey at a time until you're satisfied with the taste and consistency.
Corn Syrup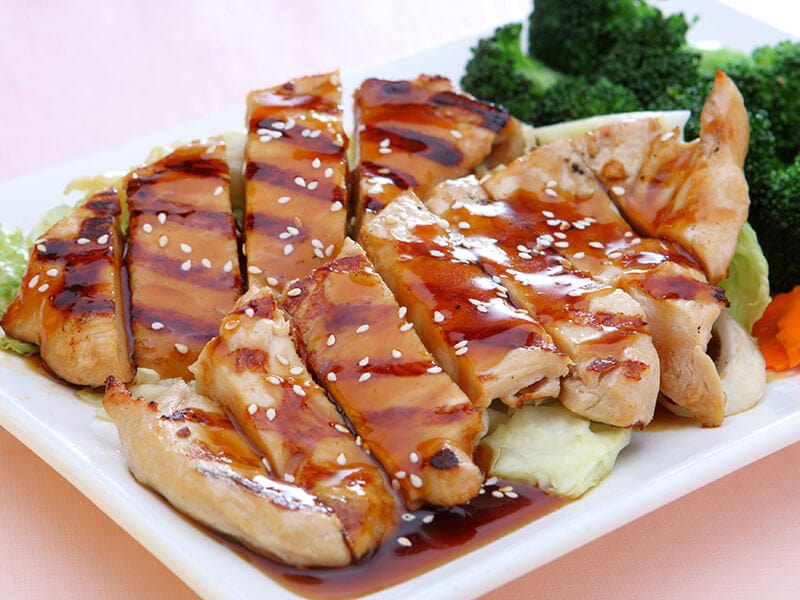 Corn syrup can thicken and sweeten your teriyaki sauce with ease. Mix it with your sauce if you want immediate deliciousness.
However, I recommend heating your sauce on medium-low heat for 2-3 minutes extra thickness and reducing the corn flavor.
I'm positive that the above information has given you the desired solutions for thin teriyaki sauce. But to be more proactive in adjusting the thickness of your sauce, I recommend you to keep reading for some simple recipes.
Simple Teriyaki Recipes
If you're a fan of Japanese cuisine, especially teriyaki dishes, why don't you make your own teriyaki sauce? Both of these recipes only require 4 ingredients and take 2 steps to do, and you'll be able to adjust the desired thickness for your teriyaki sauce.
Recipe 1
You'll only need 4 ingredients with this recipe for delicious homemade teriyaki sauces.
Ingredients
50ml of soy sauce
50ml of sake
50ml of mirin
25gr of brown sugar
Step 1: Heat The Mixture
Combine all the ingredients into a mixture and set it on medium-low heat.
Step 2: Check The Thickness
Allow your sauce to boil for 10-20 minutes until you're pleased with the thickness.
You should see the video below:
Recipe 2
This recipe is an alternate version for homemade teriyaki sauce with 4 easy-to-find ingredients.
Ingredients
Half cup of soy sauce.
Half cup of white wine
5-7 tablespoons of honey.
1 and a half tablespoons of cornstarch
Step 1: Mix The Ingredients
In a pan, gather all of your ingredients together and mix them well until there's no lump.
Step 2: Heat The Mixture
After boiling the mixture, reduce the heat and constantly stir your sauce until you've got the desired consistency.
I recommend adding some toasted sesame seeds for both of these recipes before serving teriyaki sauce. This is a great option if you want to add more flavor and decorative as a glazing sauce.
Teriyaki Sauce In World Cuisine
Over the last few decades, teriyaki has become a famous sauce all around the world. Teriyaki sauce is not only used for Japanese dishes anymore, they can also be found in many recipes.
Especially in junk foods, teriyaki sauces are surprisingly an excellent match to burgers and deep-fried dishes. Therefore, you can easily find teriyaki flavor on the menu of most fast-food chains.
When talking about this flavor, besides teriyaki chicken, hamburger steak served with teriyaki sauce is one of the most remarkable dishes nowadays. Some snacks brands even have these as a flavor for their products as well.
FAQs
Are you still pondering making a delicious teriyaki sauce? Don't worry; the following section will answer some of the most asked questions to erase your hesitation.
No More Thin Teriyaki Sauce
Having thin teriyaki sauces may be the worst thing you want for your meals, especially for Japanese foods. Therefore, are you pleased with the solutions of how to thicken teriyaki sauce? If you are, please share this article with your loved ones who are also fans of Japanese Cuisine!
Don't forget to let me and other readers know about your teriyaki sauce experience in the comment section. Now, you may enjoy your thick and delicious teriyaki sauce!
Nutrition Facts
1 servings per container
Serving Size1 tbsp (18g)
---
Amount Per ServingCalories16
% Daily Value *
Sodium 690mg

29

%
Potassium 41mg

2

%
Total Carbohydrate 2.8g

1

%
Protein 1.1g

2

%
---
* The % Daily Value tells you how much a nutrient in a serving of food contributes to a daily diet. 2,000 calories a day is used for general nutrition advice.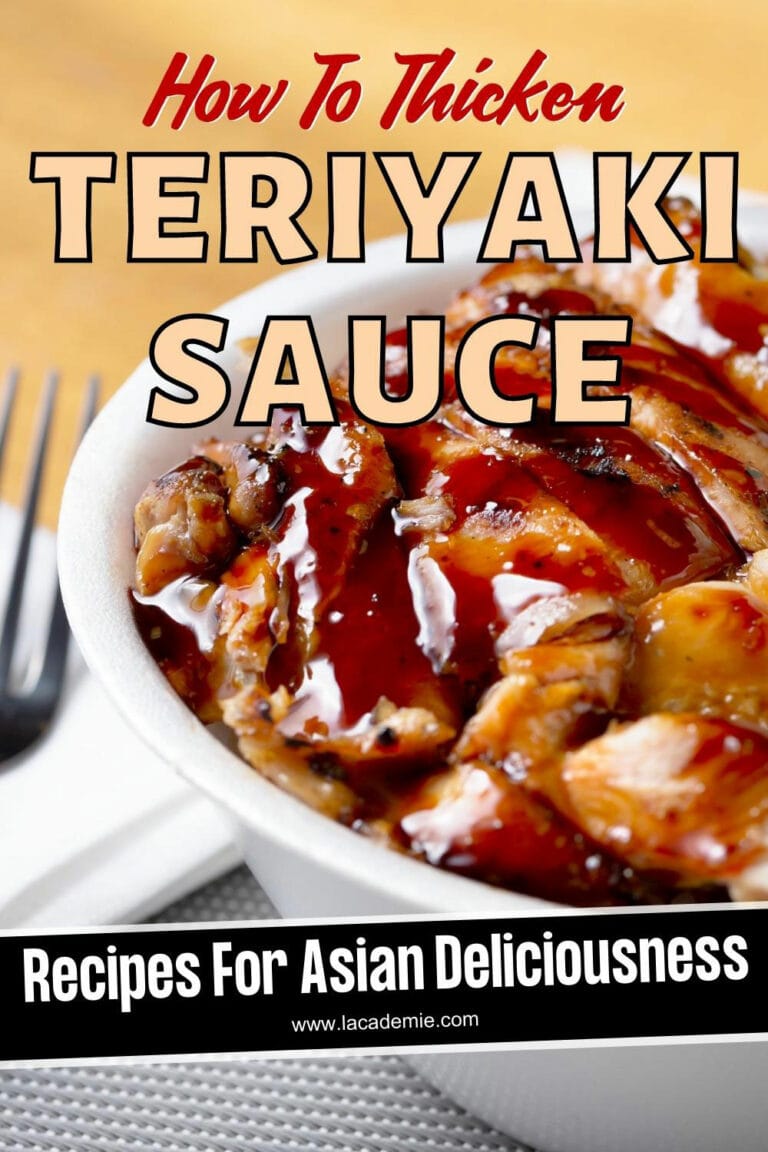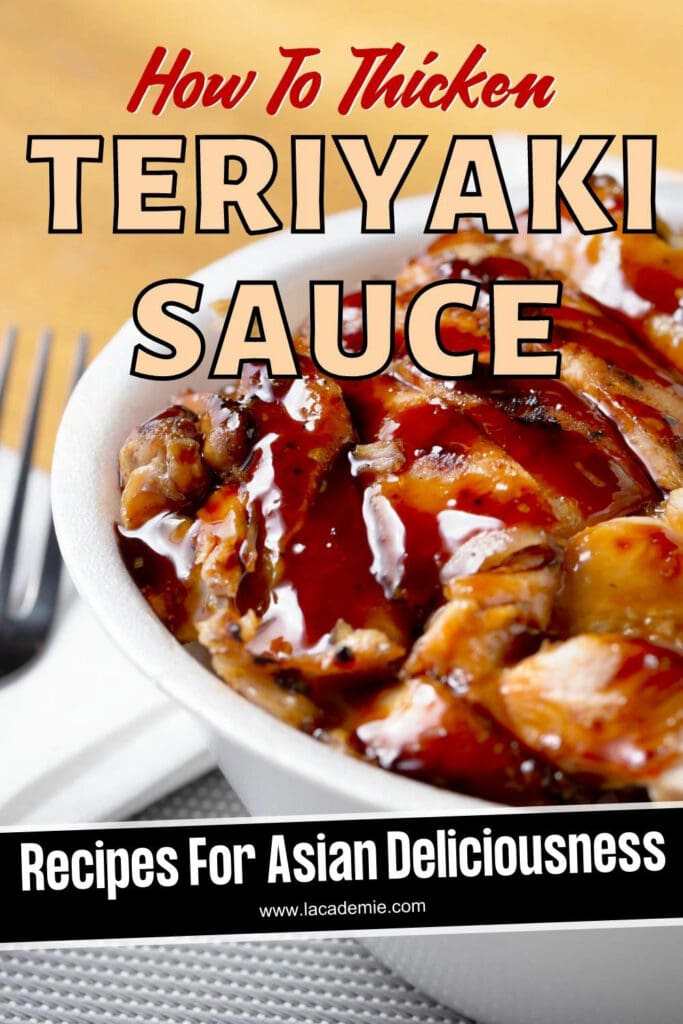 References
Encyclopedia Britannica. 2021. teriyaki | Japanese food.
En.wikipedia.org. 2021. Teriyaki – Wikipedia.
OSU Extension Service. 2021. Sweetener: nutritive & non-nutritive (SP 50-935).