If you want a chicken dish whose wholesomeness doesn't comprise its yummy taste, steamed chicken with coarse salt is an excellent choice. Do you think that steamed foods are bland and inferior to fried or baked foods in terms of taste? This delicious dish begs to differ!
The secret to unlocking the full potential of this healthy method of food prep is just a short article away! You don't have to use a sea of fatty oil to whip up a mouth-watering delicacy. All you need is a steamer, some spices, and a commitment to making a healthy dish. Scroll down for more!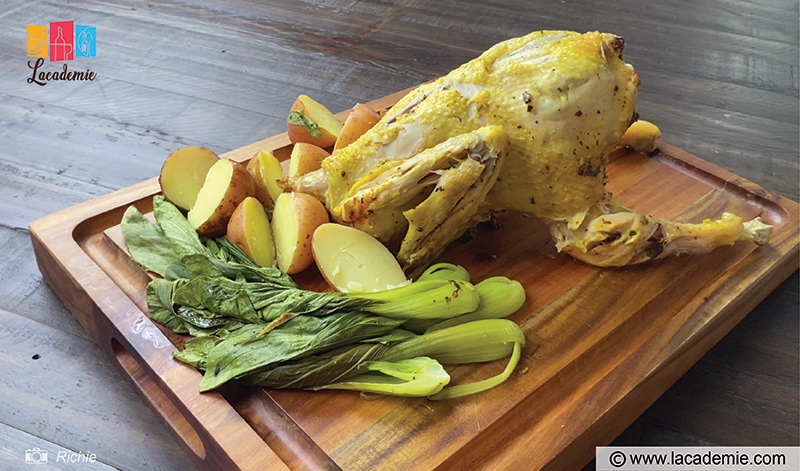 A Few Things About Steamed Chicken With Coarse Salt
Steamed dishes are an important part of many Asian cuisines. Among numerous recipes made with a steamer, steamed chicken is a name that usually pops up in the minds of many foodies. Variations of this specialty from Vietnam and China are particularly popular.
Compared to other ways of cooking chicken, steaming offers more health benefits. For one thing, it retains most of the nutrients in the chicken as the meat is cooked in its own juice. Another benefit is that steaming requires no additional oil, thus cutting down on saturated fat and cholesterol.
The only concern about this method is that the texture and taste of steamed foods may not be good enough. Overcooking can lead to chicken becoming stringy, and incorrect use of seasoning can ruin your dish. However, those things will not happen if you follow this recipe closely.
Tools
Some of the kitchen gadgets needed for this recipe may not be available in your kitchen and have to be bought. But that will be a worthwhile investment once you have a bite of this juicy steamed chicken.
Large cooking pot: for steaming the chicken easily without having to buy a new steamer. Choose one that is big enough for the whole chicken. You can also use a food steamer or the steamer of a rice cooker if it has the appropriate size, but that requires a different approach.
Meat mallet: To crush the lemongrass stalks.
Chopping board: To cut the vegetables and herbs.
Knives: You need at least two knives: one to cut the vegetables and herbs. The other is used to incise the chicken during the marination process to make the spice mixture seep deeper into the meat.
Frying pan: For containing the chicken during a marination process. You can use a large bowl instead.
Fork: For helping with stirring the marinade. You also need it to poke the chicken skin, allowing the marination to seep deeper into the meat.
Lemon squeezer: This is an optional tool; you can simply squeeze the lemons with your hands.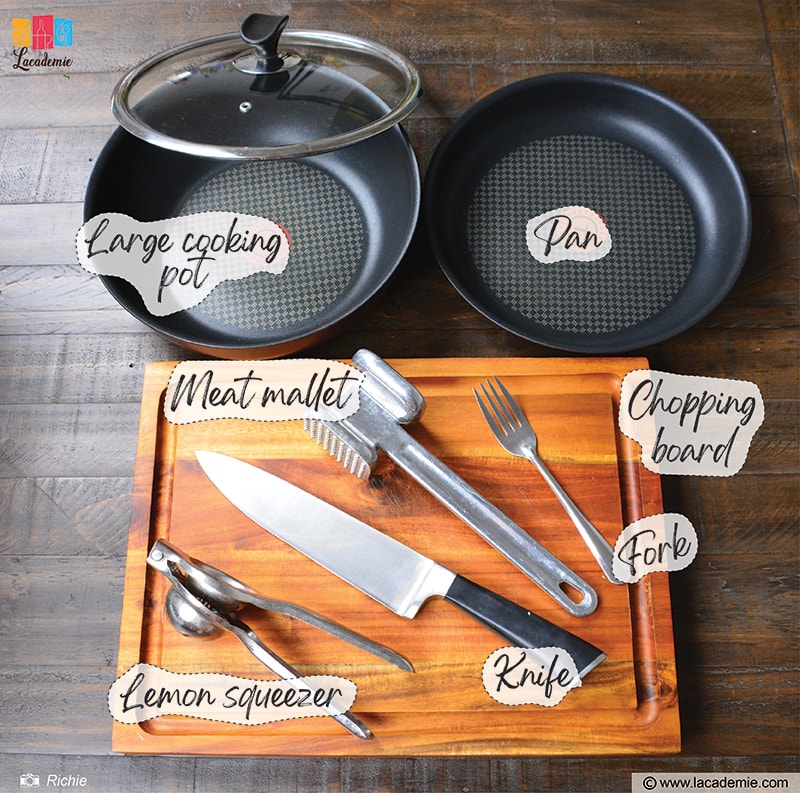 Ingredients
To create a flavorful steamed chicken, you're going to need a handful of spices and herbs. They are widely available at many grocery stores and supermarkets.
Chicken: A free-range chicken, preferably a hen, is the best option for this dish because it guarantees optimal flavor and a pleasantly firm texture. On the other hand, factory-farmed chickens are too soft for steaming.
Lemongrass: This aromatic plant is probably the second most important ingredient. Use the lemongrass whole (minus the leaves) to bring out the best aroma for the dish.
Coarse salt: This type of condiment has a pure taste in the sense that it contains no metallic or bitter-tasting additives (usually iodine). Therefore, coarse salt makes dishes more flavorful than what table salt can achieve. Feel free to replace it with the same amount of kosher salt.
Unsalted butter: Provides the marinade with a rich touch.
Lemon juice: Add this ingredient to the marinade to keep the chicken moist and juicy. For the same purpose, you can include a small amount of olive oil in the marinade.
Spices: I recommend ginger, garlic, lemon juice, chili powder, and turmeric powder. If possible, you should add cilantro and dried oregano to the mix.
Brown sugar: To give the dish a nice sweetness and an eye-catching look.
Soy sauce and oyster sauce: Adds more depth to the flavor of the marinade.
Baby bok choy and potatoes: Those vegetables are excellent side dishes for steamed chicken. They can be steamed along with the chicken, saving you both time and effort.
But you can replace them with your favorite vegetables, such as carrots or broccoli, as long as you can cook them with the chicken in the steamer.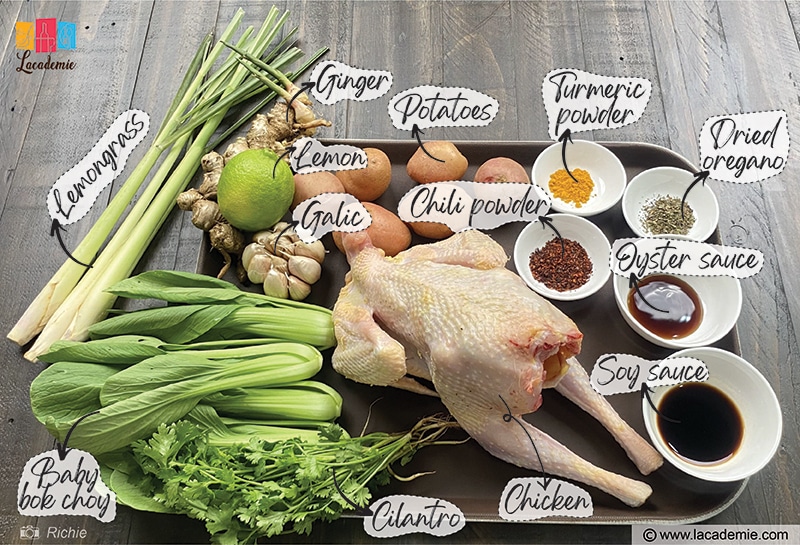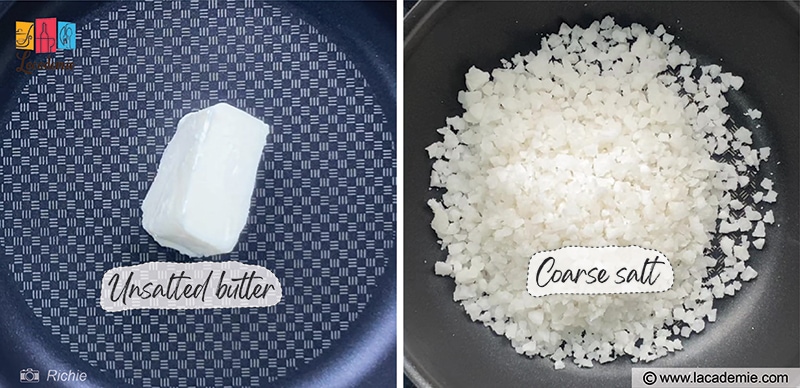 Instructions On How To Make Steamed Chicken With Coarse Salt
With a little more than an hour of preparation and cooking, your steamed chicken with coarse salt will be ready to serve. Don't worry about the steamer: it is quite easy to operate.
Step 1: Prepare The Ingredients
Wash the fresh herbs and vegetables: bok choy, potatoes, lemongrass, cilantro, etc. Let them drain for a few minutes.
I recommend using a whole chicken rather than cutting it into pieces. In case you want to get rid of any unwanted smell, rub it with a mixture of salt, lemon juice, and white wine, then wash the chicken with clean water and let it drain or pat dry with a towel. Otherwise, skip this step.
Smash the lemongrass stalks with the meat mallet and cut them in half. Baby potatoes don't need further preparation, but big ones need to be halved to cook faster.
Chop garlic and cilantro finely. Cut ginger into thin slices.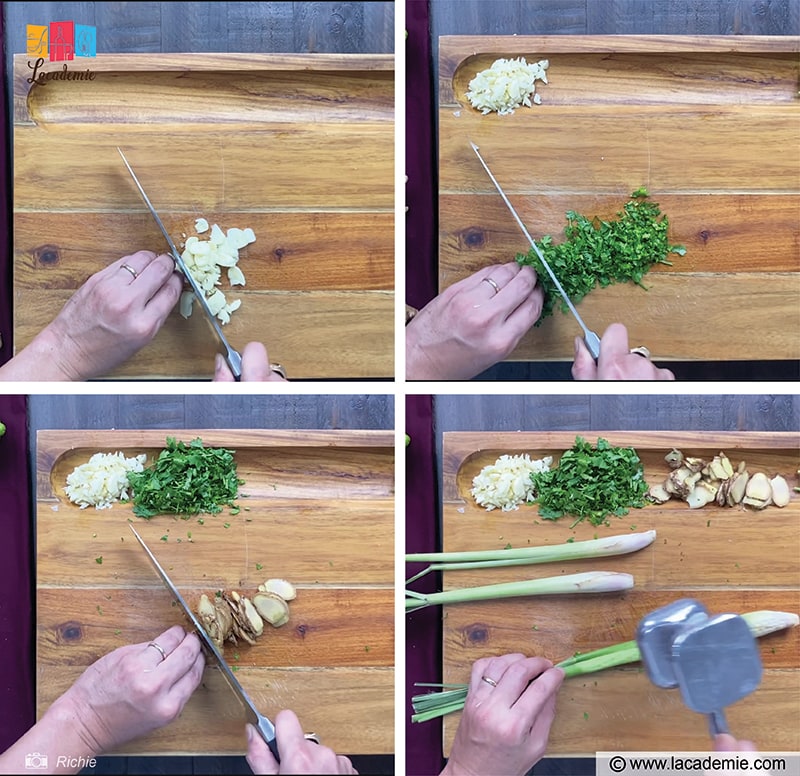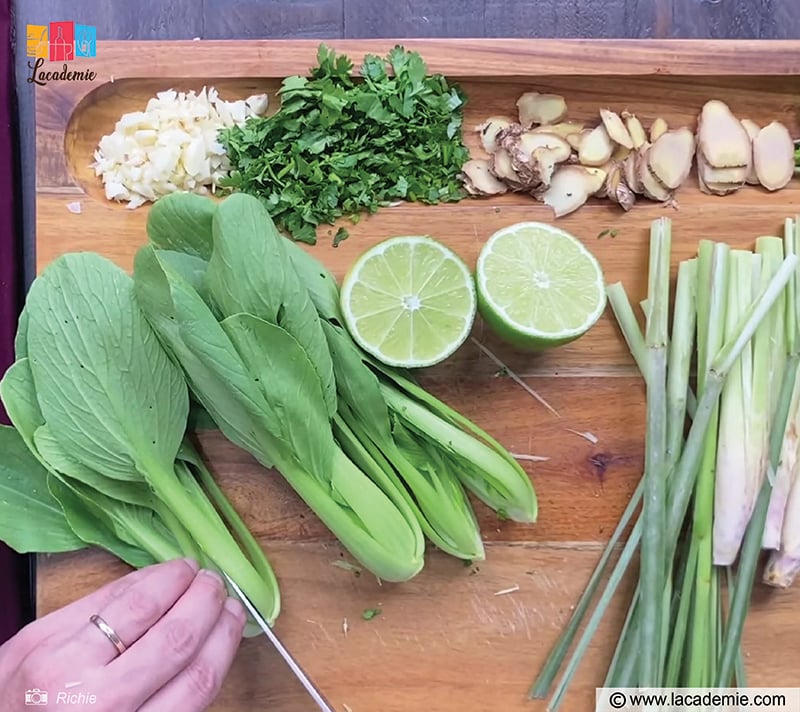 Step 2: Marinate The Chicken
In a frying pan, marinate the chicken in a mixture of minced garlic, chopped cilantro, unsalted butter, chili powder, turmeric powder, dried oregano, brown sugar, salt, lemon juice, soy sauce, olive oil (if any), and oyster sauce.
Use a fork to stir the marinade well. Next, poke the skin with a poke and leave a few cuts on the meat with the knife so that the marinade can penetrate the chicken more deeply.
Rub the entire chicken vigorously with the mixture; don't miss the belly. Drizzle some lemon juice over the marinated chicken and let it rest for 15 minutes.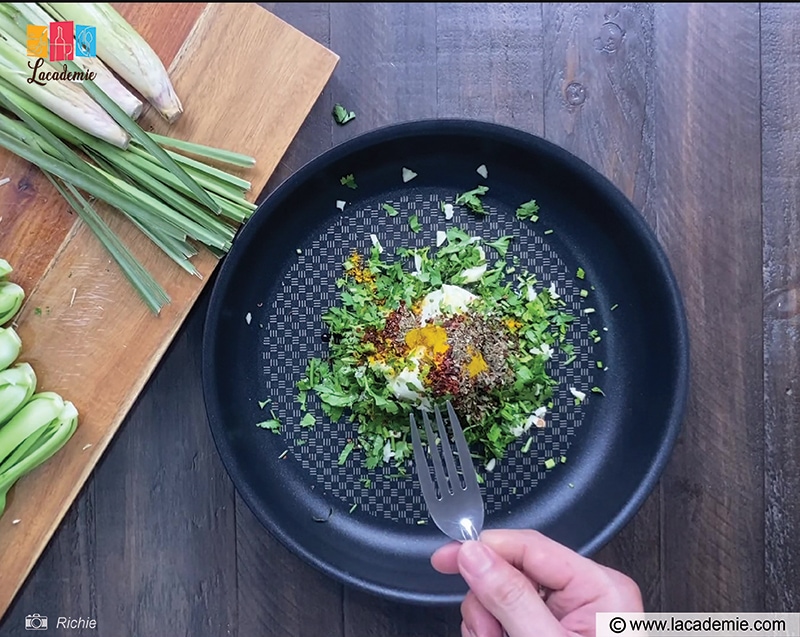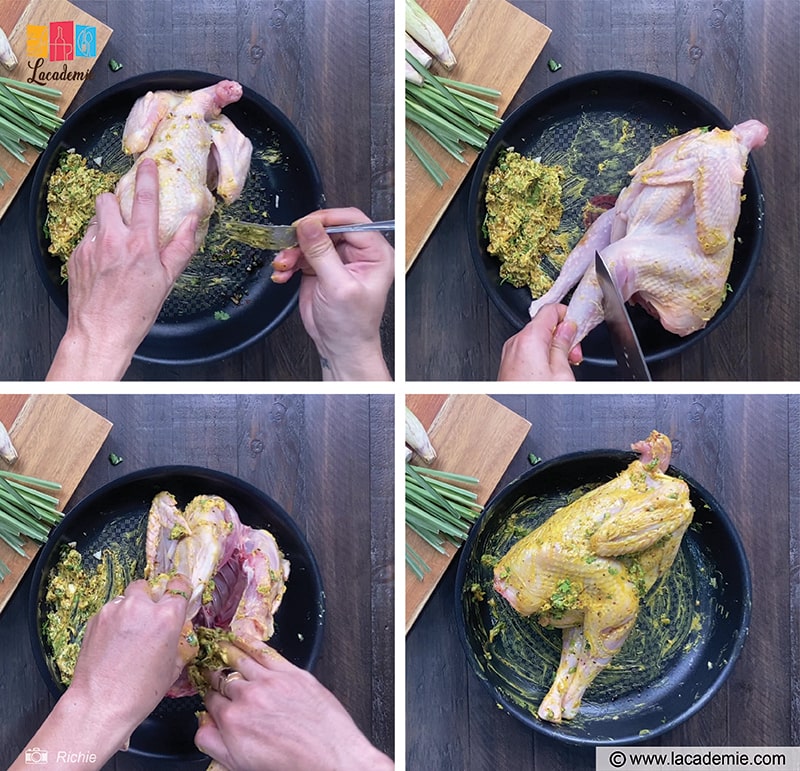 Step 3: Steam The Chicken
Layer an even layer of coarse salt at the bottom of the steamer, followed by smashed lemongrass and ginger slices.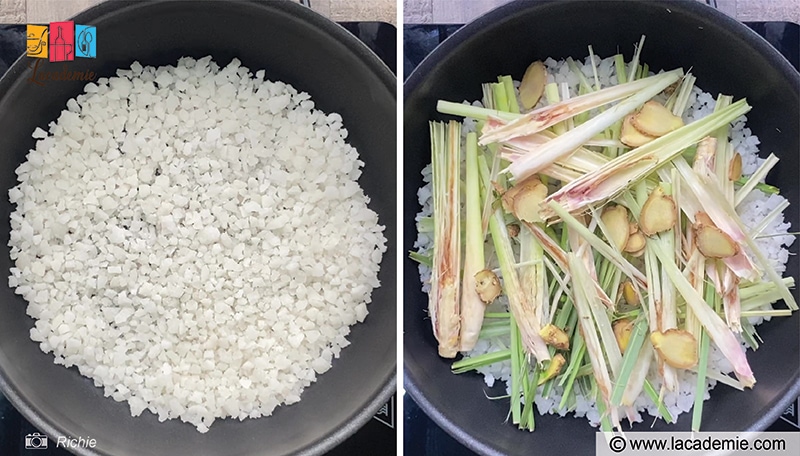 Put the chicken on top and arrange the potatoes neatly around it. Make sure that the chicken doesn't touch the salt too much to prevent it from getting excessively briny. Close the lid and cook on medium for 35 – 45 minutes.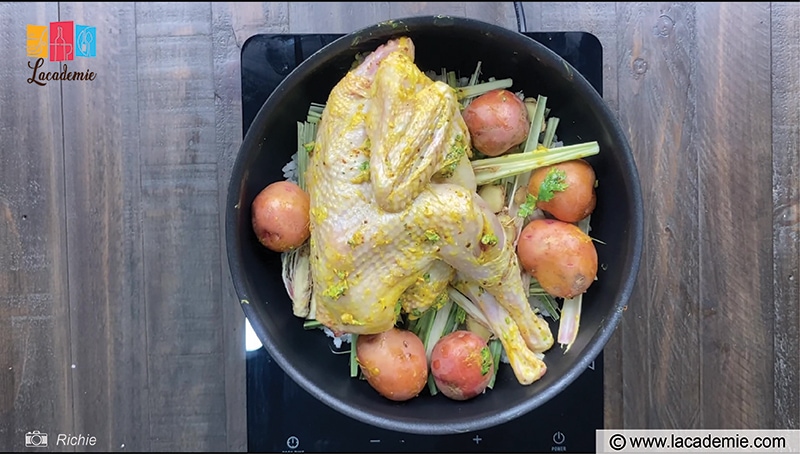 When the chicken is well done, open the lid but watch out for rising steam. Add some bok choy and cook for 5 more minutes.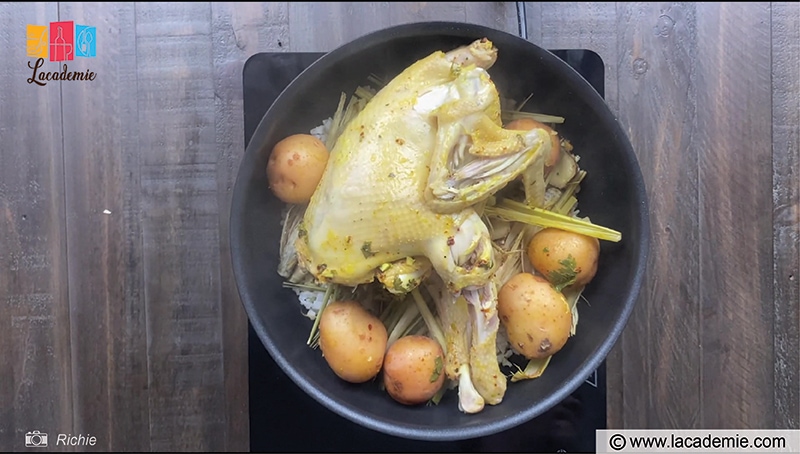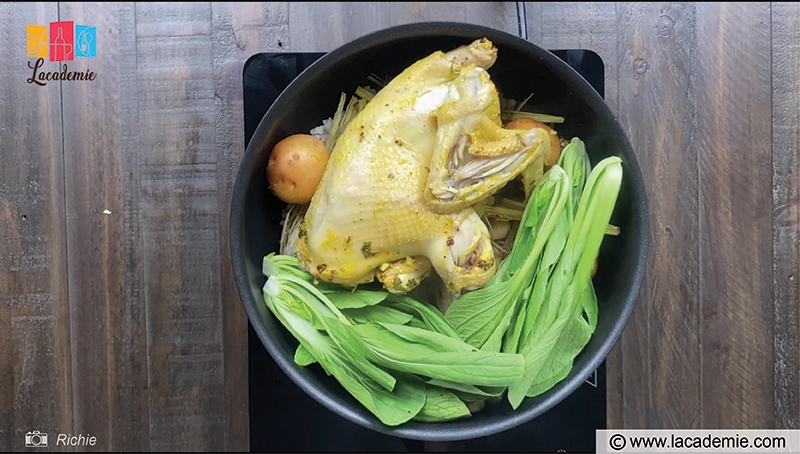 Step 4: Decorate The Chicken And Serve
Plate your chicken with potatoes and bok choy on the side. Shred the meat with a fork or your hands and enjoy!
This dish is best served warm. You can eat it with any type of dipping sauce for a better taste. My favorite picks are chili sauce and spicy salsa.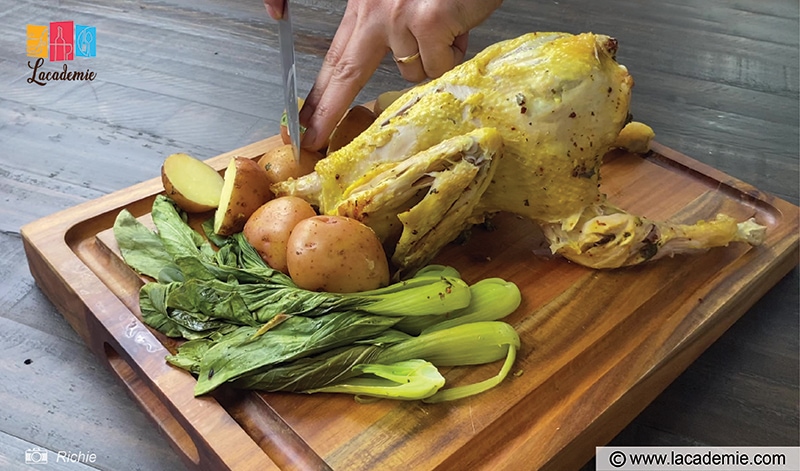 How Long Can You Keep Steamed Chicken With Coarse Salt?
Like other cooked chicken dishes, you can store this steamed delight for 3 – 4 days in the fridge and around 3 months in the freezer as long as you contain it in a suitable container. Remember to reheat it before adding it to your meal.
Steamed Chicken With Coarse Salt Will Be Your New Favorite Dish!
With a steamer, you can add a large number of wholesome dishes to your meals. A shining example of them is steamed chicken with coarse salt, a versatile delight that brings the dream of delicious yet healthy chicken dishes within your grasp.
I hope you will have plenty of fun cooking this dish. Tell me about your experience in the comment section. If you have any questions to ask or great tips to share, be my guest! Don't forget to share this post on your social media. Many thanks, and see you later!
Nutrition Facts
2 servings per container
---
Amount Per ServingCalories795
% Daily Value *
Total Fat 45.8g

70

%
Cholesterol 225mg

75

%
Sodium 1718mg

72

%
Potassium 1183mg

34

%
Total Carbohydrate 30.9g

10

%

Dietary Fiber 6.2g

24

%
Sugars 1.6g

Protein 64.4g

128

%
---
* The % Daily Value tells you how much a nutrient in a serving of food contributes to a daily diet. 2,000 calories a day is used for general nutrition advice.