Air fryer chicken cutlets are the best dish when you need a quick, healthy, and delicious meal. With just about half an hour of cooking time, the chicken breast will crisp up nicely on the outside while still being juicy and moist inside. This recipe has been my go-to on busy days for so long!
Better yet, the air fryer will take care of all the cooking, meaning that even newbie home cooks can easily whip up today's recipe. Simply press a few buttons, sit back, and relax while this handy device perfectly fries your chicken.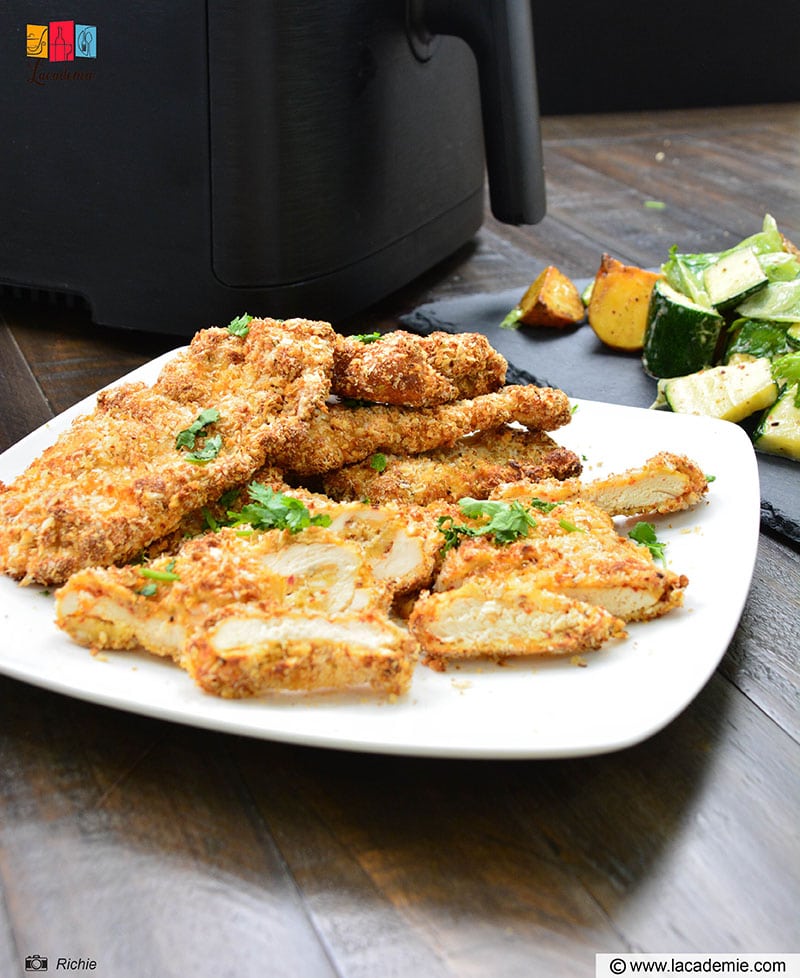 Air Fryer Chicken Cutlets – A Treat Everyone Loves
Chicken cutlets are essentially chicken breasts cut into thinner slices. They taste exceptionally delicious when breaded and deep-fried. While deep-frying results in super crispy chicken, this cooking method takes work, and the cleaning up can be tiring.
For these reasons, I love cooking my cutlets in an air fryer, which is hassle-free and healthier. Say goodbye to the mess from oil splattering as everything is cooked neatly inside the air fryer basket. And don't worry about the taste; I promise you won't be able to tell the difference!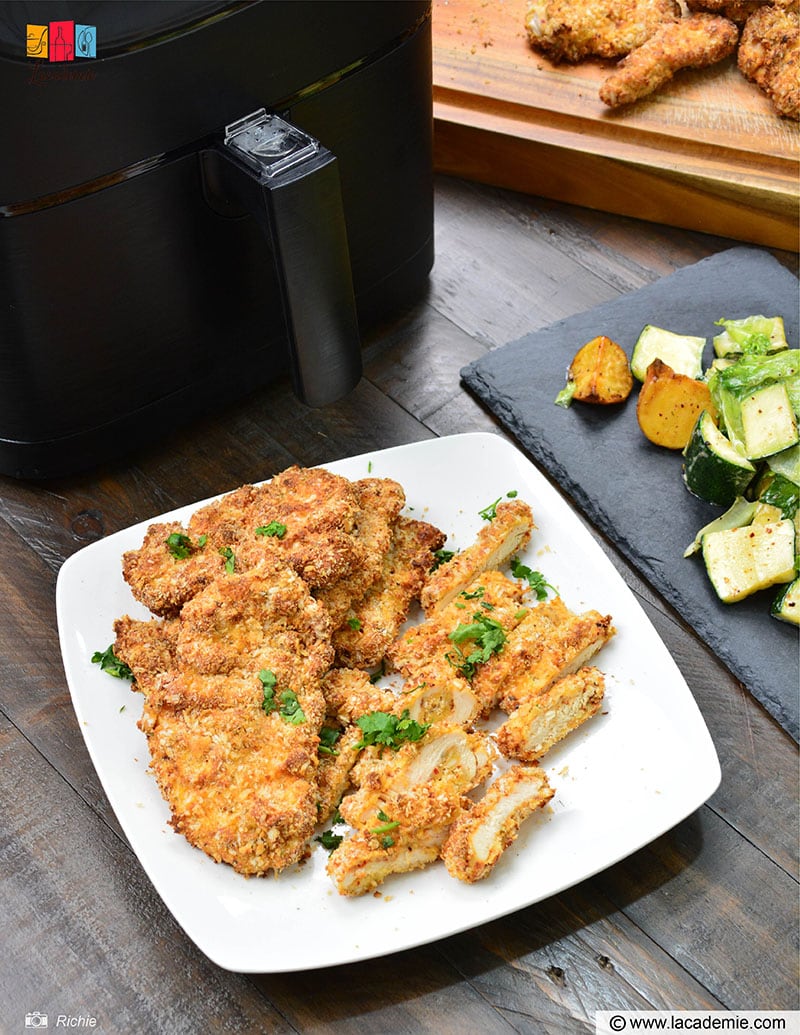 Tools
My recipe only calls for 3 tools: an air fryer, a sprayer for the cooking oil, and some containers or bowls.
Air fryer: I use a 5.8-quart air fryer from COSORI, which is enough to fit 3 pieces of chicken cutlets in one go. My device is a Pro I air fryer oven combo, but you can go for the COSORI Pro II, which is the latest version.
Cooking oil sprayer: Lightly spray the basket and your cutlets with oil to prevent the chicken from sticking and drying out.
Bowls/containers: For the breading and eggs.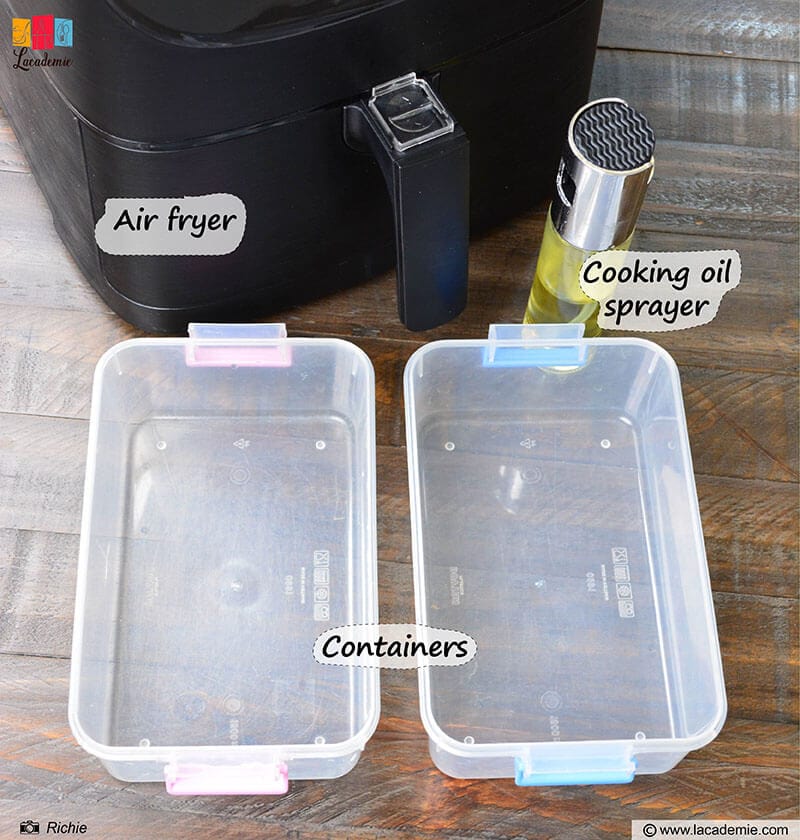 Ingredients
Here are all the ingredients I use to cook delicious air-fried chicken cutlets. The spices take the overall flavor up a notch.
Chicken breasts: I often make this recipe with 3 pieces of chicken breasts (about 1 pound).
Breadcrumbs: You can make your own breadcrumbs at home with stale bread.
Panko: The combination of breadcrumbs and panko makes for the crispiest and most flavorful breading.
Eggs: Dipping your cutlets into well-beaten eggs first helps the breading to stick better.
Spices: Kosher salt, sesame seeds, ground pepper, chili powder, dried oregano.
Your favorite salad: For serving.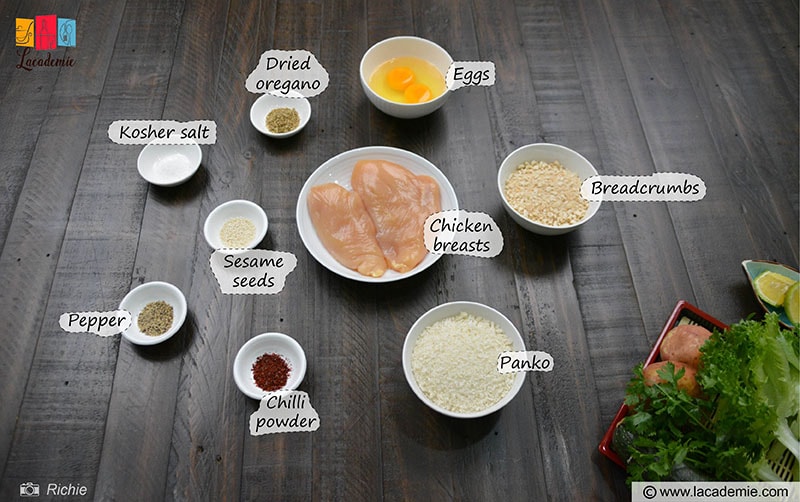 Directions
When you're ready, plug in your air fryer, and let's start cooking!
Step 1: Prepare The Ingredients
Press the palm of your non-dominant hand on the chicken breast to hold it flat. Slice it into smaller portions horizontally.
If the breast is not too thick, you can cut it into 2 pieces. For a thicker breast, slice it into 3 cutlets.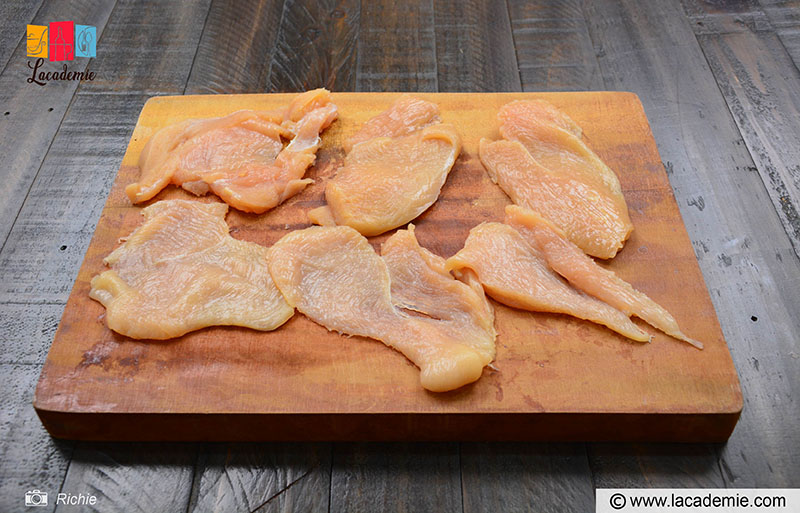 Season the chicken with ground pepper, kosher salt, chili powder, and sesame seeds. Mix well and marinate for 10 minutes.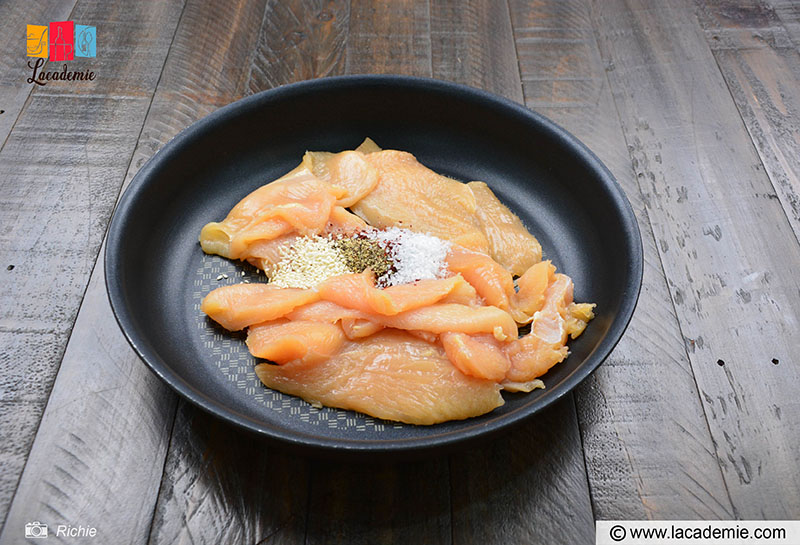 Mix the breadcrumbs, panko, and dried oregano in one bowl/container.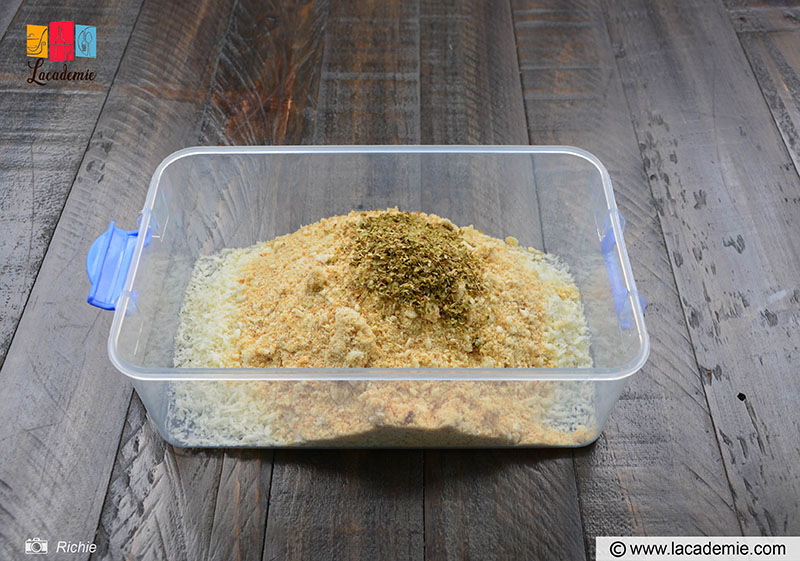 Beat the eggs in another bowl.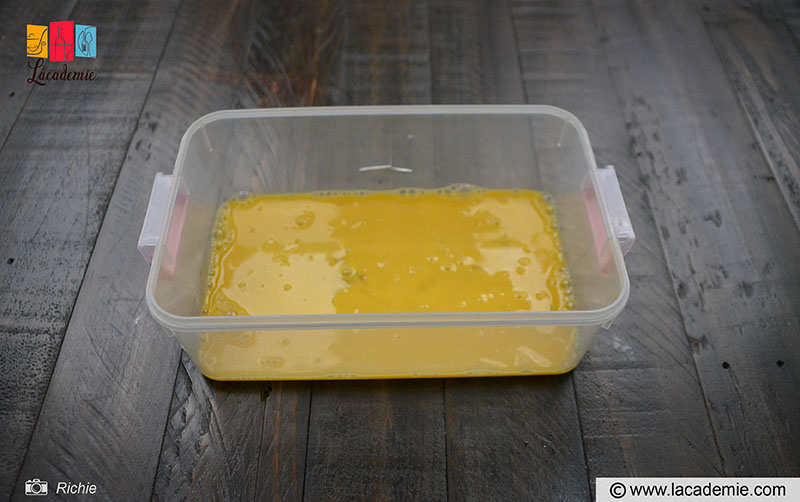 Step 2: Coat The Cutlets
Dip the cutlets into the egg and then the breadcrumb mixture. Do this step twice. Make sure that you coat the chicken thoroughly with the breading.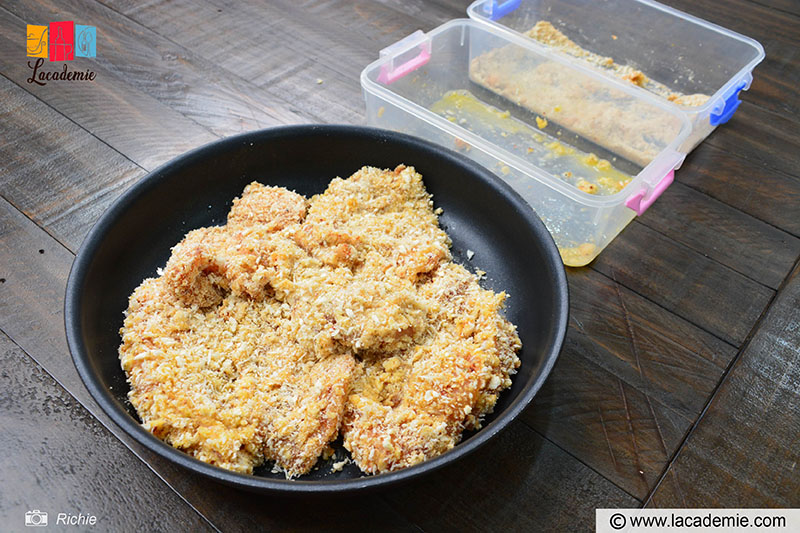 Step 3: Air-Fry The Cutlets
Preheat the air fryer for a few minutes to ensure a stable frying temperature. Next, grease the basket with cooking oil and put the chicken cutlets in.
Spray the cutlets with cooking oil to keep them from drying out. Air fry them at 400 degrees F for 6 minutes.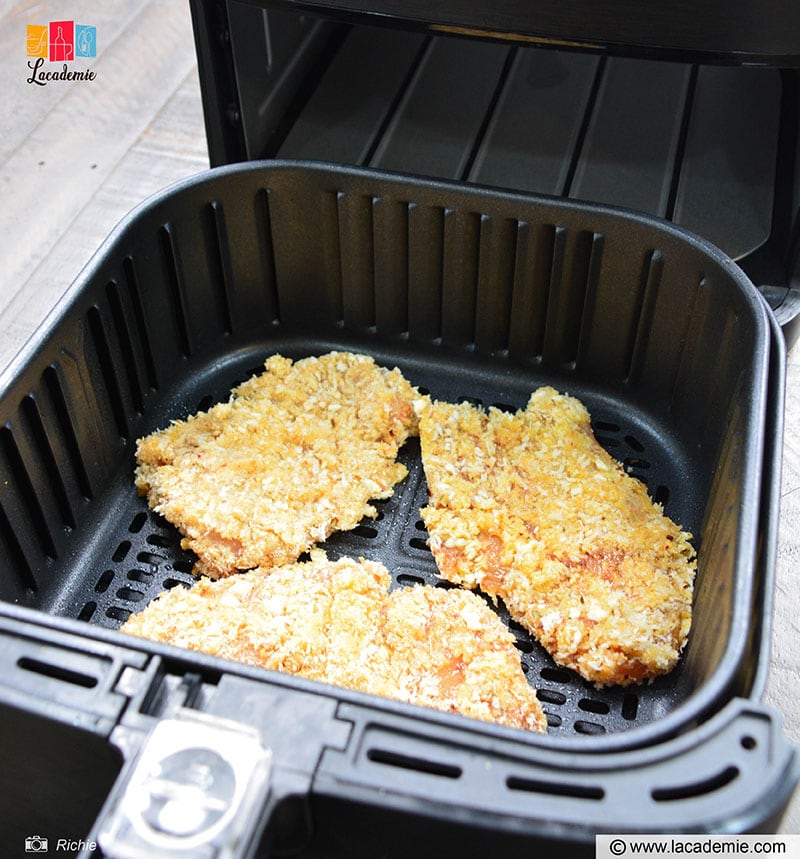 After 6 minutes, flip the cutlets and spray them with oil. Cook the chicken at 400 degrees F for another 5 minutes.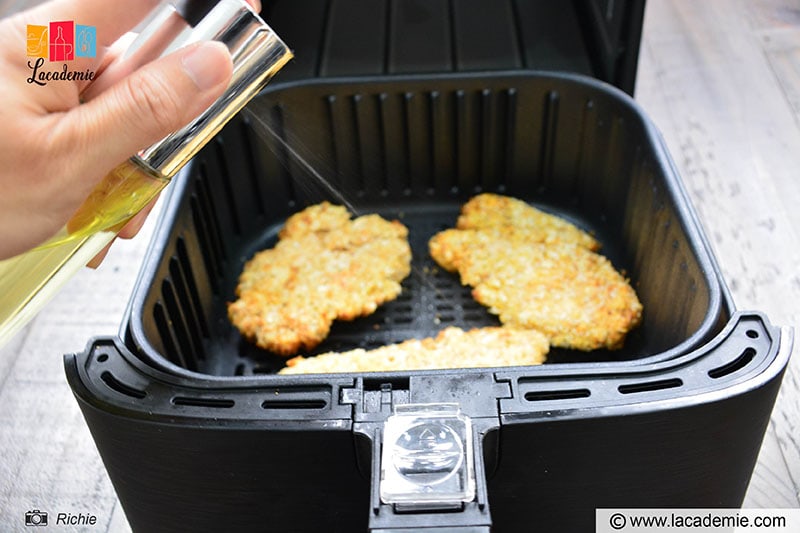 Step 4: Serve The Dish
Place the golden and crispy chicken cutlets on a plate and sprinkle them with cilantro. Prepare a bowl of potato and zucchini salad to serve as a side dish.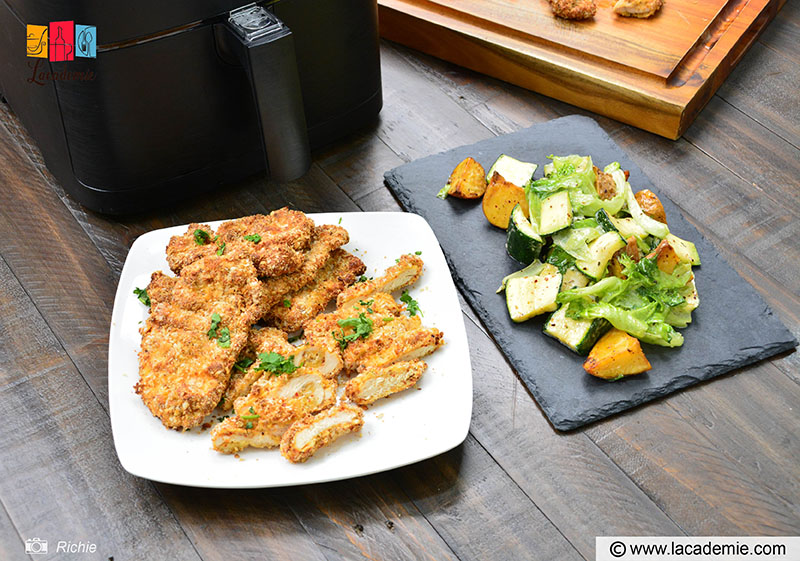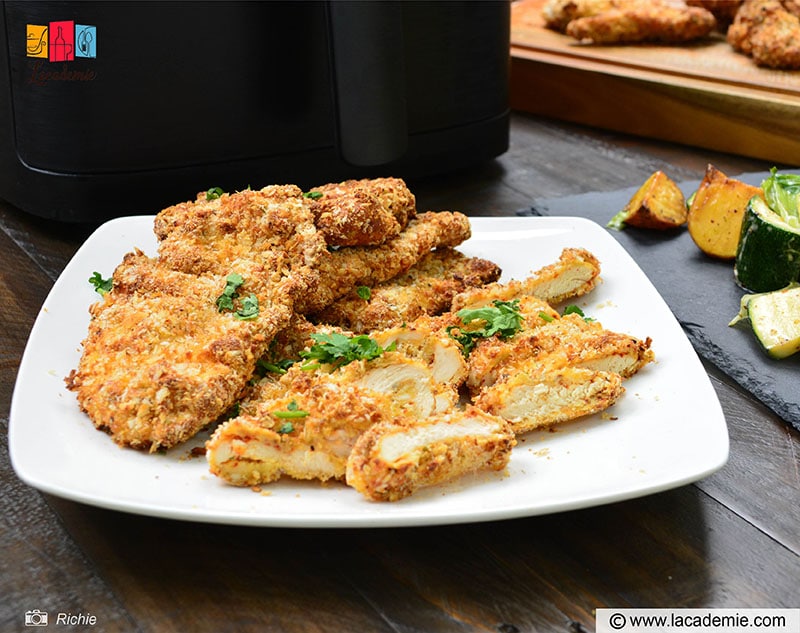 Notes And Tips
I've rounded up some notes and tips to help you enjoy this dish to the fullest. Check them out!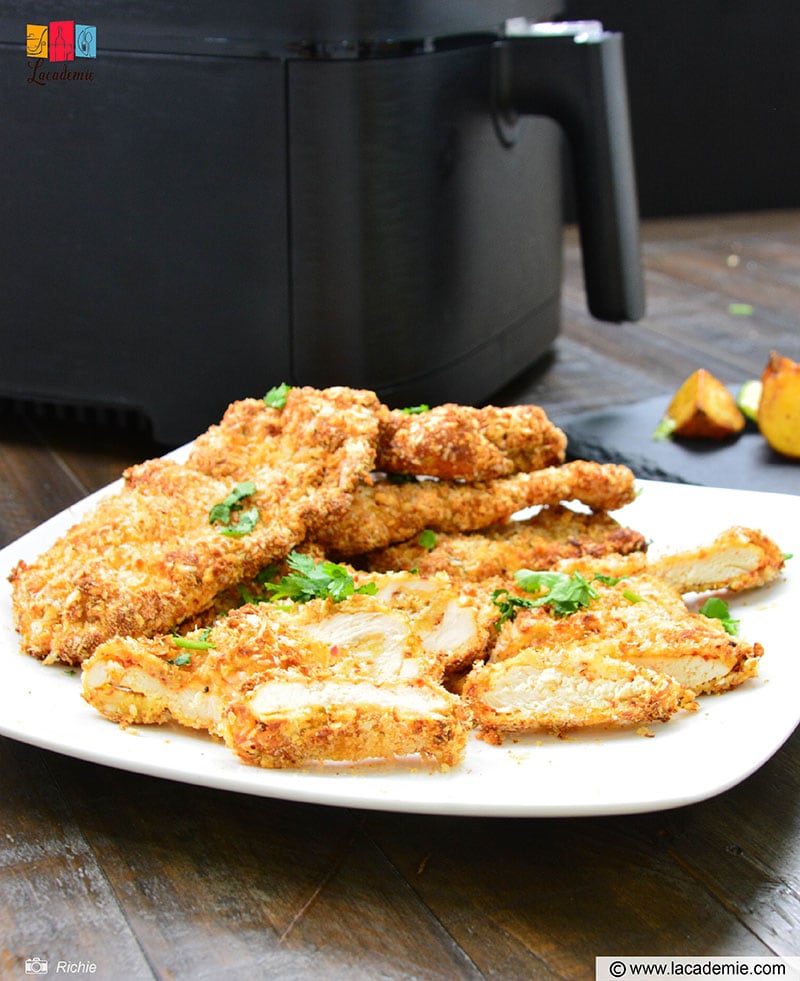 Avoid overcrowding the basket, as doing so can result in unevenly cooked chicken. If necessary, cook the cutlets in multiple batches.
Try serving the cutlets with different dipping sauces. Chili sauce, mayonnaise, and Dijon mustard are all great choices.
If you have leftovers, put them in an airtight food container and refrigerate them for up to 3 days. You can also keep them in a freezer for about 3 months.
You can reheat the chicken by air frying them at 400 degrees F for about 5 minutes. Remember to flip them halfway.
Making Crispy Chicken Cutlets Has Never Been This Easy
If you've been frying your chicken cutlets the traditional way, it's high time you tried my air fryer recipe. Since I switched to the air-fried method, I've never looked back once, and I believe you'll also agree with me.
Don't hesitate to share your result or any suggestions you have for today's post in the comment section. It would also be a great help if you could share this recipe with more people. Loving is sharing!
Nutrition Facts
4 servings per container
---
Amount Per ServingCalories460
% Daily Value *
Total Fat 9.6g

14

%
Cholesterol 186mg

62

%
Sodium 1167mg

49

%
Potassium 113mg

4

%
Total Carbohydrate 52.9g

18

%

Dietary Fiber 3.9g

12

%
Sugars 3.9g

Protein 39g

78

%
---
Calcium

126

%
Iron

3

%
Vitamin D

8

%
* The % Daily Value tells you how much a nutrient in a serving of food contributes to a daily diet. 2,000 calories a day is used for general nutrition advice.