Allow me to bring you fantastic Thai chicken recipes that are easy to recreate right at home. If you're about to take an Asian tweak to your chicken, then look no further because I will provide you with some of the most iconic Thai dishes that utilize this ingredient.
Believe me; chicken is so versatile that it can cope with any kind of cooking you have in store. Therefore, I want your next chicken meal to be a wonderful experience that your family members will keep asking for more.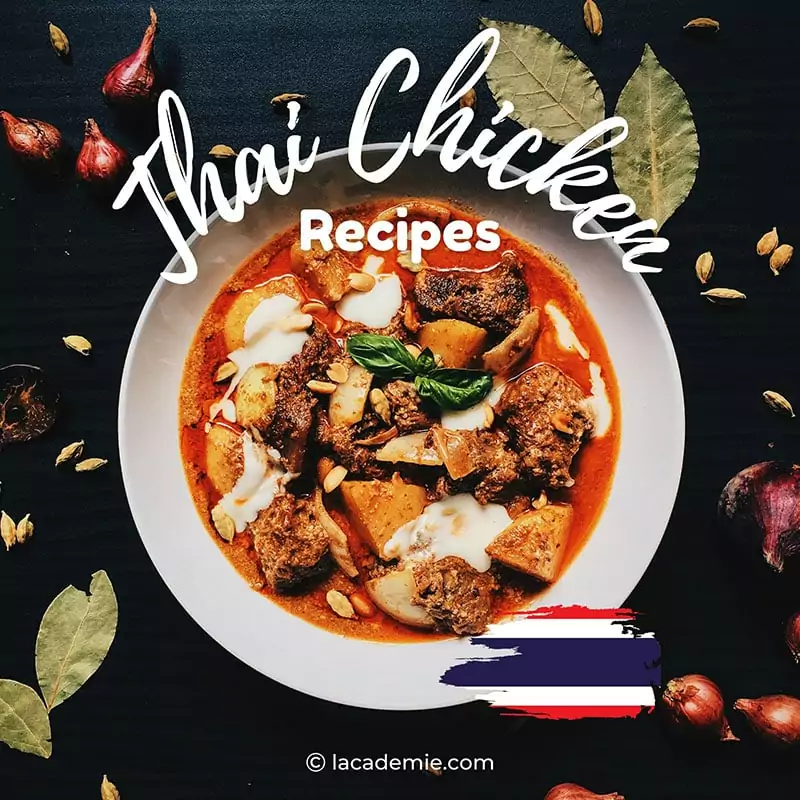 Flavorful Methods Of Cooking Chicken From Thailand
Before I take you on a journey to discover Thai's interesting chicken dishes, I want you to know that the ingredients are super easy to find at Asian stores or markets. With that out of the way, let's discover some tasty recipes of Thai cuisine that put chicken meat into use.
I'm sure it's just a matter of time before you find your favorite recipe to make right at home.
Total time: 20 minutes.
Panang, sometimes known as Phanaeng, is a famous curry recipe in Thailand. The dish is popular with many people for its thick consistency with a salty and sweet flavor. However, you should prepare your taste buds as Panang is notorious for being super spicy.
The curry gets a unique flavor from the Panang curry paste, a massive combination of condiments like dried chili, lemongrass, and lime leaves. Since the paste is complicated to create in your kitchen, it's best to grab it from your nearest Asian stores.
To accompany the spiciness, people tend to use coconut milk to ease the seasonings of the curry. For protein, I love using shredded chicken as they are easy to get your hands on. In addition, you can add fish sauce and palm sugar to adjust the final flavor of your Panang curry.
Panang curry tastes best when served with rice or with some lime leaves to enhance the freshness. Don't worry if your Panang curry is murky because that's how the original curry broth is supposed to be.
Total time: 15 minutes
In Thai, locals often refer to the word "Pad" as dishes that require stir-frying. Well, allow me to introduce you to Pad Krapow Gai, a Thai stir-fry dish that utilizes basil as the main flavor. I'm sure you will love the sweet and savory sauce that coats every ingredient of Pad Krapow Gai.
I love using Thai basils for a traditional approach to this stir-fry recipe. Different from other regular types of basil, the Thai variety has a smell similar to anise with a hint of spiciness after taste.
Let's start making the sauce by combining oyster sauce with soy sauce, fish sauce, and brown sugar. The sauce needs to be slightly viscous before stir-frying with the chicken, pepper, and onion. Pad Krapow Gai commonly gets its dark brown color from the sauce mixture.
Pad Krapow Gai is a delicious twist to try at home.
Total time: 1 hour.
Prepare to have your mind blown with the creamy and rich flavor of Tom Kha Gai, a traditional soup recipe from Thailand that takes coconut milk as the main highlight. In Thailand, locals mostly pair the creaminess of Tom Kha Gai with the spiciness of various chili flake options.
For the Tom Kha Gai recipe, people build the broth base with chicken stock and coconut milk. In addition, I suggest grabbing some lemongrass stalk to get that authentic Thai soup flavor. Remember, the recipe also needs to have a little bit of curry paste for seasoning.
I recommend using chicken breasts because they are cheap and easy to come by. If you love some heat to your soup, then adding Jalapeno (Mexican chili) is not a bad idea. In addition, you can also add mushrooms to get that soft texture in Tom Kha Gai.
Total time: 2 hours (without including the overnight marinating time).
Grilled chicken is certainly one of the best Asian chicken recipes that I cannot resist. If you're like me, then Gai Yang is a Thai twist on grilled chicken that you should try. Depending on the regions in Thailand, locals will have their takes on the Gai Yang recipe.
However, I prefer making my Gai Yang with a combination of coriander roots, lemongrass, and garlic as the marinating concoction. Ideally, you want to grind the condiment into a paste before rubbing it over the chicken. For the best flavor, the chicken should be marinated overnight.
As for the Gai Yang sauce blend, my pick is a concoction of Khao Kua (roasted rice powder) with tamarind juice, fish sauce, and chili flakes. Most often, locals like accompanying Gai Yang with authentic side dishes in Thailand like sticky rice or Som Tam (papaya salad).
Make sure you grill the chicken as a whole so you can avoid losing excessive moisture from the meat. The chicken should be charred slightly on the outside skin so the smokiness flavor is infused deep in the meat.
Total time: 18 minutes.
Crunchy and nutty Thai cashew with savory stir-fried chicken for a wholesome meal is what I always sign up for. Better yet, it's super easy to make with simple ingredients available right around your area.
The key to leveling up your cashew relies heavily on the sauce blend you use. My preference is a blend of oyster sauce with fish sauce, soy sauce, and sugar. The sauce coats the cashew in a mesmerizing sweet and savory flavor.
To get the best meat texture, I highly advise you to use chicken thighs because of the rich and fatty flavor. In addition, I like sprinkling cayenne pepper powder for a slight kick of spiciness.
Total time: 1 hour 20 minutes.
If Tom Yum is an unfamiliar term for you, don't worry for I got your back. In Thailand, Tom Yum is often a hot pot that has prawns as the main flavoring ingredient. Commonly, people describe the soup of Tom Yum as a harmonious combination of sweet, sour, and salty flavors.
However, this baked chicken recipe will only have the Tom Yum taste instead of being a soup. To recreate the incredible Tom Yum flavor, I like to begin with lemongrass, galangal (Southeast Asian condiment), and shrimp paste to form the base flavor.
Next, you need to blend some soy sauce, lime juice, and coconut milk with the prior mentioned mixture. Don't forget to give your Tom Yum paste a taste test so you can make final adjustments. Finally, you start marinating the chicken drumsticks in your homemade Tom Yum paste.
After spending some time in the oven, your Tom Yum baked chicken will have a beautiful golden brown color. These flavorful drumsticks are perfect to accompany with a hot bowl of rice for a hearty night.
Freshen up your baked chicken recipe with splendid Tom Yum flavor.
Total time: 1 hour 20 minutes.
Satay is a popular form of grilling meat in Southeast Asian cuisine. Most often, people will resolve to a generous amount of condiments to season the meat. However, the most outstanding thing about Satay is that people usually skewer the meat with sticks before grilling it.
To keep your cooking experience enjoyable, I will use a simple mixture of soy sauce, fish sauce, and coconut milk for marinating the chicken. To add to that, I love utilizing turmeric to get a distinct yellow color to the chicken meat.
As a side dish, I suggest you whip up some coconut rice by cooking the rice with the remaining coconut milk. The fluffy rice with a little aroma of coconut makes for a tempting combination with the flavorful chicken Satay.
Total time: 20 minutes.
Khao Tom is a popular morning meal recipe of Thai cuisine for many people in the country. Locals tend to serve the soup warm with simple chicken meatballs. Normally, the rice will instantly melt in your mouth with little effort of chewing.
What I like most about this delicious Thai rice recipe is how easy it is to make the meatballs. Typically, people utilize ground chicken with some seasonings like fish sauce, garlic, and white pepper. Divide and roll the chicken mixture into little balls.
Then, start dropping your chicken balls into boiling water to cook for a couple of minutes before scooping them out again. Ideally, you want to transfer the meatball back to Khao Tom near the end of the cooking process.
The soup's base is a combination of chicken stock for a naturally sweet flavor with some lemongrass stalks. Unlike conventional methods of cooking rice, you need to use more water than usual so that the rice can fully expand and soften after the cooking process.
For garnish, I suggest cutting some eggs in half and placing them over the soup. Normally, Thai chicken rice soup has a relatively light flavor, so you may adjust it with some soy sauce or fish sauce.
Total time: 25 minutes.
Many dishes from Thai cuisine charm people with their spicy, sweet, and savory flavors. This chicken stir-fry with tamarind is the perfect representative of that flavor combo.
Even if you're not good at handling spicy foods, you can easily adjust the spiciness level by reducing the chili amount.
To get the best meat texture, my recommendation is chicken thighs because of their bouncy and succulent nature. Remember, you want to season the chicken with galangal, soy sauce, and ginger to get the closest Thai taste.
Furthermore, the addition of shiitake mushroom enhances the overall meaty texture of the chicken stir-fry. Finally is the tamarind sauce which is made by mixing tamarind paste with some chicken stock, fish sauce, and sugar.
Total time: 25 minutes.
Here's another stir-fry recipe that you can test out right in your kitchen. Despite having pineapple as the main ingredient along with the chicken, the dish often has a mildly sweet flavor instead of tartness.
Typically, the chicken and pineapple are quickly stir-fried in a pan on high heat to infuse the smokiness flavor into the ingredients. Thai people also season the chicken by using fish sauce and cornstarch so the dish may have a thick sauce consistency.
To make it more flavorful, you want to add in some sliced bell pepper for an additional aroma of spiciness. In most cases, you need to work the pan quickly to avoid unwanted burns on your ingredients.
Give this stir-fry chicken and pineapple a try because I know you will love it in the end.
Total time: 30 minutes.
I know you guys are always in need of comforting food on your side during cold days. Lucky for you, this Thai noodle soup is the perfect answer to your problems. The mild spicy broth will surely keep you warm throughout the night.
Typically, the noodle soup is made by combining chicken stock with crushed tomatoes as the base flavor. People usually prefer adding Thai chili or some pepper flakes for an iconic kick of heat.
If you're wondering where to find the rice noodles, my safest bet is at Asian markets or supermarkets. Back to the soup, you can use shredded chicken as the main protein source of the dish. In terms of flavor, the broth has a naturally sweet taste from the chicken.
Total time: 30 minutes.
I can't get enough of these Thai-style chicken meatballs as they are addicting and easy to make. Most often, people glaze the meatballs in a sweet and spicy chili sauce for the ultimate main dish of the night.
In terms of protein, you can use other options like pork or turkey to make the meatballs. But I like using minced chicken because of its versatility in combining with other condiments. To bind the chicken with other ingredients, my best choice is always an egg.
The key to making a crunchy meatball is by adding breadcrumbs to the mix. In addition, I adore using grated ginger and lemongrass to impart a refreshing flavor to the meatballs. Ideally, you want the meatballs to have a decent size to have a mouthful bite with flavorful condiments.
Typically, the meatballs are only coated with the chili sauce after they have already gone through the first baking process, which lasts for around 10 minutes. The sticky chili sauce is sticky and perfect for filling your belly to the brim.
Total time: 30 minutes.
Surprisingly, you can bring the Thai flavor right into your pizza recipe. The secret lies in the sauce as it is a key factor in creating a unique taste for your pizza. Better yet, the required condiments are not as complicated as you think.
You want to begin with the peanut sauce by using peanut butter as the base flavor. Then, combine a variety of condiments like fish sauce, soy sauce, and tamarind paste for the sourness. I always recommend having some ginger to make the sauce more fragrant.
To simplify the pizza, I opt for using store-bought dough instead of making it. As for the topping, a simple combo of shredded chicken with cheese and vegetables will work wonders.
Besides drizzling the peanut sauce over the pizza dough, you should also toss the chicken with the sauce to bring out the best flavor. Normally, the pizza takes around 15 minutes to fully cook. The creamy and sour sauce is perfect for accompanying a crunchy pizza crust.
Jump right into the kitchen and start making homemade Thai chicken pizza for your meal.
Total time: 30 minutes.
Pad Thai is one of the most well-known foods when it comes to Thai cuisine. The dish involves stir-frying rice noodles on high heat with the combination of a variety of meat and vegetables. In Thailand, there's no boundary to the type of meat used for Pad Thai.
To make it easy, I suggest using chicken for Pad Thai to save you a lot of time and money since the meat can easily pair with any kind of ingredients. The rice noodles of Pad Thai are commonly available in many Asian markets or stores.
While stir-frying the noodles, you also need to whip up the sauce composed of rice vinegar, peanut butter, and fish sauce. If you want an extra kick of heat then adding chili flakes is not a bad idea.
Remember, you must crank the fire up while making Pad Thai get that signature smoky flavor infused into the dish. Then, you can throw in the chicken breast with a combination of carrots, bell peppers, and peanuts.
Ideally, the noodles of Pad Thai need to have a brown color from the sauce concoction. Pad Thai tastes best when served hot with some cilantro on top for garnish.
Total time: 15 minutes.
Thai mango salad is a refreshing and visually striking meal at the same time. It is easy for any newcomer to authentic Asian recipes to follow right on their first try. With every bite, your mouth will be filled with a familiar sweet and sour flavor of Thai cuisine.
Let's start with the vegetables: You need to shred cabbage into little pieces to mix with bell pepper, carrots, and chopped cashews. As for the mango, I like using ripe ones because they provide a sweeter taste to the salad.
Don't forget to combine shredded chicken breast with the vegetables as well. To make the dressing, I love using a concoction made of honey, tamarind sauce, and peanut butter. Before serving, make sure you chill the salad for around 30 minutes in the fridge for the best taste.
Total time: 20 minutes.
Are you in need of a Thai recipe that takes little time to prepare? I got just the thing you want with this chicken peanut noodle recipe. A good thing about it is that you will be using instant ramen to combine with a personalized peanut sauce of your liking.
If you have left-over chicken, then now is the perfect time to make use of it. Start by sauteing the vegetables until they become tender. While at it, you'd better cook the instant noodle with boiling water as well.
To make an amazing sauce blend, my advice is to utilize rice vinegar, peanut butter, and sesame oil as the base flavor. Then, I prefer some grated ginger in the sauce for a hint of refreshing taste.
Similar to Pad Thai, this Thai chicken peanut noodles recipe requires you to stir-fry all the ingredients together on high heat to get that smokiness flavor.
Total time: 35 minutes.
Kaeng Khiao Wan Gai, commonly known as Thai green curry, is one of the most renowned foods in Thailand. The curry's origin remains a mystery, but many suggest that Kaeng Khiao Wan Gai appeared around the 1920s.
Thai Green Curry gets its signature color from a paste made with green chili and lemongrass. Many people describe the flavor of the curry as having a rich and mildly spicy flavor. For the chicken, thigh meat is the best choice because of its tender texture.
Most often, people will get curry paste from Asian stores since it takes a lot of effort to make it. In addition, the coconut milk will even out the spiciness and gives the broth a creamy flavor. Preferably, fish sauce should be your go-to choice to adjust the curry taste to your liking.
Thai Green curry is a must-have dish on your homemade menu.
Total time: 30 minutes.
Let's face it: fried chicken is all too familiar to everyone around the world. That's why I want to spice up your conventional fried chicken with a touch of Thai twist in the recipe. In Thailand, this fried chicken recipe is extremely popular as a street food option for its fantastic flavor.
Instead of using a batter recipe, I like grounding a combination of coriander roots, peppercorn, and garlic. Then, combine your ground spices with a batter consisting of flour, fish sauce, and an egg.
You should lightly coat the chicken drumsticks with the batter mixture and fry them until you get a golden brown color. Thai fried chicken is a scrumptious dish that is perfect to accompany with some sweet chili sauce for serving.
Total time: 1 hour.
If you're a big fan of roasted chicken recipes, then the Thai roasted chicken Thai is a must-try for your next meal. You will need to use a lot of condiments to make this recipe; however, the result is surely satisfying and heartwarming.
People normally like using potatoes, but I think carrots suit the baking process of this roasted chicken recipe as well. Moreover, the carrot will slowly release its earthly sweet while also absorbing the chicken thighs' flavor in return.
To make a simple marinate mixture, I recommend utilizing soy sauce, fish sauce, and Sriracha (Asian chili sauce). An important note for you: The chicken should be placed skin side up when baked in the oven to avoid drying out the skin. Finally, sprinkle some basil for a better taste.
Refresh Your Chicken Recipes With These Thai Tweaks
These Thai modifications to your conventional chicken recipes are the perfect solution to treat your family and friends at the dinner table. The signature sweet and sour flavor of many Thai seasonings is a surefire way to leave a good impression on anyone.
So don't just wait around: jump into your kitchen and create your favorite chicken dish. Share your thoughts on which is your favorite dish right in the comment section. Also, you can send this article to people that are dying to know the secret behind your wonderful chicken creation.
Nutrition Facts
4 servings per container
---
Amount Per ServingCalories642
% Daily Value *
Total Fat 47.1g

73

%
Cholesterol 101mg

34

%
Sodium 1367mg

57

%
Potassium 560mg

16

%
Total Carbohydrate 23.3g

8

%

Dietary Fiber 2.2g

8

%
Sugars 11g

Protein 35.4g

70

%
---
* The % Daily Value tells you how much a nutrient in a serving of food contributes to a daily diet. 2,000 calories a day is used for general nutrition advice.