Have you ever tried Chinese drinks? While many people in the world's most populous country go for tea and hot water when they're thirsty, there are other kinds of stronger stuff. Both alcoholic and kid-friendly drinks are never lacking in China.
The country is teeming with signature drinks that can be found nowhere else. At the same time, many of its beloved beverages are brought from the outside and modified to suit the local taste. This post will cover every type of Chinese drink you need to know about.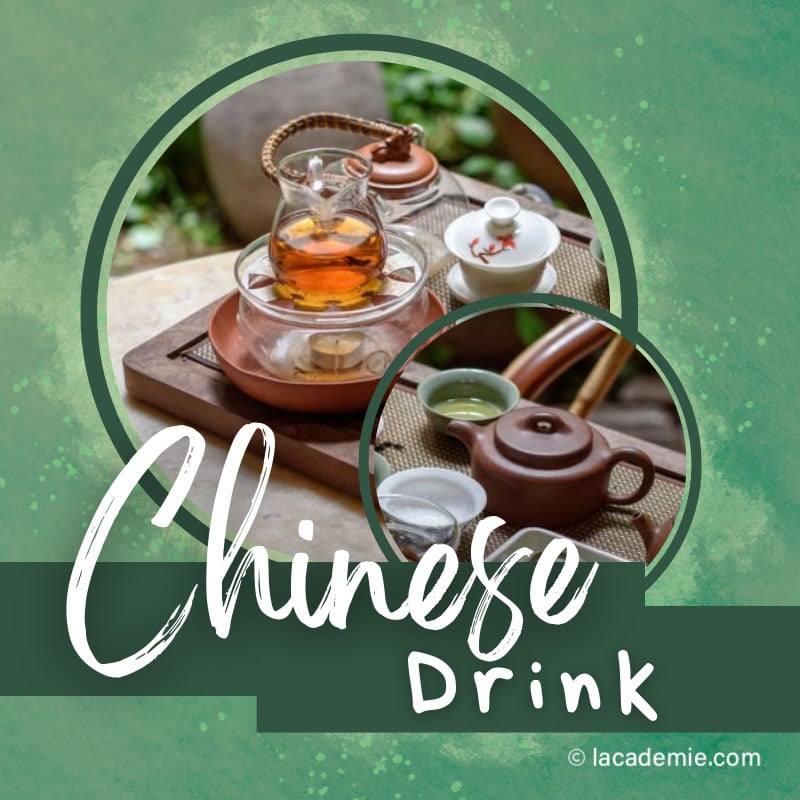 8 Traditional Chinese Drinks With Tea To Enjoy
After enjoying the delicious dishes that Chinese cuisine offers, it is customary to round off your meal with tea. But what to choose from numerous types of Chinese tea available? You will find the answer in this section.
Non-alcoholic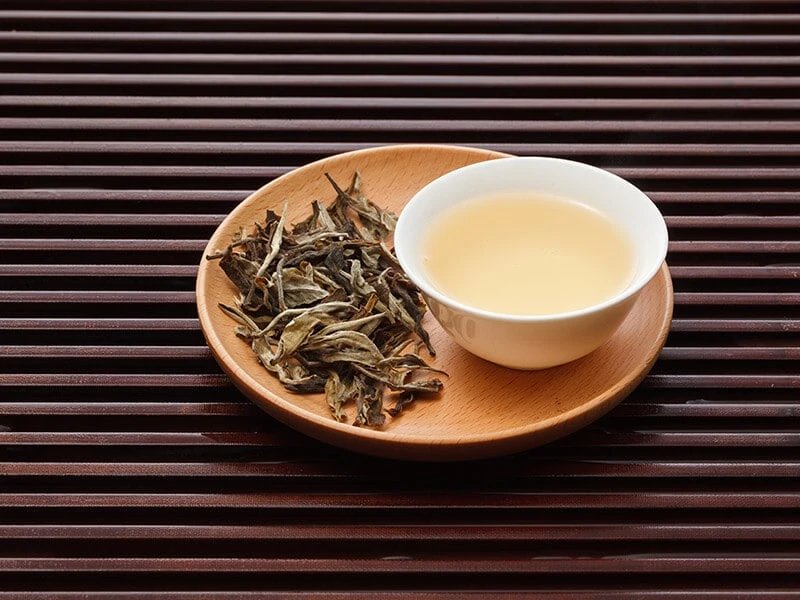 The mountainous Fujian province in southeastern China is well-known for this low-caffeine tea. Local people harvest the young tea buds and leaves in the early season when they are still cloaked in snowy hair, hence the name.
Those tender, delicate shoots are sun-dried or heated until they are fuzzy but still retain a light green color. To get the best out of its flavor and health benefits, you should brew it with water below 85°C, where the water is hot but not very foamy.
White tea has a very mildly sweet taste accompanied by a floral fragrance. It is very subtle, so adding sugar or milk to the tea isn't recommended. Looking at its beautiful pale yellow color and taking its herbal smell, you can imagine an emerald sea of tea hills thriving in the springtime.
There are many varieties of white tea: monkey-picked one (not really harvested by monkeys, though), silver needle, or white peony. They are all expensive but worth every cent you pay for.
Where to find: various restaurants and supermarkets in China offer white tea, but, ideally, you should head to Fujian province.
Here is a close-up look at how Chinese people make white tea.
Non-alcoholic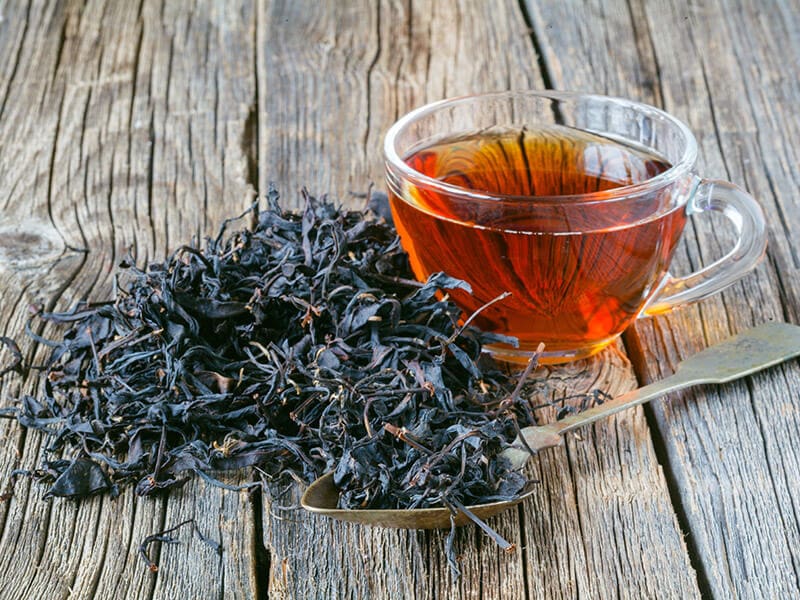 The tea derives its name from the dark color of its withered, brittle leaves. But the strong substance it produces can have any color from pale amber to dark orange. The higher its oxidation level is, the darker and more powerful it will become.
While people create black tea from the same tea plant, Camellia sinensis, the rigorous fermentation and drying process causes it to stand out from the crowd. In fact, the Chinese people usually call it fermented tea or dark tea to mark the difference.
Black tea has been a cornerstone of Chinese tea culture for centuries. Countless generations have delighted themselves with the tea's intense and diverse flavor, whether fruity, earthly, or malty. Another plus point is that this variety is versatile, meaning it can mix with other drinks like milk.
There are three main types of black tea, divided into further sub-categories with disparate tastes and prices. Whether you like Xiao Zhong, Gongfu, or broken black tea, you can have it all.
Where to find: any Chinese tea shop, eating place, and supermarket can indulge you with premier black tea.
Non-alcoholic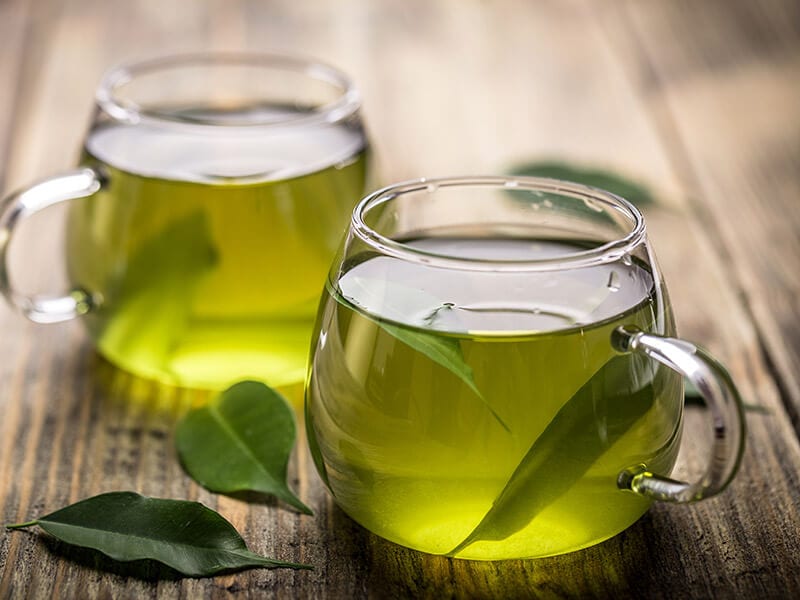 Many traditional Asian recipes go nicely with this easy-to-make drink. And a Chinese meal is no exception. In fact, green tea has been the most preferred form of tea in this country for millennia, from the time of the mythological Emperor Shennong.
Unlike other varieties of tea which undergo a lengthy process of oxidation, green tea is only pan-fried lightly before being steeped in hot water. The resulting drink possesses a verdant green color and a herbaceous taste evocative of fresh-cut grasses.
While brewing green tea sounds simple, different varieties require their own methods. By the rule of thumb, high-quality tea calls for cooler water and shorter steeping time than the substandard one. Otherwise, the grassy sweetness of the tea will turn bitter.
You're probably familiar with Matcha from Japan. It is a kind of green tea that is steamed and ground into powder. Meanwhile, Chinese people only pan-fry their leaves before brewing them for a lighter and fresher taste.
Where to find: anywhere in China.
Non-alcoholic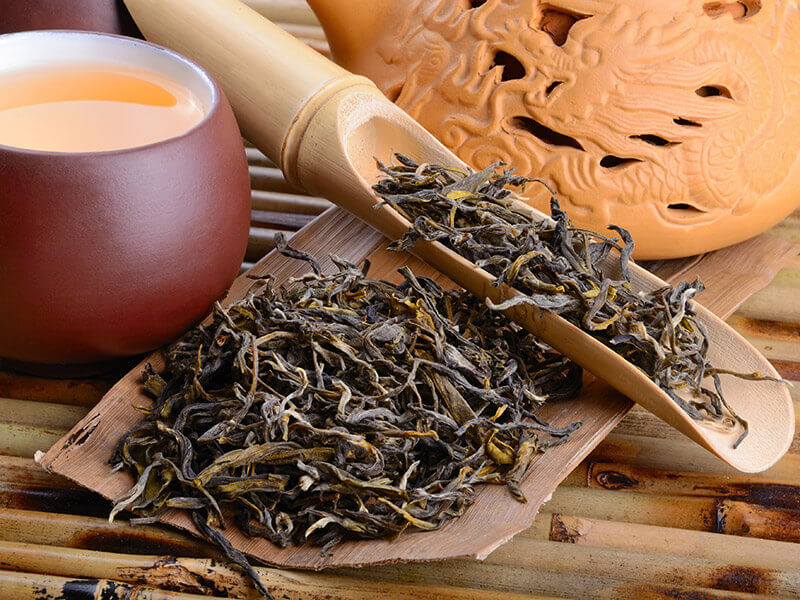 A semi-oxidized drink, oolong tea stands between green tea and black tea. It comes in many forms and colors, depending on how people dry and roast the tea. Products with low oxidation levels produce tea with bright colors and a sweet scent, much like green tea.
On the other extreme, more oxidized oolong tea (higher than 50%) bears a stronger resemblance to black tea. After brewing it, you will enjoy a nutty-tasting tea with deep shades of brown or orange.
Adjusting the oxidation is laborious work that drives up the production cost of oolong tea. The good news is that oolong is one of the most health-beneficial tea types. For example, it can help you lose weight due to being full of antioxidants that melt fat and reduce your cravings for food.
Where to find: while many places in China have oolong tea for sale, the best ones are the Wuyi Mountains and Anxi County in Fujian Province.
Learn about different types of oolong tea in 8 minutes here.
Non-alcoholic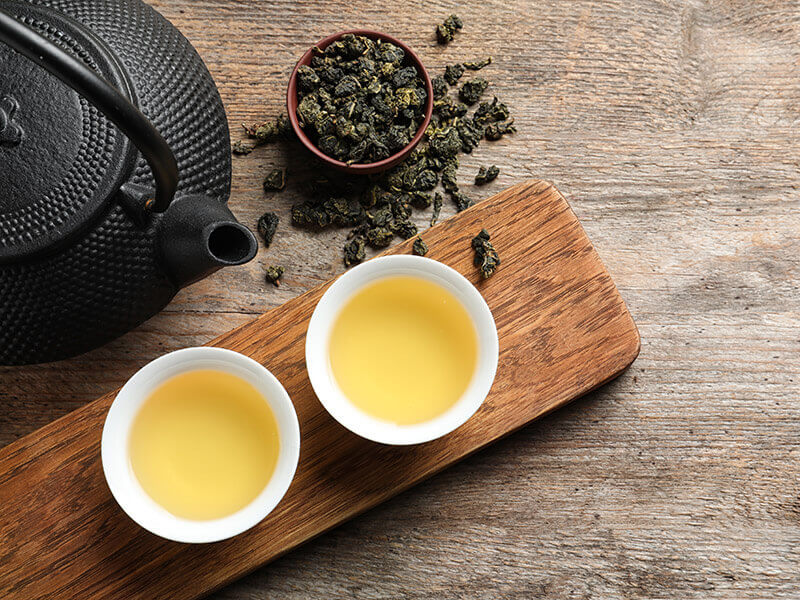 Usually translated as the "Iron Goddess of Mercy", Tie Guan Yin is a wonderful drink for people with a deep pocket. It falls under the category of oolong tea. This premium product first appeared in Anxi, Fujian, around the 19th century.
Legend has it that a local peasant, though poor, dutifully venerated an iron statue of Guan Yin (Chinese Goddess of Mercy). The Goddess gave him a treasure location that contained a tea shoot as a reward. The peasant grew it, sold the delicious tea, and finally led an easy life.
One sip of Tie Guan Yin will reveal why "treasure" is an apt term for it. The floral fragrance and sweet, berry-like smell is pure pleasure in a liquid form. Even though the tea may leave behind streaks of bitterness, they will quickly turn into a lingering honey aftertaste.
Where to find: While Anxi County in Fujian Province is the cradle of Tie Guan Yin, other parts of China can offer the tea at varying prices.
Non-alcoholic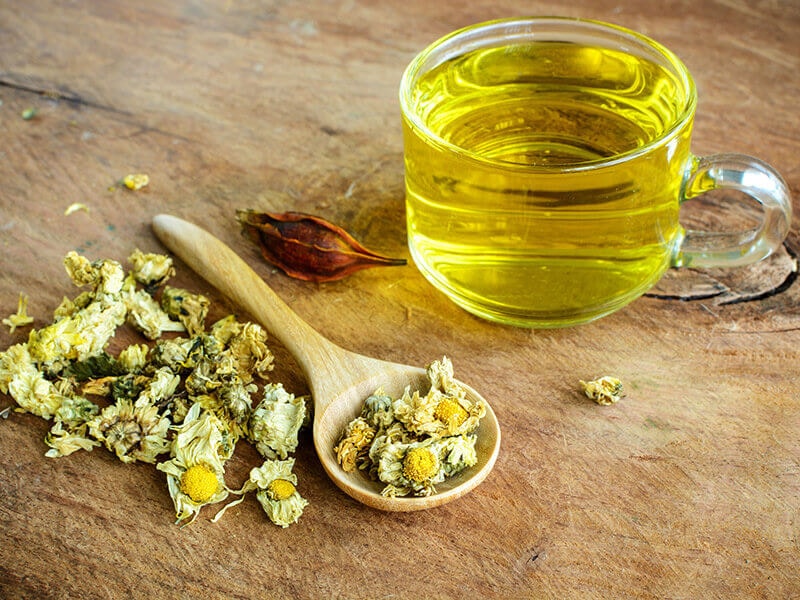 Many Chinese drinks are teeming with delightful flavors and amazingly beneficial nutrients. For example, just look at how chrysanthemum tea is rich in disease-preventing minerals such as potassium, magnesium, and phosphorus.
Unlike the varieties of tea mentioned above, chrysanthemum tea is prepared from dried chrysanthemum flowers, not tea leaves. People let them soak in hot water until the tea acquires a yellow color and a floral fragrance. It will be even tastier if you add sugar to the cup.
Chrysanthemum tea has been a popular drink since the era of the Song Dynasty. While it can bring about multiple benefits, you shouldn't consume it too much, or the tea may do more harm than good. Two or three servings per week are usually sufficient.
Where to find: Various tea shops, restaurants, and grocery stores in China, though it is easy to brew at home.
You will find making organic chrysanthemum tea easy with this straightforward guide.
Non-alcoholic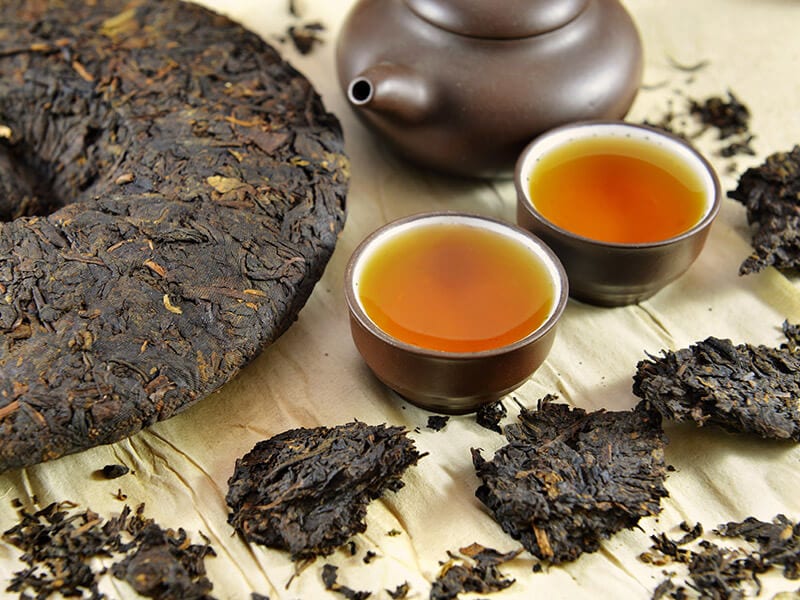 Most kinds of tea flinch at the bacteria and moisture as nothing is better at ruining their valuable flavors than these two. However, pu'er tea (or pu-erh) from the majestic landscape of Yunnan Province in southwestern China is an exception.
It was once a favorite drink for ethnic groups in the mountainous province before appealing to the national appetite. The tea is a product of an aging process that turns dried tea into an inviting fermented tea.
Traditionally, pu'er tea requires a long time for its flavor to fully settle in. However, a few manufacturers have developed techniques that shorten the process considerably. The tea can be packaged in many forms, such as cakes, bricks, or mushrooms.
While ripe (fermented) pu'er tea is familiar, raw (non-fermented) one is also available. Both have a yellow or reddish-brown color accompanied by a sweet, kind of moldy taste. Numerous vendors infuse their goods with local herbs or spices for more exotic vibes.
Where to find: In Yunnan Province, of course. Alternatively, you can order it online or purchase it from tea shops in big cities.
Alcoholic or non-alcoholic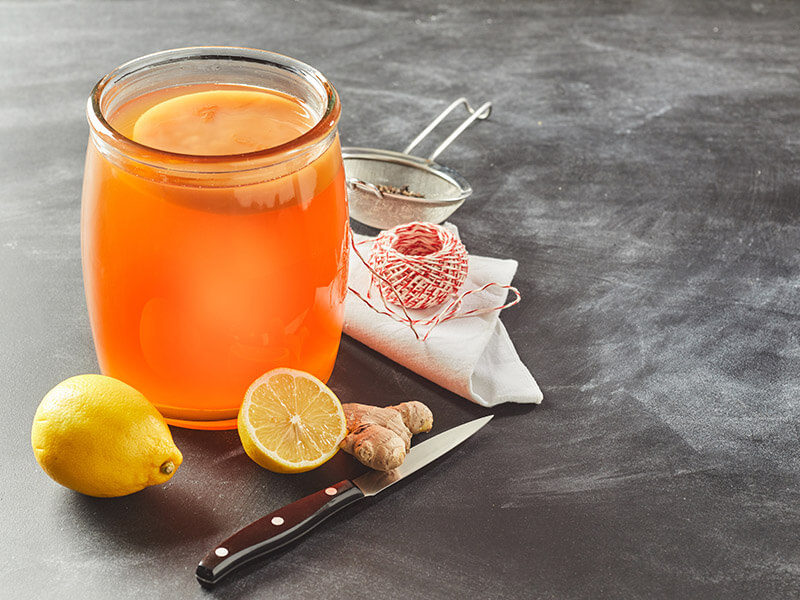 Supposing that you wake up one morning and your throat hurts terribly, what're you going to do? You won't have to take any medicine if your favorite drink is Kombucha. It supposedly first appeared in ancient China before spreading to Europe.
While the drink is Chinese in origin, its popular name "Kombucha" seems to be a Japanese loan word. People curiously refer to it as "hong cha jun", literally "black tea mushroom" in China.
In essence, Kombucha is a fermented vitamin-rich of black or green tea (or both). The factor behind this transformation is SCOBY (symbiotic culture of bacteria and yeast). Foodies prepare this drink by growing the culture in a bottle of sugary tea and leaving it be for weeks.
It is a common practice to call the drink "Kombucha tea". This is ironic because if the culture grows too much, the drink will have a high alcoholic content unfit for kids. Therefore, you should monitor your culture carefully.
Anyway, your hard work won't go unnoticed. When you open the bottle and have a taste of the fuzzy, brown drink, you will be struck with its fantastic balance of sweetness and acidity that will wonderfully stimulate your appetite. The flavor can also be fruity if you put spices and herbs in it.
Where to find: Although well-known as a Japanese beverage, Kombucha is still a traditional Chinese drink. You can find it at grocery stores and traditional medicine shops in the country, especially in populous cities.
Here is a peek into the complicated history of Kombucha.
Get Ecstatic With These 6 Types Of Chinese Liquor
Alcoholic beverages are a mainstay of Chinese drinks as well as drinking culture. So read on to find out what kind of grown-up juice you should pay attention to.
Alcoholic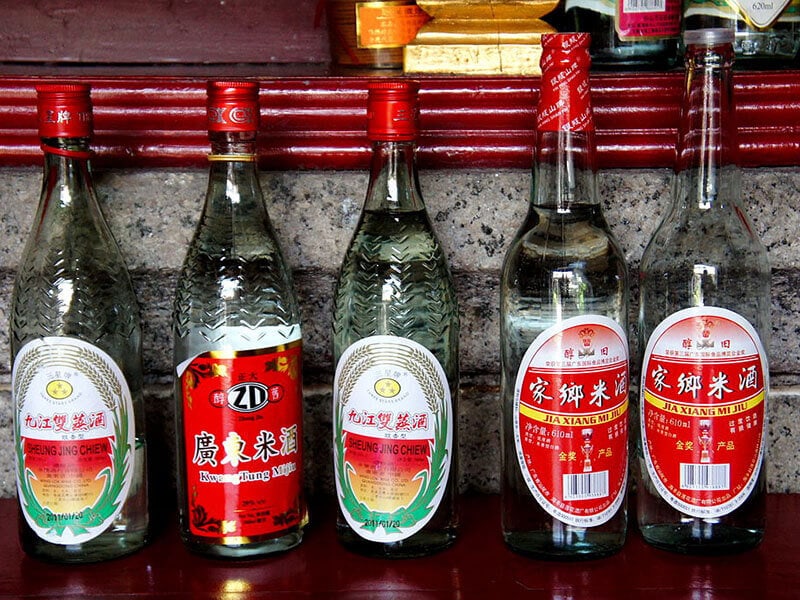 If you want to dive into the vast realm of Chinese alcoholic beverages, start with this one. Mijiu is an all-encompassing term that includes various varieties of glutinous rice-derived wine. It is as vital to Chinese cuisine as sake to Japanese foods or cheongju to Korean delights.
While the number of the Mijiu types is huge, they all share a combination of pungent sweetness and mild bitterness. Also, their standard alcohol content is usually somewhere between 15% and 20%. Unlike Western wine, Mijiu needs to be served warm.
There are many ways you can consume Mijiu. One method is to flavor it with fragrant flowers, such as osmanthus, to create even more tempting scented wine. Another approach is to use it in cooking since many Chinese dishes require its spicy power to achieve the best flavor.
Where to find: Mijiu is unfailingly among the main products of most liquor shops and bars in China. Restaurants should also have it on their drink lists.
Alcoholic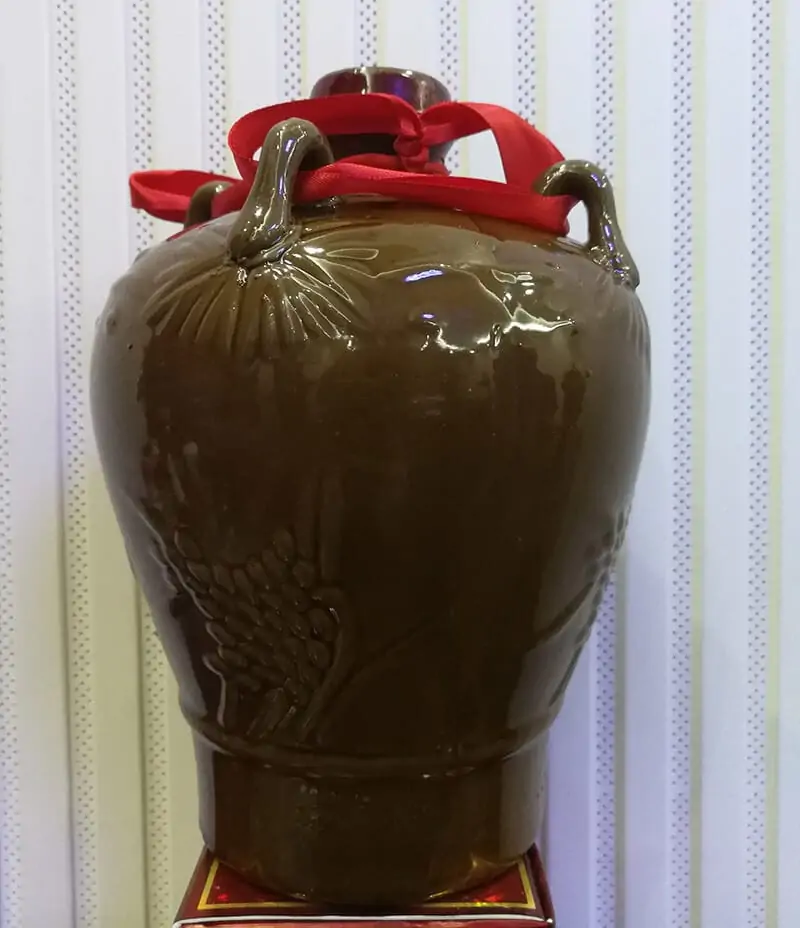 It's hard to find a national drink that can represent the taste of this country of 1.4 billion. But if I had to name some potential candidates, Baijiu would certainly be the first one.
One reason is that it is usually restricted to China and overseas Chinese communities. Most Westerners have difficulty comprehending its powerful, pungent scent. After all, Baijiu is a pretty strong drink whose alcohol content can range from 35% to 60%.
However, if you start small and really make an effort, you will see a new side of the beverage. It is a rich liquor distilled from multiple ingredients, mainly fermented sorghum, wheat, sticky rice, or corn. That diversity demonstrates the richness inherent in the drink.
Many people unfavorably describe the taste of Baijiu as "rotten fruit". However, this transparent liquor can come in all kinds of aromas to suit everyone's taste. Examples include light aroma Baijiu that all can tolerate or strong aroma Baijiu with a deep sweetness and a spicy vibe.
Other notable varieties are sauce aroma Baijiu, which tastes like fermented bean pastes and is perfect for pickles, or the herbal, extra-strong aroma Baijiu from Hunan province. Once you get used to Baijiu, you will be able to understand an integral part of Chinese life.
Where to find: anywhere in China, but know that each region usually has its discrete version of Baijiu.
Explore everything you need to know about Baijiu here.
Alcoholic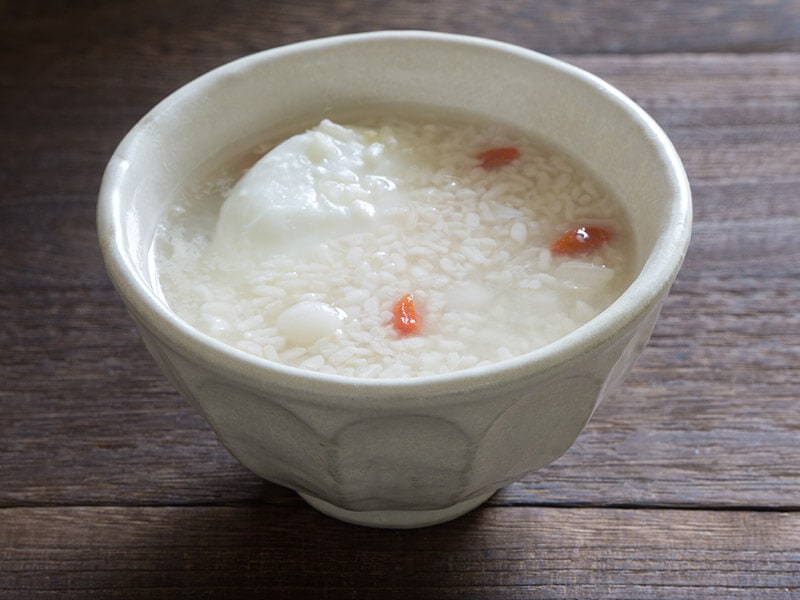 At first glance, Jiuniang appears to be a soup. Its pudding-like texture still lures you into thinking so at the second one. Only when you really taste the milky-white, aromatic liquid can you find out that it is a kind of sweet rice wine.
People concoct Jiuniang from glutinous rice and yeast-containing fermentation starter. The process can create strong rice wine or rice vinegar. To make Jiuniang, however, local inhabitants have to end the process prematurely, which results in an insignificant amount of alcohol (2%).
It is common to consume Jiuniang with light Chinese side dishes to stimulate digestion in China. Its mild sweetness and alcoholic taste go a long way to whet your appetite. Don't forget to savor both the liquid and the soft rice grains.
Jiuniang is a cornerstone of Chinese culture, an indispensable treat during the Dōngzhì Festival (Winter Solstice Festival). This is no coincidence, as the cold weather of the winter makes it easier to control the fermentation of Jiuniang.
Where to find: It is served at countless Chinese restaurants. Many families also brew their own Jiuniang.
Alcoholic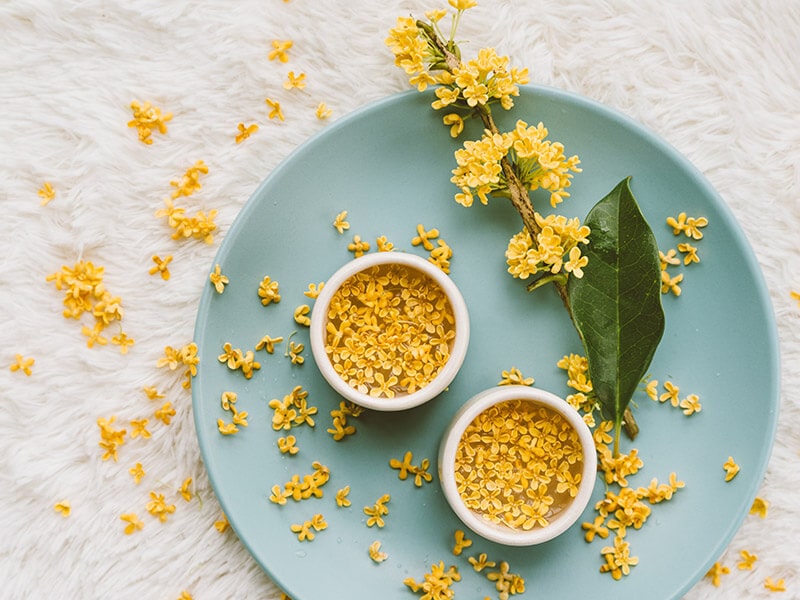 How do the Chinese people turn weak rice liquor into this enticingly aromatic and intoxicating drink? The secret is the sweet and fragrant osmanthus flower. The plant also goes by the name sweet olive or fragrant olive and grows in many parts of China.
Therefore, it isn't difficult to infuse plain rice wine with osmanthus. This cinnamon-smelling herb will significantly increase the flavor of the wine. Osmanthus wine is the preferred beverage for birthday parties and the Mid-Autumn Festival when the snowy, fragrant flower is in full bloom.
An alternative name for the wine is cassia wine. However, cassia (Chinese cinnamon) plays no part in the recipe whatsoever. The name confusion probably stems from the fact that the two plants have the same sound in Chinese.
Besides its wonderful taste, osmanthus wine also has medicinal value, capable of curing minor diseases. It would be a good idea to incorporate the drink (with about 20% alcohol by volume) into your diet.
Where to find: liquor stores and restaurants throughout China, but the Shaanxi and Guizhou provinces in Western China are good places to start.
13. Tsingtao Beer
Alcoholic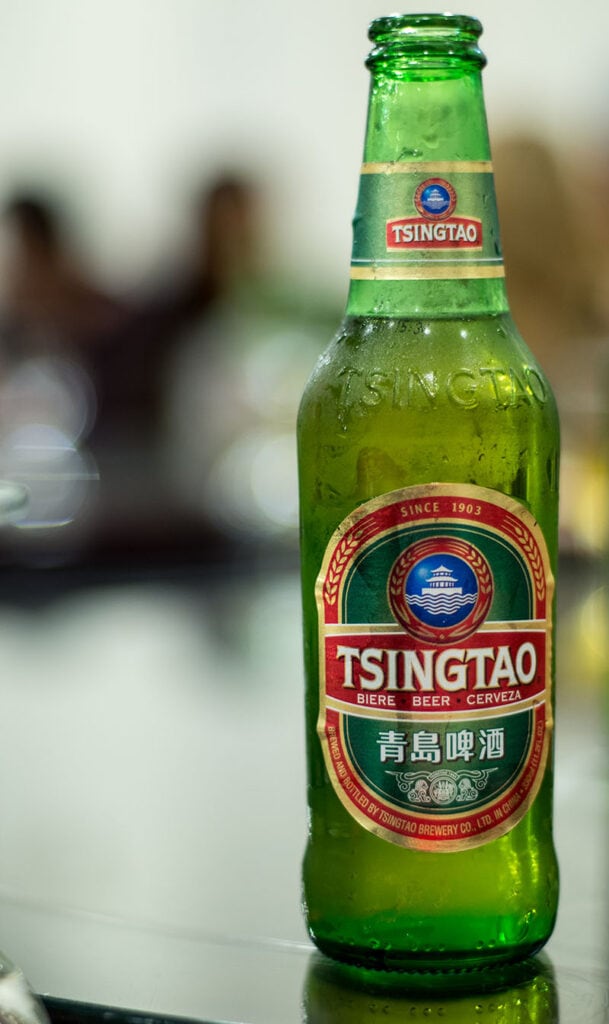 What is the most popular Chinese New Year drink? Probably each region will come up with different answers. But on a national scale, Tsingtao beer looks poised to be a winner. It is massively prevalent in the country, accounting for about one-sixth of the domestic market share.
The beer also possesses an international appeal. More than 90 countries and regions around the world import this product. Perhaps its bright gold color, high-malty aroma, and balanced taste help endear the beer to all types of drinkers out there.
Tsingtao beer owes its creation to German settlers in Qingdao (Shandong Province), who founded a brewery in 1903. As China went through a turbulent historical period, the beer brand had its fair share of stormy fate before bouncing back to its glory.
Today, the Tsingtao variety is undoubtedly the most recognizable Chinese beer. If you happen to visit Qingdao, stop by the Tsingtao Beer Museum to learn more about its incredible journey to widespread fame.
Where to find: Supermarkets, restaurants, and bars all over China.
Stop by the beautiful city of Qingdao and taste its delicious Tsingtao beer.
14. Sinkiang Black Beer
Alcoholic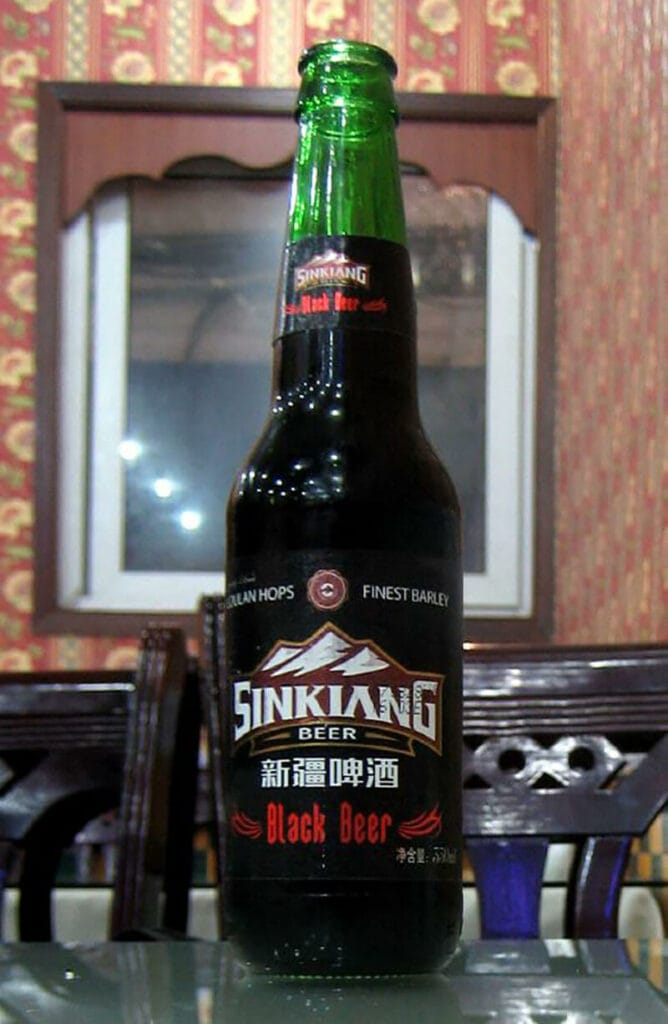 Imagine you are enjoying tasty Chinese dishes such as Sichuan ("saliva chicken") or sour glass noodles. What drink can you pair with them to increase your enjoyment? Allow me to introduce Sinkiang black beer, also known as Xinjiang black beer.
This is a fantastic drink from the breathtaking land of Xinjiang in northwest China. It is so good at accompanying spicy food because the local ethnic population created it to complement their spice-laden cuisine.
The main ingredient for the black beer is local hops, to which the region's distinct climate imparts a special taste. Sinkiang black beer is highly drinkable with its nut-scented aroma and deep sweetness. It is quite similar to Western dark larger, perhaps even more exotic and enjoyable.
Where to find: Xinjiang, obviously. But restaurants and bars in large Chinese cities can have this product to cater to your needs.
The following drinks are excellent choices when you want to pass your time deliciously. Some of them even come with amazing health benefits, a nice added perk to enjoy.
15. Yunnan Coffee
Non-alcoholic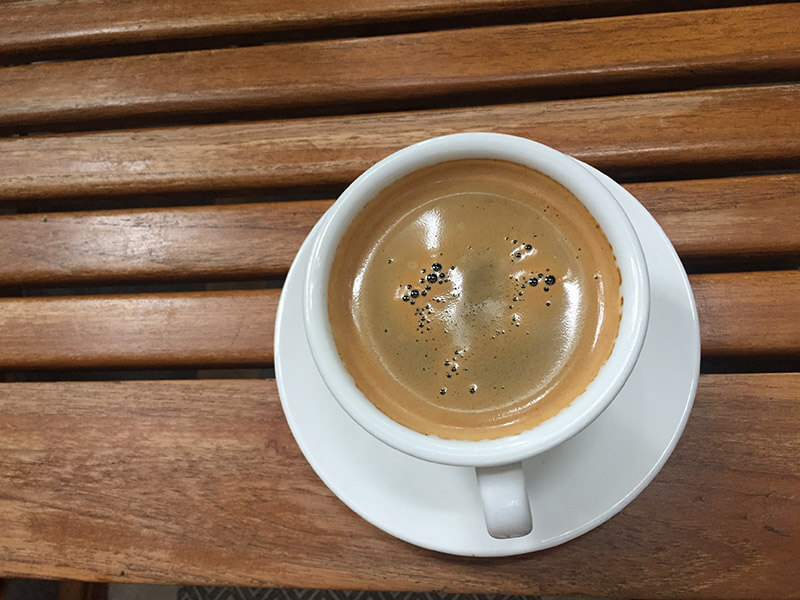 Formerly, China was completely absent from the global coffee map. But extensive efforts coming into effect since the late 1980s has turned the country into one of the world's significant coffee producers. These days, almost all Chinese coffee comes from Yunnan Province.
Besides its abundance of plant life, this southwestern province also has rich soil and a favorable climate. So the tropical coffee tree happily grows here, providing the Chinese with their own caffeine-rich delight.
The local inhabitants of Yunnan cultivate multiple varieties of coffee, namely Arabica Catimor, Typica, and Bourbon. The fruits they produce have a delicious fragrance and a fruity sweetness that tastes just right.
Yunnan coffee is so excellent that all the Starbuck outlets across mainland China utilize it. Its cinnamon-flavored beans distributed by Aini, one of the most popular Chinese coffee brands, has delighted countless Starbuck fans since 2012.
Where to find: All domestic coffee products in China contain Yunnan coffee. You can also visit a Starbuck store for a blend of American and Chinese experiences.
See how Yunnan coffee is recognized for its quality here.
Non-alcoholic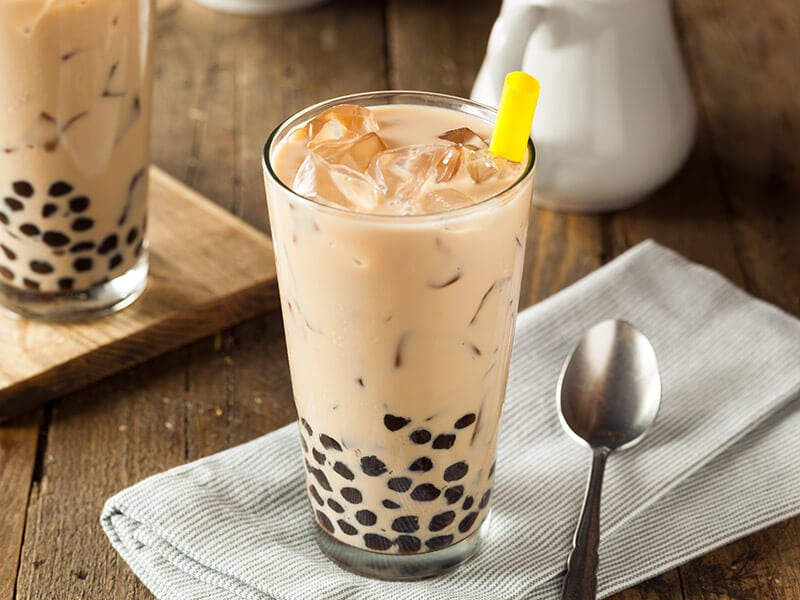 Originating in Taiwan around the 1980s, bubble tea (or pearl milk tea) quickly crossed the border of Taiwanese food culture to become a sought-after treat in mainland China. Ever since its arrival, this sweet tea has reigned supreme as a pleasure that many Chinese people can't live without.
A creamy cup of bubble tea consists of tea, milk, and chewy tapioca pearls. The description sounds simple, but since you can use any kind of tea and milk for the drink, the number of combos is endless.
About tea, the most popular choice is black tea. Its pleasantly bitter taste mixes flawlessly with milk's fatty and sweet flavor, creating a killer combination. However, oolong tea and scented green tea, especially matcha, are no less enjoyable.
In terms of milk, the richness of whole milk makes it the ideal option for bubble tea. Nevertheless, anyone anxious to keep their weight in check can switch to skim milk, soy milk, or coconut milk. Those ingredients will impart an additional fruity scent to your tea.
From a lone island, bubble tea has won Chinese affection as well as that of many Western countries. One of the best bubble tea combos is to munch on tapioca pearls along with yummy Hong Kong foods. The drink is always all the rage in that region.
While it can be served both hot and cold, many people in China overwhelmingly go for iced bubble tea. Enjoying the tea's cool sweetness in the summer heat is as close to heaven on earth as you can get.
Where to find: Cafes, tea shops, restaurants in China.
Non-alcoholic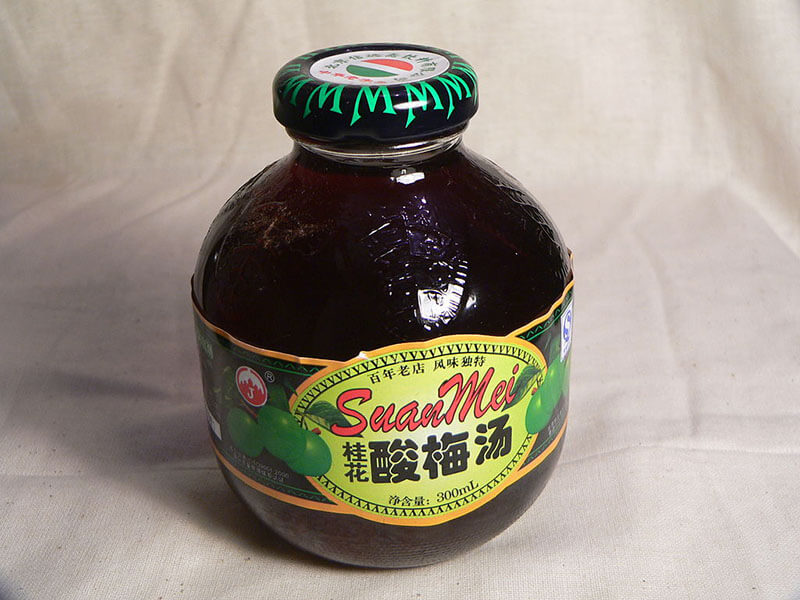 When your body is heaty, you will develop all kinds of nasty symptoms: acne on your beautiful face, a dry mouth, or a sore throat. I have a Chinese drink to remedy that condition: Suanmeitang (literally "sour plum drink").
It is a traditional Chinese beverage brewed from smoked plums, rock sugar, and aromatic ingredients such as osmanthus or rose blossoms. The first recipes of Suanmeitang date back to the Song Dynasty, but they only got standardized in the early 18th century.
A gulp of Suanmeitang, preferably with ice, will please your taste buds tremendously. You will be tingling with its balanced blend of fruity sweetness, satisfying sourness, and a slightly salty undertone that completes the experience nicely.
Suanmeitang is extremely effective at reducing your body's heat buildup, making it an excellent summertime drink. The tangy flavor of this plum-derived goodness can also stimulate your appetite and aid your digestion wonderfully.
Where to find: You can find it at cafes, restaurants, as well as traditional medicine shops in China.
Non-alcoholic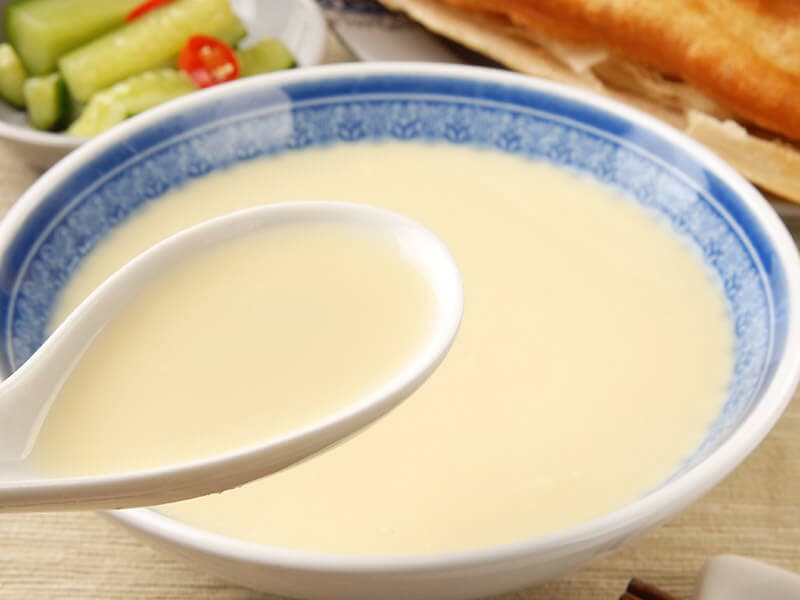 Soy milk pudding is one of the most mouth-watering Chinese desserts to savor. But do you know that soybean milk enjoyed alone is no less delicious? This protein-rich, very drinkable treat is immensely prevalent throughout China, especially appealing to vegetarians.
Soybean milk is made by boiling soybean flour in water and filtering out any solid. The result is a white, fragrant "plant milk" thicker than cow's milk but much easier to digest. It is full of proteins, minerals, and vitamins but blissfully devoid of lactose and harmful saturated fat.
Eastern Han Dynasty's China appears to be the birthplace of this milk. By the late 20th century, soybean milk established a firm foothold in the Western world. Modern versions of the milk come in many flavors, namely mung bean, lily, and red date.
Where to find: Cafes, restaurants, grocery stores, and supermarkets in China. Beware that commercial soybean milk may sometimes contain cow's milk for a fattier flavor.
Knowing how to concoct homemade soybean milk will come in very handy.
Non-alcoholic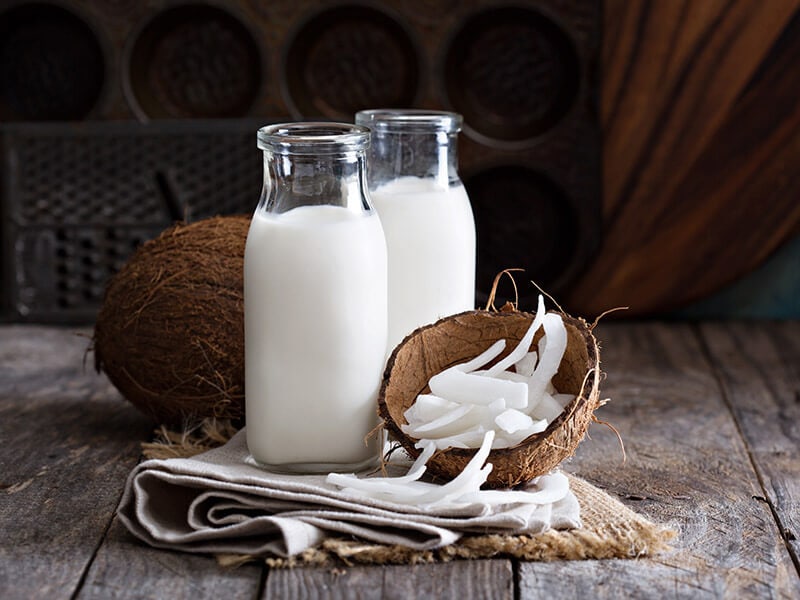 While coconut water is healthy and refreshing, coconut milk will delight you with its nutty sweetness. It is made from a combination of grated coconut, sugar, and hot water. Coconut milk sold in cans and cartons is a favorite product with the Chinese people, especially in the south.
Besides soybean milk, coconut milk is a vegan pleasure that everyone can enjoy in China. Different varieties contain varying amounts of fat. Thick coconut milk is so rich that it can cause weight gain, while coconut skimmed milk isn't fatty at all. Thin coconut milk is the middle ground.
Where to find: Cafes, supermarkets, and grocery stores throughout China, especially in the southern region.
Check Out These 3 Effortless Recipes To Make Chinese Drinks
While many Chinese drink recipes are difficult to replicate, you will have no trouble concocting the following delights at home!
1. Making Chrysanthemum Tea
Moderate consumption of chrysanthemum tea can help reduce the risks of serious diseases such as cancer, diabetes, and stroke. So why don't you start your morning with a cup of this delicious tea?
Ingredients: dried chrysanthemum flowers, water, and sugar (optional).
Step 1: Boil water in a kettle.
Step 2: Put 4-5 dried chrysanthemum flowers in a mug and pour hot water over them.
Step 3: Steep for 3-5 minutes and remove the flowers. Enjoy now, or add sugar for sweetness first.
2. Making Bubble Tea
Commercial bubble tea usually contains an excessive amount of sugar. So what can be better than enjoying your homemade tea that has just the right degree of sweetness? This recipe uses strong black tea. The accompanying milk and ice cubes will dilute it.
Ingredients: black tea bags, tapioca pearls, whole milk, and sugar.
Step 1: Steep the tea bags in hot water.
Step 2: Cook the tapioca pearls in water until they are soft yet chewy.
Step 3: In a large glass, mix together tea, milk, tapioca pearls, and sugar. Add some ice cubes and enjoy.
It's time to bring the sweet flavor of bubble tea to your home.
3. Making Soybean Milk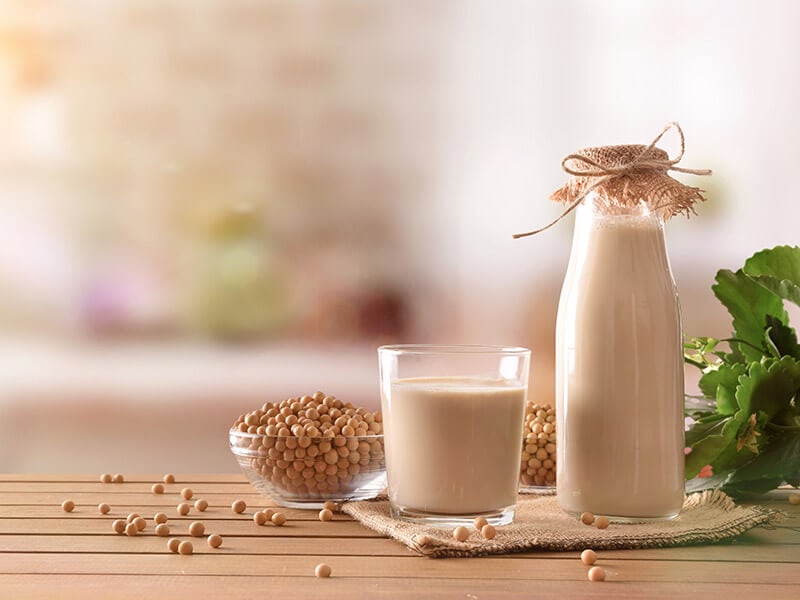 It only takes about half an hour to unlock the door to this protein-packed, easily digestible drink. Yellow soybeans will guarantee the best flavor as well as the highest nutritional value for your milk. You can keep your homemade milk in the refrigerator for 7-10 days.
Ingredients: soybeans, water, vanilla extract (optional)
Step 1: Soak the soybeans in water overnight.
Step 2: Drain the soybeans and remove their outer skins,
Step 3: Blend the soybeans with a food processor until smooth.
Step 4: Strain the pureed soybeans with a cheesecloth or a fine mesh.
Step 5: Cook the mixture with water for 20 minutes, don't forget to stir and skim foam.
Step 6: Cool the milk and add vanilla extract for a more fragrant flavor.
One Drink To Rule Them All: What Is Your Favorite Chinese Drink?
Many Chinese drinks have a rich history spanning thousands of years. Others are modern inventions, sometimes from the outside, that quickly take root in the country. They exist together in harmony and enrich the vast Chinese cuisine.
When you savor finger-licking Chinese foods, don't forget to pair them with the wonderful drinks I've told you about. Even better, you can brew it at home, making certain adjustments to suit them better to your private enjoyment.
If you like this post, it will mean a lot to me if you can tell your friends and loved ones about it. Please feel free to share your thoughts and experiences in the comment section. Thank you very much!