There are several types of air fryers and plenty of air fryer products on the market. Thus, you might be confused about finding out your ideal style or the right model of air fryer to buy.
So why don't you glance at this article to learn more about this helpful cookware? Indeed, the air fryer is such a game-changer in modern cooking, particularly when you need a healthier diet with less oil.
And this post will walk you through how many main air fryer categories are with their pros and cons. Moreover, I will show you some best air fryer products and buying guides to help you ensure your purchasing decision can meet all of your requirements. Let's begin!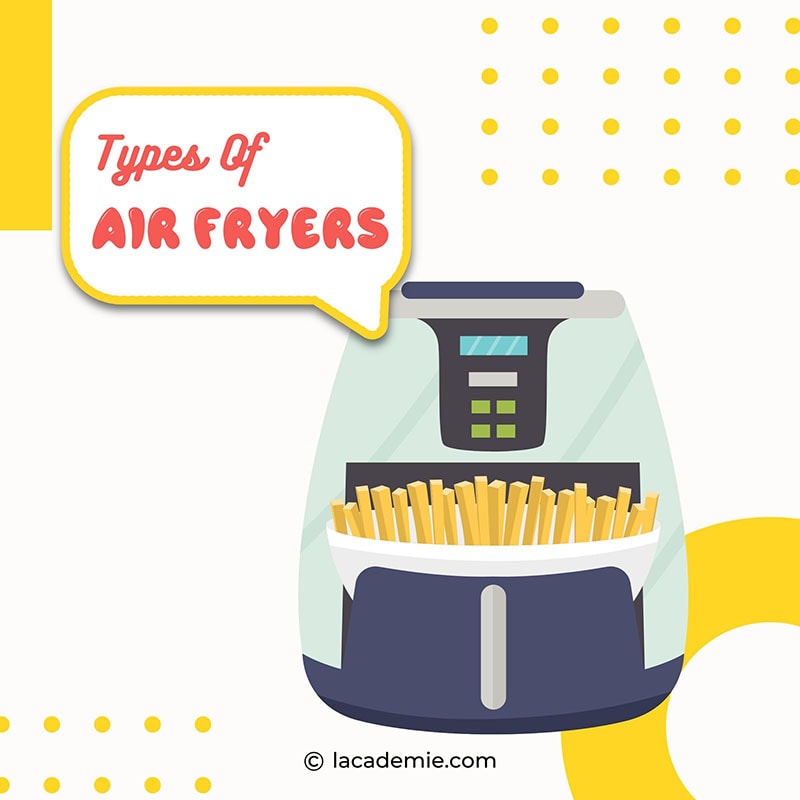 What is an Air Fryer?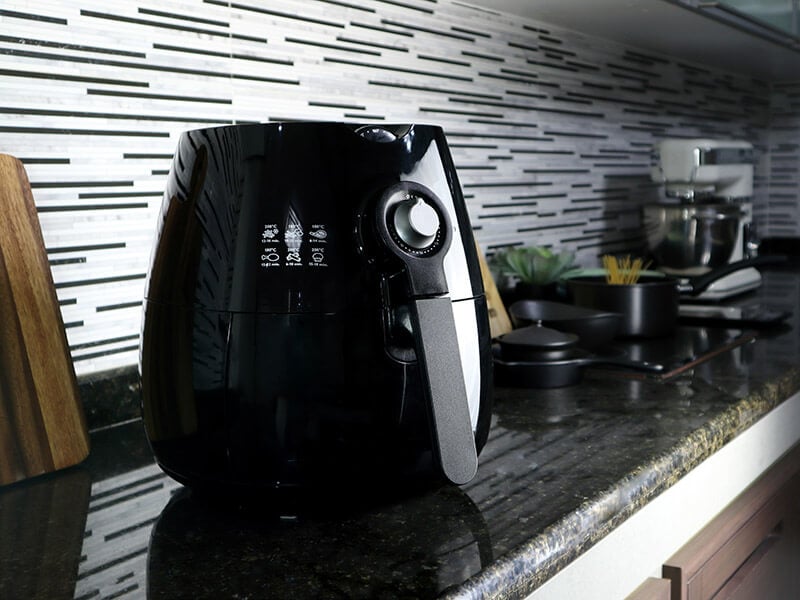 I think some of you might already know what an air fryer is and how it works. But let me provide you with more insights about it that you might not know before.
The air fryer is not a type of kitchenware with long historical stories. In fact, the first form of today's air fryer originated from the AirFryer of Phillips in 2010 (1).
They introduced the AirFryer at the electronic fair in Berlin as an egg-shaped kitchen appliance that can fry many types of food with patented Rapid Air technology.
And that's why today's versions are called air fryers. Overall, you can simply understand that air fryers are small-sized convection ovens that allow you to deep fry food without using too much oil.
However, there are also differences between air fryers and convection ovens that you need to know to identify which appliance will be better for your recipes.
Check here to find out what the air fryer is and its function.
How Air Fryers Work
First thing first, please remember that an air fryer does not fry. In reality, the air fryers will cook your food with hot air circulated by a high-speed fan (2). And this heating mechanism is typically on the top section of a device.
By utilizing the convection mechanism, the air fryer delivers crispy-fried food as a deep-frying method can do. But what's better is you can reduce the use of oil to make your food healthier.
With an air fryer, you only need to place your food in a wire or perforated basket. Set appropriate temperature and timing so that the appliance can cook them accordingly and evenly with its hot air.
You can create multiple delicious treats with this wonderful kitchenware, from simple air fryer starters to sweet courses cooked by your air fryer. So do not limit your cooking skills or creation to become a Masterchef right in your kitchen.
Let's learn what dishes you can create with an air fryer through this demonstration.
How Many Types of Air Fryers?
There are 8 types of air fryers that you can easily buy at retails, like Walmart, or on the internet.
In the following part, I will give you more details about each type with its good and bad sides and the top-rated products for your wiser shopping. But first, let's check this table to have a brief review of these types.
Type
Appearance
Cooking Functions
Cost
Serving Size
Basket Air Fryer
Cylindrical, square, or round with a removable basket

Multiple like air fry, bake, toast, and reheat
Allow you to shake food

Depend on the models, technologies, or sizes (but mostly affordable)
Depend on sizes, but normally smaller than oven style
Paddle Air Fryer
Similar to basket type but they also have a self-stirring paddle in the middle of a basket
Pretty similar to basket air fryers, but they have a paddle to stir/shake your food automatically
More expensive than basket type
Depend on models
Oven Air Fryer
Like a toaster oven with square or rectangular appearances
Based on models (but most of them are very versatile)
Depend on models (but mostly more expensive than a basket and halogen types)
Can prepare a big batch of dishes
Halogen Air Fryer
Glass appearance with the top heating element to produce heat by its halogen light

Can air fry, steam, roast, bake, broil, and dehydrate
Cannot shake food during cooking

Very reasonable
Relatively bigger than basket and paddle styles
Air Fryer Microwave
Look like a microwave
Based on models (but mostly multi-functional to steam, roast, broil, etc.)
Depend on models (but mostly higher than basket type)
Small batch of food as many products have small capacity
Air Fryer Pressure Cooker
Look like a pressure cooker with a taller lid
Great versatility with many cooking functions
Depend on models (but mostly higher than basket type)
Depend on technologies or models
Air Fryer Lid
A small lid to place on the top of the Instant pot or pressure cooker
Air frying only
Affordable
Based on its compatible Instant pot or pressure cooker
Oil-less Deep Fryer
Depend on brands or models
Air frying only
Affordable
Big capacity to hold big cuts of meat (like a whole turkey or chicken)
1. Basket Air Fryer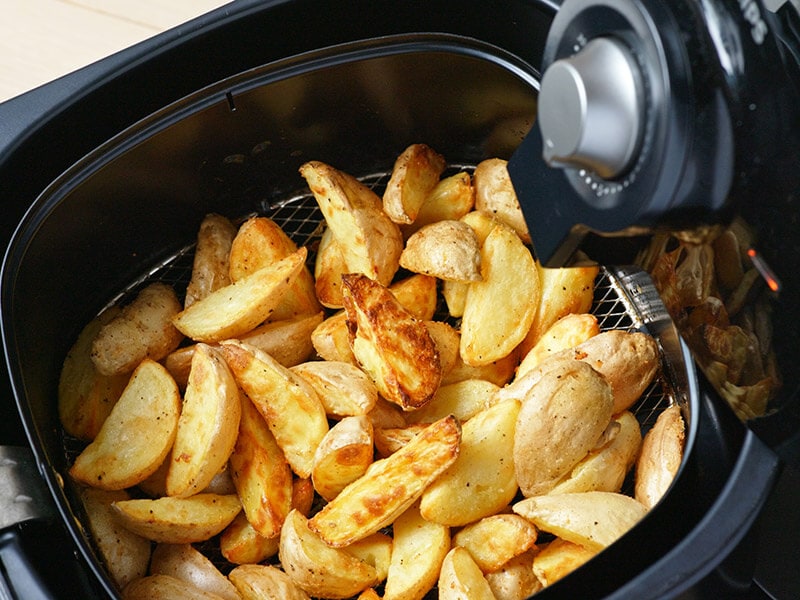 This one might be the most recognized air fryer type among countless air fryer products. And do you know the first one with an egg-shaped appearance that Phillips released in 2010 is the first basket-style air fryer? Yes, it is.
You can find them in other shapes like cylindrical, square, or round. But regardless of what form, they all come in with a removable basket to keep the food inside.
And as the basket has holes surrounding it, the hot air from the appliance's top can circulate around the food to cook them evenly in the basket. Plus, the basket normally comes with a handle, so it will be easier for you to toss your food during the cooking process.
Advantages and Disadvantages of Basket-style Air Fryers
Below are some pros and cons of basket air fryers that you need to consider before buying them.
Pros
Cons

Require less space on your kitchen counter
Come at various prices, but most of them are affordable
Provide many choices in terms of shape, color, etc.
Quick heating up in around a few minutes
Do not heat up the kitchen

Cannot monitor your food and require physical toss (or stir) during cooking
Limited capacity that is more suitable for small-sized foods
Might work louder than oven style
Best Basket Air Fryer Products
The following products are the well-loved basket air fryers that you can consider. One of them is a good bargain too!
1. Instant Vortex 6 Quart Air Fryer
If you need a tool to bake, roast, fry, and reheat your dishes, this one might be your best choice. Indeed, with the Evercrisp technology, the Instant Vortex 6 Quart air fryer can offer you the most crunchy food yet still keep its tenderness inside the coat.
Moreover, the appliance owns the high-tech smart programs that enable you to cook different recipes like meat, veggies, or desserts. If you want to reheat the food, for example, warming your pizza in the air fryer properly, make sure you set appropriate timing for it.
Key Features:
4-in-1 functions including baking, roasting, frying, and reheating
One-touch Smart cooking programs for many types of dishes
Feature the Evercrisp technology to maximize the food crunchiness
Reduce 95% oil usage to deliver healthy meals
Touchscreen display to show the time and cooking temperature
Pros
Cons

Friendly-user and suitable for large families with a 6-quart basket
Basket is easy to clean as they are non-stick and safe in the dishwasher
Adjustable time and temperature (from 95 to 400 F degrees) to avoid over or undercooking your dishes
Powerful fan to circulate the hot air, ensuring the evenly-cooked food
Come in a small design that will not take up too much space in your kitchen
Overheat protection and auto-off system to prevent any damage from the heat

The power cord is pretty short
Here is an unbiased review of the Instant Vortex air fryer that you should not miss.
2. DASH DCAF200GBAQ02 Tasty-crisp Air Fryer
If you are looking for a good-quality air fryer that costs under $100, search no more because this one is great for you. It is also perfect for those who live alone as this product's capacity is 2.6 quarters.
However, you will love its appearance for sure as they have many colors which can make your counter look more delightful. You will also be impressed with this Dash air fryer's functions as it is designed with AirCrisp technology to provide perfect crispy food.
Key Features:
Use AirCrisp technology to increase the crispiness while using 70 to 80% less fat
Temperature control with Auto shut off function to avoid overcooking
Designed with a cool-touch handle that is safe for everyone, even kids
Ideal for preparing many types of dishes
Offer more color choices
Pros
Cons

Simple using
Come at an affordable price
Lightweight
Perfect for small houses or kitchens, thanks to its compact size
Cook food faster, even frozen foods

Non-stick drawer might not be too easy to clean
2. Paddle Air Fryer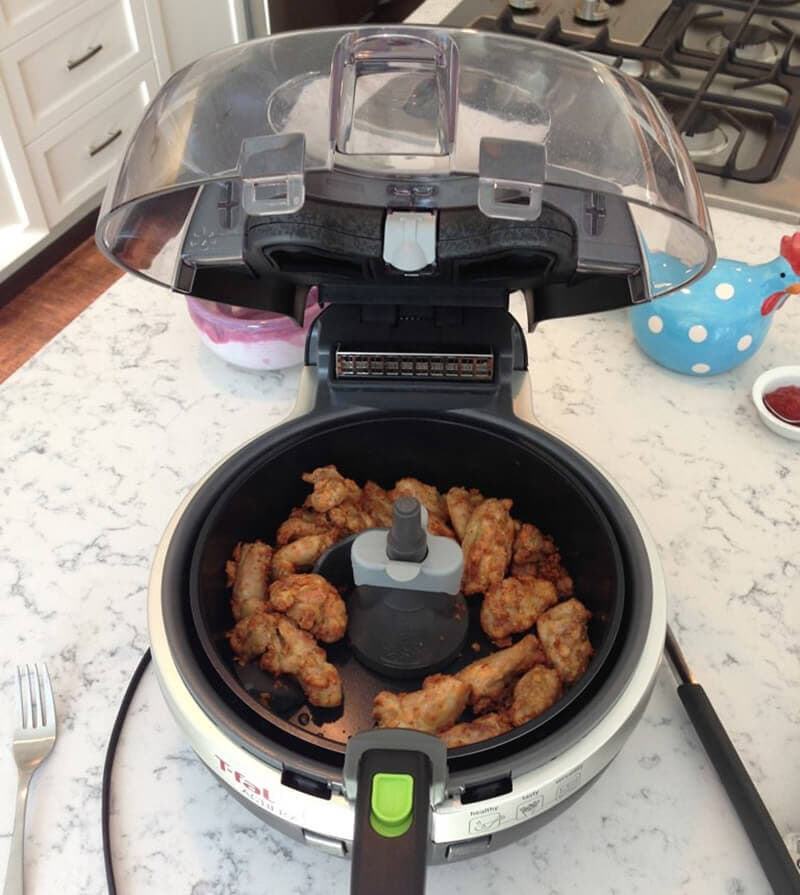 Some of you might not know this type. Actually, they share a similar look like basket type since paddle air fryers also include a removable basket. However, there is another feature that paddle ones can do while regular basket models cannot: it is self-stirring.
You will see these paddle models come with a removable and rotating paddle placed in the center of the basket. This part will stir your food to ensure they are cooked thoroughly and evenly, reducing your time and effort as you do not even need to pull the basket out and in during the cooking.
These models are like "set and forget it" appliances that will help you do all the cooking jobs. And what's the best thing about it? Besides familiar frying foods like French fries, veggies, meat, fish, etc., you can even cook other recipes with a broth like risottos or curries by this air fryer sort.
Advantages and Disadvantages Of Paddle-style Air Fryer
What can I benefit from paddle-style air fryers? Or what are their drawbacks? Let's check the pros and cons below.
Pros
Cons

Able to cook various types of food, even curries, risottos, or saucy ideas
Maximize the convenience in preparing meals by the automatic stirring paddle
Reduce the hassle of pulling out/in the basket to stir the ingredients
Short cooking time

Paddle air fryer might tear the coating of your food, particularly delicate ones like onion rings
More expensive than basket models
Best Paddle Air Fryer Products
Though paddle air fryers are less popular than other types, they are also a great choice to ensure your meals are at their finest. And here are two highly-recommended products from T-fal and De'Longhi that I think you would want to try.
1. T-fal FZ700251 Actifry Air Fryer
With this T-fal item, all you have to do with your treat is put the ingredients into its basket and let the machine do the magic. Suppose you are a busy person, but you still want to have healthy breakfasts cooked by air fryers; this device will work like a charm to deliver these delicacies.
As they are free of toxic materials like PTFE or PFOA, you do not have to worry about the quality of your food. So overall, if you need a healthy choice rather than traditional deep-frying, this T-fal will perform its best job to minimize oil usage.
Key Features:
Featured with rotating paddle to provide thoroughly cooks
Digital countdown timer for better monitor
Removable and non-stick pan coated by ceramic and free of PTFE and PFOA
Only ask for 1 teaspoon of oil or less
Cool-touch exterior for the highest safety
Pros
Cons

Work great with strong hot air
Ease of using
Some parts are dishwasher-safe for easier cleaning
Limit the hassle in cooking
Ideal for cooking different dishes, even the broth-based ones
Come with cookbook

Capacity is quite small
I bet you want to get this T-fal Actifry appliance right away after checking this evaluation.
2. De'Longhi FH1163 MutliFry Air Fryer
Another ideal option for an air fryer with a paddle is the product from De'Longhi. It is a versatile tool that you can broil, bake, fry, saute, etc., to create many delectable treats.
Moreover, its Innovative Surround Heating System always ensures the best cooking result in a blink, so if you are tired of cooking after a long working day, give this one a try. And as this product has a transparent lid, you can also check your food every time you want.
Key Features:
Innovative Surround Heating System for best performance
Machine's parts like lid, basket, and paddle are removable and dishwasher-friendly
Excellent multi cooker as it is perfect for baked, broiled, fried recipes
BPA-free transparent lid to check food conveniently
Pros
Cons

No need to use oil or just use a little bit of oil for healthier diets
Cook food fast and evenly
Cool exterior and will not heat up your kitchen
Do not require stirring or mixing the ingredients physically

Might be noisy when working
3. Oven Air Fryer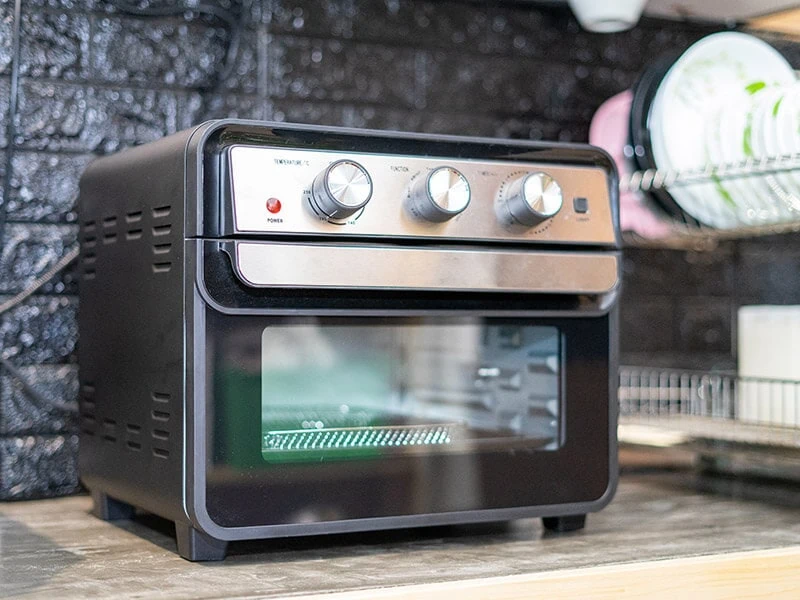 Another famous type is oven air fryers. They work the same way as these above types – hot air from the upper part and circulate your foods. However, the biggest difference between them is they have different shapes.
Oven air fryers look pretty similar to a toaster oven with square or rectangular shapes. They also include racks and baking trays.
And the best thing about them is that these products are very versatile as you can bake, roast, broil, or dehydrate your food. You can't even detect the dissimilarities between this air fryer with other regular dehydrators.
As it is designed with racks, you can accommodate different dishes in one unit to cook more meals simultaneously. So if you need a good air fryer with a large capacity, an oven air fryer should be your priority.
Advantages and Disadvantages Of Oven Air Fryer
Similarly, though oven air fryers might sound so ideal, they also have both strengths and weaknesses that you need to take into consideration.
Pros
Cons

Have a larger capacity than the round basket style, allowing you to cook a large quantity of food
Can monitor your food through its glass door
Come with racks so you can cook more than 1 dish at one time
Multiple cooking settings and work quieter than other air fryer types
Can move food further or closer from the heating fan
Operate quieter

More expensive than other types
Require more kitchen space as they normally have a bulky shape
Do not allow you to shake, toss, or stir the food for evenly cooking
Best Oven Air Fryer Products
If you wonder which top-notch air fryer toaster oven combo to buy, you should not skip the following items. One is famous for its high rating, and one is more affordable.
1. Cuisinart TOA-60 Oven Air Fryer
Numerous functions, big capacity, easy to monitor the food, how can you not want this product, right? And that's why they are one of the best sellers in the oven air fryer category.
As a premium toaster oven, including an air fryer system, you can do many things with it like air fry, convection broil, broil, convection bake, bake, toast, and warm your food.
Therefore, if you love cooking and are willing to experience many culinary ideas, Cuisinart TOA-60 will fulfill your needs.
Key Features:
Powerful 1800-watt performance
Able to perform 7 functions (fry, toast, convection broil, convection bake, broil, convection bake, bake, and reheat)
Designed with interior oven light with glass door, allowing you to check food better
Adjustable thermostat and 60-minute timer setting
Auto to shut off
Big capacity to hold more dishes
Pros
Cons

Deliver extra crispy yet healthy dishes
Include accessories such as a baking pan, air fryer rack and basket, and oven rack
Simple to use and clean
Cook food fast and efficiently
Have a great size

Lack of reheat or defrost setting
How great is a Cuisinart TOA-60 Oven Air Fryer? Check this review now!
2. CROWNFUL 10-in-1 Oven Air Fryer
If you are a big fan of rotisserie, this is one of the high-rated air fryers for making rotisserie (internal link keyword Best air fryer with rotisserie). First, with a 10.6-quarter capacity, it can work well with big batches of food and still cook them quickly and effectively.
Moreover, as it has a high-tech 360-degree hot air circulation system, your dishes will come out perfectly with a super crispy exterior and tender interior. Of course, you do not even need to use oil to fry, bake, roast, grill, etc. Such a wonderful appliance, isn't it?
Key Features:
10-in-1 multiple functions such as frying, baking, roasting, grilling, toasting, reheating, and even dehydrating
Control by digital touch screen with many cooking programs
Hot air circulates 360 degrees for the crunchiest yet tenderest food in minutes
Come with 8 different non-stick accessories to support different cooking ways
Auto Turn-off and Overheat Protection systems
Pros
Cons

Not too expensive compared to other oven air fryer
Detachable door, removable accessories so you can clean them at ease
Do not heat up the space
Own a perfect size that will not take up too much kitchen space

Might not be too ideal for families with more than 4 people
4. Halogen Air Fryer
This type is well-known for its glass material so you can monitor your cooking better. However, the way it works might be slightly different as it also uses halogen light to produce heat and circulate around the food. If you want to steam food in an air fryer, then this type is a great choice.
Plus, the heating mechanism is on the top of the device. And this type is not designed to shake the meals; you need to flip them by yourself instead. But the good news is halogen air fryers normally have a big shape so they can hold a whole turkey.
Advantages and Disadvantages Of Halogen Air Fryer
What to know when shopping for a halogen air fryer? Let's check its pros and cons first.
Pros
Cons

Easy to monitor your food
Big capacity for making a big batch of meals
Mostly have a very reasonable price
Cook food fast to save your time
Cleaning part is hassle-free

Might use more electricity
Replacing halogen light might be challenging
Best Halogen Air Fryer Product
Which item should I buy for the finest halogen air fryer? Keep reading to find the answer.
Nutrichef PKAIRFR48.5 Halogen Air Fryer
Nutrichef PKAIRFR48.5 is the infrared cooker to offer nutritious treats without too much oil or fat. And it is extremely simple to work with since all you have to do is just place your food into the machine, set the appropriate timer and temperature, and after a few minutes, your dinner is ready to enjoy.
But the best thing about them must be their glass appearance that allows you to watch how your food is cooked inside. So if something goes wrong, you can stop and fix it immediately.
Key Features:
Large 13-quart capacity
Very versatile with many functions like air fry, roast, bake, broil, grill, defrost, etc.
Rapid air circulation of cooking food with less or no oil
Safer than other traditional deep-fry tools
Pros
Cons

Prepare meals fast and deliciously
Uncomplicated setup and use
Cleanup is a breeze
Quick heat up

Have a big shape that might take up so much space on your counter
5. Microwave Air Fryer
With many high-rated air fryer microwave combos, this type is an excellent example of a microwave and an air fryer combination. So basically, they might look similar to a regular microwave, but they also have air frying capabilities.
This device is said to cross the brink between air fryers and microwaves. You can steam, roast, broil, etc., your dishes with less oil in a microwave air fryer. In short, if you need an combination of both microwaves and air fryers, there is no better solution than these products.
Advantages and Disadvantages Of Microwave Air Fryer Combo
A gadget that includes functions of an air fryer and microwave might sound so good, doesn't it? But they also have bad sides that you need to know.
Pros
Cons

Save space and money
Deliver healthy and oil-free fried foods but still keep enough moisture of them
Provide more cooking options in one unit
Treat leftover, frozen foods excellently

Many microwave air fryers have a smaller capacity, so it might not be too ideal for dealing with many foods at one time
Best Microwave Air Fryer Combo Product
Though the popularity of these units is not massive like basket or oven air fryers, they are still an excellent alternative for normal air fryers. And with this, Toshiba will show you why.
Toshiba ML-EC42P(BS) Microwave Air Fryer
Look for a multifunction device? This Toshiba ML-EC42P(BS) might be your new favorite toy. This is the finest hybrid of microwave, convection oven, and air fryer. Thus, what the functions these cookwares can perform, this unit can do the same, even better.
Besides making tasty fried food, its Smart Humidity Sensor program can ensure its best performance to all the ingredients you put inside, like frozen veggies. Also, it will not use too much electricity as its LED light, and the energy-saving system will ensure the lowest energy consumption.
Key Features:
Multi-function product that can act like an air fryer, microwave, and convection oven
Energy-saving technology with LED light and ECO mode
Have sleek design with stainless-steel interior
Come with many convenient features like a timer, safety clock, mute function, fast cooking, etc.
Pros
Cons

Suitable for those who live in small houses
Work wonderfully to offer nice and evenly-cooked meals
Designed with pre-programmed features for quick setting

Not-too-informative manual instruction
Let's listen to this review to find out both pluses and minuses of the Toshiba ML-EC42P(BS) microwave air fryer.
6. Pressure Cooker Air Fryer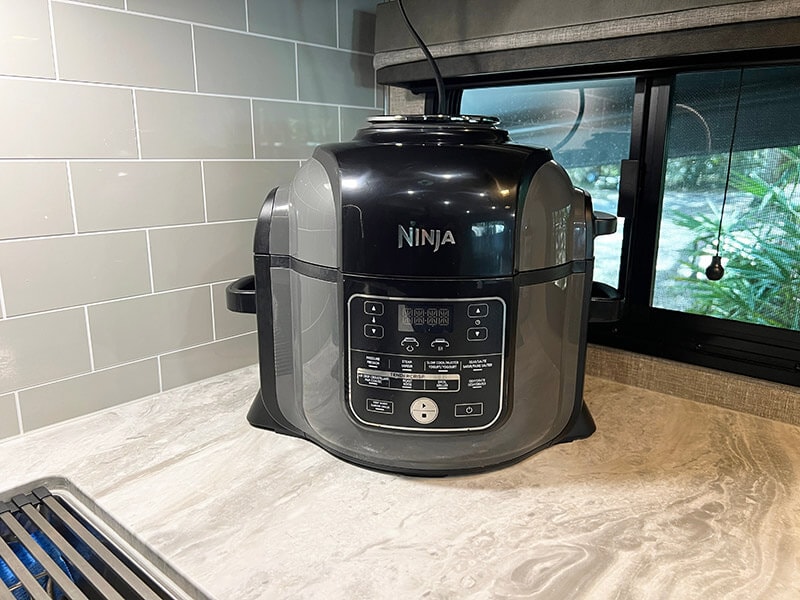 Like the above type, if you need a combo of a pressure cooker and an air fryer, then you find your best option. A pressure cooker does not usually create crispy dishes, but if you want to add a crunchy golden look to these treats, this style will 100% satisfy you.
Some models are super versatile with many functions like bake, roast, slow cook, rice cooker, air fry, etc. That's why their prices tend to be higher than other basic air fryer types.
Advantages and Disadvantages Of Pressure Cooker Air Fryer Combo
Let's explore the strengths and weaknesses of this air fryer style to see whether it can meet your expectations or not.
Pros
Cons

Can apply various cooking methods
Work well with many types of ingredients, even the broth-base treats
Quick and simple operation
Can either cook fast or slow

Might look a bit bulky
Best Pressure Cooker Air Fryer Combo Product
There are several well-liked pressure cooker air fryers on the market, but I bet you will love this one after one use. So what is this product?
Instant Pot Duo Crisp 11-in-1 Electric Pressure Cooker Air Fryer
Indeed, Instant Pot is a famous brand name in producing kitchen appliances, especially pressure cookers. And this unit is a brilliant gadget to make your life so much better.
As this is an 11-in-1 machine, you can make many types of dishes with various ingredients. A typical air fryer might not be good for making soup, but with this one, you can do whatever soup-based delicacies you want. Plus, you can cook your food in short or long duration, based on your recipes. Very functional, isn't it?
Key Features:
11 functions to help you make various treat styles, even dessert with yogurt
Include 2 removable lids
Run with EvenCrisp technology for the crunchy yet soft treats
One-touch programs for easier setup
Work well in slow-cook or fast-cook methods
Pros
Cons

Simple cleaning with finger-print resistant and dishwasher-safe lid, accessories, and inner pot
Equipped with more than 10 safety features (Overheat Protection, safe-locking cover, etc.)
Can accommodate many foods to feed up to 8 people
Come with many accessories to support your cooking
Have tri-ply bottom and anti-spin design for the best sauteed dishes

The air fry basket is relatively prone to scratches
Wanna buy an Instant Pot Duo Pressure Cooker Air Fryer? Ensure you check this review first.
7. Oil-less Deep Fryer
Based on the contrast people usually have between air fryers and deep fryers, you might think it is not a type of air fryer. But this kitchenware fundamentally applies the air fryer infrared technique to cook foods. So it is still counted as a type of air fryer.
Moreover, unlike other deep fryers, an oil-less deep fryer does not ask for oil to submerge the food. Instead, the hot air will circulate around your foods, like chicken or turkey, to heat them.
Advantages and Disadvantages Of Oil-less Deep Fryer
Following is what I like and what I do not like about the oil-less deep fryer.
Pros
Cons

Not require excess oil to prepare meals so you will have healthier diets
Suitable for big pieces of foods, like a whole chicken or turkey, or roasts
Cook food evenly and thoroughly
Can be used in garage, backyard, or covered area

Not ideal to deep fry fries or fish
Best Oil-less Deep Fryer Product
Oil-less deep fryers might not be too familiar to some of you, so I also want to share my favorite appliance that I usually use to cook a turkey. It is a Char-Broil oil-less deep fryer.
Char-Broil Big Easy Oil-less Deep Fryer
When you throw a party in your backyard, you might need cookware like this product. Indeed, they can turn the whole fresh turkey into an appetizing golden-brown one in a short time. And, of course, no need for hot oil.
It is also an affordable item, so if you are a big fan of roasts, chicken, especially turkey, the Char-Broil will please you in the best ways.
Key Features:
Offer healthy and less-oil meals
Use TRU-Infrared technology to provide the crispiest outside yet moist inside
Good safety since there is no oil to splat, spill, or burn
Include basket, drip tray, lifter, lid, rotary ignition, and thermometer
Pros
Cons

Can fit big foods like a whole turkey, chicken, or big cut of meat up to 16 pounds
Fast heating up
Simple to operate
Ideal for outdoor cooking
Can clean with no effort

Only compatible with big meat
Trying a Char-Broil Oil-less Deep Fryer and seeing how great it is with this demonstration.
8. Air Fryer Lids
Air fryer lids are the newest technology, but their function is impressive as they can turn a pressure cooker or Instant Pot into an air fryer.
In short, this one will be a good solution if you do not want to invest in an expensive air fryer to fry your meals, as long as you already own an Instant Pot or a pressure cooker. Plus, you can also save more counter space in your kitchen.
Advantages and Disadvantages Of Air Fryer Lids
Of course, nothing is perfect, even though they are the newest one in the air fryer market. So let's see the pluses and minuses of air fryer lids.
Pros
Cons

Can combine it with your Instant pot or pressure cooker so you can benefit from both appliances
Save your money to invest in a top-quality air fryer
Save storage space

Might only be compatible with specific Instant Pot models or sizes
Best Air Fryer Lid Product
Let me help you find out the most popular air fryer lid currently in the market. And this is a product from the Instant Pot brand.
As explained above, not all air fryer lids can fit with all Instant Pot items, so this one is only suitable for 6-quart models like Duo, Duo Nova, Duo Gourmet, Duo Plus, Viva, Ultra, and Lux, and make sure you only use it with stainless-steel inner pots.
But overall, if you have one of these mentioned gadgets, you can add an air frying function by using this lid. And it surely turns your food into crispy ones in just a few actions: insert the lid into the cookware, set timer and degrees, and now you are all set to create delicious and healthy meals.
Key Features:
Transform instant pot into a powerful air fryer
Overheat Protection system that can turn off automatically if they are overheated
Decrease 95% oil than normal deep-frying
Can air fry, bake, roast, reheat, and dehydrate foods
Pros
Cons

Ease at using and
Cleaning a lid is also simple with a wet cloth though it is not safe in the dishwasher
Strong air circulation
Accessories that come with a lid are dishwasher-safe
Save more counter space
Save your budget

Only work with certain instant pot models
If you want to know how to use an Instant Pot air fryer lid, do not miss this one.
Other Buying Air Fryer Guide
Shopping for an air fryer is not only about the type but also about other aspects like brand names, capacity, cooking functions, etc. So keep reading for more essential insights.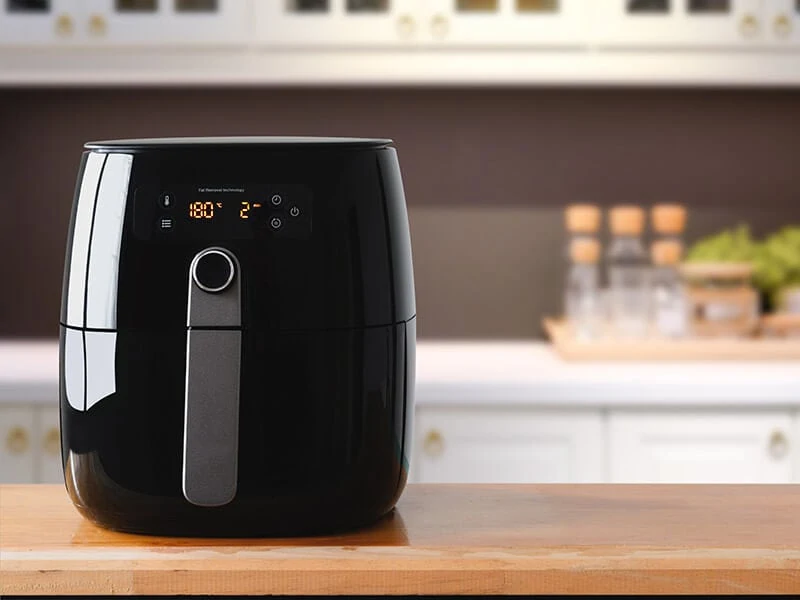 High-Ranked Air Fryer Brands
Among numerous cookware manufacturers, these are my best picks for high-quality air fryers that not just I but everyone would like.
T-fal
Tefal is a renowned French company that offers many versatile and non-stick kitchen appliances that require less (or no) fat or oil. In the American market, they are known by the name T-fal. But besides manufacturing cookware, Tefal's product lines of home devices are also varied.
Cuisinart
This is a top favorite American brand of home appliances. Indeed, Cuisinart does not only provide the best quality items but also brings the aesthetic to your home by their product's luxurious looks.
Instant Pot
Instant Pot is well-known for its multicooker devices. Therefore, if you need one machine to prepare different foods, Instant Pot might be your new best friend in the kitchen.
Size/Capacity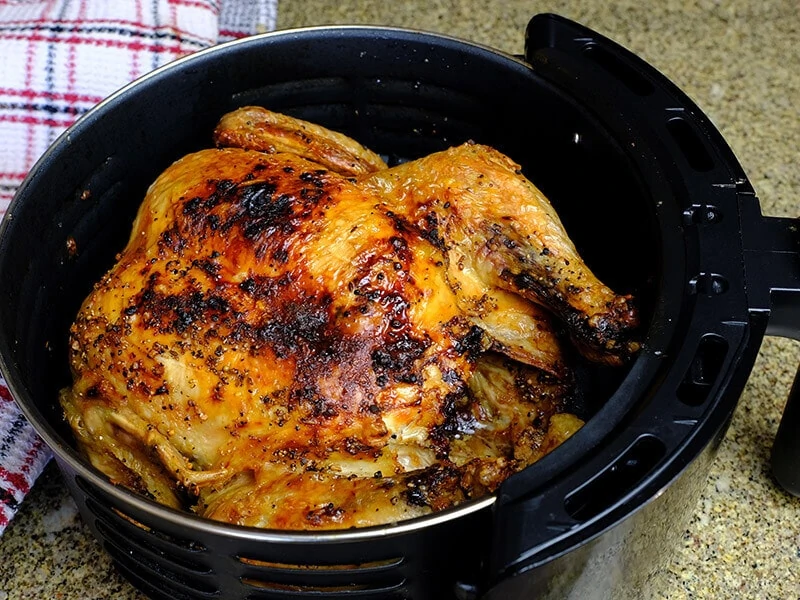 Size is an important factor to help you determine which one will be your perfect purchasing choice. So let me summarize some base ideas to know what size is suitable for you (or your family).
First, if you are single, you can stick with a 2-quart appliance. But if there are 2 people in your house, a 3 to 4-quart air fryer is also a good idea.
How about the size for crowded families, like more than 3 people? In this circumstance, you need to buy at least 5-quart cookware. The ideal ones are oven air fryer type as they have a square or rectangular shape with cooking racks to hold more foods.
Versatility
At this point, I think you can assume what air fryer sort is more versatile. That's right; oven air fryers are better in offering multi cooking functions, allowing you to create plenty of delicacies in different cooking methods.
Most air fryers are great at frying, baking, and roasting, but with an oven air fryer, you can toast, convection bake, broil, dehydrate your food, etc., in just one unit. And make sure you know the correct ways to use your air fryer as well to extend their shelf life.
But if you just need a basic function of an air fryer, it is totally fine to get a basket or paddle air fryers at lower prices than oven air fryer ones.
Let's compare a regular air fryer with an oven air fryer to see this detailed demonstration.
Heating Mechanism
As explained above, the air fryer's heating mechanism is typically on the top of the device. However, please be noted that not all air fryer models feature an upper heating mechanism; some versions might use halogen bulbs to heat food.
So if you use these models, you need to check what you should do when the bulb burns because some products are impossible to replace with a new bulb.
FAQs
Finally, let's wrap up the article with some short questions and answers so you can understand more about air fryers in the quickest way.
Have you found your favorite air fryer style? After reading this article, I hope you have gained enough information to invest in the best air fryer.
If you have any further questions or if you want to share your air fryer experience, please let me know in the comments section. I really look forward to hearing your feedback on how you used this great kitchen appliance to help you become a true chef.
Thank you for your time!