Have you ever considered making air fryer desserts? I know that air fryers can prepare the most common meals like fried chicken, filets, burgers, or crispy fries. However, did you know that air fryers can whip up decadent desserts as well?
If you love making snacks and desserts, you should definitely give air fryers a try. These kitchen appliances will help you save time, cut down on unhealthy oil, and prepare absolutely delicious desserts.
So, if you happen to think that there are not many uses for air fryers, it's time to reassess your opinion. The best way to do so is, of course, to get a bite of these delicious air fryer desserts.
However, be careful. You should be able to tell air fryers and pressure cookers apart, something many novice chefs have difficulties with. Although pressure cookers and air fryers don't look that much alike, not many people can tell the difference in cooking mechanisms between these two.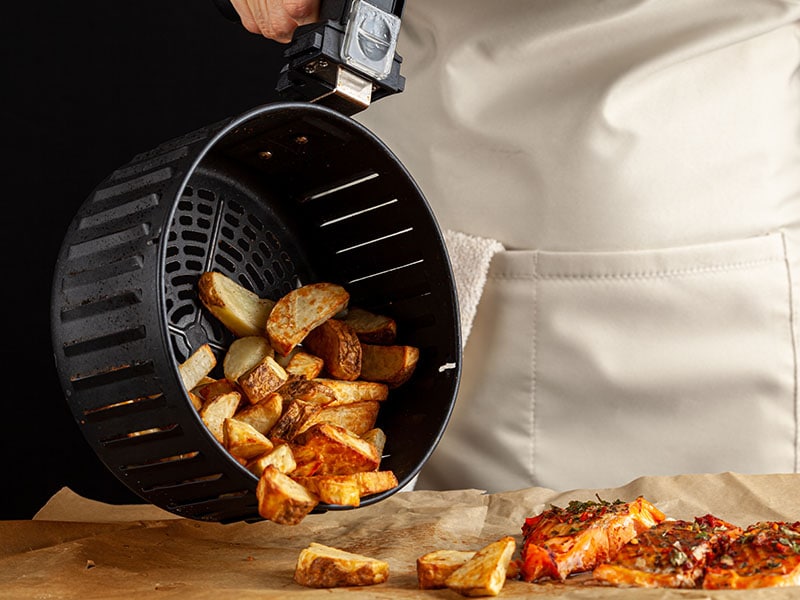 Simple Air Fryer Desserts Anyone Can Prepare At Home
While there are several air fryers versions available, they all can help you whip up many types of air fryer desserts: from crispy fried doughs to fluffy cakes or crunchy fries. Whatever you're craving, air fryers can prepare the treat for you.
Dough And Pastries
Air Fryer Donuts
Churros
Air-fried Beignets
Apple Fritters
Cinnamon Twists
Desserts Empanadas
Cake And Muffins
Air Fryer Cake
Air Fryer Lemon Cake
Molten Lava Cake
Strawberry Cheesecake Chimichanga
Monkey Bread
Blueberry Muffins
Chocolate Chip Cookies
Peanut Butter Cookies
Chocolate Chunk Oatmeal Cookies
Air Fryer Oreos
Chips And Fries
Apple Chips
Carrot Chips
Plantain Chips
Zucchini Chips
Radish Chips
Sweet Potato Chips
French Fries
Apple Fries
Pies And Pudding
Blackberry Pies
Air Fryer Banana Pie
Cherry Hand Pies
Mini S'more Pie
Apple Hand Pie
Bread Pudding
Crispy Doughs And Pastries You Can Make With An Air Fryer
To start my list of the best air fryer desserts, allow me to introduce you to these incredibly delicious doughnuts and pastries.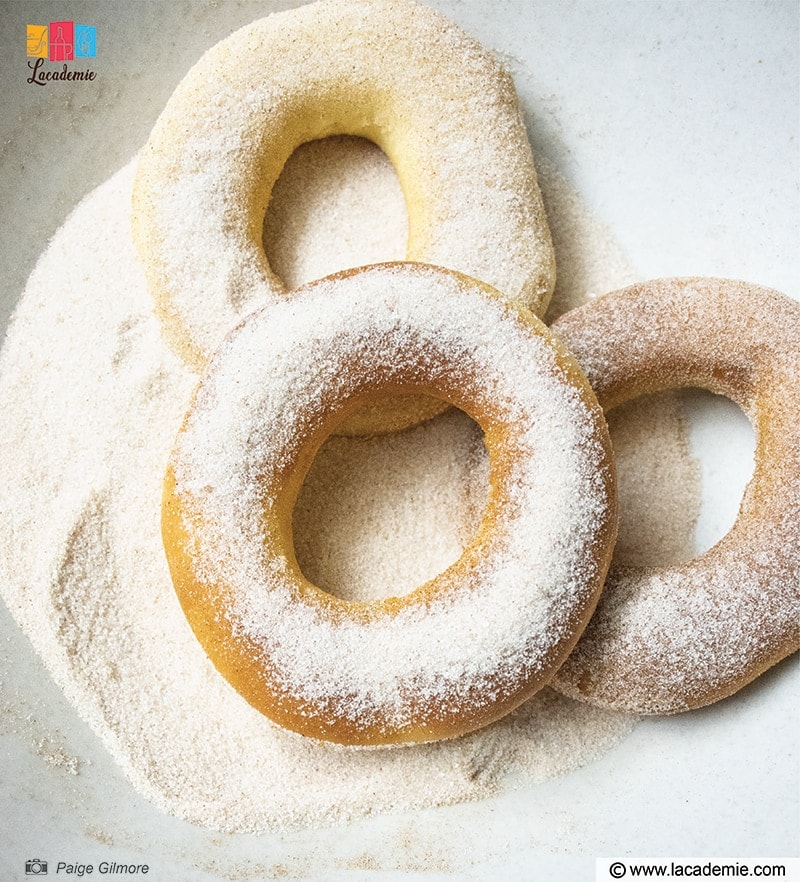 Air fryer is the perfect solution to make donuts when you don't have a donut pan in your kitchen. These fantastic donuts only take a few minutes to rise and air fry.
And in a short time, you'll have your steaming donuts. Coat them with cinnamon sugar. Boom! A delicious treat to indulge yourself in.
Why deep fry churros when you can achieve this perfect Keto treat with an air fryer? There's no need to dunk churro dough in boiling oil; simply leave the hard work to the air fryer. What a great way to make your favorite treat healthier than usual.
Making air-fried churros at home is easy. Watch this video to know more:
Originating from New Orleans, beignets are crispy fried dough dusted with powdered sugar. If prepared with an air fryer, these tiny crispy pillows will taste just as good as the conventional preparation method. Serve air-fried beignets with raspberry or chocolate sauce for best results.
These apple fritters are basically dough with chopped apples. While the ingredient list for this air-fry dessert may be simple, its crispy and flavorful bite will blow your mind. Spray these fritters with some oil before cooking, and the flavor in these fritters will blend wonderfully.
Filled with savory apple and cinnamon sugar, these decadent cinnamon rolls will please even the most demanding eater. And if you use chilled crescent dough for these, the cinnamon rolls will turn out to be deliciously savory, flaky, and crispy. This is definitely a treat to remember.
This is a great way to make cinnamon rolls from scratch with an air fryer.
Check out how to make the best air fryer donuts.
These incredible pastries are filled with fresh, juicy fruit pieces. The apples, sprinkled with sugar or honey, give the empanada a mouth-watering flavor and texture. If you're not a fan of apples, you can substitute the apple fillings with other fruits such as pineapples or berries.
Delicious Air Fryers Cake And Muffins To Whet Your Appetite
You don't need a baking oven to make these tasty cakes. Thanks to these air fryer desserts recipes, you can easily whip up savory cakes or muffins for a quick but hearty snack.
Even without an oven, you can still whip up a soft and fluffy sponge cake. With its enticing fragrance and flavor, this cake can taste just like oven-baked ones. While the size of the cake depends on your air fryer, the plus side of this is that you won't have to worry about burnt cakes.
Give your air-fried cake an extra kick of zesty flavors by adding lemon to the recipe. Aside from the soft, fluffy texture and buttery flavor, you'll get mouth-watering tastes of tangy lemon. Enjoy this with some whipping cream and some lemonade – what a perfect way to treat yourself.
Oozing lava cakes can be made from scratch with just an air fryer. The gooey fudgy goodness inside these air-fried lava cakes will make it impossible to adore these luscious desserts. A small tip for sweet-tooths: top these with some powdered sugar for extra decadent sweetness.
Add a fun twist to your cheesecakes by making these delicious strawberry chimichangas. This exciting air fryer dessert is basically creamy cheesecake filling in a crispy tortilla wrapping with strawberries. Despite their plain appearance, these chimichangas promise an explosion of flavors.
No one can turn down these delicious strawberry cheesecake chimichangas.
Monkey bread is a decadent, sugary, and sticky pull-apart bread that will charm the hearts of almost anyone. A unique twist on the classic cinnamon rolls, air-fried monkey bread boasts a delicate texture and an exquisite taste. For a stronger flavor kick, you can use vanilla extracts.
There's no need to rush to the nearest bakery to catch some fresh batch of blueberry muffins. You can make a whole batch with your trusty air fryer for your breakfasts or snacks in less than 15 minutes.
With these easy air fryer dessert recipes, you'll be able to prepare irresistible cookies to impress your friends and family.
Satisfy your craving for chocolate chip cookies with this easy and yummy dessert recipe. When making air fry chocolate chip cookies, you don't need to go through the hassle of preheating your oven or making a large batch. Despite the easy procedure, the cookies still turn out to be fantastic.
Discover the way to make the perfect chocolate chip cookies here.
An amazing cross between sweet and salty treats, peanut butter cookies are a great snack for virtually any time of the day. Preparing these in an air fryer will give the cookies a golden and crispy exterior and soft, chewy insides.
Check out this vegan air fryer dessert. With oatmeal as the base and chocolate and cinnamon for an enhanced flavor, these crumbly cookies will sweep even your most demanding vegan friend off their feet. Luscious dessert in less than 10 minutes, isn't that a great bargain?
If you can think of any sweet treats with your Oreos, these air-fried Oreos will make you change your opinion. Take your Oreos, wrap them in crescent rolls and air-fry them. Sprinkle some powdered sugar on top, and the taste will be so good that you'll be swept off your feet.
You'll love these decadent air fryer Oreos. Let's see the video below:
Fantastic Chips And Fries You Should Use An Air Fryer To Make
For a long time, people have compared deep fryers and air fryers in terms of making chips and fries. However, with these air-fried snacks below, I believe you'll come up with your answer.
"An apple a day keeps the doctor away.". What about apple chips? Whether apple chips can keep the doctor aways is still open to discussion, but there's no denying the appeal of these crispy snacks. For an extra healthy snack, you can ditch the sugar and cinnamon all together.
Who says carrots can't be palatable vegetarian-friendly air fryer treats? With incredibly simple ingredients to flavor up carrots, you can have a bowl of crunchy and healthy carrots for a guilt-free snack. Vegan, low in calories, gluten-free, and delicious, these air-fried carrot chips are a perfect snack for everyone.
Plantain is a type of banana that is native to Southeast Asia regions. Although not suitable to be eaten raw, plantains are incredible for cooking. One of the most common culinary uses for this fruit is fried chips. You can ditch the oil and air fry them instead for a healthier snack.
Make some fun changes to how you enjoy zucchini with these easy air-fried chips. Savory and crispy, these zucchini chips taste just as amazing as your typical potato chips.
You can serve these zucchini chips as a side dish for your burgers and other fast foods. Or add some apple vinegar and salt to the chips, and your zucchini chips will surely be a hit among the crowd.
You should see the video below:
Another healthy and fun vegetable chip for you to experiment with, radish chips boast a fresh flavor despite their crispy texture. As a result, these low-carb chips are irresistibly savory. If you're searching for a healthy and easy air fryer dessert, this is definitely the one for you.
Instead of the typical potato chips, how about trying out these alluring sweet potato chips? By using sweet potatoes, you'll get a pleasant, natural sweetness to your chips that no sugar can replicate. Balance the sweetness with some salt, and you're on your way to the perfect treat.
Using an air fryer is a fantastic way to prepare delicious and healthy French fries. If you're a fan of this classic treat, then I'm sure that you'll love this. Without the oily grease, these French fries will taste even more amazing, especially if you flavor them with spices and herbs.
These air-fried French fries will steal your heart. Watch this video to know more:
Juicy wedges of apples coated with a crispy layer of flour and sugar mixture. These fantastic apple fries taste just as good as they look, if not more. Serve them with some hot, creamy caramel dip, and the crowd will go wild.
Mouth-watering Air Fryer Pies And Puddings
If you're in the mood for some appetizing pies or puddings, then I'm sure these savory air fryer desserts will be right up your alley.
Even if you're not a big fan of blackberries, these luscious pies will knock your socks off. The golden, crispy layer embracing a sweet, juicy filling. With some sugar and butter added to the mix, your blackberry pies will be so irresistible that no mortal can pass up on these treats.
26. Air Fryer Banana Pie
It's always a good time to make decadent air-fried banana pies with yummy whipped cream. The refreshing flavors will revitalize your taste buds during the summer. The savory taste will warm your heart during the summer. And its combination is perfect for spring and fall.
With these appetizing cherry hand pies in hand, you'll forget all your problems. Crispy with a sweet, fruity, and syrupy filling, these cherry pies are the perfect comfort food for any occasion. One bite into these sweet, fluffy pies, and you'll feel like you're on top of the world.
Check out this toothsome mini S'more pie for a tastier treat with marshmallows. With chocolate topped on Graham crust, this air-fry dessert is the definition of indulgence. Of course, there's nothing wrong with rewarding yourself once in a while with S'more pies.
Whip up some mini apple pies to curb your craving. With sweet apples as the main fillings, these tiny pies are so tasty that you can't have just one. For the perfect pie crust that you just can't get enough of, be sure to use refrigerated pie crust. It makes all the difference.
Fill your kitchen with enticing aromas from this incredibly toothsome air-fried bread pudding. Soft, fluffy, and decadent, this fantastic bread pudding will take everyone by storm. With your air fryer, you can whip up a tray of delicious bread pudding in less than 30 minutes.
Cherish Your Moments With Easy Air Fryer Desserts
Life is just too short to say no to luscious desserts, especially those as healthy and delicious as these air fryer treats. If you're yearning for some desserts, why don't you get started right now? These air fryer desserts are all easy to make and delicious to enjoy.
Have you ever made desserts in your air fryer before? Do you have any recipes you want to share with your fellow readers? If there's anything you want to share, don't hesitate to leave a comment down below.
Nutrition Facts
12 servings per container
---
Amount Per ServingCalories154
% Daily Value *
Total Fat 4.7g

7

%
Cholesterol 25mg

9

%
Sodium 135mg

6

%
Potassium 46mg

2

%
Total Carbohydrate 25.1g

9

%

Dietary Fiber 0.7g

0

%
Sugars 8.9g

Protein 3.2g

6

%
---
Calcium

20

%
Iron

1

%
Vitamin D

4

%
* The % Daily Value tells you how much a nutrient in a serving of food contributes to a daily diet. 2,000 calories a day is used for general nutrition advice.