The juicy and flavorful hamburgers make you hungry, and you are discovering what to serve with the burgers. It is because enjoying them alone or with old-fashioned French fries sometimes seems to be a boring thing.
So, you should not go somewhere else since I will reveal to you a list of beautiful side dishes and wines to consume with burgers. This will help build up the perfection of your appetizing meal.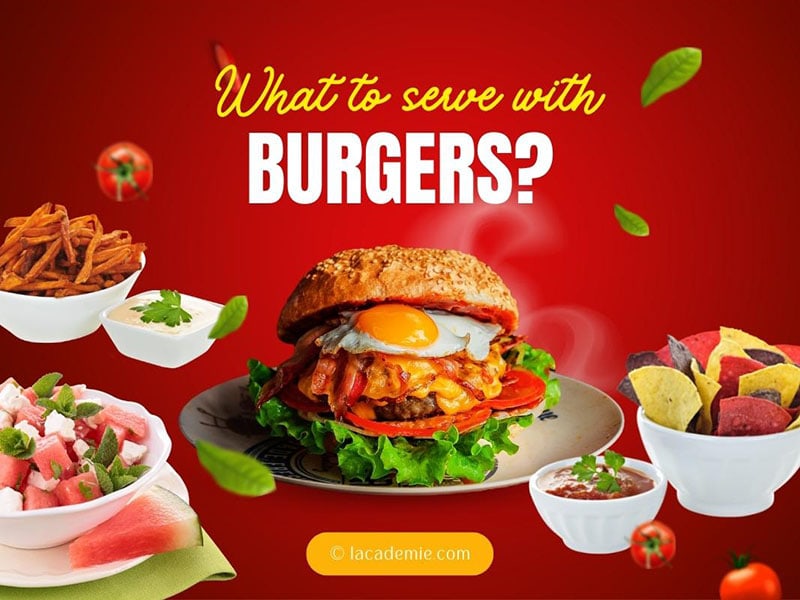 What To Serve With Burgers?
No matter whether you choose a double cheeseburger or a McDouble, these superb 29 side dishes and some famous wine brands will complement them well.
Salads
1. Quinoa Salad
2. Coleslaw
3. Avocado Salad
4. Melon And Cucumber Salad
5. Watermelon Salad
6. Joanna Gaines's Peach Caprese Salad
Corn Dishes
1. Corn On The Cob
2. Corn And Avocado Salad
3. Grilled Corn With Spicy Aioli
4. Cheddar Bacon Ranch Corn
5. Mexican Street Corn Dip
How About Potato Dishes?
1. Sweet Potato Fries
2. Potato Wedges
3. Grilled Potatoes
4. Roasted Mashed Potatoes
5. Scalloped Potatoes
6. Loaded Baked Potato "Chips"
Vegetable And Bean Treats
1. Barbecue Baked Beans
2. Onion Rings
3. Roasted Tomatoes
4. Zucchini Chips
5. Steamed Asparagus
6. Zesty Chargrilled Broccolini
7. Turnip Fries
Cheesy Recipes
1. Creamed Spinach
2. Mac And Cheese
3. Roasted Cauliflower Macaroni And Cheese
4. Jalapeño Avocado Mac And Cheese
5. Pimento Cheese Stuffed Shishito Peppers
Wines For Different Types Of Burger
1. Perfect Burger
2. Classic Cheeseburger
3. Mushroom Swiss Burger
4. Barbecue Bacon Cheeseburger
29 Beautiful Side Dishes To Serve With Burgers
To make up your best comfort meal with burgers, you can prepare some of the following side dishes.
Salads
Fresh salads are always the perfect match for your burgers. Try some of the below salad ideas for your tasteful meals.
1. Quinoa Salad
If you are a big fan of crispy, delicious, and refreshing salad, quinoa salad is a great choice for you to eat with burgers. Its ingredients include red bell pepper, chickpeas, fresh parsley, fresh cucumber, red onion, and lemon dressing.
In addition, you can also substitute some of these vegetables with your favorite ones. It can be packed easily in road trips or picnics.
Therefore, if you are going to make some burgers for your outside trip this weekend, preparing some salad to eat with your burgers would be an excellent treat for you and your family members.
2. Coleslaw
Coleslaw is a versatile recipe fitting well with almost any dishes you serve with it, especially burgers. The super creamy dressing covering every single piece of cabbage and carrot will surely blow your mind!
Despite its deliciousness, preparing coleslaw is just a piece of cake. The main ingredients you need for the recipe will be various kinds of cabbages like red cabbage, green cabbage, and savoy cabbage, which will create a colorful salad.
When served with burgers, the salad will be so attractive to your children, which makes them consume more vegetables as you always wish!
3. Avocado Salad
Have you ever made this fresh and rich salad? If not, you should try it one time in your life, and I am sure that you will fall in love with it forever!
Like other salads, avocado salad does not take you much time and effort to prepare without the need for cooking. It is a combination of popular vegetables, including rich avocado, sweet onion, bell pepper, vibrant tomatoes, and fragrant herb dressing.
Avocado salad is a great food choice for those who want an inexpensive but nutritious dish.
4. Melon And Cucumber Salad
Melon and cucumber salad is also known as a light summer salad. Because during hot summer days, turning on the stove to cook food is not a good idea.
Instead, enjoying some fresh melon and cucumber salad to stay hydrated inside your house will bring you a high mood.
For the best enjoyment, you should in advance prepare the salad and leave it in the fridge for 15 minutes before serving it with your burgers.
5. Watermelon Salad
I doubt you need much convincing to believe that watermelon salad is a great companion dish to embrace the summer's heat. And when it comes to a sweet and cool salad to serve with burgers, the combination of watermelon, herbs, feta, and zesty honey-lime dressing is a top choice.
You can also add some English cucumbers with thin skin, so you do not need to peel them like regular cucumbers. Moreover, this kind of cucumber is quite sweet without any seeds.
For the most flavorful watermelon salad, you should prepare and consume it on the same day and minimize leftovers that will not taste fresh and sweet like the new ones.
6. Joanna Gaines's Peach Caprese Salad
If hamburger is an undisputed main dish for BBQs, then I believe peach caprese salad is one of those side dishes that BBQ events should have. And anyone who loves the sweet aroma of ripe peaches will love this fruity salad, which is an upgrade from the traditional Caprese salad.
Although peach is the star in this dish, it's also important to choose top-tier mozzarella cheese with a creamy taste. This will ensure that not only does the dish look visually pleasing, but it's also a burst of delightful flavors as well.
Just make the salad and leave it some time for every ingredient to be nice and chilled before serving it with your burgers.
Corn Dishes
Sweet and tasty corn dishes are never outdated when you serve them with your burgers.
1. Corn On The Cob
Corn on the cob belongs to the list of simple but tasteful dishes. This summer staple does not need fussy toppings. And if you already have this prepared in your fridge, all you need is a few required steps to make corn on the cob hot again. It sounds too good to be true, right?
Instead, some melted butter and a common seasoning of salt and pepper are enough for a generous side dish of burgers.
To make the most delicious corn on the cob, you should remember to choose the freshest corn commonly from farmer markets or farm stands which usually provide you with recently picked corn.
Moreover, check the corn carefully to avoid one with wormholes, bugs, and worms.
2. Corn And Avocado Salad
"Fresh" is the single word to describe corn and avocado salad. It is a perfect summer dish to serve with your burgers.
The real and full flavor of the salad is made of avocado, tomatoes, red onion, and delicious lime dressing, which will make your mouth water a lot, and you want to grab some more.
It is better for you to use the fresh corn in the salad, but you can also substitute it with canned products.
Unlike some salads that need to be eaten as soon as possible after the preparation, the longer the corn and avocado sit in their dressing, the yummier they taste.
3. Grilled Corn With Spicy Aioli
Are you craving the smoky smell of grilling dishes? If yes, you should not skip this palatable recipe that can fit greatly with every single burgers' taste. Do not be afraid that the corn texture will become dry and hard after you grill it.
The marvelous solution here is the spicy aioli dressing that is creamy, smoky, zesty, spicy, and a little sweet. The spicy sauce can match perfectly with smoke-sweet corn and spice it up in your mouth.
4. Cheddar Bacon Ranch Corn
If you think the corn side dishes mentioned above are still simple, just rock your world with a more stunning corn recipe coming with creamy cheese and smoky bacon.
Soon after the corn is completely grilled, a mixture of irresistible ingredients consisting of bacon, cheese, ranch seasoning will be applied to it. The hot corn can keep the cheese melting in your mouth.
Let's imagine how delicious it is!. Moreover, serving the dish with burgers will make your food table look gorgeous, so making some cheddar bacon ranch corn is a great idea for every party.
5. Mexican Street Corn Dip
Just brighten and refresh summer with Mexican street corn dip that I believe will touch your heart in the first bite! With the dish, you will use tortilla chips to scoop it up and put it in your mouth for the fullest flavor.
The creaminess of the sauce and the crunchy, charred corn will be packed in every single bite. You will also get mouth-watering with the charming heat from chili powder and the salty cotija cheese.
Because it is corn-forward, you will not find it heavy or hot to consume with your burgers, even on hot summer days.
How About Potato Dishes?
You will never get wrong when trying the potato recipes, as below:
1. Baked Sweet Potato Fries
I guess you usually eat deep-fried sweet potato fries but have you ever tried baking them?.
It is easy for you to have crispy baked fries that will be mixed well with a salty-sweet balance of garlic powder, salt, paprika, and black pepper. This crispiness of delicious sweet potato fries will keep you reaching for more.
For a more fulfilling Friday dinner meal to welcome the weekend, you should add a handful of Monterey Jack cheese to the dish. This will make your baked sweet potatoes even more appealing once they're served alongside burgers, especially to the kids.
2. Potato Wedges
The potato wedge is so versatile to match with various frying and grilling recipes. There is no doubt that the store-bought potato wedge is so flavorful, but do you know it is possible for you to prepare the dish at home with the taste as you desire?
When roasted at high heat, the potato will be soft and fluffy inside but crunchy on its outside shells. This recipe will not take you much time and effort to prepare, so it's also a perfect snack or appetizer for busy days or even at nights.
Anyone too busy to keep hovering over the potato wedges can opt for air fryers. All things considered, potato wedges are one of the most lip-smacking appetizers one can make with air fryers. They're certainly delicious enough to make everyone excited for the main meal.
3. Grilled Potatoes
Even if you don't really like potatoes, you will change your mind with this grilling recipe. The seasoning, including pepper, garlic, and some fragrant spices, will make your regular potatoes much more valuable and delicious.
The right enough crispiness and an irresistible smoky flavor is what you can taste when you enjoy the grilled potatoes. When choosing the potatoes for the dish, remember to take the smaller new potatoes for the best texture of grilled potatoes.
4. Roasted Mashed Potatoes
Now, it's time to up the potatoes on the mashed potato game! The incredible roasted mashed potato has a creamy and fluffy texture with tons of rich melted butter and sour cream.
Roasting mashed potatoes in the oven helps to concentrate their flavor for the savory side dish of your burgers.
5. Scalloped Potatoes
Are you wondering what scalloped potatoes are? Wait! Listen to what I will say. The word 'scallop" refers to the way the potato is sliced.
To be more specific, you will cut potatoes into thin slices that will be lined in a casserole in multi-layers and topped with seasoned onion cream sauce before being baked.
The tender, bubby, and golden texture, along with the colors of the dish, will be super appealing even before you take your first bite of it.
6. Loaded Baked Potato "Chips"
Guys, I do not mention the crunchy potato chips you usually enjoy as a snack. What I would like to recommend to you is baked potato slices loaded with smoky bacon and creamy melted cheese. So, what is better than this one?
It can be served as a side dish of your burgers, or you can also enjoy it alone on different occasions or as an afternoon snack.
Vegetable And Bean Treats
Nutritious vegetables and beans will make your burger much more valuable.
1. Barbecue Baked Beans
Hi, busy moms! I know you have to spend most of your time taking care of your kids, and sometimes you can not invest enough time in cooking.
But do not worry! I am going to introduce you to a simple but nutritious barbecue bean recipe.
Your children will love the sweet and rich flavor of the baked beans, along with salty bacon and fragrant hot sauce. This will be the hit of your burgers.
2. Onion Rings
Besides fried potatoes, the onion rings are a popular side dish of burgers. You can find them easily in many fast-food restaurants, but it is completely possible for you to make them at home if you want.
Onion slices are coated with flour and then deep-fried to make crispy, juicy, and salty-sweet onion rings. The onion rings come in various sizes, depending on your preference. Some people even deep-fry the whole onion.
The sweet flavor of onion matches well with the salty taste of burgers along with the crunchy bites- that's how good they are!
3. Roasted Tomatoes
You are here to punch up the flavor of your burgers, so just try making some roasted tomatoes. It is a simple recipe with baked tomatoes coated with olive oil, fresh herbs, garlic, and some balsamic vinegar.
It takes you a couple of minutes to make the dish, but the result will be over what you think. The fresher tomatoes you use in the recipe, the juicier they are.
What is better than healthy, fresh, and delicious roasted tomatoes? Just add it to your simple but delicious side dish list.
4. Baked Zucchini Chips
Are you a big fan of a salty, crunchy summer snack? If yes, this baked zucchini chip recipe is a special gift I would like to send you.
While pieces of zucchini tend to be watery and mushy when they are cooked, the baked zucchini chips covered with Parmesan and panko will be nice and crispy.
It is also tender rather than soft and soggy in the middle. You can consume baked zucchini as a side dish of burgers or a snack during the day.
5. Steamed Asparagus
Steamed asparagus is an easy and quick side dish of burgers in which you can enjoy the most natural and fresh taste of asparagus. And with the addition of butter and salt, steamed asparagus is anything but bland and boring, despite its simplicity.
If you are so busy preparing side dishes for your burger party, steamed asparagus should be one of the best options that will ensure a healthy and simple meal.
6. Zesty Chargrilled Broccolini
Just apply some simple cooking steps to make nutritious broccolini more brilliant. It just takes you about ten minutes without much effort to prepare the flavorful dish.
Its incredible taste is made of healthy fats of avocado oil and the charming flavor of lemon zest, which are packed on the juicy broccolini.
Try it one time, and you will have a crush on vegetables if you have not yet.
7. Turnip Fries
Low-calorie (1) and healthy turnip fries would be a great substitute for typical potato French fries.
When the baked turnip fries are mixed with the seasoning of garlic, paprika, and cumin, pepper, and salt, they will lose the bitter taste of raw mature turnips.
Cheesy Recipes
Making cheesy side dishes of burgers will never disappoint you!
1. Creamed Spinach
I would like to say hi to loyal fans of cheese! The dish will surely make your cheese dream come true. Wilted spinach is coated with a smooth white sauce that has the flavor of sautéed onion and garlic before it is served with parmesan cheese.
The simple recipe just requires you to spend some minutes standing over the stove to prepare the creamy and cheesy sauce that is the special note of creamed spinach.
2. Stovetop Mac And Cheese
I guess stovetop mac and cheese is so familiar to you, or even you are craving for it. I also go crazy with the chewy pasta and creamy sauce of the recipe.
It is a great treat for not only children and teenagers but also adults and old people. Hence, you can make a big batch of stovetop mac and cheese without worrying about leftovers.
As a side dish, it fits almost roasting or grilling recipes and would spell comfort with your burgers.
3. Roasted Cauliflower Macaroni And Cheese
This recipe is perfect for those who want to add some veggies to their mac and cheese. The creamy, cheesy, and delicious flavor is what you can taste when enjoying the roasted cauliflower mac and cheese.
In all recipes, freshness is the best. However, when it comes to this roasted dish, everything can be flexible.
It is because you can make use of either fresh or frozen cauliflower that is quite soft and does not need a long cooking time.
4. Jalapeño Avocado Mac And Cheese
It is time for you to raise mac and cheese to the next level. If avocado belongs to your favorite fruit list, you will go crazy with this version of mac and cheese. It is so easy to prepare the dish.
When you feel lazy but want to make a comforting meal, this kind of food should be your first choice even at night.
You do not need to turn on the oven. Instead, you just boil the macaroni on the stovetop and then cover the dish with cheesy and creamy avocado sauce.
5. Pimento Cheese Stuffed Shishito Peppers
It is such a simple but beautiful recipe with only three ingredients, including shishito peppers, pimento cheese, and extra-virgin olive oil.
It tastes a little spicy and creamy with pimento cheese. I guess it will go fast soon after it is served, so just prepare a double batch if you have a big family!
Although most shishito peppers are not spicy even when you eat the whole of it, you should be careful with a few shishito peppers that may pack a surprising heat punch. So, when you are lucky enough, you will take a spicy one!
Wines For Different Types Of Burger
Various types of burgers will match greatly with a particular category of wines.
1.Perfect Burger
It is the traditional burger coming with tomato, lettuce, and onion without cheese inside.
The burger's flavor calls for bitter-sweet wines such as Lambrusco Amabile, Spanish Garnacha, cannon as di Sardegna, and simple sangria.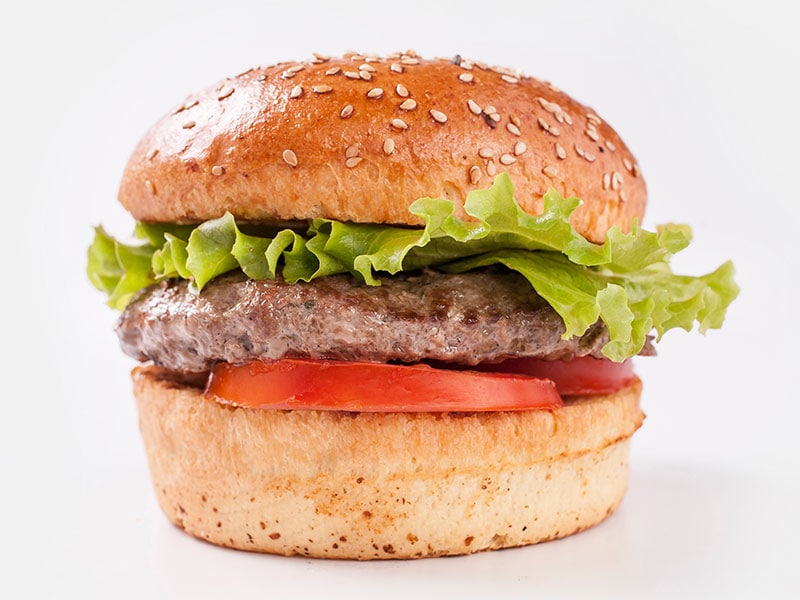 2. Classic Cheeseburger
This burger is just like the perfect one I mentioned above, but it contains a slice of cheddar cheese that makes the burger more creamy and tangy.
To clean up the stickiness of cheese in your mouth, you need to drink wines containing high level of tannin such as montepulciano d'abruzzo, south african cabernet, crianza or reserva rioja,chianti classico, and coonawarra cabernet.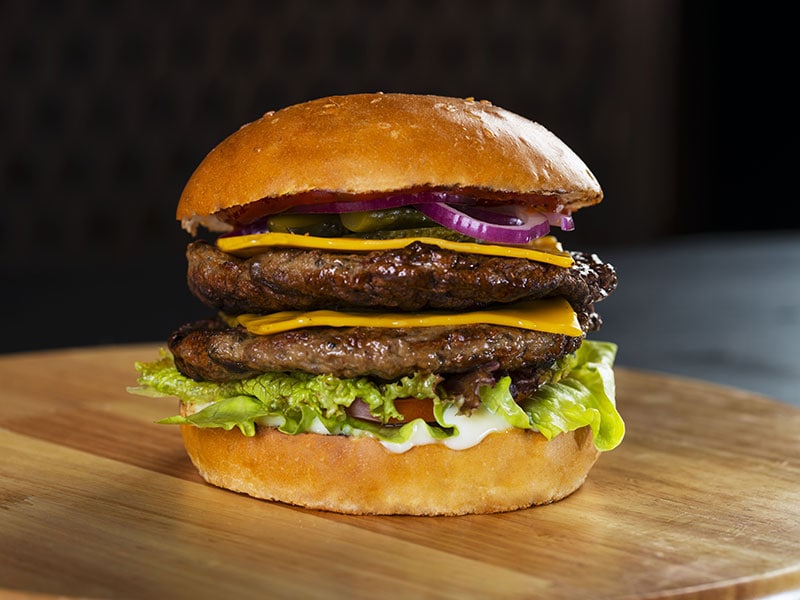 3. Mushroom Swiss Burger
This savory burger is rich in the umami taste of grilled mushrooms and melted buttery, nutty cheese. A classic Swiss food everyone must try, the mushroom Swiss burger is a simple yet delicious dish that can pair with several different foods and drinks.
It can be paired with one of these wines below: right bank Bordeaux, Washington merlot, cool-climate merlot, and Langhe Nebbiolo.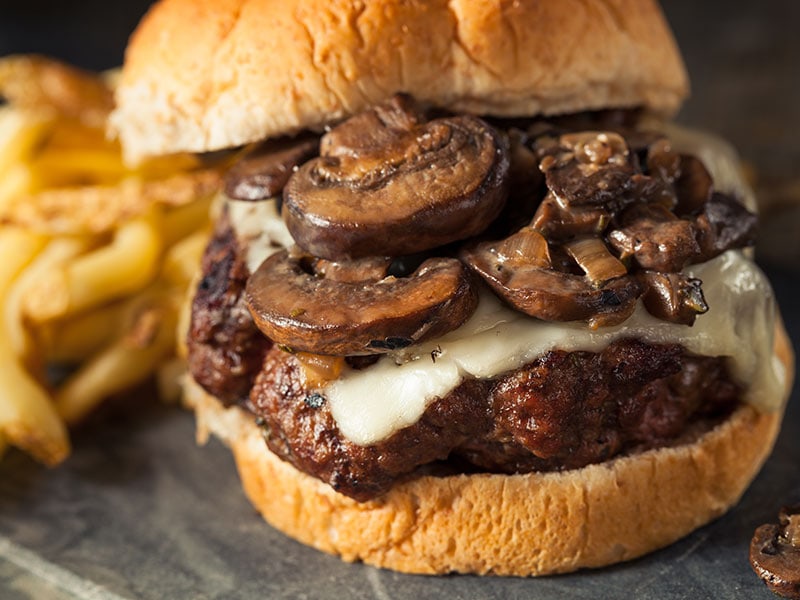 4. Barbecue Bacon Cheeseburger
This is the best burger ever with the intensity of flavor loaded in every single bite.
You can enjoy it while drinking some wines such as mourvèdre, french syrah, Aglianico, and Aussie shiraz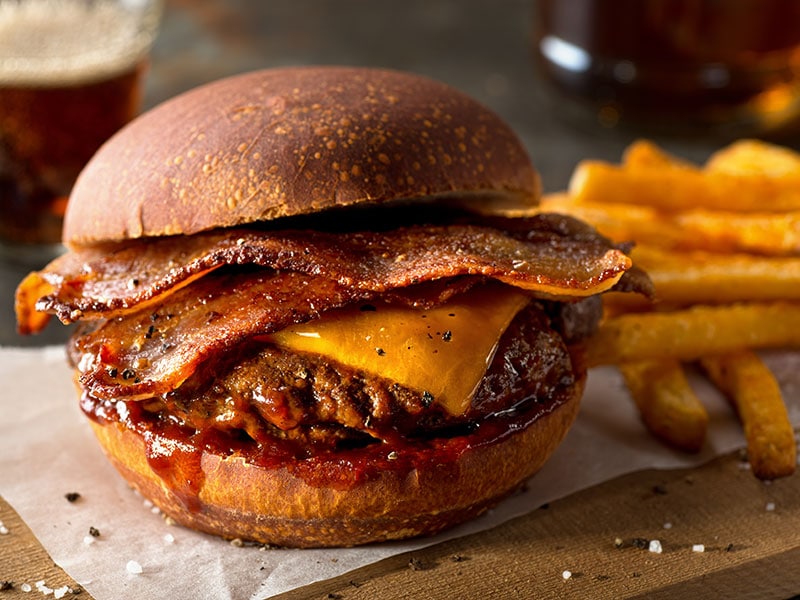 Just Bring Refreshing Tastes To Your Burger Party!
It is an awesome idea for you to prepare various side dishes of burgers simultaneously in order to meet the different favorite tastes of your beloved family members.
However, you should measure in advance the amount of food your whole family can consume and then make enough dishes for the consumption. By doing this, you can minimize the leftovers that sometimes become wasteful.
If you have any suggestions about what can be served with burgers, please feel free to share them with me by commenting below this article. When you find my post helpful, give me a like or share as a warm encouragement from you!
Nutrition Facts
8 servings per container
---
Amount Per ServingCalories281
% Daily Value *
Total Fat 12.7g

19

%
Sodium 204mg

9

%
Potassium 367mg

11

%
Total Carbohydrate 36.6g

12

%

Dietary Fiber 5.8g

20

%
Sugars 5.4g

Protein 7.8g

15

%
---
* The % Daily Value tells you how much a nutrient in a serving of food contributes to a daily diet. 2,000 calories a day is used for general nutrition advice.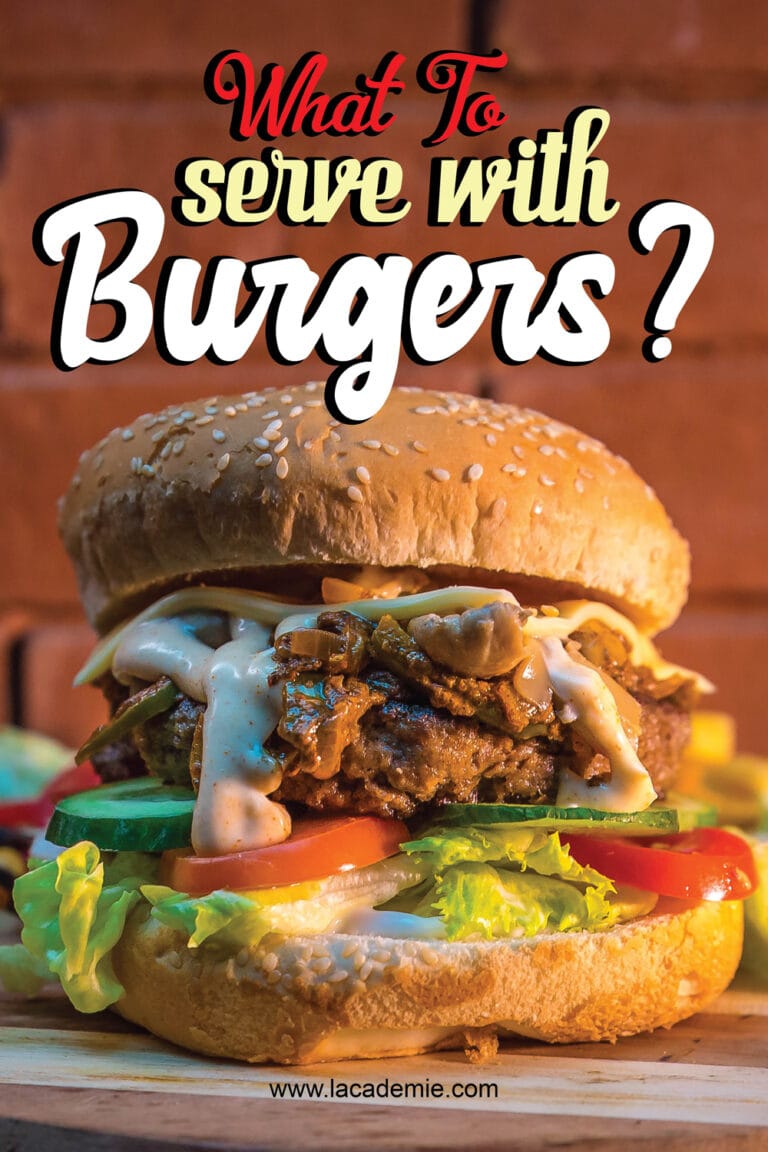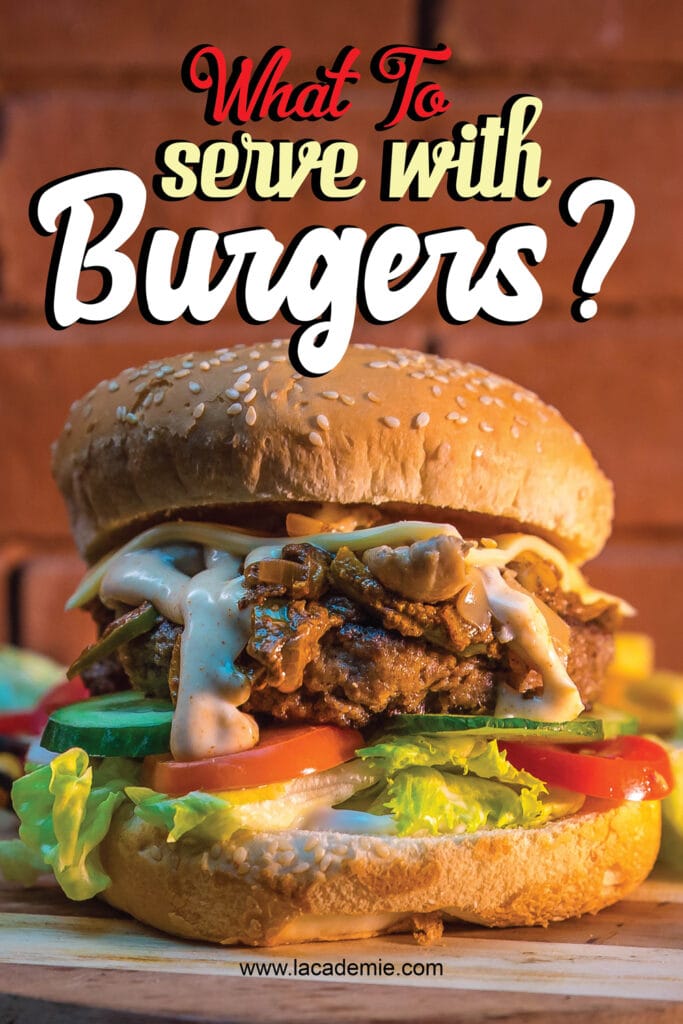 References
1. Turnips. Turnips | Family & Consumer Sciences Extension. (n.d.). https://fcs-hes.ca.uky.edu/commodity/turnips.