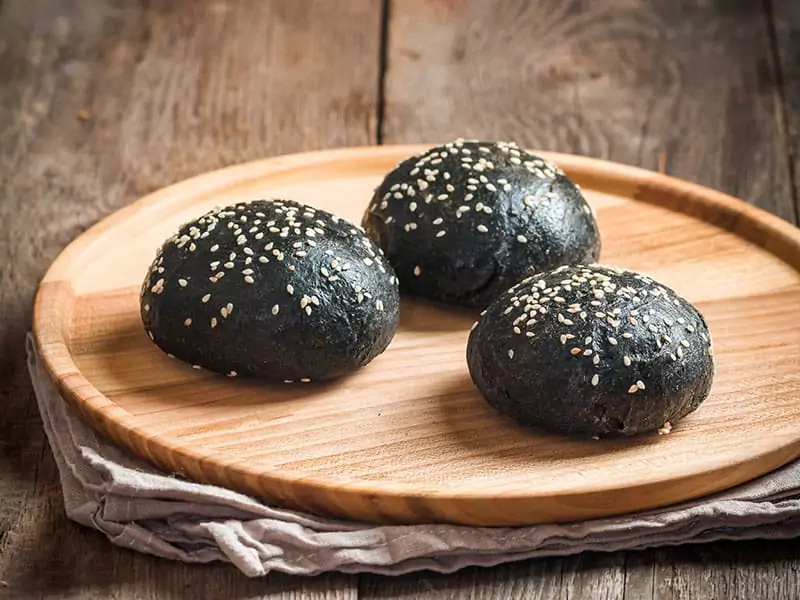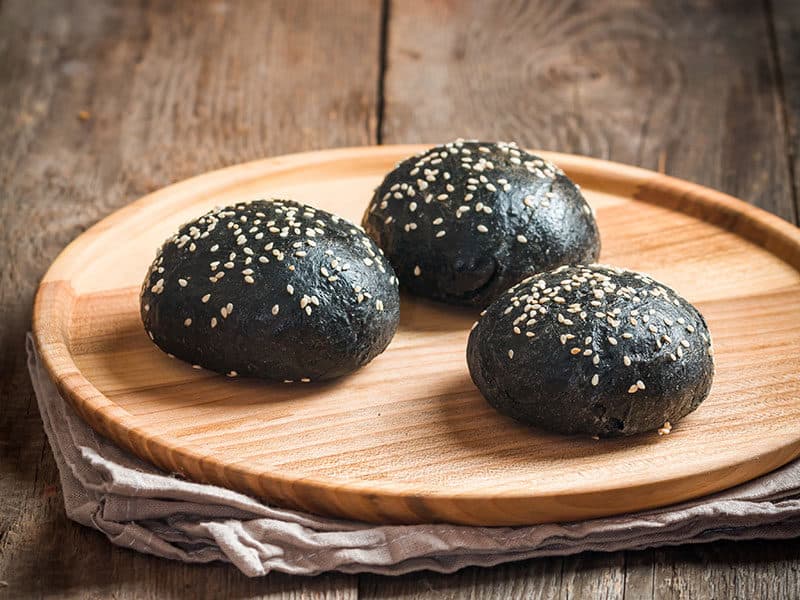 I am not sure about you, but I have always been crazy about baking. I will bake anything, name it, and I will find the recipe or invent it, but you will see it on my table. These black burger buns surprised me with their color, so I simply had to try them and see their true color and taste.
When you first see a black burger bun it is impossible not to wonder what ingredient makes it so black. Although black color does not seem appetizing when used with food, this black brioche bun still brings water to your mouth. And not without a reason.
This bun is a perfect way to surprise your guests with a freshly baked meal that can be served with just about anything. The special ingredient that is used in this recipe to give it this dark black color adds to the surprise element when setting the table.
Other than this specific ingredient, you do not need anything else special to try out this fabulous recipe. Prepare your stand mixer, a mixing bowl, and a dough hook, and start adding the ingredients. In no time, you will have freshly baked black buns that everyone will ask you about.
What is a Black Burger Bun?
The black burger bun is a brioche burger bun that can be made in various sizes and served in many ways. The feature that makes it so special is its black color which is something you do not expect to see when you think of burger buns. However, being black makes it an attractive centerpiece on your dining table.
This burger bun is delicious besides its unappealing black color. Do not let it turn you down, they are as tasty as any other homemade burger bun. The color is the eye-catcher and it surely will not be missed at any gathering, no matter what food you want to serve with it.
What is a Black Burger Bun Made of?
These black hamburger buns are made of pretty much standard ingredients that you would use for baking. Prepare flour, yeast, some eggs, salt, and a bit of sugar, warm up the milk, a slice of butter and you are ready to go. And of course, a special ingredient that everyone would be asking you for.
But, what is this mysterious ingredient that gives it this strange black color? The color originally comes from squid ink or cuttlefish ink that paints all other ingredients black. Even the white flour will turn black as this ink has a stable black color that will not fade during the baking process.
However, black color can come from some other ingredients. You can use bamboo charcoal or coconut charcoal, or more widely known as activated charcoal. This type of charcoal is safe for human use but it has some downsides that you need to be aware of as it may affect your digestion.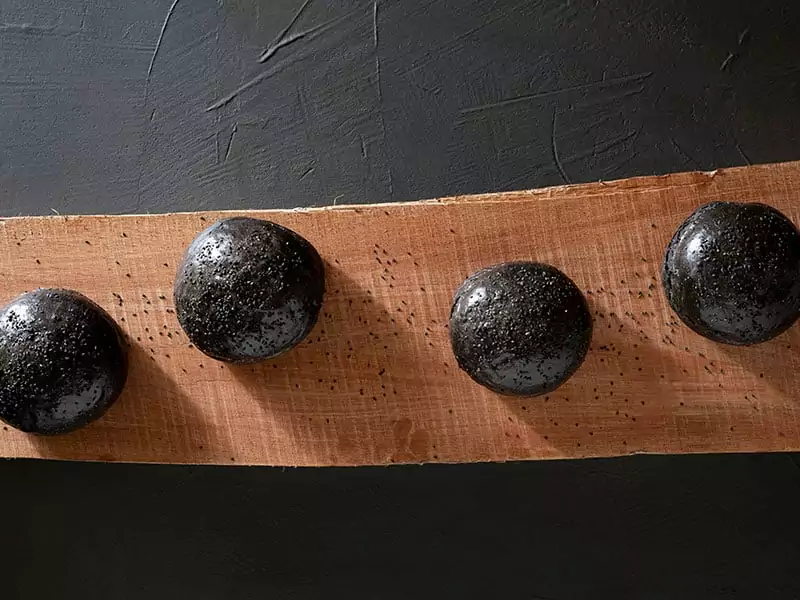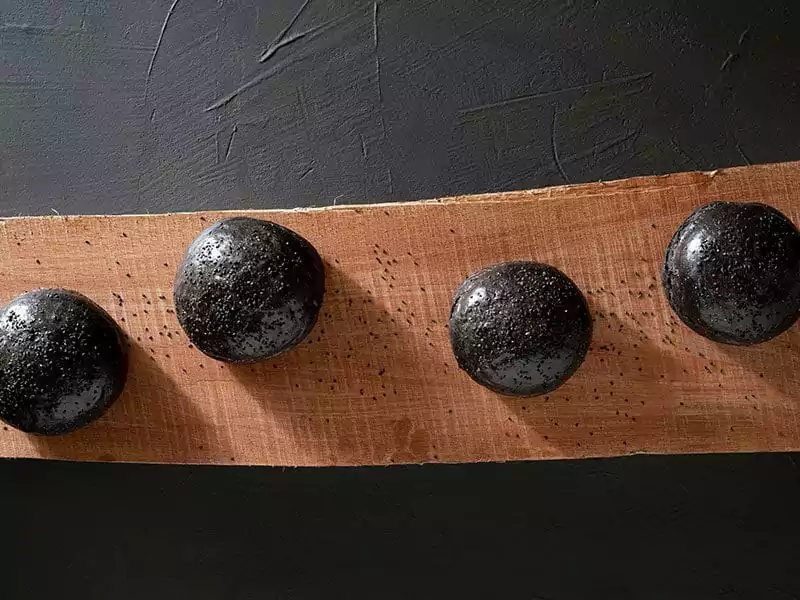 What is The Taste of Squid Ink?
If you think squid ink will taste like something salty, reminding you of seafood you will be quite right as squid ink is salty and resembles fish food. However, when you add it to the dough, that taste will not be prevailing and it will not ruin the overall black burger bun's taste.
Aside from burger buns, squid ink is famous for its combination with pasta. Squid ink pasta is a dish with exotic look and exciting taste, making it a great addition to dinner meal rotation. Serve the black burger with squid ink pasta for your family, and prepare to be showered with praises.
The one thing to remember when using the squid ink is to bring down the salt that you intend to use with the dough. This is important as you will get just enough saltiness from the squid ink that you should not use more than half of teaspoon of salt for this recipe.
Check out this video to see more about squid ink.
How Are Black Burger Buns Made?
So, if you have decided to try out this amazing recipe, prepare yourself for extraordinary results. You do not have to be a professional to pull out this recipe as it is quite simple to make the dough and bake it. However, it is necessary to follow the instructions closely to bring out the perfect buns on the table.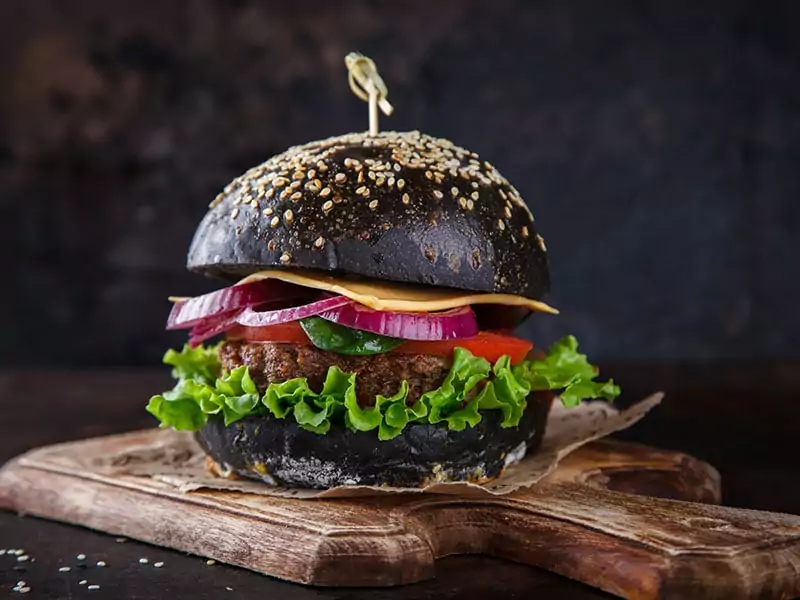 Ingredients
Ingredients for this recipe are those that most of you already have at home. The only special ingredient you need is the squid ink that is possible to find at your local grocery shop or a shop specialized in cooking or healthy food stores.
3 cups of bread flour
7g of active dry yeast
3 tablespoons of sugar
½ teaspoon of salt
8 tablespoons of softened butter
3 whole eggs
1 cup of lukewarm milk
16g / 0.56oz of squid (cuttlefish) ink
Eggwash or melted butter
Black Sesame seeds
Preparation – Step By Step
When you have all the ingredients ready, it is time to start recreating this black burger bun recipe. Make sure to take your time and follow the steps closely to get the best possible result. Follow the measurements, too as they are key to making the best dough.
Step 1 – Prepare The Ingredients
The first thing you need to do is to warm up the milk. You do not want it to be hot as the yeast does not like hot liquid near it. Add 7 g of active dry yeast to it and a tablespoon of sugar, stir it well and let it activate. Meanwhile, add 3 cups of sifted bread flour to the mixer bowl.
Add two tablespoons of sugar and ½ tablespoon of salt to the flour. Start mixing with the flat beater and prepare the dough hook for later. While mixing the flour, salt and sugar, start adding the softened butter. Add the butter slowly to allow it to mix it well with the flour until it forms crumbles.
Step 2 – Mix The Dough
The next step would be to crack three eggs into a separate bowl and add squid ink to it. Stir it well and add the mixture of eggs and squid ink to the mixing bowl. After you added the eggs and squid ink, take activated yeast and add it to the flour, too. Mix it until everything is combined.
At this point, you would want to change the beater and replace it with the dough hook. Continue mixing on medium speed until the mixture is well-formed into a smooth dough. This part should last for at least ten minutes. You will notice the smooth dough formed.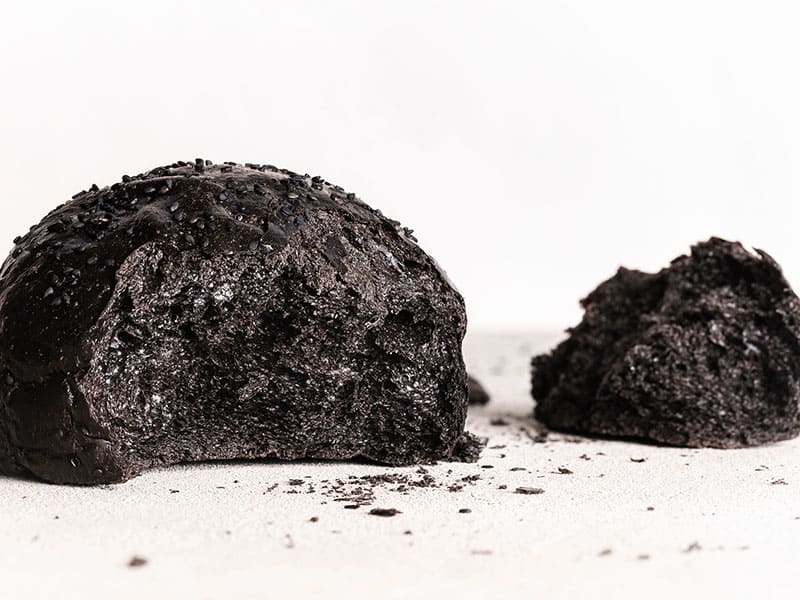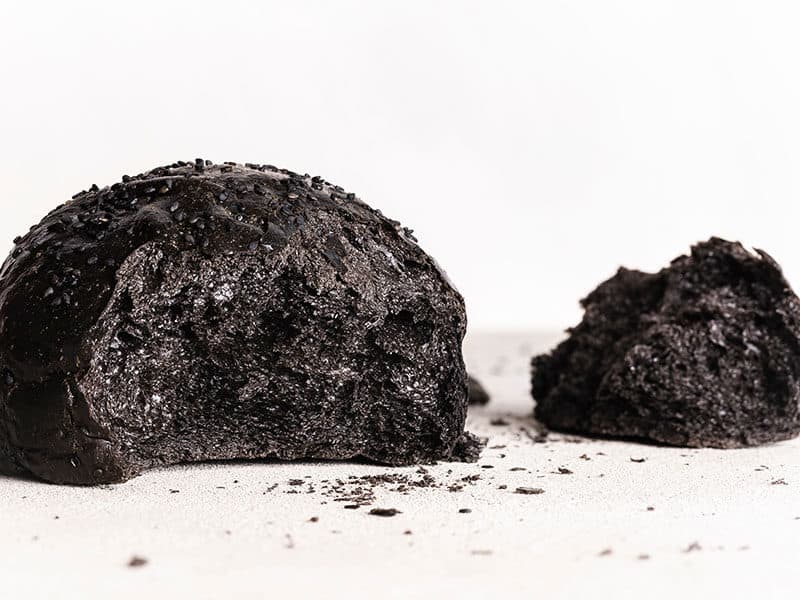 Step 3 – Rising The Dough
Put some flour on the working top and transfer the dough on it. Work the dough using fingers in a way to push the dough from the outer part to the center of the dough. When you formed the smooth round dough, put it in the bowl coated with some olive oil and let the dough proof until it doubles in size.
It is important to cover the dough with plastic wrap or cheesecloth to keep the warmth and help the dough rise enough. It will take at least two hours to double its size. You can put it in the oven with the lights on to heat just enough for the dough to rise.
Step 4 – Working The Dough
When the dough doubles in size, press the air from it using your knuckles. Transfer the dough to the pastry board covered with some flour. Lightly knead the dough to form a log shape and divide it into ten to twelve pieces depending on the size of the bun you want.
Step 5 – Shape Your Black Burger Dough
Shape each piece of dough into a ball pushing the outer ends to the middle. That will help you form round and even buns. The next step is to prepare the baking sheets and cover them with parchment paper. Put the dough balls on the sheets making sure that they are spaced apart from each other.
Step 6 – Leave Your Dough To Rest
Cover the buns with plastic wrap and let them rest for 60 minutes or until they double in size. In the meantime, prepare the egg wash using one whole egg and two tablespoons of water. Mix it well with a fork. Brush the buns lightly with the egg wash. You can also use melted butter instead of egg wash.
Step 7 – Bake Your Black Burger Buns
Do not use too much eggwash to prevent the buns to change the color. Top the buns with some black sesame seeds or regular sesame seeds. Preheat the oven to 375ºF / 190ºC and bake the buns for 15 to up to 18 minutes. The time depends on the size of your buns.
Step 8 – Cool Down Your Buns
When the buns are baked, take them out of the oven. The black color will be preserved well and your buns will be smooth and shiny. Put the buns on the cooling rack and let them cool down. When these black burger buns are cooled enough they are ready to be served.
Check out this video to see more about how to make black burger buns.
Are Black Burger Buns Healthy?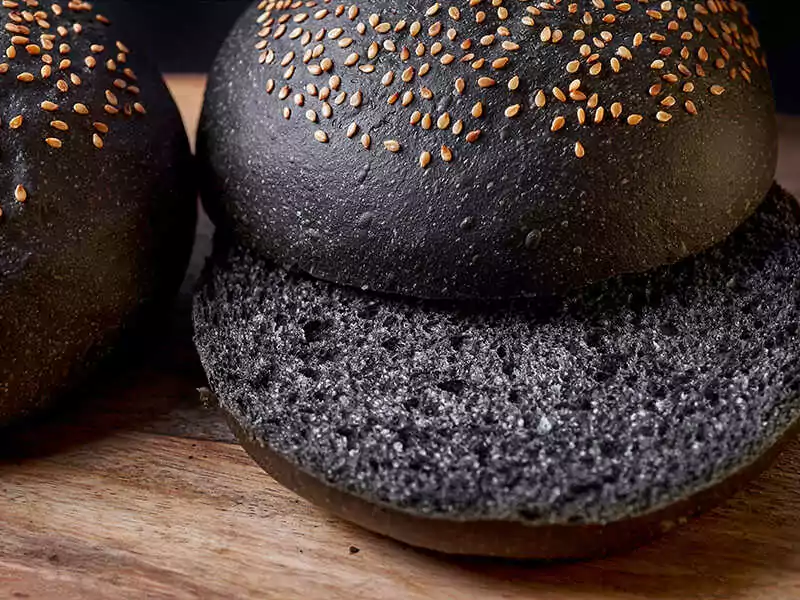 Eating too many baked things can bring your weight up a bit, but if you replace the regular bread dough with whole wheat flour, you can still bring a healthy meal to your table. Besides, it is unlikely that you will serve this bun without anything, so you will not end up eating just the dough.
However, there is one danger to your health if you eat these buns. If you are allergic to seafood, then you should avoid eating these buns due to the squid ink. You can replace the squid ink with activated coconut or bamboo charcoal and get yourself vegan black buns.
Also, there is one curious side effect of these buns. You may notice that your poop turns black after eating these buns. However, you should not worry about this too much, only you must not scare yourself if you see it black. Just remember it is from eating these black burger buns.
Nutritious Facts:
If you think about what one serving of these buns brings to your table, then you should read the next lines. One middle-sized bun has around 282 kcal without anything added to it. This is not a lot, but you need to keep in mind what you serve with it so you do not go over the board with excess calories.
One bun also contains around 35.2 g of carbohydrates and 7.6 g of proteins which makes it a quite healthy addition to your main meal. With 12.3 g of fat and only 6.8 g of saturated fat, you can keep yourself on the healthy side with these appetizing black buns.
What To Eat With Black Burger Buns?
When you think of black burger buns you should remember that these are similar to regular buns, only in color. However, if you plan to serve it with salmon you will nail it with all those tastes. On the other hand, you can use anything you like and still have the perfect bun that goes with it.
Black burger buns can be served with all the sides you wish for traditional burgers. It can also be baked as a small canape that will make serving even more appealing. Options are endless, and it is only on you to choose how to serve it for your guests.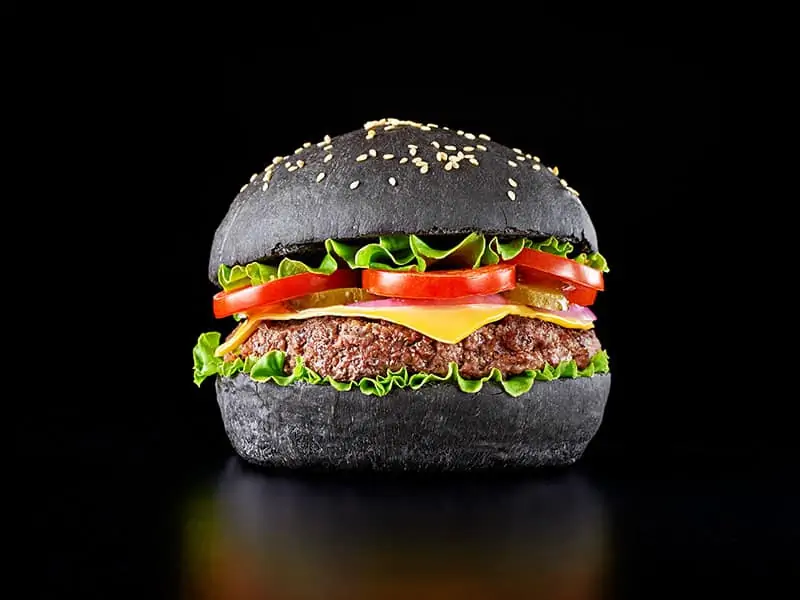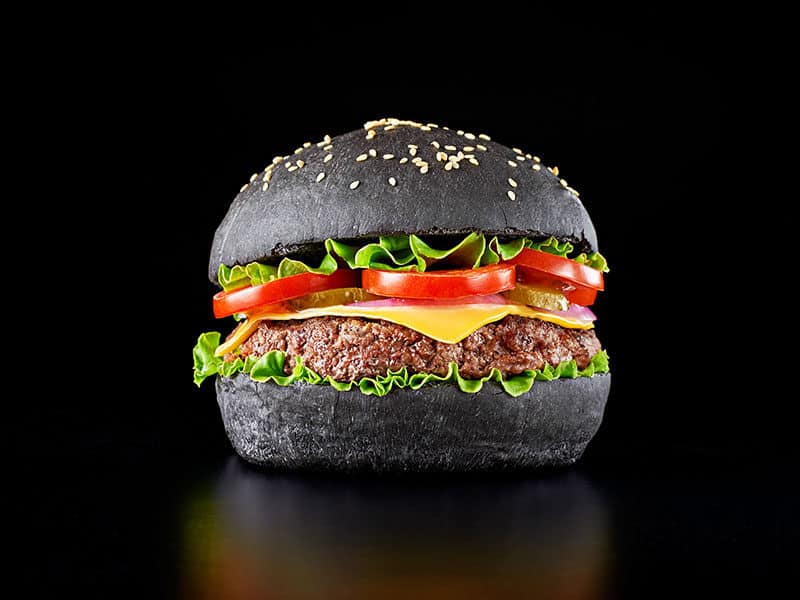 Black Burger Bun Storage
When baked, these delicious buns will not last a day, especially if you have people around to eat them. But, in case you have some of these left, you can keep them fresh for two or three days at most. After that, it would be best to freeze them.
If you wish to store these black burger buns for later use, you can do it easily by putting them in the fridge. Wrap each one individually to avoid them sticking to each other and lose moisture. Another thing to remember is to seal it in the vacuum bag to avoid buns crumbling when frozen.
And whenever you feel like eating burgers, worry not, you can reheat burgers in a few simple steps. There are also various kitchen appliances you can utilize to reheat burger, ranging from the conventional ovens to air fryers or microwaves.
Where To Buy Black Burger Buns?
If you think that this recipe is too complicated to try out at home, you can still taste them. Many bakeries and fast-food restaurants now offer black burger buns. Usually, they are served as a part of the whole meal, but you can also buy them empty and pair them with the frozen burgers at home.
When you choose to get empty buns to serve with the frozen patties at home, remember to opt for pre-made frozen burgers of high quality. This will ensure that your experience with the black burger buns is as perfect as possible.
Making the burger patties yourself is not a bad idea, either. With a few simple ingredients and aiding tools like a decent burger press, you'll be able to make irresistible burger patties to treat your whole family.
What I Most Like About Black Burger Buns?
This recipe is a perfect choice for party snacks as they can be made as small buns that can be served as appetizers. And their fantastic black color will attract all your guests. I have never had anyone leave the party without asking the recipe for these amazing black burger buns.
And, the most important thing, these are simple to prepare and bake. Even if you have never tried to bake before. If you are not sure, just follow the recipe and measurements and there is no way that you can go wrong with these.
Do you like this black burger bun recipe? Have you tried it already? Share your thoughts with me and if you have photos of your brioche buns, feel free to share them, too.
Nutrition Facts
8 servings per container
---
Amount Per ServingCalories282
% Daily Value *
Total Fat 12.3g

19

%
Cholesterol 92mg

31

%
Sodium 219mg

10

%
Potassium 99mg

3

%
Total Carbohydrate 35.2g

12

%

Dietary Fiber 1.3g

4

%
Sugars 5g

Protein 7.6g

15

%
---
Calcium

57

%
Iron

2

%
Vitamin D

13

%
* The % Daily Value tells you how much a nutrient in a serving of food contributes to a daily diet. 2,000 calories a day is used for general nutrition advice.