Burger is a very popular fast food in America, but how to reheat a burger? I'm sure that you may be confused a little bit since burgers do not come together as a firm shape. It includes several different and separated components such as buns, lettuce, tomatoes, beef, etc.
It is not easy to reheat burgers, but also not complicated. You just need to do it the right way. Heating old foods can help avoid food wasting and save the environment. (1) Besides, burgers are delicious, right?! You may regret tossing it as leftovers!
Now, I will show you some basic but valuable ways to warm a cold burger but still get its original flavor. Are you ready?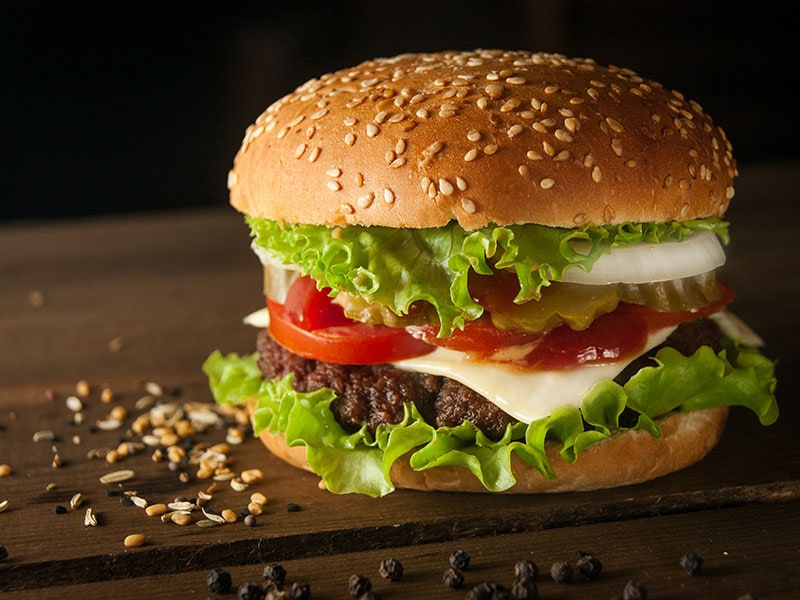 Let's quickly answer the question:
How To Reheat A Burger?
First, you need to have the burger stay at room temperature. Then, you should disassemble it into buns, patties and components. Actually, you can keep it as a whole for reheating, but you may not get a pleasant result after all.
When you are done preparing, choose one out of these five methods to warm your burger up, due to the equipment that is available in your kitchen:
Using an oven or a toaster oven
Using an air fryer
Using a grill
Using a non-stick pan
Using a microwave
Need a quick tutorial? Here is the simplest way to reheat a burger!
Scroll down for the more specific instructions on how to heat your burgers properly!
Hamburger – The King Of American Fast Food
Who doesn't love burgers? This "superstar" fast food has become the culinary icon in American cuisine for its signature appearance with delicious taste and convenience in consumption.
What Is A Burger?
Burger is the short form of hamburger, one of the most popular fast foods in America and many other parts of the world. It includes some layers of patties and other components between the two upper and lower buns. It is considered as a sandwich.
Burgers exist everywhere in the world. And because burgers can go with many things, they can appear in a food stall by the street, a fast-food diner, or even a three-star Michelin restaurant! They also have a lot of regional and international variations to fit the taste of the locals.
One fun variation of burger that I think you should try is black burger bun. The instructions to make black burger bun is rather straightforward, so you can easily whip up this dish at home. I guarantee it'll be an eye-opening culinary experience.
The history of burgers is very interesting with many memorable events. The White Castle restaurant chain and visionary Edgar Waldo "Billy" Ingram were the first to introduce them in the 1920s, and was followed by McDonald's in the 1940s with modifications. (2)
Learn more about the burger history and be amazed by these facts!
The Typical Ingredients Of A Burger
Burgers can appear in many sizes, shapes, and flavors. The components inside the two buns vary based on what kind of burger it is and where it is served. Here I provide you with some of the most typical ingredients to make a regular burger.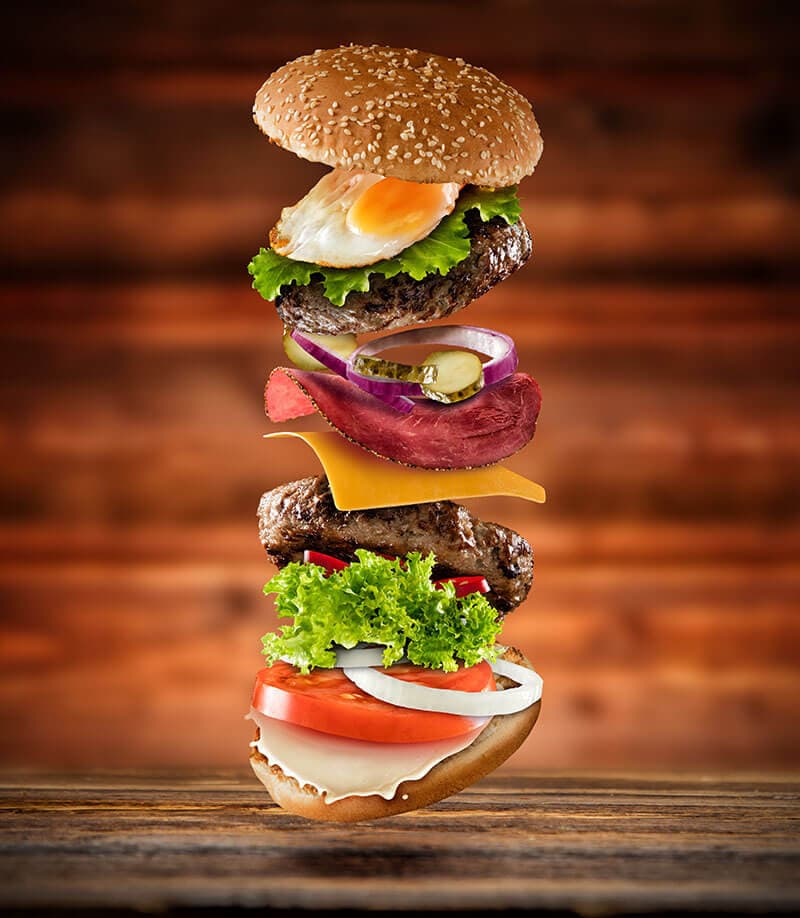 The Patties of a Burger are Usually Made of:
Beef
Turkey
Bison
Elk
Meat substitutes (Portobello mushrooms, vegetables, black bean, etc.)
…
The Toppings of a Burger Can Include:
Cheese
Lettuce
Tomato
Onion
Pickles
Bacon
Chilies
…
Sauces or Condiments in a Burger Can Contain:
Ketchup
Mustard
Mayonnaise
Relish
Signature sauce from burger brand (Big Mac Sauce)
…
And those are the most basic components that can be included in a regular burger! Let's come to the most important part – how to reheat a burger.
What To Prepare Before Reheating A Burger
There's something you need to do before reheating your leftover burgers. Well-preparation will lead to a perfect result with original flavors.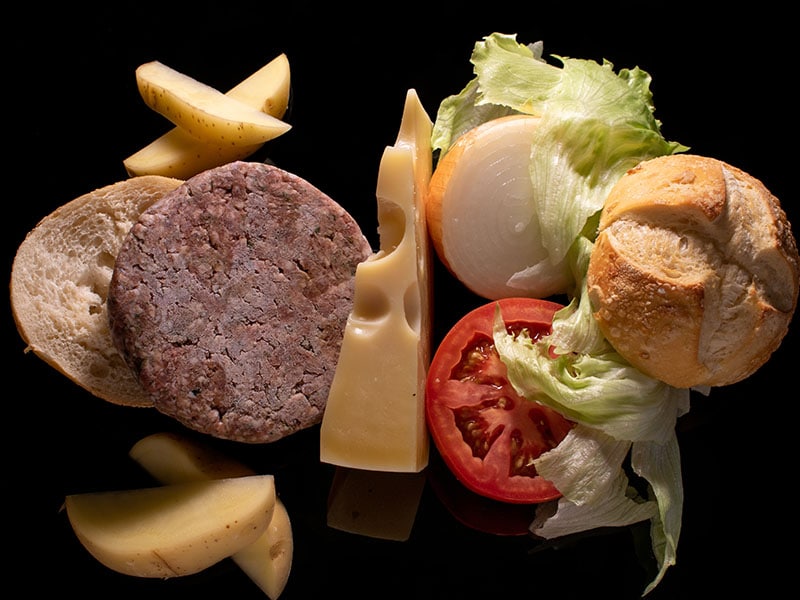 1. Bring The Burger To Room Temperature
First of all, make sure that your burger is at room temperature. Take it out from the refrigerator or freezer and leave it on the kitchen counter for about 20-40 minutes until it reaches room temperature level.
Remember, don't leave your burger at room temperature for more than 2 hours, or else it may easily get rotten. Once it turns bad, you won't be able to consume it or even revive it anymore.
2. Disassemble Your Burger
A burger contains a lot of layers so you should disassemble it to get the best result because every component inside needs to be well-reheated. Separate your burger components one by one. The buns, the patties, and the toppings should all be split into different pieces.
By separating the burger's components, reheating the dish will be much simpler. No more comparing between double cheeseburger and McDouble or wondering if your vegan burger can be reheated in the same way as meat burger. Reheating food shouldn't be overly complicated.
Put aside the veggies like lettuce and tomatoes, also the condiments and sauces inside. You can save them for later usage or just toss them and use the fresh ones.
3. Prepare Some Component Substitutes
If you think you can't reuse the veggies and sauces in your burger after warming up, try to find something that can replace them. Fresh lettuce, tomato slices, pickles can easily be found in your fridge. If you don't have any, the burger is still okay with only patties!
For condiments and sauces, replace them with available commercial sauces in your kitchen, like store-bought canned chili sauce, mustard, mayonnaise, ketchup and its alternatives, etc. Adjust the amount of these to your likings when rebuilding your reheated burger.
For the condiments and sauces, you can replace them with available commercial sauces in your kitchen, such as chili sauce, ketchup, mayonnaise, etc. Adjust the amount of these substitutes to your likings when rebuilding your reheated burger.
Top 5 Methods To Reheat A Burger Without Losing Its Taste
After preparing the burger, it's time to rewarm it properly! Here are my best 5 methods, which can be applied for both homemade and store-bought burgers. Choose the most suitable method to deal with your burger!
Wait, are you wondering if you can use your state-of-the-art burger press to aid in the process of reheating burgers? Well, a burger press is often used for raw burger patties only, meaning that it's not that necessary or ideal for the reheating process.
Here is the table comparing the pros and cons of the five methods so that you can easily choose the most convenient way to warm your leftover burger!
| Reheating method | Time duration | Pros | Cons |
| --- | --- | --- | --- |
| Using an oven/ a toaster oven | 5-7 minutes | Keep the moisture and crispness | The utensil may not be so popular |
| Using an air fryer | 7-10 minutes | Easy to do, can reheat the whole bun | Takes the longest time |
| Using a grill | 3-5 minutes | Keep the same flavor as the original one, evenly heat the patties | Takes time in setting up the grill, can burn the buns and patties easily |
| Using a non-stick pan | 3-6 minutes | Quick, the utensil is quite popular | May not heat the patties evenly |
| Using a microwave | 3-5 minutes | Quick, convenient, easy to do | Hard to control the temperature ? make the buns soggy, the patties |
Check out the detailed instructions for each method below!
In The Oven/Toaster Oven
Using an oven or toaster oven is the best way to reheat burgers because it still keeps the flavor, crispness, and moisture like the original burger. Even store-bought frozen burgers will taste heavenly if reheated with an oven/toaster oven. Yes! You can use these two interchangeably.
Things to Prepare
Oven/toaster oven
Oven rack
Aluminum foil (optional)
Instructions
Step 1: Preheat your oven to 350-400oF.
Step 2: Place the separated components, except for the buns, onto the tray inside the oven or toaster oven. You can put it directly on the tray or place an aluminum foil sheet underneath.
Step 3: Heat them for about 3 minutes, then flip the patties. After that, place the buns on the tray.
Step 4: Heat all of them for about 2-3 more minutes, until the patties reach the proper heat to your likings, and the bun turns to a beautiful yellow-brown color.
Step 5: Take everything out of the oven or toaster oven and place them like the original burger.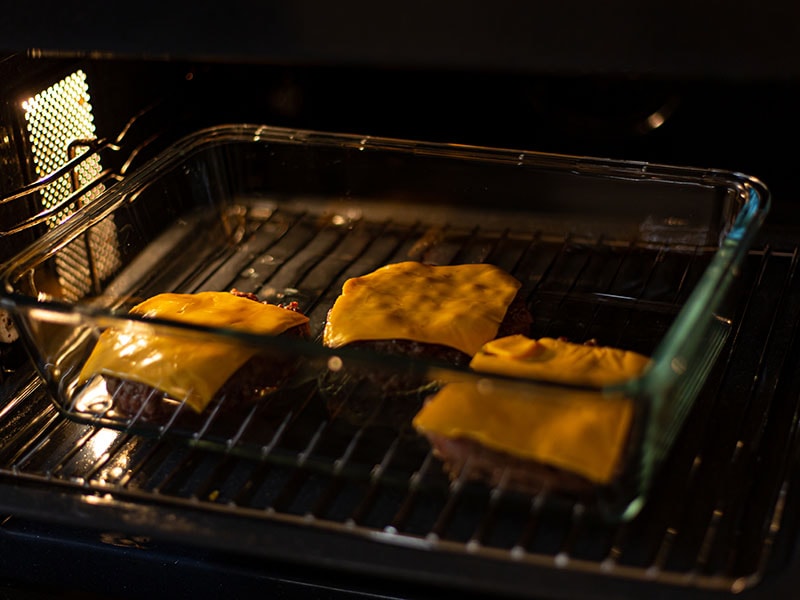 In An Air Fryer
Air fryer is now very popular in every family's kitchen. It can fry everything without using cooking oil! How cool and healthy is that! Using an air fryer is also an intelligent way to deal with leftover burgers. It is super convenient and fast! Let's start!
Things to Prepare
Instructions
Step 1: Place your burger in the basket of the air fryer. For this method, you can also put the whole burger inside.
Step 2: Set the temperature to 160oC or 320oF for 4 minutes.
Step 3: Open the air fryer and flip them up-side-down. Cook for 2 to 3 more minutes.
Step 4: Take the burger out of the fryer and rebuild them. Then, it's ready to serve!
Tips:
Make sure you set the air fryer at medium heat.
If your burger is attached with cheese or vegetables, using an air fryer may not work.
Do not preheat your air fryer before placing the burger in.
Learn how to use an air fryer to reheat your burger! Watch this video:
On The Grill
Grilling is a great way to warm your burger because it heats up the patties evenly! However, it can take you some more time than other methods to set up for the grill. The best grill to use is the one with charcoal. Now, let's get started!
Things to Prepare
A grill
A spatula
Aluminum foil (optional)
Instructions
Step 1: Preheat the grill at medium temperature.
Step 2: Place your patties around the edges of the grill rack.
Step 3: Heat for around 2-3 minutes and flip the patties using the spatula. Wait for about 30 seconds. Try not to press the patties so they are not burned too much.
Step 4: Place the buns onto the rack and leave them for 60 seconds. You can cover the buns with some butter so that it can have some buttery taste. You don't need to flip the buns.
Step 5: Take all the patties and buns down. Assemble them to make the old burger alive.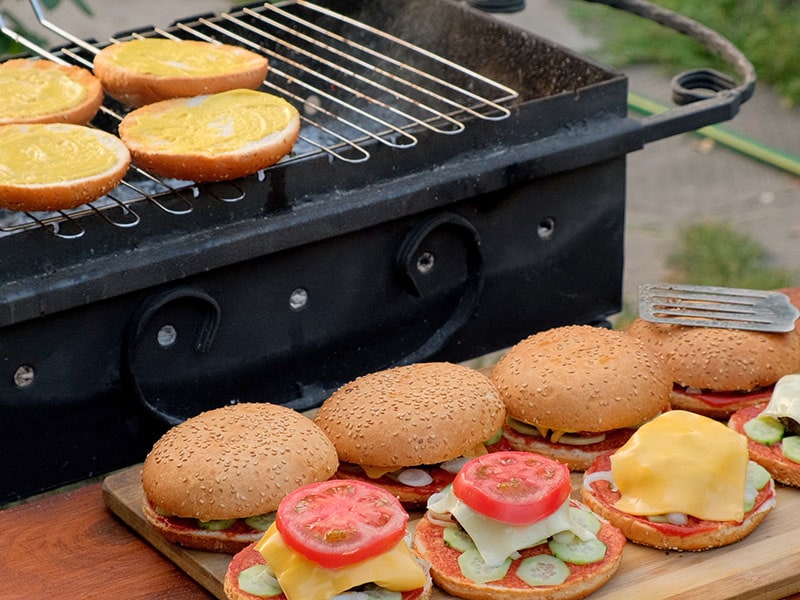 On A Non-Stick Pan
If a non-stick pan is available in your kitchen, don't hesitate to use it and heat your burger up in just a few minutes! You should always use a non-stick pan so that you don't have to use oil to glaze the pan surface. Ready to start?
Things to Prepare
Instructions
Step 1: Heat your frying pan on the stove to a medium temperature level.
Step 2: Put all the components including buns in the medium-hot pan.
Step 3: Wait for about 3 minutes on one side, then flip. Cook for 1-2 more minutes.
Step 4: Take all patties and buns out of the pan and build them as the original. Add veggies and sauces that you like. Then, it's perfect to enjoy.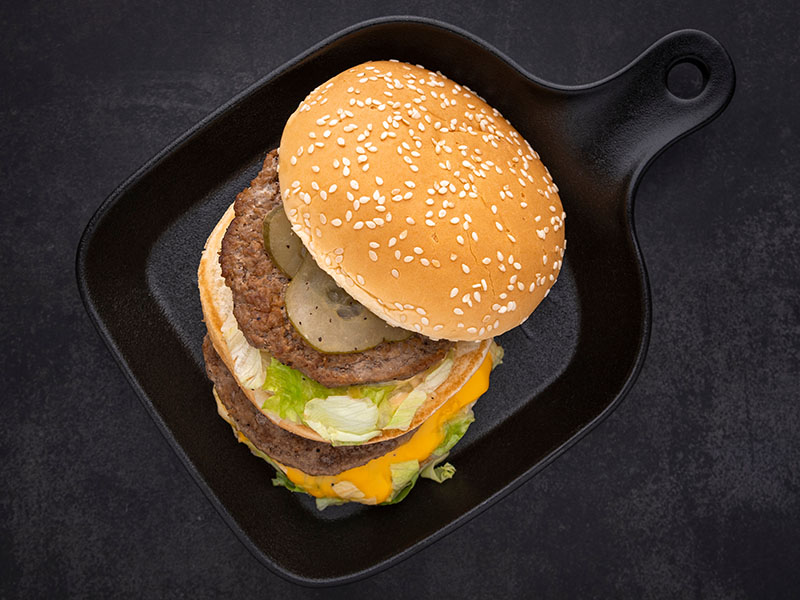 In The Microwave
Although using the microwave is not the best one compared to other methods, it may be the easiest and most convenient way for you to revive a burger.
Things to Prepare
A microwave
A microwave-safe container
Instructions
Step 1: Wrap the buns in damp paper towels.
Step 2: Put the prepared buns and patties separately on a dish or any container that is safe for a microwave.
Step 3: Heat it for 2 to 3 minutes on low power. Check for components regularly by touching it when it is around 2 minutes. If it is not as warm enough as you want, leave it for one more minute. Also, if the patties are too thick, you should flip them once or twice while reheating.
Step 4: Take all of them out of the microwave and rebuild them. Add more sauces if you like.
Tips: Put a glass of water (the glass is microwave-safe) inside the microwave while warming up so that the buns and the patties won't turn dry and hard.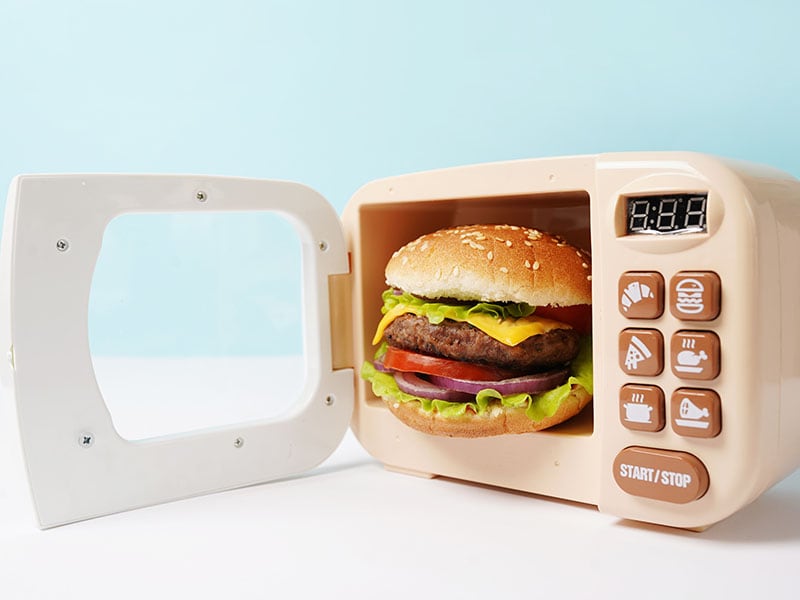 FAQs
Ding dong, it's time for quizzes and quick answers! Even when you know all about reheating a burger, you may still miss some information about it. Read the question list and get yourself more knowledge to solve the problems!
Have You Found Yourself A Way To Reheat A Burger?
For all that methods being shown, have you known what to do to reheat a burger properly? Make use of any equipment you have in the kitchen to warm up your leftover burger! It may not get exactly like the original taste but can still be good enough to eat.
Try these methods to revive your burger and tell me about your experience! If you have any stories on reheating burgers or any more questions, leave some of your words in the comment section below! I would be happy to read all of your comments.
Nutrition Facts
1 servings per container
Serving Size120 grams
---
Amount Per ServingCalories354
% Daily Value *
Total Fat 17g

27

%

Saturated Fat 6g

30

%
Trans Fat 1g

Cholesterol 56mg

19

%
Sodium 497mg

21

%
Potassium 271mg

8

%
Total Carbohydrate 29g

10

%

Dietary Fiber 1.1g

4

%
Sugars 5g

Protein 20g

40

%
---
Calcium

12

%
Iron

19

%
Vitamin B6

10

%
Vitamin B12

28

%
Magnesium

6

%
* The % Daily Value tells you how much a nutrient in a serving of food contributes to a daily diet. 2,000 calories a day is used for general nutrition advice.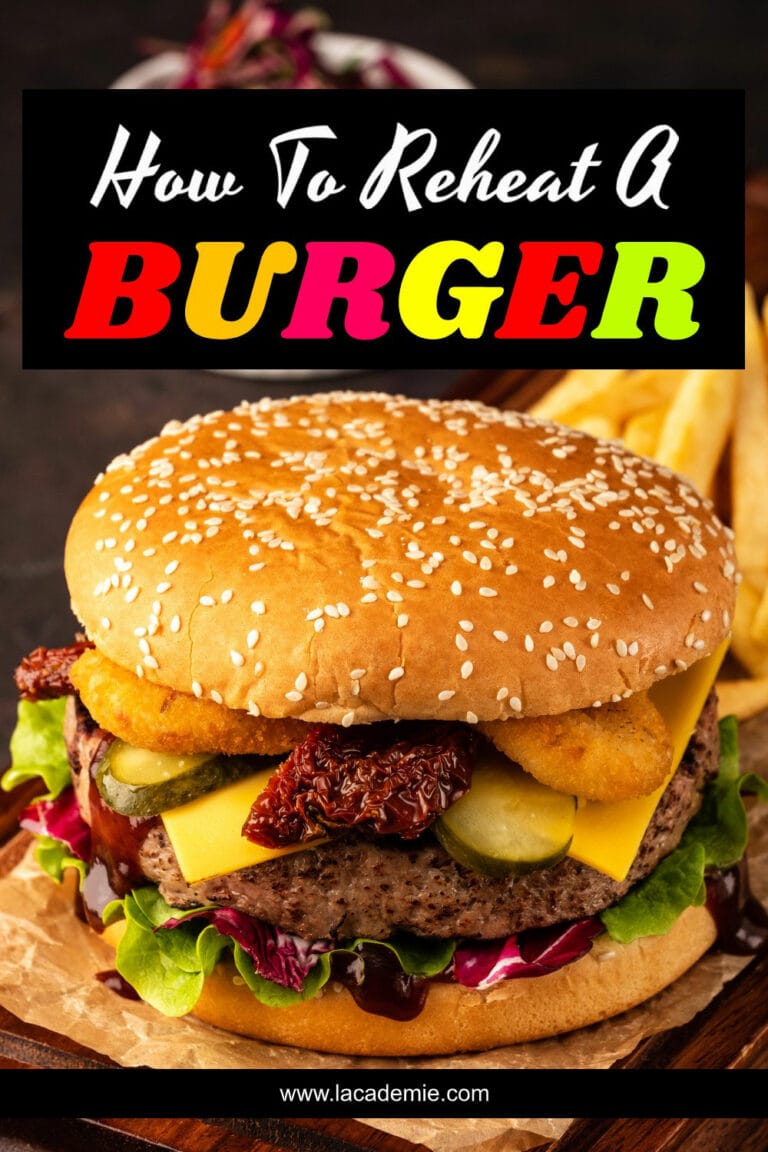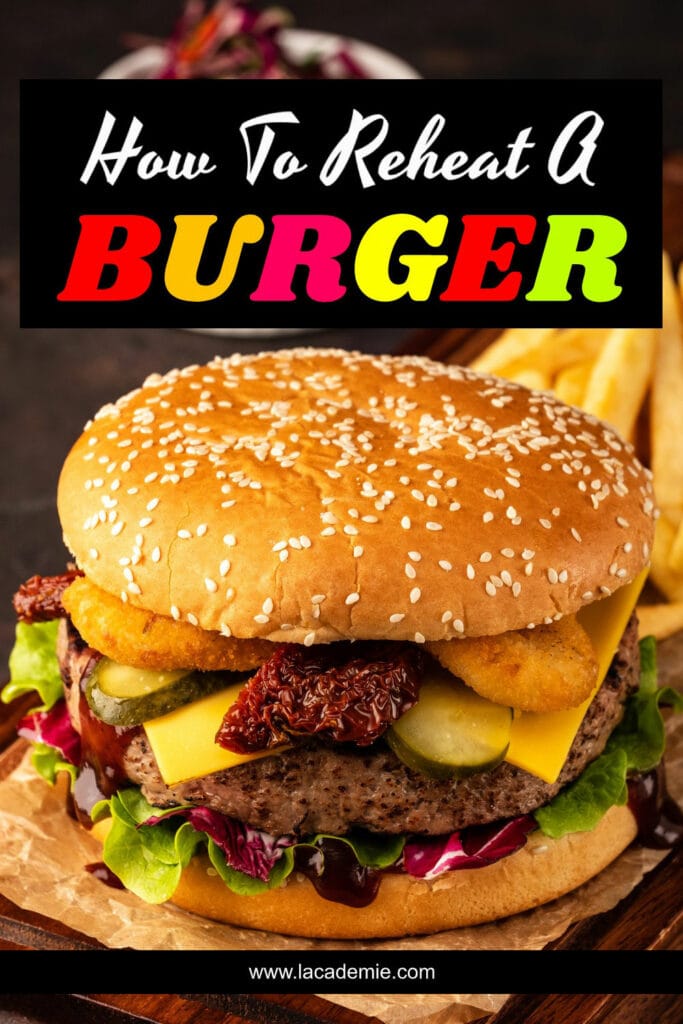 References
US EPA. 2021. Reducing Wasted Food At Home | US EPA.
En.wikipedia.org. 2021. History of the hamburger – Wikipedia.
Guzder, K., 2021. How Many Times Can You Reheat Food Safely? | Safety Guide.