Sloppy joes are your favorite and also your children's favorite; thus, finding various side dishes to go with sloppy joes is a good idea so that you and your children will not get bored.
Besides, different side dishes also stimulate your sloppy joes' flavor and raise them to a new level of deliciousness and attractiveness. Suitable side dishes also bring you a sense of satisfaction.
Sloppy joes are rich, cheesy, and full-flavored because they are made with browned beef together with onion, green pepper. All of them are simmered in a sweetened tomato or ketchup sauce. But what makes your sloppy joes outstanding is the suitable side dishes.
Let's discover what is good enough to side with your sloppy joes. Scroll down for more details.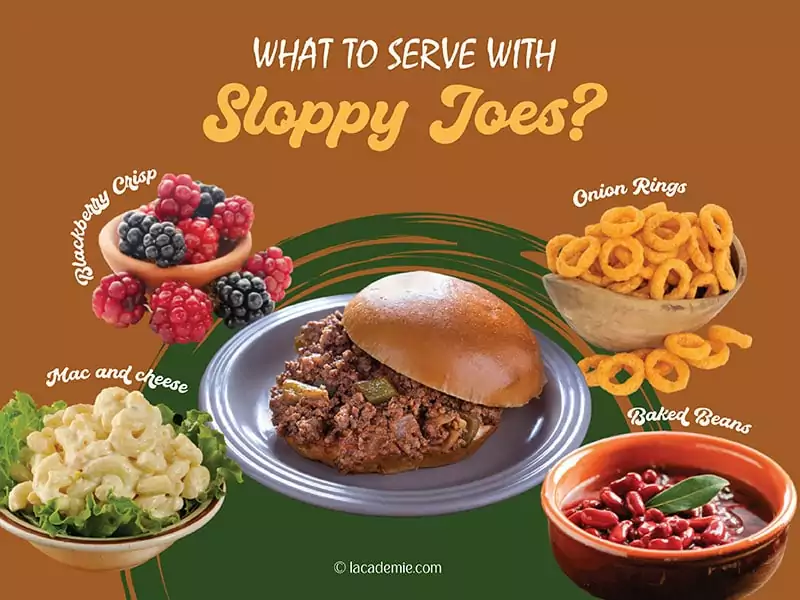 What To Serve With Sloppy Joes?
Now, I will introduce side dishes coming around the world to go well with sloppy joes so that you can get an easy choice.
Mac And Cheese
Potato Salad
Sweet Potato Hash
Dill Pickles
Macaroni Salad
Pasta Salad
Corn On The Cob
Coleslaw
Stuffed Peppers
Mashed Cauliflower
Tater Tots
Baked Beans
Potato Chips
Roasted Green Beans
Glazed Carrots
Baked Parmesan Zucchini
Spinach Apple Salad
Roasted Brussels Sprouts
Steamed Broccoli
Fruit Salsa
Bacon-Wrapped Asparagus
Blackberry Crisp
Pineapple Bars
French Fries
Onion Rings
Top 25 Side Dishes For Sloppy Joes
Go through one-by-one side dishes to get a better understanding of sloppy joes' side dishes. From that, you can choose the most suitable one and take it side by side with your favorite food.
Although sloppy joes are filled with a thick texture of beef and tomato sauce, the side dish is also creamy and thick. However, the combination won't make you bored when enjoying them together.
Mac and cheese together with sloppy joes will comfort you, also satisfy your taste but are the easiest match you can do for better taste.
Mac and cheese can be a smart choice when you need to put something together quickly with ingredients. You can use half of the cream and milk to make mac and cheese if you don't like such a dense texture.
Even if you're serving leftover mac and cheese, you can still make it appetizing. With just a few tips to make mac and cheese hot again, you'll get a hearty and savory dish to pair with sloppy joes. Hot mac and cheese, along with sloppy joes, will make the perfect dinner for the winter.
Potato salad is considered one of the most common and easiest side dishes for almost any food, and your sloppy joes are no exception. The classic potato salad is heavenly, soft, creamy, sweet, and tangy.
Eating potato salad certainly raises sloppy joes' tastiness to a new level and prevents you from getting fed up.
What makes the potato salad special is topping it over with a dressing made with apple cider vinegar, celery seeds, and some paprika to increase the flavor.
If you are a sweet potato lover, consider the side dish to eat with your sloppy joes. I love their natural sweetness and the crunchiness of the sweet potato chunks that are a terrific contrast to the full-flavored and soft sloppy joes.
Sweet potato hash is super delicious, healthy, and so easy to make and can be a complete meal too. You can get inventive with this dish by adding many ingredients to this dish. You can even make this into a dish starring ground bison, and the result will still be mind-blowing.
Sweet potato flesh is great and all, but is the skin of a sweet potato edible? Surprisingly, you can eat the skin, which contains a lot of essential nutrients like vitamins C and E, potassium, iron, etc.
The contrast of the spiciness and crunchiness of dill pickles bring your sloppy joes a wonderful taste. However, dill pickles are also easy and quick to make.
What you need to do is slice cucumbers lengthwise; you use a spiralizer to make your veggies get nice shapes; place cucumber, some chopped onions, and some chopped dill fronds into a jar; and then pour water and vinegar onto the pot.
Moreover, a final touch of pepper and salt can make the side dish more appetizing. You can say that the harmonious blends of spices, herbs, and vinegar is what make pickles so different from cucumbers. And personally, I agree with this opinion.
Place the jar in the fridge for about 30 minutes to 4 hours to let sliced cucumbers chill before serving them.
The video will show you how to make the best dill pickles.
Nothing goes better with sloppy joes than eating it with pasta-based side dishes because the crunchiness, juiciness, and creaminess of pasta salad can raise the flavor of the main star – sloppy joes.
The macaroni salad is made with eggs and crispy vegetables dressed in a creamy and simple mayonnaise sauce, making the salad brighter and appealing.
Besides, the addition of red bell pepper, red onion, dijon mustard, celery, salt, and sugar makes your macaroni salad tangy and savory.
Some of you must be wondering if it's possible to freeze macaroni salad. I'd know, because this is the exact thing I wondered myself when I tried this dish out for the first time.
If you are hungry and are finding something to satisfy your hunger, eating sloppy joes with rustic pasta salad is the best idea for you. A bowl of penne pasta gone with cucumbers, black olives, basil, and cherry tomatoes and dressed in red wine vinegar is so appetizing.
The estimated time to make the salad is about 20 minutes, but you can store it up to 4-5 days in the fridge, so you will consider this salad if you have not much free time to prepare ingredients.
Watch this video to know detailed steps in making quick, delicious, and healthy pasta salad:
It will be enjoyable to eat corn on the cob, one of the easiest and most time-saving dishes you can make. If anything, you can prep this in advance. This way, you'll only have to go through the steps to reheat corn on the cob when mealtime rolls around.
What you need is to place them in your microwave and wait for a few minutes until the corn ears turn into light brown color. The natural sweetness and juiciness of them will satisfy your taste when eating with sloppy joes.
Not sure if you like microwaved corn on the cob? Allow me to let you in on a secret: corn on the cob is a dish you can cook with Ninja air fryers. This is also a quick and foolproof method that anyone can try. Other ways to prepare this dish include steaming, boiling, grilling, etc.
Top over corn ears with a dressing of cooked parsley, garlic, and butter makes your corn tangy and appealing.
Sloppy and coleslaw create a great combination in which you can feel a perfect contrast to raising the flavor of both in terms of sweetness, creaminess, and deliciousness.
Besides, the juiciness and cool temperature from coleslaw will make you feel refreshed when eating.
The coleslaw is packed with fresh flavors from cabbage, carrots, and mayonnaise dressing, making it suitable for the top over sandwiches and grilled beef.
Watch this video, it can help you with basic steps to make perfect coleslaw.
Don't think that peppers are bland if you have never known about stuffed peppers. As the name suggests, these peppers are packed with some grains like white rice and quinoa, your favorite veggies and beans, then topped with cilantro and cheese.
The combination of stuffed peppers and sloppy joes won't let you down, believe me!
Just imagining can make you mouth-watering, right? Let's try it with your sloppy joes for a perfect taste.
Let's see this video will guide you on making easy stuffed bell peppers.
Take out your available cauliflower and turn it into a delightful side dish to sloppy joes by mashing them after cooking and flavoring with some essential spices to raise the flavors.
Dressing mashed cauliflower with cream cheese makes it more appealing.
You will get pure bliss when combining the creamy and full-flavored mashed cauliflower with tender and savory sloppy joes.
If you are obsessed with cheese, tater tots must be for you. Tater tots are also good to go with sloppy joes, and the combination will be promisingly perfect and desirable to taste.
Here's a helpful tip: combine tater tots with nachos, and you'll get an exquisite Mexican companion dish to jazz up your dinner table. Don't forget to throw in some jalapeno peppers, bacon, and cream cheese for an unforgettable flavor burst to impress your family.
Both of them are flavorful and comforting, which makes them more delicious when they come together.
Moreover, including preparation time, and cooking time, you can take around 45 minutes to make the side dish, but the steps are so easy, so you can practice while cooking sloppy joes.
One more choice for you if you love healthy, delicious, and tangy side dishes is baked beans, and sloppy joes and baked beans are the best and the most comforting combo ever. However, you will find it easy to make the side dish.
All you need to do is add brown sugar and bacon to the beans and then bake them until you get the thick texture you want.
Crispy and healthy potato chips are another excellent side dish to go well with your sloppy joes. Can you imagine the combination of crispy crusts of potato chips and the soft bites of sloppy joes? That's so amazing!
You can eat store-bought potato chips to save time, but obviously, homemade products are much better and healthier.
Season thinly sliced potatoes with pepper, salt, and paprika will make your chips perfect to taste.
Another choice for a green vegetable lover is roasted green beans. I love green beans because of their natural sweetness without any sugar added, and also their crunchiness from the fresh green beans, making them very suitable to go with sloppy joes.
Besides, I also like the green color, which can help you release stress after days of working hard. Green color will light up sloppy joes too and make them more appealing.
With my available green beans, I just spend around 15 minutes finishing the side dish with some tangy toppings on the top.
Follow steps in the video to roast your green beans perfectly:
Carrots are very often present in the list of the most desirable side dishes to taste with your main savory. And the incorporation of glazed carrots with sloppy joes will let your hair down,
A light-colored side dish with crunchiness and delight together with the softness of sloppy joes' texture, they are contrasting but insane to go together, right?
To maximize the taste of glazed carrots, top them over with some butter and salt before cooking.
Veggies make a significant contribution to side dishes for sloppy joes, and zucchini is no exception.
As the name suggests, what you need to make the side dish is sliced zucchini, sprinkle them with parmesan cheese, and take them to bake. The crunchiness, natural sweetness, tenderness, and creaminess will make your side dish a perfect choice to go with sloppy joes.
Baked zucchini with parmesan cheese is healthy and nutritious food for you!
Besides coleslaw, spinach apple salad will satisfy your taste, too. A perfect side dish to welcome the fall, spinach apple salad is healthy, nutritious, crunchy, refreshing, and light. These main vital features make the salad one of the best accompaniments to sloppy joes.
It will be perfect for leaving the dressing off until serving to get soggy and fresh.
This side dish is on the top of the healthiest side dishes you can consider making for pairing with your sloppy joes. Like many other veggies, roasted brussels sprouts can bring you a sense of natural sweetness and freshness.
What I can say is enjoying sloppy joes with roasted brussels sprouts is a considerable idea to try.
Check it to get a quick and easy recipe for roasting brussels sprouts:
Nothing is easier than steaming your available broccoli to side with sloppy joes. Obviously, sloppy joes are packed with full flavors, so finding some easy and simple side dishes is better than opting for complicated ones.
Steaming broccoli for around 5 minutes will maintain your broccoli's beautiful green color and sweetness.
If you are a fan of fruits, turn them into a side dish to go with your sloppy joes. The fruit salsa is sweet and juicy because it is made with diced fruits and served with cinnamon chips.
You can mix all your favorite fruits like kiwis, raspberries, apples, strawberries, brown sugar, and white sugar to satisfy your taste. Moreover, the refreshing salsa will raise the sloppy joes' flavors to a new level of tastiness.
To enhance the flavors of fruit salsa, let it chill in the refrigerator about 15 minutes before serving.
The video shows you how to make healthy and delicious fruit salsa:
Use your bacon to wrap asparagus to make a perfect side dish for sloppy joes. And the side dish will drive you crazy when you put it together with sloppy joes.
The tenderness of asparagus flavored with bacon and fresh herbs and the full-flavored sloppy joes will make you feel hungry and mouth-watering. Importantly, making bacon-wrapped asparagus is so easy.
Blackberry crisp is a summertime dessert recipe that can be an ideal dessert to go with your sloppy joes.
Blackberry crisp is made with ripe blackberries, all-purpose flour, brown sugar, cinnamon, nutmeg, and butter, making it one of the favorite options for children to finish their meal with sloppy joes.
The video will let you know how to make blackberry crisp to serve with sloppy joes.
It will be perfect to finish your meal with sloppy joes by some pineapple bars because of the light sourness and light sweetness. Pineapple bars are not only simple but also quick to make.
What you need are flour, pineapple, butter, sour cream, eggs, sugar, salt, and some coconut extract for a better and tangier flavor.
There is no doubt that French fries are a great accompaniment to sloppy joes because its crunchiness and deliciousness.
The easiest and the most convenient way to make French fries is using an air fryer and then dressing them up with a little bit of salt, garlic butter, and parmesan cheese to raise their flavors.
One more crisp side dish pairing well with sloppy joes is onion rings that have a perfectly crispy exterior every time.
Onion rings are made with thickly cut onions, flour, baking soda, salt, and paprika. You might find them strange, but try them once, you will get addicted to the side dish.
Besides being a perfect side dish for sloppy joes, you are free to eat onion rings together with hamburgers and hot dogs.
The video is for you if you want to make onion rings to eat with sloppy joes:
Expectation Vs. Reality
In the above article, I have mentioned 25 side dishes that can go with your sloppy joes, but in reality, you can use many more dishes to accompany sloppy joes. However, you have the easiest but the most decadent side dishes.
Besides, depending on your taste, you can flavor the dish as you want; you don't need to follow the recipes strictly; take the recipes like the suggestions and create your own recipes to make dishes suitable to your family members and your guests.
If you find my article useful and exciting, feel free to share it with your friends, and leave your comment below if you get something interesting about side dishes for sloppy joes.
Nutrition Facts
4 servings per container
---
Amount Per ServingCalories146
% Daily Value *
Total Fat 7.1g

11

%
Sodium 1223mg

51

%
Potassium 58mg

2

%
Total Carbohydrate 19.6g

7

%

Dietary Fiber 3.6g

12

%
Sugars 6g

Protein 1.9g

2

%
---
* The % Daily Value tells you how much a nutrient in a serving of food contributes to a daily diet. 2,000 calories a day is used for general nutrition advice.