You can freeze your leftover macaroni salad and defrost it later to eat.
With some easy-found kitchen utensils in your kitchen, you can keep your macaroni edible for up to 2 weeks. Yes, this tasty accompanying food for pork belly can last for that long! Now, I'm not going to keep you waiting, I'll explain this to you right away!
You don't want to waste your food and try to find the best solution here and there for a long time. I'd know, because I once tried to find out whether potato salad should be frozen, just so that I can stop wasting my favorite dish. So, how to freeze Macaroni salad properly?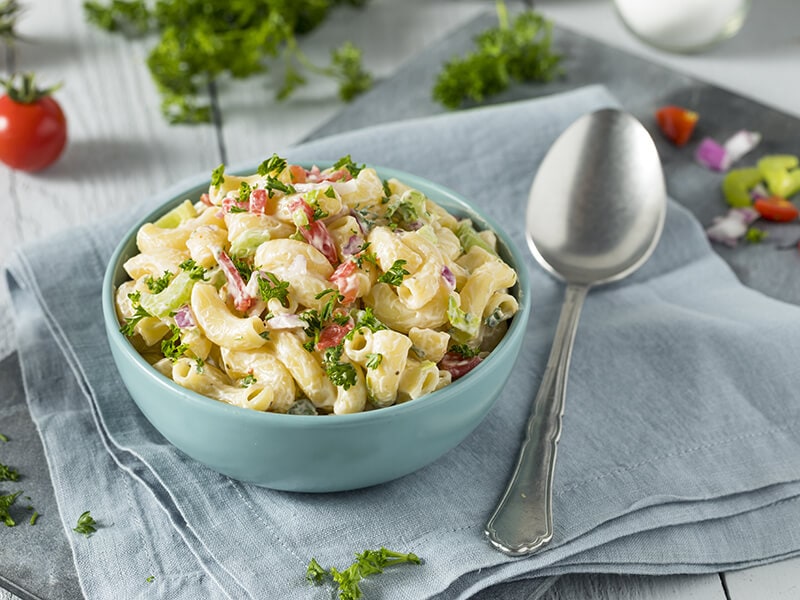 How To Freeze Macaroni Salad?
The fundamental problem you will encounter when you want to freeze macaroni is that this food has many ingredients with different shelf life. One of them gets spoiled and will easily affect the rest of the components, either texture and taste.
Therefore, I will divide them into two possible cases to give you the appropriate choices.
You came here because you have too much leftover macaroni, so you want to store it for later. The second is you want to eat meal-prep since you are a busy person with little time to cook.
Whatever the reason, I want you to remember that before and after being thawed, the defrosted macaroni salad would never be compared with the freshly made one.
Advisable Storing Way For Leftover Macaroni Salad
Let's move to the "inevitable situation" first, shall I? Open your cupboard and find these things:
Airtight storage containers of your choice, such as Ziploc bags
Sticky notes or labels
And then, follow the steps below:
Step 1: Divide your leftover macaroni salads into small serving sizes. It will be more convenient for you later.
Step 2: Put those portions into your prepared containers or plastic bags. I suggest you use reusable containers to reduce waste and cost instead of plastic bags.
Airtight equipment can help minimize the chance of your food being exposed to the air and getting infected by bacteria.
To be more careful, you can cover containers' surfaces with plastic wrap before sealing the lids. It is like the double-shield for your salad.
If you use plastic bags, make sure to squeeze all the air out before sealing to keep your salad away from any odors or get burned by the freezing temperature.
Step 3: Write the date and maybe "Macaroni Salad" on the prepared notes to avoid confusing it with the other frozen food.
Step 4: Put the containers into your freezer and use them within 3 or 5 days.
Notes:
Your macaroni salad has to be cooled down already before doing Step 2.
If your macaroni salad has any shellfish ingredients and has been served on the table hours before deciding to store it, you shouldn't keep but toss it away.
When your shellfish is at room temperature for too long, they are not safe to eat anymore.
To ensure that you like the frozen macaroni or not, you should try a small amount first.
This also helps to estimate the appropriate storing time that you would satisfy with the outcomes (within 3 to 5 days).
If you choose this method to freeze your macaroni salad, don't add your mayonnaise to it.
Mayonnaise is an egg-based dressing that can easily be disintegrated and change the consistency inside the freezer. When the macaroni's sauces change their quality, the salad will be affected.
Therefore, keep your mayonnaise somewhere else and put it back again when you finish thawing your salad.
Egg whites hate extreme cold conditions inside the freezer; it can become rubbery. So, I suggest you not put any egg-based or whole eggs (or at least egg whites) together with your salad when freezing.
How To Store Meal Prep Macaroni Salad For Longer?
You are now moving on to the second situation, meal preparation! Because you are preparing your dish so that you can actively reserve each ingredient separately.
Before all, let's list out some macaroni salad ingredients:
Macaroni
Dressings (mayonnaise and mustard)
Proteins like eggs or meat
Vegetables
1. Macaroni And How To Freeze Properly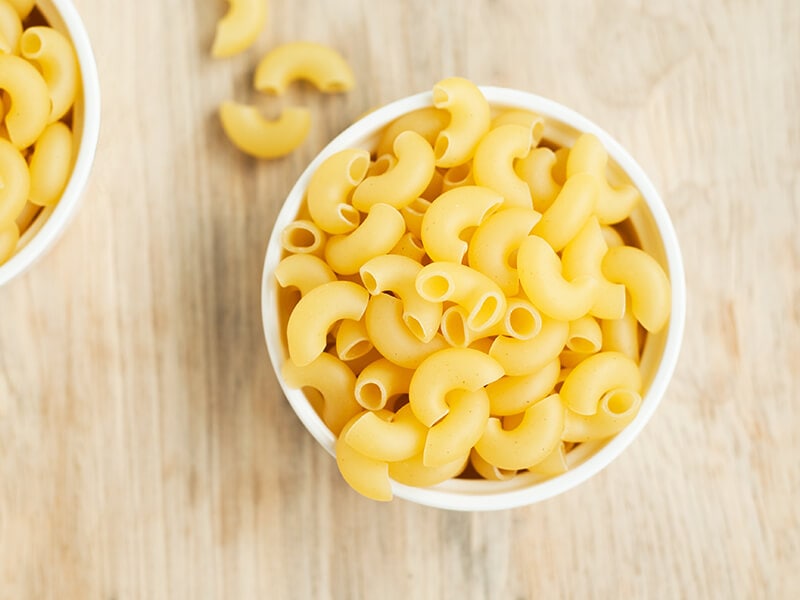 Macaroni, pasta, or even other types of pasta are not suitable foods to be frozen and defrosted. Even when you follow all the steps carefully, your starch-based noodles will change in quality.
Choosing The Proper Macaroni Types
The ingredients that make up your macaroni also affect storing life. If your household refers to using gluten-free or rice flour-made pasta, then you should not put your cooked pasta into the freezer.
They are already softer than other regular types of macaroni. If you continue to put them into the freezer, they can be even mushier. Therefore, if you use gluten-free options, I think you should cook your pasta later when defrosting other ingredients.
Or else, try to use whole wheat flour or regular white flour; they can get on better with the refrigerator.
The Cooking Level Of Your Macaroni
However, if you want to have all the steps ready for your macaroni salad, I recommend making sure the macaroni is boiled to "al dente".
"Al dente" means your pasta or macaroni should not be so hard and have a certain resistance when you take a bite. At that state, your macaroni is neither uncooked nor overcooked and a bit firm, perfect to be frozen.
Why "al dente?" It is to prevent your macaroni from becoming too mushy when taking it out of the fridge. To be honest, it does help, but your macaroni is still softer than freshly made.
Mix Your Macaroni with a Bit Of Olive Oil or Vegetable Oil
Your macaroni can stick together while storing and become a big clump. Clawing a big chunk of pasta might be very annoying. To prevent that, try to mix it with some olive or vegetable oil after boiling and cooling it down.
Put Macaroni In An Airtight Container and Into The Freezer
Cooked pasta in general or macaroni itself can only last for a short time inside the fridge. You need to remember to use it within 2 weeks before noticing any signs of expiration.
2. The Dressings: Mayonnaise and Mustard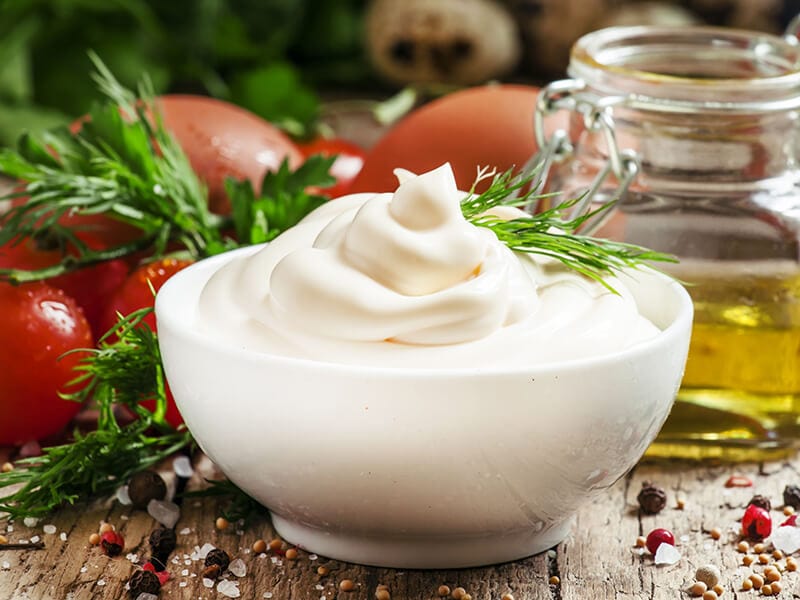 Mustard can last quite long in the fridge, up to 12 or 18 months. For this reason, you can see it can not affect the other ingredients. You probably eat the whole food you store up before it expires.
Mayonnaise itself is not a friend of your freezer. Since mayonnaise contains egg, vinegar, and other liquid-type ingredients mixed by blending, putting it in the freezer makes those separate and lose its original viscous, creamy texture.
The lumpy and liquid mixture of frozen mayo can ruin your macaroni salad. Therefore, you should keep your egg-based dressing in the cooler compartment. It can stay smooth and creamy longer!
After thawing your salad, you can add mayonnaise in the last step.
Notes:
Your mayonnaise should be stored at the temperature of the cool compartment, lower 50 degrees F (but not freezing). It can last up to 3 months unopened and 2 months if you have already opened.
Never put this dressing at room temperature for more than 8 hours. When sitting at a temperature above 50 degrees F, your mayonnaise will spoil and separate (USDA).(1)
You can mix all of your dressings up. Mixing your mayo, mustard, and garlic (if you like) up and putting them into a squeezing tube before freezing would also help your dressings be usable longer.
3. Eggs and Other Proteins
Proteins are usually added to any salad to provide more flavor and nutrients. Yet, how to store them, specifically macaroni salad, is a big question.
Eggs
The egg is an optional ingredient in macaroni salad. Maybe your home's recipe doesn't include a mashed hard-boiled egg, but some others do. Mixing eggs into the dressing can add a creamy taste to your salad.
If you want to freeze the whole eggs, I recommend adding only egg yolks since egg yolk can sustain well in the freezer and not turn rubbery like the whites.
On the other hand, you can choose to smash your eggs into a paste with a large and nonporous molcajete or cut it into bite sizes. So, the freezing changes might not be as noticeable, and your eggs can last for up to 1 month in the freezer.
Personally, I think you should just prepare new eggs when you get your macaroni salad out of the freezer. Frozen eggs don't taste that well, and with an excellent egg cooker, you can whip up steaming hot eggs in no time to enjoy with your macaroni salad. So why the trouble?
Other Types Of Proteins
The most frequently used proteins for macaroni salad are tuna, chicken, shrimp, and eggs. Since I've just covered eggs, let's move to the others. Here, you'll learn the maximum time salmon can stay fresh in freezers, along with how long you should freeze pork, tuna, chicken, and shellfish.
| | |
| --- | --- |
| Proteins (Cooked) | Available Storing Time |
| Tuna | 2 – 3 months |
| Chicken | 4 months |
| Pork | 2 – 3 months |
| Salmon | 6 months |
| Shellfish | 9 – 12 months |
The above-suggested proteins for macaroni salad are all cooked, put in airtight containers, and stored in the freezer.
As you can see, they have a much longer storage time than the time limit you might want to eat your salad. Therefore, you don't have to worry about them becoming bad for your salad.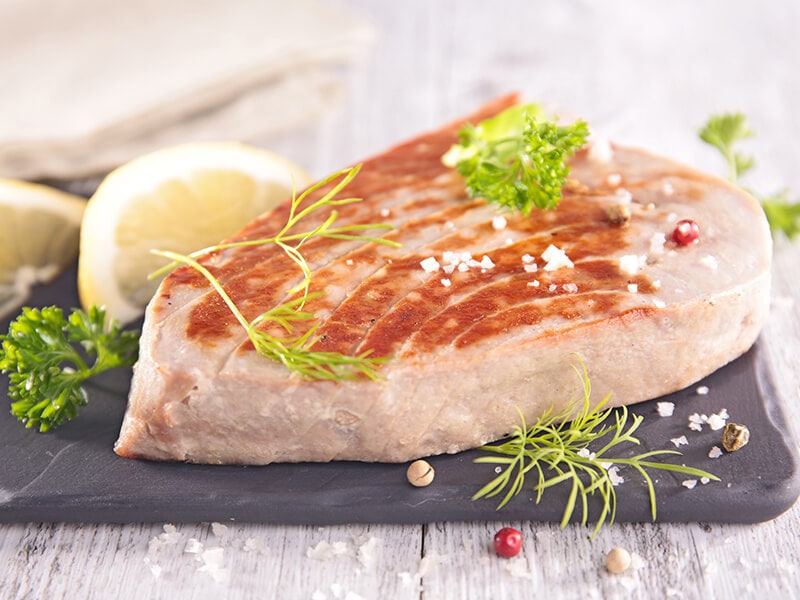 4. Vegetables
Macaroni salad is "salad", so I cannot ignore the fresh ingredients, vegetables. Below are several types of vegetables that are usually used and their suggested storing places and time.
| | |
| --- | --- |
| Types Of Vegetables | Available Storing Time |
| Chopped celery | 1 – 2 weeks |
| Chopped onion | 7 – 10 days |
| Shredded carrot | 1 week |
| Chopped bell pepper | 2 – 3 days |
All these above vegetables should be kept in the cool compartment of your fridge and wrapped tightly inside aluminum foils or sealed in airtight storing utensils. You will not want the vegetables for your salad to look like a mini ice cube if stored in the freezer.
The sweet pickles can add a pleasant sour taste to your salad, and it can last up to 1 year being refrigerated continuously.
In conclusion, if you want to prepare your macaroni and store it all in one, the advisable consuming time is 2 weeks since the macaroni's shortest shelf time.
Yet, the good thing is the other proteins and ingredients (besides macaroni and mayonnaise) can last very long in the freezer, and the spare of them can be used in various dishes later.
Best Way To Thaw Your Frozen Macaroni Salad
The best way to thaw your macaroni salad is to defrost it gradually in the cool compartment of your fridge. It might take a long time, but it can best preserve your macaroni's quality.
Notes:
Putting your frozen salad onto a hot bowl of water or soaking it in a hot water pot will change your macaroni and the dressing's quality. Also, it will be very watery and give a chance for bacteria to "attack" your food.
Once you decide to thaw your frozen food, you must not put them back into the freezer later. This applies to any type of food, not only your macaroni salad.
The change of temperature in the defrosting process will be the chance for harmful bacteria growing. Later on, that can lead to spoilage. Besides, the texture and flavor of your food will also break down.(2)
Proper Ways To Reheat Your Salad
What's the best way to reheat macaroni salad? Is it similar to the necessary procedure to reheat pasta, since macaroni is technically a type of pasta? Well, there are 2 ways that you can choose to defrost and reheat macaroni salad and many other types of food.
Now, I will cover both of them and then tell you my recommended way. You need to remember that each method has its pros and cons. You can try both methods to see which works best for you.
1. Using Microwave
The first way you might think of defrosting anything is always using the microwave.
Take it out of the freezer and divide it into smaller portions to cook them through quicker.
Put these smaller portions into a bowl, or you can use anything in the microwave.
Add a tablespoon of milk per 1 cup of macaroni to your frozen salad. This minimizes the chance that your food will be burned and helps the frozen ingredients get well with the other while defrosting. Also, it adds the needed moisture to your dish.
Wrap the bowl with plastic wrap.
Heat your macaroni on low power (50%) and slowly reheat it.
The first round might take 1 minute for a serving size for a person and might take 90 seconds for larger portions.
In the second round, after 1 minute or 9 seconds, take your macaroni out, slightly stir, and put it back in the microwave for another 30 – 60 seconds (up to you).
Add your toppings, dressings and enjoy!
2. Reheat or Recook on a Pan
Another way is reheating your salad on a pan. It might take much more time, but it's definitely delicious.
Put your thawed macaroni salad into a pan and stir it well. You might want to drain every excess liquid before reheating it.
You can also add some olive oil or other seasonings or herbs to enhance the taste of your frozen food as well as refreshing it.
FAQs
It's time for Q and A! Below are some frequently asked questions, and scroll down to find the answer you wish for.