Do you want to organize a great party but don't know what to serve with pork belly to make the menu more complete? This article will give you 15 pork belly options that are perfect for a variety of situations.
While many still feel confused between pork belly and bacon, no diners can resist the attraction of the delicious and juicy pork belly dishes. This meat cut can be prepared in various ways, such as grilled, roasted, steamed, etc.
However, do you know what makes the familiar pork belly dish unique? The answer is suitable side dishes.
Here are the details of 15 side dishes with pork belly that I have collected. Take advantage of this list to take your pork belly to a whole new level, conquering all diners.
You're feeling very excited, aren't you? So let's go!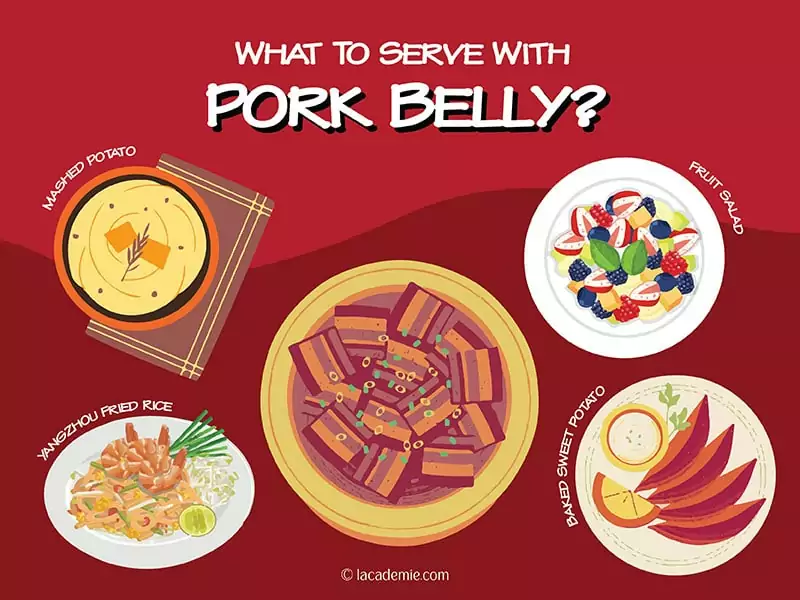 Here Are The 15 Best Side Dishes On What To Serve With Pork Belly
Pork belly will become very attractive if combined with the following dishes:
Vegetables & Fruits
Mashed Potato
Fruit Salad
Pasta Salad
Cornbread
Corn Pudding
Roasted Pumpkin
Baked Sweet Potato
Chinese Broccoli in Garlic Sauce
Stir-fried Peas
Rice
Yangzhou Fried Rice
Sticky Rice
Noodles
Stir-fried Noodles
Crispy Noodle Salad
Cheese
Macaroni and Cheese
Cheese Plater
What To Serve With Pork Belly? – 15 Side Dishes You Should Try!
After knowing the characteristics, benefits, and disadvantages of pork belly, you will learn how to find the right accompaniments to promote the benefits of pork belly and limit its harm. Here are 15 dishes to serve with pork belly that you should not miss if you want to elevate your meals.
Vegetables & Fruits That Can Complement Pork Belly Dishes
The importance of nutritional balance in meals cannot be overstated. As a result, don't neglect the vegetable and fruit meals below, which are high in fiber and vitamins.
To make mashed potatoes, people boil and mash potatoes, then add extra ingredients like milk, butter, and spices to enhance the flavor. The dish is usually a side dish with meat or vegetables.
The secret to a successful mashed potato dish lies in the consistency. This makes knowing the proper technique to make mashed potatoes thicker very important. Dare I say, it's even more essential than choosing premium ingredients or selecting the best cookwares.
Mashed potatoes with a smooth taste are not only strange but also very nutritious. If you are in the weight loss phase and still want to eat mashed potatoes, you can reduce the calories and fat in this dish by changing the ingredients when making it.
Mashed potatoes belong to a type of diet recommended for people with gastritis, disorders, and disorders of the digestive system. The use of mashed potatoes for people with diseases of the cardiovascular system lies in the significant potassium content in the vegetable.
This trace element has the property of having a beneficial effect not only on the functioning of the heart but also on blood vessels and bones.
Serving mashed potatoes with pork belly will help reduce the fatness of the dish and provide a nutritional balance, limiting the destructive effects of fatty meat.
Vibrant with colors and flavors, fruit salad is a must-have companion dish for when summer comes. Known to be beneficial to your health, this salad features various fresh fruits and it's a great choice to relieve boredom and dispel summer fatigue.
Not only that, but it can also replenish the diverse menu for your daily dishes. If you are on a diet and want to lose weight, eating fruit salad is a good suggestion. Use salads made of green leafy vegetables and fruits to make appetizers for every meal.
The fiber in vegetables will help you feel full faster before the main meal. In addition, this dish will limit the loading of bad cholesterol into the body.
Regularly drinking water and eating vegetables will help your skin be full of vitality. Eating salad is no exception. Salads made from vegetables and fruits will give you moist, smooth, and vibrant skin.
Pasta is a type of noodle and an essential ingredient in traditional Italian dishes, often in fibers or various shapes.
Anyone who loves side dishes that have pasta as the star will certainly can't pass up on pasta salad. And if you dig deep enough, you'll notice that there are several versions of pasta salad. To name a few, there's strawberry pasta salad, caprese pasta salad, Greek pasta salad, and so on.
Any type of pasta can be part of a healthy diet. To make healthy pasta, you should focus not only on the kind of pasta but also on how you prepare it and how much you eat it. In addition, it is essential to understand the proper servings and servings of pasta.
I encourage you to add vegetables to your pasta salad when served with pork belly for a better nutritional balance.
Cornbread is a very popular bread in the American South. To create the classic flavor of this cake, people often use polenta cornstarch and are mixed with butter, eggs, and milk to add a delicious, greasy taste.
Usually, this type of bread is used in the main meal, served with meat, or breakfast with butter and jam.
Cornbread is also an accommodating ingredient, meaning it can blend well with many dishes. So if you can't finish this bread in one go, there are many tasty dishes made from leftover cornbread for you to try out. Soon, you'll see why cornbread is such a widely beloved dish.
Bread is a rich source of fiber, so it is suitable for the digestive system, thereby helping to solve constipation. In addition, corn contains a lot of starch that helps to supplement the energy needed by the body and does not affect your weight. So cornbread has a lot of health benefits.
Corn pudding is sometimes referred to as pudding maize. It is a creamy food made with cooked maize, water, different thickening substances, and other ingredients for taste or texture. The cake has a fatty taste, very delicious when eaten cold.
A fairly straightforward recipe, corn pudding is a dish you can make with canned corn. Although it's true that corn is the star of this dish, as long as you have the perfect recipe, you'll be able to blend flavors and texture so well that no one will be able to tell the difference.
In rural regions in the Southern United States, particularly in Appalachia, it is often utilized as a dietary staple.
Sometimes the pudding of corn was made using green maize that alludes to untimely corn ears that did not dry entirely. The hue of green maize is not always green. The maize pulp cooking can be used to thicken the dish when it is prepared.
After a stressful first day of work and study, gathering together and enjoying pumpkin pieces with crispy baked skin and rich pork belly is a highly engaging experience.
Not only delicious, nutritious, cheap but both children and the elderly will love this combination.
When baked, the pumpkin is still sweet, crispy on the outside, and soft on the inside, fragrant with thyme leaves, garlic, and cheese, so it is extraordinary and attractive.
Pumpkin is a very nutrient-dense food packed with vitamins and minerals and relatively low in calories. Therefore, it is suitable to balance the high-calorie content of pork belly.
Sweet potato food is quite familiar to many people. Sweet potatoes can be used to prepare many delicious dishes. In particular, it is impossible not to mention the baked sweet potato dish with a sweet taste and many health benefits.
Combining roasted sweet potatoes with pork belly may not sound too familiar, but it will be a harmonious combination based on the nutritional balance in the meal.
Sweet potatoes are an excellent source of fiber, vitamins, and minerals. Sweet potato skins contain the most fiber, antioxidants, and many beneficial vitamins, so it is best to keep the skin on when eating.
To ensure health, wash the potato skins thoroughly with salt water to remove dirt and bacteria before cooking.
Broccoli is a very vitamin-rich food, good for the health of the whole family. The sweetness of broccoli and the characteristic aroma of garlic blend in this excellent and nutritious dish, simple but equally attractive.
Moreover, this dish is also speedy to prepare and execute for those who are always busy with work but still want to have a delicious and nutritious meal made at home.
If you are worried that eating a lot of pork belly will cause overweight, combining it with broccoli is exceptionally reasonable. This is considered the lowest calorie vegetable.
Therefore, you can comfortably eat broccoli without worrying about gaining weight. In addition, the fiber in broccoli also helps you feel full longer and reduce cravings.
Peas are nutritious and delicious ingredients that many people love to choose to process and enjoy. Peas can be used in stir-fries with various combinations of pork belly, chicken, sausage and shrimp, for a flavorful and nutritious meal.
The flavor of fatty pork belly gives off a characteristic smell when combined with fried peas that have just been cooked to retain their crispness and beautiful green color, creating a rich stir-fry with a lovely flavor!
You can eat stir-fried peas and pork belly with hot sticky rice and dipped in spicy soy sauce to add more flavor to the dish.
Rice Side Dishes That Can Be Served With Pork Belly
Rice dishes are safe options to pair with pork belly because it's both delicious and filling. Here are some suggestions to make your rice with pork belly more unique:
Yangzhou fried rice originated as a Chinese family dish, made from cold rice and leftovers left at the kitchen and after each meal. The ingredients of fried rice are pretty rich.
The harmonious combination of ingredients in Yangzhou fried rice makes the dish delicious and very eye-catching. For the dish not to be dry or dull, you can combine it with cucumbers, sliced ​​tomatoes, or other salads.
Adding a little soy sauce or chili sauce will make the dish much more delicious. Enjoy it while it's still hot to enjoy the delightful flavor of Yangzhou fried rice fully.
Sticky rice is a typical food made from glutinous rice as the main ingredient, cooked or steamed, popular in the cuisine of many Asian countries.
Sticky rice is not only an excellent dish for breakfast, but mainly it is also one of the indispensable dishes in the tray of many families. When used for the offering tray, Sticky rice is usually sticky rice or green bean sticky rice.
Making sticky rice is generally very diverse, depending on the type of sticky rice and depending on the housewife's habits, customs, and experience.
However, most sticky rice is made by soaking glutinous rice for a few hours until the rice is soft, mixed with a bit of salt, and mixed with different ingredients depending on the type of sticky rice. For example, sticky rice can be combined with grilled pork belly to create a rich and filling dish.
Noodles
Noodles are a popular dish in many countries worldwide, but their flavor has distinct characteristics in each country. The following noodle dishes will make all diners happy to taste.
Stir-fried noodle is a general name for dishes made from the main ingredient of noodles with the stir-frying method. This is one of the popular dishes in street food in Asia.
The origin of fried noodles is said to have originated in China, this is why it's a common companion dish in the Chinese culinary world. However, nowadays, each Asian province or region will have its variations of the recipe.
Noodles are served as a main dish with gravy, but they can be fried and served with sauce drizzled on top.
Stir-fried noodles are dishes made from various foods such as eggs, meat, vegetables, and spices. Because of the combination of many ingredients, this dish has a delicious and attractive taste.
Stir-fried noodles are a delicious fast food that you cannot ignore during busy or lazy cooking times, providing an abundant energy source.
Asian cuisine has countless dishes suitable to pair with pork belly, and crispy noodle salad with rich ingredients is the perfect candidate.
Crispy mixed fried noodles bring rich and diverse flavors thanks to the combination of different ingredients such as seafood, meat, and vegetables and an attractive rich sauce on the fried noodles.
When eating crispy fried noodles, diners will feel the freshness of the food and the crunchiness and toughness of the noodles. This dish is suitable for family meals, especially when combined with pork belly.
Incredible Cheese Side Dishes To Pair Perfectly With Pork Belly
Cheese dishes always bring an irresistible appeal from the softness and fat. The combination of cheese and pork belly will provide many nutrients, providing an unforgettable culinary experience.
Macaroni and cheese, also known as Mac and Cheese, is a dish from England. A simple dish with a smooth cheese sauce wrapped around each macaroni is boiled to be eaten and still lumpy.
With the traditional cheese sauce with cheddar cheese, you can add any vegetables or meat you like and combine different cheese types to create unique Mac and cheese flavors.
Macaroni is a short, round pasta that will become an irresistible delicacy for any fastidious diners when combined with the smooth, aromatic flavor of cheeses. A quick and straightforward way to make it can become a breakfast, lunch, or dinner meal for all family members, especially children.
The cheese platter is one of the popular treats in Western light parties. There are many places where a cheese platter will be served as a dessert. The cheese platter is a dish that is both simple and complex due to the complexity of combining food with cheese.
The first is how to choose cheese. Usually, a standard cheese platter will have all kinds of cheese belonging to 4 famous lines: Aged, soft, firm, and blue cheese. Blue cheese is the most difficult to eat, and the storage conditions are also stricter than standard cheese.
As for the side dishes, they will be light dishes that enhance the flavor of the cheeses. Be it a soft sandwich, crispy bread, almonds, bacon, cakes, etc.
If you are a fan of healthy meals, why not try a Cheese plater filled with colorful fruits. For example, if enjoyed with cheese and added nuts, juicy berries seem to be enhanced in flavor.
Fun Fact: Amazing Benefits Of Pork Belly
Not only is it the main ingredient of many delicious dishes, but pork belly also brings many health benefits. Here are a few expected benefits of pork belly that you should know.
Rich In Essential Nutrients
Not only is it more affordable than other types of meat, but pork can also be used to process more delicious dishes with rich nutrient content. Pork provides a full range of nutritional components, providing protein, fat, vitamins, and mineral salts for the body.
The main ingredient in pork belly is a protein with nearly 26%, one of the most crucial bodybuilding nutrients. This substance is necessary for the construction and growth of new tissues as well as for the repair of damaged tissues.
In addition, the potassium in the pork belly is an essential electrolyte of the body to help maintain normal activities, especially of the cardiovascular, muscular, digestive, and urinary systems, especially in indispensable role in neuromuscular activities.
Contains Many Vitamins And Minerals
Pork belly is a rich source of many vitamins and minerals. Unlike other red meats, such as beef and lamb, pork is particularly rich in thiamine. Thus, it contains many B vitamins that play an essential role in various bodily functions.
Another essential mineral abundant in pork belly is zinc, necessary for a healthy brain and immune system.
As you may know, vitamin B12 is essential for blood formation and brain function. This vitamin is abundant in pork belly. A lack of this vitamin can cause anemia and nerve cell damage. In addition, the pork belly also has vitamin B6, which is vital for the formation of red blood cells.
Maintain Muscle
Maintaining muscle with the right foods is essential for all ages. Pork belly provides a high-quality and sustainable source of protein for human consumption.
You should pay more attention to maintaining muscle, especially as age increases and the amount of muscle in the body declines. To overcome this condition, you should exercise regularly and follow a proper diet.
Meats, especially pork belly, can be processed into various dishes to help you maintain muscle without being boring.
How To Choose Good Pork Belly?
Pork belly is the meat in the belly of a pig. Pork belly meat has no bones; when cut across the beef, you will see lean meat and fatty meat layers alternately; the outermost layer is a thin layer of skin.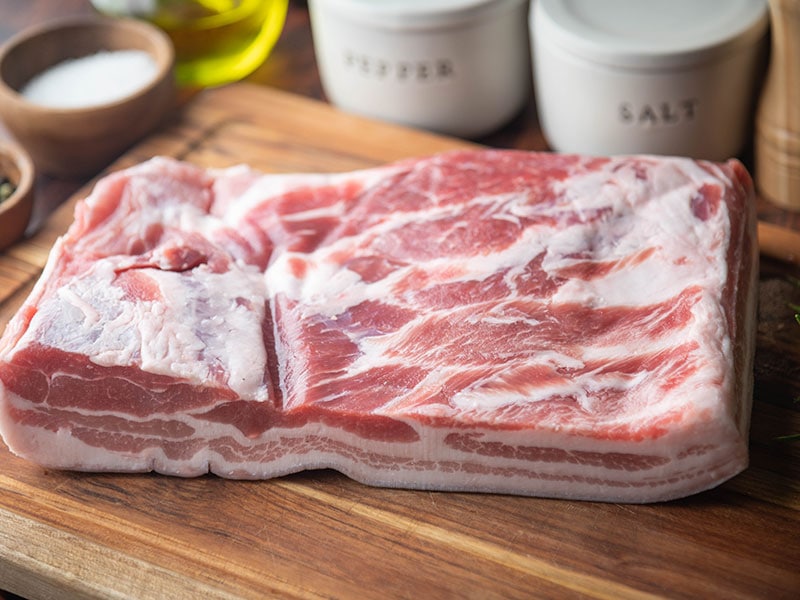 Delicious fresh pork belly usually has the following characteristics:
Balanced Of Lean And Fat
A piece of pork belly with only the balance of lean meat and fat when processed will bring a more palatable feeling, not too greasy because of the fat and not too dry because of the lean meat.
Texture Of Pork Belly
Delicious, clean pork belly, not raised with lean substances, usually has a thick outermost layer of skin, about 1.5 centimeters to 2 centimeters of fat. The lean meat adheres to the fat layer. However, it should be noted that to buy pork that is just eaten, not too harsh; you should not choose a piece of meat with a thick layer of fat and outer skin because it is a perennial pig.
Fresh Meat Color
Fresh pork belly will have a dry outer membrane, light red or bright pink color. When cut, the meat is bright pink; the skin is pinkish white and soft. The layer of fat interspersed with lean meat is light and firm.
The Smell Of Pork
Fresh pork belly will have a characteristic aroma, so when choosing to buy pork, you should be aware of the smell of the meat. Do not choose to buy pork with an unusual smell.
Pork Elasticity
It is one of the essential factors that distinguish good pork belly and meat that has been aged or has lean substances. You use your hands to press in and then let go; if the meat is elastic and pink, the meat is fresh; if the meat leaves fingerprints, it is rancid.
Enjoy Your Pork Belly With Great Accompaniments!
In general, pork belly is a trendy main ingredient to create unique dishes that can attract many people. However, you can eat pork belly several times a week without getting bored by changing the way it is prepared and eaten.
Serving side dishes is also a great way to upgrade your main dish of pork belly. A wide variety of dishes can be served with pork belly, from grilled dishes, fried dishes to refreshing salads.
The way to choose the fitting accompaniment is to consider the diners' taste and ensure a nutritional balance.
If you need to serve children, choose potatoes and pasta as the little ones love them. If you need to serve people on a diet, choose a salad to eat with pork belly.
Above I have compiled 15 easy and popular dishes to serve with pork belly. I hope this article helps you in planning your meals.
I will be delighted if this article helps you. If you have any questions or want to share more about this topic, please comment below to let me know. I look forward to your reply!
Nutrition Facts
4 servings per container
---
Amount Per ServingCalories214
% Daily Value *
Total Fat 11.6g

17

%
Cholesterol 31mg

11

%
Sodium 153mg

7

%
Potassium 442mg

13

%
Total Carbohydrate 26.2g

9

%

Dietary Fiber 3.9g

12

%
Sugars 5.4g

Protein 2.2g

4

%
---
Calcium

43

%
Iron

1

%
Vitamin D

8

%
* The % Daily Value tells you how much a nutrient in a serving of food contributes to a daily diet. 2,000 calories a day is used for general nutrition advice.