Today, I will show your all of my tips to thicken mashed potatoes, in order to save your more than 30 minutes efforts that has just gone because of some accidentally over-poured cups of water.
Follow my lead, then soggy mashed potatoes can turn into a smooth, softy and light yellow mixture with tasty taste to serve with your crab cake in just a few minutes.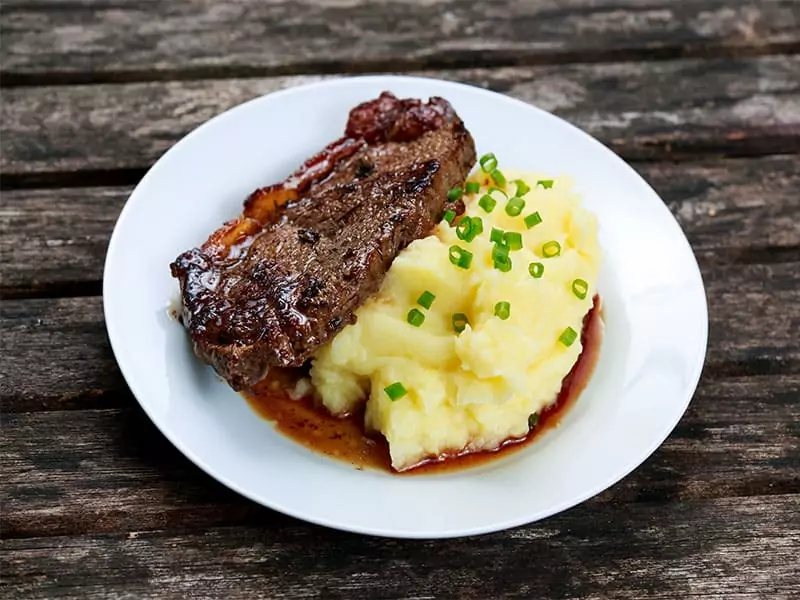 Besides, at the end of this, I will share some handy tips so you'll never have to fret over a batch of "ruined" mashed potatoes again.
Why Are Mashed Potatoes Is Watery?
First, let's have an exam on the reason why this food with "M" as the starter is watery. Do you find yourself making these mistakes?
I Used Soggy Potatoes To Make The Dish
After you boiled the potatoes in hot water, it's essentials to let them drain completely. Otherwise, when you start masking them, the excess moisture will blend into your mixture, then make it runny.
I Never Consider Kinds Of Potato When Preparing The Ingredients
Pay attention to what type of potato that you will mash. There are always some kinds that let you have a smoother and richer texture at the end, while some will make you end up with a soupy consistency and a pale taste.
I Added Too Much Liquid
Basic recipes sometimes lead us to impatience (or overwhelming confidence in our cooking skill), so we pour all of the liquid (milk, cream, half-half, etc.) at one time. This is the most common mistake that I heard from my friends.
6 Ways To Add Thickness To Your Mashed Potatoes
You don't have to go to one of the best cooking classes to acknowledge this. All you need to do is to read my articles to find the best convenient and suitable ways for you. If you cannot avoid the disaster to be made, here are tips to save your meal.
There are various ways to apply, and each will have pros and cons in practice. It depends on your need; you can flexibly use one or some of them.
| METHOD | PROS | CONS |
| --- | --- | --- |
| Add more potatoes | Remain the original taste of ingredients. | Take time to cook and mash more potatoes. |
| Use a stovetop | Fast; Convenient. | May turn into a worse mixture if you overdo it, You have to be beside the pot. |
| Use an oven | Can apply for a significant amount. | Take time, You have to check it regularly. |
| Use cheesecloth and/ or strainer | Do not need to cook extra; You can let the mixture sit while doing other things. | Take time; May not remove all of the excess moisture altogether. |
| Use a microwave | Fast; Convenient. | Only apply for small amounts. |
| Thickening agent | Fast; Convenient. | May change the flavor a little bit |
1. Add More Potatoes
If you are not in a hurry, add more potatoes into the bowl will be the best way to save texture.
Follow my lead with five simple steps:
Step 1: Use a cheese grater to grate your potatoes (Or you can shred them into small pieces with Vegetables Choppers)
Step 2: Put them into a pan, then turn on the heat.
Step 3: Pour over water (but not too much, just enough to cover the potatoes), then wait until the boil happens.
Step 4: Once the water is boiling, check the potatoes to make sure they are soft. If yes, take them out of the pan, drain and dry them well.
Step 5: Mash the new potatoes separately, add them into the runny mixture and mix well. Don't forget to add more salt and pepper to maintain the flavor and no more milk! While fixing your mashed potatoes, try to prepare main dishes by air-fryer so that you can save more time.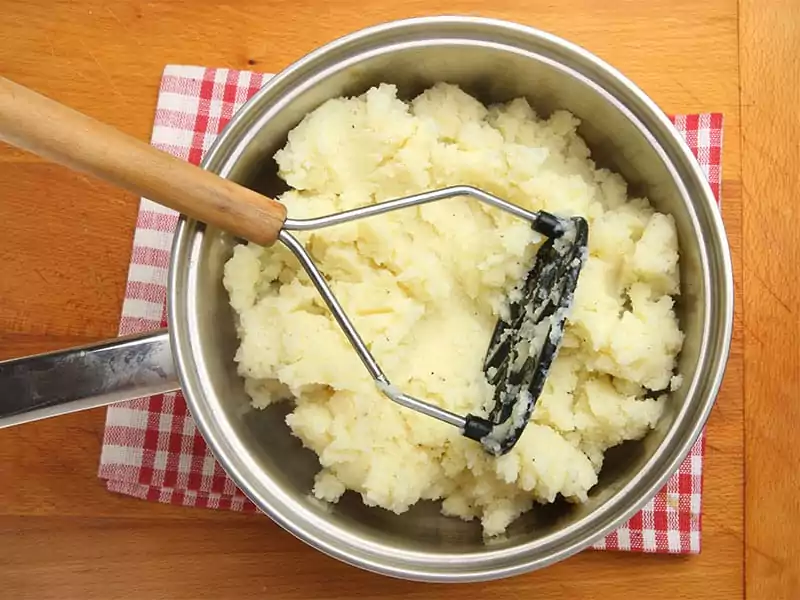 If the whole mixture is excellent after improving the texture, you can heat everything again to enjoy a warm and thick mashed potatoes dish.
2. Make Use Of Your Stovetop
If you don't have any extra potatoes lying around or running out of time, check the stovetop right away. Just put it all into a pot, then set it onto the heat at medium-low heat level. Meanwhile, it would help if you stirred it occasionally.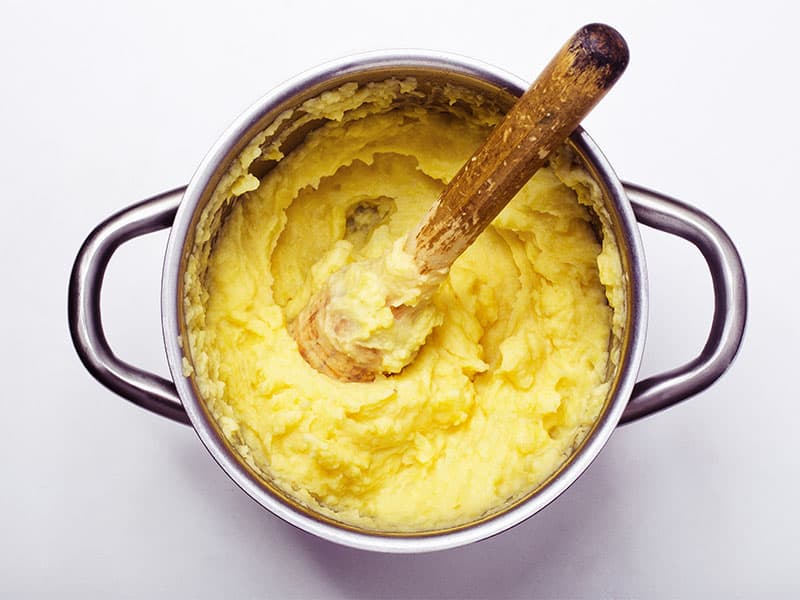 This is a risky way to save your dish. The important part is how you stir them. Only mix them with a suitable amount. If you mix it too little, the potatoes will stick to the bottom of the pot.
Another way to negate this is using a large pasta pot with a non-stick surface. This will reduce the likelihood of potatoes sticking to the pot's bottom, but will not completely eliminate it. So make sure that you still stir the mixture occasionally.
However, do not over-stir them, or you will have a thick, gluey-textured bowl on the table instead of a fluffy and smooth consistency.
Notes from me:
Keep the mixture fluffy by stirring with a fork.
Do not cover them; let the pot open so that the excess moisture can evaporate out of the mashed potatoes.
Use a large pot to let the moisture escape easier.
Always keep an eye on them while heating.
3. Your Oven Will Be Helpful Too
If your stovetop is complete, try to use the oven to accomplish the same thing. The key of this method is the same as using the stovetop: you use heat to dissolve all of the surplus water.
Only three steps to save your runny mashed potatoes:
Step 1: Preheat the oven to 300F.
Step 2: Place the mashed potatoes in an uncovered good pan for stir-frying, baking tray, or a bowl.
Step 3: Bake the mixture for about 10 – 15 minutes or until the mixture dried out. Remember to check it regularly.
4. Wrap The Runny Mixture With Your Cheesecloth And Strainer
Cheesecloth and a strainer will be helpful in case you need time to prepare other dishes for your feast while saving your mashed potatoes at the same time.
All you need to do is to follow below guideline:
Step 1: Pull out a clean cheesecloth. You can also use something else in place of cheesecloth if yours is not available. Pour your soupy mashed potatoes into it.
Step 2: Tightly tie the cheesecloth ends together to form a ball of potato and eliminate moisture.
Step 3: Place the potato-filled cheesecloth in a strainer, over the sink or a large bowl, and leave it up to 30-40 minutes. All excess moisture will drain out, and you get your high-quality, and smooth potatoes paste back.
Tips: Utilize the drained-out liquid for your recipes for making Italian soup or creamy gray. Why not? Your soup and gravy will have a much better taste.
Step 4: Take the mashed potatoes out of the cheesecloth, stir it well. If it is cool, place it in an oven or a microwave and warm up for 3-5 minutes, this step will also ensure that you take out all leftover excess moisture and make it look freshly released with your main platter.
5. Microwave – Bestie When You In A Rush
Microwave is my bestie whenever I am in a hurry. It takes less than 10 minutes to make your mashed potatoes smooth and fluffy again.
Firstly, pour your drippy mixture into a microwave-safe bowl and heat for 1 – 2 minutes on high power. After that, please take out the bowl and stir it few times to ensure the heat will creep deeply throughout the combination.
Repeat the process 2 -3 times until you meet your desired consistency.
This method will work well in the case that your mashed potatoes only come with a small amount.
6. Last But Not Least, Thickening Agent – A Lifesaver In The Kitchen
Pop-Up Question: What Is A Thickening Agent?
A thickening agent, also known as a thickener, is a substance that can enhance the viscosity of a liquid without significantly changing its other properties.
Thickener, which is edible, is widely used to stiffen sauces, soups, and pudding.
Thickeners that can save your mashed potatoes are: Powdered milk; Instant potato flakes; Arrowroot; Flour, Corn flour; Tapioca; and Hard Cheese (Parmesan).
This method is the most common and perhaps the most straightforward way to save your side dish. I mean, we all have one of the above ingredients in our kitchen at any time.
Following the same way as other methods, only add a small amount of thickening agent in the runny mashed potatoes once (1 tablespoon per time would be great). Stir it and repeat the steps until the consistency is ok for you.
Use Cornstarch Will Let You Have Double Thickening Ability Than Others
Among those ingredients, I will recommend using cornstarch, which has double the thickening power of flour. That means you only need a few tablespoons of cornstarch to make the mashed potatoes sticky. In addition, cornstarch is safe for gluten-free diets.
Of course, it's not always the case that you have this ingredient in your pantry. So it's acceptable to opt for some cornstarch alternatives. Just make sure the substitute ingredient is suitable for your dietary requirements and its flavors are to your liking.
My favorite cornstarch substitute is potato starch, despite the features that make cornstarch and potato starch different. However, remember that potato starch should be added to your dish at the end of the cooking process, whereas cornstarch can be added from the very start.
However, you will need to be careful when stirring with cornstarch. Add one tablespoon at a time and stop once you have your desired texture.
Use Cheese To Add Richer Flavor To Your Mashed Potatoes
Add parmesan or hard cheeses into your mixture to fix the runny problem and enhance the taste. One job doubles the results!
Parmesan cheese is my favorite in this case. Its flavor is versatile that can be applied to many other dishes to enhance the savor, including mashed potatoes. In the circumstance that you want to have even a more robust and a more savory flavor, try Pecorino.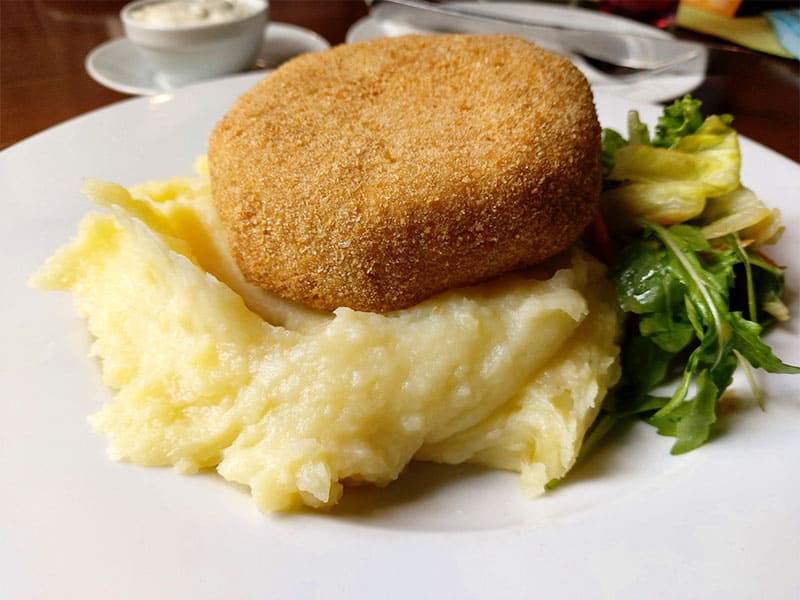 Use a grater or a cheese slicer with a sharp edge to slice the slices into small pieces, then add them to the bowl. Make sure to warm your mashed potatoes so that the cheese can melt and blend well with the dish. A smooth, fluffy, and cheesy dish is waiting for you to enjoy.
Here are few tips for wiser use of thickening agent from me:
Remember to add the thickening agent when the mixture is hot or warm (as I said for cheese). Hence, the agent can blend well into the mix.
Sample and add more seasonings (if needed)
How To Avoid Runny Mashed Potatoes?
Now, after learning how to save your runny mashed potatoes, let's have a look at ways to avoid this accident later on.
It's basic, but it has reason to be there. So review all in a row with me:
1. Use The Right Kind Of Potatoes
I want to recommend Yukon gold potatoes. These foods whose names begin with "Y" are not grainy, watery, or mushy when being cooked, which are all things that will wreck the adhesive ability of the mixture. And its taste has buttery flavor inherently. Appetizing!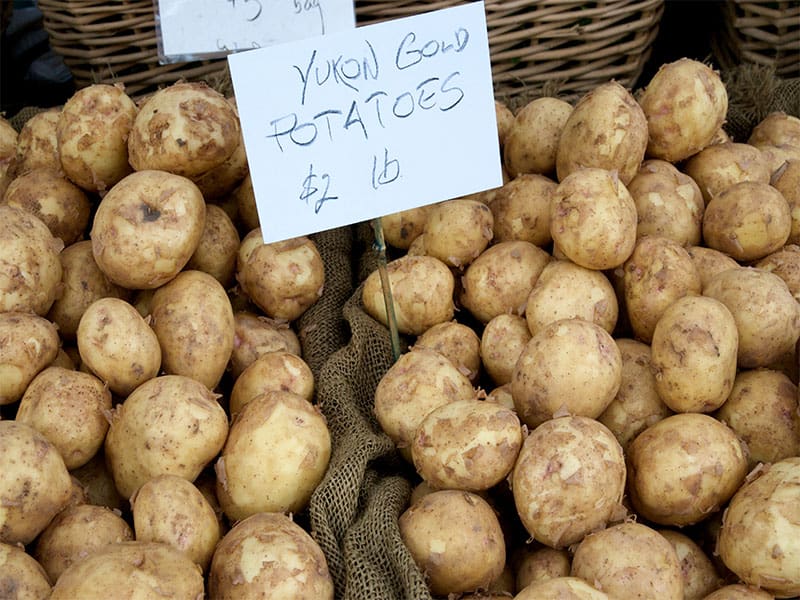 On the other hand, Idaho potatoes (aka Russets) are less ideal for mashing. All because of its strong ability to absorb water.
When you boil them in the water, the starch molecules will blow out, yielding and displeasing gluey texture when they are mashed and whipped too assertive. And the taste of the final mixture will be blank, too.
Waxy varieties, such as red-skinned new potatoes, are also not recommended.
This kind of potato will be more appreciate for the dish that should be cooked in the oven, rather than using the boiling–mashing technique.
A creative way for advanced cooks is to mix between two kinds of potatoes in order to create a demanded texture and flavorful dish.
2. Cook The Potatoes Until They Reach Medium-Well Level
You will know when is the right time, which is the moment you can pierce the potato with a fork. If the potatoes are not cooked well, they will be too hard to be mashed.
The starch molecules need a proper time to transform totally. On the other hand, over-cooking will turn a potato into soggy parts.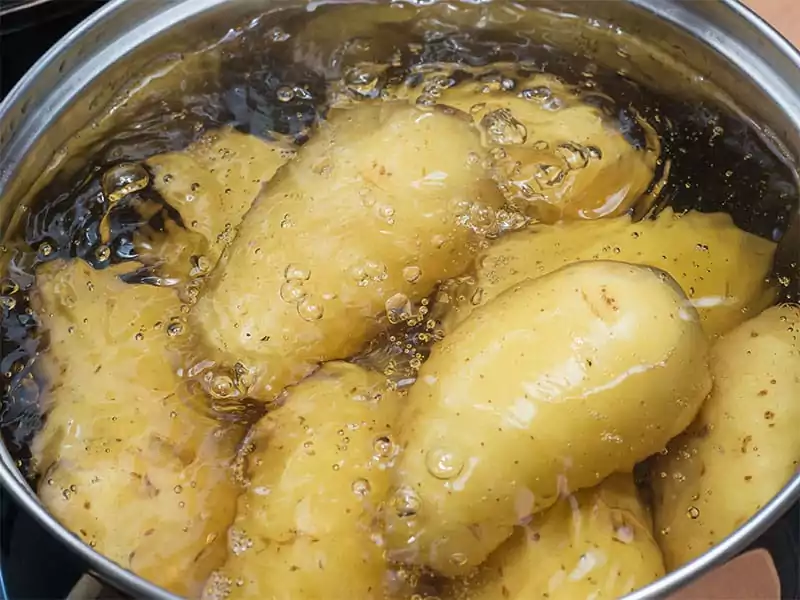 Drain and dry the potatoes well but in a short time. It would be best if you had the potatoes still be warm when you start mashing and seasoning them. My way is to soak them with a clean and dry cotton towel to get them dry faster.
3. Powerful Blending/ Cutting Machines (Such As Blender, Mixer, Food Processor) Are Not Recommended
Too strong and too fast pressure will turn the potatoes gluey. Only use a food mill or a potato ricer. You can use a hand-held potato masher or a large wooden spoon to do this step if you like to have a more rustic texture.
4. Add The Liquid Gradually. I Repeat, Add The Liquid Gradually
Just make sure you follow the recipe well and use a proper measuring tool for milk or cream that will pour into the potatoes. If you do not have any measuring device, pour a tiny amount of milk/ cream into the texture at once and mix it well. Then repeat until you get the adhesive you want.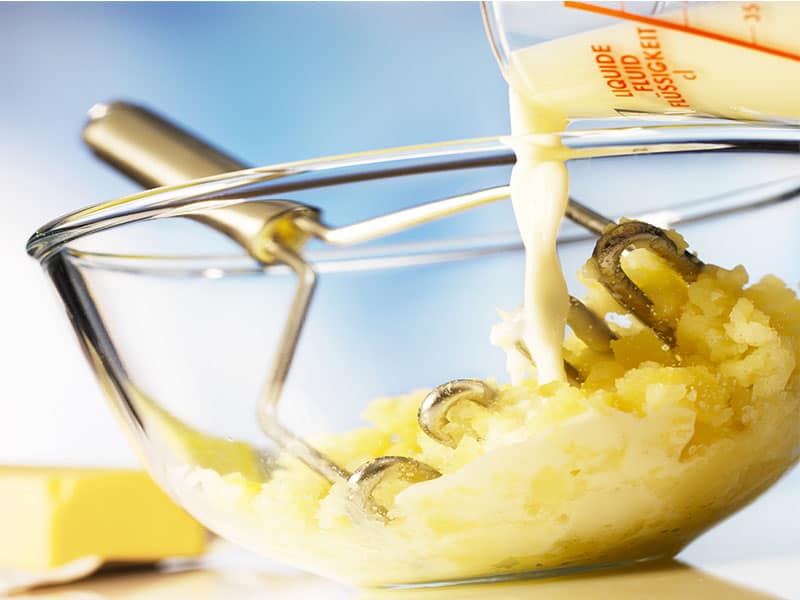 Ah, and remember to add liquid which is at the room's temperature. The cold liquid will be hard to blend in with the mashed mixture.
Once you meet the perfect mixture, stop doing anything! Over-stir can make the mixture turn into two parts: water and the others.
Well, even God makes mistakes sometimes. So if your mashed potatoes are a little of ruin, just scroll over to see various ways you can do to save them.
Let The Knowledge Be Spread
All of the above is all knowledge about how to save runny mashed potatoes. My typical practice is adding thickeners since it's fast and convenient. My kitchen always has some cornstarch and/ or tapioca.
Sometimes, my mix is so bad that even thickener cannot save it. I turn it into potato soup or ingredients of stews or casseroles, instead. Food is precious, guys!
Other dishes that require thick consistency are chili and baked beans. If yours are too runny, rest assured, there are several foolproof methods to thicken chili and baked beans. Once you have these tricks up your sleeves, you'll be a step closer to becoming a masterchef.
Let me know your opinion, as well as your experience when having a soupy mixture.
Nutrition Facts
1 servings per container
---
Amount Per ServingCalories97
% Daily Value *
Total Fat 1g

2

%
Cholesterol 2mg

1

%
Sodium 182mg

8

%
Potassium 235mg

7

%
Total Carbohydrate 20.2g

7

%
Protein 1.9g

2

%
---
* The % Daily Value tells you how much a nutrient in a serving of food contributes to a daily diet. 2,000 calories a day is used for general nutrition advice.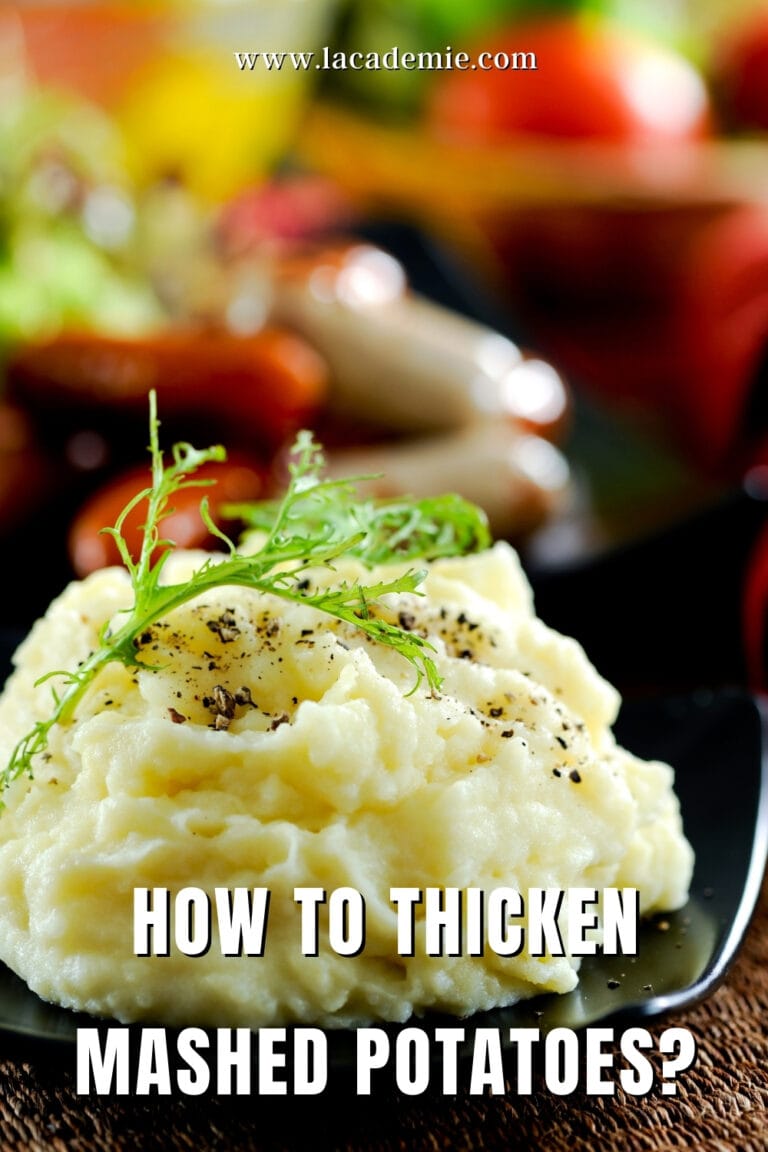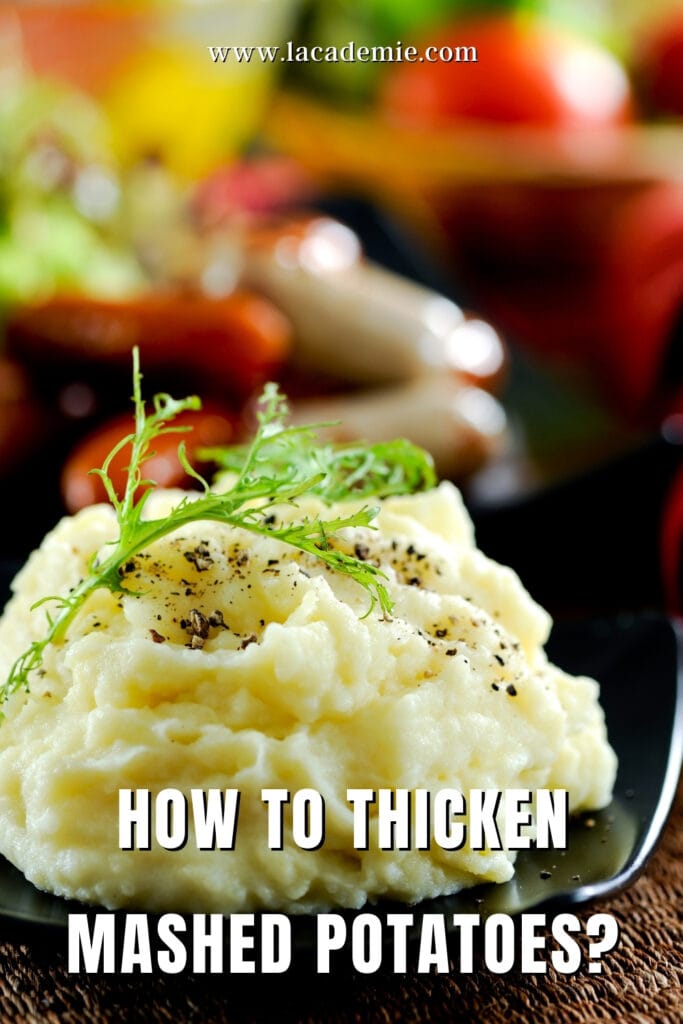 Reference
https://www.bonappetit.com/story/best-potatoes-for-mashing
https://en.wikipedia.org/wiki/Thickening_agent