If you need the best cornstarch substitutes, you have come to the right place. In reality, there are many people do not want to use it as cornstarch contains too many calories.
Or you want to minimize your grocery shopping because you already have too many flours or ingredients in your kitchen cupboard. Otherwise, you simply didn't make it in time to buy cornstarch and wanted a last-minute replacement!
Whatever your reason, I'm here today to help you find the best cornstarch substitute. I will also introduce to you the advantages and disadvantages of each cornstarch substitute and the ratio you should use to replace cornstarch in different dishes.
What Can You Use As Cornstarch Substitutes?
Do not limit your creativity in cooking as every ingredient can be replaced by others. So if you do not like cornstarch or forget to buy it, here are 13 ideal replacements.
Potato Starch
All-purpose Wheat Flour
Rice Flour
Arrowroot Flour
Tapioca Starch
Psyllium Husk
Guar Gum
Glucomannan
Xanthan Gum
Ground Flaxseeds
Sour Cream
Pureed Vegetables
What Is Cornstarch?
Before talking about the alternatives, let's learn about cornstarch in general. Cornstarch is an ingredient that is no stranger to homemakers or chefs. It is considered as a familiar ingredient in recipes and baking recipes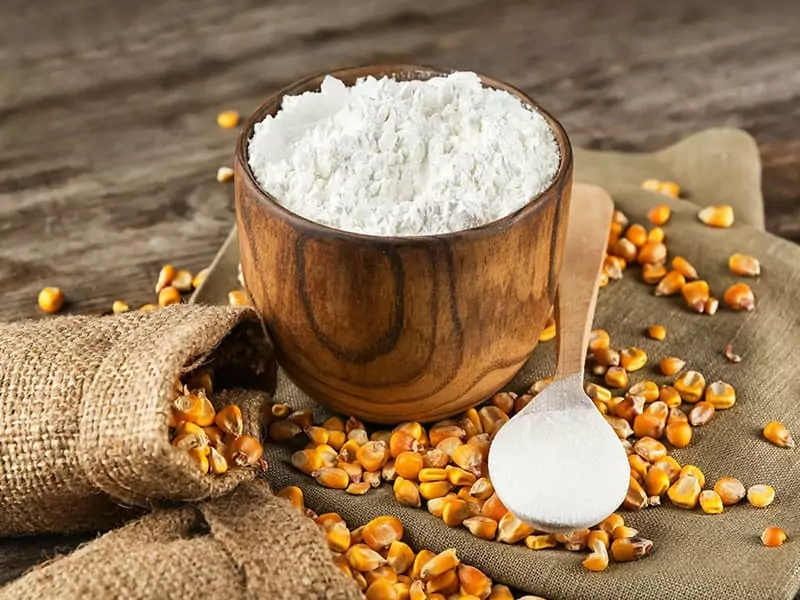 Cornstarch is produced from the core of corn kernels. This is a fine powder commonly used to create adhesion and thickener in some dishes and cakes. Cornstarch is also used in many recipes for baked goods, soups, sauces, etc.
In addition, people often add it to the final stage when the food is cooked or nearing the end of the cooking process. In baking, cornstarch is often mixed with flour.
The Uses Of Cornstarch
The main use of cornstarch mentioned in baking or common food processing is to thicken, create adhesion or delicious flavor such as:
Thickening agent for spaghetti sauces and other soups
Create a super crispy crust for anything fried
Create a softer piece of cake
Use as auxiliary flour for baked goods, cookies, pies, shortbreads
Use in the pudding, fruitcake, and ice cream recipes
Marinate fried meat or seafood
Use as an anti-caking agent in powdered sugar
Add to eggs so that the eggs can cook quickly
Use as an ingredient to create the fragrance
How Is Cornstarch Produced?
Conventional cornstarch is processed to separate the corn kernels into four parts: starch, corn germ, fiber, and protein.
After being separated, the fiber and protein will be processed into animal feed. The corn germ is refined to make corn oil, and the remaining starch is used in food processing or confectionery.
Cornstarch is produced through soaking, grinding, separating, filtering, drying and classified as fermented flours.
The corn kernels used to make flour are soaked in water for 30 to 48 hours to allow the corn to ferment slowly, then the germ of the cornstarch is separated from the endosperm, which separates the two components from the corn kernel.
Next, people will filter the core of the corn kernels and dry them with a centrifuge to get the desired cornstarch.
Nutritional Composition Of Cornstarch
Derived from the kernel, cornstarch also contains quite a lot of nutrients and some other substances. Accordingly, one cup of cornstarch (128g) (1) contains:
Calories: 488
Carbohydrates: 117g
Protein: 0.3g
Fat: 0.1g
Fiber: 1.2g
Iron: 3.3%
Calcium: 0.2%
(Source: Healthline.com)
Health Benefits Of Cornstarch
Cornstarch, if being used with a suitable amount, can bring many benefits because it is:
Rich In Fiber
One cup of cornstarch provides the essential fiber and protein needed daily. It is a good choice for vegetarians as for them, the protein found in the diet will be a challenge.
Gluten-Free
If you're asking whether corn contains gluten, then the short answer is "no, it doesn't." As a result, there's no need to worry about cornstarch's gluten-free nature. It is used to make baked goods without the use of inflammatory gluten.
Inflammation is the main cause of most diseases, so eliminating inflammation-caused foods from the diet aids in disease prevention and improves life quality.
Great Antioxidant
Cornstarch is high in antioxidants that help prevent disease. Foods rich in these compounds help fight free radical damage caused by processed foods, exposure to toxins, and the sun.
Supports Digestive Health
Cornstarch includes dietary fiber dissolving hip—the balance between insoluble and soluble fiber aids in proper digestion. The insoluble fibers found in cornmeal can ferment in the colon and support a diverse microbiome.
Notes When Using Cornstarch
Besides some good sides, there are notices that you should know about using cornstarch in order to have a good health or to make dishes correctly.
Notes on Processing
When processing cornstarch, pay attention to stir in cornstarch at the last stage of the dish when they are cooked or boiling. In baking, cornstarch is added with flour.
Besides, cornstarch is not sticky when mixed with acidic solutions such as vinegar, lemon juice, orange juice, etc. Therefore, it is necessary to avoid combining dishes with these solutions with cornstarch.
When using cornstarch in water dishes, one must dissolve the cornstarch with a little water and then put it in a pot of hot water so that the cornstarch will promote its adhesion ability, helping the dish to have consistency and not clump.
Notes on Health
Cornmeal has a higher rate of GMO. The problem of GMO foods is complex. The scientific community has raised concerns about the limited evidence regarding the safety of cornstarch used.
Moreover, cornstarch contains a lot of carbohydrates. To maintain a healthy weight and function well, consume in moderation. Given the high amount of carbohydrates in cornstarch, you shouldn't use it every day or as your main baking powder.
Some people may have trouble with insoluble fibers, such as cornmeal. Allergies to corn are rare, but if you are sensitive or allergic to corn, avoid cornmeal and go for something that rarely causes allergies.
13 Best Cornstarch Substitutes For Your Healthier Dishes
Are you anxious to know what the best substitutes for cornstarch are? I will show you the best in this part. You probably already know some, but some might surprise you!
1. Potato Starch
Potato starch is the powder extracted from the potato tuber. To obtain potato starch, people mash or puree them with water.
After that, people will filter to obtain a mixture of potato starch consisting of water and starch. Finally, through the drying process to obtain the final product, potato starch.
Potato starch is white, contains a certain amount of calories and carbohydrates. It is widely used in food processing, especially for cakes or soups, to give a thick, soft and transparent texture to foods like cornstarch.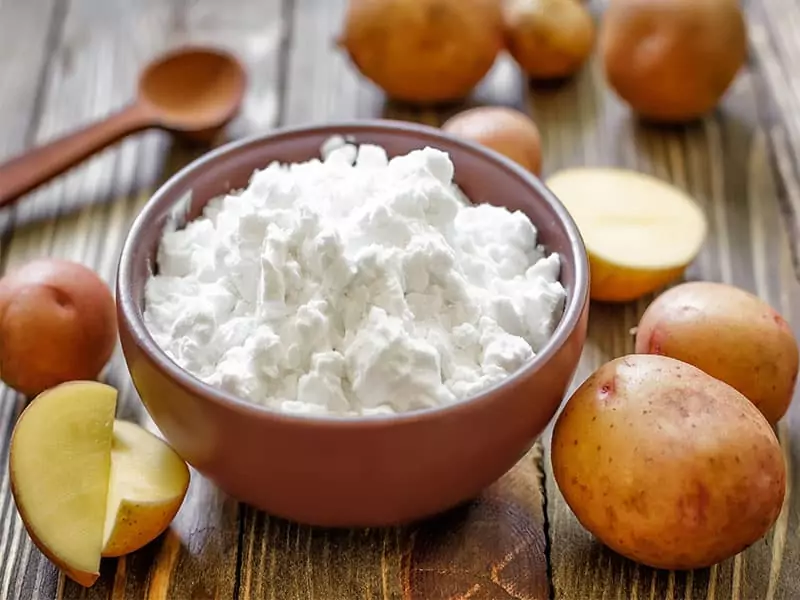 Because of its use as a thickener, potato starch is used to prepare stews, soups, sauces, ice cream, or pudding as cantaloupe. In addition, potato starch is also used in baked goods and fried dishes to create crispiness and keep fried foods from becoming soft, like cornstarch.
Especially for cakes that need softness and transparency, choosing potato starch as a buffer to make the finished product clearer and softer is the perfect choice to replace cornstarch, helping the cake not to stick and keep the characteristic flavor unchanged for the cake.
Furthermore, potato starch is also good for those looking for a gluten-free alternative. Yet, despite all these similarities, you still need to be aware of some huge gaps between potato starch and cornstarch. However, you can use potato starch with the same ratio to the cornstarch.
2. All-Purpose Wheat Flour
As the name suggests, this is the most common type of flour, widely used to make cookies, bread, cakes, cakes, etc. You can use it to replace cornstarch in case of force majeure.
It is a product made from wheat or other grains by grinding. Wheat flour is usually white and smooth. Besides, wheat flour is much more manufactured and easier to find than most flours.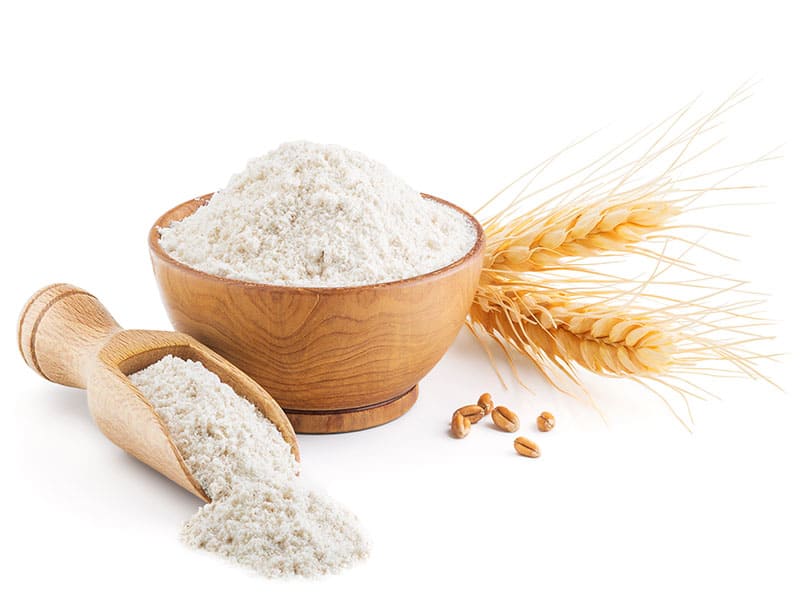 Wheat flour is one of the most popular flours used by many people to make cakes and baked goods because of the crumbly texture it creates.
It's good to use it to substitute for cornstarch in Longaniza, custard, or pudding because it's the ideal thickener and won't clump.
To use wheat flour as a cornstarch substitute, you need to mix the flour with the right amount of water to make a paste. This will help give the cornstarch a sticky effect to your recipe.
However, you will need to double the amount of wheat flour to replicate how cornstarch usually tastes and its texture as well. You should also note that wheat flour contains gluten, so it will not be suitable for people who are intolerant to this substance.
3. Rice Flour
Rice flour is a familiar ingredient because it is the main ingredient in various lovely desserts in China, Japan, Malaysia, and other Asian countries. Rice flour is made from finely grinding rice grains after soaking in water.
Rice flour is currently one of the important raw materials in the field of moisture. It's also gluten-free, so it's better than cornstarch if you're avoiding gluten.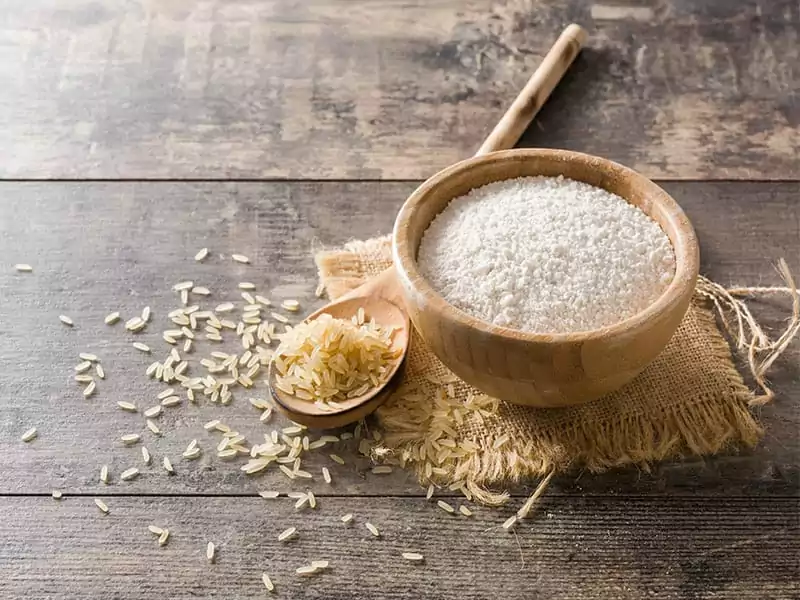 To thicken foods, you can also use rice flour instead of cornstarch. It also works great in frying recipes that call for a crunchy feel to foods or cakes. When dissolved, rice flour is also transparent, so it will be suitable for foods that require transparency.
Furthermore, rice flour is a great substitute in cookie recipes, as it encourages moisture and extends shelf life. Its texture is just as amazing and smooth as the cornstarch.
Using rice flour is also simpler. You can mix it with both hot and cold water because it can be dissolved anywhere. Just use twice as much cornstarch, and you can create a thick texture.
4. Psyllium Husk
Due to its high fiber content, psyllium husk is considered a top herb to support digestive disorders and help lose weight effectively. Alternatively, you can also use psyllium husk instead of cornstarch to lower cholesterol and saturated fat.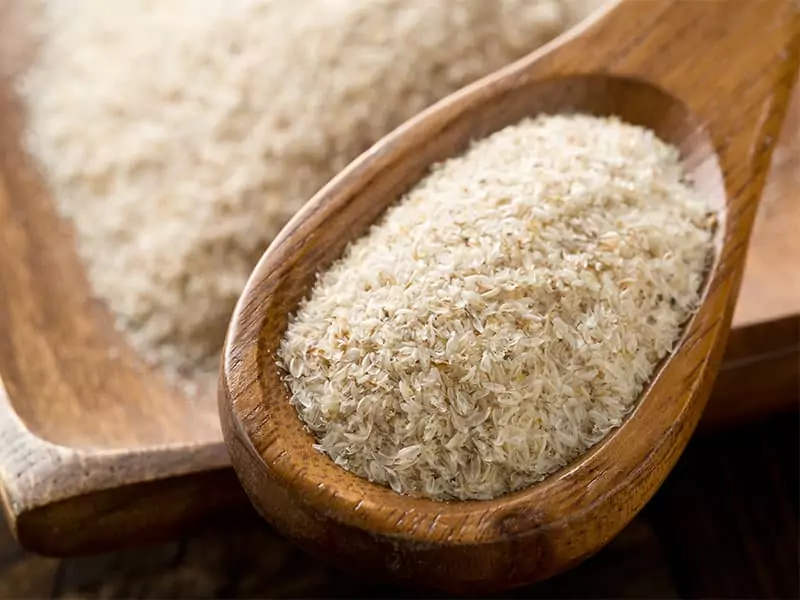 Moreover, the soluble fiber content in psyllium husk is many times higher than that of cornstarch. This fiber is not broken down during digestion but also has water-absorbing properties that create special health benefits.
Once dissolved in water, psyllium husk becomes a gel, forming a clear, colorless liquid perfect for replacing cornstarch as a thickener for soups, sauces, or cakes. You can use a ratio of 1 psyllium husk: 2 cornstarch to start as it is relatively dense.
5. Guar Gum
Guar gum is extracted from guar seeds. It is commonly used as an additive for food due to texture-stabilizing, thickening, and viscous properties similar to cornstarch but with higher fiber content and lower calories.
When dissolved in solution, guar gum acts as a controller for water molecules to prevent melting, increasing the viscosity of the solution or forming a gel state.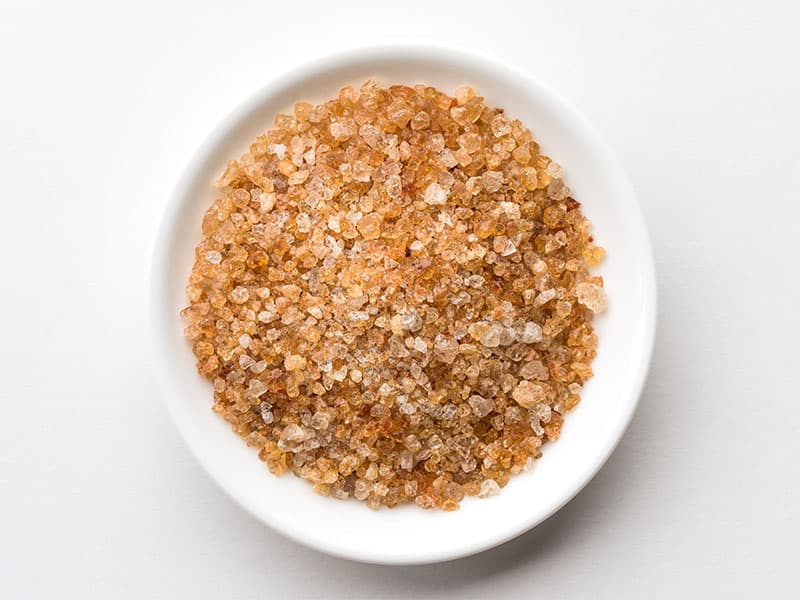 One benefit of using guar gum in place of cornstarch is that it comes in a powder form that dissolves completely in both hot and cold water. That means you can add it directly to the dish without having to mix it with water first.
You can use guar gum in baked goods as a substitute for cornstarch for better digestion. Guar gum absorbs water in foods, so it tends to increase softness, making it easier for powders to blend.
What's more, it's also odorless, so you can combine it with anything like cheese, bread, salads, sour cream, frozen desserts, ice cream, and soups as a water binder and thickener.
Finally, because guar gum has a relatively strong thickening ability, it's best to just add a little bit of guar gum directly to your dish until you feel it's thick enough to stop.
6. Arrowroot Flour
Arrowroot is a tropical tuber, usually made into a powder. The flour of the arrowroot is extracted from the rhizome, containing its starch and energy. This flour is mainly used in cooking, as it works well in sweet and savory dishes alike.
Not only high in protein and nutrients, but arrowroot is also easy to digest, making it ideal for replacing cornstarch in the meals of children and older adults who need milder food. It also contains more fiber than cornstarch.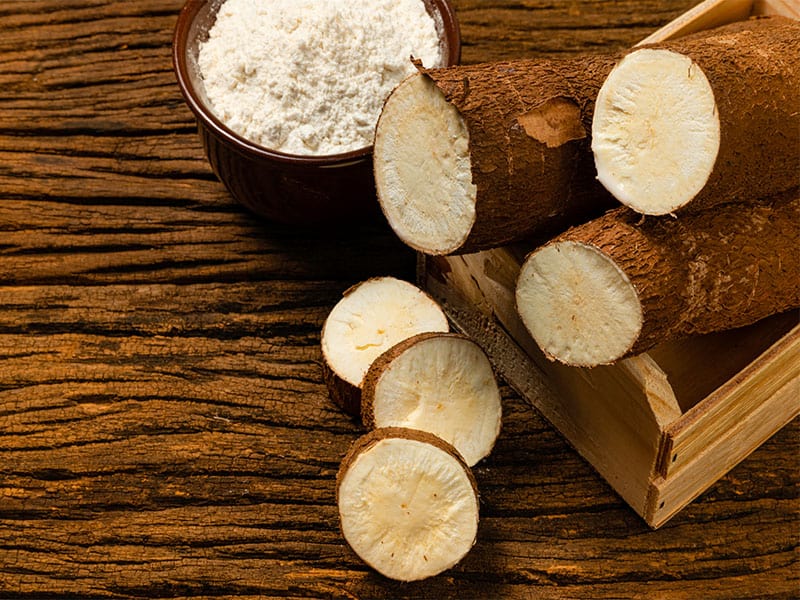 Besides, arrowroot flour will also give dishes like chili sauce or soup a slurry texture like cornstarch, as it can create clear gel when mixed with water. It will suit transparent soups as it does not produce an opaque white color.
Another good thing is that arrowroot is gluten-free, so it would suit those looking for this in a thickener. You will probably need twice as much arrowroot flour to substitute for cornstarch for the same thickening effect.
7. Glucomannan
Glucomannan is a natural fiber obtained from the root of the konjac plant. Glucomannan is commonly used in weight loss and diabetics to help control blood sugar and lower cholesterol.
Glucomannan is often added to dishes, such as pasta. It is also used as a food additive with emulsifying and thickening properties. Glucomannan is also very low in calories which helps reduce protein and fat absorption.
Furthermore, glucomannan has an extraordinary ability to absorb water and is one of the most vicious fiber types, making it a suitable substitute for cornstarch. It absorbs so much liquid that if you put a little glucomannan in a small glass of water, the whole cup of water will turn into a gel.
Therefore, if using glucomannan to thicken instead of cornstarch, you should use a smaller proportion. Maybe you just need to use glucomannan equivalent to about ⅛ cornstarch is enough. It would be best if you also dissolved it with a little water before adding it to hot dishes.
8. Tapioca Starch
Tapioca flour is a starch extracted from root vegetable cassava. Tapioca is white in color and is usually in the form of a solid powder. You'll find this flour mainly in Samoan-exclusive sweet treats. Tapioca flour is also gluten-free like pure cornstarch.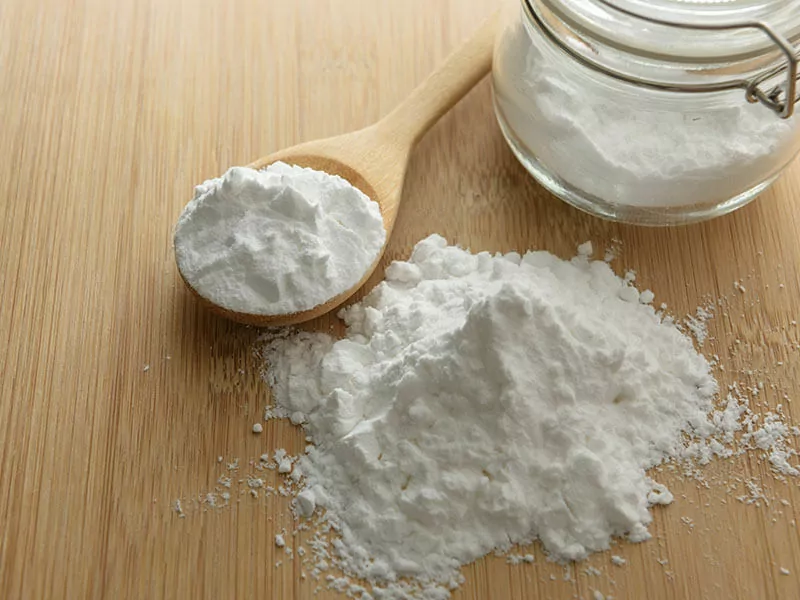 In terms of characteristics, tapioca starch is extracted from cassava roots, filtered out, and finely milled with extremely small powder, so the stickiness, gel, viscosity, plasticity of cassava starch is very high.
Therefore, you can use it as a substitute for cornstarch in sauces and soups or fruit pie fillings freely. You can substitute with a ratio of 1 cornstarch: 2 tapioca.
However, you should note that tapioca starch cannot form a thick liquid with cold water, so you must mix it with hot water before adding it to the dish.
9. Xanthan Gum
Xanthan gum is commonly used as a thickener in ice cream production and a fattening agent, creating a fatty taste without nutritional value. It also works well for gluten-free products.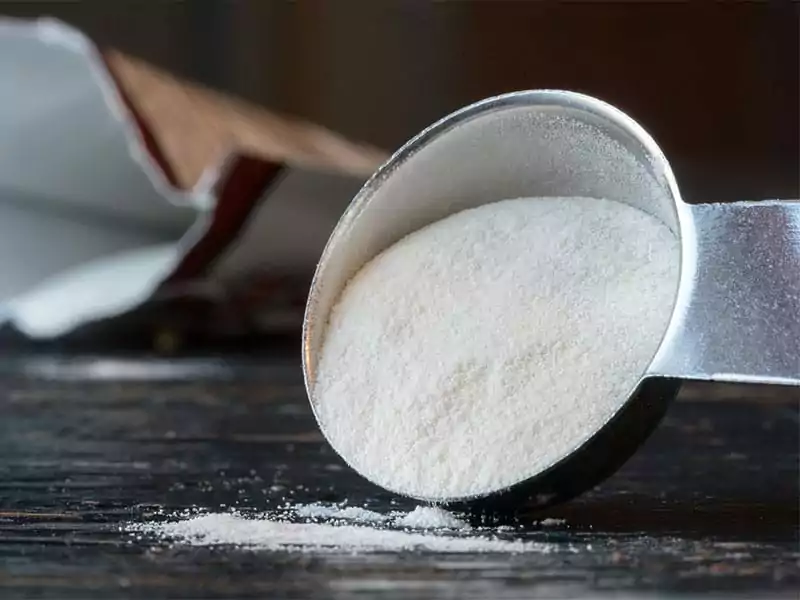 Besides, xanthan gum has a very high viscosity even when used in small amounts, creating a thick gel mixture when it is mixed with water. Therefore, you can use it as a substitute for cornstarch in food.
In particular, it can increase the volume, improve the structure and stability of frozen doughs, so it will be very useful for cakes. You can replace the cornstarch with an identical amount of xanthan gum to give the dish a thick texture.
10. Ground Flaxseeds
Flaxseeds have long been on the menu because of their variety when they used to make drinks and make cakes. Flaxseeds are oval in shape, with gray, brown, black, and white colors.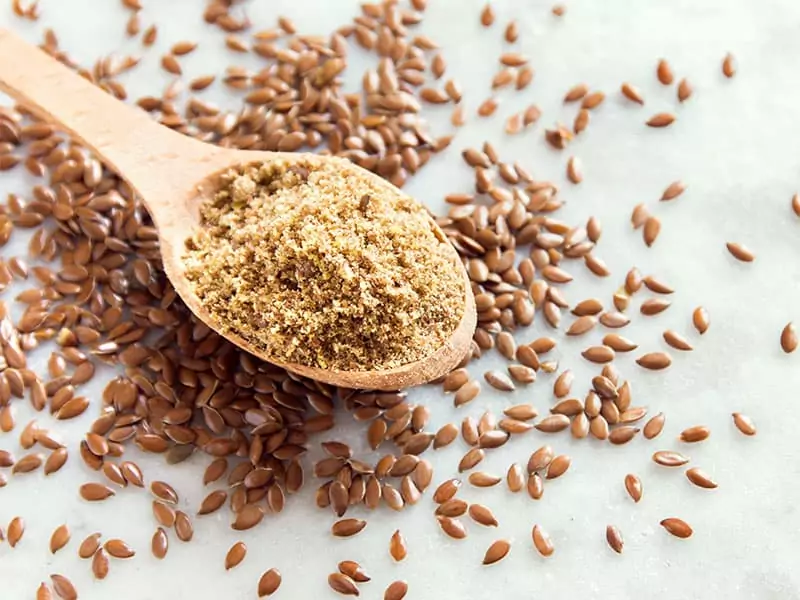 Because the flaxseeds are hydrophilic, they absorb more water when soaked. In addition, flaxseeds have a sticky, gel-like texture that will create a texture similar to cornstarch for your dishes. Plus, flaxseeds will also add a lot of fiber—more for your diet.
You can soak ground flaxseeds in water with a ratio of 4 flaxseeds: 1 water. Then 1 part of this will be equal to 2 parts of cornstarch you normally use. However, you should be aware that flaxseeds will not create a consistent texture like cornstarch.
11. Greek Yogurt
Unlike many popular yogurts on the market, Greek yogurt has a completely different composition and taste. Greek yogurt is higher in protein and nutrition but low in cholesterol and fat and is almost nonexistent.
Therefore, this will bring a lot of benefits to our muscles as well as our heart. Using Greek yogurt regularly, you can effectively control your weight. Not only good for health, but Greek yogurt also possesses a delicious and attractive taste.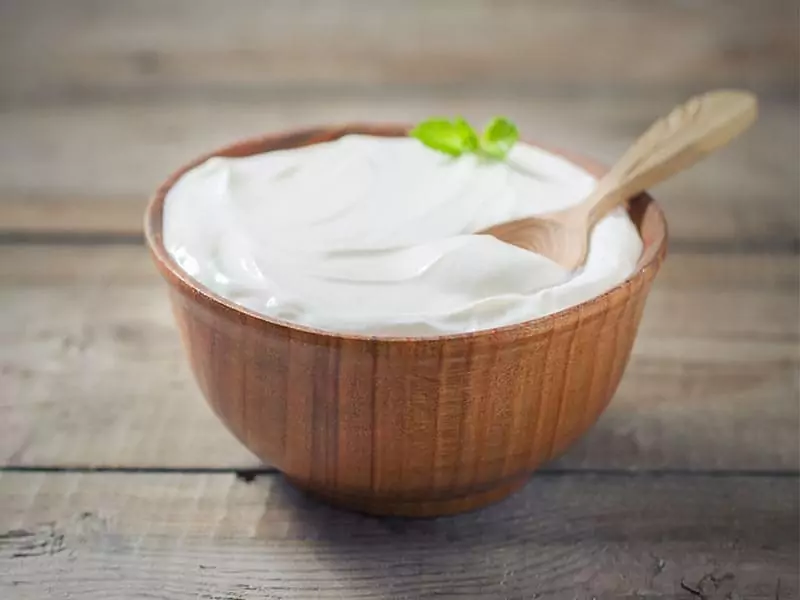 Greek yogurt is white in color, has a soft and thick texture, and can substitute for cornstarch to thicken your soups or dressings. The mild sour taste mixed with the fatty taste will add to your dish an irresistible attraction.
However, it would help if you considered whether this sourness is right for your dish. As an alternative to cornstarch, you can slowly add greek yogurt to the dish one at a time until you achieve the desired consistency.
12. Sour Cream
Sour cream is a product of milk fermentation and lactic acid that gives the milk a thick and sour taste. Sour cream is a creamy sauce with a smooth texture and aroma that is ideal for savory and sweet dishes.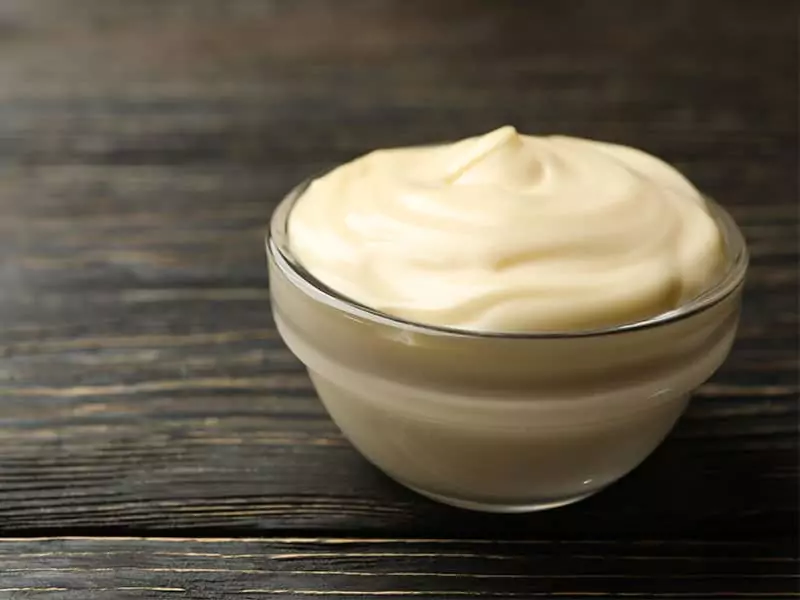 You can use sour cream instead of cornstarch in baking, soups, and desserts. When kept at a high temperature, Sour cream does not freeze or separate, so it can be used as a cornstarch substitute for thickening when cooking.
In particular, the sour taste of Sour Cream helps to reduce the fatness of the dish. However, similar to Greek yogurt, you also need to note whether you like this sour taste or not or if it suits your dish or not.
13. Pureed Vegetables
Using pureed vegetables in place of cornstarch is one way to build a healthier lifestyle for everyone. Pureed vegetables, tubers, and fruits will help the body absorb substances easier and good for the digestive system when it does not have to work too much.
Moreover, they contain more fiber, vitamins and minerals, and antioxidants than cornstarch. However, you cannot use pureed vegetables to thicken the cake. It can only be used for soups or stews.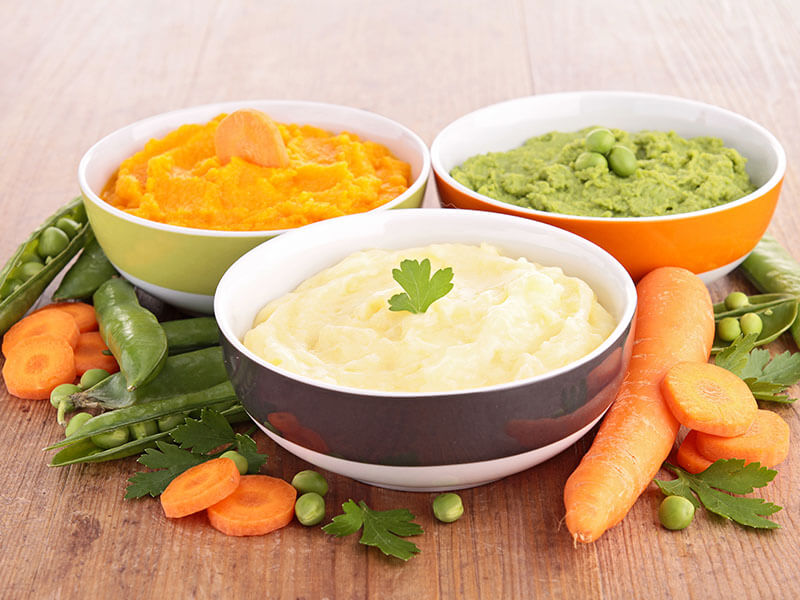 To do this, you need to boil vegetables such as potatoes, cauliflower, squash, zucchini, or any combination of vegetables that you find suitable for the dish you want to thicken until they are tender.
Then you just need to put them all in a nifty blender to puree them. Finally, put it all in your dish, and you've got a nutritious meal.
FAQs
You may find some useful information in the answers below!
Finally, What Is Your Best Cornstarch Substitute?
Whether the reason is you want to find a healthier alternative, or sometimes your kitchen lacks cornstarch, I believe you will find the best choice through my sharing.
These diverse cornstarch substitutes will also help you limit your grocery shopping and replace them with ingredients available in your kitchen cabinets.
I believe you have found the best substitute for cornstarch and the most suitable substitute for your dish. Don't forget to tell me what it is in the comments down below!
Nutrition Facts
1 servings per container
Serving Size1 tbsp (12g)
---
Amount Per ServingCalories43
% Daily Value *
Sodium 6.6mg

1

%
Potassium 120mg

4

%
Total Carbohydrate 10g

4

%

Dietary Fiber 0.7g

0

%
Sugars 0.4g

Protein 0.8g

0

%
---
Vitamin C

0.8

%
Calcium

0.6

%
Iron

0.9

%
* The % Daily Value tells you how much a nutrient in a serving of food contributes to a daily diet. 2,000 calories a day is used for general nutrition advice.