Have you ever heard about vanilla extract substitutes? Sometimes, you want to make cakes or cookies, but when checking the kitchen pantry, you realize that you run out of the vanilla extract.
But wait! Do rush to buy some in stores because you can utilize different vanilla extract alternatives available in your kitchen. In this post, I will recommend great vanilla extract substitutes that will surely bring you fragrant and savory foods as vanilla extract can do.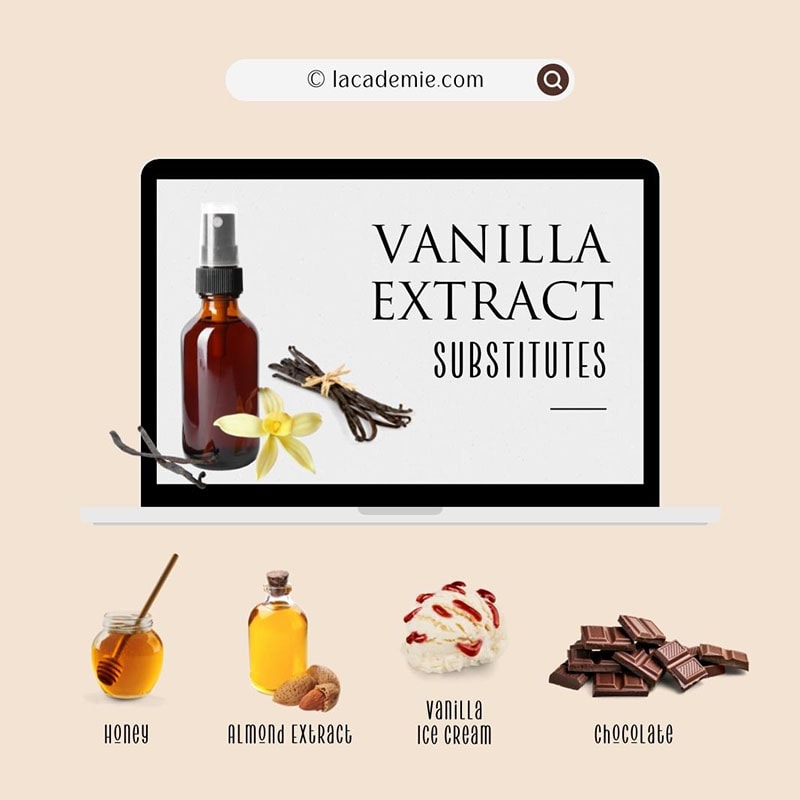 List of 22 Vanilla Extract Substitutes
There are different vanilla extract alternatives for you to choose from.
Liquid Vanilla Extract Alternatives
Honey
Maple Syrup
Almond Extract
Bourbon, Brandy, or Rum
Vanilla-Flavored Liquors
Vanilla Milk
Vanilla Ice Cream
Fruit Extract
Vanilla Tea
Vanilla Flavored-Syrup
Citrus Zest
Rose Water
Homemade Vanilla
Kahlua (Kahlúa)
Fiori Di Sicilia
Dry Vanilla Extract Substitutes
Spices
Instant Coffee/Espresso/Tea Powder
Vanilla Powder
Vanilla Paste
Chocolate
Vanilla Beans
Vanilla Sugar
What Is Vanilla Extract?
Vanilla extract is known as pure vanilla that has distinctive aromas. It is made by soaking the crushed vanilla beans in water and alcohol so that the vanilla compounds can be mixed in alcohol.
Due to the complicated and long time producing process from processing vanilla beans to completed products, the cost of vanilla extract is higher than that of artificial vanilla. However, vanilla extract has a sharper vanilla flavor that can last for a long time and even get stronger over time.
Why Do You Need Vanilla Extract Substitutes?
It is undeniable that the high quality of vanilla extract can bring the most savory and fragrant foods. However, sometimes you are out of vanilla extract, but you still want to prepare baking products having vanilla flavor. Do you want to go out to purchase some vanilla extract?
Also, though some people answer no to the question whether vanilla extract expires in the future, there are still some possibilities. In addition, vanilla extract comes with high costs, so you should save it for recipes that need a sharp flavor of vanilla, such as vanilla ice cream.
For these reasons, you should use vanilla extract substitutes in place of vanilla extract to save your valuable time and money.
22 Substitutes For Vanilla Extract
Now, take out your cooking notebook to note the incredible vanilla extract alternatives I am going to introduce to you.
Liquid Vanilla Extract Alternatives
These vanilla extract substitutes are the best replacement because they are in a liquid state like vanilla extract.
1. Honey
Honey is sweet like vanilla extract, so you can use it for adding to foods as a vanilla extract alternative. If you're worried about the possibility of honey containing gluten, make sure to use high-quality products.
Of course, it can not bring you the vanilla taste. But with the correct storage ways for honey, its fragrant nature will satisfy you greatly.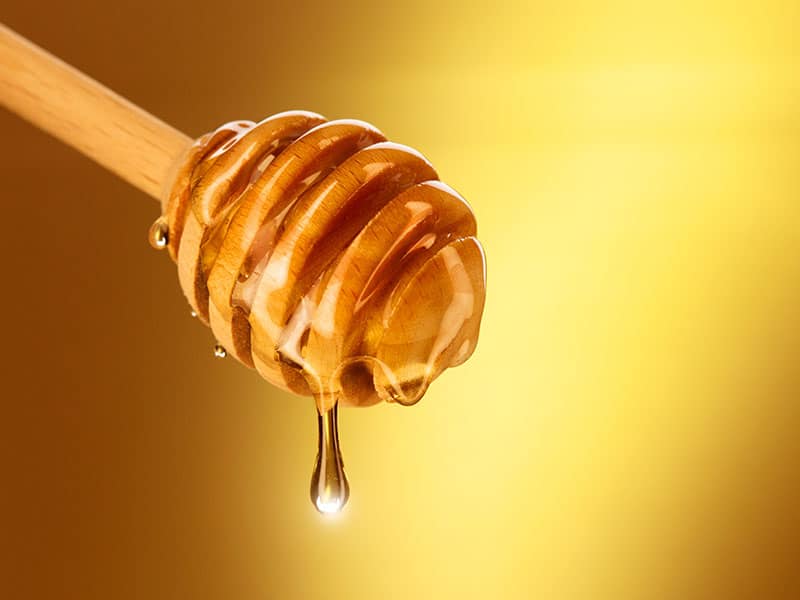 2. Maple Syrup
Many have been familiar with maple syrup as a must-have accompaniment for pancakes. Maple syrup has a warm and sweet flavor that is similar to that of vanilla extract. Just use an equal amount of maple syrup as you use vanilla extract for your food.
However, maple syrup is sweeter than the other. Therefore, when you substitute maple syrup for vanilla extract, you should carefully check the sweetness of the food, or it will result in oversweet food.
You might also be if maple syrup can go off. After all, what's the use of a substitute when it can spoil easily, right? Rest assured, maple syrup usually has a very long shelf-life. And if you know how to store maple syrup properly, this won't be a problem at all.
3. Almond Extract
Of course, the almond extract has a different flavor from vanilla extract. It has a strong and nutty flavor with a sweet almond taste.
Therefore, you just use half the amount of almond extract to substitute for an amount of vanilla extract (½ teaspoon of almond extract replaces one teaspoon of vanilla extract)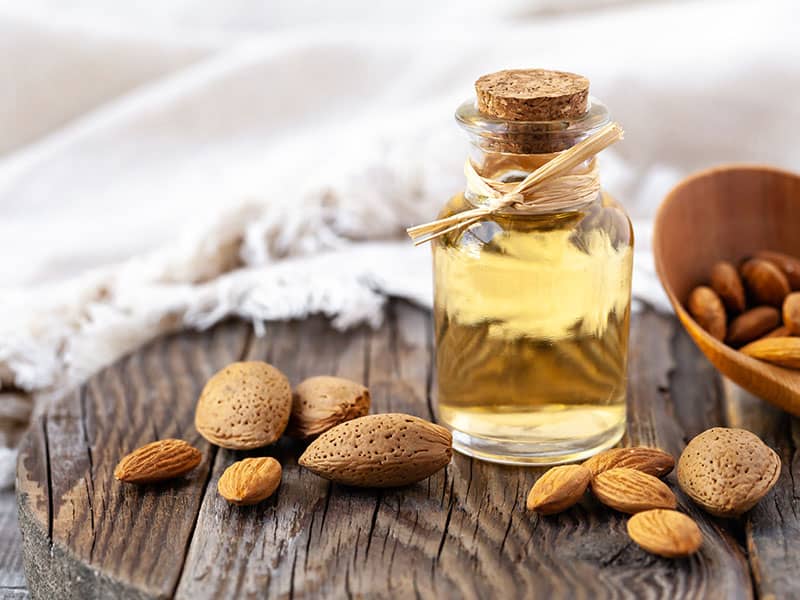 4. Bourbon, Brandy, Or Rum
Bourbon, brandy, and rum are alcoholic drinks with vanilla content, so they can be used as vanilla extract alternatives. Each of them is also used as an ingredient for extracting vanilla from vanilla beans.
They can't bring you the pure vanilla flavor as vanilla extract, but you can use them for some winter sweet treats, especially baked recipes like pecan pie or gingerbread. In the high baking temperature, the alcohol content will evaporate and just keep the vanilla flavor in your food.
Just use an equal amount of bourbon, brandy, or rum as that of vanilla extract when you put it in your foods.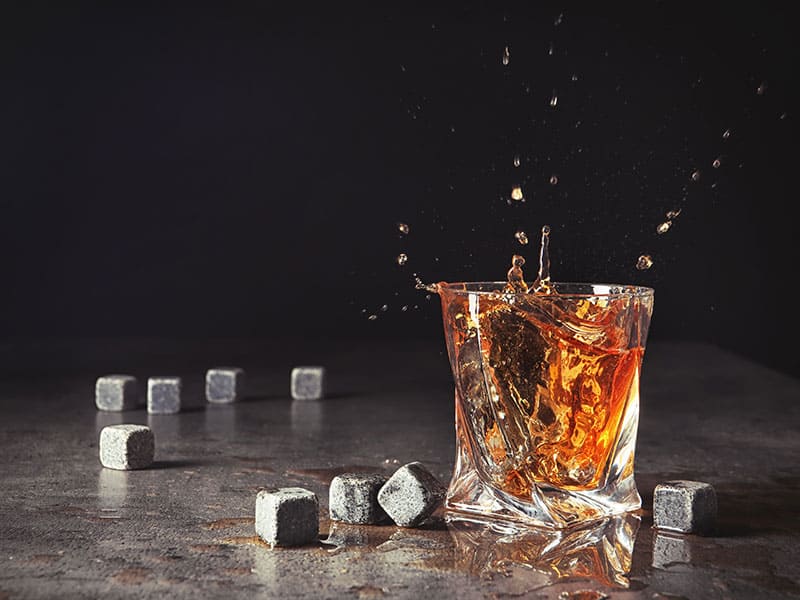 5. Vanilla-Flavored Liquors
Like bourbon, brandy, and rum, you can use vanilla-flavored liquors such as amaretto, rum, or vodka in place of vanilla extract with the ratio of 1:1 for the substitution.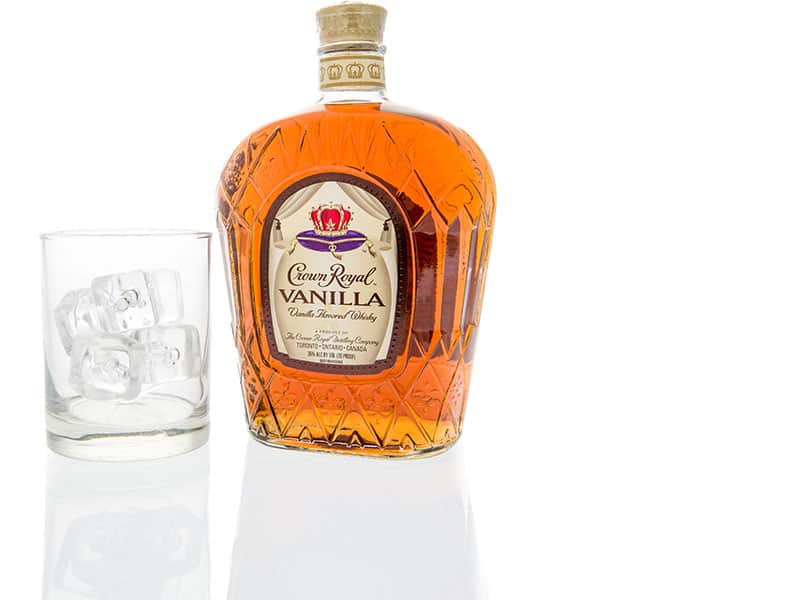 6. Vanilla Milk
If you have some vanilla milk, commonly vanilla almond milk, you can use it in place of vanilla extract. However, you should adjust the amount of water or milk in your recipe when adding vanilla milk to it because maybe there will be too much liquid in your recipe.
Moreover, do not be afraid that the milk flavor will spoil your food taste because it is just a little bit of milk content added to your recipes.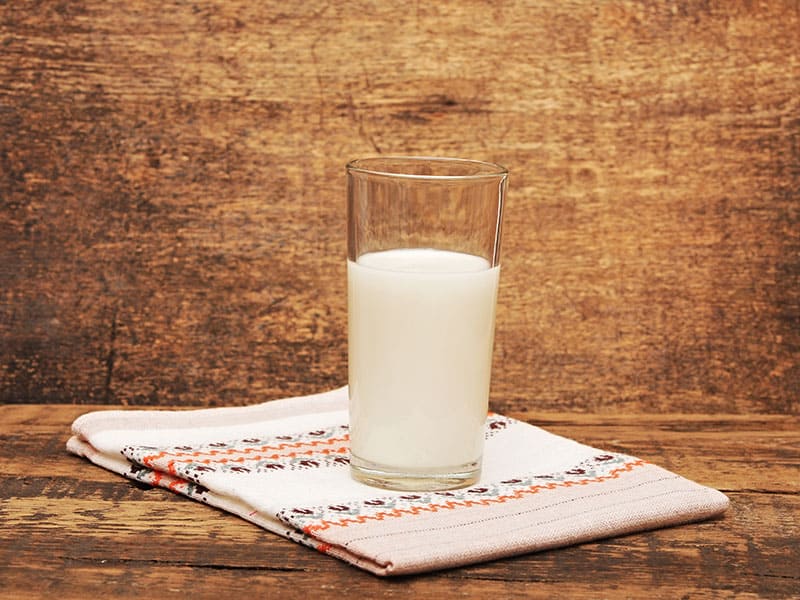 7. Vanilla Ice Cream
Fortunately, vanilla ice cream is usually available in your fridge, so just utilize its vanilla taste to add appetizing flavor for yogurt or milkshakes.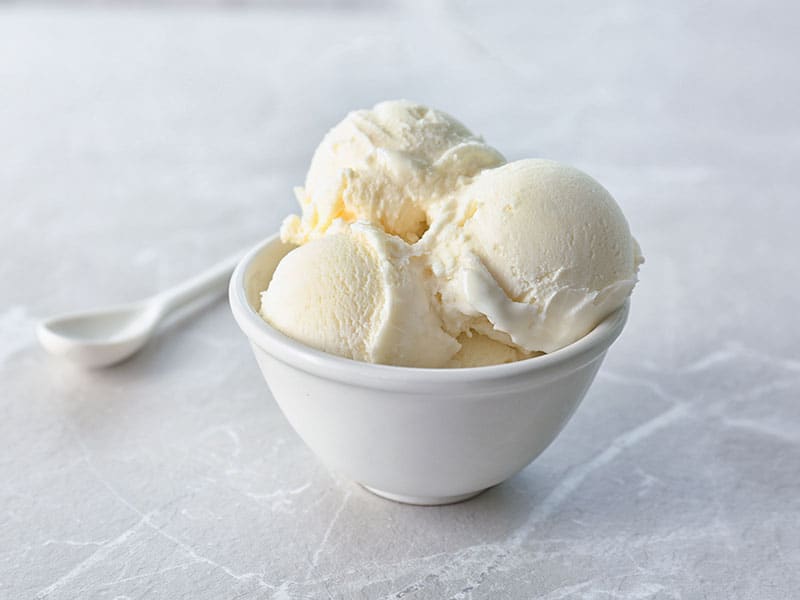 8. Fruit Extract
Some fruit extracts like lemon or orange can also be used in place of vanilla extract, but their flavors are completely different from vanilla. Therefore, you should check whether these fruit flavors do match the other ingredients of your recipe or not.
If yes, you can put it in your recipe with the same amount as using vanilla extract.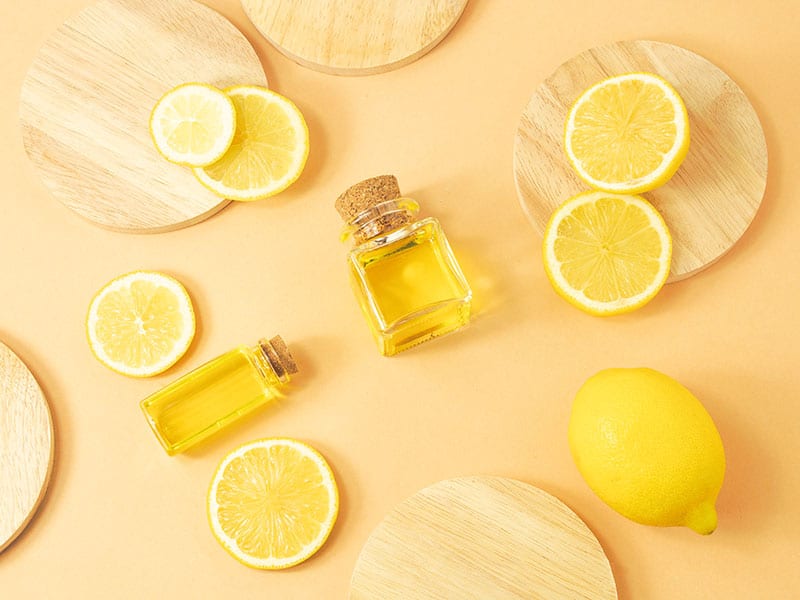 9. Vanilla Tea
If you are a big fan of vanilla tea that benefits human health (1) (2) , you will be surprised that this kind of drink can be used in place of vanilla extract.
Because vanilla tea is brewed with vanilla bean, it can bring vanilla flavor to your recipes; of course, it is not the full flavor. In addition, vanilla tea just works with a few recipes because the strong tea flavor may not mix with some ingredients of the recipes.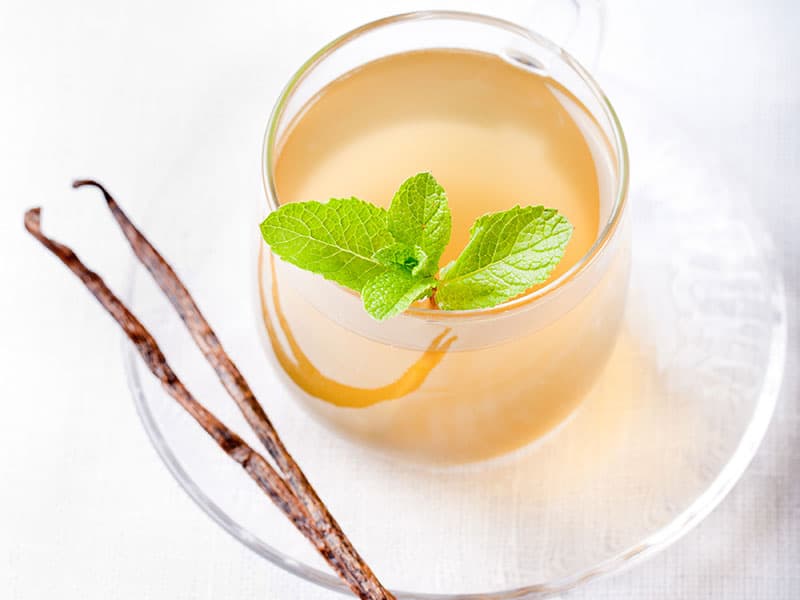 10. Vanilla Flavored-Syrup
The vanilla syrup contains vanilla flavor and more sweetness than vanilla extract. Although it is a great substitute for vanilla taste, you should adjust the amount of vanilla syrup you add to recipes.
With the sweet recipes, you should not add much vanilla syrup, or you can reduce the amount of sugar or honey put in the recipes.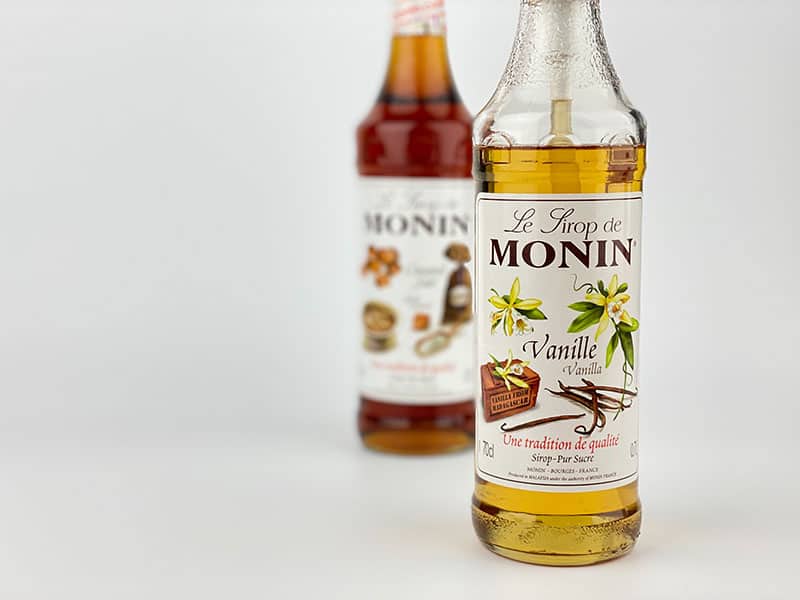 11. Citrus Zest
The zest from orange or lime can be a vanilla extract substitute to flavor different baking products. Different from orange or lime juice, the zest is much more flavorful but less acidic and water content.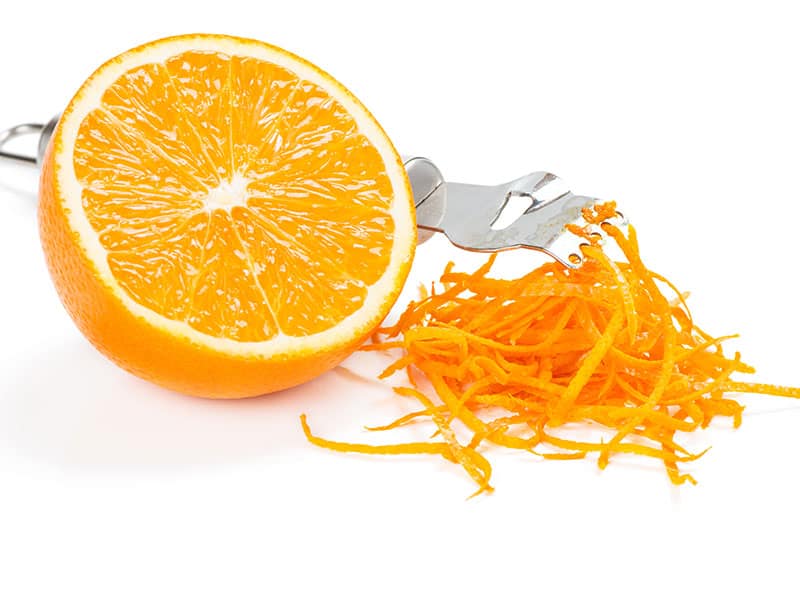 12. Rose Water
Rose water is the oil extracted from rose petals. It is used for both cooking and medicinal purposes.
When it comes to a vanilla extract alternative, this kind of product works well in sweets, desserts, cold drinks. Try it, and you will be satisfied with the fragrance it brings to your foods.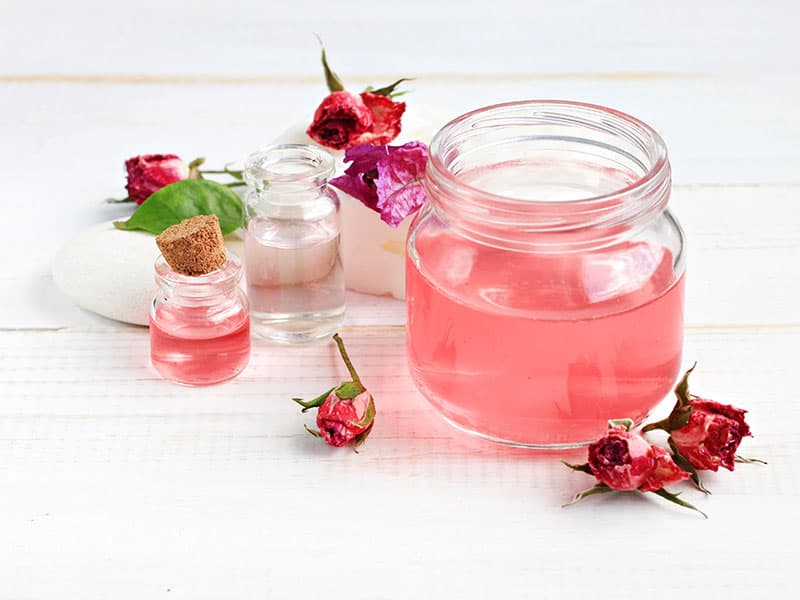 13. Homemade Vanilla
It is a great idea to make some vanilla for long-term use. There are two kinds of homemade vanilla: alcoholic and non-alcoholic vanilla extract. The former is made with vanilla bean and vodka. From the time you make it, it takes several months for vanilla homemade to be ready for use .
However, if you have children or family members allergenic with alcohol, you can try making the latter by letting chopped vanilla seeds simmer in water and sugar for 15 to 20 minutes. After that, this kind of homemade vanilla can be used with the ratio of 1:1 (1 teaspoon of homemade vanilla substitutes for one teaspoon of vanilla extract)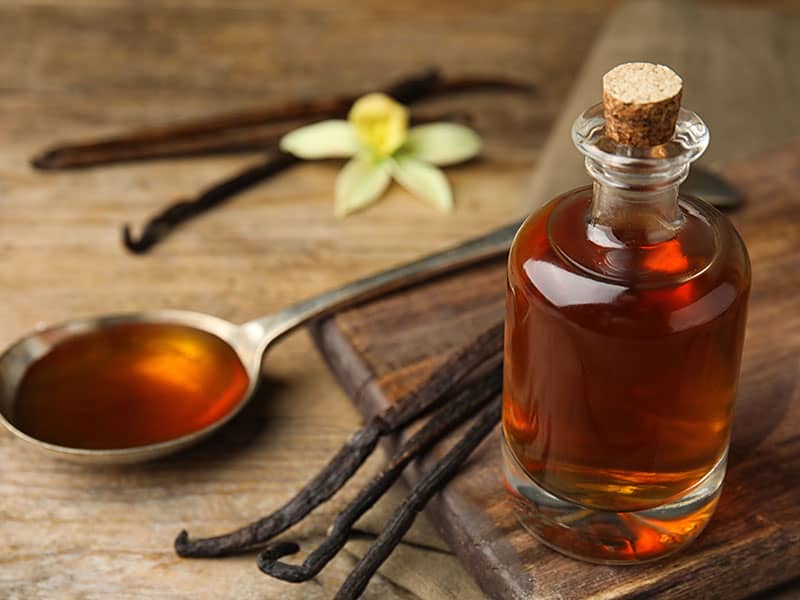 14. Kahlua (KahlúA)
Kahlua is a Mexican coffee liqueur that contains a strong flavor of arabica coffee, sugar, and rum. It can be put in dessert, topping for ice cream, or cake recipes with the same amount of vanilla extract used in the recipes.
When using this drink, you may want to check every now and then to see if your Kahlua has expired yet. That's really important because it'll affect your meal's flavor.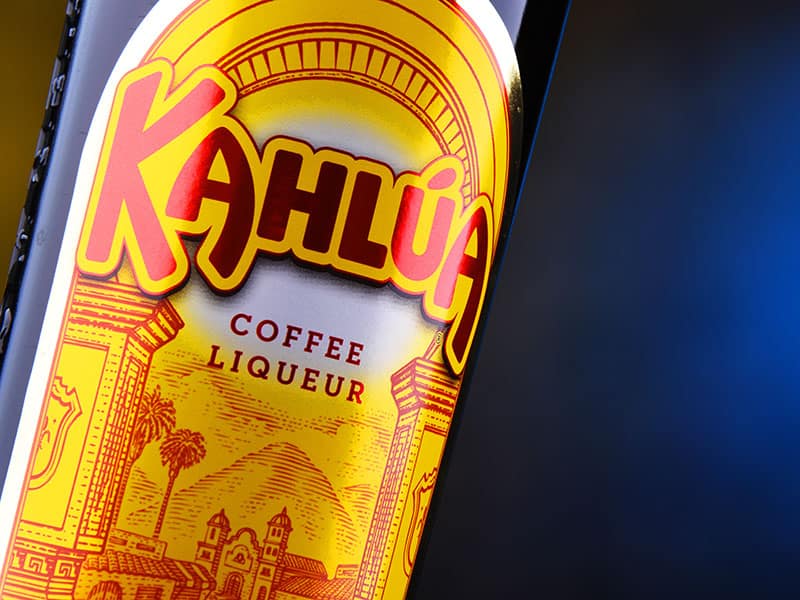 15. Fiori DI Sicilia
Fiori di Sicilia is an extract combining citrus, vanilla, and flower essences. The vanilla flavor dominates other ingredients, so it can be a great substitute for vanilla extract, in which ½ teaspoon of Fiori di Sicilia substitutes for one teaspoon of vanilla extract.
Dry Vanilla Extract Substitutes
Some dry vanilla extract substitutes can also be found in your kitchen cabinet.
16. Spices
Other spices like nutmeg, cinnamon, or cardamom can be used to flavor foods like vanilla extract. Although they can not bring you your favorite vanilla flavor, just try them, and you will discover new flavors for your recipes.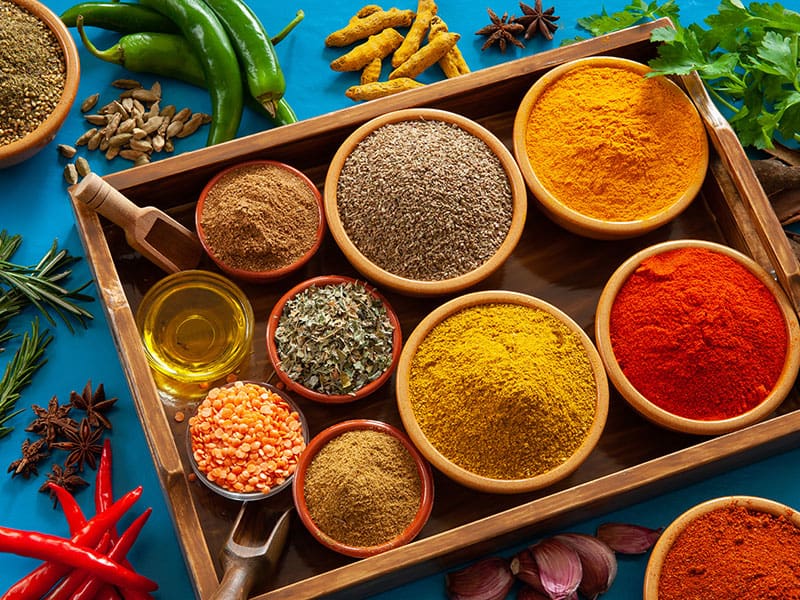 17. Instant Coffee/Espresso/Tea Powder
All of these powders have distinctive flavors that can be added to your recipes if the vanilla extract is not available. It will depend on which flavors you prefer and which ones are suitable with your recipes to choose the vanilla extract substitutes.
There is no exact ratio between the powder and vanilla extract, but you just need to estimate the amount of powder to use for different foods.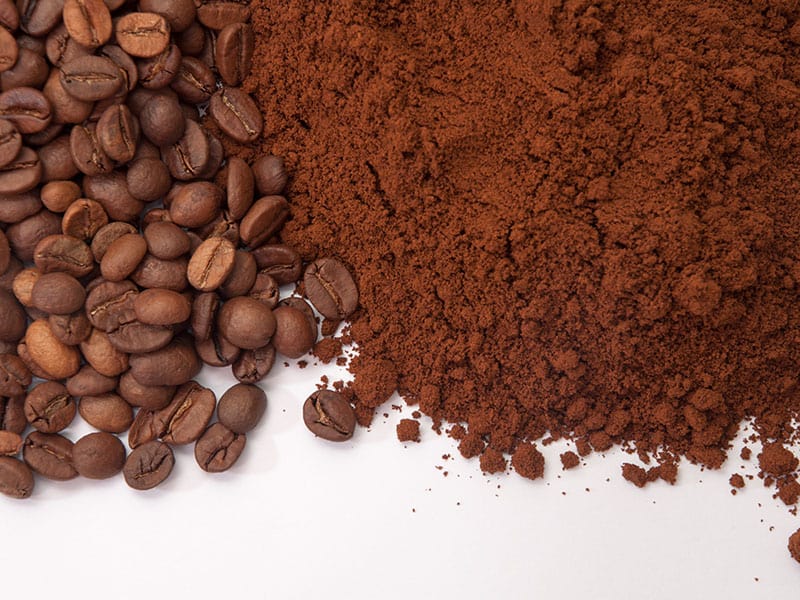 18. Vanilla Powder
Vanilla powder is made from dried vanilla extract combined with cornstarch. Therefore, the vanilla flavor in this product will not be strong as that in vanilla extract.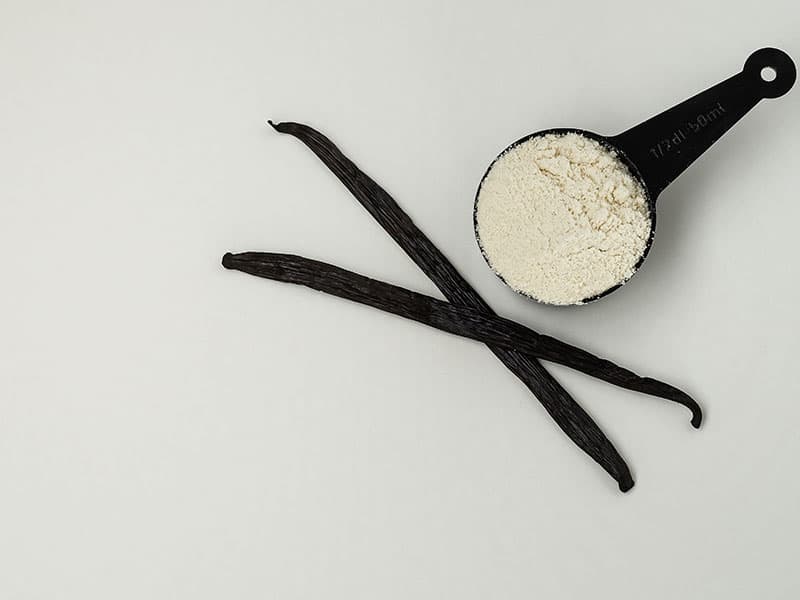 19. Vanilla Paste
Vanilla paste has a thick consistency like syrup. It is made from vanilla beans, water, sugar, and a natural thickener. When using it in place of vanilla extract, you will put an equal amount of vanilla paste in your dishes as you use the vanilla extract.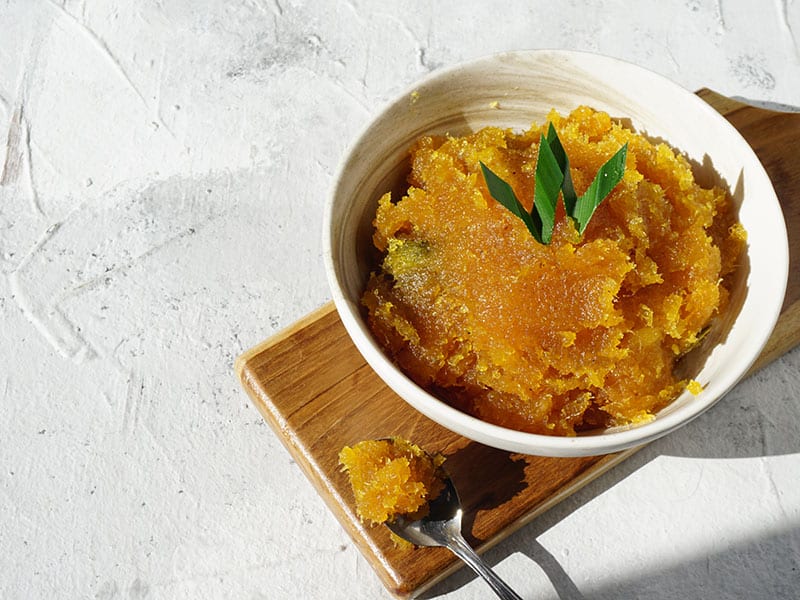 20. Chocolate
Like coffee or espresso powder, chocolate can be another alternative to vanilla extract, especially for baking recipes.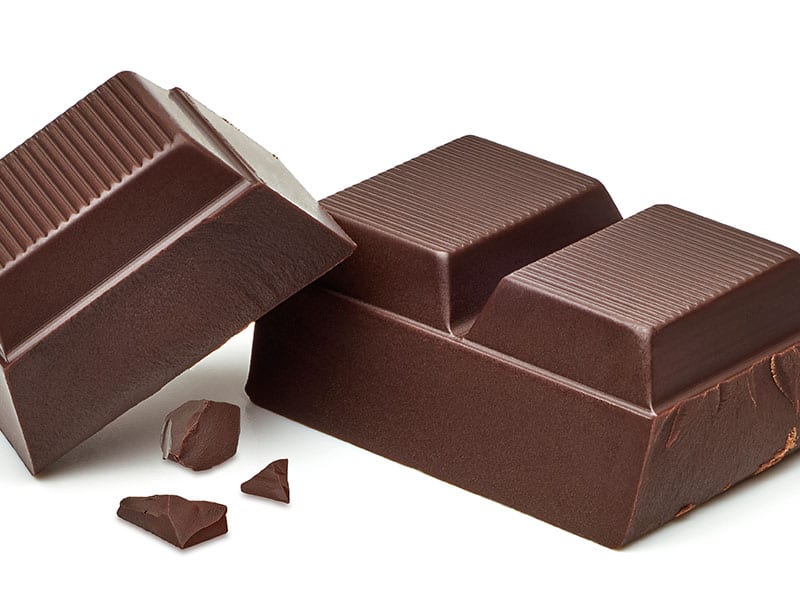 21. Vanilla Beans
If you have some vanilla beans in your kitchen, take out their seeds that can be used in place of vanilla extract. Next, you grind the seeds with a food processor or coffee grinder. Finally, just follow the ratio ½:1 for the substitution ( 1/2 teaspoon of seeds substitute for one teaspoon of vanilla extract).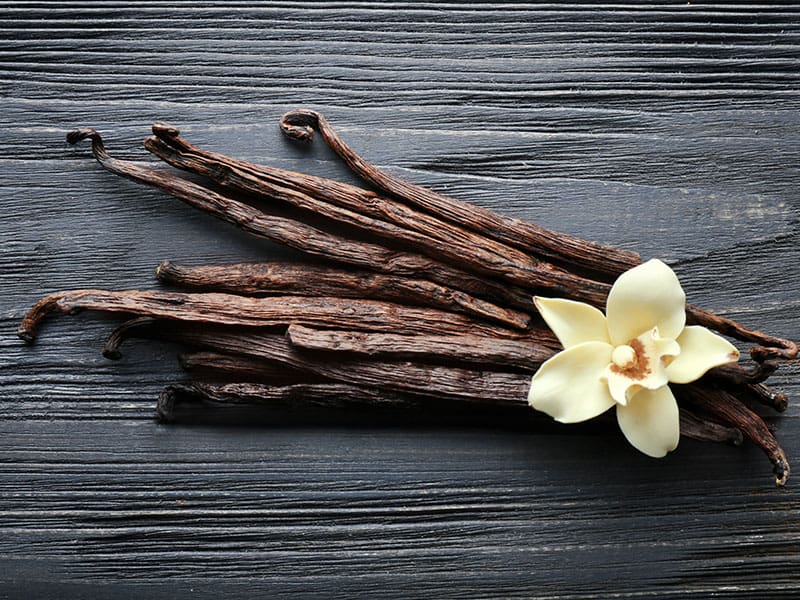 22. Vanilla Sugar
Vanilla sugar comes with a light vanilla flavor and is sweeter than vanilla extract. Therefore, if your sweet recipes have a strong vanilla flavor, you have to add three teaspoons of vanilla sugar to replace one teaspoon of vanilla extract.
However, you should reduce the amount of sugar in your recipes, or your foods are too sweet with additional sweetness from vanilla sugar.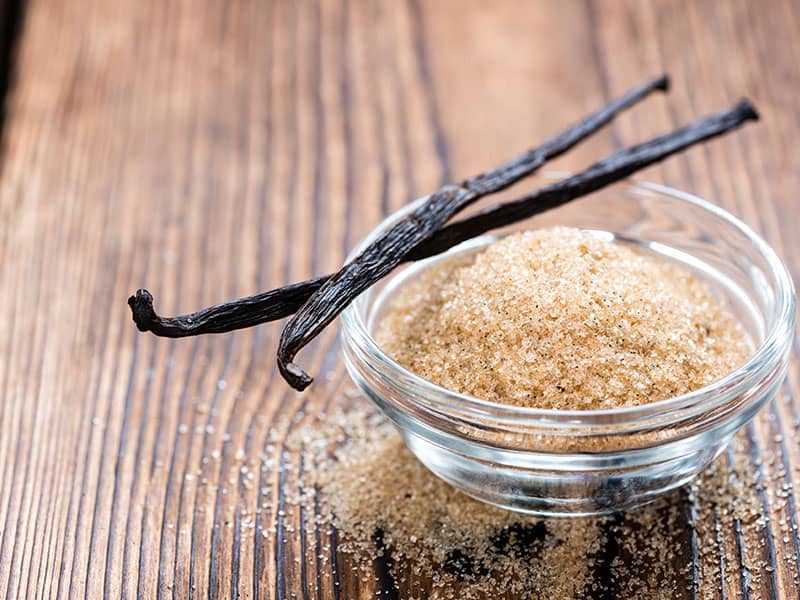 FAQs
Here are some common questions related to vanilla extract and short answers from me.
Not Having Vanilla Extract Is Not a Big Problem!
You have a variety of choices of vanilla extract substitutes ranging from honey to vanilla sugar. Just choose alternatives that you prefer and can work well with your recipes to enjoy savory foods.
Have you tried any suggested vanilla alternatives? Or do you have any other ideas about vanilla extract substitutes? Feel free to share your cooking experience in the below comment section. Share this post with everyone if it is useful and informative to you.
Nutrition Facts
1 servings per container
---
Amount Per ServingCalories524
% Daily Value *
Total Fat g

0

%
Cholesterol mg

0

%
Sodium 2mg

1

%
Potassium 2mg

1

%
Total Carbohydrate g

0

%

Dietary Fiber g

0

%
Sugars g
---
* The % Daily Value tells you how much a nutrient in a serving of food contributes to a daily diet. 2,000 calories a day is used for general nutrition advice.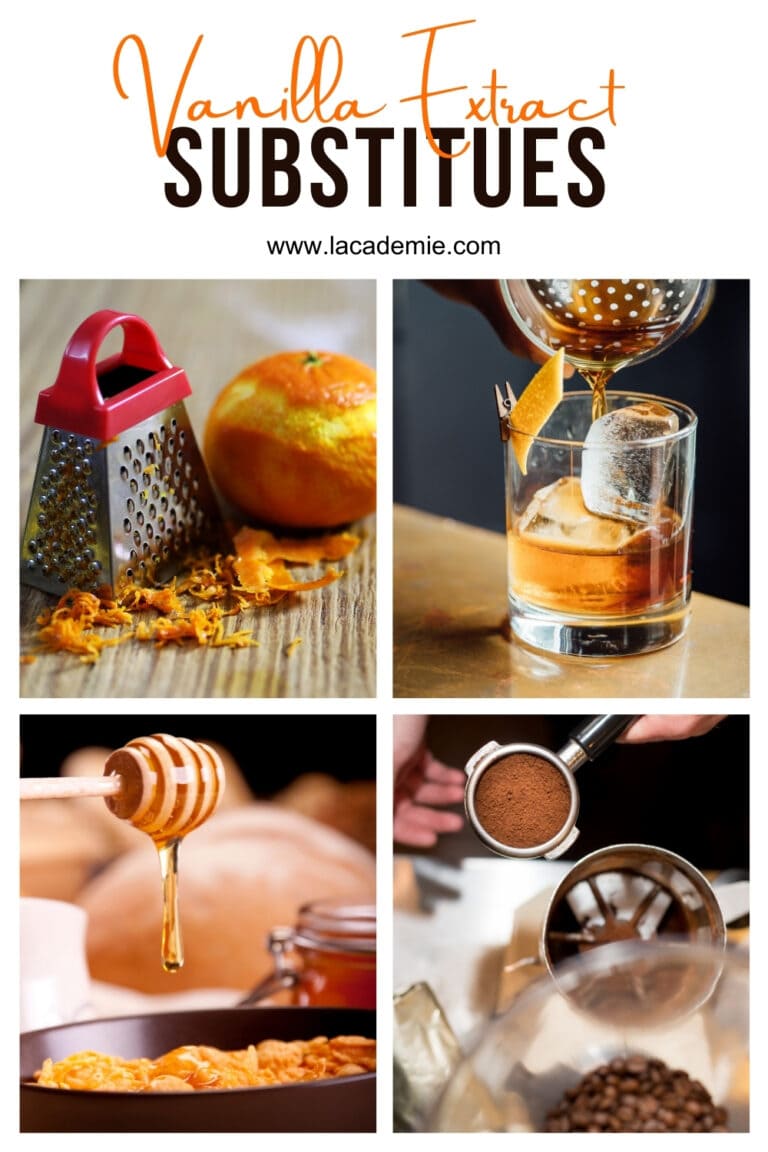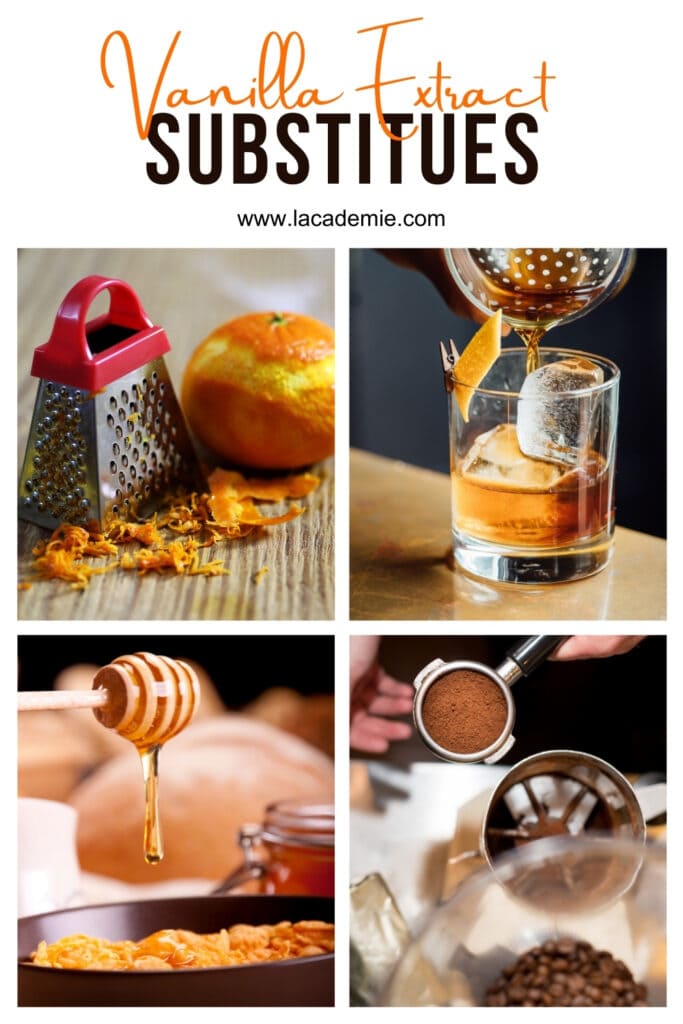 References
Shang, L., Zhao, F., & Zeng, B. (2013, November 18). Sensitive voltammetric determination of vanillin with an AuPd nanoparticles−graphene composite modified electrode. Food Chemistry.
T;, N. S. J. H. W. S. (n.d.). Antioxidant activities of extracts from teas prepared from medicinal plants, Morus alba L., Camellia sinensis L., and Cudrania tricuspidata , and their volatile components. Journal of agricultural and food chemistry. https://pubmed.ncbi.nlm.nih.gov/22871255/.
2021. (PDF) Vanilla-Natural Vs Artificial: A Review.