Is it necessary to serve pancakes with other things? Yes, because eating something with pancakes is a common way to make our meal more appealing and, of course, delicious. Without toppings or sides, pancakes are just bland.
Pancakes are often the favorite foods of children and even adults like me. Pancakes can be served as breakfasts, desserts, or sometimes lunches. Eating pancakes often makes you get bored, but with various toppings and side dishes, you can eat pancakes every day.
Sometimes, to jazz up your meal, you can swap pancakes with waffles. However, even with the many aspects that set waffles and pancakes apart, without a proper side dish, you might find yourself growing tired of these two iconic breakfast dishes.
Sometimes, I eat pancakes because of their fabulousness of toppings simply because the flavors of toppings or sides make me appetizing and stimulate your taste when enjoying.
Now, I will recommend fabulous, delightful, and delicious side dishes for pancakes. You can choose the most suitable and appealing one to eat with your pancakes from that.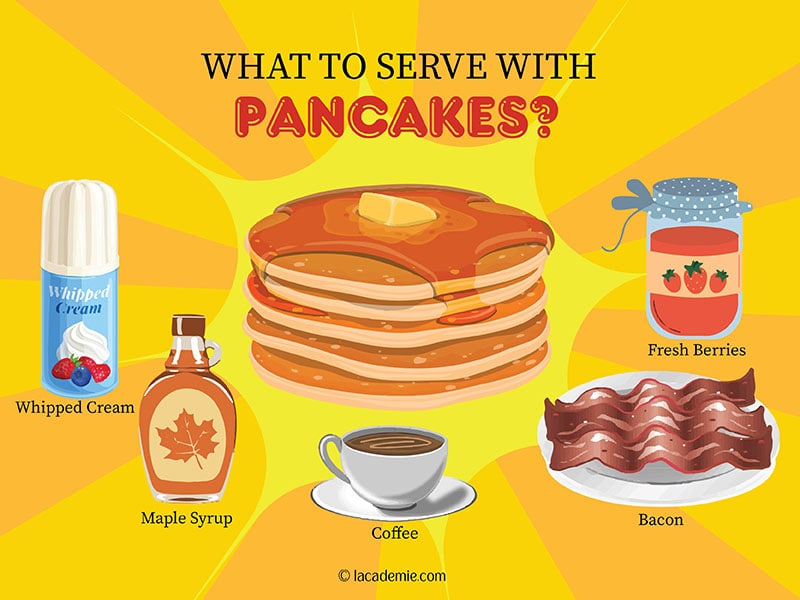 What Are The Most Delightful Side Dishes For Pancakes?
The list below will show you the top 21 most incredible things to side with pancakes. These will work best if your pancakes are still warm. So should yours have cooled down, you should opt for methods to make pancakes sizzling hot again for the best culinary experience.
Coffee
Banana Slices
Strawberry Syrup
Blueberry Syrup
Maple Syrup
Scrambled Eggs
Bacon
Sausage Links
Egg Muffin
Fresh Berries
Whipped Cream
Nuts
Chocolate Chips
Peanut Butter
Fried Chicken
Apple
Lemon And Sugar
Goat's Cheese And Rosemary
Vanilla Bubble Syrup
Smoked Salmon
Toffee Sauce
Let Take A Better Understanding Of Side Dishes For Pancakes
Now, scroll down for more details about the following side dishes for pancakes. The information below can help you with a better understanding of these 21 side things pairing with pancakes.
To me, the most favorite thing I eat with pancakes is coffee. And pairing pancakes with a hot cup of coffee will offer you an energizing breakfast. If you have never heard about this perfect combo, let's try!
The slight bitterness of coffee, together with the softness of pancakes, will make you feel melt-in-mouth and especially delightful.
Moreover, if you are into coffee, add it to the flour to create a coffee aroma for your pancakes. So, eating coffee pancakes together with a cup of coffee is a good idea to wake you up.
Banana slices are the ultimate pancake topping because the natural sweetness of this kind of tropical fruit can raise your pancake to a new level of deliciousness.
Top your pancake with banana slices, and some drops of coffee will be the desirable combo you need to try at least one time in your life. Besides, the light color of banana, the dark color of coffee, and the light color of pancakes create a meal with color harmony.
If you are a fan of strawberry, topping your pancakes with strawberry syrup is a perfect idea. The pancakes are easy to cover with some sweet syrups to make them more eye-catching and appealing.
The natural sourness and sweetness of strawberry syrup will add a twist to your heavenly pancakes, attracting children to bite them.
You can buy the strawberry syrup products at the stores, but obviously, they are not as good as homemade ones. Set aside your time and make strawberry syrup for better taste and health.
Add some fresh sliced strawberries to get freshness and juiciness and for your bites to maximize the flavors.
Together with strawberry syrup, one of the outstanding things to place on the top of pancakes is blueberry syrup. The syrup made with blueberries is wonderfully sweet with a hint of tartness, making it the most amazing balance of flavors to go with pancakes.
Covering your pancakes with blueberries creates these cakes' glamorous and elegant appearance and raises them to a new level of delight and tastiness. So if you're concerned with whether it's wise to freeze blueberries, make a blueberry syrup to extend their shelf-life instead.
Add some fresh blueberries on the top of pancakes; no one can refuse this combo. So breathtaking, right?
The video will guide you on how to make perfect blueberry pancakes.
If you don't have strawberry or blueberry syrups to the top over the pancakes, another choice is maple syrup that seems to be a simple option but hits the spot.
A generous amount of sweet and sticky syrup on the top of pancakes will make them delectable and mouth-watering. It can stay delicious even after years of opening, which might even make you wonder whether maple syrup can last forever. Isn't maple syrup such a fantastic sweetener?
Maple syrup is for lazy mornings; you don't want to do anything, so just use available maple syrup with pancakes for an easy but also flavorful breakfast.
Scrambled eggs and pancakes have always been my favorite food combo. A classic recipe featuring egg, scrambled eggs add savory notes to balance out the sweetness. And as scrambled eggs and pancakes both have a fluffy texture, they'll melt and blend together on your tongue.
Scramble eggs are simple to make, but they also make a great contribution to the deliciousness and nutritional values when joining with pancakes.
You can see this video to know more:
Bacon and pancakes are the stuff of legends if you love eating meat. Pancakes without special flavors will be added by full-flavored bacon, creating a balance in taste when you enjoy it.
Bacon is good at pairing with other food and making them become better; and pancakes are no exception. With the addition of bacon, you'll get a meal to die for!
There's one small thing you need to keep in mind if you decide to opt for bacon. As the time frame cooked bacon can sit out is not too long, you should finish the bacon as soon as you can. In the end, who wants to eat soggy and limp bacon, am I right?
Your children will love this combo so much where two of their favorite things join together to create a better taste, pancakes, and sausages. Sausages are a side dish with a meaty, savory, and smoky flavor that you can not find in plain sweet pancakes.
Thus, combining juicy and plump sausage with pancakes will create a perfect breakfast that contains a rich source of protein and starch. You can satisfy your taste, your hunger and prepare the energy for your new days.
One more choice for those who love eggs is egg muffin. I believe that the combination of pancakes and egg muffins will satisfy your taste and expectation about a perfect breakfast.
No one refuses to taste hearty, healthy, and delicious egg muffins stuffed with cheese, spinach, and bacon. The flavor of egg muffin helps to raise the flavor of sweet pancakes, making them the versatile combo for your meals.
The addition of tomato, mushroom, or cheeses helps you get a perfect side dish to pair with pancakes.
The video will show you some ways to make egg muffins:
If you have no time for strawberry or blueberry syrup, don't worry; just place them to the top of your pancakes to get a fabulous breakfast. The tartness and juiciness of fresh fruits melt in your mouth together with the light sweetness and softness of pancakes. That's so amazing!
Eating pancakes with fresh berries can't go wrong; however, the pancakes' taste depends on the freshness level of berries. So remember to choose fresh berries when you buy them.
Whipped cream's application is not only limited to making desserts with whipped cream as the star. It can also be used to top pancakes, and you'll often see this combo in almost any restaurant. Both canned and homemade whipped cream are ideal for your pancakes.
Fresh whipped cream is much cleaner, lighter, more delicious, and many times better than a cool one. Whipped cream can be a side dish for pancakes because the cream is super light, airy, and heavenly, which makes pancakes more delectable and irresistible.
Have you ever tried eating your fluffy and tender pancakes with something crunchy? If the answer is no, you should try enjoying crunchy nuts like cashews, almonds, hazelnuts, or pecans as a side of pancakes.
A bit of a crunch from nuts adds your flapjacks an exciting contrast, which sometimes makes you unstoppable to eat them.
To maximize the flavor, you had better roast the nuts for 1 or 2 minutes.
The combo of pancakes and chocolate chips is the most appealing to your children, and I think you cannot say no to this combo.
Crunchy chocolate chips on the top of warm pancakes will bring you a sense of delight and satisfaction when eating. Besides, like other toppings, chocolate chips are easy to make, or you can use store-bought products to save your time.
Spread peanut butter on your pancakes is an excellent idea for hurrying but decadent breakfasts. Peanut butter is creamy, rich, perfectly sweet, and a hint of salty; these essential flavors make peanut butter one of the most common kinds of butter to go with pancakes.
What if you don't have peanut butter at your house? Fortunately, there are many alternative ingredients for peanut butter that you can consider, ranging from nut butter to seed butter. However, I'd suggest opting for varieties made from nuts for best results.
Together with pancakes, this peanut butter will create one wonderful dish with a version of a peanut butter pancake sandwich.
Another glorious combo is from pancakes and fried chicken. It sounds strange, but the magic combination promisingly gets you one idea to make pancakes more appealing.
Fried chicken, pancakes, hollandaise, and syrup will be the best combination you have ever known. Full-flavored and crispy fried chicken increases the flavor of pancakes, and together they are a desirable and perfect combo to eat.
Besides strawberries, raspberries, and blueberries, you can top your pancakes with sliced apple, too. And you can call them apple cinnamon protein pancakes.
Want an even more nutritious breakfast? Serve the meal with some refreshing store-bought apple juice. This way, you won't have to wrestle with the juicer for hours on end. And I believe that's what breakfast is supposed to be: quick, simple, yet still delicious and healthy.
The juiciness, freshness, and crunchiness from apple and the sweetness and tanginess of pancakes, create an irresistible combination. Let's try them to feel how amazing they are!
Just keeping your filling light and basic can also be the best option for your pancakes. Your sweet and fluffy pancakes are packed with the light sourness and sweetness of lemon and dry sugar, which stimulates your taste so much.
You don't have to wonder what specific cultivar of lemon to go for, as the common variety you see every day at the supermarket is more than enough to do this recipe justice. While you can certainly get creative with this dish, lemon and sugar pancakes are specifically made to be simple.
Besides, you can find nothing easier than this kind of topping. Sprinkling sugar on the top of pancakes also gives them a wonderfully classic beauty.
Goats' cheese is strong in flavor and slightly salty, while rosemary compliments are good too. The combination will be good to serve with pancakes because the aroma and texture of goat's cheese and pancakes create a delectable combo.
I think that the combination will never let you down; just let your hair down!
Vanilla bubble syrup substitutes maple syrup to serve with pancakes because it is rich, creamy, and caramelizing.
The syrup is made with melted buttermilk, butter, sugar, and a little baking soda in just two main steps. Thus, if you just need to manage to have a little time to make the syrup, store it in the fridge and serve for the next five days.
Another thing to go with your pancakes is smoked salmon with a versatile dressing. This combo will make you satisfied, I promise!
What you do is spoon a little bit of sour cream on the top of pancakes, place a sliver of two smoked salmon, and then sprinkle scallion on them for better taste and appearance.
The video will let you know how to make smoked salmon with pancakes:
The last side dish I want to share with you is toffee sauce, which can make your pancakes more incredible. All the flavors from sticky toffee pudding in brown sugar pancakes must be a divine combination.
Cover the sauce from the top and let it spread out naturally; you will get a masterpiece of pancakes.
Expectation Vs. Reality
Besides the 21 side dishes listed in my article, there are some other dishes, toppings, or fillings that can serve with your pancakes to raise their delight and deliciousness to a new level.
Moreover, with the recommended recipes, you can use them as basic guidelines, but you can flavor the dishes as long as you want. If you have sweet teeth, add more sugar; if not, reduce the required sugar intake for better taste.
If you find my article helpful to read, please share the post with your relatives. They may need it someday. If you discover something exciting to go with pancakes, don't hesitate to share your experiences with me in the comment section.
Nutrition Facts
2 servings per container
---
Amount Per ServingCalories216
% Daily Value *
Total Fat 17.8g

28

%
Cholesterol 354mg

118

%
Sodium 139mg

6

%
Potassium 159mg

5

%
Total Carbohydrate 2.6g

1

%
Protein 12.6g

26

%
---
Calcium

81

%
Iron

2

%
Vitamin D

31

%
* The % Daily Value tells you how much a nutrient in a serving of food contributes to a daily diet. 2,000 calories a day is used for general nutrition advice.