How to reheat pancakes is an essential question for every home cook, as chilling or freezing them are the surest ways to preserve pancakes. However, if you don't warm them up properly, you can end up with many overcooked, burnt pancakes.
Not to mention, aside from waffles, pancakes are one of the most typical breakfast choices in every household. Although pancakes and waffles are different in many ways, these two dishes can both provide you with a hearty and delicious meal.
However, making pancakes every single day can be tiresome to busy people. That's why I suggest you make a huge batch of pancakes in your free time, put them in the freezer, and reheat them to serve in the mornings.
Don't worry, you have me and this article to help you overcome that task. Here you'll find four different reheating options for your pancakes. I also point out their advantages and disadvantages so that you can choose the most suitable one.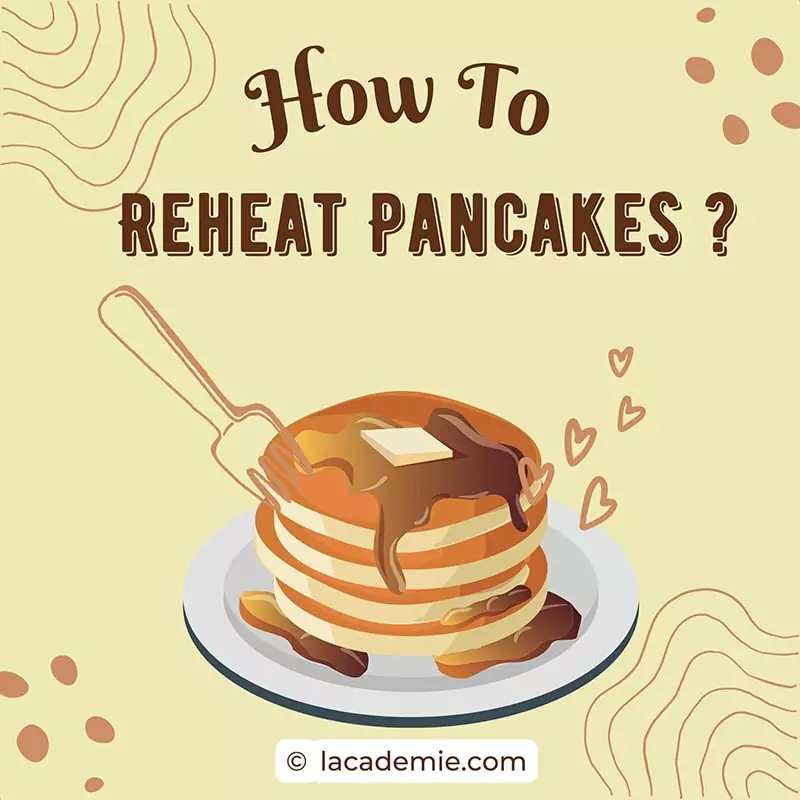 How To Reheat Pancakes?
The answer to how to reheat pancakes differs based on the number of pancakes you want to warm up. For those who don't have a high-quality specialized griddle for making pancakes, below are four simple methods with all familiar appliances that you can choose for yourself.
A Toaster: This way can reheat only 1-2 pancakes per time.
A Frying Pan: With a frying pan, you can heat up to 5-6 pancakes at once.
A Microwave: It's recommended to microwave pancakes separately.
An Oven: This method is suitable if you want to reheat a large batch of pancakes altogether.
An Air Fryer: This is a handy method that gives you crispy, warm pancakes in minutes.
Also, you will find extra tips so your reheated pancakes can be more than perfect at the end of each section.
So, let's scroll down for more!
5 Best Ways To Reheat Pancakes
While refrigerating or freezing is a beautiful way to preserve your pancakes, no one wants to eat such cold ones. So, knowing how to reheat these pancakes is as crucial as learning to make them perfectly. Below are four different methods to warm up your pancakes.
With A Toaster
When you need only several pancakes for yourself, a toaster is a pretty decent option because it can quickly reheat your pancakes, no matter whether they are refrigerated or frozen. Just follow these steps to get a batch full of crispy ones.
Step 1: Place Pancakes in The Toaster
You don't need to defrost your pancakes. Just place a pancake into each slot of the toaster.
Step 2: Set The Toaster Level
For a crispy edge, make sure you set the toaster at a high level. For frozen pancakes, you can set it at the highest temperature.
When you are used to this method, all your reheated pancakes will taste just like they're freshly baked, crispy on the outside, and fluffy inside. However, to earn that result, you may have to go through numerous trials and errors.
Another major fault of this option is a toaster can only handle two pancakes at the same time. So, if you want to reheat a large number of them in a short time, then a toaster isn't suitable.
With A Frying Pan
If you don't want to use your toaster on pancakes, reheating them with a frying pan is an appropriate method. After all, you made all these pancakes with a skillet too. So there's nothing wrong with using it to reheat the pancakes.
Step 1: Heat Your Pan
Make sure to set your skillet only on low heat because high temperatures can burn your pancakes before they are heated thoroughly.
Step 2: Coat The Pan Surface
You don't want all pancakes to stick to the pan and fall apart, right? To prevent that, lightly coat your skillet surface with melted butter or vegetable oil. Or you can combine both of them by brushing your pan with oil and pancakes with butter. That way, the flavor will become richer.
Step 3: Reheat Your Pancakes
Place your pancakes in the skillet. You can fry them separately or put a whole batch in at the same time. It all depends on your pan's size. Keep in mind that you need to flip them once every 30 seconds to prevent burning. Just keep flipping until all the pancakes are warm thoroughly.
By doing so, your pancakes will remain soft and fluffy with a crispy edge that everyone loves to eat.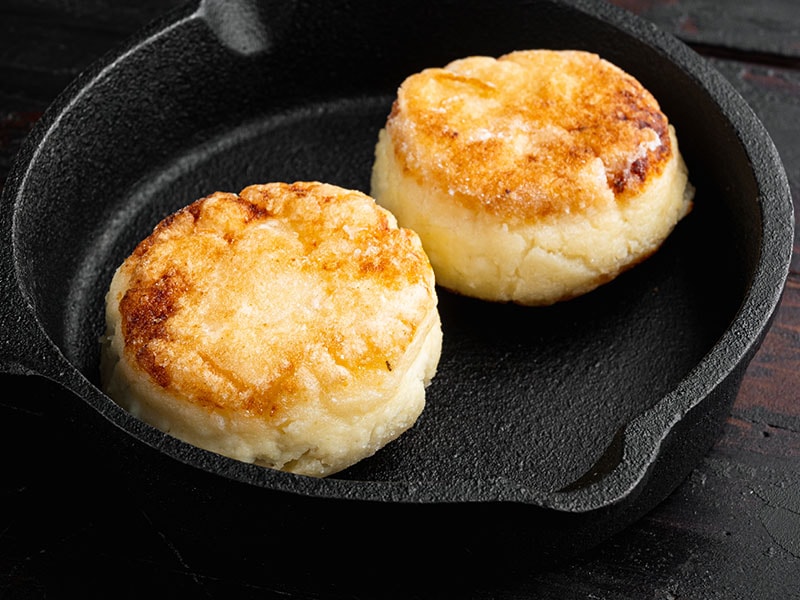 With A Microwave
Despite the many things that set pancakes and flapjacks apart, what's common between them is they're both a fantastic choice for busy mornings. And reheating them in the microwave is a great idea as well. Stick with the following procedure, and your foods will come out beautifully.
Step 1: Place Pancakes in The Microwave
Set your pancakes on a microwave-proof plate. If you intend to reheat more than one pancake at once, put each one of them between two layers of paper towel. And only place no more than four pancakes on your plate so they can be reheated evenly.
Step 2: Set The Temperature for The Microwave
To reheat pancakes perfectly, set your microwave on high for 15-20 seconds per pancake. So if you reheat a batch of six pancakes separately, it may take up to two minutes. Remember, this timing is not fixed but depends on your microwave power.
From my experience, plastic wrap doesn't help much, so you can leave it aside. Your first try with microwave may result in pancakes that are too tough or chewy. To fix that, you can reduce the reheating time on the next attempt.
With An Oven
When it comes to reheating a large batch of pancakes, nothing can beat the oven. Here is detailed guidance so that your pancakes will become fluffy again, whether they are homemade or store-bought.
Step 1: Preheat Your Oven
Set the oven at 350°F. Higher temperatures will cause your pancakes to dry. Set it lower, and you'll need more time to reheat pancakes.
Step 2: Place Your Pancakes
Put your pancakes on a nonstick, ungreased baking tray. Make sure to spread them out instead of stacking them on top of each other. And if possible, leave some spaces between them.
Step 3: Cover The Pancakes
Wrap the baking tightly with aluminum foil to retain the pancakes' moisture. Or else, they will become overdry.
Another way to protect your pancakes is using aluminum foil to wrap the whole frozen stack. With this method, you can skip step 2.
Step 4: Reheat The Pancakes
Leave your pancakes in the oven for up to 10 minutes for them to warm up thoroughly. Before taking them out, remember to check whether even the middle parts are warm. If they are still cold, reheat for another couple of minutes.
After that, your pancakes are entirely ready to serve along with the best pancake accompanying foods. You can lightly coat them with melted butter before reheating so that they can remain fluffy and moist.
Not serving the pancakes right away because something cropped up? Lucky for you, there are many things you can do to keep pancakes warm. Or if you consider yourself a big fan of pancakes, consider investing in a pancake warmer so that you can enjoy this food hot.
Check this video and see how they reheat pancakes with their oven.
With An Air Fryer
The air fryer is a multi-purpose device that has become extremely popular in the modern kitchen. If you have an air fryer at home, you can easily use it to reheat your pancakes.
Step 1: Preheat Your Airfryer
Turn your air fryer on and preheat it to 350 degrees F.
Step 2: Put The Pancakes in
Smear some butter on your pancakes and place them in the air fryer's basket. Avoid stacking the pancakes and overcrowding the basket.
Step 3: Reheat the Pancakes
Air fryer the pancakes for 2 to 3 minutes and serve hot.
Extra Tips:
These guidelines alone are enough to ensure your pancakes are reheated perfectly. However, I still have some tricks left so that the result can be more than perfect.
Don't defrost your pancakes: Just take your frozen pancakes out and reheat them right away. If you follow these steps correctly, your pancakes will taste just like new ones.
Don't microwave too many pancakes at once: As you've read, it only takes a few seconds to microwave your pancakes. So don't rush by placing the whole batch inside. You can just reheat them one by one, so every pancake is heated thoroughly.
Sprinkle them with cinnamon sugar beforehand: After brushing pancakes with melted butter, you can lightly coat them with cinnamon sugar and put them under a low broiler for about one minute to retain their moisture.
Eat your reheated pancakes on the spot: No matter how divine their flavor is after reheating, these pancakes are still frozen for a long time. So the longer you leave them outside, the chewier and tougher they'll become.
How To Freeze My Pancakes For Future Use?
With all these reheating methods above, you don't have to worry whether frozen pancakes taste any less delicious. But it doesn't harm to know how to freeze your pancakes properly since it would make warming them up much easier.
And don't worry, the process is straightforward.
Step 1: Cool Down Your Pancakes
You don't need to rush, just let your pancakes sit at room temperature for a while so that they can cool down completely. You can place them on a cooling rack. Remember to flip them over after a few minutes so that both sides can get cooler evenly.
If you freeze these pancakes right when they are still hot, vapor can condensate in the package and make them stick together.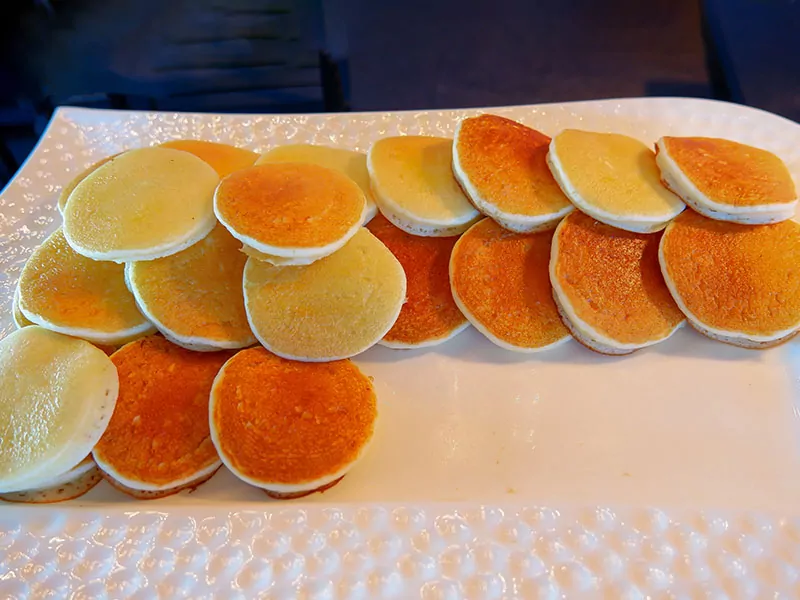 Step 2: Line Up Your Pancakes
After they all cool down, spread your pancakes on a baking sheet. Make sure they don't touch each other. And before that, cover your baking sheet with parchment paper or wax paper. A suitable alternative for wax paper is necessary if you don't have one at home.
If your baking sheet doesn't fit into your freezer, you can stack all the pancakes into several piles. Don't forget to use parchment paper to separate them. Why do you need these papers? It's because they can prevent your pancakes from sticking to the baking sheet or clumping together. (1)
Step 3: Put Them in The Freezer
Set the baking sheet or the pancake piles in the freezer for one to two hours. Or you can pull them out whenever you feel they've frozen enough.
Step 4: Put The Pancakes into Various Packages
Store already frozen pancakes in airtight packages. If you freeze them with a baking sheet, remember to place parchment paper between each pancake in advance. For the package, you can use airtight containers or freezer bags.
However, I recommend multiple layers of insulation. For example, wrap pancakes with aluminum foil before placing them in the packages. That would protect your pancakes from freezer burn.
These frozen ones can last for a couple of months, but you'd better eat them within the first two weeks for the best flavor. You can write the freezing date and pancake type on the package so that you can eat them in time.
This video will show you a visual description on how to freeze pancakes.
FAQs
There are as many questions about pancakes and how to reheat them as the number of people loving them. And in this part, I will solve some of the most common issues many have with their pancakes. Keep on reading, maybe you will get yours solved right here.
What Method Do You Prefer?
None of those methods above is 100% perfect, so you should consider your conditions before choosing one. For example, microwave is suitable for busy days where you just want a convenient breakfast, whereas you can use a skillet or toaster if you wish these pancakes to be crispy.
At the same time, oven will make them fluffy and buttery. You can also consider this solution when you need to reheat a large batch at once.
Lastly, thank you for accompanying me till the end. If you find this article helpful, don't forget to share it with your family and friends. And don't hesitate to write down your thoughts, whether it's another way to reheat pancakes or your experience, in the comment section.
Nutrition Facts
1 servings per container
---
Amount Per ServingCalories350
% Daily Value *
Total Fat 14.9g

23

%
Cholesterol 91mg

31

%
Sodium 676mg

29

%
Potassium 203mg

6

%
Total Carbohydrate 43.6g

15

%
Protein 9.9g

20

%
---
* The % Daily Value tells you how much a nutrient in a serving of food contributes to a daily diet. 2,000 calories a day is used for general nutrition advice.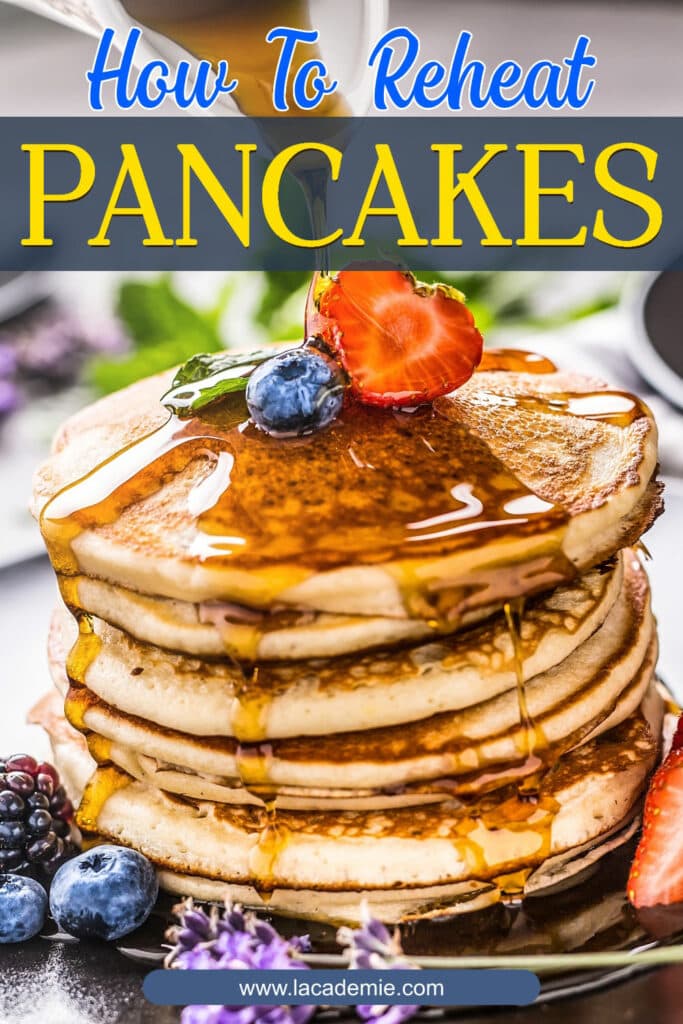 References
En.wikipedia.org. 2021. Parchment paper – Wikipedia.
En.wikipedia.org. 2021. Potato pancake – Wikipedia.