This weekend party's theme is "Italian pies and cakes", and it's already Friday, and you still have no idea in your head. Besides, you don't feel like making a mediocre apple pie because it isn't Italian enough. You need more!
Alright, just calm down first! Because here is my exclusive collection of 17 different types of Italian pastries that you can easily make in no time. You'll gather enough information about each type, and then you can come to the final decision.
Sounds good? Therefore, let's not wait for any further ado and start to chow down on the first pastry on the list.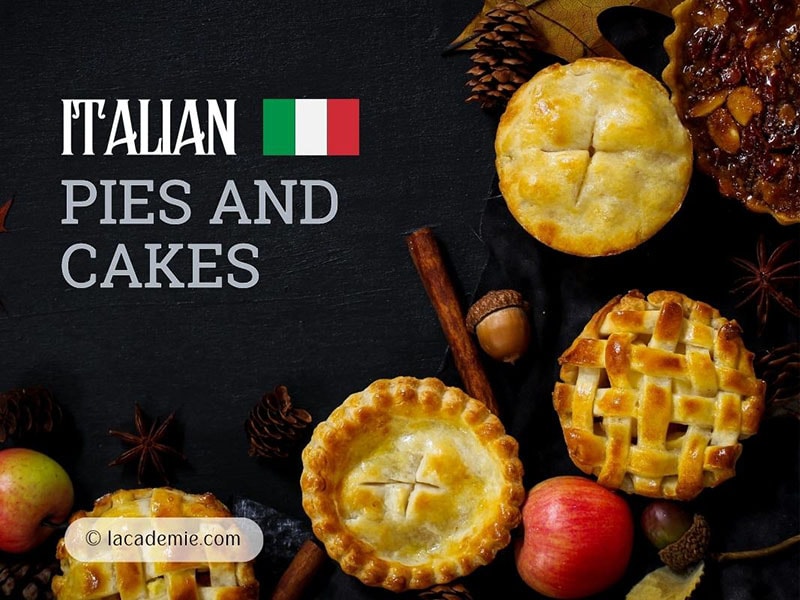 Let's Become A Pastry Master With These 17 Italian Pies And Cakes
How can I describe the mysterious attraction of Italian pies and cakes? They are sugary sweet like candies and definitely don't give you the dry mouth aftertaste like crackers and cookies. They are something in between, and you can't help but have more of them.
Therefore, are you ready to gain more knowledge about these 17 Italian recipes of pies and cakes and attempt to try all of them out?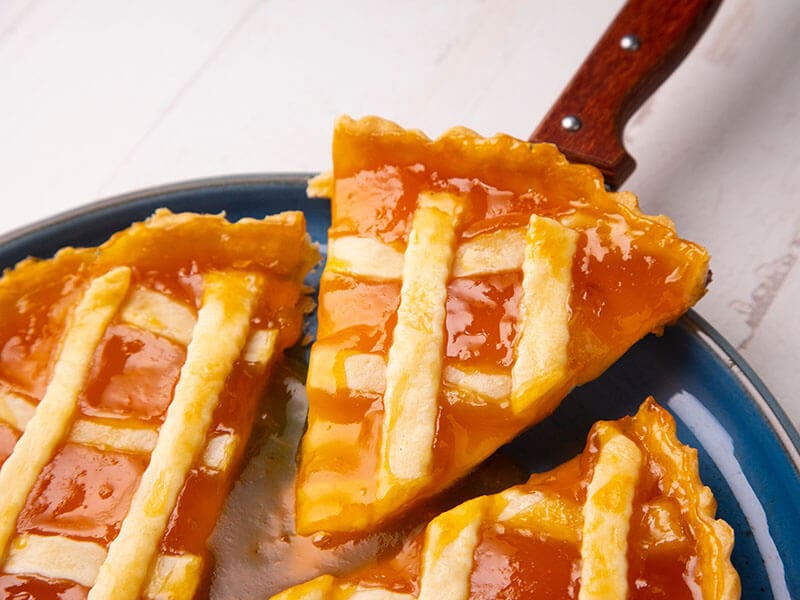 Crostata is how people describe a pie with an open fruit tart with decorating lattice on top. In Naples (capital of the Campania region), the locals call it Coppi, while in the Lombardy region, people call it Sfogliata.
The fruits inside of Crostata can be any kind that you can think of. There is no set recipe for this Italian pastry.
Besides sweet stuffings, seafood and meat are also options for Crostata. And another great savory formula is turnip Crostata which includes beef marrow and a variety of dairy products. With these salty pies, it is a norm to dress them with Butirata, which is Italian cream cheese.
The pie is the proud dessert of the Italians. The tradition of having Crostata regularly at the end of their meal has probably existed since the 15th century.
According to classic Italian culinary books, a standard Crostata consists of three main parts: the bottom crust, the filling, and the top crust. The Crostata dough (pasta frolla) delivers a mildly sweet taste. And the filling is always juicy due to its open-top dough, compared with other regular pies.
The Crostata recipe in this section has a fresh peach filling. This summer fragrant fruit turns ripe extremely fast, and sometimes you have to throw them away. What a waste! Therefore, you should try this recipe and turn them into appetizing pies instead.
Peach Crostata has a sweet aroma and an extremely flaky crust. I'm sure it will be a challenging time for you to resist your temptation to take a bite. But good things take time, and you need to let your peach Crostata rest for some time before diving into it.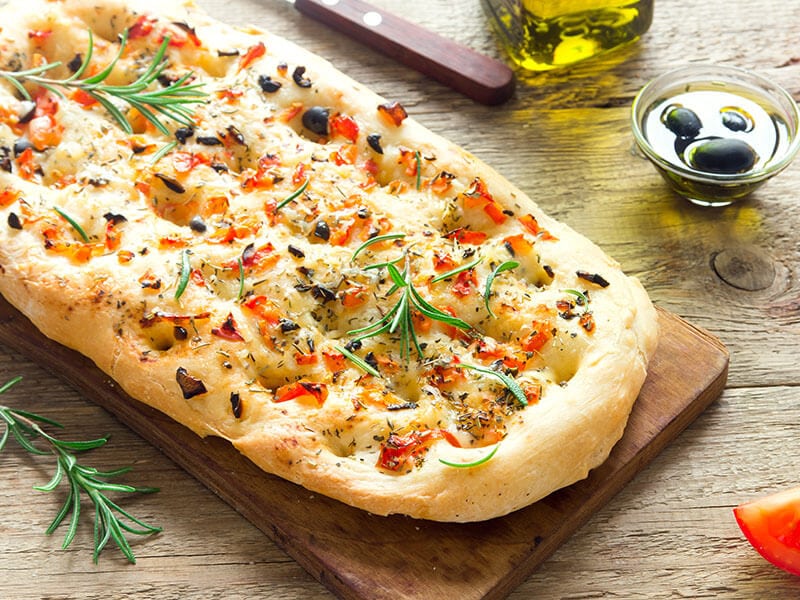 This special Italian pastry is what you absolutely want to have for lunch. Focaccia is an ancient dish of the Italians, and it is popular for its golden tops and bottom crust while having a soft crumb. Its texture is similar to pizza, so people occasionally call it "Pizza Bianca" (white pizza).
The original form of Focaccia is Panis Focacius, which was a staple food of the ancient Roman period (753 B.C. – A.D. 476). There are many versions of Focaccia in Italy. Some are sweet, others are savory, but its iconic flat shape is unchanged.
It is actually very easy to make a good Focaccia at home. The ingredients are pretty simple household condiments and spices, water, flour, and yeast. For toppings, the basic requirements are rosemary, oregano, and minced garlic.
And one more big thing about Focaccia: before tossing it in the oven, you must gently poke the dough with your finger. This is the secret to getting airy Focaccia crumbs.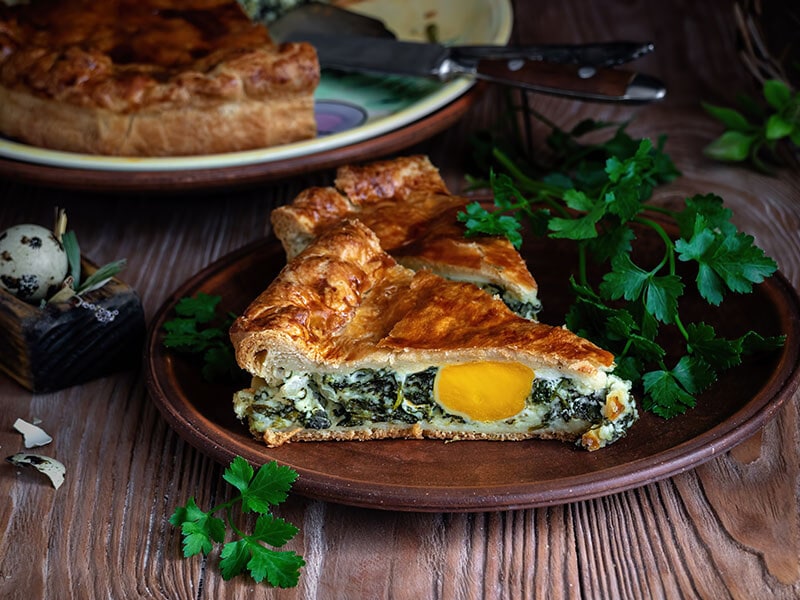 To Western countries, it is pretty clear to see that Easter is one of their most important occasions. Pasqua (Italian Easter) symbolizes fertility and reincarnation, and during this time, people make a specific pie named Torta Pasqualina to celebrate the day.
It first appeared in Genoa back in the 16th century. The pie is remarkable with its puff pastry and filling composed of spring vegetables, like artichoke, spinach, and parsley. Another highlight when you cut the pie open is the vivid yellow egg in the middle of the pie.
To make Torta Pasqualina, you need to make the dough from salt, flour, oil, and warm water, while the filling is created by blending the vegetables, cheese, eggs, and oil. This combination of savory crust and mildly sweet cream is a feature of classic deliciousness from Italy.
And to get the red egg yolks in the middle, you need to crack more eggs on the pie, lay another pastry on top, and bake the pie for another 30 minutes. The taste is buttery and quite savory. Torta Pasqualina is extremely healthy with all of the vegetables inside.
Maybe a visual instruction on how to make Torta Pasqualina can help you bake this pie better.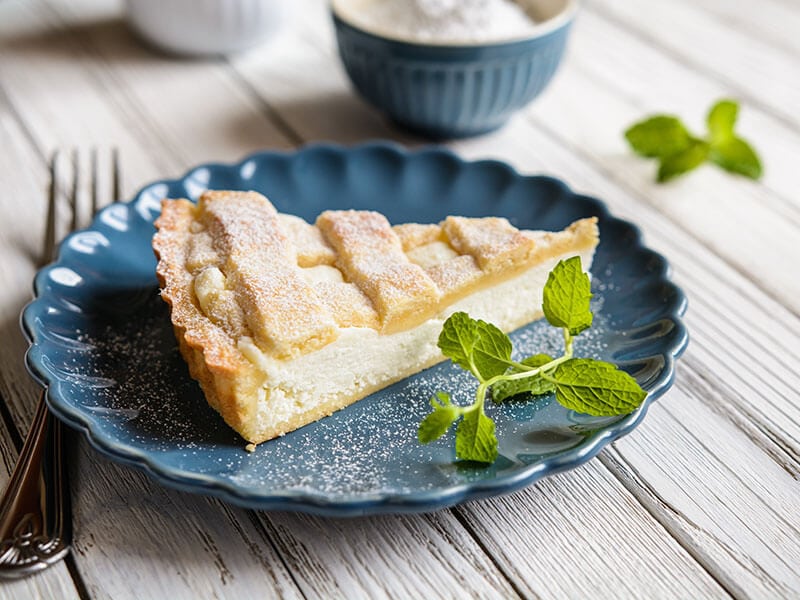 Ricotta cheese is one of the best fresh cheeses in the world. This Italian signature cheese has a mildly sweet taste which you can enjoy in both sweet and savory foods. Therefore, the Italians add it to their dessert with dough and make a great pastry out of it.
Ricotta pie is a custard cheese pie whose filling is a mixture of blending Ricotta cheese (made of any kind of milk), eggs, sugar, and vanilla extract. The crust needs to be crunchy, firm, and tasty since it enhances a whole layer of creamy filling on top.
The taste is phenomenal, with a pleasant taste of the Ricotta filling and its flaky crust. In some modernized recipes, people also add lemon zest and almond extract to give this Italian delicacy more flavors and textures.
Even though this dessert is a year-round treat, people usually make Ricotta pie on special occasions. Therefore, if you want to find an Italian sweet treat for Christmas or Easter, this is definitely the one for you.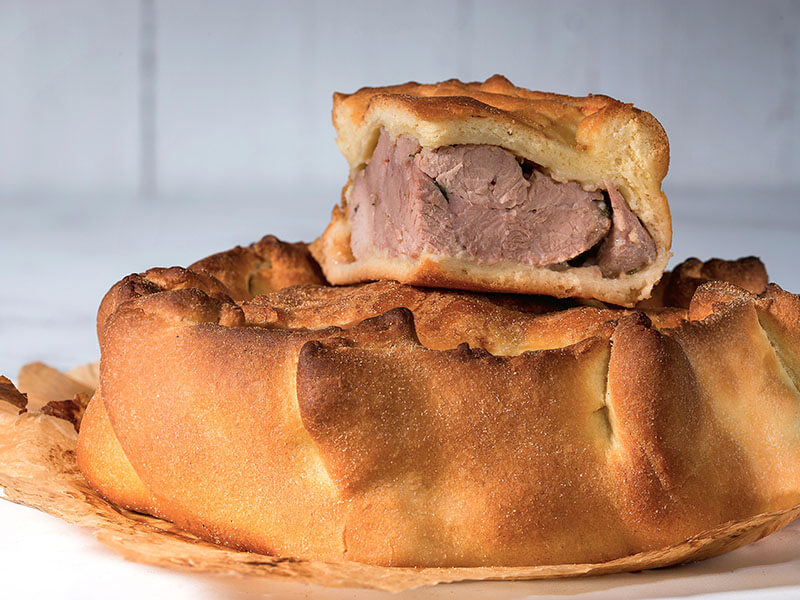 This pie is a Sicilian specialty with an unset form and versatile filling. Some people shape it like a half-circle like its Spanish cousin – Empanadas. Some prefer a round pie-filled pie and call it a day. No matter what kind of look it takes, the fill regularly is meat or fish and veggies.
The two famous names for this cake are Impanata and 'Mpanate. They're pronounced similarly but their origins are distinguished. Impanata is an Italian name, while M'panate is in the Sicilian language.
Impanata is a simple traditional pie with basic ingredients. You only need to prepare silverbeet, onion, garlic, anchovies, and Mozzarella for the filling. This mix is supposed to be salty and peppery, so you need salt and pepper to adjust the taste a bit.
The dough is like that of the other pies. You make it from flour, olive oil, water, yeast, and spices. And you let the dough rest at room temperature for about 2 hours. This is a nice double-crust pie. And trust me! You will not regret making this pie at all.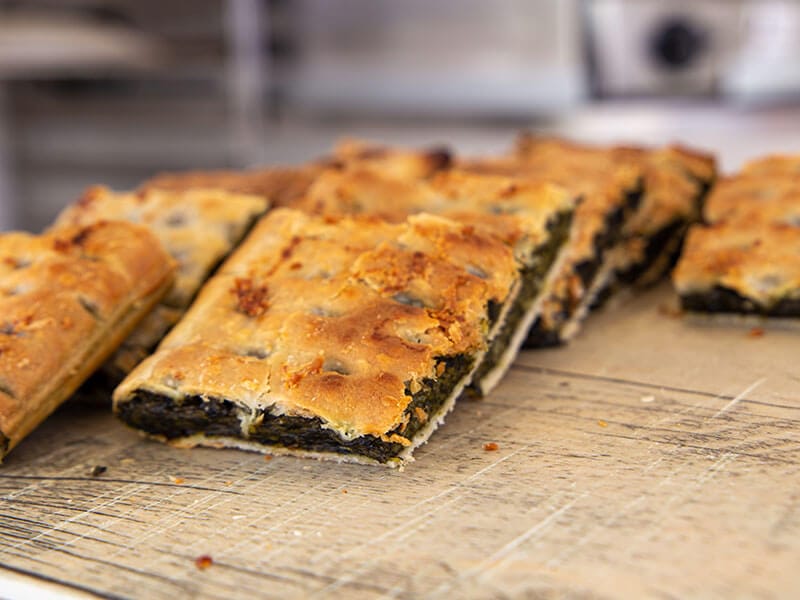 You probably know that eating vegetables is extremely good for your health. They give you protein, all kinds of vitamins, carbs, and a generous amount of fiber. And the Italians wanted to enhance their meal nutrition, so they came up with this Erbazzone.
Having several pieces of Erbazzone for your meal is what you need for the whole day. A standard pie is nourishing with all of the contributions of meat, steamed vegetables, and Parmesan.
In the past, people used chard stems for the green part, but since it's not as appetizing, they replaced it with spinach. However, in this recipe, you will learn how to make Erbazzone with its traditional Italian filling.
To make Embazzone, you need to prepare the stuffing from chard, cheese, animal fat (lard), and other spices. The chard needs to be stir-fried in lard with other ingredients for more flavors. The dough is made of simple ingredients with just flour, water, lard, or olive oil.
Another version of Erbazzone is Erbazzone Reggiano from Reggio Emilia province, which is a combination of only cheese and spinach. This pie is comfort food with fresh veggies, crunchy dough, and creamy cheese.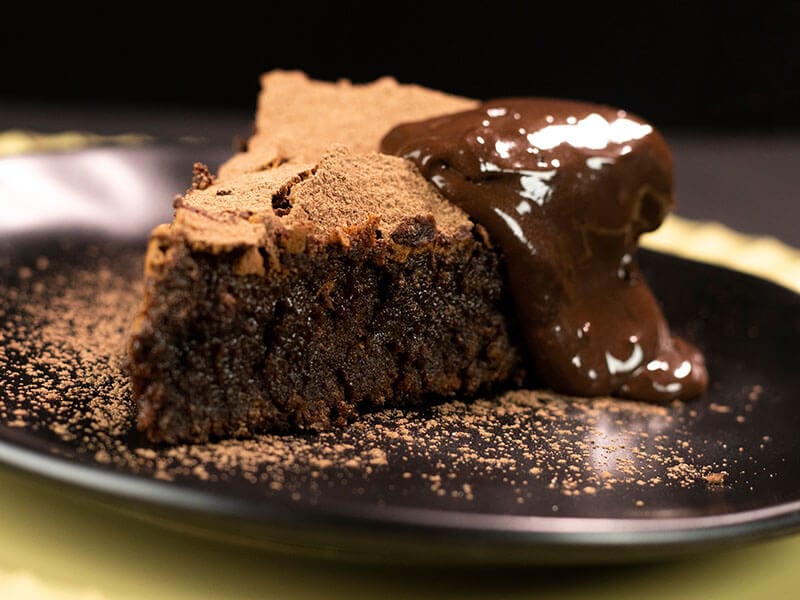 Do you know eating chocolate can help boost your mood? If you don't, you should try this theory by eating Torta Caprese – the Italian chocolate cake from the Capri region. If you do know, you should make and eat Torta Caprese too since you know it's good for you.
Customarily making a Torta Caprese requires you to double-boil (bain-marie) your chocolate with minced almond. But nowadays, people prefer using cocoa powder or grated chocolate instead. This way is so much faster than the old-fashioned way.
This is a perfect dessert or a snack with fluffy cake, tender sweetness, and an intense cocoa aroma. This amazing Italian recipe for flourless baking is an unskippable one if you are a fan of these sweet pastries.
If you dare to say that you're a chocolate lover, Torta Caprese is what you can't miss out on.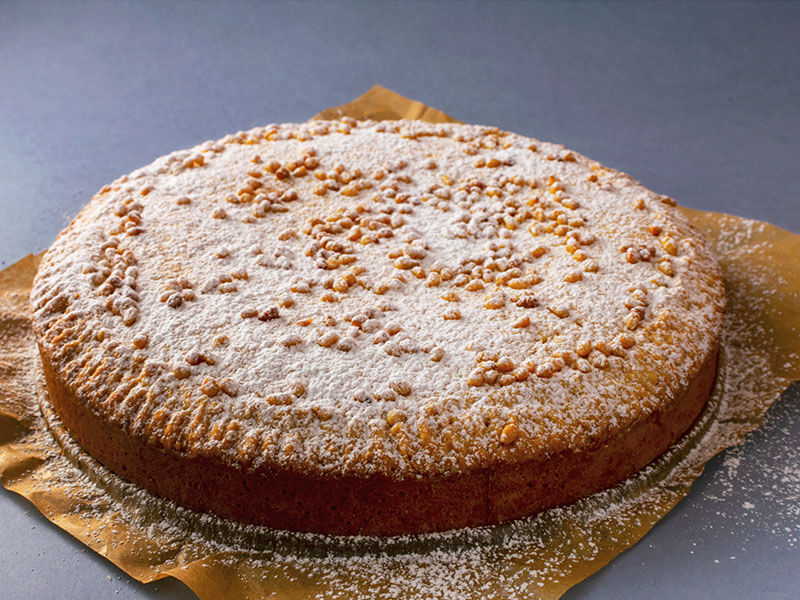 Talking about the Tuscany region of Italy, you can't help but notice some local culinary items that go worldwide like Chianti wine or Zuppa Toscana (Tuscan Soup). And today, allow me to add one more dish to your list of must-try delights: Torta Della Nonna.
To be honest, the origin of Torta Della Nonna is not finally confirmed. Tuscan and Ligurian are still quarreling over this recipe's hometown. However, most people still believe that the Tuscany region is the winner.
Unfortunately, that is not the saddest fact about this sweet pie. The worst one is how Torta Della Nonna doesn't have any myth related to Italian grandmas.
Its name just comes from the marketing initiative of some Italian restaurants. But no matter what its origin is, this is a fantastic recipe for summer pies.
This pie belongs to the short-crust category, and it's famously known for the crunchy pasta frolla and the flavorful Crema Pasticcera (Italian pastry cream). The cream is distinctive for its citrus from lemon zest and the vanilla fragrance.
It is simple to make this masterpiece of the Tuscan dwellers. The dough is a basic pasta frolla that can be made from flour, baking powder, sugar, butter, and eggs. The filling is also uncomplicated, with vanilla as its main flavoring.
The dish should be served cold, or at least you need to let the cream cool down. Every bite is like overwhelming your taste with summer flavor in the Tuscany region.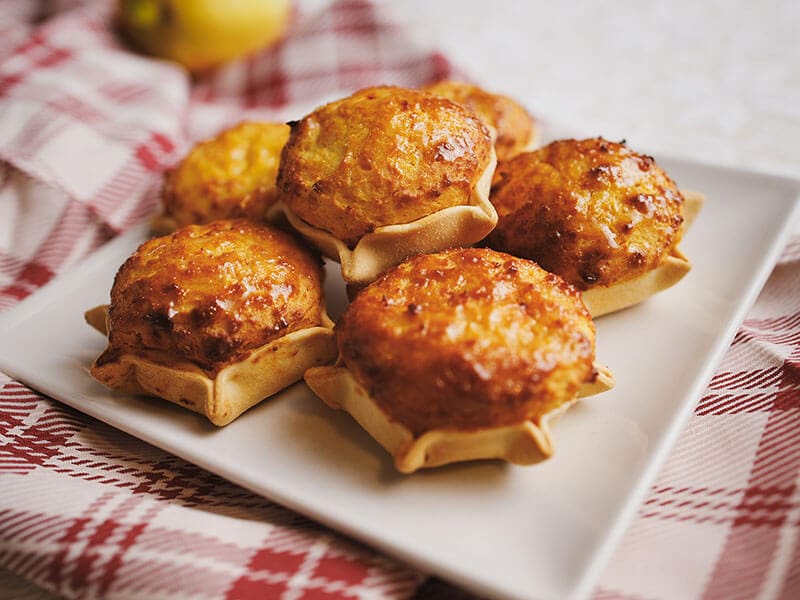 The two big highlights of Pardulas are Ricotta cheese and Sardinian saffron. If you are into Italian cooking, you definitely love saffron and probably understand that Sardinian saffron is a high-quality product of the Italians.
Pardulas are occasionally made during Easter, and to the Sardinian, they are an irreplaceable sweet. These cakes are like small and cute pouches of sweet cheese fillings with citrus aroma. In a way, they are like the French Profiteroles but with tougher dough.
The dough is typical since it's composed of flour, lard, water, and one special Italian ingredient named semolina. In a way, semolina is important in Italian cuisine as locals often use it to make pasta, sweet pudding, or in this case, pie dough.
European countries are well-known for their elegance and delicacy with types of wine. Therefore, don't be surprised when you find there's a whole pie infused with wine in its flavor. The one I'm talking about right now is Torta Diplomatica.
The traditional Torta Diplomatica has a puff pastry and rum flavor. The name is interesting with several conspiracies surrounding its origin. Some people say that the "Dimplomatica" came from one of the professions of the aristocracy back in the 15th century.
Another famous theory is about a sweet Italian cream called Crema Diplomatica (Diplomat Cream) or Italian Chantilly cream. Apparently, the pie derives its name from this cream layer. The cream is made of milk, egg, vanilla extract, and other condiments.
Since many people can't consume alcohol, I find it's better to make a Torta Diplomatica without these spicy juice interventions. The cake is fluffy, sweet, and definitely the one for you after a heavy meal.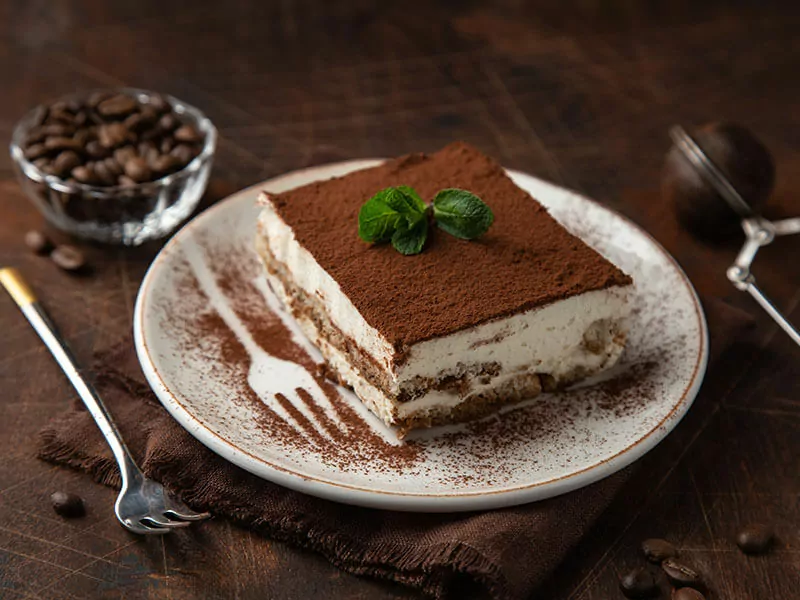 I was surprised at first to find out that Tiramisu is not a Japanese creation, but a European one. Tiramisu is a favorite global dessert that Italians invented. In their language, "tiramisu" means "cheer me up".
Apparently, compared with other desserts of the Italian, Tiramisu's longevity isn't as long as the rest. The original Tiramisu was first made in the Tuscan region in the 17th century. And till the 19th century, this fantastic cake started to receive more attention and fame.
When you think about the intrinsic nature of Tiramisu, it starts to make sense why this is an Italy-originated cake. The two main reasons are its Espresso flavor penetrated deeply in the Ladyfingers (a soft Italian cookie) and the mildly sweet Mascarpone cheese cream.
To make Tiramisu, you need to layer all the ingredients and stick them with Mascarpone cheese cream. The first layer is the Ladyfingers cookies to shape the cake in your container. The next one should be Mascarpone cream and then another cookie layer.
In some other recipes, people also add layers of sponge cake in between. This helps form the cake more beautifully but does not alter the overall flavor.
It is true that you can buy Ladyfingers at the store, but Tiramisu can be so much better with your homemade cookies.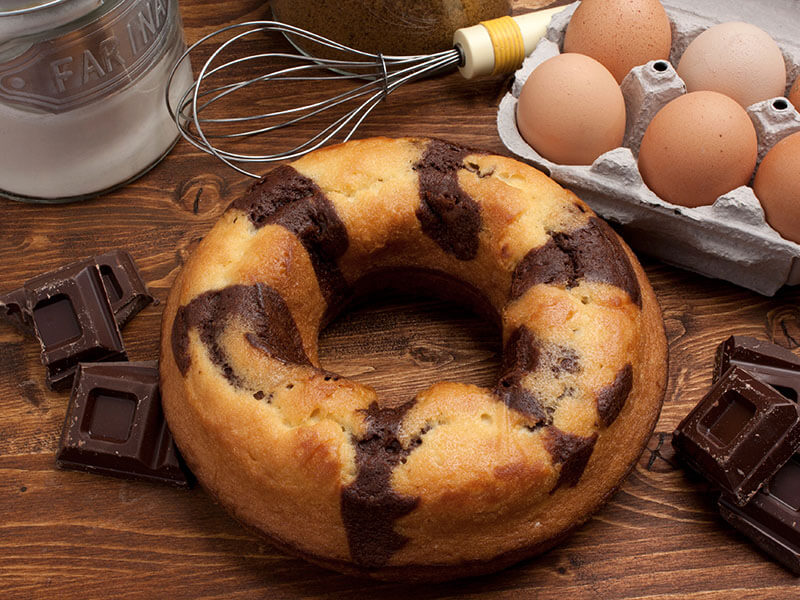 What's the biggest donut that you've ever seen? I mean an edible donut that people can come to the bakery to buy and take the donut home for their family's dessert. In Italy, people have a traditional food like that, and it's called Ciambellone.
This interesting cake variant is considered the symbol of the Marche region. But it is also famous in many places in Italy, and each region has its own variety of Ciambellone. With that bizarre size, this Italian cake is only made during special occasions like family unions or weddings.
To make Ciambellone, you need a special pan called a bundt pan or tube pan. However, you don't have to buy another piece of kitchenware just to make this specific Italian cake. You can just put a cup or a ramekin in the middle of your pan, and it still works the same.
A standard chocolate Ciambellone only takes you about two hours to make. This spongy and sweet dessert is what you need to impress your friends at a gathering meal or when you want to contribute a dessert to the neighborhood party.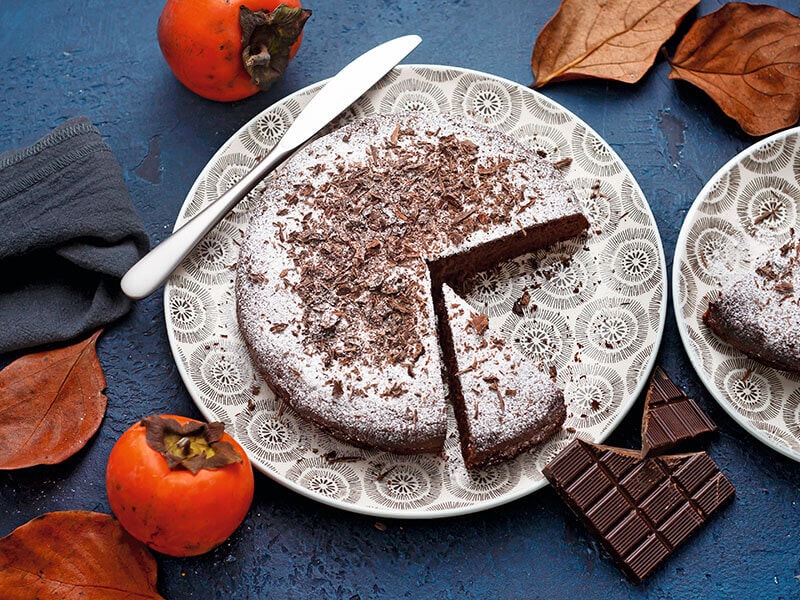 You probably have heard of Brownie, and if you are a fan of this Chicago dessert, then you have to try out Torta Tenerina. In Italian, the "tenerina" implies the moist and tender inner part. That's how this proud child of Ferrara city lives up to its name.
With fluffy crumbs, crunchy crust, and cocoa fragrance, it is very hard to resist a second bite of this cake, and it's actually fairly simple to make the dish as well. Ingredients that you need to prepare are chocolate, butter, milk, flour, and some sugar.
After about 25 minutes of baking, your Torta Tenerina should be ready. If you want to check the softness of your cake, you can use a toothpick. The moist inner and crispy crust are what a perfect Torta Tenerina should have.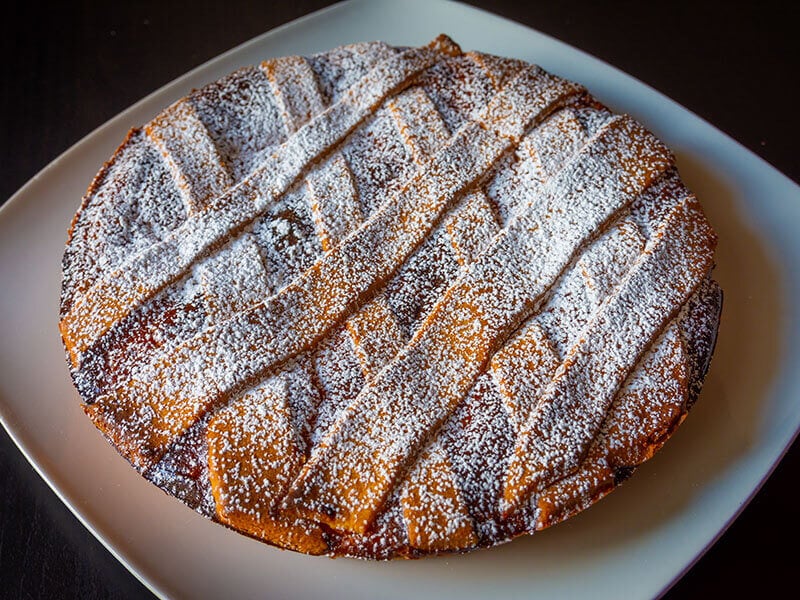 Naples is the third biggest city in Italy, and its Napolitan cuisine is internationally famous. Therefore, the Napolitan have their own Easter pie to celebrate this occasion. Pastiera Napoletana is what I am talking about.
This pie is about citrus, Ricotta, and wheat berries. Ricotta is not unfamiliar with you by now, but what exactly are wheat berries? They are the whole kernels of the wheat without removing the husk. Wheat berries give you a good amount of proteins, iron, and fiber.
Just like other Italian pies, Pastiera Napoletana demands you to prepare its dough and its fillings. The dough is regular pasta frolla, while the filling is more complicated with three main components: cooked wheat berries, pastry cream, and other ingredients.
The outcome should be aromatic with a crunchy crust and a beautiful yellow filling. For more flavors, people often dust the pie with powdered sugar. People also use honey to give the pie crust more colors, but this is optional.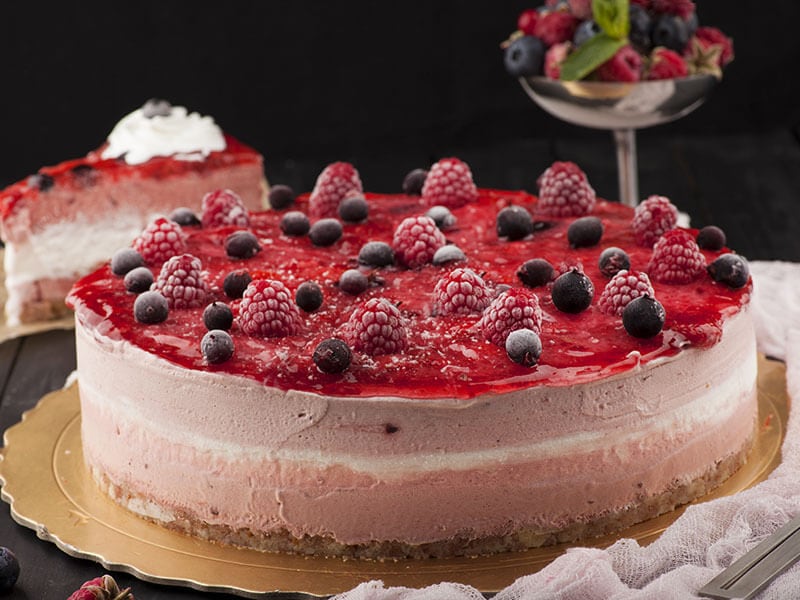 Let's go for a cooler dessert theme with this Semifreddo. Basically, Semifreddo is a type of Italian ice cream. Therefore, to add more pastry to this ice cream, people spread the ice cream on a layer of cake.
In Italian, "semifreddo" means "half-frozen". It was first invented back in the 19th century, but this delicacy has been only noticed since the 20th century.
To make this flavorful cold food, you need egg yolk, sugar, and other flavoring additives. In this recipe, they are lemon zest, lemon juice, and wine.
When your Semifreddo is ready, you can start to layer the ice cream on top of the cake layer in the loaf pan. You apply the same method of rinse-and-repeat as the Tiramisu recipe. After the pan is full, your cake needs to rest for at least 5 hours before serving.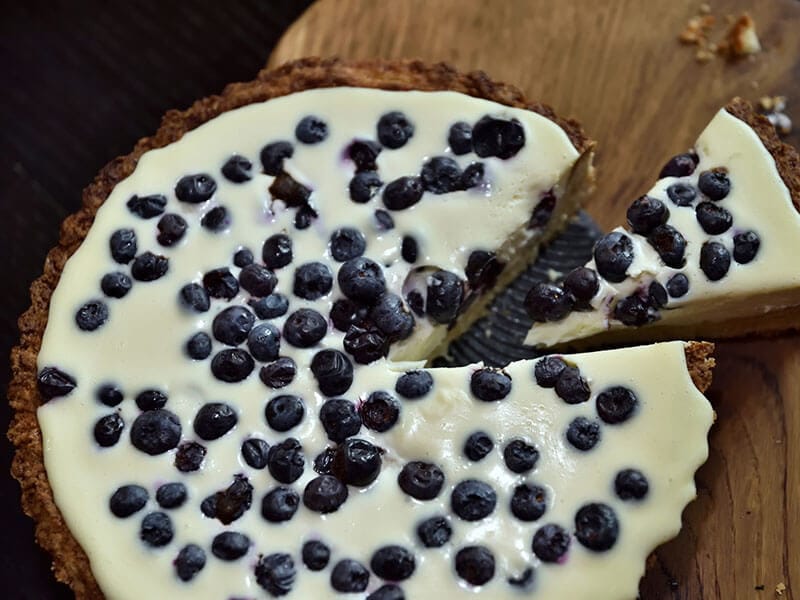 Let's be honest about the fact that all of us always take a mouthful of whipped cream whenever we make anything with it. Well, and if you enjoy the taste of Mascarpone cream while making Tiramisu, then this pie is the apple of your eye.
Mascarpone pie is an Italian cream pie that you can't ignore due to how easy and tasty the recipe is. And like all other pies, there are two main elements that you need to prepare: the crust and the filling.
The dough doesn't ask you to work on it too much. With a cream pie like this, a crumb crust is what you need. The filling is the main character of the dish. Besides Mascarpone cream, people garnish the pie with fruits, jam, or both, depending on your desire.
This Mascarpone pie with raspberries is what you want if you are hesitant to turn on your oven.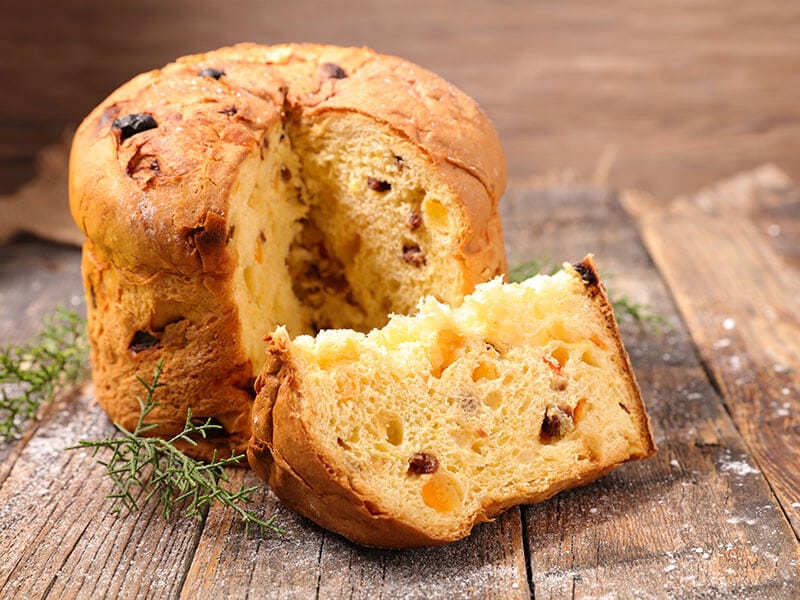 The last dish is also another riveting recipe that you can make for your nutritious Italian breakfast. Having a piece of Panettone with milk in the morning before schooling is what Italian kids have all the time, and it's your turn to give it a try.
The main flavor of Panettone comes from the raisins component. In some other recipes, people add honey to flavor this recipe instead of using raisins like in the classic recipe from medieval times.
Your Panettone is super flavorful in this recipe with an interesting combination of citrus, vanilla, and raisins. That mixture of many kinds of sweetness that explodes in your mouth might be something to wake you up in the morning.
Besides being a favorite breakfast from Milan, Panettone is also a traditional food for festive occasions. With meals on Christmas night or New Year's Eve, you can't skip making this amazing Italian bread or replace it with something else.
No More Hesitation! It's Baking Time!
I hope that this post gives you all the information you want. As a pastry fan, I'm sure these 17 types of pies and cakes from Italy can satisfy your hunger in a way.
You have learned how to make both cold and hot pies in the Italian theme after this post. And if you want to add more veggies to your diet, Erbazzone is the best option for you.
I really expect to see your comment sharing about your baking experience after this post. Also, if you think this post is useful, why don't you share it with your fellows? You might want to make one of these pies or cakes for your upcoming weekend gathering.
And that is the end of this fun trip. Hopefully, I can see you come back for another journey. Until next time, goodbye!
Nutrition Facts
12 servings per container
---
Amount Per ServingCalories479
% Daily Value *
Total Fat 6.7g

10

%
Cholesterol 146mg

49

%
Sodium 80mg

4

%
Potassium 30mg

1

%
Total Carbohydrate 91.2g

31

%

Dietary Fiber 3.3g

12

%
Sugars 51.5g

Protein 9.9g

18

%
---
Calcium

10

%
Iron

1

%
Vitamin D

5

%
* The % Daily Value tells you how much a nutrient in a serving of food contributes to a daily diet. 2,000 calories a day is used for general nutrition advice.