For many Spaniards, their Spanish breakfast recipes might not look as impressive as morning meals from other Mediterranean countries. And that is true: Breakfast is usually the smallest out of the five main meals per day in Spain.
However, that doesn't mean that Spain lacks tasty dishes for their morning. On the contrary, a simple Spanish breakfast packs a lot of flavors despite its simple-looking exterior. From pastries to omelets and coffee, there's anything for everything.
That is the reason why I want to introduce you to the wonderful side of El Desayuno (Spanish breakfast). And hopefully, these tasty and easy breakfast recipes will help you break away from that monotonous menu you're too familiar with.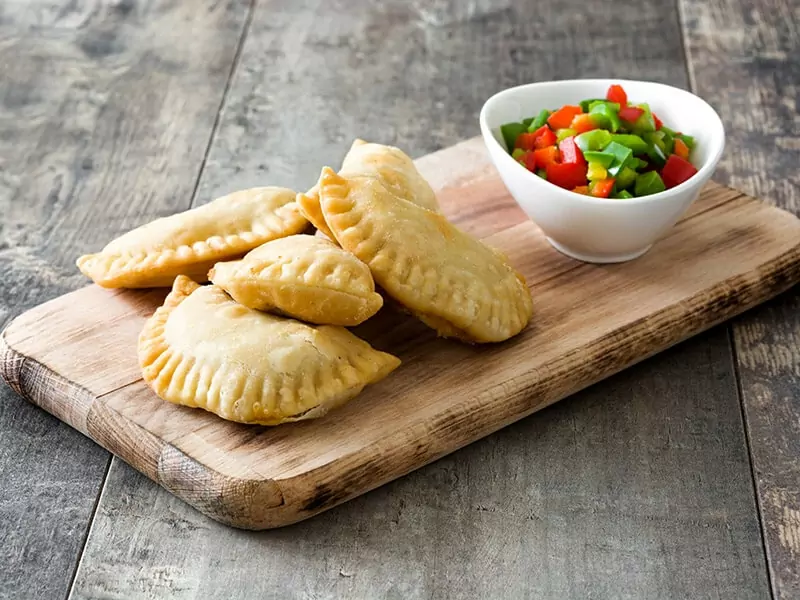 This list contains some of the best Spanish breakfast recipes in existence. They will not take long to make, but their tastes will stay in your mind for as long as possible. Without any further delay, let's get into the first dish.
Total time: 35 minutes
Pan Con Tomate comes from the regions of Catalonia, Aragon, and Valencia. This delicacy is one of the most versatile Spanish appetizers. Different Spanish regions will have their own version of this Tapas, which is the Spanish version of appetizers/ snacks.
To prepare Pan Con Tomate, you will need a slice of toasted bread, tomatoes, and olive oil. You need to finely chop the tomatoes. Then, transfer the chopped tomatoes into a bowl and drizzle a bit of olive oil. You can season the tomatoes to your own taste.
When you finish the preparation, spread the tomatoes on top of the toasted bread. You can garnish the dish with Serrano ham or cheese. The tomatoes contain a lot of umami, and they go really well with the crunchiness of the toast. There is also a garlicky aroma from the bread.
Total time: 10 minutes
A loaf of hearty Spanish bread and cured meat are a great choice if you want a nice breakfast dish. It's no wonder many Spaniards prefer to have Bocadillos, the Spanish version of subway sandwiches, in the morning.
There are many popular variants of Bocadillos in different regions. In this recipe, I will show you how to make a Ham & Cheese Bocadillo. You will need a baguette, any type of ham, and Manchego cheese. You need to cut the ham and cheese into thin slices.
The next step is to cut the baguette in half and put the cheese in between the baguette halves. You can either fry the ham slices or put them straight in the baguette without frying. You can garnish the plate with parsley or chives.
WIth this simple sandwich, you have a combination of carbs, protein, and even fiber in the morning. Bocadillos will definitely fill you up until the next meal.
Total time: 40 minutes
If you are a frequenter of many amusement parks, I'm sure you are not unfamiliar with Churros, a type of fried dough. However, did you know that aside from being a famous Spanish snack, this treat is also a quick breakfast in Spain?
Churros are similar to a Chinese side dish called Youtiao. According to a popular theory, Portuguese explorers might have brought the recipe from China to the Iberian Peninsula. Youtiao is a little bland so the Chinese eat it with savory food, while Churros are more like desserts.
For the preparation, you will need the following ingredients: flour, milk, and water. You need to mix these three into a single thick batter. The next step is to pour the batter into a plastic bag. Cut the tip of the bag so you can squeeze the Churros batter into the oil.
You need to keep frying until the Churros puff up. Take Churros out and place them on paper towels. When the oil finishes dripping down, sprinkle powdered sugar on top. Churros are very airy and sweet. You can dip the Churros in a cup of hot coffee to make them taste better.
Total time: 35 minutes
Eggs and potatoes are two of the most well-known breakfast ingredients for many Western cuisines. If the U.S has scrambled eggs and hash browns, Spain has the Spanish Tortilla. The first recorded mention of Tortilla Omelet in Spanish culture was in1817.
You will need eggs, potatoes, and onions to prepare this dish. The first steps are to cut the potatoes into thin slices, chop the onions and whip the eggs. After that, you need to fry the potatoes and onions until they are halfway done. Take the potatoes and onions out.
The next step is to mix the eggs with the potatoes and onions. Once it's done, you fry the mixture until everything turns firm. This is a quick breakfast that you can make in no time, and the taste is exquisite with an extra sprinkle of hot sauce.
Spanish omelet takes less than an hour to make while giving a lot of nutrients.
Total time: 25 minutes
Who doesn't love fried eggs in the morning? It's this simple reason why many countries have their own versions of this iconic food. Of course, you can't just count Spain out because they have one as well. The name of the dish is Huevos Rotos, which means "broken eggs".
The recipe is extremely simple. You only need eggs, onions, and potatoes. You need to boil the potatoes before cutting them into thin slices. Then, you fry the potato slices before taking them out of the pan. For the onions, you chop them up before frying them as well.
The final step is to fry the eggs with the sunny side up. When the egg is ready, you plate the egg alongside potatoes and onions. This dish goes well with a bit of hot sauce or paprika. Before digging in, you can break the egg yolk like how Spaniards like to do it.
Total time: 5 minutes
For many people across the world, a simple cup of coffee in the morning is enough to start their day. That is also the same for a lot of Spaniards since their preferred morning drink seems to be Cafe Con Leche.
It's unknown who created this drink, but Cafe Con Leche is available in most coffee shops in Spain. For the preparation, you will need only two simple things: coffee and hot milk. When you finish making the espresso or any strong coffee, pour it into a glass and add the milk in after.
The amount of milk and coffee must be the same to get that creamy texture. If the drink is too bitter for you, you can add a little sugar or cream. Cafe Con Leche shares a lot of similarities to Caffe Latte in Italy and Cafe Au Lait in France.
It doesn't take you a lot of time and effort to make a cup of Cafe Con Leche.
Total time: 15 minutes
Aside from Cafe Con Leche, another beverage that Spaniards like to have in the morning is a glass of orange juice. It is a delicious and healthy way to begin your day.
Just like how you would make orange juice, you will need orange. Squeeze out the juice into a glass. You can adjust the sweetness or the sourness of the orange juice by adding sugar.
You can drink the juice as it is or add sugar cubes to make it a nice and cold beverage. It is a refreshing and tangy boost that packs a lot of Vitamin C.
Total time: 35 minutes
Torrijas is Spain's answer to the worldwide phenomenon known as French Toast. Both delicacies are similar in nature, involving a slice of bread and the dipping sauce. However, Torijjas brings a lot more of its Southern Mediterranean flair.
The most important component for Torrijas is the bread. In this recipe, you need a slice of Brioche or French bread. The sauce consists of milk, cinnamon, and eggs. Before frying the bread, you need to carefully submerge the bread until it fully absorbs all of that flavor.
For the frying, you have to make sure one side turns golden before flipping. When the toast turns crispy, take it out of the pan. You can garnish the Torrijas with either powdered sugar or honey.
A bite of the Torrijas will give you an explosion of sweetness and creaminess. The cinnamony aroma helps elevate the dish even more.
Total time: 15 minutes
Frisuelos, or Frixuelos, is the Spanish version of French Crepes, which is a very thin type of pancake. Frisuelos originates from around Galicia and Asturias. Particularly in the region of Galicia, this sweet Spanish dessert is also known as Filloas.
In order to make this delicious Spanish specialty, you need to get eggs, flour, and milk. Combine them in a bowl to create a wet batter. Another thing to add is a stick of melted butter. You can season the wet batter with a bit of salt and sugar to match your taste.
When you're ready, pour this mixture onto a heated skillet. You can take the Frisuelos off the heat when both sides are brown.
The most common filling for this dish is cream, custard, and fresh fruits from Spain. Frisuelos can either be crunchy or chewy, depending on the thickness of the batter.
Total time: 25 minutes
A little sweetness might be a perfect start to your day. This is why some Spaniards choose this sweet Spanish snack as their favorite breakfast item. Magdalenas are a type of lemon muffin you can find in many Spanish bakeries.
In order to recreate this treat, you will need the following ingredients: eggs, sugar, and flour. First, you have to make a wet batter by mixing eggs, sugar, and flour. When you finally get the batter, add in the lemon zest for the flavor.
Then, you pour the batter into muffin molds and bake them until the muffins rise up. When it looks puffed up, take the muffin out. For the topping, you can sprinkle a bit of powdered sugar. Magdalenas are tasty, sweet, with a slight tanginess from the zest.
A sweet snack like Magdalenas can be a great start to your day.
Total time: 1 hour 10 minutes
Another well-known sweet breakfast pastry in Spain is the Ensaimadas. The specialty originates from the region of Mallorca in Spain. The first recorded history of Ensaimadas was from the 17th century.
To prepare this dish, you will need these main ingredients including eggs, flour, and milk. You mix the ingredients together to create a dough. Then, let the dough rest for a few minutes before rolling it into a cylinder. When you are rolling, spread a little butter over the dough.
After the initial rolling, cut the cylinder into smaller rounds. Then, you roll each round into a thin rope before coiling that rope of dough. It will look like a snail shell after you're done.
Wait for the dough to double in size overnight. The final step is to bake the dough in the oven until it turns golden brown. When you take the pastry out, dust it with a little sugar before serving. The pastry is soft, buttery, and full of sweetness.
Total time: 1 hour 35 minutes
Empanadas are a common type of turnover pastry in Spanish cuisine. It is unknown how this dish was created, but the recipe for Empanadas already appeared in a classic Spanish cookbook published in Catalonia in 1520, written by Robert de Nola.
Nowadays, Empanadas have become a dining staple across Spain. You can find so many different variations of this delicacy, especially when it comes to filling like beef, turkey, and even cream.
For this rendition, I will choose a seafood recipe from Spain. The filling will be from canned tuna, hard-boiled eggs, and an assortment of vegetables. You first make the dough with flour, eggs, and yeast.
For the filling, you just need to chop up the vegetables and cook them in a skillet. Once the vegetables are done, transfer them to a bowl. Then, you can mix them with hard-boiled eggs and tuna.
You make the Empanadas by wrapping a spoonful of filling with a small piece of dough. Bake the pastries until they turn golden brown. The dough is light and crumbly. The filling also exudes a nice flavor with a balance of savoriness and creaminess.
Total time: 40 minutes
Migas is a traditional Spanish breakfast in the Iberian Peninsula. Depending on where you visit, the recipes for Migas will be different according to region. However, most of these Miga recipes have the same base ingredient: leftover bread.
For this particular recipe, you will need bread, chorizo (a type of spicy pork sausage), and paprika. First, you need to tear the bread into little breadcrumbs. Soak these breadcrumbs in a bowl with water.
The next step is to chop the chorizo and fry it. The aroma from chorizo will seep into the dish. This delicacy might be perfect if you want a pork recipe typical of Spanish cuisine. Finally, drain the breadcrumbs before adding them to the pan.
When the Migas turn fragrant, you can plate it or eat it straight from the pan. The dish usually comes with a sunny-side-up egg on top. There are versions that add pomegranate seeds or grapes to increase the sweetness and balance out the savoriness.
This hearty and flavorful dish might look heavy for breakfast, but you won't regret it after taking the first bite.
Total time: 35 minutes
When it comes to breakfast in Spain, store-bought croissants are always a reliable choice if you want a quick meal. However, it might take a lot of time to make them yourself.
Spanish croissants have a lot of similarities to their French cousins. In order to make them, you will need flour, eggs, and butter. Since croissants are a type of puff pastry, that means you have to combine the flour with eggs to create a dough first.
Then, you combine the dough with butter and fold the dough to create layers. Thanks to having multiple layers, the dough will become flaky when you bite on it. Before baking, brush the dough with egg wash so it will turn a nice and shiny golden brown.
In Spain, you can have croissants with many types of cured meat. If you're fancy, Iberian ham will work excellently. But there are other cheaper kinds to choose from like Jamon or Chorizo.
Nutrition Facts
10 servings per container
---
Amount Per ServingCalories170
% Daily Value *
Total Fat 6.1g

10

%
Cholesterol 25mg

9

%
Sodium 642mg

27

%
Potassium 197mg

6

%
Total Carbohydrate 15.2g

5

%

Dietary Fiber 2.8g

8

%
Sugars 4.1g

Protein 13.6g

26

%
---
* The % Daily Value tells you how much a nutrient in a serving of food contributes to a daily diet. 2,000 calories a day is used for general nutrition advice.