Italian sausage recipes are very diverse. You can see the Italians use this ingredient in their pie, their antipasto, and their main course. And you are dying to learn more about the fantastic sausage.
I understand your frustration. Therefore, I made this list that contains all the best recipes for Italian sausages that you want to try. It's not just stuffed vegetables and pasta; there are sandwiches, soups, and other dishes.
Let's not make you wait any longer: jump right on this marvelous trip to learn more about Italian sausages.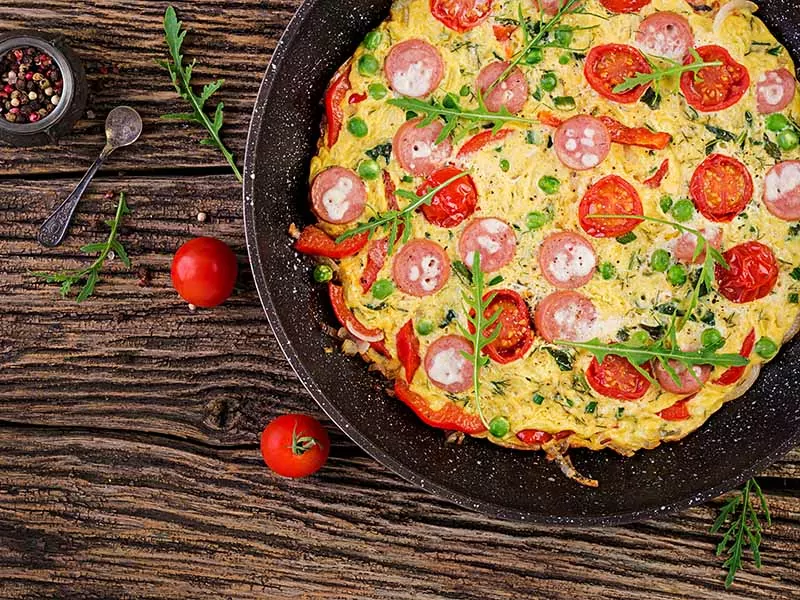 Time To Give Spice Your Meal Up With Italian Sausages
Let's talk about the Italian sausage a bit. Another alternative name for this meaty product is Salsiccia. People also call all types of Italian sausage by that name.
The sausage is special for its compositions: ground pork, pork fat, other herbs, and more spices. Therefore, you can always enjoy a very comfortable herbal aroma whenever you take a sniff at a piece of Italian sausage. Are you ready to start this list of recipes?
Total time: 25 minutes.
Tortellini is a type of stuffed Italian pasta. The pasta has its origin in the Emilia-Romagna region, which is the same birthplace as Parmesan cheese and Prosciutto di Parma (the best meat cured product in Italy). Therefore, you tend to see these two in Tortellini.
In this recipe, you need to prepare the Tortellini with cheese filling. Stir-fry the onions with the sausages (after removing their casings) until the sausages turn brown. Cook for another 30 seconds with garlic until it's fragrant.
Pour chicken stock, tomato, cream, and Tortellini into the pan and stir until it reaches the boiling point. You decrease the temperature and use the lid to cover it. Just let the pan simmer for about 15 minutes, and then add spice to adjust the flavors.
The last step is to bring the spinach to the pan and cook the greens until they soften. You can make some side dishes to eat along with this plate of sausage pasta like Caprese salad or garlic bread.
Total time: About 20 minutes.
Gnocchi is an Italian dumpling, and you can see it in numerous culinary specialties of the Italians. It can be part of the soup and stew recipe for the main course or participate in entree dishes. And its versatility once again shows in this Sausage Gnocchi dish.
This recipe specifically demands cheese Gnocchi, and it will show you how creamy cheese and savory Italian sausage can combine and make a fantastic flavor. Going along with that delicate taste is the herbal aroma from oregano and basil leaves.
The story happily ends when you taste the Sausage Gnocchi and recognize how perfect it is to be part of your dinner. The recipe is also very flexible since you can replace regular Salsiccia with the vegetarian variation and make this dish vegetarian approved.
Total time: 30 minutes.
Manicotti is one of the most world-renowned pasta types in Italy. The large shell of this pasta purposes the fact that people will later stuff it with multiple ingredients. This recipe will teach you how to fill your Manicotti with Italian sausage.
The filling doesn't only contain the sausage but also includes other contributions like several types of cheese, breadcrumbs, and eggs. The dairy element consists of three famous Italian kinds of cheese: Provolone, Mozzarella, and Parmesan.
With the Manicotti shells, you need to be careful with how fragile that pasta can be after being boiled. A tip that you can apply is refrigerating the pasta shells after cooking them so that the pasta can be firm enough for the stuffing process.
Top with sour and savory Spaghetti sauce, your shell coats itself with beautiful vivid red and white colors, which is the signature look of Italian recipes. You can garnish the baked dish with herbs like parsley or basil to make it more Italian.
If you want to flavor your meal with more Italian sausage, stuffed Manicotti is what you need.
Total time: 40 minutes.
Another Italian name for this recipe is "Minestra di Pane" which means "Bread Soup". The dish is a specialty of the Tuscany region. Later, Olive Garden (an Italian chain of restaurants) created the North American version of this soup, and that's what you will learn today.
The ingredients are spicy Italian sausage, potato, fresh kale, bacon, and other Italian culinary materials. In the original recipe, it is important to include Rigatino bacon and Tuscan bread. However, these two features aren't in the Olive Garden recipe.
The making starts with browning the sausage in a stockpot and cutting it into pieces. After the sausage is cooked, you set it aside and saute onion and garlic with that sausage grease. The next step is to add stock, potato, and water before bringing the sausage back to that pot.
Kale and heavy whipping cream only join the pot once the potato softens. All the simmering takes you 15 minutes in total. And after that, you can serve the soup with pieces of crunchy bacon for decoration.
Total time: 45 minutes.
This combination of sausage and pepper is probably the most widespread application of Italian sausage. The outcome can be stuffed in the middle of a hoagie (sub sandwich) and served as a typical American lunch, or you can see it as a pleasant side dish.
This versatility comes from the sour-and-sweet flavor, which is composed of sweet sausage, bell pepper, tomato, and Italian seasoning. Other fragrances like onion, garlic, and basil. You can also taste spiciness from red pepper flakes and the pungent aroma of black pepper.
Besides bread, you can also serve this masterpiece on top of Polenta (Italian cornmeal), mashed potato, or pasta. The dish is nourishing, appetizing, and definitely worth your time making it.
Total time: 35 minutes.
Some people really hate pizza, but they supremely enjoy the cheesy and meaty topping of this remarkable Italian casserole. Therefore, this recipe is created and its main ingredients are Italian sausages, cheese, and vegetables.
The first step is to brown the sausage before sauteing peppers, onions, and garlic in that same pan. You can add more oil as the recipe recommends, but usually, the sausage exudes more than enough grease.
When the veggies soften, you bring the sausage back into the pan and toss it around the veggie mix. After sprinkling Italian seasoning on top to give the dish more flavor, pour the Marinara (Spaghetti sauce) on top to cover all the ingredients with this red sauce.
Before baking that pan (or the casserole) of Italian sausage, you need to fill the top of that pan with a layer of grated Mozzarella. After 15 minutes in the oven at 375°F (190.5°C), your no-dough pizza-like dish is ready. You can enjoy this by itself or serve it with pasta.
Treat your family and friends to this mouth-watering Italian Sausage Casserole!
Total time: 30 minutes.
There are over 400 types of pasta in Italian cuisine, and each follows a specific dish or genre of cooking style. The Orecchiette pasta is specifically made for this stir-fried dish. In Italian, "orecchiette" means "little ear", describing the taste of the pasta.
The three main elements of this recipe are Orecchiette, the sausage, and the broccoli rabe (rapini). This recipe is your perfect Italian breakfast or brunch with all the nutrients that you need: vitamins and fiber from the veggies, carbs from pasta, and protein from the sausage.
You can also taste spiciness in paprika and creaminess from the Parmesan. With your taste buds, you can also feel the pungency of citrus fruits and the slight sweetness from fennel seeds. The dish delivers tons of amazing serotonin to you with every bite you take.
Total time: 20 minutes.
The three culinary colors of Italian cuisine are red, white, and green, which are the exact same hues as the national flag. With Bruschetta, you can see these colors via the appearance of diced tomato, melted cheese, and fresh basil.
A standard Bruschetta includes a layer of bread underneath and some toppings. In this recipe, Italian sausage contributes to the flavors of the toppings along with other vegetables and cheese.
To make this topping, brown your sausage for 6-8 minutes and crumble it. After that, you make the spread in a bowl with Mascarpone cheese and Pesto sauce. You can make your green Pesto sauce by blending basil, garlic, Parmesan, olive oil, and some spices.
The construction of Bruschetta starts with a layer of the Mascarpone-Pesto on the toasted bread (you can toast your bread on the sausage browning pan to give it more flavors). After that, top it with sausage, diced tomato, parsley, and grated Parmesan.
This is a common antipasto of Italian cuisine. If you tend to make a party with an Italian theme, I suggest you open your meal with this recipe.
Total time: 25 minutes.
Do you know that meatballs date back to the ancient Rome era (753 A.D. – 476 B.C.)? In the past, people often used ground meat, breadcrumbs, and spices. However, in this recipe, you will use Italian sausage instead of traditional ground meat.
One crucial note that I need to address is the fact that the meatball can turn hard if you over-mix it. Therefore, you should use the ice cream scoop to form the ball shape for the meatballs.
This recipe teaches you how to make flavorful Italian meatballs from sausage and lets you be creative with the taste. You can combine these meatballs with any sauce and serve them with pasta and call it a day. Marinara sauce with Spaghetti can be a pleasing example.
Total time: 1 hour and 15 minutes (including 45 – 60 minutes for resting the dough).
It would be a mistake if I didn't add pizza to this list of Italian sausage recipes. But it would also be irresponsible if I introduced you to something that lacks greenery. Therefore, allow me to give you this healthy recipe: kale and sausage pizza.
To make this pizza, you need to form the dough first. Mix flour, water, yeast, and salt to make the dough and put it in a warm and dark place for about an hour.
The topping is a combination of kale, Mozzarella cheese, Italian sausage, and garlic which is what you need to make a great pizza. You also have to boil the kale before topping the pizza with it. The boiling only takes you 2 minutes.
The pizza gives you a fresh flavor from the kale but is also still very creamy with the contribution of melted Mozzarella. Also, don't forget about the scrumptious Italian sausage as well. What a great recipe for your meal!
Total time: About 2 hours.
Minestrone soup is a favorite Italian recipe for vegetarians. The meaty element is optional to this dish, and the highlight of the dish is its application on a variety of veggies. However, in this recipe, the Italian sausage is a remarkable addition.
The making process begins with breaking and browning the sausage into pieces for 8 minutes. After that, you move the sausage out and let it rest while you start your business with the greeneries.
Add butter, celery, carrot, and onion and saute the mix until the onion starts to change its color. Now, add garlic and toss the ingredients around for another minute. The next things to throw in are red wine, sausage, and tomato elements, along with herbs and seasonings.
After stirring everything in the pot, you add the chicken broth in and let the soup simmer for 30 minutes. Then, add diced zucchini and pasta into the pot and simmer for 20 minutes with a closed lid. And the last contribution is the beans and chopped parsley.
You should serve a bowl of Minestrone soup with grated Parmesan and chopped parsley for decoration. Also, it is suggested to have this thick soup with toasted bread.
A healthy bowl of soup with the contribution of delicious Italian sausage is what you need.
Total time: 30 minutes.
Imagine having a piece of toasted bread with gravy on top! Do you feel hungry for Thanksgiving dinner after that thought? If so, let me give you this great recipe that can give you a nice meal with gravy made of Italian sausage.
In this recipe, you need to remove your sausage case and cook it on the pan for 8 minutes. While cooking, don't forget to crumble the sausage before adding flour and milk to the pan. Simmer for another 5 minutes and adjust the taste with pepper, salt, and cayenne.
You see, the recipe takes you under 30 minutes to prepare and make. Just serve it with toasted bread in the traditional way of having gravy or eat it with biscuits as the recipe recommends.
Total time: 1 hour and 50 minutes.
Let's follow this holiday theme and jump into one of the most important occasions for Italians – Easter. People in this country of cuisine invented hundreds of recipes to celebrate this festival, and one of them is the Easter Pie.
This savory pie has several names like Pizza Rustica, Pizza Gaina, and Pizza Pieno. It is famous for the rustic crust and can crumble and melt once your tongue meets it. The filling is nutritious with a mixture of meaty elements, delicate cheese, and aromatic herbs.
This pie is like a combination of the best Italian animal products, which are cheese and sausage. It is part of the Good Friday meal (the day of fasting and penance before Easter). The sweet version of this Easter Pie is the Ricotta pie, which is filled with nutty Ricotta cheese.
Since this dish is very rich in fat and proteins, I find it is better to have it along with a bowl of salad. Don't get me wrong! Easter Pie is superb, but having a balanced diet is also very important.
Total time: About 1 hour (excluding 15 minutes of the pie's resting).
Quiche is a fabulous pastry from France, and this recipe combines these two world's most renowned cuisines together to form a fantastic recipe. Italian sausage quiche can be exactly what you need for the neighbor's weekend party.
The demanded ingredients for this culinary delight are prepared crust, Italian sausage, spinach, cheese, spices, and herbs. You lay the crust on the baking tray and then spread layers of filling on that dough.
The first layer is the saute browned Italian sausage with onion and garlic. The second layer is the egg mixture which includes spinach, thyme, cheese, and eggs. The top of the pie is composed of cherry tomatoes, more cheese, and thyme.
After 45 minutes of baking, your quiche should be ready. Let it rest for at least 15 minutes before serving. You can store the quiche in the freezer or in your refrigerator if you want to. But the crust might turn dry, so I recommend you finish the whole pastry instead.
Total time: 40 minutes.
Rigatoni is a type of small tube-shaped pasta in Italy. You might see this pasta often in South and Central Italian cuisine, where the dishes frequently go with a tomato-based sauce.
The recipe with Italian sausage is a typical instance of Rigatoni, accompanied by a red and orange sauce.
This recipe is even more Italian with the contribution of the San Marzano tomato. This elongated fruit from Italy delivers a sweet and fresh taste that can complement the combination of savory Italian sausage and mildly sweet Rigatoni.
And to complete this perfect meal, it is a nice suggestion to prepare a glass of wine to drink along. The perfect dinner date with a plate of Italian sausage pasta and wine is what you and your partner should try.
Total time: 35 minutes.
If you enjoy adding more Zucchini to your daily diet, this is what you need. This summer squash is rich in vitamins and potassium. As it also contains low carbs, this veggie is a suitable keto-friendly recipe.
In this recipe, you learn how to make a tasty filling that can enhance the squash boat. The recipe for this stuffing includes breadcrumbs, Italian sausage, cheese, and other veggies.
For every bite you take, you can taste the meaty delicacy of the sausage, the starchy breadcrumbs, and the freshness of zucchini. It's like having a feast in just one simple and healthy recipe.
There are other variations of this dish, like the Parmesan zucchini or Taco zucchini. The overall concept of the zucchini boat is versatile enough to trigger your creativity into inventing more filling styles.
Total time: 1 hour.
Lasagna is one of the oldest pasta types in Italian culinary culture. The dish is like a mini Italian spirit on your plate, with red and white as the theme colors. With the sauce blended between layers of yellow egg pasta, this plate is aesthetically pleasing to look at.
Lasagna often has ground meat in its red sauce (tomato-based sauce), but you replace that meat with Italian sausage in this recipe. Saute the crumbled sausage for a while before adding the tomato sauce to that pan. Meanwhile, the white component in this recipe is the combination of cheese, herbs, and spices.
With a large baking tray (or a casserole), you start to build up this tower of pasta by pouring a cup of tomato sauce, then a layer of pasta, and a layer of cheese after that. Repeat until the container is full.
Bake that pasta container for 20 minutes with foil covering and another 20 minutes without it. To serve the pasta, you cut that large cake into smaller pieces and garnish it with parsley and grated Parmesan.
It's time to change the lasagna recipe with Italian sausage.
Total time: Around 50 minutes.
I can't wait to introduce you to this pocket of pizza which originated in the Naples region. In a way, with a crunchy coating and mouth-watering filling, this recipe is what you have to try once in your life.
The three elements of the filling can be prepared separately. You can saute the mushrooms in olive oil for 10 minutes. The sausage only needs to be browned for about 8 minutes. And the cheese is simply a mixture of cheese which are Ricotta, Mozzarella, and Provolone.
Roll the dough into a round shape and add your filling into one half of the dough. Fold the dough over and seal the edge by pinching and rolling the dough. Don't forget to spread a layer of olive oil and garlic powder on the dough before baking it for 25 minutes.
A perfect Calzone has a golden brown coating with a very nice fragrance. The filling is pleasant with savory sausage, sauteed mushrooms, and creamy cheese. I'm sure your family will be impressed by this recipe if you make it in the next meal.
Total time: 1 hour and 20 minutes.
Meatloaf is one of the best culinary creations human beings have ever come up with. The diversity of this dish in many cultures shows how creative people can be. Its main ingredient is simply ground meat with a mixture of sauce and other flavor enhancements.
This recipe will teach you how to make an Italian meatloaf with Italian sausage as its highlight. Besides a meatloaf like a loaf of bread, you can see a surprising layer of Mozzarella cheese in the middle.
The flavor of the meatloaf in this recipe is mainly controlled by the contribution of Pesto sauce, tomato sauce, and Italian seasoning. The breadcrumbs also play an impactful role in being the moisturizer of the loaf.
In case the loaf is too big to consume at once, you can refrigerate it for 3-4 days. Remember to keep it in an airtight container.
Total time: 45 minutes.
Sometimes, on winter days, what you need is just a bowl of chowder to chow down. This recipe of corn chowder with Italian sausage, bell pepper, cheese, and other ingredients can blow your mind with how delicious it is.
You start the recipe by browning the sausage and sauteing the diced veggies in a pot until they're soft. After that, add chicken stock and cubed cream cheese. Once the liquid boils, you add potato and corn into that pot.
You need to let the soup boil for about 30 minutes before pouring that whole pot into the blender. When you want to serve the soup, spoon the liquid into a bowl and garnish it with parsley. You can savor it alone or have it with toasted bread.
Total time: 40 minutes.
Whenever you talk about rice, the first place that comes to your mind is probably somewhere in Asia. The West also owns their rice specialty, and their recipe is also very pleasant to try out. What I'm talking about right now is Risotto from the Central Italian cuisine.
This recipe for Risotto can show you how this dish receives that much attention from people. Unlike the Eastern variety, Risotto has a creamy texture that makes you think you're eating ice cream or porridge instead of rice.
The Italian sausage in this recipe gives the dish a light savory taste combined with a sweet (or peppery if you choose the spicy sausage) flavor. Also, the contribution of tomato sauce makes the dish fresher.
With the green color of spinach and yellow hue of grated Parmesan for decoration, the dish also looks very appetizing. And its taste is so phenomenal that you can't stop craving more.
Total time: Approximately 40 minutes.
When you google "mostaccioli", you might receive the result saying that the word is the name of an Italian Christmas dessert. However, Mostaccioli is also a tubular pasta type, and in this recipe, you will learn how to combine this pasta with Marinara, cheese, and Italian sausage.
It is always best to make your own Marinara sauce, but it is acceptable to use the canned sauce like in the recipe. And there's the contribution of ground beef along with the sausage. This element gives the dish more chewiness whenever you take a bite.
Besides the regular cheese types that you have met in the other sections, this recipe has Asiago in its list of ingredients. The intense taste of this cow's milk product might be what you want in your pasta.
And if you really want the dish to be more cheesy, the recipe also recommends adding Ricotta to the ingredient list. The creaminess and savoriness of this baked Mostaccioli can totally satisfy your hunger.
Total time: 30 minutes.
A Quesadilla is like a taco with a tortilla covering the filling, but Quesadilla's filling is more specific with cheese, meat, and spices. In this recipe, Italian sausage substitutes for the meat. This blending between two cuisines might be a good start to trying out this creation.
Firstly, you have to get the sausage ready by browning, slicing, and setting it aside. Then, simmer the tomato sauce at medium heat with chili powder and garlic for about 2 minutes.
Now, you start to concoct the Quesadilla by pan-frying your tortilla at medium-low heat and adding the filling to that flatbread. The filling includes cheese and sliced sausage. Keep frying until the cheese melts.
To serve the Quesadilla, put the bread on the plate and pour the spicy sauce over that bread. Garnish the plate of food with Cojita (Mexican cheese) and parsley.
Check out this easy Italian Sausage Quesadilla that you can make at home!
Total time: 30 minutes (excluding 5 minutes of cooling).
Frittata is one of the ways the Italians worship eggs as a culinary material. This Italian omelet can be your new favorite Italian-themed breakfast. And the flavor is even better with the inclusion of Italian sausage.
This healthy morning meal starts with the preparation of the sausage and necessary veggies in a pan. That sausage needs to be cooked and crumbled into ground meat. And then, you saute the diced vegetables with the meat until they wilt.
In another bowl, you prepare another mixture that includes egg and almond milk. Pour that mixture into the pan and immediately sprinkle some cheese on. After around a minute, you bring that pan into the oven and bake it for 15 minutes at 400°F (204°C).
The breakfast is supremely nourishing with egg, multiple types of vegetables, and Italian sausage. I recommend having a cup of apple juice for a breakfast like this. And of course, some slices of toasted bread are also very compatible with this breakfast recipe.
Total time: 1 hour and 30 minutes.
Ragu is one of the essential sauces in Italian cuisine. This meat-based sauce often goes along with the pasta. But the Ragu sauce in this post is accompanied by Italian sausage and Ricotta Gnocchi.
This recipe gives you a guide for making Ricotta Gnocchi from egg, flour, Parmesan, and Ricotta. Besides sausage Ragu sauce, you can use this flavorful dumpling in a creamy soup.
With cheesy Italian dumplings and savory sauce, the dish can be very suitable for your next lunch. There's no clear guidance for decoration in this recipe, but it is ideal to sprinkle more grated Parmesan and parsley for a dish like this one.
Let's try to make this Sausage Ragu and experience its delicacy.
Total time: 1 hour.
It is such a mistake not to mention sandwiches in this list of Mediterranean cuisine. And here is one of the signature sandwiches of the Italian cuisine – Panini. The term "Panini" implies the Italian-style grilled sandwich usually filled with Italian sausage.
A standard sandwich contains three main components: bread, spreading sauce, and filling. In this recipe, the bread is two slices of grilled Focaccia bread. You can find these Italian flatbreads in the local store.
The filling consists of pan-fried onion, bell pepper, and sausage sauce. It also has the contribution of grated Fontina cheese, which is a famous Italian cow milk cheese with an earthy and mushroomy taste.
This Panini delight is an exemplary Italian recipe that you have to make. It is ideal for brunch or lunch with the flavorful sauce, crunchy bread, and tasty sausage. I'm not sure about you, but that sounds like a perfect meal for me.
Total time: 2 hours (including 1 hour of resting the dough).
Italian sausage, pepper, and onion are such a fantastic trio in cooking. The way these ingredients complement each other is natural yet simply amazing. With bread as a neutralizing element, this recipe can show you more about this combination.
Stromboli (a type of Italian turnover) consists of two main parts: dough and filling. You can buy processed pizza dough from the store to save time. However, it is still a must to let the dough rise and rest in a warm and dark place for at least an hour.
A standard Stromboli has a structure similar to Calzone. You use the rolling pin and roll out the dough on a flat surface. Then, you stuff the sauteed onions and peppers in the middle and top with Italian sausage.
After folding the dough, don't forget to cut some small slats on the top to enhance ventilation in the Stromboli. Also, this step helps the turnover to develop a more aesthetic look.
After about 20 minutes in the oven, your Stromboli has a gorgeous look with a golden brown coating. The freshly baked Stromboli aroma that spreads everywhere in your kitchen can trigger your grumpy stomach instantly.
Are You Ready To Make An Italian Sausage Dinner Tonight?
Italian sausage is such a delicacy for human beings. Therefore, it will be such a big loss not to try it out. The mouth-watering taste and versatile usage are certainly what you want to find in this meaty product.
Do you think you will try out these recipes? Do you have any further questions? Feel free to leave a comment under this post, and I can't be happier to answer all of your queries or read your thoughts.
Also, it would be very nice to share the post with others if you find this list amazing. Your friends definitely will appreciate your care-and-share. And it's time to say goodbye. See you next time!
Nutrition Facts
8 servings per container
---
Amount Per ServingCalories388
% Daily Value *
Total Fat 20.4g

31

%
Cholesterol 53mg

18

%
Sodium 1230mg

52

%
Potassium 595mg

17

%
Total Carbohydrate 35.1g

12

%

Dietary Fiber 2.8g

8

%
Sugars 2.1g

Protein 15.6g

30

%
---
Calcium

84

%
Iron

2

%
Vitamin D

8

%
* The % Daily Value tells you how much a nutrient in a serving of food contributes to a daily diet. 2,000 calories a day is used for general nutrition advice.