Besides breath-taking scenery and dramatic history, Norway is so well-known with delightful Norwegian recipes that are extremely attractive to every single tourist coming to this stunning country.
Local ingredients from veggies to seafood are presented in Norwegian cuisine, which creates specialties of Norwegian cuisine with distinctive flavors. Norwegians have traditional recipes suitable for particular seasons or holidays.
For example, they usually cook soups and stews to serve during the winters while making baked or grilled meat dishes to celebrate the Christmas holiday. Especially, sweet treats can be served year-round.
In this post, I will cover 23 addictive Norwegian recipes in specific categorization for you to pick up your favorites easily. Now, let's dive into the main section to bring some Norwegian flavor to your home cooking!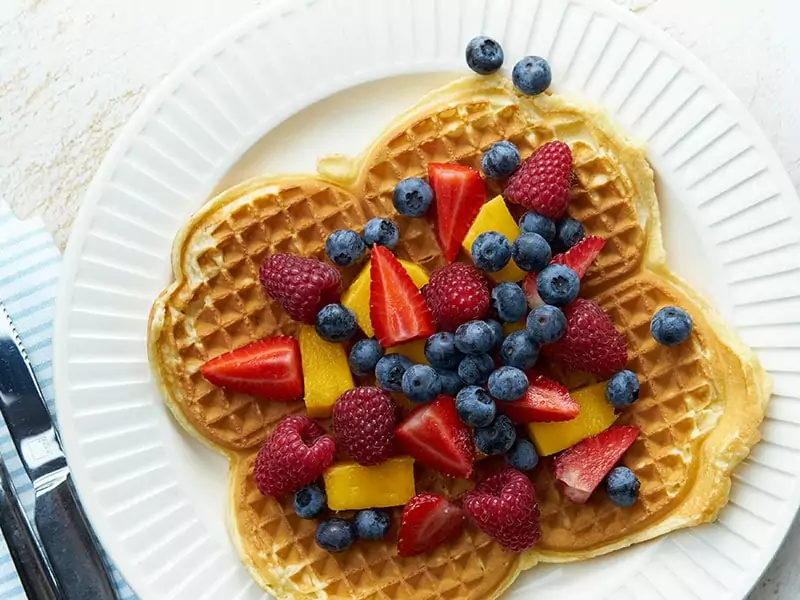 List of 23 Mouth-Watering Norwegian Recipes You Should Not Miss!
If you are finding some worthy Norwegian recipes to wow your guests or family members, you should put in your brain the following pocket recipes!
Salads
Cool Cucumber Salad
Hot Smoked Salmon Pasta Salad
Potetsalat (Norwegian Spring Potato Salad)
Soups And Stews
Norwegian Fish Soup
Fårikål (Norwegian Lamb & Cabbage Stew)
Norwegian Lapskaus ( Beef And Vegetable Stew)
Klippfisk (Green Pea Soup With Dried Cod And Bacon)
Surkal
Bread And Breakfast Dishes
Norwegian Flatbread
Lefse ( Norwegian Potato Flatbread)
Norwegian Oatmeal Molasses Bread
Norwegian Waffles (Heart-Shaped Waffles)
Sveler (Norwegian Pancakes)
Main Dishes
Norwegian Meatballs
Traditional Lutefisk
Norwegian Salmon With Dill Sauce
Poached Codfish Steaks With Egg Sauce
Ribbe (Roasted Pork Belly)
Desserts
Norwegian School Bread
Norwegian Almond Cake
Risgrot (Norwegian Porridge)
Rommegrot (Norwegian Cream Pudding)
Kringla (Norwegian Pretzels)
23 Stunning Norwegian Recipes No One Can Turn Down!
Now, just spend time seeking your favorite Norwegian food recipes that can make up a big meal, from appetizers to desserts.
3 Beautiful Salad Recipes Coming From Norway
Salads always attract us with their bright flavor. Let's see how Norwegians make lovely salads!
When it comes to Norwegian recipes, this is one of the simplest starters with cucumber I have ever seen. The refreshing and light salad contains grated red onions and diced cucumbers that are folded with a sweet and slightly salty vinegar dressing.
Although the simplicity in terms of making and flavoring of the salad, it is a great accompaniment with flavorful meat dishes.
If you feel bored with traditional creamy pasta, just try this upgraded version with fresh veggies and hot-smoked salmon. This will bring you a meaty, bright, and flavorful dish.
In this recipe, the cooked pasta will be mixed with salmon, cherry tomatoes, bell peppers, cucumber, and lettuce.
The salad mixture will be coated with creamy sour cream and lemon juice with a touch of sweetness, which will create a super delicious and refreshing salad.
In case you need a visual direction in preparing hot smoked salmon pasta, just watch this video!
The Norwegian potato salad is a simple recipe, a combination of cucumbers, hard-boiled eggs, and radishes.
All of the ingredients will be coated with mayonnaise and sour cream dressing with some scallions and chives on the top. The creamy salad with a crunchy twist will surely rock your world!
5 Healthy Norwegian Soup And Stew Recipes
You should add to your winter meals the following palatable Norwegian soups and stew, and you will never be disappointed with this!
Norway is rich in seafood, and the Norwegians have the ultimate cooking methods to create delightful dishes with the sea resource.
Norwegian fish soup is one of them. In this recipe, you can use cod, haddock, cock, or wolffish, which depends on your favorite and what you have on hand.
The buttery and creamy healthy fish soup with tons of veggies will be a wonderful treat for your whole family!
Fish soup isn't only popular in Norway alone. If anything, you can say that fish soup is a widely popular dish in Salvadoran cuisine as well. While not as creamy as the Norwegian version of this dish, the Salvadoran fish soup still boasts such an intense flavor that you can't help but love it.
Do you want a step-by-step guideline for making Norwegian fish soup? If yes, watch this video!
Fårikål is a traditional and popular dish in Norway. It is usually cooked on weekends when the whole family gets together and has enough cooking time for the stewing recipe.
It is a super simple recipe in which the lamb meat will be simmered with white cabbage and seasonings.
You can also substitute the lamb with mutton which will give you a sharper meat flavor. The Fårikål can be served with flatbread and boiled potatoes.
What is better than enjoying some hot and savory beef soup on cold days? Let's see how Norwegians make this delightful soup!.
All the ingredients you need for making this soup are beef, potatoes, Rutabaga, butter, flour, olive oil, red wine, veggies, and spice and herbs.
The beef is simmered with other ingredients until it becomes tender. The spiced-up beef soup with vegetables will be a hit of all time!
The codfish is famous for its versatility to be used in various dishes like grilling, frying, and baking. But in this recipe, the cob fillets will be combined with an appetizing green pea simmered soup.
A slightly sour and smoky soup will go well with some moist pieces of cob and crispy bacon topping. Last but not least, serving the green soup with some salad will create a mouth-watering treat blowing your mind!
Surkal is a traditional Norwegian stewing dish that is made with cabbage, vinegar, and butter. To make it, cabbage will be simmered in buttery vinegar within one and a half hours until it turns soft and dark in texture.
The vinegary cabbage will be topped with some apple wedges and sprinkles of parley for enhancing its flavor when it is served. This is a perfect side dish for meals on rainy days.
5 Must-Try Norwegian-Style Bread And Breakfast Recipes
It's time to update your bread and breakfast recipe collection, which will give you new and amazing ideas and flavors for your light meals.
This flatbread is an important part of traditional Norwegian cuisine. Despite its name, the cracking nature of the bread makes it more like a cracker that can be served with sliced cheddar cheese and apples or with some orange marmalade and a bowl of soup.
The important note when making the flatbread is that you should flatten the dough as thin as possible to create the crispy texture of the baked bread.
Unlike the cracking flatbread, lefse has a soft texture that allows it to be rolled easily. The bread is made with flour, potatoes, heavy cream, butter, sugar, and salt.
The common ingredients bring you a hearty and chewy flatbread that can be served with sugar and melted butter topping. Or, if you want a flavorful light meal, you can fill the bread rolls with cottage cheese or salmon.
You can make this potato flatbread with a user-friendly crepe maker. But if you don't have one, a non-stick pan will be a reliable alternative.
If you want to make some Norwegian-style bread, you should not ignore this authentic recipe.
The bread dough is a combination of cooking oats, molasses, flour, butter, yeast, water, canola oil, and a little bit of salt. The buttery and pleasant bread in dark brown color will be a big hit for everybody!
There are so many versions of waffles that come with different tastes and textures. It's time to discover the simple and quick waffle recipe originating from Norway. Just spend about twenty minutes, and you will have eggy waffles in the shape of hearts.
The recipe of waffle dough and baking method help create thin and soft Norwegian-style waffles. Besides being served as breakfast, the waffle is also a quick and perfect dessert for weekend parties when the main courses take most of your cooking time.
The vanilla-flavored and slightly sweet waffles topped with some sliced orange and spoons of Greek yogurt will wow everyone at the parties!
Sveler is a famous sweet recipe in Norwegian. Its dough is made with eggs, sugar, kefir, flour, salt, and horn salt that will create the distinctive flavor and texture of Norwegian pancakes.
However, you cannot eat the raw dough due to its horn salt content. You may try different ways to keep these pancakes hot, but a cold dessert is also fine enough. You can pair them with various toppings such as butter, berry jam, or sour cream.
This video will show you the steps of making Norwegian pancakes:
How About Home Style Norwegian Main Dishes?
When it comes to main courses from Norway, you will never go wrong with the below recipes.
For those who are loyal fans of soft and tender meatballs, just try this Norwegian meatball recipe once, and you will come back to it from time to time in the future!
The large and quite flattened meatballs can be made of any ground meat you prefer, like beef, lamb, or pork.
The special note of the dish is its gravy sauce that is made with butter, flour, beef broth, and a touch of aromatic spices. The simmered meatballs coated with the delicious sauce will surely bring you a new favorite!
Every nation has its own specialties that contribute greatly to its distinctive food culture. Traditional lutefisk is one of the special dishes of Norwegian cuisine. It is dried cod soaked in a lye solution for rehydration.
When it comes to consumption, you need to remove the lye lutefisk by rinsing the lutefisk with cold water before poaching or baking it. In this recipe, the slightly salty baked lutefisk will be served with pea stew, bacon, and tomatoes.
If you want visual guidance on making lutefisk, just watch this video!
Salmon never gets old with its rich flavor and nutrition values. In this recipe, the salmon fillet will be baked with lemon juice and sprinkles of sea salt and black pepper.
After the baking process, a citrus, creamy, and garlicky dressing with a hint of dill will be drizzled on the salmon dish. This will be a mouth-watering treat that you should not miss!
In this traditional Norwegian fish recipe, the codfish fillet will be poached in water seasoned with salt, onion, and vinegar to create a fish broth.
The dish dressing is made with chopped boiled eggs, minced tomato, parsley, chives, seasoning, and some fish stock.
When the dish is served, this cod fish will come with other foods. The regular topping choices are sliced carrots and lemons. They are then folded with the eggy sauce that makes the fish much more flavorful.
Roasted pork belly is a classic Norwegian dish that is commonly served at Christmas dinner. The oven-baked pork belly is super crispy on the outside but extremely juicy from the inside.
This makes it an addictive recipe that Norwegians just want to have again and again. The Ribble can be served with boiled potatoes, prunes, or sausages that make up a big meal for a cozy dinner.
With some simple ingredients, including pork rib, salt, and pepper, you can apply the Norwegian-style recipe to make a wonderfully crispy pork dish for your whole family to enjoy at home!
Talking About 5 Mind-Blowing Norwegian Desserts
Now, just store the five offered dessert recipes in your mind, and you can make your whole family excited with the yummy homestyle Norwegian desserts you bring them!
If you are a big fan of coconut, you can't go wrong with this tasty Norwegian dessert recipe! The ball-shaped bread topped with toasted shredded coconut, vanilla icing, and vanilla pudding will definitely blow your mind!
The soft and buttery bread with a touch of cinnamon will match well with the rich and slightly sweet coconut. The combo can be served soon after it is prepared, or you can let it chill in the fridge for a cold serving.
A loaf of Norwegian almond cake with a sweet and creamy glaze and slices of almond on its top will be a beautiful treat for feeding crowds!
All the ingredients you should organize for the cake making are flour, granulated sugar, egg, almond extract, milk, baking soda, and butter. Such simple ingredients will bring you a light almond cake with a touch of almond.
Norwegian porridge is a rice pudding made with boiled crushed or chopped white rice. You can even make this dish with rice left from last night in a pinch. The combination of pureed cooked rice with salty and sweet milk mixture will bring you a creamy pudding recipe.
A sprinkle of powdered cinnamon and some dried cranberries on its top make it much more spiced up.
Norwegian cream pudding is made with flour, heavy whipping cream, whole milk, sugar, and salt. Due to the high content of dairy products, the pudding is super rich and creamy with a hint of sweetness.
When it comes to serving, you can top the smooth and thickened pudding with melted butter and a sprinkle of powdered sugar and cinnamon for a wonderfully delicious dessert.
Kringla is a traditional cookie from Norway. Its dough is the blending of flour, buttermilk with a hint of sugar. The light brown cookies come with a slight sweetness, a buttery flavor, and a crispy texture.
It will be great to serve the Norwegian pretzels with some rich Nutella topping, or if you want something simple but still powerful in enhancing the cookies' flavor, some drizzle of melted butter will fulfill your expectation.
Making Inspired Homemade Norwegian Dishes Is Not Tricky At All!
If you have already found out your preferred recipes, do not hesitate to organize the required ingredients and make an appetizing meal for your family members to enjoy. I guess they will be so surprised with the Norwegian flavor you bring to them!
What is better than achieving your favorite food taste on the first try? I remember someone said that cooking is not difficult, but the important thing is to find out your own recipes to meet your food taste.
Therefore, in some situations, the cooking results would not be as good as what you desire. That's normal! If you want, a second or third try with some ingredient adjustment is still fine until you can create the most desired dishes.
Last but not least, if you have any ideas of Norwegian food, just feel free to let me know by leaving your replies below this post. When finding my post helpful, a like or share from you will encourage me a lot!
Nutrition Facts
6 servings per container
---
Amount Per ServingCalories644
% Daily Value *
Total Fat 28.5g

44

%
Sodium 1227mg

52

%
Potassium 612mg

18

%
Total Carbohydrate 28.8g

10

%

Dietary Fiber 9.2g

37

%
Sugars 10.9g

Protein 71.6g

144

%
---
* The % Daily Value tells you how much a nutrient in a serving of food contributes to a daily diet. 2,000 calories a day is used for general nutrition advice.