Amazing! These Norwegian desserts are the best to create a comfort meal for your family. From tiny cookies to cakes, Norway will give you one of the best savory experiences in the world. Norwegians also adore the taste of fruits or conserved materials in their fruits.
If you want your dessert to be rich in flavor or light and refreshing, the following desserts will suit your taste. All these recipes will embrace you with their fascinating flavor and breathtaking appearance.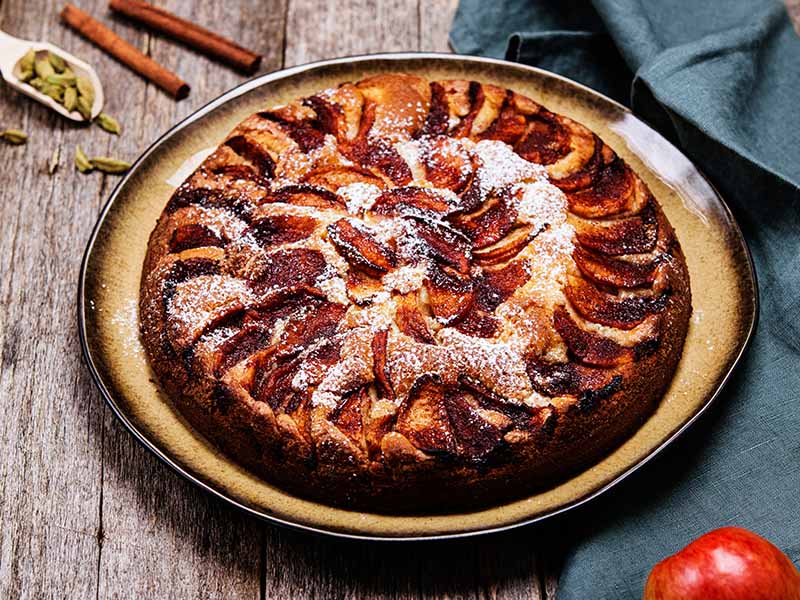 20 Must-Try Norwegian Desserts In Your Upcoming Family Meal
Hop on this exciting savory ride and explore all the tasty Norwegian recipes with me. You will lose your head over these spectacular specialties.
Hey! How about this delicious Norwegian midday dish? I'm sure you will love it. Skolebrød (also known as school bread) is a custard bun in Norway that is perfect to put in your kid's lunch box.
The bun will be a favorite choice for children with its gentle, sweet taste. Cardamom gives a citrus flavor with a little spice for the buns. You can drizzle sweet and milky icing on the sweet treats for an extra creamy taste.
You must bake these Skolebrød next weekend, absolutely worth it!
If you are looking for a dish with applesauce that is healthy and tasty, Veiled Maiden is the one. It is also known as apple cream parfait, with many layers creating a delightful dish. You can tell how flavorful this parfait is, from the sweet and fruity apple to the delightsome crumbs.
Besides, you can enhance the nutritional features for the dish like nuts, granola, or switch cream to yogurt. Trust me; the final result is as lovely as you are, wink!
Rabarbrakake is an authentic Norwegian specialty that you can not miss when traveling to Norway. The cake's exterior is crumbly and crispy from chopped rhubarb; you can add some sliced almonds for extra flavor too.
You can have this cake as breakfast with a hot cup of tea to start an exciting day. The cake only takes around 10-15 minutes to prepare. After almost an hour of baking, the sweet treat is ready to wow your family.
Check out this mouthwatering gold cake; you will find something interesting at the end. The cake has a nice golden color covered with a stunning frosting cream which is a highlight. You can use chocolate or vanilla just to fit your taste; either option will suit the cake perfectly.
Furthermore, you can add a bit of lemon juice to the cake to help raise its aroma and remove the egg's smell. If you like a small bite, the cupcake version will be an excellent choice for you.
This exquisite Norwegian dish is perfect for dinner. Rommegrot is an iconic kind of porridge from Norway with a rich and slightly sour flavor. Milk, butter, and sugar make the dish creamy and irresistible.
Toss some cinnamon sugar and warm melted butter on top and serve the dish. Or, you can simply add more sour cream for the pudding; I'm sure every spoon will give you a pleasant feeling.
Chocolate chip cookies seem to be a close treat to many generations, from the juniors to the seniors. You see, these cookies are not as crispy as the others. In fact, they are more chewy and crumbly with a creamy chocolate chip inside.
This delightful European dessert is good in its original condition; however, you can combine it with a cup of milk to use for breakfast. These chocolate chip cookies will be a hit at your upcoming party; they are totally worth a try.
Buckle up! Want to try a lovely Norwegian morning dish? This Tekake will suit your taste. Tekake means 'tea cake' in English; this means that this cake is perfect for tea or coffee.
The cake is also a good choice to serve as an afternoon snack to recharge your energy. This coffee cake has many variants; you can make an ordinary version with a fluffy structure or a smaller one with a crumbly texture.
Wait up! This krumkake can be a great addition to Christmas confectionery. Making the dish is so simple; you just need to roll the cookie mixture on an iron pan when it turns to a nice gold color. Some first cookies may not be perfect but trust me; you will get used to it soon!
Besides, another way to enjoy the cookies is combining them with ice cream to create delicious ice cream cones. Or you can just add whipped cream for extra creaminess, delightful, right?
It's time to make some Norwegian Krumkake; Let's go!
Wait up! I want to invite you guys to a tasty treat that every generation in your family will love so much. Some people may know Kringla cookies like sugar cookies that are very sweet and aromatic.
You can powder some extra sugar on each cookie or glaze it to raise the dish's taste. Trust me; you will never get enough of the cookie once you give it a try.
If you are looking for a tasty holiday cookie recipe, these Sandbakkelse won't let you down. The dish is also called a sugar cookie or butter cookie because these two features create the cookie's flavor. You can tell how sweet and buttery the dish is from every single bite.
Besides, baking these cookies is super fun because you can decorate them in any way you like. So why wait? Let's make some Sandbakkelse for everyone.
Check out this stunning Kransekake or Norwegian ring cake. The dish is made by stacking plenty of ring cakes onto each other to create a cake tower. If you have a chance to travel to Norway, it is easy for you to run into a Kransekake at any bakery store or a local's household.
This cake is very popular on Christmas or any holiday in the country. You can tell how delicious it is from the creamy taste of almond and a crispy, crumbly texture in one bite.
I'd like to introduce you to a delicious Norwegian apple cake. In my opinion, this cake tastes pretty like apple pies, but they are moister in texture. You can tell how soft the Eplekake is in every single bite that exposes a fruity taste from the apple.
In addition, you can sprinkle on the cake's surface a bit of powdered sugar to spice up the flavor as well as the delightful look!
A fan of almonds should take note of this beautiful cake. The impression for this cake is delightful, you know, it's not too sweet but exposes a creamy and buttery taste at the same time. Besides, once you eat it, you can feel the cake melting instantly in your mouth.
You know what? The cake's creaminess will match perfectly with something bitter. Therefore, a cup of coffee will be the best company for this almond cake.
On Christmas day, Norwegians usually make this fascinating bread type for their friends and family. So what makes the dish special and popular? I have to say that everything about it is all its highlight.
You can tell that the dish is slightly sweet and buttery combined with chewy raisins inside the bread that enhance the dish's delight. So this year, let's try to make the dish on the holiday for your dearest people to enjoy.
Such an easy Julekake recipe! You will regret not trying it.
Hold on tight! I have something good for your cooking list. Spritz is a national cookie in Norway with a gentle, sugary, buttery flavor. The cookies have a colorful look with different sprinkle choices.
Spritz is an excellent choice to add to your Christmas cookies collection. These cookies are soft and sugary; however, if you prefer them to be crispy, you can bake them for around 8 minutes.
Norwegians like to make this beautiful troll cream on New year's days when everyone gathers and enjoys the holiday. You can make it in just a few minutes by whirling the egg whites with the seasonings and adding berry jam to give it a fruity highlight.
Moreover, the troll cream flavor is also very interesting. You can tell that it is slightly sweet but very creamy and fruity at the same time.
This Norwegian Trollkrem is the most beautiful dessert I have ever seen.
You can not skip this wonderful Norwegian cream cake when it comes to this country's dessert. I believe that this one is one of the best-loved cakes that you can get at many local stores. The dish has a gorgeous look of white cake highlighted by a layer of fruit on top.
Besides, the cake's flavor is tasty, too; you can feel how creamy it is from the white cream. The fruit layer matches the creamy cream splendidly. Treat your friends to this sweet treat, and they will be surprised by your cooking skill.
I bet you can't resist the beauty of this Bløtkake. Fascinating!
Here comes an excellent chocolate cake that everyone will love so much. At first sight, you can see that this Norwegian dessert has a beautiful figure, from layers of chocolate to layers of cream. The creamy and sweet flavor of the cake goes well with a cup of wine.
In addition, I recommend you add a bit of rum to raise the dish's taste as well as its aroma. However, if you love a gentle touch of sweetness, vanilla extract is a perfect choice.
Stay tuned, people! Because the moment you try this cake, you can ever get enough of it. This meringue cream cake has a super stunning look with many layers. You can tell how rich it is for the very first bite so that it would be delightful with a cup of ice tea.
Plus, you can add some flaked almonds to give it a nutty addition or a bit of honey for a sweeter taste. Take a bite of this cream cake, and you will fall in love with Norwegian cuisine.
Hurry up! Don't wait any longer because these warm Norwegian bollers are waiting for you. The buns are full of cardamom flavor, a little sweet with a kick of spiciness. You can embellish the treats with some raisins for extra flavors and textures.
You can pair these bollers with cheese, fruit jam, or even meat to serve any meal during the day. For breakfast, a slight sweetness from jam will be an excellent choice.
Welcome To Norway!
The recommended Norwegian desserts will give you an overall look at this country's sweet cuisine. Try some recipes, and you will be enchanted with the delicate sweetness of these sweet courses.
Feel free to share your favorite recipe with your friends. I will see you in the next post with more tasty recipes. Goodbye and have a wonderful day!
Nutrition Facts
6 servings per container
---
Amount Per ServingCalories369
% Daily Value *
Total Fat 14g

22

%
Cholesterol 76mg

26

%
Sodium 277mg

12

%
Potassium 208mg

6

%
Total Carbohydrate 55.8g

19

%

Dietary Fiber 1.8g

8

%
Sugars 34.6g

Protein 6.9g

14

%
---
* The % Daily Value tells you how much a nutrient in a serving of food contributes to a daily diet. 2,000 calories a day is used for general nutrition advice.