What are the most popular Ukrainian desserts that you simply must try? Ukraine offers a wide selection of sweet treats. These treats have gained popularity worldwide, from creamy pastries to fruity delights.
With this post, you'll have some of the most famous Ukrainian desserts in your hand. So, why shouldn't you skip this list? Because life is too short to miss out on the most delicious and distinctive desserts Ukraine offers.
What is special about Ukrainian sweet courses? And what do they look like? Follow me for more insights.
1. Syrnyky/Syrniki (Fried Cheese Pancakes)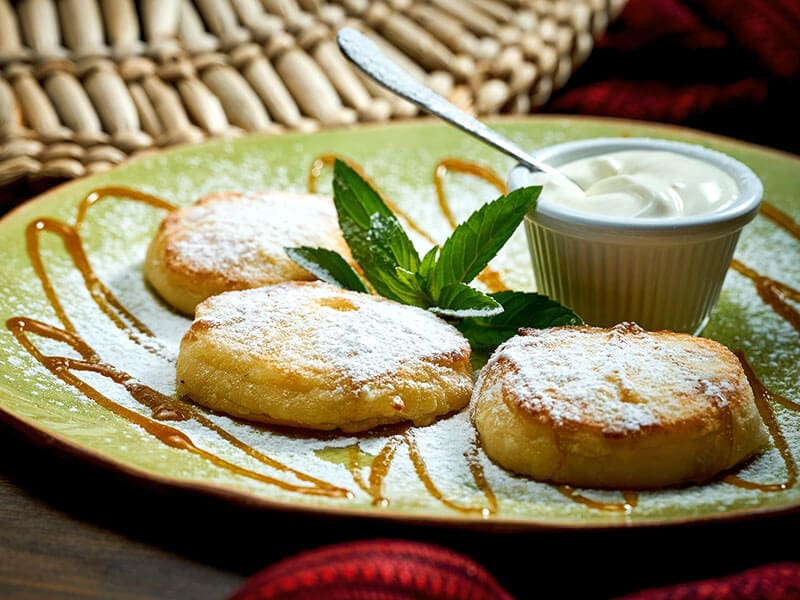 Let me introduce you to Syrnyky, a traditional Ukrainian dessert that's sure to become a new favorite in your culinary repertoire.
With origins rooted in Ukrainian history, Syrnyky has become an integral part of the country's cuisine. It's commonly enjoyed as a dessert or breakfast treat, accompanied by sour cream, jam, powdered sugar, or honey.
At its core, Syrnyky is a simple yet delectable dish made from farmer's cheese, eggs, sugar, and flour. Occasionally, raisins or other dried fruits also appear to enhance the flavor and texture.
If you can't buy farmer's cheese, use cottage cheese instead. The texture of Syrnyky is unique, boasting soft and moist cakes. Of course, these pancakes are bursting with flavor.
If you want to make Syrnyky, ensure the farmer's cheese is well-drained to avoid excess moisture.
Additionally, keeping the frying temperature consistent is essential, as the too-high heat may cause the exterior to burn before the inside is cooked. Remember to drain these fried pancakes with oil-absorbing paper before serving.
You can enjoy the hot or cold dish and pair it with sweet toppings.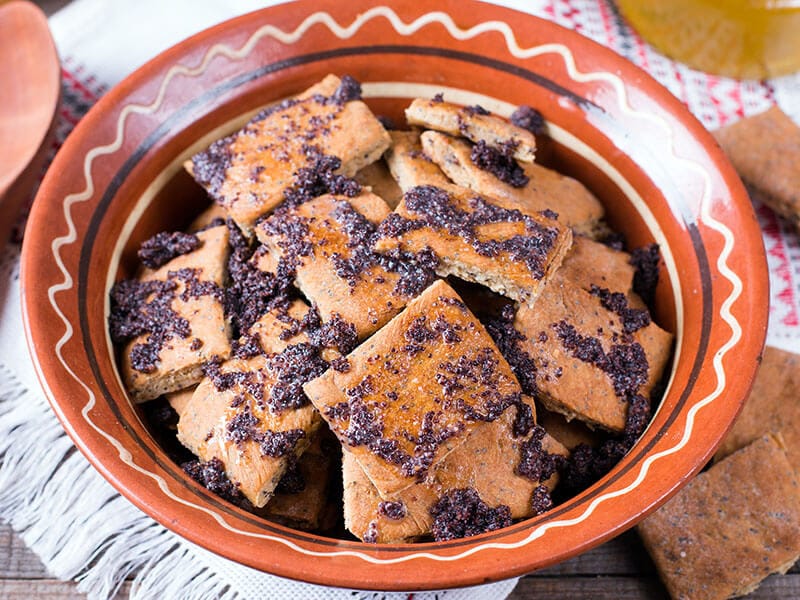 Honey Shulyky is a delightful dessert from Eastern European cuisine's heart. This tasty treat is a type of cookie characterized by its unique shape and flavor, which are both simple and captivating.
Did you know? Honey Shulyky is often associated with the winter holidays and family gatherings, as their warm honey aroma evokes a sense of coziness and togetherness.
Honey Shulyky's main ingredients include honey, flour, butter, poppy seeds, and eggs. The texture is pleasantly crumbly and crisp, making it a perfect snack for your favorite hot beverage, such as tea. They are typically cut into square pieces.
If you're eager to make Honey Shulyky at home, the first thing to do is prepare the dough, then roll and cut it before baking.
After that, you need to prepare the sweet sauce made from water, honey, and poppy seeds. Then pour the sauce on these baked cookies and let them soak thoroughly. Finally, serving Honey Shulyky is easy, as they're typically enjoyed at room temperature.
3. Perekladanets (Ukrainian Christmas Cake)
Perekladanets is a delicious layered cake with a harmonious blend of flavors and textures, making it a beloved treat among dessert lovers.
Perekladanets primarily consist of thin, delicate layers of sponge cake interspersed with different fillings that could be made with poppy seed, walnut, or other ingredients.
The fillings can vary but share the same rich and flavorful taste. The cake's texture is soft and moist, with a tantalizing aroma that entices the senses.
Remember to be patient when assembling the cake, as it's essential to let the layers and filling set correctly. The top layer is typically covered by egg white.
Once assembled and baked, refrigerate the cake to allow the flavors to meld and the texture to develop. The cake must be completely cool before putting it in the fridge. Finally, cut this cool cake into diamonds or squares.
Perekladanets are often served during special occasions and celebrations, as their intricate layers symbolize the coming together of friends and family. FYI, "Perekladanet" in Ukrainian means "to layer".
4. Nalysnyky (Ukrainian Crepes)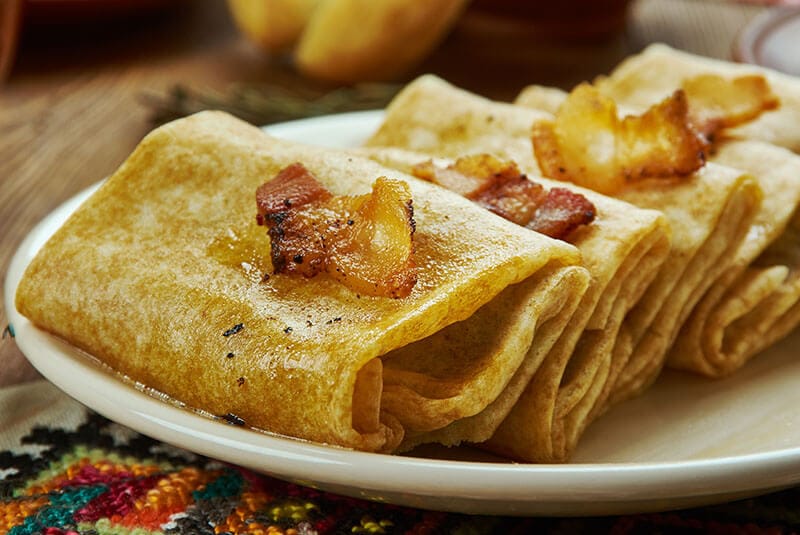 Nalysnyky is a traditional Ukrainian dessert with thin, delicate crepes, often filled with a sweet and tangy cheese mixture.
It primarily consists of flour, eggs, milk, and a pinch of salt for the crepes, while the filling is typically made from farmer's cheese, sugar, and vanilla extract. Don't worry if you can't find farmer's cheese; you can always substitute it with ricotta or cottage cheese.
The texture of Nalysnyky can be described as soft and tender, with a slightly crispy exterior. Its taste is a harmonious blend of sweet and tangy flavors, while the aroma of freshly cooked crepes is simply irresistible.
Plus, you can always get creative with filling, using fruit preserves/jam or even chocolate if you're feeling adventurous.
For a successful Nalysnyky-making experience, I suggest using a non-stick pan and swirling the batter to achieve a uniformly thin crepe. After cooking each crepe, set it aside and let it cool before adding the filling. Roll the crepes tightly and bake them briefly for that perfect, golden finish.
When serving Nalysnyky, dust them with powdered sugar or drizzle them with honey, sour cream, or fruits (e.g., banana or berries).
5. Verhuny/Varenyki (Ukrainian Fried Pastries)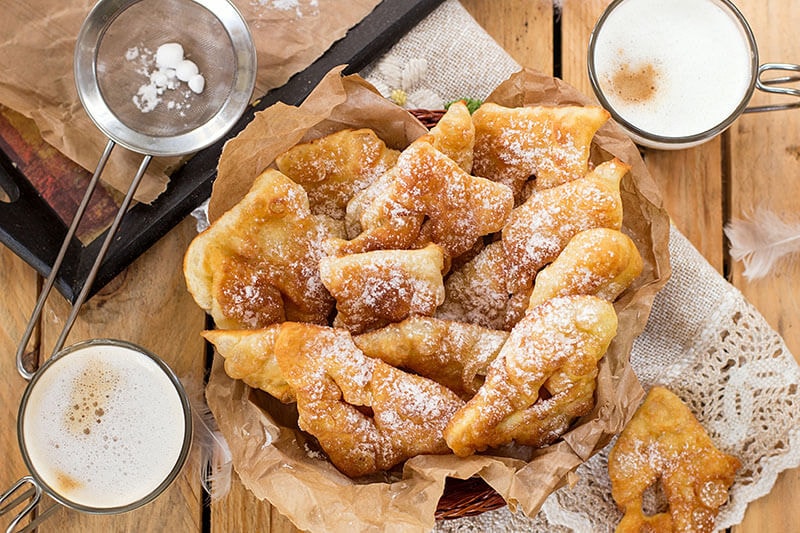 Verhuny is another delicious Ukrainian dessert that will surely tantalize your taste buds. This traditional Ukrainian dessert is a sweet bread made from flour, sugar, eggs, and butter.
The dough is rolled out, shaped into desired forms, and deep-fried until it achieves a golden-brown hue. The shape of these cookies varies based on the region. They are typically cut into rhombs with an incision. Or they can be formed into rolls or roses.
You might be interested to know that Verhuny used to fry in lard. If you're curious about other possible flavorings, some recipes use citrus zest, such as lemon or orange, for a hint of tanginess.
As for its texture, Verhuny boasts a light and crisp outer layer while maintaining a soft, tender interior. This amazing contrast is why people can't get enough of this dessert.
When serving Verhuny, a dusting of powdered sugar is the classic choice, giving it a snowy appearance and a subtle hint of extra sweetness. And it is best to enjoy it immediately after frying.
The key to making Verhuny is to fry the dough strips at the right temperature – not too hot or cold – to ensure that they cook evenly and don't become greasy. If you're not a fan of deep-frying, you can also bake Verhuny for a healthier alternative.
Lastly, Verhuny is often prepared during festive occasions and celebrations in Ukraine.
6. Hombovtsi (Sweet Cinnamon Cheese Balls)
Hombovtsi is a scrumptious dessert hailing from Hungarian roots. These delightful balls include curd cheese, semolina, flour, eggs, and sugar.
All ingredients create a dough. Knead them with your hands so these balls can have a dense texture. If you prefer a tender cheese ball, you can reduce the amount of flour and semolina.
The taste is mildly sweet, with a hint of cheese and semolina. Once these cheese balls are cooked, dust them with breadcrumbs or rusks. And when they are ready to serve, you can relish them with dried fruits.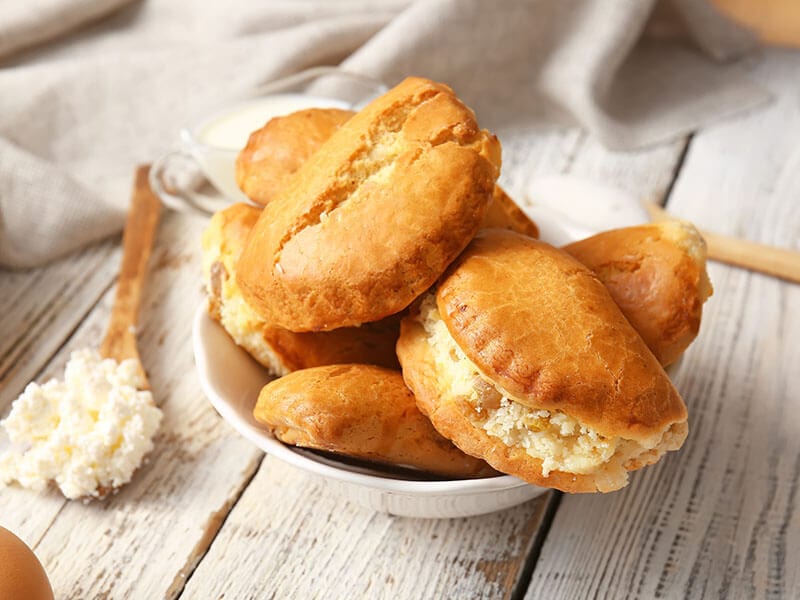 Here comes Sochniki, a scrumptious Ukrainian dessert that has captured the hearts of pastry lovers worldwide. This pastry falls into the shortbread category, and it has a distinctive half-moon shape that's visually appealing and fun to eat.
The main ingredients in Sochniki include a buttery, flaky dough filled with a sweet and tangy curd cheese mixture. Some variations may incorporate berries or seasonal fruits. Combining a crispy exterior and creamy filling creates an irresistible taste and texture experience.
Sochniki's origins can be traced back to Russia, where it has been a popular teatime treat for centuries. It's now commonly enjoyed in countries across Eastern Europe, with each region adding its unique touch to the recipe.
If you're eager to try making Sochniki, ensure not to overfill the pastries to prevent leakage during baking. Remember to remove excess liquid if you use cottage cheese for this delicacy.
People enjoy Sochniki with tea or coffee, making them the perfect accompaniment to an afternoon break or a leisurely weekend brunch.
8. Kyiv Cake (Hazelnut Meringue Cake)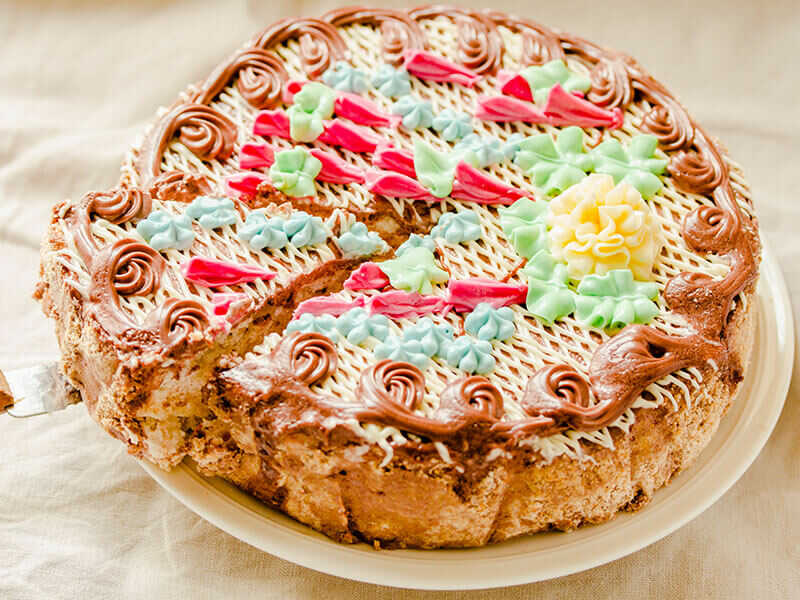 The Kyiv cake is a delectable dessert with irresistible flavors and textures, showcasing a harmonious meringue, hazelnuts, and buttercream blend.
The main ingredients in a Kyiv Cake include eggs, sugar, and flour for the meringue layers, while the scrumptious buttercream filling is typically made with butter, sugar, and condensed milk.
The cake is then generously adorned with crushed hazelnuts, adding a layer of flavor and crunch. If you can't find hazelnuts, substitute them with almonds or pecans.
Kyiv Cake is truly unique, offering a contrast between the crispy meringue layers and the velvety buttercream. The taste is a heavenly fusion of sweetness and nuttiness, while the aroma is simply captivating.
The Kyiv Cake is named after the capital city of Ukraine, where it was first created in the 1950s. While there isn't a wide range of Kyiv Cake variations, you can experiment with nut mixtures or additional flavors like chocolate or coffee.
To master the art of making a Kyiv Cake, I suggest baking the meringue layers at a low temperature to achieve that desirable crispiness. After assembling the cake with buttercream and nuts, set it in the refrigerator for a few hours to let the flavors meld.
9. Pliatsok (Ukrainian Layered Pastry)
Pliatsok is a beloved Western Ukraine dessert prized for its crowd-pleasing taste. This treat combines pie and cake, featuring thin, sponge-like layers stacked with luscious fillings like fruit, cream, or chocolate.
The main ingredients for Pliatsok include eggs, sugar, flour, and butter, creating a light cake. While the traditional filling is fruit, you can get creative with substitutes like marshmallows or marmalade. The outcome is a harmonious blend of flavors and textures.
Pliatsok's origin is rooted in western Ukraine, where it has been a beloved dessert staple for holidays in the Lviv areas. Over time, various regions have put their unique spin on the recipe, leading to various delicious Pliatsok variations.
If you make the cake yourself, remember to whisk the eggs and sugar until they're light and fluffy for the perfect cake texture, and bake the layers until golden to prevent overcooking.
Be generous with the filling to ensure a moist and flavorful dessert when assembling the cake.
10. Medivnyk (Honey Cake)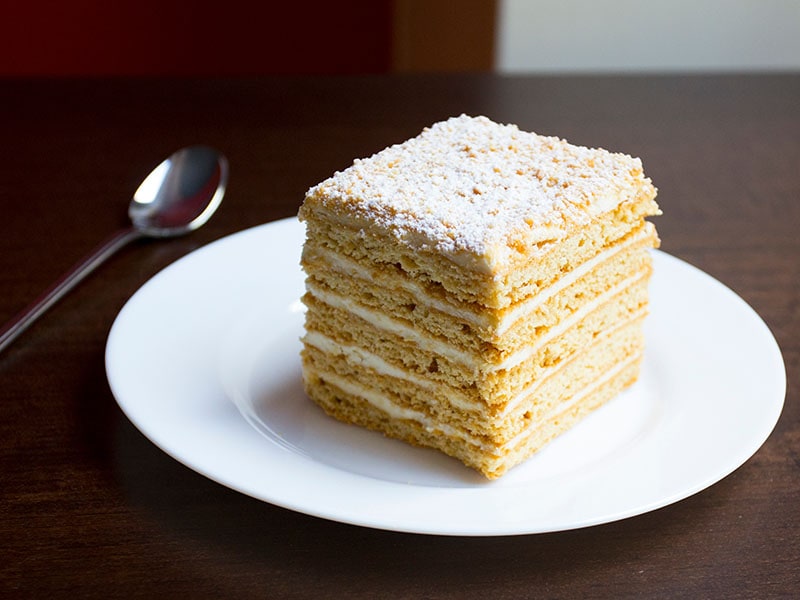 Medivnyk is a traditional Ukrainian honey cake cherished for its sweet, rich flavors and tender texture. As the name suggests, the star ingredient of this cake is honey, which lends a fragrant aroma and irresistible taste to the dessert.
The main components of Medivnyk include honey, eggs, sugar, flour, and baking soda, which come together to form a dense, moist cake.
You may find variations that incorporate spices like cinnamon, cloves, or nutmeg for added warmth and depth of flavor. Some recipes even call for dried fruits or nuts for a unique twist.
The history of Medivnyk comes from the Lviv regional cuisine as a dessert. This age-old treat is often associated with special occasions, particularly Christmas, where it symbolizes sweetness and prosperity.
When making Medivnyk at home, use high-quality honey for the best flavor. Mixing the honey, butter, and sugar in a saucepan over low heat before adding the remaining ingredients will ensure even distribution and a smoother batter.
Bake the cake until a toothpick inserted in the center comes out clean, then allow it to cool completely before serving.
To serve Medivnyk, slice it into generous portions and enjoy it with tea or coffee. Keeping the cake in an airtight container at room temperature can help it stay moist and delicious for up to a week.
11. Makivnyk (Ukrainian Poppy Seed Roll)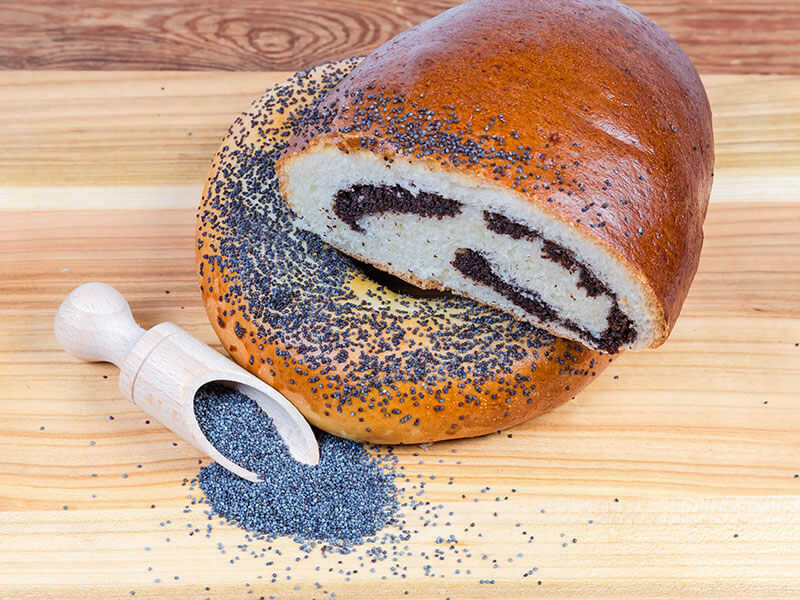 Makivnyk is a delicious Ukrainian poppy seed roll capturing the hearts of dessert lovers for generations. This pastry features a soft, yeasty dough filled with a sweet, rich poppy seed mixture, creating an exquisite balance of flavors and textures.
The primary ingredients for Makivnyk include flour, sugar, milk, eggs, and yeast for the dough, while the filling consists of ground poppy seeds, sugar, and butter.
Some recipes may add raisins, walnuts, or lemon zest to enhance the filling's taste and texture. If you prefer lighter dough, you can use all-purpose flour. Typically, Makivnyk is often served during Christmas and Easter celebrations.
To make Makivnyk, prepare the dough and let it rise until it doubles. Meanwhile, create the poppy seed filling by combining the ingredients and spreading it evenly over the rolled-out dough.
Roll the dough tightly, tucking in the edges to prevent the filling from leaking. Bake the roll until golden brown and cool before slicing and serving. Try pairing Makivnyk with warm tea or sweet kompot for an authentic combo.
12. Oladky/Oladyi (Ukrainian Pancakes)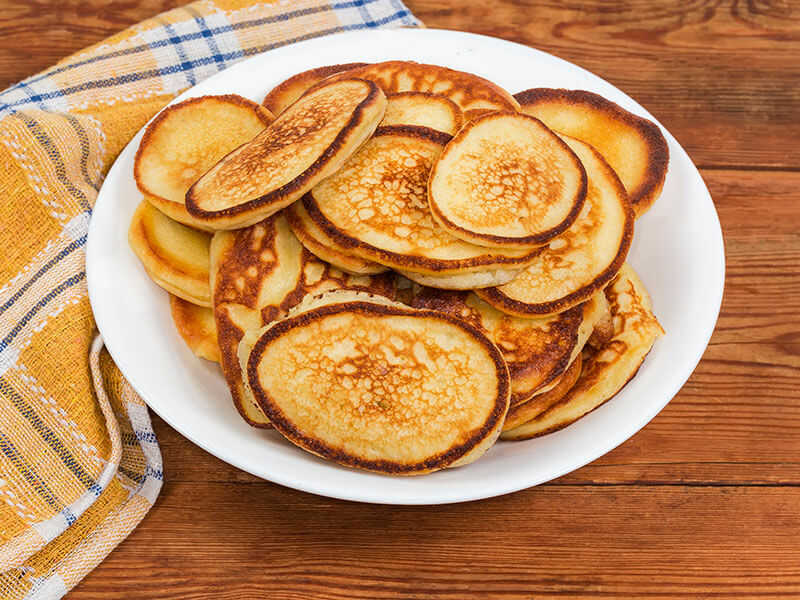 Oladky, also known as Ukrainian pancakes, is a delectable treat many enjoy for its fluffy texture and irresistible taste. Made primarily from flour, eggs, milk, and a leavening agent like baking powder, these delightful pancakes are versatile to suit various preferences.
Sometimes, you might substitute kefir for milk to create an even fluffier texture and a subtle tangy flavor. Oladky can be sweet or savory, depending on the ingredients you add to the batter.
Popular variations include incorporating grated apples, mashed bananas, or even raisins for a unique twist on the classic recipe.
Oladky has a rich history in Ukrainian cuisine and is commonly prepared for breakfast or enjoyed as a snack. They are typically smaller and thicker than their American counterparts, providing a satisfying bite that leaves you craving more.
Serve your Oladky warm with your choice of toppings. Sweet options include honey, dried fruit, or powdered sugar, while savory choices might feature caviar.
13. Paska (Ukrainian Short Easter Bread)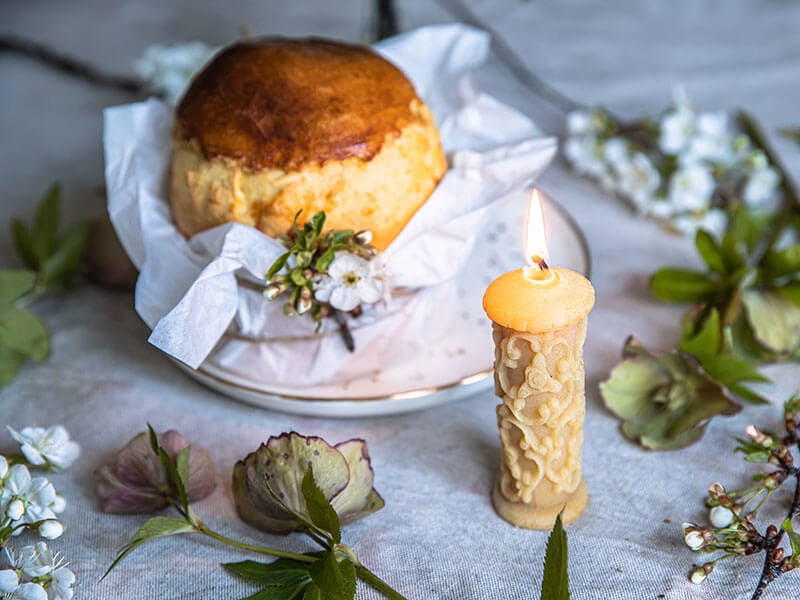 Paska, a traditional Ukrainian Easter bread, is a beloved dessert known for symbolic significance similar to pysanky (Ukrainian easter eggs). At its core, Paska is a yeast-based sweet bread made with flour, eggs, sugar, milk, and butter, giving it a tender, crumb texture.
For the best result, you should use all-purpose flour with warm milk. The bread's aroma is often enhanced by optional aromatics like vanilla, lemon zest, or even saffron, lending a delicate and inviting fragrance.
Paska means Easter and is also an integral part of the Easter celebrations. The bread is often decorated with intricate patterns for an eye-catching effect, such as crosses, rosettes, and braids.
When making Paska, allowing ample time for the dough to rise is essential, contributing to the bread's soft, fluffy texture. After baking, let the bread cool before glazing it with a simple sugar for added sweetness and visual appeal.
Traditionally, Paska is often blessed by a priest during Easter, emphasizing its significance in the religious celebration and its role in bringing families together during the festive season.
14. Babka (Ukrainian Tall Easter Bread)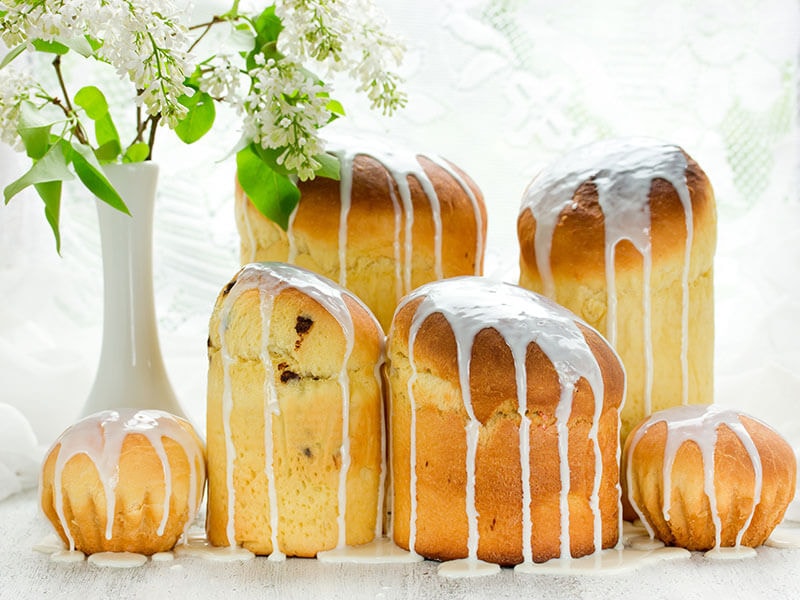 Babka is a rich, yeasted cake known for its distinctive cylindrical or swirl shape. The main ingredients for a traditional Babka include flour, eggs, sugar, milk, and butter, which yield a soft, slightly sweet, and rich dough.
To switch things up, some bakers may opt for alternative flours or dairy-free milk, adding a unique twist to the classic recipe. Babka's appeal doesn't end with the dough; the cake includes delicious ingredients, such as chocolate or fruit preserves, for added taste.
Babka's history is deeply rooted in the Jewish and Polish cultures, where it has been a popular treat for centuries, especially during festive occasions like Easter.
For the best results when making Babka, be patient and allow the dough to rise properly, ensuring a soft, moist crumb. After baking, let the bread cool before slicing to maintain its beautiful swirls and prevent it from becoming overly dense.
15. Pampushky (Ukrainian Sweet Doughnuts)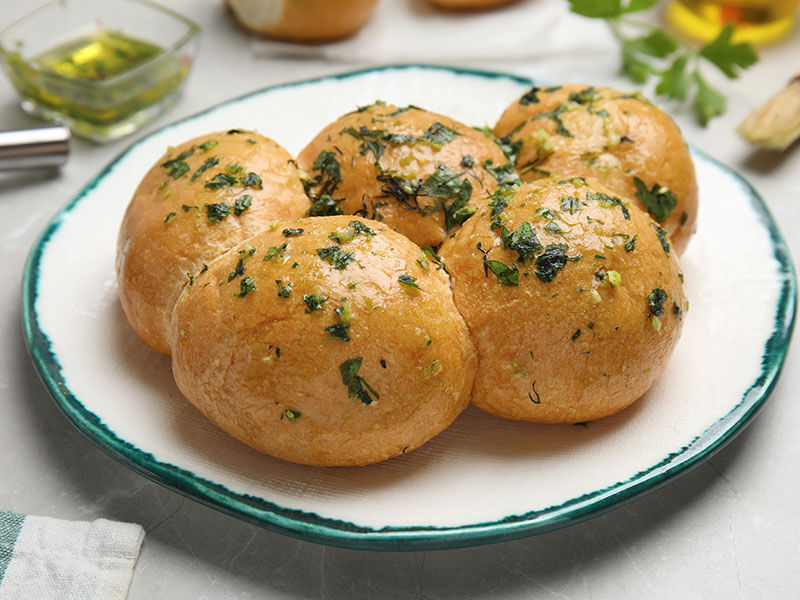 An irresistible Ukrainian dessert that's perfect for satisfying your sweet tooth is Pampushky. These delightful treats are the Ukrainian version of doughnuts with sweet fillings. However, some suggest that these Pampushky also were created by German colonists in Ukraine.
Despite the resemblance, Pampushky has unique characteristics which set them apart from their doughnut cousins. The main ingredients in Pampushky are flour, sugar, eggs, and yeast, creating a soft, fluffy dough that's simply irresistible.
What makes Pampushky special is the array of flavors they come in. You might find them filled with fruits and poppy seeds or sprinkled with powdered sugar. In addition, there's even a garlic-coated version, perfect for dipping with Borscht (a sour soup) for a warm Ukrainian meal.
The texture of Pampushky is airy and light, with a golden-brown crust that gives way to a soft, tender interior. Their taste is a harmonious balance of sweetness and richness, enhanced by the aroma of warm, freshly baked bread.
This scrumptious Pampushky is often served at celebrations, gatherings, and family dinners, making them a cherished part of Ukrainian culinary traditions.
16. Yabluchnyk (Apple Cake)
Yabluchnyk is a scrumptious Ukrainian dessert with apples being the main highlight of the cake. Often described as a soft treat, Yabluchnyk is a traditional apple-filled delight perfect for any occasion.
At its core, Yabluchnyk features a delectable mix of apples, sugar, and cinnamon enveloped in layers of buttery dough. The mixture is a simple mix of flour, butter, and cream to achieve that melt-in-your-mouth tenderness.
You'll notice the harmonious balance between the tender crust and the sweet, spiced apple filling. The enticing aroma of cinnamon and baked apples wafting through the air is irresistible.
Yabluchnyk has been a beloved staple in Ukrainian households for generations. While its exact origins are unclear, it is believed to have been inspired by the celebration of apple harvesting in Ukraine, called Yablochnyi Spas.
If you're keen on trying your hand at making Yabluchnyk, here's a tip: To ensure the perfect crust-to-filling ratio, be generous with your apple layers and slightly press them down before adding the dough.
There are countless variations of Yabluchnyk, with some recipes using peaches, plums, or berries for different results. When it comes to serving, enjoy Yabluchnyk warm, topped with a dollop of fresh cream for an extra touch of indulgence.
Let me introduce you to Kiflyky, a delightful Ukrainian dessert. It is a crescent-shaped pastry filled with various sweet and savory ingredients, making them a versatile treat for any occasion.
Surprisingly, the treat has an Austrian origin, with the name "ipferl," before being adopted in the Zakarpattia region of western Ukraine.
The foundation of Kiflyky is a delicate, short-crust pastry made from flour, butter, and sour cream to create its signature softness. The filling is where the magic happens – you'll often find Kiflyky stuffed with fruit preserves, powdered sugar, or even poppy seeds.
When you sink your teeth into a Kiflyky, enjoy a flaky, golden crust that crumbles effortlessly, revealing the luscious filling within. Kiflyky has long been a beloved part of Ukrainian culinary traditions.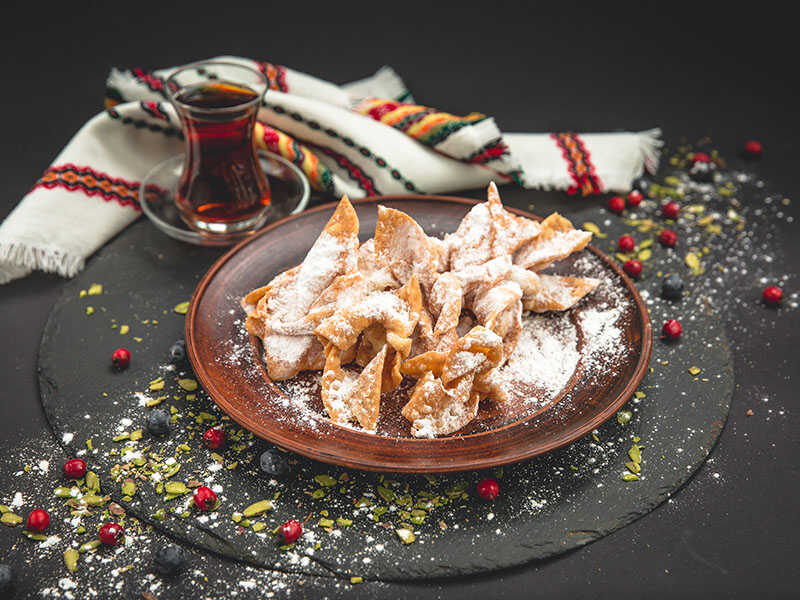 Khrustyky is a Ukrainian dessert featuring crispy pastries perfect for a delightful treat with your afternoon tea or Christmas Eve. Khrustyky is made from simple flour, eggs, sugar, and butter dough.
The dough is rolled out thinly and then cut into various shapes, often with intricate designs. KKhrustyky'scharms lie in their light, crisp, and airy texture. The taste is subtly sweet, complemented by a mild sweetness on your palate.
To ensure your Khrustyky turns out perfectly, here's a tip: Keep the dough chilled while working with it to maintain its delicate texture. Khrustyky can be enjoyed either warm or at room temperature, and they pair beautifully with a dusting of powdered sugar.
19. Ukrainian Walnut Torte
Ukrainian Walnut Torte plays a unique role in Ukrainian cuisine. This elegant, layered cake is perfect for special occasions or simply as a way to treat yourself to a luxurious dessert.
In some parts of Ukraine, the Walnut Torte usually appears at weddings (along with Korovai, a well-decorated bread), baptisms, and other joyous events. The primary ingredients include chopped walnuts, flour, sugar, and eggs. Walnuts are the star of this dessert for their profile.
Each torte layer has a sweet, creamy filling to harmonize flavors and textures. The taste is decadent, with notes of vanilla for extra fragrance.
The torte has various forms, with some recipes featuring chocolate in the frosting to further elevate the flavor profile. When preparing your Ukrainian Walnut Torte, ensure the layers are evenly baked and cooled before assembling to achieve a visually stunning result.
20. Povidlyanka (Ukrainian Semolina Pudding)
Discover the charm of Povidlyanka, a traditional Ukrainian dessert believed to have originated long before Christianity. Povidlyanka is a pastry that showcases a soft cake filled with a fruit preserve and topped with raisins or a layer of sugar glaze.
Povidlyanka mainly consists of flour, sugar, eggs, and butter for the dough, with fruit preserves taking center stage for the filling. If you need a substitute, consider using other fruit spreads, such as apricot or blackberry, to create a different flavor experience.
The treats usually possess a tender, flaky exterior that gives way to a rich, fruity filling. TThere'seven a rum-infused version of Povidlyanka. The original taste is a balanced blend of sweet and tart, while the aroma evokes warm memories of homemade baked goods.
The origin of Povidlyanka is deeply rooted in Ukrainian culinary history, considered a national treasure by many. Povidlyanka is often associated with festive occasions like Easter and is known to the locals as Babka.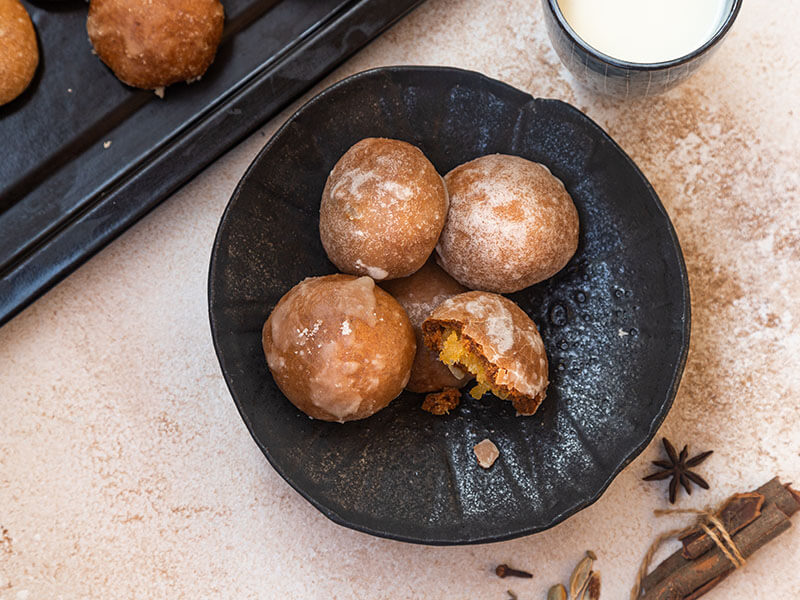 Experience the exquisite taste of Pryanik, an Eastern European dessert that's especially popular in Russia and Ukraine. Pryanik is a spiced cookie or gingerbread-like treat made from a flavorful blend of honey, spices, and flour.
The main ingredients in Pryanik include flour, honey, sugar, and a spice mix that often features cinnamon, cloves, ginger, and cardamom. These spices give Pryanik its signature earthy flavor and strong aroma. In modern recipes, sugar can be in place for honey.
Pryanik has a cake-like texture, while its flavor profile balances sweetness with the warmth of spices. Interestingly, PPryanik'sorigin traces back to ancient East Slavic, meaning "epper," with the dessert evolving into the beloved treat it is today.
22. Kutya or Kutia (Wheat Berry Pudding)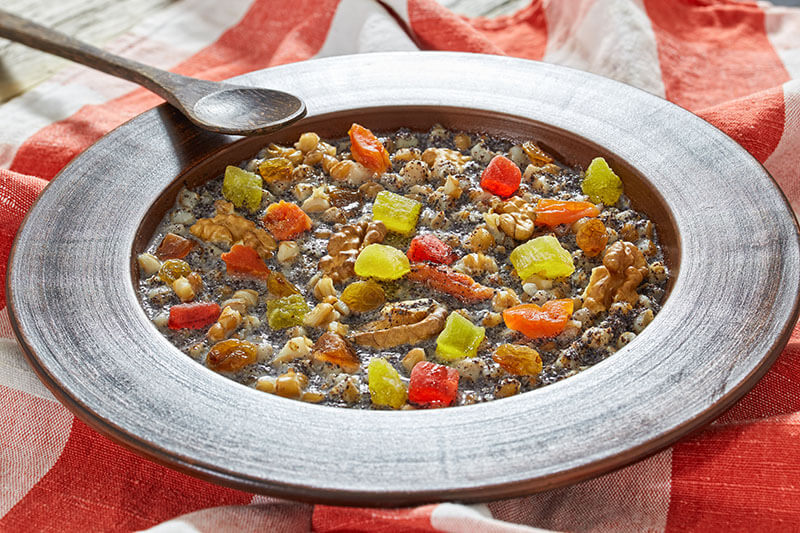 Kutya (aka Kutia) is a dish typically enjoyed during Christmas Eve dinner or at a funeral feast, particularly in Ukraine, Russia, and Belarus.
The main elements of Kutya/Kutia consist of whole grains such as wheat berries (Kasha) cooked to a tender consistency. Honey and poppy seeds are added for sweetness, while dried fruits like raisins, apricots, or cherries lend a pleasant, fruity tang.
Preparing Kutya/Kutia involves soaking the grains overnight and cooking until they reach the desired tenderness.
Remember to stir in the honey, poppy seeds, and dried fruits after the grains have cooked to preserve their flavors and textures. Serve it warm or cold as a standalone dessert or alongside Uzvar, a brown drink of dried fruits served during cold time.
Some recipes might substitute sugar for honey, depending on personal preference. Kutya/Kutia has a thick texture, while its taste combines the natural sweetness of honey and dried fruits with the earthy, nutty flavors of whole grains and poppy seeds.
This dessert has deep-rooted cultural origins tracing back to the Neolithic era. Normally, people let children send Kutya/Kutia to relatives as a goodwill gesture. In Eastern European Christmas celebrations, it is often the first dish consumed during the meal in Eastern European Christmas celebrations.
23. Kolach (Ukrainian Christmas Bread)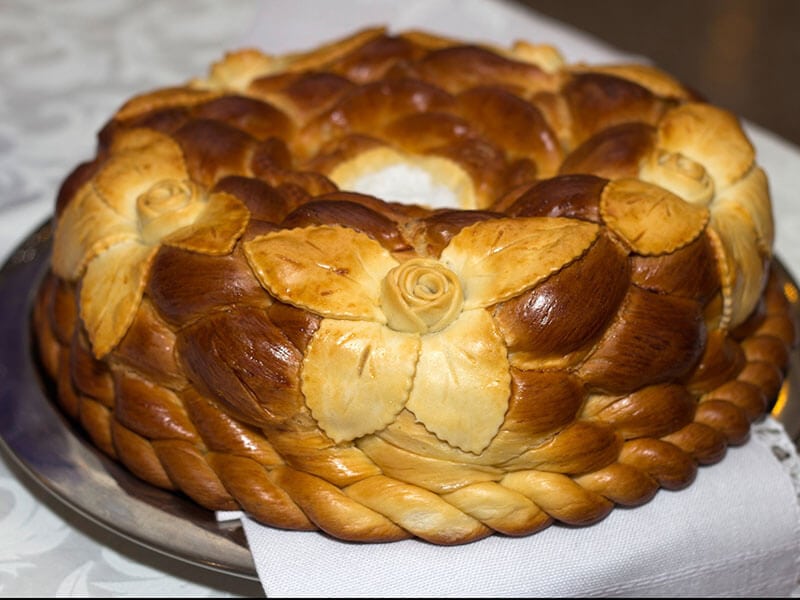 Kolach is a traditional Ukrainian Christmas bread that often appears in Central and Eastern European during baptisms, funerals, and celebrations. It is a sweet and rich dessert typically served during Christmas and a key to the Ukrainian celebration of Svyat Vechir (Holy Supper).
The main ingredients of Kolach include flour, yeast, sugar, eggs, butter, and milk. The dough is typically braided into a round or oval shape with a hole in the center. People usually decorate with nuts, raisins, and other toppings.
Aside from Christmas, the bread also appears in church funerals to receive a blessing. Then, people usually have bread with fruits to remind them of the good things about the deceased one.
One key difference between Kolach and Paska, a Ukrainian Easter bread, is that Paska is typically a taller, cylindrical loaf decorated with intricate designs. Paska is also usually flavored with vanilla and lemon zest, while Kolach has a more nutty and sweet flavor.
Overall, Kolach is a delicious and essential part of Ukrainian holiday traditions. People usually serve it in a trio stacked with a lit candle in the middle of the hole.
24. Varenyky (Ukrainian Sweet Dumplings)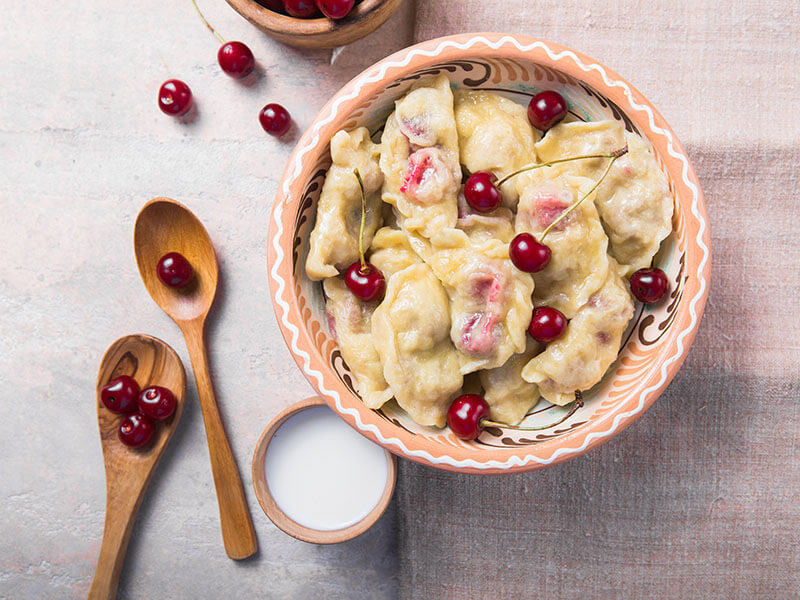 Varenyky is a traditional Ukrainian sweet dumpling that is enjoyed as a dessert. It usually features during special occasions such as holidays and family gatherings.
The main ingredients of Varenyky include flour, eggs, milk, sugar, and a variety of sweet fillings such as meat, vegetables, fruit, cheese, or poppy seeds. The dough usually comes in cut circles, then filled with the sweet filling and sealed by pinching the edges together.
Varenyky can be shaped into various forms, such as crescents or half-moons, similar to Krendyl, a Russian/Ukrainian bread filled with fruits. Ukrainians typically boil these sweet treats until soft and tender or have a slight chewiness in the texture.
Unlike other countries, Ukrainian often put fermented milk into the Varenyky recipe to help bind the dough. However, modern cooking relies on eggs to achieve the same result. Normally, Ukrainian locals serve Varenyky with a dollop of sour cream for added flavor.
There are several varieties of Varenyky, the most popular being fruit-filled, poppy seed-filled, and cheese-filled. Fruit-filled Varenyky often leans towards cherries, blueberries, or strawberries, while cheese-filled Varenyky utilizes a sweet cheese mixture.
Poppy seed-filled Varenyky are filled with poppy seeds, sugar, and honey. Also, people serve the dish with melted butter.
Difference Between Ukrainian Desserts and Other Eastern European Desserts?
Due to historical, cultural, and geographical influences, Ukrainian desserts share many similarities with other Eastern European desserts. However, there are a few things that make them unique:
Ingredients: Ukrainian treats use things that grow nearby, like fruits (apples, cherries, plums, and berries), honey, nuts (walnuts, hazelnuts), and dairy stuff (cottage cheese, sour cream) but with different processing methods.
Flavor profile: Ukrainian treats usually possess sweet and tangy tastes. They often use sour cream or fruit jams.
Traditional dishes: Some Ukrainian desserts are unique to the country, such as Syrniki (cheese pancakes), Varenyky (sweet dumplings), and Pampushky (doughnuts).
Although other Eastern European countries have similar dishes, the recipes and names may vary. For example, Pierogi in Poland and Pirohy in Slovakia are identical to Ukrainian Varenyky but can have different fillings and preparation methods.
Cultural influences: Ukrainian cuisine has been influenced by neighboring countries like Poland, Hungary, and Russia, leading to some shared dessert traditions. However, each country has its unique culinary identity.
While Ukrainian desserts share some commonalities with other Eastern European treats, they also have unique aspects, including ingredients, flavor profiles, and traditional dishes. These differences help to define and distinguish Ukrainian desserts from other countries.
Traditional Techniques For Making Ukrainian Desserts
Traditional techniques for making Ukrainian desserts vary depending on the dessert, but there are a few standard methods and ingredients used in many traditional recipes. Some of these techniques include:
Using Local Ingredients: Many Ukrainian desserts use domestic ingredients, such as honey, poppy seeds, and berries. These ingredients are often sourced from local farms and markets, adding unique flavors and textures to the desserts.
Hand-Mixing and Kneading: In many traditional Ukrainian dessert recipes, people get close and personal with the dough using their hands for kneading instead of machines. This allows for greater control over the texture and consistency of the final product.
Boiling and Steaming: Boiling and steaming are common cooking methods in Ukrainian desserts, such as varenyky and holubtsi (stuffed cabbage rolls). These methods help preserve the ingredients' profiles while adding moisture and flavor.
Layering and Stacking: Many Ukrainian desserts, such as honey cake and Napoleon cake, are made by layering and stacking thin layers of cake with creamy fillings such as buttercream or sour cream.
Decorating with Nuts and Berries: Nuts and berries are often used to decorate Ukrainian desserts, adding flavor and visual appeal. Walnuts, almonds, and hazelnuts are common additions, and berries such as raspberries, strawberries, and currants.
FAQs
Before you go whipping up delicious Ukrainian desserts, here are some things you may want to learn more about the cuisine. Take a brief look to gain valuable information in this FAQ section.