Want to make melt-in-your-mouth crockpot Italian meatballs but don't have too much time to stand around in the kitchen? Then these slow-cooked Italian meatballs in a homemade marinara sauce are the perfect solution for you!
There are many benefits from various crockpot dishes, from giving you free time while it's cooking away to developing deep flavors.
Also, don't worry about buying store-bought marinara with this easy tomato-based sauce made from scratch, which is slow-cooked with your delicious meatballs.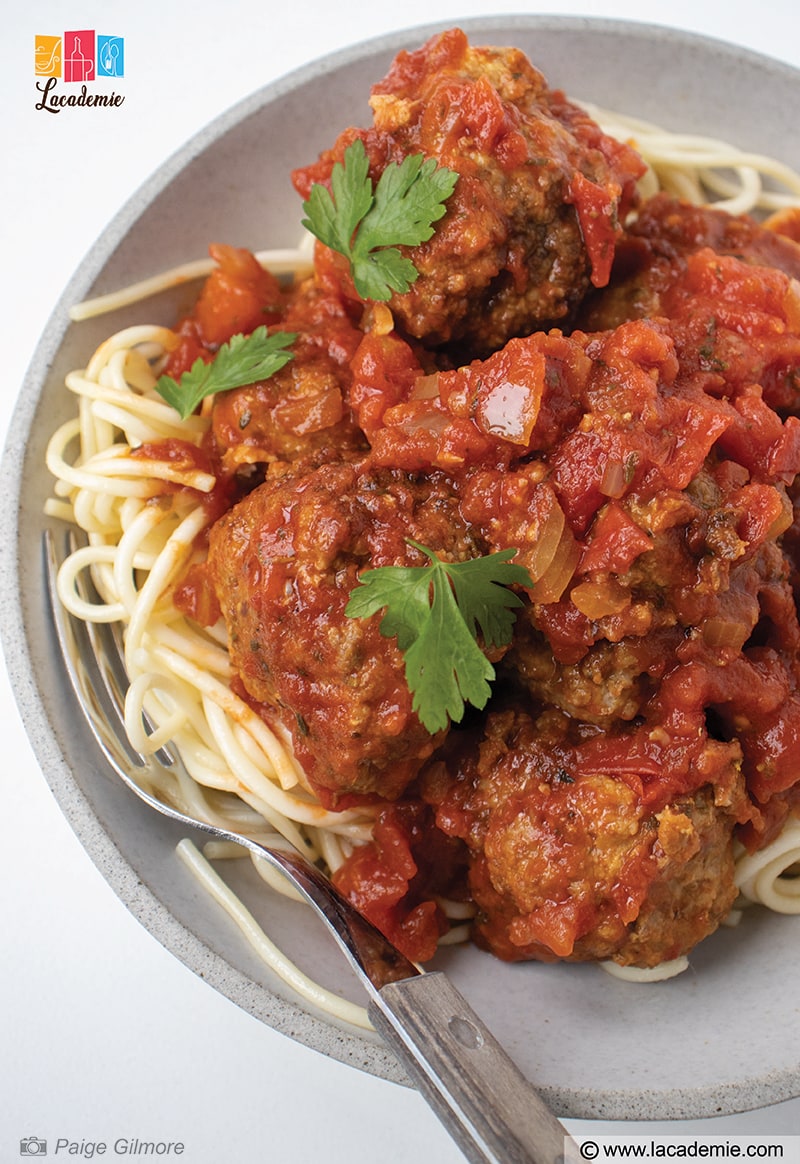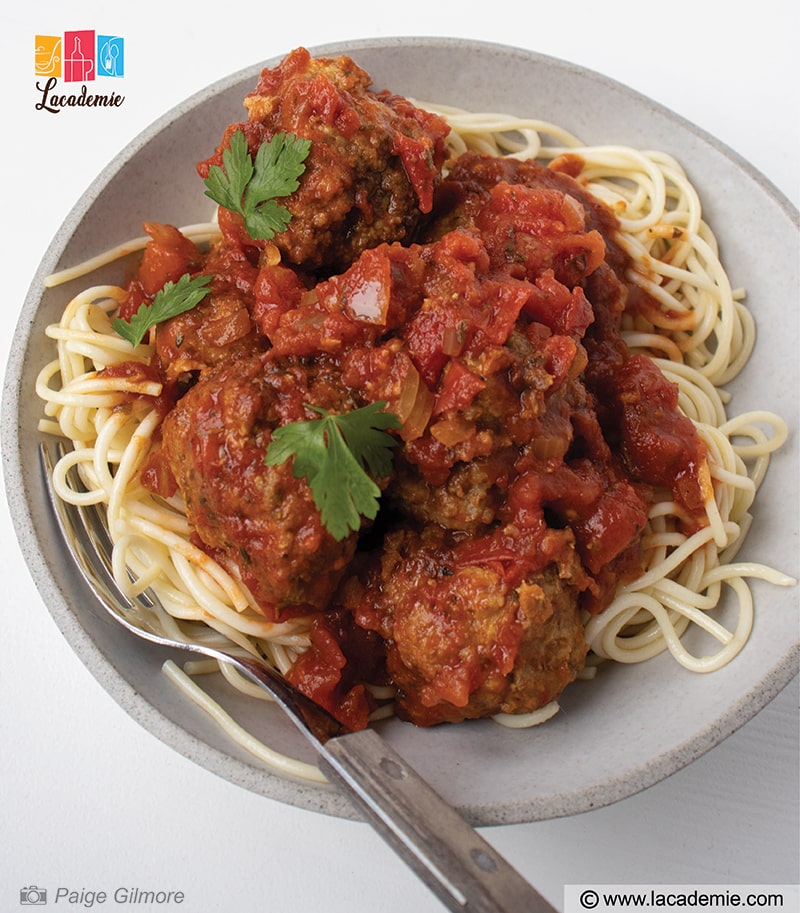 What Are Crockpot Italian Meatballs?
Crockpot Italian meatballs are a delicious meal prepared ahead of time. They are cooked on very low heat in a crockpot/slow cooker appliance on your kitchen bench. Very easy, right!
Meatballs typically are a mixture of ground meat, with bread crumbs, parmesan cheese, egg, and seasoning. In this recipe, you will place Italian meatballs in a crockpot with marinara sauce ingredients and then slow-cook them altogether.
Tools
Use the following tools to make cooking your next Italian meatballs recipe easier than ever before!
Crockpot / slow cooker: This is versatile cookware that everyone should have! There is nothing hard about using a slow cooker; all you need to do is just "click and go".
Baking tray: You will need a baking tray to bake the meatballs before cooking them with sauce in the crockpot.
Parchment paper: It prevents your meatballs from sticking on the baking tray and helps you remove them off the baking sheet easier.
Chopping board: It is a basic tool to prep ingredients (cutting or chopping herbs, onions, and garlic)
Grater: Use it to cut the cheese into small pieces.
Sharp knife: It provides an easier and safer cutting process.
Serving spoon: To control the accuracy of the ingredient portion.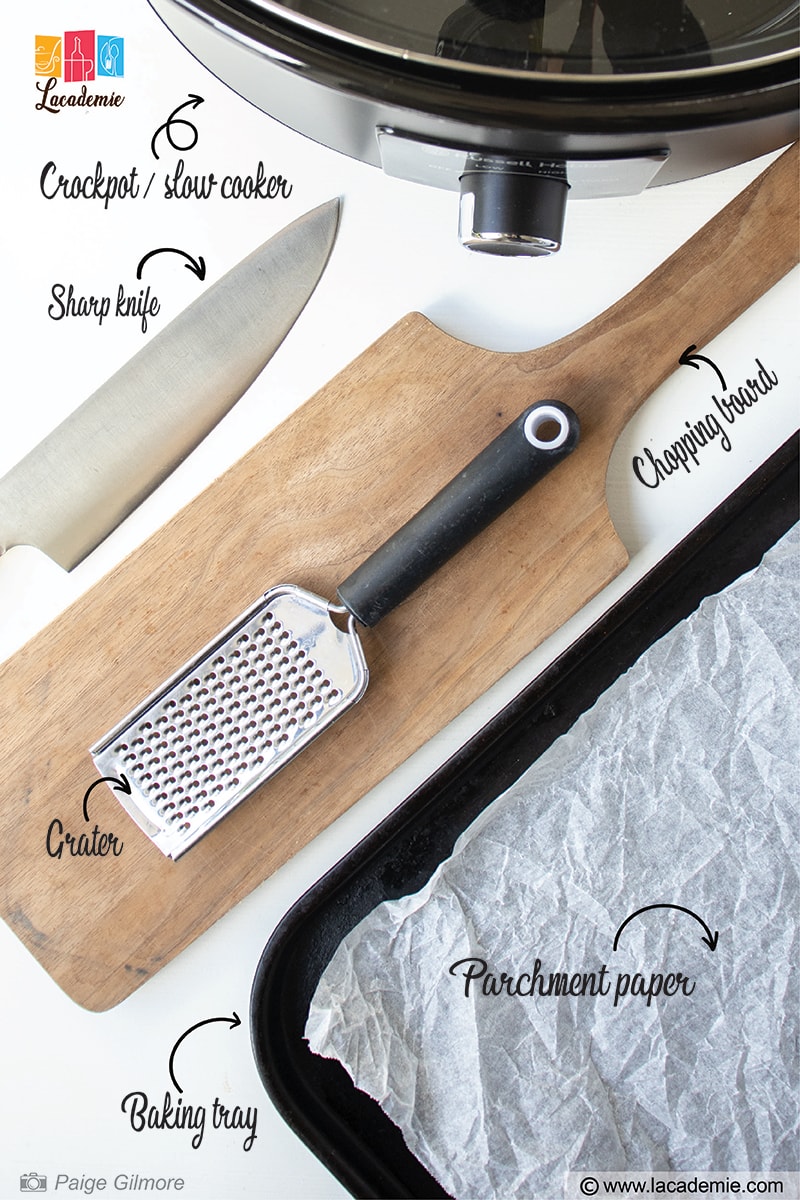 Ingredients
I have listed the main ingredients below to make your crockpot Italian meatballs delicious.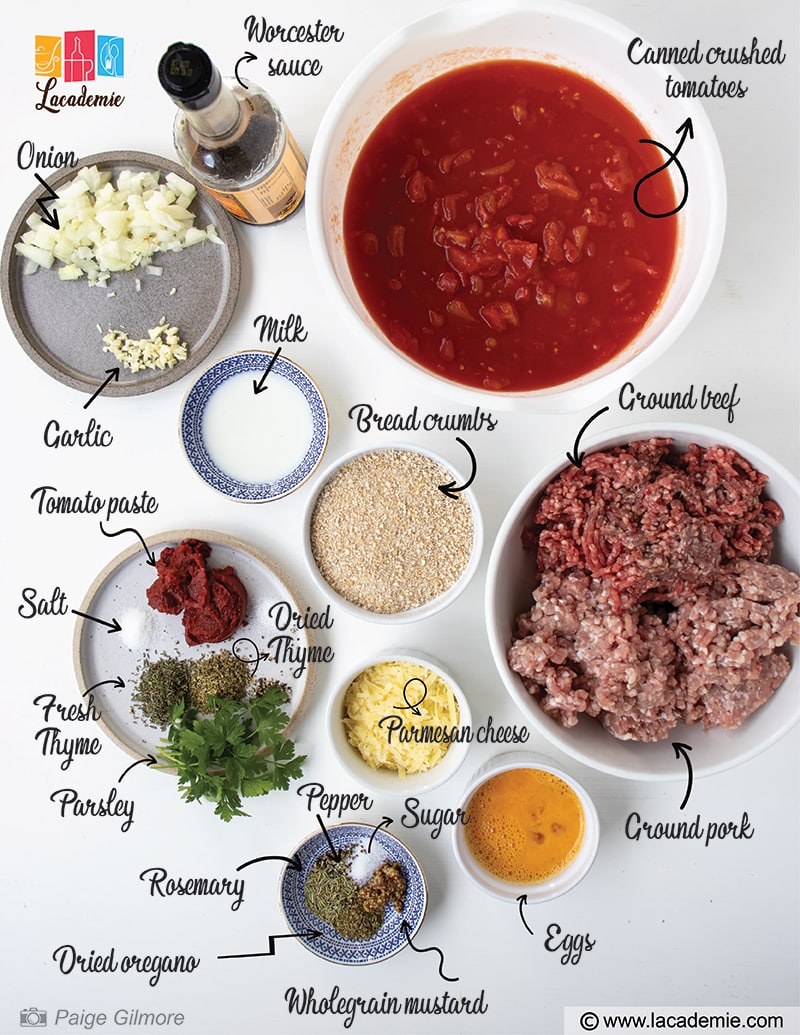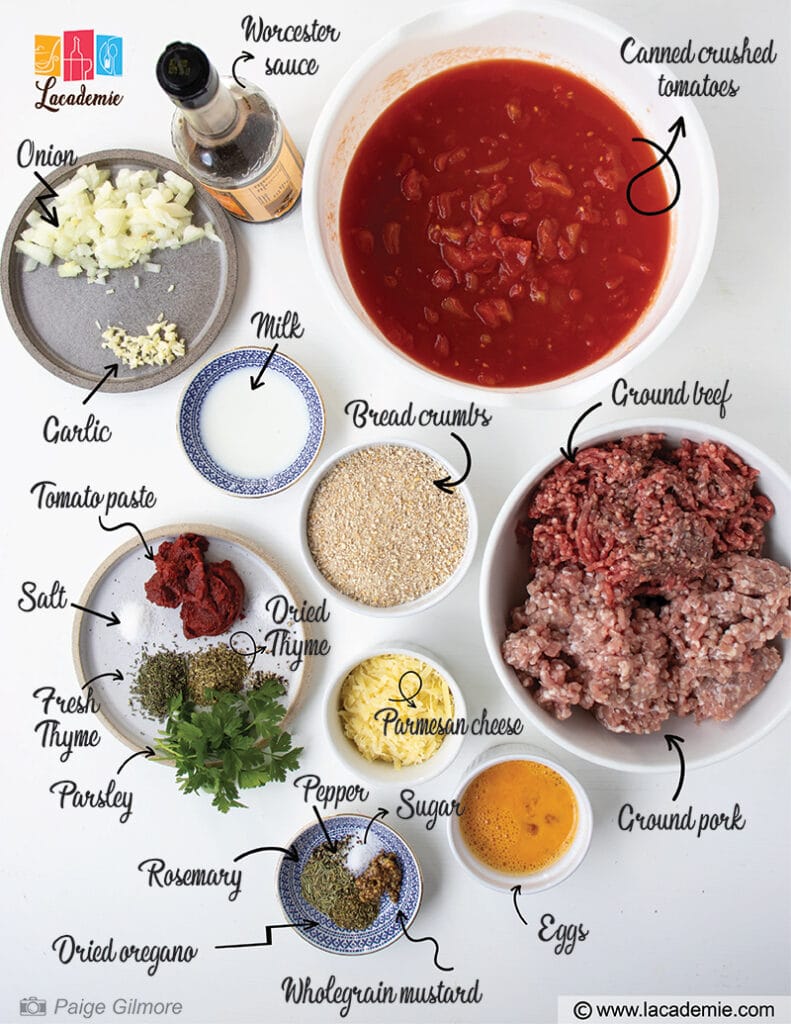 Meatballs
Ground beef: This is the core ingredient of your meatballs. You can use 90% lean beef for better results.
Ground pork: It's usually best to mix your ground beef with ground pork to give your meatballs extra flavor.
Bread crumbs: You can use any dry bread crumb, but I prefer a finer textured crumb.
Parmesan cheese: Because parmesan cheese is an essential ingredient in Italian-style cooking!
Eggs: This is a perfect ingredient to bind all meatball components together.
Wholegrain mustard: Mustard adds an extra layer of flavor to the meatballs.
Dried oregano & rosemary: These items can add a beautiful grassy flavor to your meal.
Sauce
Canned crushed tomatoes: Use them as the base of your sauce.
Tomato paste: It can add extra strength to the flavor of your sauce.
Milk & sugar: Combining these with the tomatoes balances the sauce and makes it creamier and thicker.
Onion & garlic: The stars in enhancing the overall flavor of your sauce.
Worcester sauce: Use it to increase the savory taste.
How To Make Crockpot Italian Meatballs
Follow these easy steps to make cooking your next Italian meatballs a breeze! Including your very own homemade marinara sauce.
Step 1: Prepare Your Meatballs
Preheat your oven to 390 degrees F fan grill, and line a large baking tray with parchment paper. Mix your meatball mixture and roll into small plum-sized meatballs around 1-inch.
Place your rolled meatballs on the baking tray in a single layer, leaving a little space between each meatball.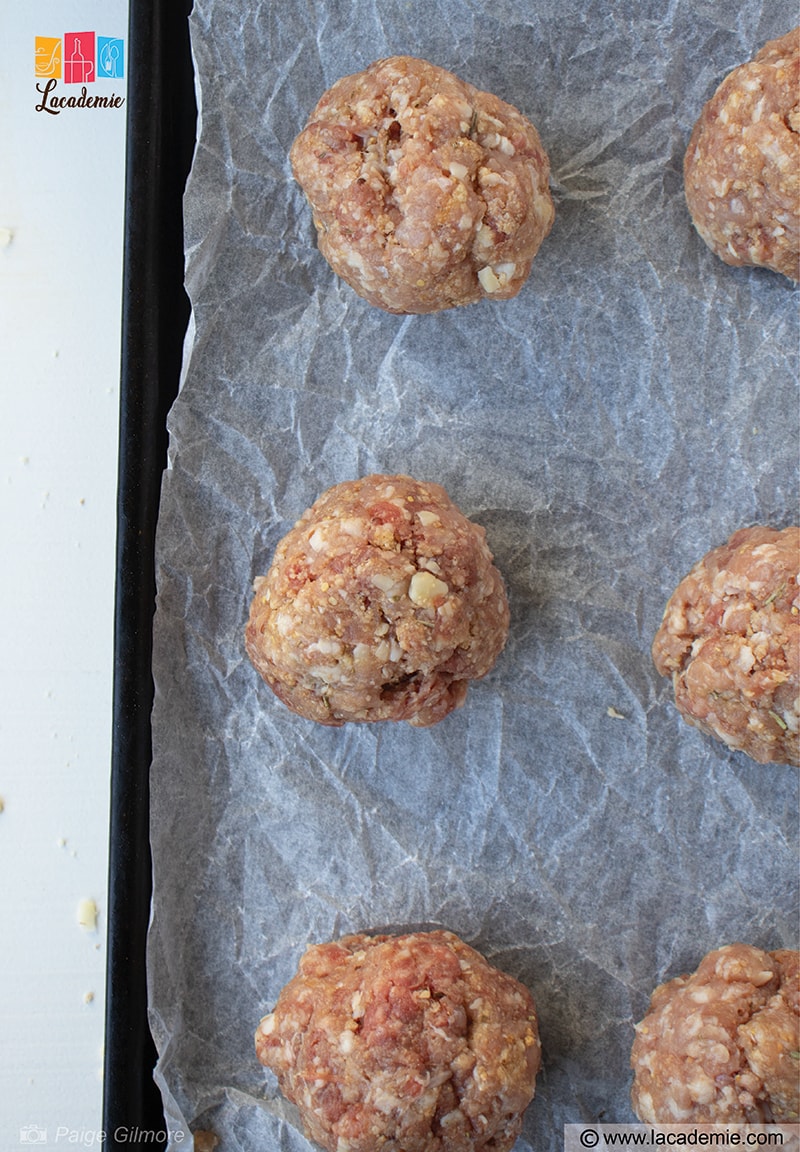 Step 2: Cook Your Italian Meatballs
Cook your meatballs in the preheated oven for approximately 10 minutes. Remove from the oven before the tops of the meatballs start to burn. The meatballs don't need to be cooked all the way through, as they will finish cooking in your crockpot.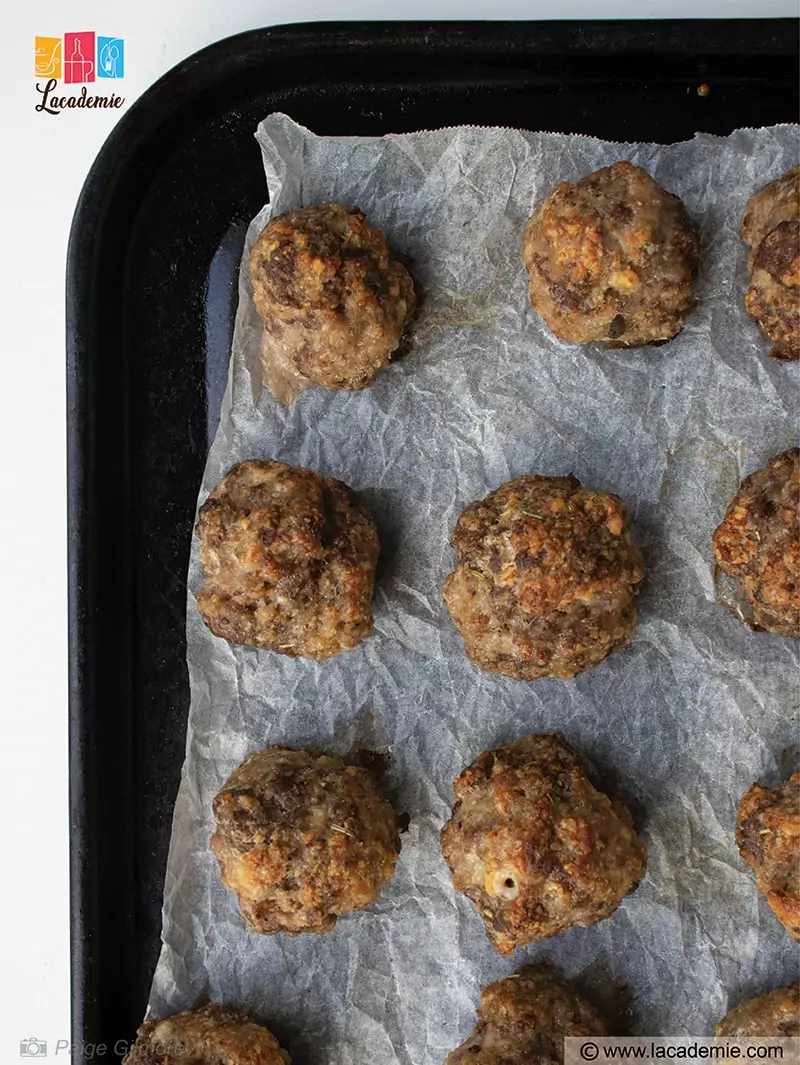 Step 3: Mix Your Sauce Ingredients
Prepare your crockpot/slow cooker on your kitchen counter. Add all your ingredients for your marinara sauce, then stir till fully combined.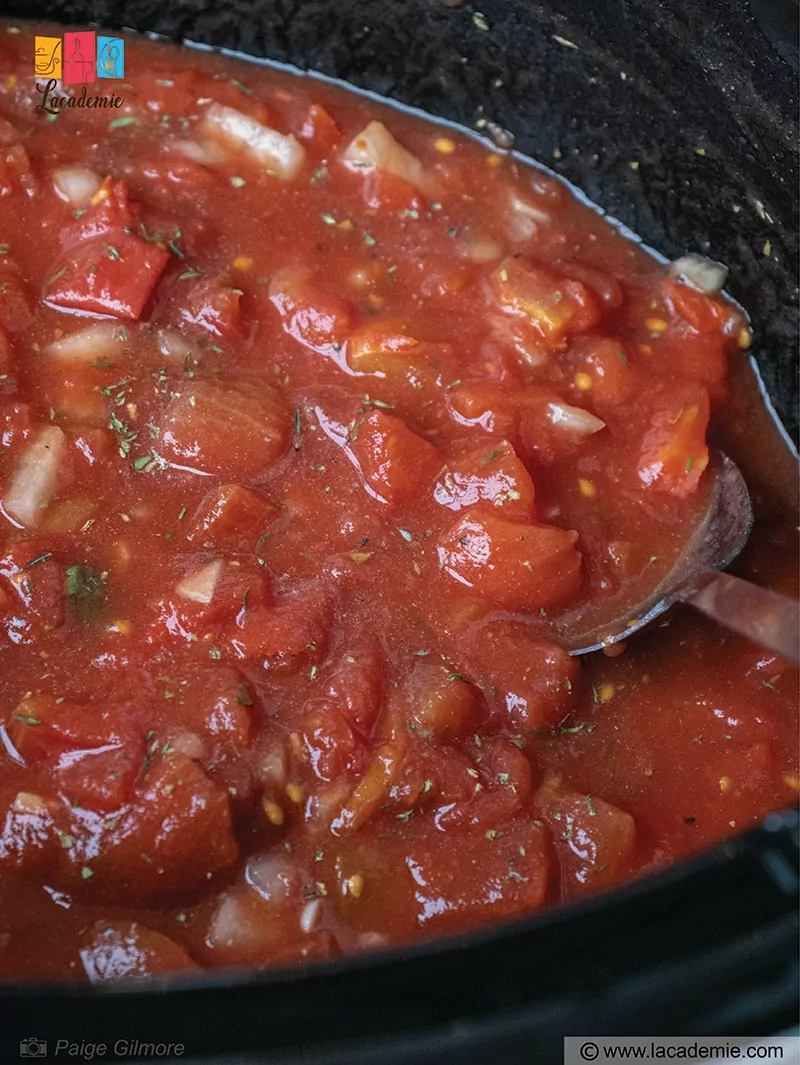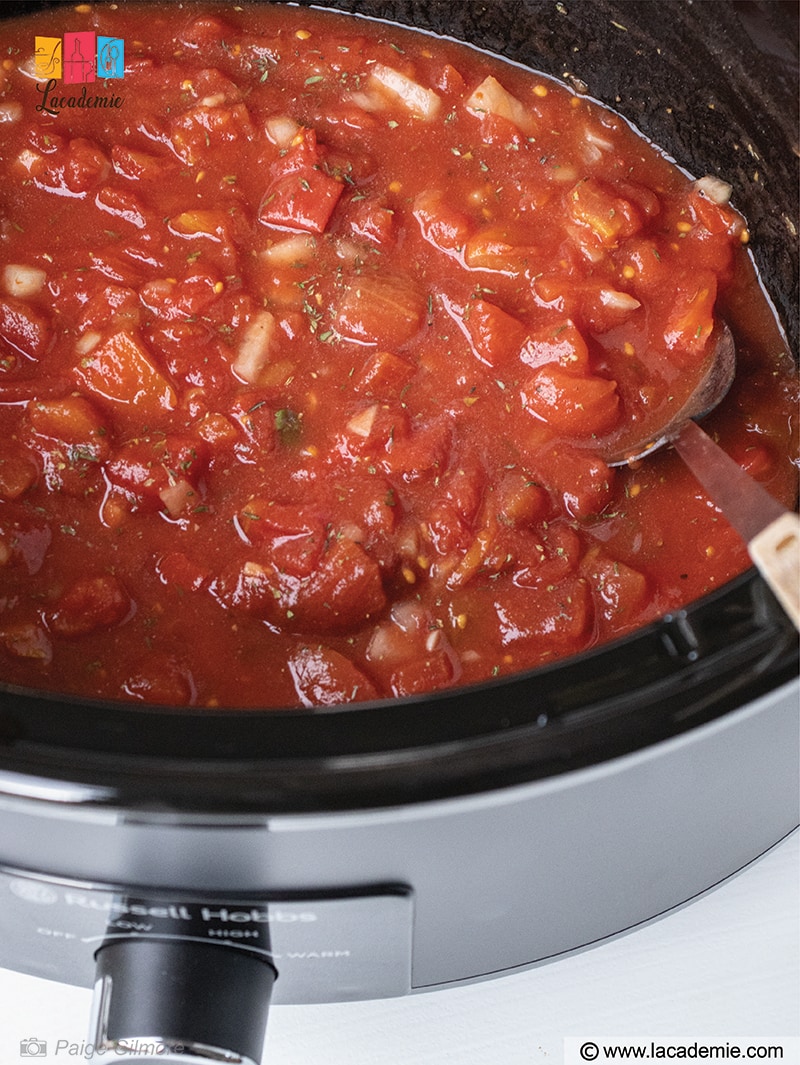 Step 4: Add The Grilled Italian Meatballs
Layer your grilled Italian meatballs on your marinara sauce in the crockpot, and press the meatballs down into the sauce until they are ¾ of the way submerged.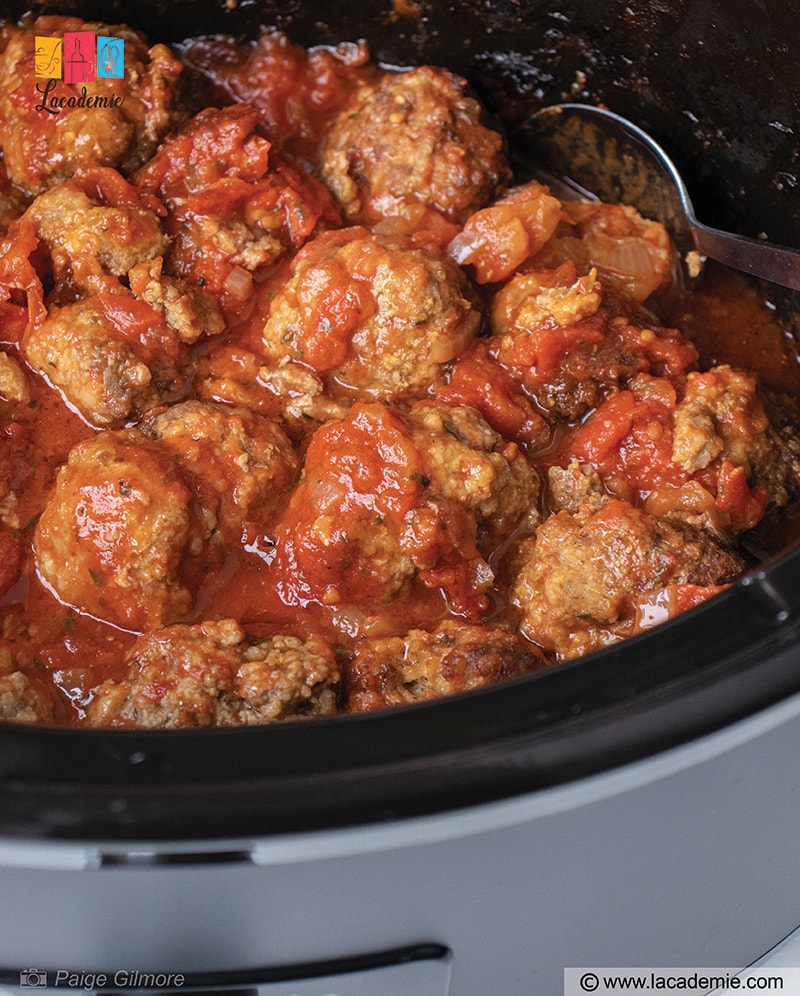 Step 5: Cook Your Italian Meatballs and Marinara Sauce
To cook meatballs and sauce, turn on your crockpot to the high setting for 4 hours or the low setting for approximately 8 hours. When the meatballs are cooked through, serve piping hot!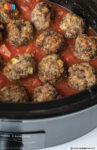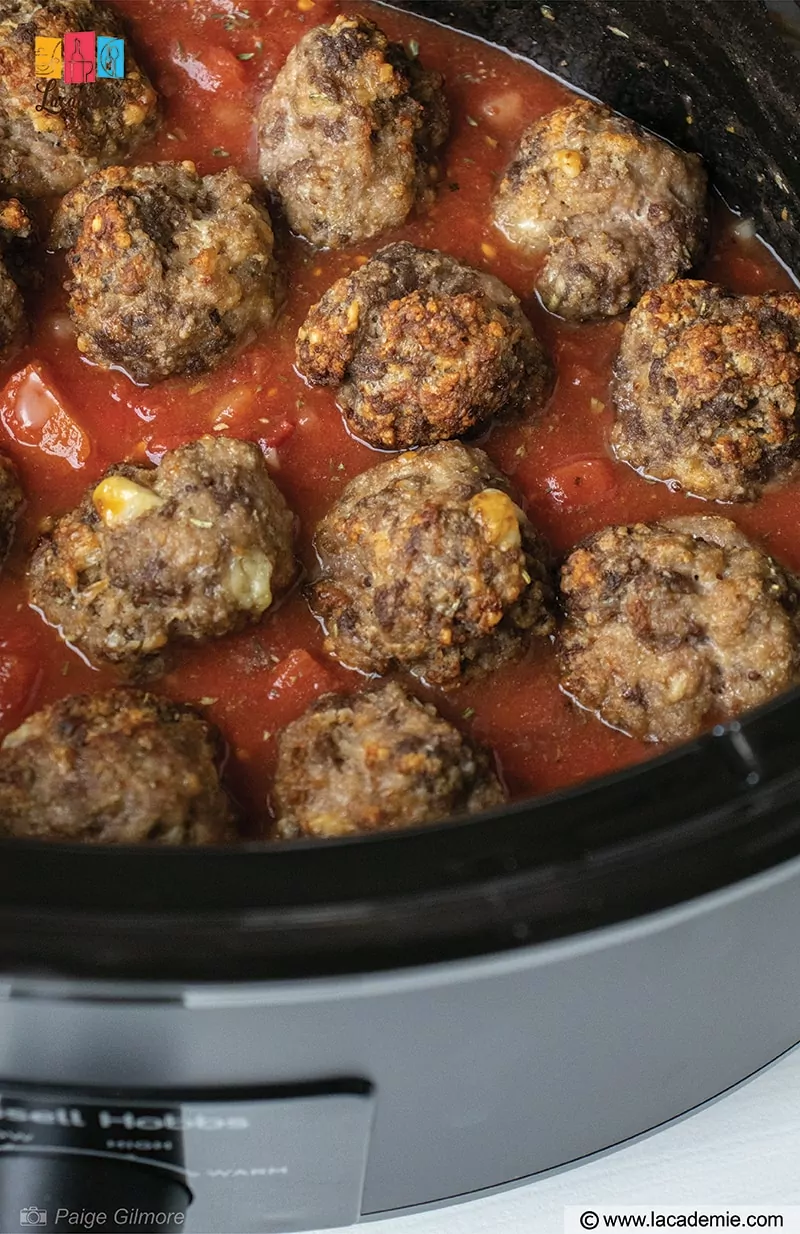 Tips And Serving Suggestions
Use the following tips and serving suggestions next time you make these easy crockpot Italian meatballs in a homemade marinara sauce!
Tips for Crockpot Italian Meatballs
It's super easy to make this full-bodied crockpot meal! Here are a couple of tips to really create a mouth-watering meal:
Make sure you use ground pork for this dish. Pork is more flavorful than just beef on its own.
Even though it's tempting to skip grilling the meatballs, don't!! Grilling them will help them hold their round shape in the slow cooker and add more flavor.
This recipe makes 20 decent-sized meatballs, so it's perfect for serving 6 – 8 people or for freezing leftovers for a special midweek meal.
If you don't have whole grain mustard, you can substitute it with any kind of mustard you have on hand.
You can substitute the dry herbs for fresh; just make sure you finely chop them.
What Should I Serve With My Crockpot Italian Meatballs?
There are so many side dishes you can serve with these meatballs! Here are my top suggestions:
I like to serve these meatballs on some spaghetti pasta that has a small drizzle of extra virgin olive oil on it.
Make your own DIY Italian meatball subway sandwich with a fresh breadstick, cheese, and your favorite fresh vegetables.
Proper Storage And Reheating Tricks
These easy-to-make Italian meatballs are also simple to store! And you can use the leftover meatballs for different dishes. Just follow these instructions for proper storage:
Store your food in an airtight container in the refrigerator for up to 3 – 4 days.
Meatballs (either full-cooked or par-cooked ones) can freeze well. Keep them in an airtight food container, and they can last up to 3 months.
As the meatballs contain pork, make sure you thoroughly reheat the meatballs until piping hot.
Let's Try These Yummy Crockpot Italian Meatballs!
This is one of the absolute best ways to create juicy, robust Italian meatballs and homemade marinara sauce. Everything comes together beautifully in a crockpot to make cooking it so effortlessly.
This delicious dish is perfect for you to make for your family and can be served on any type of pasta you like! Drop a comment below and let me know what you served your crockpot Italian meatballs on. Thank you, and enjoy!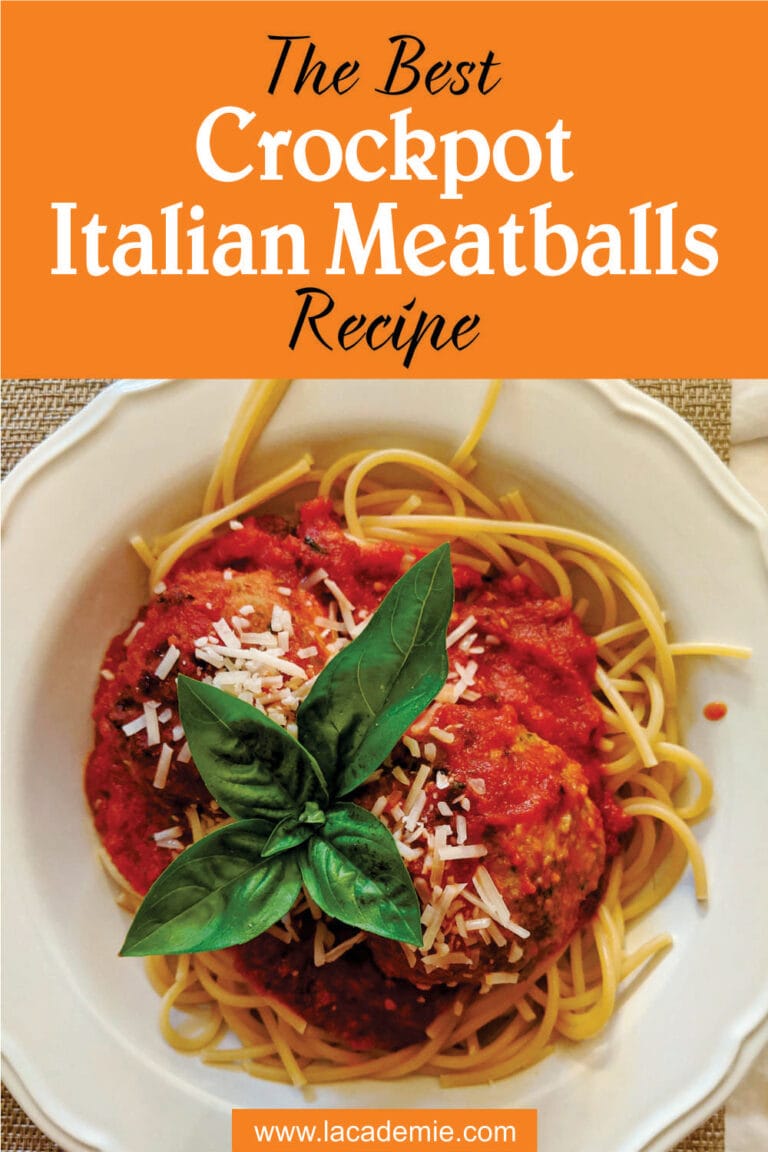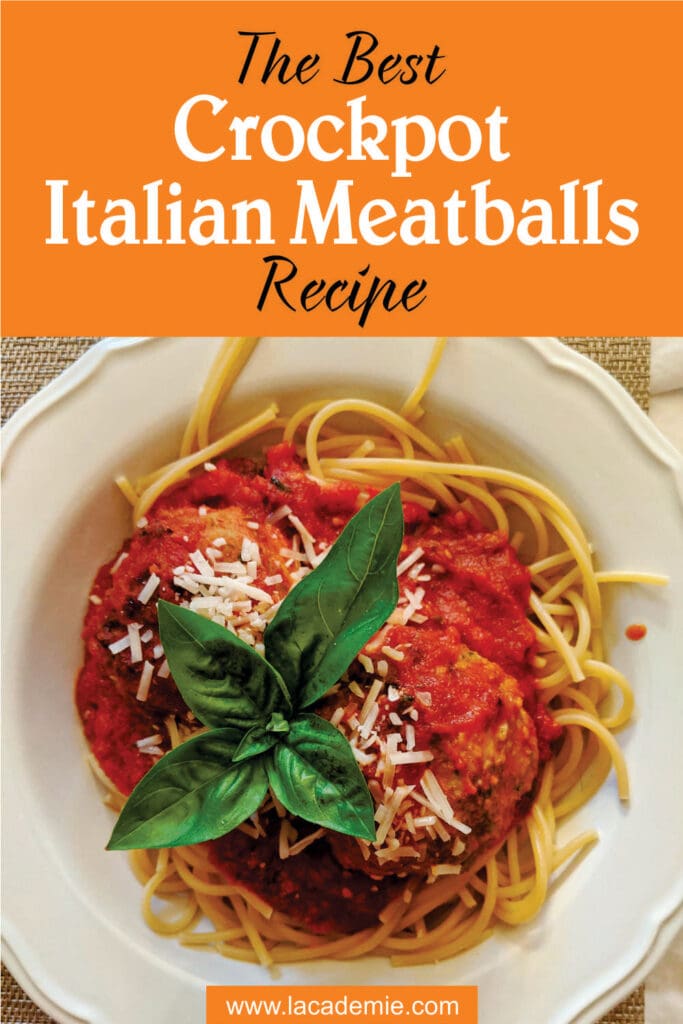 Nutrition Facts
8 servings per container
---
Amount Per ServingCalories294
% Daily Value *
Total Fat 7.3g

11

%
Cholesterol 68mg

23

%
Sodium 636mg

27

%
Potassium 411mg

12

%
Total Carbohydrate 24.6g

8

%

Dietary Fiber 6g

24

%
Sugars 10.3g

Protein 31.7g

62

%
---
* The % Daily Value tells you how much a nutrient in a serving of food contributes to a daily diet. 2,000 calories a day is used for general nutrition advice.