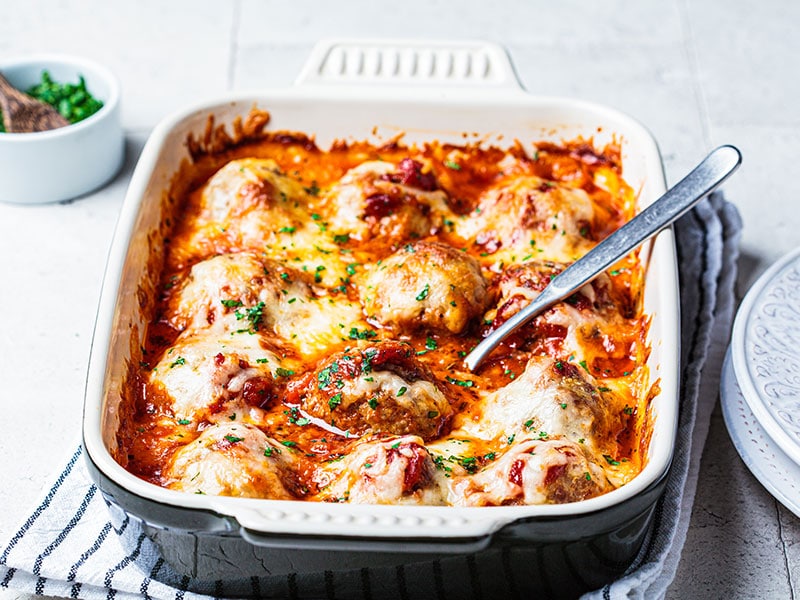 Recipes with leftover meatballs are also good as new meatballs. You can use them as the cooked ingredient and save much time for cooking. So why don't you use it to make some accompaniments to join with your meatball ideas with your saved time?
For some recipes, the full-flavored meatballs will add flavor and raise the delight of the dishes. Almost all leftover meatball recipes are quick and easy but comforting to serve for all family members with cooked meatballs.
They'll love them so much with a good appearance and fabulous taste. Now, go with me to discover recipes with the remaining leftover meatballs.
How To Use Up Your Leftover Meatballs?
The list below shows you incredible ways to cook with leftover meatballs. Are your favorite recipes listed here? Jump up to the recipe below and start your dishes.
Main Dishes With Leftover Meatballs
Meatball Appetizers
Baked Spaghetti And Meatball Cups
Cranberry Meatballs And Sausage
Meatball Bombs
Pork Meatball Lettuce Wraps
Leftover Meatball Main Dishes
Leftover Main Courses With Cheese
French Onion Soup With Meatballs
Meatball Grilled Cheese Sandwich
Meatball Pizza
Meatball Salad
Meatball Casserole
Meatball Lasagna Cups
Meatball Sliders
Other Main Courses
Vegetable Meatball Soup
Fried Rice With Leftover Meatballs
13 Brilliant Recipes With Leftover Meatballs To Light Your Meals
Go through these recommended recipes and decide what to make with your leftover meatballs. They are categorized into two main clusters, thus if you want, jump into your favorite cluster to save time.
Use These Meatballs Appetizers To Amaze Your Friends
You can use up the leftover meatballs to make main courses for your delightful meals; how about taking them to make appetizers? Can they make a good starter? Just give them a try; I'm sure that you'll love eating them.
In fact, this recipe is also a great idea to revive leftover spaghetti too! The crispy spaghetti cups filled with leftover meatballs will be the best appetizer for your meals now. The dish has a beautiful appearance and unforgettable flavor.
You can be asked to make this recipe whenever you get leftover meatballs, but don't worry, making these meatballs cups with spaghetti isn't complicated.
With your kids, these baked spaghetti and meatball cups can pair with tomato sauce, but chili sauce will elevate the deliciousness level.
If you find a dish to serve your family at the beginning of Christmas parties, the recipe of cranberry sauce meatballs will make your holiday impressive.
Cranberry sauce meatballs with cooked meatballs become easier and quicker than ever. Thus, if you have leftover cooked meatballs, try making this recipe!
Meatball bombs are pizza dough stuffed with meatballs and then baked until they get golden brown looking and have a very aromatic flavor.
The leftover meatballs will add flavors to the whole dish, and you will feel juicy when beating these meatball bombs.
If you're super into treats that are made from ground pork and lettuce wraps, you must love this recipe. With the leftover meatballs, making the meatball lettuce wraps becomes a wonderful idea.
The pork meatballs with lettuce wraps can make your meals fun without worrying too much about mealtime battles.
Excellent Main Dishes With Leftover Meatballs For Perfect Meals
With leftover meatballs, what can you do to turn them into good dishes? These recipes below will suggest some ideas in which you can remake your meatballs and enjoy them with your family members.
Can You Combine Meatballs With Cheese?
Cheese is used in almost all recipes from leftover meatballs as it can keep the cooked meatballs moist and more aromatic. These recipes below will let you know how wonderful cheese is.
If you love French cuisine and their delicacies, French onion soup with meatballs is one of the best combinations you can make with your leftover meatballs. The soup with cheese and the full-flavored meatballs will make your family members feel good to eat with.
Tangy caramelized onions together with fresh herbs raise the flavor of the whole soup and make it unique.
With the seasoned meatballs last night, making sandwiches to serve your family as breakfast will be a perfect idea.
The full-flavored meatballs and cheese are the main fillings for sandwiches, making them very appealing.
Your breakfast will be nutritious and healthy with a cup of hot milk and a piece of sandwich. Moreover, with the available cooked meatballs, making these sandwiches is much easier and more convenient.
Get the easy way to remake your leftover meatballs with sandwiches. Watch this video:
How about topping your leftover meatballs over pizza? That's good too. Without marinated meatballs, the pizza almost goes plain. Moreover, the pastry dough is also topped with the finest and fresh mozzarella cheese to create a cheesy texture and tangy flavors.
Although homemade pizza is much healthier and more nutritious, thus if you love eating pizza, use leftover meatballs to create the pizza as a wonderful snack.
Another easy way to remake your leftover meatballs is making a salad; the fresh veggies and wonderful dressing will create a comforting dish for your meals with the necessary nutrients for body and brain development.
There is nothing easier and quicker than making a salad with fully-cooked meatballs; you can make it even if you're not good at cooking.
The traditional Italian casserole is full-flavored and cheesy; now, with the addition of leftover meatballs, you can make it more flavorful and heavenly.
The meatball casserole is one of the typical meatball main dishes, so you also can serve it as a whole meal together with salad to get a balanced meal.
Your wonderful dish will get ready in some minutes with ease. Watch this video:
The meatball lasagna cups have a crispy and golden brown exterior with wonton wrappers, a tender and full-flavored core with meatballs, and a cheesy texture on the top.
The meatball lasagna cups are suitable to be one of your main courses, thanks to their delight and appeal. I think no one will refuse to eat these cups.
Do you want your lasagna cups to be fancier? If so, there are plenty of wine types that go well with lasagna's flavors. By choosing the right wine type, you'll instantly elevate this scrumptious dish to a whole new caliber that will certainly impress everyone.
Follow the guidelines to finish the recipe in the perfect way:
You can cheer your good friends with these meatball sliders as an incredible recipe for your cozy parties with your friends.
Your sliders give you a sense of heaven and comfort with some toppings of cheese and marinated cooked meatballs. Besides, you can make these meatball sliders with ease with just some simple steps before letting them bake on the stove for about 10 minutes.
Without Cheese, Are There Any Fantastic Leftover Meatball Recipes?
If you don't like cheese or haven't got it, these are two distinctive recipes with your remaining meatballs that will make you happy and satisfied.
Unlike French onion, you can add your favorite veggies and pasta to create a thickened and dense but aromatic texture. This recipe is very suitable for a busy weeknight with leftover fully-cooked meatballs.
You can pair the soup with white rice for the whole meal. This soup with white rice will be a simple but nutritious meal for your cold dinner meals.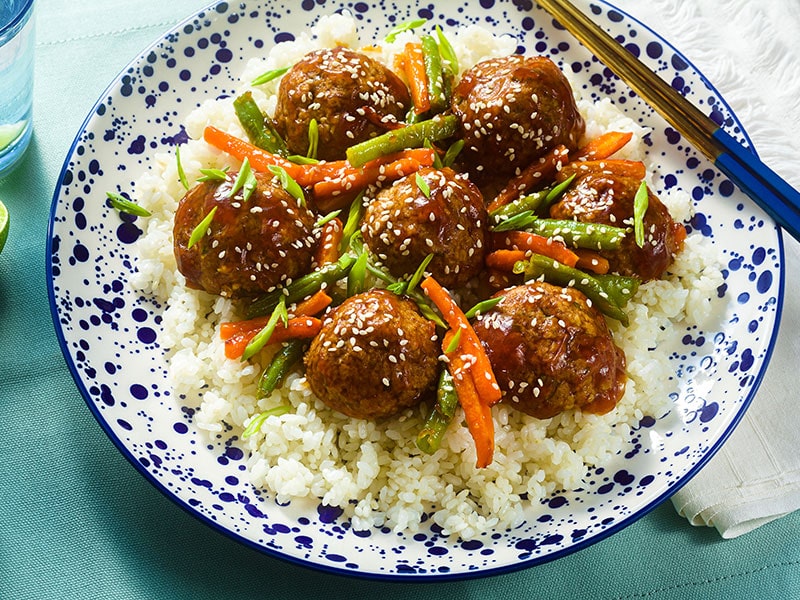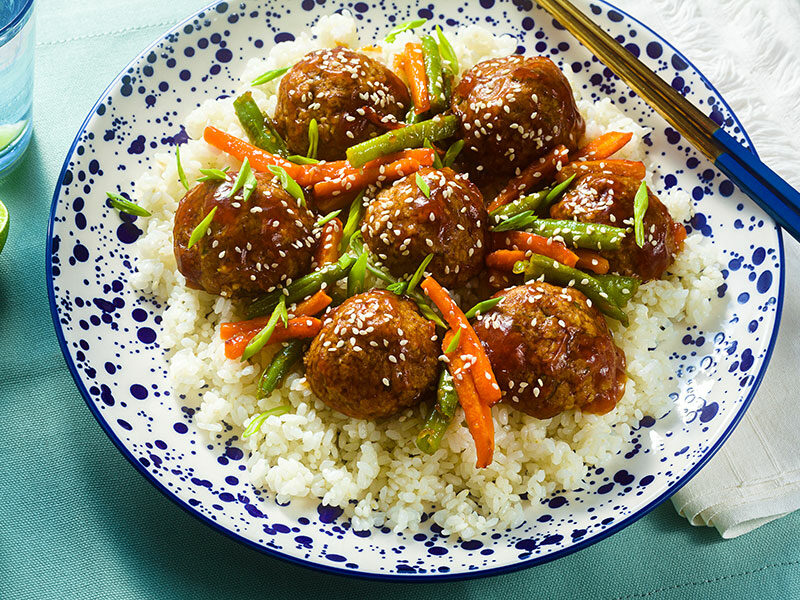 If you are hungry now, this recipe will fill your stomach up with essential nutrients from protein, vitamins, to iron because it contains a lot of veggies.
With this recipe, you can use up both leftover meatballs and leftover rice, but you should use fresh veggies to maintain the good flavor of the dish.
Don't let your stomach empty anymore with available cooked meatballs. Watch this video:
Find Other Impressive Ways To Use Up Leftover Meatballs For Your Meals
These suggestions above let you know how to use up leftover meatballs and turn them into more wonderful recipes to serve your family and guests. However, these recommendations don't mean you can't use these leftover meatballs to make other recipes.
Thus, if you find new ways to make leftover meatballs, please share them in the comment section; your idea will be spread to other people across the world. And if you think my article is useful, just share it with your friends.
Nutrition Facts
1 servings per container
---
Amount Per ServingCalories634
% Daily Value *
Total Fat 44.7g

68

%
Cholesterol 99mg

33

%
Sodium 1381mg

58

%
Potassium 136mg

4

%
Total Carbohydrate 17.7g

6

%

Dietary Fiber 4.8g

16

%
Sugars 1.4g

Protein 39.3g

78

%
---
* The % Daily Value tells you how much a nutrient in a serving of food contributes to a daily diet. 2,000 calories a day is used for general nutrition advice.