We all stuck with the question of what to serve with meatballs sometimes. We all love meatballs, but isn't it stodgy if we keep on eating the same old meatball dishes every day? That's why I'm here to show you several dishes that you can try to make your traditional meatballs more flavorful.
Meatball is one of the rare dishes that could travel around the world. Each place has its own way of cooking or serving this flavorful M-something food, so it's acceptable in every culture. I love meatballs mainly because I can create many dishes out of those little round meat pieces.
Meatball is also a food that is related to many people's childhood, including mine. Therefore, it's not only the typical dish. It's the food for the soul. But what if someday you are fed up with these meatballs?
That's why I wrote this post: to show you how to turn your regular dishes into memorable feasts. Indeed, creating other treats to go with the meatballs is a terrific way to boost your enjoyment of this dish.
What's more, you can serve them with several leftover meatball ideas to make them even more wonderful. So please continue reading to find out what they are.
What To Serve With Meatballs?
Before getting into so many details, I'll show you real quick 15 dishes to serve with meatballs:
Side Dishes
Mashed Potatoes
Couscous Cranberry Spinach Salad
Fried Cabbage And Egg Noodles
Red Roasted Potatoes
Red Pepper Tomato Sauce
Lemon And Garlic Broccoli
Crunchy Italian Cheesy Bread Croutons
Spicy Rice Pilaf
Bbq Corn On The Cob
Quinoa And Fresh Herbs
Cilantro Lime Rice
Vietnamese Sandwiches – Banh Mi
Coconut Zucchini Noodles
Green Beans
Dessert
Pomegranate Yogurt
What Are Meatballs?
A meatball is crushed or ground meat mixed with various ingredients and seasonings, then shaped into a small ball. There are countless ways to cook meatballs, but I'm going to talk about that later on.
Although Americans usually consider meatballs with meat (I mean, the meat is already in the name), they can actually be made from other ingredients, including seafood or vegetables.
If you don't have time for preparing and cooking, you can find many of the finest products of store-bought frozen meatballs in any grocery store or supermarket. Their ingredients are also diverse and allow you to cook different recipes.
Due to the borderless cultural exchange, American meatball recipes are greatly influenced by European cuisine, notably Italian, Iberian (Portuguese-Spanish), and Nordic (Swedish).
9 Ways To Cook Meatballs
These tips above are the fundamental knowledge that you should know before making any meatballs. Now, it's time to discover the endless cooking methods of the famous meatballs. Let's try all of these and figure out which one is the best meatball recipe for you.
1. Baked Meatballs
The first way of cooking meatballs belongs to the baked meatballs. If you are not a fast-food fan and hate oily fatty dishes, baking might be the right replacement choice for you.
2. Fried Meatballs
The second way is to fry the meatballs until it's browned on all sides. Heat about 1/4-inch of oil in a skillet over medium heat and start frying your meatballs for about 4-6 minutes on each side until it's golden brown.
Remember to always transfer those fried meatballs to the paper towels to drain any left oil.
3. Steamed Meatballs
If you like the ordinary taste and the soft texture of meatballs, you could switch to steamed meatballs. This method is inspired by the Chinese and Hong Kong culture. Craving for dim sum? These steamed meatballs will satisfy your appetite.
It's better to use a bamboo steamer basket instead of an electric steamer. The taste somehow is better when you use it.
4. Boiled Meatballs
When it comes to cooked meatballs, it's not like you use just water to boil those little round pieces of meat. Instead, using a broth or any other meat soup and adding some veggies to them would turn your original boiled meatballs into mouth-watering cuisine.
5. Pan-searing Meatballs
The pan-searing meatball is the fancy way of saying browned meatballs. This cooking method is slightly similar to fried meatballs. But in this case, reduce the amount of oil in your skillet.
6. Meatless Meatballs
If you are a vegetarian but guiltily like meatballs, the meatless meatball is your true "affair" love.
Meatless meatballs can taste like the original meatballs, but healthier. What could be better than that? Even though I'm not a vegan, I still want to try this at least once.
The base ingredients for this gluten-free dish are tempeh (soybeans are cooked and fermented), mushrooms, vegan bread crumbs, and a flax egg.
To make meatless meatballs, after mixing all needed ingredients, you should bake it for 30 -35 minutes and remember to flip halfway through to prevent any burning. This recipe serves best with Marinara sauce and Parmesan cheese.
7. Braising In Sauce Meatballs
Another way to cook meatballs is to braise them in the sauce. It can be any sauce that you prefer.
You should braise your meatballs in sauce for at least 45 minutes to 2 hours at a low temperature. Before that, you can brown batches of meat for a few minutes on each side. It makes sure your meatballs are firm enough to stay long in the sauce.
If you bake your meatballs in the oven, let them sit there for 4-6 hours.
8. Meatball Soup
If you love soup cooked in Italian methods, you might have tried meatball soup before. There are various versions of meatball soups. They all have the freshness of vegetables, the tenderness of the meat, the taste of the broth; everything combines to make it the best dish ever.
With this meatball soup, you can use chicken broth or tomato broth. You can add potatoes, pineapple, carrots that are chopped into small pieces. For seasoning, you can use dried oregano, salt, chilly flakes, and some fresh parsley.
9. Spaghetti Meatballs
This Spaghetti meatball might be the most familiar dinner recipe to prepare for your family among all nine recipes. The meatballs are the same as traditional recipes; you can bake, fry, or just brown sides.
Just make sure it's well-cooked inside. After that, place those meatballs on a plate and start making spaghetti. There are numerous techniques to make spaghetti sauce. Based on your preference, you can choose one of them along with boiling spaghetti noodles.
After making sauces and boiling noodles, pour your results on those little meatballs and mix them up. Just that easy, you've already had yourself a favorite spaghetti meatball.
15 Palatable Side Dishes To Serve With Meatballs
This is the most important part when I show you 15 side dishes that perfectly fit with your delicious meatballs. I promise these suggestions are worth trying, at least once in your life.
1. Mashed Potatoes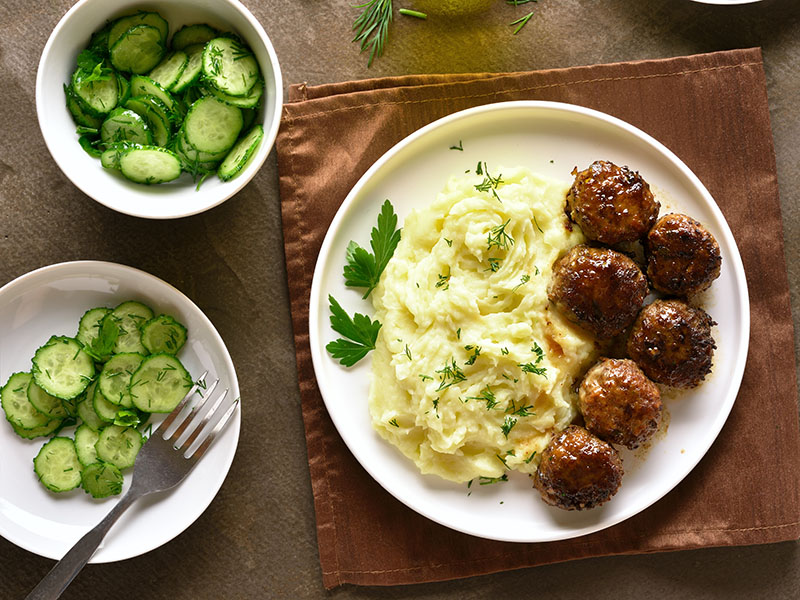 Nothing could give me an instant appetizing feeling than mashed potatoes served with meatballs. It's perfect, from the color combination to the balanced taste and pungent smell. I have to rate ten out of ten for this basic yet flavorful mashed potatoes with meatballs.
Of course, you have to apply some hacks to make your mashed potatoes thicken. Because if they are mushy, it will make your meatball meals less attractive.
For the meatballs, you should use beef for the best taste. Condiments for the mixture are Worcestershire sauce, coarse grain mustard, and ketchup. Adding any spice and herb you want, egg, and bread crumbs,…all in a big bowl. Then use your hand to mix them up and form little meatballs.
Before making mashed potatoes, you should fry all those meatballs and set them aside on greaseproof paper. This step is optional, but if you take a little more effort to make gravy, the taste would be more fulfilled.
The star of the dish belongs to the mashed potatoes. It balances the taste, gives the buttery flavor and creamy texture to the food. With boiled potatoes, milk, butter, cream cheese, salt, and pepper in a hand mixer, you can mash that till the ideal smooth and creamy texture.
On the plate, pour in the mashed potatoes, place meatballs beside and some parsley on top (yes, I can never get tired with Parsley), and enjoy your glamorous dish.
2. Couscous Cranberry Spinach Salad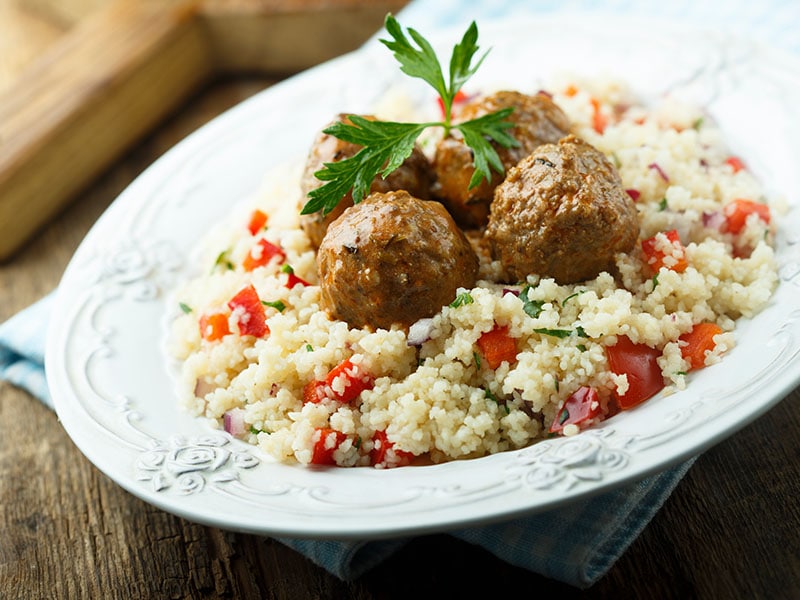 I love meatballs with salads. The freshness of the vegetable mix with the tenderness and juiciness of the meatballs creates a work of edible art.
With this recipe, you should not use beef or pork. Instead, chicken or turkey will be the perfect meats to combine with couscous and cranberry spinach salad. Baking instead of frying will help remove the oil and be healthier.
I usually buy the couscous package and follow the instructions to cook. After the couscous is done and your baked meatballs are ready, place those two on a plate and top with dried cranberries, fresh spinach, olive oil, yogurt, and lemon juice.
I know it sounds delicious, even if you haven't made them yet. So what are you waiting for? Get in the kitchen and cook a Couscous Cranberry Spinach Salad right away!
3. Fried Cabbage And Egg Noodles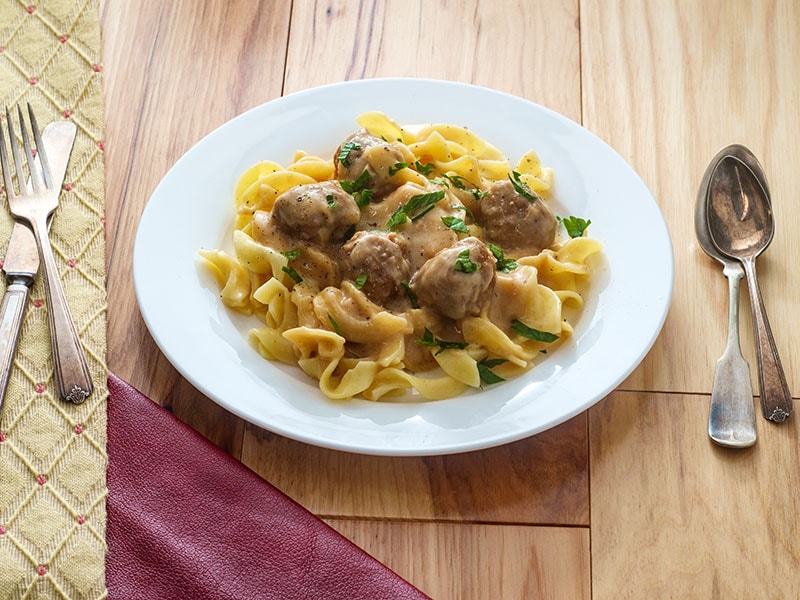 Not only is this dish flavorsome but also very versatile. You can replace cabbages with any vegetable you eat; the meatballs could be served under any cooking method.
That's why I serve fried cabbage and egg noodles with meatballs for any lazy night that I feel like I should treat myself better with a simple but delicious dish and a bottle of red wine.
You can be more creative with this dish by adding some browned bacon or smoked sausage before frying cabbage and egg noodles. Then pour all of them in a big bowl, and serve with cooked meatballs.
4. Red Roasted Potatoes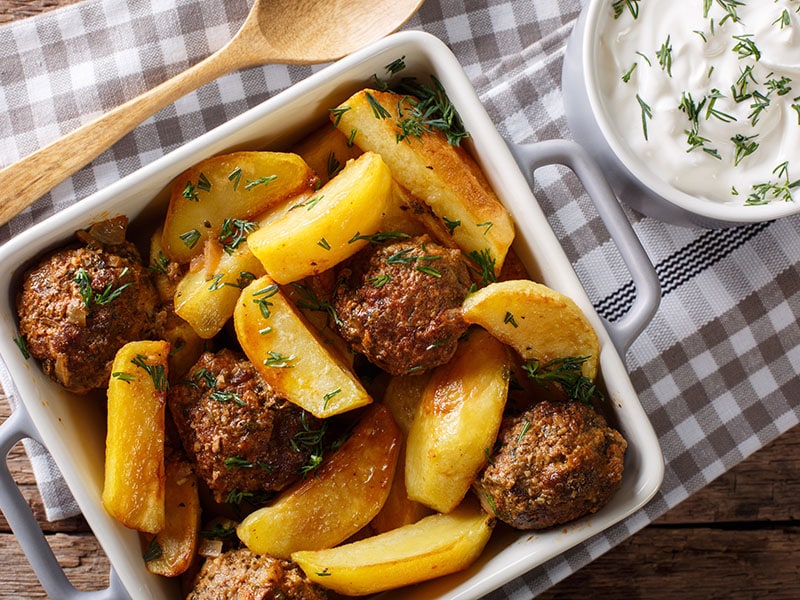 Besides mashed potatoes, red roasted potatoes are also an ideal snack to serve with meatballs. Each one has its own flavor that it's impossible to compare. So if you've tried the mashed potatoes, why don't you give red roasted potatoes a try, right?
Russet potatoes may be the most recognizable potatoes with Americans. They are famous for French fried or mashed potatoes.
But Red potatoes are renowned for salad or baked potatoes because they keep their shapes after cooking through and don't turn into mush if you mix it or put on dressings. So with this side dish, I choose red potatoes as the best ingredient to bake with meatballs.
In this recipe, you will simultaneously bake both your meatballs and "a field" of red potatoes on a baking sheet. Put some olive oil, some citrus flavor to create a pungent smell, one tablespoon of turmeric powder to enhance the taste.
Before you even notice, you've already loved this recipe because of its colors, tastes, and smells. Moreover, you can prepare this a day before and store it in your fridge. When it's time, you only need to take it out and put it in your oven.
5. Red Pepper Tomato Sauce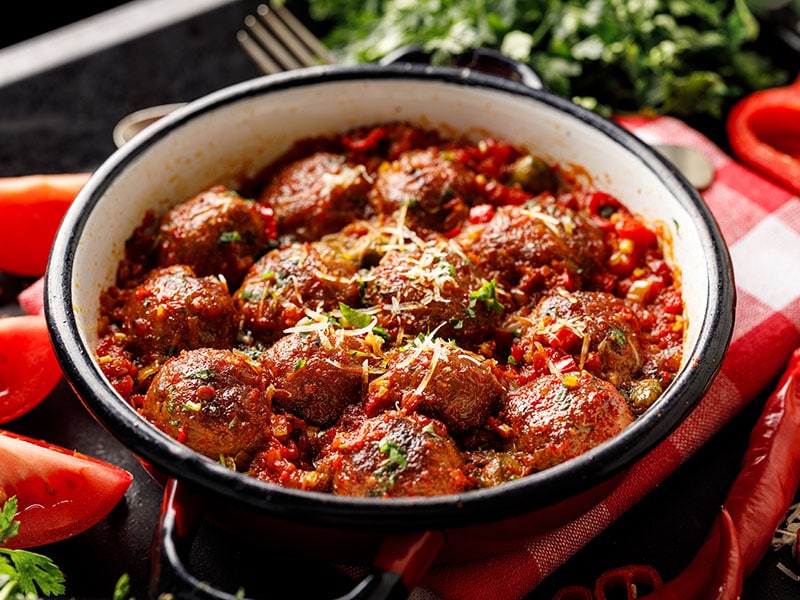 This dish is literally the super version of the typical tomato sauce with meatballs. Maybe I'm exaggerating, but it's like a warm hug for the soul, especially during the cold rainy days.
I tried this red pepper tomato sauce with meatballs once in a tiny lovely restaurant on the trip to Dublin, California, and was immediately crazy about it. As soon as I'm back home, I have searched every corner of the Internet to find the perfect recipe that could replicate the taste of that beautiful dish. Fortunately, I've found one that is inspired by the Italian meatballs.
You can choose any type of meat that you prefer. I've tried turkey and red beef, and both are equally amazing. I decided to bake rather than fry.
With the ingredients, I also followed the typical recipe that I've mentioned above but slightly different with a cup of almond flour and one tbsp coconut. I also added some mints just to uplift the soul of the dish.
You can repeat any making sauce steps that are on the Internet, or you can follow mine (1). However, sometimes when I want to be more creative, I pour a quarter of red wine vinegar and half of the avocado oil just to make it more lively. You can try if you're not afraid of tasting new flavors.
6. Lemon And Garlic Broccoli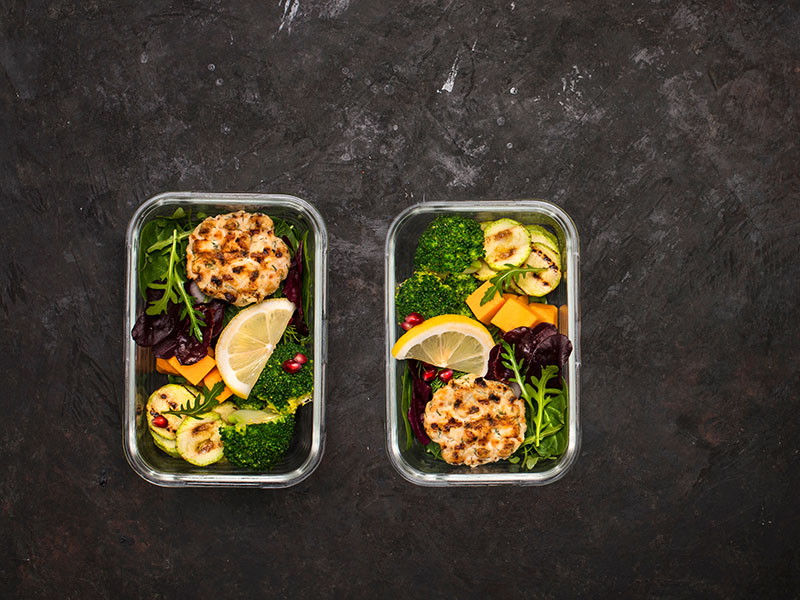 Close your eyes and imagine the smoky, chewy roasted garlic broccoli melts with the citrus notes from the lemon mix with the earthy, softy-fried chicken meatball. I mean, isn't it perfect?
I don't know about you, but my heart melted from the first time I tasted this side dish with meatballs. I love the combination of it. And I'll tell you a piece of how to make this wonderful recipe.
You're supposed to know how to fry meatballs since I've written an individual section above. If you skipped it, let's come back and check. I'm just going to show you how to make a side dish that could blow your mind.
With lemon and garlic broccoli, you have many ways to serve it, such as saute, toast, boil… I'm going to show you my favorite one: saute.
First, you have to boil the raw broccoli and then place it into iced water immediately. Then put the minced garlic and lemon zest in the pan until all turn to a little burned yellow. Next is to pour all your lemon juice and cooked broccoli into the pan and mix them up. Cook until it's soft.
If you want more flavor, you can add chili flakes, salt, and pepper to the mixture. Serve with your favorite meatballs, and there you go – the perfect brunch.
7. Crunchy Italian Cheesy Bread Croutons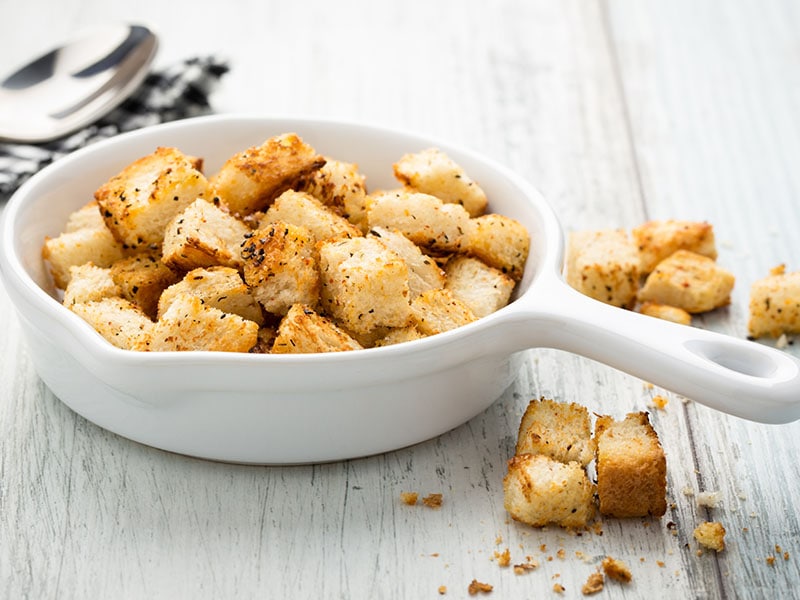 Sounds strange when you combine bread with meatballs, right? Not when you eat those croutons with meatballs and your favorite sauces. It changes the mood after three seconds you taste it.
If you have a loaf of bread lying around that is getting stale, instead of throwing it away, why don't we make a whole wonderful new dish out of it?
With a few steps by cutting that loaf into small cubic pieces and absorbing them with the sauce include butter, virgin olive oil, pressed garlic cloves, chopped parsley, and pepper, then put them in the oven at 375˚F for 18-20 minutes until they are golden brown and crunchy, you've already had the yummy crunchy garlic croutons that serve perfectly with meatballs.
8. Spicy Rice Pilaf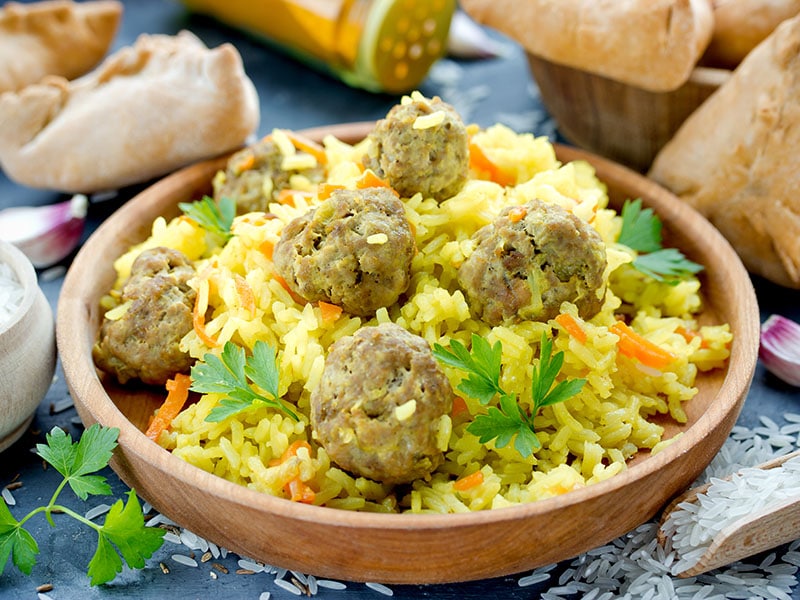 If you're a fan of rice, or your childhood has been stuck with several rice bowls like mine, you probably love this dish. When you enjoy this dish, all your senses would be stimulated by this amazing combination of a whole lot of spicy and salty, with a bit of sweetness and acidic.
The ingredients are simple: beef, lemon (both juice and zest), long-grain rice, and vegetable stock. To make the sauce, you need to prepare yogurt, cucumber. Mix them together and add some seasons so that it fits your taste.
With the pilaf, put the vegetable oil in a large pan until it's hot. Then stir minced garlic and rice for 30 seconds. Add in the mixture of the vegetable stock, lemon zest, and juice. The last step is to season with salt, pepper, and chili flake. Simmer them for 15 minutes.
Meanwhile, cook the meatballs over medium heat until it's cooked through. You can look at the brown color or use a spoon to slice a meatball to check whether it is well-cooked or not. Take off the heat and serve those meatballs on pilaf, then pour over the cucumber sauce.
9. Bbq Corn On The Cob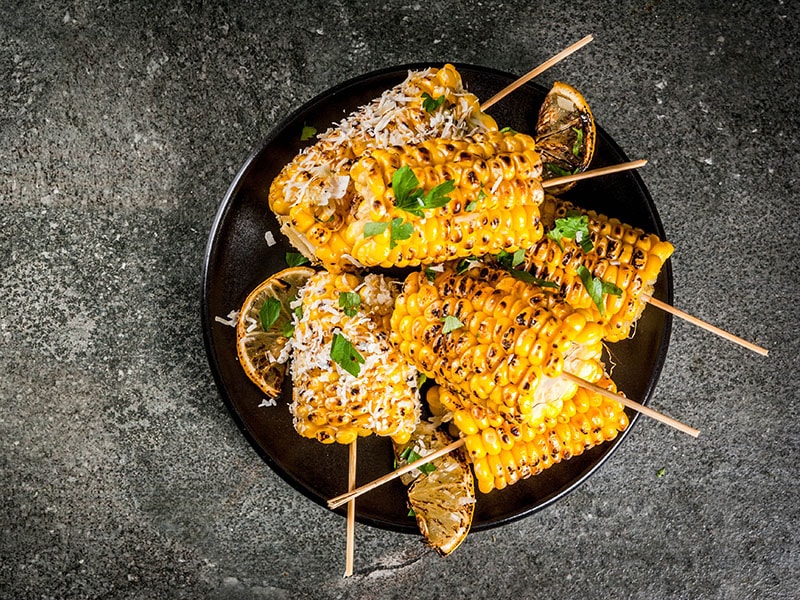 This dish has been my favorite accompaniment for BBQ meatballs in particular and other meatball delicacies. It's great that you can make these corns with meatballs, so they'll finish at the same time.
One rule that you should remember is to soak and boil the corn in salted water as soon as possible. Since the corn flavor decreases and starch increases as it sits, it's best to cook it right after it's picked. This trick also prevents burning and adds a bit of moisture to the corn.
So how long do you have to soak corn before grilling? In my opinion, the ideal time is 30 minutes, and up to 6-8 hours if it is possible to get the husks fully saturated.
Then it's time to put the soul for the grilled corn. You need butter (of course) but notice that you should use softened butter, not melted butter. Then blend it with chili powder, salt, pepper, and a whole lot of cheese. If you have a sweet tooth, you can add sugar and cinnamon to turn it into a dessert.
The last step is to distribute corn and 4 to 5 meatballs on a stick evenly and directly on the grill and cook for 10-15 minutes while turning occasionally. Super easy and super delicious. You must try this recipe at least once in your life.
10. Quinoa And Fresh Herbs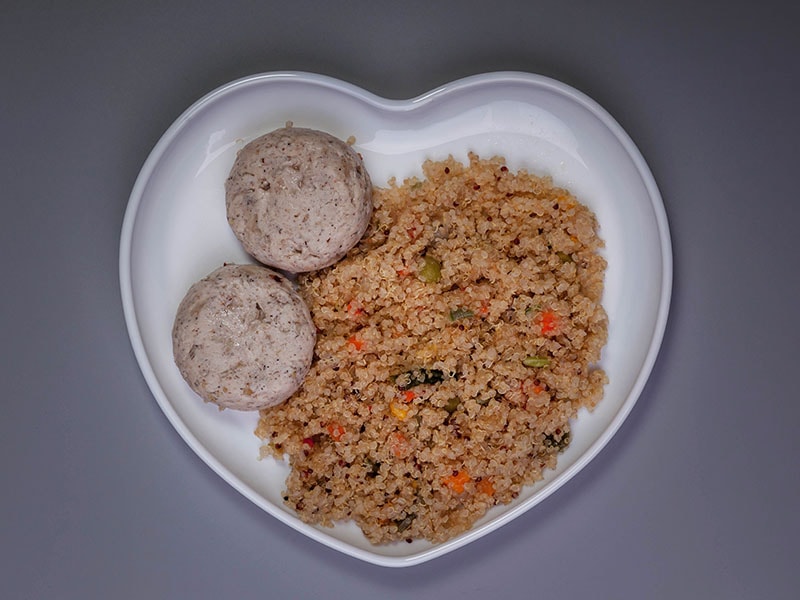 If you haven't heard of quinoa before, let me explain with a brief introduction.
Quinoa is the seed of the Chenopodium quinoa plant, so botanically speaking, it's not a grain. However, people usually consider it a whole grain because it's similar in nutrients and eaten the same way as cereal grains (2).
Quinoa has an amazingly nutrient profile and numerous health benefits (3). So if you are looking for healthy and delicious food, you shouldn't miss out on this quinoa. Besides, it goes perfectly with meatballs, so there's no reason why we shouldn't try this combination, right?
There are two ways to enjoy this fantastic dish. If you love meat, you can cook your favorite meatball and serve it with a bed of pillowy quinoa. You can cook quinoa the way you usually eat.
The second way (also the more common recipe) is to mix quinoa with meat before you even form the meatballs. This method is more flexible since it could be a vegan dish if you replace regular meats with almond and other ingredients, such as herbs, parsley, oregano, chives, and parmesan cheese. The almond with quinoa creates a meaty texture that you're guiltily craving.
Moreover, after cooking your meatballs, to complete the flavor, you could add shimmering sauce like tomato sauce, pasta sauce and serve it with noodles or spaghetti squash.
The best thing about these veggie meatballs, apart from their taste, is how quickly they come together. Besides, they are a great way to hide vegetables. If your family members hate vegetables, they won't know they're eating them!
11. Cilantro Lime Rice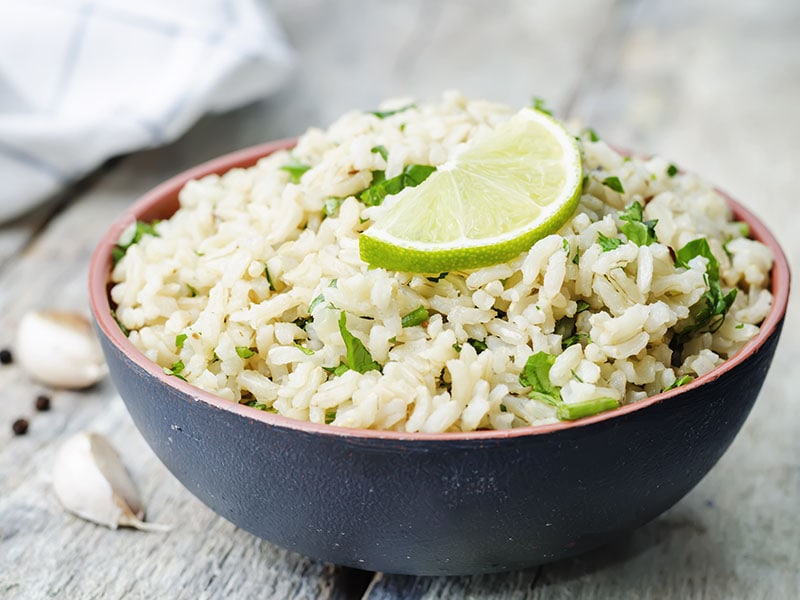 In fact, this idea pairs perfectly with quesadillas too! But let's give it a try with meatballs and see how amazing it is. And this dish is cilantro lime rice.
Can you imagine it? The freshness of the lime and cilantro, mixed with the tender and smoky taste of meatballs. Everything seems to fall into place the moment you first enjoy this unforgettable dish.
With this recipe, you can use chicken or turkey for the best suitable taste. But you can change it to any meat that you like, as long as it fits your appetite. Let me know in the comment if you try another kind of meat in this recipe, alright?
Then you would need to chop some onions, garlic, bell pepper (red or yellow, do not choose the green one), and of course, cilantro. Mix the lime juice, whisked eggs, bread crumbs, salts, pepper, and chili flake into a cup.
Together, combine all the ingredients and form a whole lot of balls. I like to shape those balls in small sizes because they look more elegant and easier to cook through. Bake them for around 20 minutes at 400 degrees until they turn golden and a little burned.
With the rice, you then put the coconut oil (or vegetable oil) onto a large skillet at medium temperature until it's hot enough. After that, add your favorite rice, vegetable (I prefer corn and chopped tomato), eggs (optional, but I like the smell and taste of it), and season it with salt and pepper. Stir fry this mixture for about 10 minutes or until it's tender.
Take the skillet off the heat, mix that stir-fried rice with a bit of lime juice, honey, and chopped cilantro. I promise you, the smell of it could temporarily blow away all of the dizzying problems you are dealing with.
Serve it with the baked meatballs that you just cooked. Gosh, this dish is ten out of ten.
12. Vietnamese Sandwiches – Banh Mi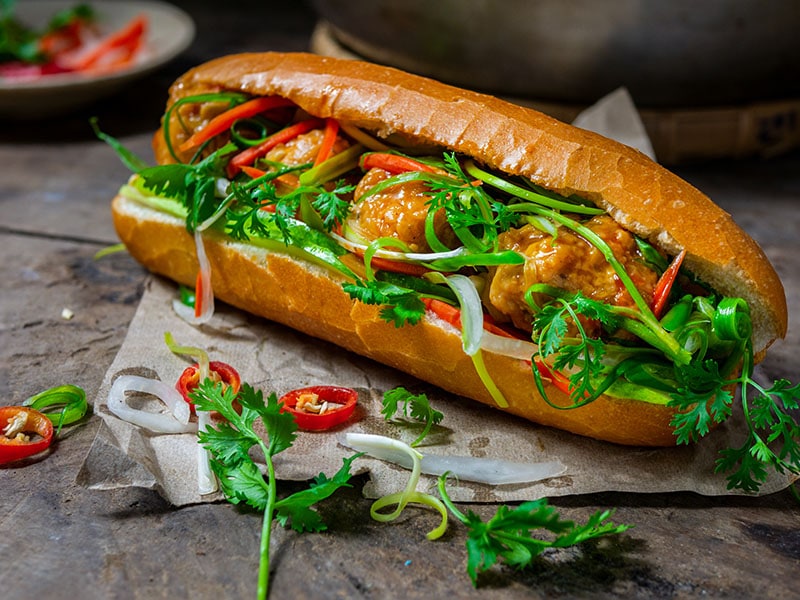 I had a chance to visit Vietnam once, and the second dish I tried after the famous Pho is Banh My. They served Banh Mi with meatballs, which was insanely good! I asked them for the recipe, and it's not complicated at all.
So I learned how to make it at home. Now, it has become one of my family's favorite foods. And I will share with you my secret magical recipe to make Banh Mi with meatballs so you can cook for your loved ones too.
With meatballs, you can choose any of the 9 methods that I have shown you above. Personally, I like the pork-baked meatballs. After forming those raw meatballs, I cover them in an airless food container and let them chill in the fridge one day ahead.
With the vegetables, I chopped carrots, daikon and stir fry them with salt, vinegar, sugar, and sesame oil. Then switch to make the secret sauce by mixing these very simple ingredients: mayonnaise, chopped green onions, hot chili sauce, salt, and milk.
Then cut the baguette (or the Banh Mi, as Vietnamese say) in half, but not separately, just enough to put 3 to 4 pieces of meatballs in with vegetable that you just prepared. Dressing with sauces and some cilantro. And there you go, the perfect meatballs Vietnamese Banh Mi.
13. Coconut Zucchini Noodles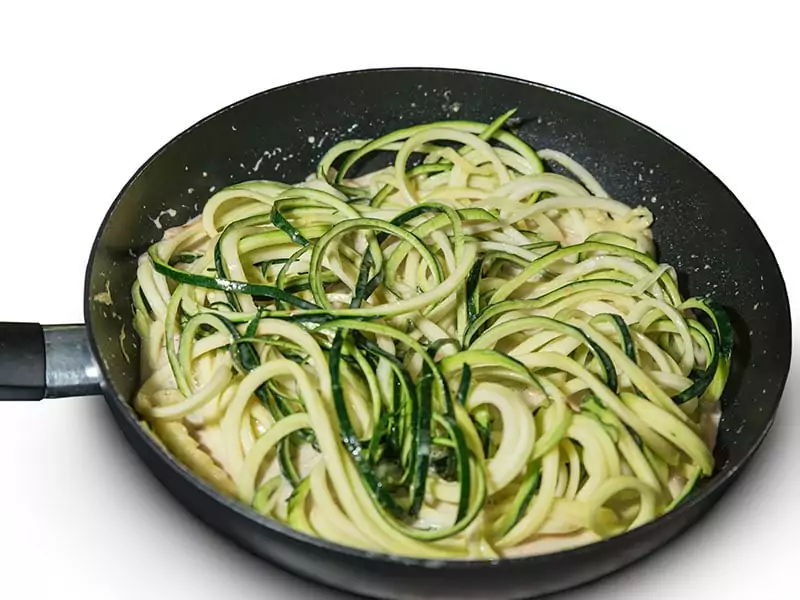 For those of us who put coconut into pretty much every meal of the day, this Coconut Zucchini Noodles is one of the best coconut recipes that you should try.
I use lamb in this dish. I know lamb is not the most popular meat in the meatball world. But with this recipe, lamb is the best choice. But the ingredients that go with lamb are slightly different. You need to prepare gingers, sliced scallions, ground turmeric, fish sauce, and lime juice.
After forming the meatballs, take out a large pan and put coconut oil in. Wait until it's bubbled up, then add the meatballs. Brown them for one minute on each side, then make some space in the center of the pan to add onions, garlic, lemongrass, and chili flake.
Cook for 1 to 2 minutes, then add the coconut milk, vegetables and simmer for 5 minutes. The last step is to pour in the sliced "noodle-like" zucchini in the pan with cilantro and salt. Cook for a little more, then enjoy it!
14. Green Beans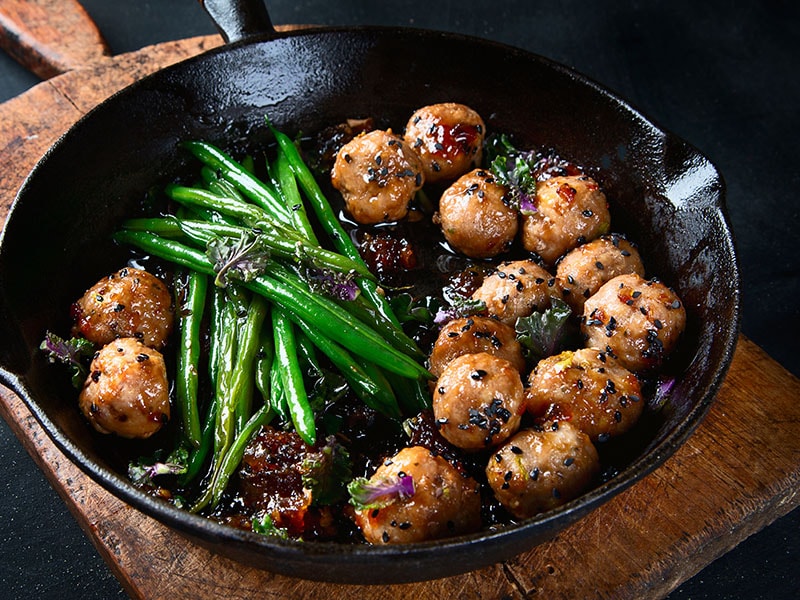 Suppose you are all looking for foods that are both healthy and delicious but still affordable so you can comfortably enjoy those dishes more often. Then green beans with stir-fried meatball are the top selection for you.
To make this dish, you need to have sesame oil, garlic, honey, soy sauce for seasoning, green beans or string beans for vegetables, and lean ground chicken for low-calorie meat, which support your healthy and pretty goal.
For the sauce, you need to mix sesame oil, minced garlic and ginger, black pepper, green onions, chopped tomato, honey, soy sauce, red wine vinegar, and water. Cook them at medium-high temperature for a while, then bring them down to a simmer.
After mixing all together, garnish with cilantro, sesame seeds, and scallions. There you go – the ultimate green beans with meatballs.
15. Pomegranate Yogurt Sauce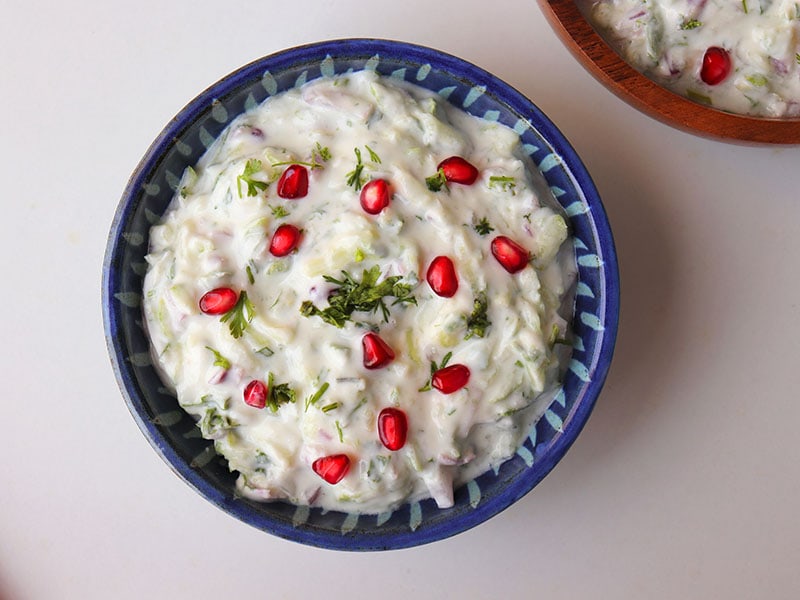 I save the last spot for the most exclusive and savory side dish that could instantly light up your day! Believe it or not, meatballs dip in pomegranate yogurt is the most unique yet delectable dessert on earth!
This dish is a super easy and ready-to-go food item that you could carry on a Sunday camping trip or a late-night pool party at your friend's house. The sauce is easy with plain Greek yogurt, pomegranate juice, and pomegranate seeds (optional).
And if you want to make yogurt by yourself, you can buy a top-quality maker of Greek yogurt. These appliances enable you to control the ingredient amount so you can enjoy your yogurt better.
I prepare meatball as my usual favorite way. You can cook meatballs in any way that you like. But in this case, grilled ground shoulder lamb on a stick is more suitable and easier to dip in the sauce.
You can either dip in the sauce (like me) or dressing the sauce all over your meatballs and share it with your friends. I promise this dessert is nothing like other desserts you could imagine.
If you have the intention to make this dish, let take a picture and share it with us in the comment box below. We would be thrilled to see your results!
7 Common Meatball-making Mistakes
Making meatballs is not an arduous task, but it is indeed not that easy if you're making these seven mistakes that I've listed below. Don't worry, buddy. If you avoid these mistakes, cooking meatballs is just easy peasy lemon squeezy!
1. Not Using Good Meat
The first and most crucial factor that tremendously affects your meatball results is meat quality (unless you're making vegetarian meatballs).
Since meat is the main ingredient, the more authentic the meat is, the better the taste. It's true with all kinds of meat.
2. Forget To Season The Meat
The meat itself goes with the sauce and can not satisfy your palate, I promise. One thumb rule is to season the meat after grinding.
Typically, people add salt to it. However, you can be creative by adding more spices, such as black peppers, MSG, herbs…
3. Not Adding Any Moisture To The Meat
If you don't want your meatballs to have a tough texture and taste like rock, you must add moisture to your meat, whether beef, lamb, pork, chicken, or turkey…
One tip is to add egg (one to two eggs per pound of meat) or bread crumbs soaked in milk to help meats, spices, and flavorings stick together.
4. Over-Mixing The Meat
Mixing the meat is essential to blend everything. But over-mixing it? Not really. You can not produce the tender texture it needs if you combine meats and other ingredients for too long and too much.
For the best result, mingle it until everything combines, then stop and move to the next step.
5. Mix It With A Spoon
Some of my friends, just because they are afraid of staining their hands or simply don't want to touch the meat or the mixture, they use a spoon or a blender instead to do the work for them.
However, to produce the best result, you have to use your hand (with disposable gloves) to mix. Because the blender could crush the meat, and using spoons could leave the full piece visible.
6. Roll Meatballs With Dry Hands
Even though I told you that you should use disposable gloves when mixing (if you hate touching the meat), I usually use my bare hand to mix it. As long as you wash your hands before preparing, then it's safe.
However, to prevent the mixture from sticking in your hand (if you wear any hand jewelry, that's the worst, right?), you can put a splash of oil on your hand and start rolling the mixture in a consistent rolling motion.
7. Not Forming The Size Evenly
Move to the rolling part; besides using oil as a trick, you should also pay attention to how you roll those meatballs.
You can probably guess that you will likely burn or undercook those round pieces of meat if you don't form the meatballs proportionately. To prevent that from happening, remember to shape the meatball evenly.
8 Tips For Making The Best Meatballs
After knowing seven problems that could ruin your meatball dishes, let's discover some secret tricks and tips during the meatball cooking process. Following these pieces of advice, you will perform your best and perfect meatballs, regardless of any cooking method you're using.
1. Pick The Right Meats
Apart from choosing quality meats to cook, you also need to pick the right kind of meats with suitable cooking recipes.
Since each recipe requires a different type of meat and cooking method, it's good knowing that you shouldn't randomly choose or replace the needed meats. However, with the more flexible usual recipes, people tend to use various meats and mix them together.
2. Add Little By Little
I realize one problem that people usually make is when you pour moisture liquid into your mixture, it's easy to over-beating the meat. I get it. But I got an idea!
The secret is to divide the meat into three parts. In the first batch of meat, you mix them with all the seasonings, flavors, and moisture until it's thoroughly blended.
Keep on putting the other batches of meat into the mixture, gradually, and blend them by hand so you can spread them all over the mix, making it more equally distributed.
3. Add Gelled Broth For Better Moisture
Another secret that maybe no one ever told you about before is to add gelled broth to the mixture for better moisture.
I know it sounds strange to you because you would normally put eggs or bread crumbs with milk to create moisture for the meat. However, you would see a tremendous improvement if you slightly change from those typical ingredients into gelled broths.
It's a bit of a daunting task, even for me, in this step because you have to mince the gelled broth piece by piece. I know, pouring a broth stock is much easier and faster. However, the result can not compare to the gelled broth since it's juicier and has tiny moisture pockets inside.
4. Keep Things Cold
Trust me; this tip is lit! Maybe no one told you this before, but keeping things cold in a fridge for about 15 minutes after mixing is a secret trick that could level up your meatball dish.
Besides, while you blend meat with other ingredients, use a cold bowl. With the precooked ingredients, let them chill down a bit, then add to your mixture.
5. Be Gentle When Forming The Meatballs
Forming the meatballs is the most challenging part of my cooking experience. You have to not only form those balls evenly but also have to press them consistently.
If your meatballs are packed too tight or compact, the outcome would be tough, squishy, and crumbly.
6. Brown The Meatballs
Some people think this step is redundant and time-wasting. But this tip might be my heresy.
Yes, it's important to brown the meatballs when it is still raw before dumping them into sauces or any other cooking method you are about to use.
You can use a pan-frying method or broil them on a rimmed baking sheet. I prefer the latter, personally. Since the meatballs are round and large, it's pretty tricky to brown them evenly. Using a rimmed baking sheet will help you get over that.
7. Pay Attention To The Cooking Time
I'm a pretty little perfectionist. It's annoying sometimes, but in cooking, it helps my dishes to reach their highest level.
They say the meatballs have to stay in the sauces for like an hour at least (4). I believed that at first. But to be honest, I'm not a long-cooked fan, so I choose to reduce my cooking time to only 15 to 20 minutes. Surprisingly, the meatball is more juicy and tender. If you don't believe me, just give it a try, and you'll see.
8. Make The Right Sauce
In a traditional meatball recipe, the tomato sauce is the compulsory and the primary element that could remarkably affect your meatballs.
Needless to say, making the right sauce is the ultimate tip to cook the best meatball. You also cook like any other pasta sauce recipe on the Internet. But one tip that could set aside your dish is adding herbs, vegetables, or mushrooms while simmering the sauce.
FAQs
These are questions that people commonly ask. I have collected them and try to come up with answers that are as concise as possible but still contain enough information. It might be helpful to you too!
How Do You Feel About My Suggestion?
With the endless love for meatballs, I've tried, tasted, and done the research for a thousand times before I can get down to writing you this article. I hope I can inspire anyone who reads this the love for meatballs and various ways to make it more enjoyable so you can never get tired of it.
If you have any questions related to meatballs or anything that could serve with meatballs, do not hesitate to comment below and share your experience and opinions. I would be thrilled to hear those comments from you guys.
But now it's getting late, and I have to make myself a delectable meatball dish to indulge myself on a lazy sunny day. Ciao for now!
Nutrition Facts
12 servings per container
---
Amount Per ServingCalories225
% Daily Value *
Total Fat 9.7g

14

%
Cholesterol 27mg

9

%
Sodium 246mg

11

%
Potassium 796mg

23

%
Total Carbohydrate 31.1g

11

%

Dietary Fiber 4.6g

16

%
Sugars 3.1g

Protein 4.7g

8

%
---
Calcium

51

%
Iron

1

%
Vitamin D

4

%
* The % Daily Value tells you how much a nutrient in a serving of food contributes to a daily diet. 2,000 calories a day is used for general nutrition advice.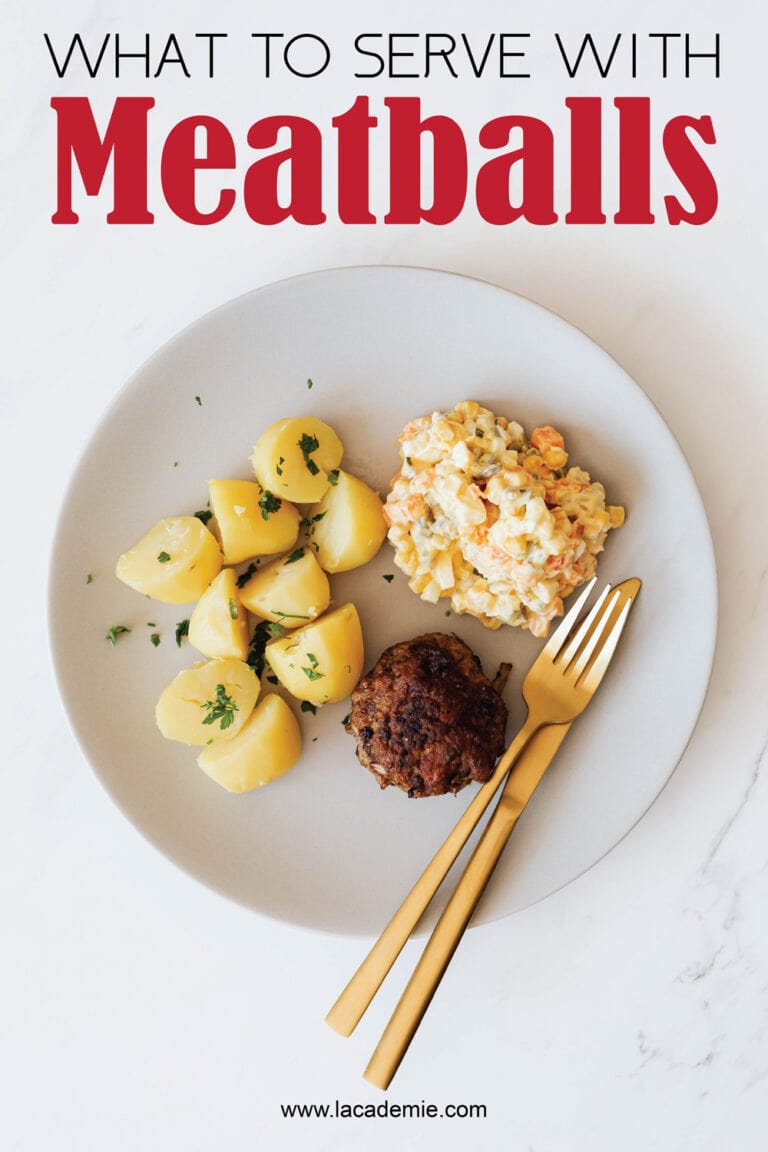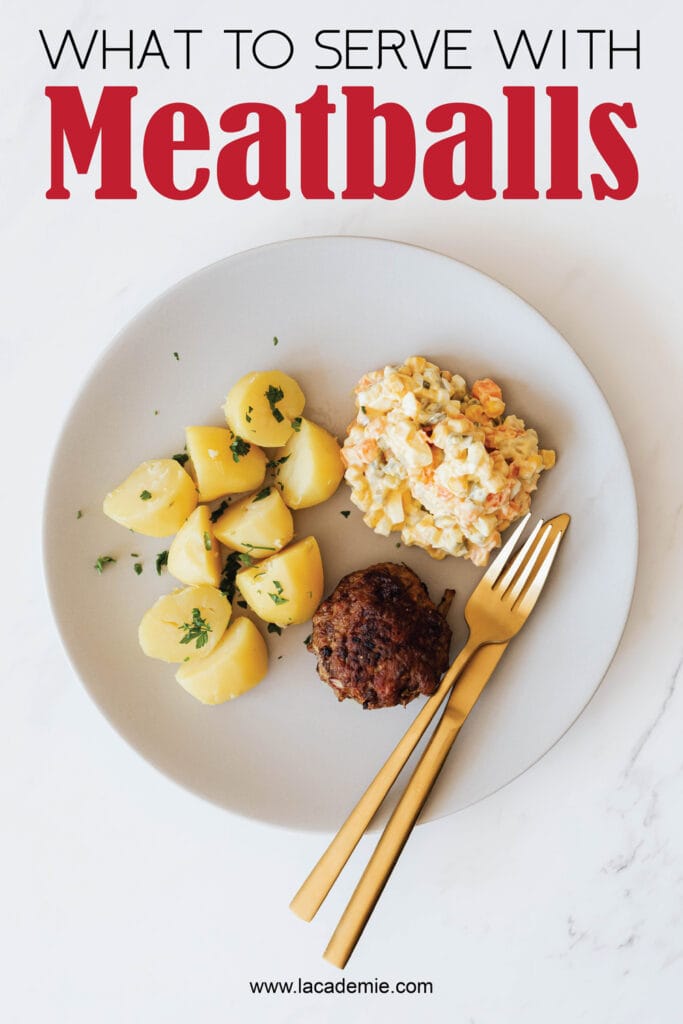 References
An Italian in my Kitchen. 2021. Italian Meatballs in a Red Pepper Tomato Sauce.
Robinson, K. and Kelly Kennedy, R., 2021. What Is Quinoa? Nutrition Facts, Types, How to Cook It, and More | Everyday Health.
Livescience.com. 2021.
Roma, C., 2021. Sunday Sauce and Meatballs. [online] What Should I Make For.
Ask.usda.gov. 2021. AskUSDA.