If you are a new cook, minced meat vs. ground meat is a topic that may confuse you sometimes. Although they can be a bit similar in appearance, using the wrong type can make your cooking less delicious or even bring you some trouble.
Given some similarities between minced meat and ground meat, the different producing methods make them distinctive in terms of uses, ingredients, colors, nutrition values, etc. So, let's dive deeper into these interesting characteristics in today's post!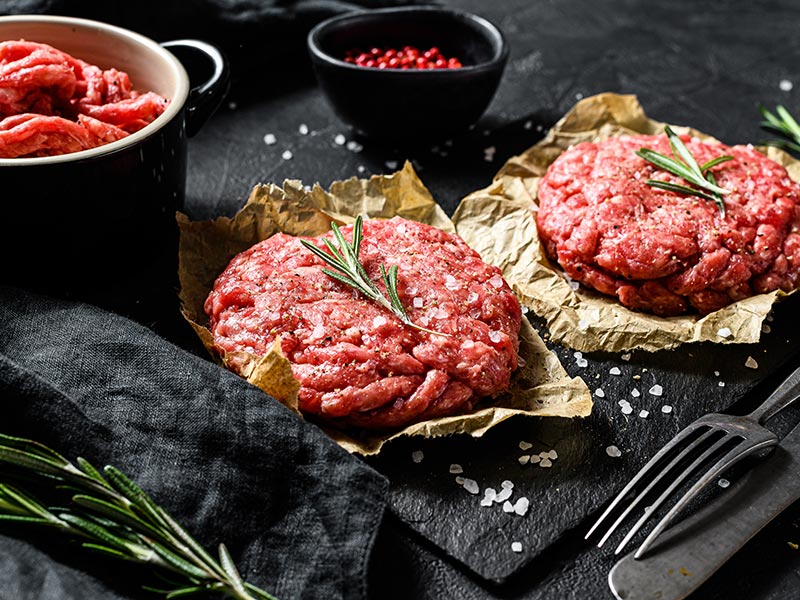 What Is Minced Meat?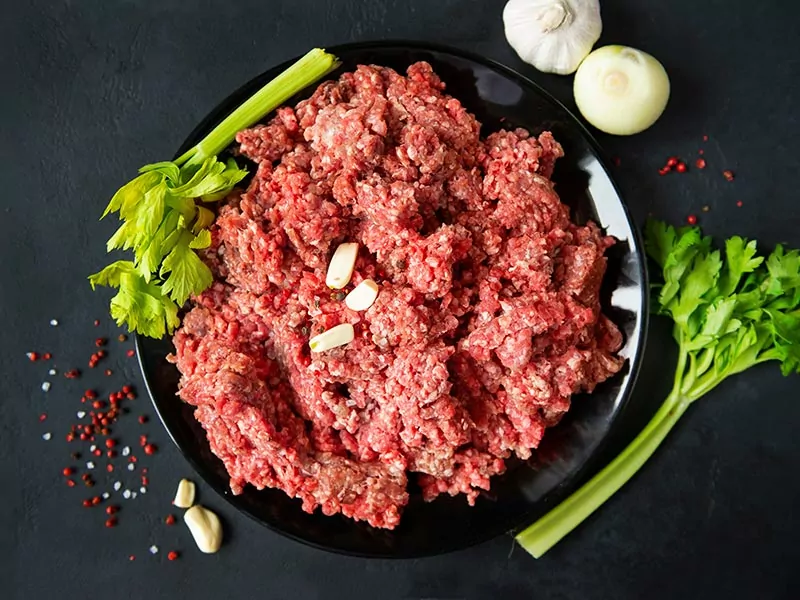 Mincing has long become a popular way of processing meat in the history of cooking. People use a knife and a cutting board to finely chop the skeletal-muscle meat of a single animal. The product of that process is the minced meat we know nowadays.
Besides, some people use a meat processor to mince meat to save time. With this method, you will get a lean and crumbly form of meat that perfectly fits dishes like sausage rows, pies, and stews.
Minced meat is always available at grocery stores and butcher shops, so it's easy to grab some. Or, if you are a fan of homemade stuff, try finely chopping pork, beef, turkey, or whatever meat you have to make fresh minced meat.
An Overview Of Ground Meat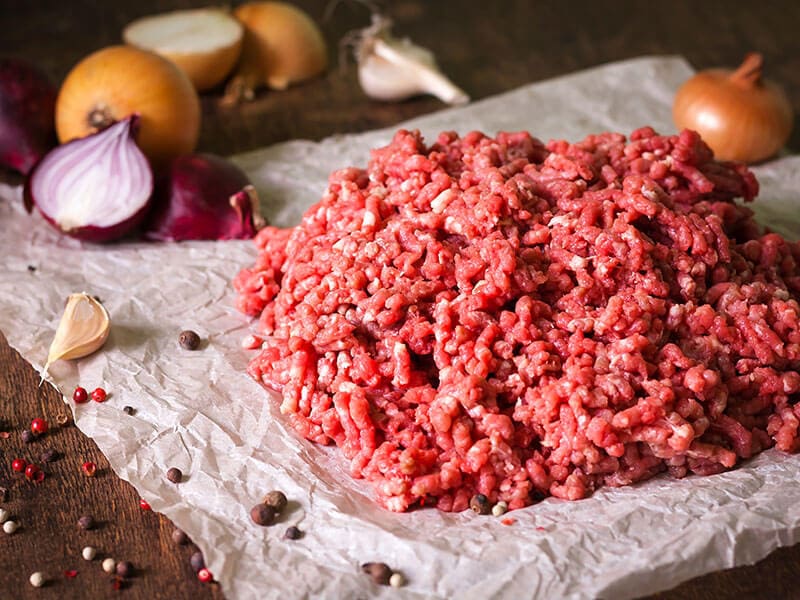 Believe it or not, ground meat appeared later than minced meat back in the 19th century. That was when Karl Drais, a German inventor, introduced the first meat grinder to the public.
In addition to lean meat, ground meat contains additional ingredients such as water, fat, and soy. When you buy a package of ground meat, you will probably see the ratio on the label (e.g. 80/20, meaning 80% lean meat and 20% fat, water, etc.).
Regarding this ratio, many meat lovers go for leaner ground meat because of its chewiness. In opposition, others like the juiciness of meat with a higher proportion of fat. Besides, the choices also usually follow recipes and individual diets.
Minced Meat Vs. Ground Meat – A Full Comparison
Now, you have some basic ideas about minced meat and ground meat. And knowing how to distinguish them in terms of uses, colors, flavors, etc. helps you a lot when preparing ingredients for your delicious meals.
Before I detail their differences, just let me tell you what they share in common that usually makes new cooks think that they are identical.
Similarities
Well, minced meat and ground meat share some characteristics. They are both in small pieces, high in protein, and from the same meat sources.
In Small Pieces For Cooking
About their appearance, they are both tiny pieces of meat widely used in cooking with numerous meal possibilities. You can use either of them in a few recipes that do not strictly require that the ingredients have to be minced meat or ground meat.
High In Protein
Considering that ground meat has a certain proportion of fat, both types are very high in protein. With 100% meat, minced meat is the highest-quality protein source. Lean ground meat usually contains more protein than ground meat with a higher proportion of fat.
Types Of Meat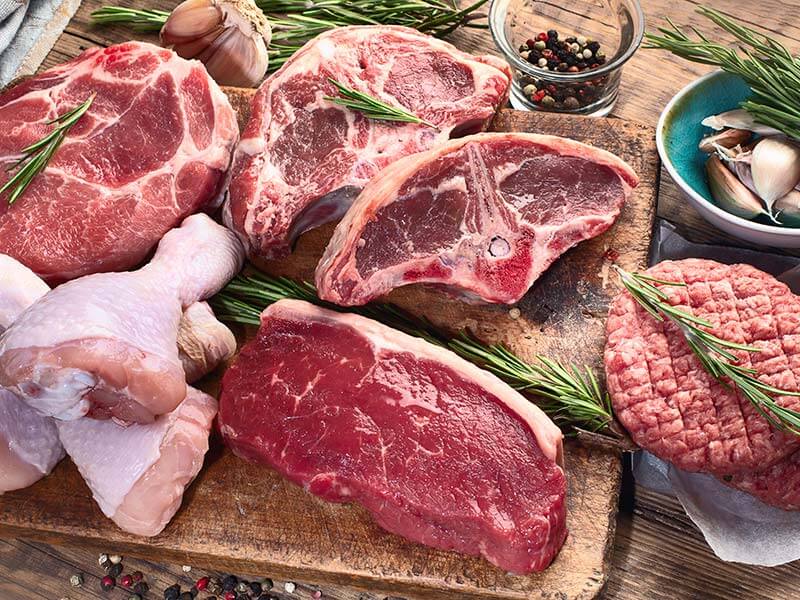 Another common characteristic of minced and ground meat is that they come in various types of meat, including pork, beef, turkey, chicken, lamb, etc. Their simple processing methods can apply to any meat.
Differences
Here you are! Welcome to the most-awaited part of the post! As promised, I'll show you how you can tell whether a processed meat package is minced meat or ground meat. Let's look at the summary table before I talk about the criteria one by one.
Criteria
Minced meat
Ground meat
Ingredients
Finely chopped meat of an animal
One or more ingredients; Beef and pork is the most common mix

May have additional ingredients: soy, water, fat, etc.
How to make
Use a knife to chop the meat on a cutting board finely

Use a food processor
Grind the meat and other ingredients with a meat grinder
Flavor
Strong meaty flavor with 100% meat
Combined flavor of meat and other components
Appearance
Coarse, choppy, lean, and chunky

Darker color, identical to the original raw meat
Fine texture in stringy lines

Leaner ground meat: dry and crumbly

Fattier ground meat: smooth and succulent.

Slightly brighter color
Uses
Long-cooked dishes; dishes that don't require a stable shape

Dishes featuring meaty flavors

E.g. stews, sausages, pies, soups, curries.
Dishes that need to keep the shape of meat

Dishes featuring other ingredients besides meat flavors

E.g. burgers, meatballs, kebabs.
Nutrition Value
Higher in protein, low in fat

Zinc & B vitamins

High calories
High in protein, the fat level depending on the lean meat-fat ratio

Zinc & B vitamins

High calories
Price
Usually cost higher than ground meat
Higher lean proportion usually costs a higher price.
Ingredients
As mentioned, the only ingredient making up minced meat is 100% lean meat of a single animal, which can be pork, beef, turkey, chicken, or lamb. Also, skeletal muscles attached to the bones by tendons are usually the main meat used in making minced meat.
Many people love this type of meat because they just want to enjoy their only favorite kind of meat. How about you?
For ground meat, you get more options since the meat can be from a single animal or a mix of two animals. This is also one of several similarities that ground beef and chunk share. And the most popular mix is beef and pork.
Unlike minced meat, which contains 100% meat, ground meat consists of additional ingredients such as soy, water, and abundant animal fat.
Get to know about the the ingredient ratio of ground beef and how to choose them.
How To Make
The biggest difference between minced and ground meat comes from their processing methods. The former just requires simple tools like knives and a cutting board (or a food processor for time-saving), while the latter needs a meat grinder on hand.
Make minced meat with knives and a cutting board: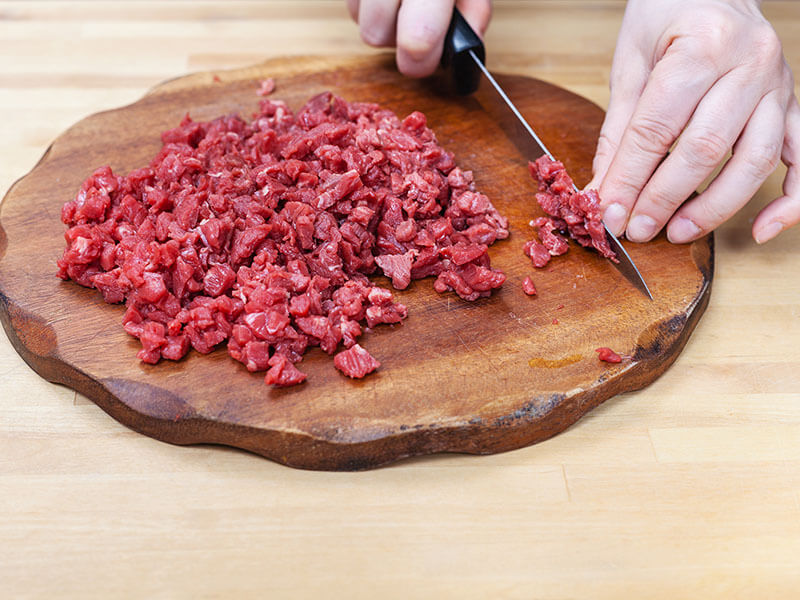 As simple as it sounds, the following steps are what you need to do to make some fresh minced meat at home.
Step 1: Slice the meat into long chunks (one-inch thick on all sides).
Step 2: Cut the meat into thinner strips (half of their current size) and spread them on a tray.
Step 3: Freeze the strips in a freezer for 20 minutes. After that, put the chilly strips on a cutting board.
Step 4: Use two sharp knives to chop them quickly. Keep chopping, piling, and turning the meat until it becomes tiny pieces.
Make minced meat with a food processor:
If you want to save some time when making minced meat, then a food processor can help. So why don't you give it a try?
Step 1: Prepare the meat (beef, pork, chicken, etc.).
Step 2: Chop it into one-inch cubes.
Step 3: Freeze them in a freezer for about 15 minutes. Chilly cubes will be easier for the food processor to mince.
Step 4: Take the meat out and mince it with the food processor until it reaches the desired consistency.
Make ground meat with a meat grinder:
As long as you have a meat grinder available in your kitchen, just follow these simple steps to make some ground meat.
Step 1: Prepare the meat and fat according to your preferred lean meat/fat ratio.
Step 2: Chop it into smaller cubes.
Step 3: Freeze them for about 15 minutes.
Step 4: Put the cubes and additional ingredients (water, fat) into the grinder hopper, and then grind them using the grinder.
Tips: If you have no idea about the lean meat/fat ratio you should go for, I highly recommend 80/20 for ground beef and 75/25 for ground pork. Besides, the perfect mix of beef-pork ratio is 50/50. These ratios will surely bring the most flavorful ground meat.
Here's how to make ground meat for burgers with a meat grinder.
Flavor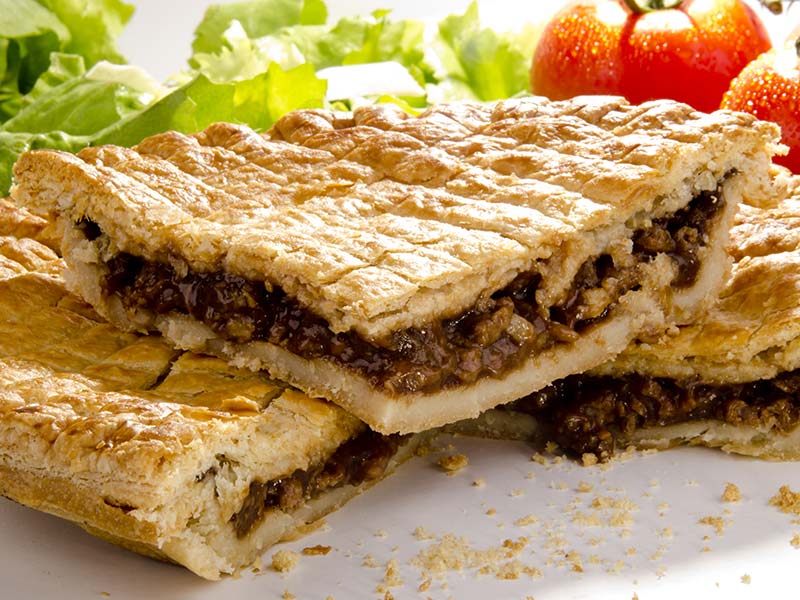 Again, with 100% pure meat, minced meat brings out a strong meaty flavor that is not diluted by any other ingredients.
On the other hand, the ground meat flavor is more flexible. If you prefer a single flavor of meat, you can make ground meat from a single kind of animal. Otherwise, you can enjoy a more flavorful dish with multi-varietal ground meat.
Appearance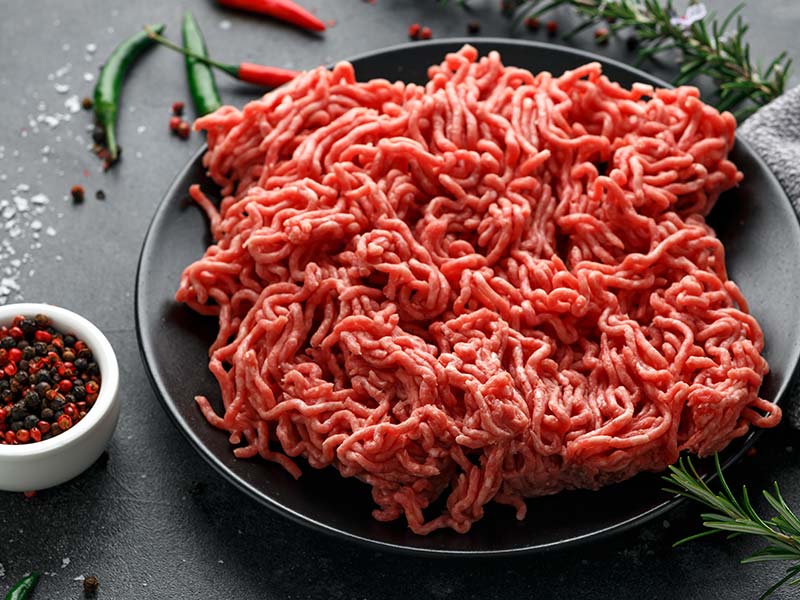 Appearance is another aspect that can help you to distinguish minced meat from ground meat.
Minced meat is coarser, lean, chunky, and chewy if not chopped finely. In contrast, leaner ground meat (more muscle, less fat) is dry and crumbly, while fattier ground meat (less muscle, more fat) is smooth and succulent.
Apart from that, ground meat is in the form of long, stringy lines shaped by the meat grinders' output grids. This is a useful clue, isn't it?
When putting minced meat and ground meat side by side, I'm sure you will easily notice their color differences. This is mainly because each type has different ingredients.
Because the whole package of minced meat is pure meat, it will be darker in color than ground meat. The water and fat in ground meat make its color slightly brighter than the actual raw meat.
Uses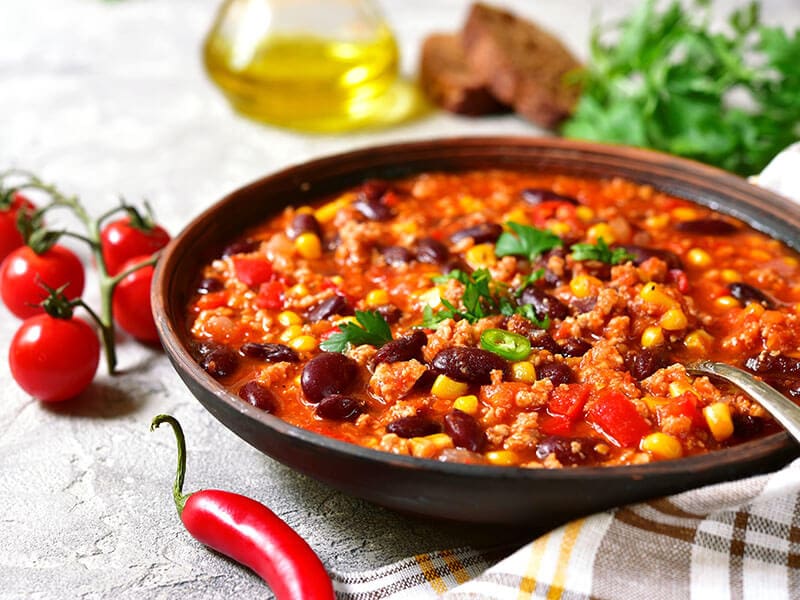 Due to their differences in texture, minced meat and ground meat appear in various dishes.
Particularly, coarse and choppy minced meat usually appears in long-cooked recipes and recipes that don't require a stable meat shape. Besides, minced meat is also ideal for recipes emphasizing the meaty flavor.
Some typical minced meat dishes are chili con carne (spicy beef and bean stew), stews, pies, and curries.
On the contrary, thanks to its smooth and harmonized consistency, ground meat will best fit dishes that need to keep the shape of the meat. Therefore, you should use ground meat in your burgers, meatballs, and kebabs.
Nutrition Values
It's undeniable that any kind of meat contains many nutrients, especially protein, and both minced meat and ground meat are no exceptions. Every kind of meat varies in its nutrition.
Here is a chart of nutrition values in 100 g of minced beef and ground beef, the most popular minced and ground meat.
| Nutrients | Minced Beef (100 g) | Ground Beef (100 g) |
| --- | --- | --- |
| Calories | 183 kcal | 198 kcal |
| Protein | 24.8 g | 19.4 g |
| Total lipid (fat) | 7.1 g | 12.7 g |
| Iron, Fe | 6.9 mg | 1.99 mg |
| Phosphorus, P | 340 mg | 175 mg |
| Potassium, K | 220 mg | 289 mg |
| Sodium, Na | 370 mg | 68 mg |
| Zinc, Zn | 3.9 mg | 4.55 mg |
| Vitamin B1 | 1 mg | 0.049 mg |
| Vitamin B3 | 3.19 mg | 4.83 mg |
| Pantothenic acid | 0.8 mg | 0.576 mg |
| Vitamin B6 | 1.11 mg | 0.355 mg |
| Fatty acids, total saturated | 4.5 g (1) | 5.34 g(2) |
It's noticeable that minced beef contains a higher level of protein, iron, phosphorus, sodium, pantothenic acid, vitamin B1, and vitamin B6. Meanwhile, ground beef is richer in calories, fat, potassium, zinc, vitamin B3, and fatty acids.
Both types are good sources of high-quality protein, with minced beef containing a higher micronutrient level. As you may know, protein aids in developing muscles and maintaining biological processes in your body.
It's also reasonable that ground beef is fatter than minced beef because fat is a proportion of ground beef. Besides, B vitamins and zinc are vital to your well-functional immune system.
Last but not least, the high level of Vitamin B3 in ground beef helps your body function properly, especially in producing sex hormones.
Is ground turkey healthier than beef? See the answer here!
Price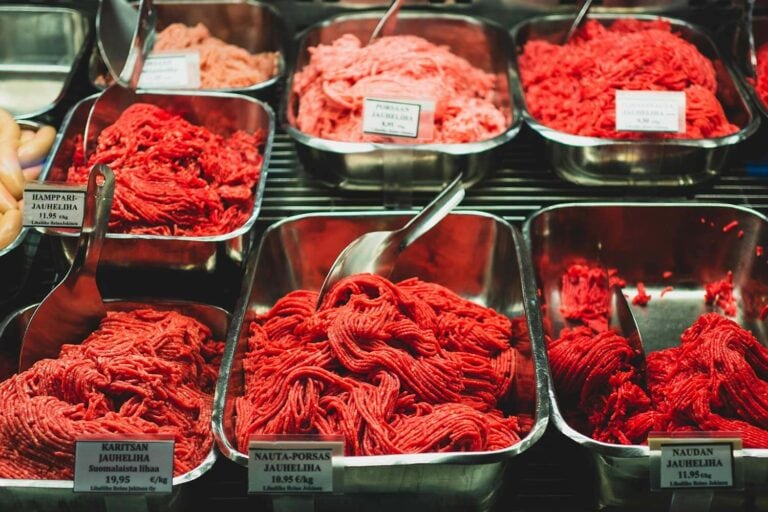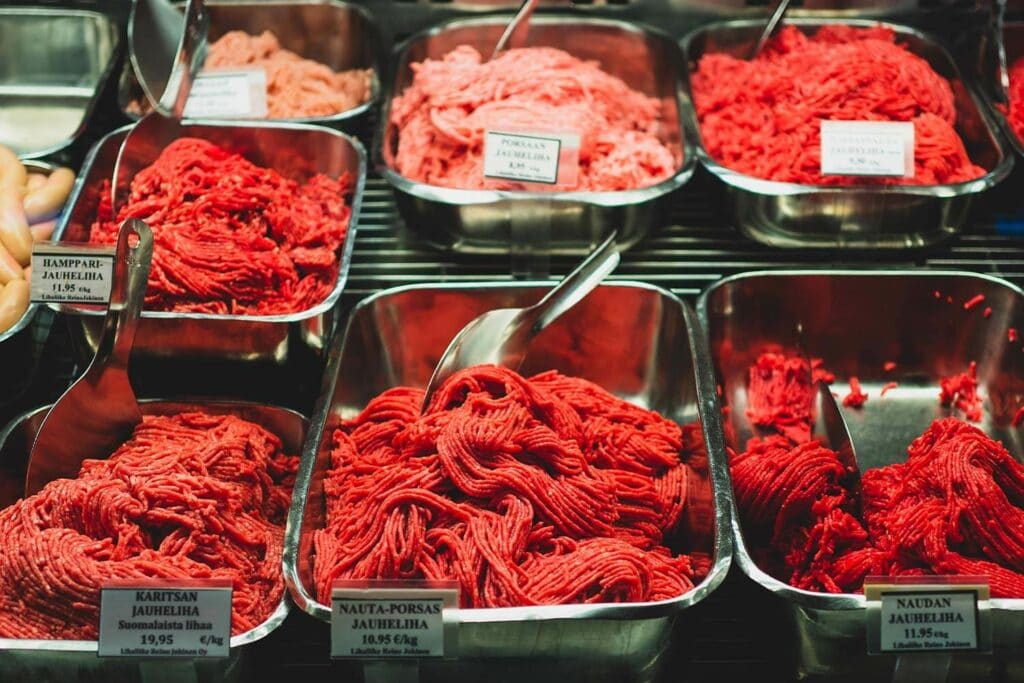 This aspect depends on where and what meat you buy. Minced meat has a higher price than ground meat because it's pure meat with few secondary ingredients.
Among the types of ground meat, those with a higher proportion of lean meat will cost more than fat ones. But believe me, you may not want to consider so much about these prices, because both minced meat and ground meat will surely meet your expectations.
Can Ground Meat Be A Substitute For Minced Meat?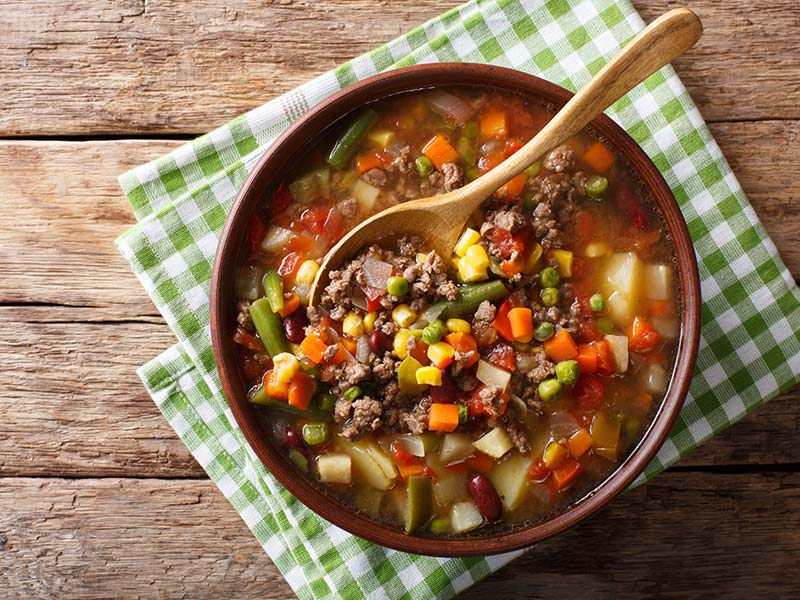 The answer is YES when your recipe does not call for 100% pure meat. Using ground meat instead of minced meat can be a reasonable option, although the meaty flavor of your dish may be slightly weaker.
When you want to use ground meat instead of minced meat, you have to consider whether your dish requires the shape of cooked meat.
Ground meat can substitute for minced meat in many cases, thanks to its fine texture. For example, you can probably use ground meat to make soups and curries, as it also performs well, like when you use minced meat.
On the other hand, minced meat sometimes can not replace ground meat because it's coarser and chunkier, which makes it a bit harder to form a shape.
03 Must-Try Minced Meat Dishes
I'm sure you did think of some dishes you can make from mince meat or ground meat, right? In this section, I'll recommend some superb recipes. Ready? Let's start with those featuring minced meat first!
The first dish I would like to show is easy mince pies. As the name says, it's simple to make, as long as you prepare enough ingredients. Their fillings combining minced beef, potatoes, and various ingredients such as tomatoes, onion, and herbs will surely delight you.
Originated from Mexican cuisine, these chicken enchiladas with cheese and rice promise to be a star in your family dinner. With minced chicken, beans, and tomato salsa covered by enchiladas, they can be more flavorful and enjoyable.
The next amazing recipe I recommend is chili con carne, a spicy beef and bean stew. This dish promises to refresh you after a long week at work. Don't forget to add some coriander on top of the dish and serve with rice and sour cream.
Let's enlighten your weekend with this crazy delicious chili con carne!
Scrumptious Ground Meat Recipes Are Here!
You looked at some fantastic recipes with minced meat. How about ground meat? Don't worry! I've got you covered with 03 mouth-watering recipes for this kind of meat.
Italian meatballs are well-known for their juiciness and multi-flavors, in addition to their simmered tomato sauces. What's more? You can enjoy these flavorful meatballs with pasta or a sandwich, too. And it's quicker to make it than you may think, only half an hour!
You can use this recipe when you need a simple meal prep with ground beef. For this one, use 80% lean ground beef for succulent and meaty patties. Together with cheese, lettuce, and tomato, I'm sure these burgers can be on par with those from any fast-food chain.
Try making perfect beef burgers with Gordon Ramsay, one of the best chefs in the world.
Kefta is a Moroccan kebab featuring grilled ground beef or lamb. These kebabs are flavored with cumin, paprika, parsley, and so on, making them so savory that nobody could resist. You can serve them with salad, couscous, or even make a kefta sandwich.
FAQs
These frequently asked questions will help you know more about minced meat and ground meat, so make sure to take a look at them.
Make Your Own Choice!
Congratulations! You now master how to distinguish between minced meat and ground meat. You will no longer be confused about choosing minced beef or ground beef to make your favorite burgers. I'm sure knowing this will make your cooking much more enjoyable.
What do you think about my post today? If you find it useful, don't hesitate to share it with any friends you think are in need. Or, if you have any other ideas regarding this topic, your comments are always welcome below!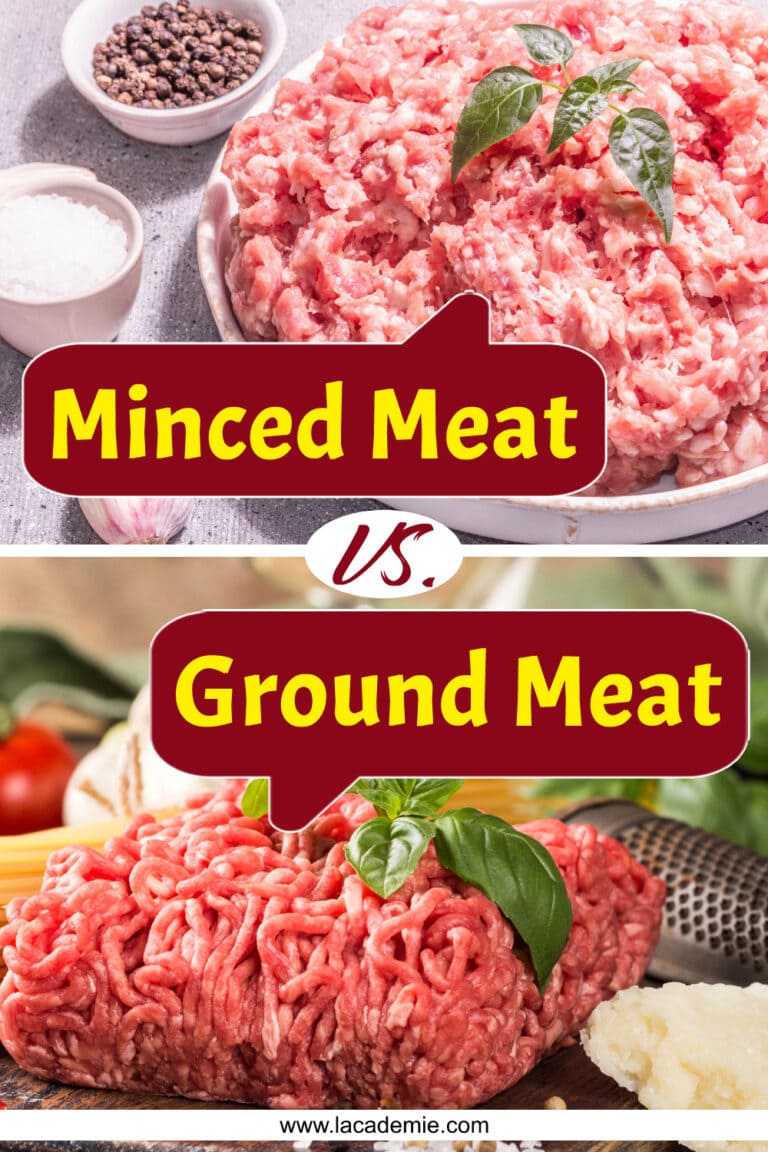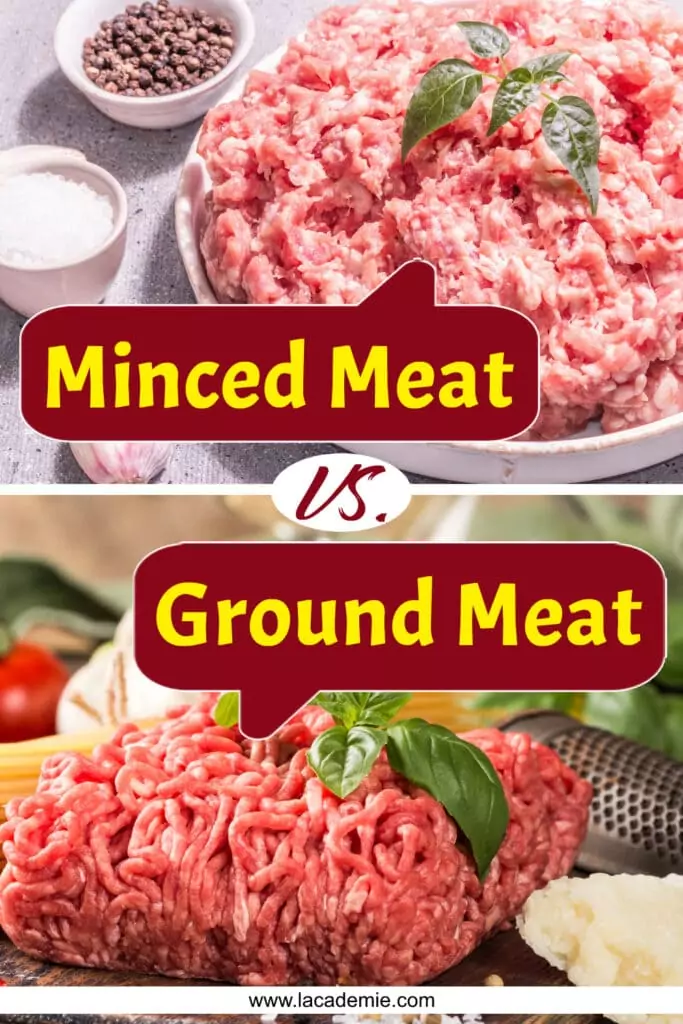 References
FoodData Central
FoodData Central