Meal prepping is taking the world by storm and if you are not sold on it yet, you surely will be once we go over these amazing ground beef meal prep ideas. Besides, these foods should be kept in top-quality meal prep bags as well to ensure the quality of your meal preps.
Back in the day meal prep had somewhat of a bad reputation but as our lives get busier and busier, this way of preparing food is becoming a real trend.
I have found that meal prepping saves me a lot of time and finances, as I can buy ingredients in bulk and use them to create some of my favorite dishes. This kind of cooking also allows me to manage my portion sizes better – I never over-eat or under-eat, which helps me reach my weight goals.
I bet that if you tried meal prepping with any kind of food, you will find that cooking is quite fun. On top of that, it reduces the stress of thinking about what to cook and cooking every day. So, now that we have mentioned all this, we can get right into the art of meal prepping with ground beef and any other kind of food!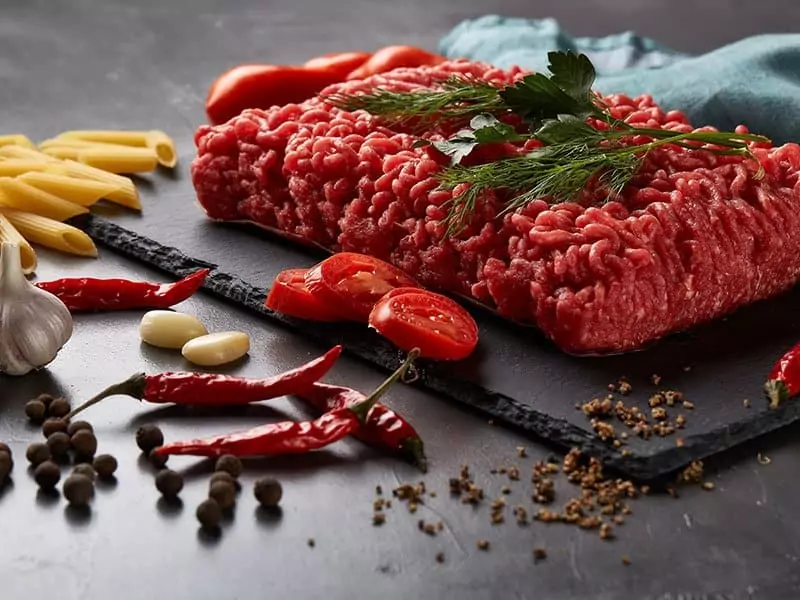 Watch the video to know more:
How To Meal Prep With Ground Beef?
First, do you know the difference between ground beef and ground chuck? Actually, there is a reason why I choose ground beef to make this list.
Also, since minced and ground meat have several differences, remember to check the label carefully before buying. While ground beef has a lot of protein and pairs well with many ingredients, it is not expensive. And you can freeze any recipe using it later.
Moreover, ground beef meal prepping is the best thing that you can teach yourself if you are someone who has a busy schedule or if you just do not like cooking every single day.
Instead of cooking with ground beef during the week, you can buy some of it and make a bunch of meals on the weekend that you will be able to take out of the freezer and put on your dining table at any time. Who says that you cannot have a gourmet meal every single day?!
How I like to meal prep is I make a list of meals I would want to cook for the following week, I go out and get all the groceries, and then I make the meals on the weekend and freeze them up so that I do not have to cook during the week. This is a very simple method of meal prepping with ground beef that I advise you to try out!
Watch the video to know more:
Best Ground Beef Meal Prep Ideas
If you want to prepare your meal with ground meat, rest assured! There are many recipes with ground beef you can try your hands at. For fans of dishes featuring ground bison, I'll introduce you to some bison dishes on another occasion, for now, let's see 40 ground beef meal prep recipes.
Not only will you get a lot of meal ideas, but you will learn how to make them with my detailed guide. So, without further ado, let's get to the recipes!
1. Wendy's Chili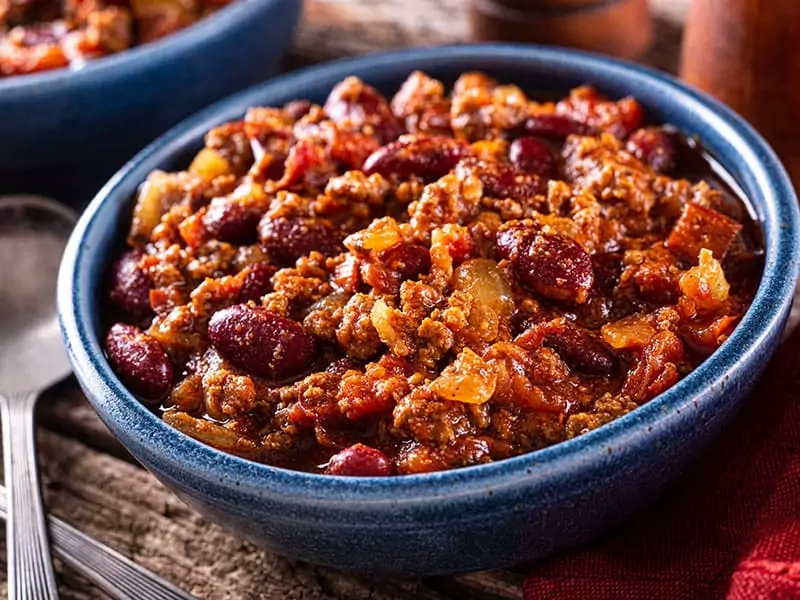 Making chili for many people is not always easy, but this recipe will make it more enjoyable than ever. It takes about two hours to be fully prepared, but once it is, you will see the magic of it.
Aside from the ground beef, you will need tomato sauce, bell peppers, kidney and pinto beans, and other seasonings. Last but not least, you can use some olive oil to add extra flavor to the chili. Now, your chili is ready to be served – Bon appetit!
2. Ground Beef And Fried Rice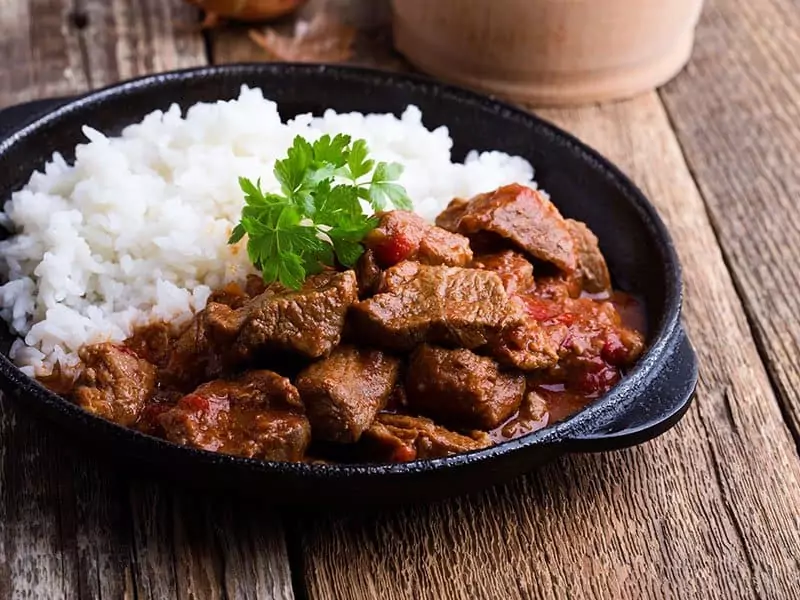 This simple dinner takes only 30 minutes to make. You will need 2 tablespoons of vegetable oil, 1 pound of ground beef, some garlic and onion, salt and pepper, and 2 cups of rice. If you want to, you can always add some frozen corn, carrots, or peas.
Cook the ingredients separately and leave them to cool down. After putting them together and seasoning according to your taste preferences, you can eat the beef and rice or prepare the meal for freezing. When put in the freezer, this meal can last up to 4 months!
Furthermore, if you love kimchi, you can mix it with fried rice to create a delicious dish from leftover corned beef. So either you use fresh or remaining beef, cooking them with rice is the best idea.
3. Ground Beef And Broccoli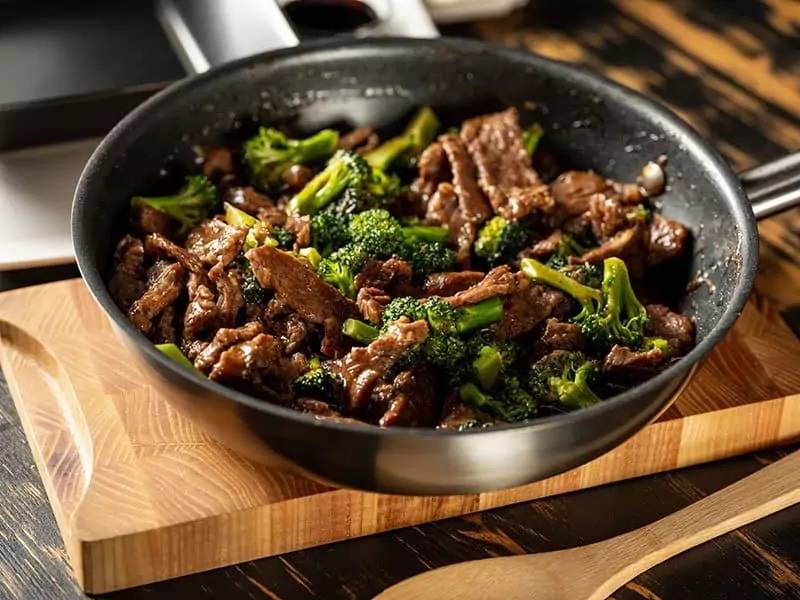 The broccoli and beef mix is another fast dinner option but this time you can make it in only 15 minutes. All you will need is 1 cup of rice, some garlic, a tablespoon of sesame oil, and another one of olive oil, 1 pound ground beef, and some broccoli cut into small pieces.
Once the meal is ready, you can season it and add some sesame seeds as a garnish. Put the meal into meal prep containers and you will be good to go!
4. Ground Beef And Potatoes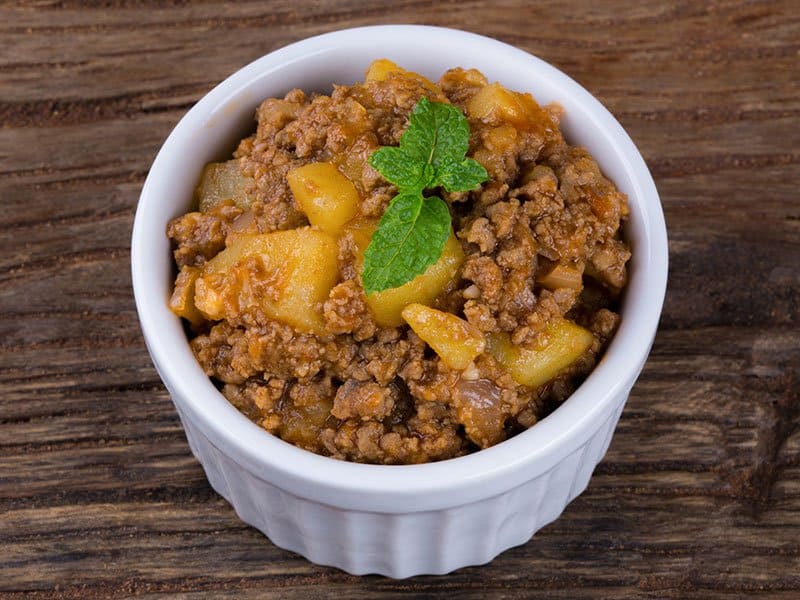 I love potatoes cooked in any way, so this is one of my favorite meals ever. The ingredients needed for this recipe are some ground beef, potatoes cut into cubes or slices, some spies, mustard, or hot sauce that you can add if you want a richer taste.
This meal is a very nice lunch or dinner choice that you can pair up with a glass of red wine. The only problem with it is that it should not be frozen but kept in the fridge, in an air-tight container. You should eat it within three days of making it!
5. Pasta and Ground Beef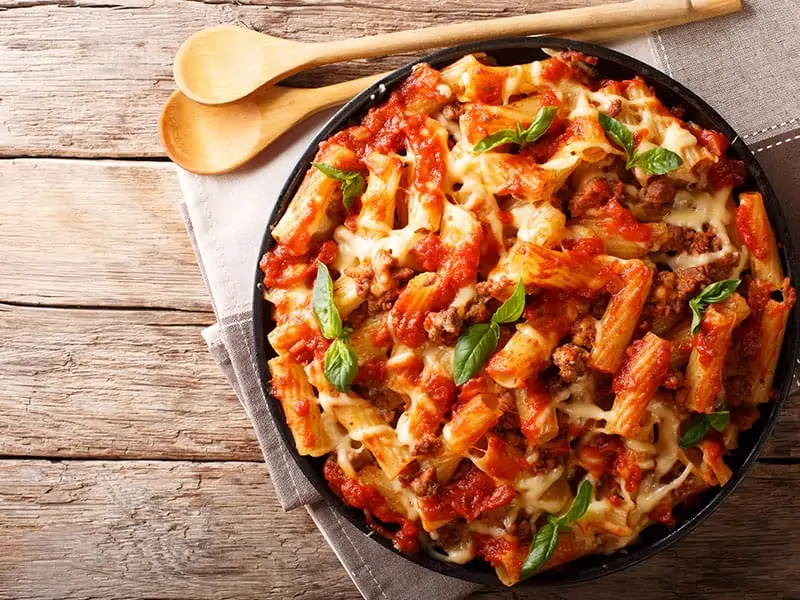 This pasta with ground beef sauce is an awesome main course idea that will be ready in only 30 minutes. While the pasta cannot be prepared beforehand, it will take only 10 minutes to get it ready on the day when you are planning to serve it.
The ground beef sauce is made with olive oil, some onion and garlic, tomato juice or paste, seasoning, and 1 pound of ground beef. It freezes nicely and you can use the cause whenever you want to!
6. Ground Beef Burrito Bowl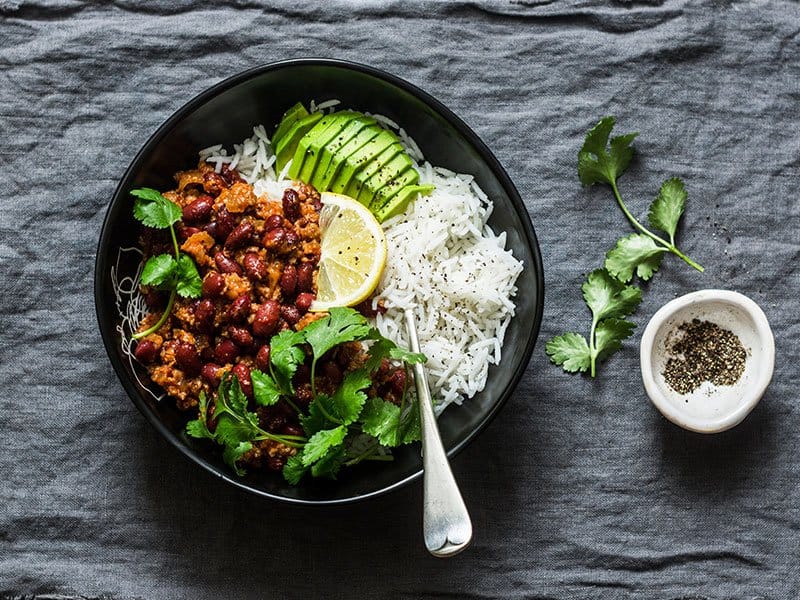 You can use this ground beef burrito bowl as a main course any day – it is ready for serving in only 30 minutes. In the bowl, you can put whatever you like but I advise you to mix the beef with some rice, beans, and corn, while adding oregano, garlic, pepper, or parsley for garnish.
You can keep this meal in the fridge for up to 5 days, while you can also freeze it up and keep it for at least a few months.
7. Ground Beef Taco Salad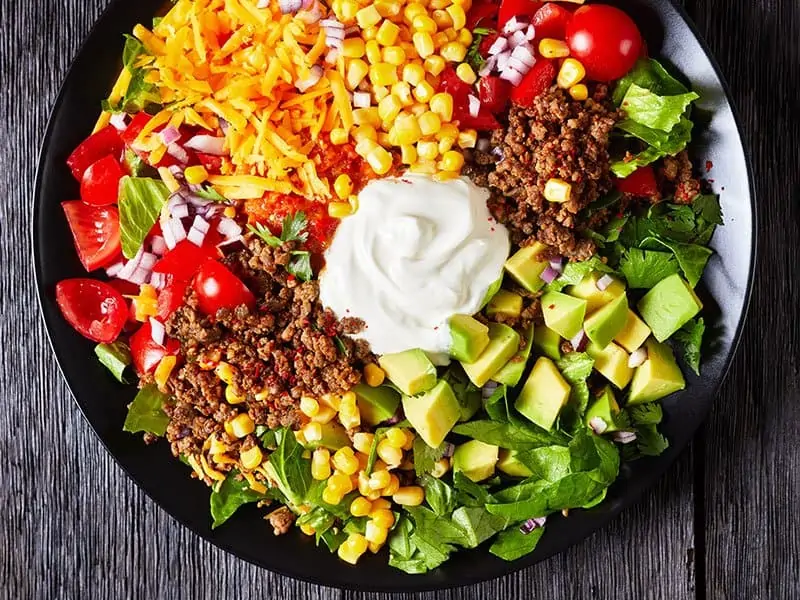 This is one of the best low-carb salads that will make your stomach feel like spring! It can be prepared in 25 minutes, while it can also include all the ingredients you like.
From lettuce to onions, avocado, and tomatoes – anything can be mixed with ground beef. Try making your own dressing and adding it to the salad to get a richer taste!
8. Philly Cheesesteak Ground Beef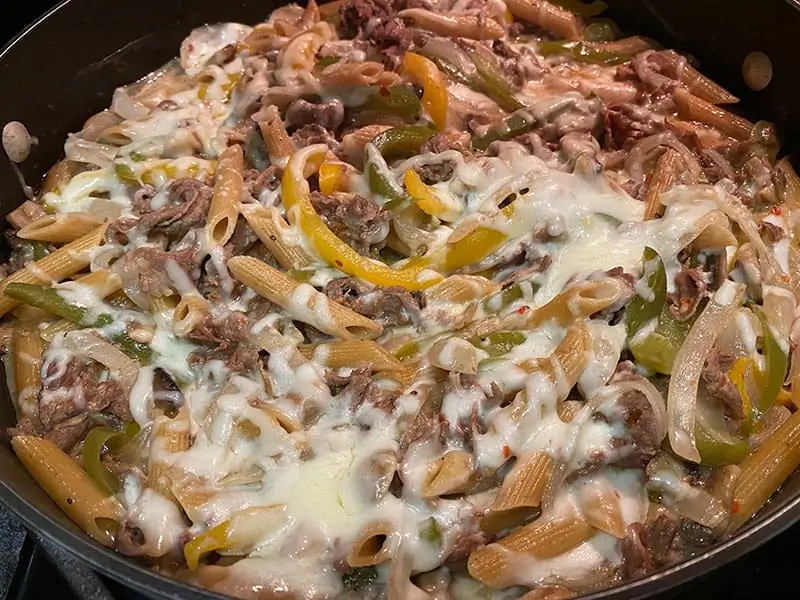 You can make four servings of this delicious hot lunch in only 25 minutes. All you need is to mix ground beef, some green pepper, onions, mushrooms, a cup of cooked rice, and the cheese you like best.
Once the mixture is cooled, you can fit it into three or four meal prep containers and store it away. If put in the fridge only, it is advised that you eat it within four days!
9. Korean Ground Beef Stir Fry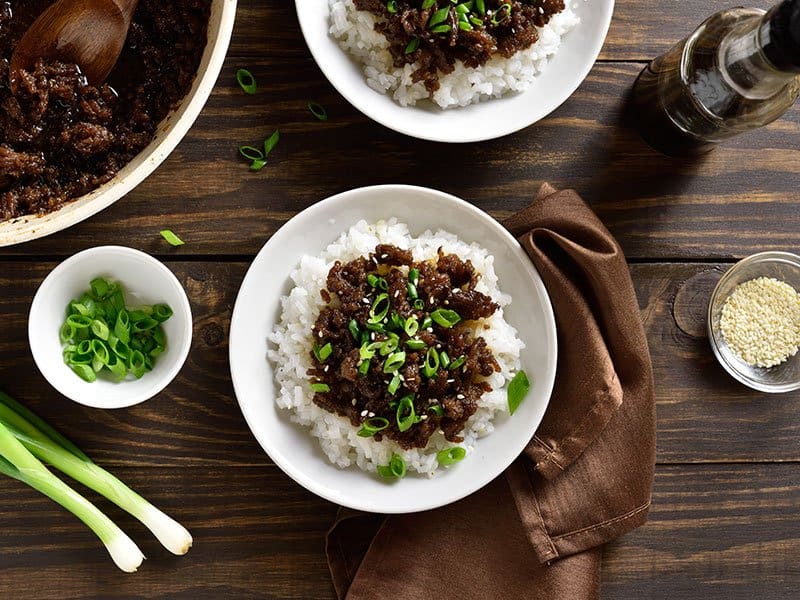 Ready for serving in only ten minutes, this scrumptious dish from Korea is a great dinner option for everyone. Aside from the ground beef, you can use any kind of vegetable in this recipe – broccoli, onions, corn, beans, asparagus, and so on.
You can freeze this meal for up to 3 months. When you want to reheat it, you will only need to put it on medium heat and stir it for several minutes before it goes back to its original shape.
10. Ground Beef Zucchini Sweet Potato Skillet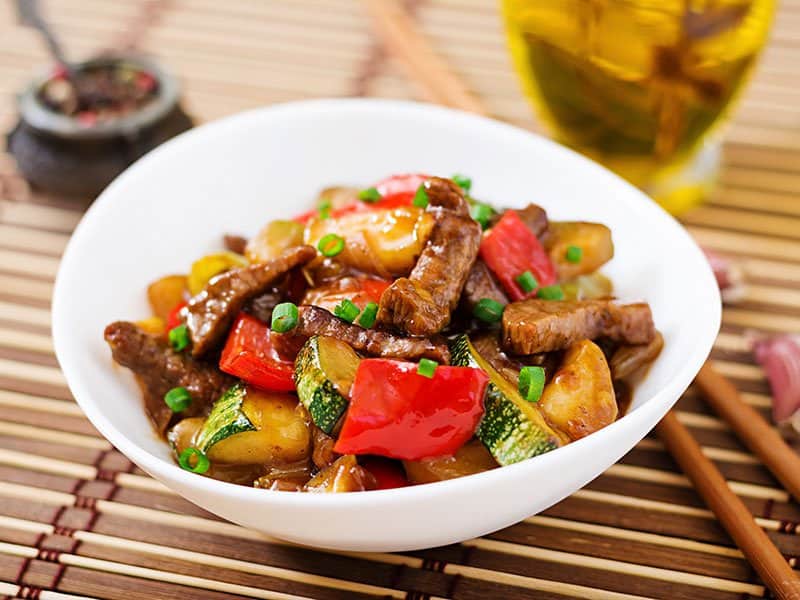 A pan and 30 minutes of your time will be enough for you to get this amazing dinner ready. The ground beef zucchini sweet potato skillet is very healthy, low on cards, it contains no gluten at all, and it is paleo-friendly!
Mix beef, garlic, onion, peppers, potatoes, a medium-sized, delicious variety of zucchini, some tomato sauce, rice into a big pan and stir for 20 minutes. Add seasoning according to your taste preference and you will be good to go!
11. Ground Beef and Vegetable Salad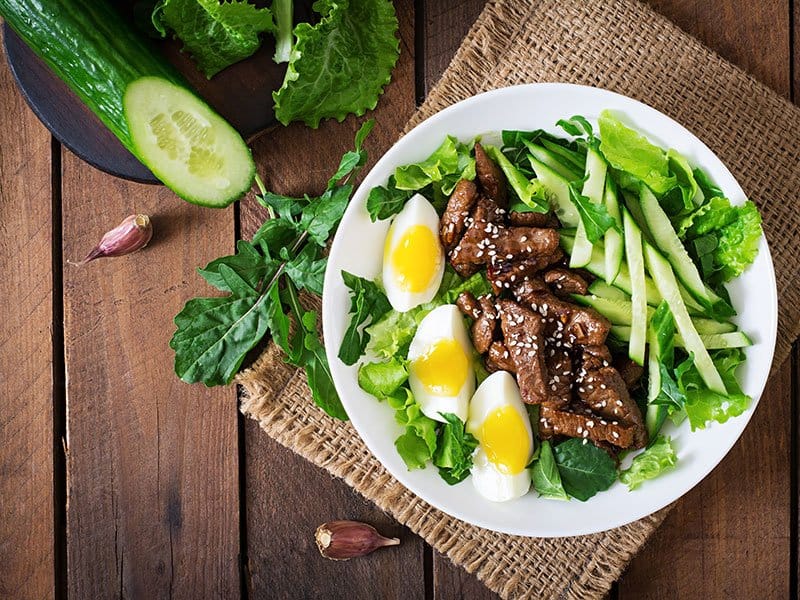 Salads are other simple recipes for meal prep. Great for both dinner and as a side dish, this amazing beef and vegetable salad will only take 30 minutes of your time for preparation.
You will need some ground beef and vegetables – chopped carrots, peppers, cucumber, onions, and anything else you would like to add.
Once you have the ingredients stir them together with the meat and you will get a healthy salad. I would also advise you to try making some Japanese-inspired soy sauce that goes perfectly with this meal!
12. Ground Beef and Sausage Egg Cups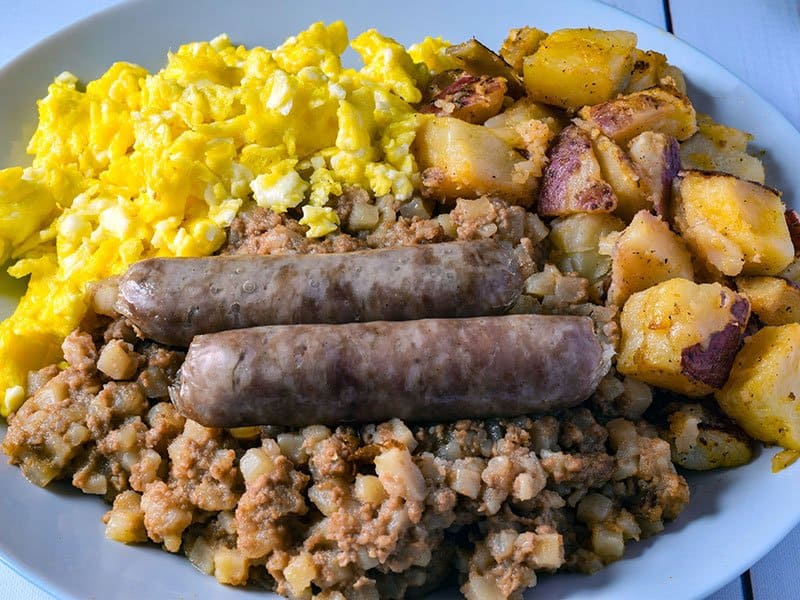 These breakfast cups are going to blow your mind! Similar to regular muffins, these breakfast cups are made with beef, sausage, egg, and some dressings.
As for sides, you can use yogurt, granola, or some fresh fruit. It takes only 40 minutes to make the cups but they will be good for up to a week if kept in the fridge, or up to several months if frozen.
13. Ground Beef and Cheesy Egg Scramble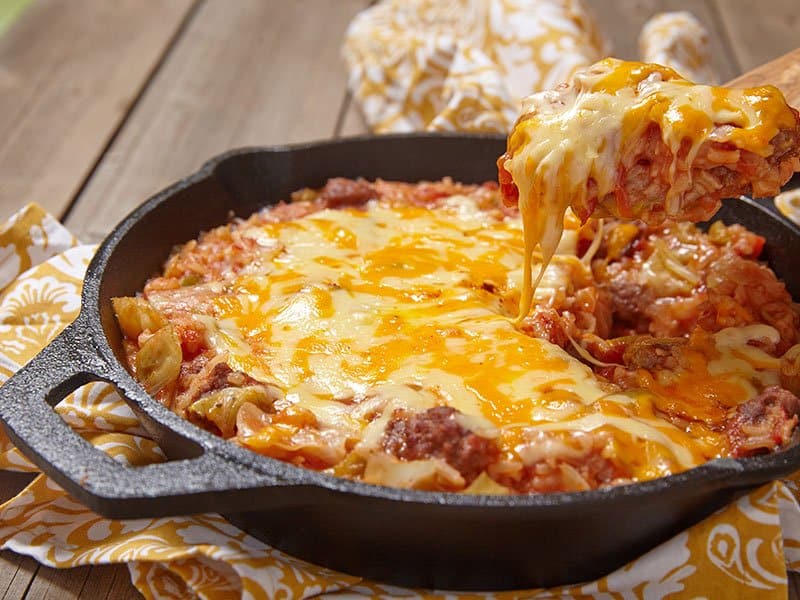 What is better than a nice beef scramble for breakfast? It will take you only 25 minutes total to make this breakfast for four people.
What you need is a pound of ground beef, some paprika, onion, cubed hash browns, water, cubed tomatoes, 4 eggs, and some cheddar cheese. You can keep the dish in the fridge for up to 3 days and easily reheat it when you want to eat it.
14. Stuffed Bell Peppers With Ground Beef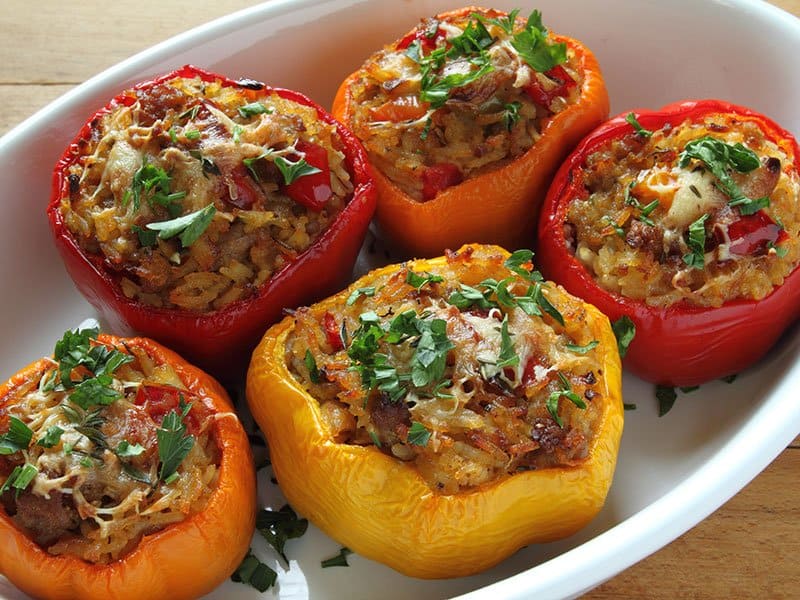 Used often as a main course, the stuffed bell peppers with ground beef take a bit more time to make but the result is worth every single second spend.
For this recipe, you will need 1 pound ground beef, 6 bell peppers, some rice, basil, oregano, parsley, garlic, onion, and you can always add corn or mushrooms to the mix. It is a real treat for your belly that you can also keep in the freeze for multiple months at a time.
15. Whole30 Italian Beef Zucchini Boats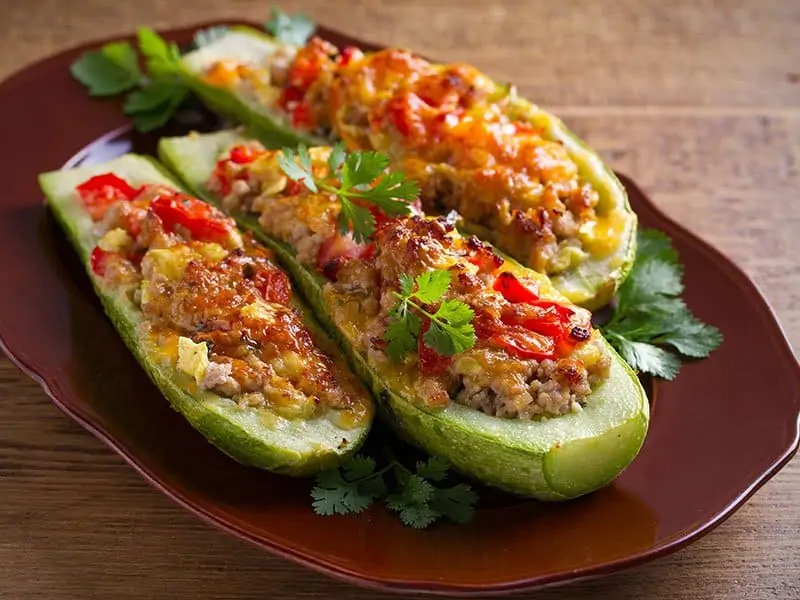 The whole30 diet is increasing its popularity recently, and this treat is one of many favorite whole30 meal preps that you should not miss. So give this amazing meal a try – once you make it for the first time, you will become completely obsessed with it!
Five ingredients and 40 minutes are all that it takes to make these beef boats that are not only low on carbs, but also gluten-free and paleo-friendly.
The only thing you need for this main course is 3 zucchinis cut in half, a pound of ground beef, some diced tomatoes, seasoning, and sauces are optional and depend on the taste preference of the chef.
16. Creamy Beef And Shells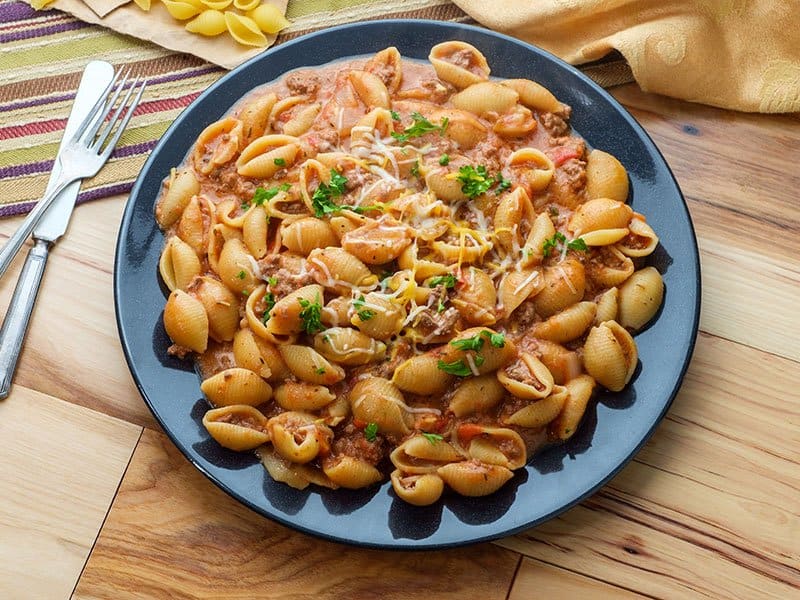 This dinner is so awesome that you will want to eat it straight from the skillet! It takes 40 minutes to make 4 servings of this creamy beef paste dish.
What you will need is some pasta shells, a pound of ground beef, some diced onions and minced garlic, 2 tablespoons of flour, and half a cup of heavy cream. As usual, you can add the dressings and sides that you want but even without them, this dinner is the best thing you can treat yourself with!
17. Juicy Healthy Beef Meatballs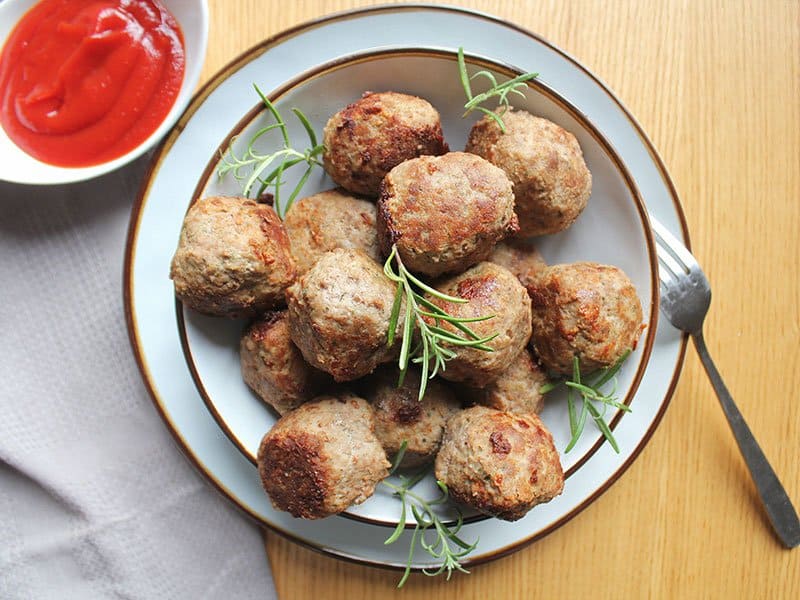 I always turn to this recipe when I am pressed for time because these meatballs are delicious, and you can cook them very fast.
Besides that, if you're wondering whether it's possible to cook frozen ground beef, this meal prep is the answer. You can freeze these meatballs beforehand, whether raw or cooked!
To make these beef meatballs, you will need some diced white bread without the crust, half a cup of water, a pound of ground beef, and another of ground pork, an egg, some garlic, olive oil, and seasoning. Once you prepare your meatballs, you can combine them with everything – from salad to potatoes or rice!
18. Gochujang Ground Beef Lettuce Cups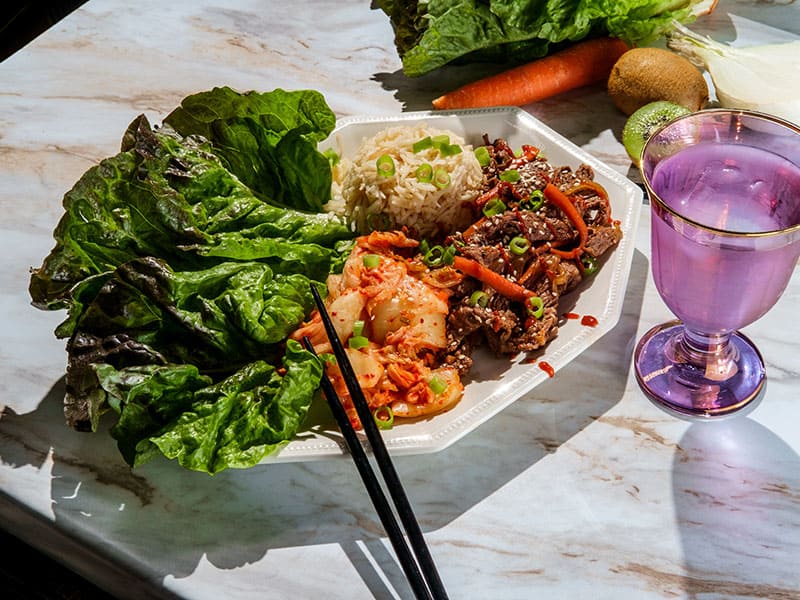 Even though these lettuce cups are tasty without the gochujang sauce, they taste better with it. Made in only 20 minutes, they make for one of the best meal prep recipes.
First off, you will need to find some gochujang paste to get the most from the taste. Aside from that, you will need a pound of ground beef, some honey, sesame oil, soy sauce, carrots, and lettuce leaves. It is advised to freeze them in two-compartment containers, keeping the lettuce separate from the beef.
19. Low Carb Taco Salad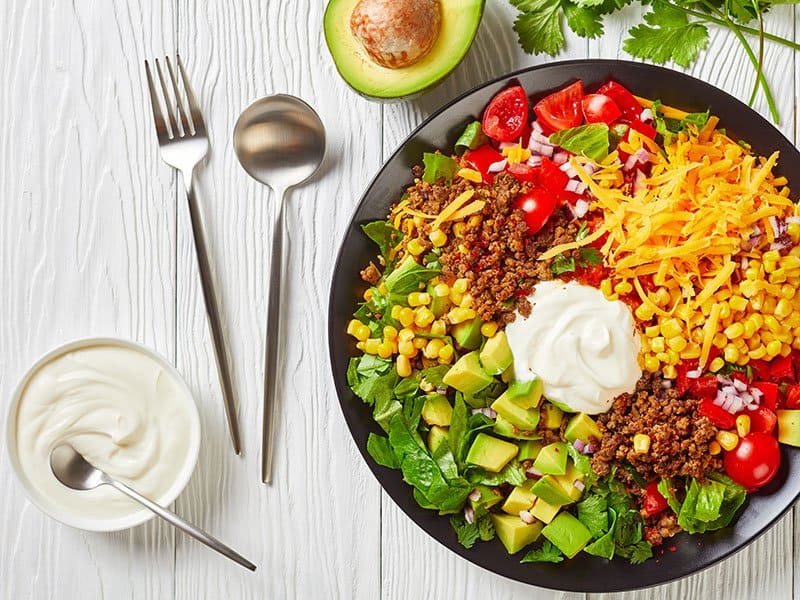 Did someone say Taco Tuesday?! This week, you should experiment and do a healthy taco salad instead of regular tacos, just to cut down on the carbs.
The salad takes only 20 minutes to make, while you will need ground beef and all the veggies you love to make it. From avocado to tomatoes, onion, peppers, or anything else – everything tastes great in this amazing salad!
20. Korean Beef Bowl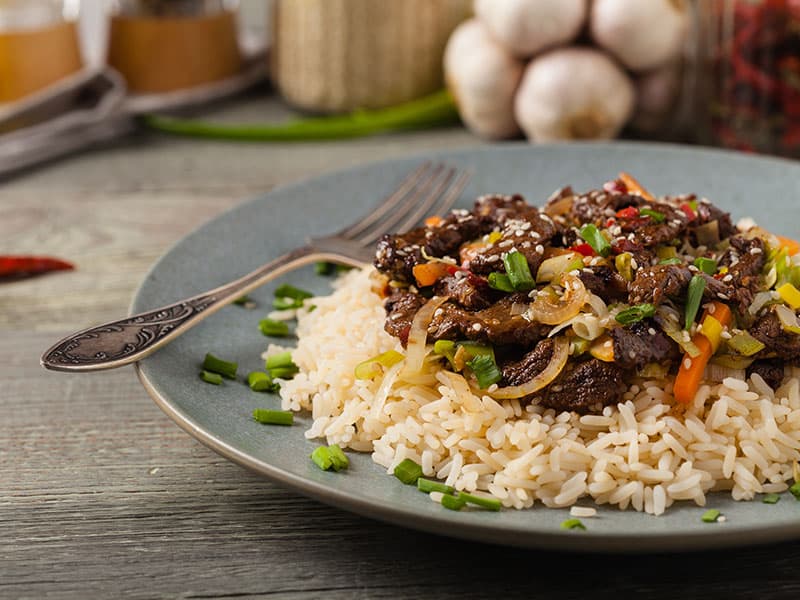 A great meal prep breakfast or lunch option that you can eat all week long. It takes 40 minutes and a few simple steps to make it!
Aside from the beef that you will prepare with some soy sauce, sesame oil, olive oil, garlic, and onion, you will need some rice, a couple of eggs, and some garlic. You can even add spinach or another veggie if you are into mixing more tasted in one dish!
21. Mexican Ground Beef And Quinoa Dinner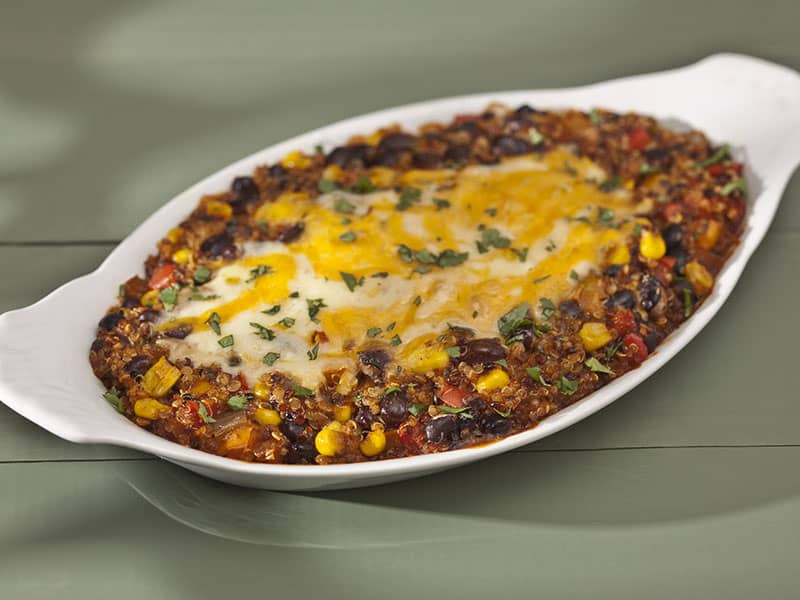 The perfect beef and quinoa enchilada dinner option for those who do not have that much time to prepare dinner. To get six servings of this tasty ground beef recipe from Mexico, you will have to spend about 40 minutes making it.
With that being said, you will first cook the quinoa and then add the ground beef with some onions, garlic, and seasoning. You can add enchilada sauce, tomatoes, beans, corn, peppers, or whatever else sounds good to you!
22. Healthy Shepherd's Pie With Beef And Cauliflower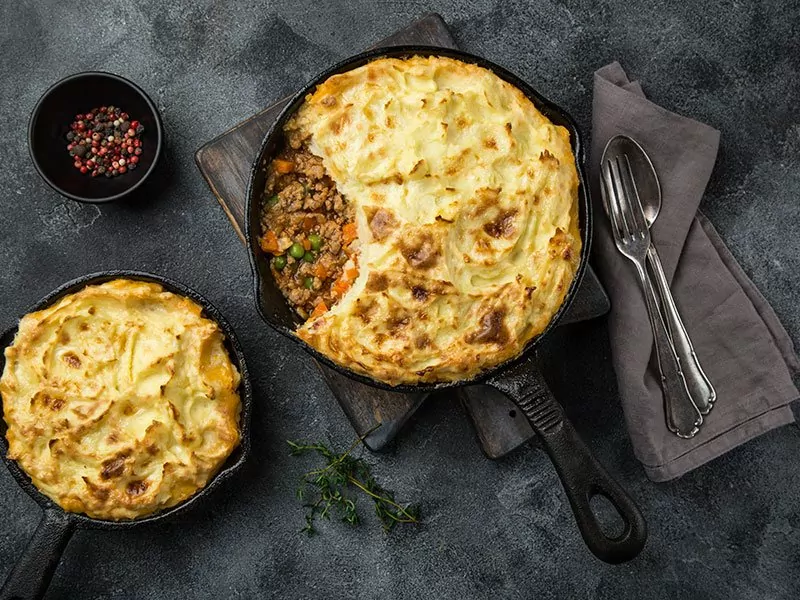 If you have a free hour on your schedule, you should give this recipe a try. There is no other paleo-friendly dinner better than this one!
For this dinner, you will need some cauliflower, a pound and a half of ground beef, onions, carrots, potatoes, mushrooms, peas, cornstarch, tomato paste, and seasoning. I advise you to make the cauliflower first and then the Shepherd's Pie.
23. Cottage Cheese Lasagna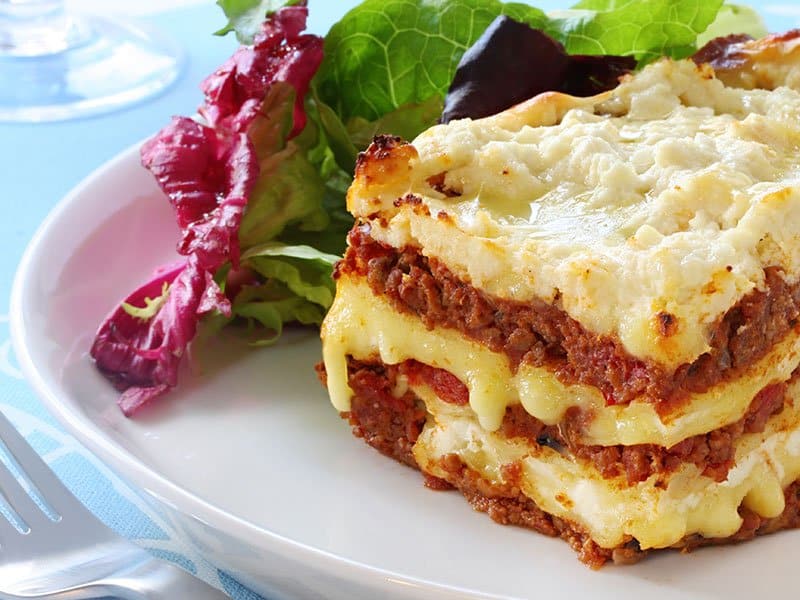 Lasagne ai Quattro formaggi – similar to the pizza and pasta made with four different kinds of cheese, this lasagna recipe is made with four kinds of cheese, a pound of ground beef, lasagna noodles, onion, garlic, Italian sauce, and seasoning.
You should use cottage cheese and parmesan for the filling, while you can use mozzarella and baby Swiss cheese for the lasagna. You can thank me later for this amazing cheesy delicacy!
24. Cornbread Topped Ground Beef Chili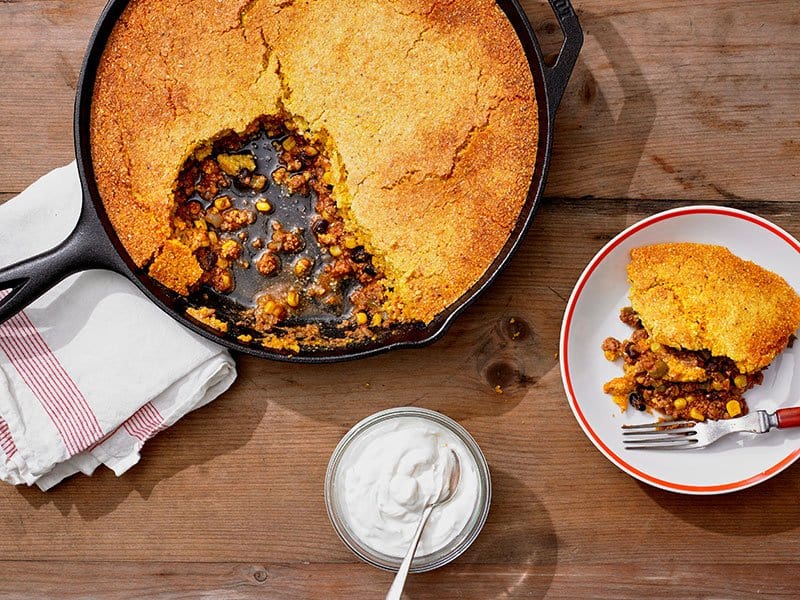 This is a wonderful 2-in-1 cornbread and chili dinner that you can make in just an hour. You can keep it both in the fridge or in the freeze and it tastes just as good as if it was made that same day!
You will need ground beef, onion, bell peppers, olive oil, garlic, tomato sauce, and chopped tomatoes, some beans, chili powder, sugar, oregano, and salt to make the chili part. For the cornbread, you can use some cornmeal, flour, baking powder, butter, an egg, some milk, and salt.
Some might find this dish rather time-consuming. That's why I wouldn't be surprised if you want to grab some premium-grade canned chili instead. And I think this is completely okay too, as long as your canned chili is of high quality, it won't affect the overall outcome that much.
25. Puffy Beef Tacos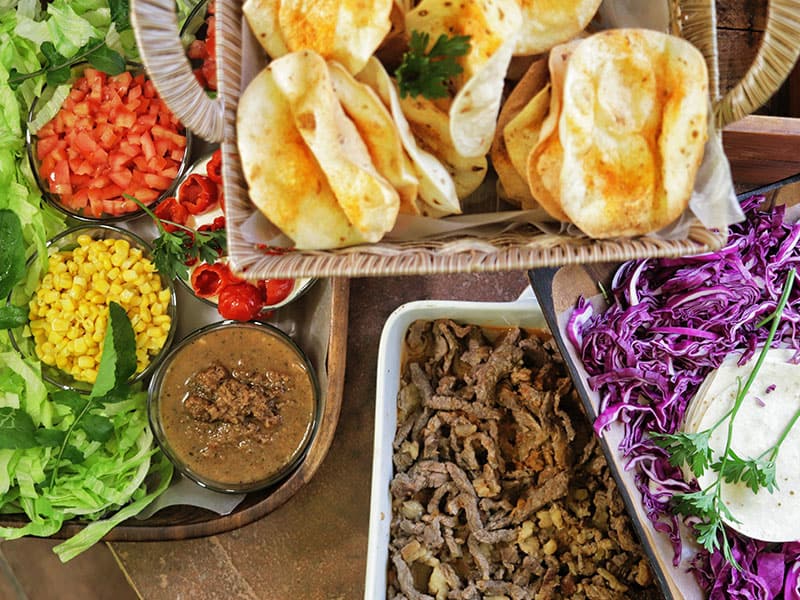 We talked about taco salad, let's now turn to the good ol' regular tacos with ground beef. It takes 45 minutes to make enough of these tacos for four lunch or dinner servings.
To make these tacos, you will need 8 tortillas, some vegetable oil and olive oil, onions, a pound of ground beef, some chili powder, beef stock, cheese, and lime to spritz the taco in the end. You can add more seasoning if that fits your taste preferences.
26. Mighty Moussaka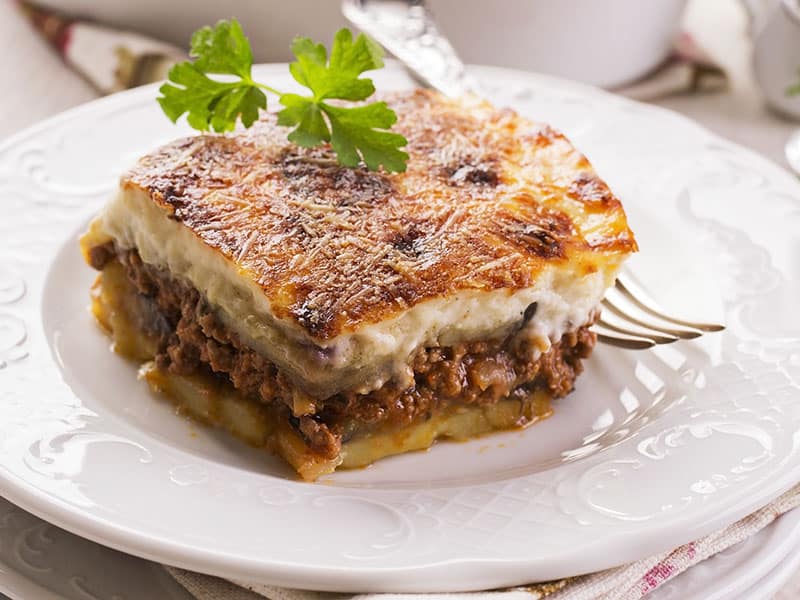 A Greek delicacy, the moussaka is similar to lasagna but you take out the lasagna noodles and add potatoes or eggplant. You will need about two hours of free time to make this amazing lunch recipe.
First, you need to make the meat layer with ground beef, garlic, some red onion, and seasoning. Then you prepare the vegetable layer with potatoes, eggplant, onion, and seasoning. Last but not least, you can make a topping with butter, milk, flour, egg yolks, and some cheese.
27. Sloppy Joes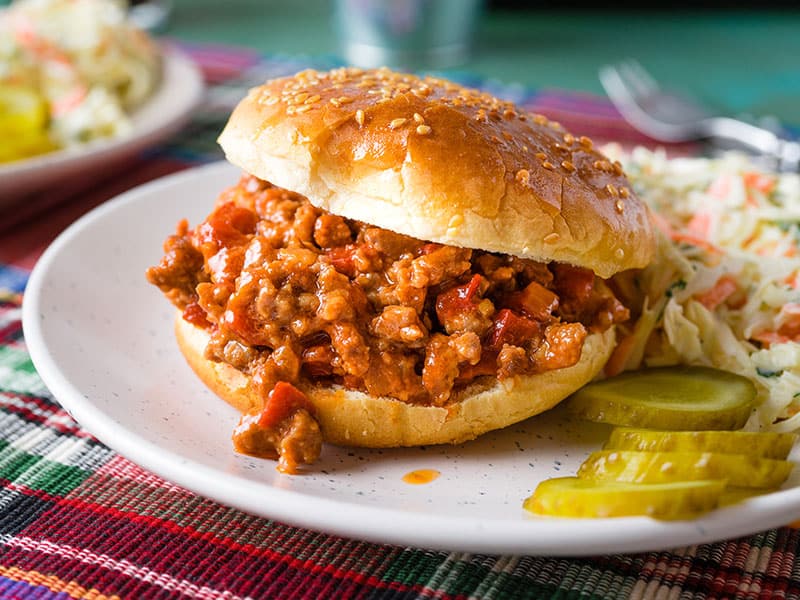 An easy lunch or dinner option, the sloppy joe tastes great, and it takes only 30 minutes to make. If you want to add a little twist to your regularly sloppy joe with ground beef, you can try to make this delicacy by using leftover roasted beef. There is no difference in deliciousness.
When it comes to the part between the buns, you can prepare it very easily. All you need is some ground beef, onions, bell peppers, garlic, ketchup, and seasoning. You can combine this with a salad or any other side dish you love.
28. Healthy Asian Lettuce Wraps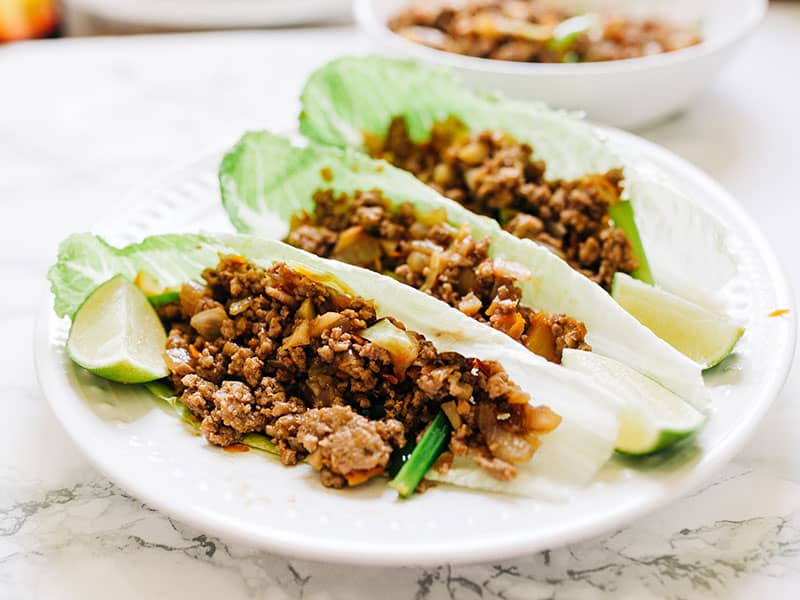 These lettuce wraps are almost like a salad with extra ground beef included. It takes 25 minutes to prepare about 10 wraps!
As for ingredients, you need 1 ¼ ground beef, olive oil, chopped onion, some diced garlic, minced ginger, lettuce leaves, soy sauce, and hoisin cause. You can also add topping, veggies, or even chestnuts – it all depends on your taste preferences!
29. Swedish Ground Beef Meatballs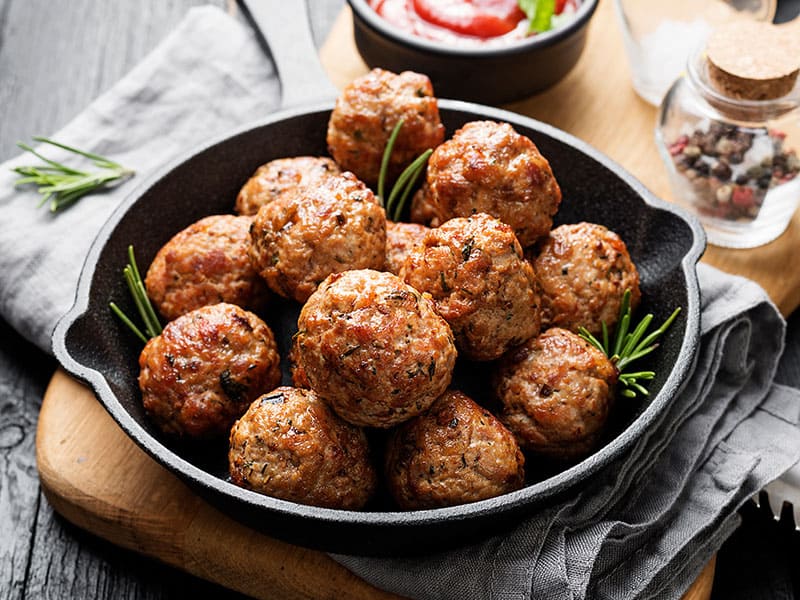 If you are wondering what the difference between Swedish meatballs and regular meatballs is, I would say that it is all in the side dishes – Swedish meatballs are served with some potatoes and pasta or noodles. This makes them a perfect dinner choice for every single day, made in under 2 hours!
For this recipe, you will need ground beef and pork, some onions and garlic, breadcrumbs, spices, butter, egg, milk, pasta noodles, flour, heavy cream, oil, and seasoning. You can make more of this iconic Swedish dish and freeze it so that you have enough stored for up to 3 months.
30. Mexican Fiesta Bowls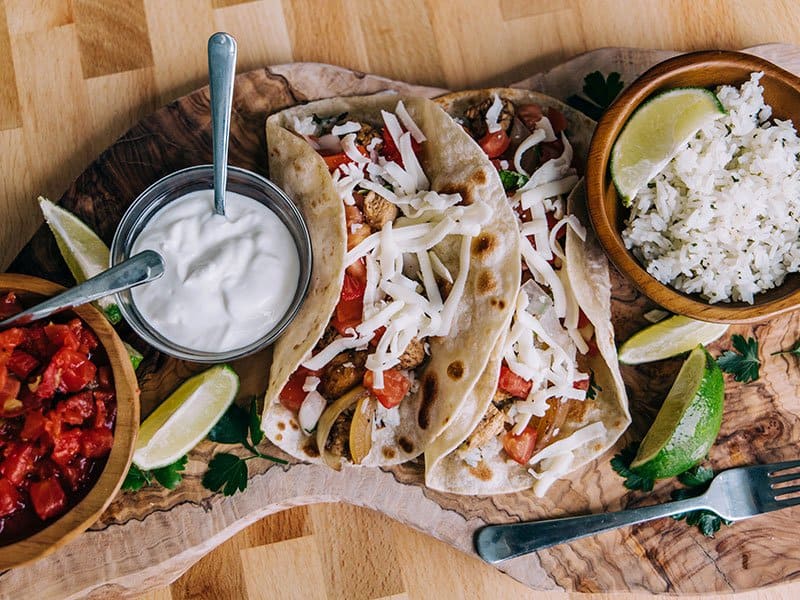 If you are looking for a quick dinner-slash-salad that you can make at home, you have to try the Mexican fiesta bowl. It is a mixture of colors, tastes, textures – it appeals to all senses!
To make these bowls, you will need rice, ground beef, tomato paste, beans, tomatoes, Fritos, bell pepper, cheese, coconut flakes, onion, avocado, lime wedges, and seasoning. It will only take an hour to prepare this amazing fiesta bowl!
31. Simple And Quick Beef Penne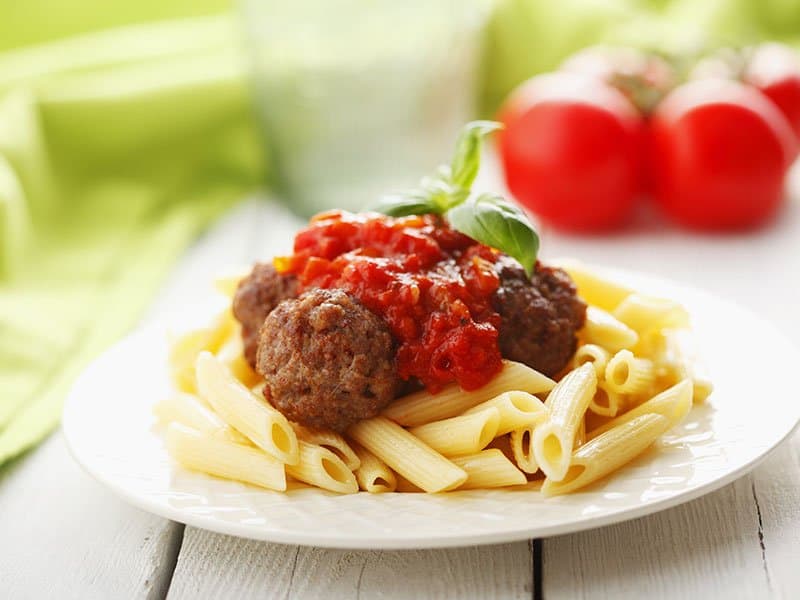 If you are not in the mood to make a mess of your kitchen, then this recipe is for you – a beef pasta dinner made in only one pan in less than 30 minutes! Doesn't that sound nice?!
For the preparation of this beef penne, you will need a pound of ground beef, diced tomatoes, no-boil penne, onion and garlic powder, vegetable stock, cheese, parsley, and seasoning. Follow the instruction of the recipe closely and you will get 6 servings of the best penne you have ever tasted!
32. Beef Acini Di Pepe Soup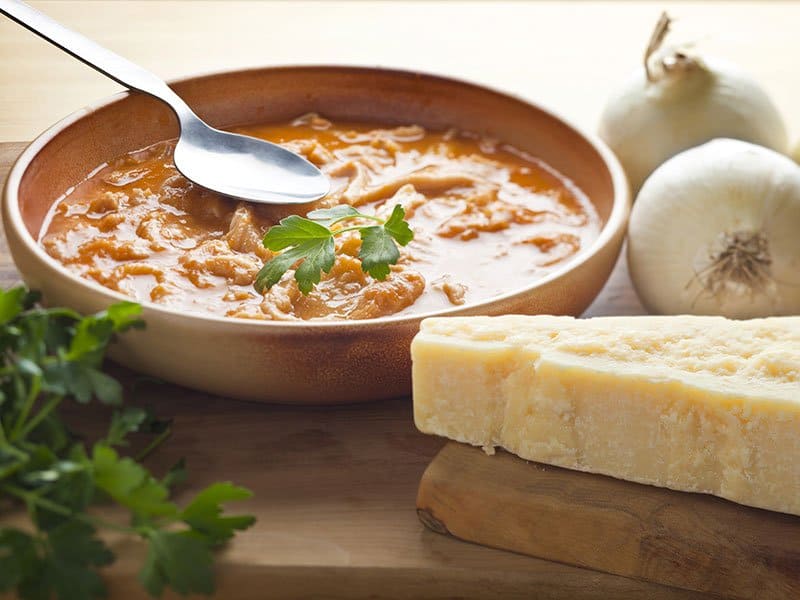 Among several Italian-authentic soups, this beef Acini Di Pepe soup is a must-try one! Made in an hour, it is both freezer-friendly and great for the whole family.
As for ingredients, you will need ground beef, diced onions, celery, carrots, and tomatoes, some small pasta, beef stock, cheese is optional and you can add seasoning depending on your preference.
33. Keto Breakfast With Ground Beef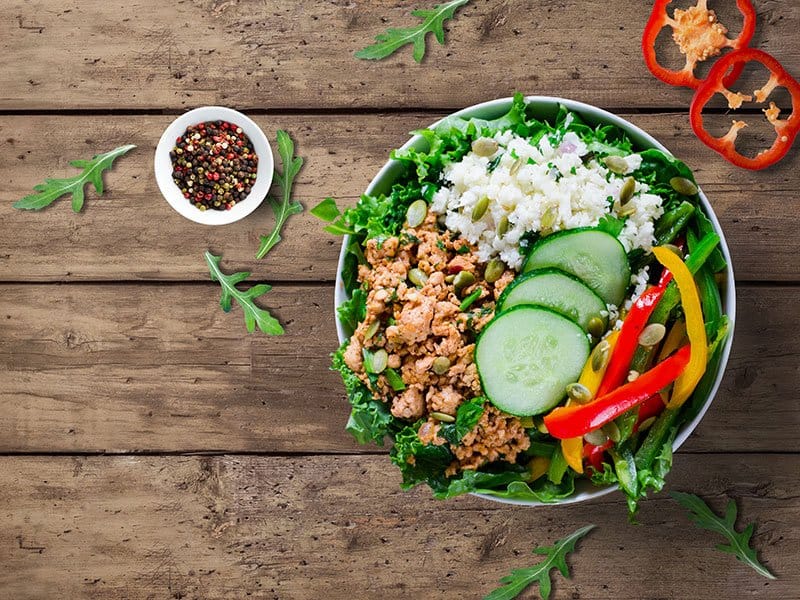 If you are looking for a gluten-free, dairy-free, low-carb, paleo-friendly breakfast that you can use while practicing a keto diet – you will love this recipe! You can make it in less than and freeze it so that you have breakfast ready for the following few days!
For this recipe, you will need half a pound of ground beef, keto seasoning, cauliflower, chopped cilantro, 3 beaten eggs, water, and a bit of ghee.
34. Southwestern Beef And Potato Frittata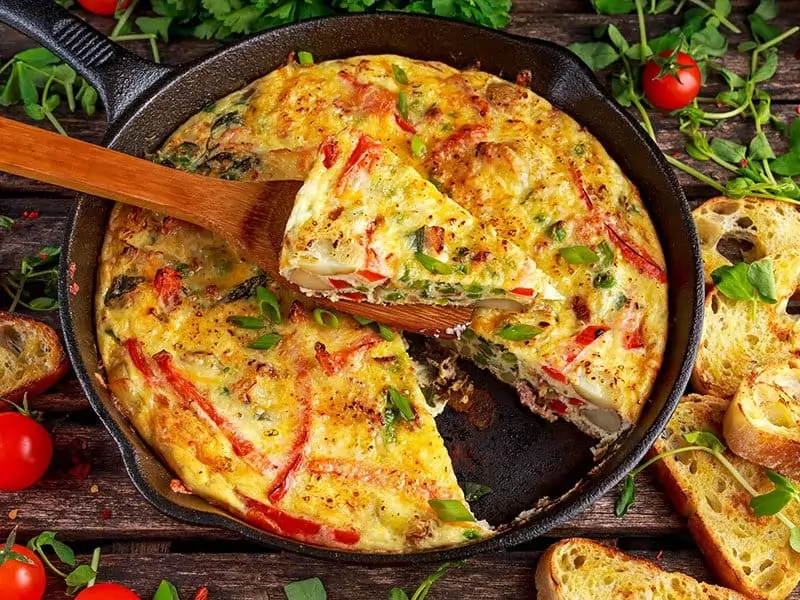 In the Southwestern region, this frittata is one of the most popular brunch options. It takes 30 minutes to make it, it is filled with healthy veggies and it can be easily be customized.
For this ground beef frittata, you will need some ground beef, potatoes, onion, garlic, rice, tomatoes, corn, eggs, cheese, a jalapeno pepper if you are into spicier things, cilantro, as well as spices like chili, paprika, oregano, cumin, and so on. I bet you will love it when you try it!
35. Egg Taco Breakfast Muffins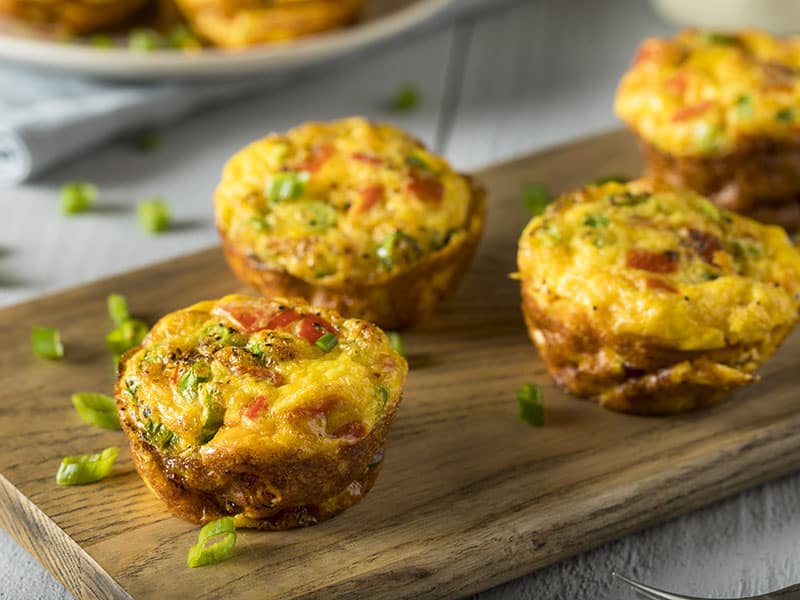 If you want to impress someone with your cooking skills, start by making them breakfast as nice as this one – the taco egg muffins are not only great for breakfast, but also for snacks that you can eat all day long. It takes about 40 minutes to prepare them and have them ready for serving.
For one pound of ground beef, you should use 12 eggs, a bell pepper, some tomatoes, some shredded cheese, one diced jalapeno pepper, and some seasoning. You can finish your recipe with a topping made from sour cream, salsa, or avocado.
36. Rigatoni Pasta Bake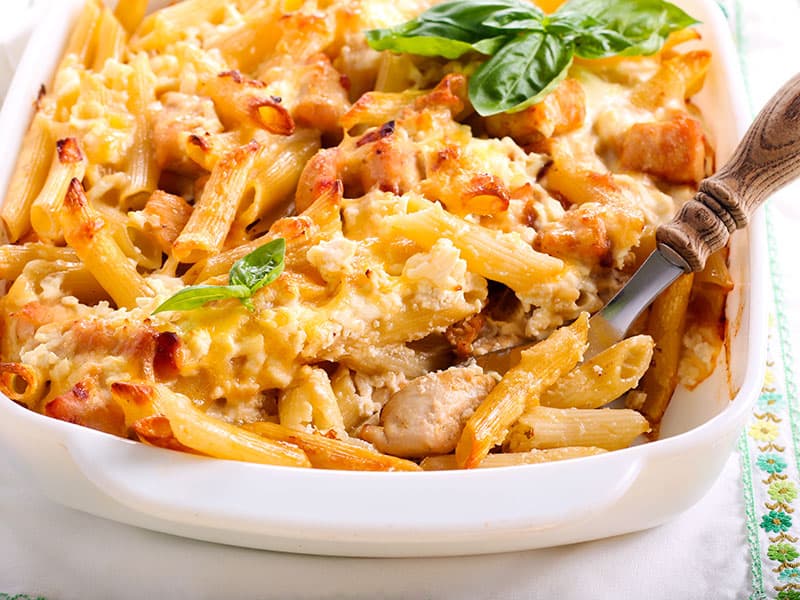 The Rigatoni pasta bake is your best friend for when you do not have that much free time. You need 50 minutes to make this main course, and the ingredients are simple – ground beef, onion, seasoning, garlic, tomato pasta sauce, pasta, and some cheese.
All you need to do is prepare everything without baking it. That way, you can put it in the fridge or the freezer and keep it until you want to bake it. It is as simple as that!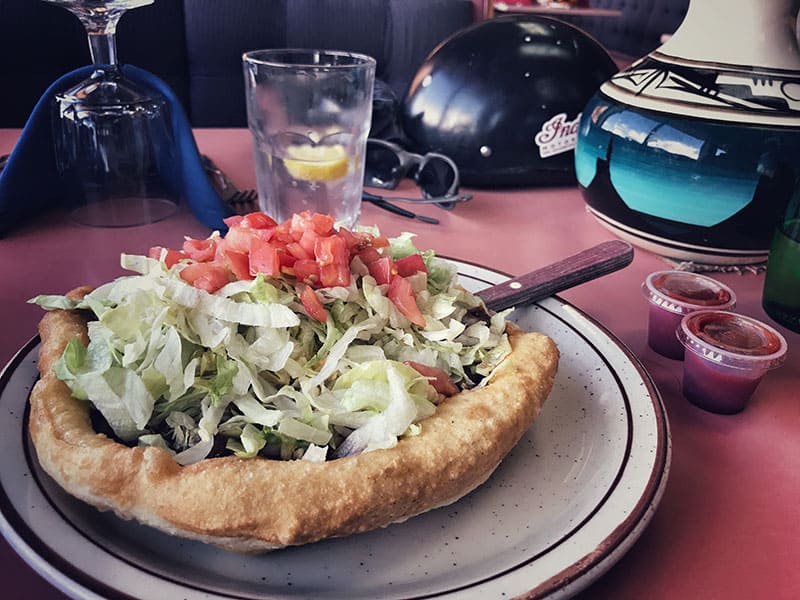 Navajo taco bowls are a great choice for dinner if you are not in the mood for making a whole meal so you want to make something quick and easy. It takes only 20 minutes for the salad to be prepared and might I add that even the leftovers taste amazing after a couple of days of being in the fridge.
The ingredients needed for this salad include some ground beef, rice, a large lime, some garlic, chili beans, olive oil, butter, and water. You can add various toppings to this salad but it tastes amazing even without them.
39. Spicy Beef Noodle Bowl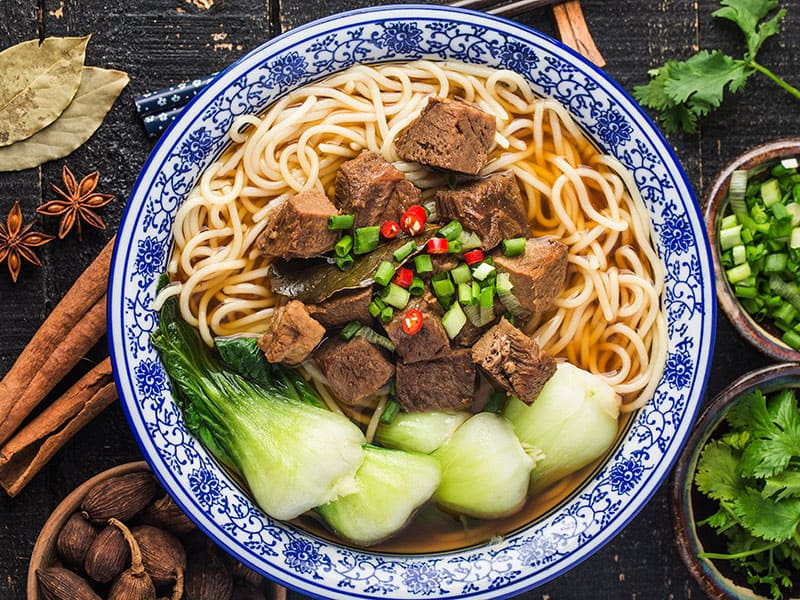 While I have mentioned some Korean and Italian-inspired recipes, it is now time to go over an amazing Asian-style noodle bowl that is ready for serving within 30 minutes. When mixed with the noodles, the ground beef tasted just amazing!
To make this Asian recipe using ground beef, you will need ground beef, slices of onion, some water, ramen noodles, and an Asian vegetable mix. You can also make some sauce by mixing different spices and sesame. Trust me, you will not regret making this amazing dinner recipe!
40. Spaghetti And Ground Beef Meatballs All'Amartricana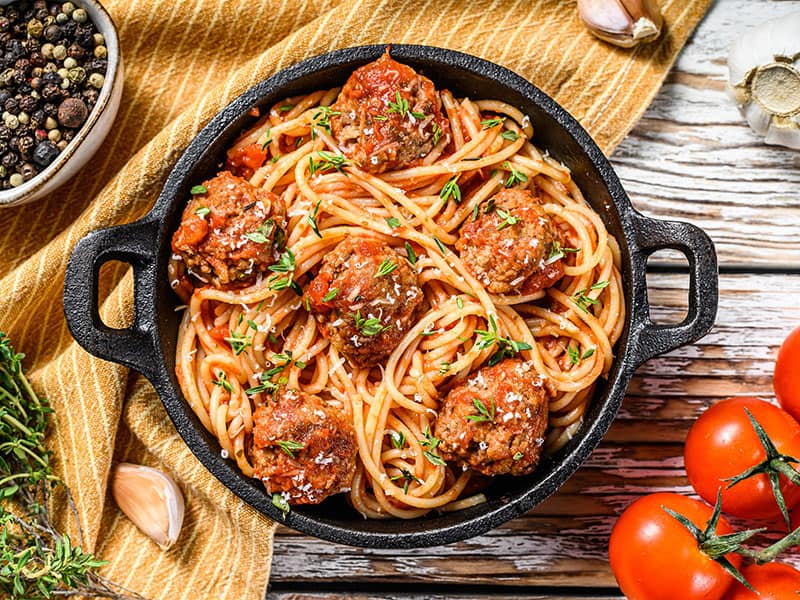 We have had several recipes with pasta but none of them with spaghetti. Since they are my favorite, I thought I should at least include one recipe with them – so here we have an amazing dinner made with spaghetti and meatballs ready to be served in about half an hour.
The meatballs are made with ground beef, 2 eggs, onions, cheese, some smoked bacon, and spices. You also need regular spaghetti that you can boil, while you can also add a sauce you can make from tomatoes, garlic, white wine, and my favorite – a hint of basil!
41. Homemade Hamburger Helper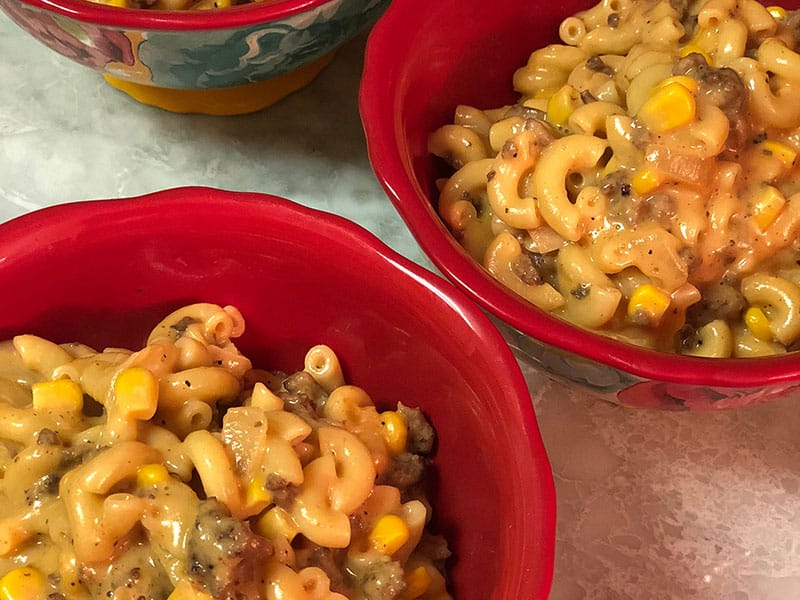 I love hamburgers and since I know they are not good for me, changing these delicious dishes from American cuisine with this homemade hamburger helper is a life-saver. You can make this alternative to a hamburger in half an hour, and it is suitable for both lunch and dinner!
All you need for this recipe is some ground beef, onions, carrots, garlic, water, a bit of beef broth, pasta, Greek yogurt, and all the spices that you love. When you've finished making the dish, there are also many tasty Hamburger Helper sides for you to choose from. 
The best thing about this recipe is that it tastes even better when you reheat it, so it makes for a perfect meal prep idea!
You Are Now Ready To Meal Prep With Ground Beef!
I hope that this was a useful walkthrough of the best ground beef meal prep ideas. From ideas for breakfast, lunch, dinner, salads, and soups, you can use any of these recipes as part of your diet!
Let me know if you are willing to try any of these recipes or have already tried some of them. Do not hesitate to share your favorite meal prep ideas with me and help others make their list of recipes richer and more diverse!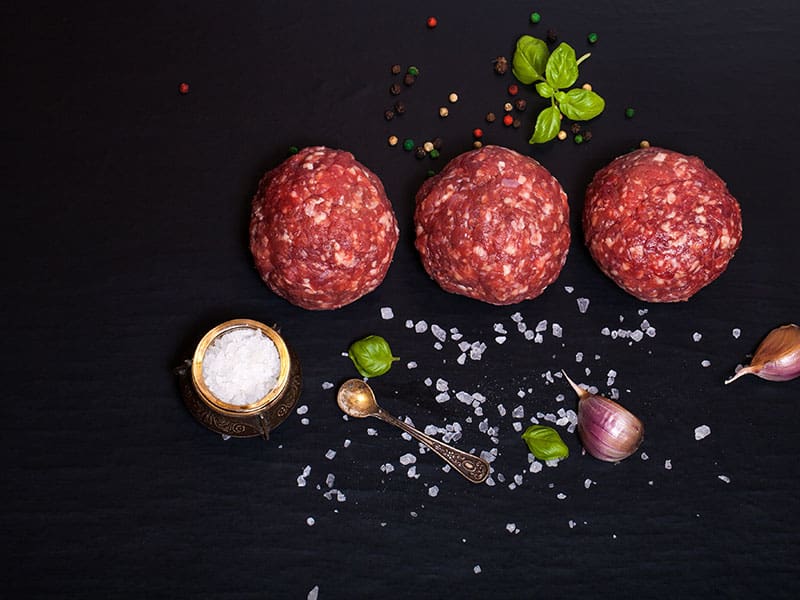 Please watch the video below:
Nutrition Facts
12 servings per container
---
Amount Per ServingCalories404
% Daily Value *
Total Fat 19.4g

30

%
Cholesterol 57mg

19

%
Sodium 500mg

21

%
Potassium 1097mg

32

%
Total Carbohydrate 34.8g

12

%

Dietary Fiber 8.8g

32

%
Sugars 6.5g

Protein 23.5g

46

%
---
* The % Daily Value tells you how much a nutrient in a serving of food contributes to a daily diet. 2,000 calories a day is used for general nutrition advice.