How long to cook steak in the oven at 400°F? I can say the temperature and the cooking time are two key factors that decide whether your steak is good. If you don't pay attention to them, the steak can't be cooked to your desired degree of doneness.
Each variety of steak requires a varied amount of time to cook. This post will provide you with specific instructions about the required time to cook different types of steak, from rare to well done, in an oven at 400°F, and tips to make you a master of cooking steak.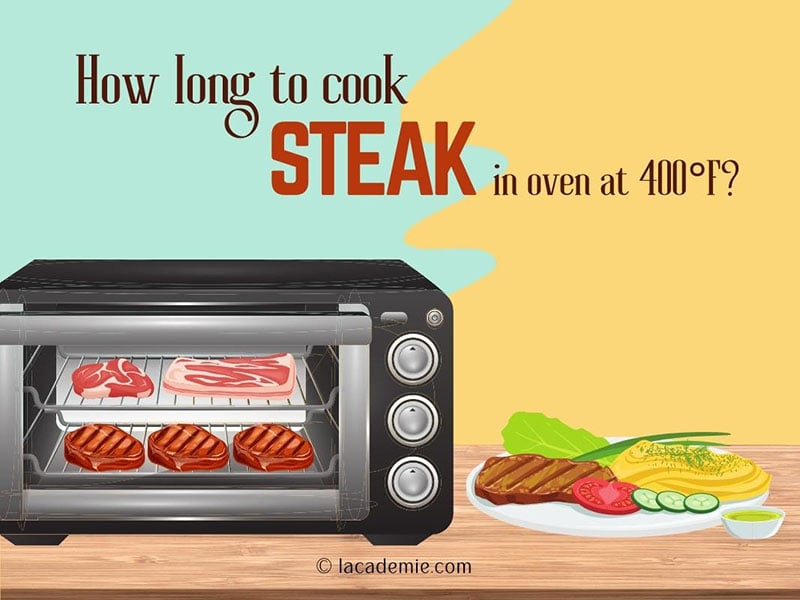 Check Out The Different Cuts Of Beef You Need To Know
Time and temperature are important, but do you know the competitive relationship between beef and steak? In short, different cuts of beef will lead to various ways to cook your steaks. Of course, this is not the complete list, but it includes some of the most common beef cuts.
T-Bone Steak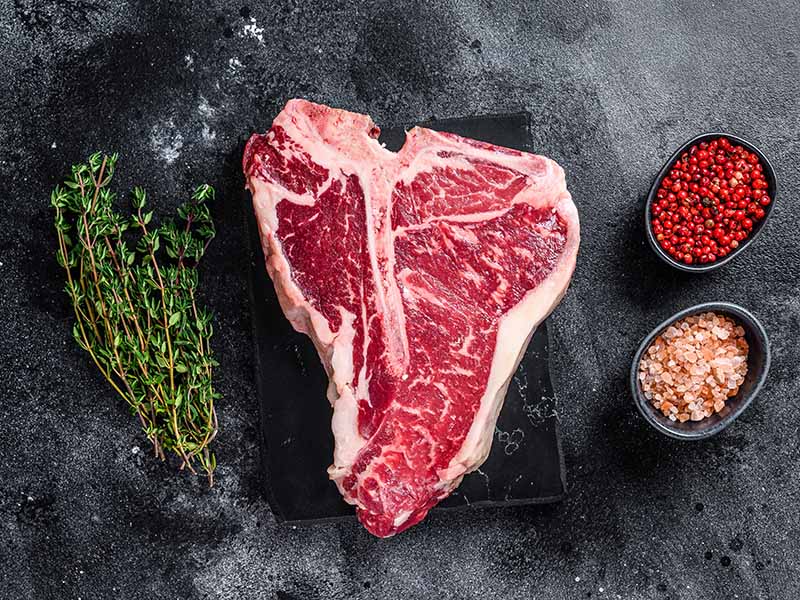 Let's start with T-bone steak! As its name suggests, T-bone steak consists of 2 steaks: one is cut from the back of the tenderloin, and the other is from the strip. T-bone usually includes a big bone that looks like the letter T.
So if you prefer a larger and thicker steak, this one's for you. T-bone steaks are suitable for 2 servings or a big meal.
Denver Steak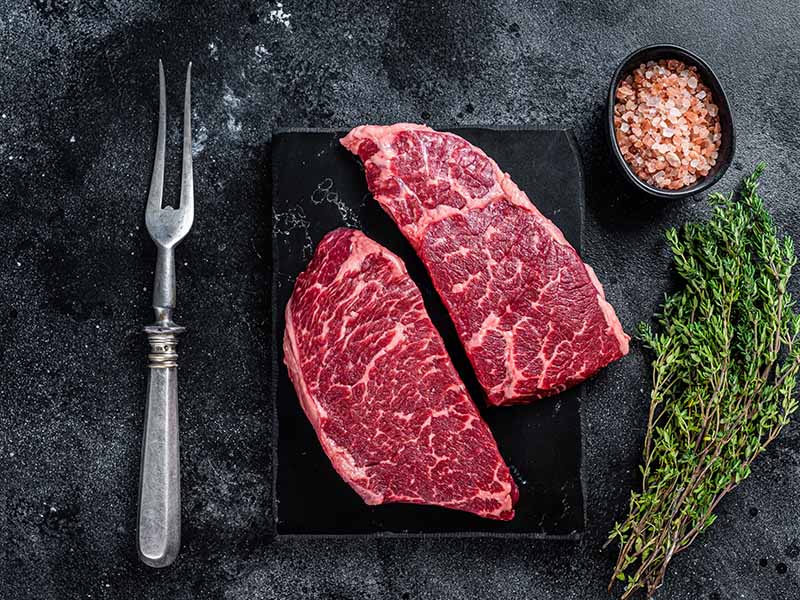 Denver steak is a cut of beef from the shoulder area of the cow (the eye of the chuck). Most meat lovers desire Denver steak for its tender and meaty taste. Therefore, Denver steak has recently become famous at steak restaurants.
You may think the cut from the shoulder part will be tough. However, this cut is from underneath the shoulder blade bone, so it's not chewy but rather soft.
Flank Steak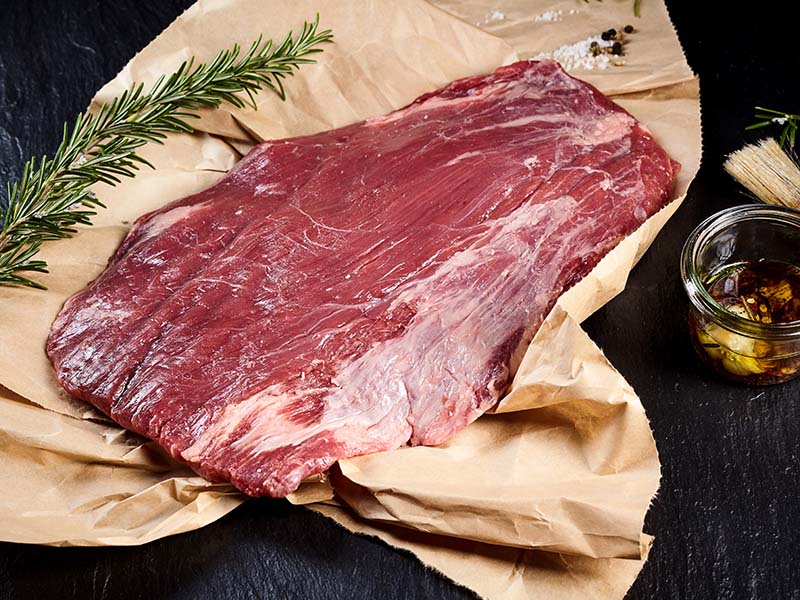 For those who don't prefer thick cuts, flank steak can be your first choice. A flank steak lies in front of the rear quarter of a cow, right under the loin and the bottom sirloin. As I mentioned above, this cut is quite large and flat.
Flank steak is an affordable but flavorful cut of meat and has nearly no fat. The only negative side of this is its toughness. However, when you appropriately cook the flank steak, I'm sure you can hardly resist its tasty flavor.
Here's how the flank steak is cut.
Strip Steak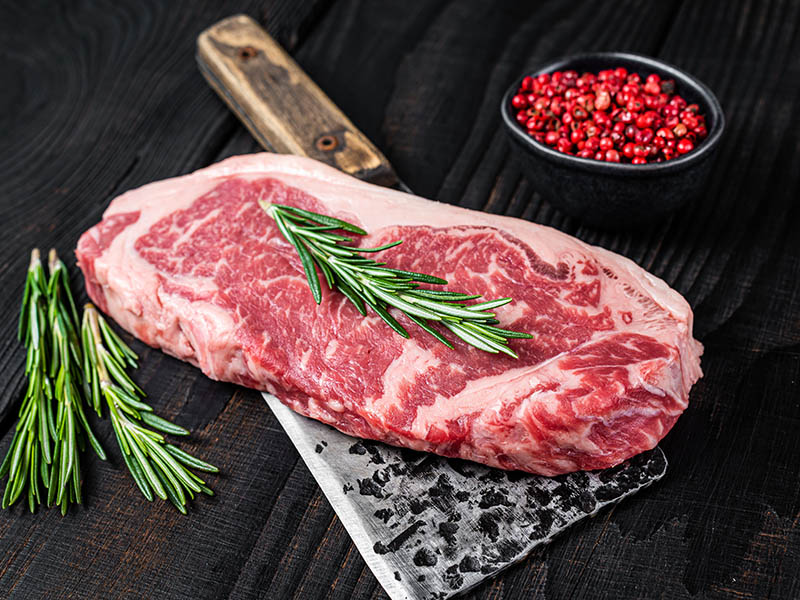 Strip steaks have many different names, like New York strip steaks, which are boneless, or Kansas City strip steaks, including bone. Strip steak is the meat cut from the short loin of the cow and is famous for its unique taste.
Strip steak has a soft and tender texture but doesn't have much fat. Strip steak is a high-end but best-selling steak at reputable restaurants. The best-cooked strip steak should have a moist texture and be tender enough.
Ribeye Steak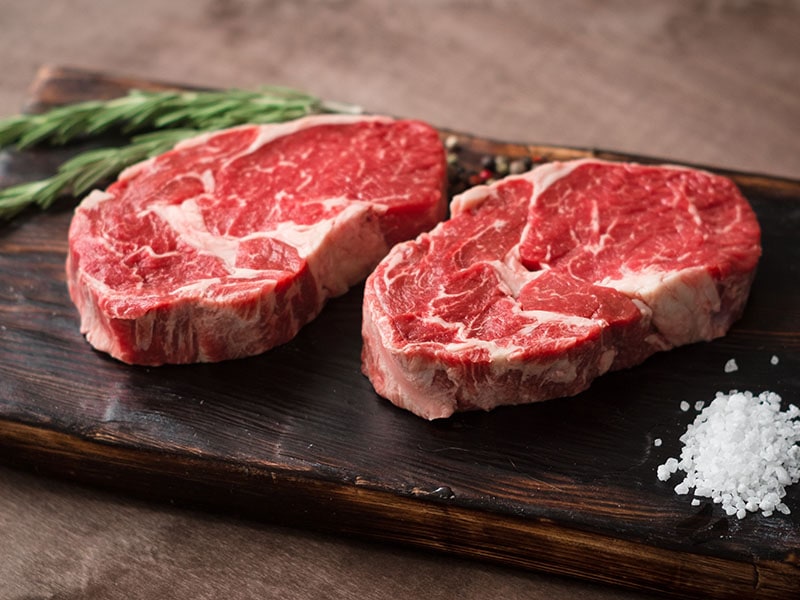 Ribeye steak is one of my favorites. There is no need to talk about its popularity at top steakhouses. Ribeye steak is commonly known for its perfect moisture and toughness. What a high-quality cut!
Ribeyes or Delmonico steaks come from the center of the rib area, between the chuck and the loin. Ribeye steak contains a lot of intermuscular fat and can be boneless or include a piece of the rib bone.
The rib area is where the ribeye comes from.
Sirloin Steak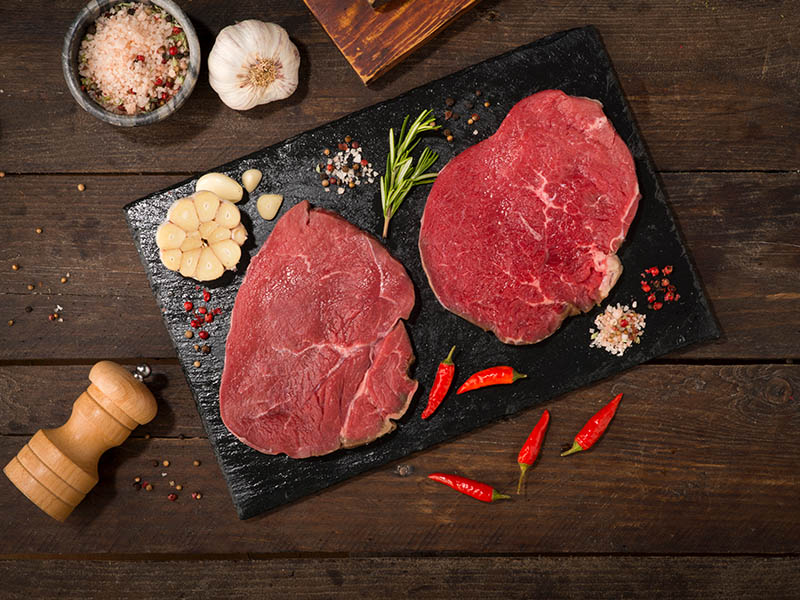 Sirloin steak comes from the sirloin. There are two common types of sirloin: top sirloin and bottom sirloin. The top sirloin is boneless and on the top, around the rear of the cow. The bottom sirloin is between the top sirloin and the flank.
The top sirloin is more famous than the bottom one for its tenderness and rich beef flavor. If you cook top sirloin properly, it's tender and slightly chewy.
That explains why sirloin is one of the most suitable meats for fondue and steak. One more reason is that it is affordable but tasty.
There are many cuts of steak that have different flavors.
The Truth About Nutrition Facts Of Beef Steak Cook In Oven
Nutrition facts are one of the most concerning factors. Each type of beef steak has a different value in nutrition and calories. Here's what your body consumes when digesting beef steak:
When you consume it within reasonable limits, it can provide enough calories, nutrients, and energy. However, this is still heavily dependent on the ingredients used in dishes and the type of steak you cook.
Let's start with beef. Beef, which is the essential component of beef steak, is classified as red meat. That means beef contains a higher amount of iron, calcium, protein, and many vital minerals like vitamin D, vitamin B3, vitamin B12, etc. (1)
Here's the summary of nutrition facts about several types of beef steak in 100g.
| Types of steak | T-Bone Steak | Ribeye Steak | Sirloin Steak |
| --- | --- | --- | --- |
| Calories | 143 | 230 | 195 |
| Total Fat | 6.3g | 19g | 8.5g |
| Cholesterol | 54mg | 62mg | 87mg |
| Protein | 20g | 17g | 30g |
| Iron | 1.4mg | 1.6mg | 2.6mg |
| Calcium | 19mg(2) | 18mg(3) | 10mg(4) |
How Long Should Steak Be Cooked In An Oven At 400°F?
Here's the answer to your question about how long it takes to cook steak in the oven at 400°F. There are specific instructions for cooking times ranging from rare to well done, steaks with or without searing, and different types of steaks.
From Rare To Well Done
How long should you leave your steak in the oven at 400°F, from rare to well done, is a tricky question for beginners. This is all you need! The average cooking time for steak, from rare to well done, is about 5-15 minutes.
| | |
| --- | --- |
| Types Of Doneness | Time (minutes) |
| Rare | 5 |
| Medium Rare | 7-10 |
| Medium Done | 8-10 |
| Well Done | 13-15 |
For Rare
Though consumers do not usually order rare steaks at steakhouses, this type of doneness has its unique flavor. To cook a rare steak, you only need to cook the steak in the oven at 400°F for a short time, around 5 minutes.
For Medium Rare
If you prefer to make your steak medium rare in the oven at 400°F, the perfect cooking time should be between 7 and 10 minutes. The thickness of your steak can vary from 1 to 2 inches.
For Medium Done
At 400°F, your steak can stay in the oven for around 8-10 minutes for medium done. At this point, your steak will be as juicy and moist as you wish. You can enhance the taste of your steak with several side dishes.
For Well Done
How about well done? Let your steak stay a little longer to reach the right doneness, about 13-15 minutes, depending on the thickness. After that, let's take them out, let them rest for a while, and serve them.
All you need to know about the degree of doneness.
With Or Without Sear
How long does it take to cook steak in the oven at 400°F with and without searing? It somewhat bothers you in many ways. The temperature and the time of a seared steak are completely different from those of a non-seared one.
| | |
| --- | --- |
| Types Of Steaks | Time (minutes) |
| With Searing | 6-15 |
| Without Searing | 9-24 |
With Sear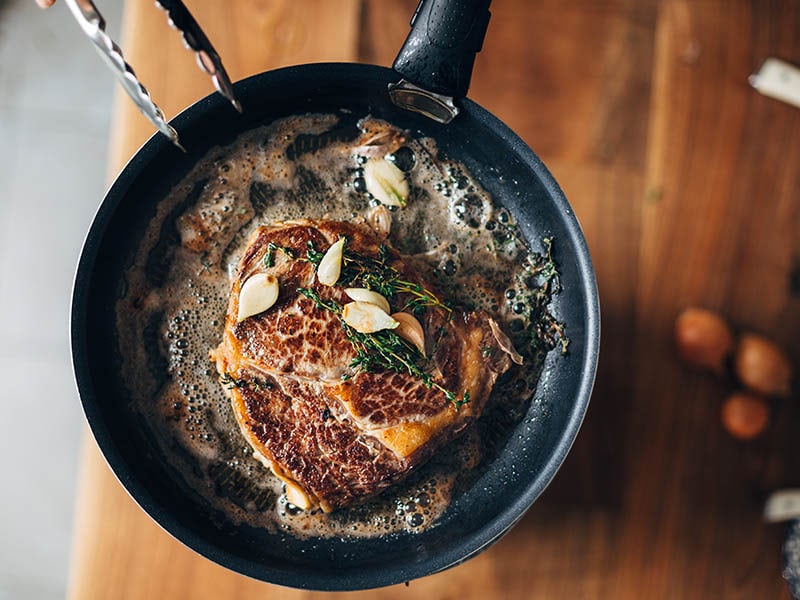 There are many ways to cook seared steak in the oven. One can cook steak on high heat in a pan for a few minutes before placing it in the oven. At this point, taking the steak out late or soon greatly depends on your favorite degree of doneness.
That's why, if you've already seared the steak, the cooking time in the oven should be shorter than without searing. Based on the thickness, it's about 7-10 minutes for medium rare and 13-15 minutes for well done.
This is how to sear the steak correctly.
Without Sear
You can make ideal steaks without searing if you know when to take your steak out of the oven. Compared to seared steaks, non-seared steaks require more time in the oven.
Let's start by preheating your oven at 400 before putting your steak in. After appropriate preparation, you can refer to the cooking time below for thick steak:
Rare: 9-10 minutes
Medium: 13-16 minutes
Well done: 20-24 minutes
Note: It should be around 3-7 minutes from rare to well done for thin steak.
Different Types Of Steak
From now on, you don't need to go to any steakhouse to taste high-quality steaks because you can do it yourself. This section provides you with a specific cooking time for each type of steak to help you cook steaks like a pro.
| | |
| --- | --- |
| Types Of Steaks | Time (minutes) |
| T-Bone Steak | 10-15 |
| Chuck Steak | 6-8 |
| Flank Steak | 6-10 |
| Strip Steak | 6-18 |
| Ribeye Steak | 5-7 |
| Sirloin Steak | 6-8 |
T-Bone Steak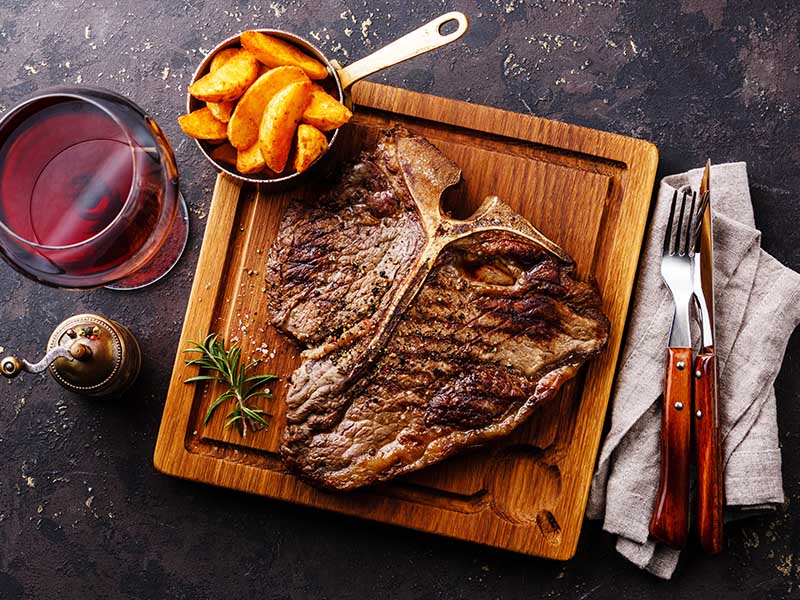 Beginning with T-bone steak, if there is an available 1-inch T-bone steak at your house, all you need to do is put it in an oven at 400°F and wait for 12 minutes. Ting! There you go! A perfect medium rare T-bone steak is ready to serve.
If you don't prefer medium rare steak, don't worry. A T-bone steak will take 10 minutes to cook for rare and 15 minutes for well done.
Chuck Steak
How long should you leave your chuck steak in the oven at 400? After seasoning the steak, preheating a cast-iron skillet, and searing one side of the steak for 1 to 3 minutes, then flipping and searing the other side for another 1-3 minutes.
You should finish the steak in the oven for 6 to 8 minutes for medium done. The steak can stay shorter or longer for medium rare or well done, depending on your preferred degree of doneness. Besides, the non-seared steak should be carefully cooked for a longer time.
Flank Steak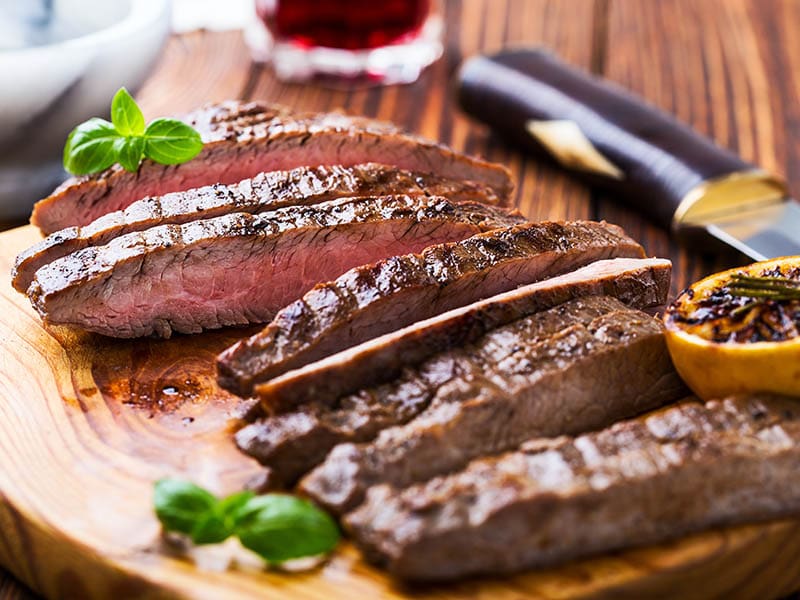 You should be careful when cooking flank steak. This steak is thinner than the other cuts, so the cooking time is also different. My advice is to cook flank steak for no more than 10 minutes.
Here are some recommended flank steak recipes to treat your guests: roasted garlic flank steak, garlic butter flank steak, or marinated flank steak.
Strip Steak
Don't skip this part if you're a loyal fan of strip steak! Let's make the juiciest and tastiest strip steak right at your house. This is the time required to cook strip steak in the oven at 400F from rare to well done.
Rare: 6-8 minutes
Medium rare: 9-13 minutes
Medium done: 13-15 minutes
Well done: 16-18 minutes
Ribeye Steak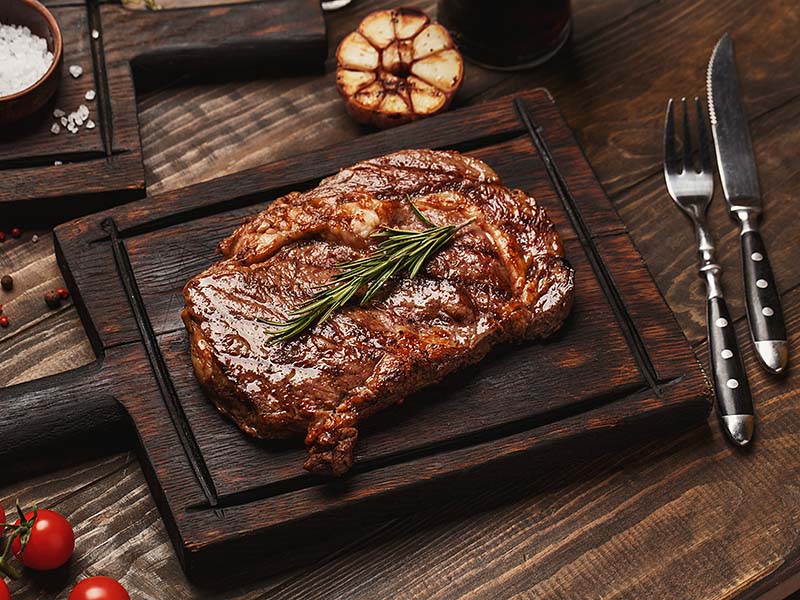 What about ribeye steak? To cook a 1-inch ribeye steak as you desire, you can follow this guide. First, you should quickly sear the steak on the stove for about 3-5 minutes on both sides (sear the first side for a longer time).
Then, preheat the oven to 400°F and cook the ribeye steak for around 5-7 minutes. Remember to rest your steak before serving.
Sirloin Steak
Like other types of steak, you can cook sirloin in the same way as others. After quickly searing for 1-2 minutes, you can bake sirloin steak for 6-8 minutes for medium rare in the oven at 400°F.
However, you can lengthen the cooking time for the non-seared or too thick steaks. There are some recommended side dishes to increase the quality of your meal in the final section below. Keep reading!
Other Ingredients
I have to remind you that beef is not the only well-known type of meat to use in steak. Check out other amazing ingredients to vary your steaks in many new ways that will never disappoint you.
| | |
| --- | --- |
| Types Of Steaks | Time (minutes) |
| Pork Steak | 15-20 |
| Tuna Steak | 10-20 |
Pork Steak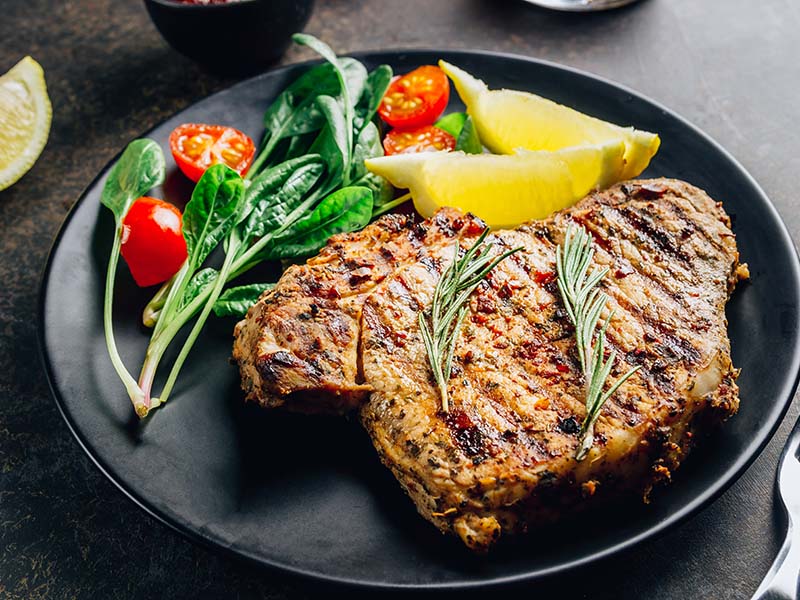 Don't underestimate pork steak! When you treat your pork steak the right way, you will be surprised by its juicy and flavorful taste. Unlike beef, pork is easy-to-find, more tender, and suitable for everyone.
The necessary time to cook a pork steak in the oven at 400°F? Well, much longer than a beef steak! The baking time for a pork steak can be approximately 15-20 minutes. If your pork steak is bone-in and thick, it should stay longer in the oven.
Tuna Steak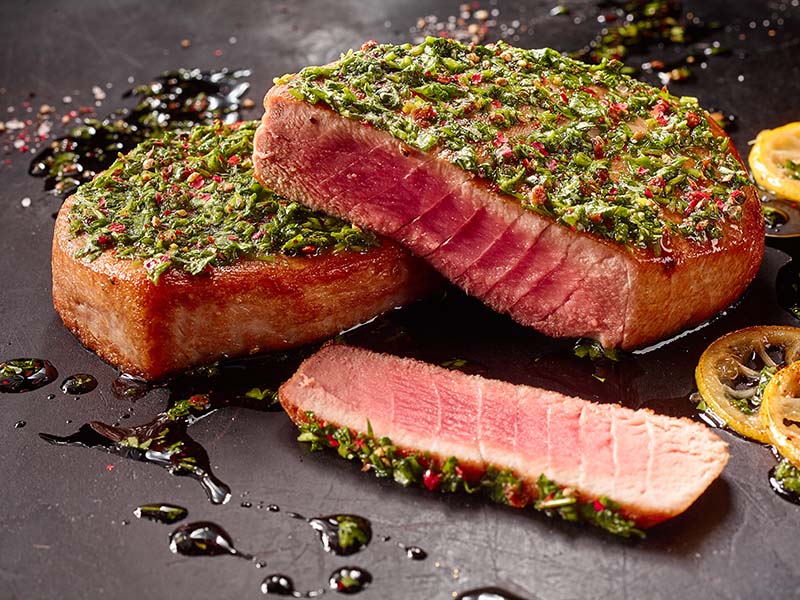 Want to try something with the taste of the sea? Tuna steak can blow your mind with its fresh and yummy flavor. Not to mention, you have numerous side dishes to complement tuna steak.
If you cook a one-inch tuna steak in a 400°F oven, it takes only 10 minutes to finish. Nevertheless, it can take more than 20 minutes to bake thicker steaks.
Note: You don't need to follow the exact amount of time. You can adjust the cooking time to suit your taste.
Steak Cooking Guides From Chefs
Cooking steaks is not as hard as you expect. A useful guide will help you become a master of cooking steak right at home. Make sure to remember these for your next steak cooking time!
Step1: Steak Thickness Calculator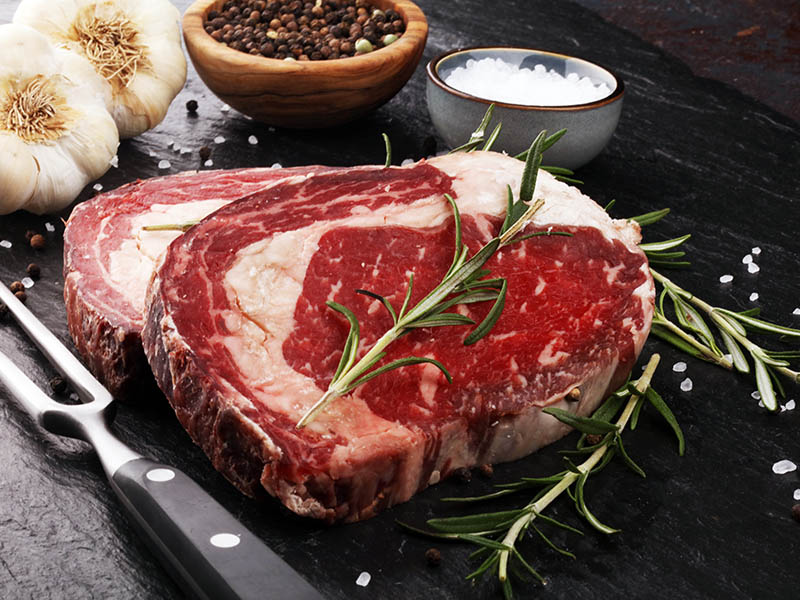 Never forget this! Thickness is one of the most important factors that affect your steak. All your efforts will be worthwhile if you can determine whether the steak is thick or thin.
Let's take ribeye steak as an example. A seared 1-inch ribeye steak can take 5-7 minutes to roast at 400°F. Hence, for a 2-inch ribeye steak, you should leave it for a longer time, from 8-10 minutes.
Step 2: Preheat The Oven
I'm not going to lie to you. One factor in making the perfect steak is preheating your oven. Preheating allows the oven to reach the perfect temperature. It's advisable to open your oven at least 20 minutes before cooking.
There are many reasons to preheat the oven before cooking.
Step 3: Rest The Steaks
Most people usually forget this step when cooking steaks. A noticeable reason for this is to force all of the moisture from the meat toward the center of the steak, so it will become juicier and mouth-watering. It's better to let your steaks rest for 8-15 minutes before serving.
Wait… What?! More Tips To Cook Steak In The Oven At 400
Believe me, there are still more tips that you may not know when cooking steak in an oven at 400. Follow me and jot down these helpful tips!
Cook Both Sides Of Steaks
Do you need to cook steak on two sides? My answer is yes. This leaves your steaks equally cooked on both sides, juicier, and more flavorful.
Whether you sear the steak on the stovetop or bake it in the oven, you should cook both sides of the steak properly. Let's place your steak in the preheated oven, cook for a few minutes, remove and flip the steak, and wait until done.
Cutting Steaks To Serve
Inappropriately cutting steak can make it tougher and chewier. What you have to do is to cut against the grain. This will make the steak more tender and yummier.
But how to find the grain? The grain is the direction in which the muscle fibers of a steak run. The grain can look different on each type of steak. When you find the grain, set your knife perpendicular to the grain and cut thin slices.
You should cut against the grain for both raw and cooked steaks.
Yummy Homemade Side Dishes For Your Steak
Let's make your steak tastier ten times with these best side dishes for steak. Serving steaks with side dishes is never a bad idea. Let's save your favorite recipe and get ready for a flawless meal with your beloved family!
These will be the best side dishes for sweet potato lovers. Steaks served with sweet potatoes are a flawless combination of savory and sweet dishes. It takes a few steps to prepare and around 10 minutes to cook.
The salty and sour flavor of crispy salt and vinegar potatoes will stimulate your taste buds. The ingredients to make this can all be found in your kitchen. After finishing and taking the first bite, you may soon become a fan of this easy yet tasty side dish.
Cheesy baked mashed potatoes will never disappoint you when serving them with steaks. Be careful if you want to make this recipe beforehand because you'll need various ways to keep these mashed potatoes warm.
Or else, you'll miss the perfect mix of salty and nutty flavors that will melt your heart once you eat it. Cheesy baked mashed potatoes are the favorite side dish of all ages.
Prefer some green broccoli in your meal? Garlicky roasted broccoli will suit you. Broccoli, olive oil, vinegar, garlic, and salt are all you need for this. Garlicky roasted broccoli is one of the easiest, healthiest, and tastiest side dishes ever!
There is an easy homemade recipe for garlicky roasted broccoli.
If you're a salad lover, don't skip this recipe. Saltiness, sweetness, and sourness all join together to conquer your heart. Arugula salad not only goes well with steaks but can also be served with other dishes you want.
FAQs
Despite providing you with a detailed answer to how long the steak should be cooked in an oven at 400°F, here are more related questions that you might find helpful. I'll give a short but concise answer to clarify your queries.
Now, It's Ready To Make Your Steak In Oven At 400
All your questions are clear now. No more hesitance. Let's turn your oven on and treat your family to the tastiest steaks. You've acknowledged a wide range of useful information about cooking steak.
I have to tell you that you're no longer a newcomer. Let others recognize your hidden talent today, and don't forget to share your result in the comment section below. If you find this post helpful, like and share it with your family and friends!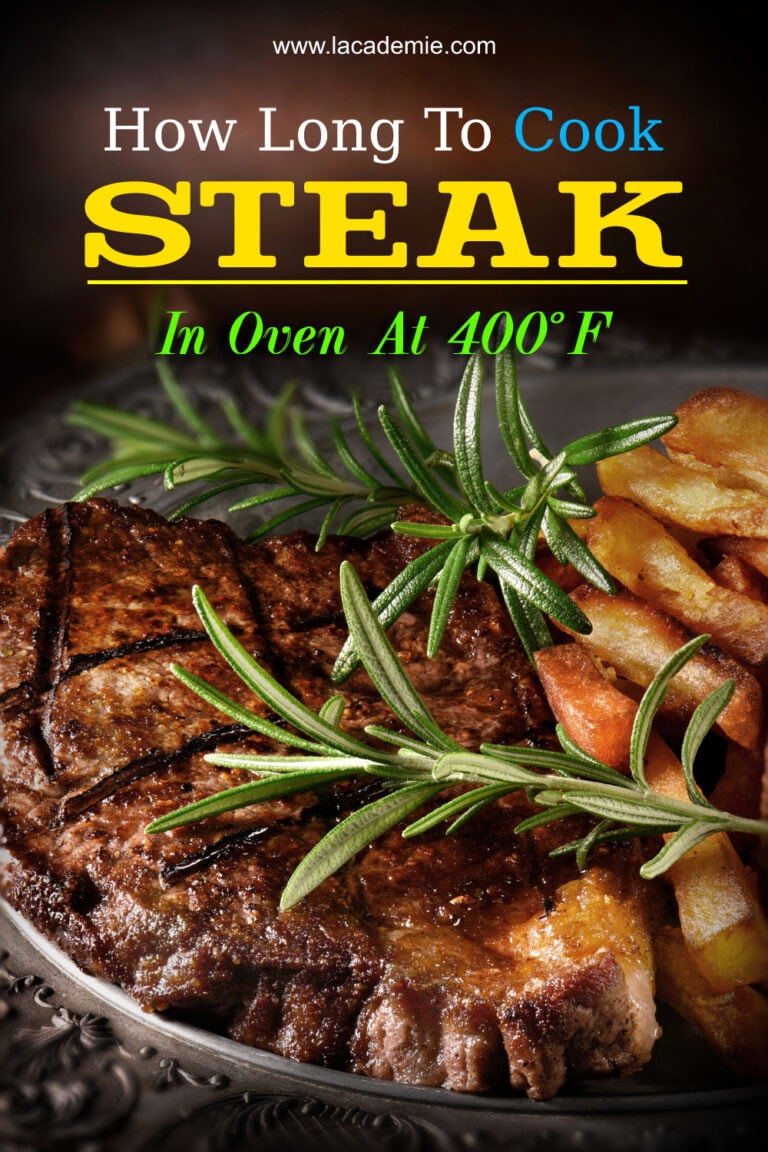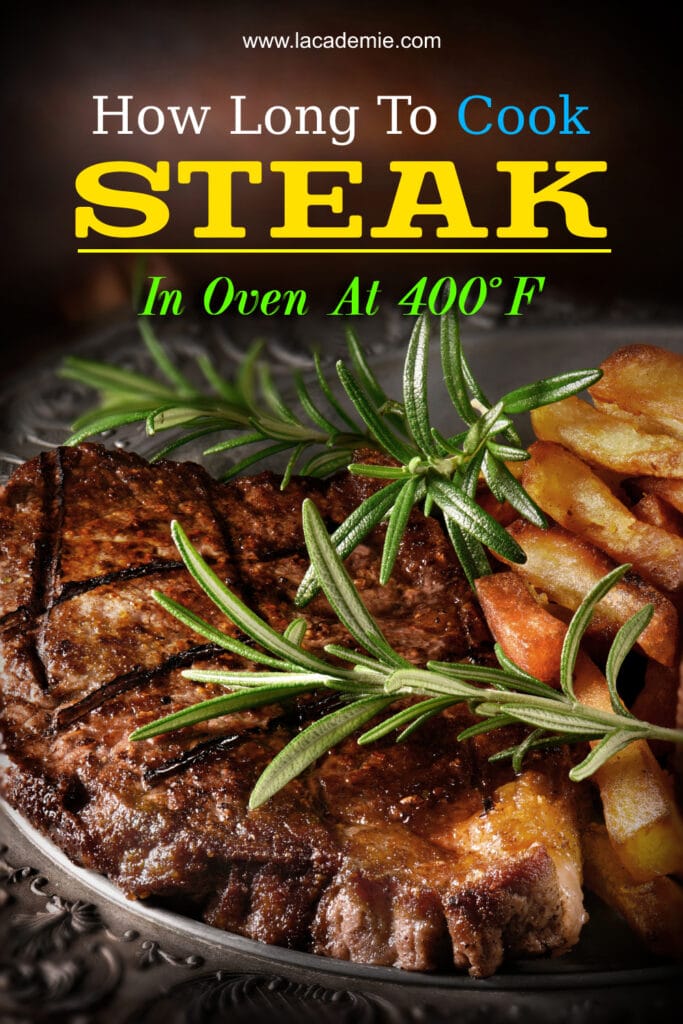 References
Beef – Wikipedia. (2022).
T-bone steak 16oz choice by Beaver Street Fisheries Inc. nutrition facts and analysis. (2022).
Beef ribeye steak, beef by STEAK HOUSE nutrition facts and analysis. (2022).
Restaurant, sirloin steak, family style nutrition facts and analysis. (2022).