It's always essential to consider what to serve with tuna steaks before you start to cook this meaty fish. Knowing all the possible side dishes to tuna steaks will help you plan out the meal course more properly.
But what is best with tuna steaks, you find yourself asking. You may have learned how to make the best tuna steak out there, but you're in the dark when it comes to side dishes for it.
If this is the situation you find yourself in, then congratulations, you've come to the right place. In this article, I will suggest the best sides to serve with tuna steaks that will leave everyone satisfied and impressed.
Top 20+ Side Dishes To Serve With Tuna Steaks
In case you're in a hurry and need a quick answer, here is a shortlist of 20 best sides to serve with tuna steaks:
Baked Sweet Potatoes
Brown Rice
Cheese-stuffed Mushrooms
Citrus Salad
Creamy Vegetable Soup
Crispy Brussels Sprouts
English Muffin With Avocado And Eggs
Fried Green Beans
Garlic Fries
Garlic Herb Cream
German Creamed Spinach
Lobster Bisque
Margherita Flatbread Pizza
Mexican Salsa
Pasta Salad
Ratatouille
Roasted Lemon Potatoes
Roasted Tomatoes
Salad With Vinaigrette Dressing
Salted Chips
Stuffed Peppers
Tomato And Cucumber Salad
Vegetable Kebabs
Vegetables With Teriyaki Sauce
Tuna Steaks – The Delightsome Food For Gourmets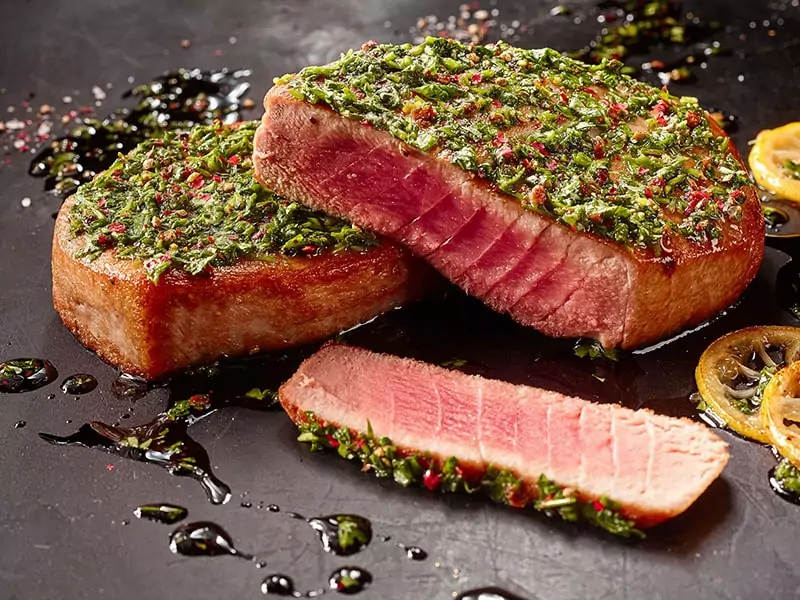 Despite its name, tuna steak doesn't belong to any group of steak. It's actually a dish made from tuna.
This type of fish is ideal for making steaks due to its firm flesh and its rich and robust flavors. Boasting a high oil content, the flesh of many tuna varieties is quite fatty, thus offering an appetizing taste and texture.
Tuna steak is often made from loins, which is known for its superior texture and gourmet-like savory flavors. To make a proper tuna steak, the meat of the fish is always thoroughly skinned and boned.
The most common way to make tuna steak is to sear it on the outside and leave the fish raw on the inside. As a result, you'll have a dish that is nicely warm on the outside and pleasant room temperature on the inside.
On the contrary to what many may think, tuna steak does not taste fishy at all. In fact, tuna steak has a rich, oily taste with a silky texture to it. Because of the way tuna steak is usually prepared (seared on the outside), the dish can feel like it's melting in your mouth.
What Are Some Main Ways To Cook Tuna Steaks?
Just as there are many recipes to a dish, there are many ways to cook tuna steaks. A lot of people also prefer to add their own twists to the dish according to their personal preferences.
However, if you want to learn one of the best ways to prepare tuna steaks, you should watch the video below.
If you are inspired by seared tuna, have a look at this step-by-step video instruction. This video will show you how to sear the perfect tuna steak:
Not a fan of searing? How about grilling your tuna steak instead? Are the methods of preparing tuna for grilling and for searing the same? Why don't you watch the following video and find out for yourself?
Baking is best when you feel like crusting your tuna steak with nuts. This method doesn't require much attention and is not as labor-intensive as others. You only have to put the tuna on a baking sheet, place it in the oven, and wait.
However, make sure you pay attention to the time since it will differ according to the temperature. For example, the amount of time to cook steak in an oven at 400°F is different from at 425°F. So, keep a close eye, or your tuna will get ruined.
Need more instruction? Let's have a look at the following video!
Broiling is another excellent way to prepare your tuna steak. You just need an excellent pan specially made for broiling to give your tuna more texture and a more unique taste. If you don't know how to broil tuna steaks, the video below should be able to help you.
Tuna steaks are also suitable for poaching. You can poach tuna in different liquids such as olive oils, citrus juice, wine, or even water. This will bring more flavors to your tuna steak, making it a one-of-a-kind dish that you'll never forget.
To see the best way to poach tuna, you should see the video below.
Tuna Steaks – The Delightsome Food For Gourmets
Regardless of how you choose to prepare your tuna steak, there are quite a lot of sides that go exceptionally well with this fantastic dish. Depending on your preferences and diet type, you can go for a salad, or you can opt for a side of garlic fries.
As I'm aware that you'll want to have as many suggestions for a side dish as possible, I have listed out all the best foods to serve alongside tuna steak.
Do you know sweet potatoes are considered to be a superfood? This vegetable is a fantastic source of vitamin C and fiber. It is an ideal choice for those on a gluten-free diet. A healthy and delicious side for your tuna steak – what a bargain, right?
Another reason baked sweet potatoes would make a good choice for your tuna steak is because they are very quick and easy to make. Even if you're a busy person, you'll still be able to find the time to make this dish as you only need to poke holes in the sweet potatoes, pop them in the oven, and wait for them to be cooked.
Baked sweet potatoes also go well with lots of topping. If you're going for simplicity, you can top the vegetables with some butter, salt, and pepper. If you want something fancier, you can go for chickpeas and guacamole as toppings.
A nice option for those aiming for weight loss, this whole-grain dish would make a healthy addition to your meal. Why is brown rice ideal for weight loss? That's because it has lower carb and calorie content. Add tuna steak on, and you'll have a balanced and healthy meal.
Although it might look unassuming, high-quality brown rice is packed with more nutrients than many may think. As brown rice isn't so processed, it still retains most of its essential nutrients such as magnesium, phosphorus, fiber, proteins, vitamins, and antioxidants.
Like sweet potatoes, brown rice does not require too much time and effort to cook. You can instead focus your attention on how to whip up the best tuna steak to enjoy with this healthy and fulfilling side dish.
Are you a fan of tuna steak and cheese? If so, you should consider making cheese-stuffed mushrooms as your side dish. The nice fragrance of button mushrooms, the savory taste of cheese, combined with the rich flavor of tuna steak. Sounds amazing!
For the perfect cheese-stuffed mushrooms, I'd recommend that you use a wide variety of cheese – cream cheese, cheddar cheese, Parmesan cheese, etc. Remember to serve these mushrooms while they're still hot so you can enjoy the molten cheese with your steak.
If you need to incorporate more fruits and vegetables into your diet, I believe that citrus salad would be a good way to start. While this might not appear to be the obvious choice to go with tuna steak, it would make your meal fun, light, and healthy.
Citrus salad would make the best companion with your meal on an autumn day. This sweet, juicy, and amazing citrus salad really highlights the taste and texture of your tuna steak. Add a dressing of your choosing, and you'll have the perfect meal – healthy and delicious.
The beauty of this soup is that you can add almost any veggies into this dish. You can add a few tweaks here and there in the recipe to make the soup more to your liking. What's more, it doesn't take long to make.
As creamy vegetable soup contains many healthy and delicious ingredients, it makes the perfect comfort food. You can enjoy tuna steaks with this soup, and feel the divine combination of the steaks' melting taste and the soup's creamy flavors.
Are you looking to add more varieties to your tuna steak? If that is the case, then crispy brussels sprouts are the way to go.
You might be thinking, what's so special about crispy brussels sprouts? Well, the unbelievably crunchy texture of them is something that everyone finds hard to resist. Top this with some sauce or honey, and you'll have an enticing and delicious side.
Crispy brussels sprouts are also a good way to get picky vegetables, especially little kids, to sneak a bite. So if you want to serve a green side with tuna steaks, you should definitely consider this crunchy and appetizing vegetable.
Wait, you ask, aren't English muffins with avocado and egg considered breakfast food? Yes, if you're planning to serve tuna steak for breakfast, then this classic breakfast food will make a fantastic side dish.
Don't believe me? Consider this, the carb from the muffins, the healthy fat and fiber in the avocados, along with the proteins in the eggs and tuna, will be the perfect combination of nutrients to help you stay energetic throughout the day.
If you like the classic pan-fried green beans, then I'd recommend adding it as a side dish to your tuna steak. The fragrance from garlic and black pepper will complement the savory taste of tuna steak quite nicely.
Looking for something deep-fried instead? Crispy fried beans are here to the rescue. This side is quick and fun to make; its crunchy texture and its yummy flavors will convince even the pickiest vegetable eater to try. So why not serve this side with your favorite tuna steak?
Everyone knows the classic French fries. Everyone loves this tasty snack. Add a pinch or two of minced garlic into the fries, and you'll have an even better side. As it's quick and straightforward to make garlic fries, I reckon that this will make the perfect side dish for a tuna steak.
Who doesn't love cream cheese with garlic and herbs? This is one of the best sauces there are, and it tastes even better with bagels or toast. Imagine enjoying the crunchy texture of toast, the fatty flavors of garlic herb cream, and the melting taste of tuna steak.
Garlic herb cream makes the best side dish in the morning, when you need something nutritious and fulfilling to keep you energized through the day. You can make this cream the night before in advance, so that you can have a relaxing morning to enjoy the dish.
Rich and creamy, German cream spinach pairs well with virtually any protein-heavy dish. I know that the idea of eating mushy spinach might not sound appealing at first, but you'll be surprised by how good this side tastes with tuna steaks.
German creamed spinach is best served warm, especially when paired with tuna steaks. You'll find that the warm, creamy flavors from this side really enriches the steak.
While there are indeed some differences between soups and bisques, in terms of warming you up, you can trust this lobster bisque as much as other soups. Especially if you have made some tuna steak, lobster bisque will be the ideal combination you should look for.
This popular seafood soup might require more time and effort to make, but I can guarantee that the time and effort will definitely be worth it. Imagine taking a bite of your fatty, silky tuna steak while simultaneously sipping on a hot bowl of creamy soup—what a match made in heaven.
Pizza, a universally beloved food. Add a unique twist to this, and you'll have the Margherita flatbread, which is similar to a loaf of bread but flat and topped with typical pizza ingredients. It's a quirky and tasty dish that will really bring out the flavors of your tuna steak.
Many people may think that it'll take quite a lot of time to make Margherita flatbread, but reality proves that you only need around 15 to 20 minutes to whip up a tray full of this appetizing side. So grab your apron and start making this dish right now!
You'll be pleasantly surprised when eating your main dish with this Mexican complement. I guarantee that you'll relish the spicy kick from a well-made Mexican salsa, especially when you're eating it with a smoky, fatty tuna steak.
For extra crunch, you can throw in some chips. Everyone knows that salsa and chips go hand in hand together. So, indulge yourself with a hearty dish of tuna steaks, Mexican salsa, and some crispy chips!
Craving for pasta and mozzarella? Then a bowl of pasta salad will not do you wrong. This heavenly dish is the top-notch combination of pasta, savory mozzarella cheese, crips and fresh vegetables, and a generous amount of mouthwatering dressing.
Not only is pasta salad ridiculously easy to make, but it is also nutritious and invigorating. As a result, pasta salad and tuna steak will make a healthy, nourishing, and balanced meal.
No, I'm not talking about the Disney movie, Ratatouille. Ratatouille here refers to a vegetable stew, which usually consists of tomatoes, bell peppers, aubergines, onions, courgettes, as well as some green herbs such as fresh basils and thymes.
It may take some practice to make the perfect ratatouille that has been long established, but once you nail this dish, you'll find yourself cooking this again and again as a side to your tuna steak. I'm serious. Ratatouille will surely elevate your tuna steak to a whole new caliber.
If you're not familiar with this dish, perhaps you should check out this video below.
This Greek-style dish might appear plain and simple at first glance, but its taste will exceed your wildest imagination. There's something mouthwatering about the combination of the starchy, smokey taste of roasted potatoes and the zesty, citrusy notes of lemons.
How well does this side go with tuna steak, you wonder. As it turns out, roasted lemon potatoes seem to be an ideal side to virtually any dish, and tuna steak is no exception. Just remember to be generous with your herbs and spices when making this side, and you're good to go.
I have to admit that roasted tomatoes might not sound instantly appealing as many side dishes listed here; however, once you have a taste, you will probably change your mind. Roasted tomatoes are the embodiment of simplicity made divine.
The flavors of tomatoes, along with the savory taste of cheese and fragrance of garlic, really bring out the quality of your tuna steak. Toss into the mix a few fresh herbs and vinegar, and you'll have a meal to be remembered.
As a fan of salad with Vinaigrette dressing, I find that this is a refreshing and healthy side to balance out the proteins and fats in your tuna steak. The Dijon mustard and champagne vinegar in Vinaigrette pairs exceptionally well with the rich, oily taste of a typical tuna steak.
Besides, let's be honest. Salad and fish go well together; they always strike a delicate balance that really revitalizes your taste buds. Also, you don't need to be a world-class chef to prepare a bowl of salad to serve with tuna steaks.
I don't reckon that there are many people out there who can turn down crispy salted chips. After all, this simple snack certainly took the world by storm when it was first introduced. There's something alluring about the crispy texture and starchy taste of fried chips.
Now, add some salts and pepper to chips, and you'll have a fantastic side dish to go with tuna steak. Some people might even venture and throw curry powder or other types of seasoning blend into this side dish. Whether you're feeling adventurous or not, salted chips and tuna steak are definitely made for one another.
There's something about stuffed peppers that always speaks to me. Perhaps, it is the mildly sweet taste of bell peppers and the intricacy of flavors in its stuffings. Not to mention that this is a highly flexible dish as well – you can always be inventive with the stuffings to whip up something to your liking.
Due to the flexibility and mind-blowing flavors that stuffed pepper can provide, I find this dish to be a wonderful companion for a tuna steak. If you don't know what recipe to choose, I believe that you can always go with the classic.
An obvious side dish to tuna steak, tomato and cucumber salad is the best choice on a hot summer day. The refreshing flavors of tomatoes and cucumbers are hard to turn down when you pair them with a warm seared tuna steak.
Another advantage of tomato and cucumber salad is that this dish is exceptionally healthy. It's great for people on a strict diet, and it's great for those seeking to incorporate more greens into their meals.
If you're planning to grill your tuna steak, you can consider making vegetable kebabs, aka grilled vegetable skewers. The smoky flavors of grilled veggies will make the fatty taste of tuna oil even better than imaginable.
Want to try vegetable kebabs but don't have grills? No worries! You can make use of your beloved rotisserie oven as well. Whatever method of cooking you choose, I'm sure you will love this simple yet mouthwatering dish.
One beauty of tuna steak is that it can go well with many different cuisines, and Asian-style dishes are no exception. Fortunately, teriyaki sauce is very easy to find and equally easy to make. The methods to make teriyaki sauce thicker or thinner are also very simple as well.
If you need to make sure that your teriyaki sauce is gluten-free, you should check the label carefully. Since soy sauce is usually one of the core ingredients of teriyaki sauce, the condiment usually contains gluten. However, there are also gluten-free products.
The best way to make vegetables with teriyaki sauce is to stir-fry them. This way, the veggies will have a chance to absorb all the savory goodness of the teriyaki sauce. As a result, you'll have a side that will add more flavor to the main dish, which is tuna steak.
FAQs
Let me answer some common questions about tuna steaks so that you can whip up the best tuna steaks with side dishes.
Make Tuna Steaks Shine With Side Dishes
Tuna steaks offer an amazing culinary experience, and you should always carefully think before deciding on a side dish. Be sure to think about your diet type, your nutrition needs, your likes and dislikes, etc.
Whatever side dish you choose to go for, I hope that you and your loved ones will love the combination. Remember to comment and let me know what you and your family think of the side dishes!
Nutrition Facts
4 servings per container
---
Amount Per ServingCalories130
% Daily Value *
Total Fat 3.5g

5

%
Sodium 538mg

23

%
Total Carbohydrate 23g

8

%

Dietary Fiber 4g

16

%
Sugars 7g

Protein 2g

4

%
---
* The % Daily Value tells you how much a nutrient in a serving of food contributes to a daily diet. 2,000 calories a day is used for general nutrition advice.