Have you ever tried Cajun side dishes before? Whether you're familiar with these or not, I'm certain that you're willing to learn more about them. If not, why are you here reading my article about the best Cajun side dishes?
Alright, maybe you need some convincing that Cajun side dishes are delicious and worth a try. However, it might be hard to ascertain how delicious a dish is without actually tasting it first. This is why I'll try to be as thorough in my dish description as possible.
So, get ready! You're about to discover the wondrous land of delicious Cajun side dishes.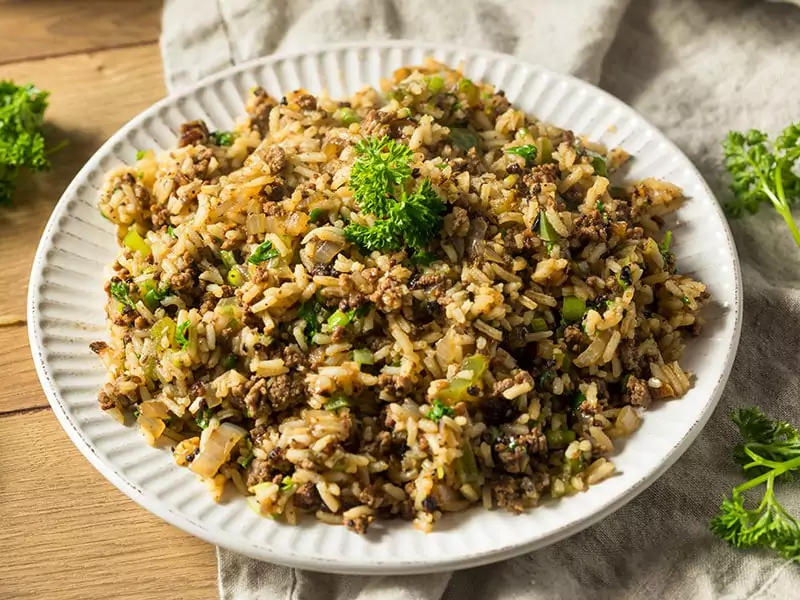 List Of Cajun Side Dishes You Should Not Miss
Behold, here is my list of the best Cajun side dishes. Whatever it is you need, the chances are that you can find it here.
Vegetable Side Dishes
Cajun Corn Maque Choux
Cajun Sweet Potato Fries
Cajun Coleslaw
Cracker Barrel Fried Okra
Cajun Summer Vegetables
Cajun Guacamole
Meaty Cajun Side Dishes
Yakamein (New Orleans Noodle Soup)
Cajun Ham And Bean Soup
Cajun Grilled Shrimp Skewers
Cajun Chicken Tenders
Cajun Chicken Wings
Cajun Crab Dip
Cajun Gravy
Rice Side Dishes
Red Beans And Rice
Cajun Cauliflower Rice
Dirty Rice
Side Dish Made With Flour
Hush Puppies
16 Cajun Side Dishes To Accompany Your Main Course
With the Cajun side dishes below, you'll be able to prepare a memorable meal for yourself or your loved ones. From fresh vegetable side dishes to meaty ones, these Cajun recipes will ensure that everyone will eat your meal to the very last bite.
Cajun Vegetable Side Dishes For A Healthy Meal
If you're trying to incorporate more vegetables into your meal, these Cajun side dishes will ensure that you'll get to enjoy healthy and delicious veggies.
A classic Cajun side dish, corn maque choux requires you to sauté corn kernel with peppers and various other vegetables in bacon grease and Cajun seasonings. In maque choux, the veggies are always cooked until tender, while the corn is added last to retain its texture.
Because corn kernels are the star of this Cajun side dish, you'll need to use fresh kernels for this. In fact, the fresher your corn is, the tastier the maque choux will become. Top the side dish with some heavy cream and serve it with grilled dishes.
You can see this video to know more:
If you think your regular fries are delicious, wait until you try these phenomenal Cajun sweet potato fries. Sweet potato fries are already mouth-watering in the first place. Season them with paprika, ground black pepper, cayenne, salt, and garlic powder. Boom! A dish of tasty fries.
These Cajun fries offer a swirl of sweet, spicy, and savory flavors. With such a fancy taste, Cajun sweet potatoes fries can go with almost any dish. A fan of meat? Pair these sides with fried chicken. A devoted vegan? Serve them with fresh salad. The possibilities are endless.
Allow me to introduce you to this scrumptious Cajun side dish. Admittedly, Cajun coleslaw is not unlike salad. However, the fine mixture between shredded cabbage, carrots, and Cajun herb seasoning makes Cajun coleslaw taste like a luxurious dish found only in high-end restaurants.
Not only is Cajun coleslaw an incredibly delicious side dish, but it's also a great addition to virtually any diet type. Yes, you're not reading this wrong. Whether you're following a vegan, gluten-free, or low-carb diet, you can eat Cajun coleslaw to your heart's content.
Alright, I have to confess: before this recipe, I wasn't much of an okra fan. As a kid, I always tried to find an excuse to avoid eating this vegetable. This all changed when I got to try cracker barrel fried okra. If you have a kid who refuses to eat okra, this yummy recipe may change that.
Crispy with a spicy kick from Cajun seasonings, cracker barrel fried okra guarantees an enticing flavor and a fun texture. Serve this with Cajun crab dip or creole remoulade sauce, and watch everyone on the table devour the side dish.
So what should you choose, cajun dip or creole sauce? This all boils down to the seasonings behind the dip/sauce. The distinct features between Cajun and creole seasonings gives them quite different flavors. If you're a fan of bold, spicy food, I recommend going for the Cajun dip.
Cajun summer vegetables include cherry tomatoes, carrots, zucchini, summer squash, red onions, mushrooms, and Cajun seasoning. With so many vegetables, it stands to reason that this Cajun side dish is packed with nutrients and fresh flavors.
Generally, I believe that Cajun summer vegetables are delicious enough on their own. Of course, this doesn't stop me from serving this with grilled meat or seafood. Occasionally, when I try to eat healthily, I'd serve Cajun summer vegetables with quinoa or cauliflower rice.
Give your guacamole an exciting kick of spice by adding in some Cajun seasoning or Louisiana-style hot sauce. With this Cajun variation of guacamole, you'll have a familiar yet unique dip to impress your friends and family.
Like regular guacamole, this Cajun side dish can be served with a morning toast, sandwiches, soups, stews, or deviled eggs. Cajun guacamole is also ideal as a salad dressing or base for hummus.
Meaty Cajun Side Dishes To Fill Your Belly
Did you say that you prefer something with meat? Check out these Cajun side dishes, which are packed with proteins.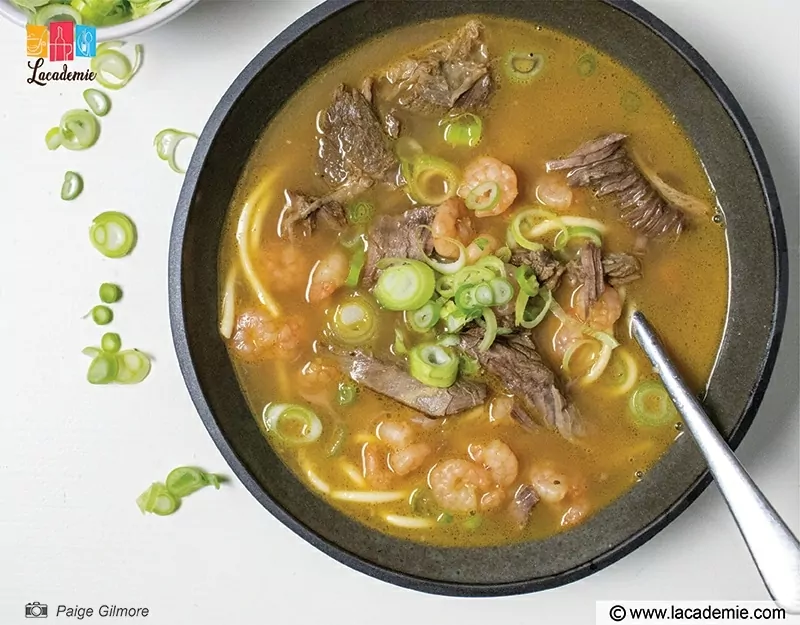 Yakamein, also called New Orleans Noodle Soup, is a perfect dish for people that want to spice up their Cajun dishes with an Asian twist. This recipe uses classic Cajun spices combined with Asian condiments to create a unique flavor profile.
You want to make sure that your beef (preferably lean beef) and shrimp are marinated carefully before adding them to the stock pot. Then, simmer the broth on low heat for about 1 hour and 20 minutes until you smell an irresistible aroma coming from your kitchen.
Note that you should only add the shrimp toward the end of the cooking process. As shrimp are quick to cook, 5 to 10 minutes is more than enough to cook them to perfection.
Nothing can soothe you better on a cold winter day than a bowl of hot, steaming soup. And if you have something as delicious as this Cajun soup, you'll feel warm to the core. Your palates will sing with joy after each bite, and you'll soon be asking for seconds.
What do Cajun ham and bean soup taste like? One bite of this soup, and you'll notice a pleasant sweetness, which is enhanced by a tingling heat coming from the spice. And if you choose to cook this with sour cream, the soup will be extra rich, silky, and creamy.
Are you a busy person with little time to spare but still want to prepare a wholesome meal for your family? Have a look at this quick and simple recipe for Cajun grilled shrimp skewers. You'll only need 10 minutes of prep time, and before you know it, you'll have a tasty side for the meal.
My favorite way to serve Cajun grilled shrimp is with tacos, mashed potatoes, or pasta. During the summer, I'd use grilled shrimp as a topping for salads or Buddha bowls.
A decided crowd-pleaser, these Cajun chicken tenders will take the whole table by storm. A deliciously crispy layer with tender chicken meat inside with a pleasant kick of Cajun spice. Pair these with BBQ sauce or honey mustard, and the whole dish will be gone within seconds.
If you want to balance the proteins with some vitamins and minerals, you should pair these Cajun chicken tenders with salad, grilled vegetables, eggplant lasagna, or cauliflower rice.
Cajun chicken wing is the sort of side dish that can make your mouth water with just the smell alone. Rubbed with Cajun seasonings, these juicy chicken wings give off an irresistible fragrance that will soon gather everyone around the table.
Anyone who's fallen in love with the popular Wingstop's flavors or sauces probably knows of the famous Cajun wings there. And if you want to replicate that alluring flavors right within your home, this recipe will definitely help you in this task.
To make sure no one can resist your Cajun chicken wings, you'll need to cook these in such a way that allows the chicken to achieve a crispy exterior while maintaining a juicy inside. Sounds complicated, I know. But the secret behind that is to oven-bake them instead of deep-frying.
Don't know how to round out your fried chicken? Are you looking for a way to flavor up your bread, chips, fries, or salad? Look no further with this fabulous Cajun crab dip. As the name might suggest, this dip is a combination of crab meat, Cajun seasonings, and mayonnaise.
If you can't get your hands on real crab meat, you can opt for substitutes such as imitation crab.
Don't underestimate this ingredient, there are so many delicious recipes featuring imitation crab that will show you its versatility and charm. Who knows, you may not be able to stop eating them!
You can also make Cajun crab dip thicker and creamier by adding cheddar cheese and cream cheese to the mix. And if you can't find Cajun seasonings, you can opt for Old Bay seasonings.
Discover the secrets behind the best Cajun crab dip ever. See this video to know more:
Cajun gravy will make the perfect addition to many of your comfort foods, especially dishes from Cajun cuisine. This heavenly gravy features what is known as the "Cajun Holy Trinity," which is a combination of onion, pepper, and celery. This is probably why the gravy is so irresistibly tasty.
With this Cajun gravy in hand, you can turn even the plainest rice into an enticing dish; you can turn simple bread into a dish to die for, and you can elevate your meaty dishes. Whatever your choice is, I'm confident you will be satisfied with the results.
Savory Cajun Side Dishes With Rice
Enticing even to the eyes, these Cajun side dishes have rice in the recipes. If you need a hearty, fulfilling side dish, this is where you should stop and read. I guarantee that these Cajun side dishes can make sure that everyone will leave the table with their bellies full.
Hearty enough to be served as a main dish, Cajun red beans and rice shine thanks to the divine combination of peppers, onion, and celery. Want this dish to be more savory? Add some earthy andouille sausage to the pot.
Although I'm not particularly good with heat, whenever I prepare this Cajun side dish, I always make sure to add an abundance of Cajun spices. Somehow, the spiciness of the dish, combined with the starchy rice, always makes a perfect combination. Remember to serve this warm.
Another savory recipe that can be enjoyed as an independent meal, Cajun cauliflower rice is a lot healthier than it looks. This is because this recipe calls for cauliflower rice, which is low-carb, gluten-free, low-calorie, and nutrient-dense. Talk about healthy food!
So, anyone who needs to find a healthier alternative for rice definitely needs to add cauliflower rice into their meal plan. With the addition of Cajun seasonings, you'll find this plant-based rice incredibly enticing. If anything, it might become your top favorite dish to eat while on a diet.
To flavor up this dish, you can use bell pepper, Cajun andouille sausage, onions, and of course – Cajun seasonings. The bell peppers and onions will lend a delicate fragrance, while the Cajun seasonings and andouille sausage will impart a spicy and earthy taste to it.
No worries, despite its name, dirty rice is perfectly sanitary. It simply got its name from how the rice "changes" color after being cooked with ground pork, sausage, veggies, and Cajun spices. So while it may not look pristine in color, Cajun dirty rice is a dish to die for.
Like many other Cajun dishes, dirty rice is quite spicy. This is why you can balance out the heat with dishes like thick and creamy stews. Serve Cajun rice with your favorite salad or collard greens, kick back and enjoy your delicious meal.
You can make the best authentic Cajun dirty rice within your first try too. You can see this video to know more:
Cajun Side Dish Made With Flour
If you need some fun Cajun side dishes that can also be served as a quick snack, this is the ideal place for you. Savory side dish or delectable treat – you decide.
No real puppies are harmed in the making of this Cajun dish, so there's no need to fret. Made from cornmeal batter, hush puppies have an adorable round shape. As hush puppies need to be deep-fried, they always have a crunchy, crispy texture on the outside.
Contrary to what some people may think, hush puppies aren't sweet. While they're not spicy either, these Cajun side dishes do have robust and pronounced flavors that will linger even after you've finished eating them.
My top recommended way to enjoy hush puppies is pairing these delicious dishes with gumbo. This works especially well on a cold, breezy day, when you need something hot and spicy to warm you up. Other viable options included serving them with crab legs, briskets, or fish.
Let's Get Into The Kitchen And Make Cajun Side Dishes
Mealtimes are a perfect opportunity in the day for you to bond with your loved ones over tasty dishes and hearty bites. So while it's the pleasant conversation that makes mealtime enjoyable, you'll need delicious dishes to elevate the experience.
If you find you and your loved ones have grown tired of the same old side dishes, it is time for a change. Add these Cajun side dishes to your weekly meal rotation, and watch everyone's eyes lit up with delight as they get a scrumptious bite.
So, why don't you start trying out these Cajun side dishes right today? Roll up your sleeves and conquer these new side dishes. Don't forget to come back and let me know the results!
Nutrition Facts
4 servings per container
---
Amount Per ServingCalories59
% Daily Value *
Total Fat 0.2g

0

%
Sodium 108mg

5

%
Potassium 172mg

5

%
Total Carbohydrate 11.7g

4

%

Dietary Fiber 3.4g

12

%
Sugars 5.8g

Protein 3g

6

%
---
* The % Daily Value tells you how much a nutrient in a serving of food contributes to a daily diet. 2,000 calories a day is used for general nutrition advice.