Searching for the best Wingstop flavors and sauces to try? This post will help you. Once paired with juicy and crispy chicken wings, these Wingstop flavors will sway the hearts of virtually anyone.
Having been in the business for more than two decades, Wingstop has created various flavors and sauces to enhance their chicken wings. Thanks to their dedication and constant hard work, this American restaurant chain for chicken wings has gained resounding success.
And in this article, I will go over the best Wingstop flavors by providing you with a detailed description of every sauce available there.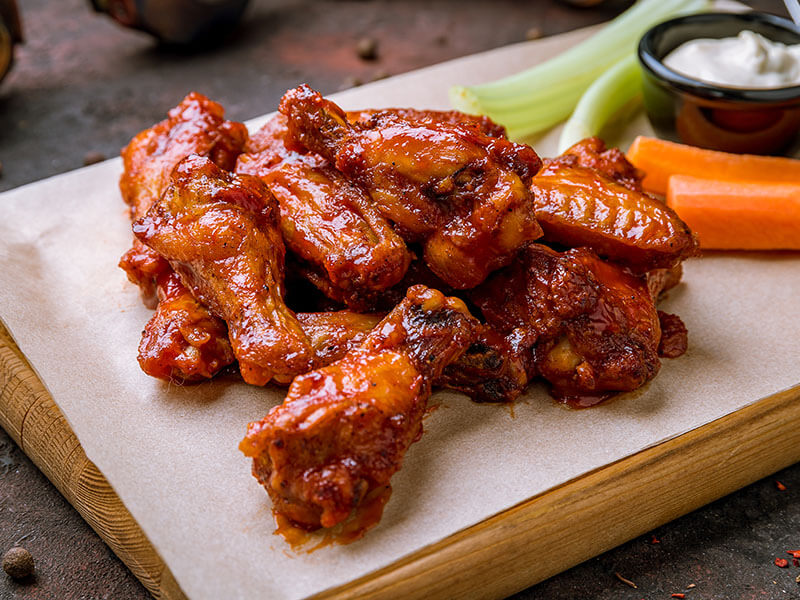 What Are The Best Wingstop Flavors And Sauces?
Below are the 14 best Wingstop flavors and sauces that you should try at least once in your life. Enticing and delicious, these Wingstop flavors will elevate your chicken wings to a whole new caliber.
Atomic
Cajun
Garlic Parmesan
Hawaiian
Hickory Smoked BBQ
Lemon Pepper
Louisiana Rub
Mango Habanero
Mild
Original Hot
Spicy Korean Q
Hot Lemon
Lemon Garlic
Bayou BBQ
A Comparison Chart Of Top 14 Wingstop Flavors and Sauces
Take a look at this concise comparison chart for the best Wingstop flavors and sauces. This chart will provide you with basic information about each flavor so that you can have a rough idea as to what it tastes like.
| Best Wingstop Flavors And Sauces | Heat Level | Flavor Type | Flavor Description |
| --- | --- | --- | --- |
| Atomic - The Hottest Wingstop Flavor | 5/5 | Wet | The hottest Wingstop flavor for brave and adventurous souls |
| Cajun - Best With Cajun Seasonings | 4/5 | Wet | A harmonious blend of Original Hot and Cajun seasonings |
| Garlic Parmesan - Best For Cheese Lovers | 0/5 | Dry | Rich parmesan flavors with a kick of garlic fragrance |
| Hawaiian - Best Sweet And Sour | 0/5 | Wet | Tropical taste with a swirl of sweet and sour flavors |
| Hickory Smoked BBQ - Best With Smoky Flavors | 2/5 | Wet | Robust flavors with a hint of irresistible BBQ smoke |
| Lemon Pepper - Best Zesty Flavors | 1/5 | Dry | Fragrant peppers enhanced by citrusy lemon |
| Louisiana Rub - Best Dry Rub With Cajun Flavors | 3/5 | Dry | Bold, spicy rubs for Cajun lovers |
| Mango Habanero - Best With Fruity Notes | 4/5 | Wet | Sweet mango with a strong kick of spice |
| Mild - Best With Mild Spice | 2/5 | Wet | Similar to Original Hot but with less spice |
| Original Hot - Best Popular | 3/5 | Wet | The perfect balance between spicy and tangy, zesty flavors |
| Spicy Korean Q - Best For With Asian Flavors | 3/5 | Wet | Sweet and spicy flavors with a delicate touch of garlic and ginger |
| Hot Lemon - Best Combination Of Citrus and Spice | 3/5 | Remix | Spicier version of Lemon Pepper |
| Lemon Garlic | 1/5 | Remix | Mixture of Lemon Pepper and Garlic Parmesan |
| Bayou BBQ - Best Flavor Of The South | 3/5 | Remix | The combination of Cajun Seasoning and Hickory Smoked BBQ |
The Best Wingstop Flavors And Sauces To Steal Your Heart In 2023
Now, without further ado, let's find out about the best Wingstop flavors and sauces. In this part, I will describe each flavor carefully so that you'll know which one to pick the next time you visit Wingstop.
Before you dive into the main section, allow me to remind you that these chicken wings taste best when they're still hot. So if the wings get cold during the delivery process, it's best that you have a few tricks to reheat chicken wings up your sleeves already.
1. Atomic –

The Hottest Wingstop Flavor
If you're confident that you can handle chicken wings hot enough to make most people's eyes water, Atomic is the flavor you need to try. The hottest flavor at Wingstop, Atomic is best for people enthralled by spicy food or adventurous souls.
Packed with black pepper, Atomic sauce will deliver an intensely spicy taste. Without butter or cheese to tone down the heat, this Wingstop flavor truly lives up to its name. A few bites of chicken wings doused in this sauce are enough to send your heart racing.
The unique thing about the Atomic flavor is that the intense heat doesn't overwhelm the chicken wing's flavors or richness. If anything, the strong spice will make the wings even more tasty and flavorful. Despite the tear-inducing heat, you'll certainly keep reaching for another hot wing.
A detailed feedback of Wingstop's Atomic wings that you need to check.
2. Cajun –

Best With Cajun Seasonings
If you're familiar with Cajun dishes, you're probably well aware of how spicy they can get. This Wingstop flavor is no exception—it's spicy enough to make even the toughest person cry. Even with a few gulps of milk to wash down the spice, you'll still be able to feel intense heat.
The Wingstop Cajun sauce starts with the brand's Original Hot flavor, which already packs a strong punch of heat. With an addition of Cajun seasoning, the sauce becomes even spicier and more complex in flavors.
When eating Wingstop chicken with Cajun sauce, you'll easily notice the distinct flavors of cayenne pepper and garlic. The fantastic blend of spices will surely give you flavorful bites with spicy, peppery, and zesty notes. Definitely a must-try, especially for people who love hot wings.
So what are you waiting for? Add these delicious Wingstop Cajun chicken wings to your reservoir of delectable Cajun side dishes.
You can have a close-up look at Cajun chicken tenders at Wingstop's. You can see this video to know more:
3. Garlic Parmesan –

Best For Cheese Lovers
If you find chicken wings with cheesy, creamy flavors irresistible, Wingstop's garlic parmesan flavor is definitely for you. With merely a quick glance, you can easily notice that the chicken wings are practically covered with decadent parmesan cheese.
Aside from the irresistible parmesan cheese, you'll get to savor the exquisite flavors from garlic. I'm not exaggerating when I say that just the fragrance from the dry rub is more than enough to make your stomach rumble with cravings.
The fantastic thing about Wingstop's Garlic Parmesan is that it manages to strike the delicate balance between the two flavors. I love how garlic and parmesan really come together to enhance the overall taste rather than overwhelming one another.
This review on Garlic Parmesan dry rub might help you decide if you should try out this flavor or not.
4. Hawaiian –

Best Sweet And Sour
Similar to dishes from Hawaiian cuisine, this sauce from Wingstop is the perfect harmony of sweet and sour flavors. As soon as you bite into a Wingstop Hawaiian chicken wing, you'll be greeted with a sweet, syrupy flavor and an irresistible tangy aftertaste.
Like garlic parmesan, the Hawaiian sauce is the best choice for people who cannot handle spicy food whatsoever. Ranking 0/5 on the heat level scale, this Wingstop sauce allows you to enjoy chicken wings without tearing up from the spice.
Hawaiian sauce is also a fantastic choice for sweet tooths. With its pleasantly sweet flavors, the sauce will make sure that every bite of chicken wings tastes like a divine treat. I recommend finishing the wings with some decadent desserts from Hawaii for the ultimate satisfying meal.
This taste test on Hawaiian wings will inform you of everything you need to know about this flavor.
5. Hickory Smoked BBQ –

Best With Smoky Flavors
As is indicated in the name, Hickory Smoked BBQ will capture the hearts of those who love BBQ parties. With its robust and smoky flavors, this phenomenal sauce has quickly become one of the most popular flavors at Wingstop.
In terms of spiciness, the Hickory Smoked BBQ flavor only has a moderate heat. This makes the sauce perfect for people who want spicy chicken wings without the overwhelming heat. Even if you usually find spicy food hard to stomach, you'll love the pleasant heat of this sauce.
If you frequently visit Wingstop but haven't tried out this flavor, you're missing out. There's a reason Hickory Smoked BBQ remains one of the most popular flavors at Wingstop throughout all these years. I'm certain that this flavor can even become your personal favorite.
Not sure if Hickory Smoked BBQ is the right choice for you? This will help you decide.
6. Lemon Pepper –

Best Zesty Flavors
People who love chicken wings with tangy and zesty notes will surely find this Wingstop flavor a fantastic option. A harmonious blend of black pepper and tangy lemon, this dry rub is another popular choice at Wingstop.
When it comes to Lemon Pepper, the starring flavor is the zesty lemon. The strong citrusy taste from the lemon truly gives the fatty chicken wings a nice balance. Add some cracked pepper into the mix, and you'll have savory wings that will satisfy even the most demanding customer.
As this dry rub does contain a fair amount of pepper, it has a faint spicy flavor. However, the spiciness is virtually imperceptible, making Lemon Pepper ideal for people who want their wings to have extremely subtle spicy notes.
Not convinced that the Lemon Pepper is as delicious as it sounds? This might change your mind!
7. Louisiana Rub –

Best Dry Rub With Cajun Flavors
Another Wingstop flavor with strong Cajun notes, the Louisiana Rub is an addicting dry rub that will make your mouth water. Boasting signature Deep South Cajun flavors, this dry rub will sweep you off your feet with the very first bite.
Because this flavor arrives in the form of a dry rub, it will make your chicken wings extra crispy. And the blend of garlic, pepper, paprika, and various spices in the Louisiana Rub will make sure that you'll keep coming back for more.
Ranking 3/5 on the heat scale, the Louisiana Rub is perfect for those who love spicy wings but can't handle strong heat. If you find the Cajun sauce a bit too spicy, you'll find the Louisiana Rub a perfect substitute.
8. Mango Habanero –

Best With Fruity Notes
As you can probably guess from the name, Mango Habanero ranks very high on the heat scale. This is the sauce that will make spice lovers sigh with satisfaction and others tremble with fear— it's hot enough to make your mouth and stomach feel like they're on fire.
However, Mango Habanero is not all about spice. In fact, part of the reason why Mango Habanero manages to capture the hearts of so many also lies in its pleasantly sweet and fruity flavors from the juicy mangoes.
In terms of flavors, the Mango Habanero is a lot similar to the Hawaiian sauce, except that it's a lot spicier. If you love the Hawaiian sauce but find its spiciness too mild for your taste, the Mango Habanero will be right up your alley.
Learn more about the wonderful flavors of Mango Habanero and Spicy Korean Q here.
9. Mild –

Best With Mild Spice
Created for people who find the Original Hot slightly too spicy, the Mild flavor still manages to retain the appeal of its inspiration. Similar to the Original Hot, this savory Wingstop sauce brings spicy and tangy flavors together to create an irresistible sauce that you'll forever remember.
This sauce also contains an abundance of butter, giving it a smooth and rich taste. The buttery flavor can also help to tone down the spice considerably. If you don't know which sauce to opt for, this flavor is always a safe option – not too spicy to make you cry and not too bland either.
If you have children who love spicy food, the Mild sauce will also be a great choice for them. The sauce's heat level is moderate enough that young children can handle them with relatively no trouble.
As the chicken wings prepared with Mild sauce are quite accommodating, you can also pair them with various side dishes. Among the best side dishes for chicken wings, my top choice is always savory and crunchy onion rings.
Discover how tasty Mild and Original Hot wings can get, especially when paired with Louisiana Voodoo fries. You can see this video to know more:
10. Original Hot –

Best Popular
The most popular sauce at Wingstop, the Original Hot is a classic for a reason. Its tangy flavors will instantly make your mouth water, and the ensuing heat will give you the impression that your taste buds are exploding with flavors.
While the flavor combination might not sound that creative or mind-blowing, the resulting sauce is still charming enough to stand the test of time. Having been around since the restaurant chain's founding days, the Original Hot still remains the most popular Wingstop sauce.
Despite its intimidating deep red color and its name, the Original Hot is not on the scorching hot level. While it's certainly hot enough to satisfy most people, spicy food enthusiasts might find the flavor somewhat lackluster.
11. Spicy Korean Q –

Best With Asian Flavors
Anyone who loves Asian cuisine will find the Spicy Korean Q impossible to turn down. This incredible sauce will give your chicken wings a mouth-watering sweet tang and spiciness. These two flavors then combine and strike the perfect balance between sweet and spicy notes.
Aside from sriracha and red pepper, the Spicy Korean Q also gains a subtle fragrance from ginger and garlic. As a result, this amazing Wingstop sauce boasts a unique complexity that is rarely seen in fast-food restaurants.
Another reason that makes Spicy Korean Q suitable for most people is its moderate spice— only 3 out of 5 on the heat scale. Therefore, you'll get to fully enjoy the complex flavors in the sauce instead of rushing to find cold beverages to wash down the spice.
12. Hot Lemon – Best Combination Of Citrus and Spice
Hot Lemon is a perfect flavor combination of spice and citrus. In fact, it is a twist that comes from the mixture of Original Hot and Lemon Pepper flavors, creating a flavorus mixture that you cannot resist.
It features the balanced taste of spiciness and zestiness. So if you already love the Lemon Pepper flavor and crave for a bit spicy note, Hot Lemon is a perfect option.
Here is an unbiased review of Hot Lemon and Bayou BBQ Wingstop.
13. Lemon Garlic – Best With Buttery And Zesty Note
The constant innovation in making more flavorful products of Wingstop is impressive. And it is proved with this Lemon Garlic.
They are too good to be true. Indeed, you can sense the cheesiness of Garlic Parmesan and the savory and zesty touch of popular Lemon Pepper.
When combined with chicken wings, they create a crispy coating with juicy meat inside that you want to eat more and more. It might be a little dry to somebody, but overall, Lemon Garlic is still a good one to try at Wingstop.
You might want to order the Lemon Garlic right away after checking this review.
14. Bayou BBQ – Best Flavor Of The South
The last choice (but not least) is Bayou BBQ. This flavor is inspired by New Orleans wings. At Wingstop, this is a mashup of Cajun Seasoning and Hickory Smoked BBQ.
The heat level is also relatively average. It means Bayou BBQ is not as spicy as Cajun Seasoning, but it adds a bit of a spicy note to the signature Hickory Smoked BBQ sauce.
The chicken meat coated with this remix sauce has a delicious look with red-brown hue on the outside. And it is even better to dip it with ranch dressing. Let's try it today!
Another honest review of Bayou BBQ of Wingstop that you should check before ordering it at the store.
FAQs
To help you better understand Wingstop flavors and sauces, I've compiled some common questions a person might have regarding this matter. Be sure to check them out.
Top Wingstop Flavors And Sauces To Please Your Taste Buds
All the flavors and sauces at Wingstop are enticing and mouth-watering enough that they're all worth trying. And no matter what your personal preferences are, I'm certain that you'll be able to find something you love there.
When choosing Wingstop flavors, you should pay attention to the flavor description, the heat level, and the flavor type. These factors are all important, as they can determine how much you'll love the flavors or sauces.
If you're still having difficulties choosing Wingstop flavors and sauces, leave a comment below and tell me your personal preferences. Maybe I'll be able to help you pick the one that will best suit your taste.