French sauces are indispensable elements in the country's superb cuisine. After all, a well-crafted sauce enhances practically any meal with wetness, richness, depth, and color.
When it comes to the quality of these French gastronomic idea, there is an infinite variety of French sauces, the bulk of which are derivatives of one of the six mother sauces: Béchamel, Velouté, Espagnole, Hollandaise, Tomato, and Mayonnaise.
This article will discuss not only the six French mother sauces (sauces mères) above but also a plethora of other daughter sauces (petites sauces), which are secondary sauces produced from mother sauces.
So, let's take out your notes and learn to make these fantastic French sauces. As the adage says, the secret lies in the sauce. They are sure to infuse your meals with wondrous tastes!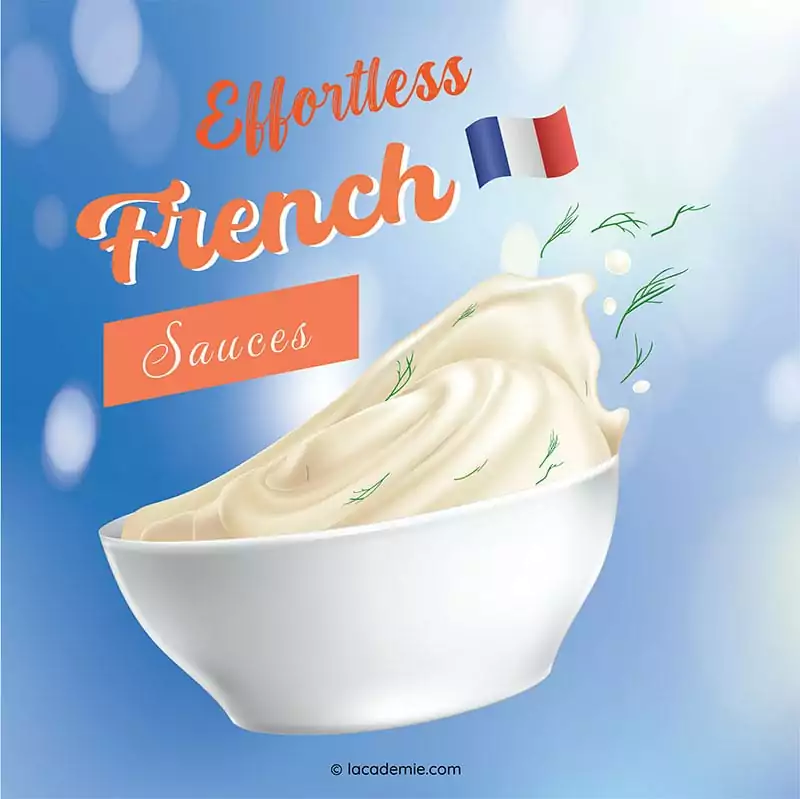 6 Mother Sauces That Build Up Your Confidence In The Kitchen
Invented in the 1800s by French cook Auguste Escoffier, these five Sauces Mères are foundational mixtures for a plethora of secondary sauce varieties. They are featured in the greatest French cookbooks and appear on the menus of upscale restaurants.
Before diving into these five French mother sauces, let's have a quick look at their basic information with the following table:
| Mother Sauces Type | Alias | Base | Daughter Sauces | Pairing Dishes |
| --- | --- | --- | --- | --- |
| Béchamel | White sauce | Hot milk, white roux | Mornay, Soubise, Nantua, Cheddar sauce, and more | Pasta, croque monsieur, casseroles, creamy soups |
| Velouté | Blonde sauce | White stock, white roux | Normande, Allemande, Venetian, and more | Meats, veggies |
| Espagnole | Brown sauce | Brown stock, brown roux | Demi-Glace, Charcuterie, Burgundy, and more | Dark meats (beef, duck) |
| Tomato | Red sauce | Tomatoes, roux | Creole, Marinara, Provencal, and more | Roasts, stews, pasta, eggs, veggies |
| Hollandaise | Butter sauce | Egg yolks, butter | Béarnaise, Choron, Maltaise, and more | Eggs benedict, fish, poultry, veggies |
| Mayonnaise | Mayo | Egg yolk, oil | Rémoulade, Gribiche, Tartar Sauce, and more | Burgers, sandwiches, salad, etc. |
TOTAL TIME: 20 minutes (Prep Time: 5 minutes + Cook Time: 15 minutes)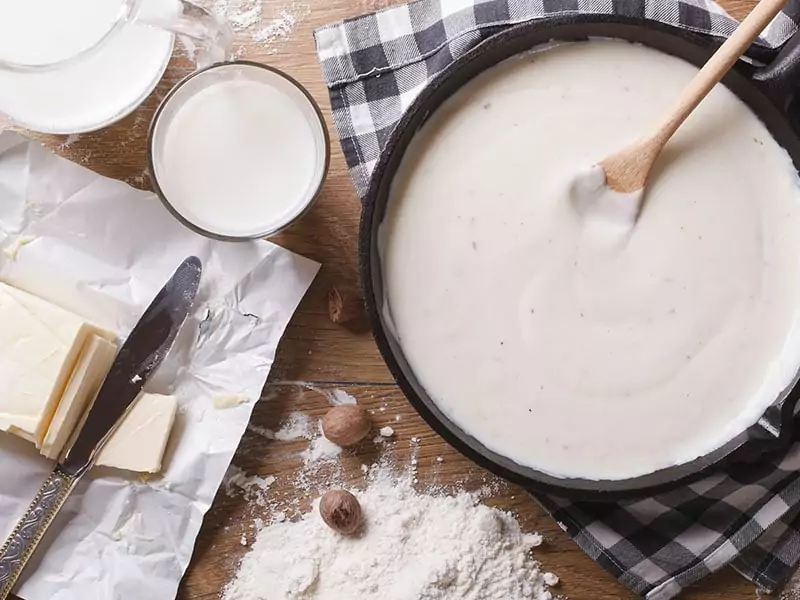 Starting my list of French mother sauces is Béchamel, a simple white sauce prepared with butter, flour, nutmeg, salt, and whole milk. If you have ever had Croque Monsieur or Lasagna, you have probably tasted Béchamel's luscious creaminess before.
There are at least four hypotheses surrounding the sauce's origin, but the most plausible one states that it was the invention of Pierre De La Varenne, a chef of Louis XIV, for the king's exclusive use.
His 17th-century cookbook "Le Cuisiner François" contains the earliest documented recipe for Béchamel.
Many culinary academies worldwide use this foundational sauce as the first lesson for many chefs as it is a flexible and indispensable recipe that is simple to master. Béchamel preparation starts with heating the whole milk.
After that, boil butter and flour in a saucepan to generate a paste-like material called a roux. When the roux is complete, whisk it in the heated milk gently and boil until a smooth, creamy sauce develops. Then, season the sauce with salt and nutmeg for completion!
Besides Croque Monsieur and Lasagna, Béchamel's unmatched versatility allows it to be used in a wide variety of dishes like Moussaka or Mac and Cheese. It also serves as the foundation for daughter sauces like onion-infused Soubise or cheesy Mornay.
Learn the secrets to generating the perfect Béchamel sauce at home.
TOTAL TIME: 8 – 10 minutes (Prep Time: 2 minutes + Cook Time: 6 – 8 minutes)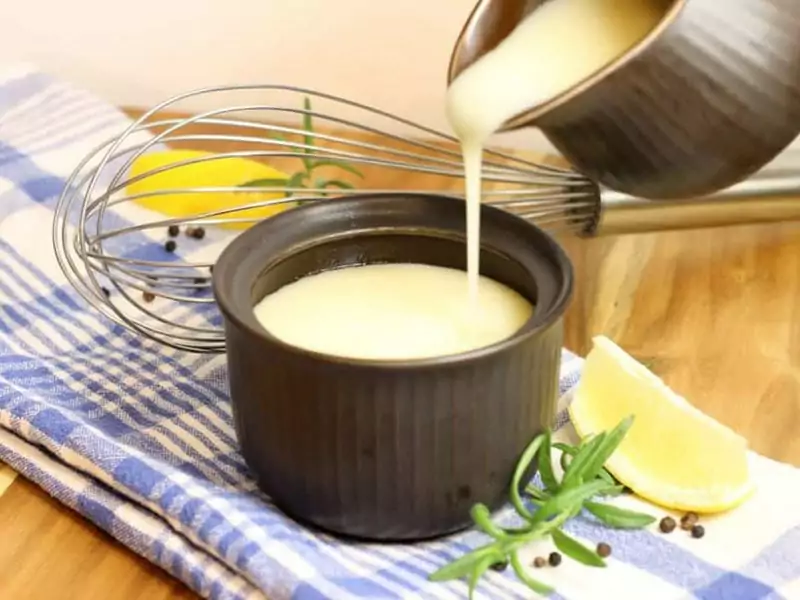 Velouté, which translates as "velvety", is the more appealing sibling of Béchamel. Similar to Béchamel, Velouté also utilizes roux as a sauce thickener.
However, instead of using hot milk like its counterpart, Velouté acquires chicken stock. Other stocks such as veal or fish, even vegetables, are also applicable but not covered in this recipe.
The preparation's start is the same, with the making of roux from butter and flour. After that, gradually whisk the ingredient in the clear broth and cook until a creamy, silky, blonde-colored sauce emerges.
Velouté is the secret to dressing chicken, turkey, and fish in a flash. It also acts as a foundation for many French soup dishes and is the starting point for making daughter sauces, such as Bercy, Allemande, Aurora, Normande, and Poulettes.
Knowing how to produce decent Velouté is critical for saucing an infinite number of foods. This simple recipe allows you to explore and build on this foundational sauce to expand your culinary capability.
TOTAL TIME: 2 hours and 45 minutes (Prep Time: 15 minutes + Cook Time: 2 hours and 30 minutes)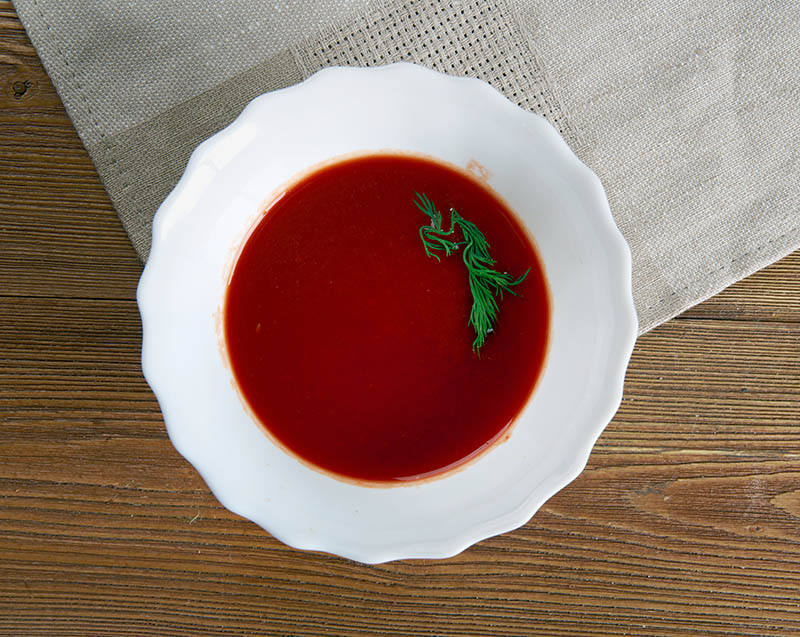 Also known as "brown sauce", Espagnole is a thick and dark sauce prepared with flour, butter, veal stock, puréed tomatoes, and mirepoix – a foundation of sautéed carrots, onions, and celery.
Like Béchamel and Velouté, the French started making Espagnole with roux. However, this French gastronomic idea asks for brown roux instead of white roux. To achieve it, you must heat the ingredients long enough to brown the butter.
Along with brown veal stock, brown roux contributes to the sauce's vibrant and nuanced taste. Due to Espagnole's heavy and thick nature, the sauce is suitable for bathing over dark meats, such as beef or duck.
Although Espagnole is a Spanish term, the sauce is still considered French. Many people assert that the Spanish chef at Louis XIII's wedding enhanced the original French brown sauce by adding Spanish tomatoes, thus generating Espagnole.
Rarely used alone, this mother sauce is necessary to prepare other daughter sauces, such as Demi-Glace and Bordelaise. These daughters are the secret to meals like Beef Bourguignon and Cassoulet served at fancy bistros and steakhouses.
Alternatively, you can use a spoon of Espagnole over steaks and other red meats on its own. Because of its robust taste and more challenging preparation, this sauce is not used as often as other sauces in this French mother sauce list.
Espagnole gains its dark hue from the use of brown stock and brown roux.
TOTAL TIME: 30 minutes (Prep Time: 10 minutes + Cook Time: 20 minutes)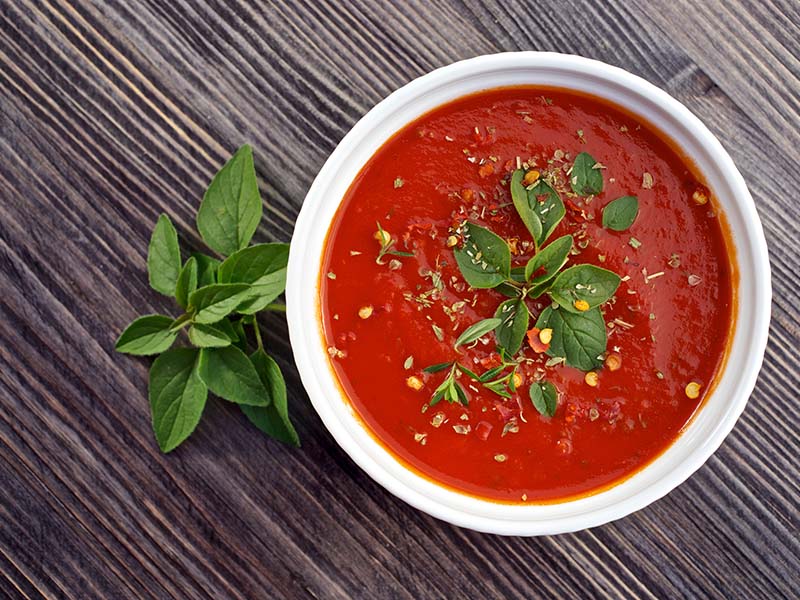 Tomato sauce is unquestionably the most popular sauce type among the French mother sauces category. Traditionally, the sauce is prepared using whole peeled tomatoes, butter, garlic cloves, olive oil, salt, chicken stock, and various Provencal dried herbs.
If many tomato sauce versions out there use mostly puréed tomatoes seasoned with herbs, a traditional French Tomato sauce comprises roux and is fortified with pork and aromatic veggies.
This recipe is quite adaptable, as it pairs well with roasted meats, seafood, vegetables, eggs, and pasta meals. Pasta with tomato sauce is usually a favorite, but you can also serve it with roasted chicken or fish such as salmon or codfish.
Moreover, combining this French Tomato sauce with other ingredients can result in excellent sauces, such as FCreole and Puttanesca.
TOTAL TIME: 20 minutes (Prep Time: 5 minutes + Cook Time: 15 minutes)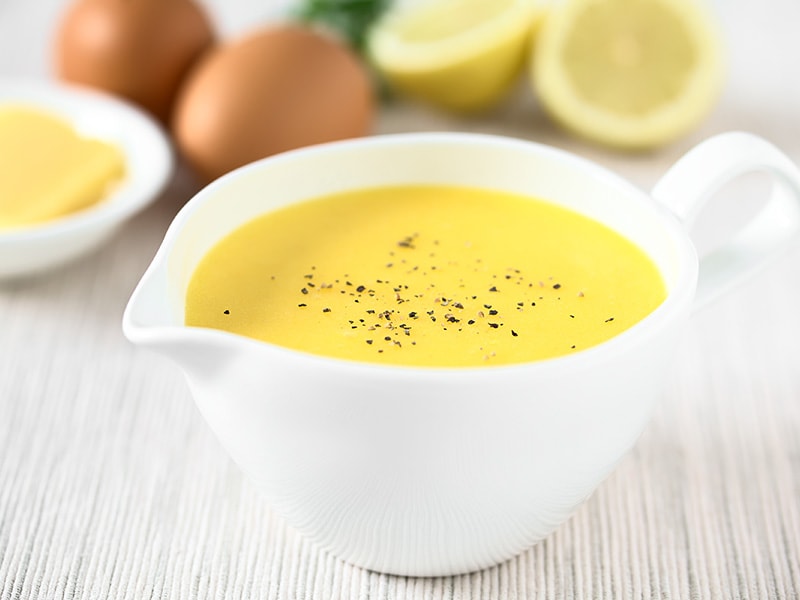 Roux-based mother sauces have ended! Hollandaise sauce is a tart, creamy concoction that gains flavor from unsalted butter, lemon juice, ground pepper, and raw egg yolks. The French make this sauce by emulsifying or combining egg yolks and butter instead of using roux.
Due to the natural resistance of butter and egg yolks when combined, Hollandaise has a reputation for being fairly challenging to generate. However, if you have enjoyed the famous brunch meal Eggs Benedict before, you will have more incentive to overcome that challenge.
Although the sauce's origin is unclear, some believe it was developed in the Netherlands and introduced to France by the Huguenots. According to some culinary historians, its initial name was Isigny, a trendy sauce in Normandy.
Yet, the name was altered during World War I owing to the scarcity of butter and the need to import it from the Netherlands.
Hollandaise is not only delectable on its own, but it also serves beautifully as a springboard for other sauces, such as Béarnaise, Maltaise, Dijon, Rouille, Tartar, and Choron.
Besides being a base for other secondary sauces, Hollandaise is perhaps the most adaptable sauce among this mother list.
A nice dollop of Hollandaise sauce pairs well with the majority of typical foods. For example, the sauce is an indispensable part in the recipe named Eggs Cochon (a New Orlean-style egg benedict). They also pair well with eggs, red/white meats, veggies and seafood.
TOTAL TIME: 15 minutes.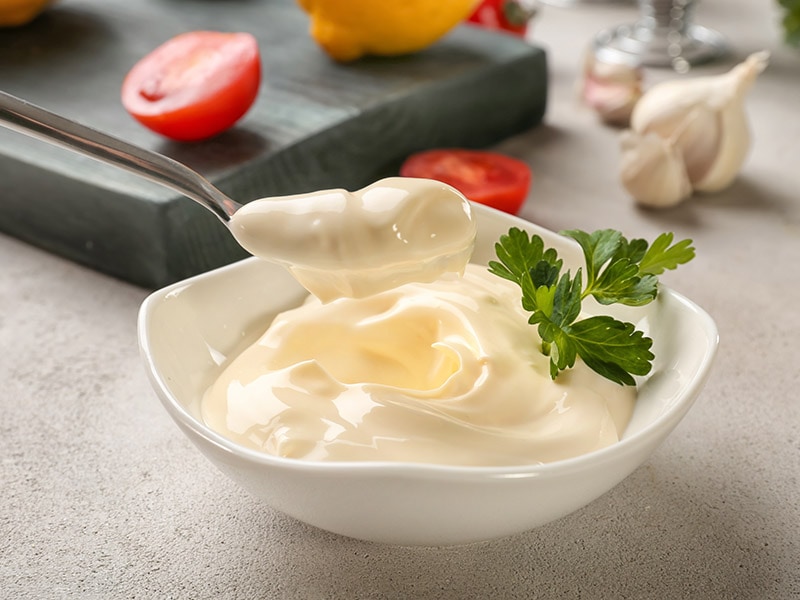 Mayonnaise – an eggy paste plays an integral role in various French dishes. For that reason, many people claim it deserves equal recognition. Many nations even call Mayonnaise the "French sauce".
Basically, this Mayonnaise is a cold emulsion of canola oil and egg yolks seasoned with French Dijon mustard, white wine vinegar, lemon juice, kosher salt, and granulated sugar.
Its moniker has three distinct explanations: Bayonne town from East South France, the ancient French word for "egg yolk", or the French verb manier (manipulate) to emphasize the stirring process during the sauce preparation.
While bottled Mayonnaise is convenient and economical, homemade Mayonnaise is better in taste and surprisingly simple to create. The sauce makes a great dip option on sandwiches and salads.
14 Irresistible Daughter Sauces Of France
After mastering French mother sauces, the following daughters are just a few ingredients away, allowing you to access a large portion of the French gastronomic world.
You can generate almost every secondary sauce based on one of the six French mother sauces. Before venturing into the diverse world of petites sauces, let's build an overview picture about them via the following table:
| Daughter Sauces Type | Key Ingredients | Main Flavors | Pairing Dishes |
| --- | --- | --- | --- |
| Demi-Glace | Brown stock, Espagnole | Meaty, extremely rich | Soups, stews |
| Beurre Blanc | White wine, butter, shallots, lemon juice, vinegar | Sweet, tangy, creamy | Poached or grilled fish dishes |
| Pistou Sauce | Olive oil, garlic, salt, basil leaves | Earthy, garlic-like | Poultry and grilled fish dishes |
| Rémoulade Sauce | Dill relish, garlic, pepper,lemon juice, ketchup, Creole mustard | Creamy, tangy, acidic | Beef, meal dishes, seafood entrees |
| Béarnaise Sauce | Shallots, tarragon, peppercorns, egg yolks, | Velvety, fragrant, creamy | Red meat dishes, grilled fish, poached eggs |
| Tartar Sauce | Fresh dill, Dijon mustard, pickle juice, lemon juice, | Spicy, mildly tangy | Fried seafood dishes, breaded meals |
| Rouille Sauce | Garlic, vinegar, saffron, chili powder, olive oil, white bread, egg yolks | Spicy, creamy, garlic-like | Fish and soup dishes |
| Mornay Sauce | Whole milk, butter, flour, pepper, nutmeg, grated cheese | Cheesy, velvety, creamy | Pastas, steamed veggies, chicken or fish dishes |
| Soubise Sauce | Butter, onion, heavy cream | Silky, thick, creamy | Veggies, eggs, fish, meats, pastas |
| Marchand De Vin | Demi-Glace sauce, shallots, dry red wine, salt, pepper | Rich, meaty | Steak dishes |
| Dijon Sauce | Dijon mustard, Hollandaise sauce | Buttery, sharp, tangy | Veggies, chicken and seafood dishes |
| Choron Sauce | Tomato coulis, Béarnaise sauce | Sweet, rich, fragrant | Steak, poultry, eggs, veggies |
| Maltaise Sauce | Blood orange juice, Hollandaise sauce | Fruity, zesty, sweet | Eggs Florentine, veggies |
| Aioli | Garlic, lemon juice, salt, Dijon mustard, Mayonnaise sauce | Garlic-like, tangy | Steamed veggies, poached codfish |
TOTAL TIME: 1 day, 6 hours, and 30 minutes (Prep TIme: 30 minutes + Cook Time: 1 day and 6 hours)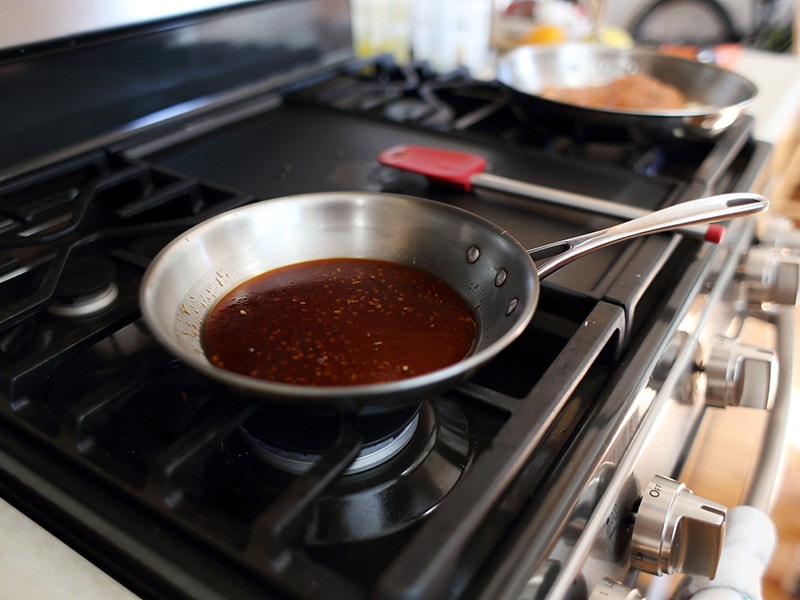 If you want to get the same outcomes as restaurants, you must utilize the same ingredients. Demi-Glace is one of them! This thick brown sauce is famous in French cuisine, featuring a mixture of brown stock and Espagnole sauce.
The key for a successful sauce render is to cook it for an extended period until it has decreased by half in volume, thus giving rise to the term Demi-Glace (half glaze).
Nowadays, this savory sauce is mainly used to dress meats or flavor a variety of soups and stews.
TOTAL TIME: 30 minutes (Prep Time: 10 minutes + Cook Time: 20 minutes)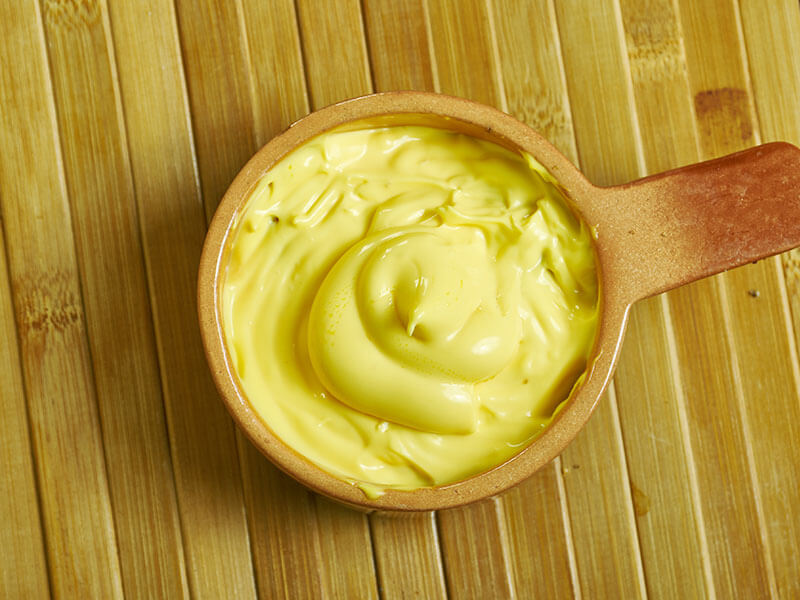 Also known as the Beurre Nantais, this thick, rich, creamy sauce is the product of mainly combining unsalted butter, white wine, shallots, lemon juice, and vinegar. It has a somewhat sweet, tangy taste that complements poached fish, shellfish, and asparagus.
Among many legends about its origins, the most prevalent one claims that it was the 20th-century invention of cook Clémence Lefeuvre in a little French town called Nantes when she forgot to add eggs to the Béarnaise sauce during her making of a fish dish.
This absence of egg yolks marks not only the invention of Beurre Blanc but also determines the distinction between it and the traditional Hollandaise.
This adaptable sauce became increasingly popular in the 1960s and 1970s by French cooks seeking to brighten their meals with tart sauces rather than those roux-heavy ones.
You should serve Beurre Blanc warm with poached or grilled fish like pike, salmon, or cod. Additionally, it also comprehends grilled shellfish like shrimp, crab, and lobster. This hot butter sauce melts slowly to enable the flavors to mingle in your mouth.
The absence of egg yolks from Hollandaise generates the delectable, yellowish Beurre Blanc.
TOTAL TIME: 5 minutes (Prep Time: 5 minutes)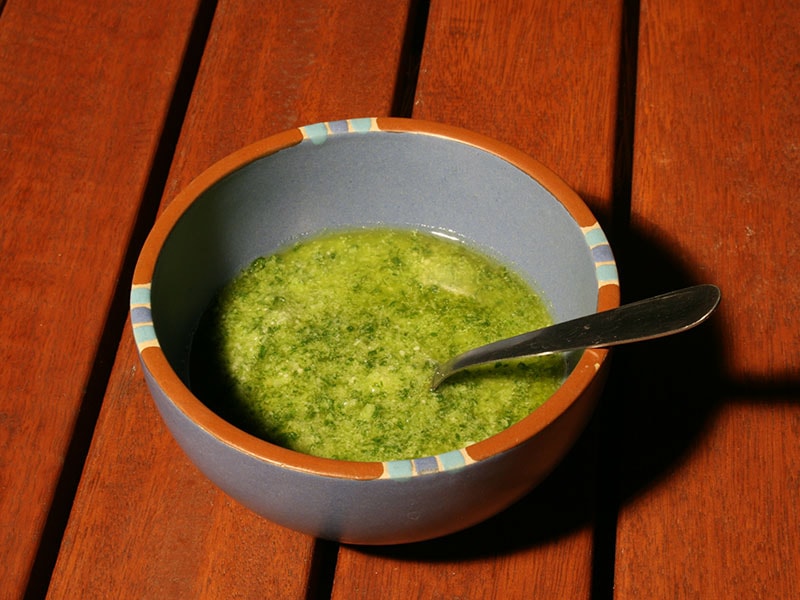 Pistou is the original French cousin of pesto, an Italian sauce from the Liguria area featuring pine nuts. However, do not expect to find any pine nuts in Pistou, as this paste comprises mainly basil leaves, minced garlic cloves, salt, and olive oil.
This famous cold sauce's name derives from a Provencal term for "crushed", indicating the best method to generate it is by smashing the mixed components in a mortar and pestle it until a smooth texture emerges.
The most well-known application of this sauce is in Pistou Soup, a French dish made with various garden vegetables. Besides, Pistou is also beneficial as a spaghetti sauce or as a complement to poultry and grilled fish dishes.
Pistou is an excellent alternative for anyone with food restrictions who like to experience the classic pesto's tastes. It is silky, aromatic, and remarkably resembles its Italian equivalent.
TOTAL TIME: 20 minutes.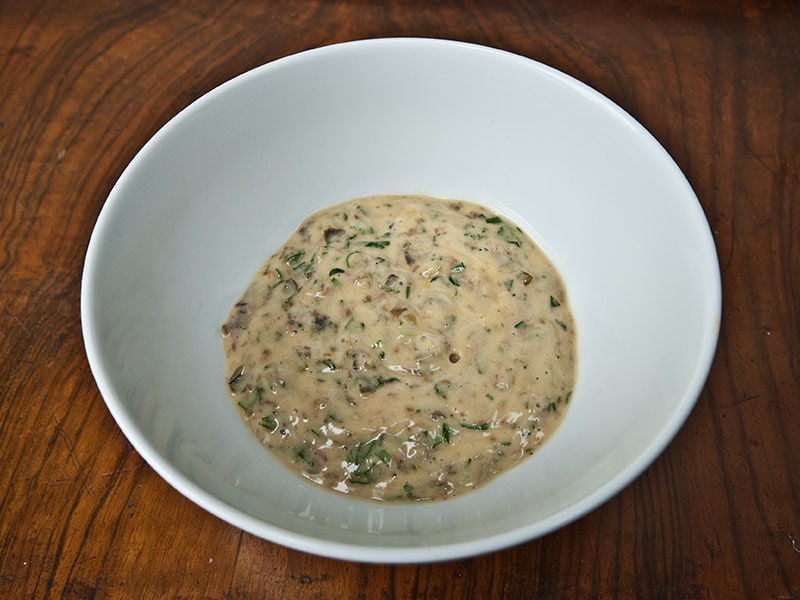 Best known in France as the dressing for Céleri Rémoulade – a simple celery root salad, Rémoulade sauce is typically made by combining Mayonnaise with minced garlic, lemon juice, black pepper, dill relish, ketchup, Creole mustard, and a few other seasonings.
The sauce's moniker derives from the French word "remolat", which means "horseradish" in the Picardy dialect since the original form of the dressing may include the fiery root.
What elevates this simple sauce recipe to new heights is the use of dill relish. It imparts the sauce with the proper texture and a hint of crunch, making it ideal for topping practically any dish.
While this creamy, tangy element was initially served as a sauce to accompany beef and chicken meals, it is now considerably more often eaten over seafood entrees, thanks to its sharp and acidic undertones.
TOTAL TIME: 8 minutes (Prep Time: 5 minutes + Cook Time: 3 minutes)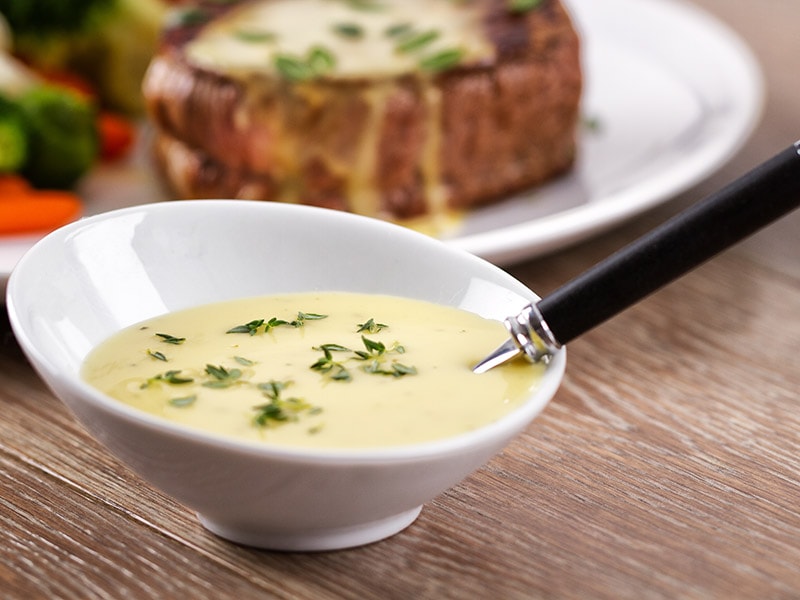 Béarnaise is a velvety, buttery, and fragrant sauce that features a creamy emulsion of egg yolks, diced shallots, chopped tarragon, and crushed peppercorns. Descended from Hollandaise, this traditional French sauce is light yellow in color, smooth and creamy in texture.
The sauce made its debut on the menu of Le Pavillon Henry IV in 1836 by a head chef named Jean Louis Francois Collinet.
People believe its name is based on the Béarn area, where French King Henry IV was descended from the ancient sovereign principality.
Béarnaise sauce pairs well with a beautiful piece of red meat, such as prime rib or lamb, that has been grilled, baked, or charbroiled. It also beautifully complements other dishes such as grilled fish and poached eggs.
TOTAL TIME: 5 minutes.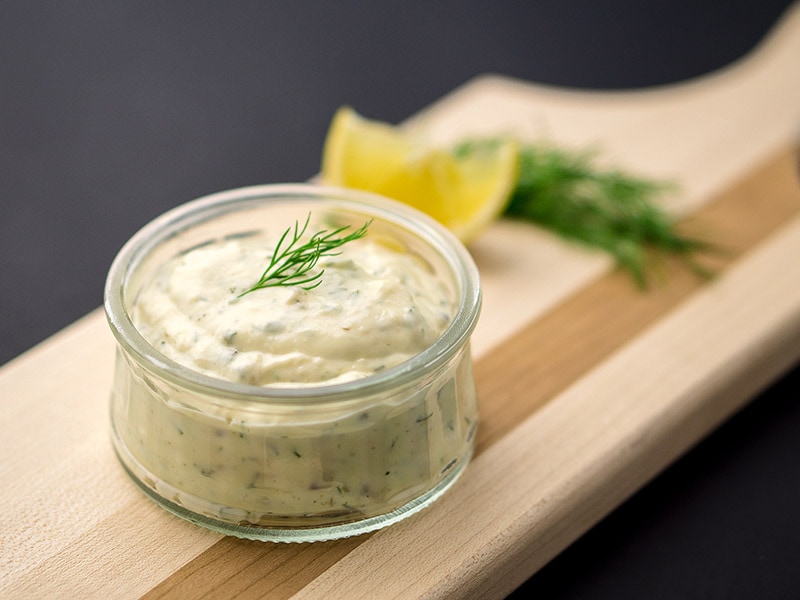 Tartar is a Mayonnaise-based sauce created with Dijon mustard, lemon juice, pickle juice, fresh dill, and a few additional flavors. It is a gentler relative of Rémoulade sauce with a spicy flavor.
Although the sauce is named after the Tatars, a Turkic-speaking ethnic group in Central Asia, it has nothing to do with the location or people. The name is most likely a reference to the sauce's abrasive texture, which matches the Tatars' reputation for savage conduct.
This recipe is so easy to pull off that the only caution I have is that you should allow some rest time for the flavors to meld. Otherwise, you will end up with Pickle Mayo, which is also great but will lack the Tartar sauce flavor.
Tartar sauce pairs brilliantly with fried seafood like shrimp, oysters, and fish fingers. Plus, it is an excellent accompaniment to breaded meals.
TOTAL TIME: 16 minutes (Prep Time: 15 minutes + Cook Time: 1 minute)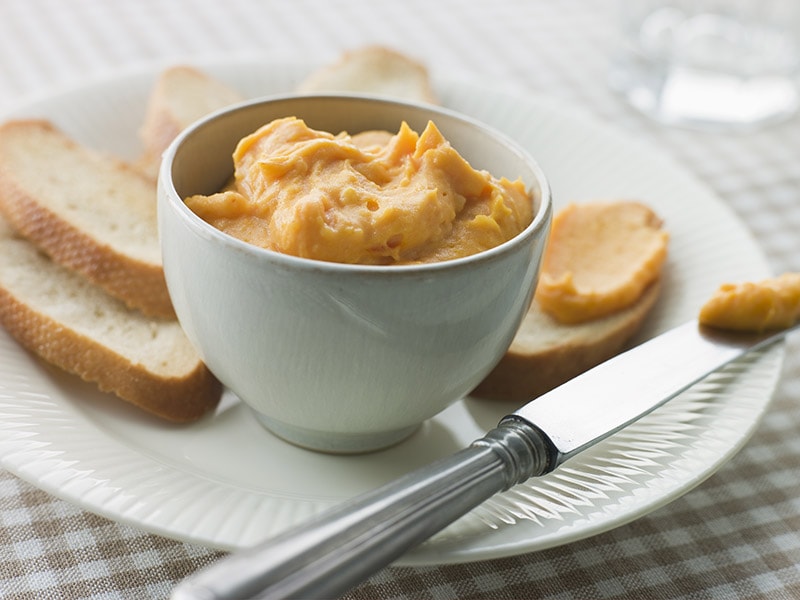 Rouille is a thick French sauce whose name translates as "rust", which indicates the sauce's strong, reddish-brown hue. It is a popular garnish for fish and soup dishes, most notably Bouillabaisse – the renowned traditional Provencal fish stew.
The sauce is made with vinegar, garlic, saffron, chili powder, olive oil, white bread, and egg yolks. It is a creamy, spicy, garlic-infused sauce whose flavor falls between Aioli (a Southern French cold garlic sauce) and Romesco (a Spanish tomato-based sauce).
Although its origin is unclear, the sauce must have existed alongside the contemporary Bouillabaisse since the late 18th century.
Besides Bouillabaisse, it may also be eaten as a sauce with meat, grilled fish, or potatoes. Rouille also pairs well with finger foods, from French fries and Charcuterie (a French collection of fancy cured meats) to Escargot (French cooked snails).
Nothing gets close to the simplicity of making Rouille sauce.
TOTAL TIME: 30 minutes (Prep Time: 15 minutes + Cook Time: 15 minutes)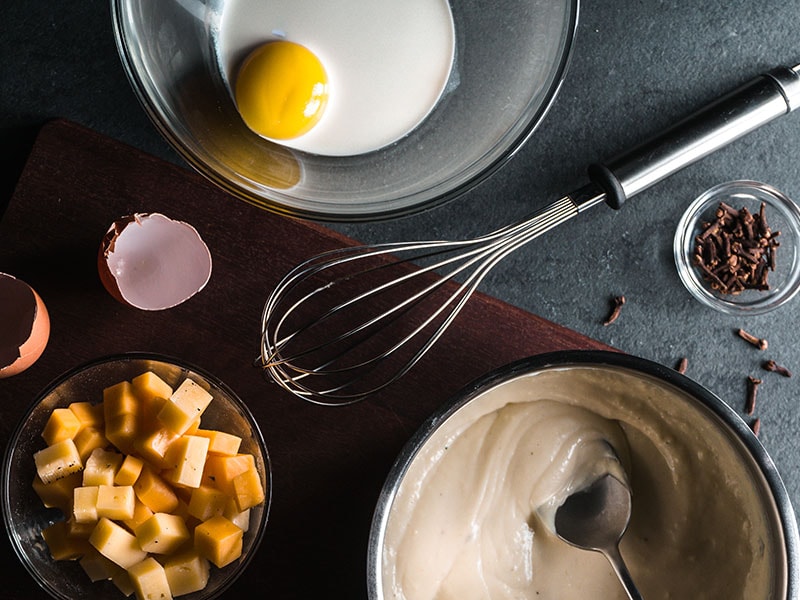 Essentially, Mornay is a Béchamel sauce fortified with various French cheeses such as Gruyère. Sometimes, Parmesan is also applicable. This familiar sauce is the perfect complement to Au Gratin dishes and homemade Mac and Cheese.
Additionally, it pairs nicely with pasta and steamed vegetables. You can also mix a spoon of Mornay into your chicken or fish meals.
Interestingly, it is worth noting that Mornay sauce was invented before Béchamel. Many people believe it was created in the late 16th century by Duke Philippe De Mornay.
Having this Béchamel variant in your culinary arsenal will quickly elevate your cooking game. Even better, this delectable sauce is quite simple to prepare.
TOTAL TIME: 30 minutes (Prep Time: 5 minutes + Cook Time: 25 minutes)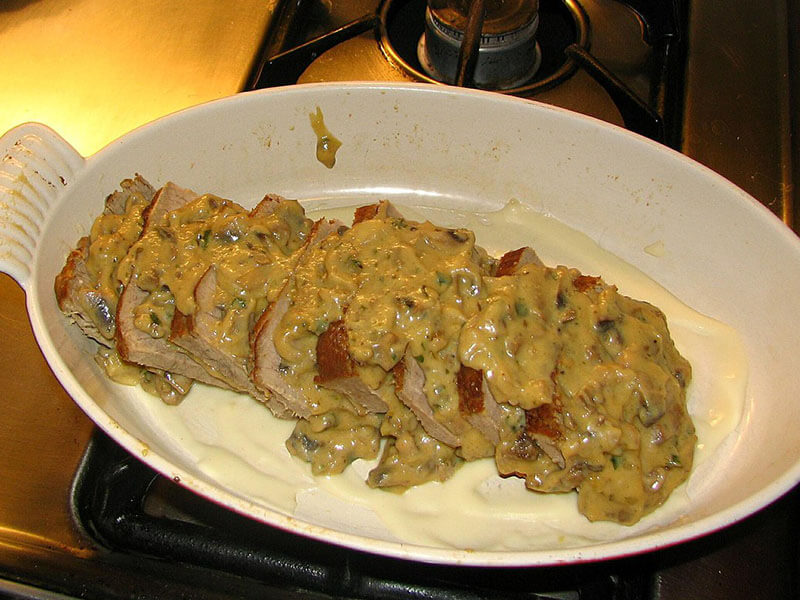 Soubise sauce is another delectable variation of Béchamel whose ingredients include onions, unsalted butter, and heavy cream. As a result, the sauce is silky and thick, making it a wonderful complement to vegetables, eggs, fish, and meats.
According to legend, this thick sauce is named after Charles De Rohan, Prince of Soubise. It also received the title of "the best onion sauce variety" from Eliza Acton, an English culinary writer.
If you plan to make a casserole or a spaghetti meal with penne pasta, count Soubise sauce in. It makes a brilliant basis for both dishes, guaranteeing you the yummiest taste.
TOTAL TIME: 25 minutes (Prep Time: 5 minutes + Cook Time: 20 minutes)
Marchand De Vin (wine merchant) is a traditional red wine reduction sauce most often associated with French steak dishes.
The sauce is prepared by reducing dry red wine and chopped shallots, then boiling them in a simple Demi-Glace and seasoned with black pepper and kosher salt.
For that reason, this sauce is considered a daughter of Espagnole in traditional French cuisine. Espagnole is the base for creating Demi-Glace, which is an essential ingredient in generating Marchand De Vin.
You should not confuse Marchand De Vin with other red wine reduction sauces often used in French cuisine. The two most popular kinds of such sauces are Bordelaise (Bordeaux wine, veal stock, beef marrow) and Bourguignonne (Burgundy wine, mushrooms).
In comparison to its nearest siblings, the finest wine for a Marchand De Vin sauce is one with soft tannins, such as Merlot or Pinot Noir.
Marchand De Vin is a traditional red wine reduction sauce most often associated with French steak dishes.
TOTAL TIME: 13 minutes (Prep Time: 5 minutes + Cook Time: 8 minutes)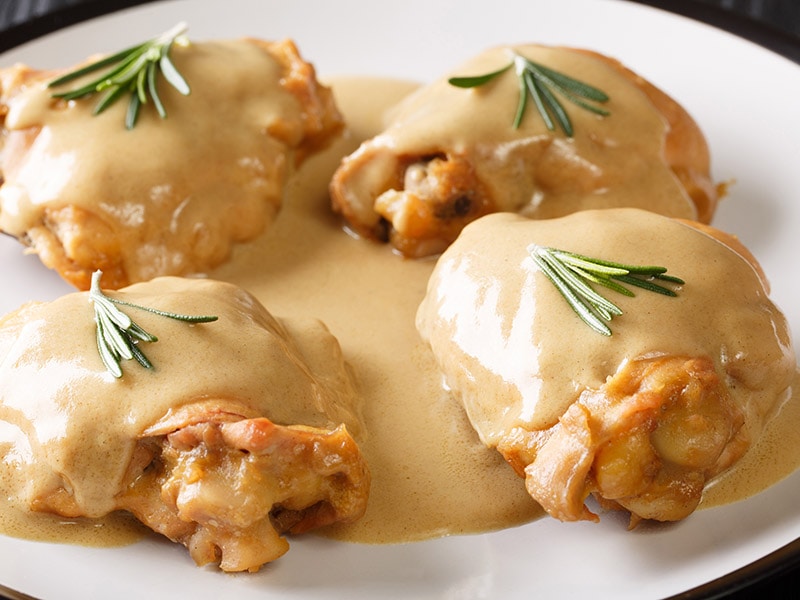 By adding Dijon mustard to the classic Hollandaise, you achieve this buttery variant named Dijon sauce. This daughter sauce imparts a pleasant spice to its mother sauce, which will infuse fantastic flavor depth into your delicious meals.
Every dish Dijon sauce touches gains extra elegance and sophistication as if it belongs to a royal dining table. Such a description may fool you into believing the sauce is challenging to pull off. Yet, it is far from the truth.
This creamy Dijon sauce is quick and easy to make, requiring less than 15 minutes to make from scratch. It is a favorite item for pairing with French chicken meals, veggies, and seafood for an added flavor boost.
TOTAL TIME: 35 minutes.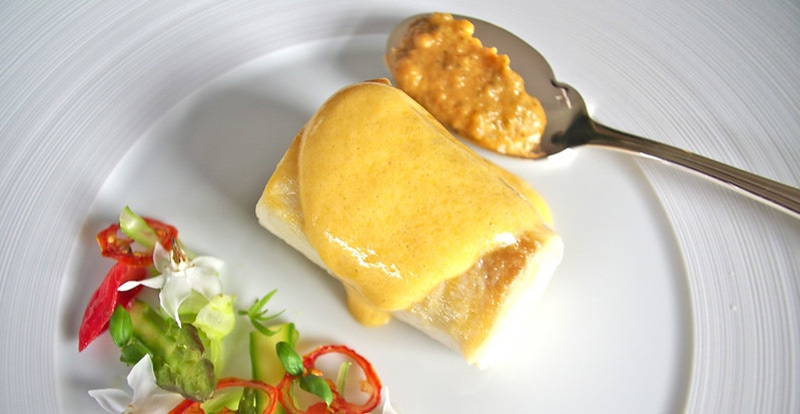 While most of us are aware that Béarnaise is a derivative sauce based on Hollandaise, not many people know its other offspring: Choron sauce.
Choron is just Béarnaise sauce with tomato coulis added, but tomato provides more than just the color. It imparts a tomatoey sweetness similar to what ketchup imparts to Mayonnaise when making Russian dressing.
That is an excellent way to think about Choron. It is similar to a nicer, more warming version of Russian dressing. And the sauce is a fantastic accompanion to steak, poultry, eggs, and veggies.
TOTAL TIME: 15 minutes.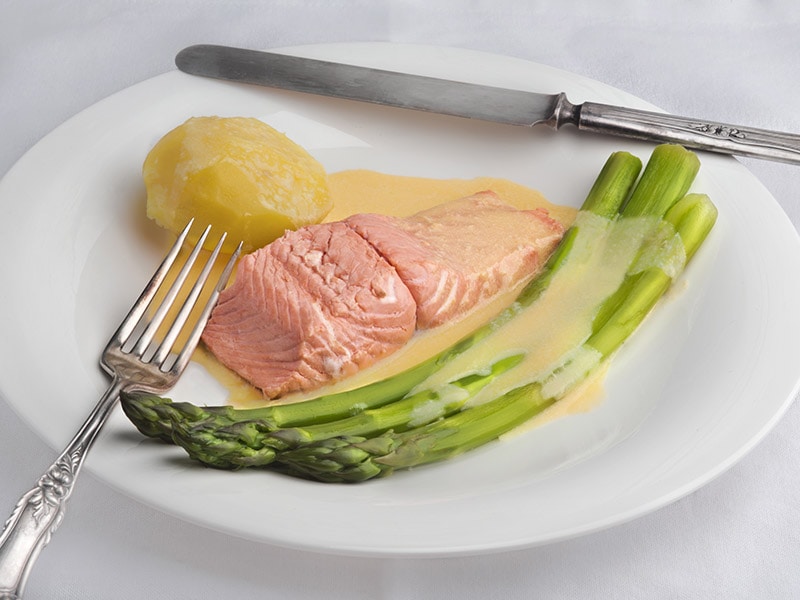 Also known as Blood Orange Hollandaise, Maltaise is a traditional French sauce that combines blood orange juice with a basic Hollandaise. The result is somewhat sweeter than its mother sauce.
By incorporating blood oranges into the recipe, you can achieve a unique hue for your sauce. However, if you are unable to get your hands on the fruit, you may substitute normal oranges.
Maltaise sauce will give your next Eggs Florentine a fruity and zesty touch. It is also a great accompaniment for cooked vegetables like asparagus or broccoli.
TOTAL TIME: 15 minutes.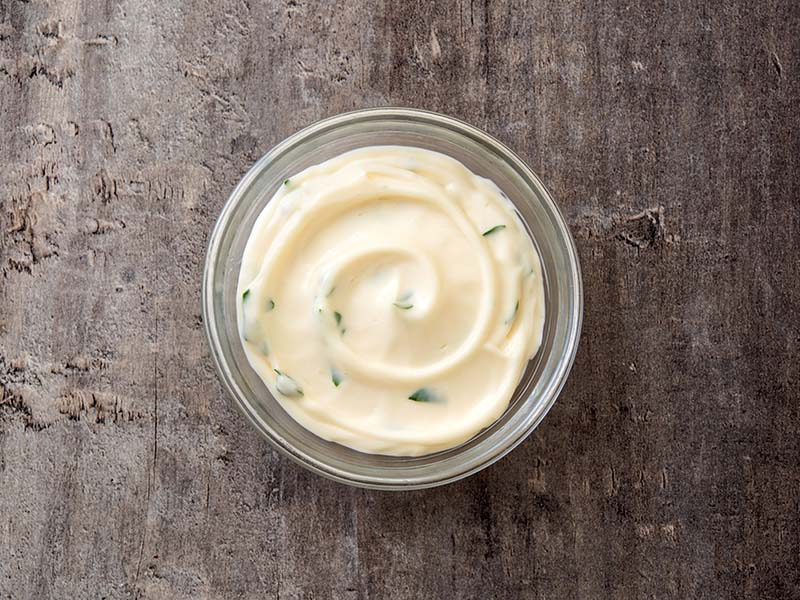 For garlic enthusiasts, Aioli sauce from Provence is all you need. It is one of the tangiest sauces in French cuisine that you can craft effortlessly at home.
Aioli calls for garlic cloves, lemon juice, salt, Dijon mustard, and Mayonnaise. To me, Aioli is fairly comparable to Mayonnaise but with more garlic. Since the term "aioli" translates as "oil with garlic", you can easily understand how vital garlic is in this sauce.
Whenever Mayonnaise is applicable, Aioli can be a proper substitution. In general, this refined condiment pairs well with steamed or poached codfish. It can also serve steamed vegetables, such as carrots, potatoes, asparagus, or other seasonal greens.
I should warn you that a true French Aioli has a robust garlic flavor. Therefore, consume it in moderation, as you do not want to stuff a spoonful of Aioli into your mouth.
If you want a milder garlic flavor but still want the sauce to have a bite, you may omit the garlic and replace it with a teaspoon of French Dijon mustard.
Let's learn to make this yummy Aioli sauce from scratch!
Become A Family Saucier With My "French Sauces" List!
The French sauces world comprises five mother sauces and an indefinite number of daughter varieties. Mastering the making of these sauces will hone your culinary abilities, giving you the title of family saucier!
Have you tried generating any of these indispensable elements at home? If yes, what are your experiences? Please share your voice in the comment section below so that there are more family sauciers in the community. For now, thank you for reading!
Nutrition Facts
8 servings per container
---
Amount Per ServingCalories98
% Daily Value *
Total Fat 6.5g

10

%
Cholesterol 15mg

5

%
Sodium 33mg

2

%
Potassium 127mg

4

%
Total Carbohydrate 7.3g

3

%

Dietary Fiber 0.5g

0

%
Sugars 4.2g

Protein 3g

6

%
---
* The % Daily Value tells you how much a nutrient in a serving of food contributes to a daily diet. 2,000 calories a day is used for general nutrition advice.