Eggs Cochon has been many Americans' favorite breakfast (or brunch). It combines poached eggs, pulled pork, biscuits, and sauce, creating a flavorful and fulfilling meal, let alone its deliciousness.
It is easy to find Eggs Cochon on the menu of many breakfast/brunch restaurants. But have you ever thought of making it by yourself at home?
Let me tell you some benefits of making food at home. Homecooked food is normally cheaper than restaurant food. Homemade meals are also a good way to bring the family together. Plus, you can control the portion easier, avoiding unnecessary food waste.
So are you ready to have some fun in your kitchen, like preparing Eggs Cochon for your family this weekend? If yes, follow me to explore the best recipe for this stunning and tasty dish.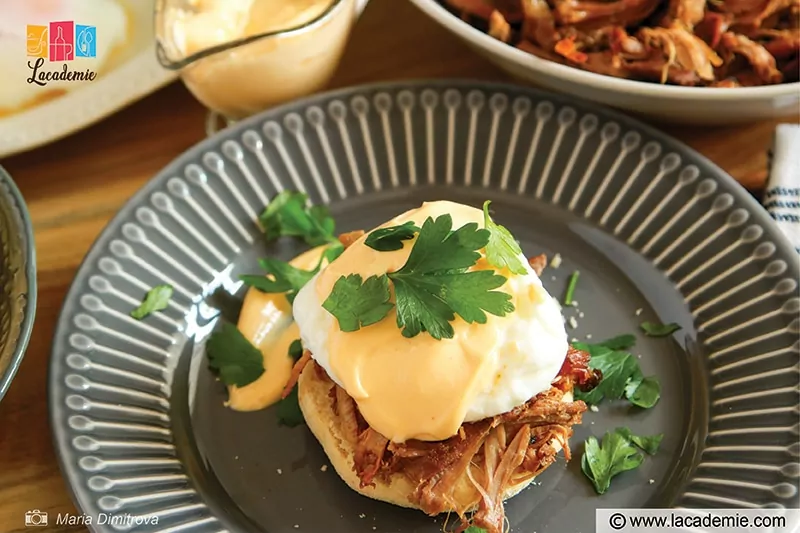 Have You Tried Eggs Cochon Before?
If you have not known Eggs Cochon before, this is a small sandwich dish made of fluffy buttermilk biscuits topped with flavorful Cajun pulled pork, a poached egg, and finished with Hollandaise sauce. Trust me! This combination can melt in your mouth!
Egg Cochon is a specialty of New Orleans. It is a perfect Sunday brunch dish or a special occasion breakfast.
In fact, Eggs Cochon is a yummy variation of Eggs Benedict that originated in New York. Therefore, these two delicacies share some similar ingredients, like poached eggs and Hollandaise sauce.
Moreover, Cochon de Lait is delicious pulled pork. It is prepared with a homemade spice rub that adds so much flavor to the meal. The meat is cooked by slow braising for hours until it begins to fall apart into small pieces.
Most of the components can be made in advance so that you don't have to work too much when you want to make this dish.
Here is an easy-to-follow guide for home making of this delicious Egg Cochon recipe.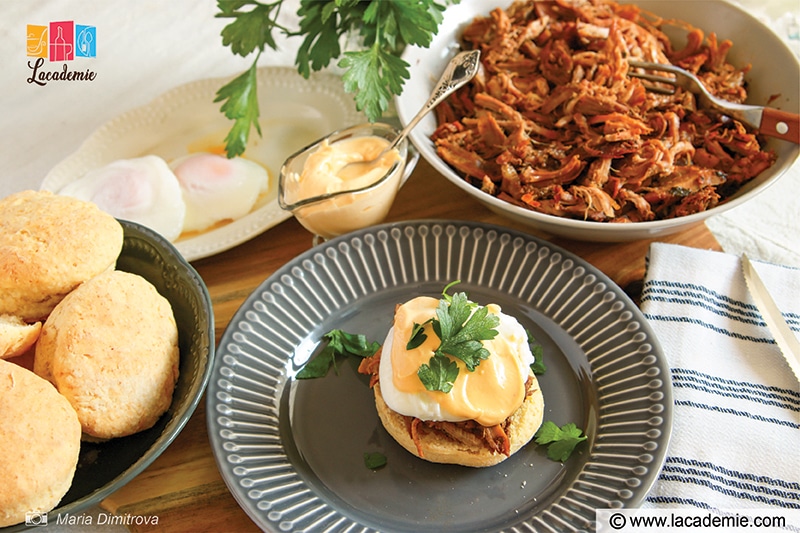 Tools And Ingredients
There are 4 main things to prepare in this recipe, including
Buttermilk biscuits
Cochon de Lait (Cajun pulled pork)
Poached eggs
Hollandaise sauce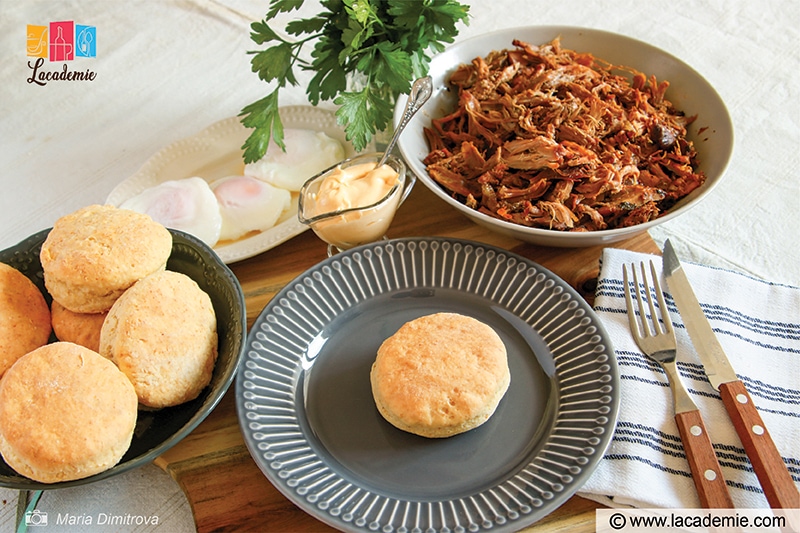 Different foods require different tools and ingredients to make. So you will need:
1. Buttermilk Biscuits
Egg Cochon is made with store-bought buttermilk biscuits, but you can also use English muffins or other types of bread, even waffles.
It is only important that the bread is covered with aromatic pulled pork and a poached egg, drizzled with Hollandaise sauce.
2. Cochon de Lait (Cajun Pulled Pork)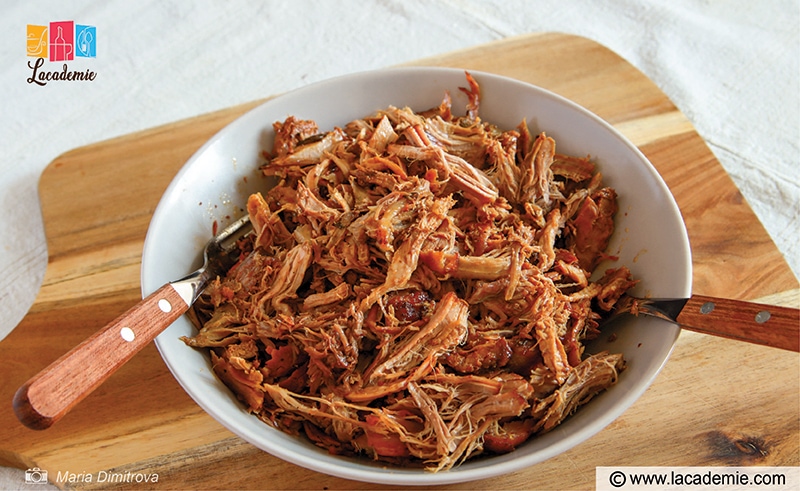 This flavorful Cajun pulled pork, prepared with a homemade spice rub, will easily become a family favorite for a Sunday meal. It can be cooked in an Instant Pot or a slow cooker, but I chose a more traditional method, roasting the meat in the oven with a ceramic casserole.
As it takes a few hours to cook, it is better to prepare it a day or two in advance.
Tools
What you should prepare to make Cajun pulled pork, including
Ceramic casserole
A large deep dish
Two forks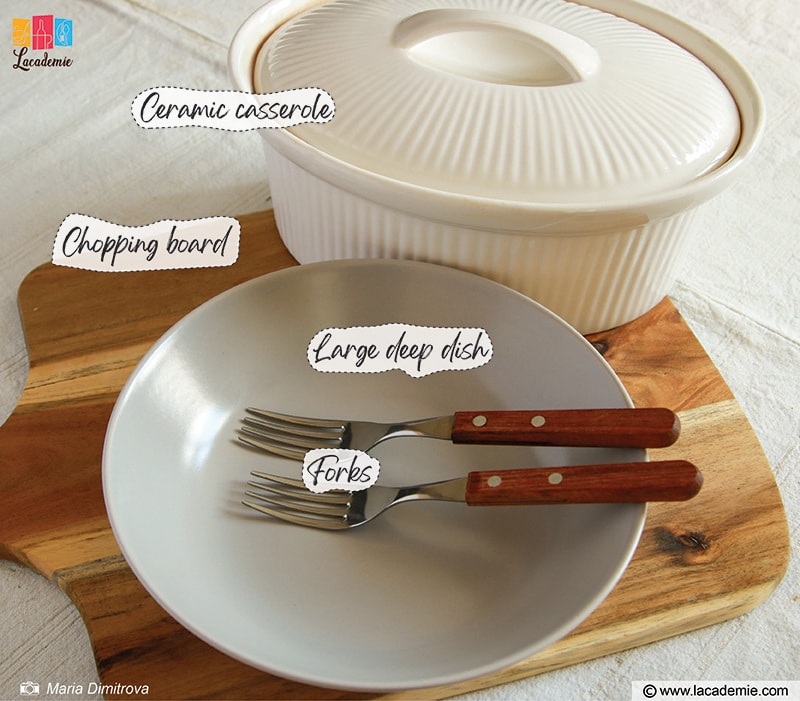 Ingredients For Cajun Pulled Pork
Pork – For this recipe, you will need a large piece of meat (around 1,200-1,300g) of pork leg or shoulder.
Garlic – Adding a few cloves of garlic to enhance the overall flavor.
Herbs and Spices – This recipe uses Creole seasoning, but you can make it yourself. It includes black pepper, dry oregano, dry thyme, paprika, basil, parsley, and salt.
Oil – Olive oil is the best choice, but you can use any mild-flavored oil you like.
Vinegar – Apple cider vinegar is the best option for this pulled pork recipe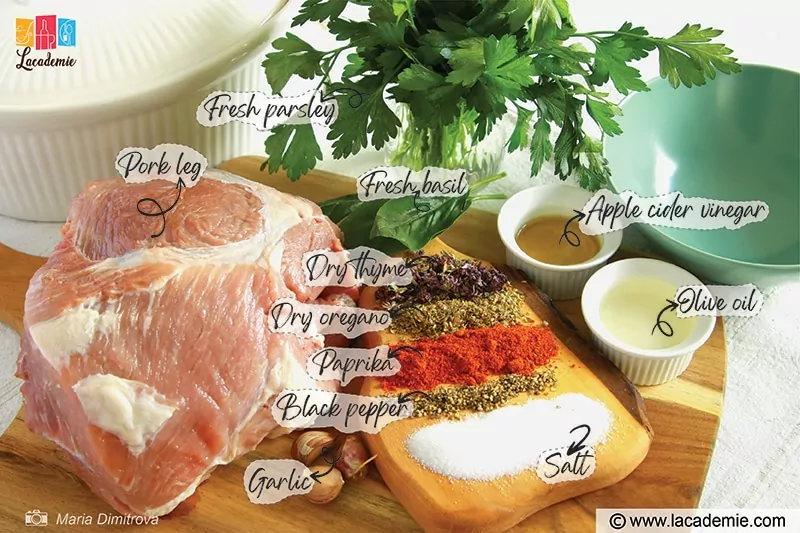 3. Poached Eggs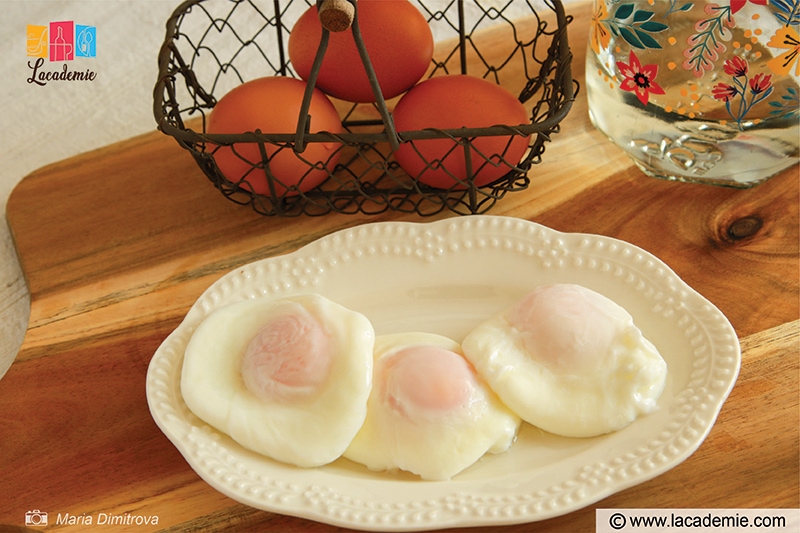 Poached eggs are important ingredients of the Eggs Cochon recipe, which must be prepared on the same day. Moreover, please remember: when you prepare it, the yolk still remains liquid, so it should not be left in the boiling water for more than 3 minutes.
Tools
What you should prepare to make this poached eggs recipe
Deep pot
Slotted spoon (or small strainer)
Two bowls
Three smaller bowls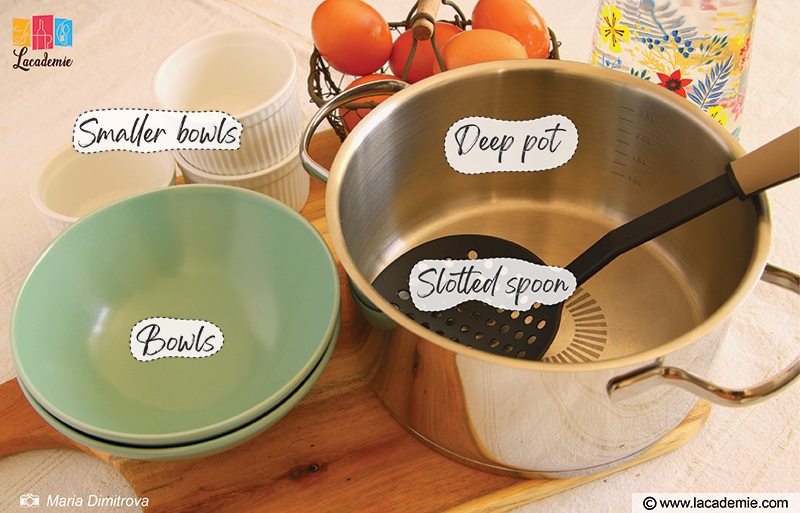 Ingredients For Poached eggs
Eggs – Only use fresh eggs because they can form a nice poached egg shape. Fresh eggs have firmer whites and simply hold their spherical shape better.
Vinegar – Adding one tablespoon of light-colored vinegar does not flavor the egg but helps keep the egg white together. You can use any kind of white vinegar, for example, apple cider vinegar.
Ice and cold water – With ice and cold water in a bowl, you can quickly cool the egg when you remove it from the boiling water. This will keep the egg yolk runny.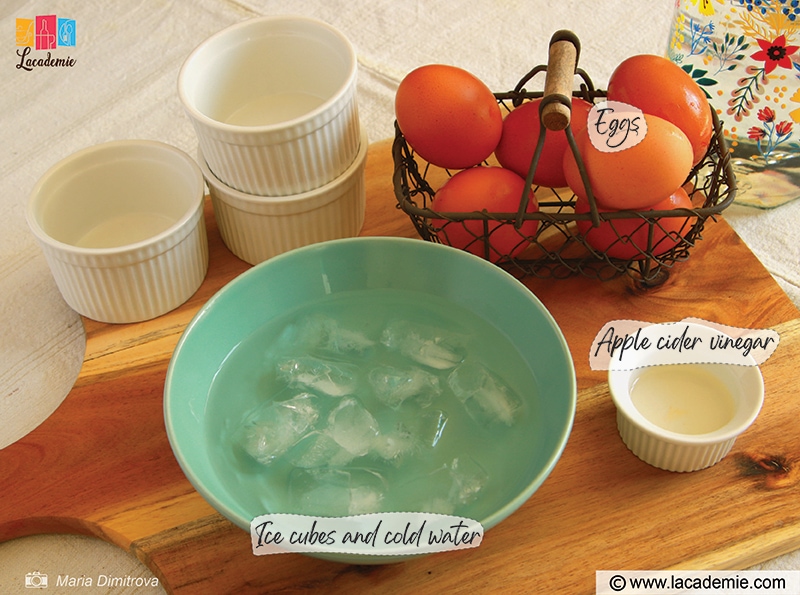 4. Hollandaise Sauce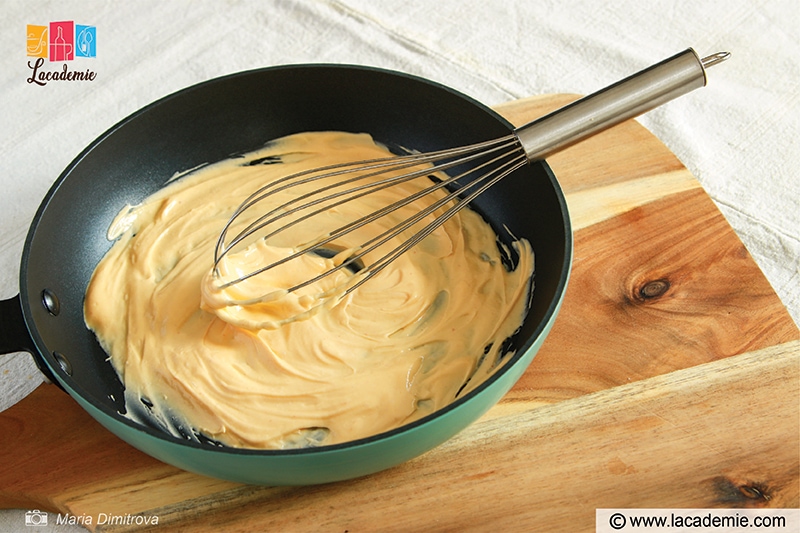 Hollandaise sauce is another component that must be prepared on the same day. This sauce is one of the five main French sauces, including egg yolks, lemon juice, butter, and water. These ingredients are cooked over low heat and whisked to form a creamy and thick sauce.
Tools
What you should prepare to make this Hollandaise sauce
Stovetop pan – medium size
Kitchen whisk
Two bowls
One small bowl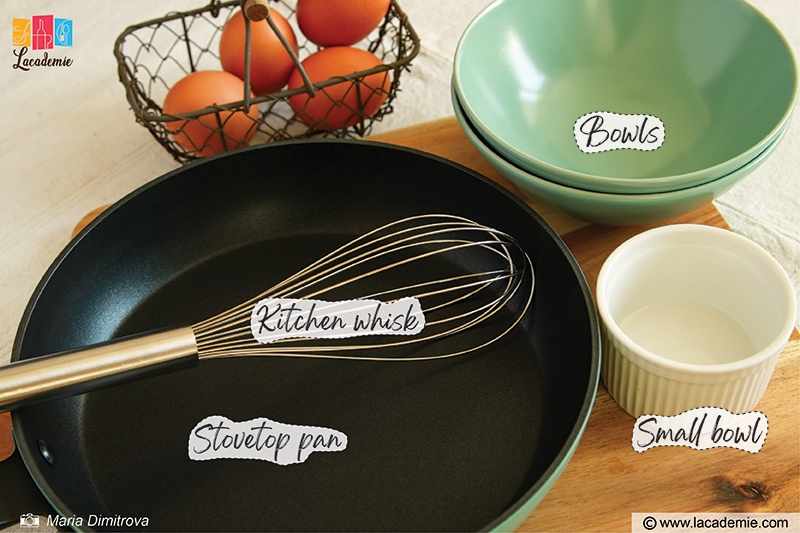 In the stovetop pan, you will prepare your Hollandaise sauce. Using the kitchen whisk, you will mix the products in one bowl, and you need the other bowl for the butter. In the small bowl, you will separate the egg yolks.
Ingredients For the Hollandaise Sauce
Eggs – Use only fresh eggs, preferably organic. Use the yolks only to thicken up the sauce better.
Butter – Unsalted butter is best for the sauce. This is a key ingredient to thicken the sauce so it can come out with a nice consistency.
Lemon – Use the fresh juice of a squeezed lemon. Lemon juice's acid content can help the egg yolks absorb butter's fat.
Dijon mustard – Dijon mustard adds a great flavor to the sauce.
Salt and Paprika – These spices will flavor the sauce. If you like the hot taste, add cayenne pepper instead of paprika.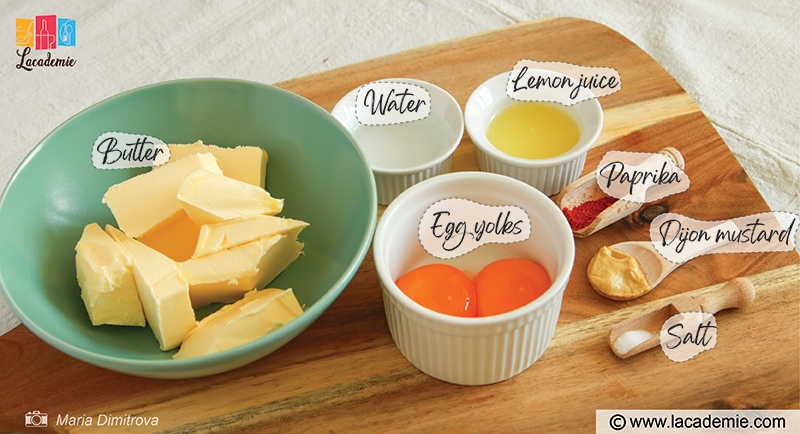 How To Make Eggs Cochon
Below are 3 main parts of making different foods, including Cajun pulled pork, poached eggs, and Hollandaise sauce.
1. For Making Cajun Pulled Pork
Step 1: Mix Ingredients (Except Pork)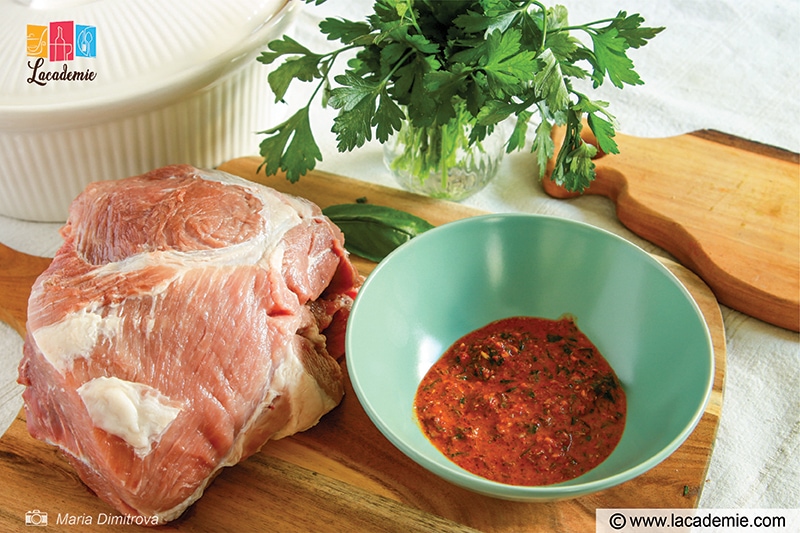 Mix all the dry spices together with the finely chopped garlic, parsley, and basil in a bowl. Add the apple cider vinegar as well as the olive oil.
To mix the ingredients well, you can use a food chopper. If you don't have one, just chop the garlic, parsley, and basil and mix everything well with a fork.
Step 2: Rub The Mixture Over Pork
Rub the spice mixture over the pork carefully (make sure it covers all the sides of the meat)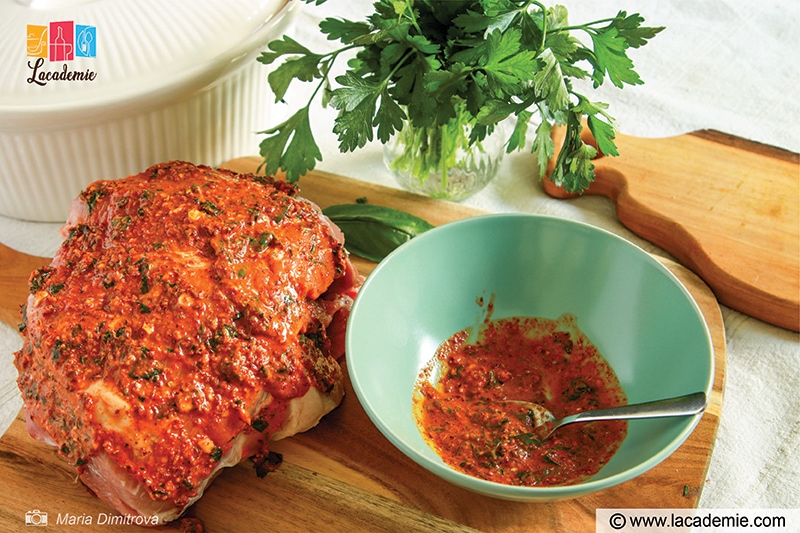 Step 3: Cook The Pork
Pour half a cup of water into the bottom of the ceramic casserole and place the pork on it. Cover a dish and cook it in the oven until the meat is very tender (about 5 hours), or until the pork is falling apart.
Step 4: Shred The Cooked Pork
Once cooked, shred the meat with two forks into bite-sized pieces to get this mouth-watering pulled meat. Toss well with the sauce left in the casserole. In this recipe, you only need 1 cup of shredded pork.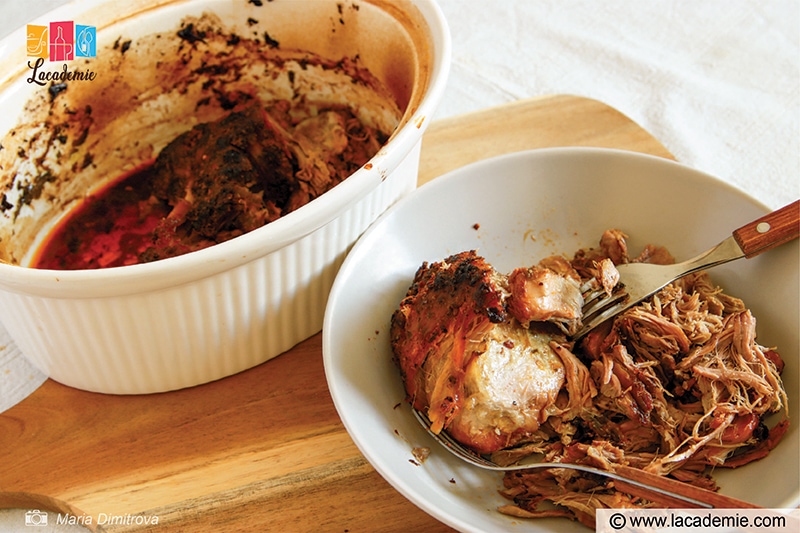 2. For Making Poached Eggs
Step 1: Boil Water In A Pot
Use a deep pot to boil water.
In the meantime, crack an egg into one of the large bowls and, using a slotted spoon, strain the egg from the liquid white. Transfer the egg to one of the small bowls. Repeat this for the remaining eggs.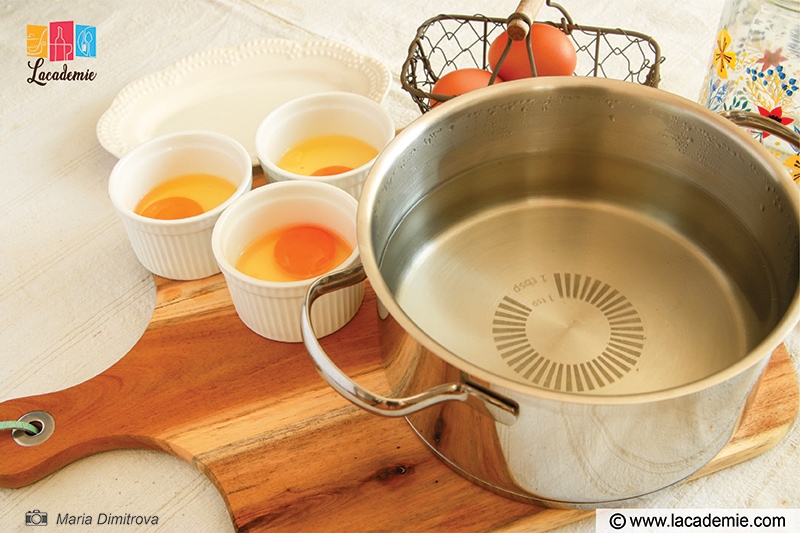 Step 2: Create A Vortex To Make Poached Eggs
Add vinegar to the boiled water, stir it to form a vortex.
Add one egg to the middle of the vortex and cook the egg for 3 minutes.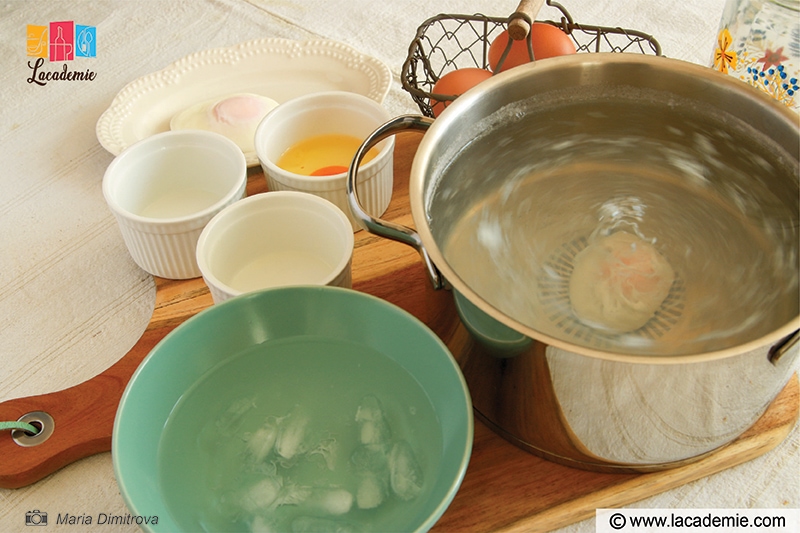 Step 3: Remove The Egg From A Pot
Use a slotted spoon to remove and transfer the poached egg to the ice and cold water bowl. Please leave it in the bowl for a few seconds, then remove and serve.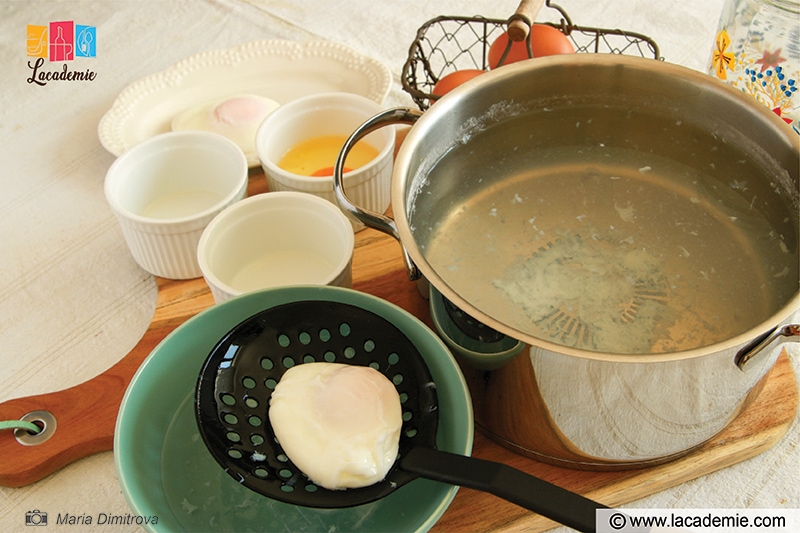 Step 4: Repeat The Same Process
Repeat steps 2 and 3 for the remaining eggs.
3. How to Make Hollandaise Sauce
Step 1: Separate Egg Yolks
First, you need to separate the yolks from the eggs – add the yolks to a small bowl and save the whites for another recipe.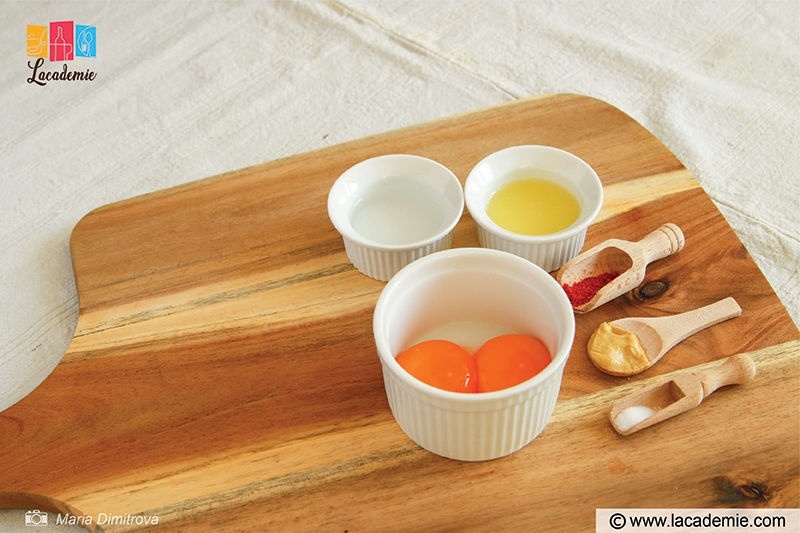 In one of the larger bowls, place the separated egg yolks and add the water, lemon juice, Dijon mustard, salt, and paprika and whisk together until well combined.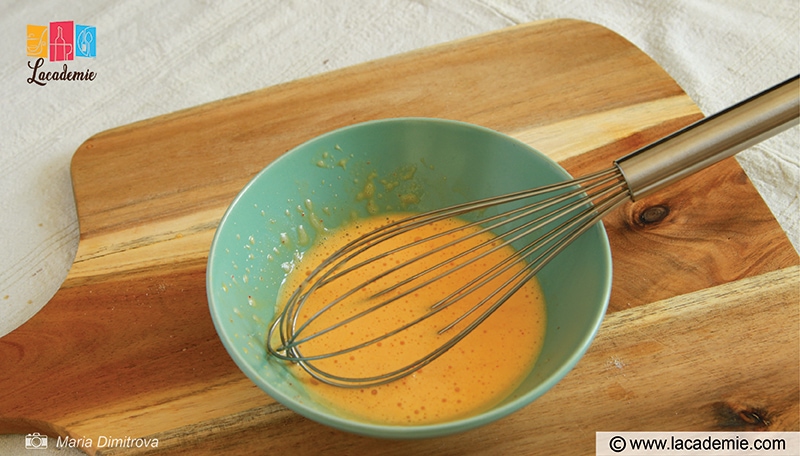 Step 2: Cook It On Stovetop With Other Ingredients
Transfer the mixture to the stovetop pan and add the melted butter.
Place stovetop pan over medium-low heat, whisking the sauce vigorously until the melted butter creates a frothy mixture. Keep whisking the sauce until it lightens in color.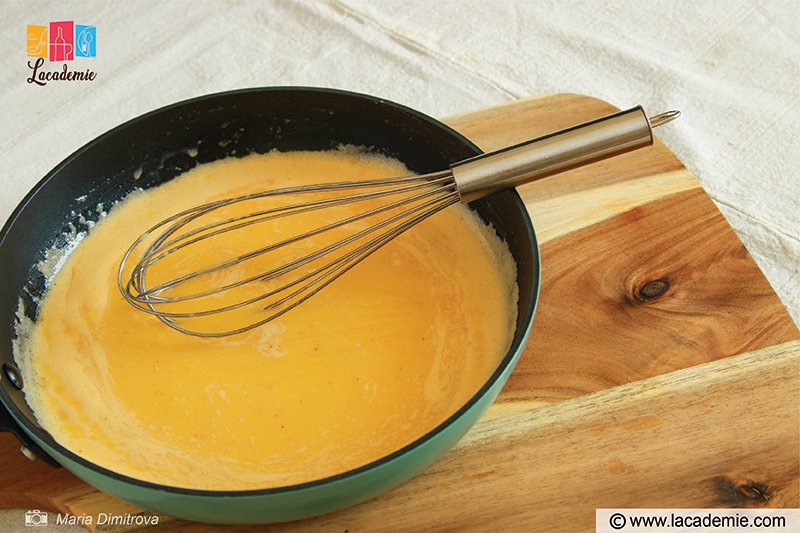 Step 3: Turn Off The Heat Once The Sauce Is Thickened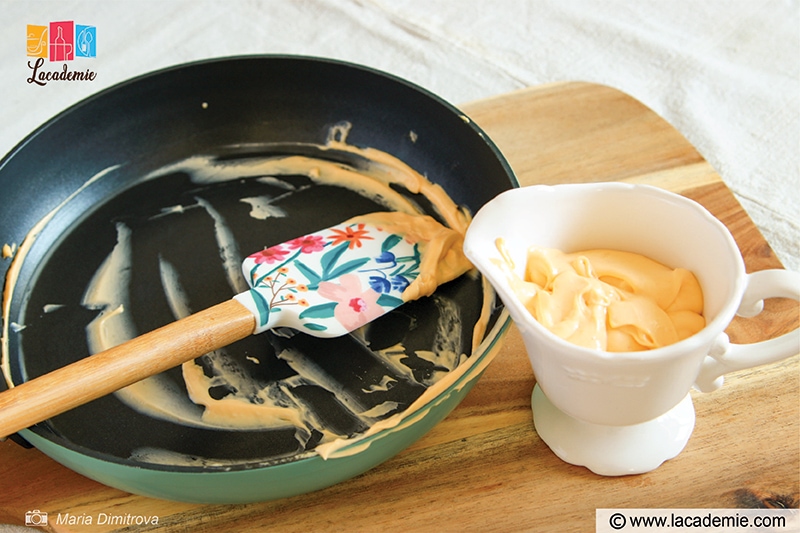 Remove it from the heat right away once the sauce is thickened.
Extra Tips
I hope these extra notes will help you achieve the best Eggs Cochon home.
For Cajun Pulled Pork
A ceramic and deep casserole is ideal to slow-roast the meat in the oven. With the help of a deep dish, you can easily shred the meat right from the casserole dish.
For Poached Eggs
The poached egg is easier to prepare if the pot is deeper. The pot, with a capacity of 2.5 – 3 liters, is a good option. On the other hand, you can use a small strainer to drain the liquid part of the egg if you do not have a slotted spoon.
You also need several bowls in different sizes to store the eggs separately. In the small bowls, you will place the already drained eggs.
One large bowl is used to strain the eggs. You also need to prepare another big bowl to chill the eggs by filling the bowl with ice and cold water so that you can quickly chill the egg when you remove it from the boiling water. This trick will keep the yolk runny.
For The Hollandaise Sauce
The above instruction is the traditional method of making the sauce. A quicker and easier method is to put all the ingredients (except the butter) in a blender until they are blended. Then slowly add the heated butter, and blend them until you have a thick sauce.
You can use different methods to make Hollandaise sauce. The important thing is that at the end, you have a thick and light-colored sauce for your Egg Cochon.
Instructions For Serving Eggs Cochon
You now have all the components you need to make Egg Cochon. It's time to put them together to serve this delicious dish.
Step 1: Warm Biscuits And Pulled Pork
As biscuits are store-bought ones and pulled pork can be made in advance, you need to reheat them before combining them with other foods.
Step 2: Assemble Components
Once you have poached eggs and Hollandaise sauce, start assembling the Eggs Cochon. Cut one buttermilk biscuit in half. On each half, place pulled pork, a poached egg on top, and drizzle with hollandaise sauce, respectively.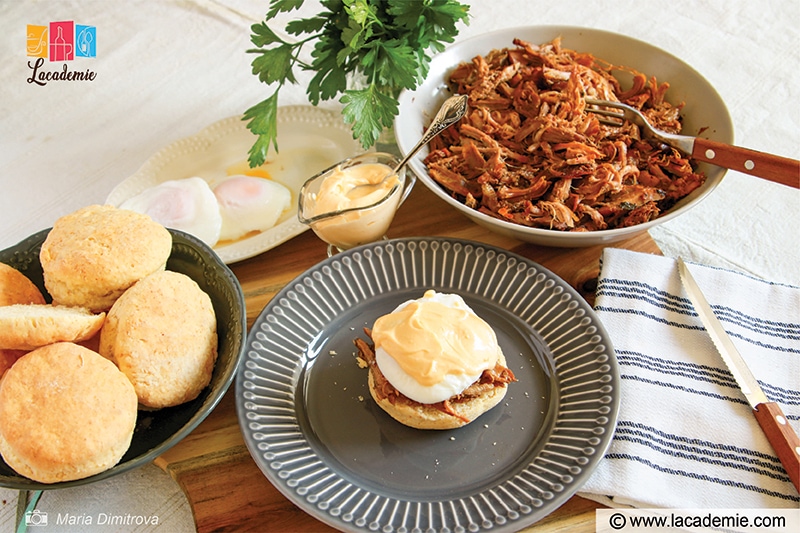 Step 3: Garnish Your Dish
You can sprinkle parsley on top to make your Eggs Cochon more colorful and attractive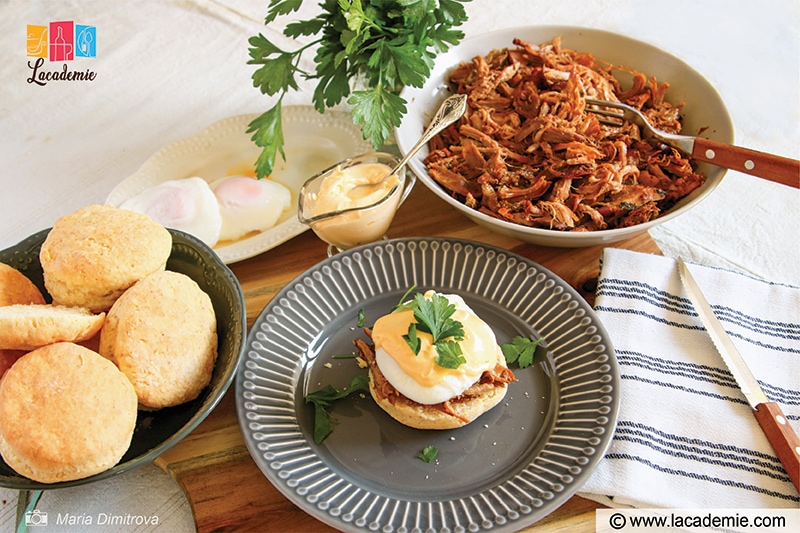 Looking For A Perfect Sunday Breakfast? Eggs Cochon Is A Good Choice!
Indeed, Eggs Cochon is not a simple dish you can prepare every day, but it is perfect for a special weekend or occasion with your family and friends. So if you want to upgrade your cooking skill and breakfast/brunch menu, nothing can beat this delicacy.
Finally, I hope you will have the best time gathering with your beloved people and nice food, like this Eggs Cochon. Last but not least, please share your experience in making it and tell me how much you love it. I'd love to hear from you!
Thank you, and have a good day!
Nutrition Facts
3 servings per container
---
Amount Per ServingCalories610
% Daily Value *
Total Fat 56.8g

87

%
Cholesterol 427mg

143

%
Sodium 1492mg

63

%
Potassium 373mg

11

%
Total Carbohydrate 4.7g

2

%

Dietary Fiber 1.6g

4

%
Sugars 0.9g

Protein 21.8g

42

%
---
Calcium

100

%
Iron

4

%
Vitamin D

49

%
* The % Daily Value tells you how much a nutrient in a serving of food contributes to a daily diet. 2,000 calories a day is used for general nutrition advice.