If you are trying to lose weight, these weight watchers air fryer recipes won't disappoint you to the last bite. An air fryer is a convenient gadget that you should own in the kitchen. It makes your weight watcher diet more tempting and delicious.
Besides, the following recipes have several benefits that you might be interested in. These air fryer dishes can replace all greasy deep-fried foods with more healthful alternatives but still have a yummy taste.
These dishes are perfect for family gatherings, parties, or meals of the day. So now, what are you waiting for? Let's jump right in!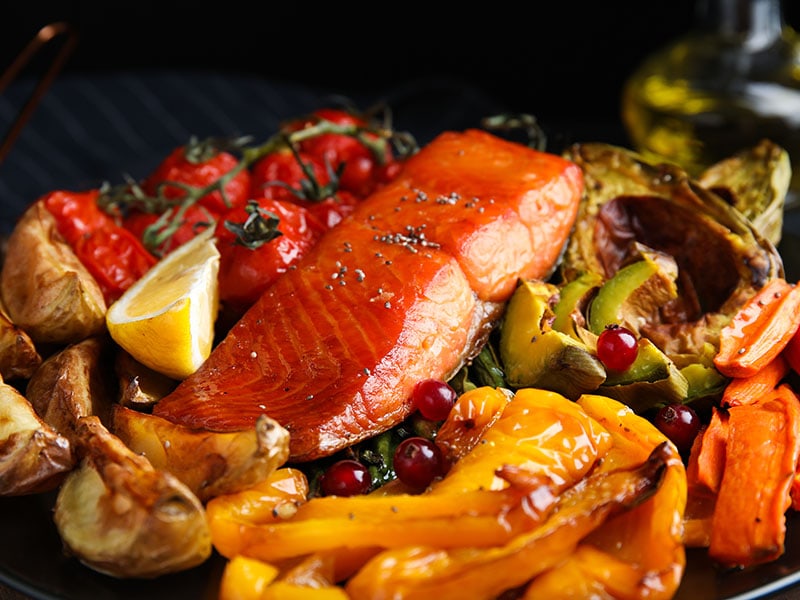 These 26 Weight Watchers Air Fryer Recipes Are Heavenly Delicious
Below you will achieve more than 25 weight watchers ideas for breakfast, brunch, dinner, dessert, and snacks. You can apply these for 26 days in a row without the fear of health problems.
Total time: 15 minutes
You might be surprised to know that these bagels require only three main ingredients: self-rising flour, egg wash, and Greek yogurt. These soft, tender, and fluffy bagels will steal your heart within 15 minutes.
Well, the important element here is Greek yogurt. The bagels will have a beautiful and proper form, thanks to their thickness. Also, remember to notice the texture of these bagels. If it is too soggy, you can add more flour. And adding more yogurt if it has a firm touch.
For preservation, the donuts can last for 3 days in the fridge and 3 months in the freezer. When you crave some, just leave them in the microwave for reheating.
Easy and basic weight watchers bagels yet still taste wonderful!
Total time: 30 minutes
Now I will introduce the Mexico-style side dish idea using an air fryer: Jicama fries. This recipe contains only 76 calories and will offer you a great appetizer before the main dishes appear on the table.
Jicama originated in Mexico and Central America. It has fewer carbs than a potato and provides you with a variety of vitamins and fiber. And remember to carefully remove its seeds and skin because they are poisonous.
All you need is to coat jicama with garlic powder, salt, cayenne pepper, and smoked paprika, then let an air fryer do its part. You will have a plate full of slightly sweet and nutty flavor inside and crispiness outside.
Total time: 2 hours 25 minutes
There are several desserts to make using an air fryer, and beignets are one of them. This French-style recipe will be a bright point in the afternoon tea party with your friends.
These soft pillows are made of yeast, beaten eggs, and other components. Then, brush them with melted butter, hit the button, and wait for the puffing process. Remember to preheat the air fryer before placing those beignets.
This one might take a little long, but it's worth your time. I usually eat them with a drizzle of maple syrup or a raspberry coulis. Other nuts or chocolate sauce would be a great companion too.
You can also prepare the beignets in advance. With light, airy, fluffy, and sweet beignets, a cup of herbal tea or a hot coffee will balance the flavor overall.
Total time: 15 minutes
If you ask me whether avocado and cheese can be a best friend, I will give you repetitive noddings. This avocado grilled cheese is the typical example of that wonderful combination.
With earthy, grassy, fresh, and nutty avocado and melted cheese on the top of the crunchy bread, this super easy idea will be a delightful breakfast, lunch, or even dinner.
You can add roasted red peppers if you crave a spicy flavor. Also, you can use a variety of cheeses such as mozzarella, cheddar, or pepper jack. I highly recommend jarred red peppers for extra moisture.
Pro tip: You can wrap up the avocado with an apple or banana in a paper bag to accelerate its ripening process.
Total time: 15 minutes
Air fryer salmon is one of several delicious air fryer fish ideas that are hard to resist. Well, this recipe is also suitable for those who have had enough raw salmon and want it to be a bit crispy yet healthy.
There is no exaggeration when saying salmon has enormous nutrients and is a great source of omega-3 and protein. Besides, the dish is suitable for a keto diet, so no worries, my keto enthusiasts.
You just need to coat the salmon with melted butter, minced garlic, and parsley. Then place it into the air fryer and wait for an aromatic, crunchy, and rich all-in-one piece of fish.
Remember, you don't need to flip the salmon in the air fryer if one side is a skin. If you use skinless salmon, you should flip them midway.
This air fryer salmon will make your dinner fancier and healthier.
Total time: 9 minutes
How about an amazing air fryer shrimp staple for a special dinner? Cajun air fryer shrimp is the answer! This recipe is super quick and takes you only 9 minutes. Can you believe that?
Well, the second surprise is that this food is 100% perfect for low-carb, paleo, gluten-free, keto, and Whole30 diets. Now you can freely enjoy this delicious shrimp without messing up your diet.
With very basic ingredients, especially Cajun seasoning, your plate will present a combination of a bold, spicy, earthy flavor and crunchy texture. If you want more spiciness, add more Cajun seasoning.
Besides, this Cajun air fryer shrimp can be a great supplement to pasta, grits, cauliflower rice, or zucchini noodles.
Total time: 17 minutes
Have an air fryer but lack some creative recipes? Air fryer egg frittata cups will meet your demand right away!
This food looks like a savory cupcake that includes chopped tomato, herbs, and onion. This air fryer morning dish is effortless, quick, and flavorful.
First, stir scrambled eggs and other components with salt and pepper. Then pour into muffin molds, and air fry them for 10-13 minutes. An oven will be a good substitute for those who haven't got an air fryer.
Each bite delivers a fluffy and soft texture combined with the savory and palatable flavor that will make you want even more. I bet your kids will eat up before you make another batch.
Total time: 15 minutes
Air fryer cod is another tempting seafood dish on the list for those who are fed up with salmon and yearn for other new types of fish. With only 15 minutes and you will have yourself a flavorful codfish. What a bargain!
Season the fish with pepper and salt, and spread melted unsalted butter on both sides of the fish. Ding! The air fryer will release a beautiful-looking dish with a slightly sweet flavor.
Also, the soft and flaky texture inside and crunchy outside will give you the most wonderful experience ever. By the way, you can apply other spices, including paprika, dill, parsley, oregano, or garlic, to enhance the flavor overall.
You can't find any dish that can be as fresh and delicious as air fryer cod.
Total time: 25 minutes
Let's replace all the unhealthy potato chip brands in your cupboard with these nourishing air fryer sliced potatoes. You can munch on these slices all day without worrying about health issues.
Potatoes are well-known for their nutrient content and their versatile state. You can creatively combine potatoes with any ingredients like chicken, bacon, or fish. They'll all taste heavenly delicious.
Don't forget to cut those potato slices at the same size to make sure every slice reaches even cooking. Also, you can add other spice blends depending on your appetite and shake your basket at 5-minute intervals to ensure everything is well done.
I highly suggest that you should enjoy your crispy potatoes with some dipping sauces and a big glass of soda.
Total time: 30 minutes
Are you running out of ideas for an interesting appetizer using an air fryer? I have your back! Carrot bacon is the next recipe on your list.
The name tells itself. It's a carrot but tastes like bacon. You will coat the thin-sliced carrots with a combination of maple syrup, liquid smoke, and soy sauce and let them soak for a couple of minutes. This marinade will make the carrots taste more like bacon.
You can enjoy the carrots on their own or serve them as a side dish with pancakes, sandwiches, or breakfast hash. It's up to you! Each piece of carrot will provide you with the utmost crispiness and smoky bacon flavor.
Total time: 30 minutes
Raise your hand if you hanker after some chicken staples cooked by an air fryer. Then say hello to this air fryer chicken Milanese.
The dish coming from Milan features golden boneless and skinless chicken breasts. To make this recipe, you dip the seasoned chicken breasts into a mixture of breadcrumbs, egg, and parmesan.
Adding some shaved parmesan cheese on the top of crispy chicken makes the dish fatty and savory. In case you dislike arugula, you can replace them with mixed baby greens.
The combination of crunchiness outside and hot, juicy, and tender inside deserve a long chef kiss. I guarantee if you follow exactly these steps, you will get yourself a fancy chicken Milanese that is more delicious than a five-star restaurant.
Let me introduce the famous air fryer chicken Milanese to brighten up your dinner.
Total time: 30 minutes
Hey, my friends who follow the Whole30 and keto diet, air fryer sausage and veggies are definitely for you. This terrific treat will blow your weeknight up due to its deliciousness!
The process may surprise you for its effortlessness. Simply cut all the veggies and sausage into bite-size chunks, then toss them up with optional seasonings and cooking oil. Fry them in the air fryer, and you get yourself crispy veggies and salty, juicy sausages.
You can prepare this dish in advance by cutting the vegetables and sausages into pieces and storing them in the fridge. Also, this recipe is not only for dinner but is also suitable for every meal of the day.
By the way, you can switch all the veggies in this recipe with any type of vegetables, such as brussels sprouts, peppers, or green beans. Flavorful either way!
Total time: 40 minutes
Some say this recipe is an alternative version of the Buffalo wings, and I can't agree more. This one deserves an award for being a healthy side dish, appetizer, snacks, or even supper.
Come to the process. First, cover cauliflower with the combination of garlic powder, onion powder, oregano, paprika, and other components. Then, air-fry the cauliflower to perfection, and the dish is ready to serve.
For the sauce, everything you need to do for the sauce is boiling the mixture of butter, hot sauce, and honey. Or you can dip cauliflower in any sauce that you prefer. It all depends on your preference!
Total time: 13 minutes
I'm a big fan of mushrooms. They are meaty, juicy, and soft and go along well with other ingredients. Air fryer mushrooms are no exception.
These tender and crispy-edged mushrooms are made with some simple components. With olive oil, pepper, soy sauce, and some other spices, you can make this dish in no time with an air fryer.
Adding some savory parmesan cheese and chopped parsley would be great for the whole dish. Mushrooms are super healthy because they are low in calories and contain a wonderful source of fiber. A perfect side dish for healthy eaters!
You can enjoy this tasty Cajun air fryer shrimp with many main dishes!
Total time: 25 minutes
Pasta and lasagna are my first choices when it comes to having dinner with basil pesto, especially on the weekend. But if you want something quick yet still deliver the same vibe and taste, this air fryer chicken pesto stuffed peppers are a must-try dish.
Simple sometimes is the best way to convey the flavorsome of foods. This one only requires some ingredients and a few steps to finish.
Just cut the peppers in half, and air-fry them to perfection within 10-15 minutes beforehand. Then when they're cool, stuff the peppers with the chicken mixture and cook until the cheese on the top is melted. Dinner is ready!
Total time: 10 minutes
Peppers can be a delightful appetizer if you own an air fryer. Also, this recipe has no limitation when it comes to pairing with other starters for a party.
Shishito peppers originated in Japan. They have low calories, high dietary fiber, and are a great source of vitamins and nutrients. Besides, this recipe is gluten-free, nut-free, soy-free, and vegan.
Well, shishito peppers with salt are already flavorful themselves, but you can serve them with fresh lime juice and tamari sauce or season them with Furikake.
You should eat these peppers straight out of the air fryer, or they'll lose the crispiness and be less tasty.
Total time: 22 minutes
Thanks to an air fryer, you can now make hard-boiled eggs with zero water. This way, you don't need to wait for the water to boil. Besides, you won't struggle a lot when peeling off the shell.
This one is super easy, time-saving, and convenient! You can serve them with salad, bacon, or toast for diversified flavors.
Tips of the day: when the air fryer finishes its job, take the eggs out and soak them in an ice water bowl. This will prevent the eggs from overcooking. In case you have some leftovers, place them in the fridge, and they can last for one week.
Total time: 34 minutes
Are you dribbling right now when looking at those lemon pepper wings? This delightful appetizer just needs 4 ingredients and 34 minutes to reach crispy perfection.
You cook the chicken wings until they get a desired golden color and crunchiness. After that, take them out of the air fryer, cover each wing with the lemon pepper sauce, and top with chopped parsley.
These chicken wings provide you with a hearty, buttery, savory flavor and crispy texture. This recipe is suitable for football parties, family gatherings, or picnics. Also, you can dip them into ranch or BBQ sauce for extra flavor.
Please don't load too many wings simultaneously. Otherwise, they will never achieve crispiness. And you should eat the wings as soon as possible to enjoy them to the fullest.
Total time: 45 minutes
There's no need to travel to China to enjoy the egg rolls. You can make yourself a less oily version but still has mouthwatering crispiness with an air fryer.
Let's take a look at those chubby rolls full of filling. Here I have pork, ginger, garlic, scallion, carrot, and cabbage for the filling. Adding liquid like soy sauce and rice wine vinegar will make the filling more tender, soft, and juicy.
One tip to make sure the filling can't break out is to brush the edges with water before wrapping. Also, pay attention to the air fry process to ensure that every side of the egg rolls is cooked evenly.
I'm sure these air fryer Chinese egg rolls won't disappoint you!
Total time: 18 minutes
Nuggets are always an enjoyable and exciting food for all ages. If you don't want your children to consume those greasy deep-fried foods, then this air fryer chicken nuggets is an ideal choice.
You dip the nugget-sized chicken into an egg whisked egg or melted butter, and then roll them in the breadcrumbs. They turn out so good, with tender and milder chicken flavor inside and crunchiness outside.
With some basic steps, your chicken is ready to dip in any of your go-to sauces. You can place them in your kids' lunch box for a healthy and delicious meal.
Total time: 15 minutes
I know making steak is a tough challenge because you need to know the perfect techniques to achieve the brown, golden juicy steak. But what if an air fryer can take all of those hard parts for you?
Steak without sauce is like an incomplete masterpiece. The sauce contains butter, garlic, thyme, and parsley together. The tender texture and crispy edges combined with beefy, fatty, and salty flavor will offer you a wonderful experience.
You can opt for different internal temperatures depending on your favorite doneness level. I like my steak to be medium, so I usually stick with 140-145 F.
In case you want to level up the fancy of the dish, you should pick up the high-quality boneless cuts such as Porterhouse, rib-eye, sirloin, or New York strip. Moreover, this juicy steak is the best when served with mashed potato, salad, brussels sprout, or green beans.
I don't think anyone can refuse this super charming air fryer steak!
Total time: 1 hour 20 minutes
Thanksgiving is coming, and your family craves something new other than turkey. Today is your lucky day. The rotisserie chicken will make the Thanksgiving holiday more special and unforgettable.
Well, an air fryer will be in charge of the cooking process. You season the whole chicken with pepper and salt and fry until it reaches the crispy golden texture. The warm aromatic smell will fill up your house and bring everyone to the dining table.
Decorate the dish with lemon juice and thyme for a more mouth-watering look. You can serve it with plenty of side dishes such as veggies, pasta, or casseroles.
If you worry about the leftovers and wonder whether rotisserie chicken freezes well, the answer is yes. Storing rotisserie chicken in the freezer is an excellent way to extend its shelf life.
Let's add this air fryer rotisserie chicken to your menu right away!
Total time: 8 minutes
Omelet not only works with a pan but also turns out yummy and tasty with an air fryer. This recipe requires no more than 8 minutes, meaning that it will be a perfect breakfast for busy people.
I think this recipe will be the easiest one on the list. You whisk all the ingredients together, then pour the mixture into a pan, and cook it within 10 minutes.
The outcome is beyond the expectation. It has a light, custardy, and soft texture with chewy meat and veggies. I don't know about you, but I always want my omelet to be a bit runny in the middle.
Total time: 15 minutes
I highly recommend you to try this classic roasted chicken and vegetables. When you just got home from work and want something quick for dinner, this healthy dish is the best way to stop the pangs of hunger.
Because the bowl is full of colorful veggies and a good supply of protein from chicken, it can pep up your mood after a long tiring day.
This recipe is not only low-carb but also gluten-free and suitable for weight watchers. You should enjoy it when it's still hot to feel the crispy veggies and juicy, tender chicken.
If your kitchen doesn't have this appliance yet, an oven can be a wonderful substitute. Although it'll take more time than the air fryer, the result is similar.
Total time: 25 minutes
Pork chops are a versatile food that can go along with many kinds of dishes and cooking techniques. If you want to enjoy the crispy version, then the air fryer pork chops are for you!
Everything you need in this recipe is bone-in pork chops, olive oil, grated parmesan (must-have item!), Italian dried herbs, and other components. Coat the pork with the seasonings mixture and fry until it reaches a shiny golden color.
Because the pork chops are savory themselves, the Parmesan is there to enhance the flavor and other basic spices to highlight the meat.
One tip to make the meat even more juicy and tender inside is you should give it thicker cuts. Also, if you are a fan of crunchy food, add panko breadcrumbs to fulfill your demand.
What do you think about these juicy Air Fryer Pork Chops? To me, it tastes heavenly and wonderful!
Total time: 20 minutes
With an air fryer, you can try tons of recipes that taste good and be healthy. And these turkey meatballs using an air fryer will be more than enough to be present on a table.
You mix parmesan cheese, dried thyme, ground turkey, and other ingredients in a bowl, then form the mixture into each ball and bring them to the air fryer.
Because this recipe has no breadcrumbs, so to make it less wet while rolling into balls, you should put the mixture in the fridge for 30 minutes.
This recipe can be your children's next favorite toothpick snack. Also, you can completely eat it with pasta, salad, or other main dishes.
Just keep in mind that you shouldn't let those little balls in the air fryer too long after finishing heating, or else they will dry out and be less juicy.
Let's Become A Best Chef With These Weight Watchers Using An Air Fryer!
Weight watcher's diet will no longer be tame and boring with the air fryer. Time-saving, convenient, healthy, easy, and delicious are all the compliments that I can come up with on this list. Now, hit the button on your air fryer and apply these recipes above to your meals.
As usual, if you think this information offers you helpful knowledge, please send this to your loved ones. Besides, share with me any results, whether it succeeds or fails. I hope to hear from you soon.
Nutrition Facts
4 servings per container
---
Amount Per ServingCalories167
% Daily Value *
Total Fat 2.4g

4

%
Cholesterol 43mg

15

%
Sodium 32mg

2

%
Potassium 118mg

4

%
Total Carbohydrate 25.9g

9

%

Dietary Fiber 0.8g

4

%
Sugars 2.2g

Protein 9.6g

20

%
---
Calcium

61

%
Iron

2

%
Vitamin D

4

%
* The % Daily Value tells you how much a nutrient in a serving of food contributes to a daily diet. 2,000 calories a day is used for general nutrition advice.