Vietnamese vermicelli with fried tofu and fermented shrimp paste (Bún Đậu Mắm Tôm) is a dish that might seem daunting, mostly due to the paste's intense smell.
But if you can get over the not-so-good first impression and give it a try, you'll understand why Bun Dau Mam Tom is one of the most well-known treats in Vietnam.
Typically, a serving of Bun Dau Mam Tom includes vermicelli noodles, crispy fried tofu, thinly sliced pork, fragrant herbs, and, most importantly, a bowl of shrimp paste dip. This combination of mild and strong-tasting ingredients creates a unique and addicting mouthfeel.
If you are feeling adventurous and eager to try a truly one-of-a-kind dish, today's recipe is an excellent choice!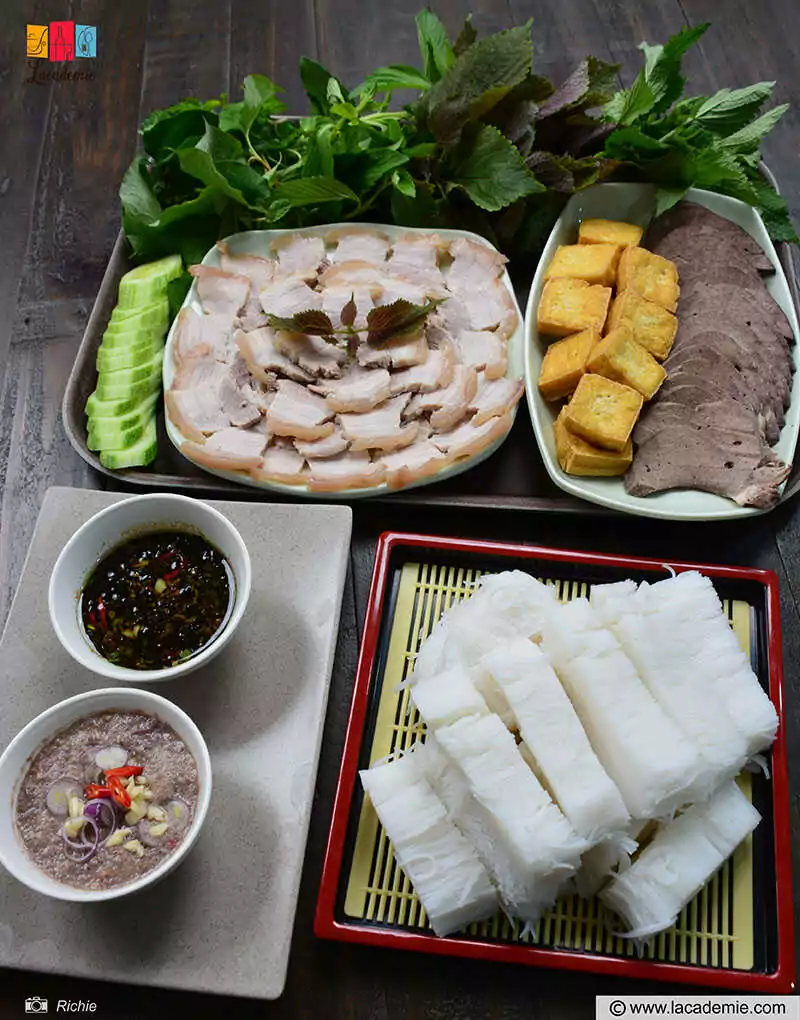 Bun Dau Mam Tom – An Acquired Taste
Originating from the Northern region of Vietnam, Bun Dau Mam Tom is a rustic dish enjoyed by people from all walks of life. Nowadays, you can find eateries selling this treat in many big cities all over Vietnam, including its birthplace, Hanoi.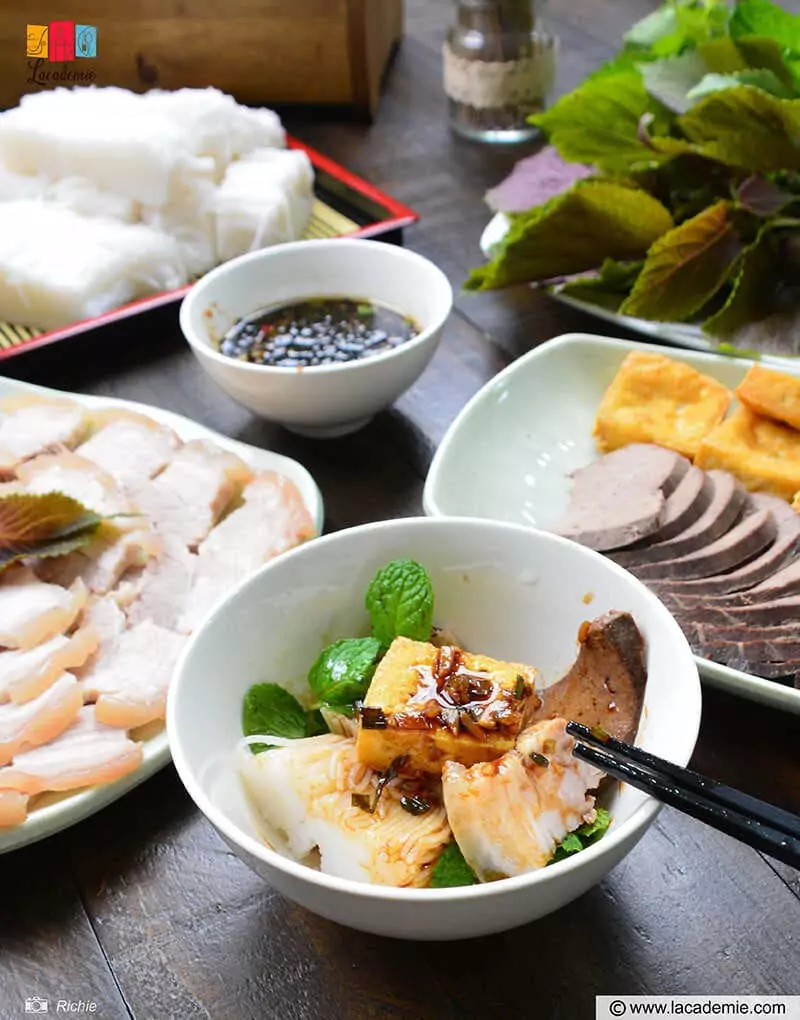 Fermented shrimp paste (Mam Tom) is undoubtedly the biggest highlight here. The paste boasts a distinct aroma and taste, which might be unpleasant if you aren't used to it. Honestly speaking, not all Vietnamese can put up with Mam Tom's unique flavor profile.
On the flip side, Mam Tom is one of the most addicting sauces in Vietnamese cuisine once you've learned to appreciate its uniqueness. In addition, you won't consume the dip as is but dilute and flavor it with sugar, kumquat juice, and other spices, which mildens the flavor.
But what if I can't stand Mam Tom, no matter what? In that case, you can enjoy the dish with Nuoc Cham (Vietnamese dip made from fish sauce) or soy sauce. Don't worry; some locals do this as well, so no judgment here!
Tools
There are a few kitchen tools you'll need to make Bun Dau Mam Tom at home. Check the list below for more details.
Knife and chopping board: For cutting the pork and tofu.
Non-stick pan: Using a pan with a non-stick coating makes it easier for you to fry the tofu.
Tongs: For handling the ingredients.
Other useful tools: Spoon, pot with lid, etc.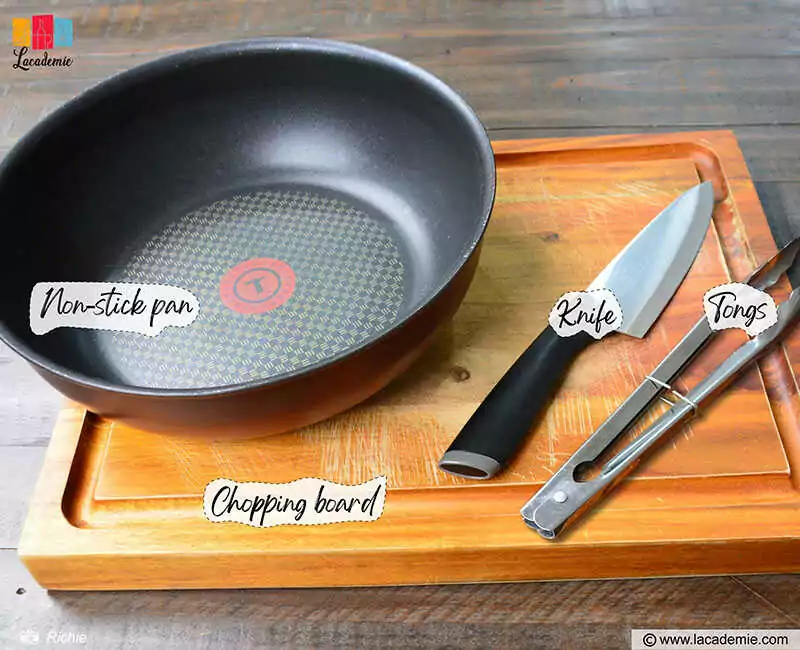 Ingredients
Vermicelli noodles, pork belly, tofu, and, of course, fermented shrimp paste are the key ingredients for this Vietnamese delicacy. I'll also include a simple soy sauce-based dip recipe in case you need an alternative to shrimp paste.
Pork belly: Or pork shoulder/collar if you want the meat to have less fatty content.
Pork liver: You can also use pork intestines, pork heart, pig ears, or Vietnamese sausage (Gio Cha).
For boiling the pork: Leek, ginger, onion, and white wine.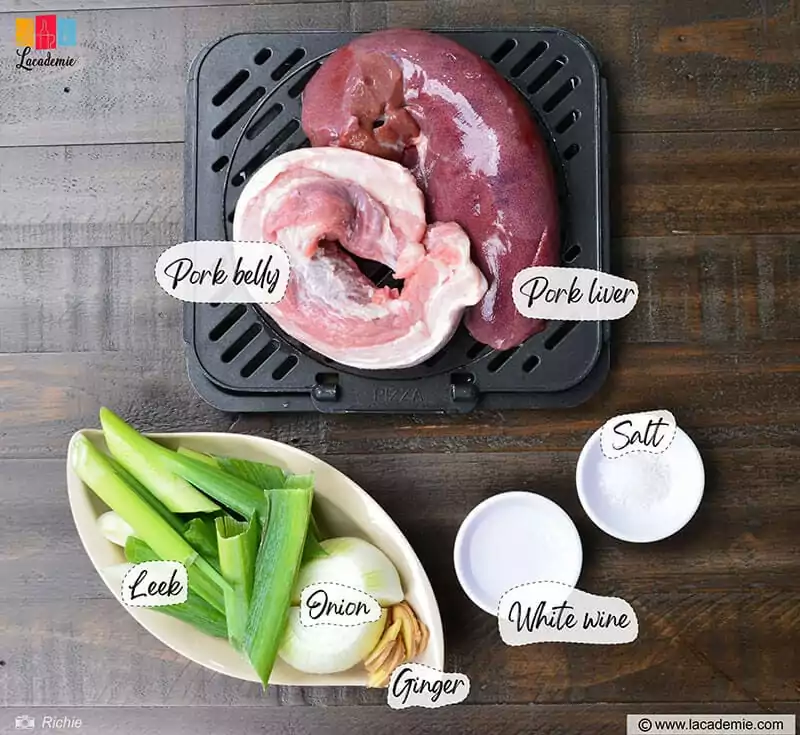 Tofu: Firm or extra firm are the best options for frying.
Herbs and vegetables, for serving: Vietnamese balm, beefsteak plant, peppermint, fish mint, and cucumber.
Vermicelli noodles: The traditional choice for this dish is Bun La, a kind of vermicelli that's pressed and cut into blocks. However, since Bun La is very hard to find outside Vietnam, you can use regular dried vermicelli noodles instead. Banh Hoi (woven rice vermicelli) is also an option to consider if you can get hold of it.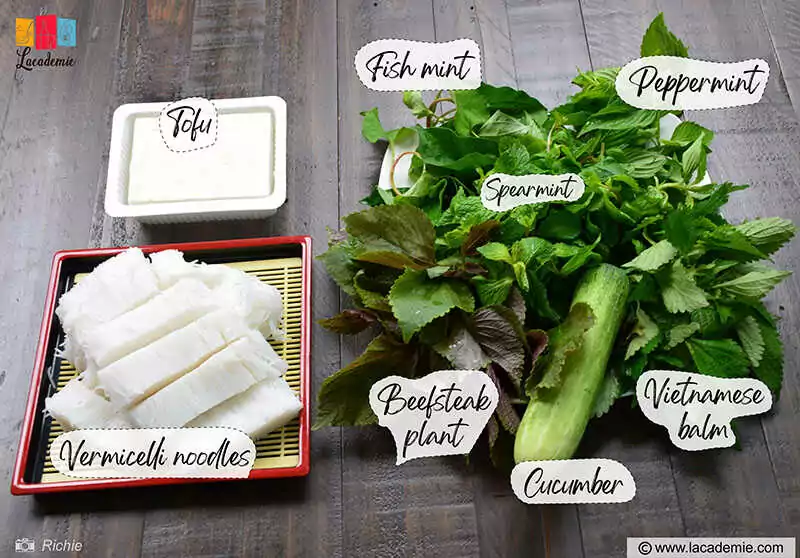 For the shrimp paste dip: Mam Tom (fermented shrimp paste), sugar, shallots, garlic, chili pepper, and kumquats.
For the alternative dipping sauce:

Soy sauce, garlic, vinegar, sugar, chili pepper.
Vietnamese oil and scallion garnish: Also known as Sot Mo Hanh. You can learn how to make Sot Mo Hanh at home quite easily. The recipe only takes about 5 minutes to complete.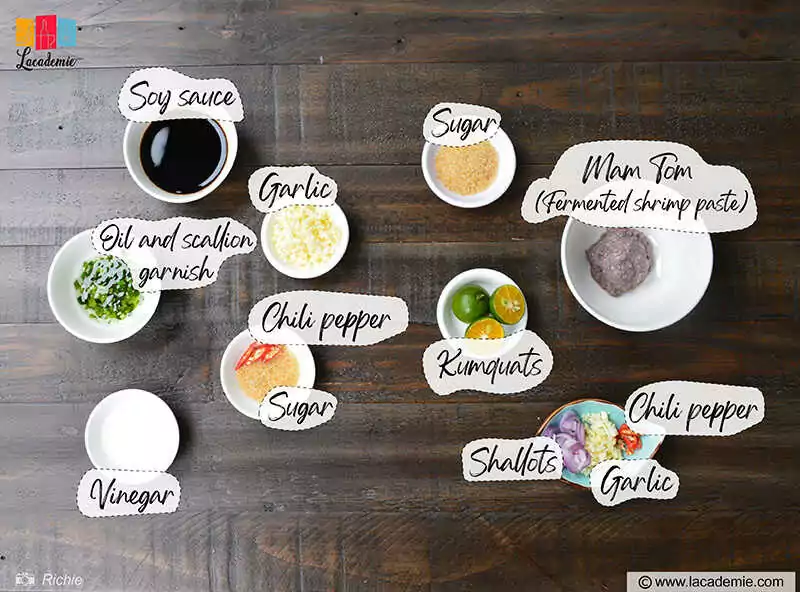 Directions
After you've purchased all the required ingredients and tools, it's time to start cooking! Here is a step-by-step instruction for making Bun Dau Mam Tom.
Step 1: Prepare The Ingredients
Wash the pork and vegetables. Set them aside.
Pat the tofu block with paper towels to remove excess moisture. Doing this will prevent oil splattering when you fry the tofu. Next, cut it into bite-sized pieces.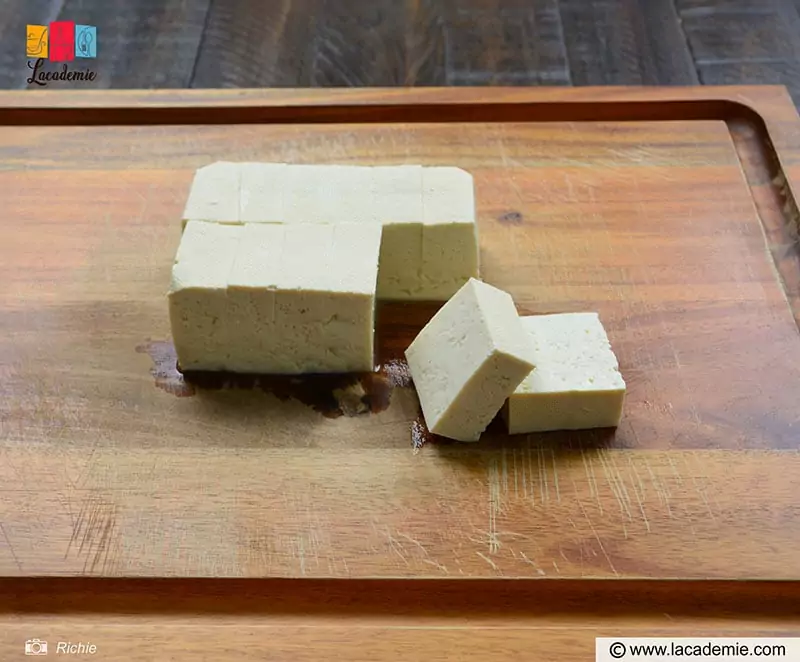 Step 2: Boil The Pork
Add 1 teaspoon of salt to a pot of boiling water and blanch the pork belly and liver for 1 to 2 minutes.
Note: It's important to blanch the pork belly and liver to remove impurities and reduce their odor.
Add the leek, onion, ginger, and white wine to a new pot of water. Cook the water for 5 minutes to extract the spices' aromas.
Then, put the pork belly and liver into the pot and boil them for 30 minutes. You should cover the pot to help them cook more thoroughly.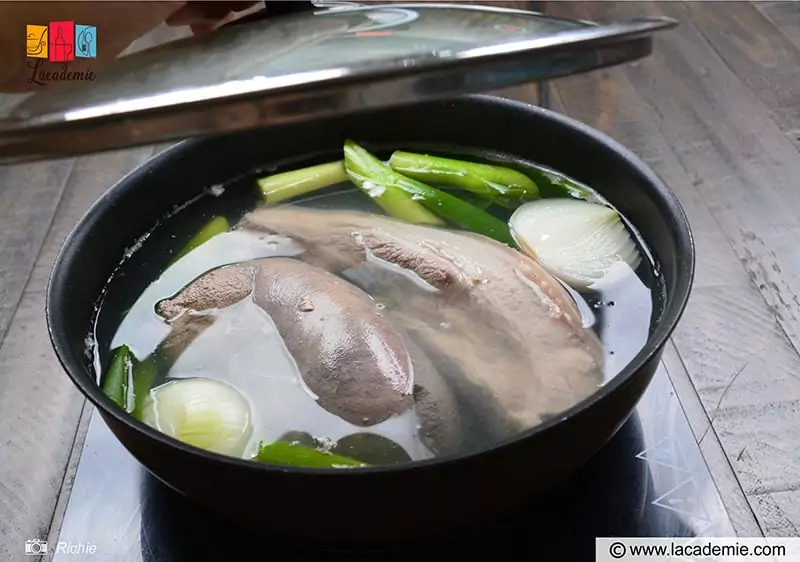 Once cooked, transfer them to an ice bath, which improves their firmness and prevents browning.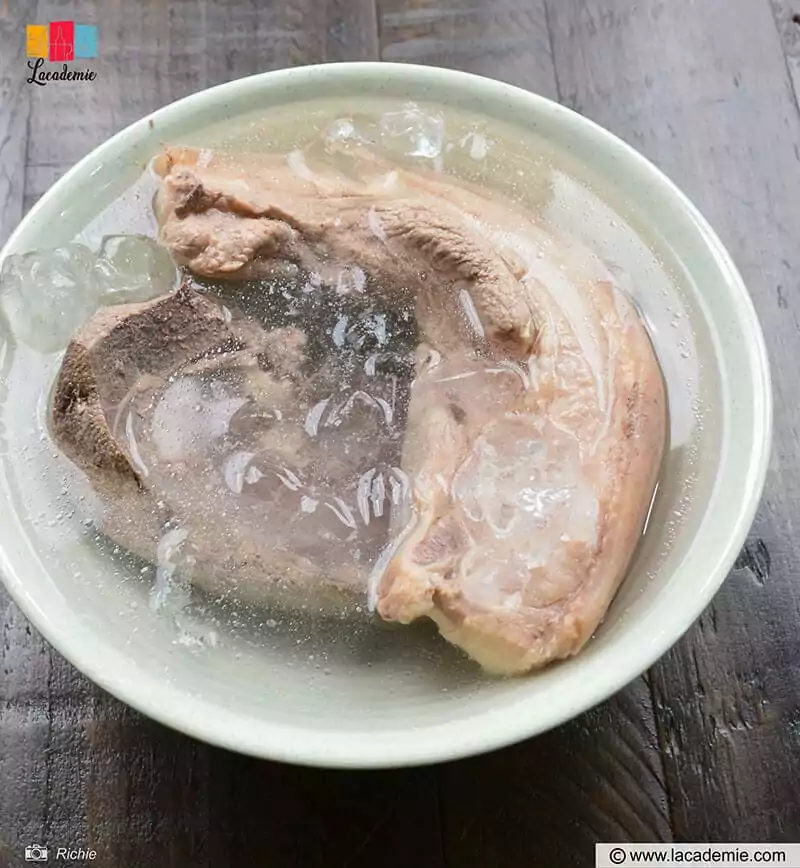 Step 3: Fry The Tofu
While waiting for the meat to cook, fry the tofu on another stovetop.
Add some oil to a heated pan. The oil doesn't need to be too hot, or it'll splatter once you add the tofu.
When the oil is heated enough, add the tofu piece by piece into the pan.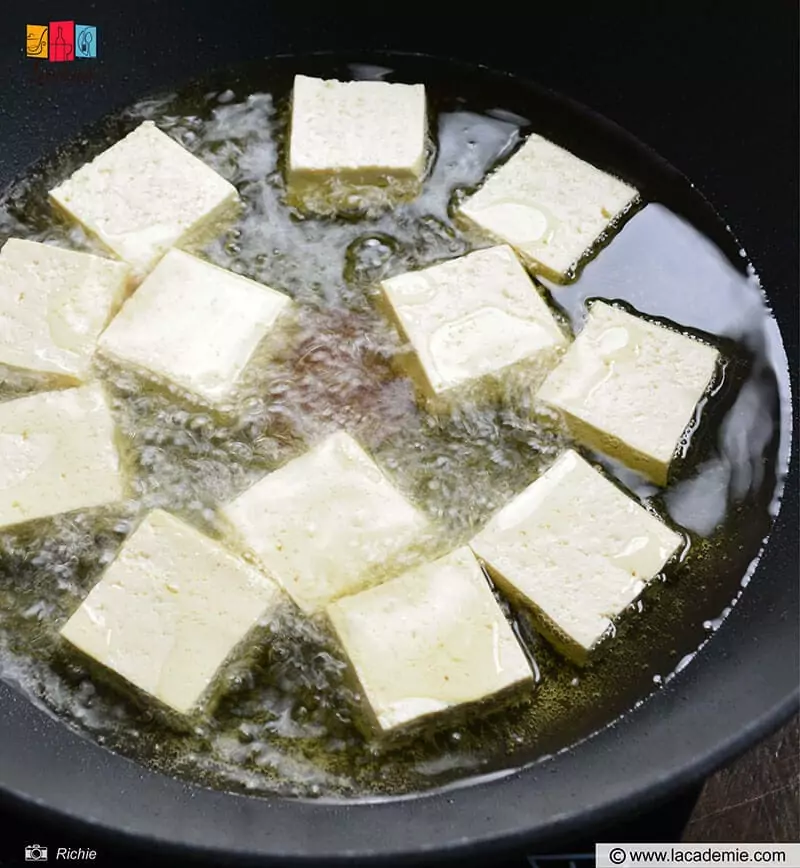 Fry the tofu over medium-low heat. Gently flip the tofu pieces to cook them evenly on all sides. When they've turned golden brown, transfer them onto a plate lined with paper towels to absorb the excess oil.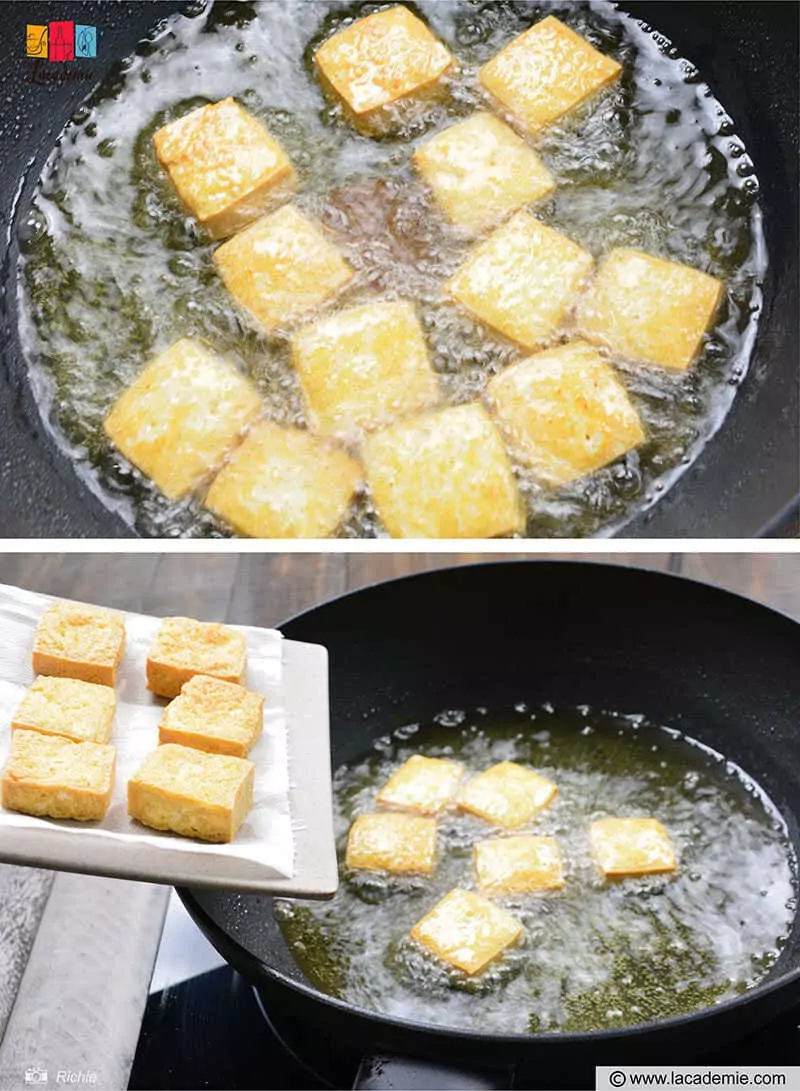 Step 4: Make The Dipping Sauce
There are two ways that you can go about making the sauce. The first one is the traditional Vietnamese Mam Tom dip, and the other is a soy sauce-based alternative for people who don't like the intense flavor profile of fermented shrimp paste.
Shrimp Paste Dip
Add a little sugar to the shrimp paste and mix well. Then, add the shallots, minced chili pepper, and kumquat juice. Give the sauce a good stir.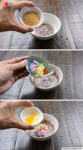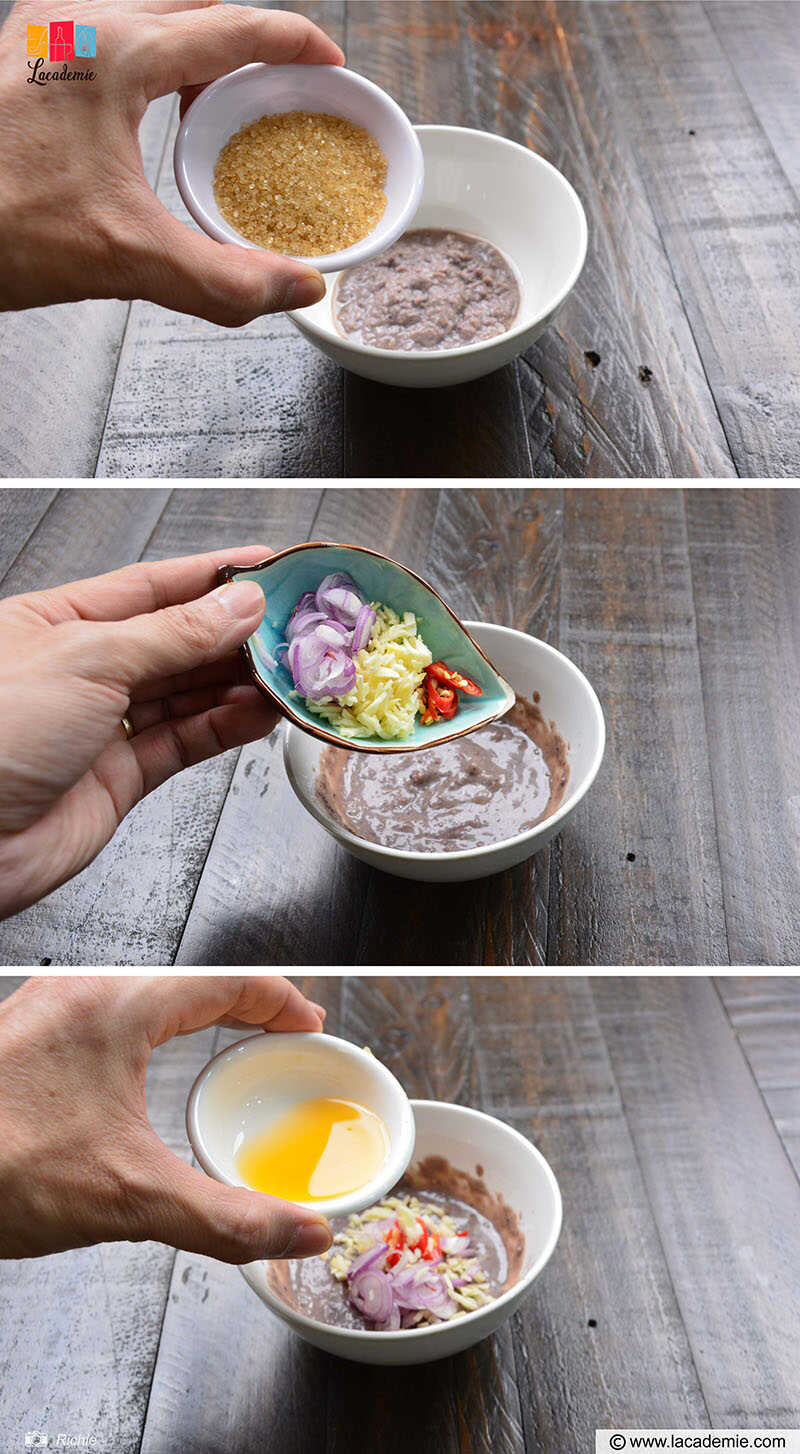 Alternative Soy Sauce Dip
Add the Vietnamese scallion and oil garnish to a saucepan. If you don't have this garnish, add some chopped scallions to heated oil instead.
Then, add the garlic and fry them until fragrant.
Next, stir in the soy sauce, sugar, chili pepper, and vinegar. Mix well. Cook the sauce until it boils, then turn off the heat.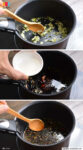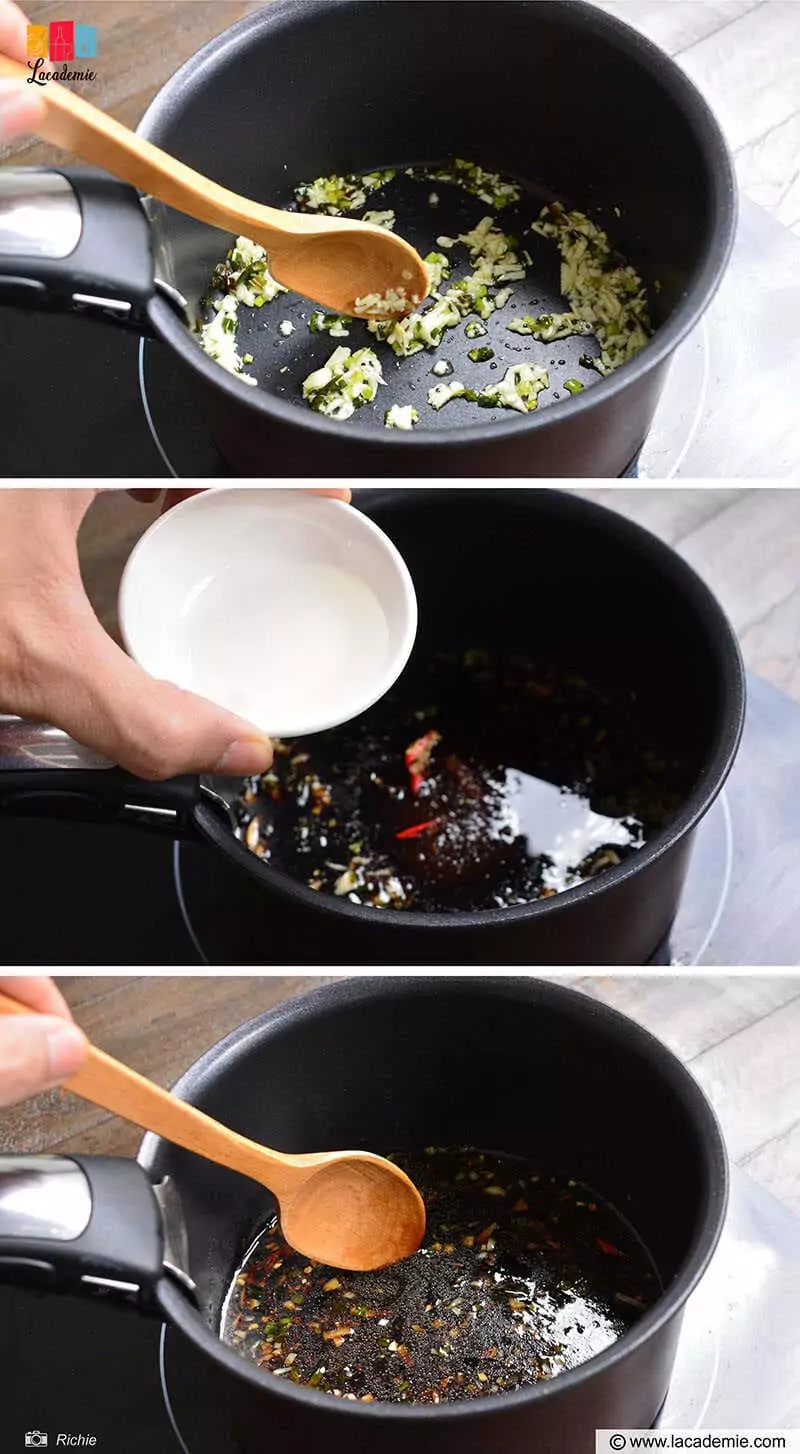 Step 5: Slice The Pork Belly And Liver
Thinly slice the pork belly and liver and arrange them on 2 separate plates.
Slice the cucumber to serve on the side.
Step 6: Present The Dish
If you can get your hands on some fresh vermicelli noodle slabs, cut them into smaller chunks and arrange them on a plate. Place the noodles next to the fried tofu, boiled pork, liver, herbs, and your preferred dipping sauce. Enjoy!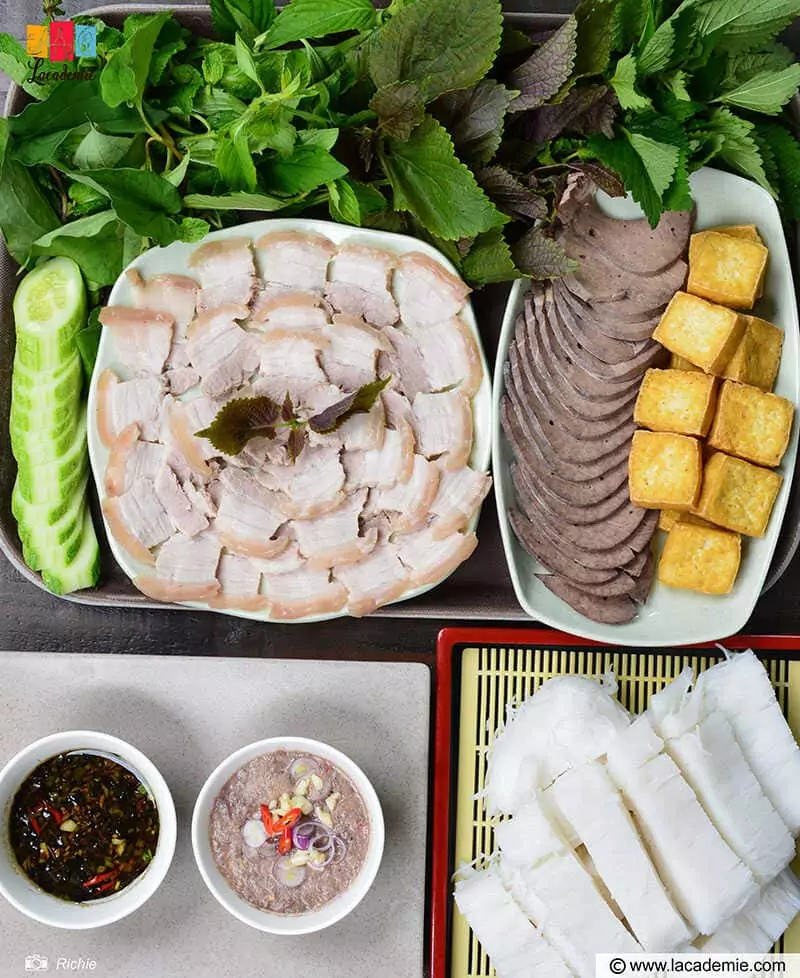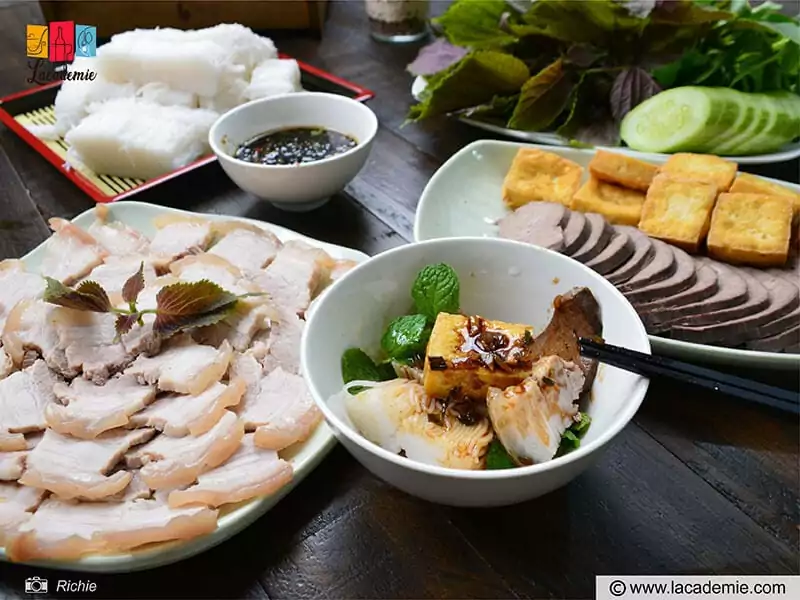 Tips And Variations
Here are some tips for making the dish and possible variations that you can try out to level up this recipe.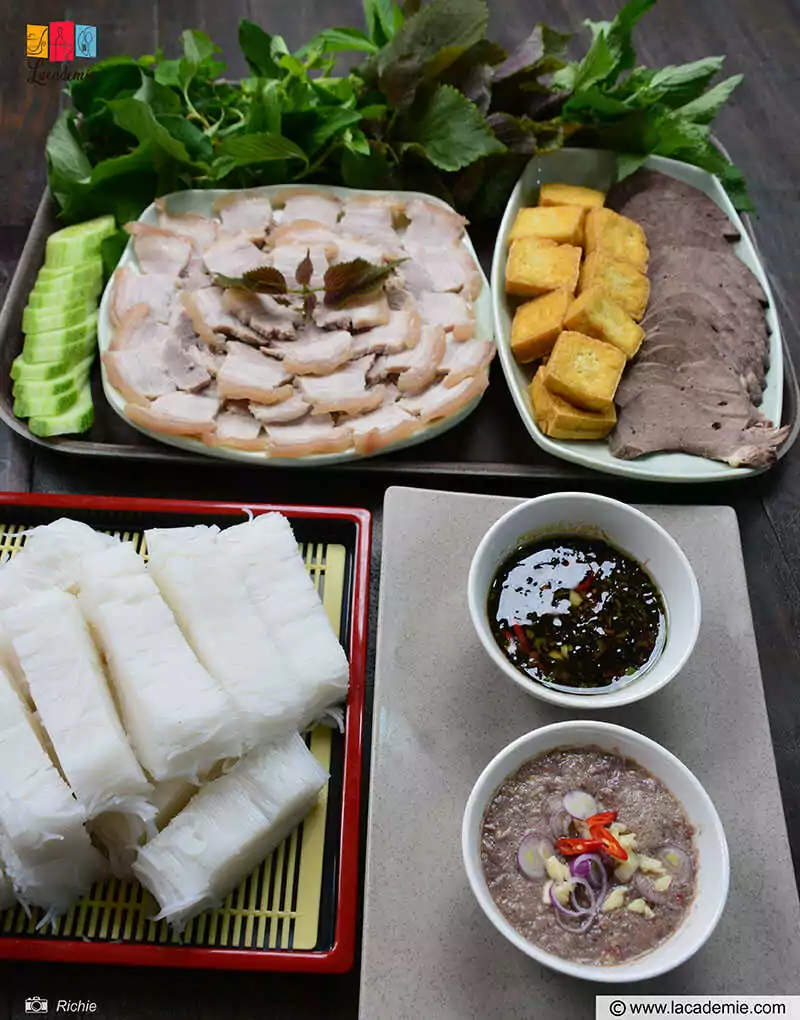 It's important that you clean and blanch the pork carefully to get rid of any impurities and odors.
Besides the two sauces shown above, you can also serve Bun Dau Mam Tom with Vietnamese dipping sauce (also called Nuoc Cham) if you like the taste of the fish sauce.
Cha Com (green sticky rice patties), Cha Gio (egg rolls), Doi Cho (Vietnamese hog's puddings), and Nem Chua Ran (fried fermented pork rolls) are other great side dishes to enjoy with your Bun Dau Mam Tom.
If you want to present this dish in the most authentic way, place all the components in a flat winnowing basket. Put the vermicelli noodles in the middle and arrange the pork, fried tofu, etc., around them.
How To Store Bun Dau Mam Tom
If you need to store leftover Bun Dau Mam Tom, you should put the components in airtight food containers, then refrigerate them. The noodles, tofu, and pork will last for about 3 days this way.
However, I do not recommend storing the fermented shrimp paste sauce overnight, as it will spoil rather quickly even when refrigerated. The best option is to toss away the leftover sauce and whip up a new bowl the next time.
FAQs
If you want to know more about this traditional Vietnamese delicacy, don't miss out on the commonly asked questions below.
A Dish You Won't Forget!
Bun Dau Mam Tom might seem like a real challenge at first, but it's a dish that you'll remember forever once you've tried it out. So, why don't you take this chance and experience a truly unique Vietnamese dish!
Have you had Bun Dau Mam Tom before? Do you love it, or find the shrimp paste a bit too much? Whatever your thoughts are, please let me know in the comment section! Also, kindly like and spread this post to other food lovers by sharing it on your social media. Thank you very much!
Nutrition Facts
4 servings per container
---
Amount Per ServingCalories840
% Daily Value *
Total Fat 24.6g

37

%
Cholesterol 354mg

118

%
Sodium 365mg

16

%
Potassium 441mg

13

%
Total Carbohydrate 110.4g

37

%

Dietary Fiber 5g

20

%
Sugars 10.1g

Protein 43.6g

86

%
---
* The % Daily Value tells you how much a nutrient in a serving of food contributes to a daily diet. 2,000 calories a day is used for general nutrition advice.