If you're familiar with the food culture of Vietnam, I'm sure that Vietnamese dipping sauce is something you have heard about numerous times. The reason is simple, this condiment is common in the everyday meals of the Vietnamese and appears in the country's most well-known dishes.
The best thing is that Nuoc Cham is incredibly easy and quick to whip up. Literally, anyone can make a batch of this versatile dipping sauce and store it in the fridge for weeks. In today's post, I'll show you a perfect recipe to make this iconic condiment in just 15 minutes!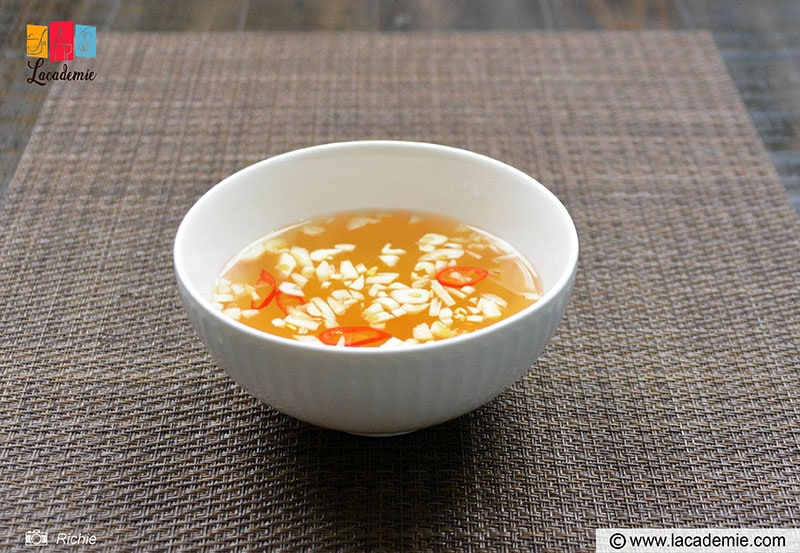 What Makes Nuoc Cham Such A Wonderful Sauce?
Fish sauce (Nước mắm) plays a vital role in Vietnamese culture. Not only is it a quintessential ingredient in Vietnamese cooking, but it's also among the country's most well-known products globally. Many people swear by the fish sauce from Vietnam when they make Asian dishes.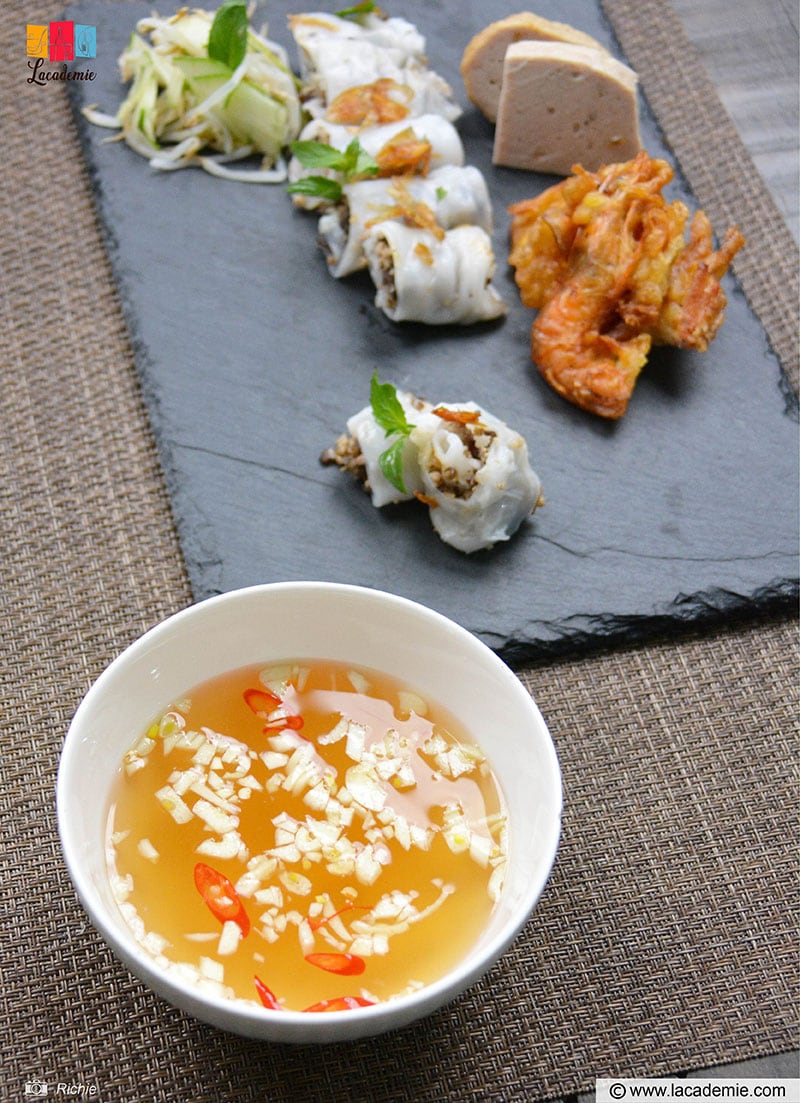 As a result, it's no surprise that fish sauce is the base for Nuoc Cham. This condiment has a perfect level of savoriness and umaminess that works exceptionally well when combined with other aromatics.
Since the premium fish sauce is typically quite salty, the locals usually add some form of sweetener, usually sugar, to balance the taste. Lime and chili pepper are also excellent choices to enhance the overall flavor.
Nuoc Cham is a highly customizable condiment with extreme versatility. There's no fixed recipe for this dip, meaning that the taste will be slightly different in each household. Some might lean more on the sugary side, while others might be saltier or spicier.
Tools
This Nuoc Cham recipe only asks for simple cookware that most people have already owned.
Saucepan: For boiling the sauce.
Spoon: For stirring the ingredients.
Lime squeezer: This tool makes squeezing lime juice a piece of cake.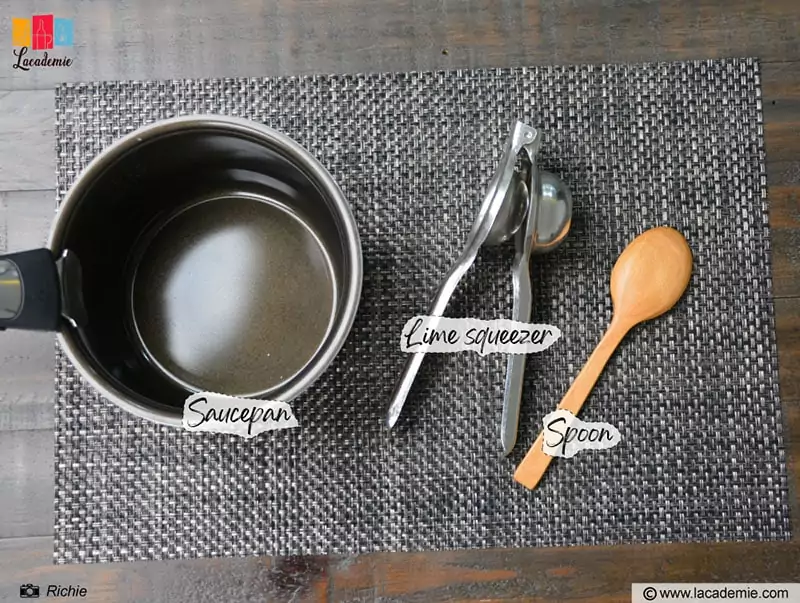 Ingredients
As mentioned above, fish sauce is the base for Nuoc Cham. In addition, you'll need to prepare pineapple, sugar, and other spices.
Premium fish sauce: Opt for the highest-quality product available to you.
Water: For diluting the sauce and making it less intense.
Pineapple slices: Add a sweet, fruity, and slightly acidic taste. Apple and sugar cane are also great choices, but the dip won't be as aromatic.
Rock sugar: The main sweetener. You can also use other kinds of sugar, such as brown sugar, granulated sugar, etc.
Other spices: Garlic, chili pepper, lime. Feel free to adjust the numbers of these ingredients to your liking. For example, try adding more chili pepper if you prefer a spicier flavor profile.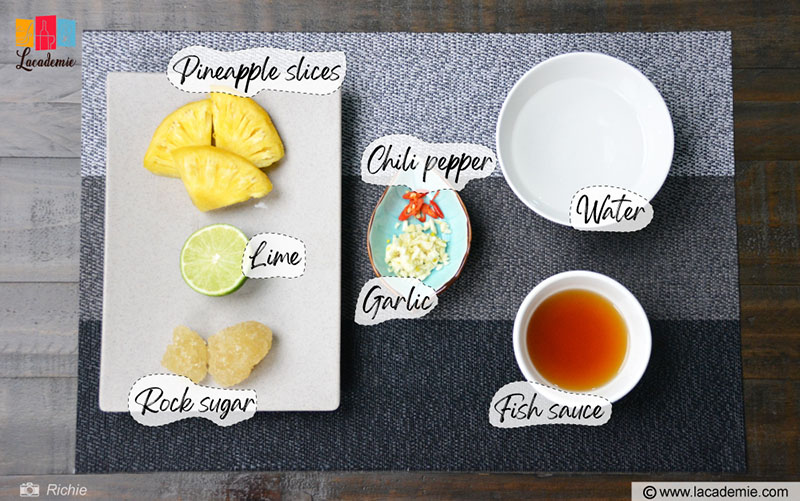 Directions
Below are the 3 steps to make Vietnamese Nuoc Cham. You might be surprised to know how easy they are!
Step 1: Mince The Garlic
First, mince the garlic. You can also crush them using a mortar and pestle. However, crushed garlic will result in a more pungent sauce, which might not be to your liking.
Step 2: Boil The Sauce
Pour water into a saucepan and boil it until it reaches about 140-160 degrees F. Then, add fish sauce, pineapple, and rock sugar to the water and continue cooking over low heat. Stir gently until the sugar is fully dissolved.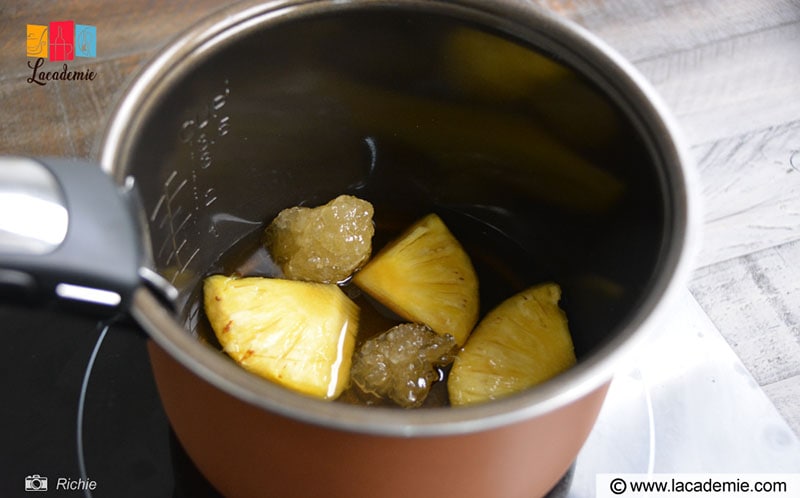 Step 3: Finish The Sauce
Remove from heat and wait for the sauce to cool. Then, pour the sauce into a bowl and add the juice of one lime, minced garlic, and chili peppers. Stir well.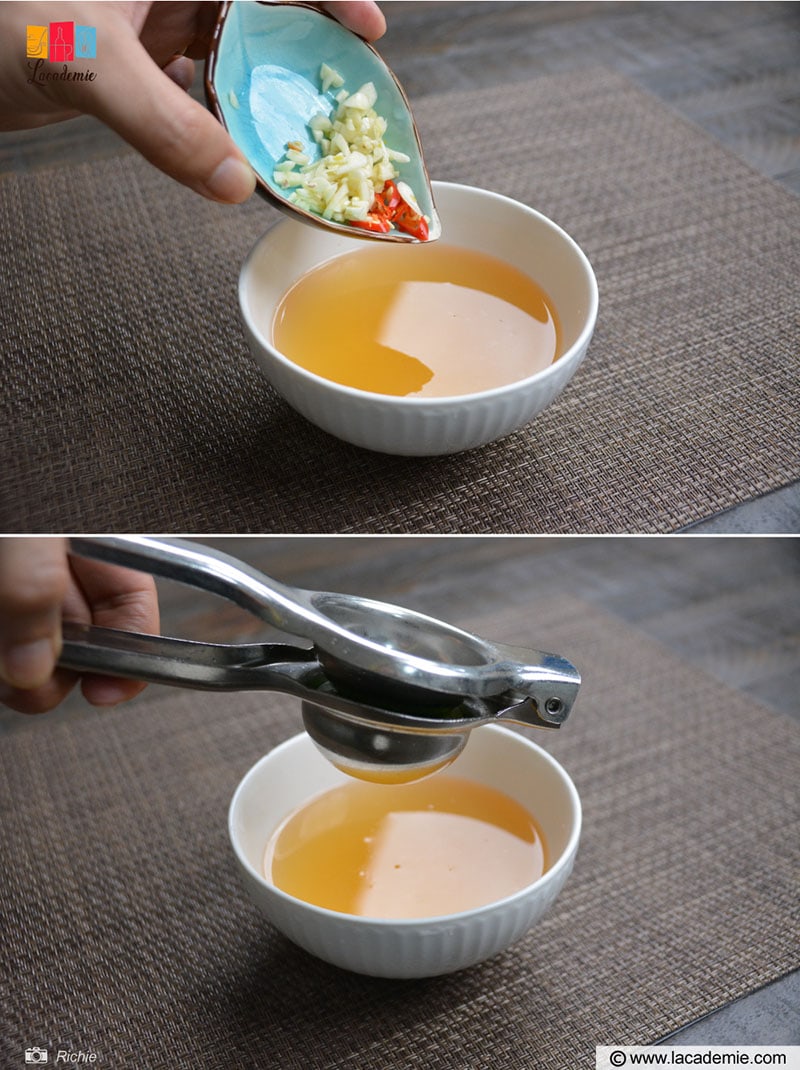 Note: You should only stir in the lime juice, garlic, and pepper right before you serve it. While these ingredients significantly elevate your Nuoc Cham's flavor, they will develop a strong and overwhelming taste over time.
If you want to make the sauce in advance, let it cool, pour it into a glass jar, and then refrigerate. You can store it this way for about 2 weeks.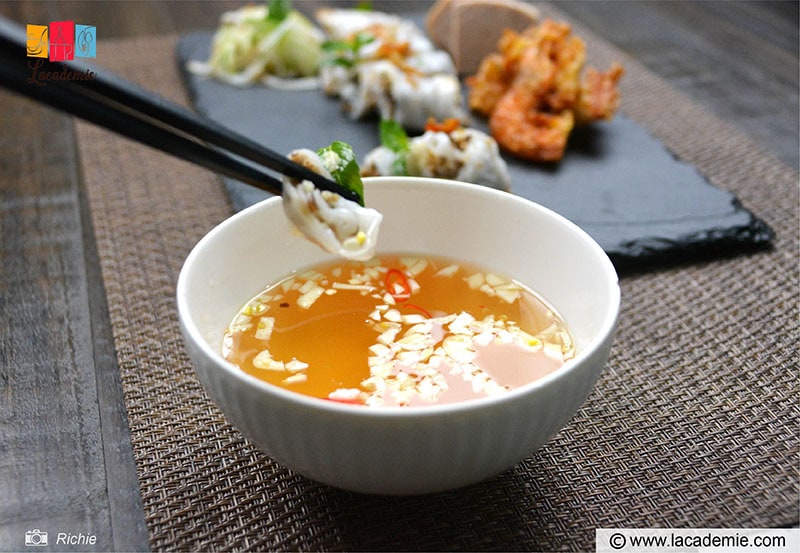 Perfect Dishes To Serve With Nuoc Cham
There are many outstanding choices when it comes to ideal serving suggestions for Nuoc Cham. Since it is an essential part of Vietnamese cuisine, you'll see countless recipes from this South East Asian country utilizing Nuoc Cham.
If you want a simple yet delicious appetizer that everyone loves, I highly suggest Cha Gio (Vietnamese egg rolls). You can also turn these crispy rolls into a filling meal by pairing them with some vermicelli noodles.
Banh Xeo is another solid choice when you crave a savory crepe filled with healthy ingredients. Fans of vegetables will surely adore this delicacy as it's traditionally served with an array of fresh herbs and veggies.
Speaking of fresh vegetables, you can easily whip up a yummy salad in minutes simply by tossing the veggies with Nuoc Cham. Although it's a dipping sauce, Nuoc Cham also makes for a flavorful vinaigrette.
Last but not least, I wholeheartedly recommend you try Com Tam, a classic street food from Saigon. The dipping sauce is especially important in this dish as it can easily make or break your dining experience. With today's Nuoc Cham recipe, I'm certain your Com Tam will be tastier than ever.
Give Your Meal A Vietnamese Twist With Nuoc Cham!
Nuoc Cham is the ultimate condiment that captures the essence of Vietnamese cuisine. Thanks to its incredible versatility, there are numerous ways to utilize this dip in your meal. With just 15 minutes and simple ingredients, you'll have a flavorful sauce at hand!
What's your favorite way to enjoy Nuoc Cham? Have you thought of any interesting ideas to make full use of this delectable sauce? Please don't hesitate to share them in the comment section below. Lastly, kindly share today's recipe with other home cooks that you know.
Nutrition Facts
1 servings per container
---
Amount Per ServingCalories30
% Daily Value *
Sodium 943mg

40

%
Potassium 2mg

1

%
Total Carbohydrate 4.2g

2

%

Dietary Fiber 1g

4

%
Sugars 0.6g

Protein 1g

2

%
---
* The % Daily Value tells you how much a nutrient in a serving of food contributes to a daily diet. 2,000 calories a day is used for general nutrition advice.