Indian salad recipes are always many people's top choices when it comes to a rejuvenating side dish or appetizer. If you think salads are bland or unappetizing, it's time to revise your opinion.
Bursting with delightful flavors, the following salads are the epitome of how delicious food can be equally nutritious and healthy as well. Scroll down now and see what I have prepared just for you.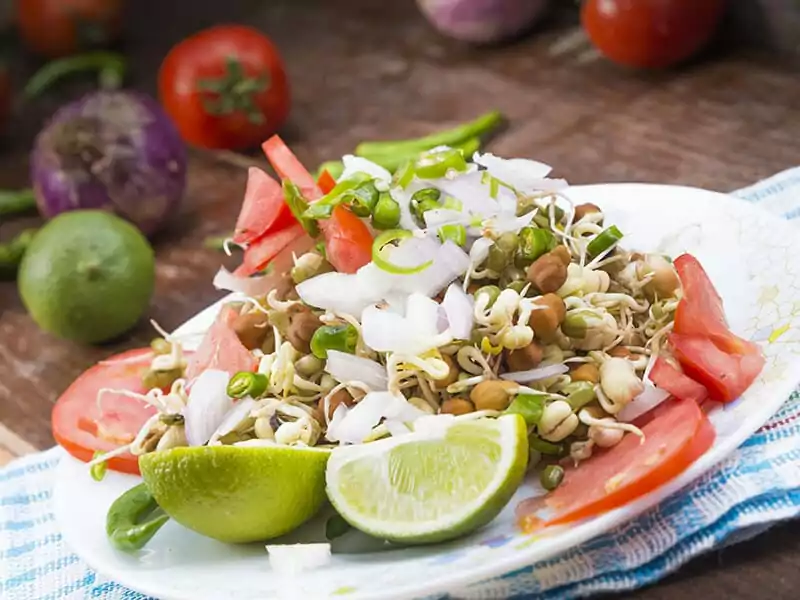 Be Mindful! The Upcoming Indian Salad Recipes Might Be Addictive
Compared to various other prominent cuisines globally, Indian-style salads are nothing less. They are varied and versatile that you can have them for almost anytime you or any meal you wish for. Here are my best suggestions for you. Check them out now!
Total time: About 10 to 12 minutes.
Kachumber is a summertime favorite in India. This refreshing cucumber salad includes only refreshing vegetables such as tomatoes, onions, and of course, cucumbers.
Lime juice offers the main sourness for this light and keto-friendly Indian delicacy, helping it become more delightful and attractive. Don't make Kachumber salad beforehand for too long it'll get soggy/watery.
Fresh herbs, lime juice, and red onions help enhance your salad's satisfying feeling when eating.
Let's learn how to make a bowl of Kachumber today!
Total time: About 10 minutes.
Kakdi Chi Koshimbir, also known as Maharashtrian-style cucumber salad, is a light, somewhat spicy, lemony Indian-style appetizer bursting with crunchy/nutty crushed peanuts.
This Kakdi Chi Koshimbir's harmonizing taste combination adds a surprising twist to the main dish. There are many things to say about this exhilarating cucumber salad, and you should serve it fresh with heartier foods such as curries. You won't regret doing so.
Total time: About 7 to 15 minutes.
This fresh and lively tropical salad makes a bright/gorgeous addition to any dinner table. Yellow, purple with an accumulation of green herbs (optional), all of these colors might appeal to you at first sight.
You can add in some other ingredients (like veggies) if you wish; however, keeping it simple is excellent already. I promise you will love the "kick" from spices (red chili powder, specifically) when combined with green mango's mellowy and tangy, fruity taste.
Total time: Around 15 to 30 minutes.
Every Indian loves Chaat, and you will too after experiencing this light yet energized Chana Chaat. There is nothing else to say about the health benefits that chickpeas give to you (with loads of fibers and are cholesterol-free), so I will talk more about their taste.
In a portion of Chana Chaat, chickpeas, pomegranate, yogurt, Masala spices, and chutney are never excluded. Thanks to that, sourness and rich and robust tastes are what you can expect from this mouthwatering Indian delight.
Although my suggested recipes for Chana Chaat call for tinned/canned chickpeas, you can still use dried ones. You need to use ⅓ of the canned ones because the peas' size is bigger after soaking.
The most uncomplicated Chana Chaat-making instruction you can find is here!
Total time: Approximately 45 minutes.
Want a salad idea for your Indian-inspired lunch? Don't wait any longer and try this Pasi Paruppu Kosumalli (or spiced lentil salad)! Preparing a portion of this lentil salad is not as quick as some other recommendations on this list, but your effort will pay off.
With absolutely fresh split moong dal (soaked for half an hour), your mixed veggies salad will offer irresistible beany and vegetal flavors that you cannot mistake elsewhere.
Asafoetida, curry leaves, and mustard seeds add a great tongue-tickling effect to your salad so that your first bite into Pasi Paruppu Kosumalli is never dull.
Total time: About 7 to 10 minutes.
If you are a true fan of Indian cuisine, then Raita, or traditional Indian yogurt condiment, is not a strange dish. However, today I will show you how to add a twist to it. The vibrant sweet-tart taste from this tropical fruit never disappoints you on the base of plain yogurt.
It is wholesome and light on the tummy, making it perfect for a modest treat by itself. You can serve this Raita as a toothsome Indian side dish or simple dip beside Naan/Roti for a regular lunch or dinner.
30-minute-chilled Raita is the best, so you should prepare it a while before serving.
I promise this bowl of Ananas Raita will never disappoint you!
Total time: Around 20 minutes to 2 hours and 30 minutes (including 2 hours for refrigerating).
Putting spinach into Raita is a great way to make your authentic Indian recipe more flavorsome. Spinach is a superfood packed with various beneficial compounds such as folate or dietary fibers, so why not try a way to boost your food's nutrition.
The spinach is not used raw; you should pre-saute it before with spices on high heat so that your veggies can be soft faster. After sauteing, you must ensure that the spinach is cool entirely before assembling it with finely whisked yogurt/curd.
Total time: About 10 to 15 minutes.
What else can be a better plant-based fat source than avocado? This heart-healthy veggie, with its lovely buttery taste, makes this Avocado Tamatar Ka Salad a mind-blowing Indian vegetarian dish.
To avoid the bitterness in your avocado, you should choose fully ripe ones. If you want to premake the salad for meal prep, don't slice your avocado ahead of time as they will turn brown after time.
For the dressing, plain yogurt, fresh herbs (coriander leaves), and spices (cumin powder, for example) are great enough.
Total time: Approximately 10 to 20 minutes.
Have you ever tried raw mooli (or radish) before? If not, this will be your first time experiencing the tempting tangy, spicy taste with a hint of zesty flavors from the raw version of this root vegetable.
Keeping it simple by using only radishes or twisting it with additional veggies is your choice. No matter which recipe you prefer, both of my recommended Mooli Lachha tutorials can give you the best radish salad ever.
The most suggested companions besides this Mooli Lachha are several kinds of Indian breads (Parathas/Theplas) or some fragrant rice mixed recipes. Who can resist such a toothsome crunchiness and lovely cooling effect of a fresh salad beside starchy delicacies?
Roll up your sleeves and make some Mooli Lachha today!
Total time: Around 20 minutes.
Since cabbage is one of the most popularly used vegetables globally, this Hara Salad is definitely a fail-safe salad option for you. Although it also includes some Indian hot spice mixes, this Indian cabbage delicacy requires much less.
The prominent taste you can feel inside your salad bowl is a lovely sweetness from the freshly sliced cabbage. Herbs, other veggies, or toasted nuts are all optional. Feel free to make your own twist on this humble salad.
On the other hand, you can consider serving this Hara Salad with some typical Indian-style soup or beside any hearty/meaty dishes (Tandoori Chịcken, for example). Don't forget to add a splash of lemon juice to your salad. You'll love those citrusy notes a lot.
Total time: About 20 to 30 minutes.
Sweet corn is the best corn type to be the main ingredient for this light salad since its distinctive sweetness is one-of-a-kind.
You can either choose frozen or fresh corn kernels to create this dish; as long as you still remember to add the chopped red onion, then your delight's flavor will never go wrong.
This low-calorie vegan-friendly salad will complement any meal you want in the day. With some chopped coriander leaves garnishing on top of your Corn Chaat plate, a lively, additional greenish note makes the whole food look more alluring.
Total time: Approximately 20 to 30 minutes.
Methi or fenugreek offers a delightful maple flavor with appealing aromas and medicinal benefits. Regularly, Indian people use these ingredients like spices, but I will show you a way to have it fresh in a salad dish.
The tangy, nutty, and mild bitterness is the primary taste you can sense from the sprouted methi instead of the robust pungency in the seeds. Thanks to that, Methi Sprouts Salad is absolutely easy to devour.
Chopped veggies and fresh herbs are optional, and you can choose what you prefer to add to your food. Some things such as tomatoes and coriander are great nominees. Best to serve for lunch or beside soup, you should consider pairing this salad with my suggestions.
Total time: About 5 to 10 minutes.
Tomatoes are called "tamatar" in India, and local people use this nourishing vegetable for various dishes, especially Indian-style curries or stews. For this Tamatar salad, you won't use only tomatoes but also need some sliced onion as the veggie base.
To build the dish with fresh tomatoes like this, the dressing is pretty essential. You can make it simple with lime juice and salt or in a more fussy way with Mint Raita dressing (with yogurt, mint, and lime juice). Both ways are great, so you won't need to worry about the outcome.
Tomato salad and something you should know to make some of it at home.
Total time: Around 5 to 10 minutes.
This favorable mung bean sprouts salad is one more accessible option for sprouts salad. The sprouts of mung beans typically deliver a much milder taste when eating, helping this sprouted mung bean salad be packed full of flavor from additional spices.
The highlight of this salad is the use of fruits, and there is almost no limit to that. Pineapple, cranberries, and grapes are some of the most suggested choices for you.
They all add a sweet note to your salad and efficiently upgrade the light taste of mung bean sprouts. That overall taste experience is incredibly refreshing and satisfying.
Total time: About 35 to 40 minutes.
Rice and salad sound like partners rather than companions in the same dish, but Indian people mix these two parts together. This cold salad is perfect for a meal prep box for office lunchtime or weeknight dinner since it can last for 4 days in the fridge.
Don't confuse this basmati rice salad with another Indian dinner staple called Vegetable Biryani. Their main difference is that you should prepare all the cooked/fresh ingredients separately before tossing them all into one same bowl.
Total time: Around 25 minutes.
Continuing my ode to Indian food, now, let's turn to a plate of Paneer Salad. Paneer is Indian cottage cheese with a typical firmer texture than the other variations. This kind of cheese typically offers a great neutral richness, which can switch up your midday routine.
You can easily find frozen Paneer at any Asian store or make it with an Indian instant pot dish at home. The key to receiving the best Paneer Salad is to pan-sear or lightly grill your cheese until it offers a beautiful golden-brown crust.
Other ingredients like fresh herbs or veggies are optional; you can add whatever you love based on your preferences. In case you are vegan, you can change the Paneer into tofu and make it the best Indian-style tofu dish you've ever tried. Trust me; it's addictive for sure.
Total time: Approximately 20 to 30 minutes to prepare + 1 hour to marinate (optional).
If you want a more nutritious salad with more protein content, give this Tandoori Chicken salad a go. Mentioning Tandoori Chicken, everyone knows that it is a famous chicken dish standing for Indian gastronomy, and it tastes awesome with fresh veggies in a salad.
Similar to some recipes above, red onions and chopped cucumbers are promising nominees for what to go into your dish. Plain yogurt with slightly pungent garlic can become an excellent base for the dressing.
You can choose to use leftover Tandoori Chicken for the protein or prepare it from scratch. Both ways take not much time, but you need to marinate your chicken with a few spices for a while before cooking if you prefer freshly made chicken for your dish.
Don't waste your chance and make some Tandoori Chicken Salad right away!
Total time: Around 30 to 35 minutes.
If corn and chickpea are not your things, you should try peanuts. Boiled peanuts have a prominent beany/rich taste with many good fat sources for vegans or vegetarians.
In my recommended recipe, there are various veggies (cucumbers/carrots), herbs (chopped coriander leaves), and hot spices (like Kashmiri red chili powder). Some locals even see this Peanut Chaat as an Indian signature snack or an appetizer.
Thanks to the flavor kick that the dish provides, you can have it anytime in the day. Peanut Chaat is also fine for meal prep, but you need to store it without spices/condiments inside the fridge. Serve chutneys separately, and you can add them later when enjoying.
Total time: Around 25 to 27 minutes.
Is this Samosa salad the same as a famous Indian street delicacy with the same name? Originally, Samosa was a crispy fried/baked treat in India. This food is generally filled with veggies, and this Samosa Aloo Salad somewhat has the same idea.
For Samosa Aloo Salad, you should prepare some Russet potatoes and fresh/frozen peas with other plant-based components. You can also add rice to it if you wish for something a bit more filling.
Last but not least, the nuts used also play a significant role in the success of this dish. I cannot resist the flavor/texture of toasted cashews, and I think you will be like that, too. It's just so tasty in an incredibly rustic way.
Total time: From 12 minutes to 2 hours and 20 minutes (including 2 hours for preparation steps).
The best solution for you when having a lot of leftover Chicken Tikka is to pair it with various fresh veggies and spices. These components help elevate your cooked protein efficiently since their rejuvenating effects neutralize all the salty/savory flavors.
Cucumbers and onions are the secret ingredients, absorbing the zesty/citrus dressing and providing a touch of wholesome satisfaction. The oil dressings can be virgin olive oil or sesame oil; they all add a good source of plant-based fat and boost your digestive system.
Are you ready? Prepare some Chicken Tikka Salad today, and you won't regret doing so.
Total time: Around 10 to 15 minutes.
With its perfect union of aromatic/fragrant spices, crisp textures, and luscious yet straightforward condiments used, there is no question why Laccha Pyaaz is so beloved.
Laccha Pyaaz is also one of the most effortless salads on this list, as you need no complicated ingredients to make it.
I highly recommend using red onion for this onion salad recipe since its typical onion pungency is much milder than the regular yellow ones. Red onion's subtle sweetness is also a perfect partner besides the neutral spiciness of green chili.
For Laccha Pyaaz's side dish, you should match it with tandoori-cooked recipes. Trust me; it is an iconic no-fail combination.
Total time: About 15 minutes.
If you are looking for a way to include more carrots into your diet, then this crunchy and flavor-filled Bombay carrot salad is the way to go. Regular grated or matchstick carrots all make sense. The freshness and crunchiness are the main highlights of your salad.
The existence of cashews (for more protein content) and raisins (for additional sweetness) create an exciting taste experience for you when it comes together with carrots. You can opt for honey instead of sugar as a sweetener for the dressing. Absolutely healthy!
List Out Your Most Wanted Salads And Make Some Today!
Nothing is better to replace a meal on busy days than light yet nutrient-loaded salad. In case you are out of ideas for which kinds of salad to prepare, all of my suggested recipes today are worth trying once.
Say goodbye to the bland salad you've tried; turn to these flavorsome Indian salads from now on. Feel free to leave a comment after giving the above dishes a go and tell me what you think about them. I'm highly appreciative of your contribution.
Nutrition Facts
4 servings per container
---
Amount Per ServingCalories327
% Daily Value *
Total Fat 11.1g

17

%
Cholesterol 5mg

2

%
Sodium 105mg

5

%
Potassium 645mg

19

%
Total Carbohydrate 52.3g

18

%

Dietary Fiber 7.2g

29

%
Sugars 28.5g

Protein 9.9g

18

%
---
* The % Daily Value tells you how much a nutrient in a serving of food contributes to a daily diet. 2,000 calories a day is used for general nutrition advice.