Prepare to be amazed by the array of cooking equipment in Asian cuisine that play a vital role in creating Asian staple delicacies.
In this article, I'll guide you through the fascinating world of woks, steamers, clay pots, and beyond. And unveiling the techniques and tools that will revolutionize your cooking creations.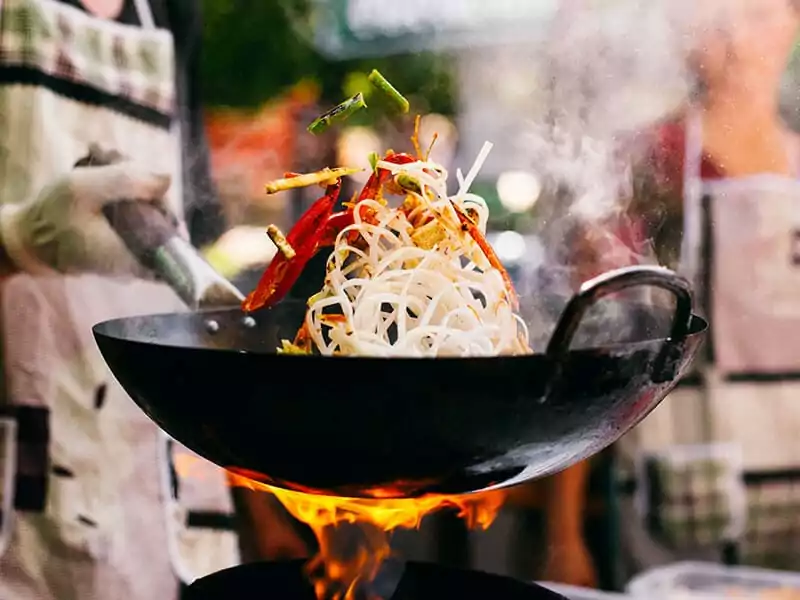 Influence of Cooking Equipment on Asian Cooking Techniques
Stir-Frying In A Wok
In Asian culinary history and culture, the wok is an essential cooking tool.
Its round-bottomed shape is central to the technique of stir-frying, which is a common Asian cooking skill in many Asian countries. The wok's design allows food to be quickly cooked at high heat, with the sides providing a surface to temporarily move food away from the intense heat at the bottom.
This makes the wok incredibly versatile and ideal for fast cooking techniques, allowing vegetables to retain their crunch and meats their juiciness.
Steaming And Its Benefits
Steaming is another popular cooking technique in Asian cuisines, with equipment like bamboo steamers and metal steam pots often employed. Steaming allows for the even, fast cooking of food without adding fats or oils.
This cooking method helps preserve the ingredients' nutrients, color, and texture, making it an integral part of creating dishes such as dim sum, bao buns, and various types of dumplings.
Cooking In Clay Pots
Clay pots are often used in Asian cuisines to slow-cook meals, allowing flavors to develop over time. This cooking equipment provides a steady, even heat that tenderizes meat and melds flavors together.
Dishes like Chinese clay pot chicken rice and Indian Biryani owe their distinctive tastes to this cooking method.
Exotic Methods Like Tandoor Cooking and Bamboo Cooking
The cuisines of regional Asia features other exotic cooking methods. Tandoor ovens are traditional in Indian and Pakistani cuisines, providing intense heat for baking naan bread and cooking meats. The results typically have a distinctive char and smoky flavor.
Bamboo cooking is more common in several Southeast Asian cuisines. It involves using bamboo tubes to hold food – often rice or meats – that is then cooked over open flames.
Contemporary Usage and Adaptations
Influence Of Asian Cooking Equipment On Global Cuisine
The use of Asian cooking equipment has become widespread globally. Woks and rice cookers are now kitchen staples in many homes, regardless of cultural background.
Restaurants globally have also adopted tandoor ovens to create authentic Asian dishes, while bamboo steamers are increasingly popular in Western kitchens.
Modern Adaptations Of Traditional Equipment
Many traditional Asian cooking tools have seen modern adaptations for easier use and convenience. Electric woks and rice cookers are the best examples.
Modern pressure cookers have also taken cues from these conventional cooking tools, settings specifically designed for cooking rice and steaming foods.
Availability And Purchasing Recommendations
With the internet and global trade, it's easier than ever to purchase these authentic equipment, no matter where you are in the world. Look for reputable online retailers that specialize in Asian cookware to ensure quality.
When buying, consider the size of your kitchen and your cooking needs. Remember, good quality equipment tends to be durable and more expensive, so consider it an investment in your cooking journey.
1. Carbon Steel Wok or Cast Iron Wok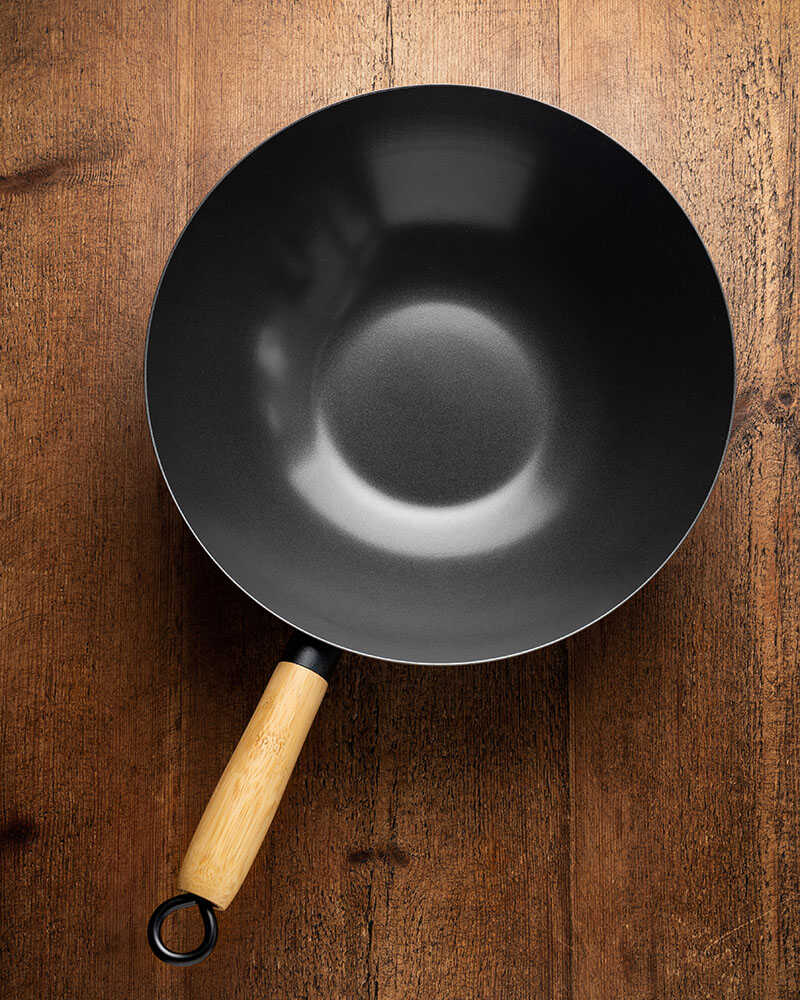 The wok, a bowl-shaped frying pan from China, is a good friend in East Asian, Southeast Asian, and South Indian cooking.
Its deep, rounded bottom excels at stir-frying and deep-frying but doesn't shy away from stewing, poaching, or making soup. Just don't use it for extremely acidic dishes.
Western versions might show off flat bottoms for electric stoves, but they're more like regular frying pans than their authentic cousins. Regarding the wok material, there are two main materials for making it, each with its own merits.
The carbon steel wok is a crowd favorite. Its lightweight nature lets you lift and shake it effortlessly, a true asset for Asian stir-frying. Durable and quick to heat, it has some shortcomings too. It's more pricey, food might stick to it, and potentially lead to uneven cooking.
On the other hand, the cast iron wok is another ideal option. They are available in Chinese-style (lighter and more brittle) and Western-style (heavier and more robust) iterations. Overall cast iron wok is a budget-friendly choice. It won't let your food stick easily, and seasoning it is a breeze.
Plus, its heat distribution is top-notch. But beware: it's heavy and slow to heat, making temperature control a challenge and food burning a possibility. FYI, a cast iron wok holds onto heat so well, it keeps cooking food even after you've turned off the stove.
To prevent overcooking, either cook food just enough to let it continue cooking in the wok or whisk it out immediately when it's done.
2. Bamboo Wok Brush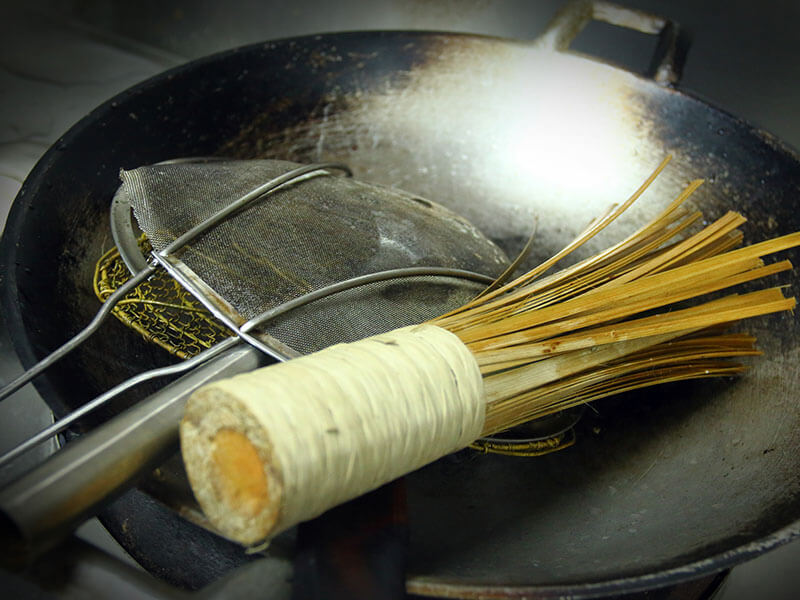 A bamboo wok brush is your hero when it comes to cleaning a wok. It's cheap, durable, and importantly, designed to protect the wok's delicate patina.
This protective coating could be ruined by soap or dishwashing liquid, so a bamboo brush is a true ally. The brush is a simple construct of multiple split bamboo stalks tied at the top, offering the right softness and hardness needed to clean the wok gently.
The best time to use it is when your wok is still hot to avoid damaging the coating. Under running water, move the brush in a circular motion to lift off any food residue. Once the task is done, you just need to hang the wok and let it air dry.
3. Non-stick Frying Pan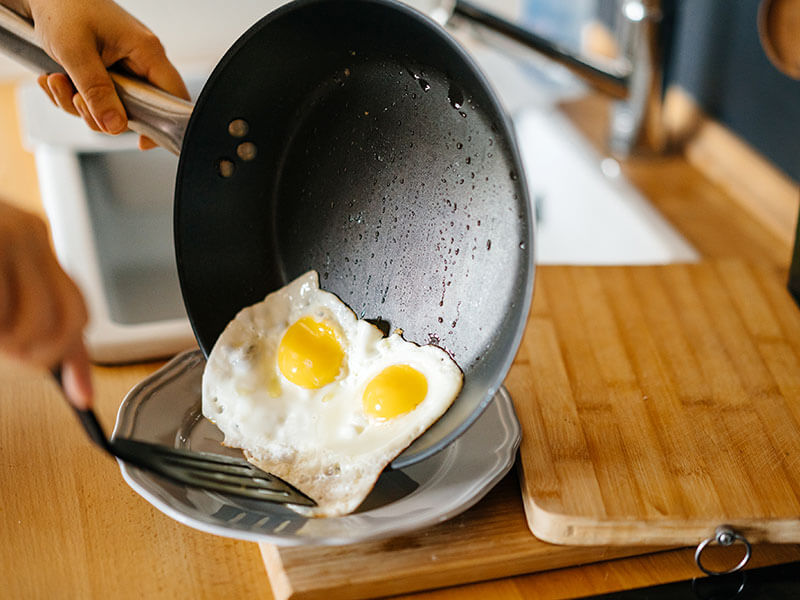 A non-stick frying pan, typically flaunting a Teflon coating, is a great companion in the kitchen. Washing up becomes a breeze, as food just glides off without a fuss.
This ease extends to cooking, too, as you won't need much oil, making it a healthier option. It's a favorite for whipping up eggs, flipping pancakes, or searing seafood. Yet, it's important to note that this type of pan has a penchant for cooler temperatures.
Too much heat, specifically anything above 260 °C (500 °F), can singe the coating, leading to toxins being released (1). That's why, even though it excels in certain areas, some non-stick frying pan isn't too good for high-heat Asian cooking methods, like deep-frying.
4. Bamboo Skimmer / Bamboo Drainer
A bamboo skimmer (or a spider skimmer/drainer) is a helping hand for lifting foods while boiling, blanching, or deep-frying food in a wok. More specifically, a bamboo skimmer is perfect for lifting everything, from noodles and legumes to veggies.
With a long bamboo handle, it ensures you stay clear of any splatters and hot oil. Attached to this handle is a stainless steel wire mesh, designed in such a way that oils and liquid can easily seep through, leaving behind just your perfectly cooked food.
5. Deep Fry Rack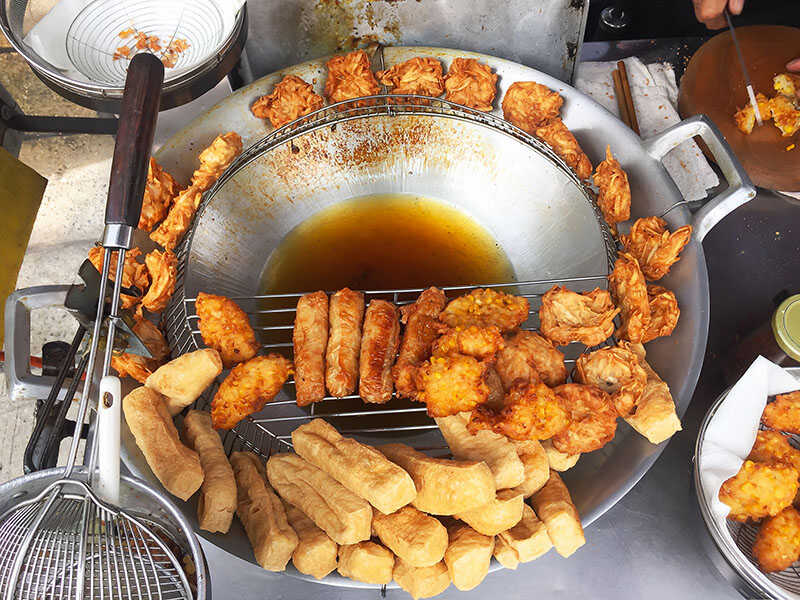 In the realm of deep-frying, the deep fry rack serves as a handy tool that drains cooked food better than the old trick of using a plate or pan lined with paper towels.
This culinary ally is usually crafted from robust stainless steel, which ensures longevity, and, at times, it might also come with a bonus – fry baskets!
Paper towels, while a quick fix, might let you down by allowing oil or fat to accumulate at the bottom of your dish, leading to unnecessarily greasy food. On the other hand, the design of a deep fry rack allows the excess oil to drain through easily, maintaining the crispy texture of your food.
If you're whipping up something delicious in a wok, a wok rack – with its semi-circular shape – could be your best bet. This handy tool clings to one side of the wok, steady as a rock. All you need is a trusty spatula or bamboo skimmer to move your food to the rack.
Here's the best part: when you place the food on the rack during cooking, the oil trickles back to the wok, ensuring nothing goes to waste!
6. Electric Rice Cooker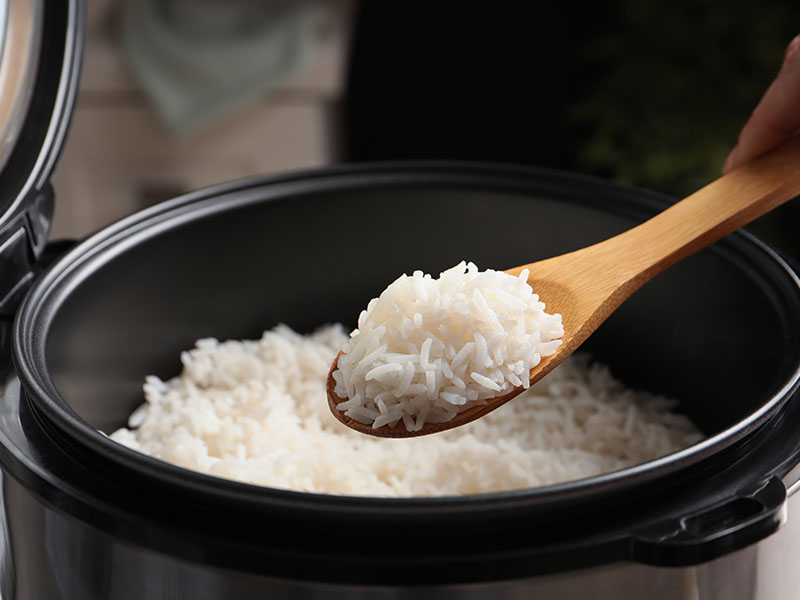 The electric rice cooker has made a name for itself as an absolute essential in any Asian kitchen. Far from being a one-trick pony, this versatile tool is entrusted with the task of preparing rice. It also displays its power in cooking other grains, like barley and quinoa.
Surprisingly, it doesn't stop at grains; with a bit of creativity, you can whip up dishes like pancakes or chicken with this appliance. Also, its simplicity is a huge plus. All you need to do is rinse uncooked rice, place it into the rice cooker with the right amount of water, and press a button.
And now, you can say goodbye to undercooked or overcooked rice because this clever appliance has got it all under control. For those who like their rice warm and ready, many brands have stepped up their game and incorporated a helpful attribute that keeps your rice warm for hours
7. Rice Paddle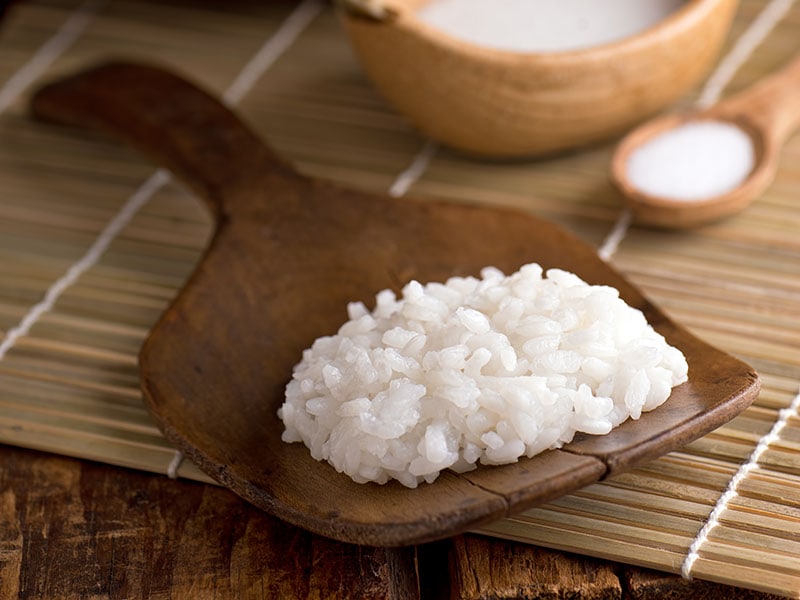 If you've ever cooked rice, then you might already be familiar with the rice paddle. It's a common tool cherished across many East Asian and Southeast Asian countries and goes by a variety of names, for example, the Shamoji in Japanese.
It's a tool designed to stir and serve rice in the gentlest way possible. With an average size that fits comfortably in your hand, a rice paddle helps maintain the texture of your rice by preventing the grains from mashing together.
Materials matter too. The paddle isn't made of steel but is often crafted from plastic, bamboo, or wood. These materials are kind to the nonstick coating inside a rice cooker, unlike steel utensils. That's why big spoons and spatulas don't make the cut when it comes to serving rice.
Electric rice cookers usually come with a rice paddle as a trusty sidekick. However, if your rice cooker misses its companion, there's no need to fret. The market is brimming with rice paddles available for individual purchase at a very good price.
8. Bamboo Steamers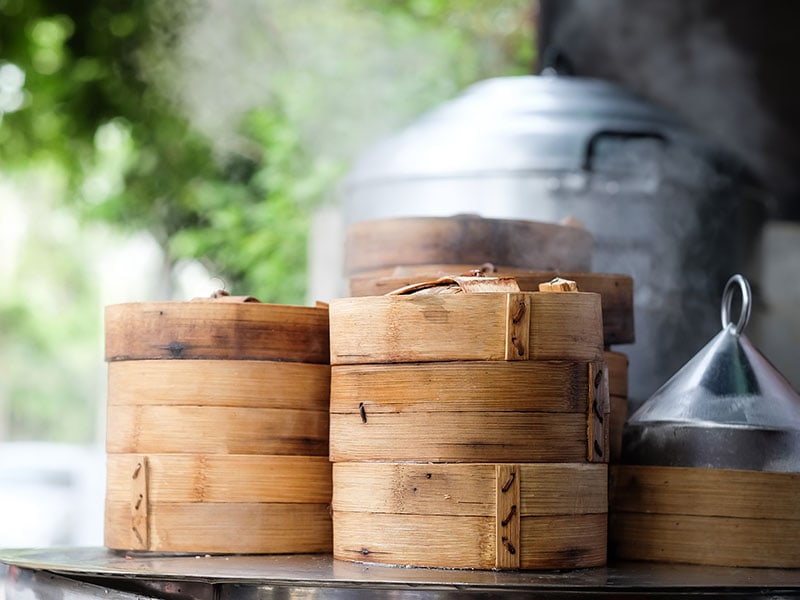 Bamboo steamers aren't your ordinary steamers. Instead, they're unique tools essential in cooking various foods like Chinese buns, dim sum, vegetables, and even fish. Placed atop a wok or pot, they utilize the steam from boiling water to ensure your food cooks just right.
Every bamboo steamer stands out with its design. Made entirely of bamboo, each one usually features multiple baskets or layers stacked together. This design is not merely for aesthetic purposes; it provides the convenience of cooking different types of food simultaneously.
A handy tip to remember: arrange the food based on cooking times, with the ones requiring longer durations placed below, and those with shorter ones on top.
Now, why bamboo, you might wonder. Bamboo offers several advantages over its metal counterparts. Firstly, as a natural resource, bamboo stands as an environmentally friendly choice. Secondly, its lightweight nature makes it easy to handle.
But the real game-changer is bamboo's ability to absorb condensation, ensuring your food remains sogginess-free.
There is one little caveat, though. Bamboo steamers require careful maintenance, as they can get moldy if not cleaned properly. After each cooking session, give your steamer a thorough scrub with a towel and soapy water, and let it air dry completely before storing it away.
9. Chinese Cleaver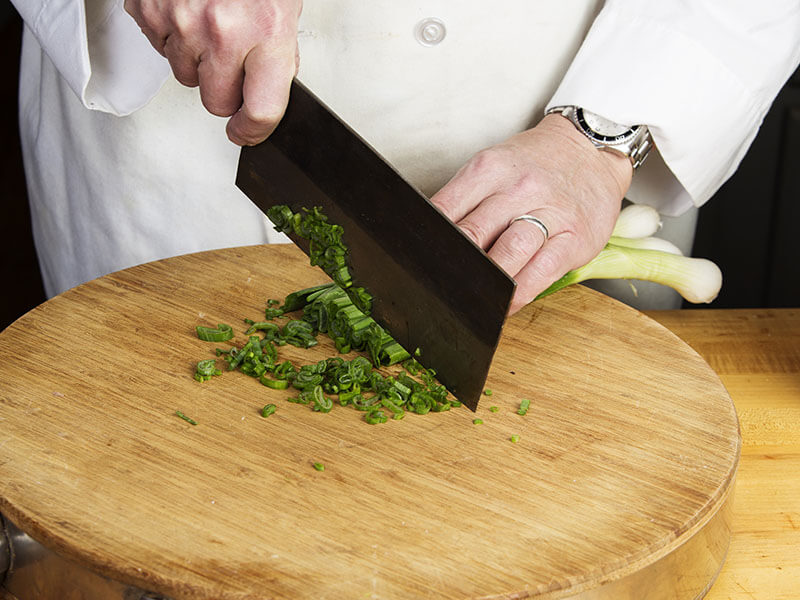 Different from a traditional chef's knife is the Chinese cleaver. This is a knife; with a large, thick, and rectangular blade that has a broad surface area.
Without a pointed tip, its design deviates from the Western knife norm. An attribute that might surprise you is its weight. More weight is concentrated in the blade, making it a bit challenging to handle initially.
Yet, this makes it shine when it comes to cutting and hacking meat. Specifically, pork ribs are a task where a Chinese cleaver excels. But it doesn't stop at meat; it also proves quite adept at mincing, chopping, or crushing other ingredients.
As for the cost, compared to its Western counterparts, a Chinese cleaver leans towards the more budget-friendly end.
It also has a smaller version with a thinner blade – perfect for slicing and dicing vegetables. In culinary terminology, this version goes by the name 'caidao,' as opposed to the 'gudao' cleaver, designed for hacking meat.
10. Japanese Knife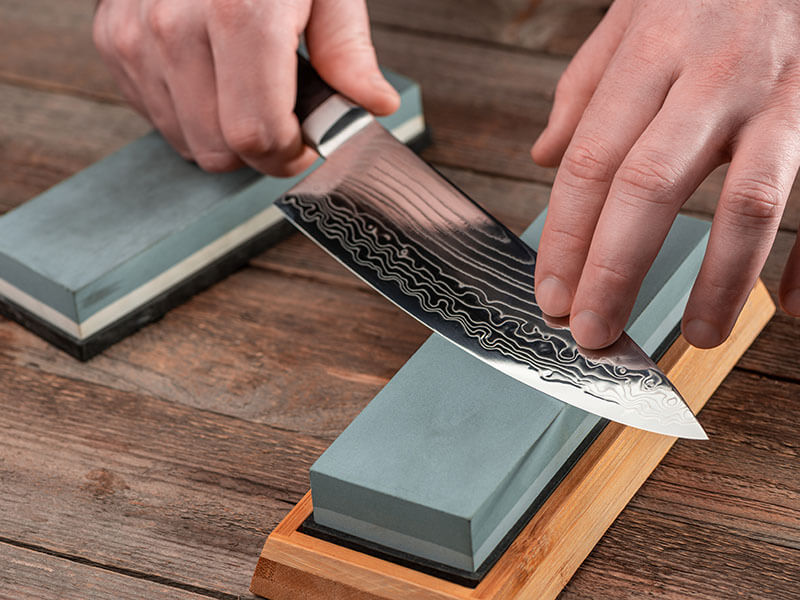 Japanese cuisine brings a unique suite of knives to the culinary world, each with its own specialization.
At the top of the list, Santoku holds a special place. With similar parts of a knife to other regular variants, Santoku has a long blade, a tall heel, and a flat edge. It also sports a blunt or rounded tip. This design works wonders when dicing, mincing, and slicing come into play (2).
On the other hand, Gyuto mirrors the functionality of a chef's knife but with a twist. It is sharp, very sharp indeed. Although it carries a higher price tag, it justifies the cost with its multipurpose utility.
Moving onto seafood, the Yanagiba knife proves to be a star. Designed to work with boneless fish, it's the go-to tool for making various tasty sushi and sashimi. Its long blade makes it possible to slice fish from head to tail in a single stroke, and it even takes care of skinning small to medium-sized fish.
Last but not least, the Deba knife comes into focus. This knife has a thick, wide, and heavy blade. It's a reliable tool for preparing seafood, like cleaning and fileting fish.
Just remember, it's not designed for cutting through large or thick bones. However, it still has a bit of versatility, able to handle cutting chicken or fish with small bones when required.
11. Mortar and Pestle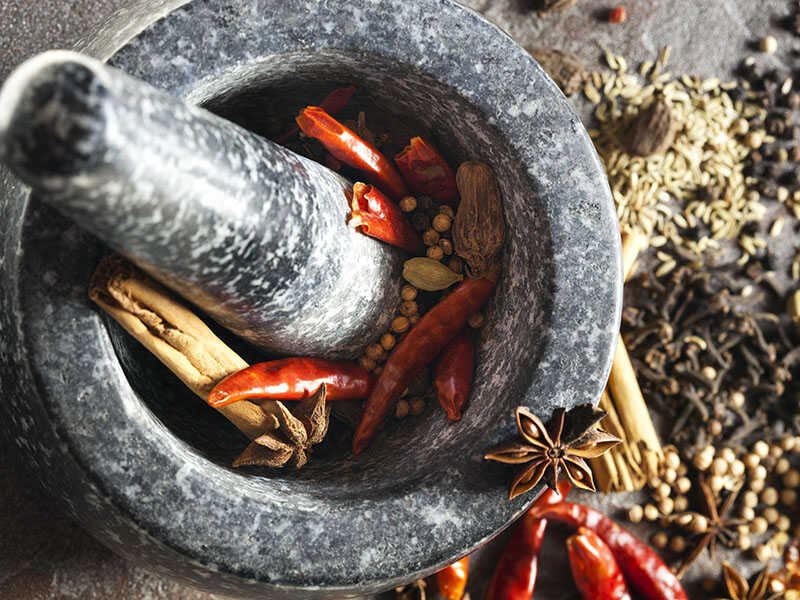 Mortar and pestle, a pair of ancient tools, are popular worldwide, not just in kitchens but in various fields. These handheld devices are designed for grinding and crushing ingredients, be they dry or wet, into fine powders or smooth pastes.
These tools can be made from different materials like ceramic, hardwood, or even granite that come in various sizes, which is particularly praised for its durability.
They are really good at bringing out aromatic oils from various Asian herbs and spices, making them ideal for creating curry pastes, marinades, and sauces.
12. Clay Pot
Clay pots are popular in kitchens across Asia, from the eastern stretches to South India and certain Southeast Asian locales. Crafted from clay, sometimes mixed with chemicals for added strength, these pots exhibit a hearty charm.
While the traditional variety was unglazed, many contemporary models bear a glaze for aesthetics and functionality. From stewing and braising to steaming and sauce-making, these pots can do it all.
For cooking on the stovetop, they need a little prep – soaking in water overnight, followed by thorough drying. Heat management is crucial with clay pots, and keeping it below 480°F (250°C) ensures they perform optimally.
One of the significant advantages of clay pots is their environmental friendliness, making them a favorite among eco-conscious cooks. They are great for dealing with various foods – vegetables, fish, poultry, meat, or even acidic foods.
Also, clay pots circulate heat efficiently because their porous nature ensures the prepared food is evenly cooked, tender, and juicy. With clay pots, there's no fear of off-putting metallic odors ruining your dish.
They also shine when it comes to heat retention. Despite their numerous benefits, clay pots do have weaknesses. They require seasoning if they're unglazed and can be a bit slow to heat up.
Also, due to their composition, sudden temperature changes can lead to cracks. So, if you're planning to add water to your hot clay pot, make sure the water is not too cold. Lastly, using them on a stovetop can sometimes be tricky.
13. Food Processor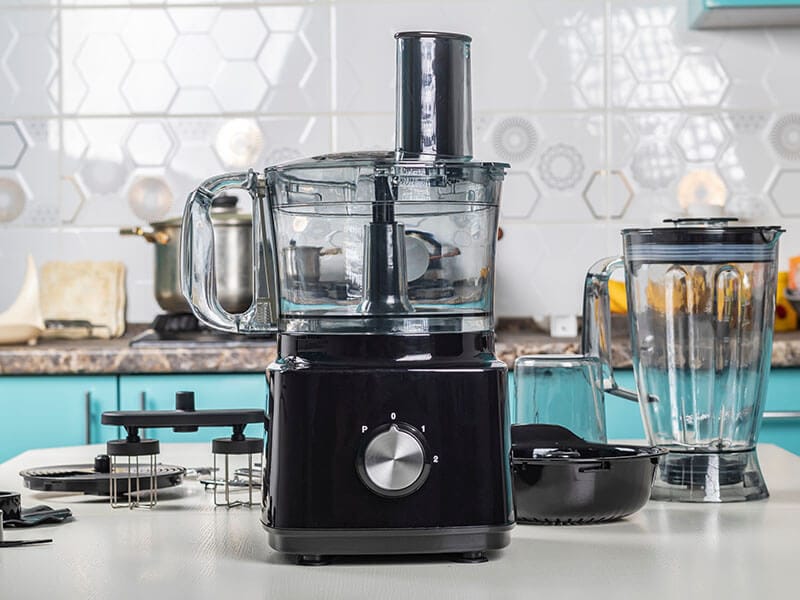 A food processor, unlike a blender, is a helpful tool in your kitchen. It's larger, equipped with many blades instead of one like a blender, and is a real-time-saver. However, people often have many other options for replacing food processors, depending on the recipe's requirements.
Being a jack-of-all-trades in the kitchen, a food processor can handle grinding, mincing, shredding, chopping, and grating. From shredding cabbage for salads to crafting spice blends for curries and batter for deep-fried snacks, it's a versatile kitchen partner.
14. Sushi Rolling Mat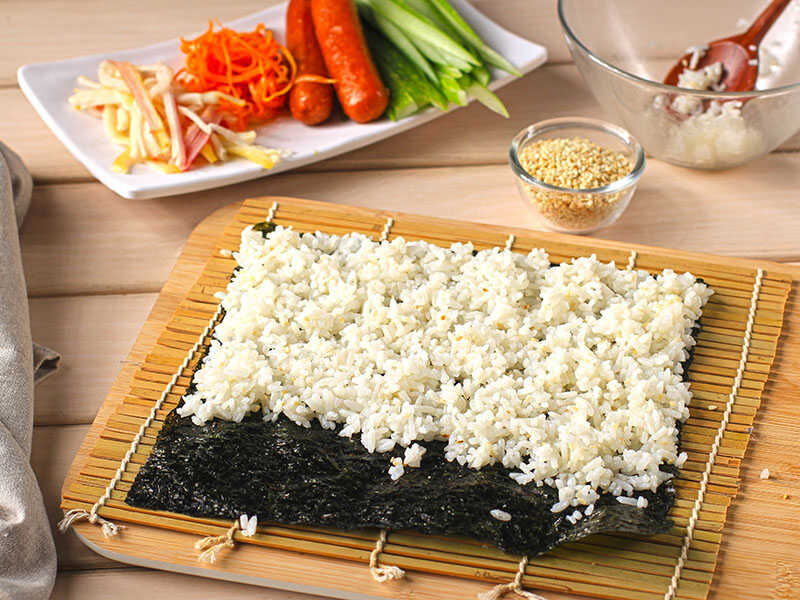 A sushi rolling mat, or 'makisu' in Japanese, is a must-have for sushi lovers. Woven traditionally from bamboo and cotton string, they are cheap and eco-friendly.
There's also a silicone version for easy cleaning. Overall, a great sushi making kit with a rolling mat helps mold sushi rolls into a perfectly round shape.
The even pressure it provides ensures all the ingredients stick together. No mat? Don't worry. A parchment paper or thick towel can fill in.
15. Hot Pot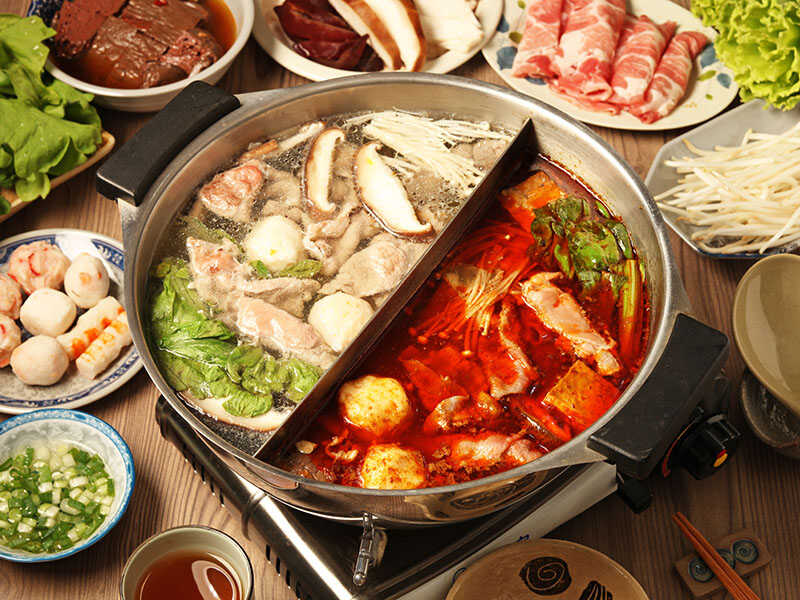 In East Asia and Southeast Asia, a popular dining experience is the hot pot, similar to a fondue. However, the name can refer to a dish or a large pot containing the dish. As a dish, Shabu Shabu is an example, geared towards ultra-thin slices of meat and vegetables cooked in broth (3).
Central to the table is a large, stainless steel pot, designed to be wide and thin yet not too deep to hold a bubbling broth. Surrounding this simmering spectacle, guests have diverse raw proteins, such as meat, fish, and tofu, mixed with vegetables, noodles, condiments, and dipping sauces.
People can dip their preferred ingredients into the broth with chopsticks, patiently waiting for them to cook before savoring them with a well-paired condiment. A special note, for some hot pots, dividers allow holding multiple broths at the same time.
With the thin-walled design ensuring rapid heating, I advise you not to touch the pot during the meal.
16. Soy Milk Maker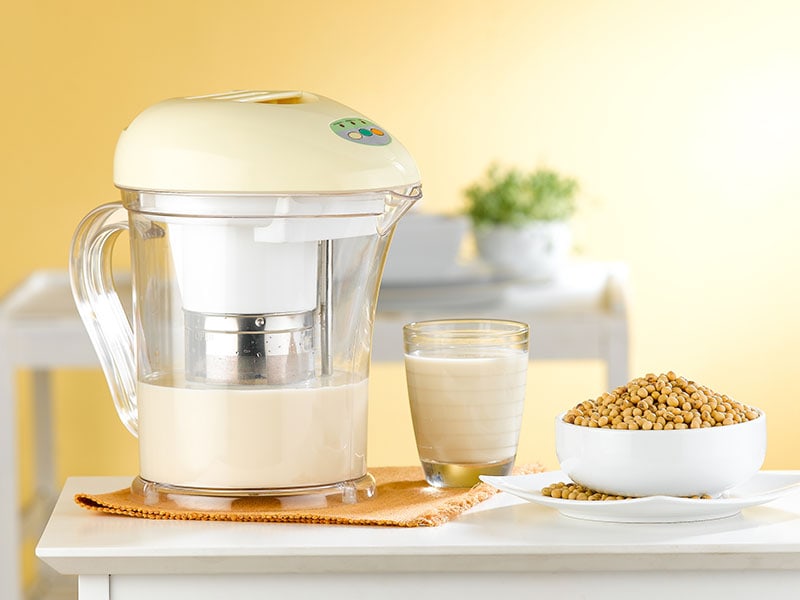 Stepping right out of China's rich culinary history, soy milk has found its place in many Asian homes. Its popularity, however, often sees folks toiling in the kitchen, given the traditionally lengthy process it demands.
This is where the soy milk maker comes to the rescue. Think of it as a fusion of a coffee maker and a blender but for soybeans. The appliance can even work with dry beans. It allows users to forgo the soaking time and cut down the prep time excellently for an extra creamy texture.
However, the utensil only helps you with making soy milk instead of preserving the mixture. If you're wondering whether soy milk can spoil, I highly suggest you consume the milk within a day for the best experience.
Bonus point: it can whip up other plant-based milk, like rice or almond.
17. Cooking Chopstick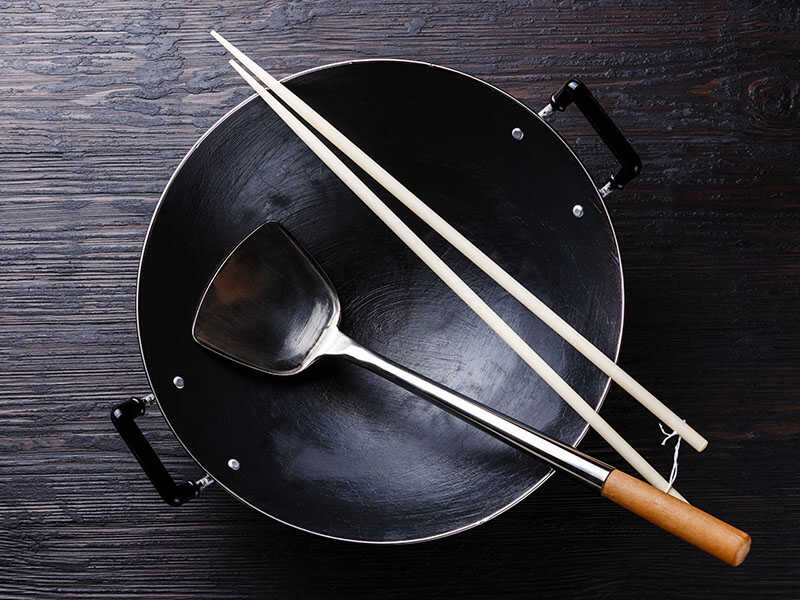 Cooking chopsticks are basically the bigger version of your everyday chopsticks. These oversized utensils can be anywhere from 13 to 17 inches, ensuring your hands stay comfortably away from the heat.
Made from durable materials like bamboo or wood, they are purposefully unadorned to withstand high temperatures. Whether it's whisking stir-fry ingredients, flipping pancakes, stirring noodles, or grilling sausages, these chopsticks are wonderfully versatile.
If you're already a pro with regular chopsticks, you'll find them even more flexible than tongs or spatulas. Plus, they're affordable, offering great value for your kitchen. And don't worry about them darkening over time – it's just a natural sign of their durability.
18. Wok Spatula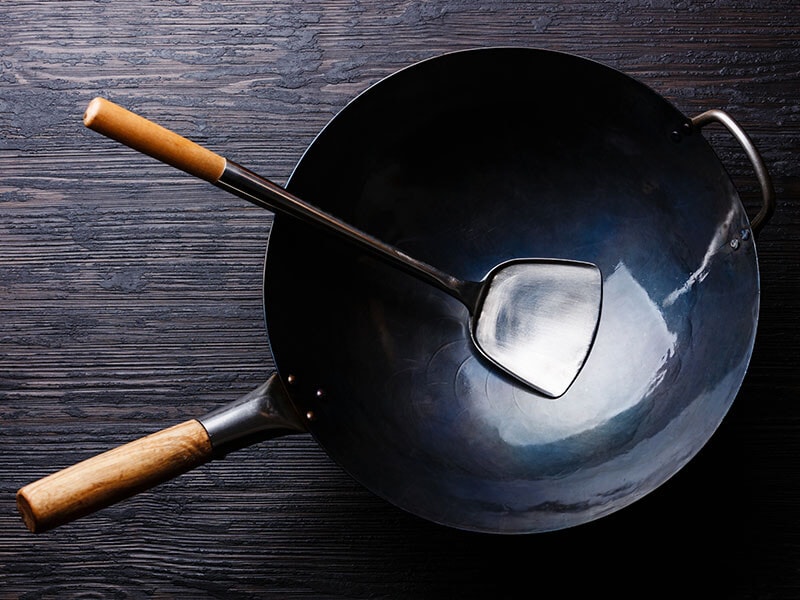 The wok spatula, also known as a Chinese spatula or wok turner, is another trusty tool in the kitchen. Made from materials like bamboo, plastic, or metal, it has a slightly curved end with rounded, thin edges, and raised sides.
Noticeably, the head tapers down from a wider start to a narrower end. It also takes a straighter angle from the head to the handle than regular spatulas.
Why so? This design perfectly suits the rounded, bowl-like structure of a wok, aiding in tasks such as stir-frying, flipping pancakes, and scraping food from the bottom.
19. Ladle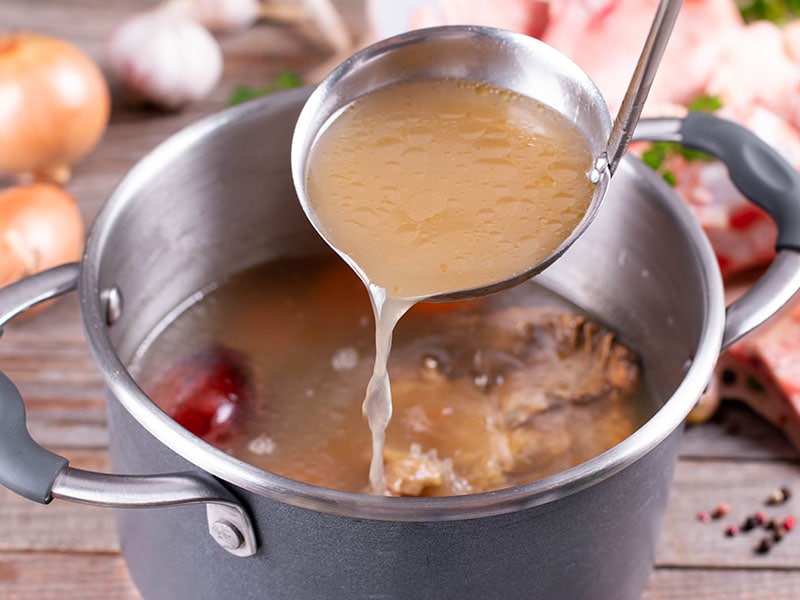 A ladle, akin to a large spoon, proves itself indispensable when dealing with broth, soups, stews, or sauces. Fashioned out of bamboo or metal, it boasts a long handle for easy use.
When paired with a large wok, especially in restaurant settings, a ladle turns into an essential tool. In a home kitchen, though, a wok spatula might offer more flexibility. For convenience, ladles are commonly sold in sets along with wok spatulas.
20. Cutting Board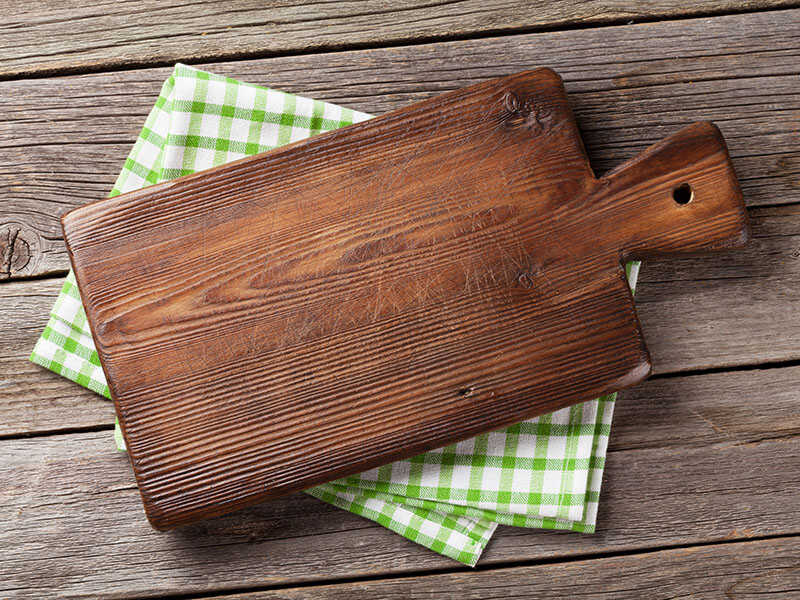 Cutting boards, a kitchen essential, usually come in wood, rubber, or plastic (though it is not too common) because they don't dull the knives easily. Of course, each material has different good and bad sides.
For instance, wood is gentle on your knives and can self-heal small cuts, reducing germ buildup, but it may absorb odors and need careful cleaning (4). Furthermore, you need extra attention to keep bamboo-based cutting boards clean to prepare your next meal.
Rubber boards are durable and sanitary, a favorite in restaurants, although they tend to be heavier and pricier. On the other hand, plastic boards are light, economical, and easily cleaned, but are prone to deep grooves that can harbor bacteria over time.
Finally, it's wise to keep separate boards for raw meat and other foods!
21. Skewer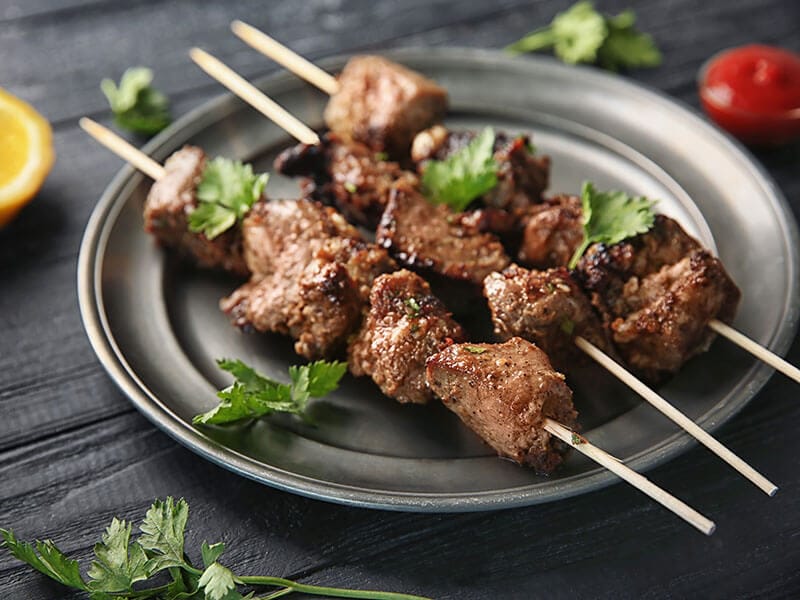 Skewers, whether made of wood or bamboo, play a crucial role in the cooking process of numerous Asian dishes.
They are a must-have tool in making Japanese Kushikatsu (deep-fried and skewered meat), Vietnamese Nem nướng (grilled pork), Pakistani Seekh kebab (ground beef kebabs), Kofta (skewered meatloaf), Indonesian Satay (grilled meat), or some simple BBQs dishes.
Many delicacies often rely on these handy tools to hold together seasoned meat, seafood, or veggies for grilling or deep-frying.
You can conveniently slide the cooked food off with a spoon or fork, or enjoy it straight from the skewer, adding an extra touch of authenticity to your meal.
22. Ramen Pot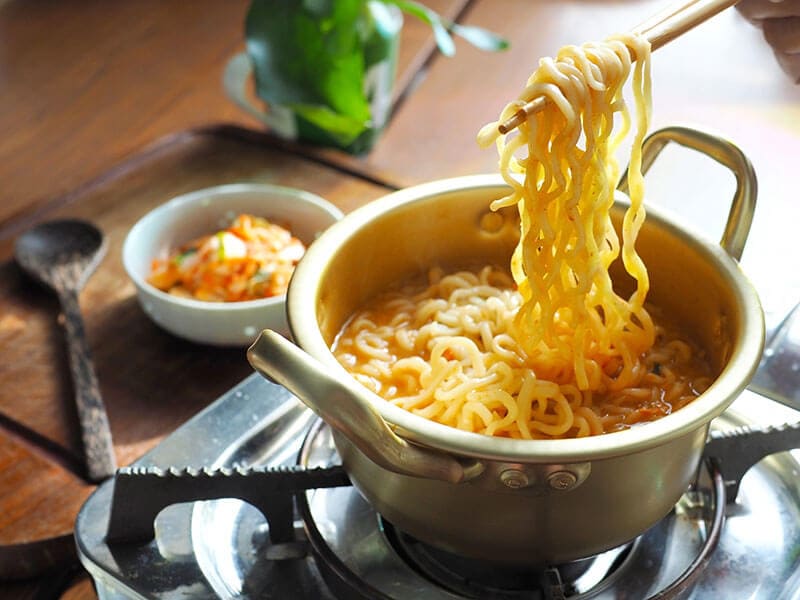 As a South Korean invention, the ramen pot is a special tool designed exclusively for cooking ramen. Its roots reach back to the post-Korean War era, filled with nostalgia, and has even been re-popularized through its appearances in Korean TV dramas.
It sports a golden hue, thanks to its nickel-silver coating on an aluminum body. This useful pot heats up swiftly, ideal for quickly boiling ramen, and doesn't retain heat for long, allowing the broth to cool to a perfect, enjoyable warmth.
Its small size is perfect for a single serving of instant ramen, and it's even convenient to eat right out of it. Despite its susceptibility to dents, this humble tool remains a favorite.
23. Tongs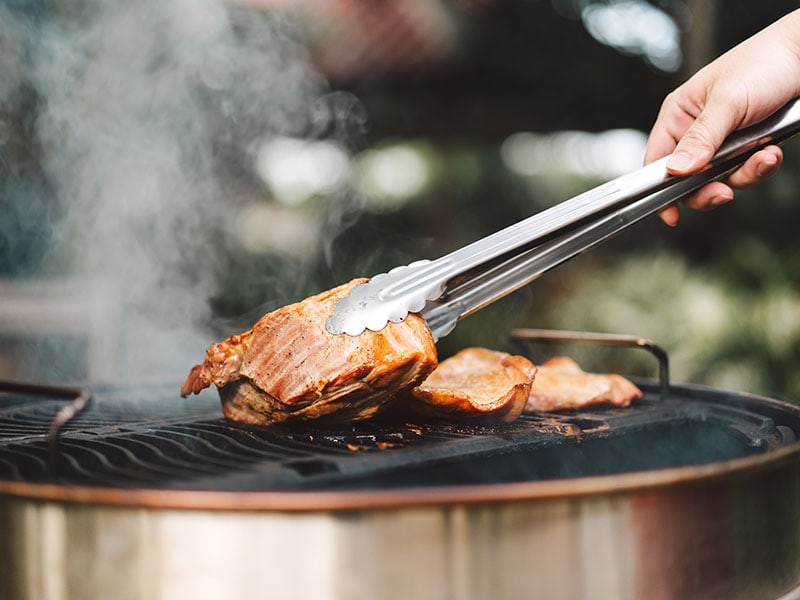 Tongs are an indispensable tool, particularly when grilling or barbecuing. The body of this utensil is typically fashioned from stainless steel, while the tips are covered in silicone, rubber, or also stainless steel.
It enables you to toss, flip, lift, and serve food with ease, without the risk of getting too close to the flame or causing cross-contamination.
Whether plucking food from boiling water or turning a sizzling steak, a good pair of tongs provides a sure, slip-free grip in your hand.
24. Tamagoyaki Pan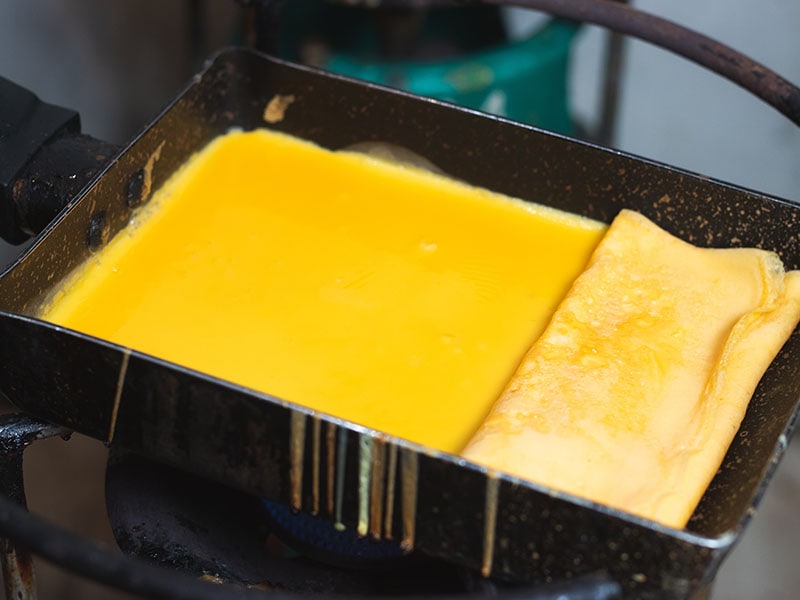 Tamagoyaki pan, also known as Makiyakinabe, is an essential tool for making the popular Japanese rolled omelet. Unlike Western pan for making omelets, this pan has a special square or rectangular shape.
It is usually made from copper or iron, coming with a handy handle. The pan can feature a non-stick coating as well.
Using this pan over low heat allows for even cooking; it enables you to achieve the bright yellow color signature of Tamagoyaki.
Although some folks might use it to whip up pancakes or French toast, its main purpose remains the preparation of Tamagoyaki.
25. Portable Cooking Stove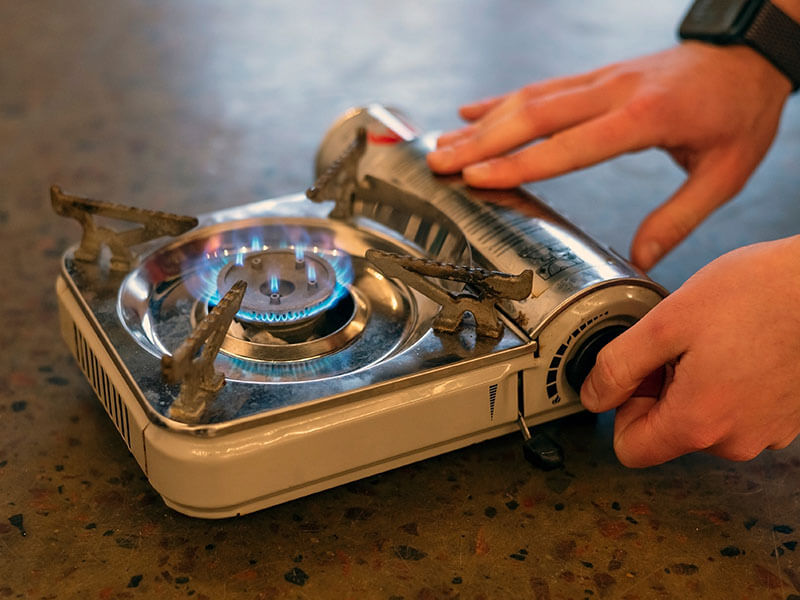 Portable cooking stoves are the life of hot pot parties! Ranging from butane, propane, or kerosene burners to modern portable induction cooktops, they keep the hot pot simmering right at the table.
Fuel burners are wallet-friendly and user-friendly; just remember to stock up on these gas canisters! You can place any flat-bottomed or earthenware pot on them, and they're good to go. In contrast, portable induction cooktops offer speed, energy efficiency, and added safety. They're a rising star, though they do need an electric outlet and aren't compatible with ceramic or stoneware pots.
Overall, portable stoves have revolutionized table cooking, perfect for both casual hangouts and formal gatherings.
26. Kitchen Shears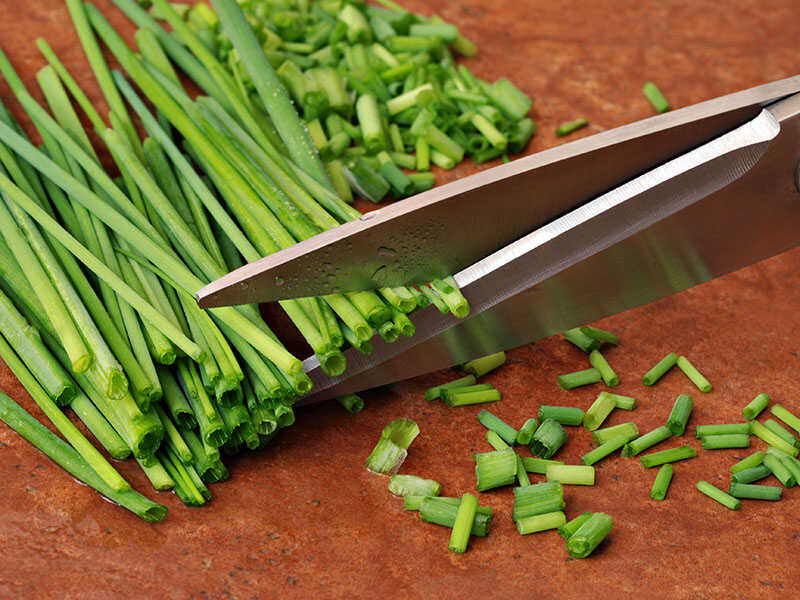 Kitchen shears are incredibly versatile for meats, noodles, seafood, and veggies. They usually have a serrated blade paired with a sharp one, making them excellent for tackling tasks like cutting bone-in chicken.
Their reliability even outshines many knives when trimming meats. In addition, cleaning is straightforward – just rinse in hot water, soak in a vinegar solution for 30 minutes, and dry. But remember to regularly apply food-grade oil to keep rust at bay.
27. Korean BBQ Grill Pan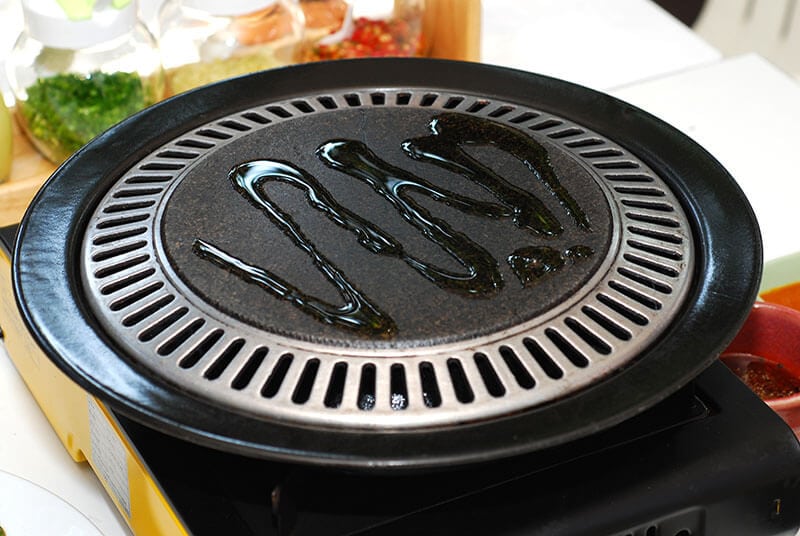 The Korean BBQ grill pan, also affectionately known as the Chosun Griddle, has a peculiar upside-down lid shape. This unique piece of cookware is versatile for all types of meat and vegetables.
Tailored for tabletop butane gas burners, Korea's preferred stovetop choice, it does a great job in heat retention and distribution.
What's better, clean-up is a breeze thanks to the non-stick coating. The standout feature, though, is its tilted design, which efficiently drains oil and mitigates splashing. Plus, there's a handy hole in the center for the oil to escape.
FAQs
Mastering Asian Cuisine With These Essential Cooking Tools For Success
My exploration of Asian cuisine and its diverse cooking equipment revealed a captivating blend of ancient wisdom and modern innovation. From the rhythmic sizzle of a stir-fry in a hot wok to the meditative process of brewing tea with a clay teapot, each utensil tells a story.
Join the conversation and share your own experiences. Share this article to spread appreciation for the artistry and craftsmanship behind Asian cooking equipment.
References
Non-stick surface (no date) Wikipedia.
Santoku Knife (no date) The Santoku Knife | Kitchen Tools | Utensil.org.
Nipponia.
Shipman, M. (no date) Fast facts about cutting boards and food safety in your kitchen, NC State News.