Regional Asian cuisine is more than a feast for the senses; it involves culture, and history told through taste. I bet you're tired of the same old recipes, yearning for something fresh, exotic, and authentic Asian dishes.
Well, look no further. This piece will introduce you to the undiscovered cuisines of Asia, unravel the secrets behind their cooking tradition, and show you how to incorporate these culinary traditions into your cooking.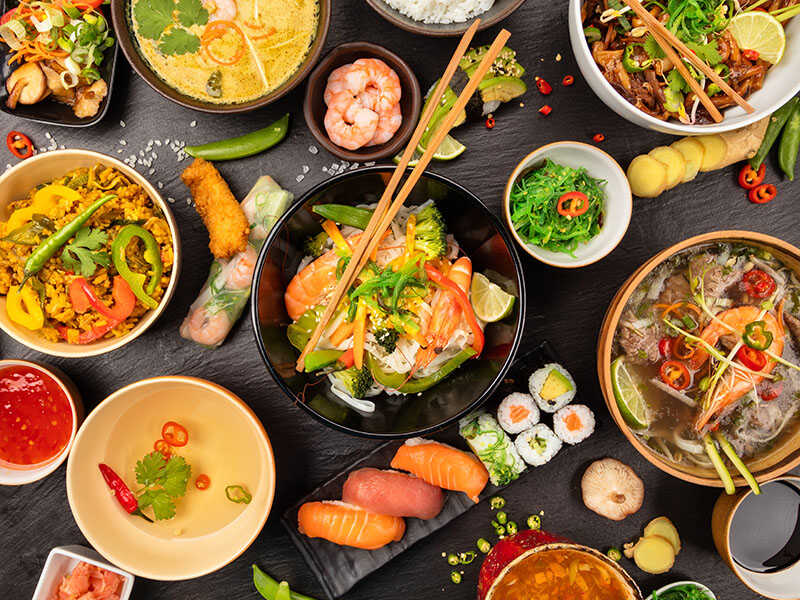 Definition and Importance of Asian Cuisine
Asian cuisine refers to the wide variety of foods, methods in Asian cuisine preparation, and culinary traditions found in the diverse regions of Asia. It's characterized by a broad spectrum of flavors and typical ingredients of Asia, often dictated by geography, climate, and cultural history.
The importance of Asian cuisine lies not only in its role in nutrition but also in its cultural significance. It serves as a means of preserving heritage, tradition, and a sense of community.
Scope and Diversity of Asian Cuisine by Region
The scope and diversity of Asian cuisine are vast and varied, reflecting the continent's immense geographical expanse and cultural diversity.
Plus, regional differences are influenced by climate, geography, trade, war, and colonization, creating a rich mosaic of flavors and techniques.
From the fermented foods of Korea, the sushi of Japan, the fiery curries of India, to the aromatic broths of Vietnam – each region boasts different culinary traditions and practices.
North Asian Cuisine
Overview
North Asian cuisine introduces people to the indigenous cooking methods in Russia, Mongolia, and China. Meat, such as horse, lamb, and reindeer (in the northern regions), alongside dairy, are the main items for consumption relating to the nomadic and herding communities.
Typically, no animal part is spared, with each bit celebrated, even the blood sometimes put to use in preserving food. Meals are often hearty, heavy on meats and dairy, and light on grains, fruits, and vegetables.
With influences from Mongolia, Russia, and Turkic regions, North Asian cuisine can vary in flavor. The fat-rich, calorie-dense dishes, cooked in open fires or served raw, are necessary during harsh climates. Also, preservation techniques like fermentation and freezing thrive in this cuisine.
1. Buryat Cuisine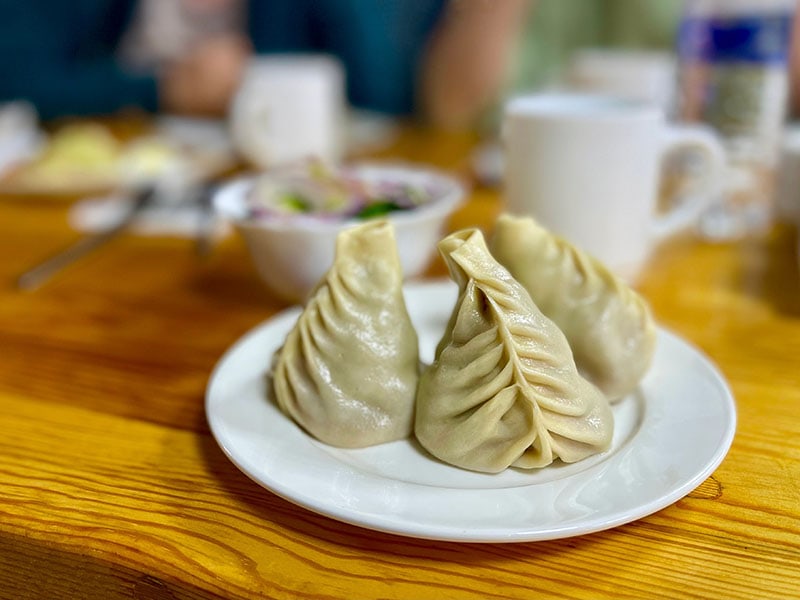 Influenced by Mongolian and Russian traditions, Buryat cuisine from the Buryat Republic in Russia embraces meat and dairy during the cold winters with hearty beef and horse meals. On the other hand, summers are lightened with succulent lamb.
Living beside Lake Baikal, Buryats excel in crafting mouthwatering fish dishes. People keep it simple by not using many Asian spices or herbs. Plus, nothing compares to the comfort of sipping spiced green tea there, a well-loved Buryat beverage.
Famous dishes you can try from Buryat cuisine include Pozy/ Buuzy/ Buuz (steamed dumplings with meaty fillings), Khuushuur (fried meat pies), Buchler (noodle soup with lamb and potatoes), Sagudai (a dish made with raw fish), etc.
2. Altai Cuisine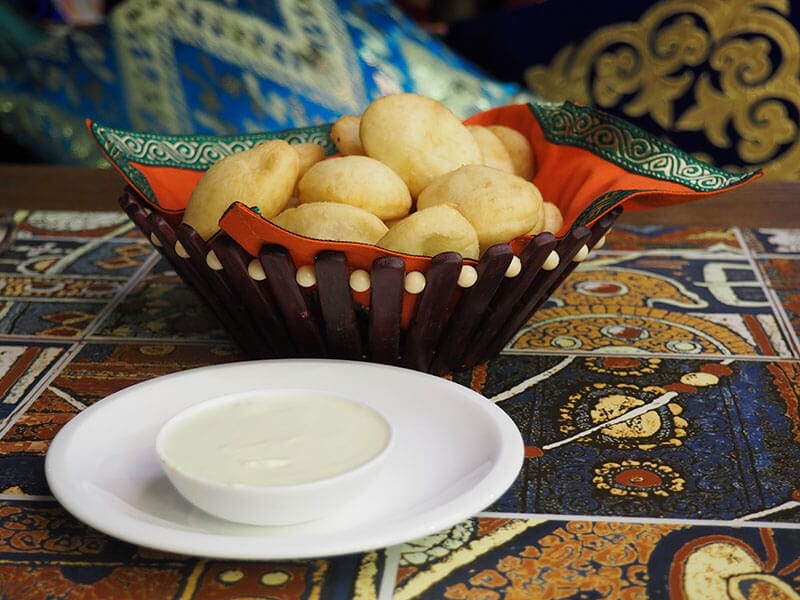 Altai cuisine originates from Russia's Altai Republic, a place that used to be the Gorno-Altai Autonomous Region. Commonly, meat, milk, and dairy products are the cornerstone of their cooking.
Some of the most well-known Altai dishes include: Kocho (barley soup), Boorsok (doughnuts), Kerzen (BBQ mutton), and Kan (blood sausage).
3. Chukchi Cuisine
In the icy expanse of Siberia, the Chukchi people have a unique cooking tradition. Their historical nomadic and herding lifestyle is reflected in a diet heavy on animal ingredients, with reindeer, whale meat, and fish being popular delicacies.
People put every part of the animal into use, from the meat, lard, and skin to even blood. In addition, Russian influences have seeped into Chukchi cooking over the years. Amidst the frost, vegetables are rare items in Chukchi cuisine.
Famous dishes: Prerem (sliced chunks of boiled reindeer), Ikiilgyn (pieces of whales blubber and skin), Kopalgyn (seal or walrus meat).
4. Tuvan Cuisine
Tuvan cuisine is from a Turkish ethnic group living in Russia, Mongolia, and China (1). With a nomadic history, these locals often have food rich in meat and dairy, with some popular choices of lamb, horse, yak, and goat.
Dairy products are also a significant place in Tuvan's cooking. Alternatively, barley and millets are the preferred starchy foods, with seasonings proving unnecessary in their cooking.
Interestingly, fish also appear in regions near streams, although it's less frequently used than meat. Additionally, Russian cuisine also left its marks in a few Tuvan dishes.
Famous dishes: Sogazha (liver kebab), Kara Mun (sheep offal soup), Izig Khan (blood sausage), etc.
5. Yamal Cuisine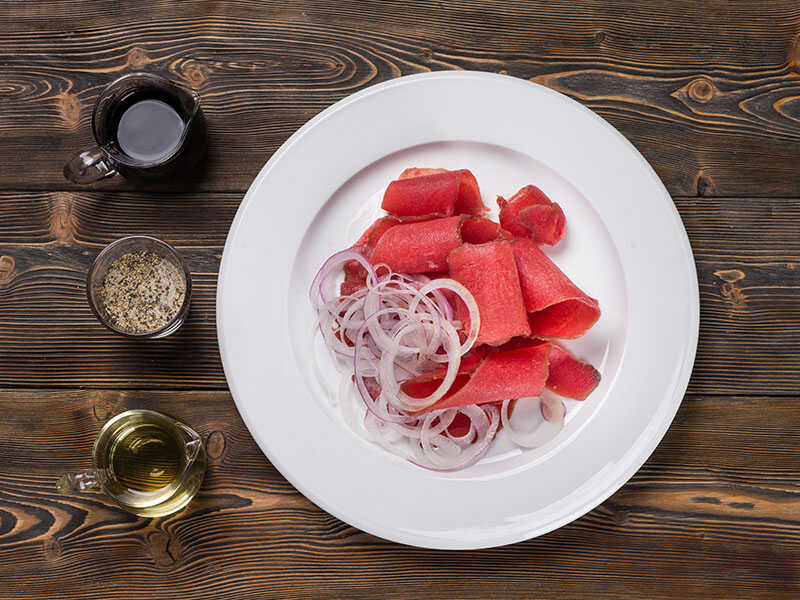 The indigenous folks in North or Northeast Asia are well-known for their Yamal cuisine. Live by mainly drawing bounties of tundra villages; their meal is mainly based on hunted reindeer meat, fish, fowl, berries, mushrooms, and bread.
Their hot dishes also held a diversity more than other North Asian cuisines. These hearty, fatty meals have a noticeable lack of spices with unmistakable Russian influences.
Famous dishes: Stroganina (thin slices of frozen raw fish), Uha (fish soup), Shurpa (meat soup, the Yamal version may consist of reindeer), smoked fish, etc.
6. Sakha Cuisine
Sakha cuisine is the culinary tradition of the Republic of Sakha, a region neighboring the Arctic Ocean. This cooking method of the Yakut people revolves primarily around meat, dairy, fish, and unleavened bread.
Horse meat is usually the center of attention, yet other cattle also hold their weight in this intriguing culinary league. Also, soups and mushroom-based dishes are prevalent. Unsurprisingly, Sakha cuisine also inherits many features of Russian cooking.
Famous dishes: Stroganina (the Sakha version may be made with liver and foal meat), Indigirka (frozen and seasoned fish cubes), Kierchekh (a sweet dessert made with cream and berries), Kymys (fermented horse milk drink), etc.
East Asian Cuisine
Overview
East Asian cuisine, influenced predominantly by Chinese cooking, is where you can find the comfort of rice and rice noodles, complemented by spices, herbs, and condiments, as the main starch source. Every dish is usually an intricate mix of salty, sweet, spicy, and more.
Balance is key here, as vegetables also share the spotlight with meats. Furthermore, cooking methods like steaming, stir-frying, braising, and deep-frying, help alter the ingredients. Also, people use condiments like soy sauce and hoisin sauce to further elevate the flavors.
7. Chinese Cuisine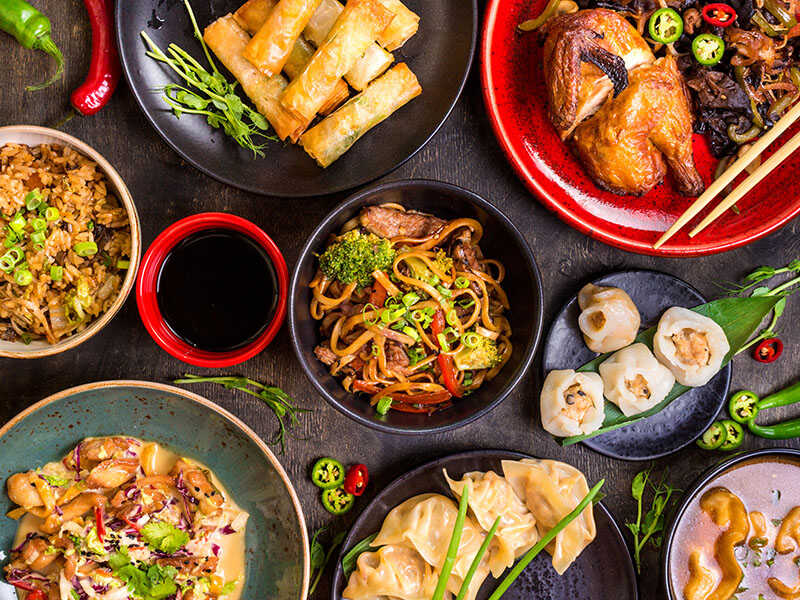 Chinese culinary art, with its four great traditions from Cantonese, Sichuan, Shandong, and Huaiyang, has left an indelible mark on my gastronomic memory (2). Each region offers a unique take on cooking with memorable flavors, which also greatly influence the food of Hong Kong and Macau.
Also, China's eight great culinary traditions further reflect this culinary heritage's immense diversity and richness.
Guangdong Cuisine – Cantonese Cuisine (Yue Cai 粤菜)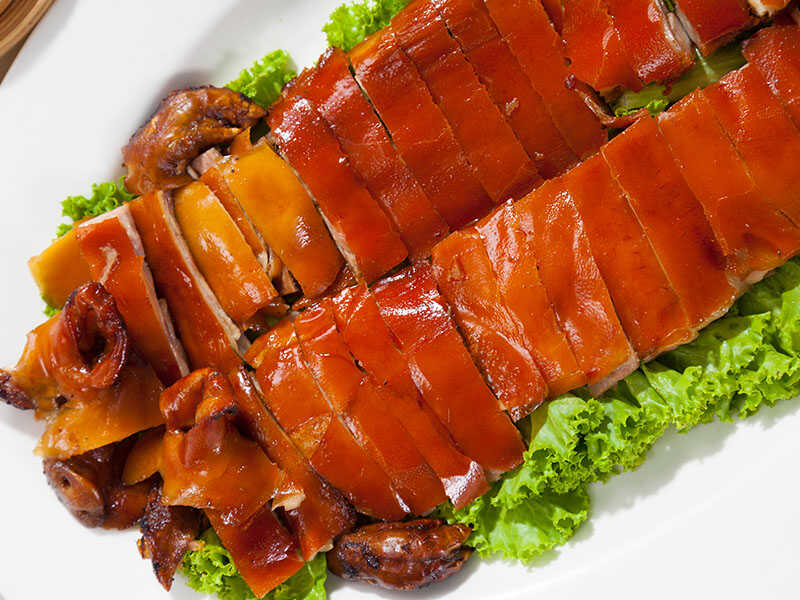 As the birthplace of dim sum, Guangdong cuisine is often considered the same as Cantonese gastronomy, though the latter style is only a part of Guangdong cooking.
Westerners adore this cooking method for its light seasoning of condiments and spices. Additionally, it has many cooking options ranging from steaming to stir-frying, allowing the true taste of fresh ingredients, like various types of vegetables, to flourish.
From my own experience, poultry, pork, and seafood are staples in Guangdong's delicacies (3). Each dish maintains a balance of not too sweet or salty flavor. Add to this, the palate of pickled, dried, and brined delicacies, and Guangdong cuisine dominates Chinese restaurants in the West.
Popular dishes: Cantonese-style fried rice, Char siu (Cantonese roast pork), white boiled shrimp, Lo mein (noodle stir-fries with vegetables and meat), roast suckling pigs, black sesame soup, sago soup, etc.
Jiangsu Cuisine (Su Cai 苏菜)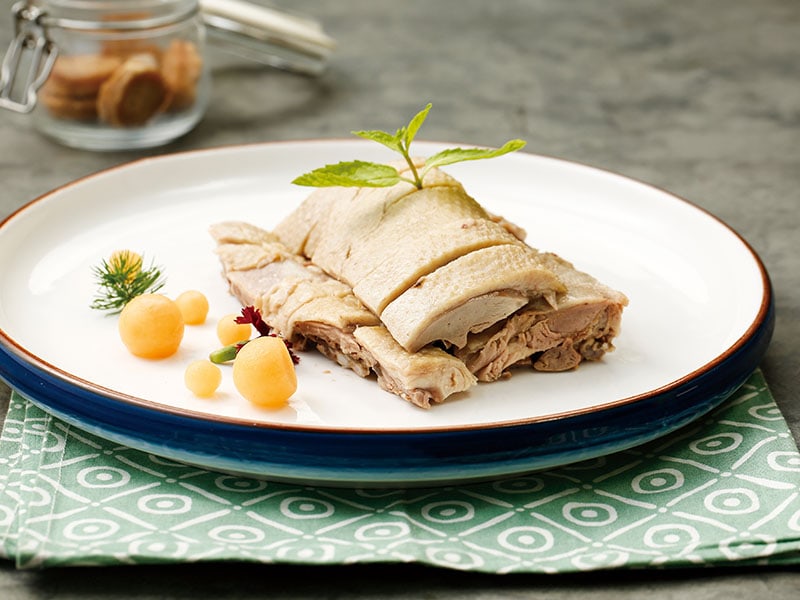 I had the chance to encounter the marvel of Su cuisine in Jiangsu Province on China's eastern coast. What stood out was the strategic use of seasonal ingredients and temperature control.
Every dish is a harmonious blend of sweet, umami, and mild, alongside the freshness of noodles, meat, and seafood. The distinct regional styles also influence Anhui and Shanghai cuisines. Also, Jiangsu cuisine has a few regional variants, with the Wuxi style being the most popular.
Commonly, chefs adopting Jiangsu cuisine will revolve around steaming, braising, stewing or simmering to create dishes.
Additionally, transforming ordinary ingredients like bamboo shoots and water chestnuts into pieces of art through intricate carving and cutting is a lovely feature of Jiangsu. The result is beautifully presented dishes with a soft, silky texture that's unforgettable.
Common dishes: Wuxi-style Xiaolongbao (sweet steamed buns), Nanjing salted duck, Yangzhou fried rice, beggar's chicken, sweet and sour mandarin fish, etc.
Anhui Cuisine (Hui Cai 徽菜)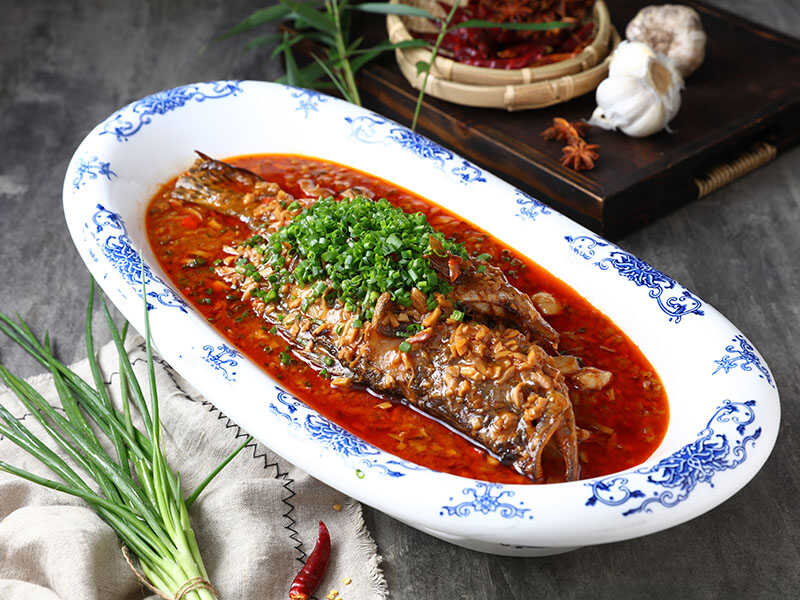 Simple yet incredibly flavorful experiences are the main characteristics of Anhui cuisine in my adventure in China. From the mountainous Huangshan region in Southern Anhui Province, people source natural ingredients for Anhui cooking, like wild game, herbs, vegetables, pork, fish, fowl, tofu, mushrooms, etc.
This culinary method is distinct for its light, salty flavors, and simplicity in food preparation. Typically, the locals embrace steaming, braising, and stewing techniques with medicinal herbs in the mix.
Common dishes: Luzhou roast duck, steamed partridge, Bagongshan stinky tofu, Li Hongzhang chop suey (a complex soup), stinky mandarin fish, fried hairy tofu.
Fujian Cuisine (Min Cai 闽菜)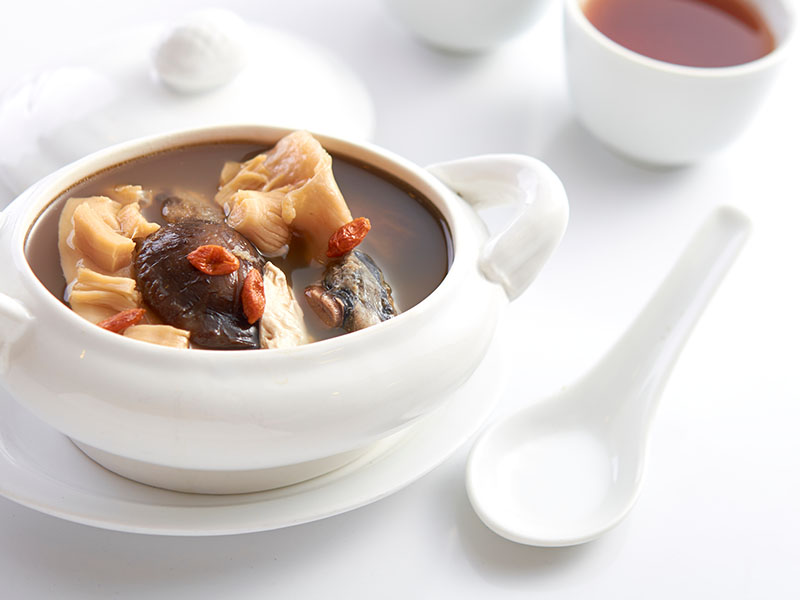 Fujian cuisine, or Min cuisine, has always appealed to me for its light, sour taste, and umami-rich goodness without a hint of greasiness. Normally, the key ingredients are fish, shellfish, freshwater turtles, seafood, mushrooms, and vegetables.
Then, these elements get elevated with popular seasonings like vinegar, red vinasse, and shacha sauce while employing methods such as boiling, steaming, braising, and stewing. Plus, it's unsurprising that this cuisine profoundly influences Taiwanese and Southeast Asian cuisines.
Common dishes: "Buddha Jumps Over the Wall" (shark fin soup), Bak kut teh (a herbal soup of pork ribs), Popiah / Lunpiah (fresh spring rolls with various savory fillings), boiled sea clam with chicken soup, oyster omelet, etc.
Hunan Cuisine (Xiang Cai 湘菜)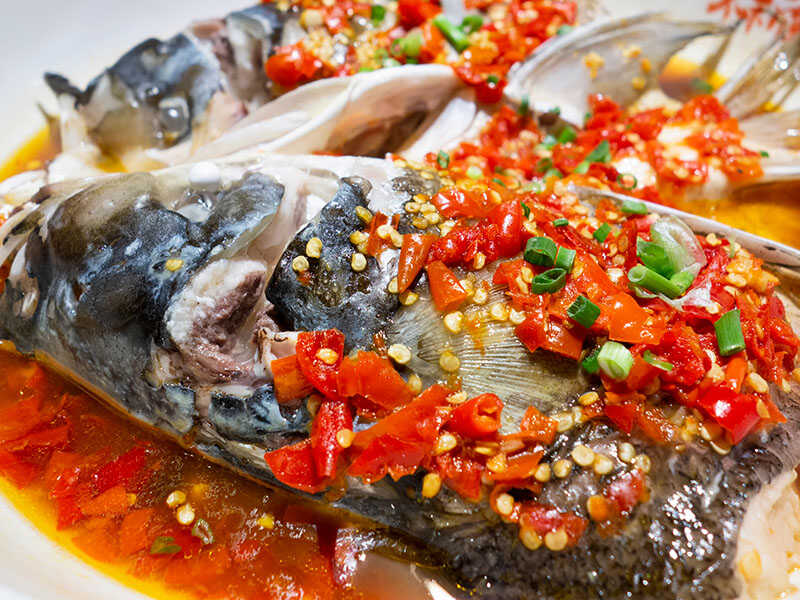 I've been a fan of Xiang, or Hunan Cuisine, for its unique fiery and spicy taste, which isn't sweet like some Sichuan dishes. This cooking style combines vibrant, eye-catching colors. It's a shame that some Western Hunan-style restaurants in the States fall short of capturing their true essence.
Hunan food usually contains spices like chili peppers, garlic, and shallots for an aromatic treat. Although it uses more oil than other Chinese cuisines, this adds to its charm.
Another aspect I appreciate is its use of dried or preserved ingredients for a unique texture and taste. Seasonal changes also shape the menu, with winter dishes having more spicy kicks.
Whether it's meat, seafood, or chili pepper, chefs mastering Hunan cuisine will bring them together with techniques such as smoking, braising, stewing, frying, and pot-roasting.
Common dishes: Mandarin ducks hot pot, Chairman Mao's red-braised pork, steamed fish head with chopped chili.
Shandong Cuisine (Lu Cai 鲁菜)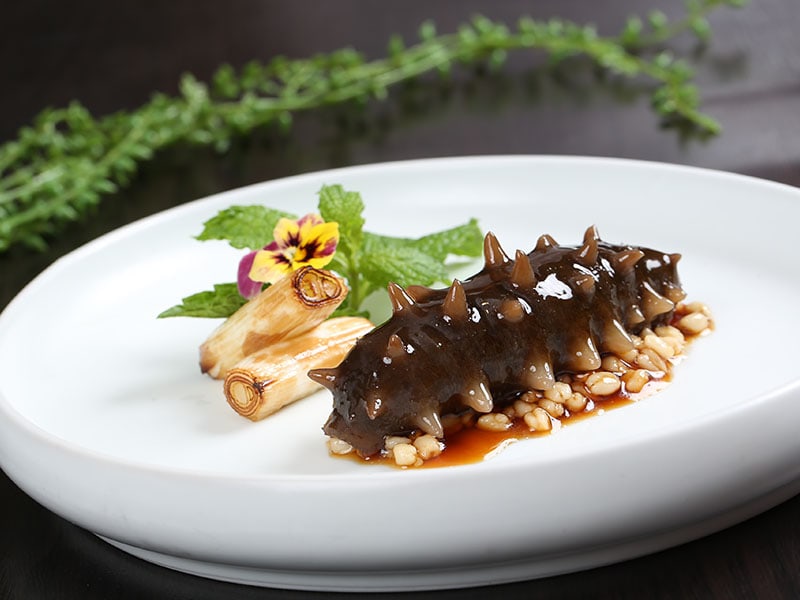 Lu cuisine, or Shandong Cuisine, is likely the oldest culinary tradition in China. It usually carries a blend of salty, sweet, and sour flavors. Shandong cooking is renowned for an array of soups along with the use of ingredients like meat, fowl, seafood, vegetables, grains, and peanuts.
Techniques such as boiling, stewing, roasting, and frying also give all dishes a unique touch. Furthermore, the cuisine is heavily influenced by many cooking schools in China.
Common dishes: braised sea cucumber with scallion, sweet and sour carp, braised prawns in oil, Shandong-style braised spare ribs.
Sichuan Cuisine (Chuan Cai 川菜)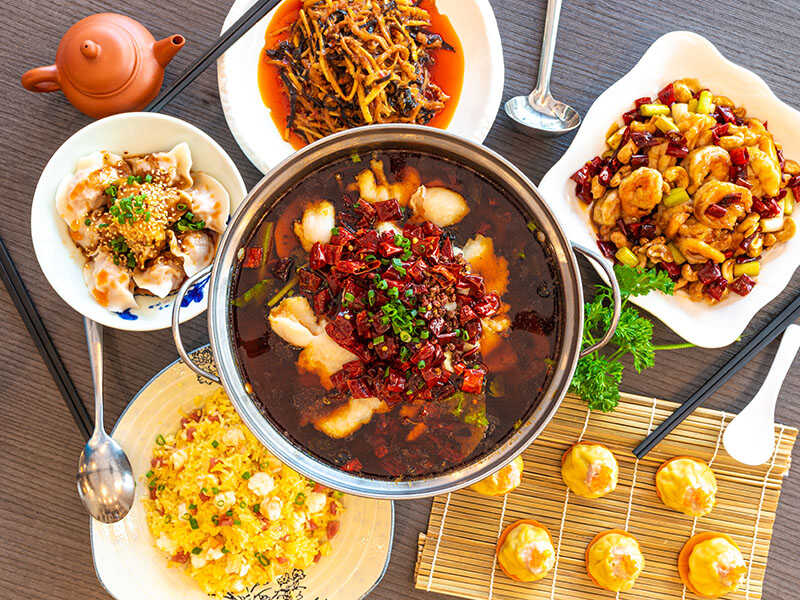 Sichuan cuisine, with its fiery flavor profile, always impresses me when it comes to Chinese cuisine. The cooking style is heavily implied using Sichuan peppercorn, garlic, and chili peppers, for their intense heat, expertly balanced with touches of sour, sweet, or savory tastes.
Meals can range from meat and fish prepared through fast-frying, stir-frying, baking, steaming, to braising. But for a real immersion, you want to get "leng dan bei," a style of savoring street food in Asia at night; they are cold, affordable bites that perfectly pair with beer.
Common dishes: Yuxiang shredded pork, Kung Pao chicken, mapo tofu (tofu in a spicy sauce), Dandan noodles, Sichuan hotpot, hot and sour noodles, etc.
Zhejiang Cuisine (Zhe Cai 浙菜)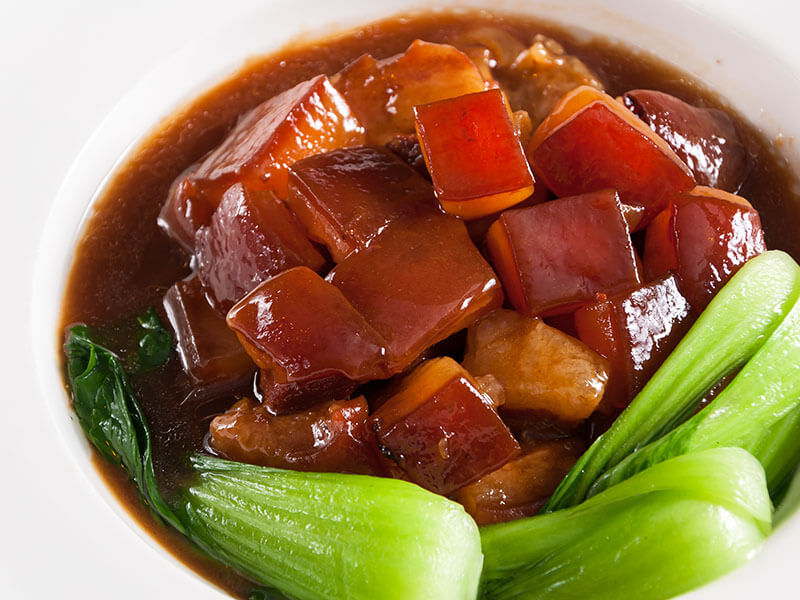 Zhejiang cuisine, notably the renowned Hangzhou style, leaves a lasting impression emphasizing freshness. What impresses me the most is the elegant presentation, a feast for the eyes and the palate.
Dishes usually burst with mellow flavors from key ingredients like seafood, river fish, and seasonal vegetables such as bamboo shoots and mushrooms, central to the cuisine. Also, Shaoxing wine, a regional favorite, usually lends a special touch to the fresh and mellow flavors.
Whether it's steamed, braised, stir-fried, deep-fried, or quick-fried, Zhejiang cuisine creates a unique culinary harmony that leaves a lasting impression.
Common dishes: Beggar's chicken, Wenzhou pig intestine rice noodle soup, Dongpo pork (Fried pork belly stewed in soy sauce and wine), braised bamboo shoots, etc.
8. Taiwanese Cuisine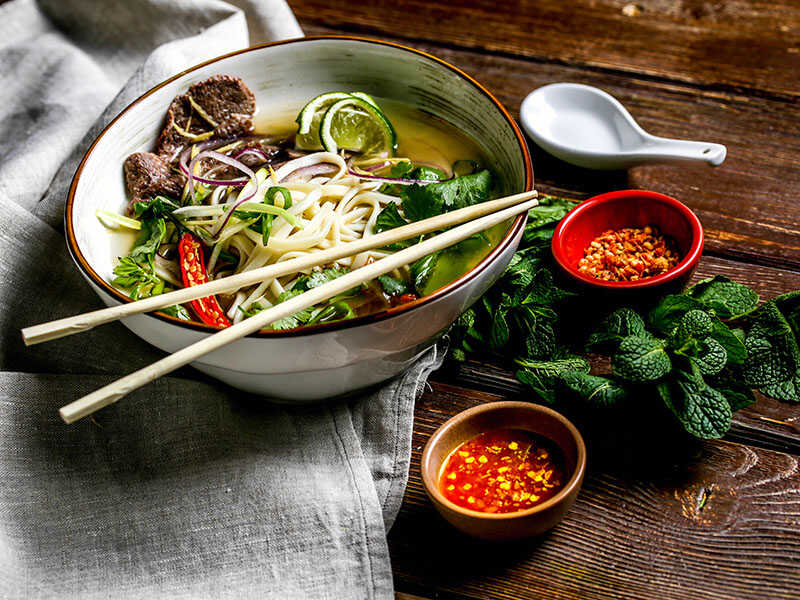 The richness and diversity of Taiwanese culinary creations result from the island's multicultural history, creating a unique blend of sweetness and saltiness. Influences from Hakka, Fujian, American, and Japanese food traditions shape the dishes in Taiwan (4).
Fascinatingly, Taiwan's cooking of seafood and pickled vegetables are mainly influenced by Japanese cuisine. On the other hand, America helped popularize the usage of wheat flour in many dishes in Taiwan.
Commonly, Taiwanese utilize a diverse range of key ingredients, such as rice, noodles, pork, poultry, and seafood. Furthermore, people often use rice wine, soy sauce, or black vinegar for seasonings.
However, during my trip uncovering Taiwanese cuisine, locals also include sesame oil, chili peppers, basil, and garlic, adding distinctive layers to each meal.
Common dishes: Gua bao (Taiwanese hamburgers), beef noodle soup, braised pork rice, pig's blood cake (blood sausage), Taiwanese meatballs, oyster vermicelli noodles, etc.
9. Hong Kong Cuisine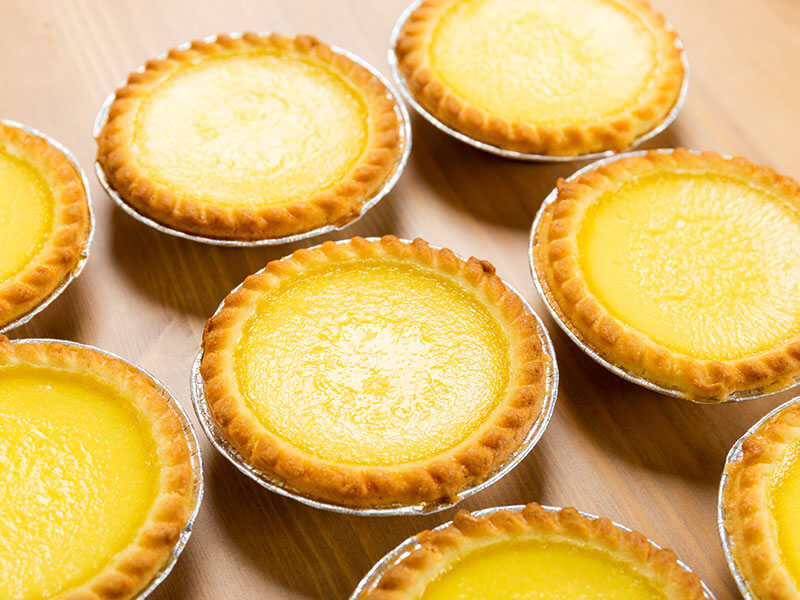 Hong Kong cuisine is a captivating fusion of Cantonese and British influences with modifications to fit the local taste buds (5). Similar to Cantonese cooking, people primarily use pork, seafood, mushrooms, and beans for many dishes.
With a colonial past, many delights in Hong Kong carry the influence of European-style cooking, especially the British ways of cooking dishes.
Restaurants in Hong Kong are always flooded with people looking to try flavorful dishes. However, my favorites are delicacies sold by hawkers. Also, one of the standout experiences has to be sipping milk tea in the ubiquitous cha chaan tengs.
Common dishes: Egg tarts, egg waffles, hot pots, Cha siu bao (steamed buns with BBQ pork), pork knuckles and ginger stew, fish balls, etc.
10. Macanese Cuisine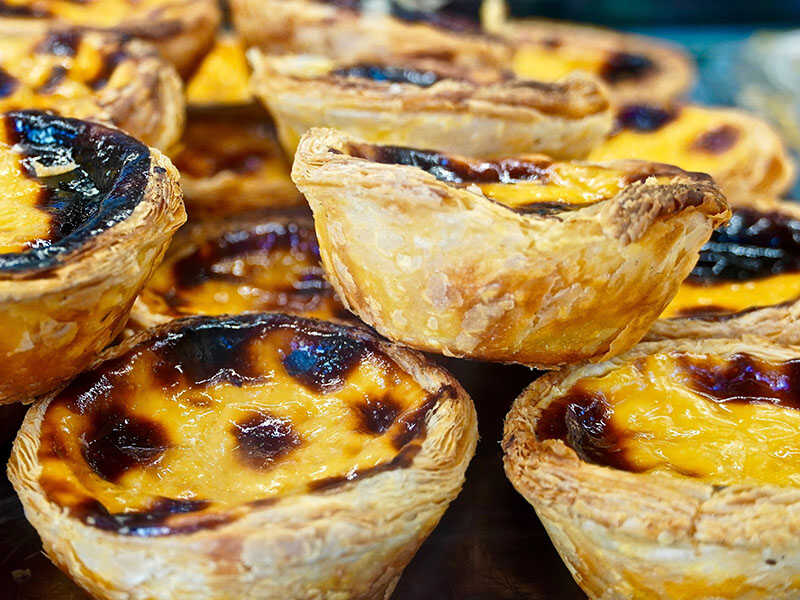 Macanese cuisine is a fusion cooking style that combines Cantonese, Portuguese, and Southeast Asian flavors (6). Key ingredients like cinnamon, turmeric, coconut milk, and the unforgettable bacalhau (dried cod) significantly create the unique Macanese taste.
Additionally, I once had a chance to taste Galinha à Portuguesa, a famous Macanese dish, yet it carries a Portuguese name. It's this weird influence on Portuguese culture that creates the charming feature of Macanese cuisine.
Famous dishes: Galinha à Portuguesa (a chicken dish), Pato de Cabidela (duck stew), Minchi/Minchee (minced meat potato hash), pork chop buns, Pastéis de Nata (Portuguese egg tarts), and almond cakes
11. Japanese Cuisine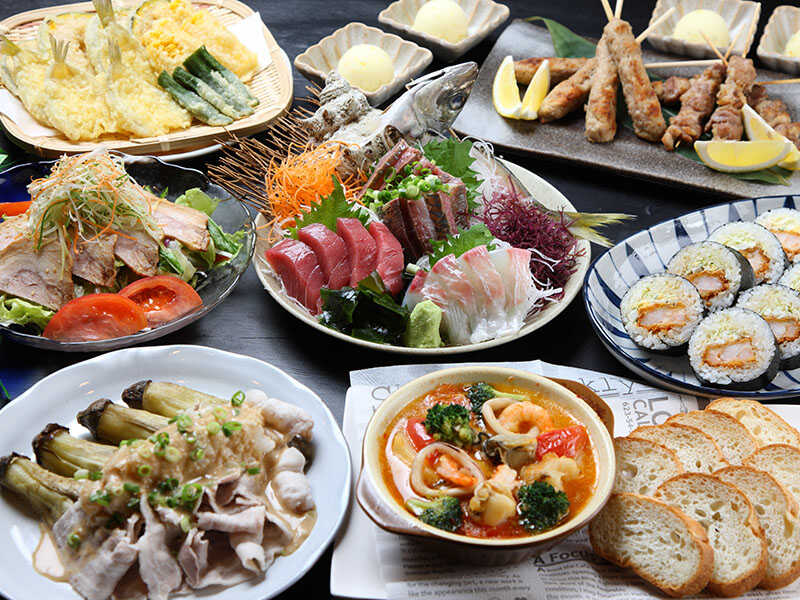 While exploring Japanese delicacy, I've learned so much about carefully balancing flavors to make dishes not too sweet, spicy, or salty. In addition, the umami element is the norm in many Japanese recipes with ingredients such as seaweed, mushrooms, miso, and soy sauce.
Seafood plays a big role, understandably, in Japan's geographical placement (7). Freshness is key in the ingredients used for many seasonal and unprocessed items. Sometimes, people even serve raw dishes like sushi to maintain their nutritional integrity.
A classic Japanese meal usually comprises steamed rice, soups, and various side dishes for a beautiful harmony of straightforward yet tantalizing tastes. I also noticed the inspiration from Chinese cuisine and the openness to innovation for more diverse flavors.
Hokkaido (北海道 / ほっかいどう)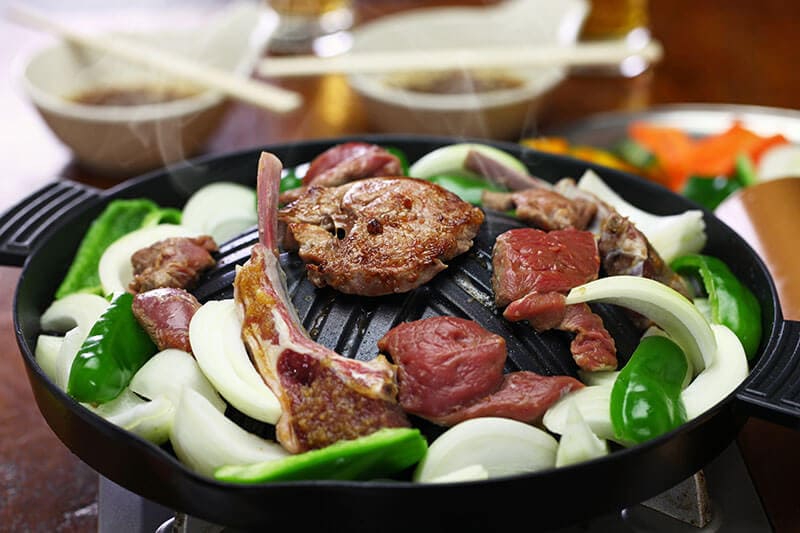 Drawing from the bountiful sea and fertile land, the cuisine of Hokkaido in Japan's northernmost region is all about freshness. I miss having those succulent crabs, scallops, and squids that are full of umami goodness.
Additionally, fresh corn, creamy dairy, and potato dishes are equally noteworthy in Hokkaido. Let's not forget about wheat flour-based foods, like my personal favorite, Sapporo-style ramen.
Popular dishes: Jingisukan (Genghis Khan, a BBQ dish with lamb and vegetables), Hokkaido Ramen, Ruibe (a salami-like dish made from raw, frozen salmon), etc.
Tohoku (東北 / とうほく)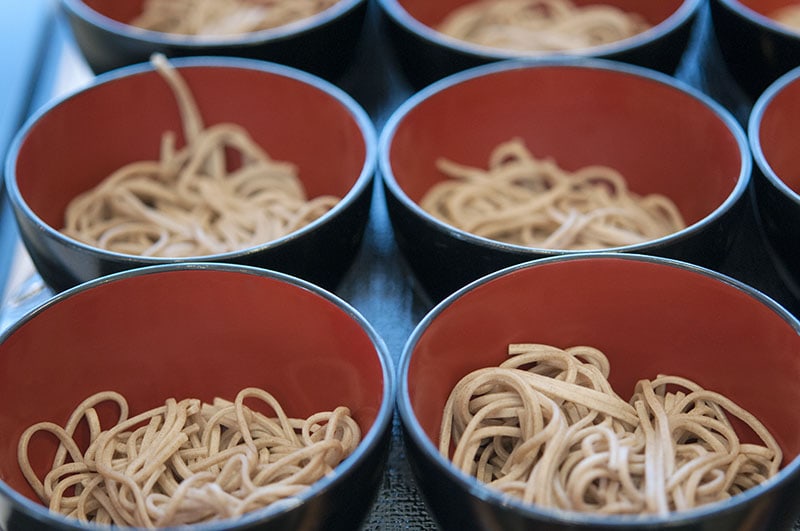 In the chill of Japan's northeastern region, Tohoku cooking reigns with warm and inviting foods. The region specializes in hearty soups, hot pots, and stews brimming with fresh meat and seafood with comforting, rich broth. Also, fermented delicacies are popular in Tohoku.
Popular dishes: Wanko Soba (soba noodles served in small bowls), Hittsumi-jiru (pinched noodle soup with pork)
Kanto (関東 / かんとう)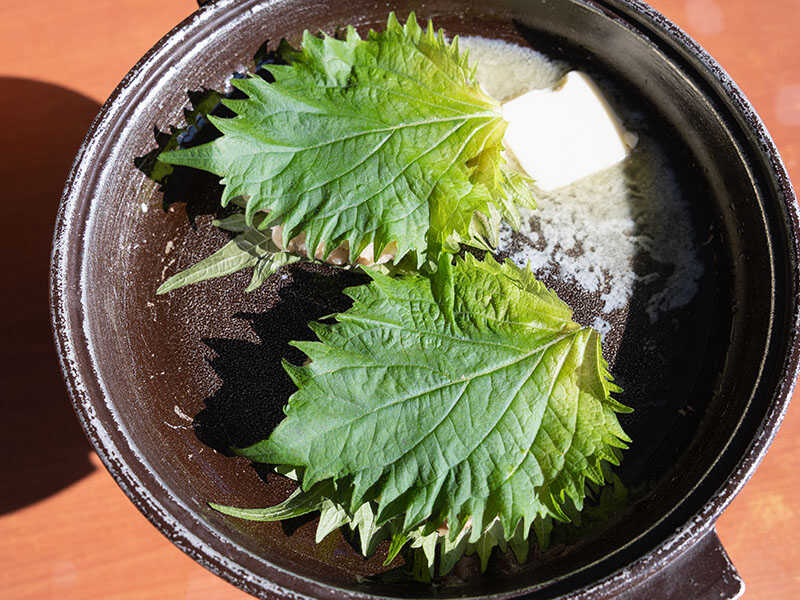 In Kanto, a region of Honshu island (Japan's biggest island), including Tokyo, the dishes are primarily strong, salty flavors that leave a lasting impression on newcomers.
Popular dishes: Sangayaki (grilled minced fish), Yaki Manju (roasted sweet buns), Anko Nabe (monkfish hot pot), Dojo Nabe (loach fish hot pot)
Chubu (中部 / ちゅうぶ)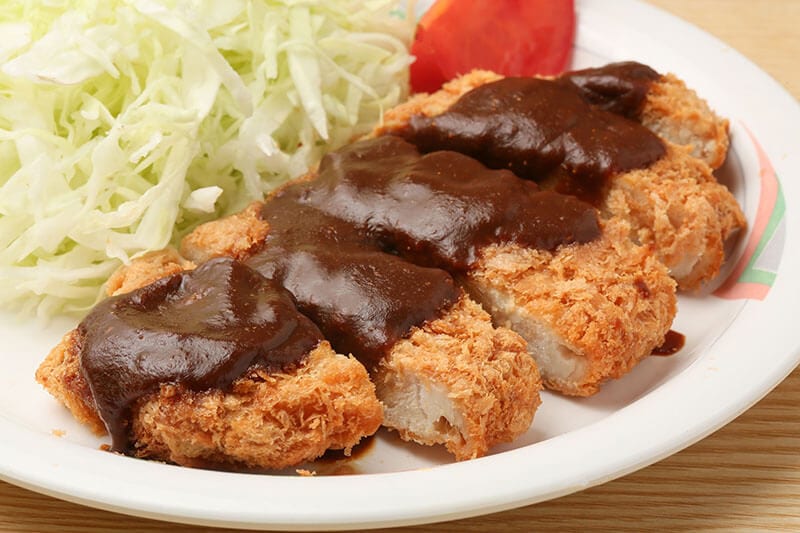 Chubu cuisine is a combination of Honshu and Kanto cooking that serves up many iconic dishes of Japanese cuisine. Each recipe of Chubu cooking is full of flavors and has various ways of presenting.
Popular dishes: Miso Katsu (breaded and deep-fried pork cutlets in a rich sauce) and grilled ayu (English sweetfish), and various kinds of udon
Kansai (関西, かんさい)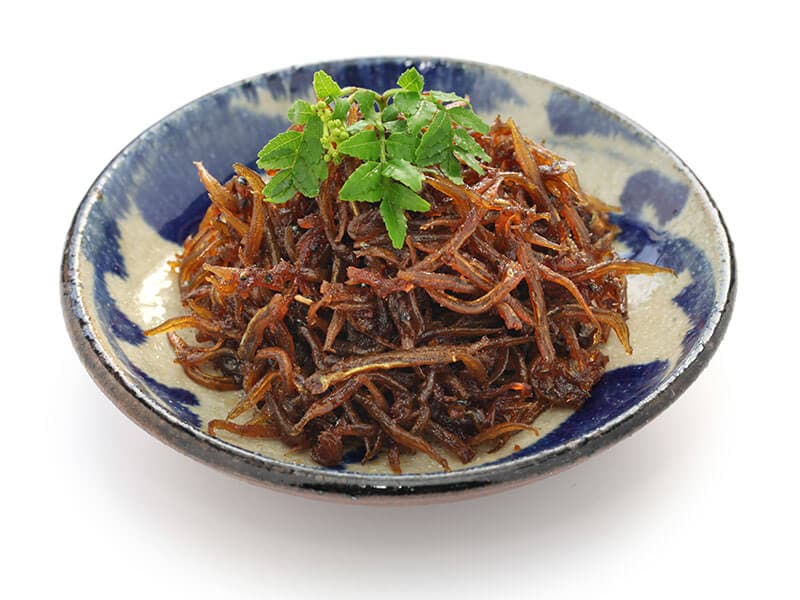 Kansai cuisine is honored in Japan's culinary landscape with its signature tender, flavorsome beef, a favorite of many locals. The cooking style of Kansai also gave birth to the exquisite Kaiseki Ryori, Japanese haute cuisine.
Popular dishes: Himeji Oden (hot pot with ginger soy sauce), Ikanago no Kugini (Japanese sand lance boiled in soy sauce), Kushikatsu (deep-fried and skewered meats and vegetables), Tekone sushi (sushi with lean fish), Kitsune Soba (soba noodles with deep-fried tofu pockets), etc.
Chugoku (中国 / ちゅうごく)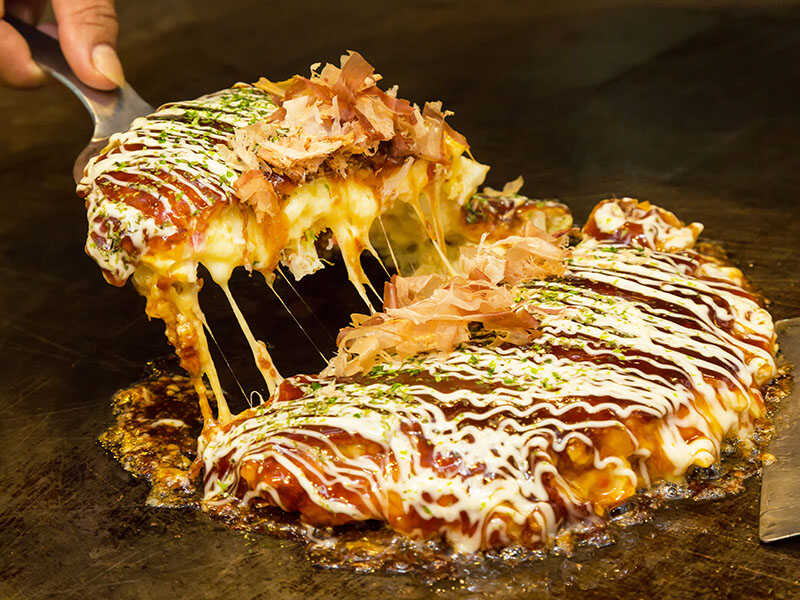 Chugoku cuisine is the culinary pride of western Honshu. This method of crafting food is characterized by a harmonious blend of fresh seafood, local vegetables, and tofu.
Popular dishes: Okonomiyaki (savory pancakes), Kanimeshi (crab meat on rice).
Shikoku (四国 / しこく)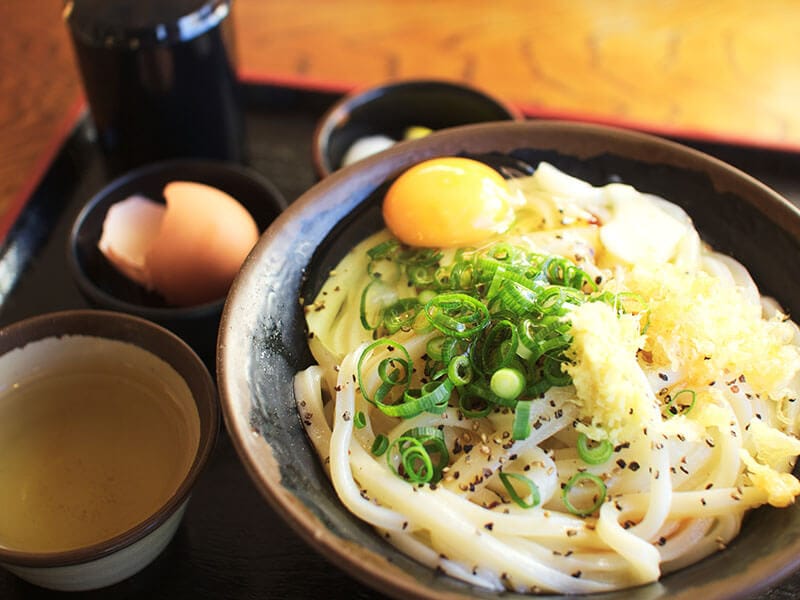 Shikoku cuisine revolves around utilizing the best ingredients like buckwheat, rice, citrus fruits, seafood, and vegetables to produce the most appetizing meal.
Popular dishes: Shoyumame (parched and marinated broad beans), Sanuki udon, Sawachi Ryori (a large dish of various foods, from salami to stews), Tokushima ramen.
Kyushu (九州 / きゅうしゅう)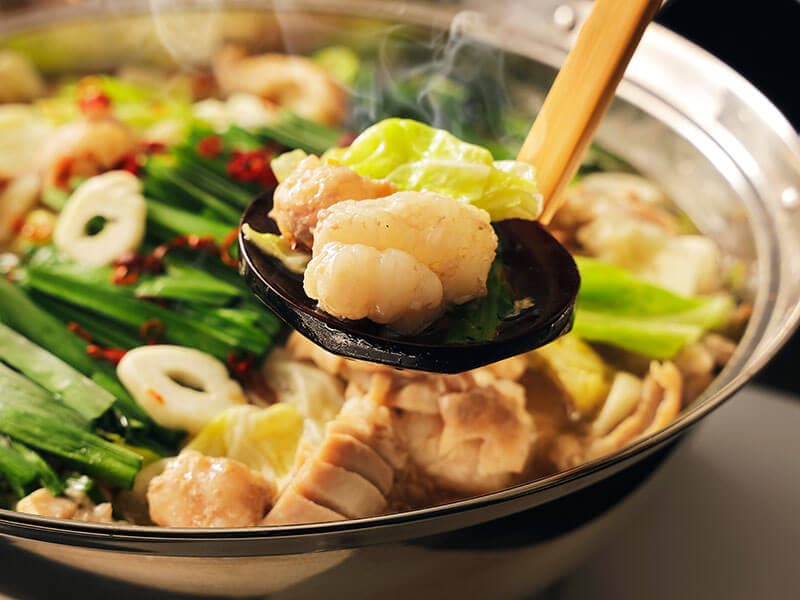 Kyushu cuisine, popular in Japan's southernmost region, is a harmonious mix of Chinese, American, and European influence, seen in dishes like Nagasaki's champon noodles. It's mainly well-known for its top-notch noodles and restaurants.
Popular dishes: Tonkotsu ramen, Champon (a ramen-like dish), Motsunabe (a hot pot made from various types of meat), Chicken Nanban (fried chicken with tartar sauce).
Okinawa (沖縄 / おきなわ)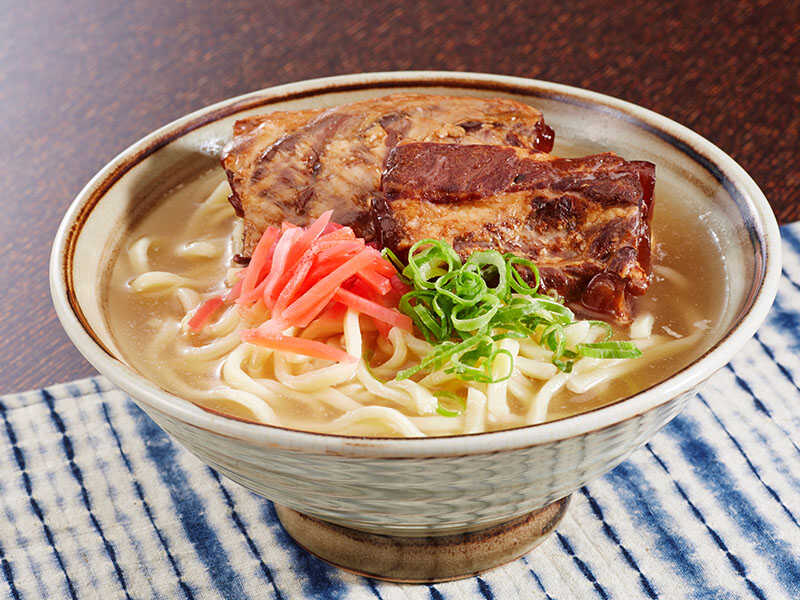 Okinawa cuisine reflects its past as an independent kingdom with its own culinary traditions. Many recipes from Okinawa have distinct imprints of Chinese, Southeast Asian, and American influences. Furthermore, the cooking style of Okinawa is completely different from other cuisines.
Popular dishes: Okinawa soba, Taco rice (consists of taco-flavored ground beef and rice), Goya Champuru (bitter melon stir-fry), Yagi Sashimi (goat salami)
12. Korean Cuisine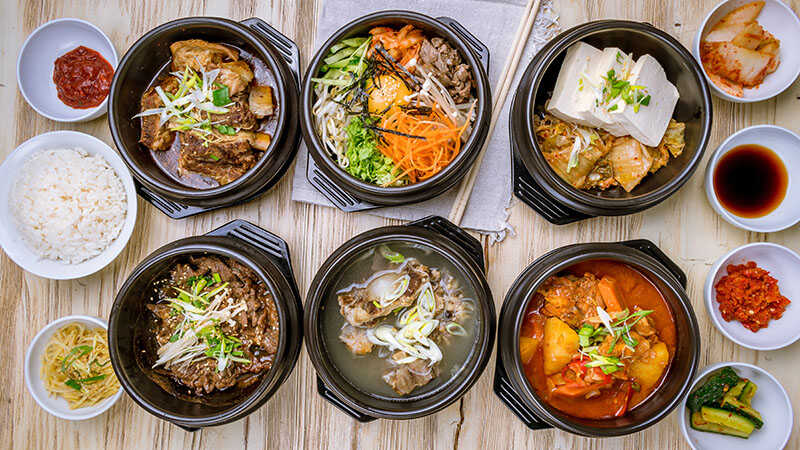 Korean gastro art is popular with its healthy, oil-free, and diverse menu. Rice is a staple at any Korean dining table for pairing wonderfully with proteins such as seafood, tofu, seaweed, and meat.
What I've found unique is their emphasis on vegetables, with fresh, crunchy salads and, of course, their signature fermented kimchi. The salty, sour, and spicy flavors are also a delightful surprise.
Mainly influenced by Chinese and Japanese (8), some of the most popular cooking methods in Korean cuisine include steaming, boiling, and stir-frying. Even with Western influences appearing here and there, like dairy products, the effect it has is still small.
Northern Region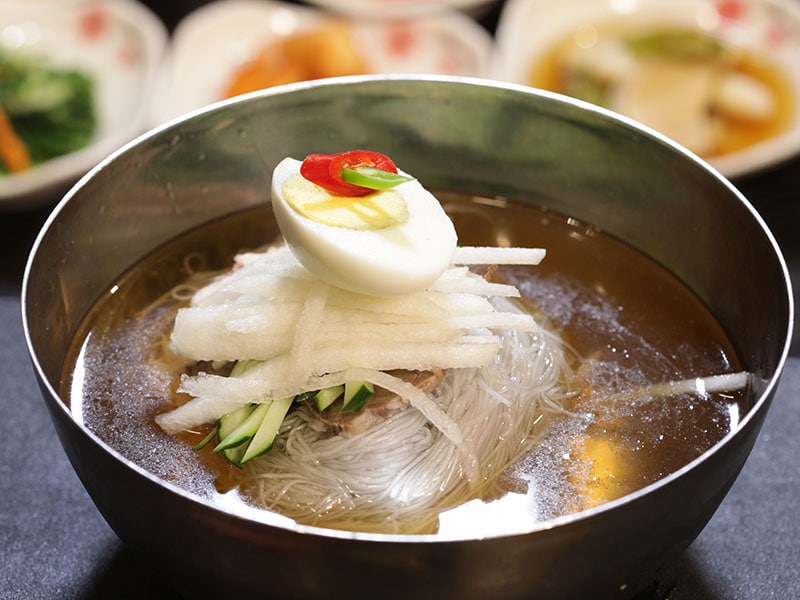 Delving into Northern Korean gourmet is always a fascinating journey for me. In Pyongan, Naengmyeon is a favorite with refreshing cold buckwheat noodles. Also, the locals have hearty Mandu dumplings and sweet, chewy Tteok, or glutinous rice cakes.
Over in Pyongyang, their own twist on Naengmyeon is an inviting sight alongside the tantalizing Taedonggang Sungeoguk, a trout soup from the Taedong River.
On the other hand, Hamgyong usually utilizes an enticing blend of high-quality cereals and seafood, with the Hamhung-style Naengmyeon and Dak Bibimbap, a hearty combination of rice, vegetables, and chicken slices.
But the unique flavors didn't stop there; the provinces of Chagang and Ryanggang offer renowned kimchi and potato dishes. I particularly love the Gamja Nongmal Guksu, noodles made from potato starch, and Gat Kimchi, a special kimchi using Indian mustard leaves.
Central Region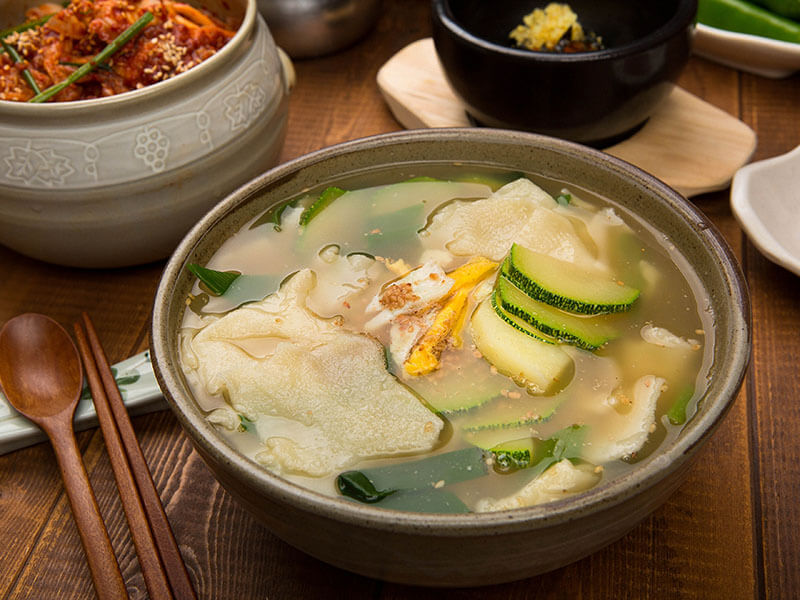 In Central Korean cuisine, Seoul is the country's culinary capital, serving up mouthwatering dishes such as Seolleongtang, a comforting beef soup with rice, the royal casserole known as Sinseollo, and the fiery Tteokbokki, a stir-fry of rice cakes and vegetables.
While Gangwon, a place rich in buckwheat, potatoes, and seafood, offers treasures like the hearty Gamja Ongsimi, a potato dumpling soup, Makguksu, a tasty buckwheat noodle delicacy, and the spicy, stir-fried chicken dish Chuncheon Dakgalbi.
Additionally, Chungcheong is another region with the most iconic specialty being Yukhoe, raw seasoned beef, and the warming knife-cut noodle soup, Kalguksu.
Then, there's Hwanghae, a cuisine that relies on abundant cereals, chicken, meat, and seafood, showcasing delights such as Kimchibap and Haeju Bibimbap.
Also, the Kaesong cooking style brings a touch of refinement and luxury to dishes like Gyeongdan and Bossam Kimchi.
Lastly, in Gyeonggi, with its bounty of seafood and cereals, people adore the simplicity of Jemul Guksu (noodles in soybean paste soup) and Sujebi (hand-pulled dough soup).
Southern Region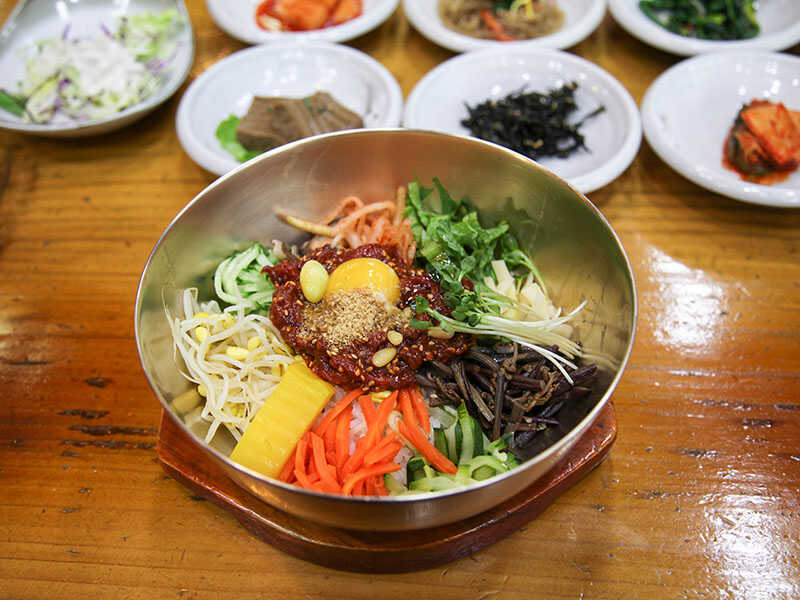 Southern Korea is where I get the chance to enjoy diverse flavors and distinct local dishes. Commonly, Jeju Island's cuisine is refined, with Samhap (a combo of kimchi, fermented fish, and cooked pork) and their local Bibimbap (Jeonju Bibimbap) being the high points.
On the flip side, Gyeongsang welcomes many with its grain and seafood-infused cuisine. Some of the most iconic dishes include salted mackerel and Dongnae Pajeon with a medley of salty and spicy flavors.
In addition, the richness of Jeolla's culinary scene also amazed me. The region's grain and seafood-heavy menu offered delightful dishes like Jari Mulhoe (sliced and marinated raw fish) and Jeonbokjuk (abalone porridge).
13. Mongolian Cuisine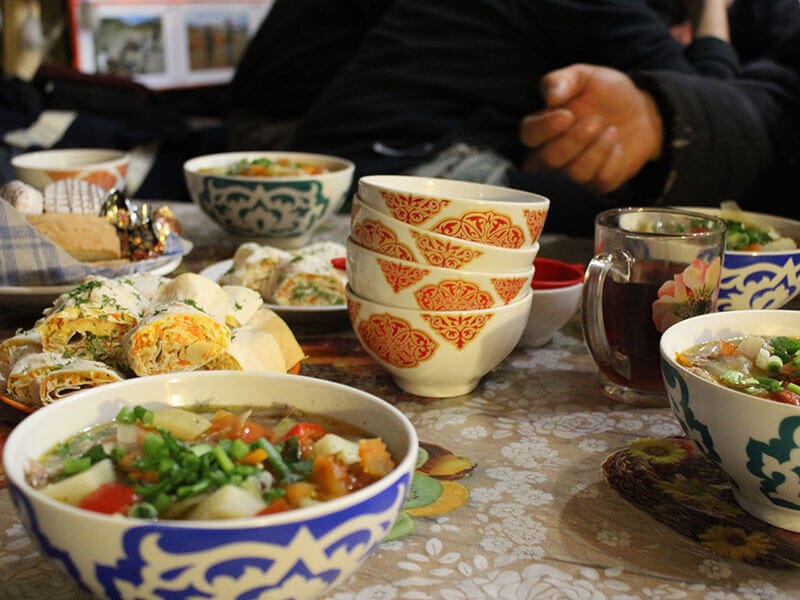 For Mongolian food culture, I find a profound emphasis on meats, from mutton and goat to beef and horse, complemented by animal fats alongside dairy products. Also, the robust presence of starchy vegetables, like potatoes and grains, help many recipes become heartier.
Unlike many cuisines, Mongolian don't rely heavily on vegetables and spices (9). The dishes I tasted, served hot off the stove, held striking similarities to other steppe cuisines in Central Asia. Additionally, Russian and Chinese influences are also evident in many recipes.
Notable dishes: Khuushuur (meat pastries), Khorkhog (Mongolian BBQ), Buuz (dumplings), Tsuivan (stir-fried noodles), Süütei Tsai (salty milk tea).
South Asian Cuisine
14. Indian Cuisine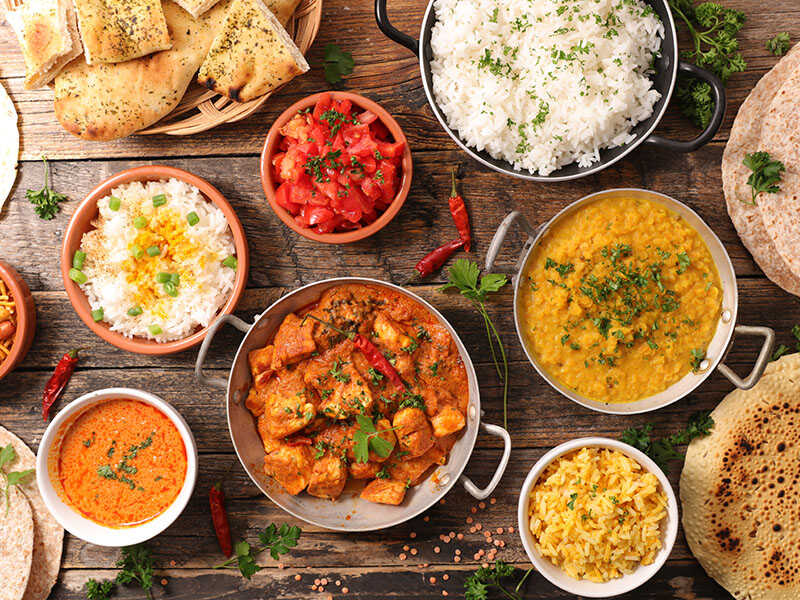 Indian food style is a vibrant symphony of flavors, from aromatic curries to hearty stews. Every dish is a burst of flavors of spices, particularly garam masala, a blend of cloves, cinnamon, and cardamom. Furthermore, the heavy use of dairy, especially ghee, and paneer, add a creamy richness to dishes.
In every corner, fruits and vegetables often appear in many recipes for adding color and texture to the plate. With many vegetarian dishes utilizing legumes like dal, mung, and urad, Indian cuisine is a paradise for plant-based eaters.
Although European colonial rule left its mark on many aspects of Indian culture, the Arabic and Persian influences stood out in Indian cooking. Over time, the Indian cooking style has had major influences on cuisines across the globe, from Southeast Asia all the way to the Caribbean (10).
Northern India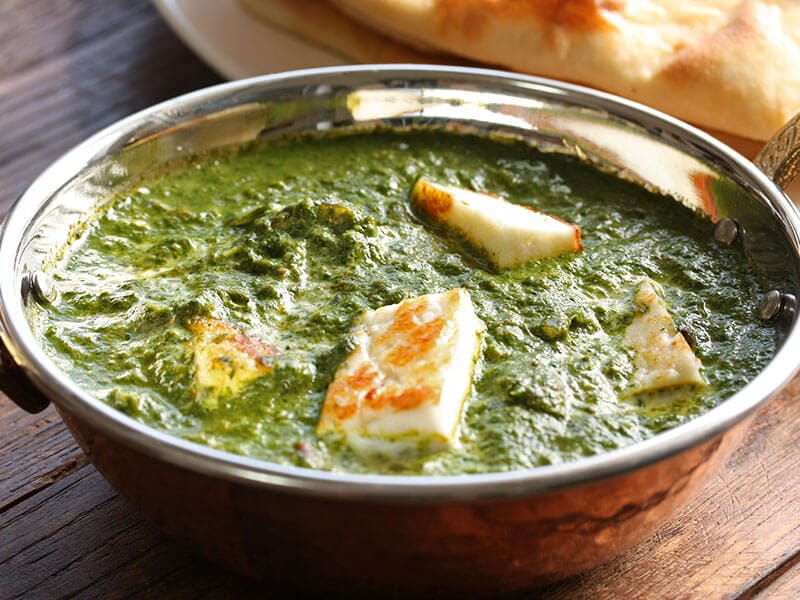 With a strong Mughal identity, Northern Indian cooking employs rich dairy products for a creamy twist to diverse flavors. The distinctive smoky undertone from the tandoor makes the oven a popular cooking tool in the region. In this area, Rajasthan's cuisine is the most popular.
Notable dishes: samosa (fried pastries with savory fillings), tandoori chicken (spiced and grilled chicken), Saag Paneer (made of leafy greens and paneer).
Western India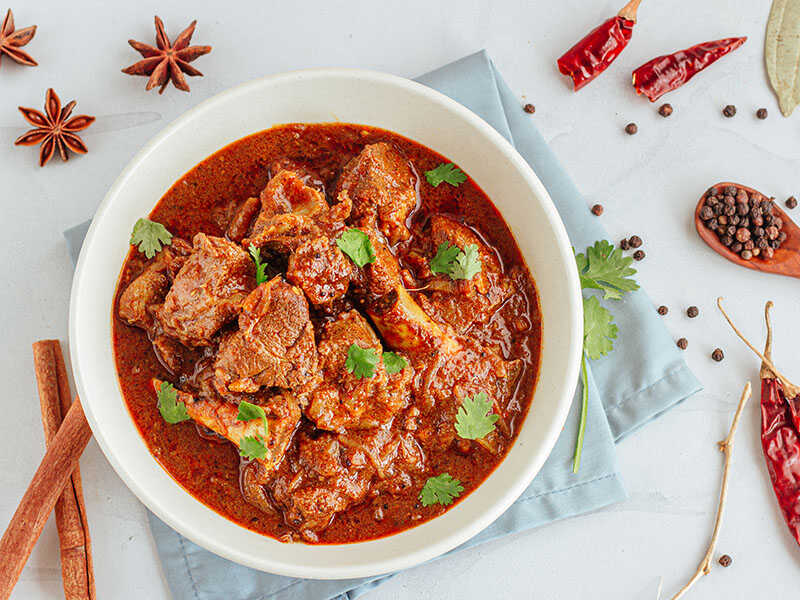 In Western India, the cuisine truly reflects its diverse landscapes and cultures. The abundance of legumes and a wide range of chutneys are the base for many vegetarian or non-vegetarian recipes.
Position near the coast, seafood is the star ingredient, bringing a taste of the ocean to the palate. The region is especially well-known for Maharashtra, Mumbai, Gujarat, and Goa cuisines. In Goa, the cooking is heavily influenced by Portuguese inspiration, utilizing more meat in their recipes.
Notable dishes: Vindaloo (spicy curry), Bhel Puri (puffed rice), Thepla (flatbread).
Eastern India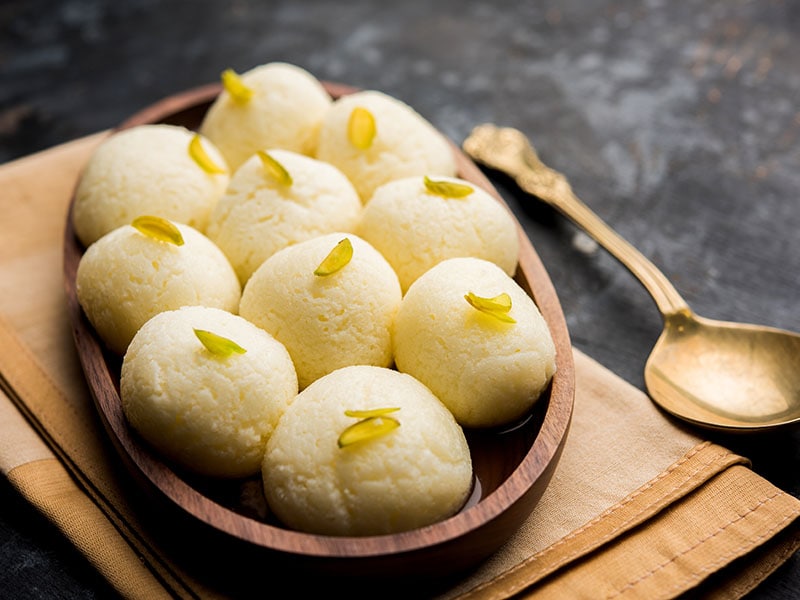 Eastern India is especially notable for Bengali cuisine. The area sails on the essence of seafood and fish with a lighter, subtly nuanced spice profile. Yogurt also weaves itself subtly into many Eastern Indian dishes for a creamy balance. In addition, the region is renowned for many sweet offerings.
Notable dishes: Rasgulla (syrupy dumpling dessert), Ras malai (milk and cottage cheese dessert), Payesh (rice pudding).
Southern India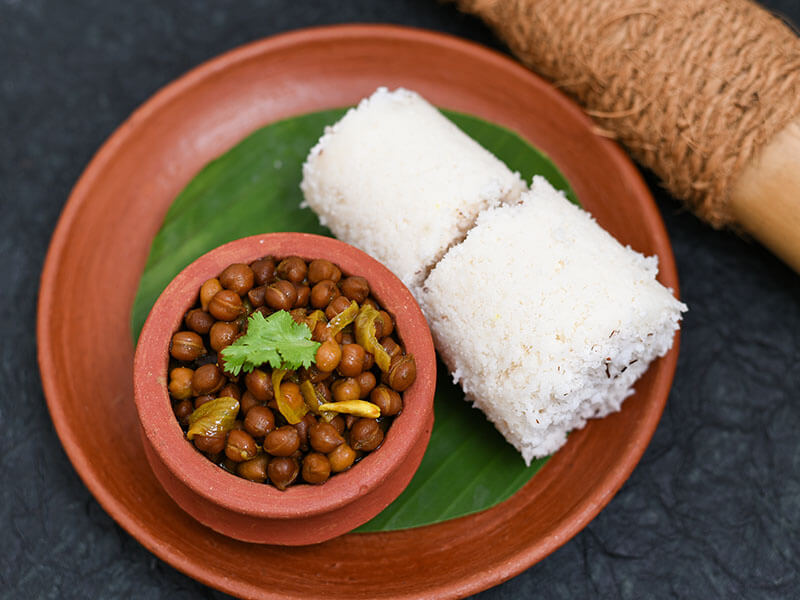 Southern Indian cuisine, particularly the renowned Kerala style, mainly revolves around rice dishes. Plantains, coconut, tamarind, and seafood usually appear in many delicacies. The cuisine also has various curries and fried snacks to explore.
Notable dishes: Kadala curry, Puttu (Steamed rice flour and coconut logs), Idli (savory rice cake), Uttapam (thick pancakes with savory toppings).
15. Sri Lankan Cuisine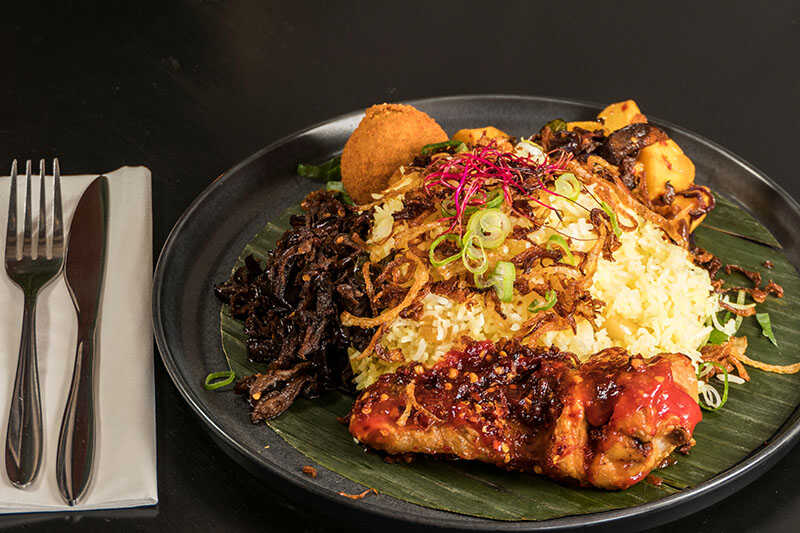 Sri Lankan cuisine is a vibrant, flavor-filled affair based on important ingredients like rice, fresh seafood, fruits like coconut, and various vegetables. Drawing from the culinary practices of Indian, Southeast Asian, and Dutch cultures, Sri Lanka incorporates many cooking into its culture (11).
Much like Indian food, spices are essential, with cinnamon, black pepper, cardamom, curry leaves, and fennel seeds being a favorite in Sri Lankan culinary art for fragrances. The dishes are known to have various flavors, ranging from sweet to spicy.
Famous dishes: many kinds of curries, Sate (grilled meat), Jaffna Odiyal Kool (spicy seafood stew), Idiyappam (string hoppers), Kottu (a mix of chopped roti bread, curry, scrambled eggs, and spices).
16. Nepali Cuisine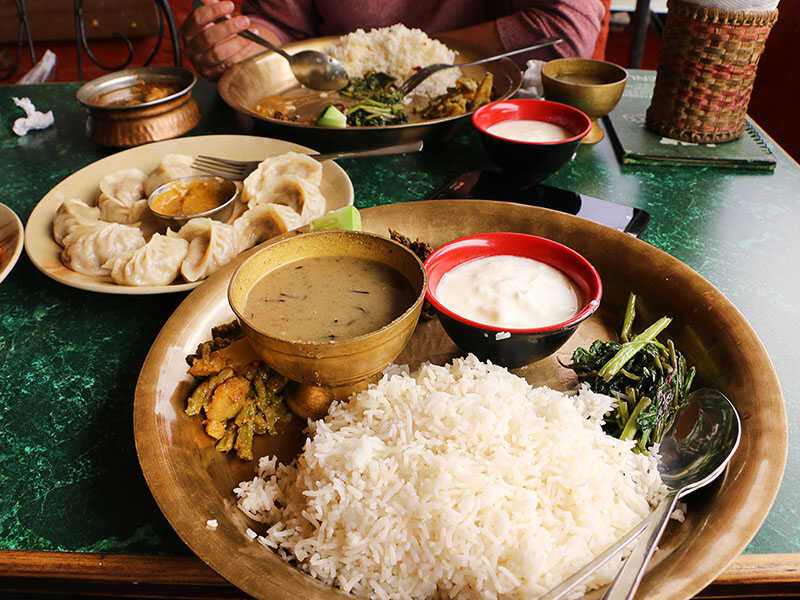 Nepali cuisine is a culinary crossroads where Indian and Tibetan traditions meet with indigenous practices. The dishes come out rich and spicy to handle the Himalayan chill.
While you'll spot familiar Indian elements like spicy curries and flatbreads, Nepali dishes have their own signature touches, opting less for sugar and cream. Locals often opt for ingredients like rice, lamb, goat, lentils, potatoes, and tomatoes.
Commonly, the kick of heat comes from chili peppers, cumin, turmeric, coriander, and fenugreek seeds, forming a palate that's as rich as it is diverse.
Popular dishes: Momo (dumplings), Dal Bhat Tarkari (lentils, rice and vegetable curry), Chow Mein (stir-fried noodles), Thukpa (Tibetian noodle soup), Pani Puri.
17. Pakistani Cuisine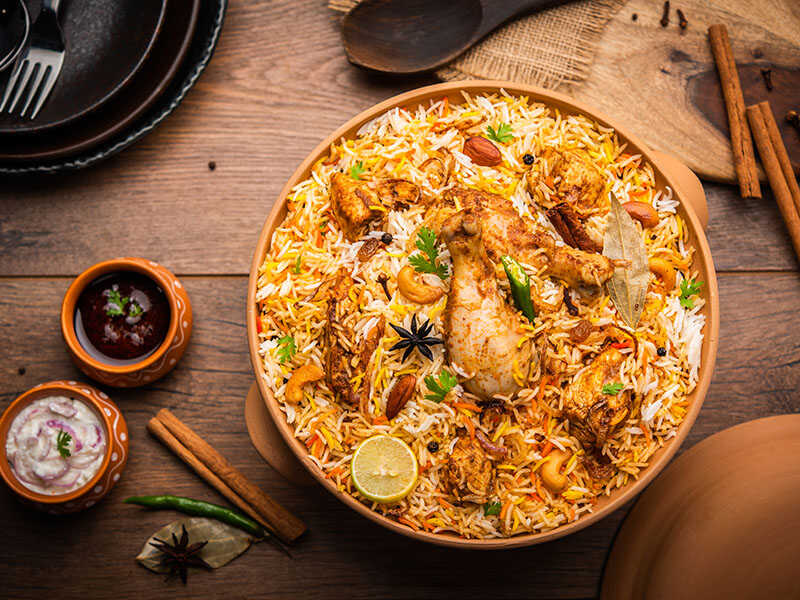 Pakistani cuisine is a wonderful fusion that draws from Indian, Persian, Mughal, and even Chinese influences. Its culinary identity usually prioritizes meat more than Indian cuisine, with less use of spices but by no means less flavorful.
With a strict no-go for cream, cheese, pork, and alcohol, Pakistani gastronomy sets itself apart from other cuisines. Not as spicy as Indian food, yet many dishes still pack a punch with ingredients like rice, beef, lentils, flatbreads, fruits, and vegetables.
In addition, the country has many regional cooking variations from places like Balochistan, Punjab, and Sindh. Also, the cuisine has three meals daily with breakfast of eggs and flatbreads, lunch with stews, curries, rice or bread, and a sumptuous dinner of various main and side delicacies.
Notable dishes: Chapli Kebabs (grilled beef patties), Biryani (mixed rice dish), Halwa Puri (flatbreads with a sweet, pudding-like dessert), Chicken Karahi (spicy chicken dish)
18. Bangladeshi Cuisine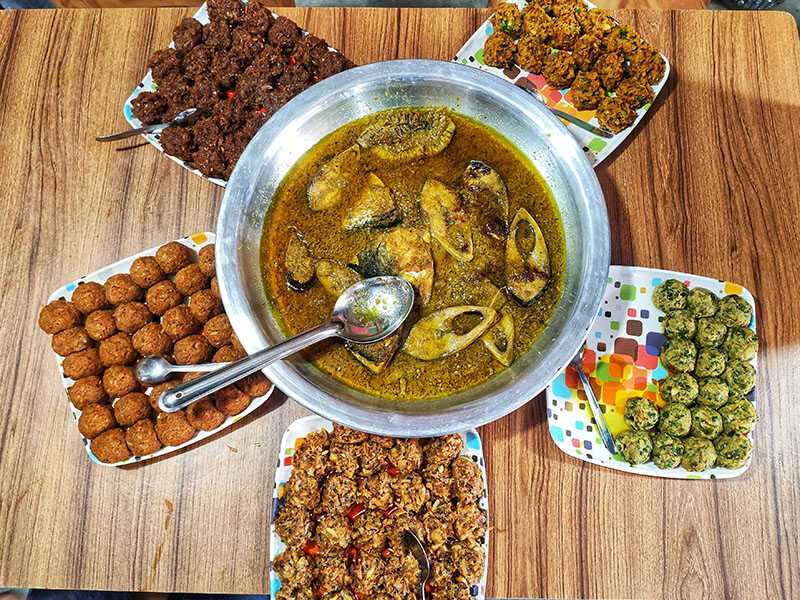 Bangladeshi culinary tradition might be underrated, but it's an intriguing cooking style shaped by Bengali and Mughal cuisines, with Turkish and Persian influences. Spiciness usually rules any Bangladeshi kitchen, especially roasted cumin and mustard oil, for a bold, spicy character.
Most often, rice, fish, poultry, and vegetables are the heart of most meals. Interestingly, the southern region is more dependable on spices than the northern part, creating a fascinating regional variety within this full-of-flavors cuisine.
Notable dishes: Hilsa/ Ilish curry (made from the fish of the same name), Bakarkhani (thick spiced flatbreads), Durus Kura (fried chicken curry), Monda (sweet pastry), Bhuna Khichuri (mung bean and rice dish)
19. Afghan Cuisine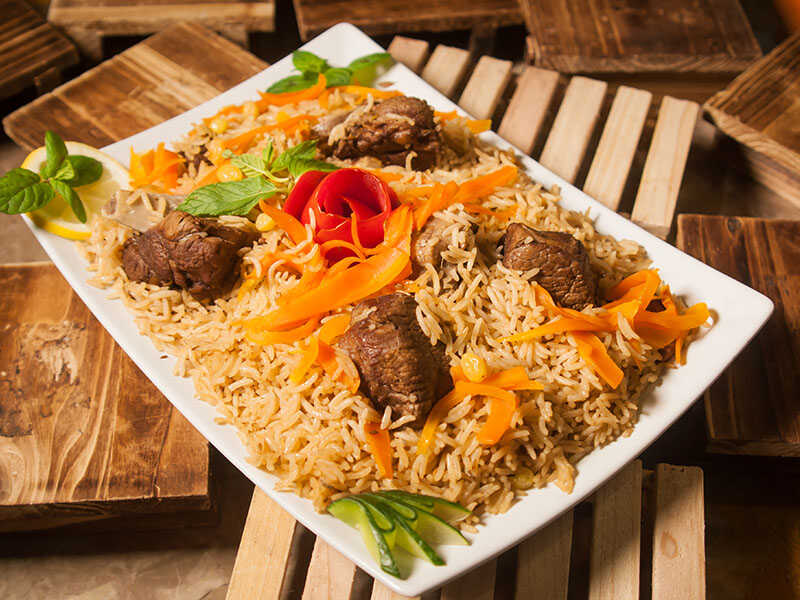 Afghan cuisine is a delightful blend of various influences, reflecting African, South Indian, and Mediterranean food cultures. Afghan cooking typically focuses on a balance of not overly spicy flavor.
Rice is a staple food alongside a bounty of fruits, vegetables, meats (mostly lamb or beef), and dairy products. Also, nuts, dried fruits, and yogurt are popular condiments. Furthermore, the cuisine includes plenty of meaty stews and grilled dishes balanced by an extensive selection of salads.
Notable dishes: Kabuli Pulao (mixed rice dish), Aushak (pasta dumplings with yogurt and spices), Mantu (dumplings with meat fillings), Chapli Kebab, Qormah (meat and vegetable stews)
20. Bhutanese Cuisine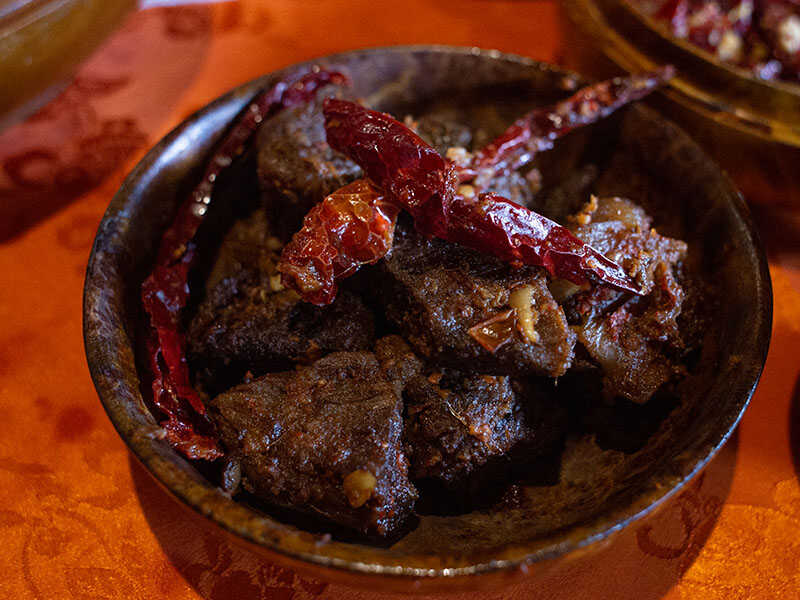 Bhutanese cuisine offers a remarkable fusion of flavors borrowed from Indian, Chinese, and Tibetan foods. One remarkable characteristic is the bold use of chili peppers and spices, lending a fiery kick to many dishes.
Cheese and butter are also frequently used to attain a rich depth to the food. Don't forget staple grains, such as Bhutanese red rice, corn, and buckwheat, that perfectly accompanies meats like chicken, yak, beef, and lamb.
Notable dishes: Ema Datshi (chilis simmered in cheese), Momo (dumplings), Zow Shungo (made from leftover rice and vegetables), Shakam Paa (dried beef cooked with chili peppers, spices, and vegetables), Jasha Maru (chicken, tomatoes, onions, spices)
21. Maldivian Cuisine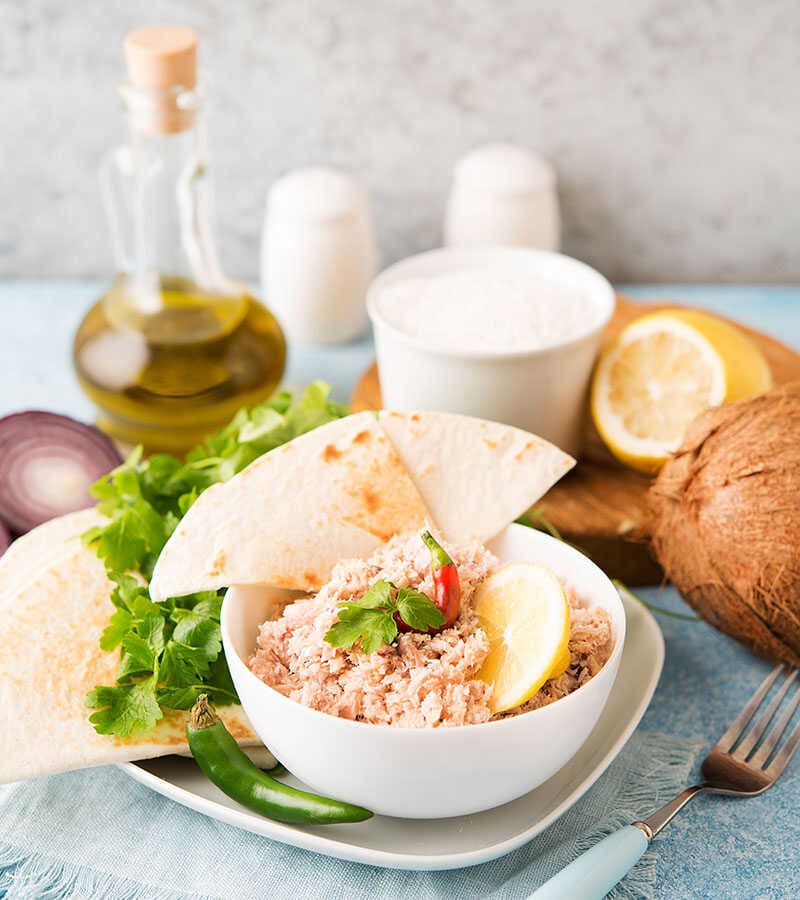 The heart of Maldivian cuisine, also known as Dhivehi cuisine, rests on three significant elements – rice, fish (tuna), and coconuts (12). Whether it's grated coconut, coconut oil, or coconut milk, this versatile ingredient infuses Maldivian dishes with tropical flair.
Additionally, taro, sweet potatoes, and breadfruits also bring additional layers of flavor and texture. On the Maldivian table, you can spot hearty curries beautifully paired with rice or flatbreads.
Notable dishes: Gulha (deep-fried pastry filled with smoked fish and grated coconut), Garudhiya (Maldivian fish soup), Mas Huni (breakfast dish with tuna, coconut, onions, spices), Kulhi Boakibaa (spicy tuna fish cake)
Southeast Asian Cuisine
Overview
22. Thai Cuisine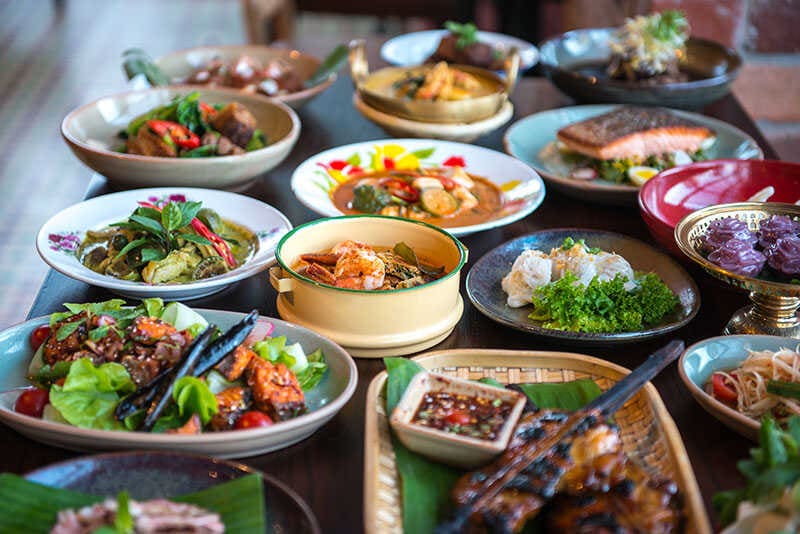 Thai Epicurean delight is where fresh ingredients and abundant spices take center stage. From fish to chicken, pork to beef, and even shellfish and duck, people turn various proteins into delicious dishes.
The heart of Thai flavor balance comes from the fiery edge of chili, the aromatic punch of garlic and basil, coconut milk's creaminess, and palm sugar's subtle sweetness. Also, the all-important umami comes from fish sauce, shrimp paste, and oyster sauce, with lemongrass and kaffir limes providing a refreshing twist.
Typically, rice, particularly the Jasmine variety, is a staple in Thailand alongside sticky rice and noodles, often accompanied by hearty curries or lighter, spicy salads. Most often, the influence of Chinese cuisine is prominent in Thai cuisine, with deep-frying, stir-frying, and steaming being favored methods.
Additionally, health-conscious folks can appreciate that most dishes are stir-fried or grilled. And let's not forget about the mouthwatering array of street foods that make roadside stalls in Thailand such an adventure.
Northern Thailand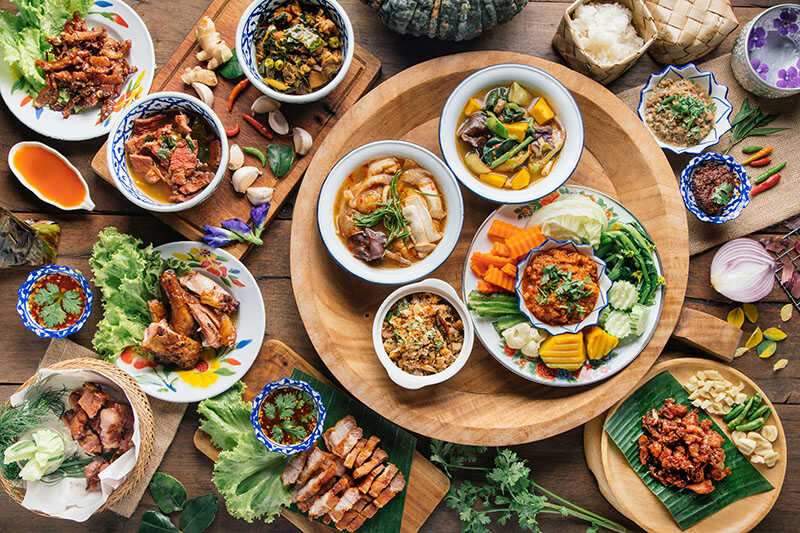 Northern Thai cuisine, from the once separate Lanna Kingdom, has a distinct identity compared to traditional Thai food. This region's cooler, mountainous highlands cultivate aromatic herbs, making them a significant component of Lanna dishes.
There's also an emphasis on ingredients that create warmth and elevate energy, including pork belly, knuckles, skin, ginger, and garlic. In addition, the area's abundance of wild mushrooms, forest vegetables, and fruits adds a unique character to many recipes.
Northern Thailand also inherits influences from Isan (especially in the ingredients similarity), Burma, Laos, China, and India. The result is a palette that leans towards the salty and mildly hot side, less sweet but with a smoky, herb-rich aroma that lingers.
Northern Thailand's famous dishes: Sai Oua, Khao Soi (coconut curry soup)
Northeastern Thailand/Isan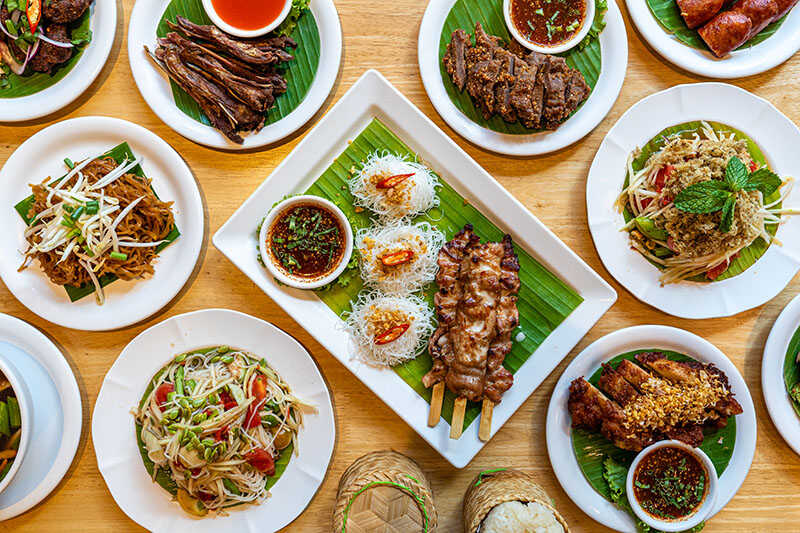 Northeastern Thai cuisine shares many similarities with Laotian food, separating it from central Thai flavors. Unlike Laotian dishes, however, Isan's cooking lacks French and Vietnamese influences, with its identity having an emphasis on extreme heat and sourness.
Famous dishes: Som Tam (papaya salad), Laab (Isan spicy salad).
Southern Thailand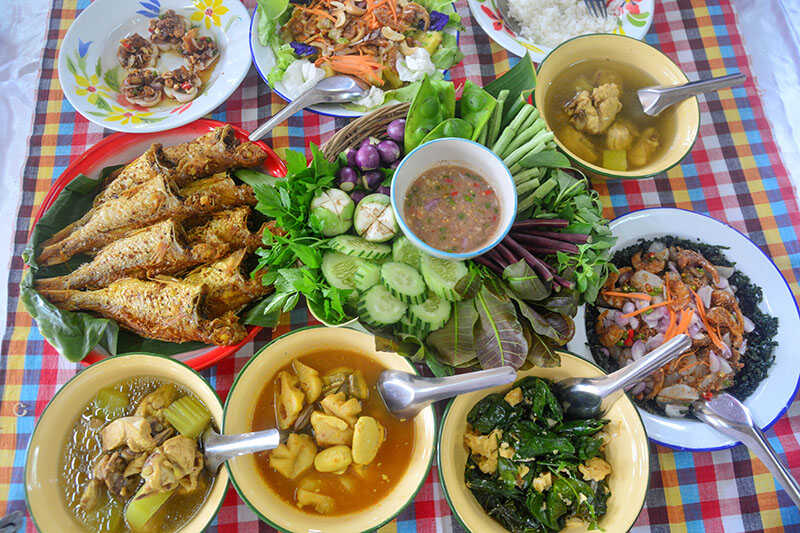 Southern Thai cuisine is a blend of tastes, inspired notably by Muslim traditions from nearby Malaysia. Known for its exceptionally spicy food, it also offers a uniquely slow burn from chilies and black pepper.
But don't let the spice scare you off! The flavors here can sway from very salty to rich and mild. Sweetness is another characteristic of Southern Thai cooking, especially in curries, with palm sugar playing a central role, lending a dark, earthy note.
Famous dishes: Gaeng Kua Kling, Gaeng Som, Gaeng Tai Pla.
Central Thailand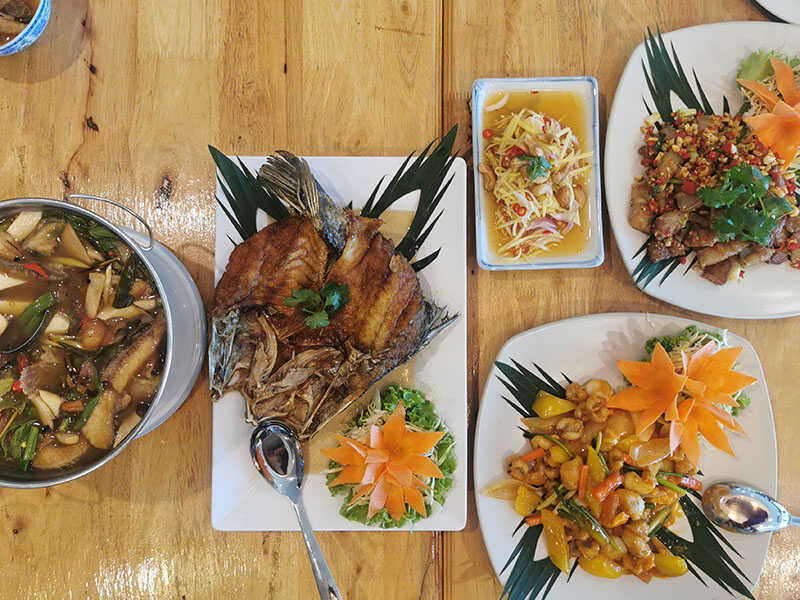 Known as the face of Thai food to foreigners, Central Thai cuisine appears in Thai restaurants worldwide. It's the region that brings the most varied and intricate cooking methods, with Royal Thai cuisine highlighting its complexity.
It boasts the widest selection of coconut-milk-based, meat stock, and dry-fried curries, less fiery than their Southern or Northeastern counterparts. The cuisine also extends to soups, tending towards the sweet side, presenting a delightful contrast that rounds off the Central Thai cuisine.
Famous dishes: Pad Thai, Khanom Chin, Panang curry, green curry, Tom Kha Kai (coconut chicken soup)
23. Vietnamese Cuisine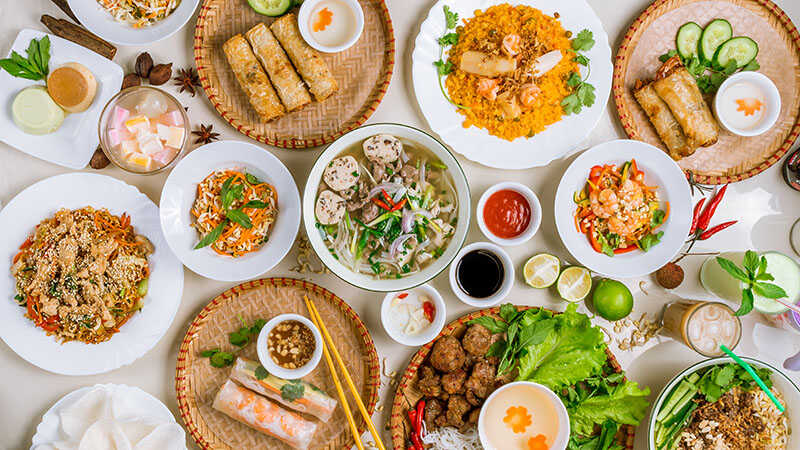 Vietnamese cuisine presents a well-rounded palate experience, expertly balancing the five fundamental tastes of sweet, salty, bitter, sour, and spicy. Each dish reflects this harmony, showcasing fresh ingredients and interesting textures by not using oil and dairy.
The artful use of herbs, vegetables, and subtly mixed spices forms the heart of Vietnamese culinary richness. Usually low in sugar and gluten-free, Vietnamese prioritize rice over wheat, producing many delectable rice-based noodles, papers, and flour creations.
Interestingly, Vietnam's cooking culture bears the unmistakable imprint of its neighbors, China, Cambodia, Laos, and the elegant sophistication of French cuisine.
Northern Vietnam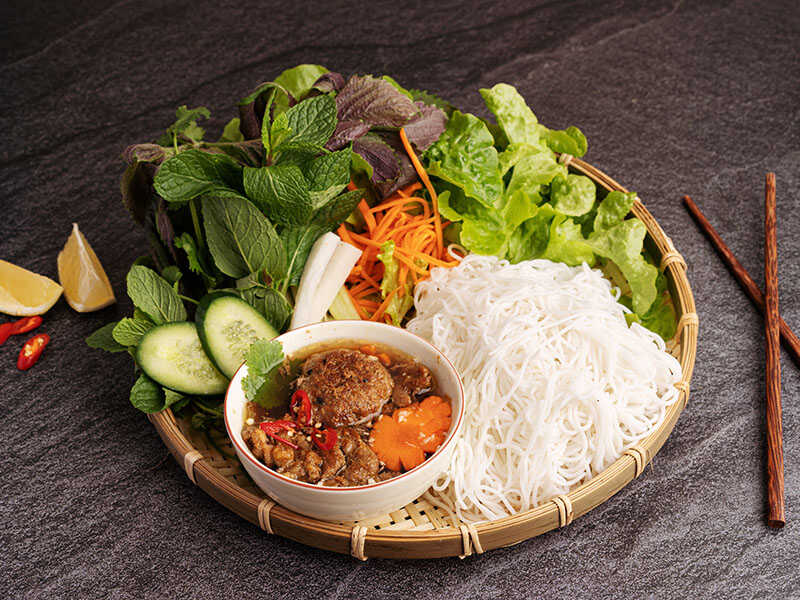 Northern Vietnamese cuisine, with Hanoi as its culinary gem, creates some of Vietnam's most celebrated dishes. The region has a harmonious mix of light and balanced flavors without overpowering sweet, salty, spicy, bitter, or sour notes.
The cuisine's character leans towards less spicy, emphasizing the natural taste of the main ingredients. Compared to other regions, dishes in North Vietnam are less spicy. Plus, Ha Noi is the flagship regarding the Northern cuisine of Vietnam.
Famous dishes: Bún Chả, Phở Bò, Phở Gà, Bánh Mỳ, Bún Riêu Cua
Central Vietnam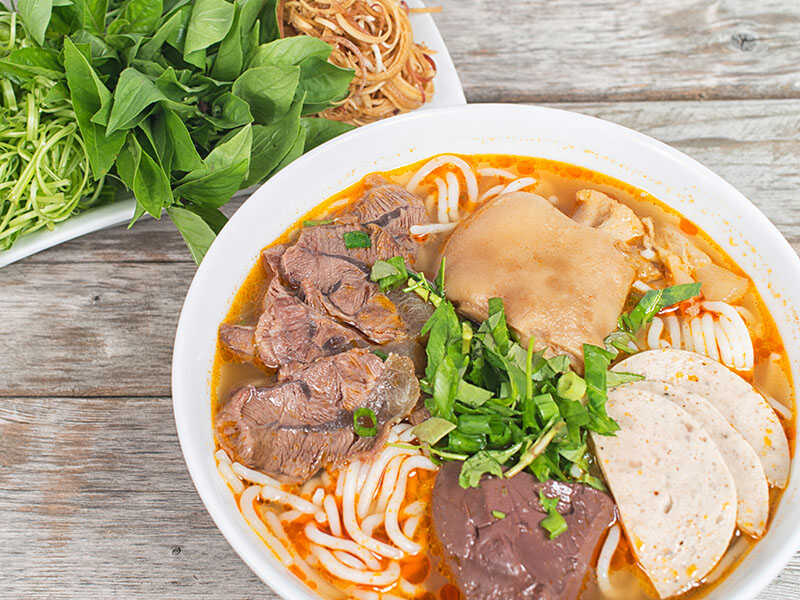 Central Vietnamese cuisine, born from a region with harsh weather and natural disasters, is a testament to the resilient spirit of its people. Their dishes are often rich and abundant in spices, mainly coming from their natural surroundings.
Each dish has rich and distinctive flavors, notably on the spicier side. The former Vietnamese capital, Huế, is the birthplace of ancient royal cuisine, known for complex, sophisticated meals served in small portions.
Famous dishes: Bún Bò Huế, Mì Quảng
Southern Vietnam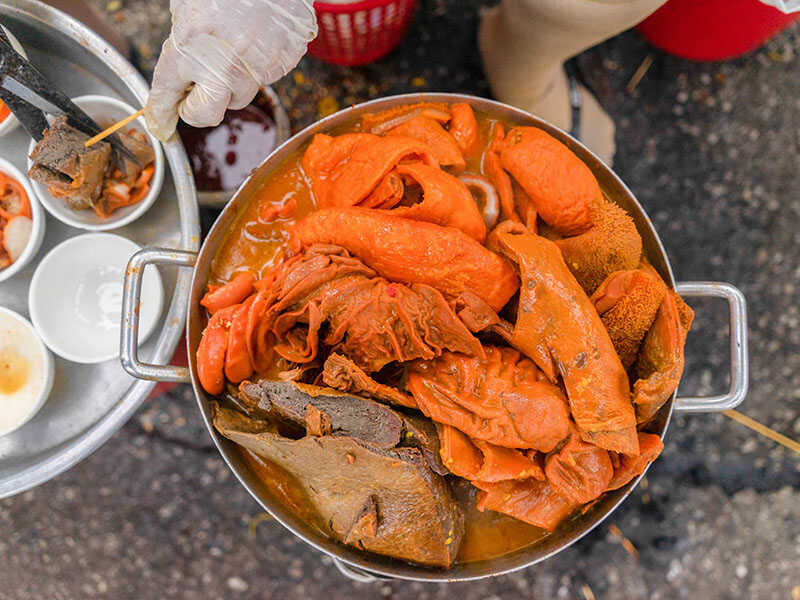 Southern Vietnamese cuisine reflects the region's warm climate and fertile land, with dishes brimming with fresh fruits, vegetables, and livestock meat. Southern cooking is notable for its preference for sweetness, achieved by adding sugar more generously than in other regions.
Coconut milk is a common ingredient, providing a unique richness. Plus, seafood is naturally a staple due to its coastal geography. Add the culinary influences from neighboring Thailand and Cambodia, and Southern Vietnam cuisine is a tasty melting pot of Southeast Asian delights.
Famous dishes: Bánh Khọt, Bún Mắm
24. Indonesian Cuisine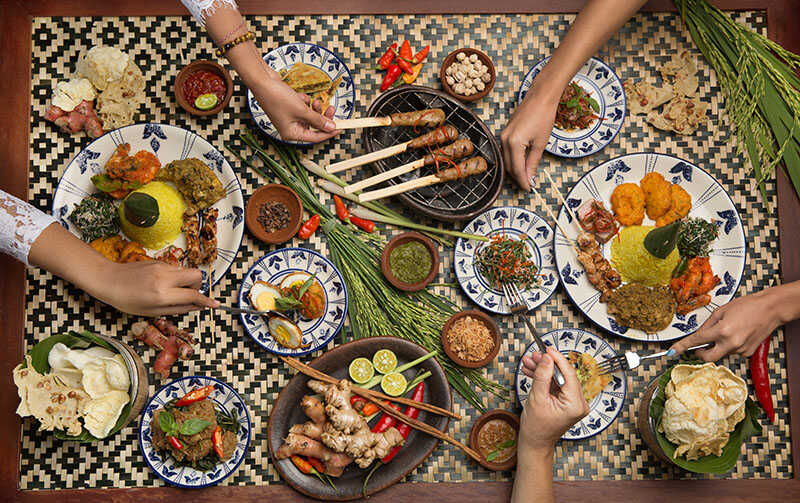 Indonesian cuisine combines various regional culinary traditions. Influenced by Middle Eastern, Indian, Chinese, and European culinary styles, it's become a savory melting pot of tastes.
From rice, noodle, and soup dishes that range from street snacks to high-end dining, Indonesian cooking is rich, hot, and spicy, masterfully combining the basic tastes of sweet, salty, sour, and bitter.
The beauty of Indonesian cooking lies in its seven main methods, which include frying, grilling, roasting, dry roasting, sautéing, boiling, and steaming. Furthermore, each region has its own twist on traditional recipes, depending on the indigenous culture.
Padang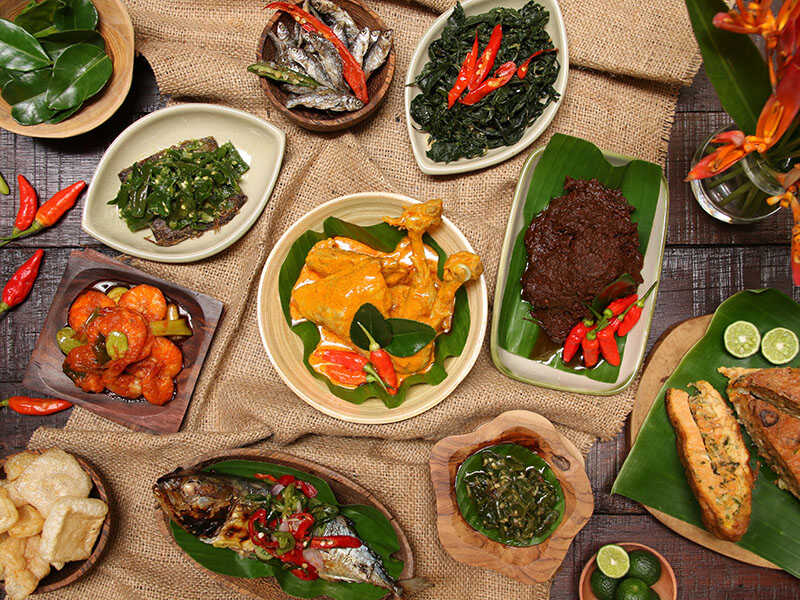 Padang cuisine, or Minang food, is the cherished culinary tradition of the Minangkabau people of West Sumatra, Indonesia. Its influence extends well beyond Indonesian cities, even reaching Malaysia and Singapore.
Rich, spicy, and adorned with creamy gravies, Padang dishes exude a distinctive aroma attributed to generous coconut milk and fiery chili. Interestingly, a distinct Padang practice is the 'hidang' serving style, where waiters gracefully balance multiple dishes at once.
Revolving around this culinary tradition are three elements: gulai or curry, lado or chili pepper, and bareh or rice. Predominantly non-vegetarian, Padang fare values proteins such as beef, chicken, goat, and fish, all generously seasoned with a wide range of spice mixtures.
Famous dishes: Asam Padeh (sour and spicy fish stew), sate Padang (Padang satay), Soto Padang (Padang soto), Katupek Sayua (rice dumpling in vegetable soup).
Java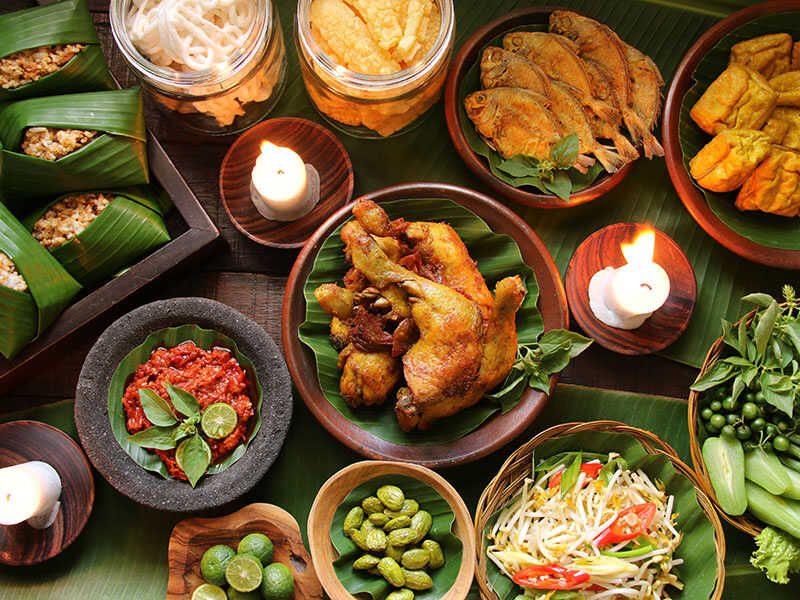 Javan cuisine is native to the Javanese people, who thought to enjoy sweet dishes, although the northern and northeastern parts of Central Java favor salty and spicy flavors. Additionally, East Java takes the spice level further.
Unlike its Padang counterpart, Javanese cuisine is lighter and less spicy than Pandang, favoring refreshing soups over rich stews. The intriguing aspect of Javanese cuisine is its regional diversity, with each city in Java celebrating its unique specialty.
Famous dishes: Ayam Goreng (fried chicken), Klepon (green rice-flour balls with palm sugar filling)
Bali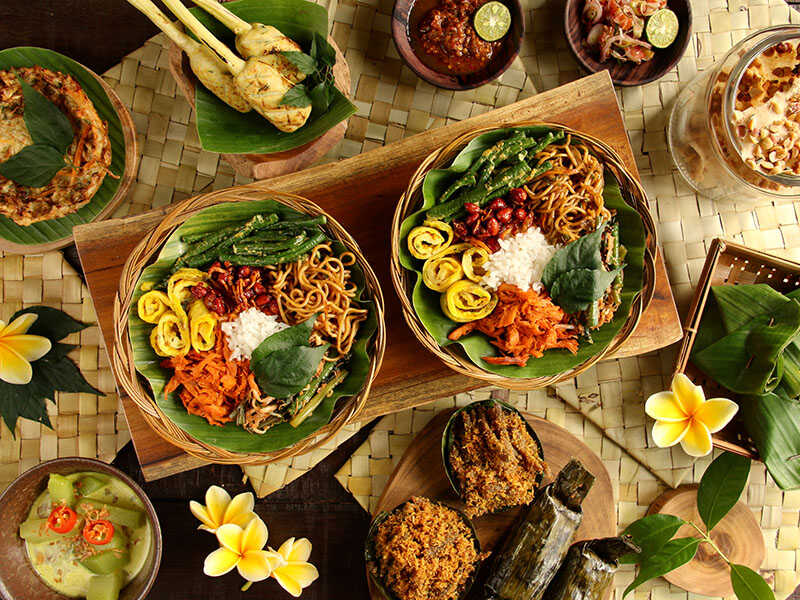 Balinese cuisine, from Bali's volcanic heartland, is unique in Indonesian cuisine. It's my personal favorite, being the only Hindu-majority island in Indonesia. Commonly, the food is deeply rooted in spirituality, often prepared as offerings for the deities.
However, some dishes are savored communally during vibrant celebrations. You can try taking a bite of the pork or chicken dishes with the scent of fresh fruits and vegetables for an unforgettable experience.
Unsurprisingly, beef is out of the question for Balinese specialty because of its Hindu origin. Also, seafood is available in Bali cooking.
Famous dishes: Babi Guling (roasted suckling pig), Bebek Betutu (spiced duck)
Lombok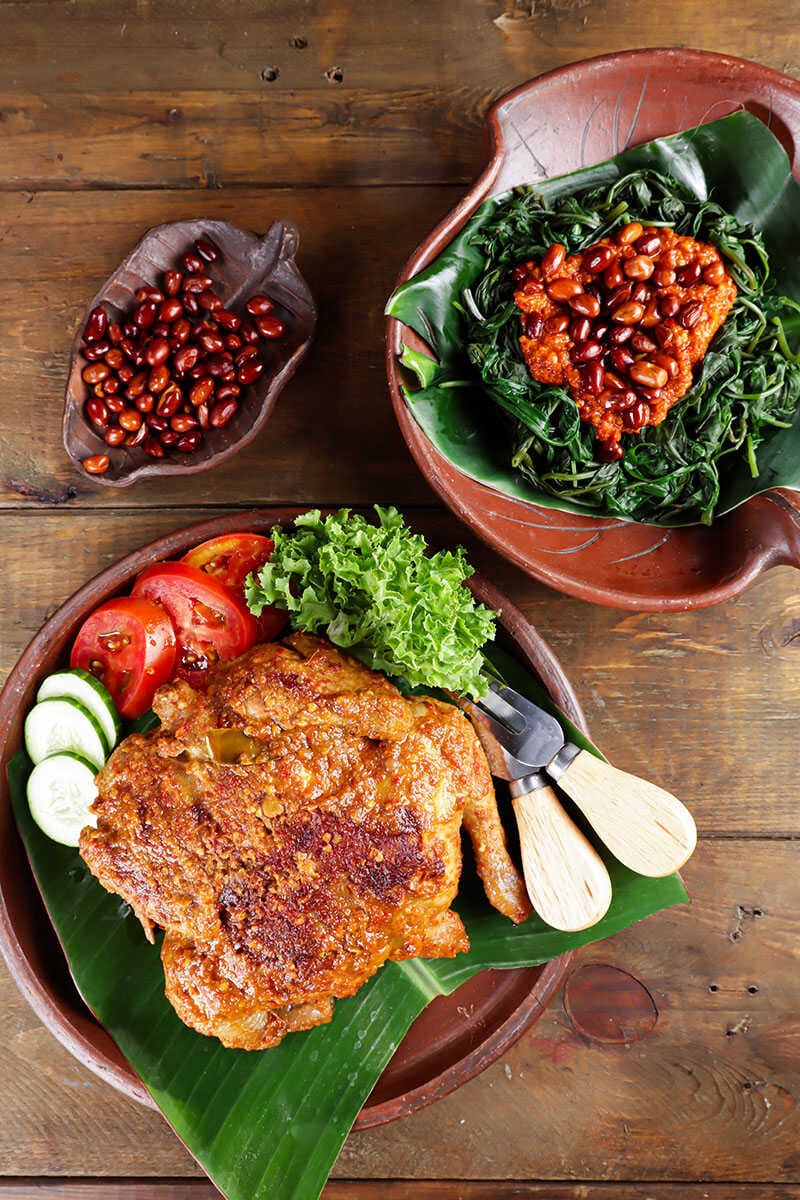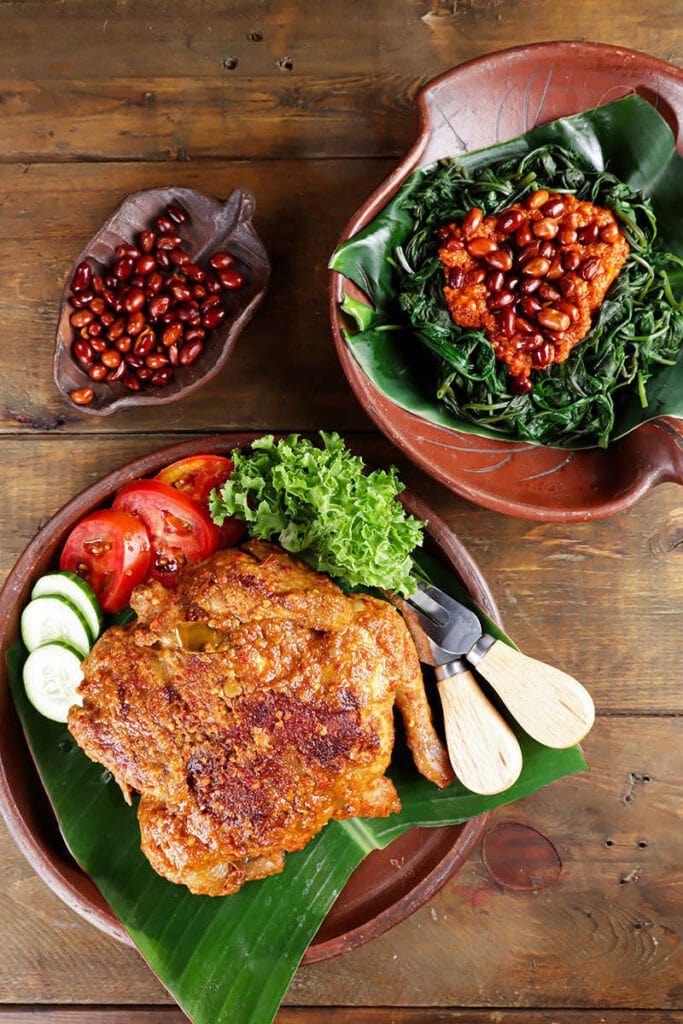 Lombok, the neighbor of Bali, is fascinating with its distinct identity, thanks to the Wallace Line, drawn in 1859 by the British naturalist Alfred Russel Wallace, which dramatically alters its flora, fauna, and wildlife.
The region has its own gastronomic style that I've been fortunate to try. Being predominantly Muslim, the cuisine carries a unique essence.
Famous dishes: Ayam Taliwang (grilled chicken), Ares (young banana stem stewed in coconut milk), Nasi Balap Puyung (steamed rice served with soybeans)
Sulawesi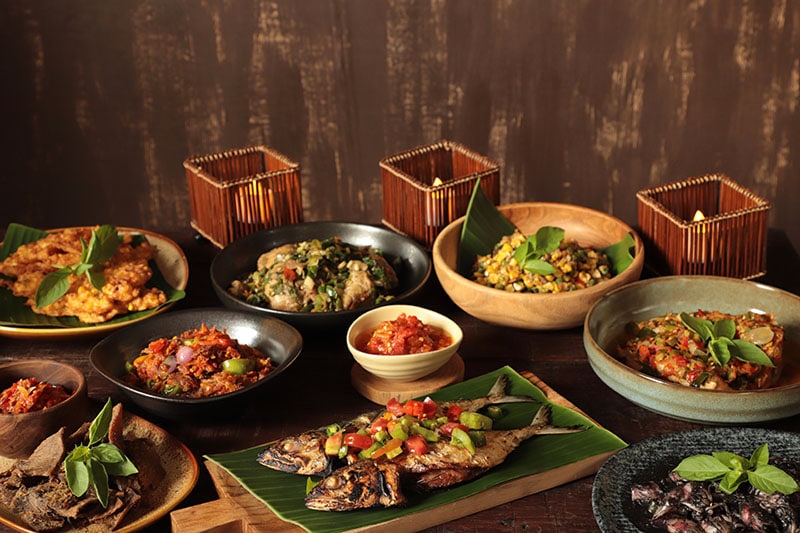 In Sulawesi, you'll find two predominant cuisines: Manadonese and Makassar, each unique in its way.
On the one hand, I've always appreciated Manadonese cuisine from North Sulawesi, which is popular even in Jakarta. It's daring, with seafood, chicken, pork, wild game, and exotic meats like fruit bats and forest rats.
The Dutch, Portuguese, and Spanish marks are visible in Manadonese, especially in the cakes and pastries.
On the other hand, Makassar cuisine from South Sulawesi is well-known for its big fish market center, with seafood being the star here. Hearty soups and stews are favorites in Makassar, with all recipes respecting Muslim customs by avoiding pork and exotic meats.
Manadonese famous dishes: Ayam Rica-Rica, Brenebon (pork shank bean stew), Paniki (bat dish)
Makassar famous dishes: Soto Makassar (beef offal stew), Ikan Bolu Bakar (grilled milk fish), Ayam Goreng Sulawesi (Celebes fried chicken)
25. Malaysian Cuisine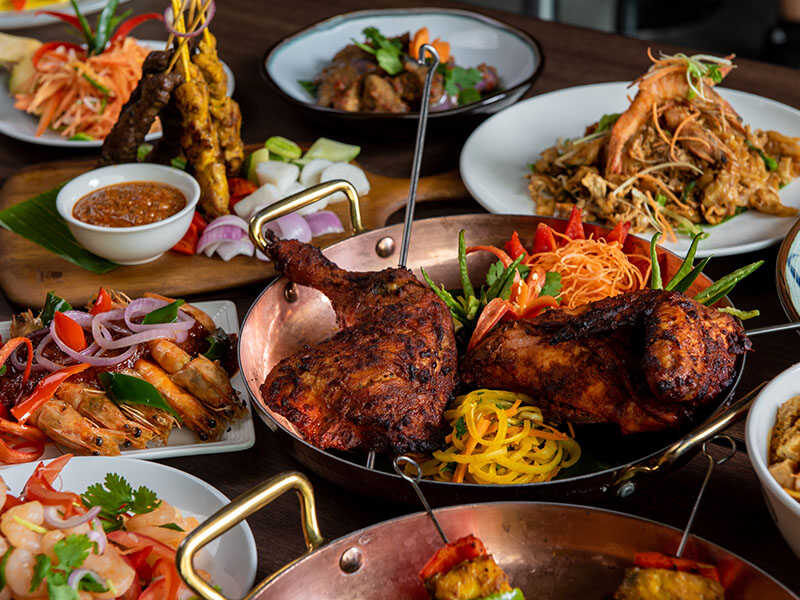 Malaysian cuisine reflects the multi-ethnic groups residing in the country, primarily the Malays, Chinese, and Indians (13). The cuisine shares a few features with Singapore, spotting shared stars like laksa and chicken rice.
Essential food items in Malaysia run from rice, noodles, and bread to both freshwater and saltwater fish, beef, and fresh vegetables. Vegetarianism holds a significant place here, and street food is notably dominant.
The palate-pleasing of Malaysian culinary arts blends sweet, savory, and spicy profiles in dishes to leave a lasting impression.
Famous dishes: Nasi Lemak (considered as a national dish made with coconut milk rice), Assam Laksa, Roti Canai, etc.
26. Filipino Cuisine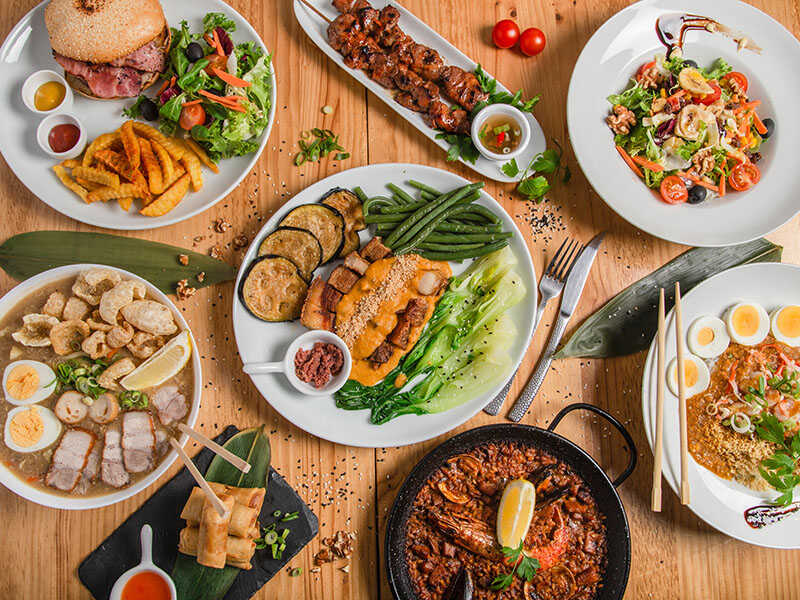 Filipino cuisine celebrates the traditions of its distinct ethnolinguistic groups, with noticeable touches from Chinese, Spanish, and American influences. My journey through Filipino traditional dishes has unraveled several staple ingredients, including rice, meat, fish, vegetables, and coconut.
Native ingredients, like kalamansi and ube halaya, further make Filipino cooking unique. With each dish, locals always go for the harmonious balance of sweet, salty, and sour notes. Family sharing is also essential for Filipino meal times.
Surprisingly, you want to use spoons and forks instead of chopsticks to have Filipino dishes. Commonly, the Philippines have a typical 3 meals a day like other cultures.
Famous dishes: Adobo (an unofficial national dish made with chicken or pork, vinegar, and other flavorings), Kinilaw (marinated fish), Lechon (Suckling pig), and more.
27. Singaporean Cuisine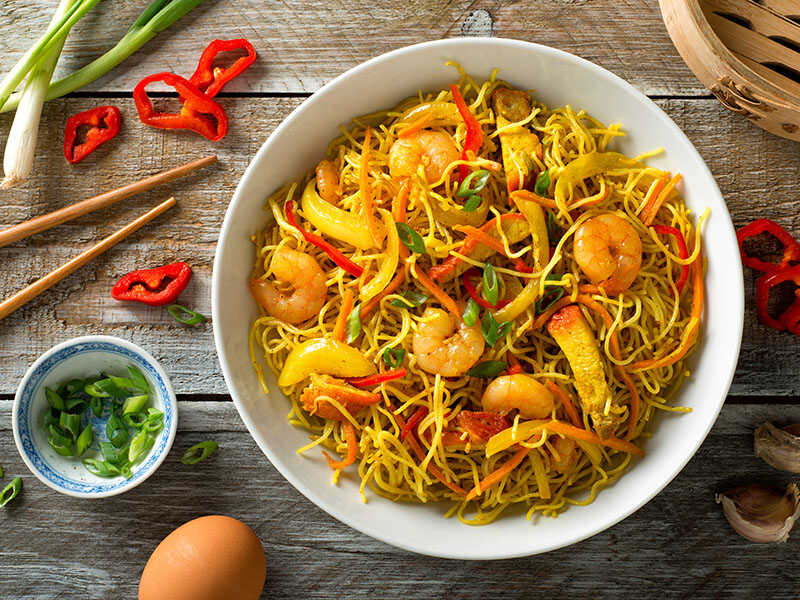 Singaporean food culture is like an exciting crossroads with rich diversity from the Malays, Chinese, and Indians while also honoring religious dietary customs, like the Muslim abstention from pork. My trip to this island nation has taught me so much about Singaporean noodles, rice, and seafood.
The locals' eating patterns are fascinating, with five to six meals consumed daily. Hawker centers, vibrant in an open-air setting, provide top-of-the-line dishes in a hot and humid atmosphere.
Singapore is also a paradise for fruit lovers, with tropical treats like calamansi, durian, lychee, and rambutan. Ideally, any morning in Singapore should start with a cup of coffee in a traditional Kopitiam (coffee shop), just like the locals do.
Famous dishes: Hainanese chicken rice, roti prata, chili crab, and Katong laksa (listed in the most 50 food in the world (by CNN))
28. Burmese Cuisine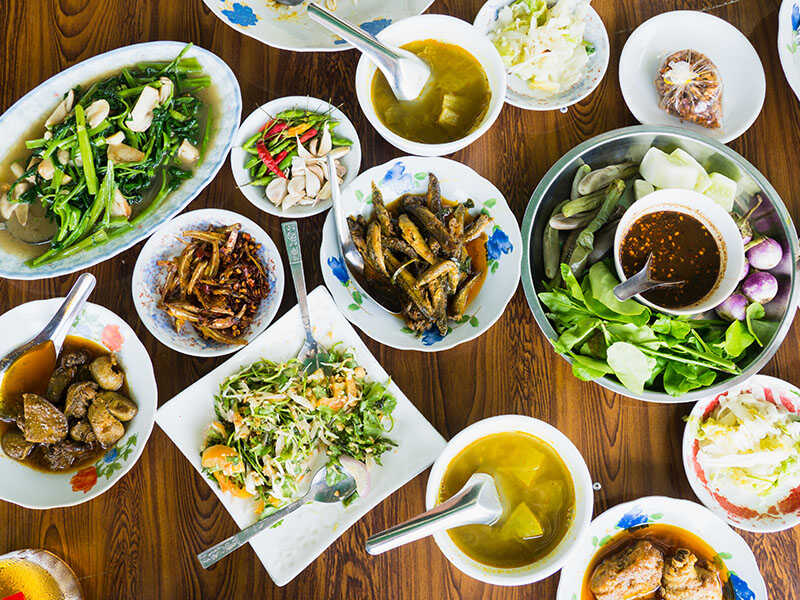 Burmese cuisine brings together influences from neighboring countries as well as Indian, Thai, and Chinese kitchens. Dishes mainly use rice, curry, noodles, soups, and salads that are not overly spiced. However, Burmese usually incorporate fresh ginger and garlic in many recipes.
Meals are usually designed for sharing, lending a communal, cozy vibe to dining. Also, the local way to feast is around a low table, with the dishes spread out on plates, while everyone settles comfortably on bamboo mats.
The culinary scene here is also notable for its varied cooking techniques, which include stewing, boiling, steaming, and roasting.
Famous dishes: Mohinga (unofficial national dish – fish soup made with rice noodles), Rice and Burmese Curry (in several styles), different salad (like Laphet Thohk (pickled tea leaf salad), Gyin Thohk (pickled ginger mixed salad))
29. Lao Cuisine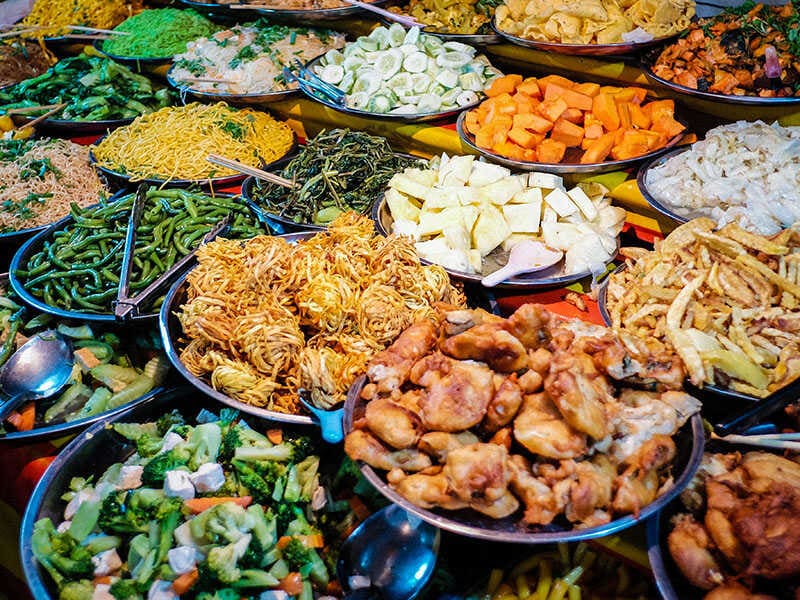 Lao cuisine, with its roots in Chinese and Indian influences, brings its own distinct flavors to the table. Sticky rice holds a special place in Lao cuisine, so much so that they're the highest per-capita consumers in the world (at more than 345 pounds per year) (14)!
The food scene of Laps is also rich with fresh vegetables, fruits, herbs, and spices, prepared through grilling, stewing, boiling, stir-frying, and even mixing. Meals are designed to be shareable, contrasting Thai cuisine of individual servings.
While Thai dishes often feature white rice and a sweeter palette, Lao cuisine favors sticky rice and tones the sweetness. Compared to Vietnamese food, Lao cuisine uses more curry for a bolder profile.
Famous dishes: larb (National dish – meat salad with green papaya and sticky rice)
30. Cambodian Cuisine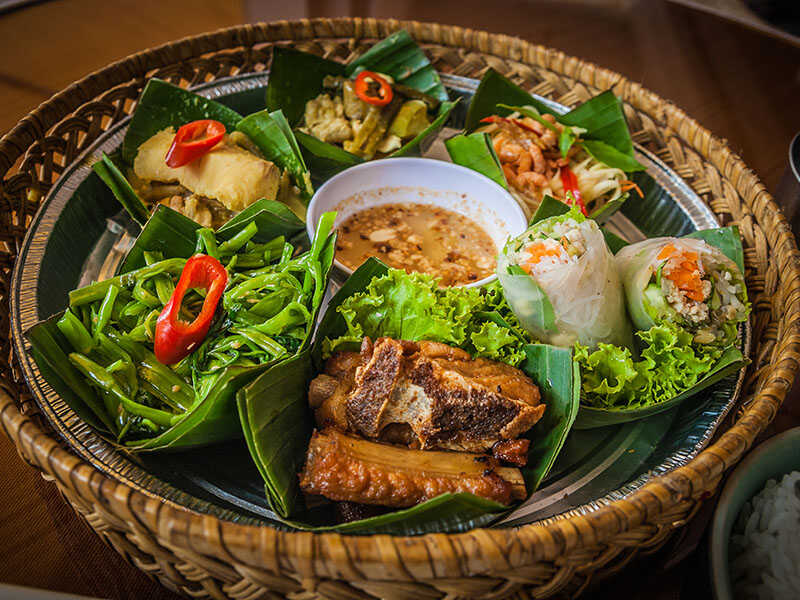 Cambodian delicacy intertwines elements of Khmer tradition with the culinary cultures of Thai, Chinese, Indian, and even French influences. Furthermore, it shares a few similarities to Vietnamese and Lao cuisines.
Typically, fish and rice are the key nutrient sources of this cuisine, alongside an incredible selection of fermented seafood like "mam," "prahok," and '"kapi".
But it's the use of herbs and spices, like coriander, sweet basil, ginger, and kaffir lime, that really captivates me. Tropical fruits, like durian and jackfruit, alongside leafy greens, provide a healthful touch. And let's not forget the street food, which mainly offers various snacks!
Famous dishes: Fish amok (steamed fish with coconut in banana leaves), Nom banh chok (Khmer noodles), Kuyteav (rice vermicelli soup with chicken, pork, or beef), and more
31. Bruneian Cuisine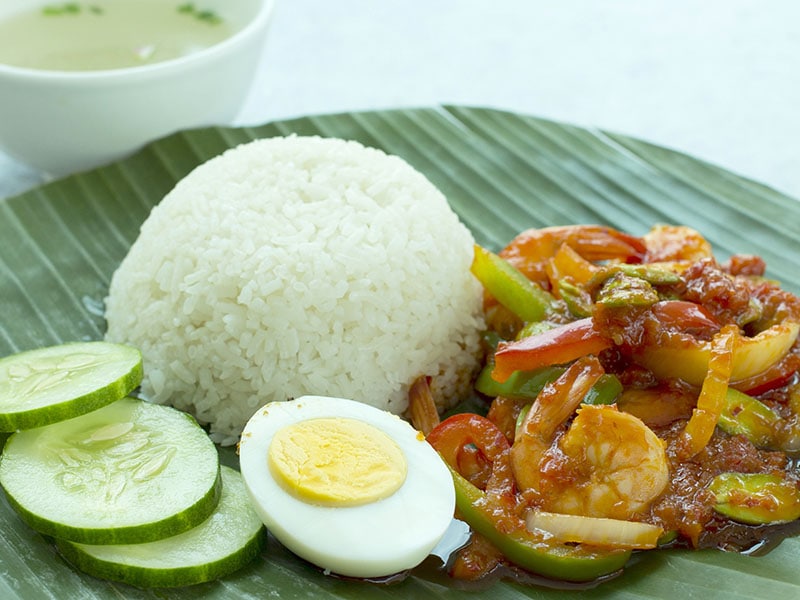 Bruneian cuisine is heavily influenced by Malaysia, Singapore, and Indonesia. It also bears some imprints from China, Thailand, India, and Japan. Commonly, you can find staple food ingredients, like rice and fish, with pork absence as a nod to the Islamic faith.
Dishes in Brunei are often spicy, accompanied by noodles or rice. As for refreshments, their drinks range from milk tea and coconut milk to fresh fruit juices and coffee.
One of Bruneian signatures is Ambuyat, a national dish made with sago. Although devoid of taste, it's quite fascinating when scooped up with chopsticks and dipped in sauce.
Famous dishes: Nasi Katok (rice dish with fried chicken), Kelupis (a cake for dessert or snack made with rice and coconut milk, wrapped in leaves), etc.
32. East Timorese Cuisine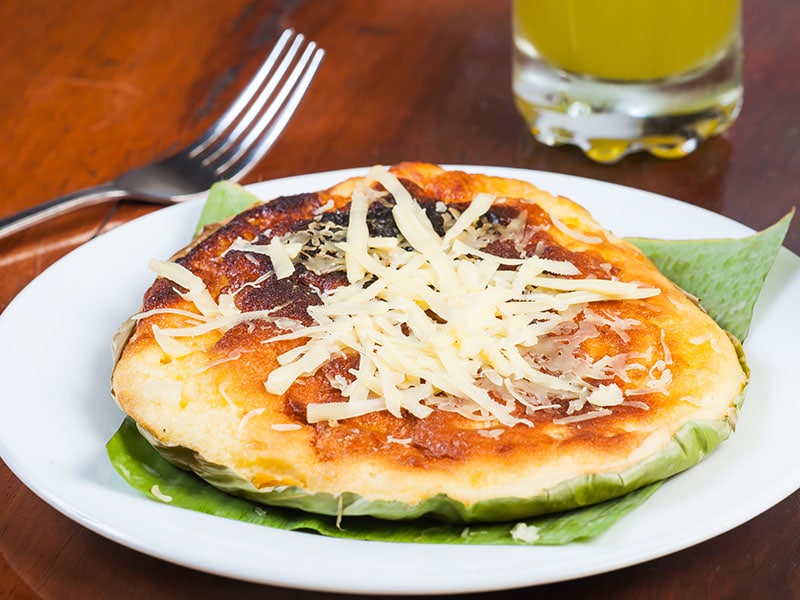 East Timorese cuisine is intertwined with Malay and Portuguese cooking. A meal in the country usually means a comforting plate of rice, pork, or fish, with legumes and hearty root vegetables like taro and sweet potatoes.
Tropical fruits are also essential for lending a sweet note to the culinary melody. On the protein side, East Timor people consume goat and poultry, with locals even raising these food sources by themselves.
When the dry season rolls around from November to February, locally produced food plays a starring role in the daily meals.
Famous dishes: Batar daan (with pumpkin, corn, and mung beans), Bibinka (grilled coconut cake), Feijoada (with pork, chorizo, and cannellini beans)
33. Christmas Island Cuisine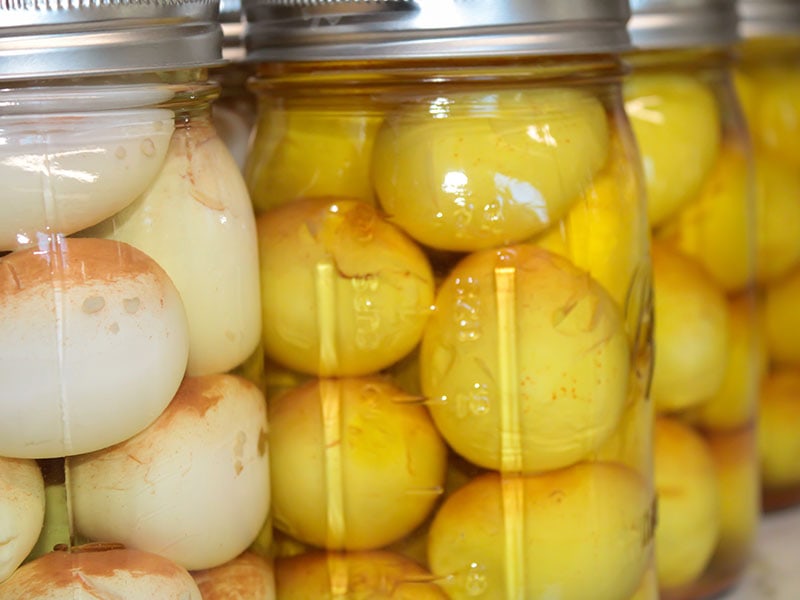 Christmas Island's cuisine is a fascinating fusion of Australian and Asian flavors, with noticeable Indonesian and Malaysian influences. Due to soil constraints, fresh food growth is somewhat limited, which leads to canned and processed foods being a mainstay.
Pickled eggs made from chicken eggs are a particular favorite on the island. Despite the limitations, fresh seafood is available, including fish, sea birds, crabs, and even whale sharks! However, the famous coconut crab isn't edible.
Furthermore, the variety of tropical fruits like mangoes, bananas, and coconuts adds a sweet touch. When you're on the island, you'll find some fabulous places to dine, serving diverse cuisines.
Famous dishes: pickled eggs, century eggs
West Asian Cuisine / Middle Eastern Cuisine
Overview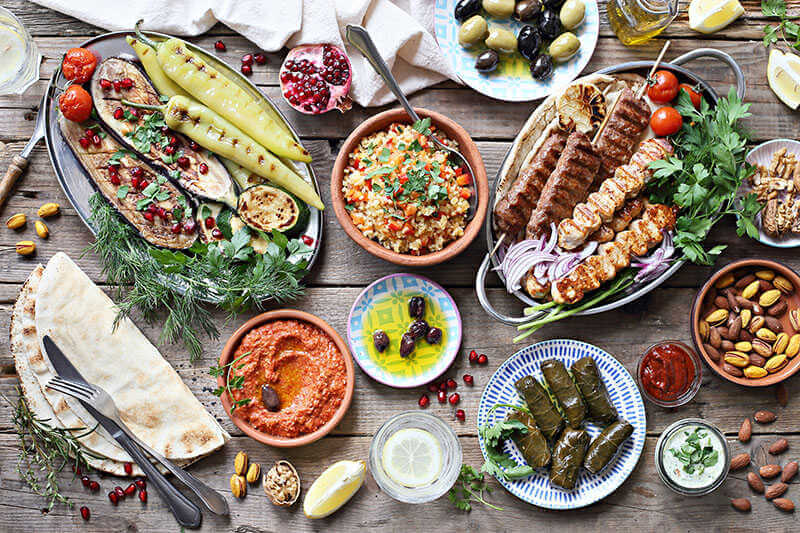 As a food lover, West Asian cuisine stirs a sense of nostalgia within me. The cuisine is a unique fusion of European, African, and Asian flavors. Plus, people from this area often have sheep, lamb, mutton, goats, and cattle, while pork is not a valid option under Islamic and Jewish religions.
Typically, West Asians are popular with using olives, olive oil, barley, sesame seeds, chickpeas, mint, and parsley for infusing most dishes.
Famous dishes: shawarma, kibbeh, tahini paste, etc.
34. Turkish Cuisine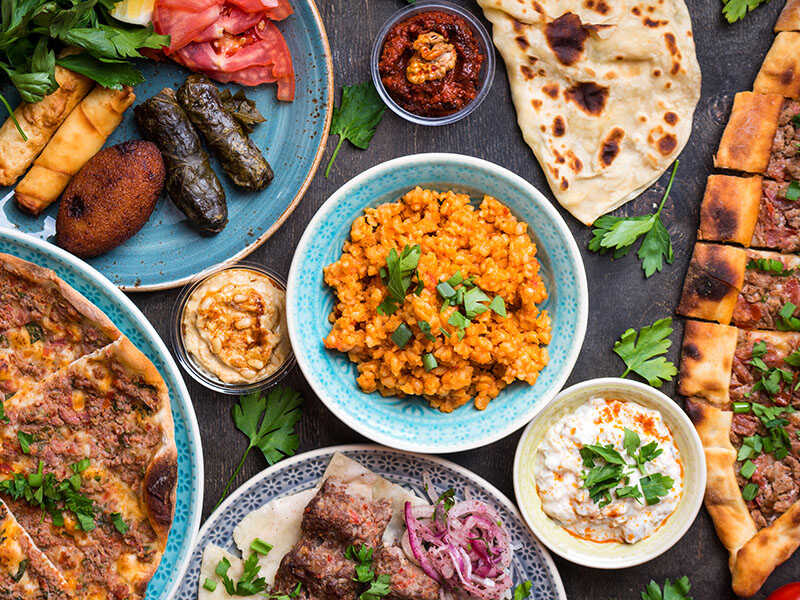 Turkish food style is a flavorful journey shaped by its geography and climate. Interestingly, you can find many Central, Western, or Southeast European touches in Turkish cooking. Different regions may incorporate unique ingredients for various flavors across the country.
Staple ingredients like rice, bread, veggies, and meat are the foundation for Turkish dishes, most iconically kebabs. Meals typically appear with soup, followed by a vegetable dish, then a hearty main course with chicken, lamb, beef, or fish paired with rice.
Most often, locals incorporate nuts and make the most of seasonal veggies, particularly during summer.
One of my personal favorites is the traditional breakfast featuring soup or menemen, an egg-based dish with green peppers, tomatoes, and spices. Additionally, Turkish tea complements this combo perfectly.
Famous dishes: various kinds of kebab, Dolma (rice or meat stuffed in leaves), Köfte (meatball), and more
35. Iranian Cuisine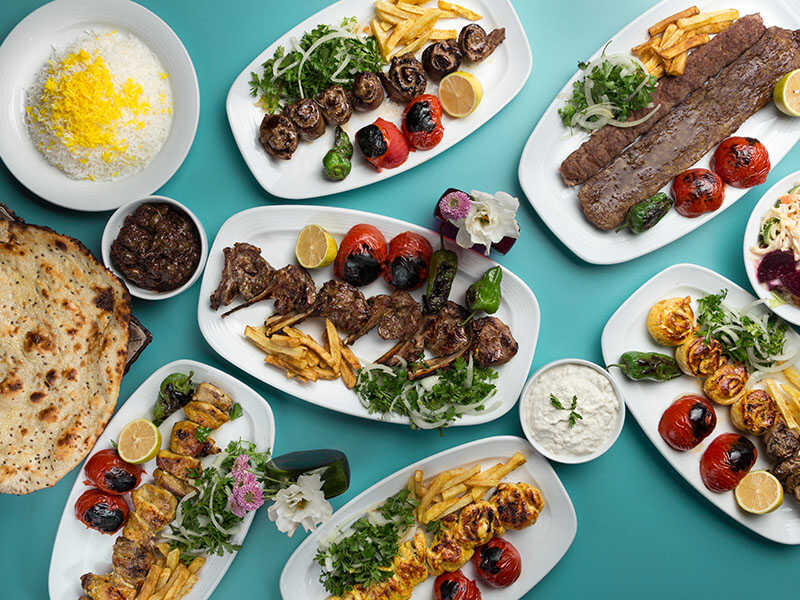 Iranian or Persian cuisine combines flavors that strike a unique balance between savory and sweet. The main ingredients are rice, vegetables, nuts, and meat, with an exciting addition of fruits like plums, pomegranates, and raisins.
They also enrich their dishes with herbs and spices like cinnamon, turmeric, saffron, and cardamom. Bread is also a customary accompaniment with dishes and stew. Commonly, the Khoresh e bademjan (eggplant stew) or ghormeh sabzi (herb stew) are iconic choices of Iranian.
In the States, especially in Houston or Los Angeles, you can find many dining establishments serving Iranian traditional dishes thanks to a large number of immigrants.
Famous dishes: Various kinds of Kababs (Kabab koobideh (BBQ ground beef or lamb), Kabab barg (with marinated lamb, chicken or beef), etc.
36. Israeli Cuisine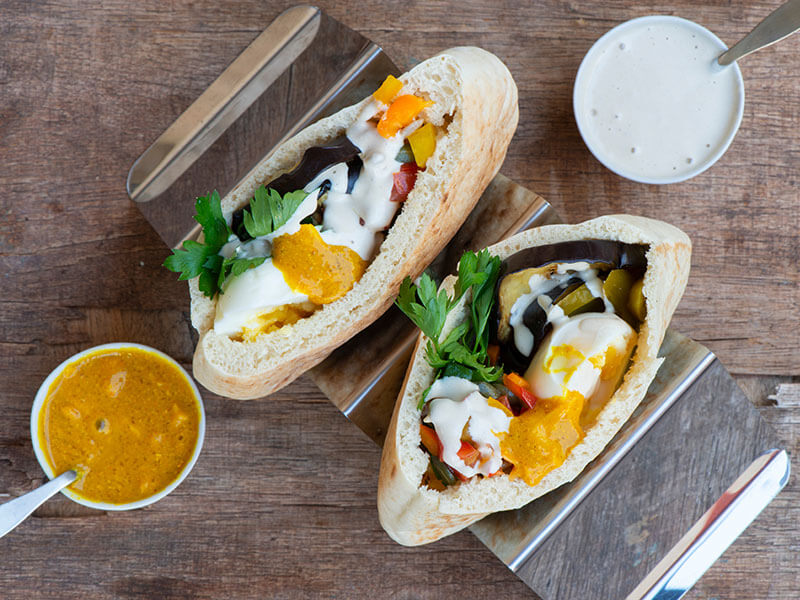 Israeli gastronomy, with its vast array of influences from Asia, Africa, and Europe, along with religious, geography, and ethnic cultures, offers a unique flavor.
Locals often favor ingredients that include olives, figs, dates, barley, grapes, pomegranates, and wheat, while main proteins encompass fish, beef, chicken, and lamb. In addition, grilled meat dishes, such as kebobs and shawarma, are quite adored by many.
Furthermore, dairy delights like yogurt or cheese also hold a significant place. Interestingly, Israeli cuisine has many sources of fresh fruit to add to their desserts and diverse salads. As for portions, people often serve food moderately.
Falafel, although not officially a national dish, is a much-loved street food in Israel, often savored as a pita filling.
Famous dishes: Hummus, Sabich (pita sandwich with eggplants, egg, tahini sauce, and vegetable), etc.
37. Lebanese Cuisine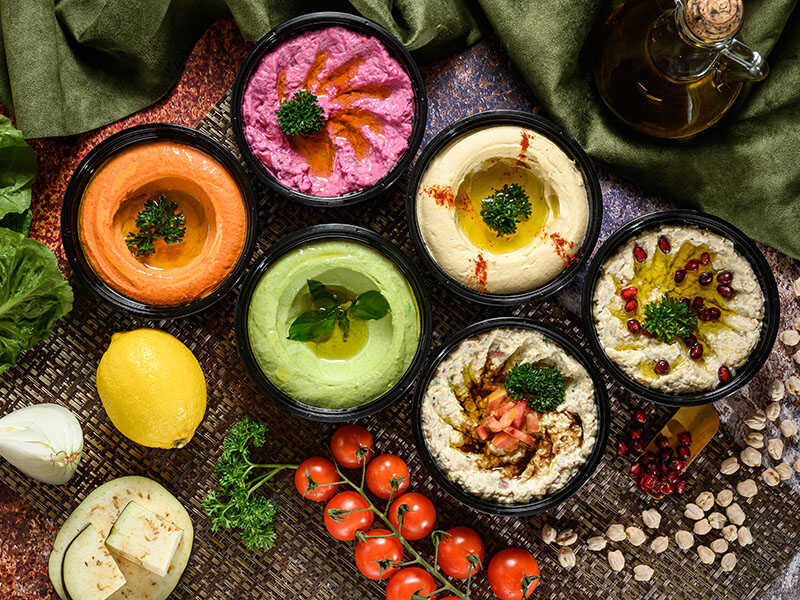 Lebanese culinary offerings feature a sensory feast of Eastern Mediterranean traditions. Strangely, this cuisine prefers poultry over red meat, though lamb and goat are available in some delicacies.
With the abundance of vegetables, fruits, seafood, and parsley, many Lebanese dishes often feature these ingredients. Desserts like meghli and baklawa are also deliciously light without too much cream or butter.
Typically, Lebanese bake, grill, or lightly cook their ingredients with olive oils to infuse a signature fragrance into the dish.
Famous dishes: shawarma, tabbouleh (parsley salad), falafel, baba ghanouj (roasted eggplant), sfeeha (flatbread with minced meat topping)
38. Egyptian Cuisine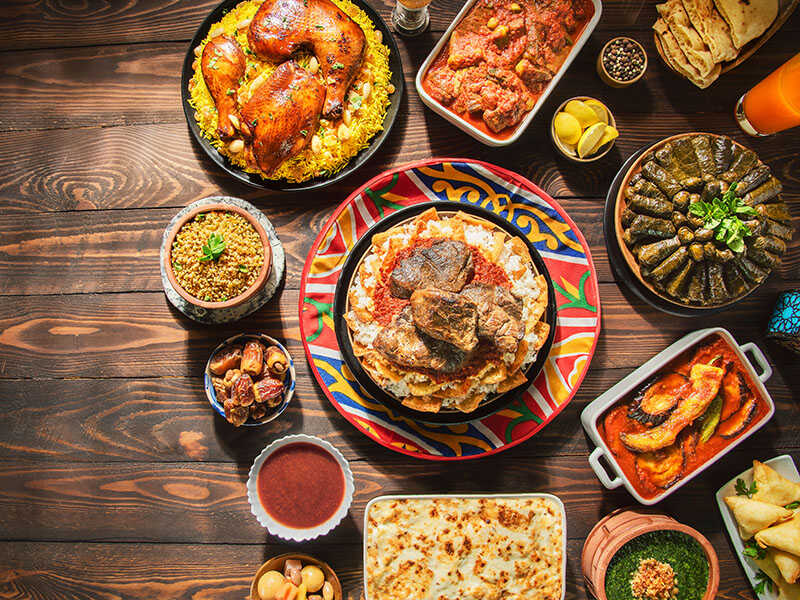 Egyptian food tradition is a celebration of tastes marked by a generous use of poultry, legumes, vegetables, and fruit. Plus, Egyptian cooking produces numerous vegetarian options.
Along the coast, an Egyptian menu tends to tip towards fish and seafood. Deliciously grilled red meats like lamb and beef are popular in Egypt. Also, bread made from different staple grains, like rice, barley, or wheat, commonly appears to scoop up dips or accompany kebabs and falafel.
As for the national drink, tea is the most consumed, while beer is the go-to for those seeking alcoholic refreshments.
Famous dishes: Koshari (Egypt's national dish with lentil rice, pasta, chickpeas and tomato-based sauce), Ful Medames (with Fava Beans), Falafel
39. Saudi Arabian Cuisine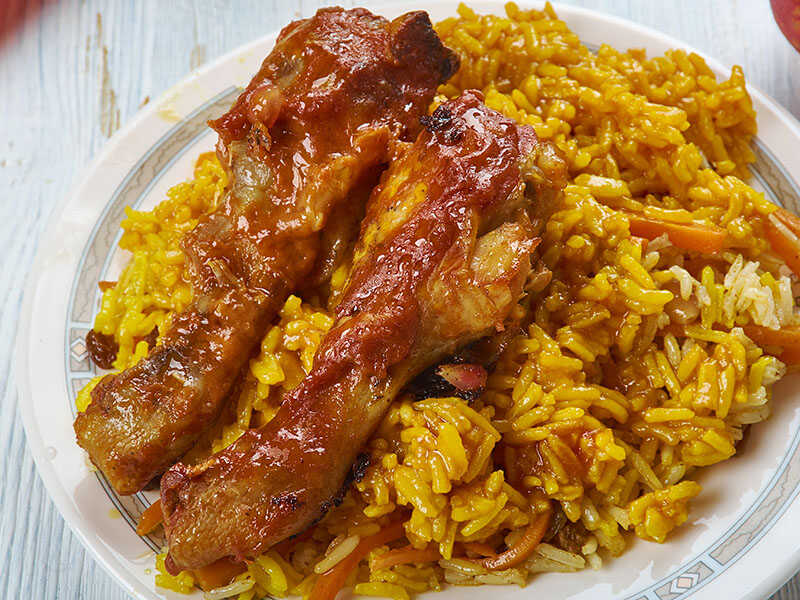 Saudi Arabian food fare primarily uses wheat, rice, yogurt, dates, and spices for enhancing proteins like seafood, lamb, and chicken. Most often, each region in Saudi Arabia has a different approach to cooking resulting in unique tastes and cultures.
Mornings usually start light with bread, fruits, cheese, and milk, while lunch is the main meal with more robust flavors of hearty meat and rice dishes. Evenings in Saudi Arabia may open with a warm soup or a fresh salad.
However, no mention of Saudi cuisine can be complete without Kabsa, the national dish, a harmonious blend of rice with chicken or lamb.
Famous dishes: Kanafeh (for dessert), Harees (porridge made with coarse wheat and meat), Roz Bukhari (rice dish with meat, spices, and dried fruits)
40. Armenian Cuisine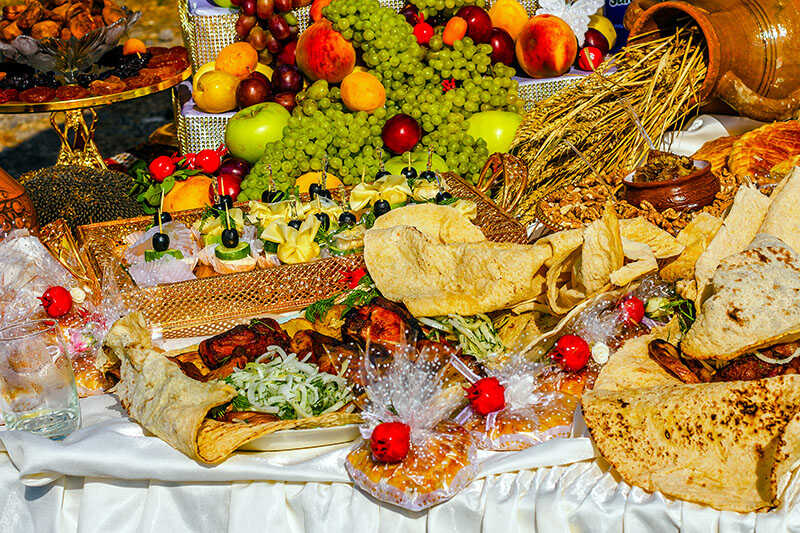 Armenian gastro art revolves around lamb, eggplant, and lavash bread. Furthermore, locals also consume other meat varieties, such as mutton, goat, and beef.
Additionally, bulgur and semolina often appear in many dishes, followed by a hearty mix of herbs and legumes like lentils, white beans, chickpeas, and kidney beans.
Armenian culinary skills shine through unique preparations like stuffing, frothing, or puréeing vegetables. From cinnamon to sumac, spices also add a kick to sweet and savory dishes.
Also, no Armenian meal can be perfect without featuring bread, dairy products, fresh vegetables, and radishes.
Famous dishes: Dolma (rice and meat stuffed in leaves, served with yogurt-mint sauce), kabab, Topik (an appetizer made of spiced chickpeas)
41. Georgian Cuisine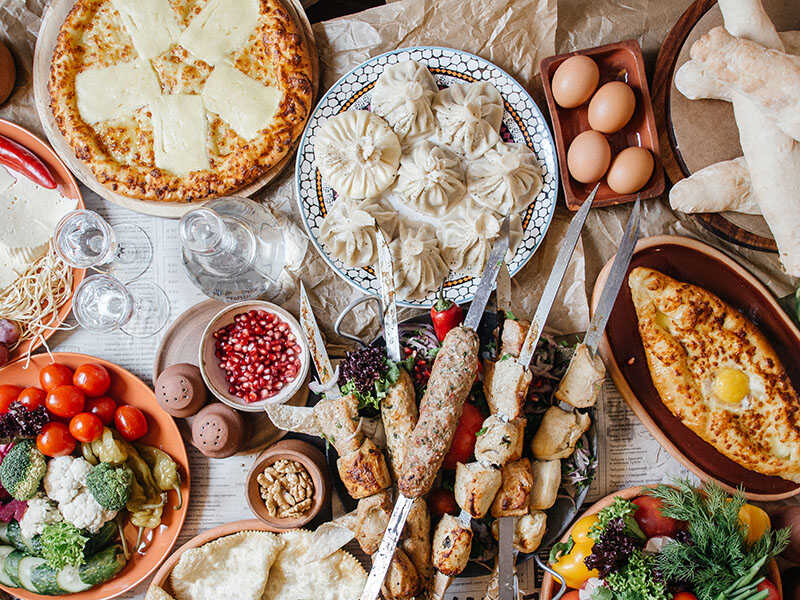 In the realm of gourmet tastes, Georgian delicacy stands out, incorporating a rich variety of meat dishes and diverse ingredients. Plus, it also offers a wide vegetarian menu. The cooking style is well-known for using fresh vegetables, herbs, cheese, and dairy for a flavorful meal.
The revered Georgian feast, the "Supra," showcases this culinary best with a selection of wines and dishes under the guiding voice of the "Tamada," or toastmaster. Also, Georgian has many regional cuisines to discover.
Abkhazia
Abkhazian cuisine has a notable love for spices and walnuts. But it doesn't end there. It's also about fine wines, such as Lykhny, Apsny, and Anakopia.
Famous dishes: Abysta (corn porridge); Achma (a variant of Khachapuri); and Aritsvmgeli (cornbread with walnuts)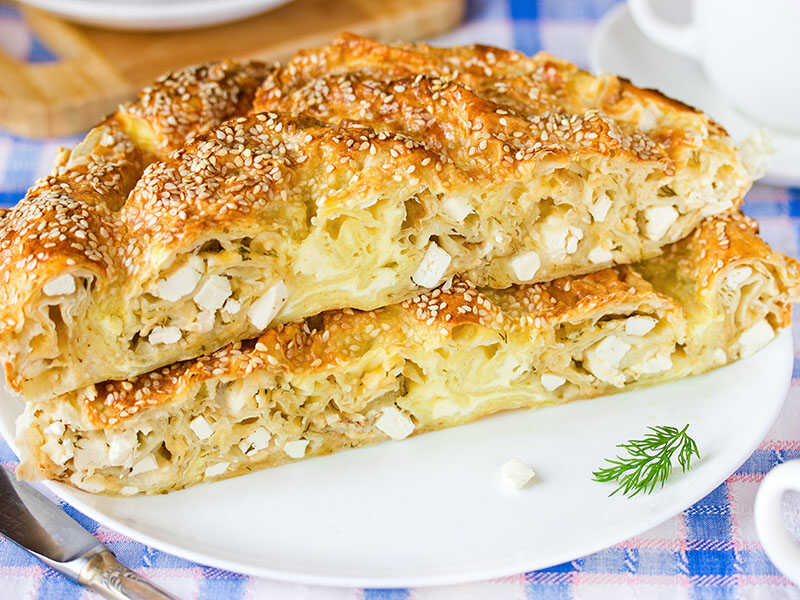 Adjara
Geography deeply influences Adjara cuisine, with dairy-rich dishes inspired by the region's mountainous terrain. In contrast, the coastal areas contribute spiced, herb-infused dishes to Adjara cooking.
Famous dishes: Adjaruli Khachapuri, a cheese bread and Chirbuli, an omelet with walnuts and tomato. Desserts include Pakhlava, similar to Turkish Baklava.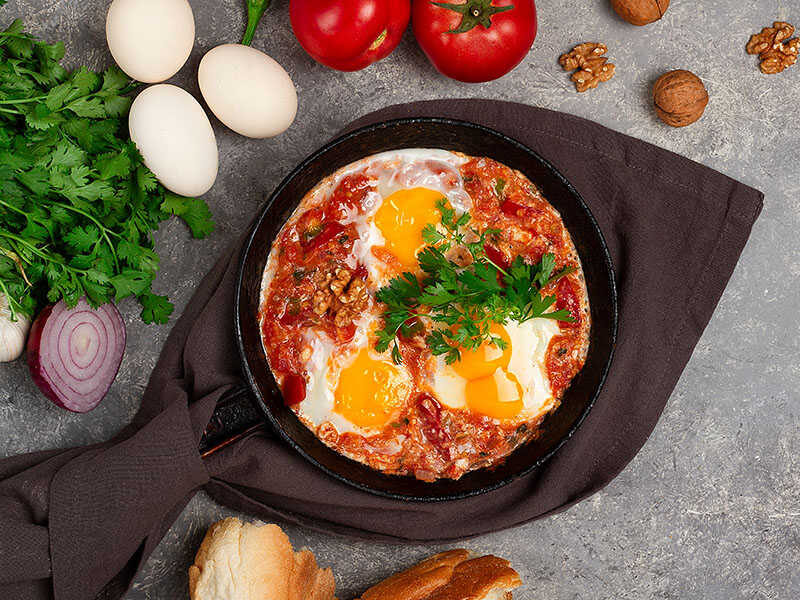 Guria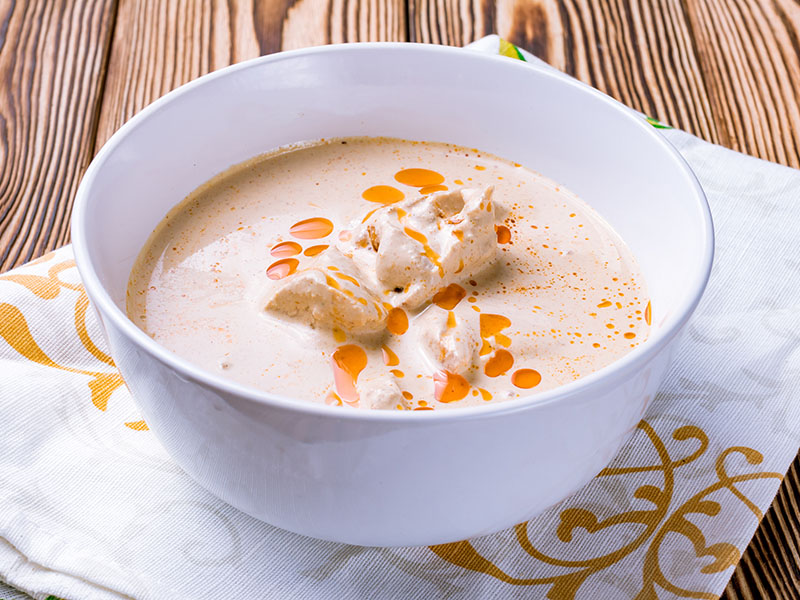 Guria is a cuisine that sees itself orienting around poultry, cornbread, and walnuts for creating hearty meals.
Famous dishes: Satsivi (meat in walnut sauce), Mchadi (cornbread), and Gurian Ghvezeli (a cheese and egg-filled khachapuri eaten on Christmas).
Imereti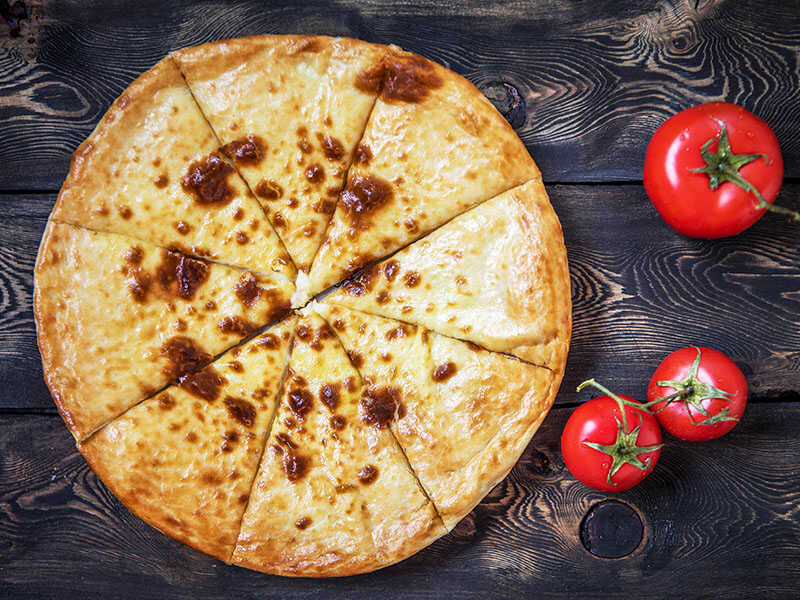 Much like Gurian cuisine, Imereti relies heavily on walnuts for spicing up many of its dishes.
Famous dishes: Imeruli Khachapuri (cheese bread), Mchadi (cornbread), and Satsivi (meat in walnut sauce)
Kakheti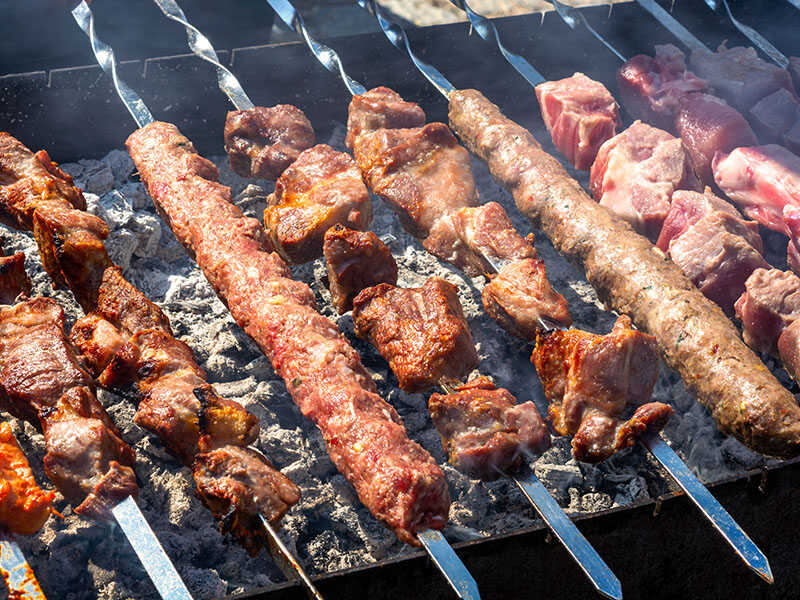 In Kakheti, the culinary scene orbits around wine and meat, making the area known as "Region of Wine." Notable wines like Saperavi, Rkatsiteli, and Mtsvane come from Kakheti, offering a unique taste to the overall Georgian cuisine.
Famous dishes: Mtsvadi (fire-cooked meat), Khinkali (meat dumplings), and Churchkhela (grape and walnut candy)
Kartli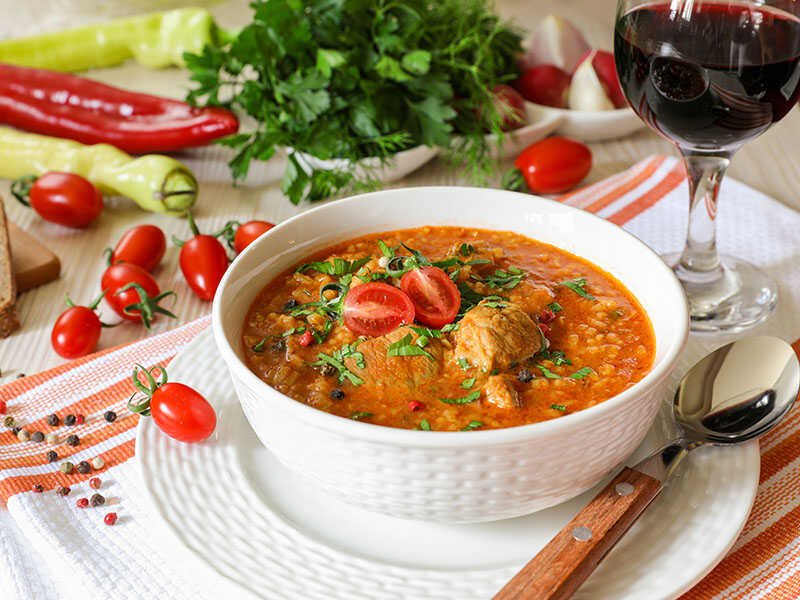 Noticeable by the rich fruits and vegetables, Kartli's cooking makes full use of these ingredients in its recipes.
Famous dishes: Puris Kharcho (bread soup), Shechamandi (dogwood or docks soup), etc.
Lazeti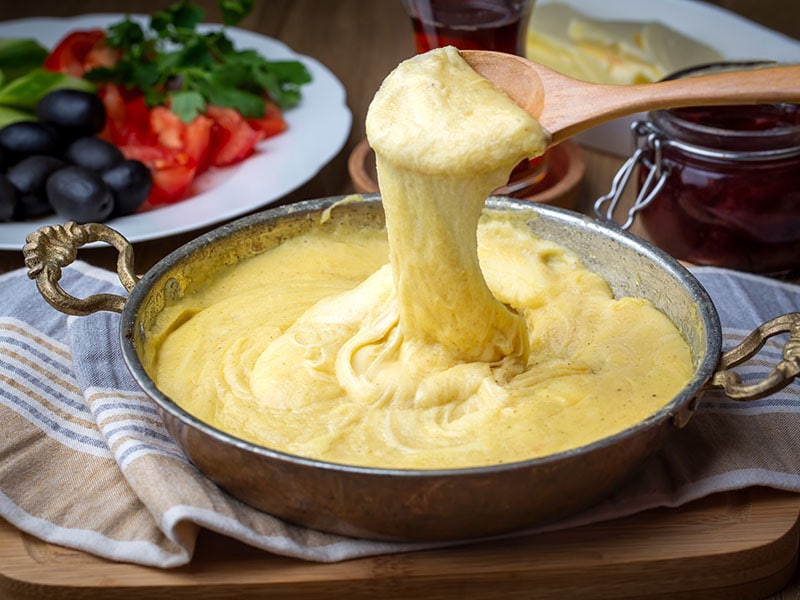 With anchovies and vegetables being prime ingredients in Lazeti, many dishes in the region usually combine these two elements.
Famous dishes: Bureği (sweet pastry with milk pudding), Gresta (chicken/beef with cheese and mushrooms), and Muhlama (cornmeal and cheese).
Samegrelo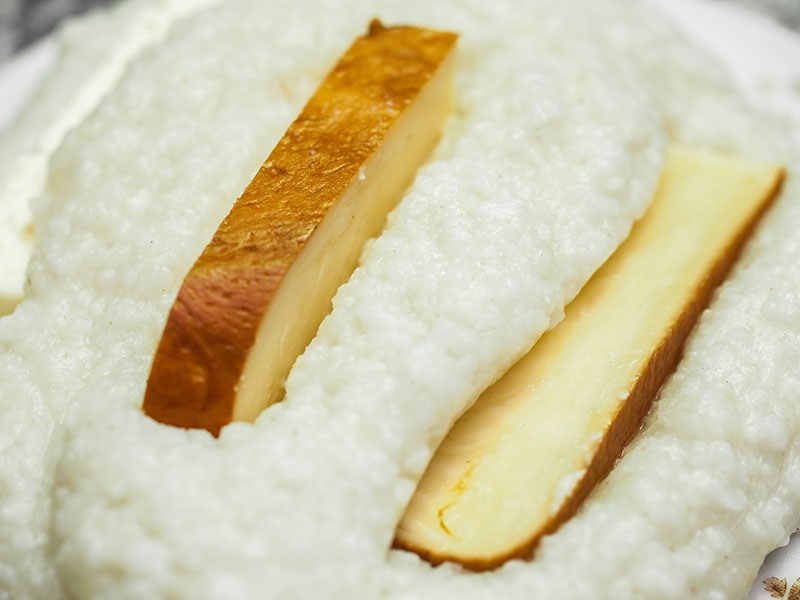 Samegrelo cuisine relies on spices and walnuts to manipulate the flavors. The cuisine is famous for offering Sulguni cheese, a regional dairy masterpiece, and Ajika sauce, a spicy, aromatic revelation.
Famous dishes: Ghomi (cornmeal porridge), Megrelian Khachapuri (cheese-topped bread), and Kharcho (beef soup).
Mtianeti, Khevi, Khevsureti, Pshavi, and Tusheti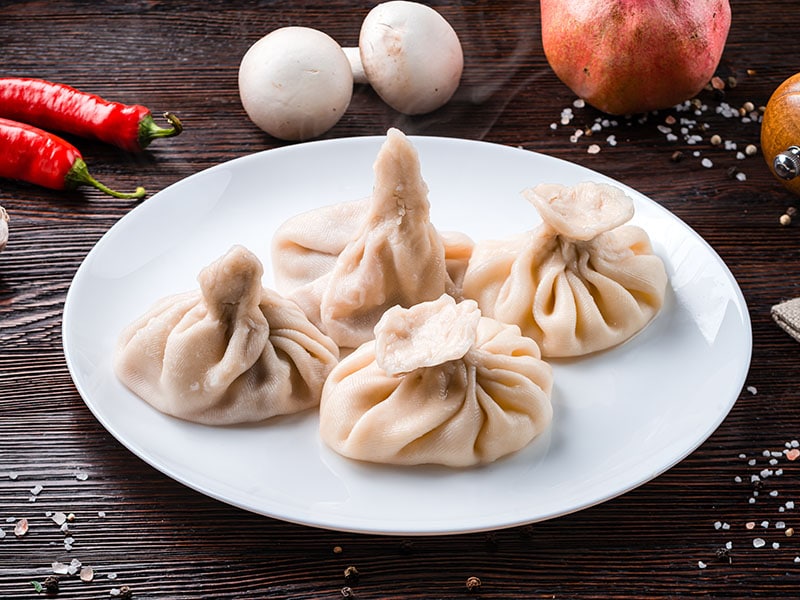 Mainly noted for their beer and Zhipitauri alcohol, these refreshments are renowned in Mtianeti, Khevi, Khevsureti, Pshavi, and Tusheti.
Famous dishes: Khinkali (meat, potato, or cheese dumplings), Qaghi (dried, salted meat), Kotori (cheese-filled Khachapuri), and Guda (goat/sheep cheese)
Racha-Lekhchumi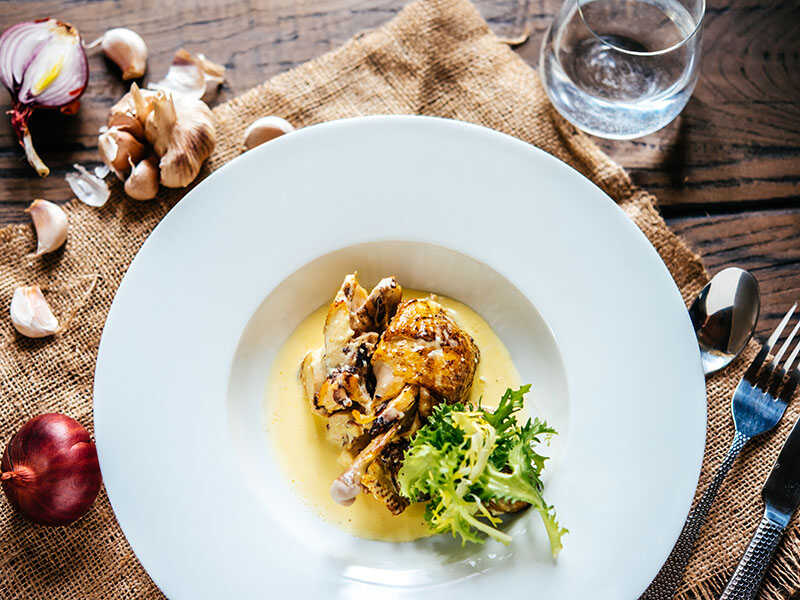 Due to similarities to other cuisines, Racha-Lekhchumi is often grouped with other cooking styles of Georgian cuisine.
Famous dishes: Shkmeruli (chicken in cream and garlic sauce), Lori (pork bacon), Lobiani (Khachapuri bread filled with bean)
Samtskhe-Javakheti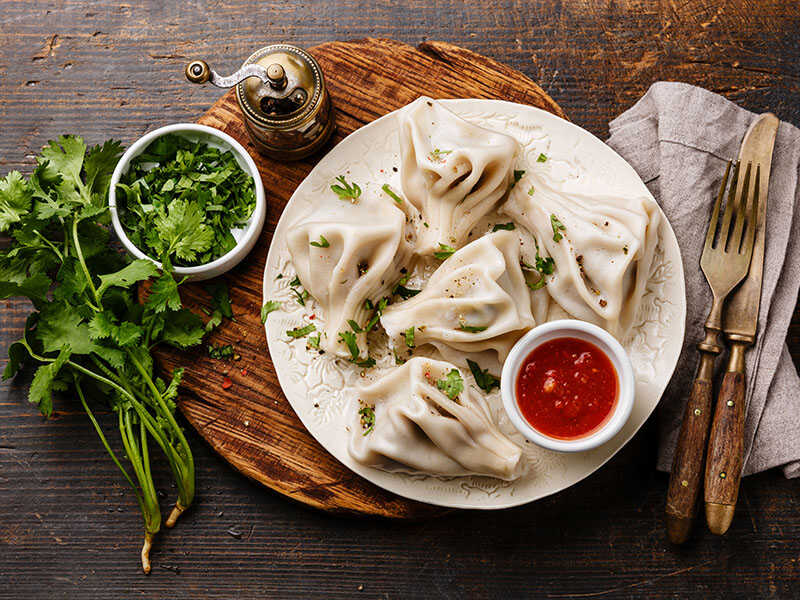 Samtskhe-Javakheti's cuisine is popular for its goose meat dishes, along with a Turkish influence. Uniquely, snails form part of the region's common fare.
Famous dishes: Batis Shechamandi (goose soup), Meskhuri Khinkali (goose-filled dumplings), etc.
Svaneti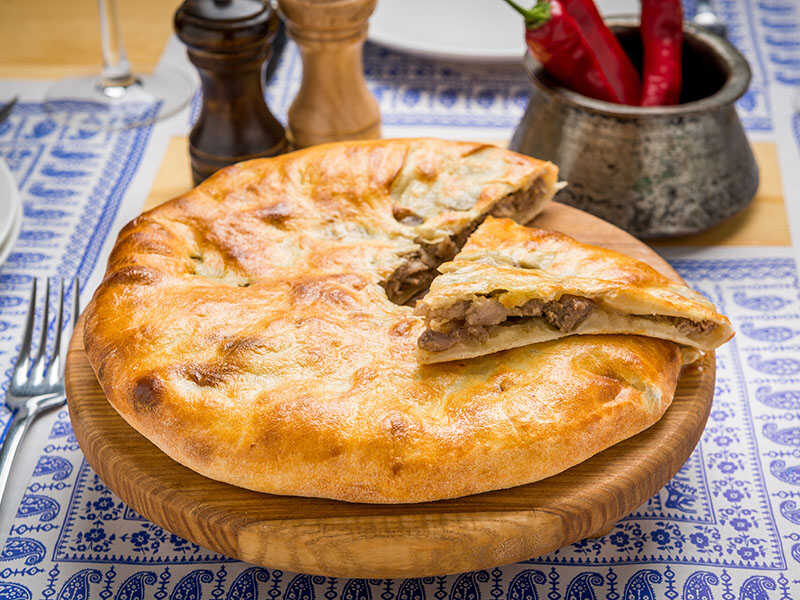 Famous dishes: Kubdari (bread filled with seasoned meat), Tashmijabi (mashed potatoes with Georgian cheese – Sulguni), and local fruit alcohol.
42. Syrian Cuisine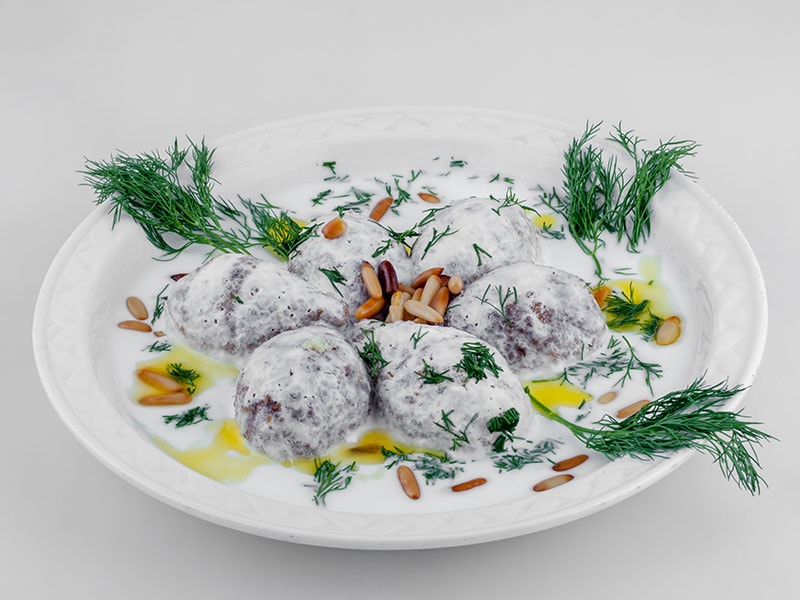 In my personal encounters with Syrian food style, I've been captivated by its diverse flavors from the cooking traditions of Syria's varied settlers. The use of eggplant, zucchini, garlic, sesame seeds, rice, and legumes, such as chickpeas, fava beans, and lentils, is impressive.
Locals also employ fruits, mint, pistachios, honey, and especially olive oil to bring a distinct profile to the dishes. Lamb is also a staple that appears in many dishes.
Commonly, the locals have three meals per day, starting with small mezze dishes before leading to a main course and ending with coffee, fruits, or sweet confections.
Famous dishes: many kinds of kebab, Shawarma, and various kinds of Kibbeh made from bulghur (which can be baked, fried, cooked, or grilled)
43. Jewish Cuisine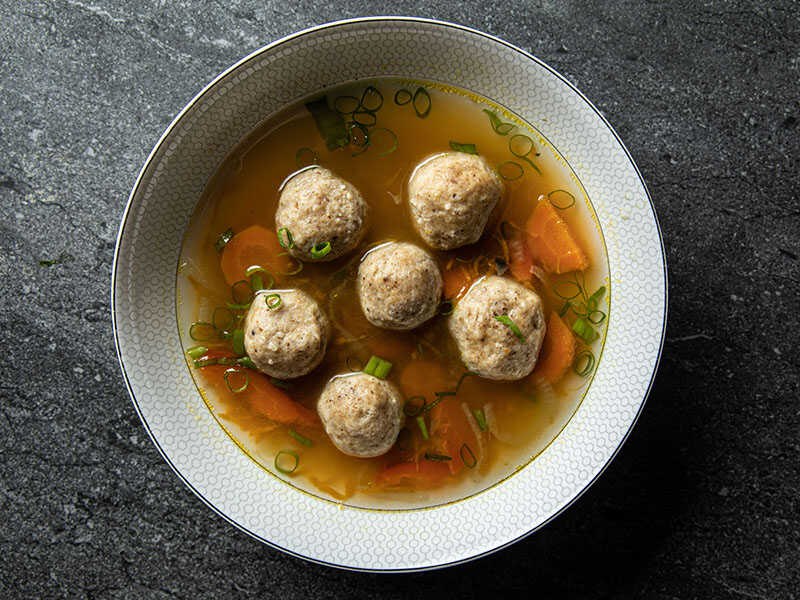 Jewish cuisine is shaped by Jewish dietary laws, festivals, and Shabbat customs, with several dishes reflecting Greece, Iran, and Yemen's culinary styles. Interestingly, foods need kosher certification, especially meats.
Typically, mutton and goat are popular choices alongside the pricier beef, veal, and venison. Everyday meals lean towards bread, cooked grains, and legumes, while stews often feature legumes and veggies.
Special dishes like Sufganiyot for Hanukkah and Cholent for Shabbat add a unique flavor to special days. Variations like Ashkenazi, Sephardi, Mizrahi, and Italian Jewish cuisines further enrich the overall palate of this remarkable cuisine.
Famous dishes: Gefilte fish, Kneidlach (Jewish soup dumplings with chicken), latkes (potato pancakes), etc.
44. Iraqi Cuisine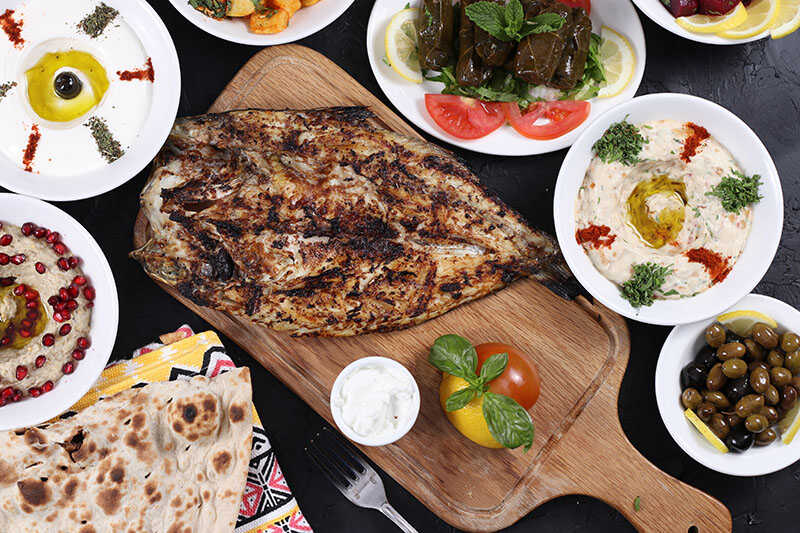 Iraqi cuisine, also known as Mesopotamian cuisine, carries influences from diverse neighbors such as the Caucasus, Greece, Persia, Turkey, and traditional Arabic cuisines, with noticeable regional variations.
It's an intricate balance of rice and meat, with lamb being the top pick, but goat, beef, chicken, and fish are also popular options. However, pork is never included in cooking.
Most often, long-grain rice partners beautifully with many dishes. As for cooking, Iraq mainly turns to ingredients like unleavened bread, vegetables (tomatoes, lentils, potatoes, cabbage), and fruits such as olives, dates, and figs.
Famous dishes: Quzi (considered as Iraq's national dish made with roasted lamb and rice), Dolma (aka sarma – wrapped dish in leaves), Masgouf (seasoned carp dish), etc.
45. Emirati Cuisine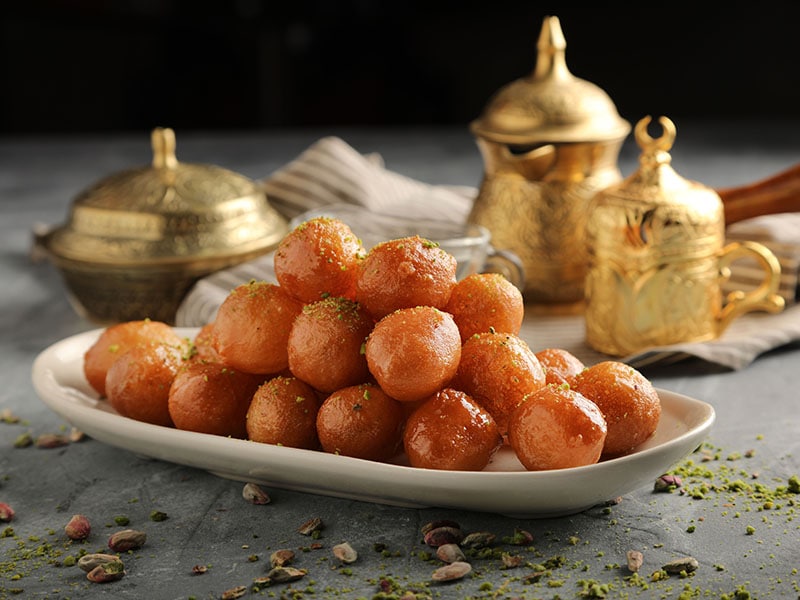 Emirati cuisine, the traditional Arabic cooking style of the United Arab Emirates, has marks of Omani and Saudi Arabian influences. It brings together the staples of rice, meat, fish, mutton, lamb, and dairy, all bursting with flavor.
The fertile soil in the United Arab Emirates encourages using fresh veggies for their vibrant color and crunch. Most meals involve a warm, hearty stew, often prepared in a single pot. Once the meal is over, red tea with mint is a preferred choice to aid digestion.
In addition, spiced coffee, with a hint of saffron or cardamom, also finds a spot in the Emirati beverage lineup.
Famous dishes: Al Harees (porridge-like dish made from wheat and meat), Fattoush (veggie salad), Luqaimat (deep fried dough balls for dessert)
46. Azerbaijani Cuisine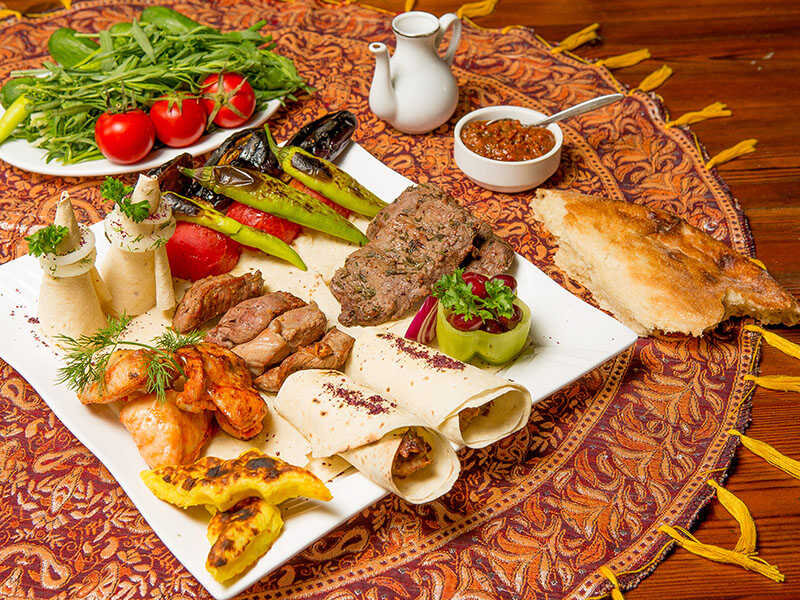 Azerbaijani cuisine takes immense pride in its agricultural diversity. A melting pot of influences, it borrows flavors from Middle Eastern, Turkic, Iranian, and Eastern European kitchens.
Staples here include rice, flour, milk products, meat (beef and mutton), and fish. Also, vegetables, like aubergine, tomato, spinach, sweet pepper, and cucumber, add a fresh crunch to many Azerbaijani recipes.
Meals are a full-fledged affair with three courses, encompassing saffron-covered rice plov, a variety of kebabs, shashlik, and over 30 varieties of soup. Dairy food is usually the main highlight of breakfast. Typically, locals enjoy black tea, a national drink, to wrap up a meal.
Famous dishes: Piti (national dish – soup made with mutton and veggies)
47. Qatari Cuisine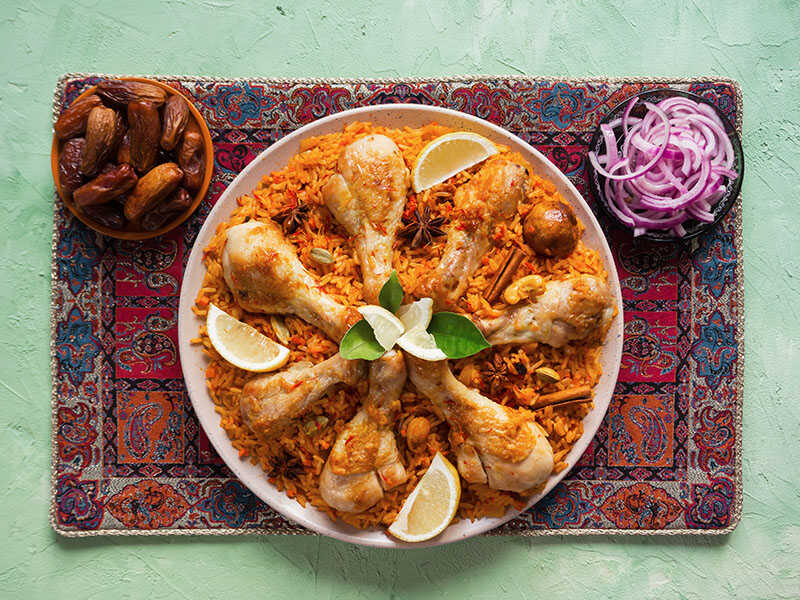 Qatari gastronomy, grounded in traditional Arab food culture, receives influences from India, Persia, Lebanon, and North Africa. Aside from meat, dates, and seafood also regularly appear in a Qatar meal. In addition, gluten-free and vegan are abundant.
Spices like coriander seeds, black pepper, cinnamon, clove, and ginger also bring an aromatic touch to Qatari cooking. Here, meals are savored with the right hand instead of using cutlery. The national dish is Machbūs, a slow-cooked rice dish with vegetables and meat reminiscent of biryani.
Famous dishes: Harees, Ghuzi (roasted lamb with rice), Kabsa
48. Kuwaiti Cuisine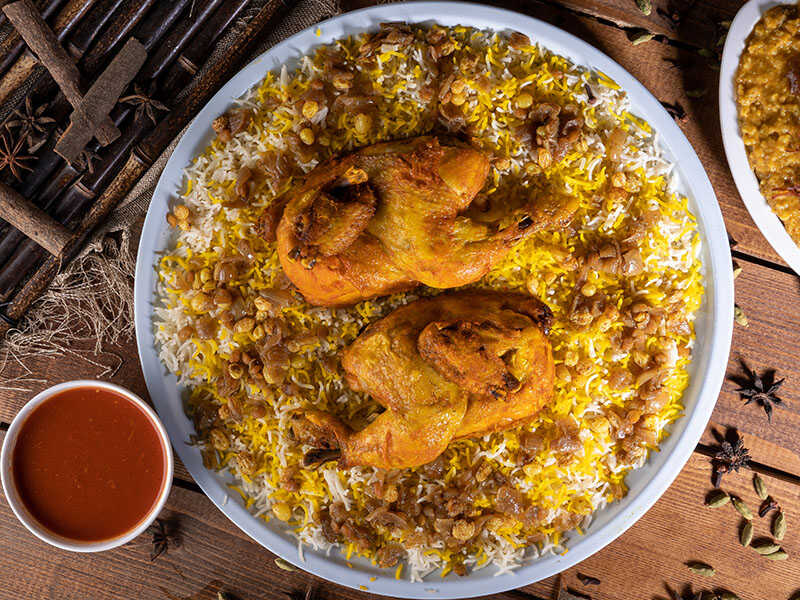 Kuwaiti cuisine, a delightful fusion of Arabian, Iranian, Indian, and Mediterranean culinary practices, mainly utilizes seafood, especially fish. Traditional cooking methods, like grilling or frying, are preferred, with biryani being a favorite way to cook rice.
However, the crowning jewel of Kuwaiti cuisine is Mutabbaq samak, their national dish. This is a seasoned, fried fish, served with rice and caramelized onion, prepared either from a whole fish or fish filet, offering a unique blend of flavors.
Famous dishes: Machboos (rice dish with chicken/mutton and spices), Harees (can be found in many houses during Ramadan)
49. Omani Cuisine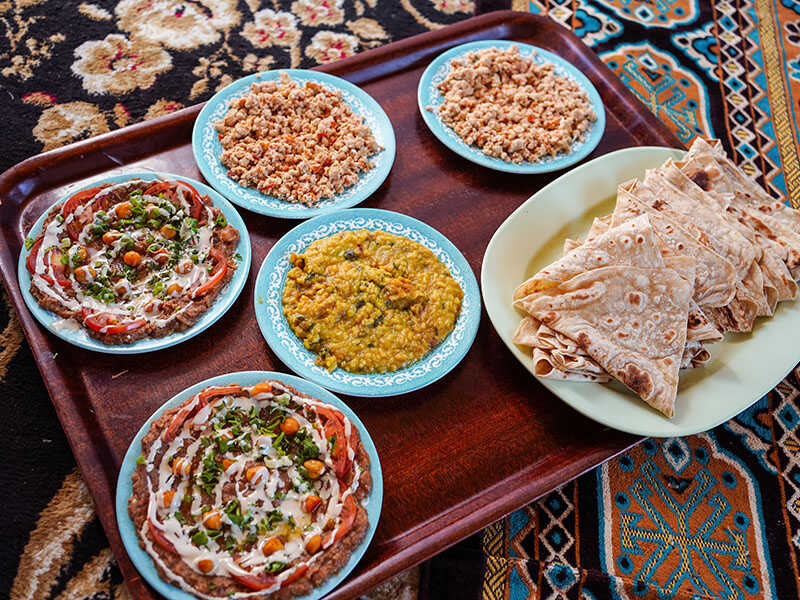 Omani cuisine mainly draws inspiration from Arab, Pakistani, Iranian, Indian, Asian, Eastern Mediterranean, and African influences. This varied cuisine takes full advantage of ingredients like vegetables, rice, and meats like lamb and chicken.
Dishes are usually not overpowered with spice, generally served at a moderate temperature. The midday meal is often the most important, followed by a lighter dinner to wrap up the day. Different regions present their own delectable twists, making every meal an adventure.
As for the food, Oman cuisine can have many variations of soups and curries made from vegetables and meat.
Famous dishes: Harees, Kebab, Shuwaa (marinated roasted meat (like goat, beef, camel, or sheep), served on special occasions)
50. Bahraini Cuisine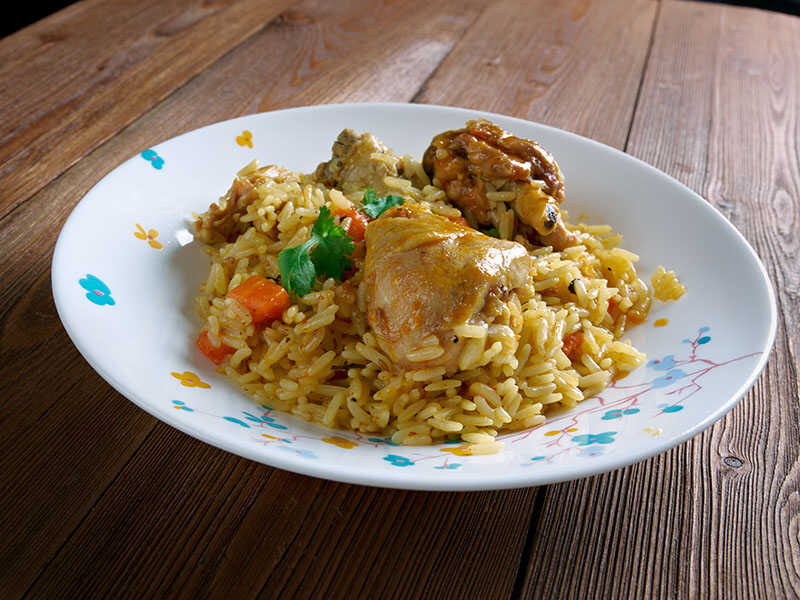 Bahraini cuisine is like a melting pot of flavors from India to Balochistan, Africa, the Middle East, Persia, the Far East, and Europe. Meat, fish, rice, and dates are the main stars in Bahraini cooking. As for their national drink, Arabic coffee (qahwah) is a comforting finish to any meal.
Famous dishes: Biryani (seasoned rice with meat), Machboos, Harees, Luqaimat (fried mini doughnuts), etc.
51. Yemeni Cuisine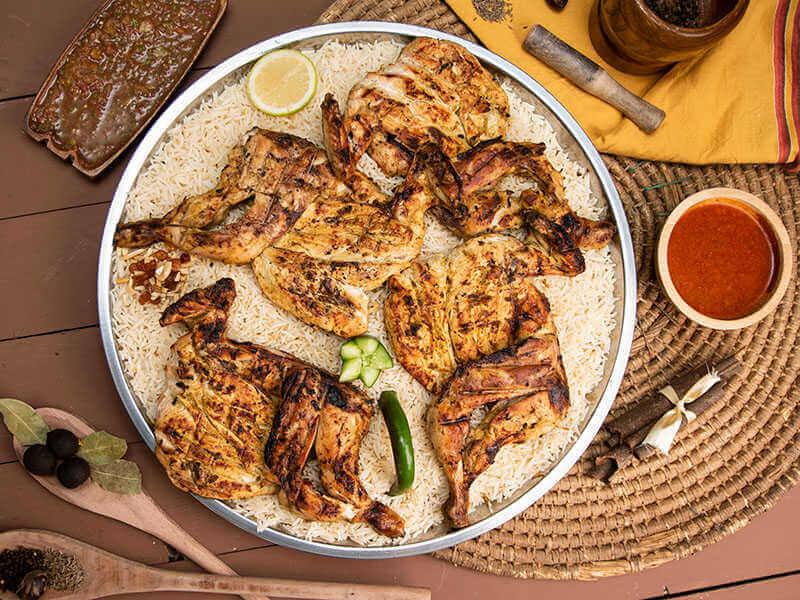 Yemeni cuisine has a shared foundation in its cooking tradition across its diverse regions, with staple elements like chicken, lamb, goat, tomatoes, potatoes, and onions. Surprisingly, dairy rarely makes an appearance, barring occasional buttermilk.
Similar to the cuisines above, lunch is the main meal of Yemen, often featuring Saltah, a popular dish in the highlands. Meals are hearty and meant for sharing, which most enjoy while sitting on the floor.
Accepting food is more than etiquette here, as it's a sign of respect and appreciation for the culinary tradition.
Famous dishes: Saltah (National dish – a stew including meat, veggies, cooked with broth in a clay pot called haradah)
52. Assyrian Cuisine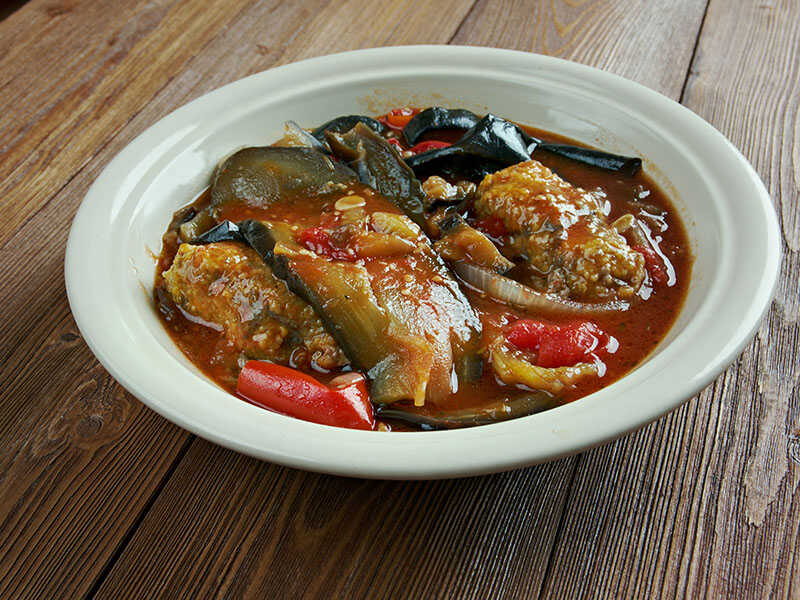 Assyrian cuisine is the cooking tradition of indigenous Assyrian people in northwestern Iran, southeastern Turkey, northeastern Syria, and Iraq. This cuisine is rather similar to Middle Eastern and Caucasian food.
Grains, meat, a variety of veggies, spices, herbs, and sesame seeds form the backbone of an Assyrian meal. Lunch and dinner are similar with no distinction of which is more important.
You can encounter mouth-watering desserts like baklava and knafeh that come with a sweet note, while strong Arak made from dates or grapes is perfect for complementing meals. An Assyrian morning tends to start with invigorating black tea as their most common breakfast item.
Famous dishes: tepsi (casserole made with fried vegetables, meat and tomato sauce), dolma (rice stuffed in leaves), Boushala (yogurt-based soup), etc.
53. Cypriot Cuisine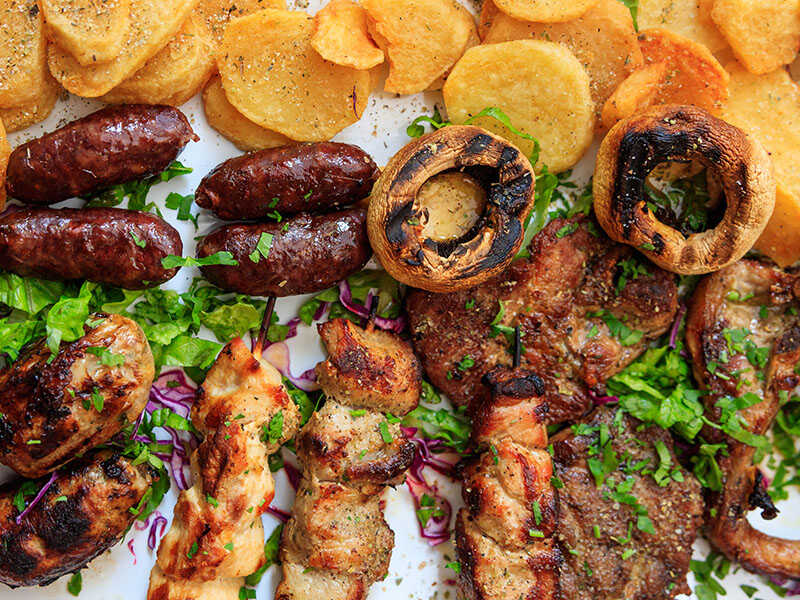 Cypriot cuisine, popular among Greek and Turkish Cypriots alike, is a healthy cooking style. Meat, like beef, lamb, pork, and chicken, is usually char-grilled to arrange alongside an abundance of fresh vegetables. Plus, the cooking tradition is renowned for using olive oil.
Among the greens, olives, zucchini, tomatoes, and legumes like peas and beans are the main focus. Each dish gets a sprig of mint for an essential dash of flavor. In coastal regions, seafood like calamari and sea bass are also consumed.
Famous dishes: souvlakia (grilled meat kebabs), pita bread, Halloumi (goat's and/or sheep's milk cheese)
54. Arab Cuisine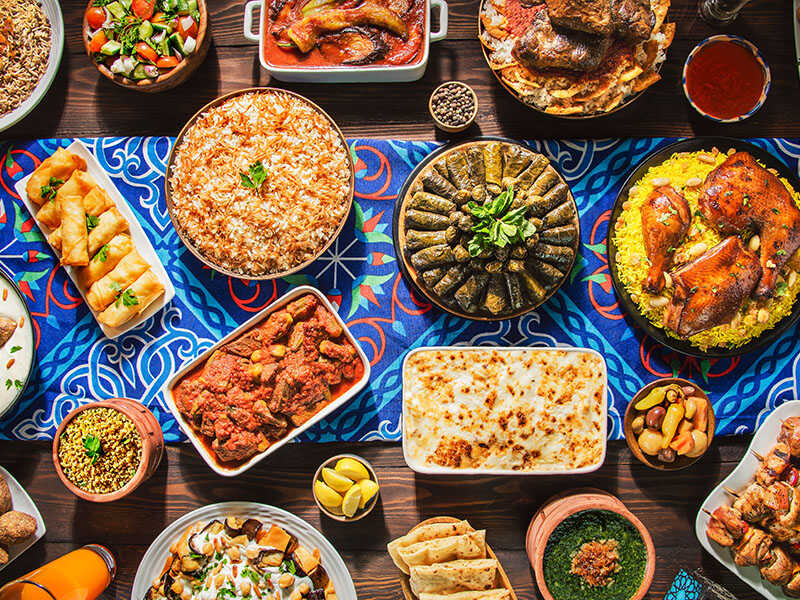 Arab cuisine, with its rich heritage, is one of the old cooking traditions of Arabs. Each recipe has a shared taste or a unique twist depending on the area. Commonly, rice is the main ingredient for serving meats like chicken, lamb, goat, or beef, along with bread. In coastal regions, fish also play a major role in Arab cooking.
Small dishes, known as meze, are the preferred way to kick off a meal in Arab cuisine. Meals become communal affairs, with everyone diving in to prepare the dish in large portions, especially on special occasions.
Famous dishes: Kebab, Kebbeh, falafel, hummus, and beyond
Central Asian Cuisine
Overview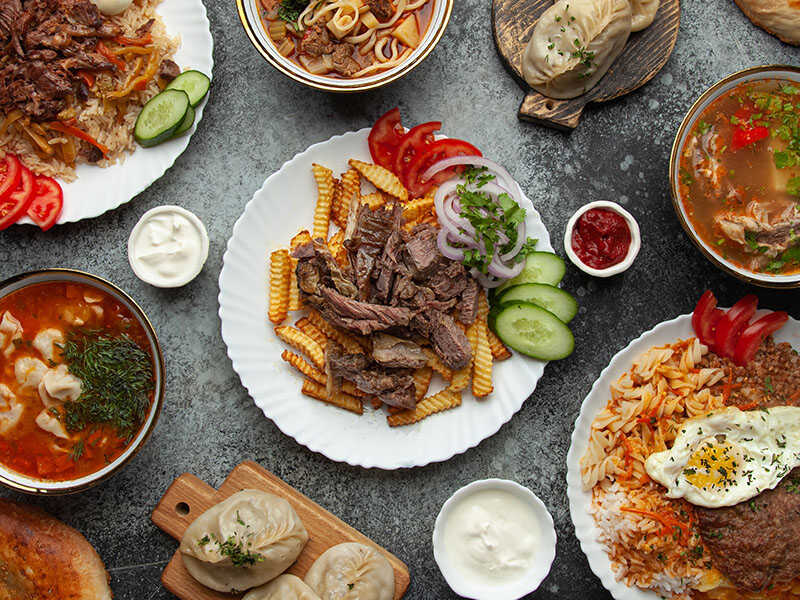 Central Asian cuisine feels like a culinary journey across cultures, with African, Persian, Turkish, Indian, Arab, Mongol, Russian, and Chinese influences. During my travels, I've noticed how the food reflects the way of life there.
For example, meat and dairy reign supreme in the nomadic highlands, while urban areas offer a different fare. The locals' hospitality shines through in the endless rounds of tea, the region's favorite beverage.
55. Uzbek Cuisine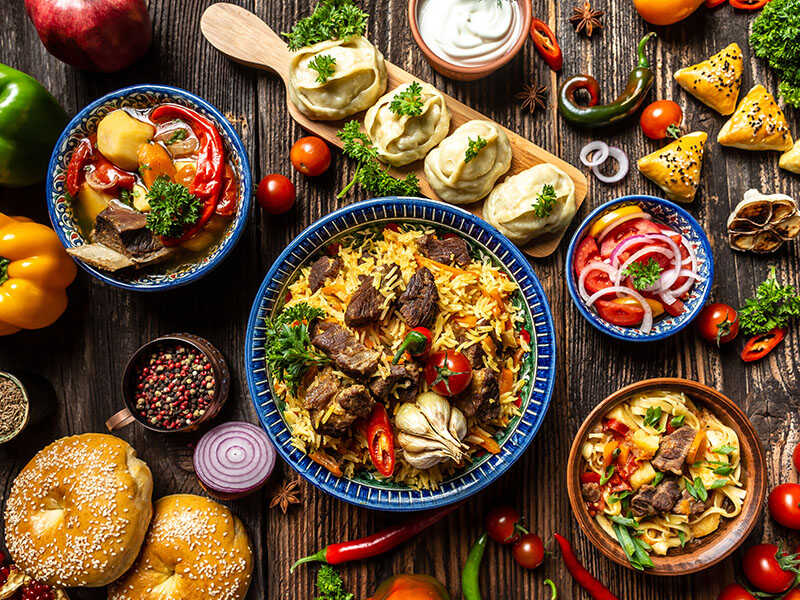 Uzbek food style, true to its Central Asian roots, heavily emphasizes mutton, beef, and goat. However, it draws a hard line on pork, owing to Islamic dietary norms.
Interestingly, people in Fergana and Tashkent have a particular fondness for heat, spicing up their dishes with plenty of pepper, nigella seeds, and other seasonings. Here, the meals are also dominated by abundant breads and noodles.
Famous dishes: Plov (rice pilaf cooked with meat and veggies), Lagman (noodle soup), Shashlik (similar to kabob, which are grilled meat)
56. Tajik Cuisine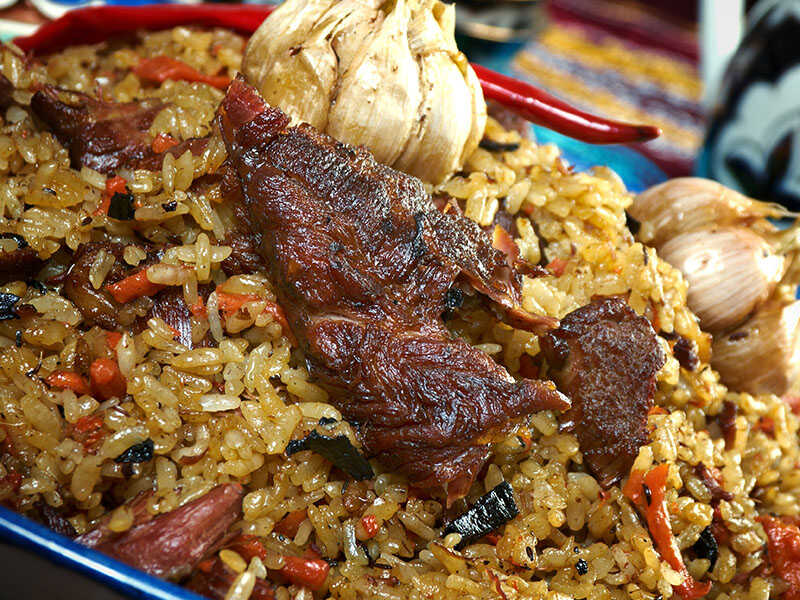 Tajik cuisine, with Persian, Uzbek, Russian, and Chinese influences, offers a unique fusion of cooking techniques. Rice, meat, and vegetables are essential elements for slow cooking, grilling, and roasting.
"Non," a special bread that accompanies each dish, is a key part of Tajik meals. Additionally, communal food sharing is not uncommon for fostering connections over the dinner table. To complement these culinary wonders, I suggest savoring their soothing, national drink – green tea.
Famous dishes: Palav or plov – a fried rice dish with shredded yellow turnip/carrot with cubed meat
57. Kazakh Cuisine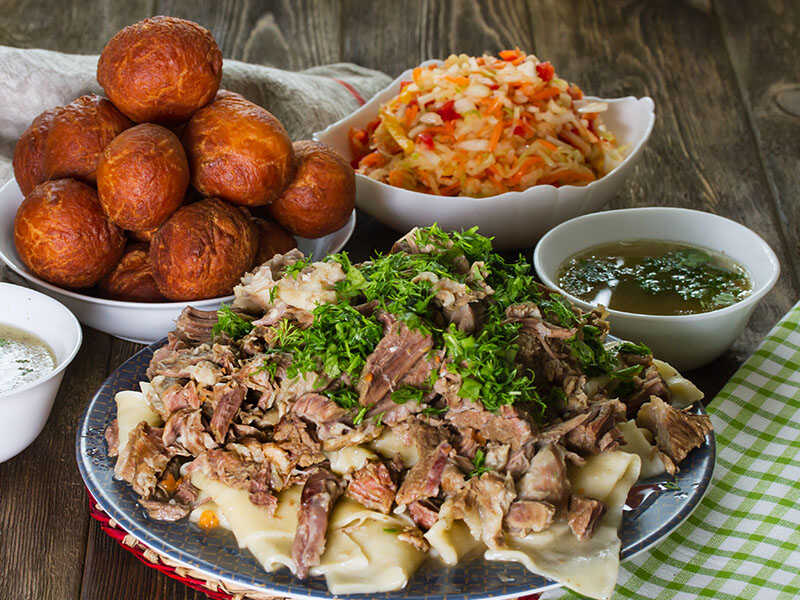 Within Kazakh cuisine, mutton and horse are the main focus that come in large chunks and are boiled to a tender finish. Camels and sheeps are also part of Kazakh cooking tradition with the former being more of a festive delicacy.
"Beshbarmak" is a traditional dish of Kazakh, translating to "five fingers", a hands-on dish of boiled horse or mutton. The Kazakh dining experience is usually elevated with fermented beverages from camel's, cow's, and mare's milk, known as "shubat," "ayran," and "qymyz".
Famous dishes: Manti (steamed dumplings with minced meat), various kinds of breads (like Baursakm Tandoor nan, Shelpeki, etc.)
58. Kyrgyz Cuisine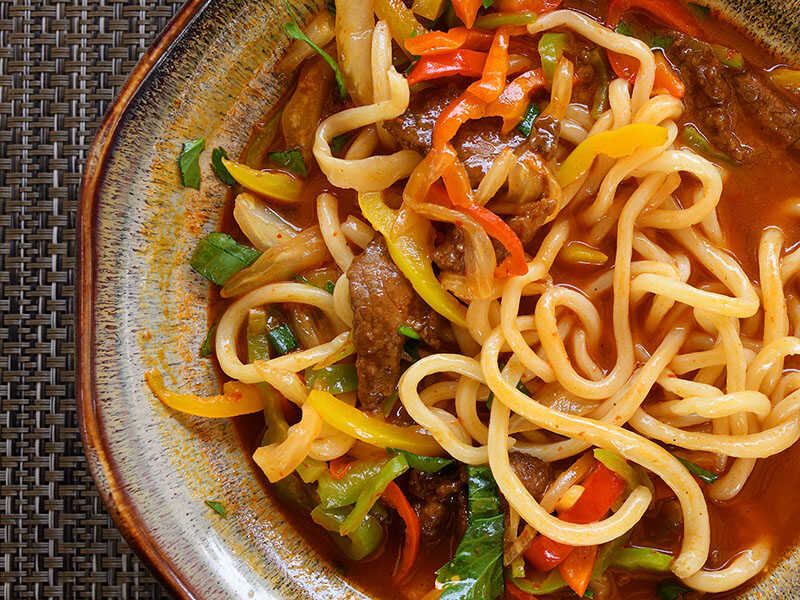 In Kyrgyzstan, the country has many cuisines like Jalal-Abad, Osh, Bishkek, and Karakol, inspired by a historically nomadic lifestyle. Meats such as mutton, beef, and horse are favorites in the country, alongside a diverse repertoire of dairy foods.
Typically, Kirgyz street food revolves around pastries and sugary delights. Furthermore, locals employ some food preservation techniques in some of their dishes.
Famous dishes: Beshbarmak (national dish) is a Boiled meat with noodles; Kuurdak (include mutton, onion, vegetable oil or animal fat); Boorsok (Small dumpling bread)
59. Turkmen Cuisine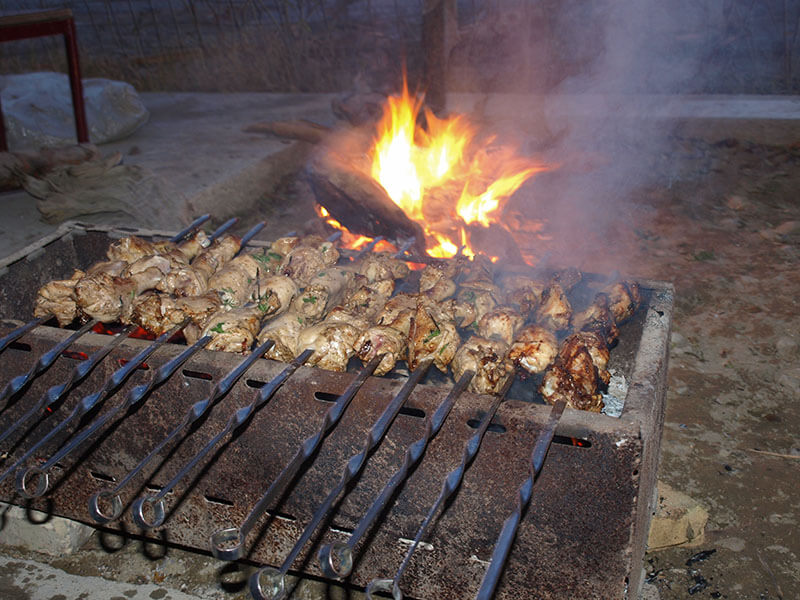 Turkmen cuisine is dictated by its desert landscape and nomadic past, sharing threads with other Central Asian traditions. Richly flavored lamb and mutton dominate the protein selection, with horses not part of the menu.
In addition, bread and rice stand as staple grains, shaping the base of many porridge or casserole creations. Without heavily leaning on spices, Turkmen food's natural taste comes forward by frying, stewing, or baking.
Furthermore, Turkmen's eating etiquette is unique, with meals laid out on a cloth, the sachak, and everyone gathering around it on the floor. Remember, stepping on the meal cloth, known as the sachak, is unacceptable in their culture.
Famous dishes: ash (rice pilaf mixed with meat, spices, carrots, onion), chekdirme (stewed lamb), Baklava (pakhlava) – oriental confection with chopped walnuts and syrup or honey.
Cross-Cultural Influences and Fusion Cuisines
Colonial Influences on Asian Cuisine
The colonial rule significantly imprinted Asian cuisine, introducing new ingredients and culinary techniques. The British in India, the Dutch in Indonesia, the French in Vietnam, and the Spanish in the Philippines significantly influenced the food cultures of these nations.
For instance, the baguette in Vietnamese Bánh mì is a legacy of French colonialism, while the curry-based dishes of Japan were introduced by the British, though its origin is in India.
Asian Influence on Global Cuisine
Asian cuisine has likewise made a substantial impact on global food culture. The worldwide popularity of sushi, dim sum, pad Thai, and curry is a testament to this influence.
Asian cuisine has diversified the global food scene, introducing new flavors, ingredients, and food preparation methods. For instance, the concept of umami – a flavor profile fundamental to many Asian cuisines – has been adopted by chefs and food enthusiasts worldwide.
Modern Fusion Trends
The fusion trend in modern cuisine often involves blending Asian and Western culinary traditions, creating exciting and innovative dishes. Examples include Korean beef tacos, sushi burritos (Sushirrito), and Thai pizza.
The Future of Asian Cuisine
Sustainability and Food Security Issues
As global awareness of sustainability and food security increases, the future of Asian cuisine will inevitably be influenced. There's a growing emphasis on locally sourced, seasonal, and organic ingredients.
Practices like permaculture and aquaponics are also being introduced in many Asian countries. This movement towards sustainable gastronomy seeks to reduce the environmental impact while enhancing food security.
Health Aspects
Healthier adaptations of traditional Asian dishes are becoming more prevalent, with a focus on balanced nutrition, portion control, and mindful eating. Many Asian diets are already aligned with healthful eating patterns, rich in Asian vegetables, fruits, and lean proteins.
However, modern lifestyle changes have led to increased processed and fast food consumption. Reviving traditional dietary practices can contribute significantly to improved health outcomes.
Innovations and Trends in Asian Cuisine
Innovation is a constant in the culinary world, and Asian cuisine is no exception. Trends like molecular gastronomy, plant-based alternatives, and the use of technology in food preparation and delivery are transforming the way Asian food is prepared and consumed.
As we look to the future, the ongoing evolution of Asian cuisine will continue to reflect changes in society, technology, and our relationship with the environment.
FAQs
The Diversity And Depth Of Regional Asian Cuisine
I hope you have enjoyed diving into the rich tapestry of regional Asian cuisine. The diverse dishes created using numerous regional Asian cuisine are a true testament to the uniqueness of Asian culture.
If you love this gastronomic exploration, don't forget to share the article and leave a comment about your own encounters with these Asian cooking traditions!
References
Tuvans (2023) Wikipedia.
(No date) Chinese cuisine.
(No date a) Main.htm 2022 – SCUT.EDU.CN.
(No date a) Cultural identity and cuisine in Taiwan – pdxscholar.library.pdx.edu.
Tasty tours (no date) Education.
Foodways of Macao (no date) IIAS.
Japan and the Sea (2021) Association for Asian Studies.
The cuisine of Korea (1986) The Washington Post.
Purcell, M. et al. (2013) Around the world at Penn State.
Indian cuisine (no date) Visit the main page.
Sri Lanka (no date) Countries and Their Cultures.
Hays, J. (no date) Food and drink in the Maldives: Cuisine, dishes and eating habits, Facts and Details.
Daily Life and Social Customs (no date) Encyclopædia Britannica.
Magazine, S. (2011) A taste of sticky rice, Laos' national dish, Smithsonian.com.