The nicknames of Sri Lanka are "the Teardrop of India" or "the Pearl of the Indian Oceans", so Sri Lanka foods and Indian foods have a pretty tight relationship. However, their cuisines remain distinct flavors.
Sri Lanka was colonized a long time ago and influenced by other nations. The locals have modified their tastes to blend perfectly with different dishes. This nation is an island of curry and rice; thus, you will find these 2 categories in my article.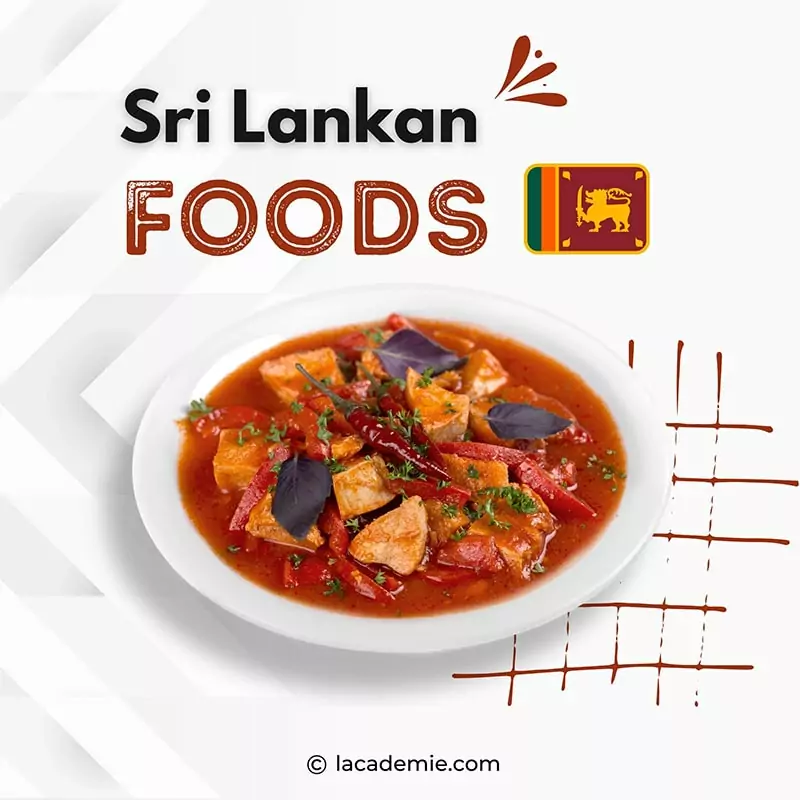 Do you know what Sri Lankan dishes include in their cuisine? Check them out below:
Sri Lanka Curry Dishes
As I mentioned, you have to try various curries when landing in this country. Since the Sri Lankans love spices, a savory curry has a lot of them. That's why curries have become the most favorite and typical dish here.
1. Malabar Matthi Curry – Fish Curry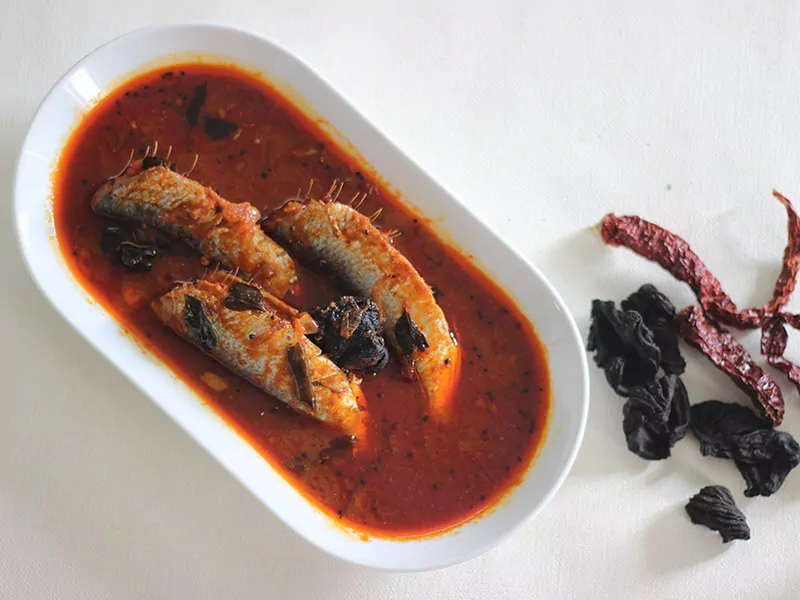 Do you know that Malabar Matthi Curry is initially a China-originated dish, but the modern variations come from Kerala and Tamil Nadu, a state in India? The "Malabar Matthi" terms mean "sardines" in English, and they are also the main ingredient in this dish.
Besides being a popular food in Sri Lanka, you can enjoy it in other places, namely Goa, Kerala, and more, where fish and rice are 2 of the core food sources. The basic recipes consist of semi-cooked sardines in Kerala-style curry, okra, or onion.
However, some can include coconut milk or tamarind juice to create a twist in flavor and differentiate the Sri Lankan version among various ones. The everyday side dishes to serve with this fish curry are bread, rice, tapioca, and naan.
If you cannot find a good restaurant offering the best experience, you can purchase mass-produced Malabar Matthi Curry. It is an ideal gift to give your friends after the Sri Lanka tour.
Are you curious about how to make traditional Malabar Mathi Curry?
2. Kakuluwo – Crab Curry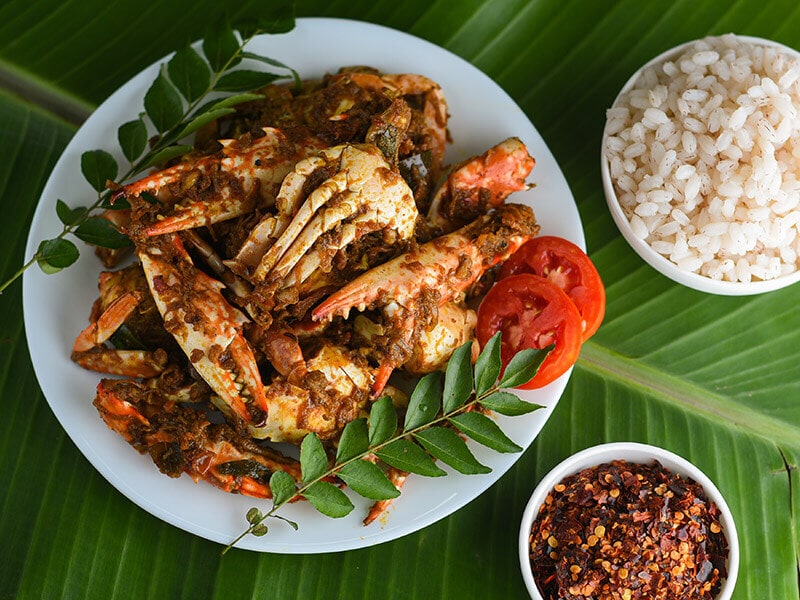 If you are a seafood lover, you cannot skip the opportunity to enjoy an authentic Kakuluwo when traveling to Sri Lanka. The special feature of this recipe is to use mud crab or blue swimmer crab and cook on medium-low heat for a long time.
All spices can absorb every fibrous crab meat and make you unforgettable. The locals usually simmer the curry in a clay pot to maintain the heat well and bring you a rustic feeling. It is one of my favorite Sri Lankan dishes to serve for dinner.
Although its official hometown is in northern Sri Lanka, the taste is so delicious that it has been popular throughout the country. To save budget, you can enjoy the curry in seaboard areas having an abundant seafood source and premium quality.
3. Kukul Mas Maluwa – Chicken Curry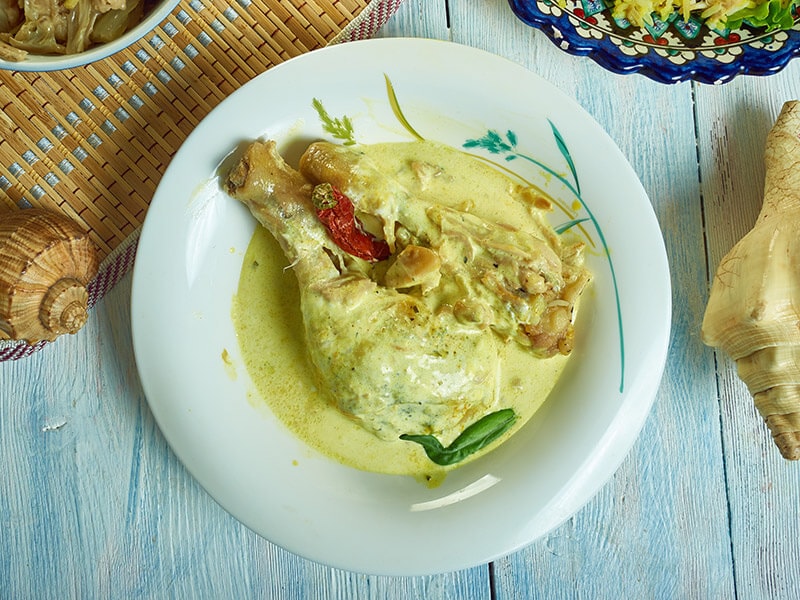 You can refuse to taste other curries, yet I'm sure you can never control your mouth from watering when thinking of chicken curry. How about tasting this food right in the place where it was born – Sri Lanka? The flavor will be more delicious.
Kukul Mas Maluwa is a traditional dish hailing from Sri Lanka's Sinhalese cuisine. All restaurants you enter will serve this food; I ensure that. In addition to kicking off the coconut flavor, the date-back woman used bone-in chicken for cooking.
Boneless was never within their sight. The chicken soaking up coconut milk curry is a charming picture. You will find it spicy and earthy thanks to using strong and sense-of-taste spices: cinnamon, cumin seeds, and more.
4. Polos Curry – Baby Jackfruit Curry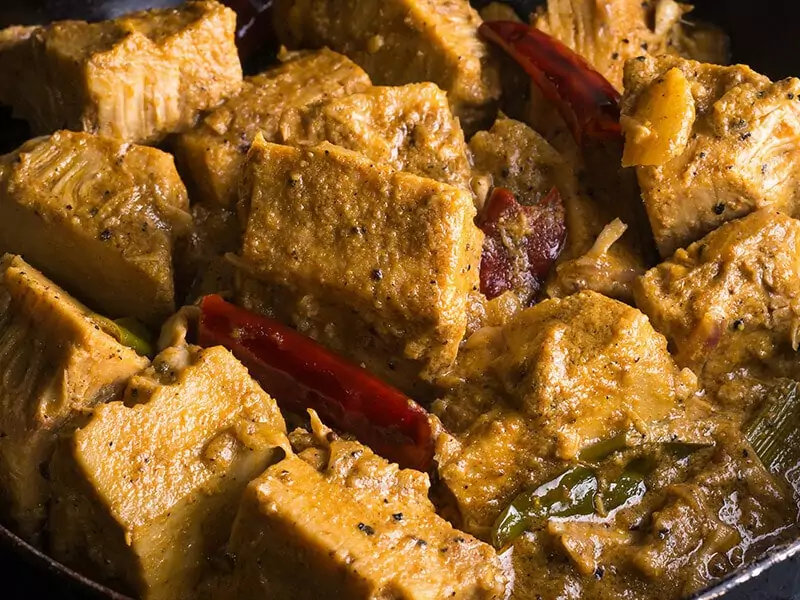 Baby jackfruit is edible and can even create an impressive and delightful dish, do you believe it? I have to admit that jackfruit is a flexible fruit as you can realize different flavors in each stage.
The cooked young jackfruit will have a tender texture like steak; that's why its name is Polos (in Sinhala, polos can be translated literally to tender). Polos Curry has been consumed in Sri Lanka for a long time so that you can order it in almost all restaurants here.
Polos Curry is simmered until the liquid nearly runs out, unlike other curries with a bit of sauce after cooking. The cube-sized jackfruit with eye-catching color and signature flavors will make your meal more beautiful.
5. Dhal Curry/Parippu – Lentil Curry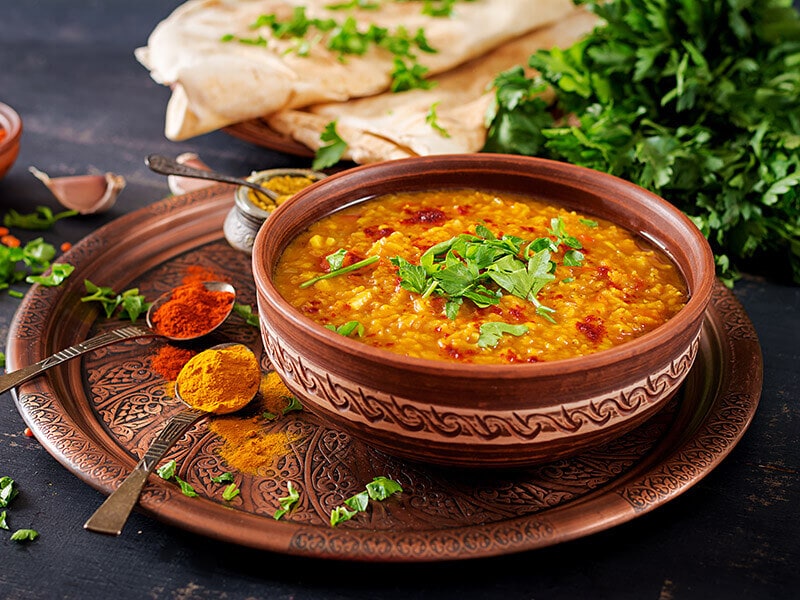 You can find lentils under different names, including Masal Dal, Masur Dhal, and more. Few people know that lentils appeared from prehistory. China, Asia Minor, and India are the first nations consuming them.
Many historians assumed that lentils were the primary food the builders ate while setting up the pyramids in Egypt and the Romans brought these legumes to Europe. In Sri Lanka, people will introduce you to lentil curry, a staple dish in this country.
You can enjoy it for breakfast, lunch or dinner. Thus, whenever you are stuck with "what to eat", you can order this dish from Sri Lakan for your lunch.
There are various kinds of lentils, and you should use red lentils to have the actual experience. They naturally have a bright orange color and transform into dark yellow when cooked.
6. Fish Ambul Thiyal – Sour Fish Curry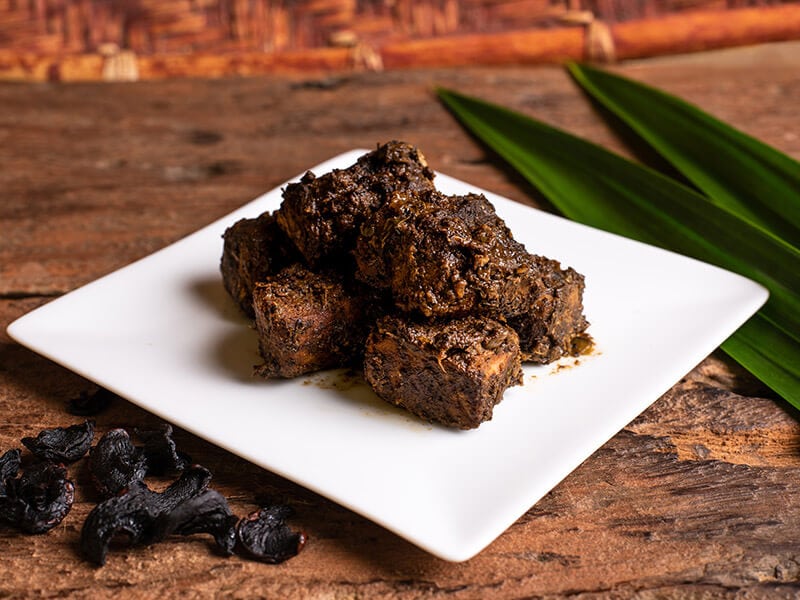 If you ask me what the Sri Lankan dish you should try at least once in your life is, I will not hesitate to reply to Fish Ambul Thiyal. This is a unique dish in Sri Lanka and a special way to preserve blackened fish.
The word "Ambul" in Sinhalese means "sour". People use Goraka and black pepper to marinate fish, turning the outer into black color. The origin of this food is from Ambalangoda, a southern province of Sri Lanka.
The place is a coastal town belonging to the Galle District. If you enjoy the sour fish curry with an angiti bath and pol sambol, the sour and salty taste will bring you back to the old days in rustic village homes.
Sri Lanka Rice Dishes
Sri Lanka is one of the countries consuming rice as the principal food. Hence, it is indispensable not to mention foods made from rice in the post. How have the Sri Lankans diversified their cuisine just by tiny, white rice grains? Let's find the answers.
7. Kiribath – Milk Rice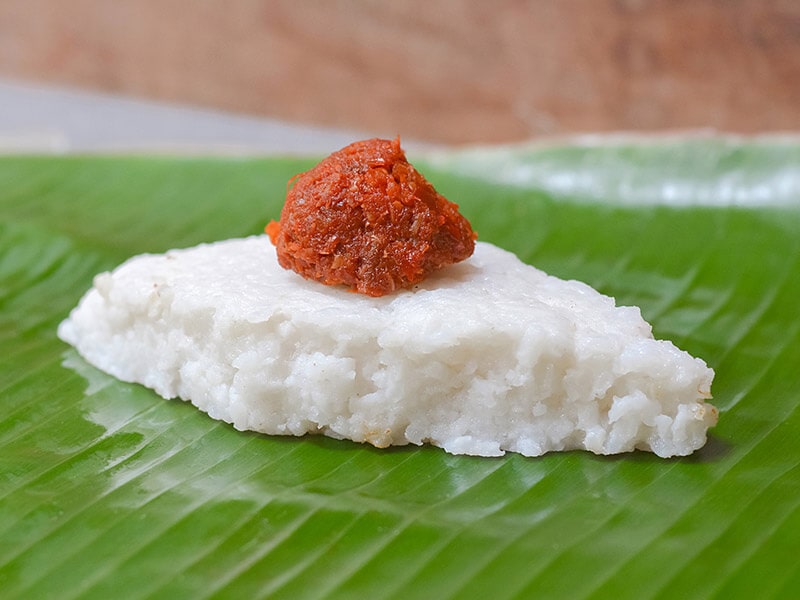 Kiribath is an essential food appearing on special occasions such as New year, weddings, birthdays, or a welcome home party. For decades, people have prepared it for the first day of every month. Kiribath needs 2 main ingredients, Kiri means milk, and Bath is translated literally into the rice.
Why is this food served on big occasions? As you know, rice and coconut milk are symbols of abundance and prosperity in several southeast Asian cultures, including Sri Lanka. You will taste creamy, tender rice cake and smell the subtle aroma of coconut milk.
Although the exact origin of this food is still a hard question, I'm sure that it originated from somewhere in Sri Lanka. The theory said that when Gautama Buddha was meditating under the bodhi tree, Sujata submitted Kiribath for the Buddha before attaining enlightenment.
8. Lamprais/Lampreys – Lumprice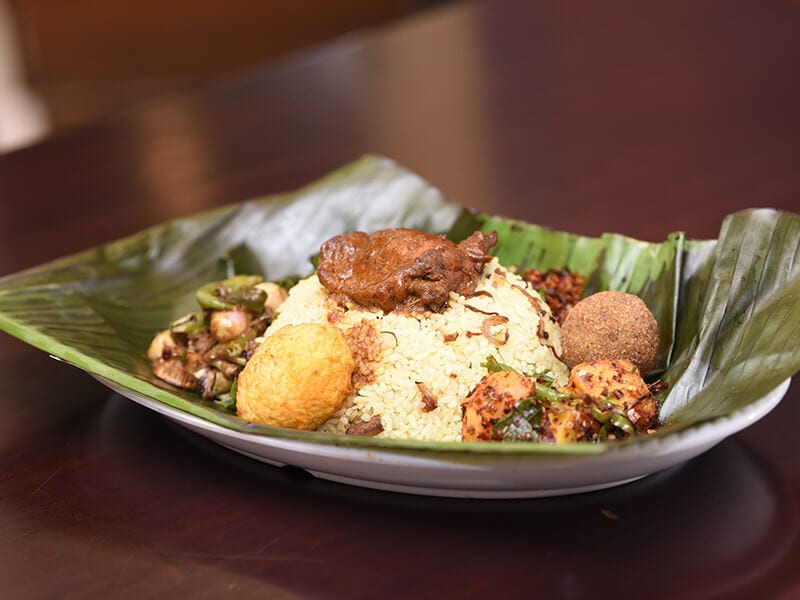 Sri Lanka used to be a colony of different countries, and you can see other cuisines greatly influencing this nation. The Dutch Burghers ruled Sri Lanka from 1658 to 1796. Lumprice also appeared at this time. This name originates from the Dutch word "lomprijst" meaning a lump or packet of rice.
The fact that Lumprice is a result of referencing Javanese meal called Lemper in the 16th century. Lamprais is also recorded in Hilda Deutrom's Ceylon Daily News Cookery Book in 1929. This food can keep you full longer as it contains various ingredients.
The standard version requires short-grained rice cooked in stock, eggplant pickle, shrimp paste, onion relish, frikadeller meatballs, 3-meat curry ash plantain, and eggplant curry, sometimes including fried, boiled eggs.
Instead of displaying it on a platter, people use a banana leaf then bake it. Baked banana leaves create a subtle and unique aroma. In modern life, people have replaced 3-meat curry with other options such as chicken, vegetable, or fish curry to have a twist on the overall flavor.
9. Puttu – Steamed Rice Flour and Coconut Log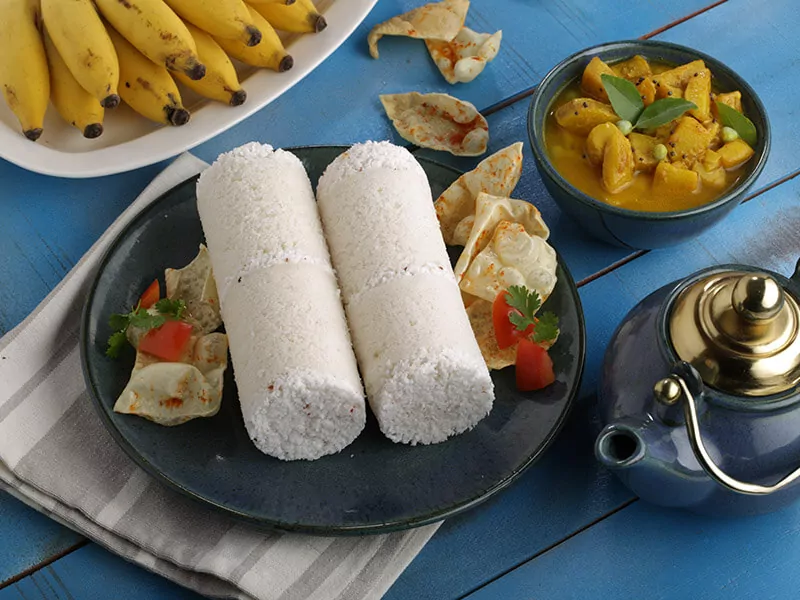 If you want to say hello to a new day with an authentic Sri Lankan breakfast, you should try Puttu. Besides this country, the fame has spread throughout the South Indian State and become a favorite choice of both tourists and locals.
The birthday of Puttu is still a controversial topic. Some people assume that since the 16th century, Puttu was recorded in Thiruvilayadal Purana, while others say that its first appearance was in Thirupugazhu in the 15th century.
No matter when it existed, the flavor is the only feature I care about. You can process Puttu in many ways. Several people can stuff the sweet or savory filling into the cylinder of rice cake or serve it with corresponding side dishes. A layer of shaved coconut on the outside will captivate your heart.
10. Kola Kenda – Herbal Porridge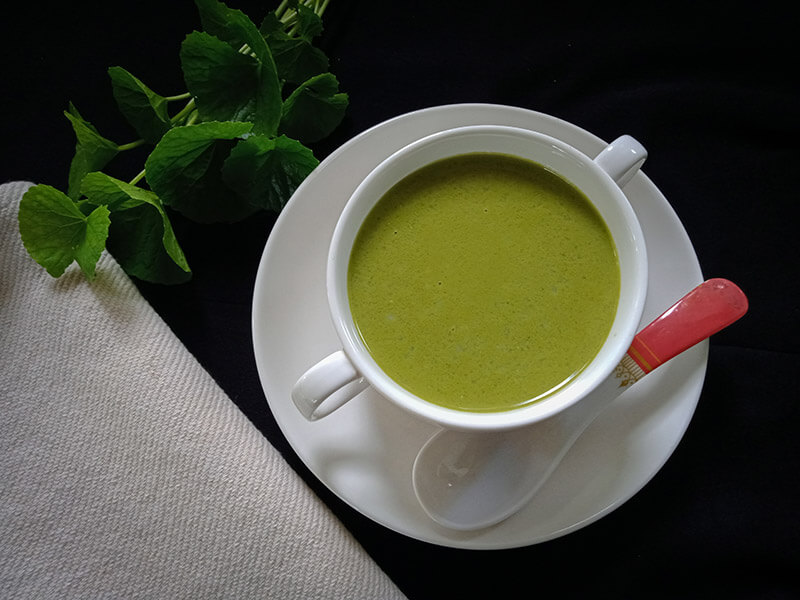 The Sri Lankans have a good habit of consuming Kola Kenda for breakfast. It provides you with energy thanks to rice and coconut milk in the ingredient list and cures illness with freshly squeezed juice of medicinal leafy greens.
The hometown of this food is the Kandy region in Sri Lanka, and the citizens have started enjoying it from Buddhist culture. Depending on the disease you suffer from, you can order the congee made from suitable herbs.
Its original flavor is a little bit bitter; you should add palm sugar to relieve the bitterness. What's more fantastic than filling in your stomach and complementing valuable health benefits to your body with one bowl of Kola Kenda? Let's try it.
11. Appam – Egg Hoppers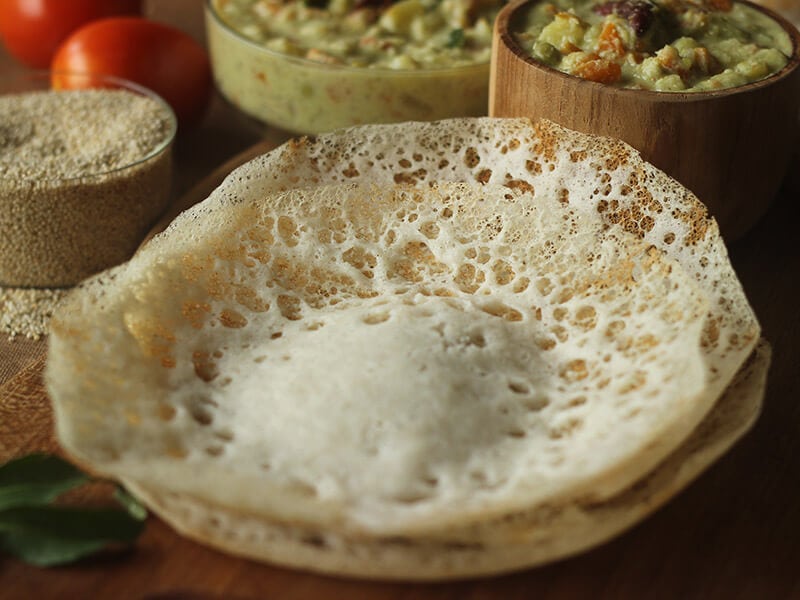 Blending 2 basic ingredients in Sri Lanka: rice flour and coconut milk, the special feature of this dish is the fermentation process. The rice batter is cooked in a flat pan until the bubbles appear and the outer becomes crispy.
Appam not only appears in Sri Lankan breakfast or dinner but also is a staple dish in Tamil Nadu and Kerala. These hoppers are simple in appearance but heavy on history. The dish is mentioned in a poetic work of Tamil literature called the Tamil Perumpanuru from 100 BC to 100 AD.
If you research the Sangam period, you will be familiar with this food. But how about its birthplace? Appam has its roots in Indian gastronomy. The citizens traditionally used soaked rice and coconut milk, but many people chose rice flour instead to save time in modern life.
You can make a large batch of Appam at home as it is straightforward to make.
12. Idiyappam – String Hoppers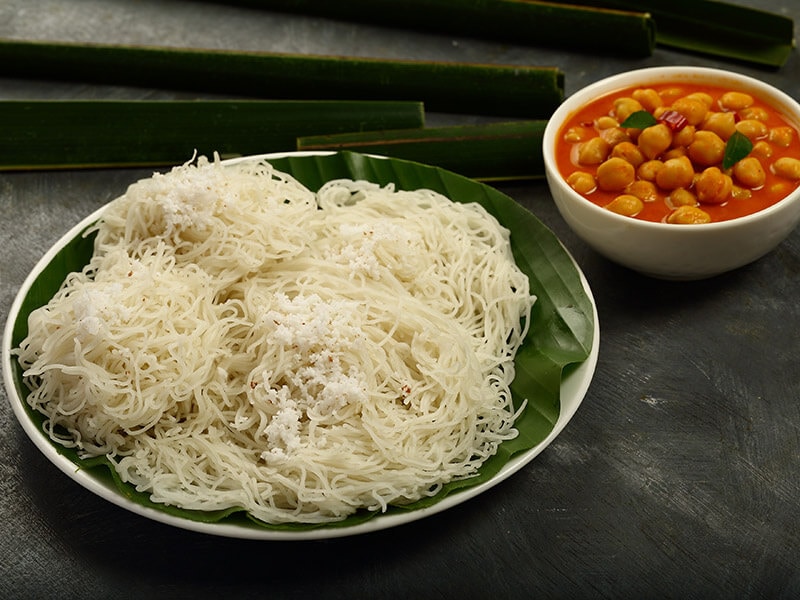 Idiyappam is a variation of Appam, and its name means string hoppers. Its origin doesn't need to be discussed; however, you are surely curious about its processing methods. You need to squeeze the rice batter and press to create thin noodles.
You can arrange these strings neatly and steam them before serving instead of frying them in a pan like Appam. In addition to this name, you can find this food under different ones such as indi appa, savige and more.
Since the thin noodles don't have an impressive flavor, you should accompany it with stew, egg curries, and kormas to complete the taste buds.
Sri Lankan Vegetable Dishes
Not only famous for curry or rice-based dishes but Sri Lanka is also known for various dishes made from familiar veggies. Some outstanding dishes are Sambol, Roti. If you want to explore more, keep scrolling down.
13. Pol Sambol – Coconut Sambol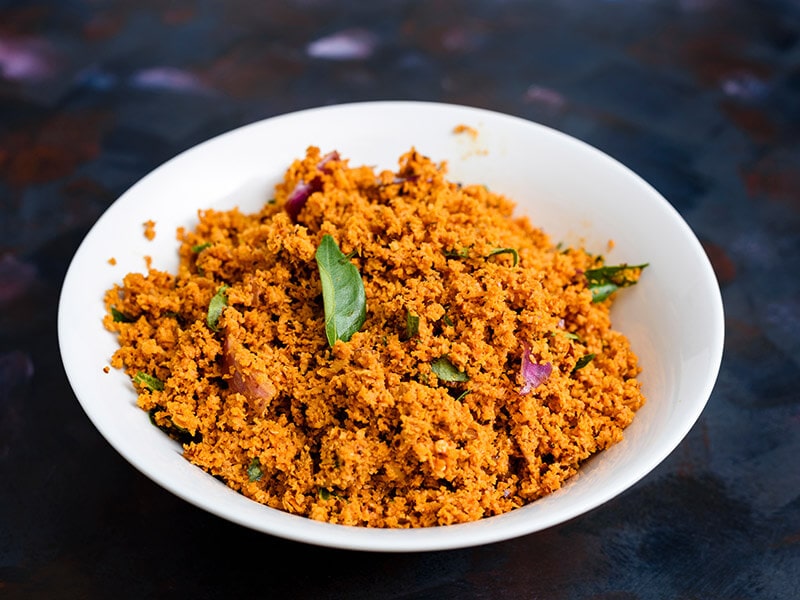 There are a ton of ways to process coconut: squeezing to take coconut milk or shaving to have snow-like coconut flakes. Rarely do people think the tropical sweet flavor of coconut can combine with strong spices to create a spicy taste, right?
Pol Sambola will change your thoughts. This is a common condiment in Sri Lanka and is served with rice, Appam, and other delightful side dishes. The consumption of coconut is proportional to production, which means it is one of the largest coconut producers worldwide.
The old-day Pol Sambola is mixed in a rectangular granite block and rolling pin. Since Sri Lankan cuisine relates to South Indian foods, you can find Thenga Chammanthi is a similar version of Sri Lankan Coconut Sambol.
14. Ulundu Vadai/Medu Vada – Lentil Fritters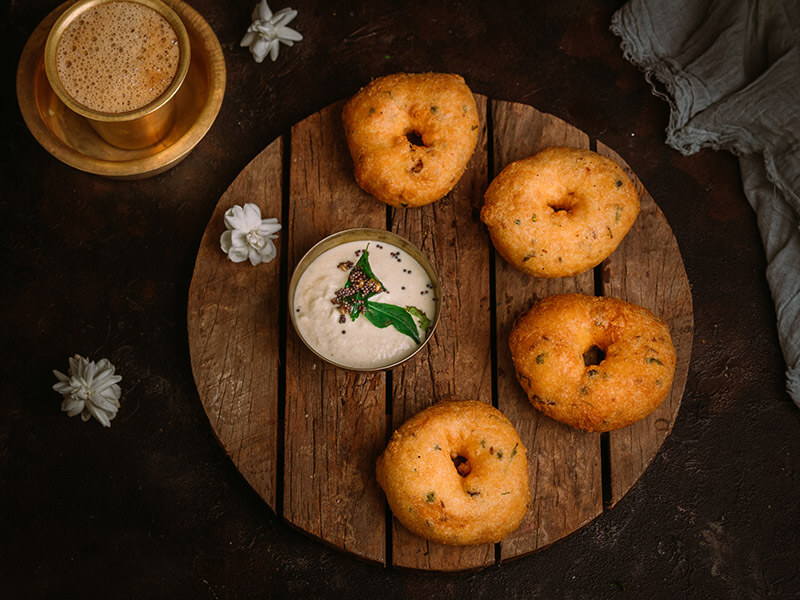 How many dishes can Sri Lankans make with lentils? Why do they produce delicious food that its aroma and taste fly out all over South Asian countries? Medu Vada is a spicy and savory shaped-like donut hailing from Maddur in Karnataka. You can find its shape is quite similar to a fritter.
This dish is famous street food in India, especially in the city of Mumbai, and it has become an indispensable piece in the cuisine of the Tamil people living in Southern India and Sri Lanka. You can eat it as a snack or appetizer.
You can enjoy these lentil donuts on their own, yet I think it's better if you follow the combos of the locals. They usually serve Medu Vada with sambar or green hot peppers.
15. Lunu Miris – Chili and Red Onion Sambol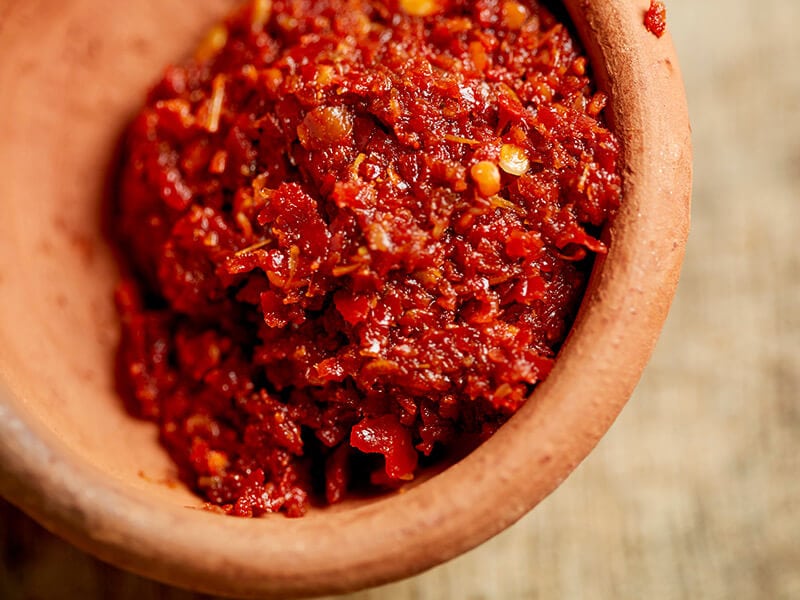 If you wonder what to eat with Kiribath, Lunu Miris is a potential option. This food originated from Sri Lanka and is made from simple ingredients. Some chefs can use a blender to mix the components for quick and convenient purposes.
However, you can find long-standing restaurants that use grinding stone or mortar and pestle to blend all things. You should not try this condiment if you cannot handle the spiciness. You can opt for other no-spicy Sambol.
The original ingredients of this food were salt and chili powder; hence, it has had the Lunu Miris name (salt chili in English). The Sri Lankans have updated it by adding chopped onions, dried Maldives fish, and lime juice.
16. Gotu Kola Sambol – Pennywort Salad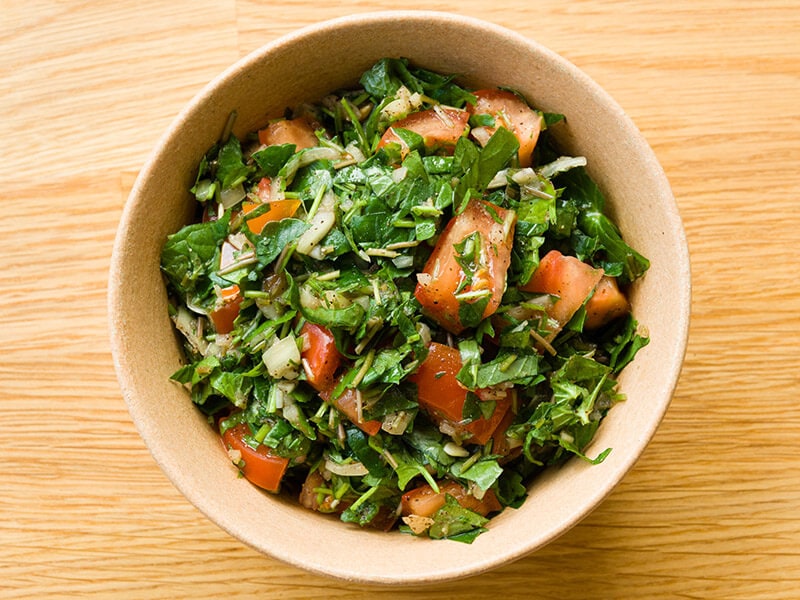 Don't be fooled by the simple appearance of Gotu Kola Sambol. Indeed, it is made from a superfood – pennywort can bring you multiple health benefits. This green is quite common in Southern Asian nations and is usually eaten raw.
The Sri Lankans cleverly combine the leafy veggie with grated coconut and several spices to create an unforgettable flavor. If you have tried kale, you will realize the taste of pennywort has a few similarities.
When you eat rich and spicy dishes, keep in mind to order a plate of pennywort salad since its fresh taste can relieve the spiciness.
17. Mallung/Mallum – Kale With Coconut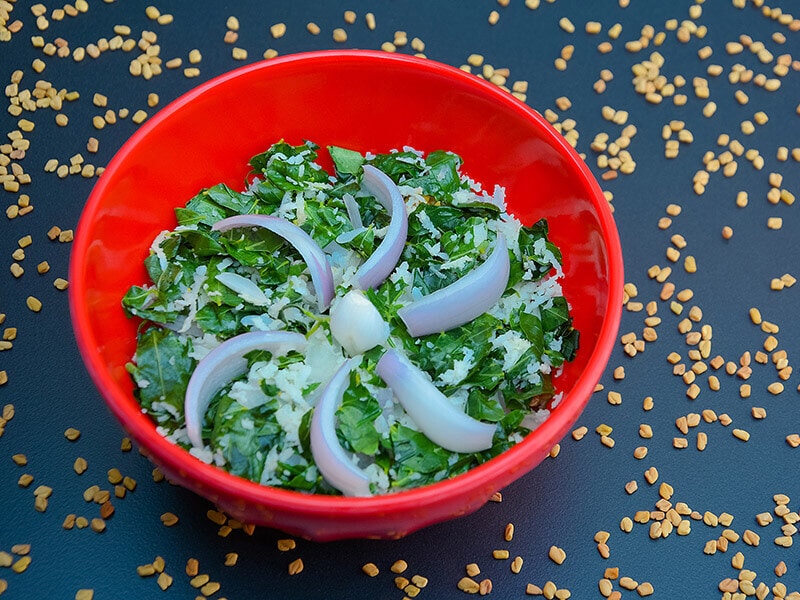 Mallung is one of the must-try dishes when you visit Sri Lanka as it is hard to discover the wonderful taste in other places. You can understand "Mallung" or "Mallum" simply as "mixed" or "mix".
This side dish requires several greens lightly sauteed with coconut and other ingredients. Almost all the local meals have the dish on their tables. Besides bitterness from veggies, you will benefit from vitamins and minerals.
Gotu kola is a popular option to cook this food; moreover, kankun, mukunuwenna, and other herbal leaves are also used. You can see Mallum in almost all meals of the Sri Lankans, and their meals usually contain 1 or 2 types of Mallum. The ingredients in this dish play an essential role in building good health for the citizens.
18. Wambatu Moju – Eggplant/Brinjals Pickle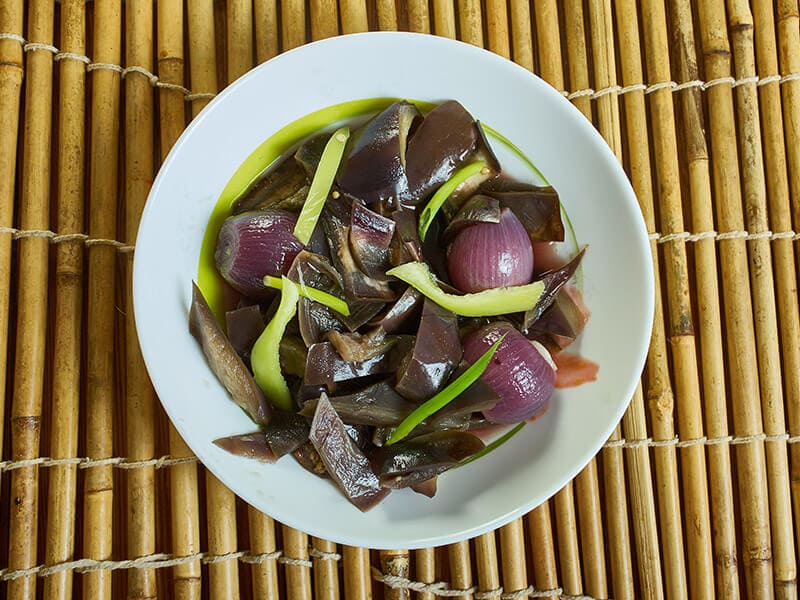 Eggplants are grown popularly throughout South India and Sri Lanka; that's why there are countless dishes made from this veggie in these nations, and I am excited to recommend you to try Wambatu Moju.
The eggplants in Sri Lanka have white stripes on a magenta background and are thinner than the West. Because the Portuguese dominated Sri Lanka for a long time (the early 1500s), people mistake Portugal as the hometown of this food.
Nevertheless, the fact is more complicated. Many dishes having a similar look with some same ingredients have appeared worldwide. For instance, in the Punjabi area of India, you can find Baingan Bharta.
There is also Melanzane Sott'aceto, which is a native dish in Italy. Until now, the dish's origin is still a secret, but who cares while the taste is heavenly.
19. Elawalu Roti – Vegetable Roti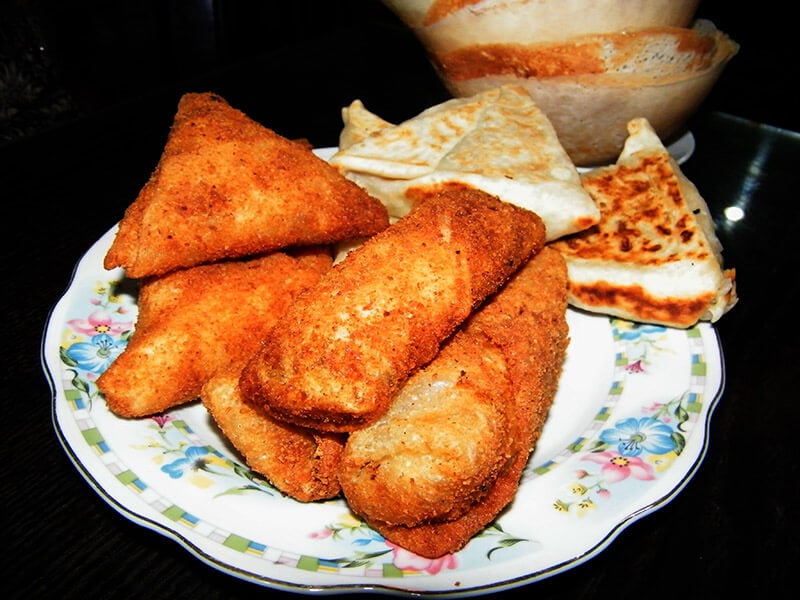 Another healthy snack usually sold on Sri Lanka's streets is Elawalu Roti. Why did I say this food is healthy? The filling consists of various vegetables and spices instead of meat or seafood.
Roti is not native to Sri Lanka; it originated from the Indian subcontinent. However, roti with different ingredients has been well-known in Sri Lanka and has become a favorite food of many locals. You can differentiate between roti and naan by checking the cooking process.
Roti is an unleavened flatbread, while the other uses yeast to make the dough rise. The whole wheat flour is ground in a stone block, then added water to create a consistent texture. You can bake the dough directly on fire or use the oven.
20. Pol Pani – Coconut Pancake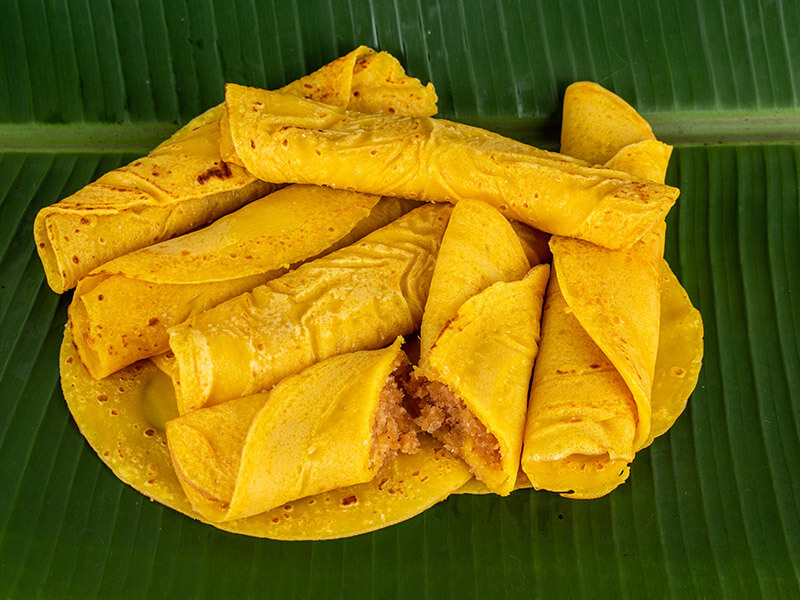 Pol Pani is translated loosely as honey coconut, but you will not recognize honey while tasting it. Despite that, the gently sweet and tropical flavor of coconut is enough to win your heart.
This is a tea-time snack that is reminiscent of crepes in the Western. The Sri Lankans often eat these crepes in the new year as they believe that this treat will bring you the sweetest things in the upcoming year.
To have a honey-like and sticky texture filling, the chefs will cook shredded coconut with jaggery (a local sugar) then use the crepes to cover it. The cylinder rolls will make you bite them continuously.
If you memorize the taste of Pol Pani, why don't you learn how to make it at home?
21. Pol Roti – Coconut Roti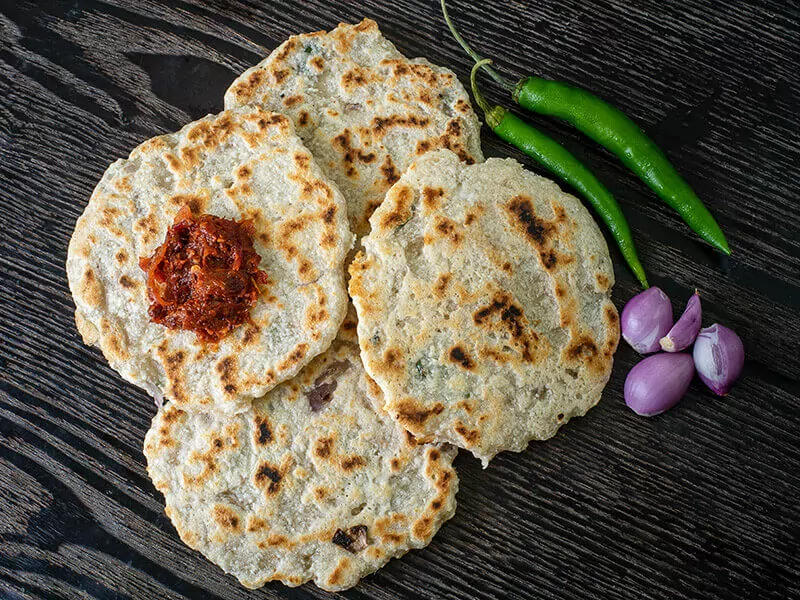 Pol Roti is a classic dish native to Sri Lanka. Whenever I taste it, I imagine it like a gift of God for the locals. This food is a combination of 2 traditional factors in the nation: coconut and roti, making it a fun variation.
Besides simple and familiar ingredients, people add shredded coconut to the dough to create a new texture. Some chefs also mix the dough with chopped onions and green chilies to make an extraordinary taste.
Depending on your preferences or ages, you can choose side dishes to go well with this roti. Eating coconut roti with curries or Lunu Miris is a great idea for people who love spicy foods. On the contrary, the kids will love sweetness by spreading palm sugar on the roti.
Other Sri Lanka Dishes
What's more about Sri Lanka food? There are a lot of dishes waiting for you to explore. I wish I could know them sooner, yet no problem as I will travel to Sri Lanka shortly.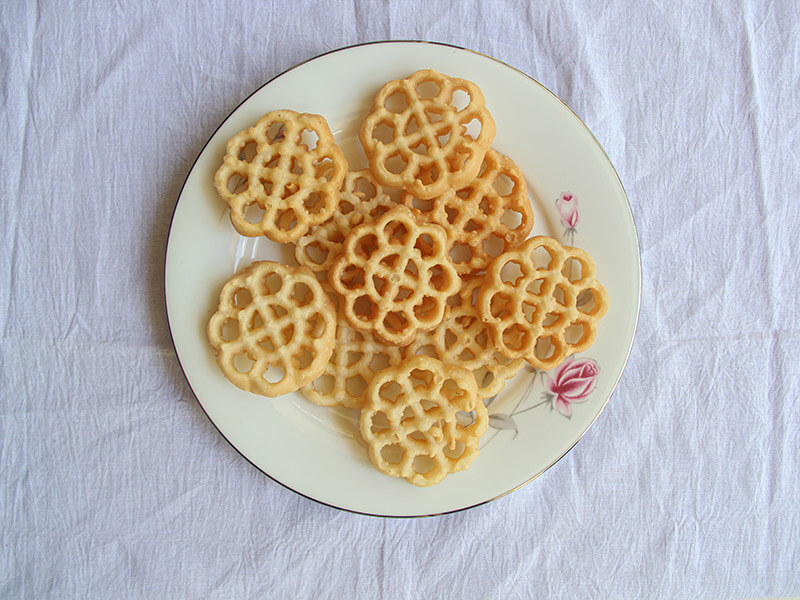 Sri Lanka is a nation with a multi-race and multi-religion population. You can experience numerous festivals when you travel to this country during the year. If you cannot attend all the celebrations, I recommend visiting Sri Lanka in April.
This time, Sri Lanka will celebrate the Avurudu festival, a warm welcome to the new year, and say goodbye to the harvest season. You will have a chance to taste Kokis – a traditional dessert in Sri Lanka.
Kokis is not a native dish of Sri Lanka but rather a treat from Dutch cuisine. The Dutch brought this treat to this state during the 17th to the 18th-century ruling.
Its name also derives from the Dutch word "koekjes" translated as "cookies". Its shape looks like a flower that reminds you of abundant crops.
23. Kottu – Chopped Bread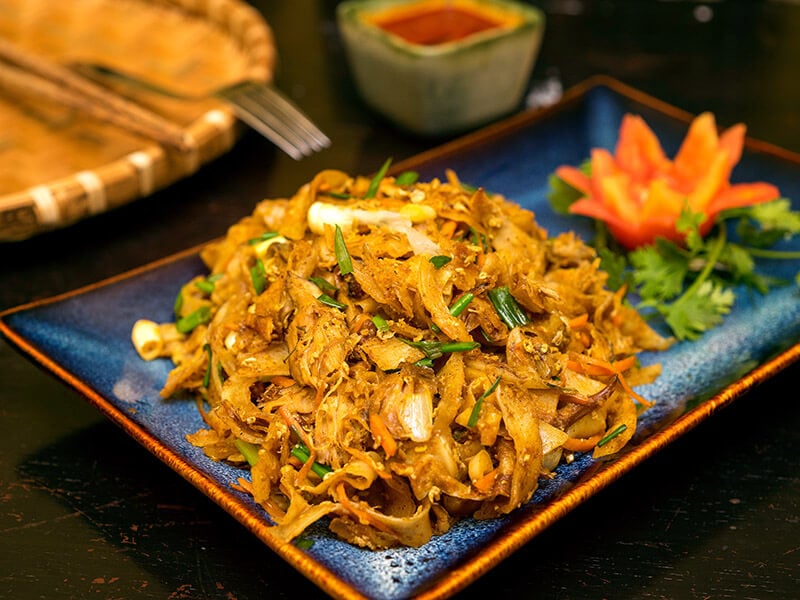 If you want to explore the popular cuisine in Sri Lanka, Kottu is an ideal beginning. Its price is friendly with almost all of your wallets but can bring you a fulfilling meal. When you order this dish, you can be surprised by the sound while cooking.
Cooks use 2 sharp spatulas to divide roti into small pieces then fry them. The texture of Kottu will create a fun dance in your mouth due to the chewy texture of roti, fresh, crunchy, natural umami from carrots and cabbages.
You can add more protein by sprinkling some chicken or mutton. Including uncomplicated ingredients, who thinks its history is quite rich? Kottu is a combination of 2 cultures: Tamil and Muslim in the 1970s.
The original version had day-old Godhmaba Rotis mixed with fried veggies, eggs, and spice. However, the chefs' creativity runs wild, adding more spices to level the flavor.
---
Don't Hesitate To Book A Ticket To Sri Lanka
After reading my post, are you excited to take a tour of Sri Lanka? You can enjoy numerous delicious foods, but the 24 above dishes are must-try ones. Some of them can be eaten for breakfast, lunch, or dinner, so you can freely order them.
If you cannot travel to Sri Lanka right now, why don't you find a Sri Lanka restaurant and opt for these suggestions? You can like, share and leave a comment to show me how you think about this article. I will come back with more interesting topics like that. See you soon!