If you have never tried Indian foods, you must definitely try them once in your life. Like other big Asian countries or cultures, Indian culinary culture also strongly influences other countries thanks to its richness and diversity.
They usually combine various exotic and unique spices to level up their culinary culture to another level. And below, I will introduce you to a few Indian dishes that will be worth trying if you have a chance. You definitely won't regret taking my suggestions.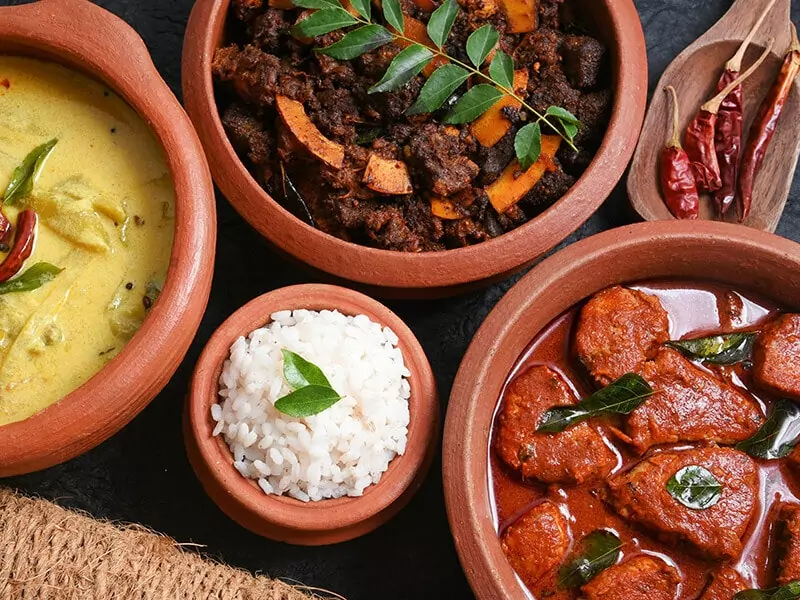 What Are The Basic Ingredients Used In Indian Cuisine?
Indian cuisine is famous for its rich and diverse flavors, aromas, and textures. The ingredient is one of the most important factors that make Indian cuisine stand out from the rest. Here are some key elements.
Spices
India is the biggest spice manufacturer, exporter, and consumer in the world. Therefore, it is clear to see that Indian signature dishes are packed with flavor due to the mixture of spices.
Besides, spices obviously add aroma and color to dishes. Common spices used in Indian cooking are cumin, coriander, turmeric, cardamom, cinnamon, cloves, and black pepper.
Vegetables
India is a land of many kinds of vegetables. Popular vegetables in this country are potatoes, tomatoes, onions, okra, eggplant, and cauliflower.
Legumes
Legumes are a staple in Indian dishes. You can find them in many popular delicacies like chana masala, chana dal dhokla, and more. Common legumes are lentils, chickpeas, kidney beans, and black-eyed peas.
Rice and Grains
Rice and grains form an essential part of the Indian diet. There are numerous varieties of rice and grains in Indian recipes, such as basmati rice, brown rice, quinoa, and millet.
Dairy Products
Dairy products such as yogurt, ghee, and paneer (Indian-style cheese) are commonly used in Indian cuisine and add richness and flavor to dishes.
Meat and Seafood
Although many Indians follow a vegetarian diet, meat, and seafood are also popular in certain regions of the country. Popular meat and seafood dishes include chicken tikka, tandoori chicken, butter chicken, and fish curry.
Ready For A Flavor Explosion With Popular Indian Dishes
To start this list, I will introduce you to some of the famous Indian dishes that you can find in Indian restaurants. Wait and see what delicacies are waiting for you to explore.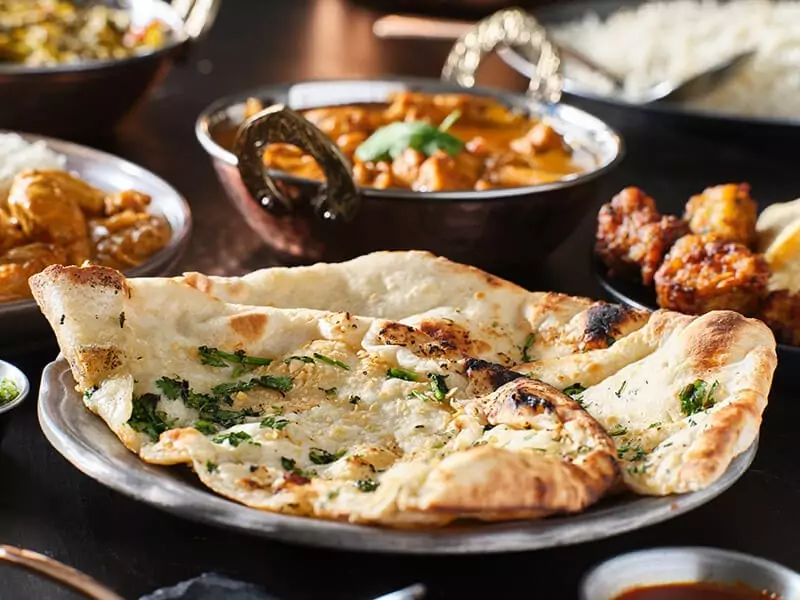 Indians normally serve their dishes with different types of breads, such as naan, chapati, and paratha. Let's start with the most eaten one, naan.
Naan, or Indian flatbread, is made from various simple ingredients like flour, water, yogurt, and yeast. Indians will make the flour, let the mixed batter wait before flattening it up and baking it inside a traditional charcoal oven (tandoori).
There are many types of traditional naan, such as blank, Peshawar (with various dried foods or nuts), kulcha (mixed with tomato and onion), paneer (Indian cheese), or keema (with lamb or goat meat). The taste of this dish also depends on the type you choose.
Naan is one of the most versatile accompaniments in Indian cuisine. This bread can go with many other main dishes, so you will have many chances to try it whenever it comes to Indian foods.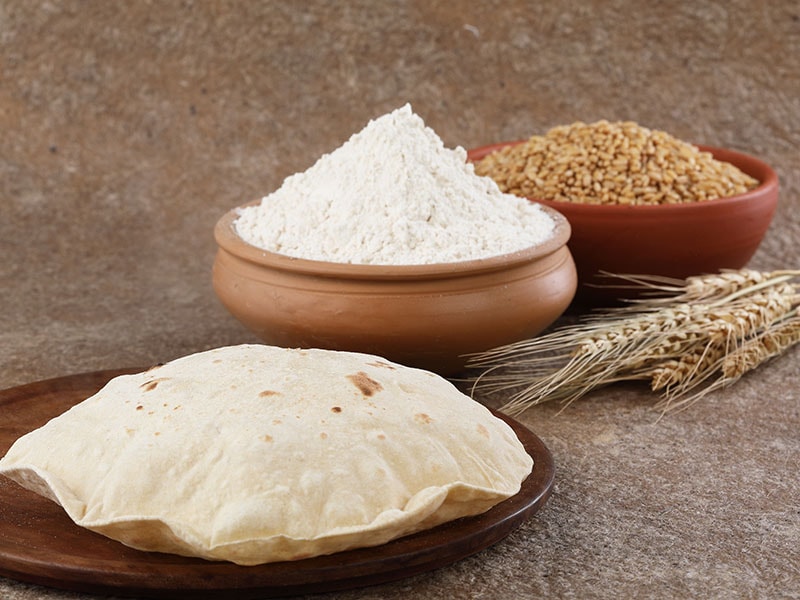 Another popular flatbread that has its origin in India is chapati. It is known by several other names in different parts of India, such as roti, rotli, poli (in Marathi), and phulka.
The main ingredients of chapati are whole wheat flour, water, and sometimes a little bit of salt. The dough is then rolled into thin, circular shapes and cooked on a tawa (flat skillet) until it puffs up and develops a light brown color.
The texture of chapati is soft and pliable. Its flavor is subtle and nutty due to the use of whole wheat flour. And these characteristics are different compared to naan, as naan is typically thicker, chewier, and slightly sweeter in flavor.
For the best experience, enjoy chapati warm and pair it with curry, chutney, dal, or dry sabjis.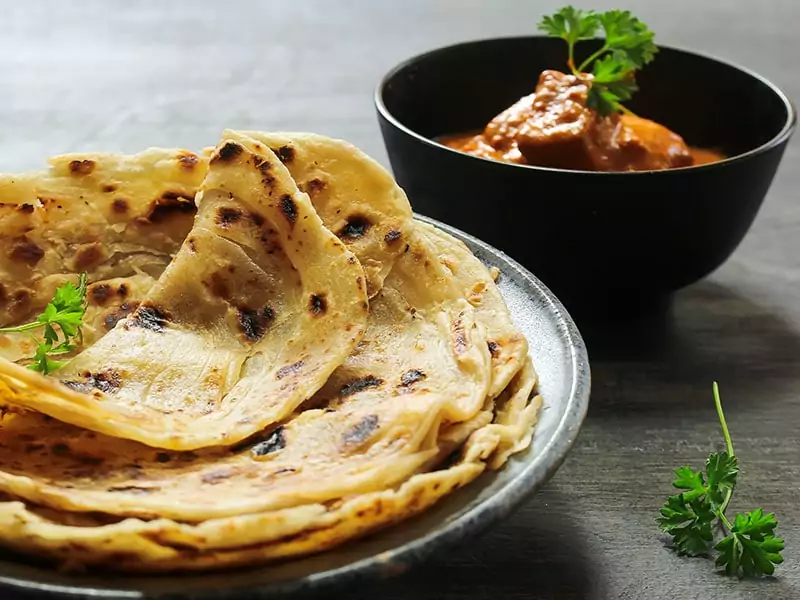 Paratha is an unleavened flatbread made from wheat flour, ghee (or oil), and water. Sometimes, it may also include other ingredients such as veggies, paneer, or even minced meat, and these are stuffed parathas.
Plain paratha itself has a delectable flavor and a flaky, soft texture. The ghee or oil used in the dough gives it a distinct richness and enhances its flavor. If you prefer a vegan paratha, you can replace ghee with any cooking oil you like.
In order to make perfect parathas, make sure that the dough should not be too hard or too soft. Allow it to rest for about 20 minutes before rolling.
Finally, Indians enjoy paratha during any meal of the day. It can pair well with various dishes, such as curry, stew/ soup, chutney, yogurt, or pickle.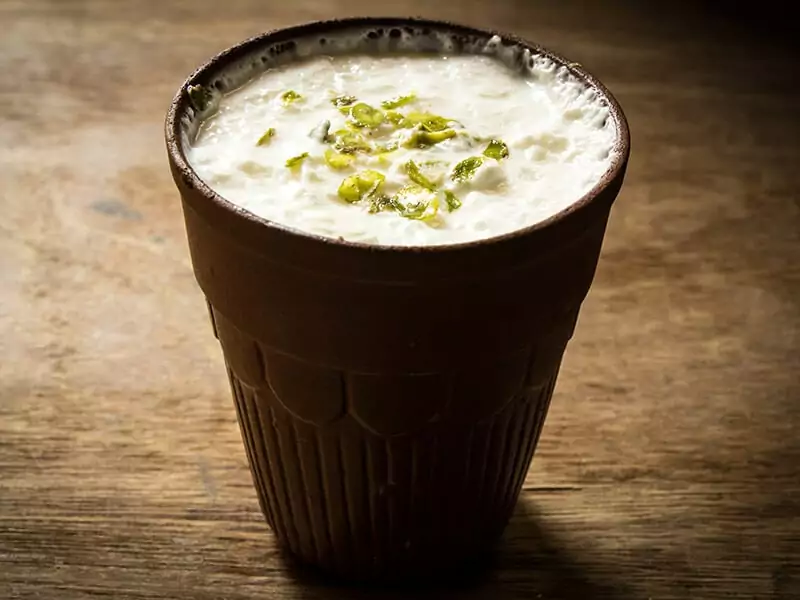 Lassi is an exotic Indian beverage made of fermented goat milk and is usually served cold when the heat strikes. There are three main types of lassi: plain, salted, and sweetened.
To flavor this appetizing drink, they will add some blended juice from native fruits in India. Thanks to that, the taste is more refreshing and brightening than ever. For a delicious breakfast in summer, add some peach to lassi – the flavor combination will be divine!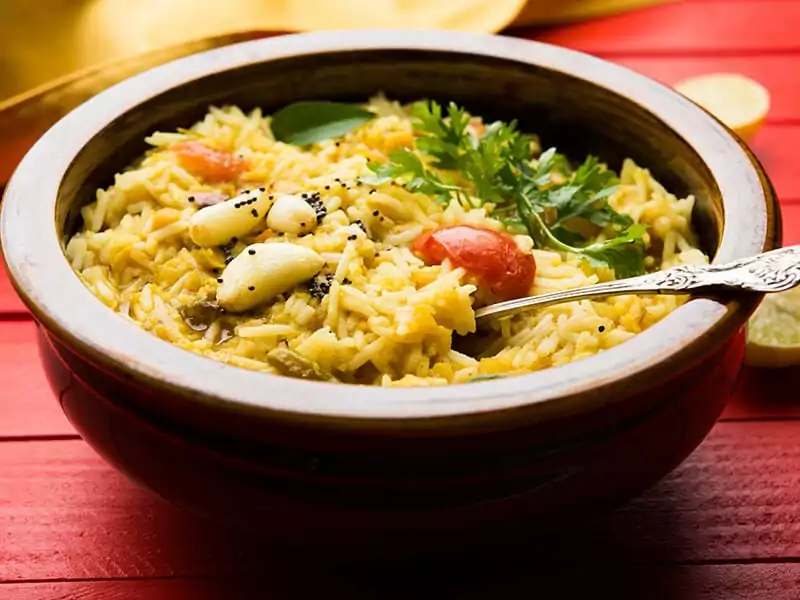 As I have briefly introduced in the name, this food is made of rice, lentils, and other ingredients like mung beans or bajra (pearl millet). In India, parents usually feed their infants with Khidchdi because this dish is easy to digest.
Khichdi is also a prevalent food, and each place will have different ways to make this Indian dish stand out.
In Bengali cuisine, the dish is called Khichuri and contains aromatic rice and roasted moong dal. While some other places add vegetables to improve the food taste, Maharashtra will add some seafood or shrimp.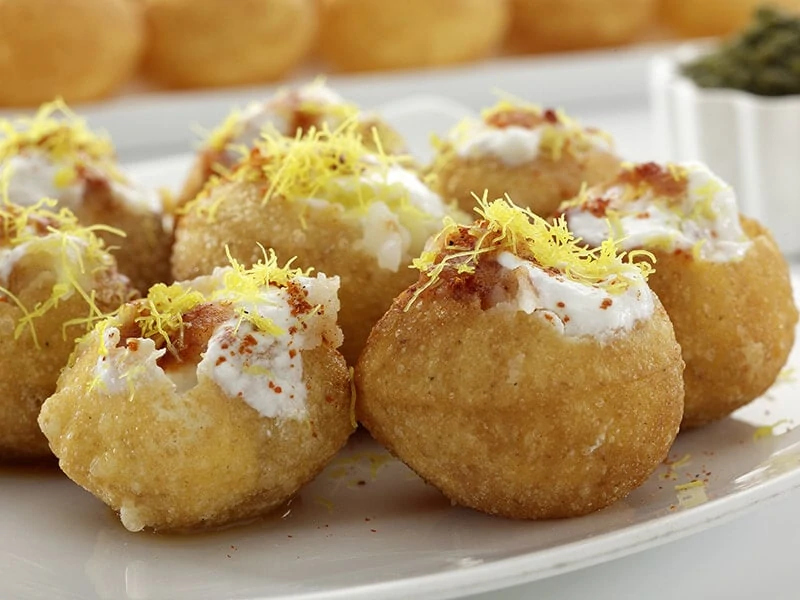 It is a famous street food throughout India that you can easily find at street food stalls. This is a kind of chaat, which refers to savory snacks sold on the street in the country.
The seller will pre-fry those hollow crusty round pastries (puri) at home before bringing them out to sell.
Besides the dense filling from mashed potatoes and peas, this food will also go with two sauces: brown (made of tamarind) or green (made of mint or other herbs). They will fill the puri with both filling and sauce, and you can have all of the taste in one bite.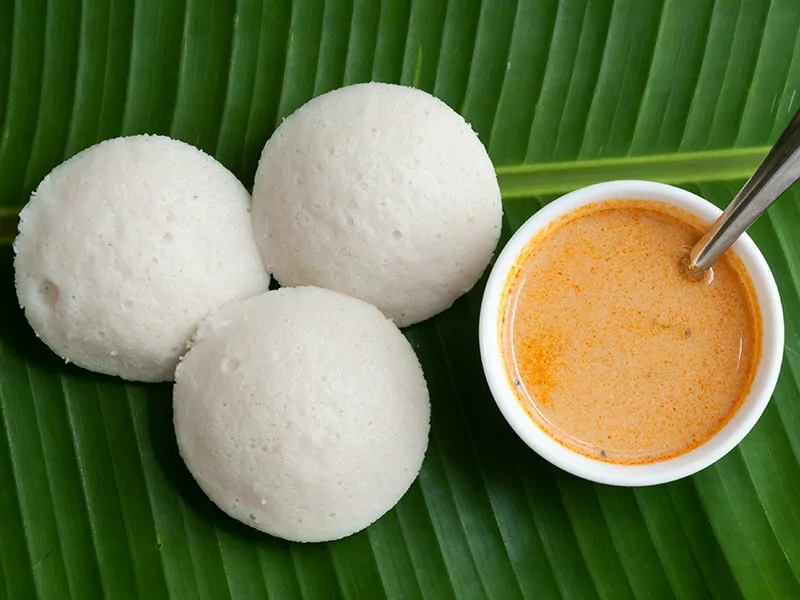 The next dish I want to introduce to you is an extremely popular breakfast dish in India that has its origin in ancient times. It may look quite simple, but the preparation will take a while because the rice part of the cake needs to be fermented.
As idli is made from fermented rice, it's an ideal dish to make when there's leftover rice. This will reduce the waiting time for the rice to ferment, and it can also cut down on food wastage.
Since it includes beans, rice, toppings/dip sauces, and a few spices depending on the regional variation, I can guarantee that this food with "I" as the starter won't be boring.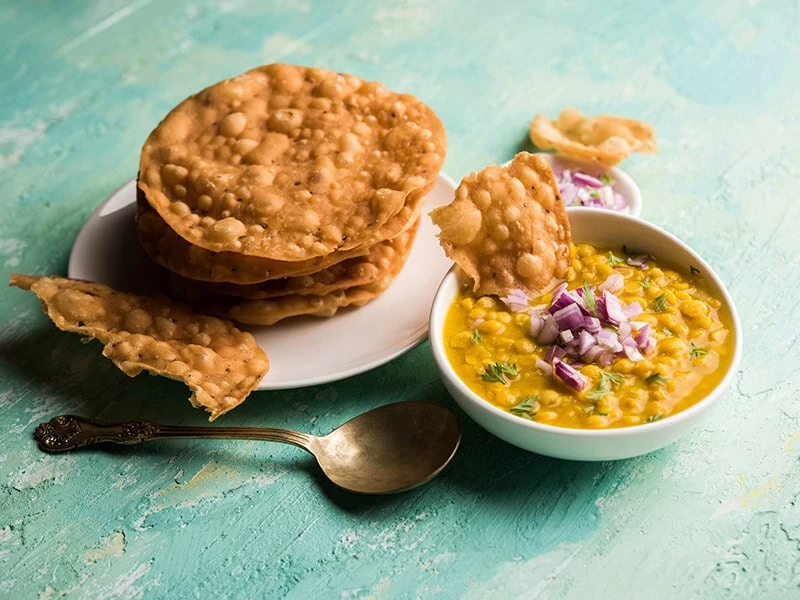 Pakwan is a special Indian bread variety to pair with the soup. They also love to enjoy this combo for breakfast because the taste is so pleasing that it can help you start a day with satisfaction.
The soup is time-consuming to prepare, so people can make it the night before. You can also find it at many breakfast stalls. So whenever you visit this country, give this Sindhi breakfast delicacy a try to start your day.
In addition to being a tasty breakfast option, Pakwan and soup also make for a satisfying and filling meal at any time of the day.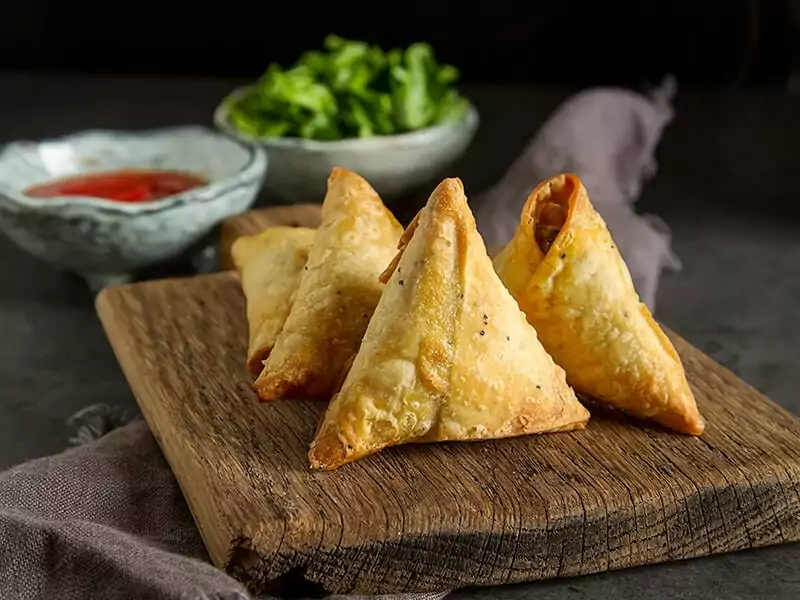 You might have seen the variants of this food from other countries, but the Indian ones are genuinely distinctive. They are fried pastries with fillings and are usually eaten as a snack rather than a main dish.
However, on some occasions, samosa can be a fantastic side dish. You can serve samosa as scrumptious accompanying food for butter chicken. This is also an amazing appetizer to cook in air fryers, especially if you want to cut down the grease for a healthier lifestyle.
Samosa's exterior will be made of all-purpose flour, and the fillings will vary from veggies (cauliflower, peas, potatoes), meat (lamb), and fish. Other sweet variants with coconut and Indian condensed milk (khoya) are perfect for a sweet tooth.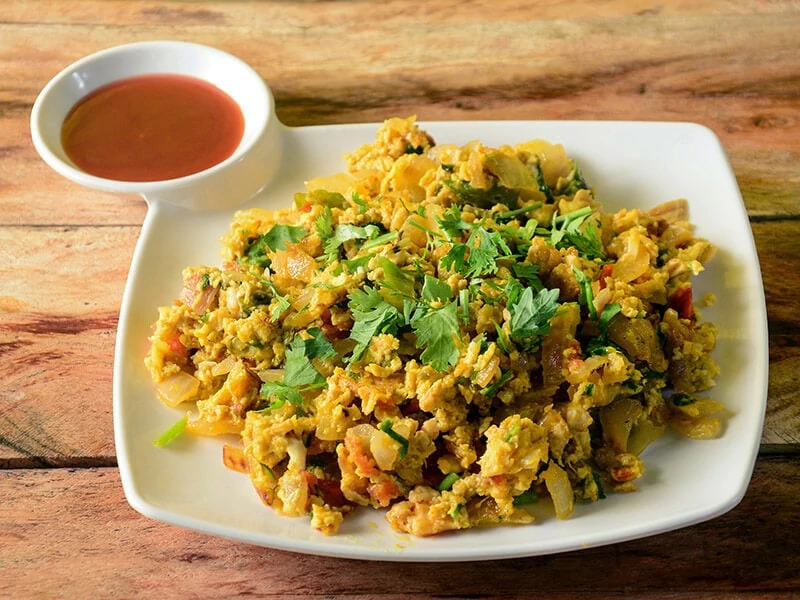 This egg bhurji or scrambled egg with vegetables (like bell peppers, tomatoes, and some herbs) will be a convenient Indian recipe for lunch.
Each component will be cooked separately, then served with paratha, hot chapati (some other variants of flatbreads), or buttered toast. The "formula" might seem basic, but the taste will be incredibly toothsome.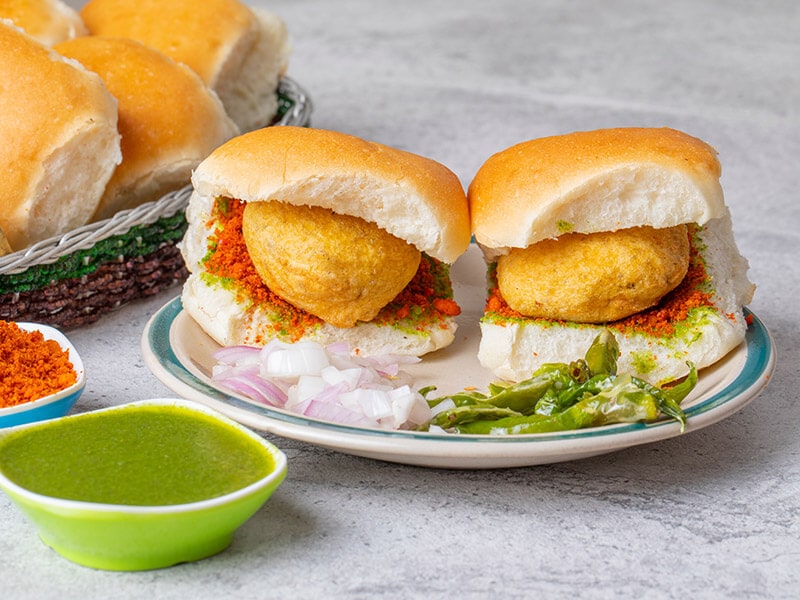 The food has many names; you can call it in various other names like vada pao, wada pav, wada pao, etc. It all refers to a famous street food originating from Mumbai streets in the 1960s and becoming a prevalent treat in Maharashtrian cuisine nowadays.
The meat patty-like part stuffed inside this delicious sandwich from India is actually potato balls. They are usually mixed with green chili and garlic chili sauce and fried until crispy brown. That is a delicacy you should definitely try once in a lifetime.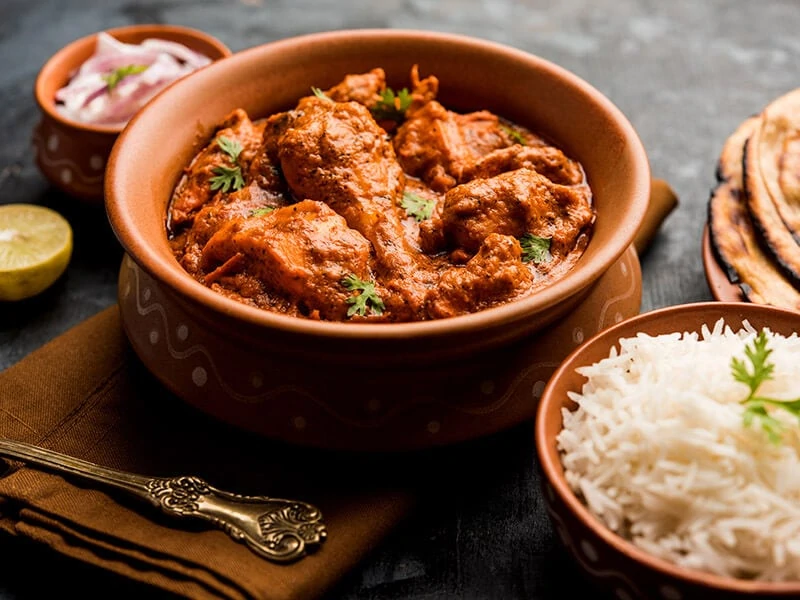 This dish is quite similar to the famous chicken tikka masala since they are all curries and require tomato sauce as the soup base.
In this real Indian treat for dinners, the chicken meat will be tastefully tender and soaked with the tomatoes' sourness and mild sweetness.
With the addition of full-cream milk and butter, the dish's harmonization is effectively lifted thanks to the fatty, creamy tastes.
If you wonder how your beloved butter chicken is made, this guide will help!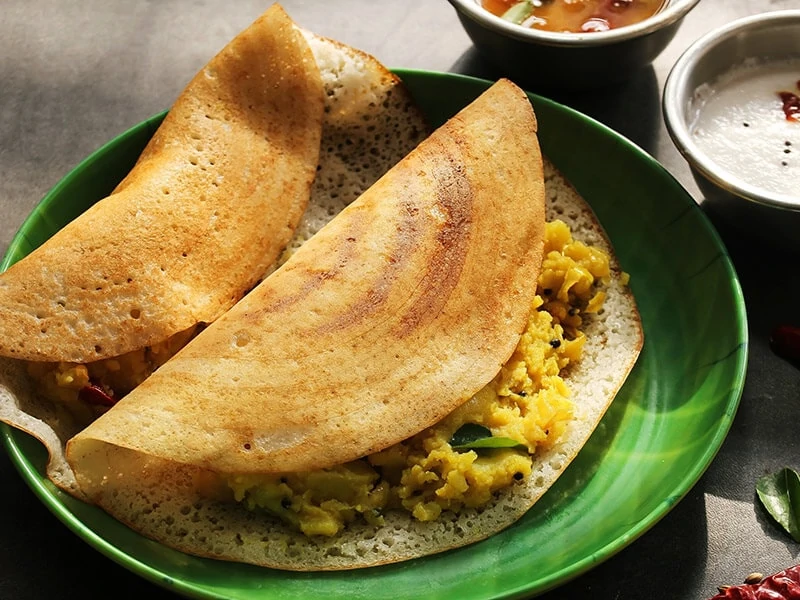 Masala Dosa is an Indian-style crepe consisting of a crust made from rice flour and lentils (which is called "dosa") fried until crispy golden brown and stuffed with mashed potatoes mixed with some spices (chana dal, mustard seeds, and so on).
If you don't want your Masala Dosa to have potatoes, you still can have other options to add to this dish whose name starts with "M". My top recommendation is cauliflower, but other vegetables are fine too.
Indians will love to use this dish for a light and quick breakfast. When eating, you will clearly feel the crispiness of the dosa and the fatness of the potato filling. The peppery notes from the spices mixed accentuate everything.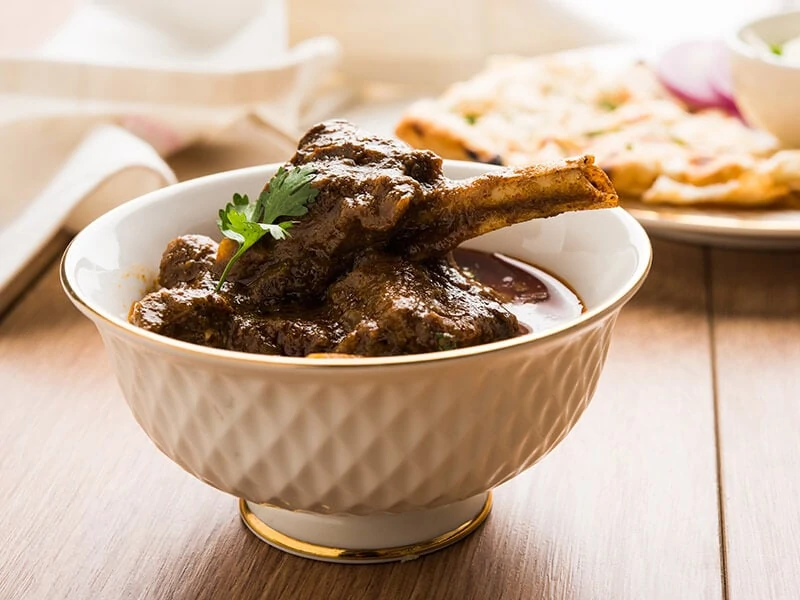 Rogan josh is a famous dish in India's Kashmir region. The curry originated in Persia with a braised lamb; when it arrived in India, they created another variant of goat meat besides the original one.
The main protein, lamb/goat, is usually marinated with various Indian signature spices, especially Kashmir pepper. Those things also help create the appealing red hot sauce that goes with the dish.
This stew will perfectly match with steaming hot Indian rice or naan, and I cannot wait to give it a try!
An alluring Rogan Josh dish is made like this! How stunning!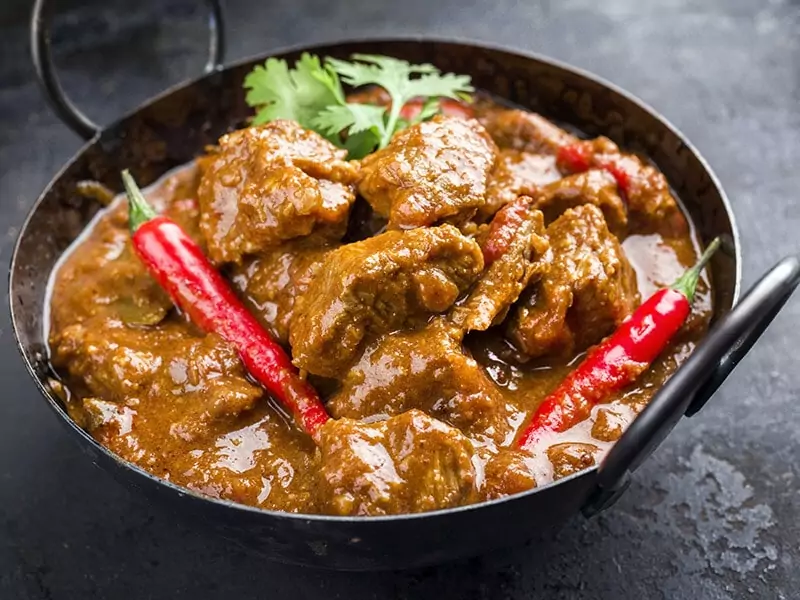 This Indian lamb vindaloo is among the first ranks in the spiciest foods globally. This food beginning with "V" is a traditional pork dish of Goan people living on the southwestern Indian coast.
When coming to other parts of the country, the ingredients in this famous Goan dish are changed into lamb, prawns, chicken, or veggies to suit each region's culture. The locals might also use more typical hot spices. All of that makes this dish also become even more prevalent.
If you want to have more exciting experiences with spicy dishes, this dish should be on the list to try.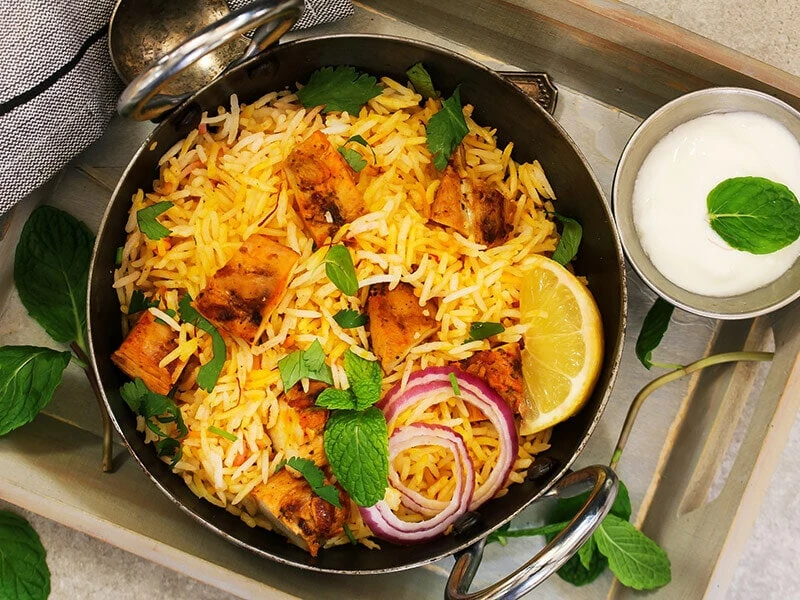 India is famous globally as the "kingdom of spices," and this chicken biryani dish is not out of the list. It requires a lot of effort and ingredients to create a perfect biryani, but the tastes are genuinely pay-off.
The typically spongy basmati rice grains are cooked just enough and then well mixed with the main protein (seasoned, marinated, and processed extremely meticulously). The dish looks like a rustic aesthetic on the plate.
And because it needs time to prepare, this hearty dish is often used in family dinners or after prayer on weekends. However, believe me when I say chicken tikka is a worth-trying Indian first-course that will knock your socks off due to how delicious it tastes.
You can see this video to know more: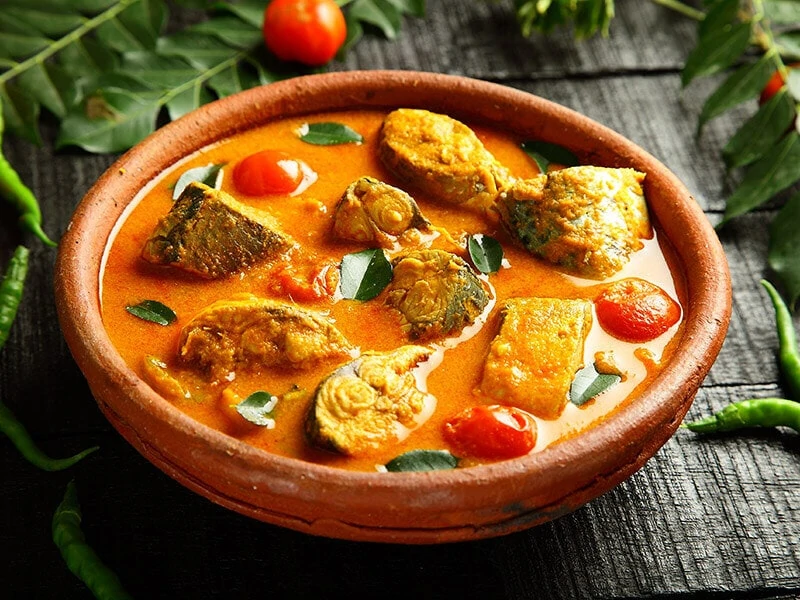 I was immediately impressed by the fatty taste of coconut milk, the aromatic hint of methi leaves, a bit of fleshy, and the natural sweetness of fish on the first try.
All of the taste layers are mixed pleasingly to provide a delectable and appealing Indian curry that will delight even the most discerning palates. Ensure that you choose the fish you like among korameena, black sole, sardine, or mackerel since those are usually used.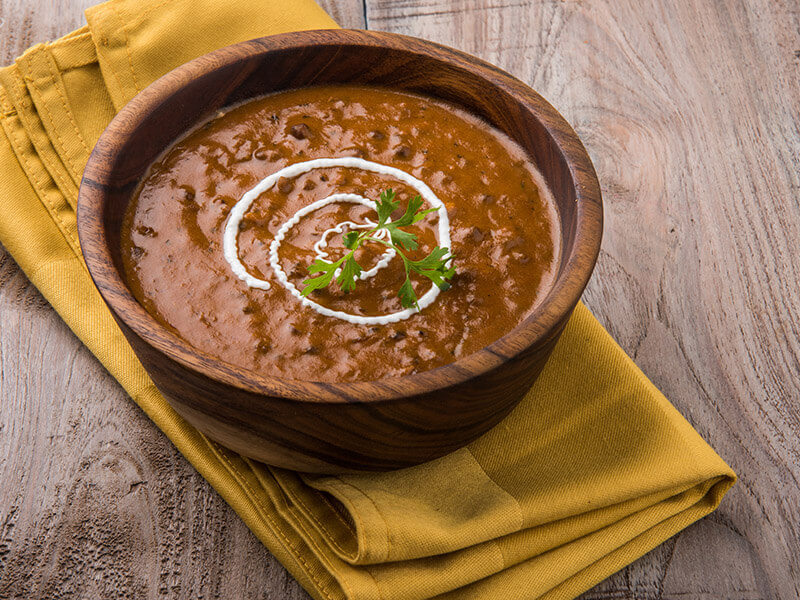 The main ingredient in dal makhani is black beans (urad), kidney beans (rajma), butter, and cream. The components might be basic, yet the preparation process is quite lengthening that might last up to 24 hours.
Because of that, in the past, this dish was more frequently served on meaningful occasions like family gatherings or national holidays.
Nowadays, thanks to the development of technology, the cooking time is reduced to 2 or 3 hours only so that you can have it anytime when visiting this beautiful country.
You should refer to this instruction to make an easier veg dal makhani.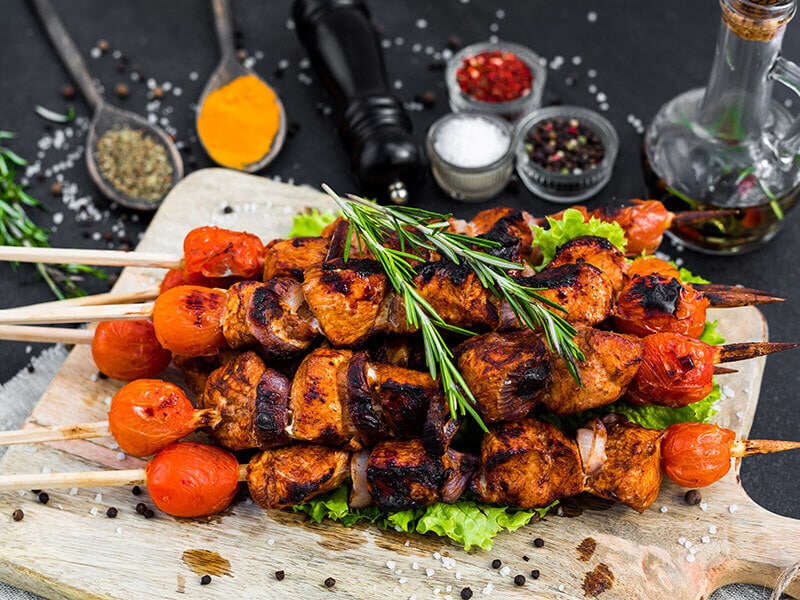 To be honest, there are more than fifteen other types of kebab or grilled meat skewers, but I think seekh kebab is worth trying first. This is also a widely beloved dish in Bangladesh and many other countries due to its irresistible flavors and tender, yet juicy texture.
The meat will be mixed with various spices, put on the skewers, and grilled on charcoal or a pan. You can be amazed at how juicy, flavorful, and delightful the chicken meat will be if it is the first time you give it a try.
Believe me; once you start with the first one, you will crave the next. The dish will taste even better if you enjoy it with a glass of classic Indian cocktail. Are you ready to try it as soon as possible?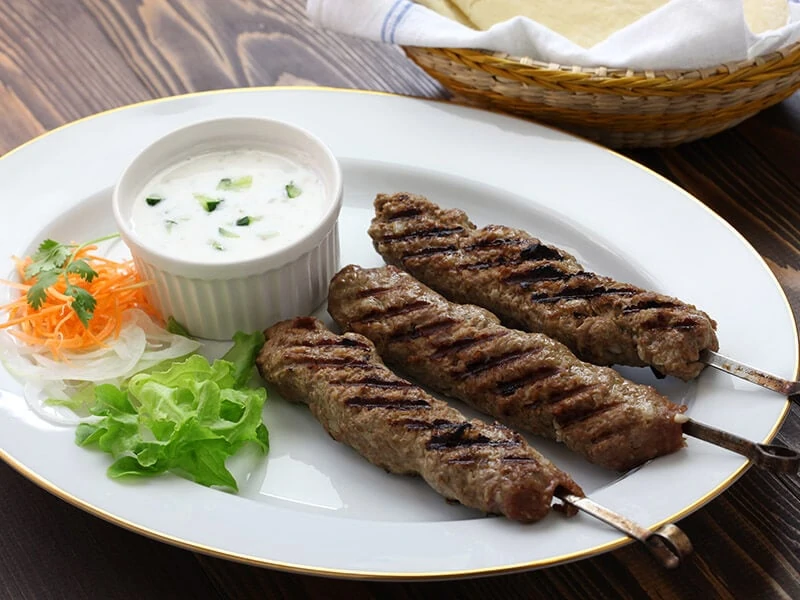 How about these lamb kebabs? The idea might be the same since both chicken seekh and lamb kebab are made of minced or ground meat mixed with spices.
The yogurt marinade will allow you to enjoy the tender part of the meat while still preserving the distinctive grassy and robust lamb flavors. Remember to serve the food with fresh herbs and naan to enhance the refreshing feel and balance the whole experience.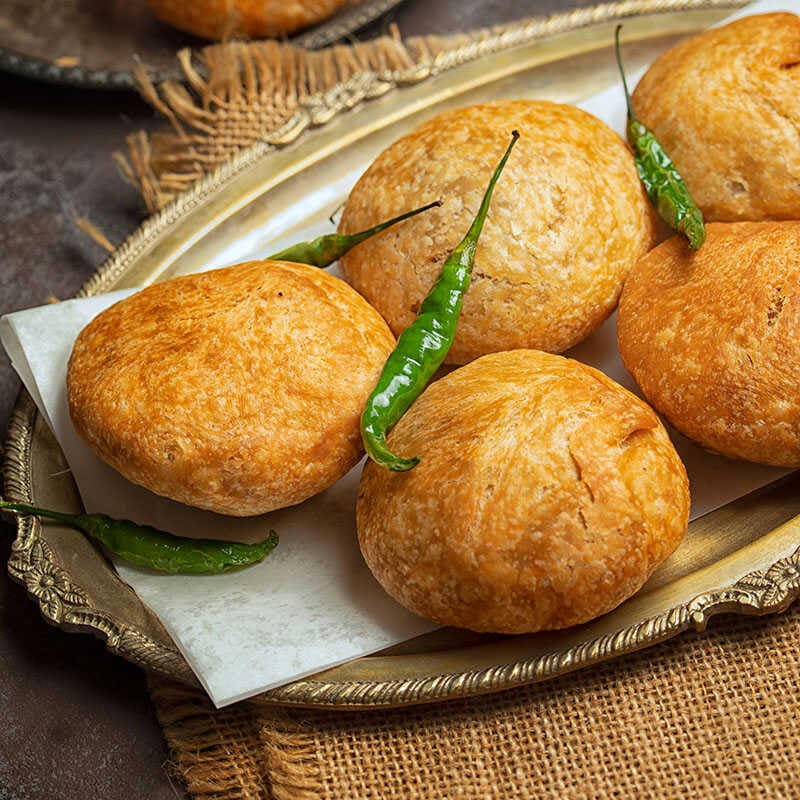 Kachori is a well-loved Indian snack. Also known as kachauri or kachodi, this tasty treat's main ingredients are gram flour, ghee, and stuffing. The stuffing's components vary, mostly including spiced mung dal (mung bean) or minced meat.
Kachori is a deep-fried snack, hence having a crunchy exterior and soft interior. There are various kachori varieties with certain differences, depending on where they are made. One of the most common versions is Khasta Kachori, containing spicy moong dal stuffing.
But overall, this treat can be a delightful food anytime, from a breakfast item to an evening snack. Some people even serve them as an appetizer during parties and gatherings.
Locals often serve kachoris with a variety of chutneys, such as mint chutney, tamarind chutney, and green chili chutney. Some people also enjoy them with a cup of hot chai tea or a refreshing glass of lassi.
Healthy Indian Delicacies You Should Take A Note
If you are not a fan of spicy or oily foods, the dishes in this category are for you. They will mainly be vegetables or healthier ingredients that offer you various health benefits.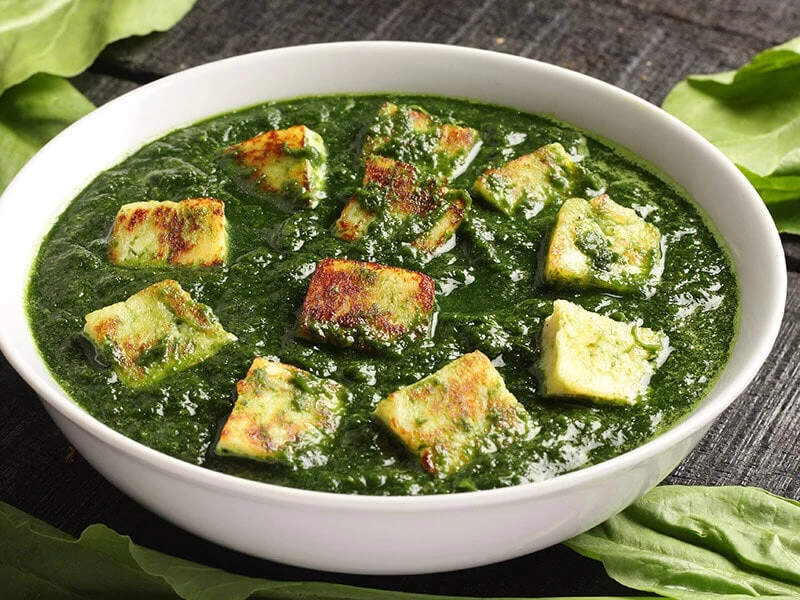 It looks like a bowl of green soup (and it's genuinely packed with spinach). This dish originates from North India and has become popular thanks to its light, slightly fatty, and smooth taste.
This food's ingredients include spinach, Indian cheese, and a few signature spices. This delicacy will be a healthy dish that you should choose when finding an Indian inspiration for your daily meal.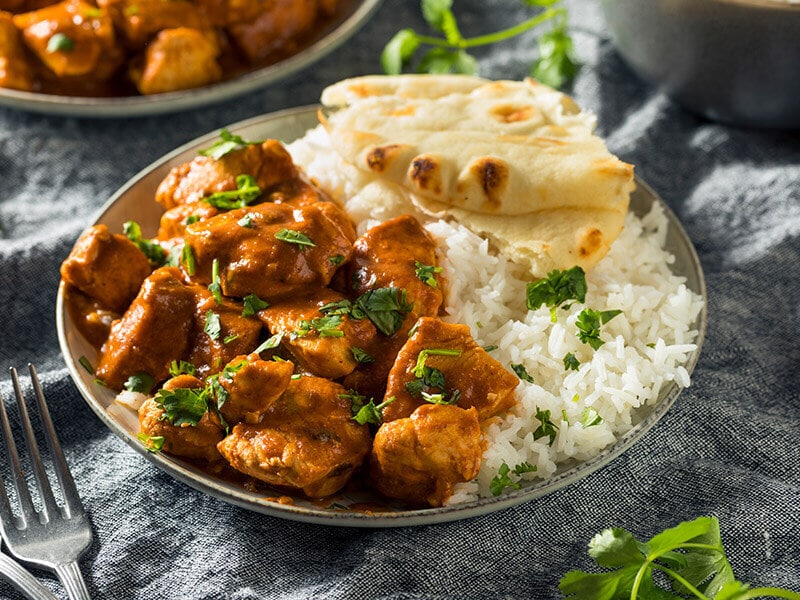 Tandoori chicken appears in Indian food culture and other cultures around. Thanks to its relatively simple seasoning and direct cooking in an oven of the same name, this chicken dish is loved for its rustic taste.
Indians often prepare this chicken dish as the main dish in their daily dinner or on special occasions.
Today, thanks to the popularity of Indian cuisine, you can find tandoori chicken all over the world. There are many ways to eat this chicken; you can eat it with naan or make it into butter chicken.
This is a detailed review for you about this fascinating tandoori chicken you should see.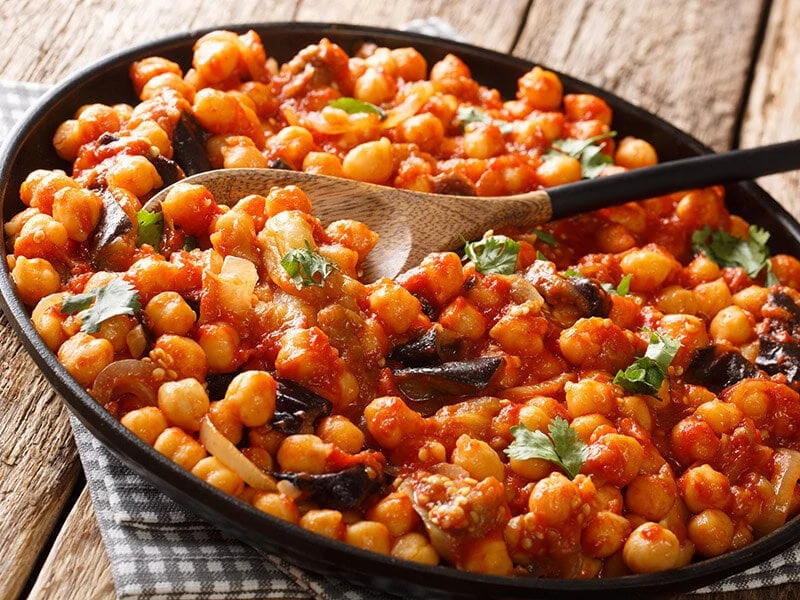 If you are a vegan or are interested in vegan cuisine, you should definitely opt for these Indian vegan dishes. My first recommendation for you here is this chickpea curry cooked with the masala spices mix.
As a vegan, it can be challenging to find protein-rich options, but chickpeas are an excellent source of plant-based protein.
The texture of chickpea will be beany, chewy, and quite bland, so adding this hot and flavorful masala mix into your pot will make it tastier. Serving it with a hot plate of rice, and you will never regret doing that.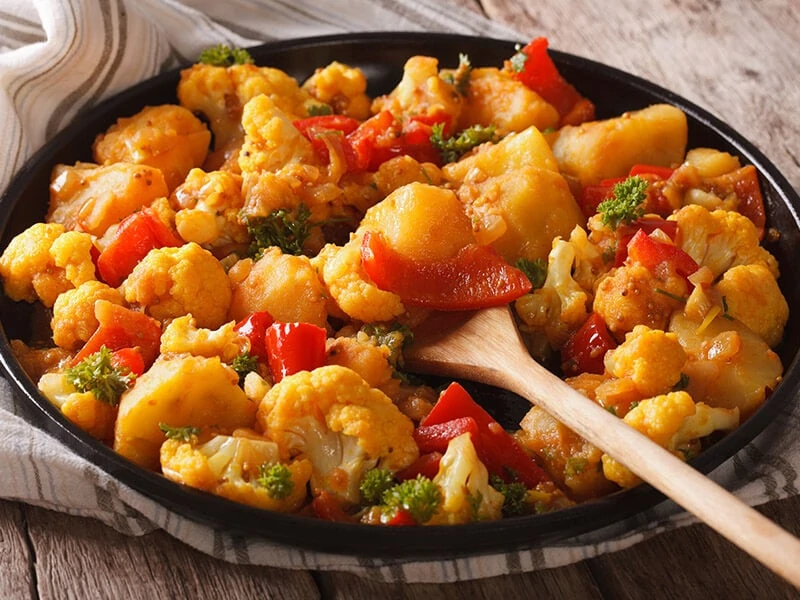 Noting that the main components were merely potatoes and broccoli, this dish left a positive lasting impression on me when I first tried it.
Like other traditional Indian dishes, this recipe will involve the addition of cloves, cardamom, and other spices, so that it lends a lovely pungency and fragrance.
They also add a pinch of turmeric to give it a signature bright yellow tint and provide digestive benefits. I recommend serving it with naan or white rice to balance out the flavors.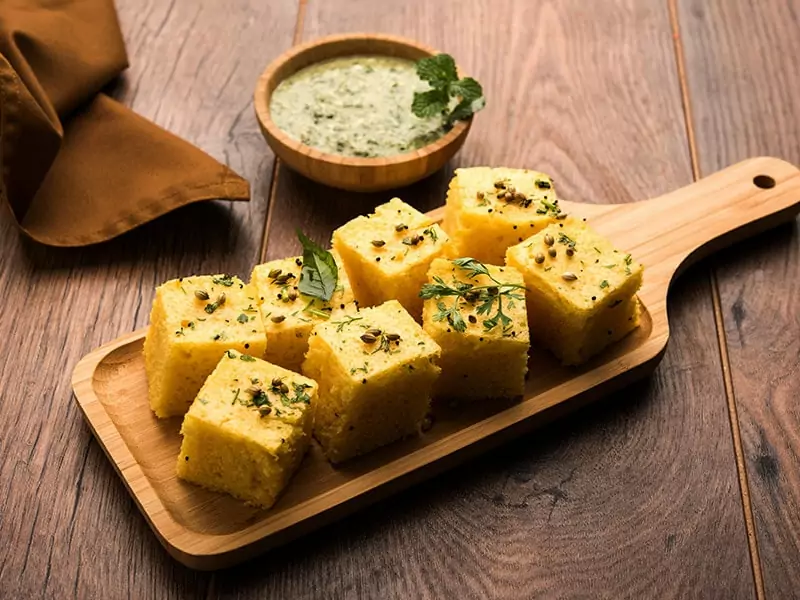 Obviously, chickpea is a kind of peas/legume that is frequently used in Indian culinary culture since it provides many health benefits, including aiding weight loss, reducing bad cholesterol, and lowering blood pressure.
So here is another chickpea-based snack – Chana Dal Dhokla. The batter made from split chickpeas is flavored with other ingredients, such as ginger and lemon juice, and then steamed until it becomes fluffy and light.
So if you are a snack lover and always crave a mildly sweet and tangy treat, you should consider this enticing dish.
To make the best dal dhokla from the first time, let's take a look at this!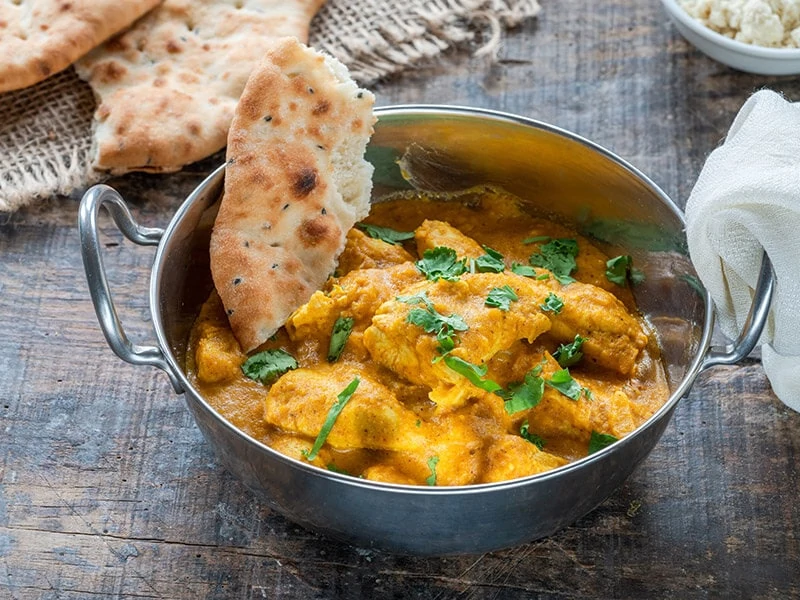 Compared to most other Indian curries, chicken korma provides a much milder taste and is not too hot (making it easier to eat by many people). The sauce of this food is mainly made of yogurt, broth, and some spices like cumin, Indian bay leaves, or coconut.
One exciting fact about this dish is that it is highly prevalent in England's Indian stalls/restaurants because English people love these subtle tastes.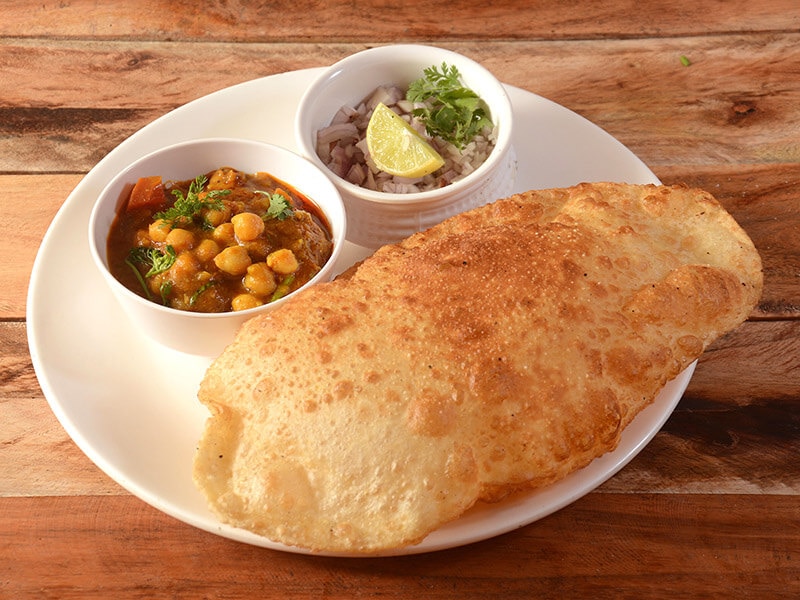 This will be the first curry on this list, and I want it to be a dish that looks both light and healthy. Therefore, chole bhature made from chickpeas with various spices (black cardamom, cumin, kashuri methi, and so on) is a perfect choice.
It's a curry that's not too complicated to prepare and usually served with deep-fried crispy puff pastry. In India, this dish is often served during holidays or special occasions, and you should definitely try to eat with bare hands when it comes to this food.
The straightforward instruction to make a stunning pot of chole bhature.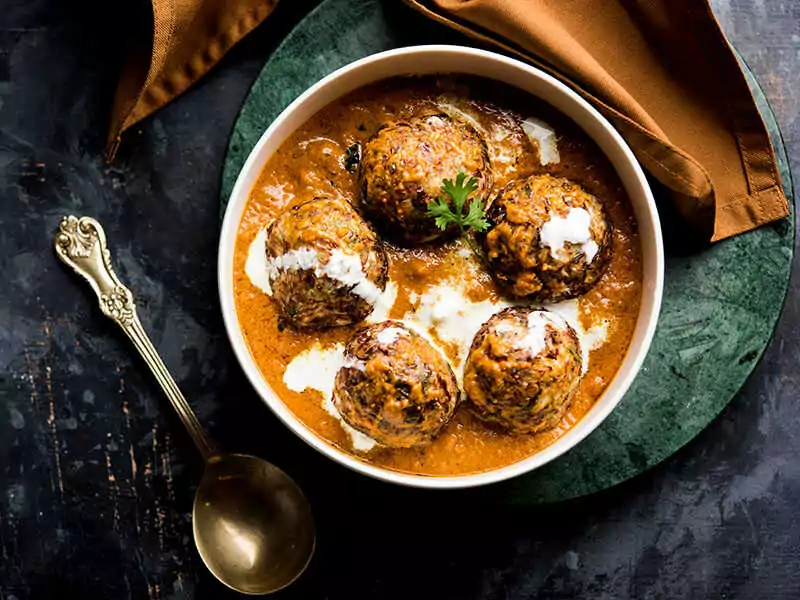 Indian Malai Kofta is a popular vegetarian delight that originated in North India, specifically in Mughlai cuisine. It consists of fried dumplings made from mashed potatoes, paneer, and various spices, served in a rich and creamy tomato-based curry sauce.
Malai Kofta is a vegetarian dish, but it is not vegan, as it contains dairy products such as paneer and cream. However, it can be made vegan by substituting this Indian cheese and cream with tofu and coconut cream.
There are several variations of Malai Kofta, based on the region and the recipe. Some versions use a filling of mashed peas, while others use grated vegetables such as carrots or zucchini. Some recipes call for the dumplings to be stuffed with raisins or nuts, while others keep them plain.
Malai Kofta is usually served with rice, naan bread, or roti, and sometimes with a side of raita (a yogurt-based condiment) or chutney.
Special Indian Regional Signature Dishes
If you are wondering how different the culinary cultures are between smaller regions in India, you should find your own answer in these recommended foods below.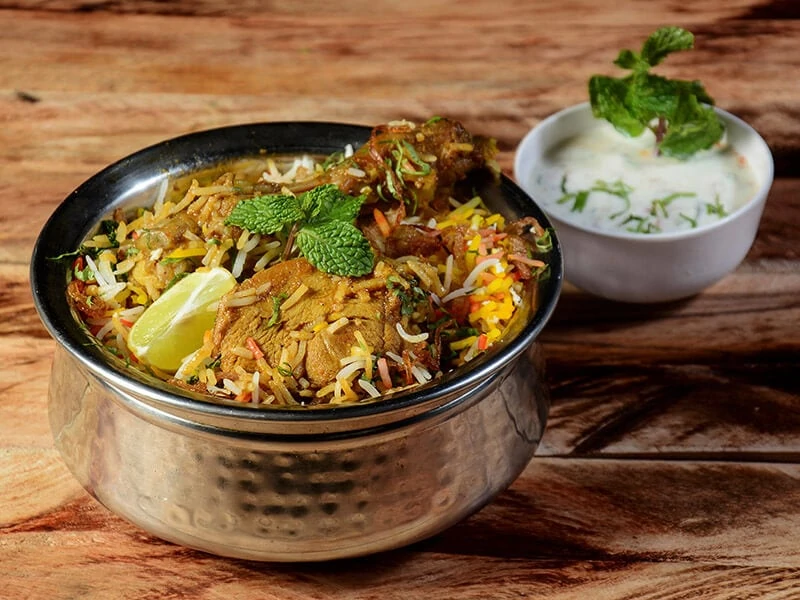 Hyderabadi biryani is a variant of the famous biryani from Nizam of Hyderabad. There are two types of this dish: Kachchi (raw) and the pakki (cooked) biryani, and they all require the hoy spices like the mentioned chicken biryani.
Both of these types of Hyderabadi biryani use goat meat as the primary protein (scarcely chicken and beef), and both of them need to be cooked meticulously. Anything that requires effort to accomplish will be worth waiting for.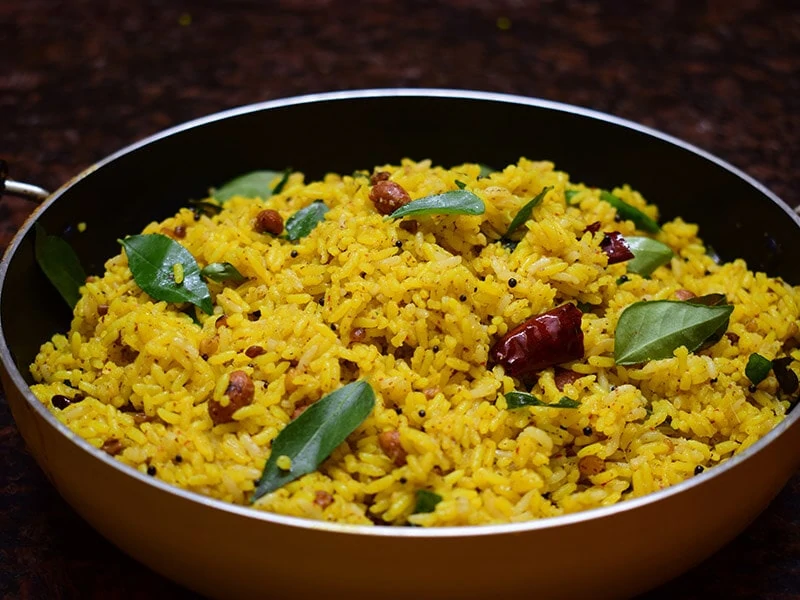 This South India-style rice dish is usually flavored with various Indian signature blended spices like oil-cooked jaggery, fried curry leaves, lentils, and peanuts. Therefore, the dish will provide a tempting taste and also be able to be preserved longer.
This dish is also closely associated with South Indian religious culture, where returnees/travelers will often bring it on a long journey.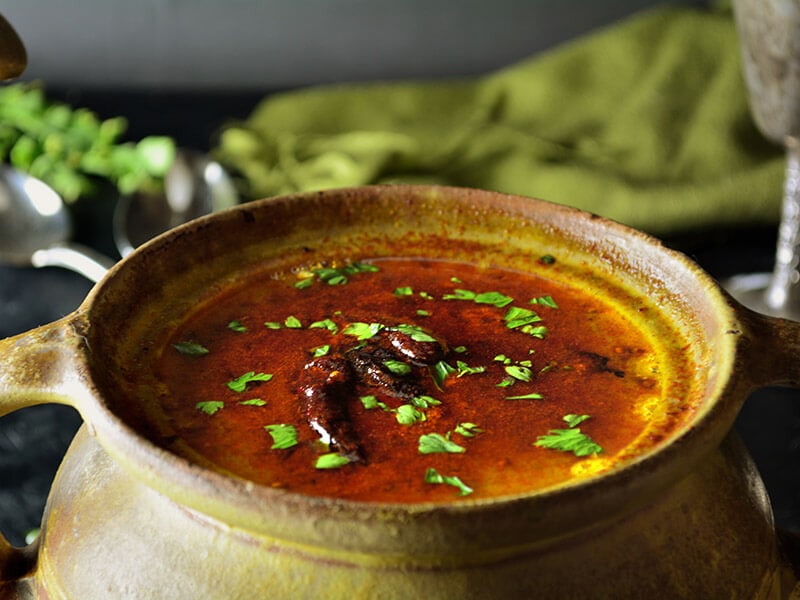 Rasam is a famous dish in South Indian culinary cultures, and tomato rasam is one of the 45 most prevalent types. Tomato rasam is loved thanks to the enjoyable flavors ranging from tangy, sour, robust to hearty and crisp.
The food will be best to pair with rice and can be served daily since it takes almost no time to prepare. Considered one of the best starters from Asian cuisine, Indian tomato soup is a simple dish that will take you by surprise due to its fascinating flavor complexity.
Easy-peasy method to create an authentic South India tomato rasam.
33. Uthappam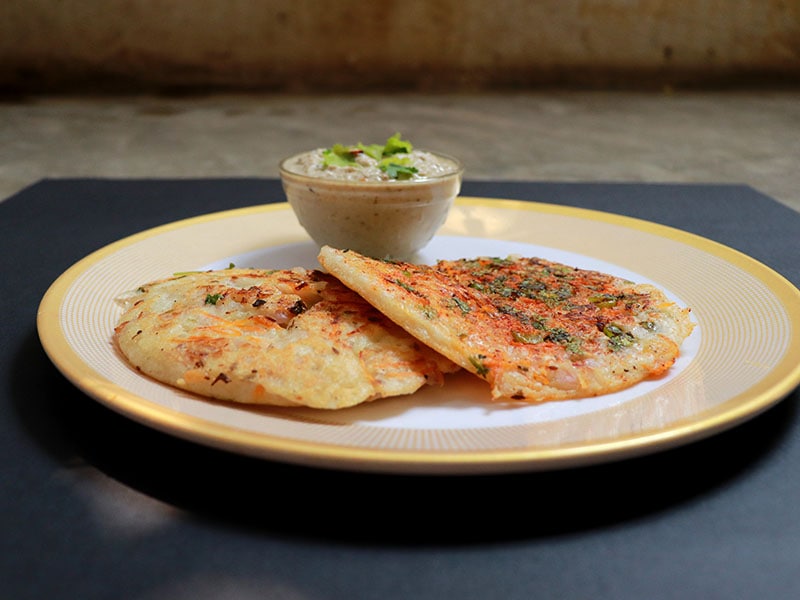 Uthappam is a savory pancake that is popular in South India. It is similar to a dosa in terms of preparation, but the texture and toppings differ.
The main ingredients for Uthappam are rice and urad dal (split black lentils), which are soaked, ground, and fermented overnight to make a batter. The topping is diverse, such as chopped onions, tomatoes, chilies, and coriander leaves are added on top.
In fact, there are many types of Uthappam, including onion Uthappam, tomato Uthappam, masala Uthappam, cheese Uthappam, etc. The toppings can be customized according to personal preference.
The flavor of Uthappam is slightly sour due to the fermentation of the batter, and the toppings add a savory, slightly spicy taste.
It is traditionally served with sambar (which I will discuss later) and coconut chutney. It can be eaten with your hands, tearing off small pieces and dipping them into the accompaniments.
Compared to dosa, Uthappam is thicker, softer, and fluffier, with toppings cooked directly into the batter. Dosa, on the other hand, is thin and crispy that resembles a crepe.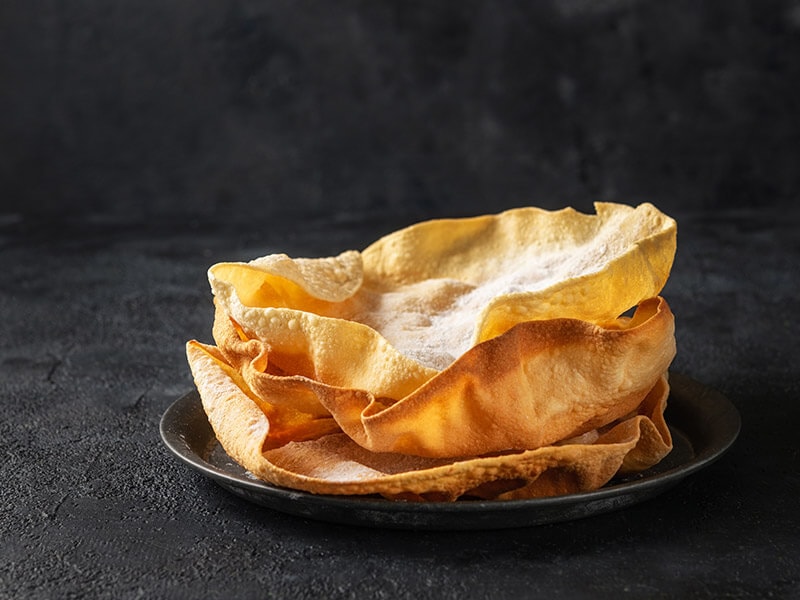 They even call this food "rice paper" in some places, but it is not made of rice. These crispy, thin flatbreads consist of plenty of legume/beans' powders and spices like cumin, garlic, and black pepper. Some variants are made of potatoes.
To cut down on the oiliness in daily meals, this dish is frequently served with Indian dipping sauces like chutney or a few fresh vegetables. If you have the opportunity, you should also try this food in a variety of various tastes and variants.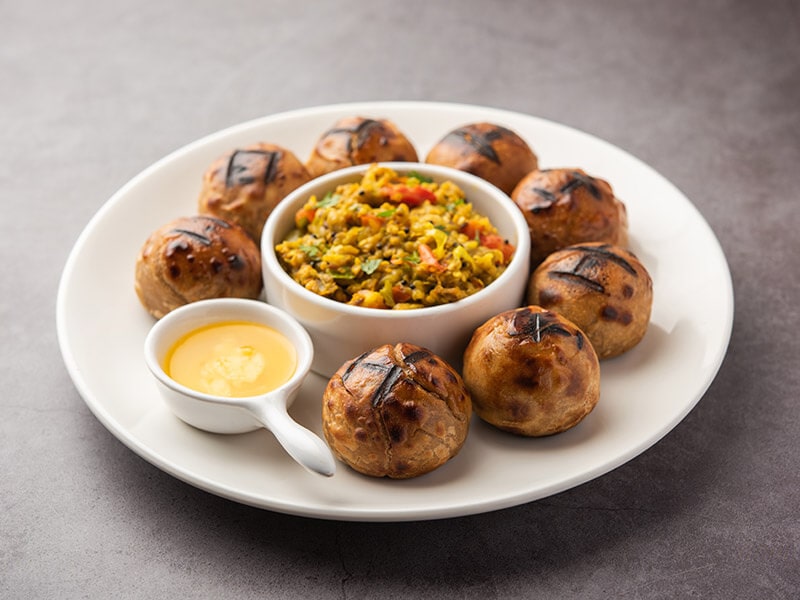 The story behind this dish is also quite long, so I will try to put it simpler. Litti chokha is a dish that appeared from the 1770s to 1780s in Nepal Terai, and the people who brought this dish were poor farmers from Bihari.
That is why this dish has a somewhat rustic appearance and taste.
Litti chokha will include a baked round cake made of whole wheat flour and toppings such as grilled tomatoes, grilled eggplant, and boiled potatoes. This will be a rustic dish worth trying to experience Indian culture.
A quick guide to briefly show you how this litti chokha is made.
36. Goan Fish Curry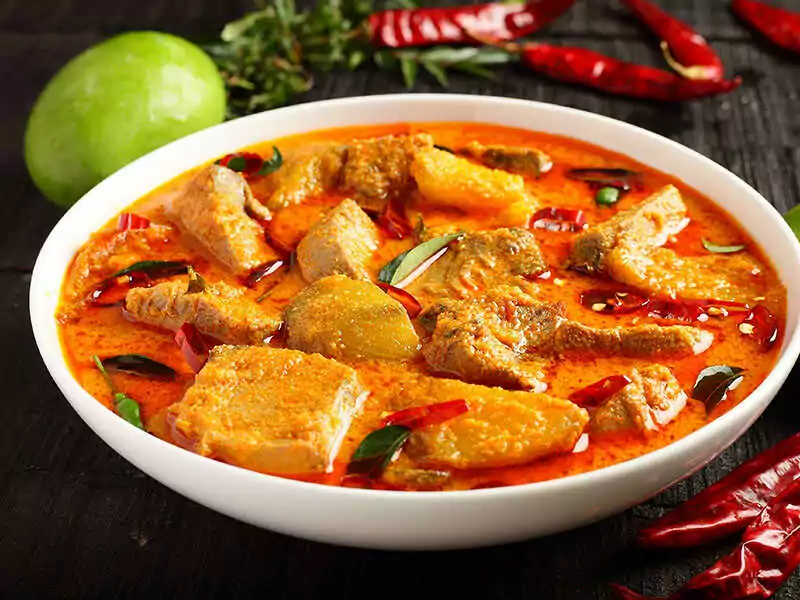 This is a mouth-watering delicacy that originates from Goa in India. And as the coastal state, the main component in this treat is fresh fish, making it a favorite among seafood lovers.
Other essential ingredients in this curry are coconut milk, tamarind, chili peppers, coriander, and cumin. The combination of these ingredients creates a tangy and spicy flavor that perfectly complements the tender and flaky texture of the fish.
Locals often enjoy this dish during lunch or dinner. It's a perfect meal to enjoy with a side of steamed rice or flatbread. It's also common to garnish the curry with fresh cilantro or green chilies to enhance the flavor even more.
Quick fact: India is the third largest fish manufacturer, occupying 8% of worldwide's fish production.
37. Khaman Dhokla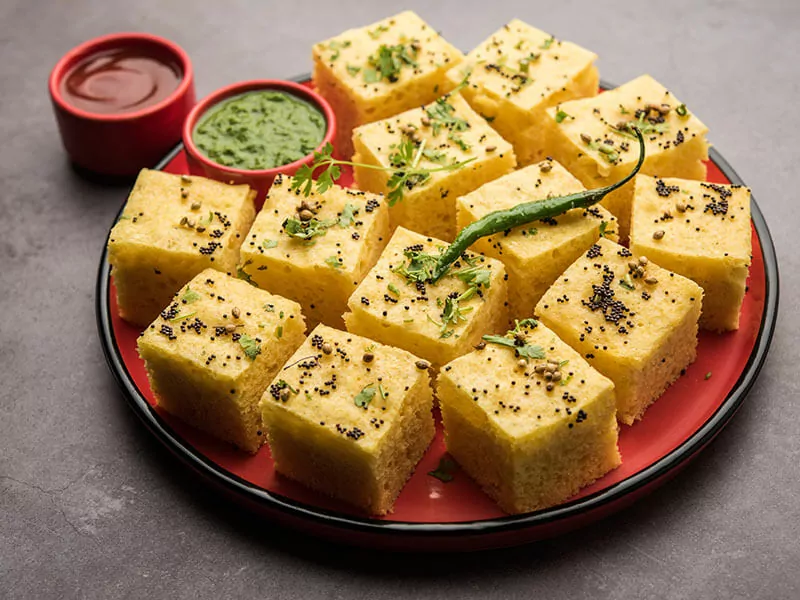 Khaman Dhokla is a traditional food from Gujarat. This popular snack is made from a batter of fermented gram flour (besan), which is then steamed to create a spongy and fluffy dish.
Besides gram flour, other main ingredients in Khaman Dhokla include lemon juice, green chilies, ginger, sugar, and a variety of other spices. These ingredients give this dish a tangy, sweet, and spicy flavor.
To serve Khaman Dhokla, you can cut it into small bite-sized pieces and garnish it with a sprinkling of chopped cilantro or grated coconut. You can also serve it with green chutney or sweet tamarind chutney.
Moreover, this dish can be enjoyed on its own or as an accompaniment to your favorite beverage, such as tea or coffee.
38. Sambar (Lentil-Based Stew)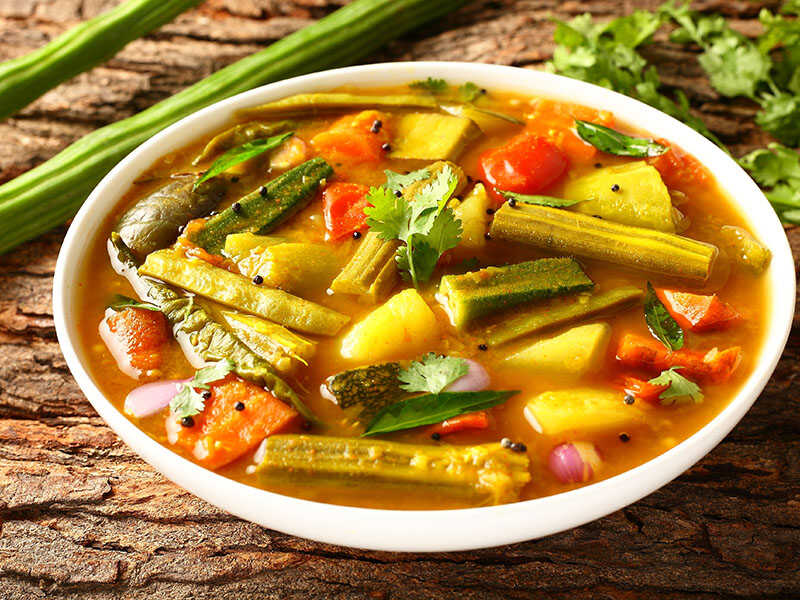 Speaking of Tamil cuisine in India, Sambar is a lentil-based stew that you should not overlook.
Lentils, mixed vegetables, and spices like turmeric, cumin, coriander, and mustard seeds are some key components to making sambar. The traditional vegetables used in sambar are tomatoes, eggplant, drumstick, carrots, etc.
This combination creates a flavorful, aromatic, and healthy stew. The flavor of sambar is sweet and sour, with a spicy note. It has a smooth, creamy texture that is comforting and satisfying in every bite.
Sambar is typically served alongside steamed rice, dosa, or idli. But it can also be enjoyed as a soup on its own.
India's Sweet Treats For Your Sweet Tooth
The last section is about some sweet delicacies in India that you need to try once while visiting this country.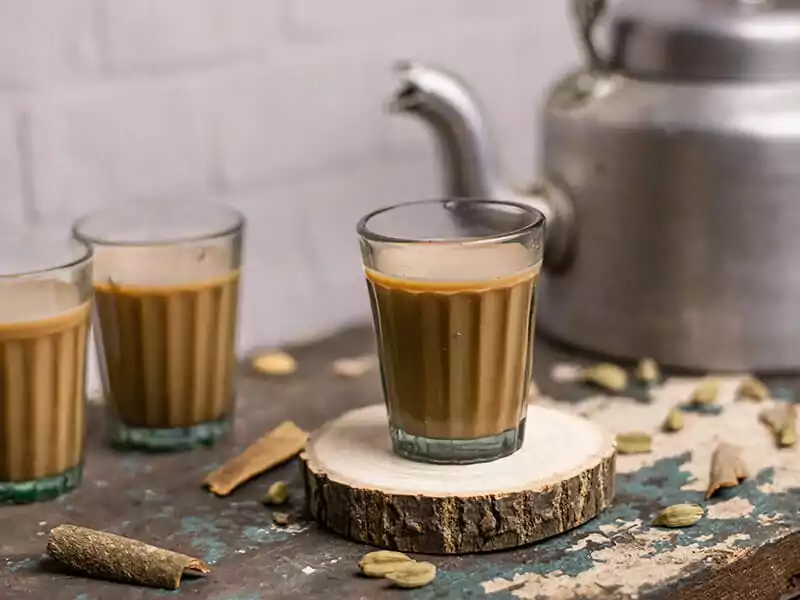 Besides the main ingredients, which are plain milk, masala chai tea has a variety of additional components like black tea, ginger, and a range of masala spices, including cloves, cinnamon, and cardamom.
In some variations, they will add some anise and coriander seeds. The above mixture of spices will help improve your immune system and warm you up. If you have a chance to go to India, you will find many small food stalls selling it on the street.
You can see this video to know more: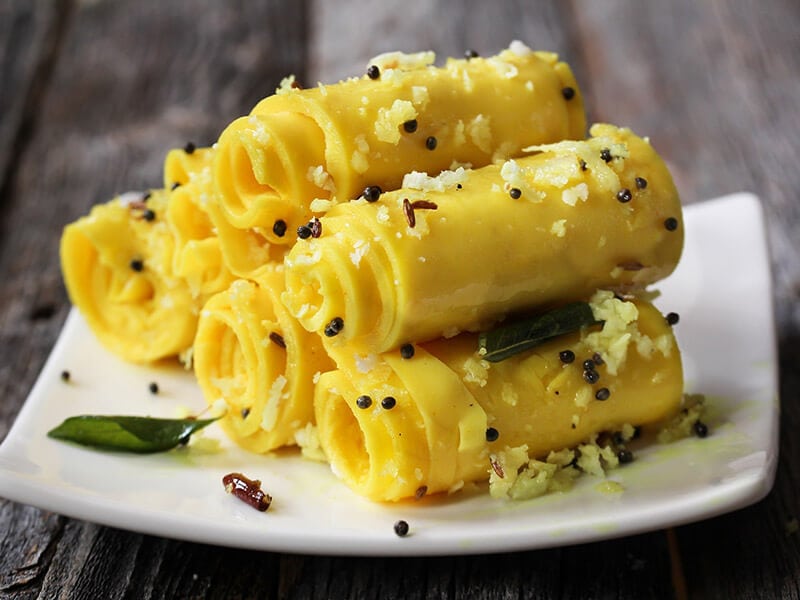 This famous Maharashtrian delicacy can also be called patuli, suralichi, or dahivadi. When flattened, it looks a bit like fresh pasta (but made with chickpea flour or chickpea flour's best alternatives). And when rolled up, they become sweet treats with bright yellow hue.
This dish is often sold on the street as snacks and has specific flavors such as asafoetida, sesame, ginger, or coconut. Believe me, once you put them in your mouth, it will immediately melt with pleasure.
41. Jalebi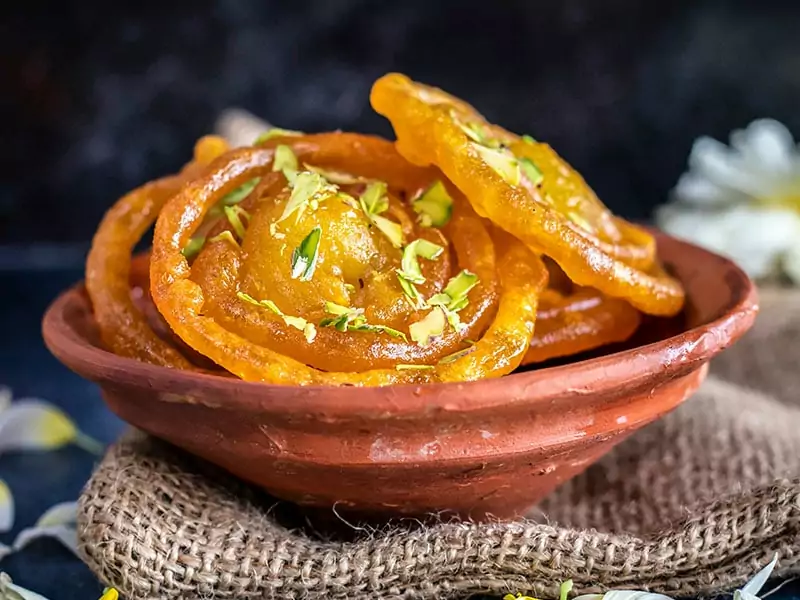 When it comes to authentic Indian sweet treats, jalebi has surely won the hearts of many with its unique taste and texture. It originated in the Indian subcontinent and is now enjoyed in many other countries. It is also known by various other names, such as Jilapi, Zulbia, and Jeri.
Jalebi is a deep-fried pastry that is made from a fermented batter of all-purpose flour, gram flour, lemon juice, and yogurt, which is then fried and soaked in sugar syrup.
Jalebi has a unique spiral shape and a crispy texture. People often savor it as a dessert after a meal or as a snack with tea or coffee. In some Indian parts, locals also enjoy it as a breakfast.
If you have a chance to visit this country, you can buy them in mithai shops (aka sweet shops) or from street vendors.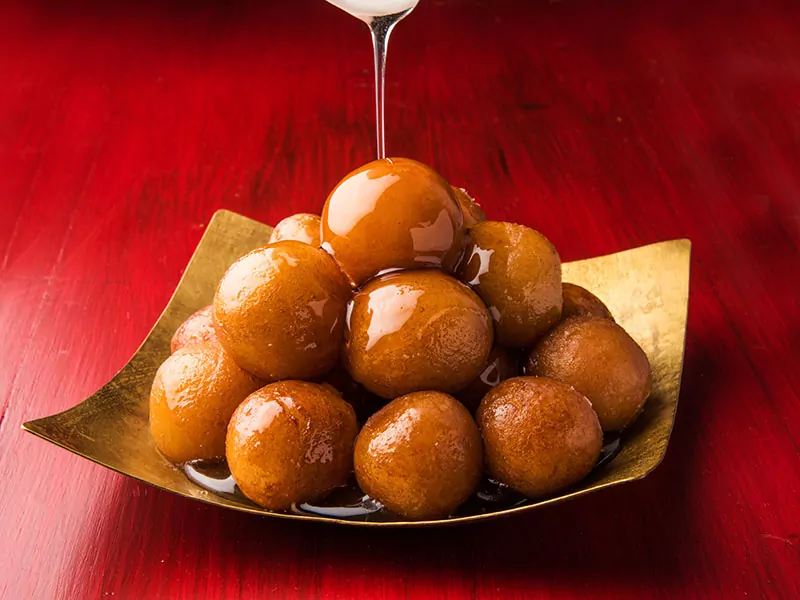 Gulab jamun is another Indian dessert that comes in an attractive golden brown color.
The main ingredients in gulab jamun are khoya (milk solids), flour, and sugar. Some recipes also include cardamom powder, saffron, and rose water to add more flavor. For the best flavor, ghee or clarified butter is the best option for frying gulab jamun.
The flavor of this ball-shaped dessert is predominantly sweet. The texture of the dessert is soft, with a slightly sticky outer layer due to the syrup it is soaked in. It is often served warm, which increases its sweet aroma.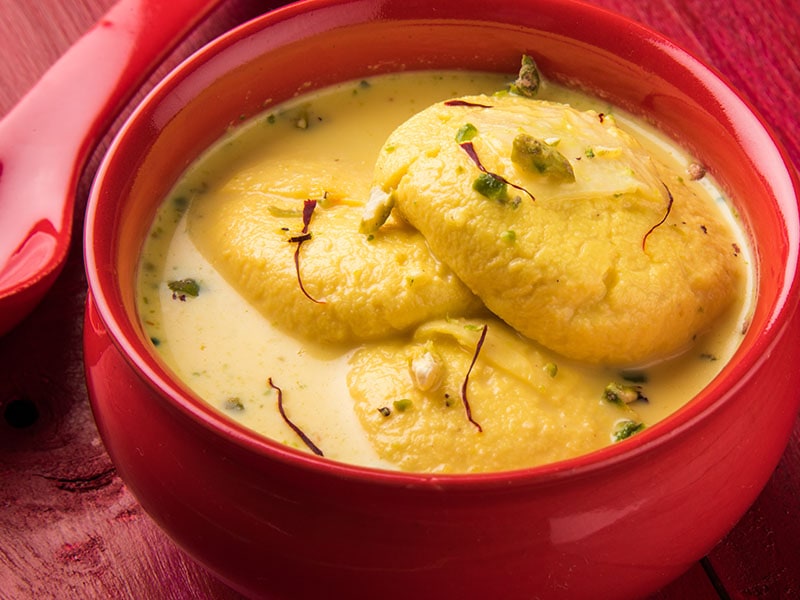 Craving something creamy for dessert? Ras Malai is your best choice. The origin of Ras Malai is still unclear, but it is believed to hail from the eastern part of India.
Ras Malai contains chhena cheese (another Indian-style cheese), malai (clotted cream), and cardamom for flavoring.
At first look, Ras Malai is a ball-shaped dessert bathed in a creamy sauce. Once the balls are cooked, they are cooled and then soaked in sweetened milky syrup.
Quick fact: This dessert name stems from two Hindi words, where "ras" means "juice" and "malai" means "cream".
FAQs
Lastly, it is essential to get more information about Indian culinary cultures through these short questions and answers.
Time To Enjoy The Cuisine Of India
Among all the dishes I recommend above, which one do you feel you like and want to try the most? As I am not sure which will suit your preferences, I have tried to recommend as many dishes as possible.
Hoping that you will have an unforgettable experience with these delicious Indian dishes. If you are satisfied and feel my article is interesting and valuable, please share it with your loved ones. The cornerstone of happiness is good food.