Maharashtrian foods left unforgettable impressions in my mind when I enjoyed them on a recent trip to India. So I am writing this post to introduce outstanding dishes and my experiences to help you understand more about Maharashtrian cuisine.
The fantastic flavor of the Maharashtrian foods in this article is worth trying if you have an opportunity to travel to this amazing country with a long-standing culinary practice. Wait no more, let's begin your journey to explore the taste of Maharashtrian delights.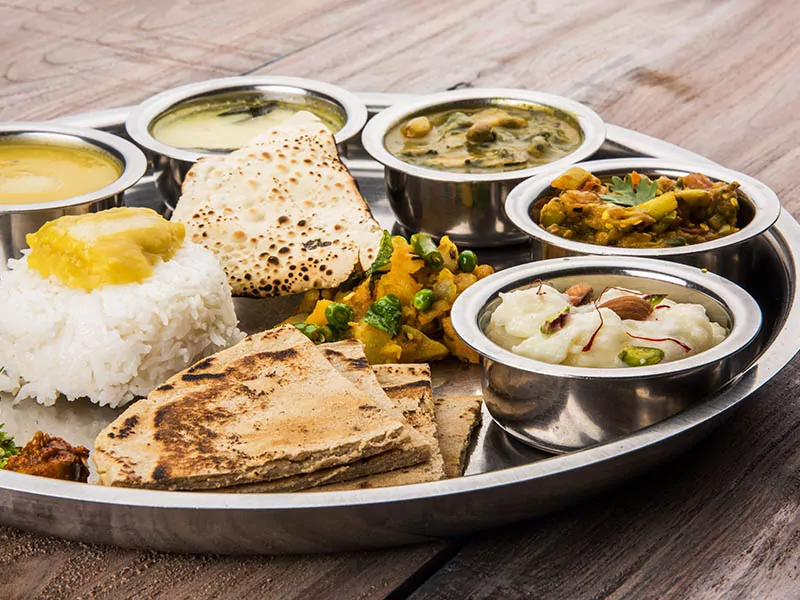 What is Maharashtrian Cuisine?
Maharashtrian cuisine is the culinary culture of Maharashtra, an Indian state located in the western region of the country. 
Their staple meals are generally Lacto-vegetarian that emphasize the use of grains, legumes, and vegetables. Moreover, the cuisine is heavily influenced by the state's coastal location and the use of local ingredients.
Still, some Maharashtrian dishes include meat. And chicken and goat are the most common ones.
As they also use many kinds of spices in their dishes, Maharashtrian food might range from mildly spicy to spicy. You can find a variety of chutneys and pickles paired with dishes to enhance the overall flavor.
Besides the spicy flavor, many delights in this cuisine also have a tangy taste due to the appearance of tamarind, kokum, and other souring agents.
Maharashtrian Savory Foods
These dishes in Maharashtrian meals exhibit a delicate balance between spicy, tangy, and earthy flavors, which are brought to life by the use of locally sourced ingredients.
1. Misal Pav – Moth Bean Curry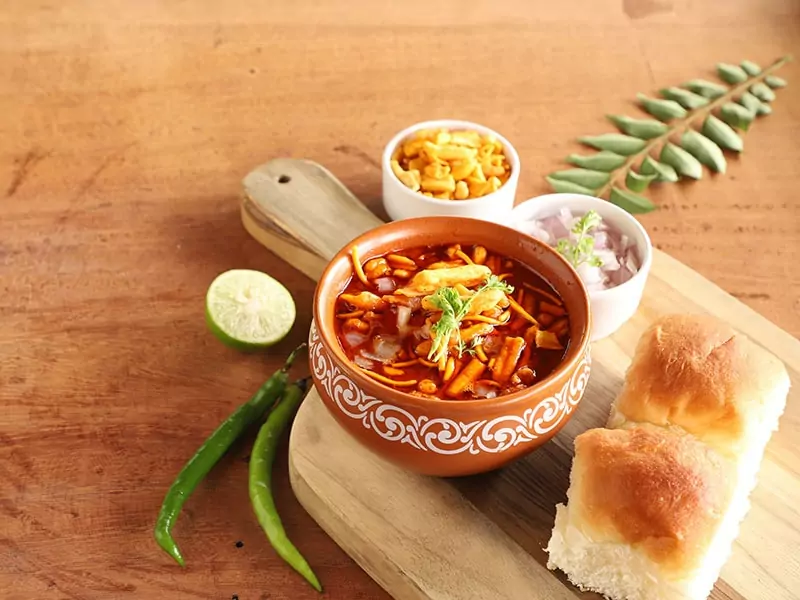 Misal Pav is an ideal choice for a Maharashtrian breakfast food. This food has 2 main parts, including spicy curry made of moth beans (misal) and an Indian bread kind (pav), topped with  farsan (a mix of fried savory snacks), chopped onions, lemon, and cilantro. 
Spicy and tangy are prominent flavors of this food. The Misal Pav version of Kolhapur will have an intense spicy taste. In addition, you can come across other variants like Pune Misal, Nashik Misal, Khandeshi Misal, and Ahmednagar Misal.
As Misal Pav is a wholesome and filling dish by itself, it doesn't require elaborate pairing. However, if you'd like to serve it as part of a hearty meal, you can consider pairing it with a refreshing drink like buttermilk (chaas).
Regarding its history, there are plenty of theories revolving around the origin of Misal Pav. Some people believe the dish came from Gujrat, while others claim it first appeared in the areas between Khandesh and Western Maharashtra.
This amazing delicacy also appeared with the title "The world's tastiest vegetarian food" at Foodiehub Awards when served at Aaswad restaurant in 2015 in London.
2. Pav Bhaji – Thick and Spicy Vegetable Curry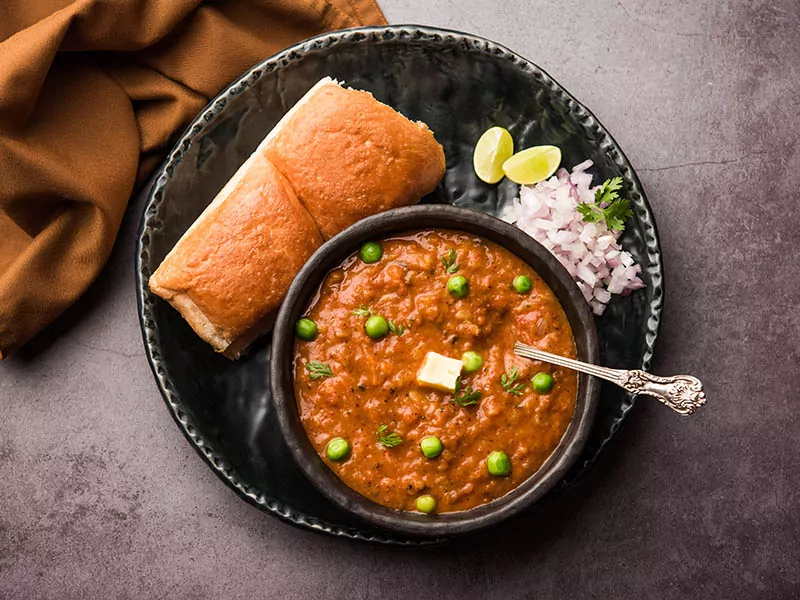 Pav Bhaji originated in the mid-19th century in Mumbai (then called Bombay) in the state of Maharashtra. It was created as a quick and affordable meal for textile mill workers, who needed a fast, filling, and nutritious meal during their short breaks.
Over time, pav bhaji became a popular street food and is now enjoyed all over India. Pav Bhaji is extremely popular as a street food in Maharashtra, particularly in Mumbai. You can find it at street stalls, small eateries, and even upscale restaurants. Maharashtrians also eat it as a snack for mid-day meals.
The main ingredients of pav bhaji are mixed vegetables (e.g., potatoes, tomatoes, peas, cauliflower, and bell peppers) and a blend of spices (including pav bhaji masala).
The vegetables are cooked and mashed together to create a thick, spicy curry with chunkiness from the vegetables. They are best enjoyed with pav bread.
3. Ragda Pattice – Mashed Potato Patties And Pea Curry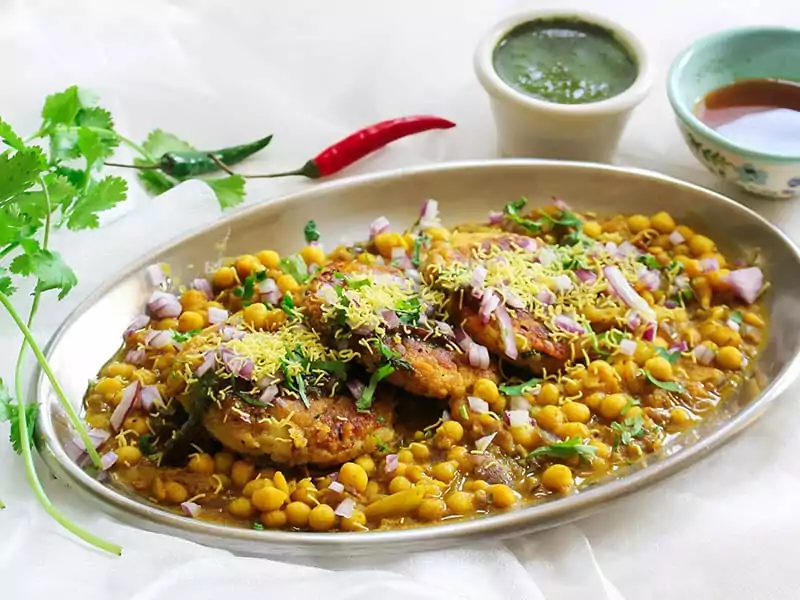 If you are walking on the streets in Maharashtra, you should find a chance to buy and enjoy Ragda Pattice. It is a typical representative of Indian street culinary culture. In addition, you can enjoy it at restaurants at any time of the day.
There are two main parts of this dish, including spicy gravy (Ragda) made from white peas, and patties (Pattice), which are potato patties.
The Ragda is made by cooking soaked and boiled white peas with spices like cumin, turmeric, and red chili powder. On the other hand, the pattices are prepared from mashed potatoes mixed with spices, shaped into round patties, and shallow-fried until golden and crispy.
The dish is usually garnished with chopped onions, cilantro, and sev (crunchy, fried gram flour noodles).
Ragda Pattice is somewhat similar to Chhole Tikki, a popular North Indian snack. However, please note that the curry in Chhole Tikki is made from chickpeas (chhole) with a thicker texture and more robust flavor, whereas the curry in Ragda Pattice is made from white peas and has a thinner consistency.
4. Bharli Vangi – Stuffed Eggplant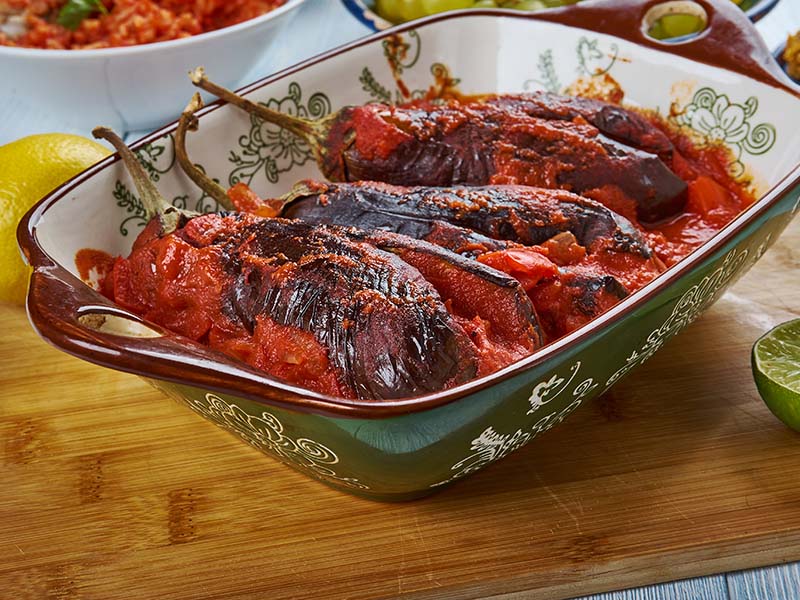 The list of Maharashtrian lunch food is incomplete without the appearance of Bharli Vangi. Bharli Vangi, which translates to "stuffed eggplants," is an excellent vegetarian option that uses fresh, regional ingredients.
Since eggplants are native to India and South Asian countries, it is no surprise that Bharli Vangi has been a local staple for generations. This dish is commonly prepared in most households across Maharashtra for daily meals and is also a popular choice at festivals and weddings.
Chefs carefully stuff the small brinjals (eggplants) with a mixture of grated coconut, jaggery, and onions, creating a delightful balance of sweet and savory flavors.
To enhance the dish's taste, chefs cook stuffed eggplants with aromatic spices, like curry leaves, chili peppers, mustard seeds, and cumin. Plus, the addition of Goda masala, a traditional Maharashtrian spice blend, lends a distinct flavor to the dish.
For the best eating experience, Bharli Vangi should be served hot, accompanied by steamed rice, chapatis, or Boondi Raita.
5. Sabudana Khichdi – Tapioca Pearls-based Dish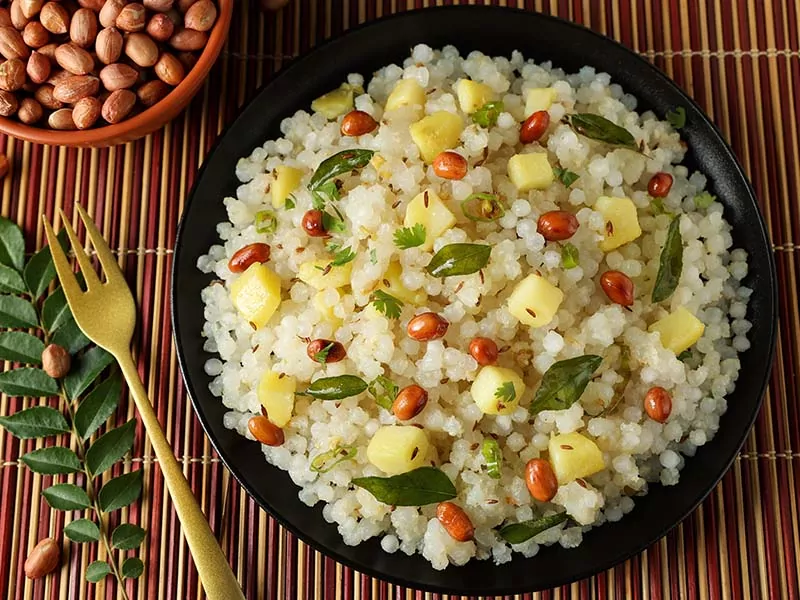 The primary ingredients of Sabudana Khichdi include soaked sabudana (tapioca pearls), roasted peanuts, cumin seeds, green chilies, potatoes, and curry leaves. Additional garnishing elements, such as grated coconut and lemon juice, may also be used to enhance the flavor.
Sabudana Khichdi offers a mildly spiced flavor profile with a hint of nuttiness from the peanuts. Its texture is unique, with the soft and chewy tapioca pearls contrasting with the crispiness of the potatoes and peanuts.
Sabudana Khichdi is a popular choice for those who follow a fasting/vrat season during Hindu religious occasions like Shivratri, Navratri, or Ekadashi. Besides Maharashtra, Sabudana Khichdi is prepared in several other Indian states, including Karnataka, Uttar Pradesh, Madhya Pradesh, Rajasthan, and Gujarat.
While the precise origins of the dish are uncertain, it is known that King Ayilyam Thirunal Rama Varma of Travancore in the 19th century promoted the cultivation of tapioca (sabudana) as a solution to food scarcity during famines.
6. Vada Pav – Potato Sliders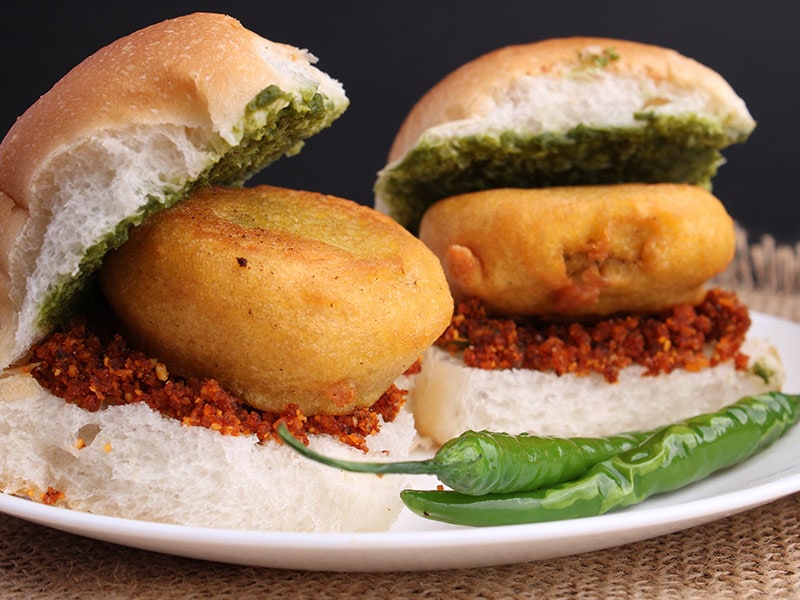 Vada Pav or Bombay Burger is a favorite plant-based food among locals and tourists. This delicious dish is the pride of Maharashtrian cuisine.
This delectable street food consists of a deep-fried potato dumpling, nestled within a soft bread bun. The dish is typically served with an array of chutneys and a side of chili pepper, adding a burst of flavor to every bite.
It is a famous snack on many streets in Maharashtra and India in general. Vada Pav's origins can be traced back to a Mumbaikar named Ashok Vaidya. In 1966, Vaidya is said to have created the first Vada Pav when he opened his stall, catering to the appetites of textile workers who appreciated the snack's affordability and satisfying taste.
Khadki Vada Pav, located in Kalyan, is considered the first kiosk to sell Vada Pav. Established in the late 1960s under the Vaze family's brand, this kiosk has become an enduring symbol of Vada Pav's popularity.
Another interesting fact about this affordable delicacy is that August 23rd is selected as World Vada Pav Day.
7. Rassa Bhaji – Vegetable Curry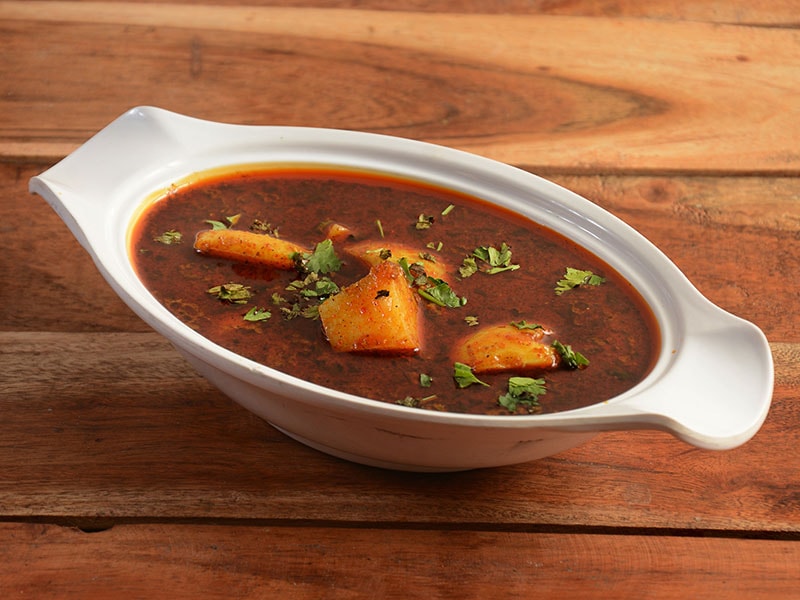 Rassa Bhaji is another exquisite Indian curry that plays an integral part of the diverse culinary landscape of India.
It is a delicious Maharashtrian dinner food from Kolhapur that is well-liked by locals and tourists alike. The dish can be prepared using various proteins, such as mutton/lamb, fish, chicken, or seafood.
The name "Rassa Bhaji" translates to "watery curry," reflecting its thin consistency. It has many different variants with different flavors.
Matnacha Rassa, for instance, is a fiery mutton-based curry, celebrated for its bold, spicy taste. In contrast, Pandhra Rassa is a milder white curry, with yogurt as a key ingredient, providing a tangy, creamy flavor. Another popular version, Varhadi Rassa, features chicken and a spice combination.
8. Pithla Bhakri – Maharashtrian Gram Flour Porridge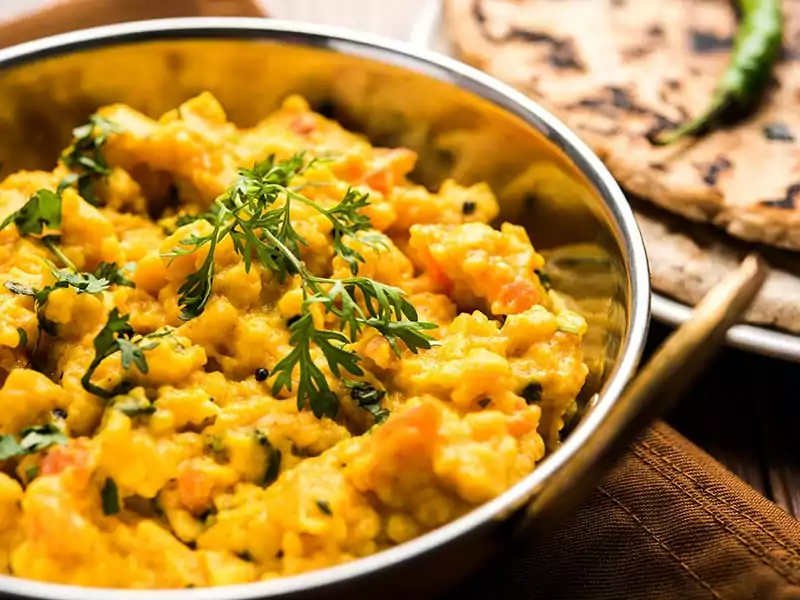 Pithla Bhakri (aka Jhunka Bhakri) is the essence of Maharashtrian cuisine. People in this state also call it "Farmer's meal" because it is an incredibly fulfilling and nourishing dish after a long and tiring working day in the fields.
It is a kind of creamy porridge made from gram flour (besan). In the Vidarbha region of Maharashtra, it is also called Chun.
Maharashtrians often eat watery, liquid-like versions with rice, while semi-liquid and dried versions are combined with roti or bhakri (a round and flat unleavened bread).
This food is an abundant source of nutrients. It can provide you with fiber, potassium, protein, and carbohydrates.
9. Aamti – Yellow Lentil Curry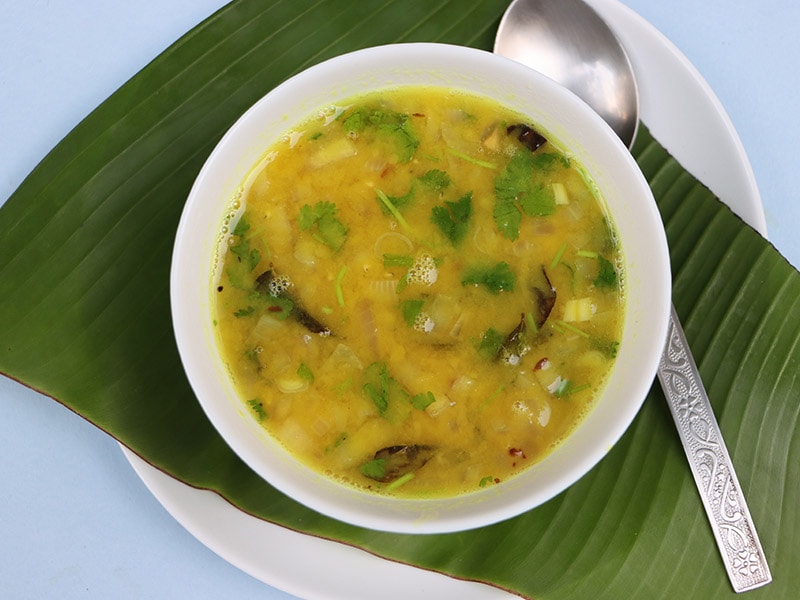 Aamti is one of the delicacies that help Maharashtrian cuisine reach the world.
Aamti primarily features yellow lentils, such as toor dal or split pigeon peas, as its main ingredient. Other components include mustard seeds, cumin seeds, curry leaves, etc., along with the addition of tamarind or kokum for tanginess and jaggery for a hint of sweetness.
The texture of Aamti is smooth and moderately thick, with the cooked and mashed lentils. Aamti is typically served as a part of a Maharashtrian meal, often accompanying steamed rice or roti.
Nowadays, you can find about 51 different types of Dal. But no matter what dal you choose, this food contains many vitamins, minerals, and proteins that are beneficial for your body.
10. Bhelpuri – Puffed Rice And Vegetables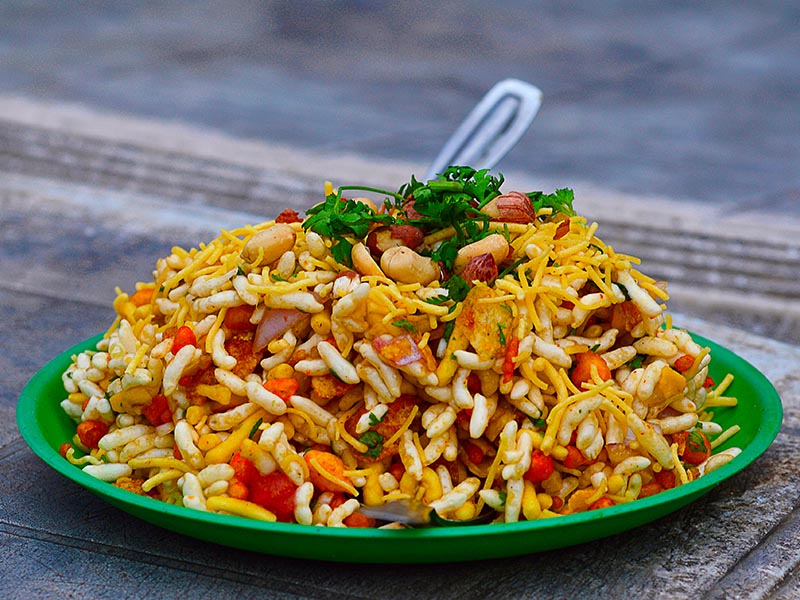 You will no longer worry about suddenly going hungry in the middle of the day when Bhelpuri is around. This famous snack exists throughout the streets in Maharashtra. It is one of the types of chaat (savory snack) in Indian cuisine.
When coming to Mumbai's beaches like Juhu or Chowpatty, tourists always want to enjoy this snack. Its popularity also spread to many other neighboring countries.
You will fall in love with this combination of crunchy puffed rice, refreshing vegetables, and pleasantly tart tamarind sauce. The overall texture of Bhelpuri is crunchy.
There are many theories about its origin. One of them said that the chef at Vithal restaurant, located near Victoria Terminus, invented it. Meanwhile, another theory argued that the Gujarati community made it first when adding flavors to Indian Chaat.
11. Poha – Flattened Rice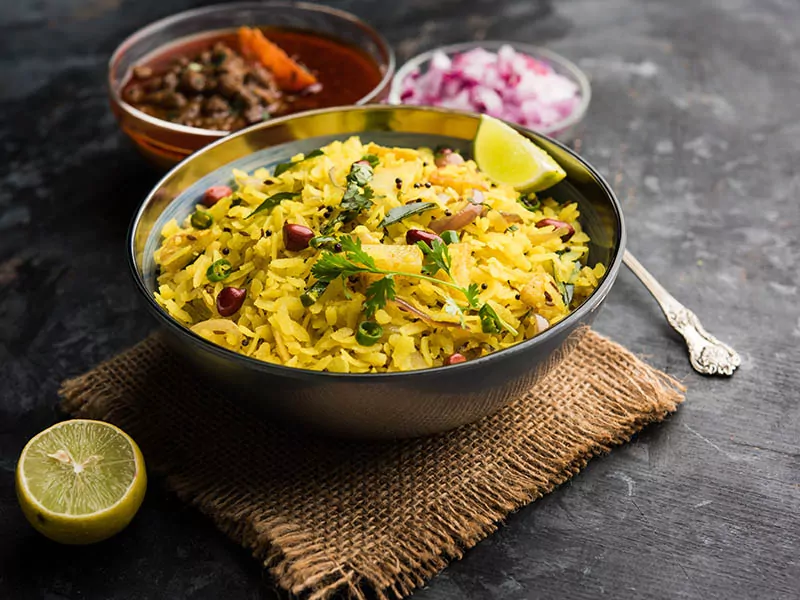 Speaking of the simplicity in Maharashtrian delights, it is essential to mention Poha – a delightful dish made from flattened rice that hails from the south of the Indian subcontinent.
It is an invention of people in Maharashtra. The Kellogg brothers created it for the first time in the 1890s. This food already existed and spread widely under the regime of the Holkars and the Scindias. Maharashtrian rulers brought Poha to Madhya Pradesh.
At first glance, you will be impressed by the eye-catching yellow hue and exquisite taste of this delicious snack since it includes various spices, such as turmeric, fried mustard seeds, onions, curry leaves, and more.
The dish has a soft and slightly moist texture due to the soaked flattened rice flakes. The addition of peanuts and green chili, finely chopped onions, and fried peanuts provides a pleasant contrast in texture.
In addition, Poha is best served hot, often enjoyed as a breakfast or snack. It is low in calories and contains a good balance of carbohydrates, proteins, and essential nutrients from vegetables and spices.
12. Bombil – Bombay Duck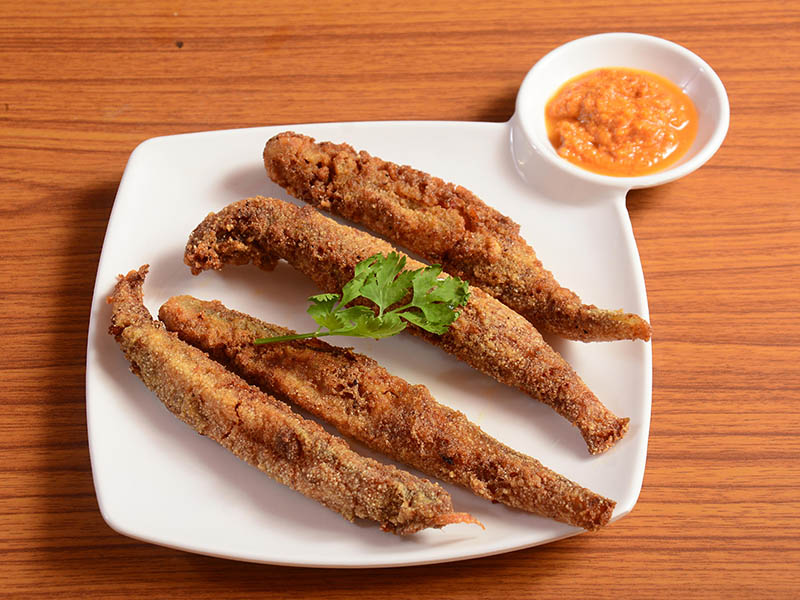 When you go to the coastal areas of Maharashtra state, you will encounter many foods made from Bombil or Bombay Duck. To be clear, this is no duck but a type of popular local fish usually eaten with butter, onions, and lime juice, especially during the rainy season.
It had the name Bombay Duck when it was shipped by mail train named Bombay Daak. Its intense smell was the source of the sentence "You smell like the Bombay Daak" in the UK. This food was banned by the British as its smell was annoying.
Robert Clive was the first person who called it " Bombay Duck" when he felt that it smelt like the mail and newspaper from Bombay. This fish lives mainly in the seas in the Indian subcontinent, also called "strange fish".
13. Aluvadi – Steamed Colocasia Leaves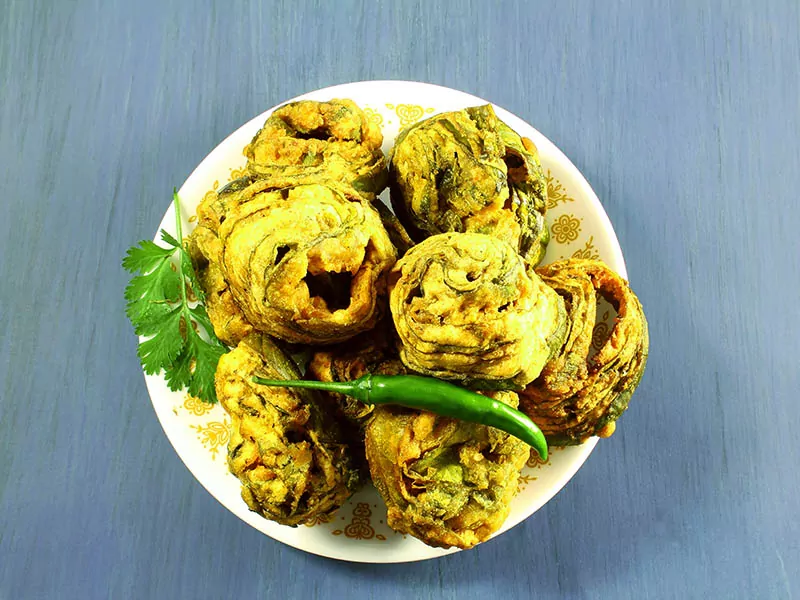 Do not forget to try Aluvadi or Patra when you arrive in Maharashtra. It is a fantastic snack created from colocasia leaves, though its flavor can't be complete without coriander leaves and tomato chutney.
You will be impressed with the rolled structure of this food, which you can guess from its name: Patra means leaves, and Vadi means dumpling in Sanskrit. It is a product of cuisine in western coastal India. Aluvadi has also spread to many different regions of India.
This food was recognized as a traditional culinary recipe by the AYUSH System in July 2021. However, keep in mind that never consume raw colocasia leaves since they are toxic, so it is a must to cook them properly before serving.
14. Bombay Biryani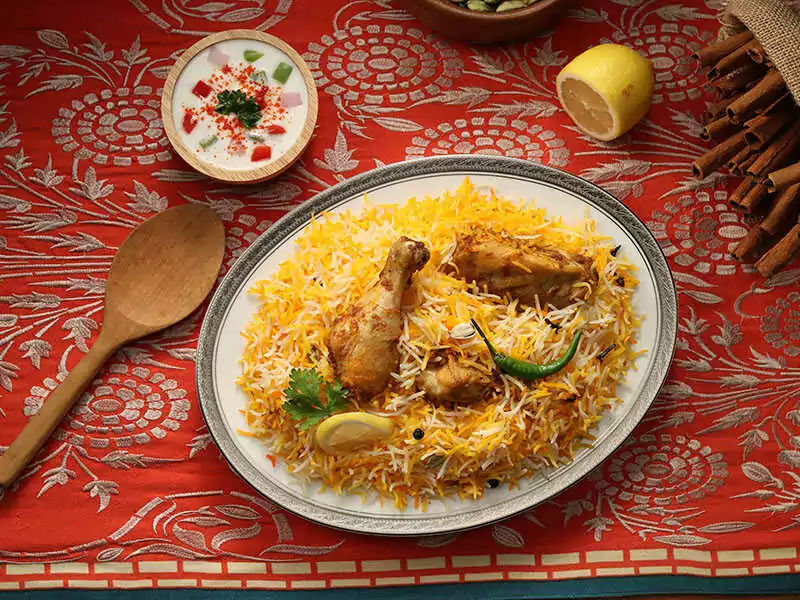 "Bombay Biryani" or "Mumbai Biryani." This dish is distinct from other regional Biryanis in terms of its flavor profile and ingredients. Although it is not as famous as Hyderabadi or Lucknowi Biryani, Bombay Biryani holds a special place in Maharashtrian cuisine and is enjoyed by people across the region.
Bombay Biryani incorporates a unique blend of spices and a touch of sweetness from dried fruits, such as plums, setting it apart from its counterparts.
Like other Biryanis, Bombay Biryani is made from a combination of fragrant Basmati rice, potatoes, meat (usually chicken, lamb, or mutton), and various spices, namely cloves, cinnamon, cardamom, and bay leaves.
The meat is marinated in a mixture of yogurt and spices, then layered with partially cooked rice and cooked until the flavors meld together, resulting in an aromatic one-pot meal.
Bombay Biryani is typically served with raita (a yogurt-based side dish) or a simple salad.
Maharashtrian Sweet Treats
If you are looking for Maharashtrian sweet foods to satisfy your sweet cravings, you should not miss these yummy dishes in this part. Let's learn about them now.
15. Modak – Steamed Rice Dumplings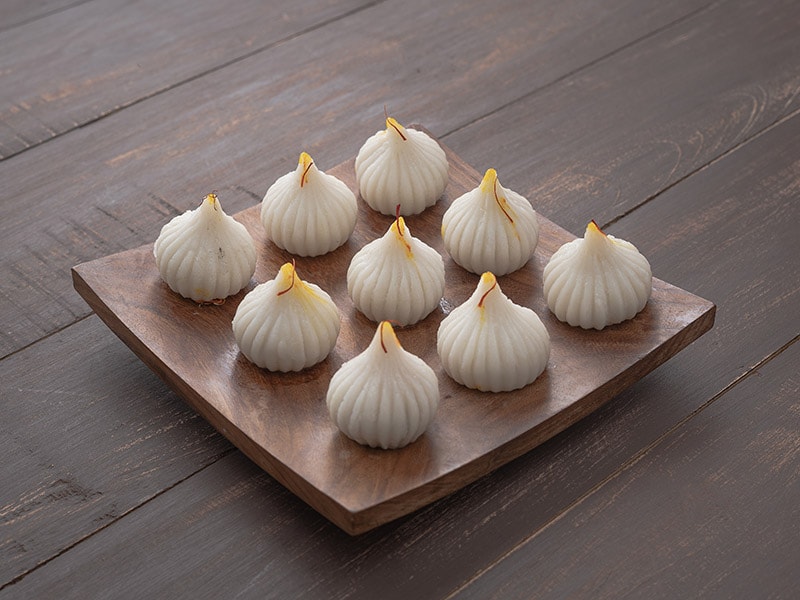 If you find for Maharashtrian desserts, you should add Modak to the list right away. It is a famous sweet dumpling from India's Maharashtra state. You will find the yummy filling made from coconut and jaggery inside the rice or wheat flour shell.
Fried and steamed Modak are two main types, but the steamed version is widely used. The Maharashtrians will eat steamed Modak with ghee.
Resembling a small, plump teardrop or an inverted conical pyramid, Modak features a pleated or fluted pattern along the edges, which taper to form a peak or point at the top.
Hindus believe that it is the preferred food of Lord Ganesha, one of the most important deities in Hinduism. That's why it is a common food that normally serves to the Hindu deity Ganesha during the Ganesh Chaturthi festival or as a delectable treat on special occasions.
16. Sol Kadhi – Kokum-based Drink
Even now, I still remember the fascinating flavor of Sol Kadhi. While the English translation reads "curry", this is actually a fantastic purple-hued drink made up of coconut milk and dried kokum fruits (a plant native to India). Many people love to enjoy it during or after a meal.
Most people in Maharashtra, Goa, and Konkan love Sol Kadhi. Its deep flavor and smooth and creamy texture will make you feel like you're in seventh heaven. Another plus point of this drink is that your digestive system will work better after eating Sol Kadhi.
17. Piyush – Maharashtrian Buttermilk Drink
Piyush, a delightful and creamy beverage, is a popular treat in Maharashtrian cuisine. Besides Maharashtra, this beverage is also popular in the neighboring state of Gujarat.
Piyush is primarily made from shrikhand, a sweetened and flavored yogurt, and buttermilk or milk. Other flavorings often include sugar, saffron, cardamom, and nutmeg. It is also garnished with chopped nuts, such as almonds or pistachios.
Piyush typically has a rich and sweet taste with a spice kick. The combination of shrikhand and buttermilk or milk provides a luxurious creaminess and a slight tanginess to the drink.
Its texture is smooth, thick, and creamy, akin to a luscious dessert or a thick milkshake. While both Piyush and Lassi are yogurt-based beverages, Piyush is thicker and creamier due to the use of shrikhand, whereas Lassi is comparatively lighter and can be sweet or salty.
18. Basundi – Sweetened Condensed Milk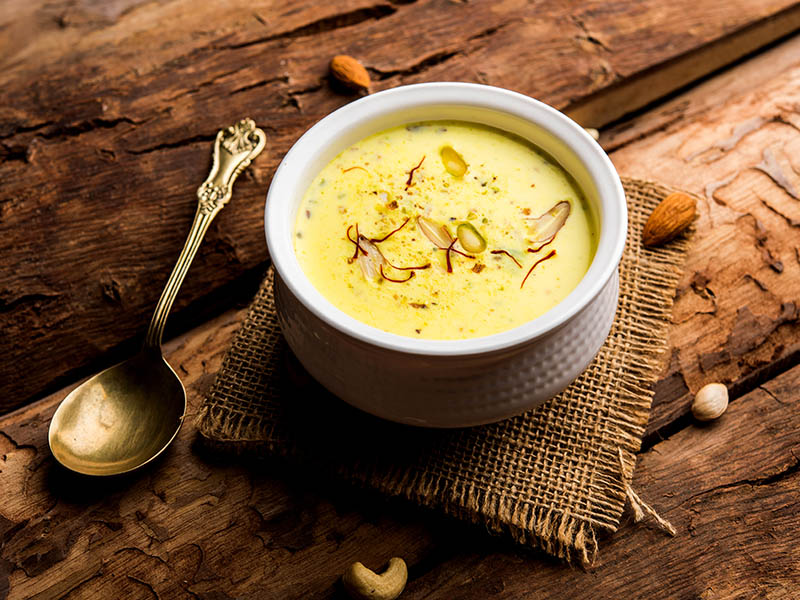 Basundi is a sweet choice to refresh your taste buds after every meal. This Indian dessert is loved in Maharashtra, Gujarat, Tamil Nadu, and many other areas across India.
Basundi is made by simmering milk on low heat for an extended period until it thickens and reduces in volume, which makes it similar to Rabri in Northern India. However, Basundi has a relatively thinner consistency compared to Rabri.
There is no authentic information about the origin of Basundi. The Maharashtrians usually make it during Hindu festivals like Bhaubeej and Kali Chaudas. You can try many various variations of this fantastic dessert.
You cannot miss the Sitaphal Basundi version (with custard apples) if you love a creamy drink. Meanwhile, Angoor Basundi mixed with sweet, ball-shaped, cheese-filled dumplings will not let you down.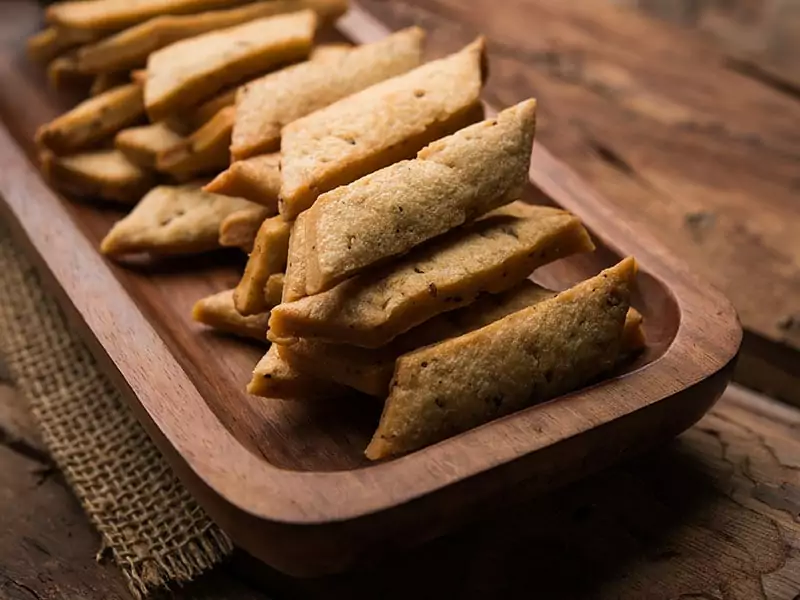 Savoring a cup of tea alongside the delightful Shakarpara makes for an exceptional snacking experience.
It is an excellent snack originating from a similar Persian snack called Shekarpareh. Maharashtrians also call it Meethi Nimki.
You can find it in most Indian states from North to South. The taste of this versatile snack can vary, offering sweet, spicy, or salty flavors depending on the cooking process and ingredients used.
The alluring aroma and crunchy texture of Shakarpara are achieved by combining sugar, maida (refined wheat flour), semolina, and ghee before frying. The result is a wonderful snack that becomes an indispensable part of various festive occasions in Maharashtra, such as Holi and Diwali. No celebration is complete without these delightful crunches of Shakarpara.
20. Bhakarwadi – Deep-Fried Pinwheels Glam Dough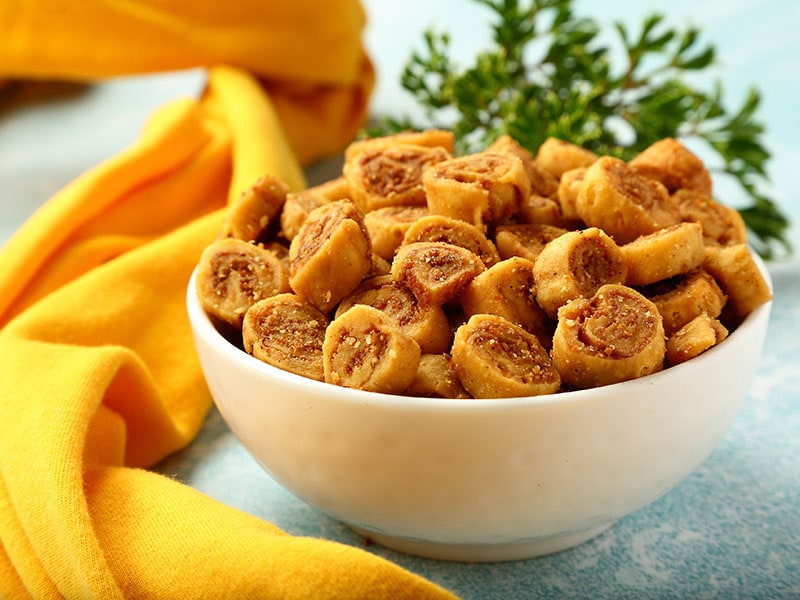 Glam flour is an essential ingredient in Indian cuisine, and it is also an integral component of Bakarwadi.
Bhakarwadi includes the crisp glam flour dough on the outside, while the filling is a perfect blend of coconut, sesame seeds, and poppy seeds.
Gujarat and Maharashtra are the first places to witness the appearance of Bhakarwadi. People made the first Bhakarwadi by rolling the flatbread Bhakri with the filling (Wadi), then frying and cutting it into slices.
Bhakarwadi has gained widespread popularity not only in these 2 Indian regions but also in other countries around the world. The Maharashtra-based snack enterprise Chitale Bandhu Mithaiwale has played a significant role in making this snack well-known by distributing it to various parts of the globe.
21. Shrikhand – Sweet Strained Yogurt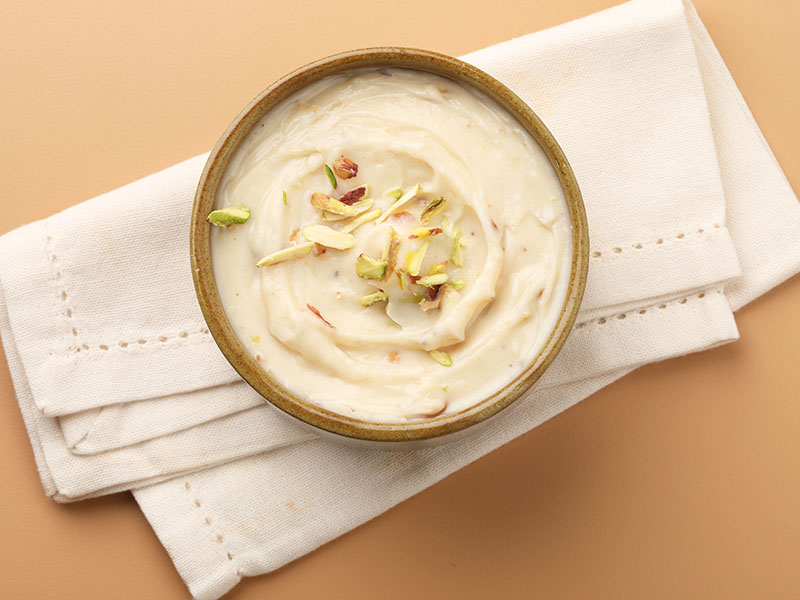 Shrikhand is a traditional Indian sweet dish made from strained yogurt, which is also known as "hung curd" or "chakka". The origin of the dish is still a point of contention because Maharashtra and Gujarat both claim to be the birthplace of this dish.
Next to strained yogurt, sugar, flavorings (e.g., saffron, cardamom, and sometimes nutmeg), and chopped nuts like almonds or pistachios are great additions to make this sweet treat tastier. In India, you can easily find it in Thali (platter) or with puris (wheat bread).
Generally, it is a sweet and velvety dish that you can enjoy as a dessert after each main meal. It is also a popular food in the state of Gujarat, as well as in parts of Rajasthan and Karnataka.
Bread In Maharashtra
When it comes to Indian bread, many people would think about naan. However, in Maharashtra, naan is not as popular as it is in North Indian cuisine, primarily due to differences in cultural, historical, and regional factors. Here are other kinds of bread you can easily find in Maharashtrian meals.
22. Puran Poli – Sweet Lentils Flatbread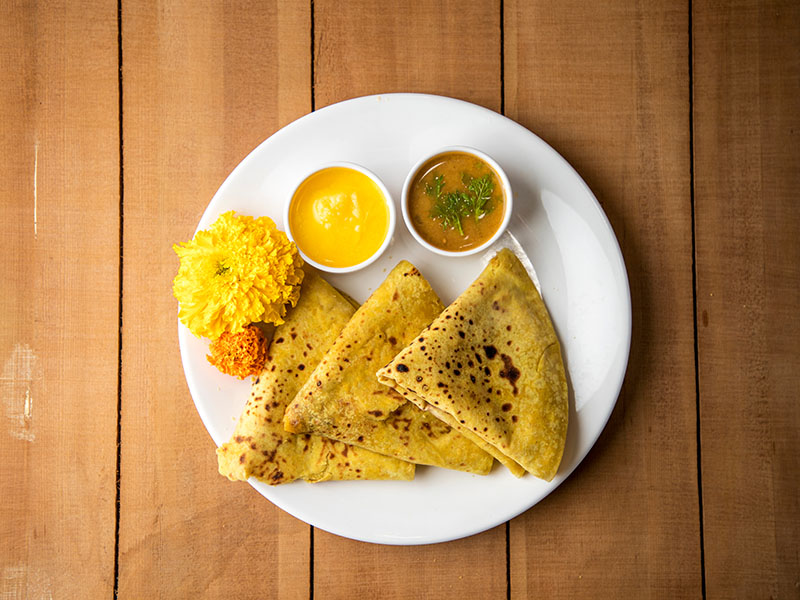 Puran Poli is a sweet food that you should not miss when exploring Maharashtrian cuisine. The chef will combine jaggery (Gur), plain flour, yellow gram (Chana), ghee, and cardamom powder to make this fascinating sweet flatbread.
This incredible Indian bread is an indispensable part of special occasions in Maharashtra. In particular, Maharashtrians make it a lot during Holi because it is a gift for gods. It is great to eat it with Paal Payasam and feasts in Kerala.
Southern India is the birthplace of this sweet flatbread. It has a long history, appearing in the Manucharitra encyclopedia written in Telugu in the 14th century. But there were also notes mentioning this food in the 12th century by King Someshvar.
23. Chapati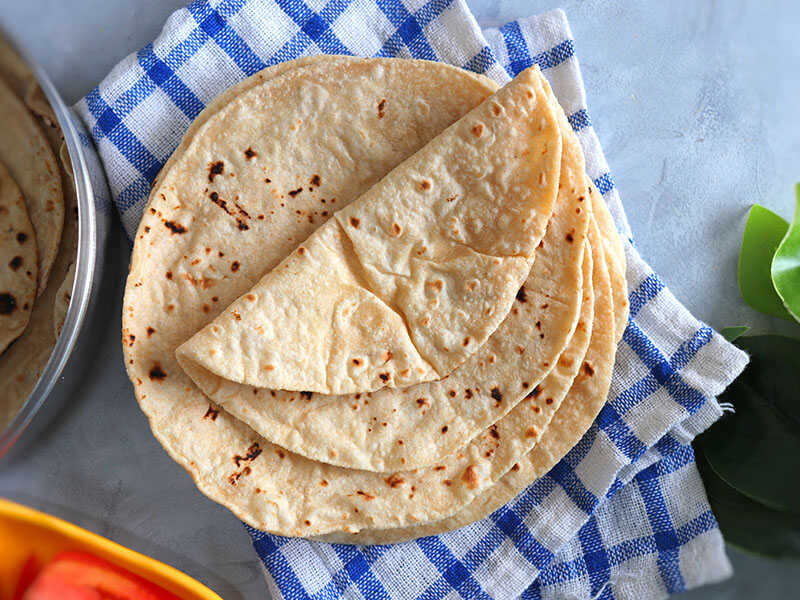 Chapati is a flatbread that is commonly eaten as a staple food in many parts of India, including Maharashtra. The origins of chapati can be traced back to ancient India.
Today, the main ingredients in Chapati are wheat flour, water. The dough is typically kneaded by hand and rolled out into thin circles, then cooked on a tawa.
Chapati has a mild flavor with a soft and pliable texture and a slight chewiness that comes from wheat flour. There are many different varieties of chapati in different Indian cuisines. In Maharashtra, Chapati is often eaten with a variety of vegetable dishes and lentil curries.
24. Puri or Poori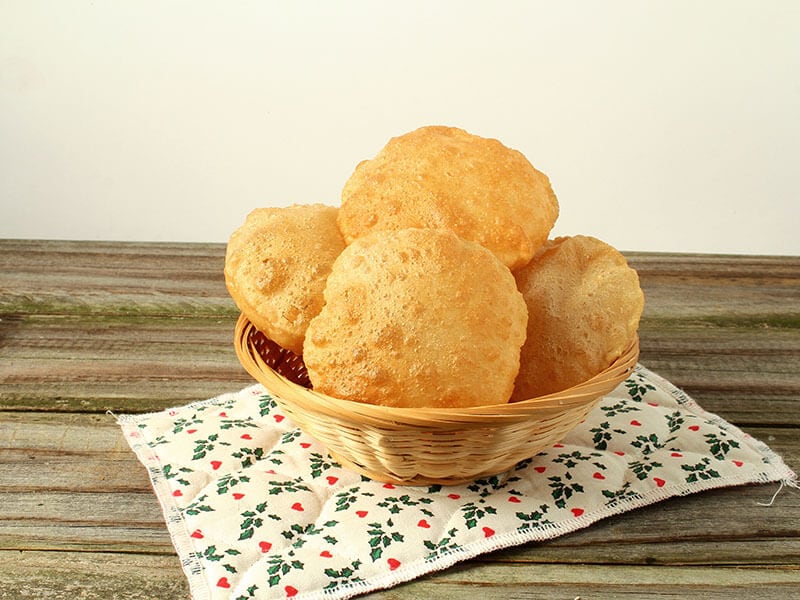 Puri, also known as Poori, is a deep-fried bread that is a popular part of this cuisine. Similar to Chapati, the key ingredients in Puri include wheat flour, water, and a bit of salt.
Puri has a slightly nutty flavor, a crispy and flaky texture on the outside, and a slightly softer inside. As a deep-fried dish, Puri looks like hollow pillows so you can easily distinguish it from Chapati.
Puris are often served with savory dishes like curries and vegetables, or even sweet dishes like halwa. They are popular during festive occasions and special meals.
25. Thalipeeth – Savory Multigrain Flatbread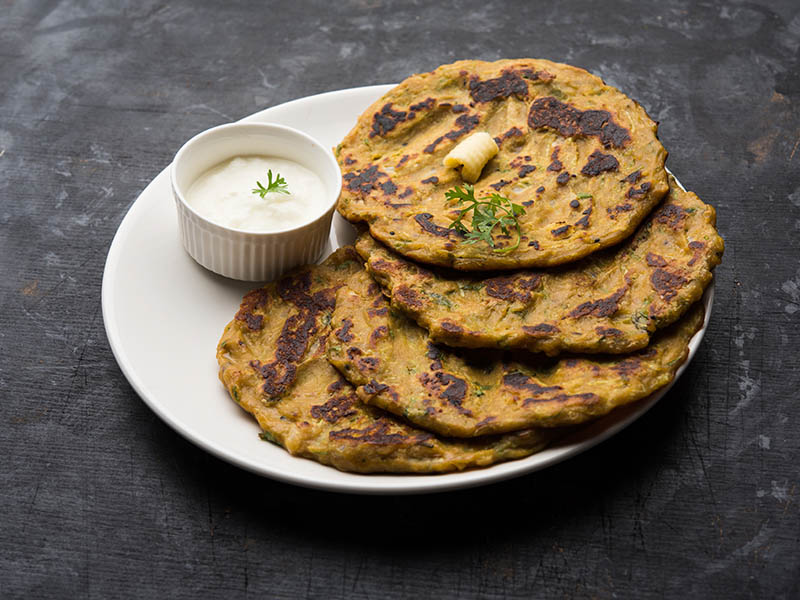 Thalipeeth is an iconic food of Maharashtra state. This mouthwatering dish contains grain flour and different vegetables. Maharashtrians often eat it with ghee and yogurt. If you want to enjoy Thalipeeth with the best taste, you should go to Virangula.
Also, you will feel the flavor of coriander, cumin, and other spices when eating this delicious bread. Moreover, Thalipeeth has a somewhat coarse and grainy texture.
Maharashtrians regularly use tapioca and rajgira to make the flour for this food during the fasting days of Hindus. It is good to mix it with chutney for breakfast, dinner, or snacks.
Follow these instructions to make incredible Thalipeeth.
Maharashtrian's Traditional Way To Serve Food On A Plate
The arrangement of dishes on the plates of Maharashtrians is essential. It has become a cultural feature of people in this state. Most households comply with this layout to bring a complete and comfortable meal.
Maharashtrians will set salt and types of condiments in the 12 o'clock position of the plate. A glass of water and delicious Indian side dishes, snacks, and salads will be on the left-hand side of the plate.
In particular, the less eaten foods will be placed on the left side as people will eat with their right hand. You will enjoy the main course on the right side.
On the opposite end of the salt will be varieties of rice. Alternatively, soft and fluffy Poli, flatbread, or roti will appear in the center of the plate, at the 6 o'clock position. On your right-hand side, you'll see dishes like curry and dal.
FAQs
Here are some related questions and short answers about Maharashtrian foods that you need to know.
---
Do You Love Maharashtrian Foods?
Are you satisfied with the foods and knowledge I have introduced in this article? Do you know of any other great food in Maharashtra? Do not forget to leave the name and relevant information in the comment section.
It is great to enjoy these appealing foods. Therefore, it is time to fulfill your culinary passion by taking trips to Maharastra. Please show your relatives this post to get a perfect food plan if they intend to go. Thanks a lot!