Once mentioning Indian drinks, what immediately comes to your mind? Indian beverages are not all about Masala Chai or teas; there are many more things you can discover from this magnificent gastronomy.
Because of this country's religious diet, there might be some restrictions on the drink they can include in their daily life. However, this fact doesn't make your Indian-originated drinks list dull. In fact, I will suggest various fascinating options that will amaze you.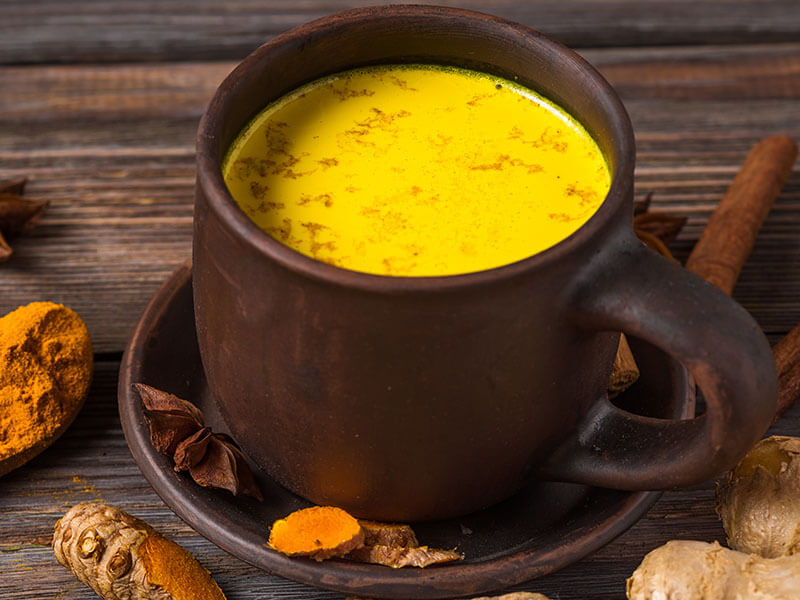 Short Facts About Drinking Culture In India
Before digging deeper into the delectable beverages you can try in India, let's first talk about Indian drinking culture. Many people assume that alcoholic beverages are forbidden in India due to religious reasons. However, this rule doesn't apply to all ages and every individual.
The truth is, only females and underage males are forbidden to consume these kinds of drinks, and these rules are now things from the past.
Nowadays, thanks to globalization and the culture change/adaptation, everyone can consume alcoholic drinks when they are above 18 or 21 in some parts of the country.
Because of that, don't be surprised if you can find some luscious alcoholic drinks in today's article. No more beating around the bush; scroll down to check my recommendations below!
13 Luscious Indian Beverages/Drinks You Should Never Ignore
I've briefly introduced Indian drinking culture, and now I will directly offer you several beverages that you should give a go whenever you have a chance. I promise that the below drink ideas won't disappoint you.
Non-alcoholic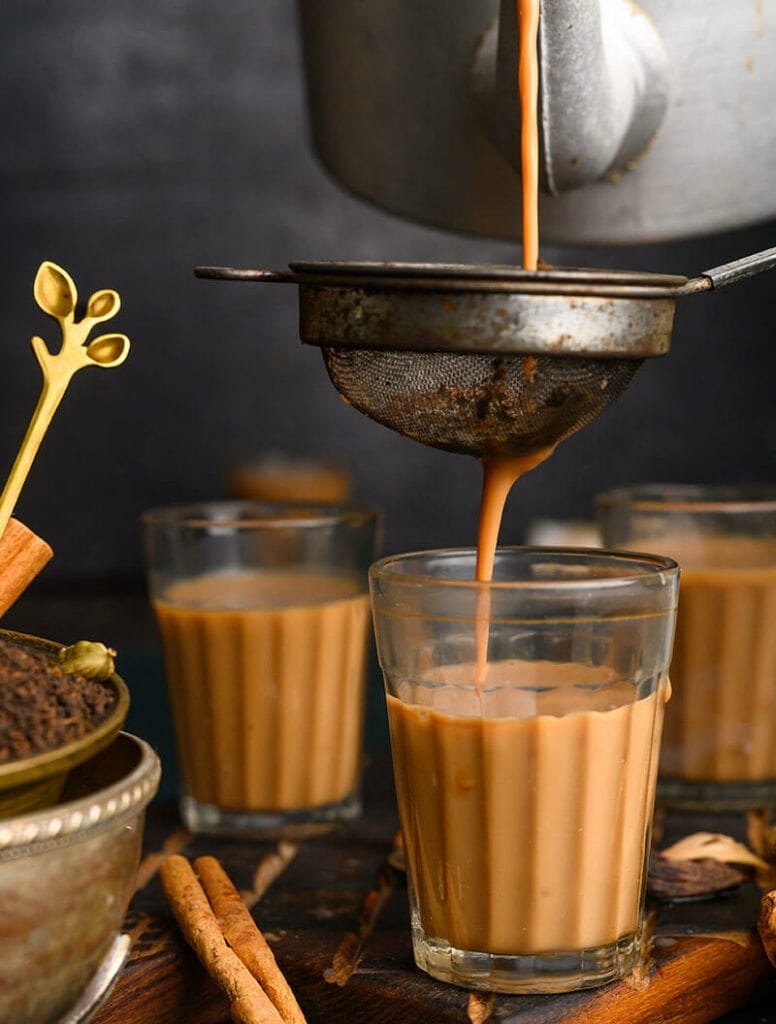 This unique aromatic yet milky tea is now a breakfast staple in India, and no one can deny that fact. However, do you know about this complimentary drink's origin?
Black tea had already been a tea yielded in India thousands of years ago. But, during the British colonial times, it became more and more famous that Indians started to drink and make drink recipes from it, including Masala Chai.
Indian locals added milk and Masala (meaning "spice mixture" in their language) to the original British milk tea recipe and made it more "Indian".
The typical spices included in this tea are cardamom, nutmeg, cinnamon, and other aromatic things. It might sound weird at first, but it's tasty.
Where to find: At the street vendors/stores and restaurants across India.
Have 4 minutes to spare? Let's make some Masala Chai with this instruction!
Non-alcoholic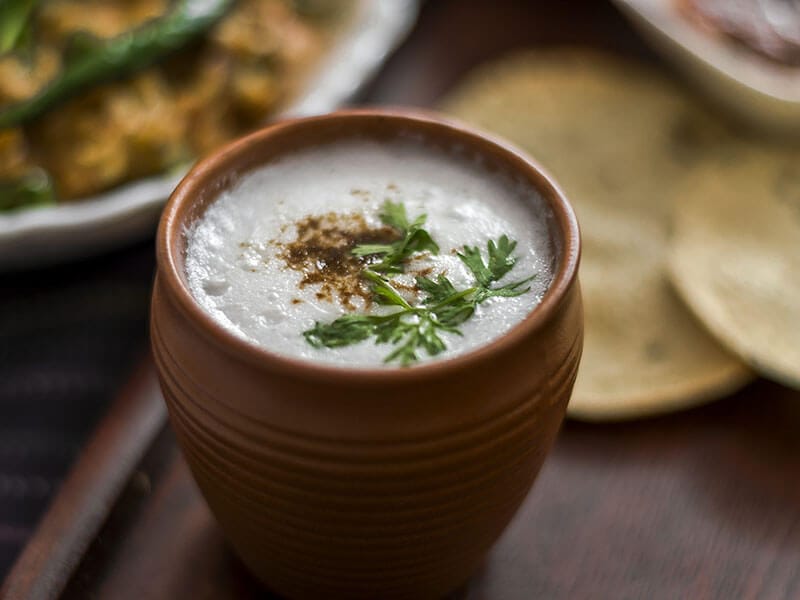 Another use of Masala spices mixed in an Indian beverage is this Masala Chaas or Indian spiced buttermilk. The spicy note from the signature spices does its work well in highlighting Masala Chaas, and the diluted yogurt helps create an outstanding balance.
Masala Chaas is a popular, affordable, and easy to preserve drink in the Indian subcontinent. Therefore, you can buy some more of this drink and store it for later use in the fridge.
Furthermore, this toothsome drink tastes phenomenal when chilled, making it an ideal summertime treat for everyone.
Where to find: At the street vendors, online stores, and restaurants across India.
Non-alcoholic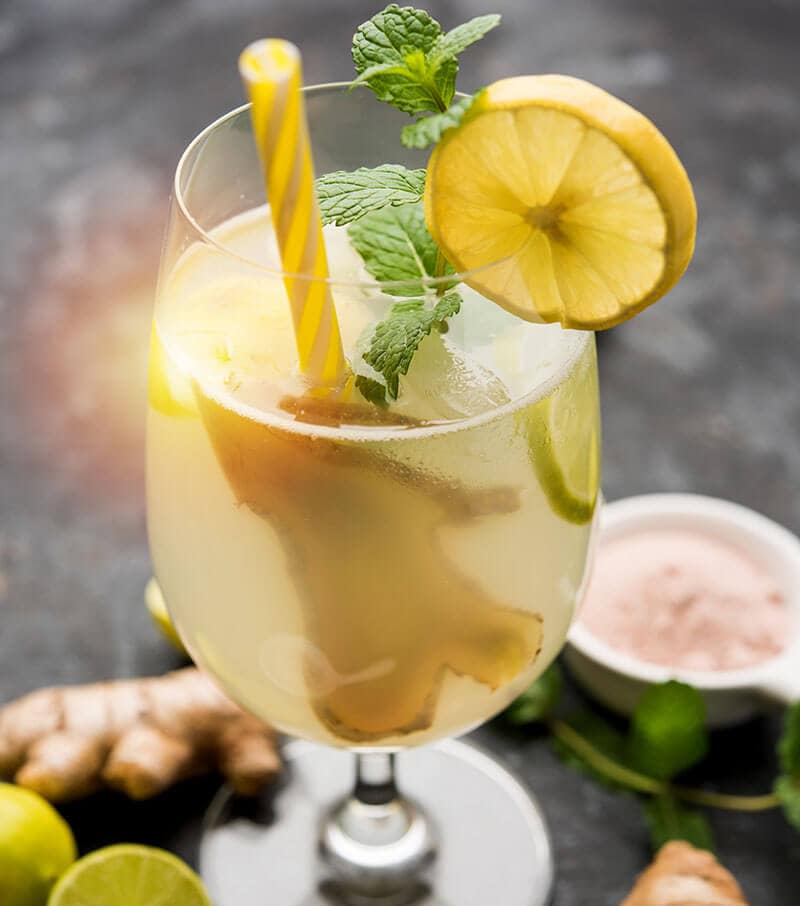 Have you ever tried spiced lemonade/limeade? To be honest, I was really amazed the first time trying this drink as it had a gorgeous hint of saltiness and earthiness besides the typical sweet-sour taste of any regular lemonade.
Those prominent additional notes from cumin, Chaat Masala, black pepper, and salt create the highlight of this drink. Furthermore, those Indian's signature spices enhance the health benefits of this humble drink, making it suitable for all ages.
You can get a cup of Nimbu Pani (meaning "lemon water") at the school front or at various street vendors as a treat on hot summer days in India. Who can resist a cup of refreshing drink?
Where to find: At the street vendors, cafes, and juice stores in India.
This is the best video showing how to make Nimbu Pani in an Indian way!
Non-alcoholic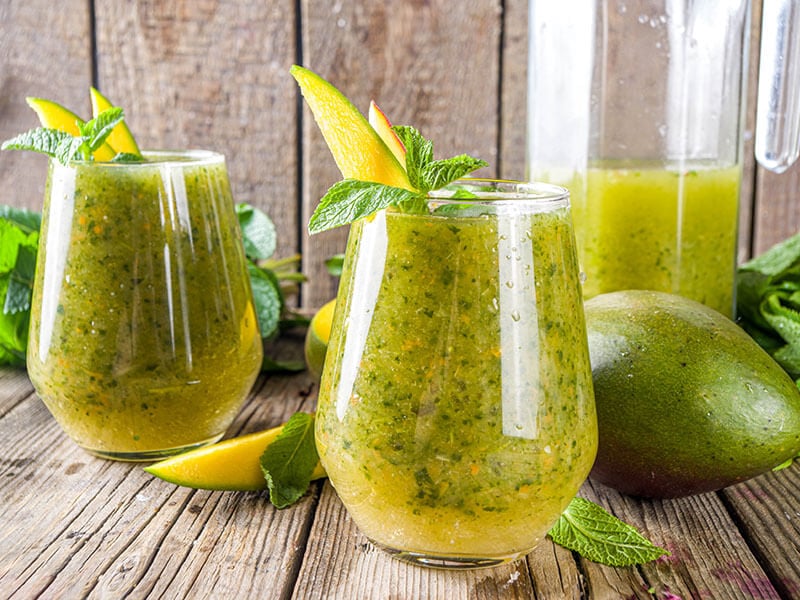 Most famous in the Northern part of India, this Indian-associate recipe is a summer-cooling beverage that everyone should try once. The word "Aam" means "mango" in the Hindi language, and it does tell a bit about the main ingredient for this drink.
Aam Panna typically requires raw/unripe mango, the main reason for its unique light green (or yellow) color. Thanks to the use of other spices like cumin or cardamom, this luscious beverage is an excellent source of iron and sodium chloride.
It also benefits your digestive system and helps boost the resistance against anemia, tuberculosis, etc., so there is no reason not to give this healthy, tonic treat a go.
Where to find: At the street vendors, cafes, and restaurants in India (mainly in North India).
Non-alcoholic
If you ask me whether this Lassi recipe is vegan-friendly or not? The answer is a big no. Although this Lassi has no meat or other meat-based products, it calls for yogurt as its base. Therefore, it is better to consider this drink an Indian vegetarian-friendly recipe instead.
Coming from the Punjab region of India, the traditional Lassi now contains lovely twists with a refreshing minty/refreshing taste from both mint leaves and fresh cucumber. Traditionally, local people serve Lassi (either salted or sweetened) with a dollop of ice cream.
Having ice cream alongside Lassi is surely mind-blowing as it will neutralize the light zing of the green chili. You can have this Lassi as a post or pre-exercise drink or as a light filler treat between meals. It helps you to have enough energy to work out in a short time.
Where to find: At the street vendors, juice stores, and cafes across India.
Non-alcoholic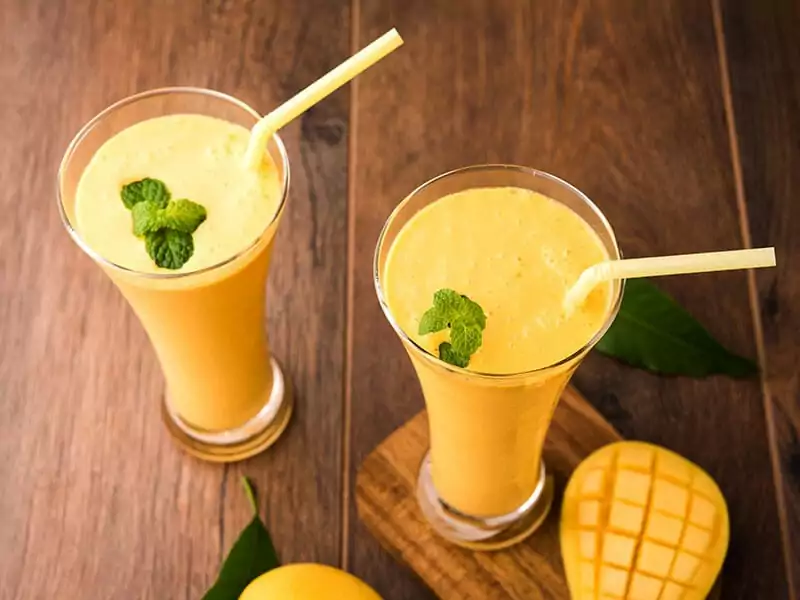 It's Lassi, but it calls for fruit this time. There is nothing as perfect as a cup of Mango Lassi, whether the weather is hot or cold. Trust me, the combination of tropical sweetness (from mango) and light sourness (from yogurt-based drink) literally makes sense every time.
The consistency of Aam Lassi is pretty thick, and its taste includes everything you can imagine about ripe mango. Its sweet and light tart flavors remind you of a relaxing summer beach.
However, the woody and citrusy notes from a dash of cinnamon are indeed the true stars of Mango Lassi. You can consider having a cup of Aam Lassi as a pleasant and soothing Indian-style dessert after a savory meal. I guarantee that it will be so satisfying!
Where to find: At the Indian tea/juice stores or sweet shops in India.
This is what you can expect from this favorable Mango Lassi!
Non-alcoholic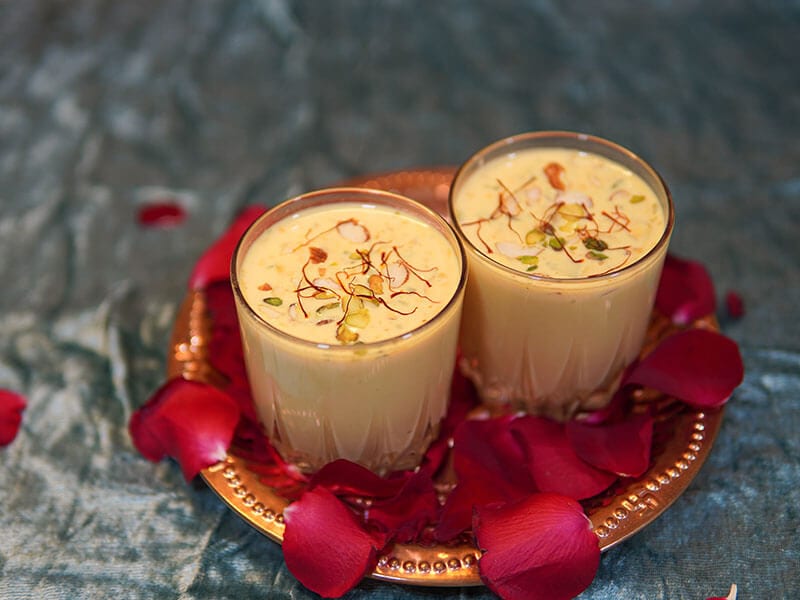 Holi, or Festival of Spring, is a traditional religious occasion of Indians, where people celebrate new life, love, and new season. And Thandai, which means "something cold/refreshing" in their language, is a great beverage to try during this time of the year.
North Indian people love this drink so much that they believe their traditional celebration won't be complete without a cup of Thandai. Besides the regular ingredients like rose water, milk, saffron, or some spices, the star of Thandai is Bhang (Cannabis/marijuana).
Local people will finely crush the plant's flowers/leaves into powder before adding it to the drink. The special ingredient, considered an addictive drug, has a unique compound that affects your brain and changes your mood.
Because of that, if you try to create some Thandai at home, I suggest you omit this ingredient as it is pretty risky for a beginner. Making Rose, Badaam Kesar (with almonds and saffrons), or Mango Thandai might be the better option the first time trying.
Where to find: At grocery stores, beverages distributors, dairy or juice stalls in India.
8. Toddy (Indian Palm Wine)
Alcoholic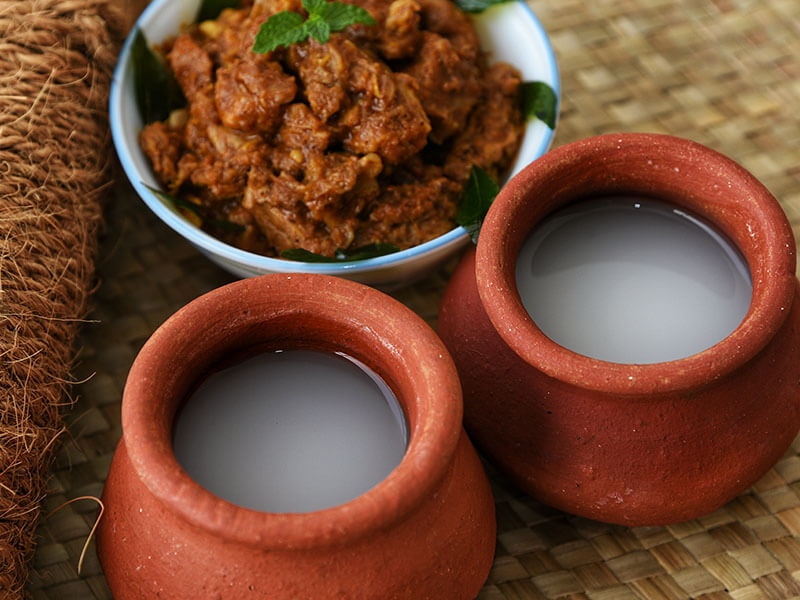 Toddy is a kind of palm/coconut wine that appeared in India thousands of years ago. It's the inspiration for the "Hot Toddy" – a famous alcoholic beverage created when India was under British colonization in the 1610s.
Some people say the term "Toddy" was derived from "taddy", a word meaning "fermented palm sap's drink". The name of this drink is actually more varied than that in India. You might also find it as Tari in the Bengali language, Kallu in the Tamil language, and more.
The palm trees that can provide the ingredients for this alcoholic drink are coconut/dates palm or Palmyra. After collecting the sap, local producers will let it ferment within a day, and the outcome will be distilled to offer a more intense, wine-y base.
Where to find: At the toddy shops, smallholders, and individual farmers in India.
Non-alcoholic
Don't misunderstand this "Paneer" with the term meaning "cottage cheese ", which is typically used for Indian-inspired curries. The term "Paneer," in this case, means "rose water" (Tamil language), and it contributes a lovely fragrance to this soda/sparkling water.
Having its origin in South India, Paneer Soda is famous around the country. The idea to create a cup of this refreshing soda is so simple that anyone can make it in a snap.
You only need to make a sugar syrup mixture first, wait for it until cool, and add some rose essence in. The sellers can then put the rose-sugar syrup in the fridge and save it for days. As it is pretty effortless, finding it at the street vendors is not a daunting task.
Where to find: At grocery stores or soft drink shops in India, especially in Tamil Nadu.
Non-alcoholic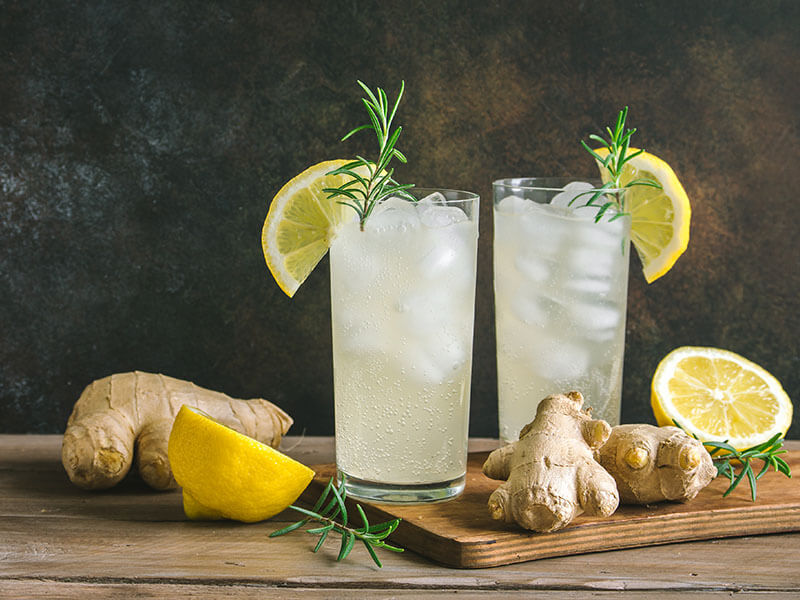 During the summer, Ginger Ale is an excellent thirst quencher that offers a toothsome taste combination of ginger and lime juice. It is often served at family reunions or special occasions, such as the Navratri festival (a Hindu festival spanning 9 to 10 days).
The main idea to make this delight is to mix ginger, lemon, and lemongrass juice (sometimes) into a cup and stir the mixture well with soda and sugar syrup.
The tip to making this Mocktail even better is to heat the lemongrass juice, which is optional, on high heat for a few minutes before assembling the drink. Try it and thank me later.
Where to find: At grocery stores, soft-drink shops, or supermarkets in India.
Is Ginger Ale easy to make? This is an Indian way to make this drink.
Non-alcoholic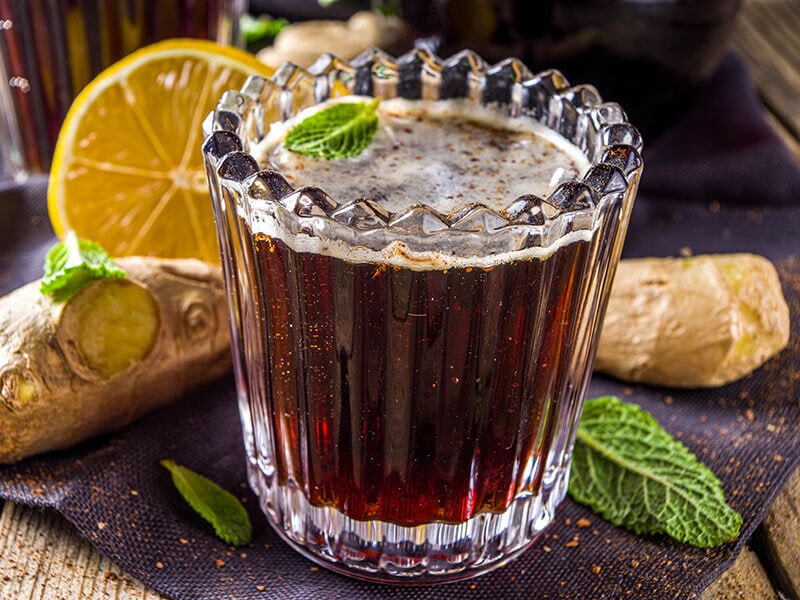 As its English name tells, Panakam/Panagam is an authentic South Indian delight. Local people love having this for Ram Navami, Lord Rama's birthday festival.
Traditionally, they will serve the drink to their God first before sharing it with others as prasad (food or beverages offered to a god by worshippers).
Besides the common ingredients such as jaggery, ginger/cardamom powder, etc., tulsi leaves (holy basil leaves) are a particular component for festive versions of Panakam. On hot days, you can ask the sellers to put some ice cubes into your drink and make it even cooler.
Where to find: At traditional drinks vendors in India. You can also make it at home.
Non-alcoholic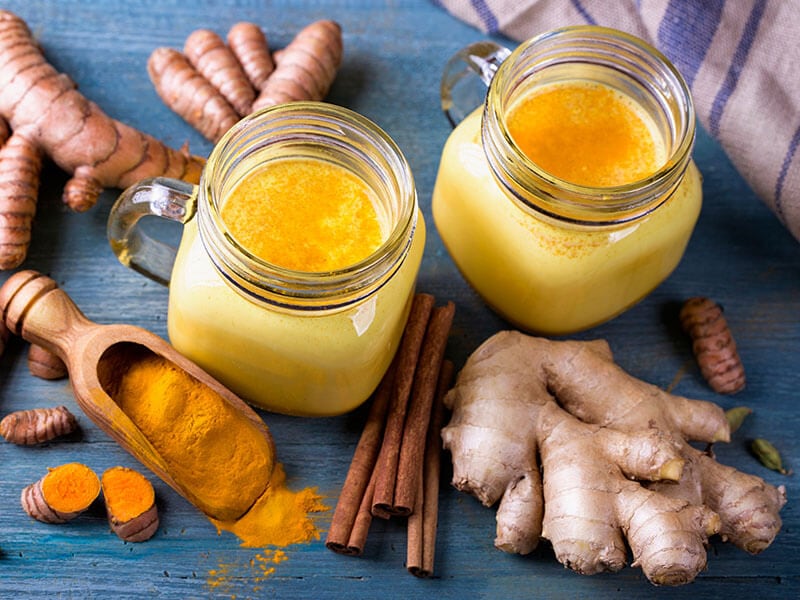 Turmeric is a superfood loaded with beneficial curcumin, which helps control your metabolic syndrome, arthritis, or inflammatory conditions. The idea of combining turmeric powder with milk to form a palatable drink has existed in India for hundreds of years.
Since then, local people have consumed this Latte as an Ayurvedic medical remedy, and it is even more prevalent worldwide now. Turmeric milk has a bright yellow color and usually includes almond milk (or cow milk) mixed with turmeric powder.
Other spices such as black peppers or ginger are also essential to provide an intense/warm taste on the palate when enjoying.
Where to find: At various dairy stores around India.
Dive into this specific guide for the healthy Haldi Doodh and know more about it!
Non-alcoholic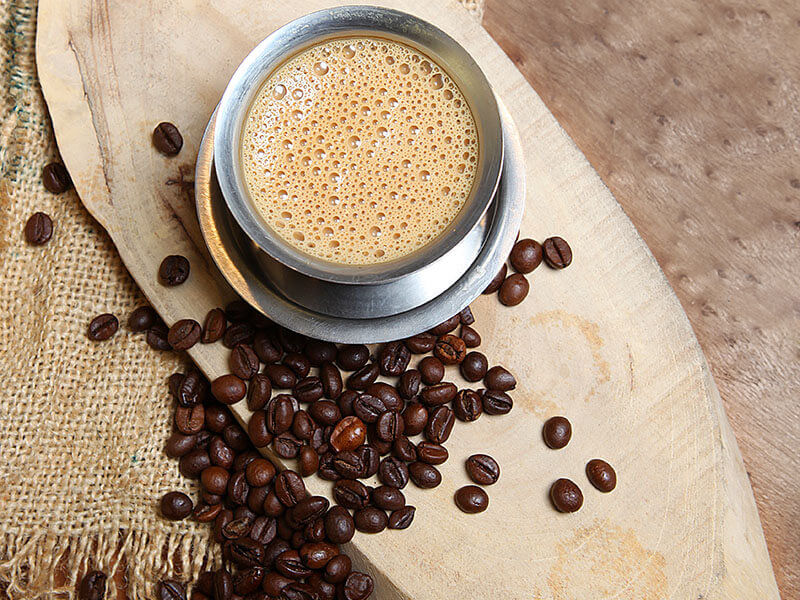 Coffee is the most famous energized drink globally, and Indian people also developed their own variation of this caffein-loaded drink. The recipe of Filter Kaapi initially appeared in the Karnataka region of India at the beginning of the 17th century.
Furthermore, the name "Kaapi" of this drink is also a derivation from the English word "coffee," and it also has its roots in South India, a rich and distinct cuisine of Indians. However, making this kind of coffee is relatively different from the western-style.
A special, stainless filter consisting of two smaller chambers is their secret to receiving such a delightful cup of Coffee. To have a frothy cup of Filter Kaapi, local sellers will continuously pour the mixture of Coffee and milk into the cup and out for a couple of minutes.
Where to find: At various coffee stores throughout India.
These Most Suggested Drinks In India Are Worth Trying Once
Even if you haven't tried them all, this list of India's most recognized beverages is sure to astound you. Every recommendation on this list contains spices, and you may also find some soda or alcoholic drinks on it.
Indian refreshments or drinks, in general, are simple to consume and provide several medical benefits. As a result, if you have the opportunity, take all of my proposed solutions at least once before.
I'm confident you won't be disappointed if you taste them. Don't forget to come back to tell me what you think and share your experienced ideas with your loved ones if you are satisfied with them.