If you are looking for perfect chickpea flour substitutions because all the markets near you are just selling white & wheat flour packages, you are in good hands.
This post will provide you with some of the most suitable ingredients to substitute chickpea flour in your recipe. Also, I will explain in detail the expected flavors and tastes of the substitutions.
Each recipe and method of cooking have different requirements for their dishes. Thus, the best solution is to understand chickpea flour and its substitutions to create a terrific final product.
My Top 10 Picks For Chickpea Flour Substitutions.
Here is my list of 10 suitable alternative flour that you can replace chickpea flour in your recipe. Let's find out what those substitutions are.
Fava Bean Flour
Brown Rice Flour
Corn Flour
Buckwheat Flour
Quinoa Flour
Millet Flour
Cassava Flour
Oat Flour
Almond Flour
Coconut Flour
Scroll down for each substitution's details and usages.
What Does Chickpea Flour Often Use For?
Before finding the ingredients to replace chickpea flour, I suggest that you comprehend the typical usages of this flour and why chefs apply this ingredient to their recipe.
Let's Join My 'Chickpea Flour 101' Class!
Background
Chickpea flour is the final product after grinding Garbanzo beans (or Kabuli Chana). This bean belongs to the legumes family.(1)
But wait, isn't chickpea flour supposed to be made from chickpea? When you compare chickpea and Garbanzo beans side-by-side, you'll see why I say that this flour is made from Garbanzo beans, while others state it's produced from chickpeas.
Chickpea flour is a famous cuisine in many middle and Western Asia countries, such as Indian, Pakistan, and Bangladeshi cuisine. Other countries also use this as a minor ingredient in cooking.
Famous dishes such as parokas (India) or Socca (France) use this flour as the main ingredient.
Basic Nutrition Information
For anyone on a diet, chickpea flour is one of the ultimate ingredients for cooking and baking.
Chickpeas flour is gluten-free and is a perfect replacement for your commonly used wheat flour. Chickpeas have no cholesterol and are rich in nutrition.
Chickpea flour can substitute for wheat flour at a ratio of 1:1. One cup of chickpea flour can perfectly replace one cup of wheat or white flour.
Although you replace the same amount of chickpea flour to substitute, your stomach will be full for a more extended period.
The great amount of fiber in the chickpea flour can make you full longer, reducing the number of foods you have to eat every day.
Chickpeas can also support your metabolism because it is easier for your stomach to digest this kind of flour. Also, the flour is highly recommended for people who want to improve their digestion, weight loss, and blood sugar control
How Do Chickpea Flour Cakes Taste Like?
Chickpea flour is widely used for baking cakes or cooking soups. As a member of the legumes family, chickpea flour is beany.
Chickpea beans taste similar to cannellini or pinto beans. The smell and flavor are mild, so it is perfect to combine with other ingredients without creating a robust and annoying smell2.
The texture of cake made with chickpea flour remains the same as typical cakes. However, there might be a slight reduction in the chewy and spongy structure.(2)
Depending on how you want your cake to be tasted , I will suggest some of my favorite substitutes for chickpea flour.
My 10 Best Chickpea Flour Substitutions
There may be some changes in flavor or texture, but in general, these substitutions are suitable to fill in the spot of chickpea flour in your recipe.
1. Fava Bean Flour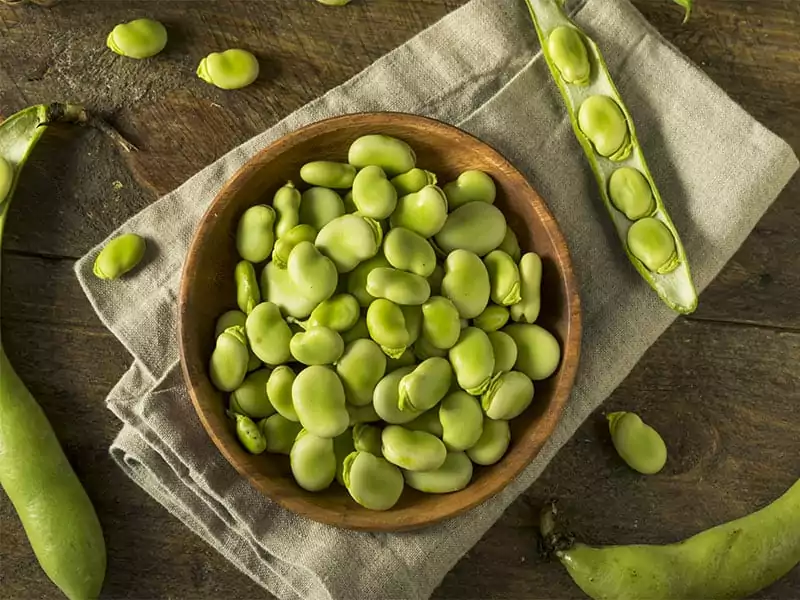 Fava beans are consumed for human food and livestock feed for hundreds of years. These beans are famous across America and Western countries.
The harvested beans are dried to become an essential ingredient for people's daily meals. You can cook, can, freeze, roast, or grind it into flour.
Fava bean flour is a very generous ingredient, it contains versatile nutrients as chickpeas. Protein, fiber, iron, and lots of vitamins are all included in fava bean flour. It is also gluten-free and great for your diet.
There are plenty of uses for fava bean flour. It is typically used for baking bread, brownies, cookies, muffins, and waffles.
Plus, you can add this flour to the recipe of ice creams, yogurt, or smoothies for extra nutrients for your desserts or beverages.
Cakes baked from fava bean flour alone can not form a well-structured cake. You should put other flour to create a mixture that can rise nicely while baking.
This is my recommended recipe for a fantastic mixture of gluten-free bread with fava bean flour.
150g white rice flour
50g potato starch
20g tapioca starch
220g faba bean flour
9.5g salt
Two eggs
One egg white
5g cider vinegar
60g granola oil
Mix all the ingredients, proof the dough for 30 minutes, and then bake for 1 hour at 375oF (190oC). The final bread is outstanding, you should try this recipe.
Watch this video to know more:
2. Brown Rice Flour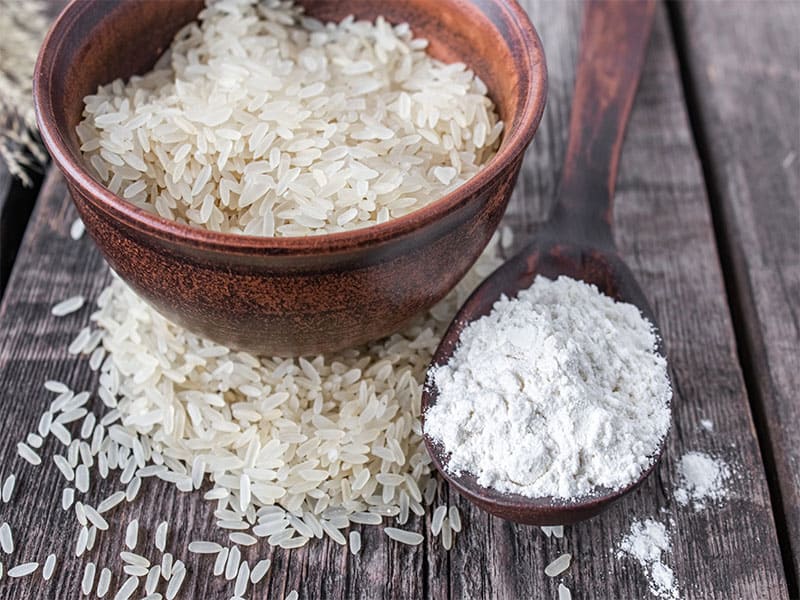 If you follow a gluten-free diet, brown rice is definitely needed to add to your everyday meal.
Brown rice and white rice are widely used around the world, especially in Asian countries. Brown rice is considered to be more nutritious than white rice.
Unlike the white one, brown rice is a whole grain. Bran and germ of the rice are kept because they are believed to store the most nutritious plant. If you're concerned about whether brown rice has gluten or not, don't worry, it's gluten-free.
Brown rice is rich in fiber and antioxidants. Also, it is an excellent source of vitamins and minerals. Cake made from brown rice flour is usually chewy and soft.
You can easily find any package of brown rice flour in any grocery store. But if you have difficulty searching for this product on the market, you can just grind the fried rice into flour, and it is good to use.
Here is my favorite recipe for making a carrot cake out of brown rice flour. If you want to try it, why not now?
3-3.5 cups of grated carrot
One tsp of grated ginger
0.5 tsp Salt
Two eggs
2 cups of brown rice flour
1 cup of coconut oil
0.5 cup of sugar
0.5 cup of dried grapes
1.5 cups of yogurt
Mix all these ingredients in 4 to 5 minutes, and you will create an excellent cake dough for baking. Bake it at 350oF (190oC) for 20-25 minutes, and the smell will take you to heaven.
Watch this video to know more:
3. Corn Flour
Corn flour is made from whole corn kernels. The flour can be yellow or white, depending on what type of corn ground. Like other kinds of flour, the corn kernels have to be dried to form perfect corn flour.
Although corn flour is considered better off as an alternative for cornmeal, when you're in a pinch, corn flour can be a decent chickpea flour substitute as well. Thanks to its similar texture, corn flour is suitable for bread, muffins, waffles, pancakes, as well as grilled or fried foods.
Products made from this flour are sweet and earthy. The sweet taste of corn flour is natural and friendly to your tongue.
Corn flour can form a well-structured, spongy and soft cake. Just like corn starch, corn flour is naturally gluten-free.
However, most corn flour packages in the market are added with sugar or other sweetened syrup, make sure you find the labeled 'gluten free' on the market before purchasing the package.
There are plenty of cakes that can be made with corn flour but I will introduce one of my favorites, waffles. Waffles made with corn flour smell so good that you might not resist. Here is my recipe for a good waffle dough.
Three tablespoons of corn flour
One tablespoon of sugar
¾ tsp of salt
1 tsp of baking powder
1 tsp of vanilla extract
Four tablespoons of butter
1 cup of milk
Create a well-mixed dough and bake the waffles with a waffle making machine. Remember to apply butter to avoid stickiness while using the device.
Plus, you can add fruits like cranberries, blueberries, or strawberries as side dishes. Some whipped cream on top of the waffles will also be charming.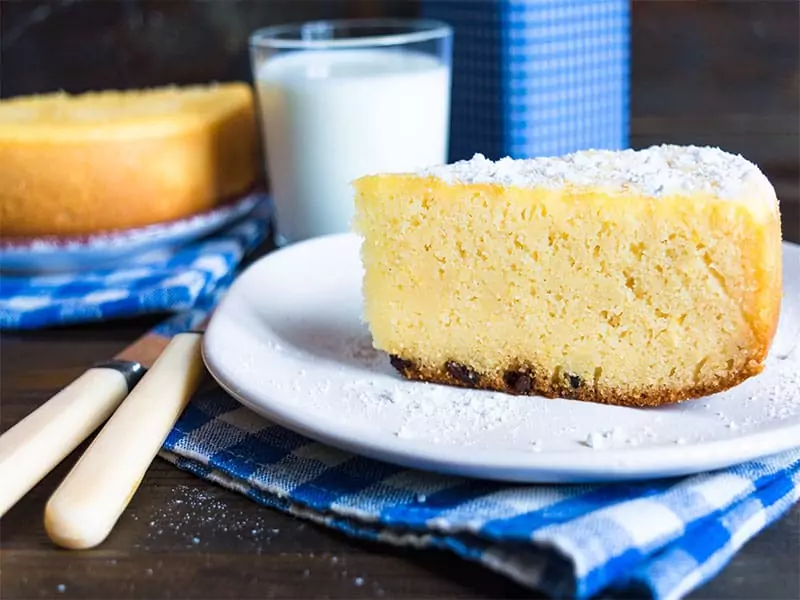 4. Buckwheat Flour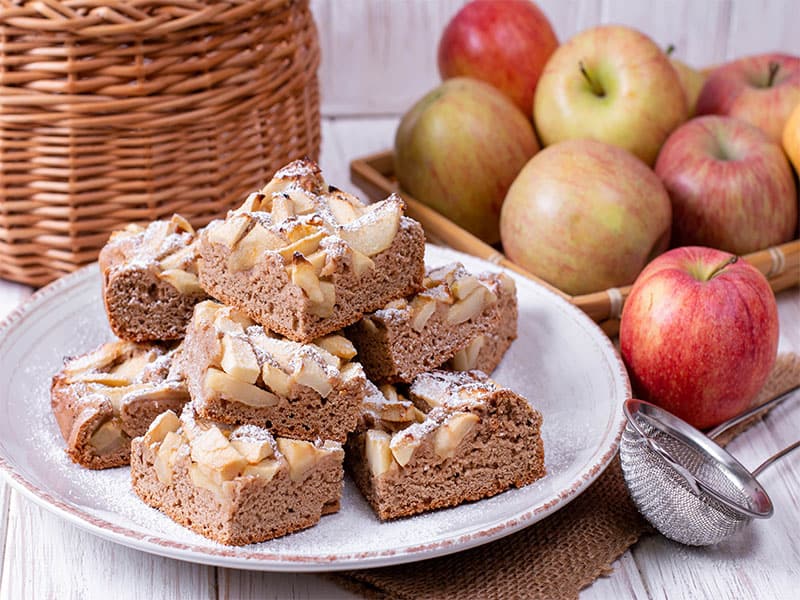 Buckwheat is gluten and grain-free, which is very suitable for everyone who is on their diet. Organic buckwheat flour is rich in B vitamins, protein, and fiber.
This great flour is usually used for baking cookies, biscuits, crackers, and butter cakes. The signature taste of buckwheat flour products is a little bitter, but the aromatic scents are lovely.
Like other gluten-free flour, the buckwheat flour alone can not form a perfect structure cake in baking. It is necessary to combine with additional alterations to avoid falling apart and sawdust taste.
Buckwheat flour behaves differently for various cooking methods. For making crackers, biscuits or cookies, the final products are crumbly, soft and earthy. Pancakes, waffles, and crepes made with buckwheat flour are soft and a bit spongy.
What do you think about a chocolate cake made with buckwheat flour? Impressive right? Here, I will show you a recipe for making this superb chocolate cake.
One cup of buckwheat flour
One teaspoon salt
One cup of coconut milk
One mashed banana
One teaspoon of coconut oil
One liquid sweetener
Take a mixing bowl and a stand mixer, then blend all these ingredients to form a fantastic cake dough that you can use for cupcakes, muffins. Chocolate cake is just one of some applications for using this cake dough.
Watch this video to know more:
5. Quinoa Flour
Quinoa flour is made from grinding dried quinoa seeds to create a yellow-white flour that feels the same as wheat flour.
Quinoa is amusedly rich in protein that many gymers add it in smoothies or shakes to boost their daily protein added. Low-carbohydrate diet followers are properly familiar with baked goods made with quinoa flour.
One notable feature of quinoa flour is that there is no need to add gums to make this flour work like wheat flour. Quinoa flour is also used to make typical desserts such as muffins or your daily morning bread.
Baked goods made with quinoa flour are spongy, tender, and a bit chewy. Also, quinoa flour can be used as a thickener in making soups.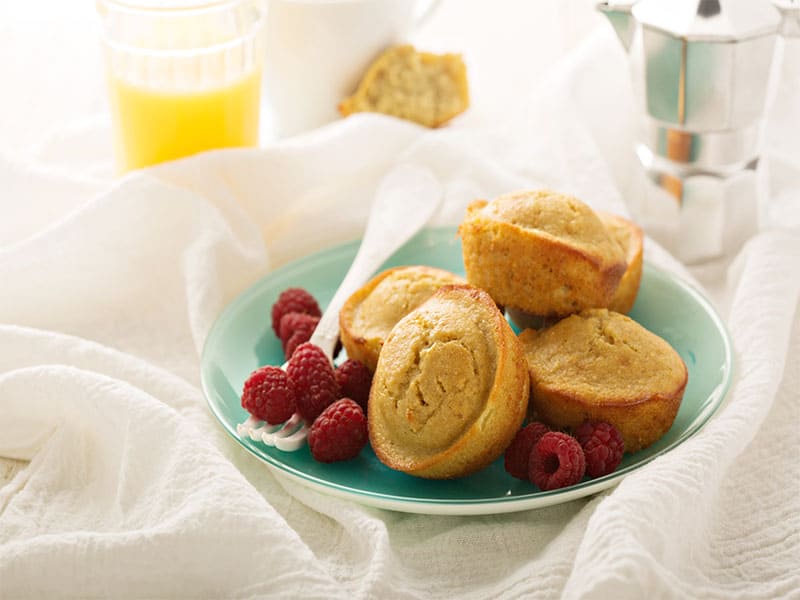 Quinoa flour has a strong earthy flavor, so it is necessary to use cocoa powder or strong spices to reduce its native taste.
Quinoa flour is perfect for making cookies, so this is my recommended recipe for making those sweet treats.
One cup oat flour
One cup of quinoa flour
One teaspoon of baking soda
½ teaspoon salt
Some chocolate chips
½ cup light brown sugar, packed
One egg
One teaspoon of vanilla extract
½ cup of organic butter
Mix the ingredients, and after the dough is well-mixed, you can ball the dough to form a cookie shape. With quinoa flour, I think you should make the cookies a bit thicker than usual to create chewiness for them.
Watch this video to know more:
6. Millet Flour
Millet flour comes from cereal grains that contain a rich amount of antioxidants and protein. This is another gluten-free flour in this list, and it is super yummy, believe me.
This gluten-free flour is popular in Africa and Asia and is perfect for your diet ingredients. For example, Aiyash is a delicacy in Chadian cuisine that consists of deep-fried millet flour paste.
Millet flour can benefit your health in plenty of ways. It is widely consumed to control blood sugar levels and reduce cholesterol absorbed daily.
Millet flour can substitute all-purpose flour with a 1:1 ratio. Usually, The flour is mixed with other flours like rice or sorghum to enhance the quality of the cake structure.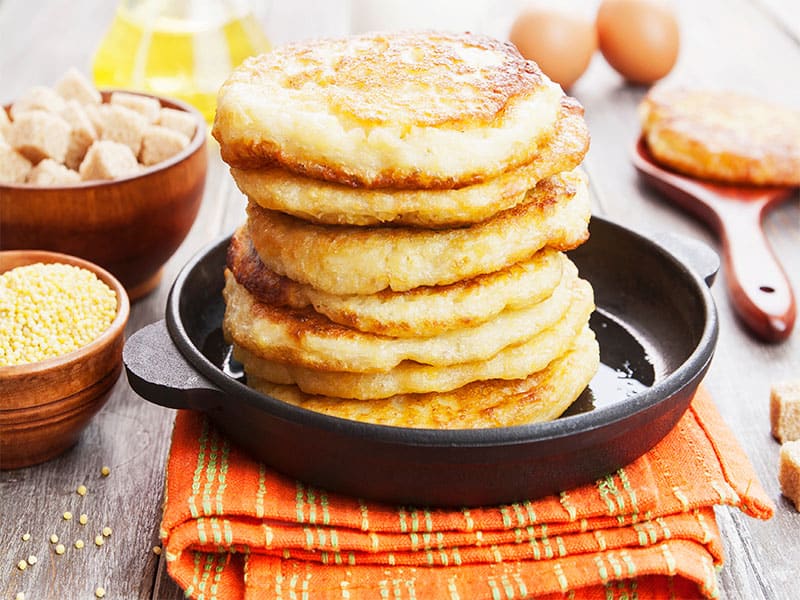 The use of this flour varies from baking desserts like cookies or brownies to other flavorful dishes such as pizza crust and veggie fritters.
As the variety of uses can confuse you of what you should eat, here is an excellent recipe for using millet flour.
Do you like banana cakes? I'm sure you do. What if you turn your banana cake into a healthy dish that you can serve at one of your upcoming parties? Here is my recipe for it.
One banana (large)
¼ cup of sugar
⅔ cup of oil
One teaspoon of vanilla extract
½ cup of milk
¾ cup of millet flour
¾ cup of wheat flour
⅛ teaspoon of salt
½ teaspoon of baking soda
¼ cup of walnut
Mix all these ingredients, and remember to separate the milk into two parts and add them respectively. This is to create a well-thickened dough and ready to bake.
Watch this video to know more:
7. Cassava Flour
Cassava flour is from ground cassava roots, and it should be a perfect substitute for chickpea flour. Here is why?
The taste of cassava flour has some similarities with chickpea. It is earthy and a bit nutty. The flavor is not too strong and is dominant in the whole dough smell.
It is usually mistaken for tapioca flour, a common substitute for cornstarch. These two flours are made from cassava roots. However, the tapioca flour is formed by pressing tapioca to liquid and then evaporating; the remaining dried starch is tapioca flour.
One of the most popular uses for cassava flour is making cassava pone, which is an insanely popular dessert in the Caribbean region. This cake is quite simple to make too, so if you're curious why it's so beloved, you should try your hand at this delicious Caribbean cake.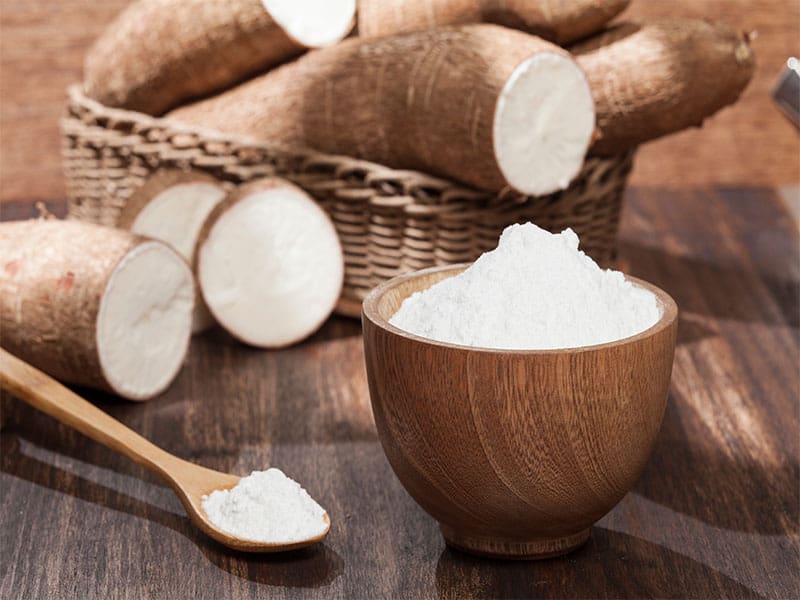 Due to its neutral taste, cassava flour is easy to substitute chickpea flour for most baking recipes. Let's try this one, I'm sure you will love it.
Two cups of cassava flour
½ cup of butter
Two eggs
One cup of coconut milk
Condensed milk
One cup of milk
One teaspoon vanilla extract
Salt
Bake the mixture at 180oC for 30 minutes and top the cake with extra condensed milk, then rebake it in 8-10 minutes.
Watch this video to know more:
8. Oat Flour
Oat flour is made from whole grain rolled oats, making it an excellent answer to a common question: "Can I eat flour if I'm a vegan?". It is also a great source of vitamin B1, copper, magnesium, and fiber.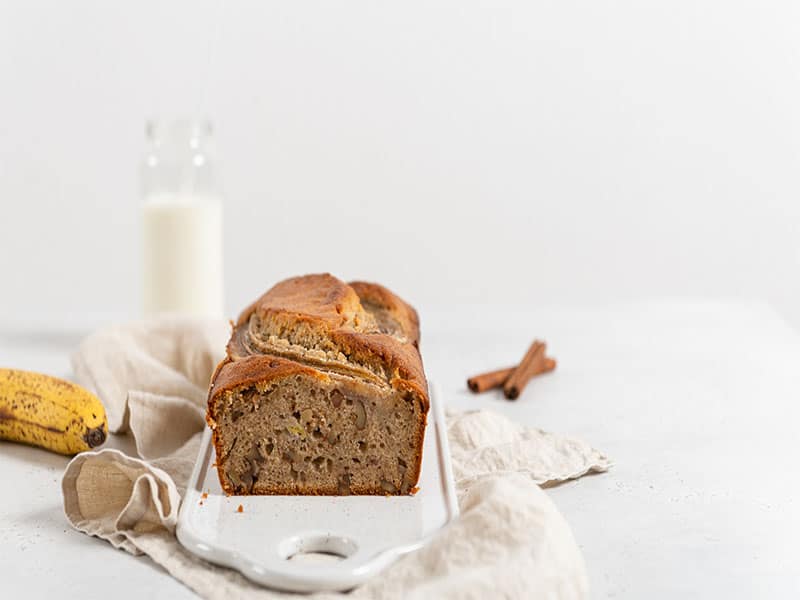 Creating this flour is extremely easy, all you need is a blender and rolled oats. Grind the oats for 15 to 25 seconds, the final product should be a fine and powdery flour.
Oat flour can work well with dense texture cakes like brownies or muffins. Baked oat flour is mild and slightly sweet. Like other gluten-free flour, it is essential to create a mixture with additional flour such as rice flour to form spongy and fluffy cakes.
Remember to put the flour in airtight containers for better preservation. Exposing it to air for too long might cause deterioration in nutrition.
Oat flour cake is perfect for breakfast due to its energy provided. So, I will show you one of my favorite breakfast bread – oat flour banana bread. Here are the ingredients.
3 eggs
3 mashed bananas
1 cup of sugar
2 teaspoon of baking powder
1 teaspoon of cinnamon
1 teaspoon of vanilla extract
¼ cup of olive oil
½ teaspoon of salt
Stir the listed ingredients until the dough is thick and you feel a bit heavy while stirring. Bake at 180oC for 35 to 40 minutes, and boom!! Your breakfast is ready.
Watch this video to know more:
9. Almond Flour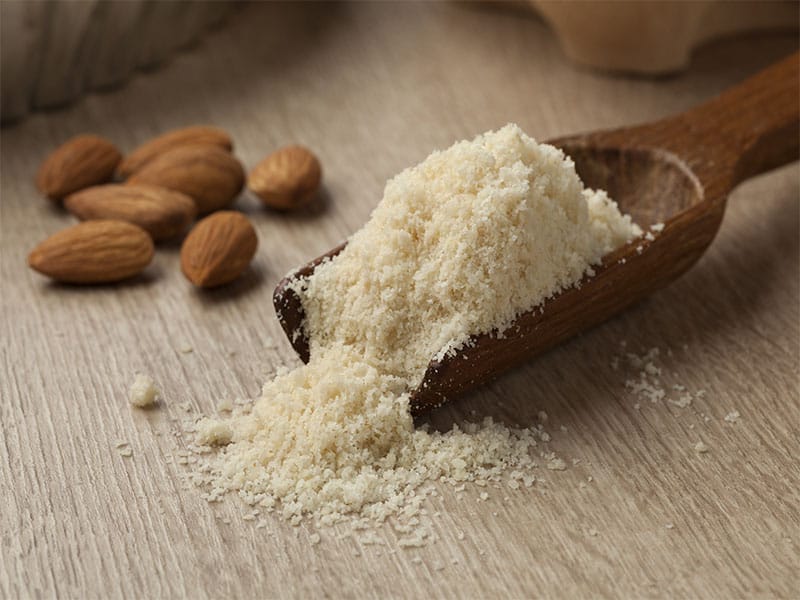 Ah, we have come to the famous almond flour. I believe almond flour of the highest quality is also the most suitable substitute for chickpea flour. Because there are quite a lot of similarities between these two. Let's find out what those shared features are
Almond flour is made from ground almonds. Ordinary almond flour can often grinded with skin detached almonds. However, some almond flour still has almond skins intact, this type is often called almond meal.
Like chickpea flour, almond flour is excellent for your health. Don't worry about almond flour's gluten content since it is gluten-free, which is good for your stomach to digest. Plus, the sugar inside almonds releases slowly into your blood. This helps control sugar in your blood.
Although almond flour's shelf-life is quite impressive, there will be times when you wonder "how likely is it for almond flour to go bad?" So, you should try to store almond flour in a cool and dry place. If possible, store the flour away from sunlight or places with temperature fluctuations.
The taste is not completely the same as chickpeas. But it is also nutty and a little earthy, which is very suitable to substitute chickpea flour.
It is recommended to use almond flour in combination with other flour to reduce the density of the cake and help the cake rise better.
Here I will show you a recipe for making a typical almond flour pancake. Let's go
1.5 cups of almond flour
One teaspoon of baking powder
¼ teaspoon of salt
¼ cup of almond milk
Two eggs
One teaspoon of vanilla
Mix all ingredients and fry the pancake on the heated pan. Each side should be fried for two minutes, and then you can flip to the other side.
Add sugar-free maple syrup on top of these yummy pancakes, and they are good to go.
Watch this video to know more:
10. Coconut Flour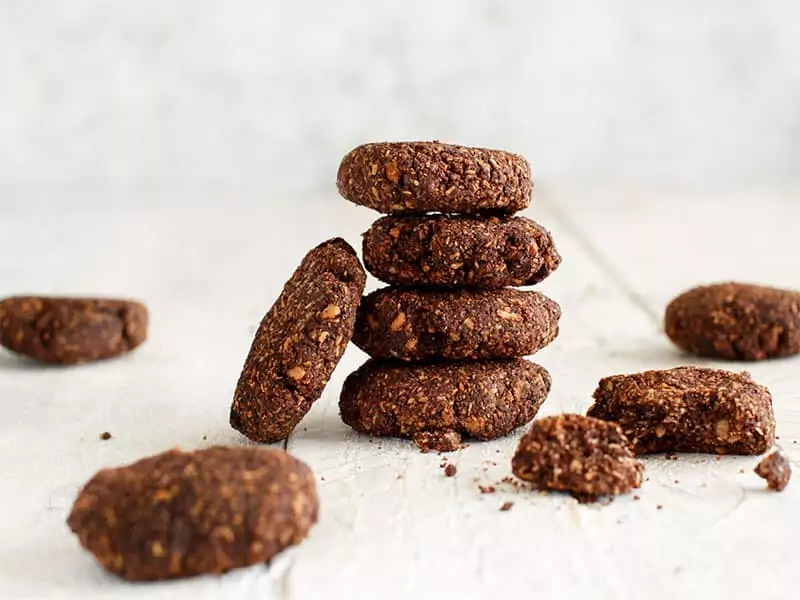 Just like wheat flour, coconut flour is white and tender. Coconut flour is made from dried coconut meat.
Coconut flour retains more liquid and needs to be mixed longer than other kìnds of flour. Baked products made with coconut flour have an insane coconut smell (which is astonishing for a party dessert).
If you like your cake to be moist and a bit chewy, add coconut flour to your recipe, and the outcomes will be stunning.
Coconut flour also helps you digest better due to its high fiber content. However, natural coconuts have saturated fats, which are not suitable for your metabolism. However, coconut flour is processed to eliminate these fats. So you should not be worried.
Since baked coconut flour cakes have an amazing coconut smell, I will show you my favorite recipe for baked pound cakes.
1 cup of coconut flour
⅓ cup of sugar substitute
One teaspoon of baking powder
One teaspoon of vanilla
½ cup of sour cream
½ cup of coconut milk
One tablespoon of melted butter
Five eggs
The dough made by mixing these ingredients should be thick and have a great scent. Bake the dough at 180oC in 35 minutes. The smell will let you know when the cake is ready.
Watch this video to know more:
Made Your Meal Healthier
All of my chickpea flour substitutions listed above are gluten-free and rich in proteins, minerals, and some vital vitamins. So if you are planning on creating a diet menu, consider having a look at my list.
Keep in mind that there are no ingredients that can completely replace others. Each component has its signature taste and behaves differently when baking.
However, trying different flavors is an exciting experience. Who knows, maybe you will find some bizarre recipes that wow your friends and family members.
Let me know what you think about my list. I hope that it will be helpful.
FAQs
For further explanations, I will answer some of your frequently asked questions below.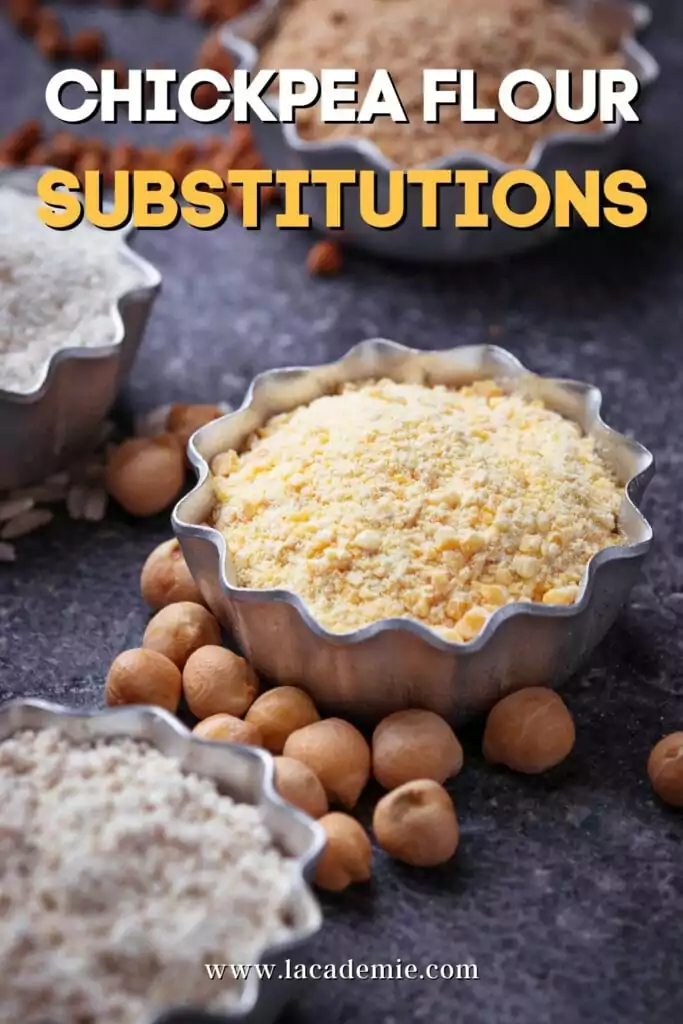 Reference:
Health Encyclopedia, 2021, Legumes and Legume Products, [online], Available at: <https://www.urmc.rochester.edu/encyclopedia/collection.aspx?subtopicid=15137>.
Mohamed, A 2012, Effects of chickpea flour on wheat pasting properties and bread making quality, [online], Available at:<https://www.ncbi.nlm.nih.gov/pmc/articles/PMC4152488/.