You need some tomato paste substitutes since you have run out of tomato paste when cooking, right? As you know, tomato paste is such a great ingredient in a variety of cuisines. But sometimes, you may not have tomato paste on hand in the pantry.
It is pretty time-consuming for a trip to the grocery store. Why don't you use some tomato paste substitute instead? This post will list some of the most fantastic tomato paste alternatives that give you the most pleasant cooking experience.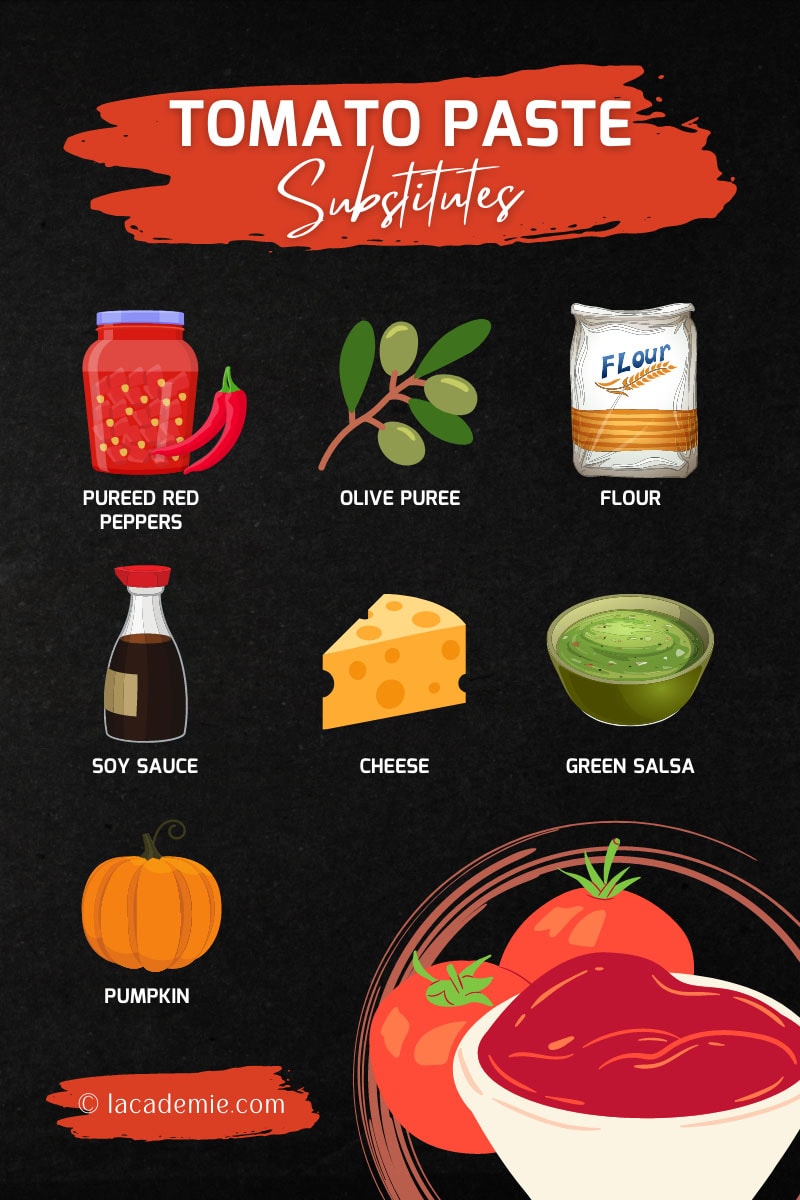 What To Use When You Don't Have Tomato Paste? List Of Tomatoto Paste Substitutes
Here are 25 good tomato paste substitutes that you can use in the situation that there is no tomato paste left in your pantry.
Tomato-Based Ingredients
Canned Tomatoes (Whole Tomatoes)
Canned Stewed Tomatoes
Fresh Tomatoes
Tomato Sauce
Tomato Puree
Ketchup
Marinara Sauce
Tomato Soup
Tomato Passata
Tomato Pasta Sauce
Tomato-Free Ingredients
Pureed Red Peppers
Pureed Veggies
Olive Puree
Cornstarch And Red Wine
Flour
Soy Sauce
Cheese
Whipped Cream Cheese
Roux
Add Extra Seasonings
Green Salsa
Pumpkin
Butternut Squash
Miso
Oyster Sauce
What Is Exactly Tomato Paste?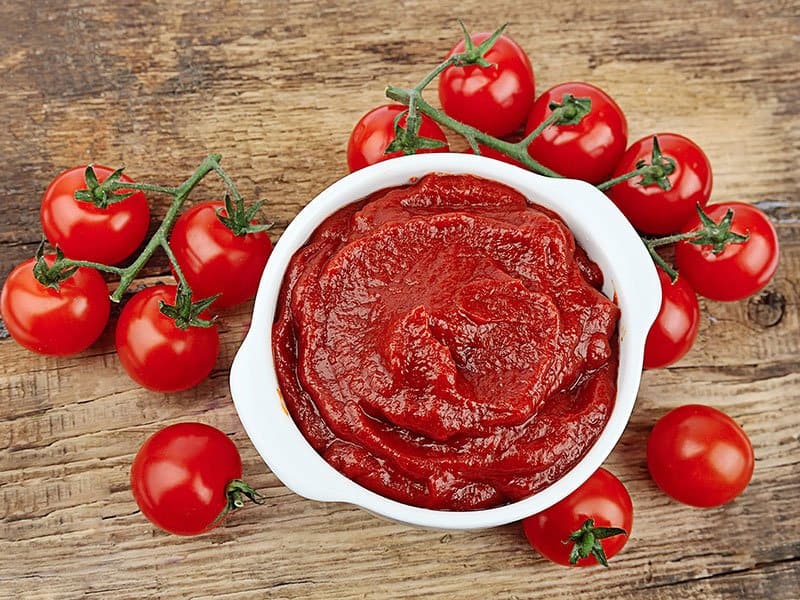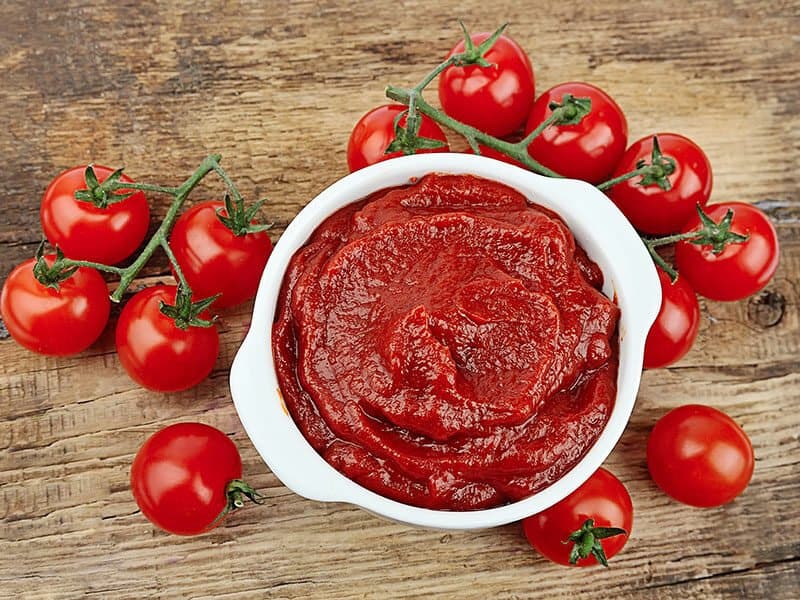 Tomato paste is a condensed, thick paste created by simmering tomatoes for many hours with skins and seeds filtering away. After lowering the water content, you will need to cook the paste again to form the thick, rich, and flavorful tomato paste that boast a strong tomato taste.
Tomato paste is ideal for a wide range of foods, including roasted meat, soups, pasta, and so on. Due to the hustle and bustle of life, canned tomato paste or tomato paste in the tube is widely chosen for saving time and effort.
Since tomato paste in a tube uses salt while canned tomato uses citric acid for preservation, tomato paste in a tube is usually preferred because it features a tastier flavor. In addition, some of the canned tomato pastes come with a little metallic flavor.
However, store-bought tomato paste does not taste as well as homemade one. What if you do not have time for making homemade tomato paste. Don't worry since some following substitutes are ready to help!
25 Time-Saving Tomato Paste Substitutes For Last-Minute Situations
It's time to focus on the main part of this article, and I will show you the 25 best tomato paste substitutes that are handy when you have run out of tomato paste in your pantry. From tomato-based substitutes or non-tomato substitutes, you can easily find the perfect match for your dishes.
10 Tomato-Based Ingredients That Can Substitute For Tomato Paste
First of all, let's have a quick look at the 10 tomato-based ingredients that can replace tomato paste for a quick and easy fix to your dishes.
Tomato-Based Substitutes Conversion Chart
This chart gives you a quick summary of the ratio of tomato paste and its substitutes. You can save this chart for a quick solution when you need an alternative for tomato paste.
| | |
| --- | --- |
| Tomato-Based Substitutes | Proportion |
| Canned Tomatoes (Whole Tomatoes) | 2 tbsps strained canned tomatoes = 1 tbsp tomato paste |
| Canned Stewed Tomatoes | 4 tbsps canned stewed tomatoes = 1 tbsp tomato paste |
| Fresh Tomatoes | 2 or 3 tbsps freshly strained tomatoes= 1 tbsp tomato paste |
| Tomato Sauce | 2 or 3 tbsps tomato sauce = 1 tbsp tomato paste |
| Tomato Puree | 2 tbsps tomato puree = 1 tbsp tomato paste |
| Ketchup | 1 tbsp ketchup = 1 tbsp tomato paste |
| Marinara Sauce | 2 tbsps marinara sauce = 1 tbsp tomato paste |
| Tomato Soup | Reduce the tomato soup and cut down other wet ingredients by ¼ to ½ cup |
| Tomato Passata | 3 tbsps tomato passata = 1 tbsp tomato paste |
| Tomato Pasta Sauce | 2 tbsps tomato pasta sauce = 1 tbsp tomato paste |
1. Canned Tomatoes (Whole Tomatoes)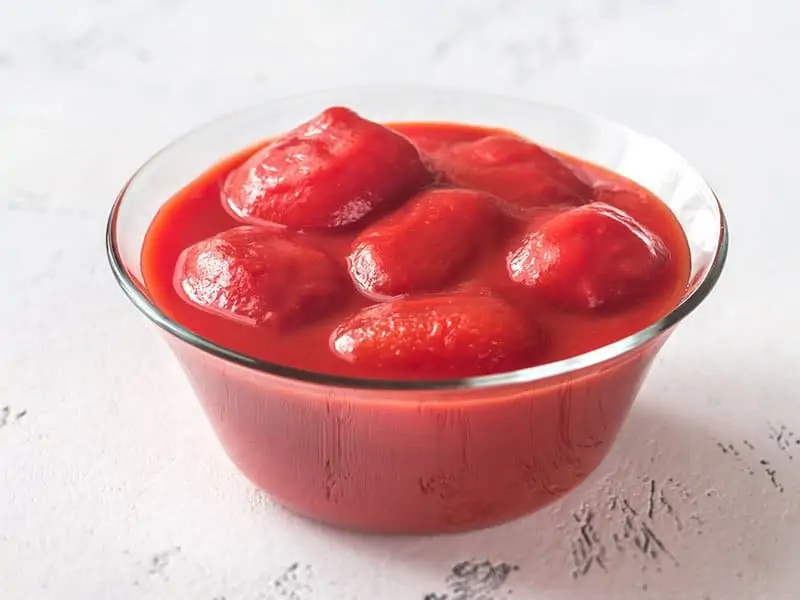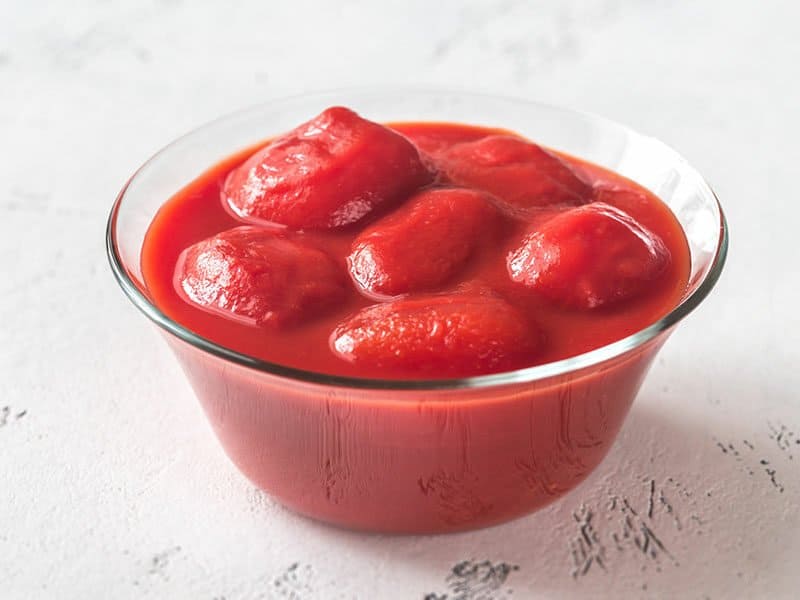 Canned diced tomatoes, also known as tinned tomatoes, are peeled tomatoes that have been heat-processed before being sealed. Premium-quality canned tomatoes are the perfect alternative for when you do not have enough time to make homemade tomato paste.
One of the best replacements for tomato paste is canned tomatoes with its diverse range of types, including whole tomatoes.
If you worry about consistency, you can drain off the excess liquid or heat it up in the saucepan to achieve the condensed paste-like consistency. Adding spices to boost up the flavor is also a wise choice.
As canned tomatoes' shelf-life is quite long, you can stock up on these goods without worrying that they will spoil anytime soon. And with the versatility of canned tomatoes taken into account, I'm certain that you'll probably use up all yours within a short duration.
Another thing to note is that you will need roughly twice the amount of canned tomatoes to get your desired paste. In detail, you can replace two tablespoons of canned tomatoes with one tablespoon of tomato paste in your beloved recipes.
Useful Tips:
When your recipe calls for crushed tomatoes, break the tomatoes with your fist or hands after transferring them into the saucepan.
2. Canned Stewed Tomatoes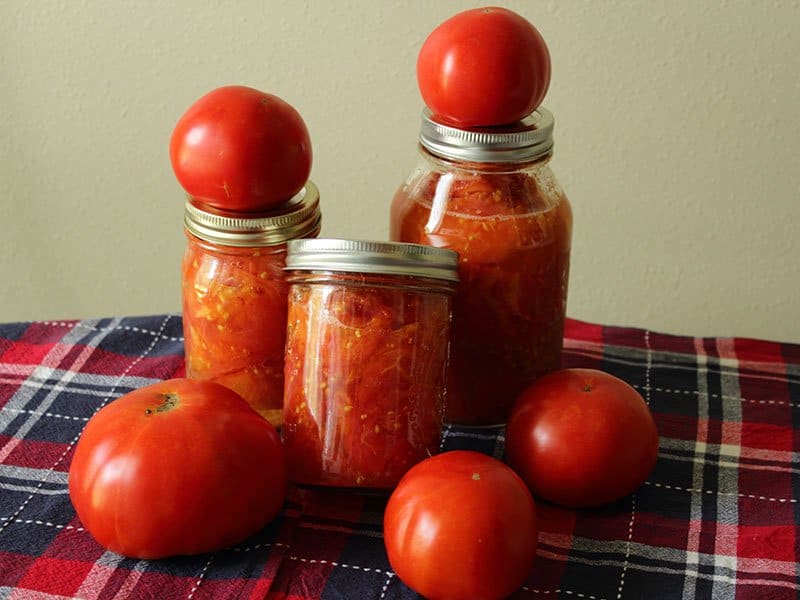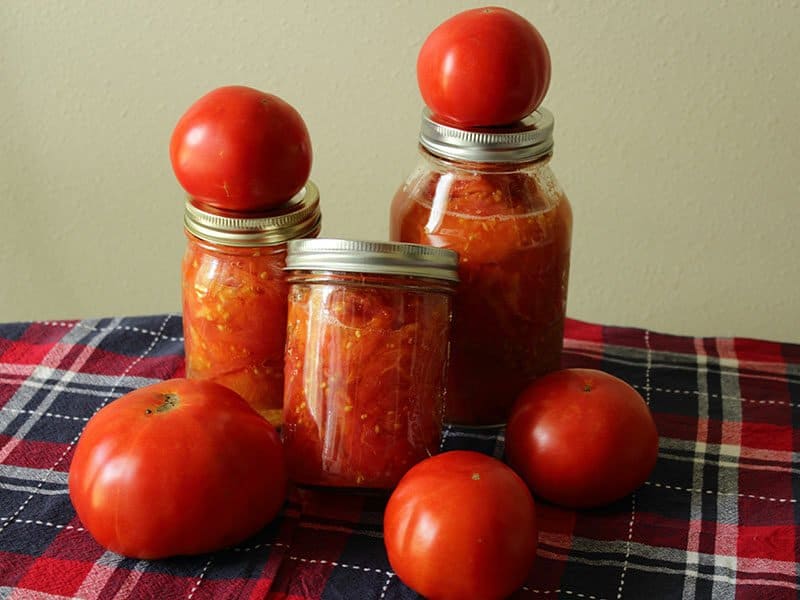 Stewed tomatoes are likewise cooked in the same manner as tomato paste. Both stewed tomatoes and tomato paste are cooked down, so stew tomatoes have nearly the closest flavor to tomato paste.
One single difference between the twos is that stewed tomatoes are seasoned and cooked with garlic, celery, onions, red peppers. When you have run out of tomato paste, feel confident to use stew tomatoes.
Since stewed tomatoes are pre-seasoned and contain additional liquid, you have to properly drain and simmer canned stewed tomatoes before adding them to your dish. Replace every tablespoon of tomato paste with 4 tablespoons of canned stewed tomatoes. Canned stewed tomatoes work well as a tomato paste alternative in chili dishes.
Useful Tips:
Apart from canned stewed tomatoes, you can also use canned diced tomatoes with the same ratio and cook down with the same method.
3. Fresh Tomatoes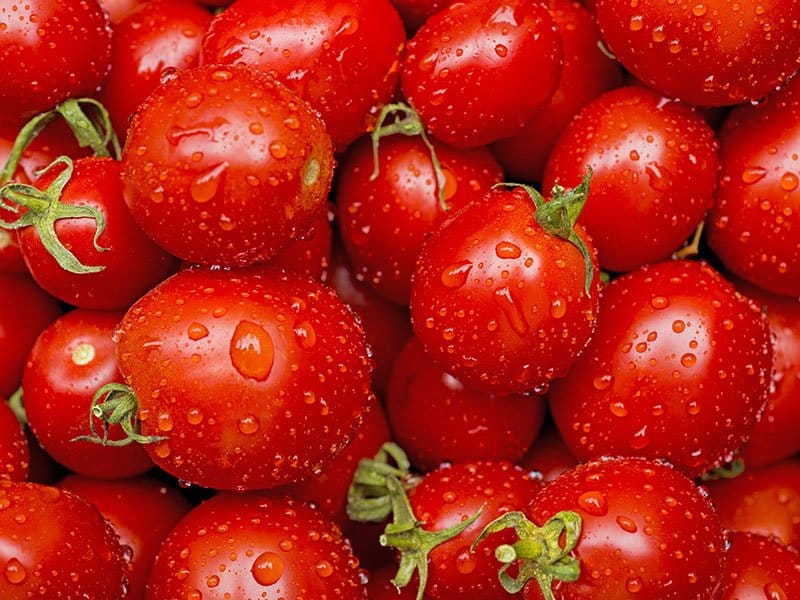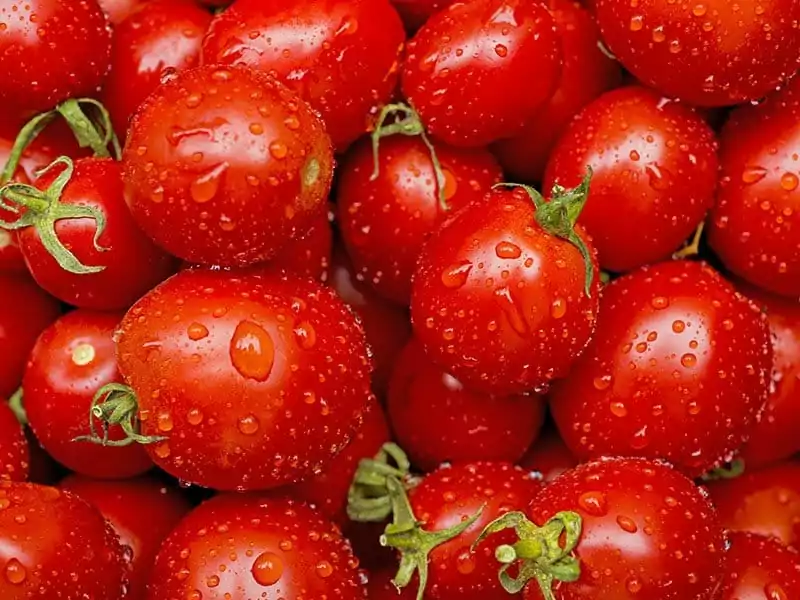 If you prefer preparing your meals with something fresher, you can use freshly chopped or crushed tomatoes in the recipe that calls for tomato paste. To remove the skin and seeds, you can seek the help of the food mill or a large-holed strainer.
You can dice, chop, or crush the fresh tomatoes. Then cook and reduce them in the saucepan and add other flavors if you desire. Additionally, you can reduce the tomatoes in the oven.
Although using fresh tomatoes and cooking them may be a time-consuming task, if your recipe just calls for one or two tbsps of tomato paste, you can preserve the leftovers in the fridge. Just like canned tomatoes, use about 2 or 3 tables of strained fresh tomatoes instead of 1 tablespoon of tomato paste.
4. Tomato Sauce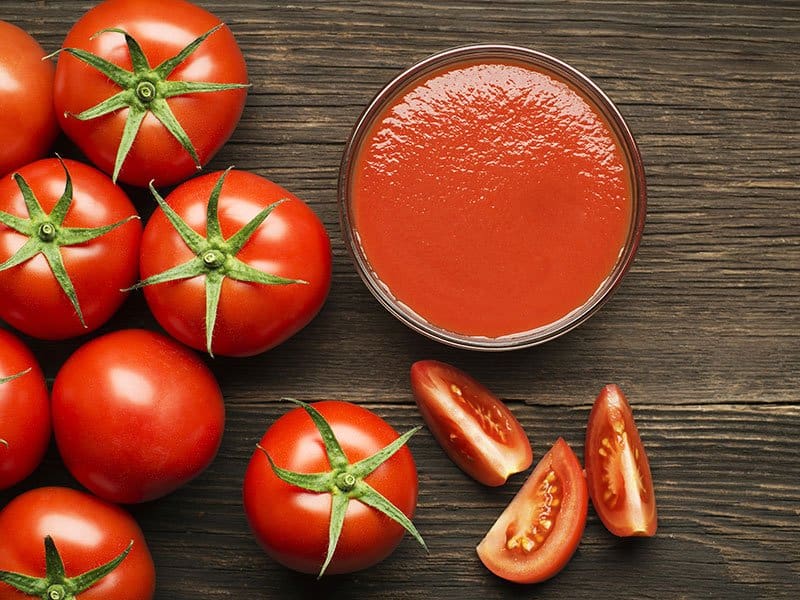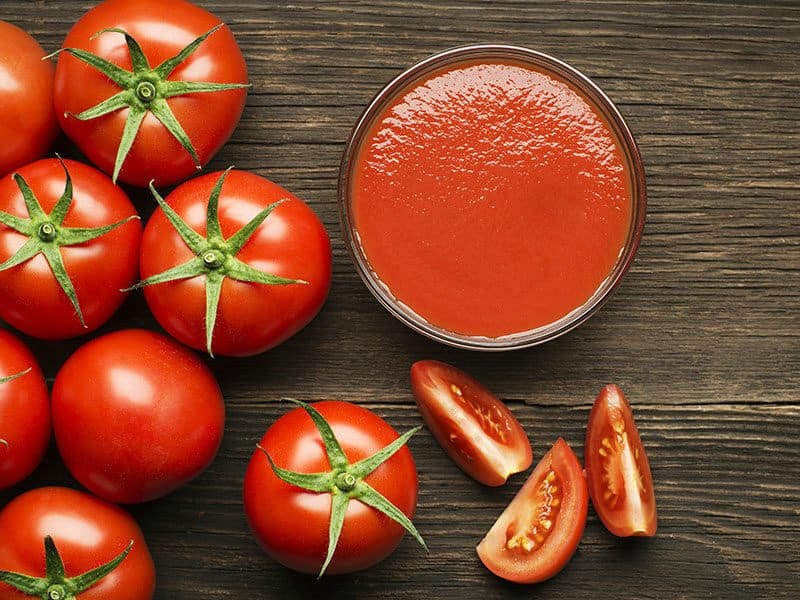 Although there are quite a few notable differences between tomato sauce and tomato paste, they still share the same flavor profile. This means that you can certainly use tomato sauce when you don't have canned tomato paste or tubes of tomato paste.
As I said, tomato sauce may not be as condensed as your recipe requires. You will need to simmer the sauce and remember to double the amount of sauce before simmering. In detail, start with 2 or 3 tablespoons of tomato sauce for every tablespoon of tomato paste.
If you don't like to reduce the tomato sauce, you can use tomato sauce directly in the recipe. And don't forget to double the amount of tomato sauce to ensure the same results. You can also extend the cooking time to thicken your beloved dish.
Although the flavor of tomato sauce is not as rich as tomato paste, canned tomato sauce comes with other seasonings that make it perfect for use in pasta or soups. Moreover, tomato sauce is the best substitute if you plan to use it for meatloaf.
Useful Tips:
Do not use seasoned tomato sauce since it can alter the food flavor
5. Tomato Puree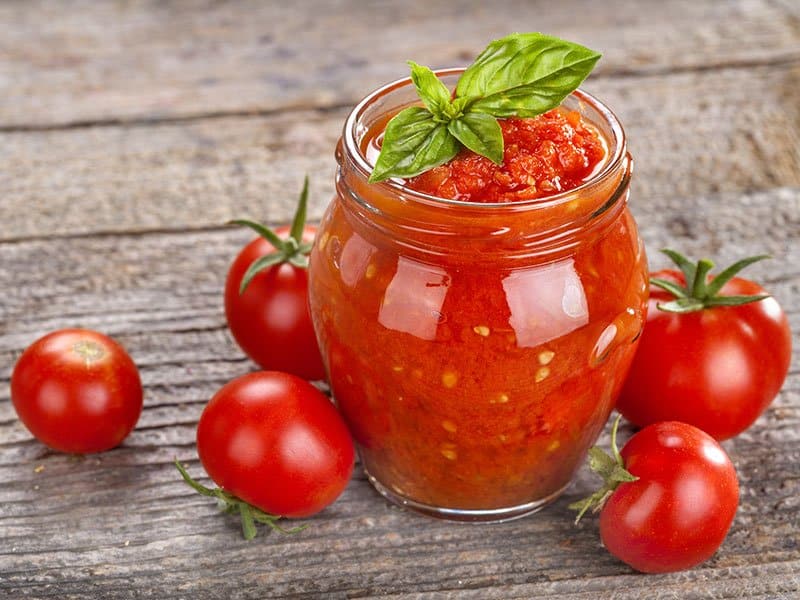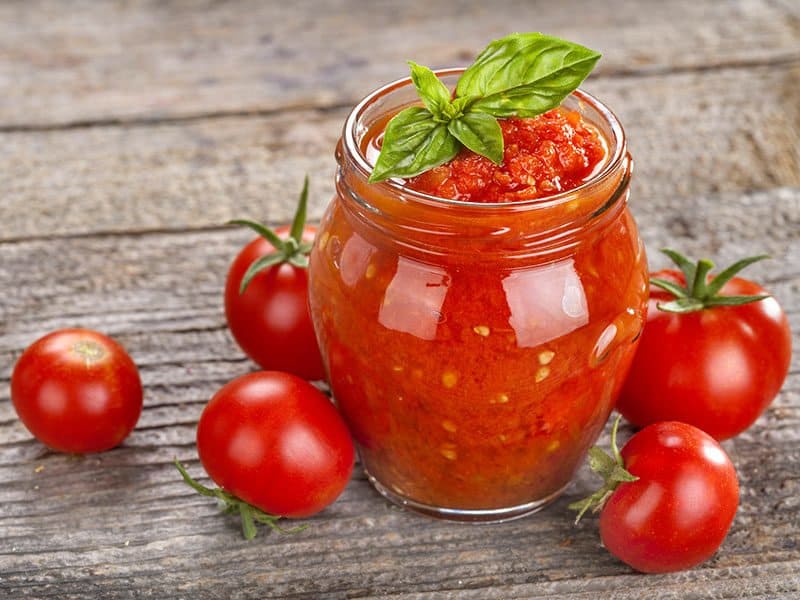 What makes tomato puree different from tomato sauce and tomato paste is its thickness and consistency. Tomato puree does not have additives like tomato, and it lacks the consistency of tomato paste.
About flavor profile, tomato puree still boasts the strong tomato flavor that your dish requires. Therefore, you can substitute tomato puree for tomato paste in the same way as tomato sauce. It will be best if you cook down tomato puree for about 10 minutes under medium heat before adding it to your dish.
If the recipe calls for one tablespoon of tomato paste, start with 2 tablespoons of tomato puree to achieve the best results. If you want to make stews or soups, tomato puree is the best alternative.
Useful Tips:
Remember to add some seasonings to ensure a balanced taste for the dishes
6. Ketchup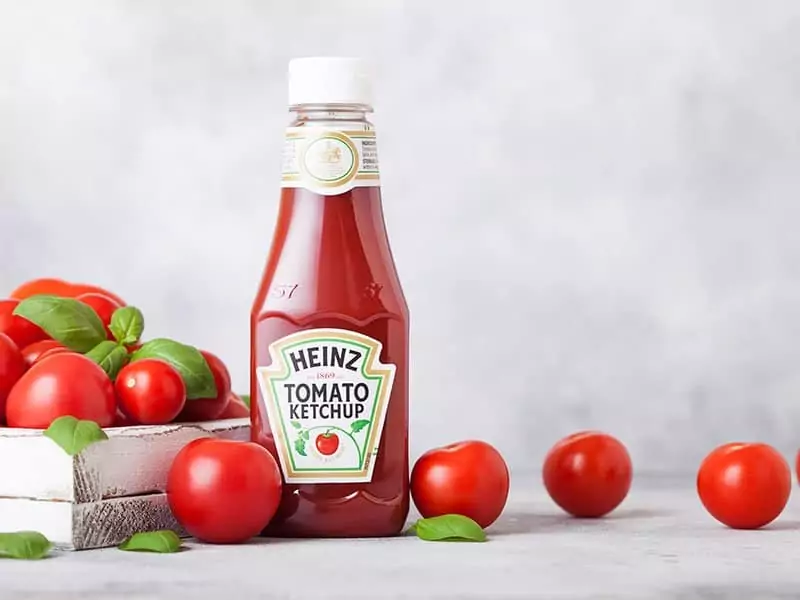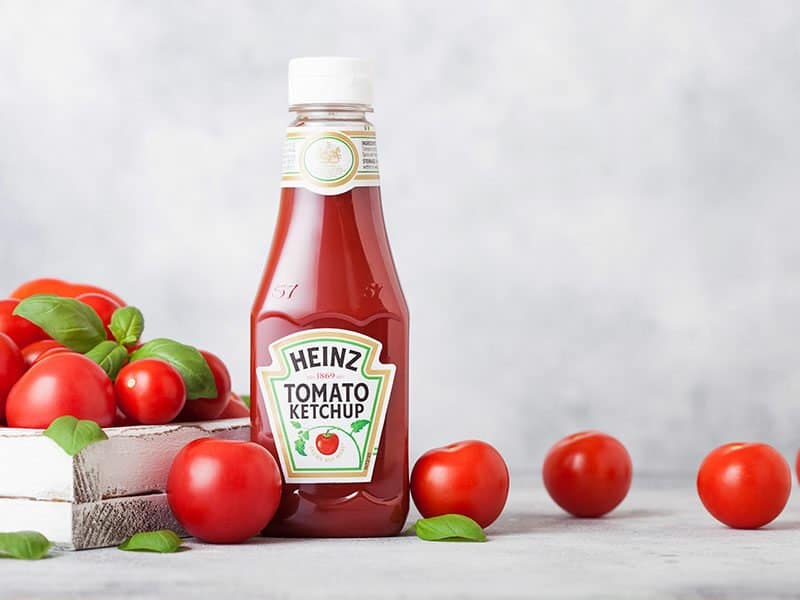 Just like how tomato paste can be the perfect substitute for ketchup, ketchup can be used in place of tomato paste as well. You can reduce ketchup to achieve a thicker paste. With a sweet and tart kick, ketchup provides a comparable depth and flavor layer to your favorite recipes.
Since ketchup features a thinner texture, it is perfect for baked beans, braised meat, and chili. Regarding proportion, ketchup can replace tomato paste with a 1:1 ratio. Use 1 tablespoon of ketchup for every recipe calls for 1 tablespoon of tomato paste.
For people that wonder whether ketchup is vegan-friendly, most of the commercial products on the market are. If you worry about the sweetness of ketchup, sloppy joes and chili can tolerate the added sweetness. Moreover, you can also reduce the amount of additional sweetener to ensure the perfect flavor for your dishes.
Useful Tips:
Ketchup is pre-seasoned and contains sugar, and it can sweeten anything you're preparing. You should use ketchup in any dishes that have already had sweet ingredients.
7. Marinara Sauce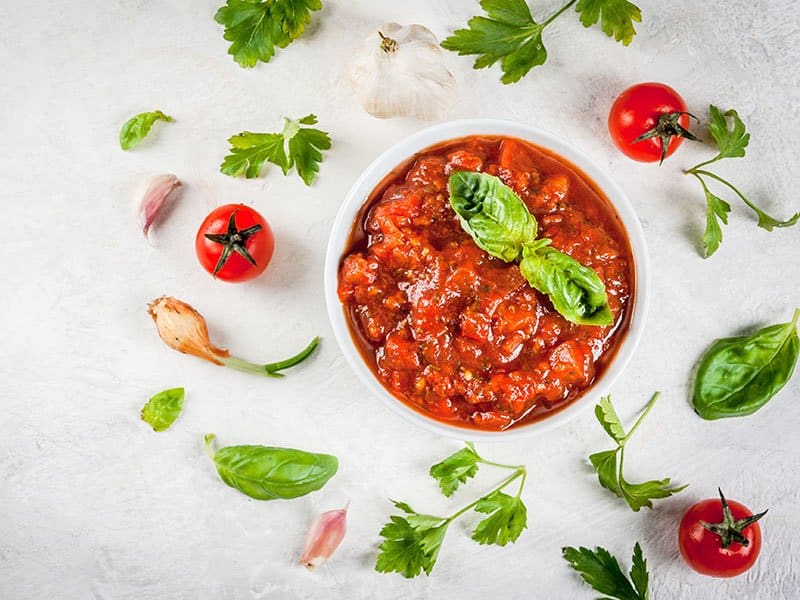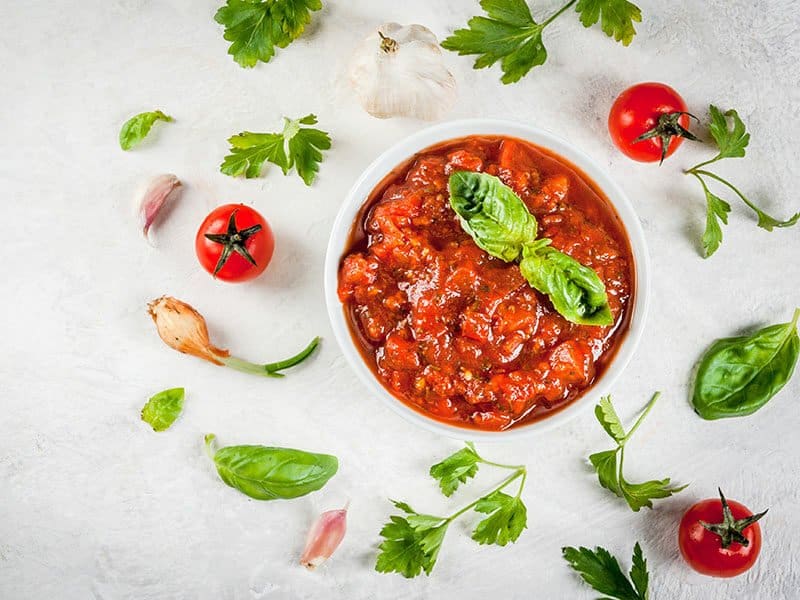 Marinara sauce – a pasta sauce type, is just similar to tomato sauce, but it comes with fewer ingredients. Marinara sauce is made only with tomatoes, garlic, onions, and some seasonings. Since it has the same flavor as tomato sauce, it can also be a great alternative to tomato paste.
When you have neither tomato paste nor tomato sauce, this classic Italian sauce is the go-to option. Feel free to start with 2 tablespoons of marinara sauce for every tablespoon of tomato paste your recipe calls for.
8. Tomato Soup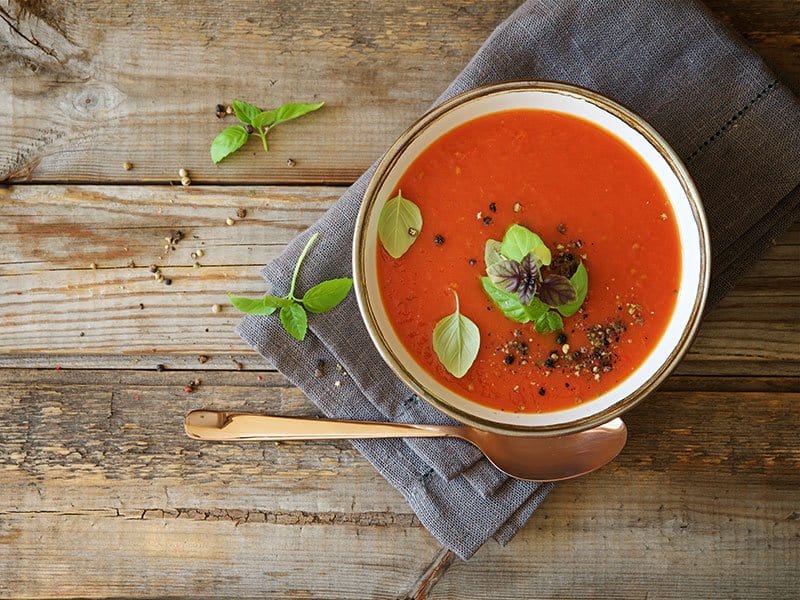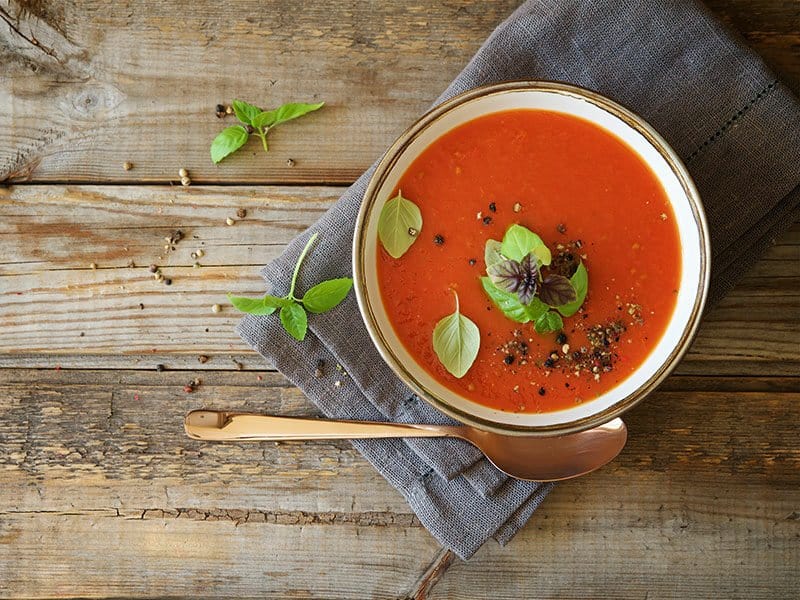 From my perspective, tomato soup can also be a great option when you don't have tomato paste on hand. Tomato soup has the same flavor profile as tomato paste but with a sweeter taste and more watery texture.
Therefore, I think you should only use tomato soup in the recipe with other wet ingredients. Like other substitutes, you will need to cook down the tomato soup. Since it includes more liquid, you may have to cut down on other wet ingredients a little bit (about ¼ to ½ cup).
9. Tomato Passata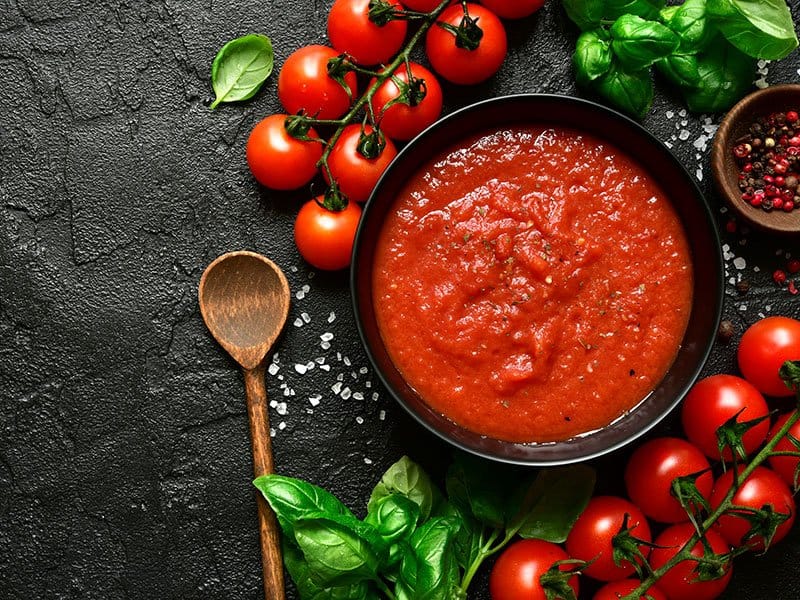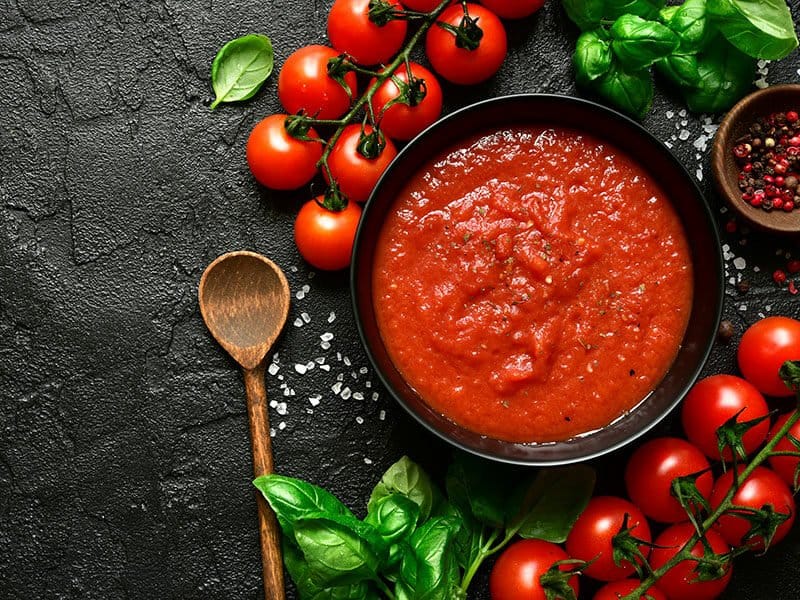 What is tomato passata? It consists of tomatoes that are pureed, strained and there are no additives or flavorings. Tomato passata is usually packed in bottles, and some products may contain salt.
And why is tomato passata on the list? It has the closest taste to canned tomato paste; the only difference is tomato passata has more moisture. You can easily find tomato passata at specialized food stores, grocery stores,s or supermarkets.
Thanks to the smooth texture and consistency, tomato passata can be used in soups or pizza sauce. To stand in for tomato paste, you can use 3 tablespoons of tomato passata to replace one tablespoon of tomato paste.
10. Tomato Pasta Sauce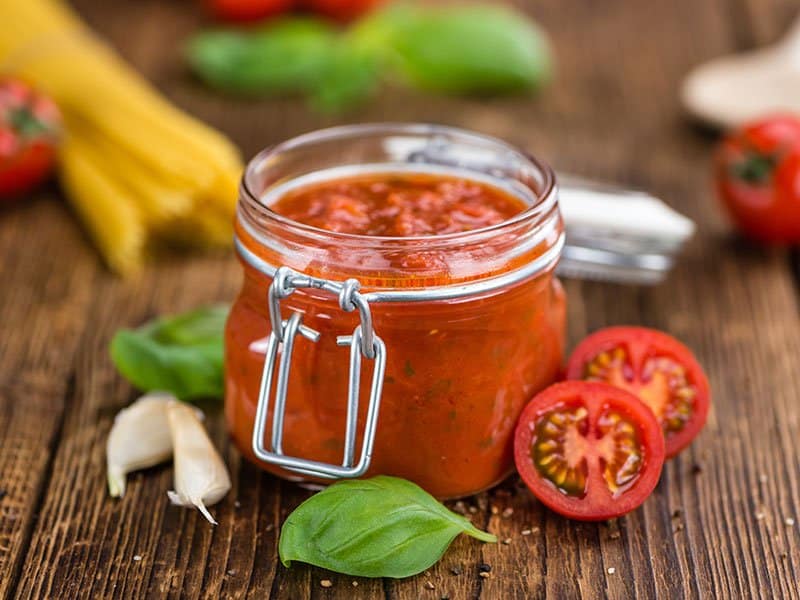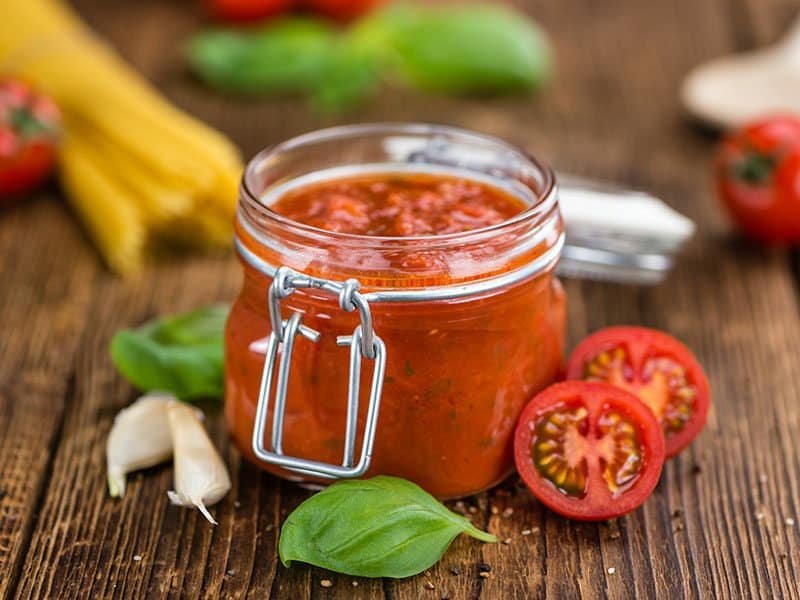 About concentration, store-bought pasta sauce often falls midway between tomato paste and tomato passata. One thing to note is that tomato paste may contain other flavorings such as basil or onion.
Aside from its pleasant flavor and decent texture, pasta sauce boasts a decent shelf-life. This means that you can stock up on quite a bit of pasta sauce to use for various cooking purposes, including substitute tomato paste when you're in a pinch.
Just like tomato passata, you can cook down tomato pasta sauce if you worry that the thin texture of it may affect your dish. And the rule you should remember is 1 tbsp of tomato paste equals 2 tbsps of tomato pasta sauce.
15 Tomato-Free Ingredients That Can Replace Tomato Paste
You may be surprised to see these tomato-free ingredients in the list of tomato paste substitutes. Some of these alternatives, however, are ideal for individuals who are allergic to the tomato family or nightshade family.
11. Pureed Red Peppers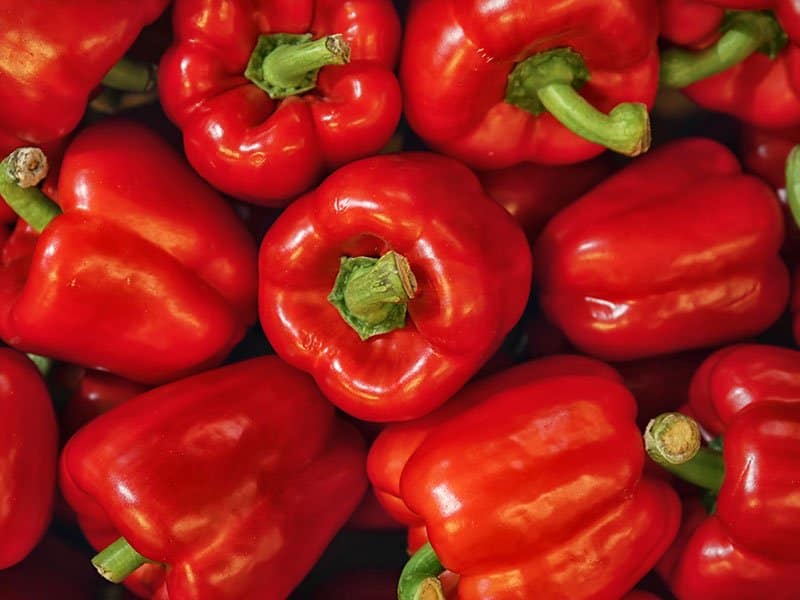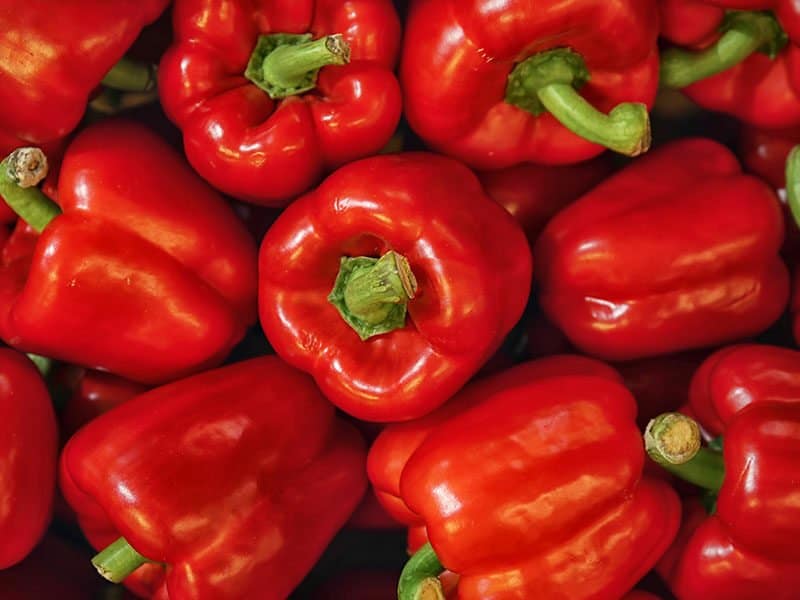 Using pureed red peppers is also an excellent choice for thickening your dishes. Red peppers will not provide an acidic taste, but they will provide color and give your dish the texture your desire. The best way to utilize pureed red peppers is to use them in pasta.
How can red peppers replace tomato paste? First of all, you can roast the red peppers, remove their seeds and blend red peppers with a highly-efficient food processor with built-in blenders. After that, you can simmer the pureed red peppers to achieve a richer and thicker paste.
Bear in mind that you can replace one tablespoon of tomato paste with one tablespoon of pureed red peppers. Now you can stop worrying about running out of tomato paste, right!
12. Pureed Veggies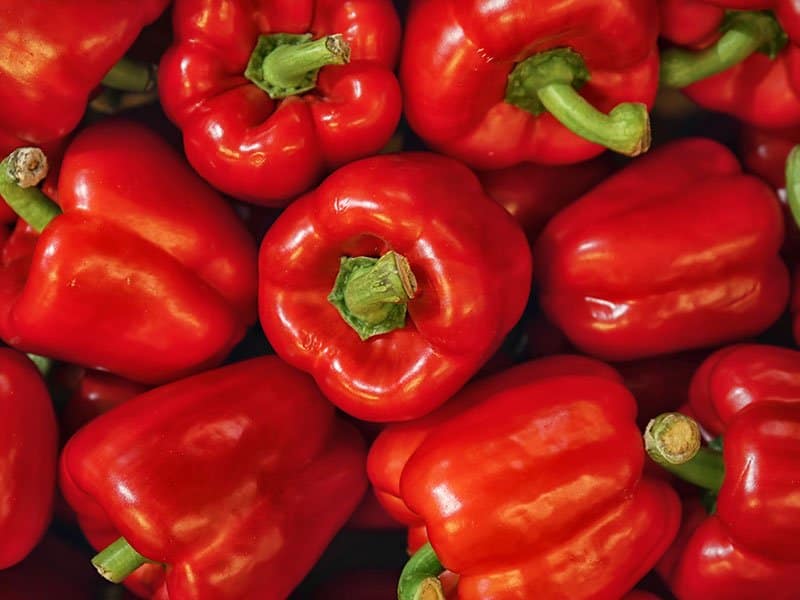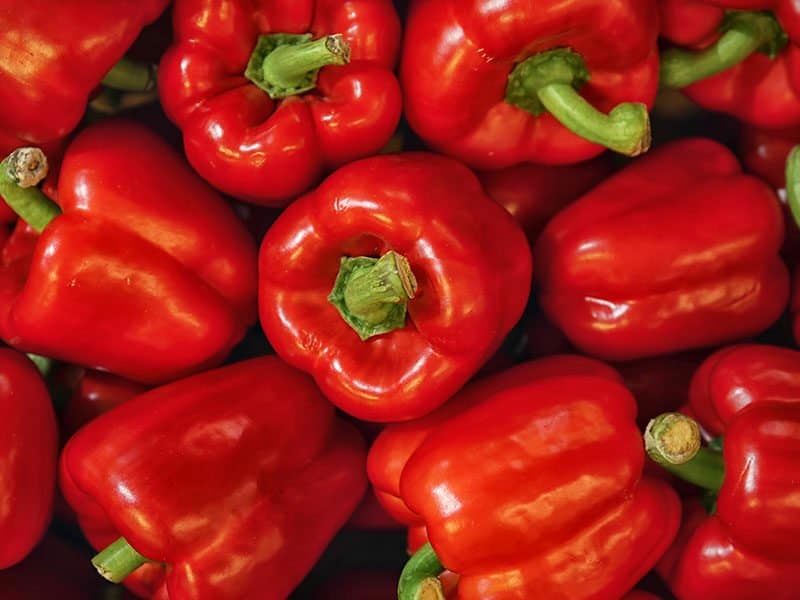 Apart from pureed red peppers, you can also use pureed veggies as a perfect substitute for tomato paste. Pureed vegetables are a healthful method to thicken your favorite dishes. Moreover, using pureed veggies is a terrific way to get some additional nourishment for your children.
I usually use carrots to get the red color. To begin with, you will have to boil the vegetables for about 20 minutes. When they become tender, blend them with a food processor or a blender to get a smooth texture.
When blending, remember to add some water for easier and quicker results. Using pureed veggies is a great choice to boost the consistency of soups and sauces when you do not have tomato paste left in your pantry.
13. Olive Puree
The olive puree is an excellent tomato paste substitute for those who cannot consume nightshades. Moreover, it is also an ideal alternative in terms of texture and flavor. Although olive puree and tomato paste has different flavor profile, their flavors are all deep and rich.
About consistency, olive after blending has the same consistency as tomato paste. When making pasta sauce, pizza, or Mediterranean burgers, using olive puree is an ideal choice.
14. Cornstarch And Red Wine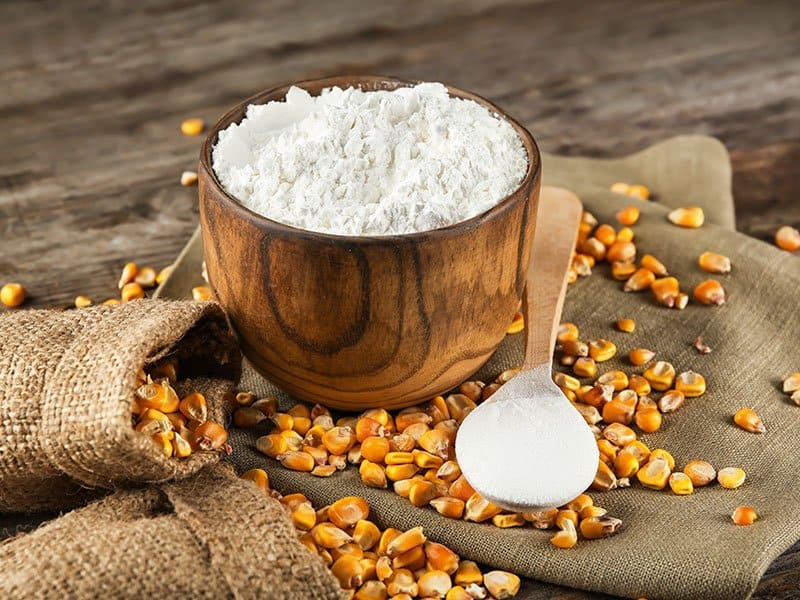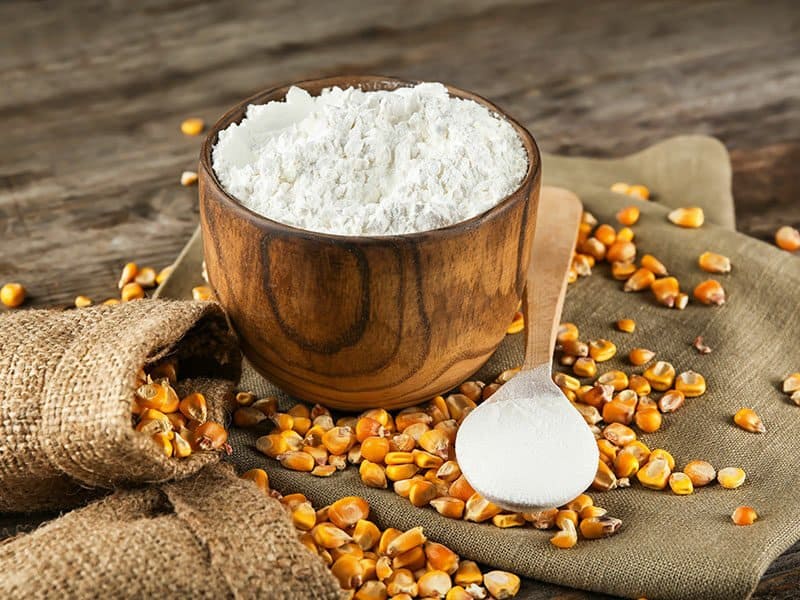 You need tomato paste as a way to thicken spaghetti sauce, but there's no tomato paste left. In this case, why don't you use cornstarch and red wine as a perfect alternative? Moreover, a few drops of red wine and cornstarch also give your dish a rich flavor.
If you don't have red wine, just only cornstarch can lead to the perfect results. Cornstarch is a ubiquitous thickening that can be found in most kitchens. You can sprinkle a few amounts of cornstarch on top or mix 1 tbsp of cornstarch and 1 tbsp of water.
15. Flour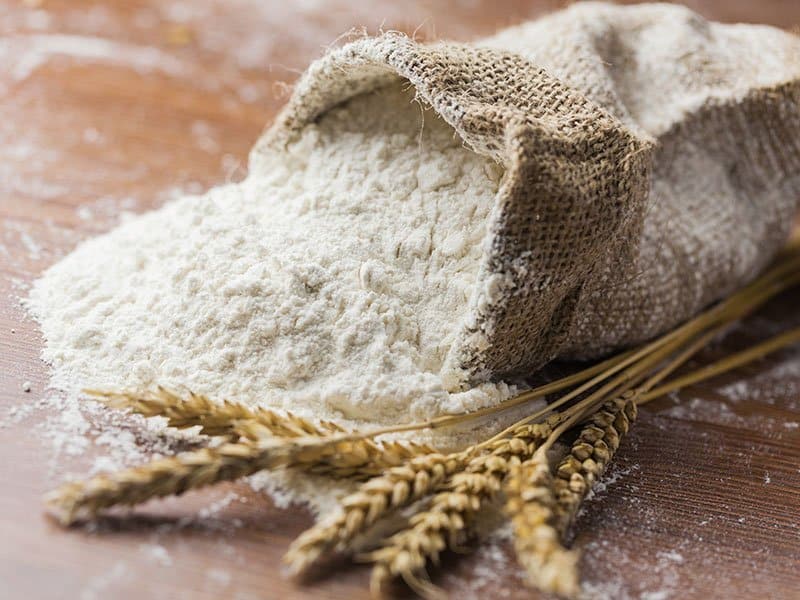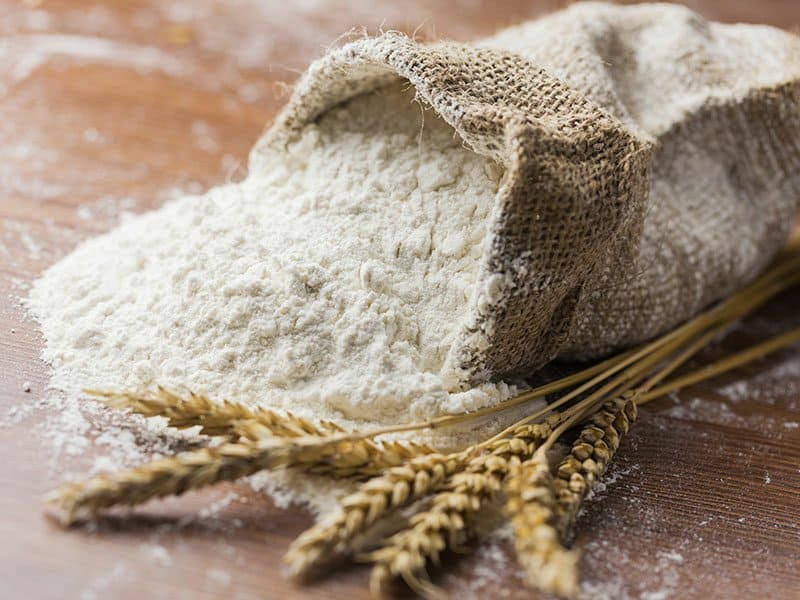 Flour is a cooking essential that is pretty common for thickening soups and stews. If you need to thicken your dish but don't have tomato paste, feel free to utilize some flour in your pantry.
Put the flour into a small bowl that contains water and thoroughly mix with a fork if you're going to use it to thicken soups. After that, add the mixture slowly to your dishes.
16. Soy Sauce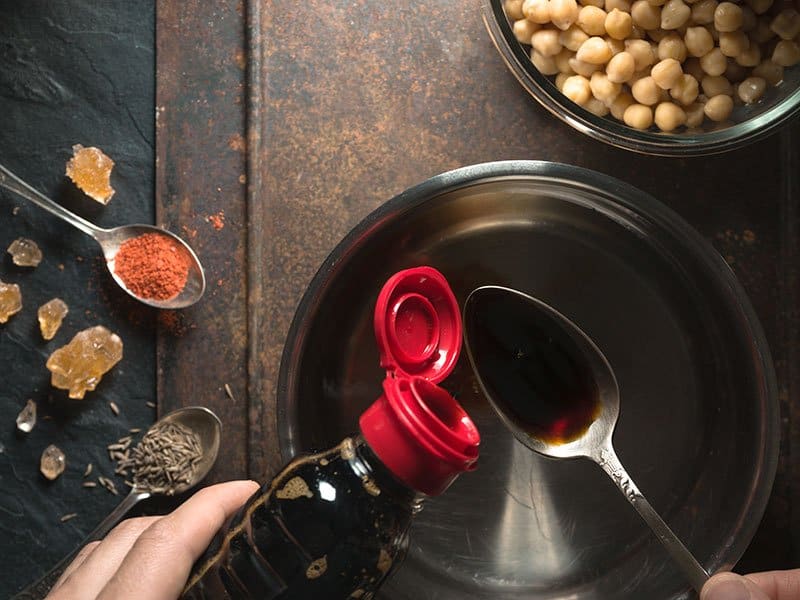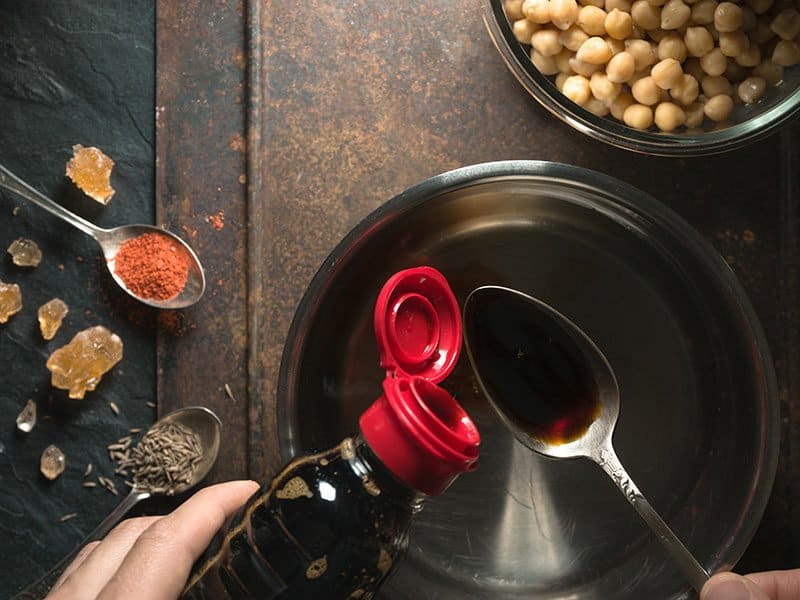 If texture and consistency are not problems with your recipe, you can use soy sauce as an excellent substitute. Since soy sauce may be saltier and less sweet than tomato paste, you can try with a little amount first. Then add more if you desire.
One particular advantage of soy sauce is that it can last for a very, very long time. That's why you'd never have to worry if soy sauce can really go bad. Chances are that you'll use up all the soy sauce before it can ever go rancid.
Another alternative for tomato paste is Worcestershire sauce, which has a somewhat similar flavor profile to soy sauce. And like soy sauce, Worcestershire sauce's shelf-life is long enough that "Is it possible for Worcestershire sauce to go bad?" will probably never cross your mind.
For both soy sauce and Worcestershire sauce, you can refer to the following ratio: 1 tablespoon of tomato paste equals 1 tablespoon of soy sauce/Worcestershire sauce.
17. Cheese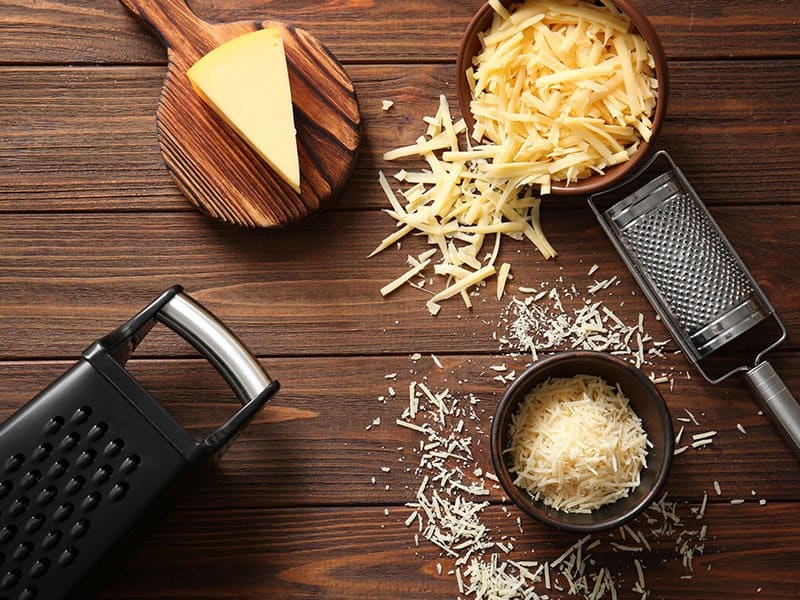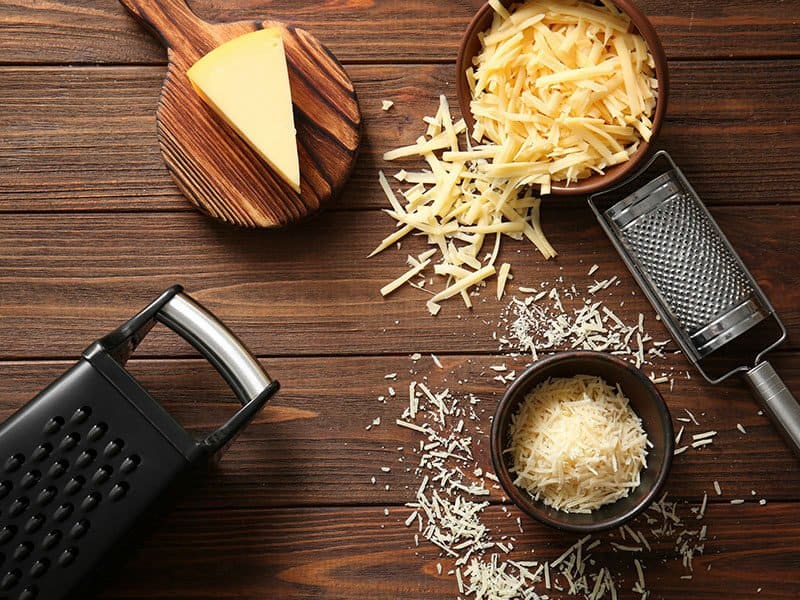 Do you love cheese? If Yes, I have some good news for you. Cheese can also be a great tomato paste substitute that can help thicken your dishes. Soups and pasta sauces benefit greatly from the addition of cheese as a thickening.
To ensure the perfect result, you should use cheese that comes in a block rather than pre-shredded cheese because pre-shredded cheese can not blend well. Adding cheese to your dishes does not help thicken your dishes up but also gives them a perfect flavor.
18. Whipped Cream Cheese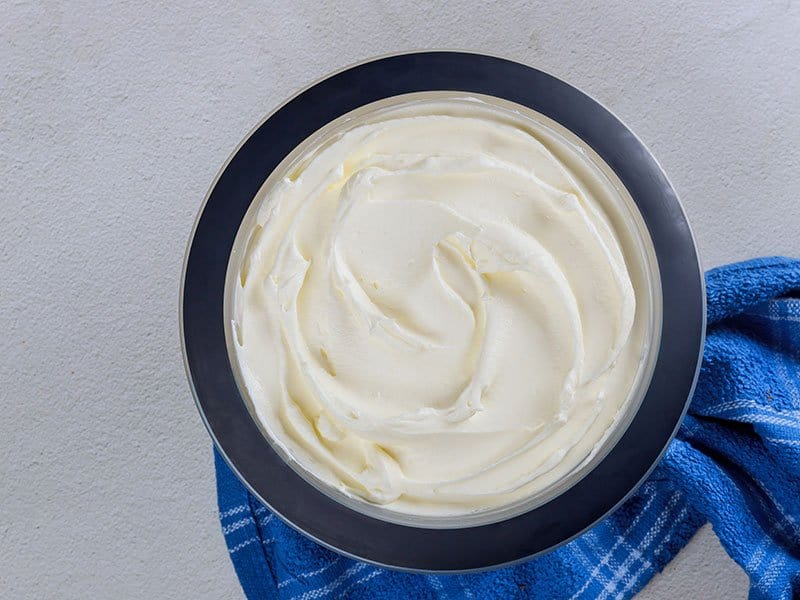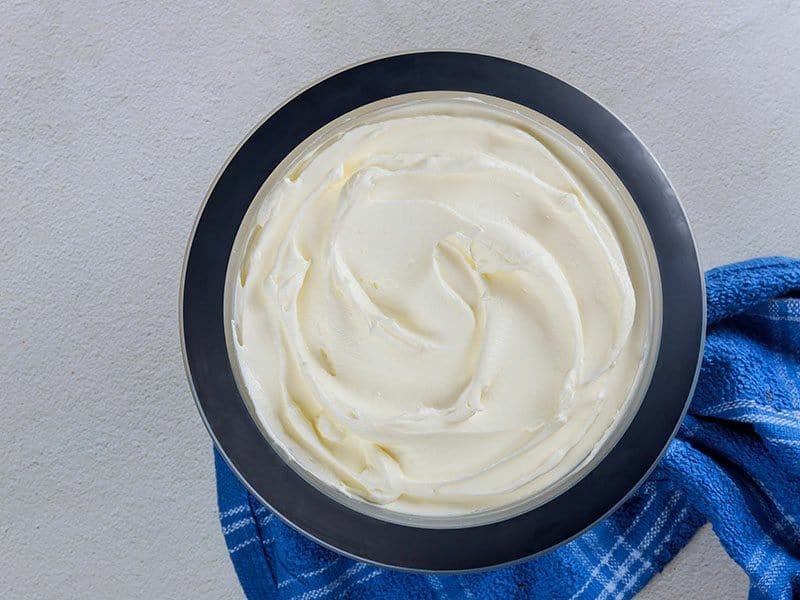 Since whipped cream cheese can melt and blend quickly, it is the simplest tomato-free substitute when adding to sauces and soups. Whipped cream cheese is made up of locust bean gum, guar gum, and xanthan gum.
That's why it can help thicken the sauce but also contributes a mild, creamy taste. Based on different dishes, cream cheese can be used as a thickener in place of tomato paste. You will be surprised by its gentle cream taste.
19. Roux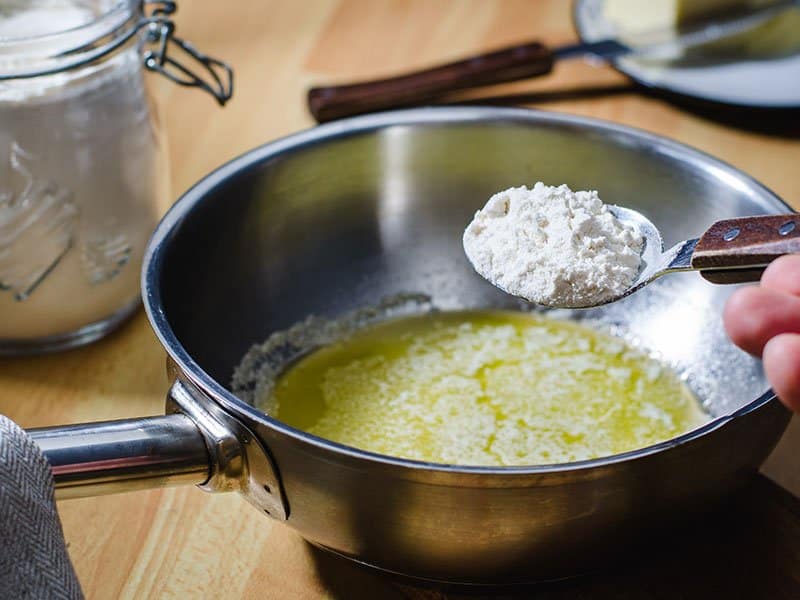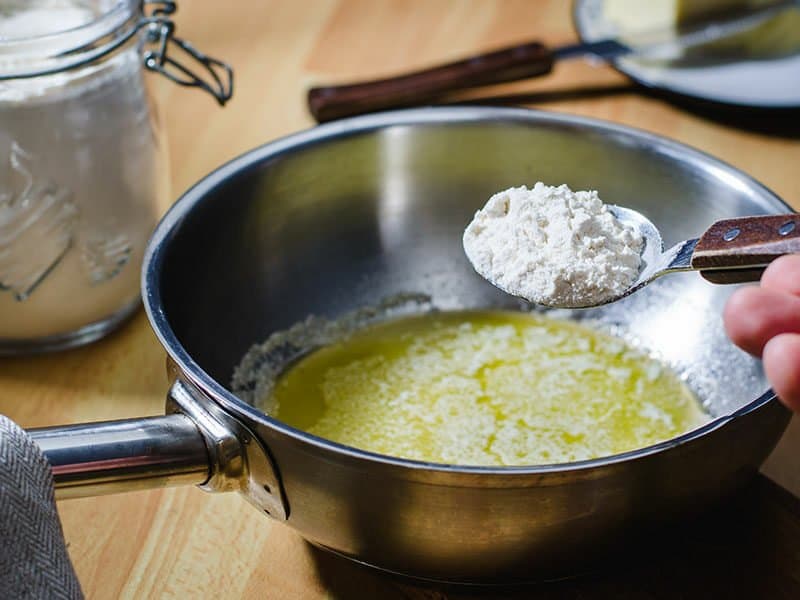 Roux can be used instead of tomato paste to thicken gravy or soups, and its texture is just similar to a slurry. Begin with stirring equal parts of flour and butter, and cook under medium or low heat until you see its color switch to a golden brown. Then add water little by little to make a slurry.
When adding roux to your dishes, you should also start with a little amount first until the texture is thick enough to your satisfaction.
20. Add Extra Seasonings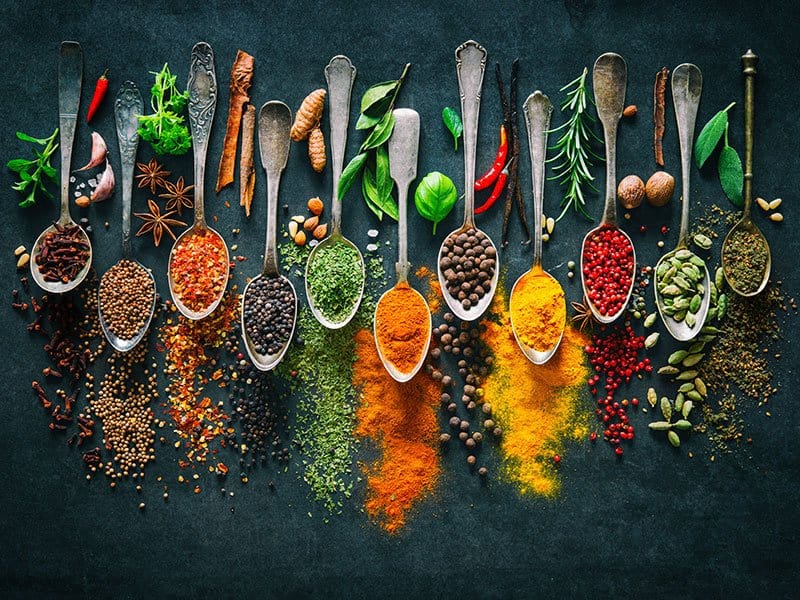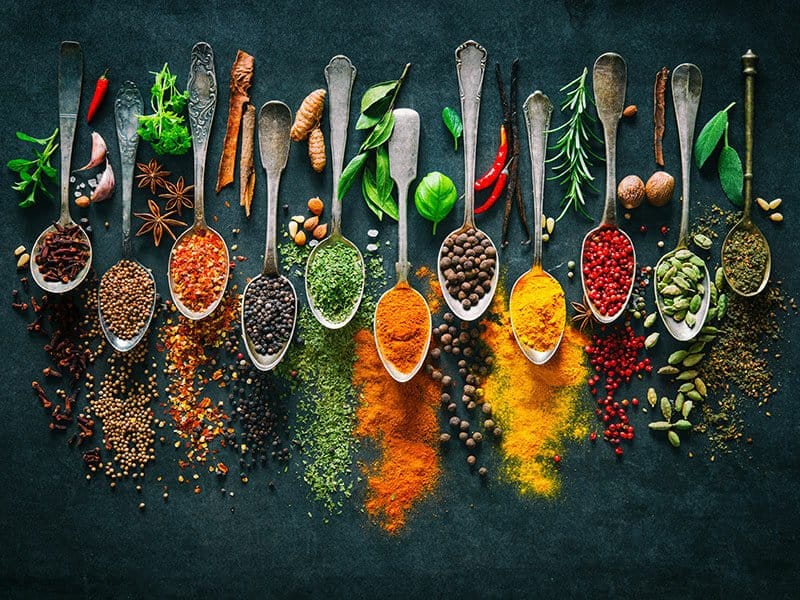 When you don't want to try other ingredients or not have enough time to prepare them, just add some seasonings to give your dishes more flavor. You can try some herbs and spices such as curry powder, garlic powder, garlic salt, onion powder, etc.
Tomato paste adds sweet and salt flavor to the dishes. Therefore, in some cases, a touch of salt and probably a little sugar can give the best results.
21. Green Salsa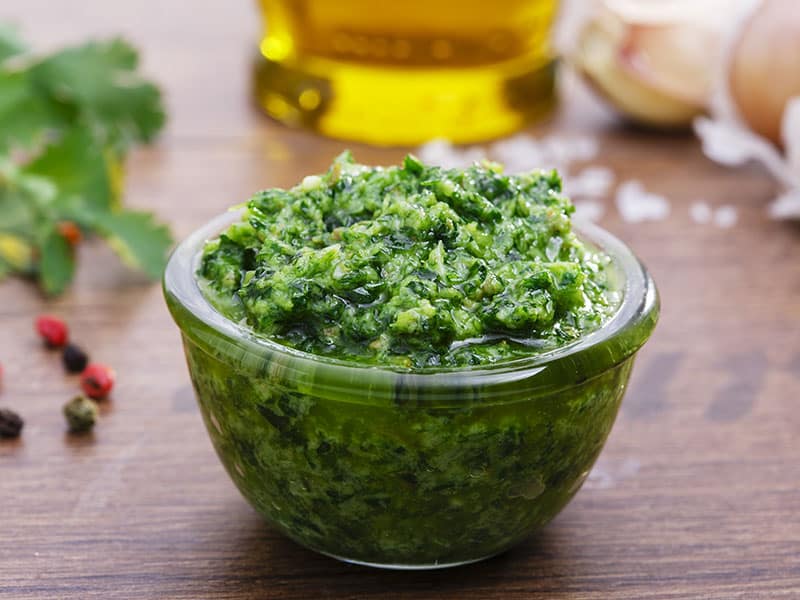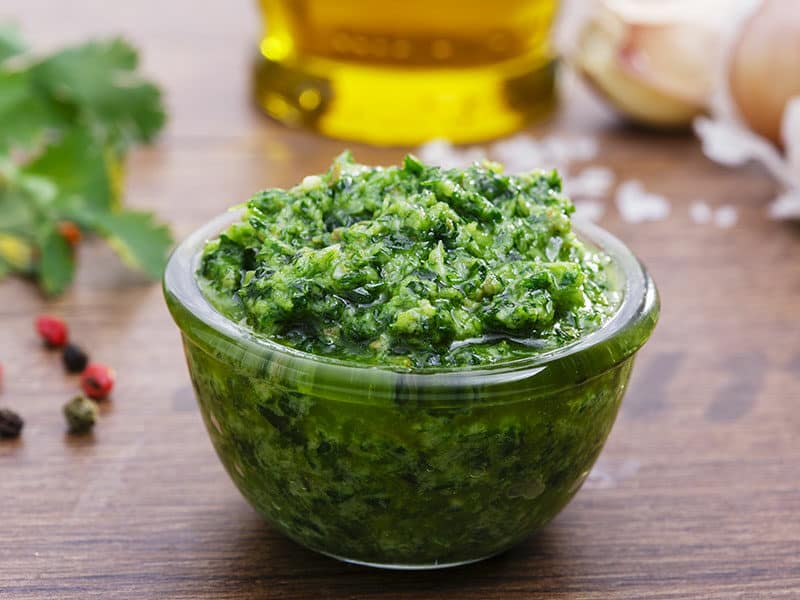 Green Salsa is also known as "salsa verde" and it is also an excellent substitute if your dishes do not need the red color of tomatoes. The reason why I add green salsa to the list is that it features the tomato flavor.
Green salsa is made from green tomatoes or tomatillos, and it has a thinner texture than tomato paste. Therefore, you will need to reduce it to adjust the liquid consistency.
22. Pumpkin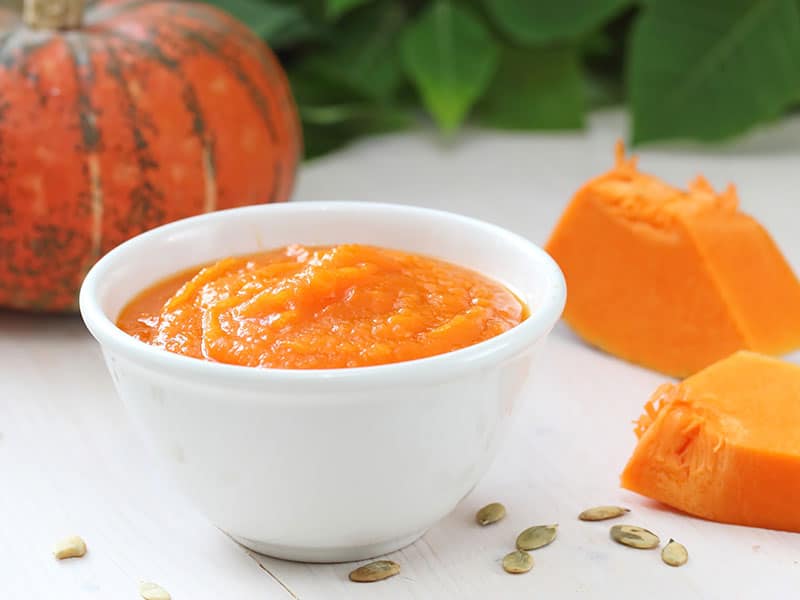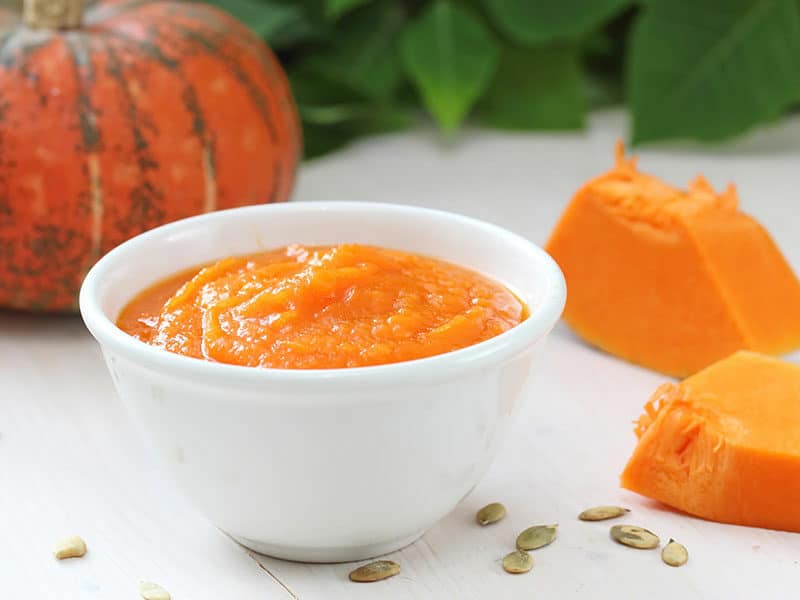 You can also puree pumpkin to create a perfect substitute for tomato paste, and it is a perfect choice for those who are allergic to tomatoes and anything related. If you don't have time to roast and puree pumpkin, you can use store-bought canned pumpkin puree.
In case you need the tart flavor of tomatoes, feel free to add a splash of vinegar. Moreover, pumpkin is rich in vitamin A, and it comes with plenty of nutritions. Why don't you add it to your daily meal?
23. Butternut Squash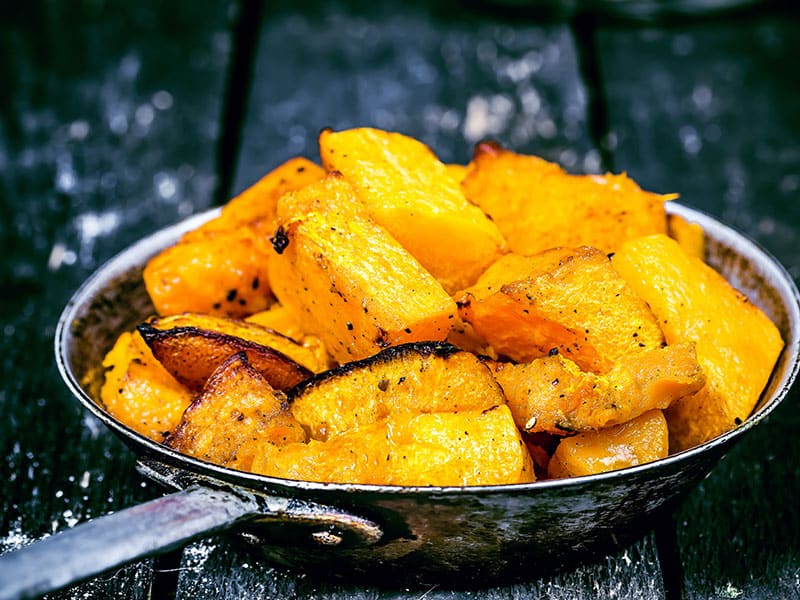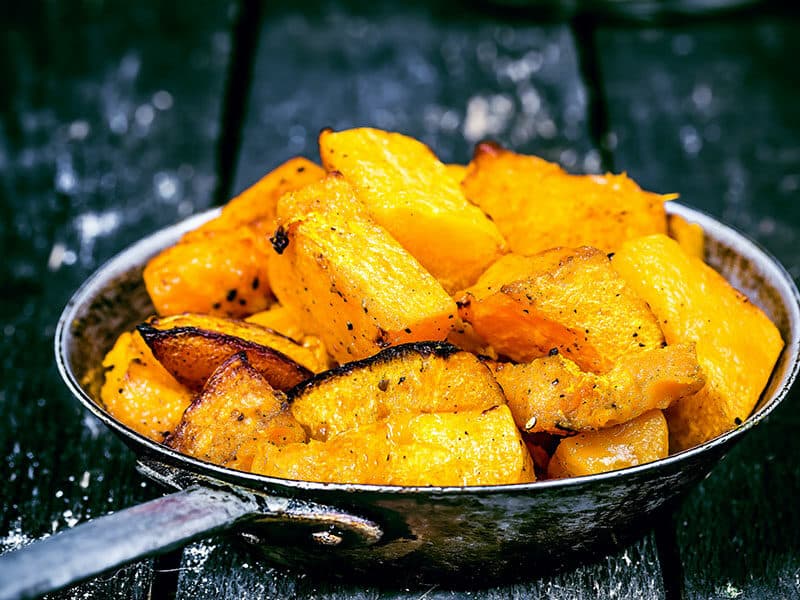 Butternut squash is an excellent thickener that you can use in replacement of tomato paste. Like vegetables, you can roast and puree the squash to create a thick paste for your dishes. By doing this, you can achieve a thicker paste with a distinct flavor.
In case you need the red color of tomatoes, you can roast the squash and add some sliced tomatoes. And adding some vinegar is also ideal for creating the acidity flavor of tomatoes. You can also purchase canned squash puree for more convenience in use.
24. Miso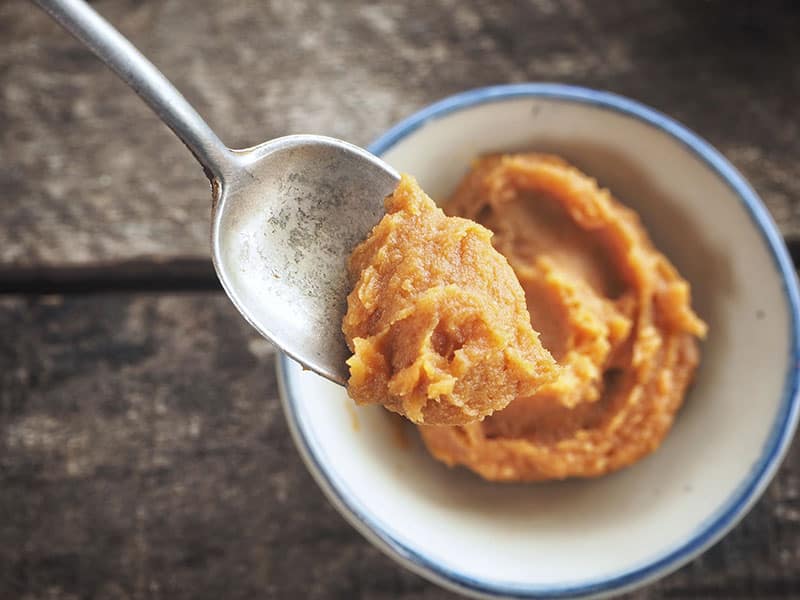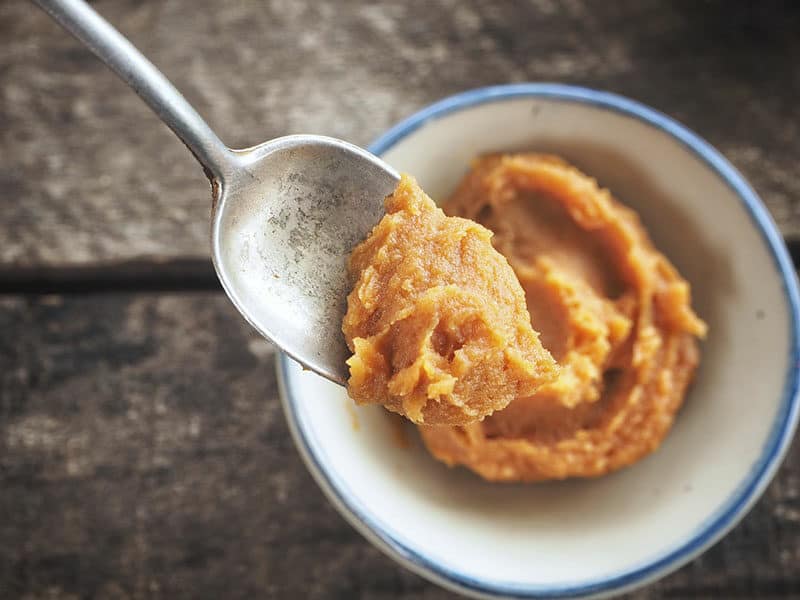 As you may know, Miso is a common Japanese condiment made by fermenting soybeans, koji, salt, rice, barley, seaweed, and so on. Then you will get the thick paste to add to your favorite soups. If you don't have time to make miso paste, you can consider some popular miso paste brands on the market.
Miso and tomato paste seem to be different, but they all boast pleasant sweetness and an earthy undertone. Adding miso to the dishes that call for tomato paste can help add more richness. You should try once, and I think you will be surprised by the results.
25. Oyster Sauce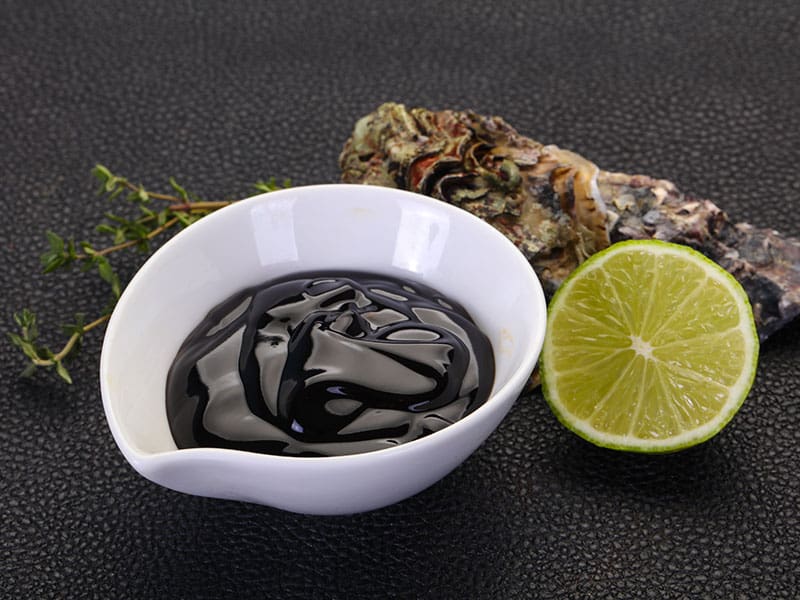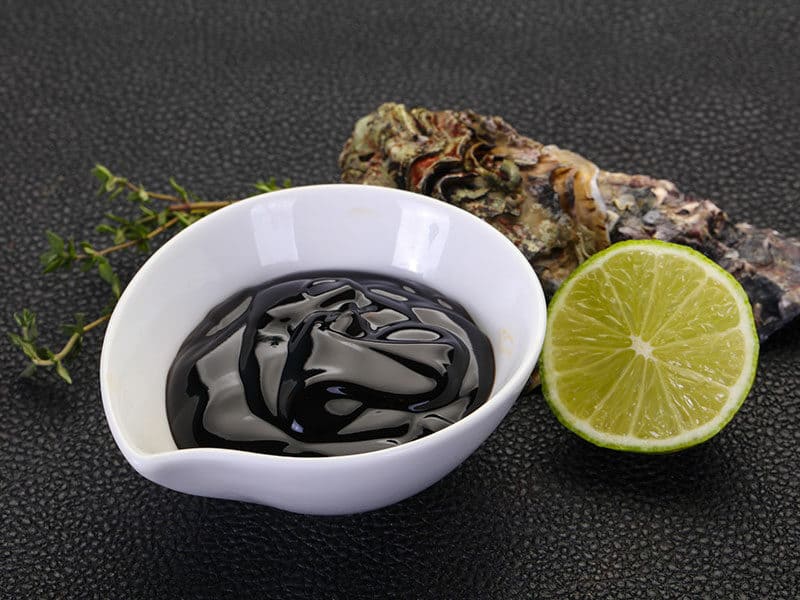 You have run out of tomato paste. What can be better than a dab of rich, salty, and sweet flavor? And the next substitute in this list is oyster sauce. It is most commonly used in East and Southeast Asian dishes.
In braise and stews, you can replace an equivalent quantity of oyster sauce with tomato paste. However, expect a deeper hue and less tartness as a consequence. Another thing to note is that this dish is certainly not suitable for vegans.
How To Make Your Own Tomato Paste? Easy Homemade Tomato Paste With Three Methods
Although all the substitutes I have suggested are similarly rich and flavorful, nothing can beat the original tomato paste. Making homemade tomato paste may require a lot of time, and you will need to buy some ripe tomatoes for the perfect flavor. You can make tomato paste with fresh tomatoes, tomato sauce, or even canned tomatoes.
Make Tomato Paste From Fresh Tomatoes: Choose the ripe and high-quality tomatoes. Chop them and remove the seeds. Mix the tomatoes thoroughly and cook them for about 10 minutes or more on your stovetop.
Make Tomato Paste From Canned Tomato Sauce: You will need to reduce tomato sauce by ⅔. Put the tomato sauce in a pan and simmer under medium heat for about 10 minutes. 8 ounces of canned tomato sauce can make up 3 ounces of tomato paste.
Make Tomato Paste From Canned Tomato: You can use both canned stewed, diced, or whole tomatoes in this case. First of all, drain all the excess liquids. Blend them in the strainer and cook on the stovetop for about 10 minutes.
You need more ideas about making tomato paste at home, right? This video really needs your consideration:
After showing you some easy and quick ways to make tomato paste at home, here are some tips for prevent wasting tomato paste.
Tips For Storing Tomato Paste
Tomato paste can be a difficult component to work with. Although tomato paste is packed in a small can or tube, most recipes do not need the whole canned or tube of tomato paste. Here are some tips to help you ensure that you will not run out of tomato paste again.
Store Left-Over Tomato Paste In The Freezer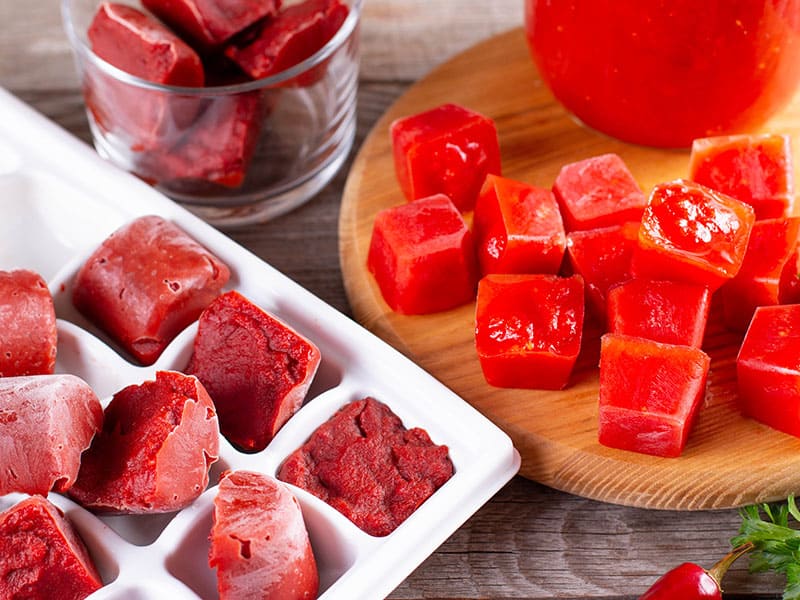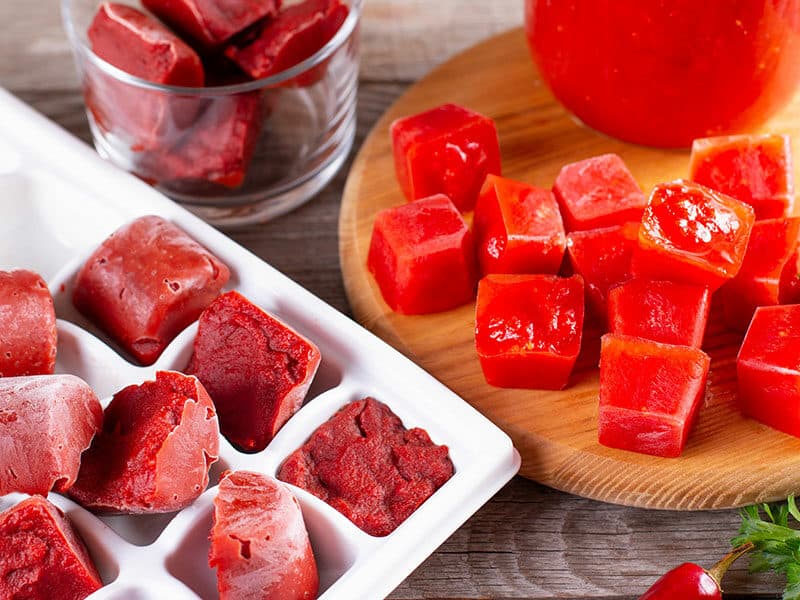 You have just opened a can of tomato paste, and you just need a portion of it. What should you do with the remaining? The best choice is to store it in the freezer; should you store the whole can?
I usually pour the tomato paste directly onto the ice cube trays. When the tomato paste has frozen, you can transfer it to the freezer bag. Don't forget to write something on the freezer bag so that you can easily pick the right thing every time you want.
This way is really convenient since you just need 2,3 cubes of frozen tomato paste whenever you make soups, stews, or other dishes that call for tomato paste. What if you have no empty ice cube tray? You can freeze tbsps of tomato paste on a baking sheet lined with freezer paper.
Store Remaining Tomato Paste In The Fridge
If you think that you will need to use the tomato paste within a week, you can store it in the fridge. In any case, the tomato paste must be carefully preserved to ensure its safety. You should put the tomato paste in the airtight container and put it in the fridge. Remember to use the tiniest container that you have.
Purchase Double-Concentrate Tomato Paste (Tomato Paste In A Tube)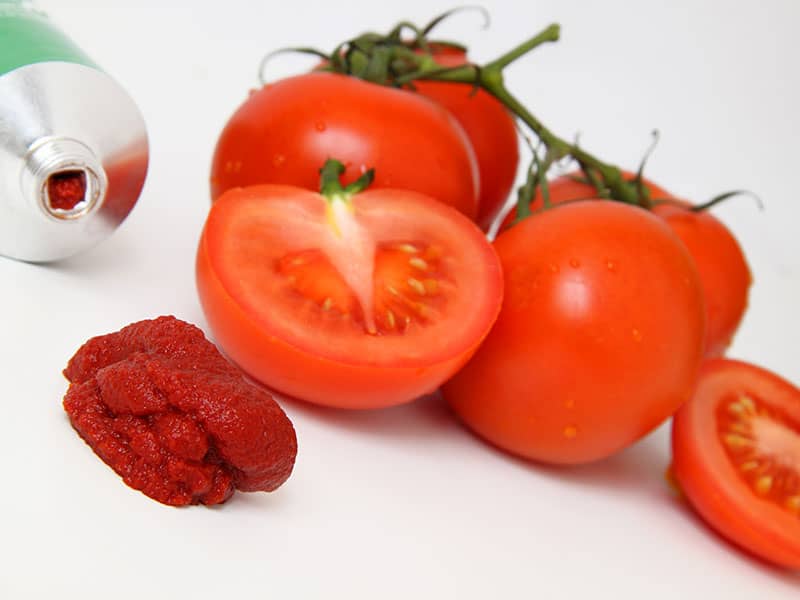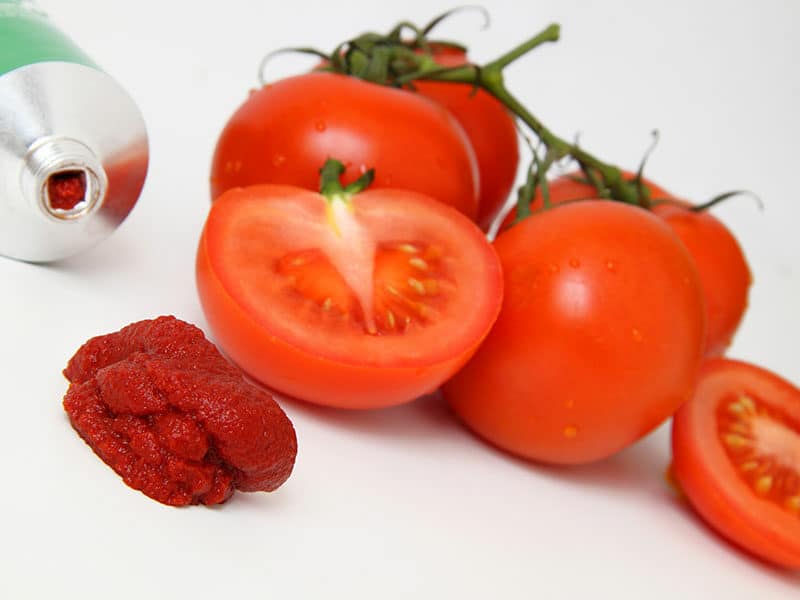 Tube of tomato paste can last a long time, and it can be stored in the refrigerator for a few months. Moreover, you only need half the amount of double concentrated tomato paste compared with the amount of tomato paste your recipe calls for.
FAQs
Here are some common questions that people usually wonder when they want to find the perfect substitute for tomato paste. Go on and clear up all the worries in your mind!
Let's Use Tomato Paste Substitutes To Save You A Trip To The Store
Stop worrying if you have run out of tomato paste since there are a handful of different possibilities depending on what dish you are making. Apart from these substitutes I have mentioned, peanut butter can be used as a thickening agent in your favorite dishes.
I hope this article can give you some ideas about the substitutes you can use in place of tomato paste to cook your dishes to perfection. If you apply the perfect ratio, these tomato paste replacements will deliver the perfect results.
Are you ready to cook? Which tomato paste substitutes you want to try first? Do you know other tomato paste substitutes? Do you want to ask anything? Freel free to share your thoughts with me via the comment, and please don't forget to share this post with your mates!
Nutrition Facts
4 servings per container
---
Amount Per ServingCalories27
% Daily Value *
Total Fat 1.3g

2

%
Sodium 297mg

13

%
Potassium 188mg

6

%
Total Carbohydrate 4.1g

2

%

Dietary Fiber 0.9g

0

%
Sugars 3.4g

Protein 0.8g

0

%
---
* The % Daily Value tells you how much a nutrient in a serving of food contributes to a daily diet. 2,000 calories a day is used for general nutrition advice.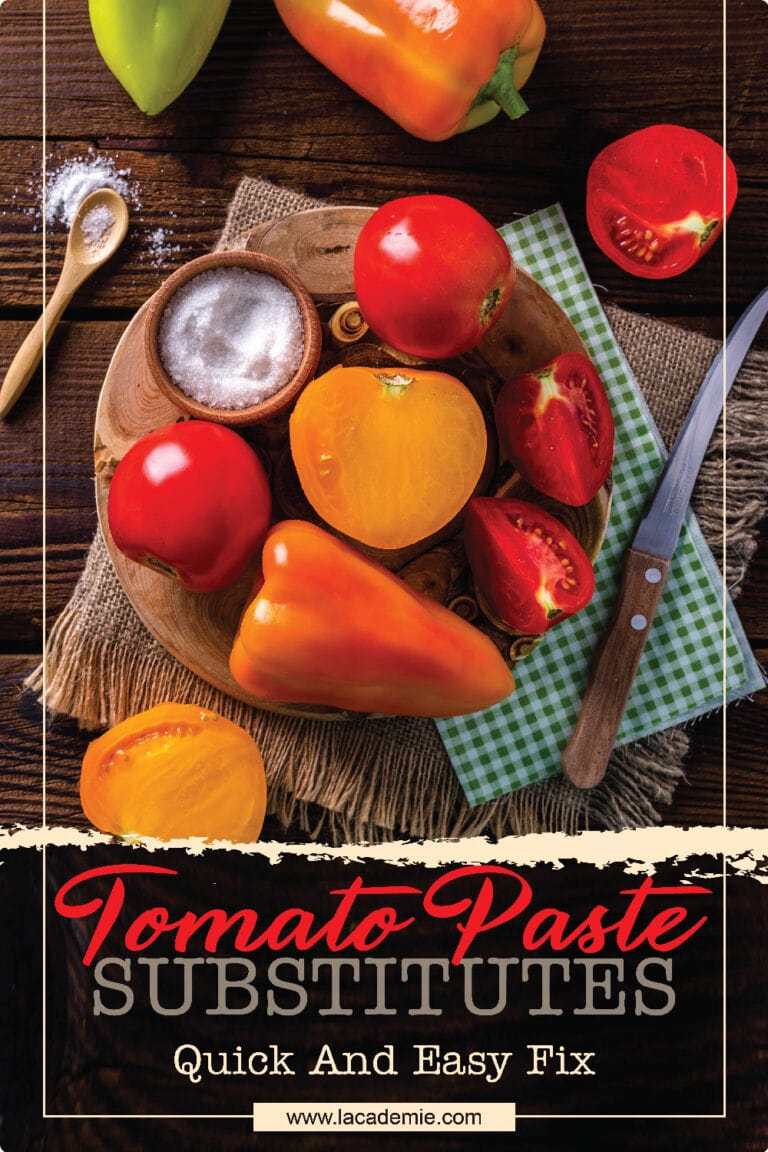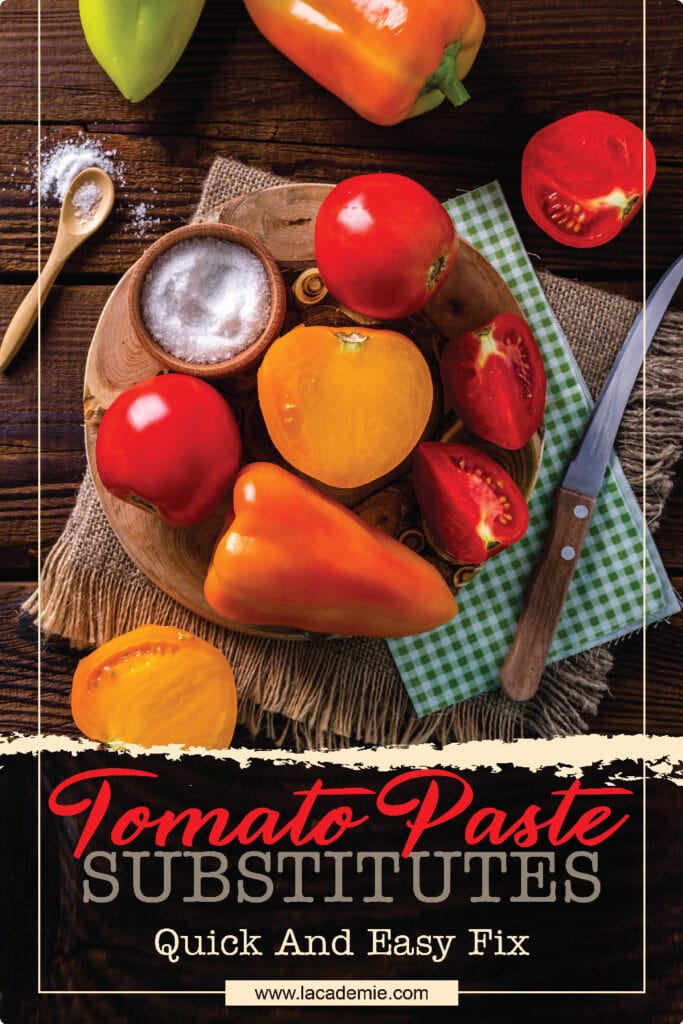 References
Solanaceae – Wikipedia. En.wikipedia.org. (2021). The Solanaceae. [Online]
National Center for Home Food Preservation | How Do I? Can Tomatoes. Nchfp.uga.edu. [Online]
How to Freeze Tomato Paste – Tips – Best Recipes Ever. Cbc.ca. [Online]