Don't underestimate the importance of knowing how long pasta sauce lasts in the fridge. Why? Because it will help you take full advantage of the pasta sauce while retaining its original flavor as if it was just cooked.
Indeed, there are many kinds of pasta sauces and they are all an integral part of the famous pasta dishes; however, if you don't consume the sauce altogether each meal, it can be a regrettable waste.
So have you ever tried any method to store leftover pasta sauce? If not, you should check this article because I'll give you a complete guide to solve your pasta sauce storage problem. So whenever you need to make your leftover pasta delicacies with these sauces, you can safely consume them.
Plus, these tips will save you effort, time, money, as well as ensure your health when pasta sauce is stored correctly. So, I will not let you wait any longer. Let's start now!
What Is Pasta Sauce?
Pasta is a famous Italian dish for dinner with many variations worldwide. Depending on the shape or flavor of each paste type, it is divided into many different styles with different names, like Spaghetti refers to long and straight pasta, Fettuccine is the name for flat fiber pasta, etc.
Also, many people confuse how linguine differs from fettuccine pasta as they might have similar looks. But there are, in fact, many different characteristics to help you tell apart these two.
The sauce is the soul of a pasta dish. It's available in different types with various ingredients and cooking methods.
Tomatoes are the most common ingredient, but don't mistake this pasta sauce with marinara sauce (another Italian tomato sauce). You can also find several other elements, such as cream, meat, milk, and cheese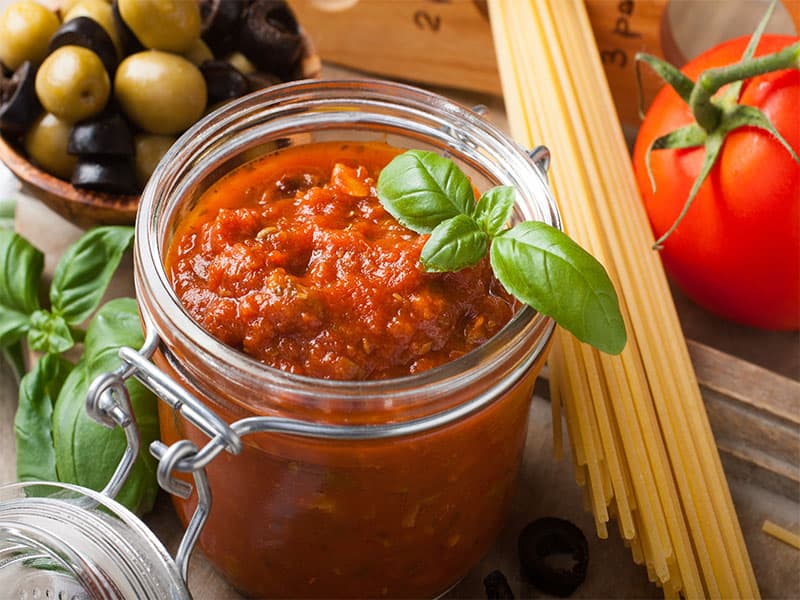 This variety contributes to the popularity of pasta dishes as anyone can find a sauce that suits their taste and easily create their recipe.
If you're not confident about creating a new recipe because of a lack of culinary experience, you might consider taking high-rated cooking classes to improve your knowledge.
In general, the lighter the sauce, the taste of the pasta becomes more apparent. Consider the pasta's shapes and sizes when choosing a sauce since each taste of the sauce is more suitable for particular pasta forms.
Types Of Pasta Sauce
Knowing the types of sauces and their properties will help you figure out how to store them properly to keep their taste fresh. As I said, there are many varieties of pasta sauces; however, based on the general characteristics of the ingredients, they can be divided into the following main categories:
Tomato-Based Sauces
Tomato-based sauces are the most common pasta sauce. They can be tomato paste or tomato sauce. And of course, there are many aspects to differentiate tomato paste and tomato sauce, but both of them are totally fine for making pasta sauce.
Since these sauces generally use mashed or chopped tomatoes, people often compare pasta sauce with pizza sauce. Other common ingredients for the former are garlic, onions, chili, and some vegetables.
This sauce is easier to store because the acid in the tomato becomes a natural preservative.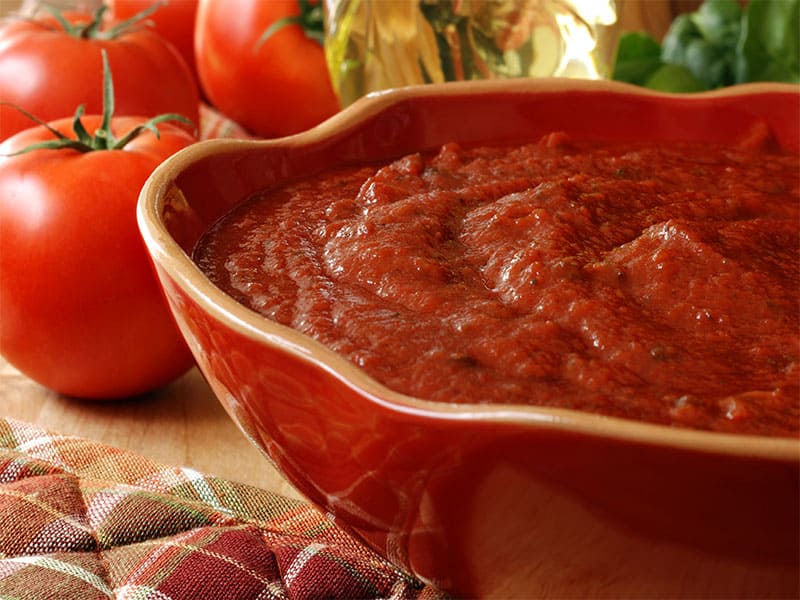 Cream-Based Sauces
Cream-based sauces are the most nutritious sauces because they often contain cream, butter, and perfect cheddar cheese to enrich the dish. Some of the other ingredients that are often combined to reduce the fatness of this sauce are mushrooms, vegetables, and pepper.
Because of the high-fat ingredients, this sauce does not seem to be very suitable for people who lose weight.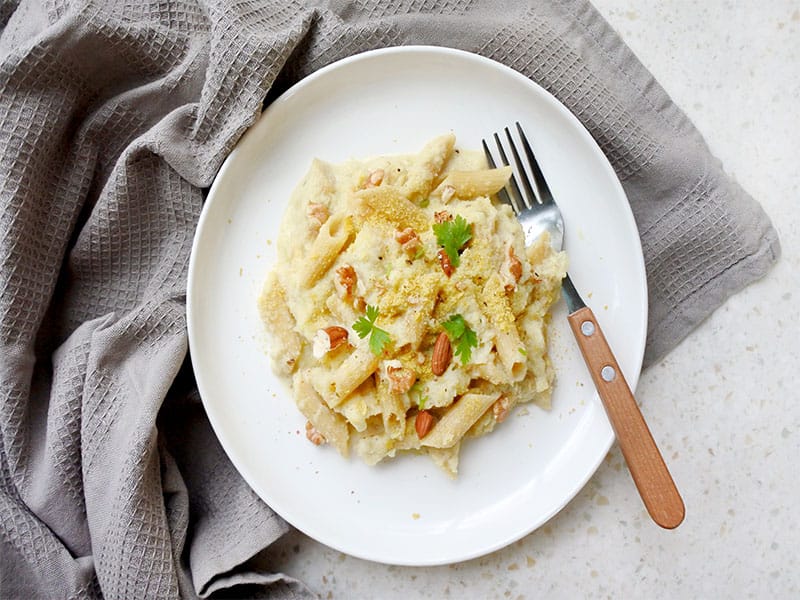 Wine-Based Sauces
You may be surprised, but wine is also a popular ingredient in pasta sauces. Don't worry that wine will make the sauce taste strong and unpleasant as the used wines are often sweet and light. These sauces are usually added to more heavy cream and Parmesan cheese to create a unique and elegant taste.
However, due to its unique flavor, not everyone likes this spaghetti sauce. But if you prefer the taste of this sauce, you'll be pleased because it's so attractive.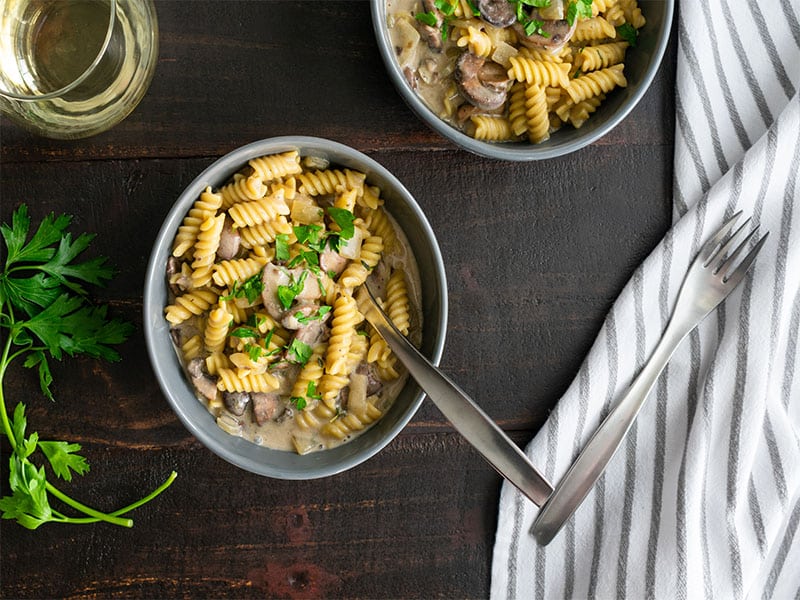 Oil-Based Sauces
Oil-based sauces are not as famous as others, but they are also a favorite of many pasta enthusiasts for their unique flavor. The oils commonly used in this sauce are healthy and quality truffle oil or olive oil. Or you can use any of your available oil to make the sauce.
Since it contains oil, this sauce will give you a slightly greasy feel. So it is often combined with a variety of vegetables and mushrooms to create a better balance than combined with meats.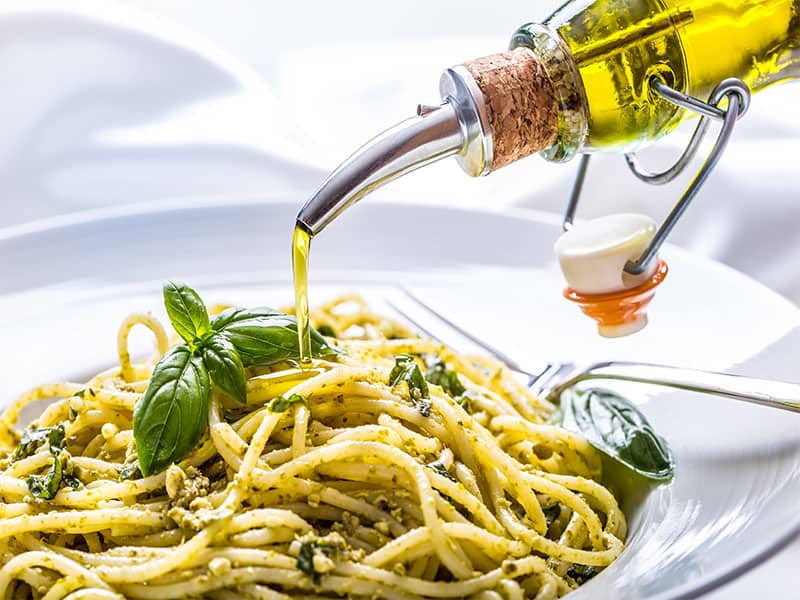 Why Does Pasta Sauce Last Longer In The Fridge?
Today, refrigerators are the first choice for storing foods, including pasta sauces. Have you ever wondered how refrigerators work to keep foods fresh and lasted?
A refrigerator is always the first choice for long-term food preservation because it is designed to kill bacteria based on their physiological mechanisms.
Low temperatures in the refrigerator inhibit the survival and growth of bacteria, helping food to keep its shelf life. In addition, the fridge also provides enough moisture to keep the original texture of the sauce.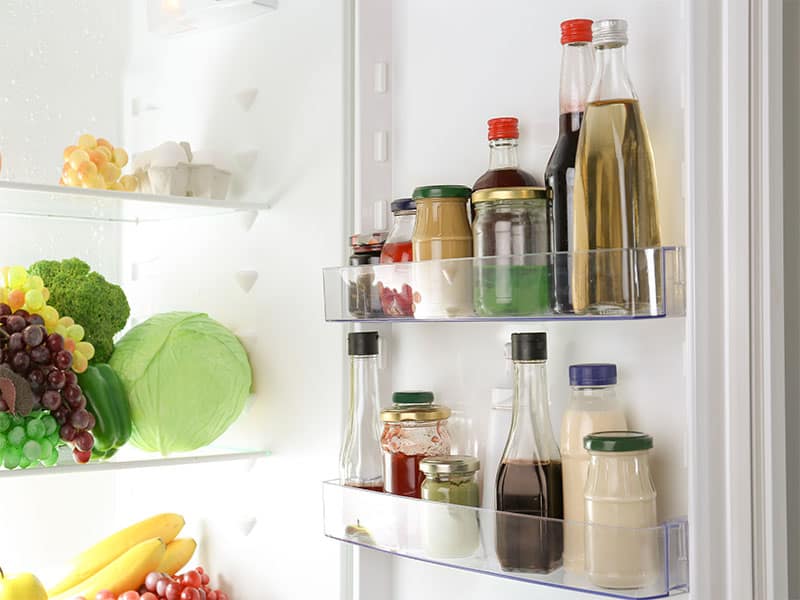 Low temperatures have long been considered an effective means of preventing the survival, growth, and entry of bacteria into the food.
This can be explained from a biological perspective as the rate of biochemical reactions in the bacterial body, which stops metabolism. Therefore, bacteria that cause harm to the food cannot survive.
Each type of bacteria has a different minimum temperature range for survival. Still, the recommended heat level for food storage is below 4 degrees Celsius, which can minimize the operability of bacteria in food.
Besides the low temperature, the refrigerator also has another outstanding feature to preserve the quality of pasta sauce, which is UV sterilization. If the low temperature can miss some bacteria, the ultraviolet rays will kill up to 99% of bacteria, making your pasta sauce safe.
This system helps increase the shelf life of sauce stored in the refrigerator by killing annoying bacteria and preserving the original freshness.
However, not all hazards are eliminated when you store the sauce in the refrigerator. Many types of bacteria are not affected by low temperatures, so you should still check the sauce thoroughly before using it for signs of spoilage.
How Long Does Pasta Sauce Last In The Fridge?
Pasta is my favorite, and I often cook, so there is always an excess of pasta sauce in my kitchen. To avoid wastage, I permanently preserve and continue using the same amount of sauce. So do you want me to talk about how long does pasta sauce last?
The following table briefly summarizes the shelf life of pasta sauces in the following cases:
| Type of storage | At room temperature (Unopened) | Refrigerator (Opened) | Freezer (Opened) |
| --- | --- | --- | --- |
| Tomato-based pasta sauces | 1 year | 5 - 10 days | 18 months |
| Cream-based pasta sauces | 6 - 8 months | 7 days | 6 months |
| Wine-based pasta sauces | 1 year | 10 - 14 days | 6 months |
| Oil-based pasta sauces | 6 - 12 months | 7 - 10 days | Not specific |
When you have purchased sauce from the shop, a "best of" date will usually be written on the pot. When the sauce has passed the "best" date, the sauce consistency can steadily deteriorate.
When you buy the pasta sauce bottle and have not opened it, the sauce can last for at least 6 months. If the bottle has been opened and the pasta sauce has come into contact with the outside environment, its shelf life will quickly decrease.
Usually, you should consume it for about 5 to 14 days if you keep it at room temperature. If you keep it in the refrigerator after opening the lid, it will still be usable for half a year.
Like most foods, pasta sauces are usually refrigerated. The refrigerator can store various pasta sauces, including those made with tomatoes, cream cheese, or wine. However, there will be slight differences in the storage times between these types.
It can be helpful to know how long each pasta sauce can be refrigerated. Below is important information about pasta sauces' refrigerated storage time:
Tomato-Based Sauces
Tomato pasta sauces have a shelf life of about 5 to 10 days if they do not contain meats. The substances in tomatoes are effective preservatives that allow their fresh flavor to be maintained while being kept cold.
If your tomato pasta sauce contains meat, it is better to use it within 3 to 4 days as the meat can reduce the ability of the sauce to preserve. If frozen, tomato pasta sauce can last up to 18 months – quite a long time.
Cream-Based Sauces
Cream-based sauces can last up to 1 week in the refrigerator without compromising on quality.
Why is there a difference between cream-based sauces and tomato-based sauces? That's because the ingredients in this sauce, like heavy cream, butter, and cheese, are suitable for keeping at low temperatures.
Also, if frozen, this sauce can last for half a year. Note, however, that some brands discourage freezing pasta sauces containing cheese as this may impair the quality of the sauce when thawed.
Wine-Based Sauces
It is easy to see that alcohol is a beverage with an extremely long shelf life, so pasta sauces that contain alcohol can also be kept cold longer than other sauces. Wine-based sauces can be used after 14 days in the refrigerator with good quality.
Like cream-based sauces, these sauces have a shelf life of 6 months if frozen.
Oil-Based Sauces
Oil-based sauces have a shelf life of about half a year to one year at room temperature if they are not opened. Once opened, you should keep them in the refrigerator to minimize the impact of harmful factors.
In general, the shelf life of oil-based sauces does not differ too much from other sauces when they can be kept for up to 10 days in the refrigerator.
How To Freeze Pasta Sauce
As I said, low temperatures are the perfect environment for keeping food free of harmful agents, so freezing is a method that will help extend the shelf life of your pasta sauce. Freezing pasta sauce is a long-standing option for all your storage requirements, as the taste is maintained for up to three months.
Depending on what materials are used, freezing pasta sauce is likely. You should verify whether the label specifies that the food is appropriate for freezer storage before freezing pasta sauce in the original packaging.
It should not be frozen and preferred for those made with smooth, emulsified ingredients. Few plants and herbs don't freeze well, either. These sauces will break when frozen, which will affect texture, taste, and overall consistency.
If you produce the spaghetti sauce with a tomato base, you should freeze it and advise if you intend to keep it for a long time. It is the simplest to ice a simple tomato sauce without any additives.
Here is a summary of the steps for freezing pasta sauce:
Step 1: Cool Sauce at Room Temperature
This will give the sauce the most stability and won't get cold suddenly when placed in the freezer, affecting the flavor and texture of the sauce.
Step 2: Stir The Sauce in A Sealable Bag Or Airtight Container
Make sure the bottle isn't filled to the brim throughout. Leave the bottle about half an inch from the tip. It is not advisable to store them in a glass jar because the sauce will break when frosted.
I recommend keeping the sauce in an airtight ziplock bag or a high-efficient freezer food container if you want to stretch its life an additional day.
Step 3: Put it Into The Freezer
Leave it neatly in the freezer. You should check that your freezer has the coolness needed to freeze pasta sauce to avoid spoilage by not being stored at the right temperature.
How To Know If Pasta Sauce Is Bad
When you eat old pasta, if dangerous germs develop on the pasta, this might cause you to get sick. You may have food poisoning symptoms ranging from moderate to severe, according to your pasta dishes.
To minimize the risk, you should observe vials of your pasta sauce to make sure it does not have the following signs:
Changing Color
This is the most visible sign that you absolutely should not ignore. The color change indicates a change in the chemistry of the sauces and their quality, and sadly most of these changes are unhealthy.
The bright red color of a tomato sauce may turn into a wilted green color that gradually darkens. This is like letting the tomatoes take too long, and they wilt.
But a darker and thicker spaghetti sauce might not mean it's terrible, but it may not be of high quality. At this point, you can cast it out or keep on using it.
Mold
The way to know if your pasta sauce is spoiled is to find out if there are white, dark, or green spots on the surface of the sauce. Mold usually is present after the opening of the container because of bacteria.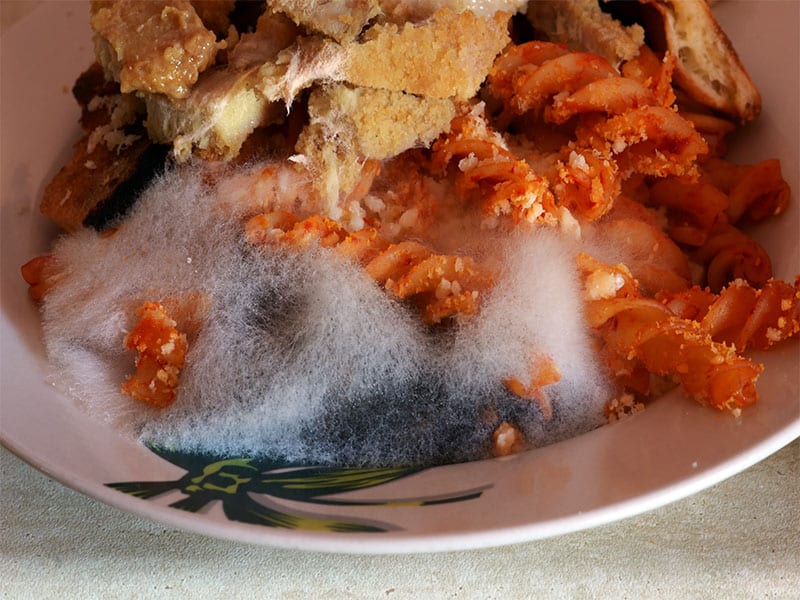 If it is saved after the cupboard, in a few days, mold begins to shape. It could take a week or two in the refrigerator before the mold appears.
Mold does not only appear in an open container but also an unopened jar. Usually, this occurs when the container has not been adequately screened, or the box is broken, and the air has entered the pot.
So how will mold affect your pasta sauce and your health? Most molds will make your pasta sauce sour and bitter. If you eat them, you run the risk of poisoning and headaches.
Unpleasant Odors
Through its grotesque scent, I believe you will feel for yourself that your pasta sauce has run into a problem, and it's time to throw it away.
The pasta sauce will have a pleasant and characteristic aroma of ingredients in its normal state, for example, the fresh tomato, cheese, wine aroma, etc. When you smell strange, it is better to remove it immediately as it is no longer quality.
Fluid On The Surface
This is another recognizable sign of a pasta sauce he shouldn't be used. This is because the natural acids in the sauce, over time, affect the texture of the sauce, creating a smooth, creamy layer on the surface of the pasta sauce.
When you see these white colors with a disagreeable smell, it is better to throw out the sauce immediately. Some people have a habit of getting rid of that liquid and using the regular sauce below to avoid wastage. However, I strongly discourage you from doing this.
Although there are no specific signs, the remaining sauce is still likely to have changed properties and is no longer safe. You wouldn't want to bet on your health and your family's health, would you?
Considerations Before Storing Your Pasta Sauce
You already know about the shelf life of pasta sauces in the refrigerator, but are you wondering what to consider in deciding whether to put sauces in the fridge? Here are some notes that you can consider to make a better decision.
Amount Of Sauce
You should consider the amount of sauce you plan to store to choose the suitable method and process. If you need to keep a large amount of pasta sauce, freezing can be a good choice. You should divide them into small glass jars for more convenient use.
If you only need to store a small amount of pasta sauce for a few servings, you can simply store them in clean jars and keep them in the kitchen or refrigerate them.
If you haven't found a separate container for pasta sauce yet, you can take advantage of compact and sealed cookie jars that will preserve the sauce from air ingress.
Type Of Sauce
As I mentioned, the composition of sauces will affect their shelf life and quality when stored. Pasta sauce can often change its taste and texture, depending on its ingredients, when exposed to cold temperatures.
Some pasta sauces contain ingredients that do not react well to cold conditions, such as oil or honey.
Suppose you are unsure of the ingredients of your pasta sauce. In that case, you can check the manufacturer's instructions or notes printed on the product label to decide whether it should be refrigerated or kept at room temperature.
How Long You Want It To Last
Depending on how long you want to host, you will have different suitable methods. Determining this makes it easier for you to make the right choice.
If you're planning on eating that pasta sauce as soon as a few days, it can be just kept cold so that there is no need for defrosting time. But if you want to keep it for months or even years, you have to freeze it to prevent it from damaging your health.
Frequently Asked Questions About How Long Does Pasta Sauce Last In The Fridge
If the details above haven't wholly resolved your questions, check out the following frequently asked questions. If you have any other questions about pasta sauce and store them, do not hesitate to ask because I am always happy to answer them!
Additional Advice
I hope that you will receive valuable information in this post. Your interest and encouragement motivate me to learn more valuable knowledge and tips and update them; please do not hesitate to write on your desires to inform me!
In addition to using the fridge for storage, you can also keep your pasta sauce in a clean jar and keep it at room temperature. Another tip is to divide the sauce into small servings and cover them with plastic food wrap not to get contaminated by many bacteria.
It is best to meet general shelter expectations above in order to minimize the chance of consuming leftover pasta sauce foodborne disease, review and exercise correct storage strategies before eating your pasta sauce.
Keeping the pasta sauce in the fridge properly will save you a lot of time, effort, and money, and it also helps limit the health risks of you and your loved one. My instructions are easy to understand and detailed, so follow along and follow through for a more convenient life.
If you have any concerns about the duration of pasta and other cooking problems in the fridge, feel free to say something to me!