While most people are no strangers to marinara and pasta sauce, not many know the real differences between them. To make things more confusing, some brands even label their sauce "marinara pasta sauce".
Does this mean marinara and pasta sauce are the same thing? Well, not at all!
In today's post, I'll go through every trait that makes each sauce its own thing, along with some of their alternatives. Plus, there'll also be several brand recommendations near the end, so don't miss out!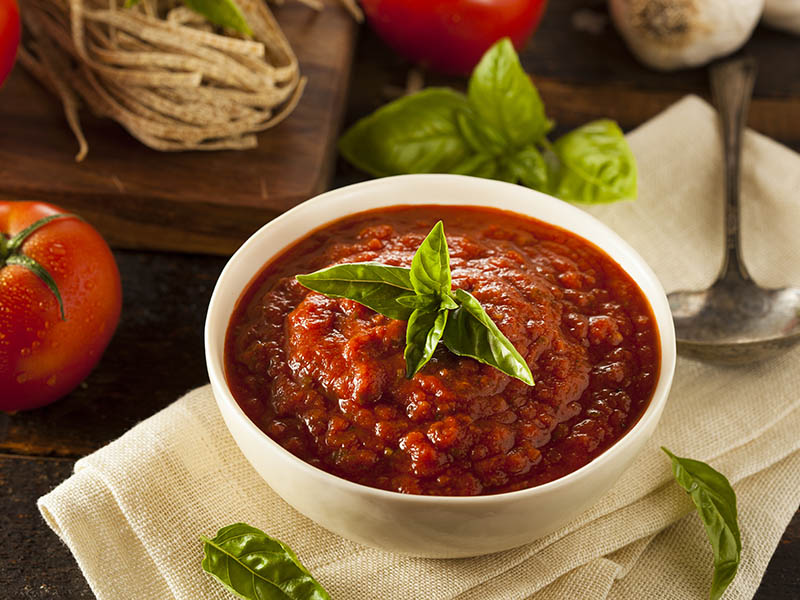 Marinara Vs. Pasta Sauce – A Brief Summarization
A key to a delicious pasta dish lies in its sauce. While you can serve both marinara and pasta sauce with pasta, these two amazing sauce varieties are not exactly the same. If you're looking for a quick answer, here's a comparison table of all their unique aspects.
Main Characteristics
Marinara Sauce
Pasta Sauce
Cuisine
Italian-American
Italian-American
Primary Ingredients

Tomatoes, herbs, garlic, and onions.
Usually vegetarian

Pureed or crushed tomato seasoned with various herbs and spices.
Contain meat

Variations
Always tomato-based
Can be made with cream, cheese, or white wine
Texture
Light and thin
Thick and chunky
Flavor

Rich, complex, meaty, with all the flavors blended together
Great for adding flavor to a bland dish

More delicate, each ingredient has its own room to shine
Makes for an excellent flavor accent

Preparation Time
Long
Moderate
Cooking utilization
Serve with various pasta

Serve with pasta or used as a dipping sauce
Taste better with seafood than pasta sauce
Essential Information About Marinara Sauce
Marinara is a kind of tomato sauce widely used in Italian-American cuisine. It is usually made with tomatoes, herbs, garlic, and onions. Sometimes, olives, capers, spices, and a dash of wine are also used in making marinara sauce.
Meanwhile, alla marinara is a sauce in Italian cuisine made with tomatoes and flavored with oregano and basil. It also includes olives, salted anchovies, and capers from time to time.
Marinara sauce is commonly utilized in spaghetti and vermicelli recipes or served with meats and fish. Traditionally, marinara sauce is also used as a dipping sauce.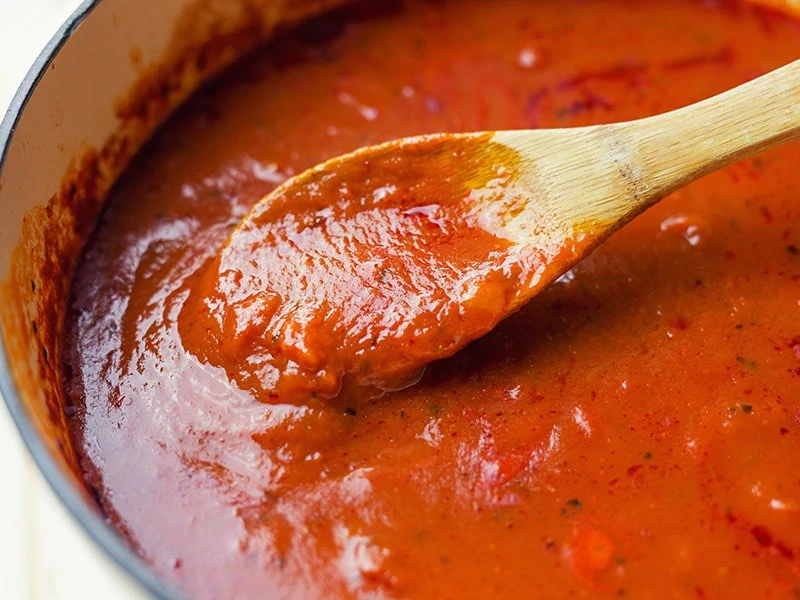 There are many theories over the origin of this sauce. One source claims that marinara sauce was invented by the cooks aboard Neapolitan ships in the mid-16th century, thus explaining its name (marinara can be translated to mariner).
Another theory states that the sauce was made by the sailors' wives rather than the men aboard the ship themselves. However, it was not until 1692, when chef Antonio Latini published the first Italian cookbook, that marinara sauce made its official appearance. (1)
In the States, marinara sauce is typically considered a vegetarian condiment. That said, some Americanized variations of this sauce also include parmesan cheese in them, while authentic marinara sauce shouldn't contain meat, anchovies, or any dairy products.
In addition, the marinara sauce found in America is quite a bit thicker than the original Italian version.
All There Is To Know About Pasta Sauce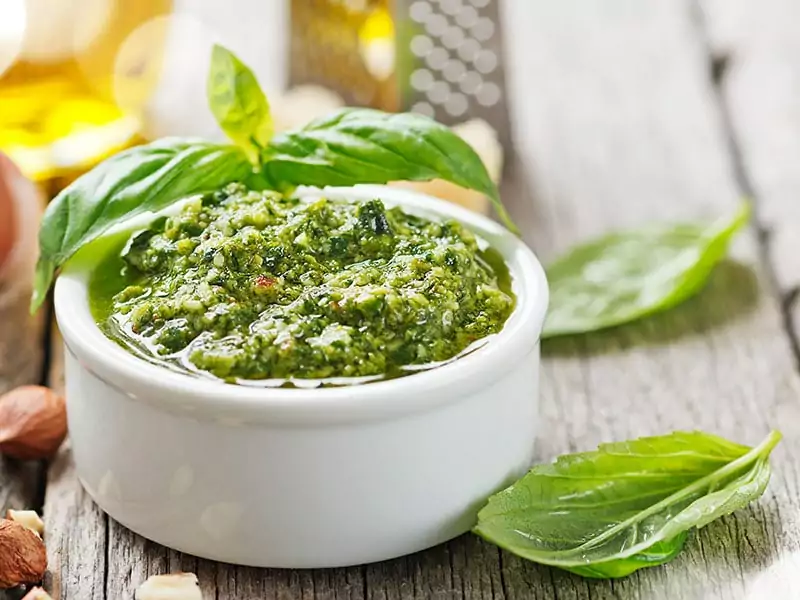 While marinara is a specific sauce, pasta sauce is a common term for all the sauces going with pasta. In this regard, the marinara sauce can also be considered a pasta sauce, besides pesto sauce, bolognese sauce, alfredo sauce, and many more.
In the United States, however, pasta sauce (or spaghetti sauce) is culinary slang for tomato-based sauce on top of your favorite kinds of pasta. For this reason, people often picture a red, thick, and savory condiment when the word "pasta sauce" comes up.
The "American pasta sauce" typically has a pureed or crushed tomato base and is seasoned with an array of herbs and spices. Meat and sausages are also added to this sauce, which results in a chunky texture.
Pasta sauce is often compared with pizza sauce due to their somewhat similar appearance. However, several characteristics distinguish pasta sauce from pizza sauce. For starters, while pizza sauce is often uncooked, its pasta counterpart requires some cooking time.
Marinara Vs. Pasta Sauce – The Real Differences
So marinara sauce and pasta sauce are both made from tomatoes and can be served with pasta. However, apart from these similarities, each sauce also has plenty of unique characteristics.
Differences In Ingredients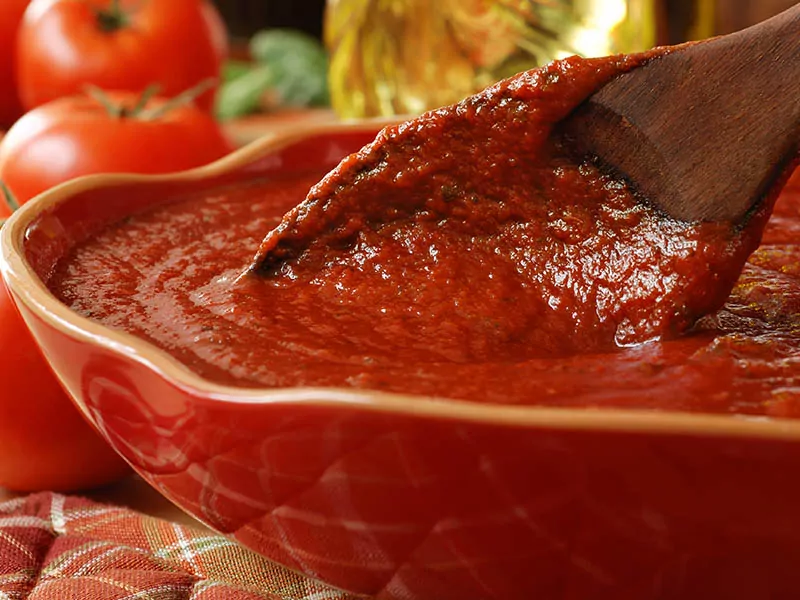 At their core, marinara and pasta sauce are both tomato-based condiments, thus having a vivid red color. That said, pasta sauce generally contains more ingredients than marinara, especially in the herbs and spices department.
Marinara sauce can be made with just 3 ingredients: tomatoes, garlic, and basil, while pasta sauce usually asks for a wider variety of herbs and spices. You can add garlic, olive oil, oregano, basil, bay leaf, peppers, cheese, and even mushrooms to your pasta sauce.
In addition, pasta sauce can also include sausages or meat, two ingredients that are never seen in marinara sauce.
Differences In Texture
In terms of texture, marinara is relatively light and thin, while pasta sauce has quite a thick and chunky consistency. The gap between them is even bigger when you add meat or sausages to the picture.
If you're craving a hearty and robust dish, go for pasta sauce. For a refreshing and more delicate meal, marinara sauce is the better choice.
Differences In Flavor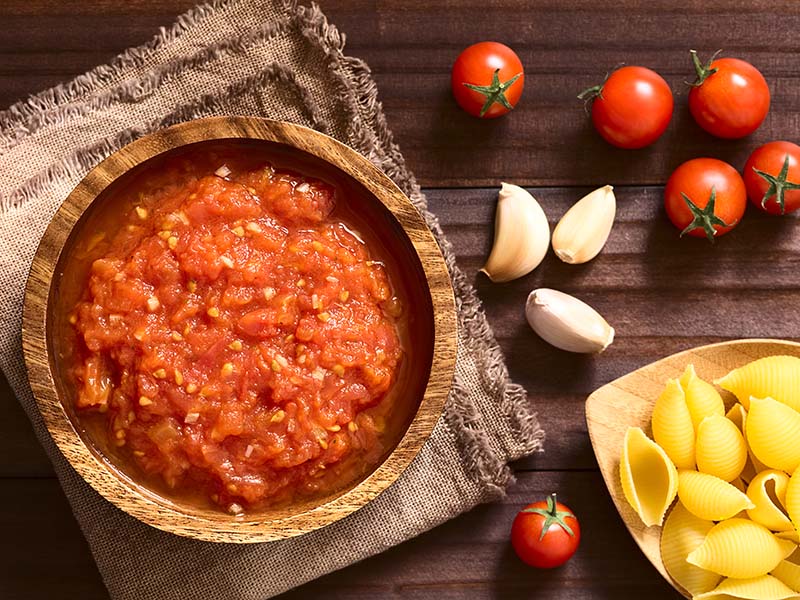 Thanks to the generous use of herbs and spices, pasta sauce possesses a rich and complex taste. Since pasta sauce often includes meat, it also has a strong meaty flavor that goes exceptionally well with bland pasta.
Overall, pasta sauce can be described as a mouth-watering combination of all its ingredients. It's best used to create flavor in an otherwise tasteless dish.
On the other hand, marinara sauce's flavor profile is less bold and quite delicate. That is not to say this sauce is inferior to pasta sauce in any way since both are irresistibly delicious, just in different manners.
In contrast with the beautiful fusion of pasta sauce flavor, marinara sauce stimulates your taste buds by leaving room for individual flavors to shine. This way, you can have a better taste of each ingredient, thus creating an addicting "mosaic" of flavors.
The marinara sauce makes for an excellent accent in your dish and is more suitable to serve with seafood than pasta sauce.
Differences In Preparation Time
Since pasta sauce consists of more ingredients than marinara sauce, it also requires a longer preparation time.
If you decide to add meat to your spaghetti sauce, you'll often need to start with sauteing the onion, garlic, and meat. In addition, blending every flavor together also takes a decent amount of cooking time.
On the contrary, the marinara sauce can be made in a much shorter time. For some recipes, you only need 10 minutes to prepare a tasty pan of marinara sauce.
Differences In Usage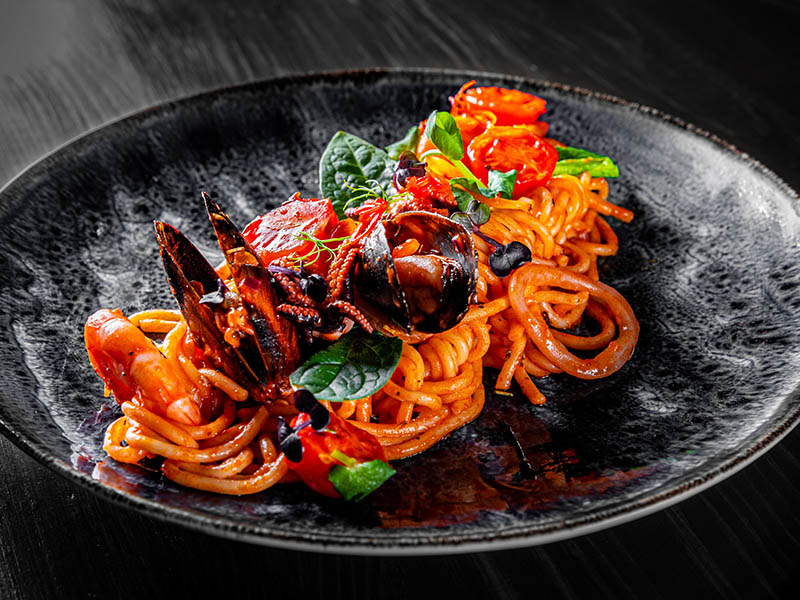 Both pasta sauce and marinara sauce work exceptionally well with pasta dishes. However, if you want a partner for your seafood, marinara sauce can be a better choice than pasta sauce.
Additionally, the marinara sauce makes for a great dipping sauce, while pasta sauce isn't typically used as one.
Replacing Pasta Sauce With Marinara Sauce, Yes Or No?
With all the dissimilarities listed above, you might be asking, "Can I use marinara sauce and pasta sauce interchangeably?". The answer is, it depends.
If you usually top your spaghetti with a tomato-based condiment, then you can't go wrong with either marinara or pasta sauce. The taste might be a bit different, but since both sauces come from tomatoes, the gap won't be that noticeable.
In fact, there's a high chance that your favorite store-bought pasta sauce is just a form of marinara (confusing, I know).
You can add a couple of extra ingredients to your marinaras, such as meat, cream, or cheese, to make it more "pasta sauce-like". In addition, thickening it by simmering or throwing in some tomato paste is also a great way to mimic pasta sauce's consistency.
Conversely, omitting the meat is one way to turn your pasta sauce into marinara sauce.
That said, if you're using a pesto-based or wine-based sauce for making pasta, the marinara sauce is definitely not a good alternative option. Because the definition of "pasta sauce" is so loose, it's better to make sure that you and I are talking about the same thing.
4 Excellent Marinara Sauce And Pasta Sauce Substitutes
In addition to replacing pasta and marinara sauce with one another, there are also several tomato-based substitutes that you can try.
Amatriciana Sauce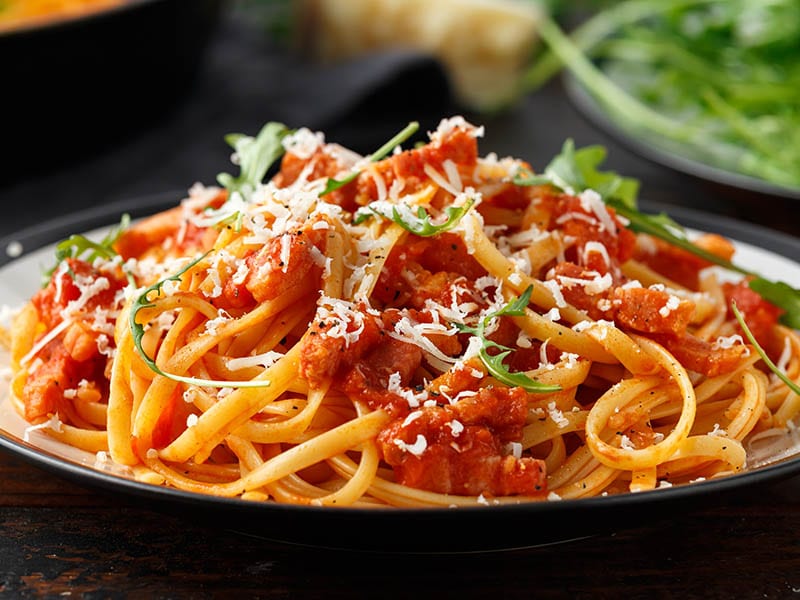 Amatriciana sauce is among the most well-known pasta sauces in modern Italian and Roman cuisine. It is a thick sauce made with guanciale (cured pork cheek), pecorino romano cheese, and sometimes onion.
The sauce is best suited for wide and thick pasta dishes like orecchiette, pappardelle, or lasagna.
Master the art of making pasta all'Amatriciana.
Alla Norma Sauce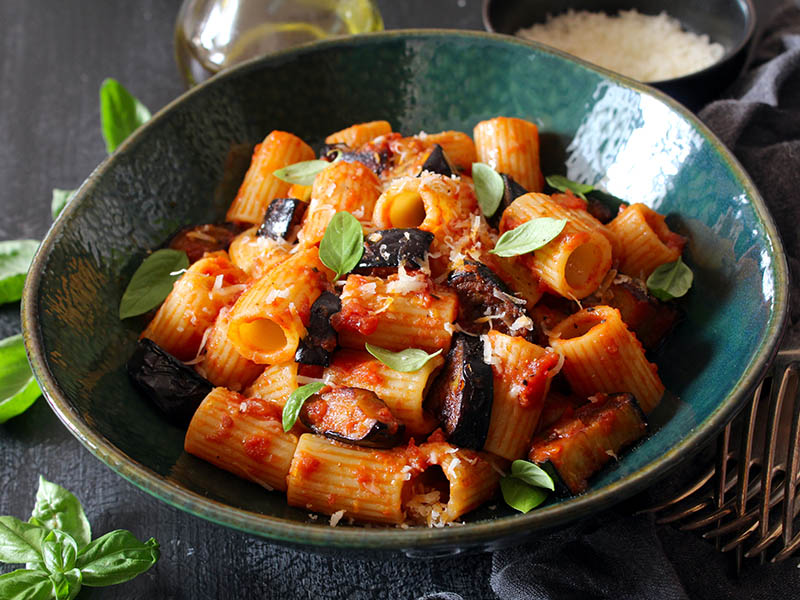 In addition to tomatoes, this delicious Sicily-originated sauce also features juicy eggplants and creamy ricotta cheese in its ingredient. If you're making stuffed pasta like tortellini, manicotti, or pansotti, you have to give alla norma sauce a try.
Bolognese Sauce
Bolognese sauce is a flavorful sauce packed with minced meat. Although there are some differences between the original Italian version of the sauce and the one found in the States, it's still a go-to for many people when it comes to making pasta.
Traditionally, bolognese sauce is served with flat pasta. However, you can also pair it with spaghetti if you want.
The easiest bolognese sauce recipe you can find.
Puttanesca Sauce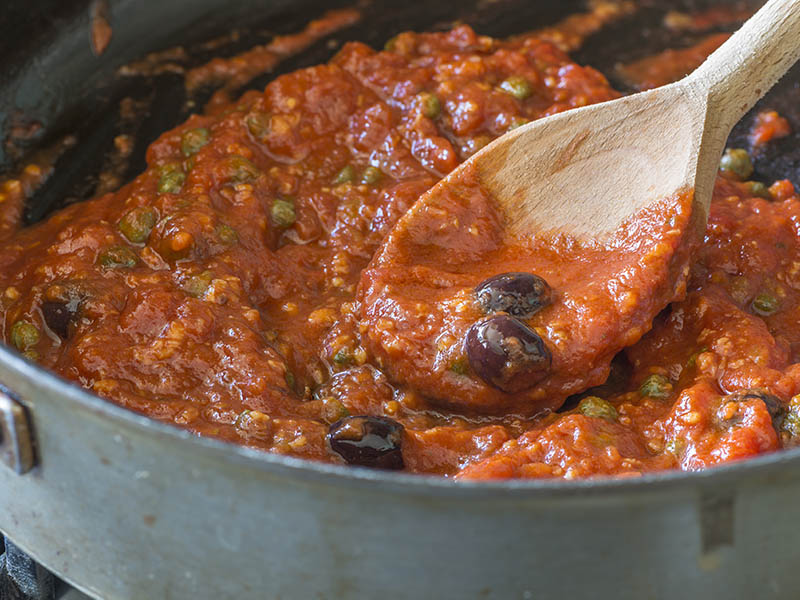 Also called Spaghetti alla puttanesca in Italy, this sauce is the perfect companion for, you guessed it, spaghetti and other types of long pasta. It is made from tomatoes, capers, anchovies, olive oil, and garlic.
Instead of buying marinara sauce in a store, you can also make some at home. Most marinara sauce recipes are super easy to follow, and you can control what goes in your sauce.
Learn how to make an authentic marinara sauce in less than 2 minutes.
If the homemade marinara sauce is a thing, there's no reason not to prepare your own pasta sauce. Plus, you can always start with a marinara sauce base, then add meat and other seasonings to turn it into pasta sauce!
Take a shortcut with this 3-minute pasta sauce recipe.
The Best Marinara Sauces You Can Buy
Buying marinara sauce is not always an easy task since there are just too many brands to choose from. If you're looking for some good jarred marinara sauce options, I've got you covered!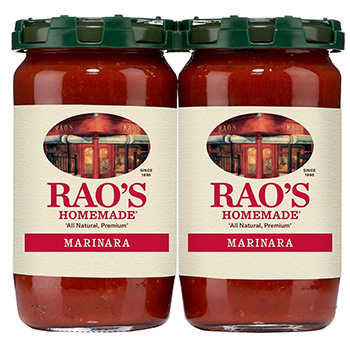 Rao's Homemade is considered by many people to be one of the best-tasting canned marinara sauces on the market. It has an authentic Italian marinara taste and a pleasant sweetness that comes solely from the plum tomatoes.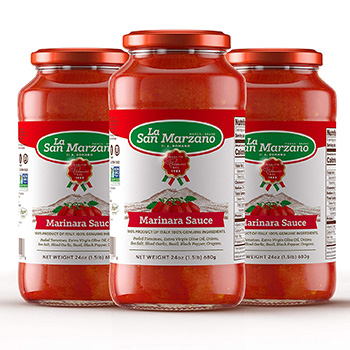 La San Marzano marinara sauce is made with Italy's finest tomatoes and ingredients. According to La San Marzano, the recipe for this sauce has been passed down for generations.
If you like a dense sauce with a unique and robust flavor, this is the one to go for.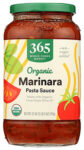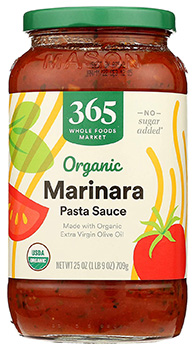 All Whole Foods 365's products are USDA organic certified, and this marinara sauce is no exception. In terms of flavor, it has a balanced taste that's perfect to use in more elaborate dishes.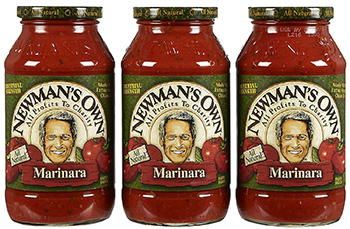 Newman's Own marinara sauce makes for an excellent base to add your own flare to. Unlike other sauces, it's not super packed with flavors, so you are free to get creative with the seasonings.
FAQs
Marinara and pasta sauce is indeed fascinating topic to learn about. For more information about these two tasty sauces, check out this FAQs section.
Be Creative With Your Sauce Usage
Although there are many things that set marinara and pasta sauce apart, they both taste incredible when paired with pasta. If you've been sticking with only marinara or pasta sauce, how about switching things up a little and trying the other one?
I hope this article has answered all the questions you have about marina and pasta sauce. If there's something else that you want to know, please leave your question in the comment section. And don't forget to click the like button and share this post!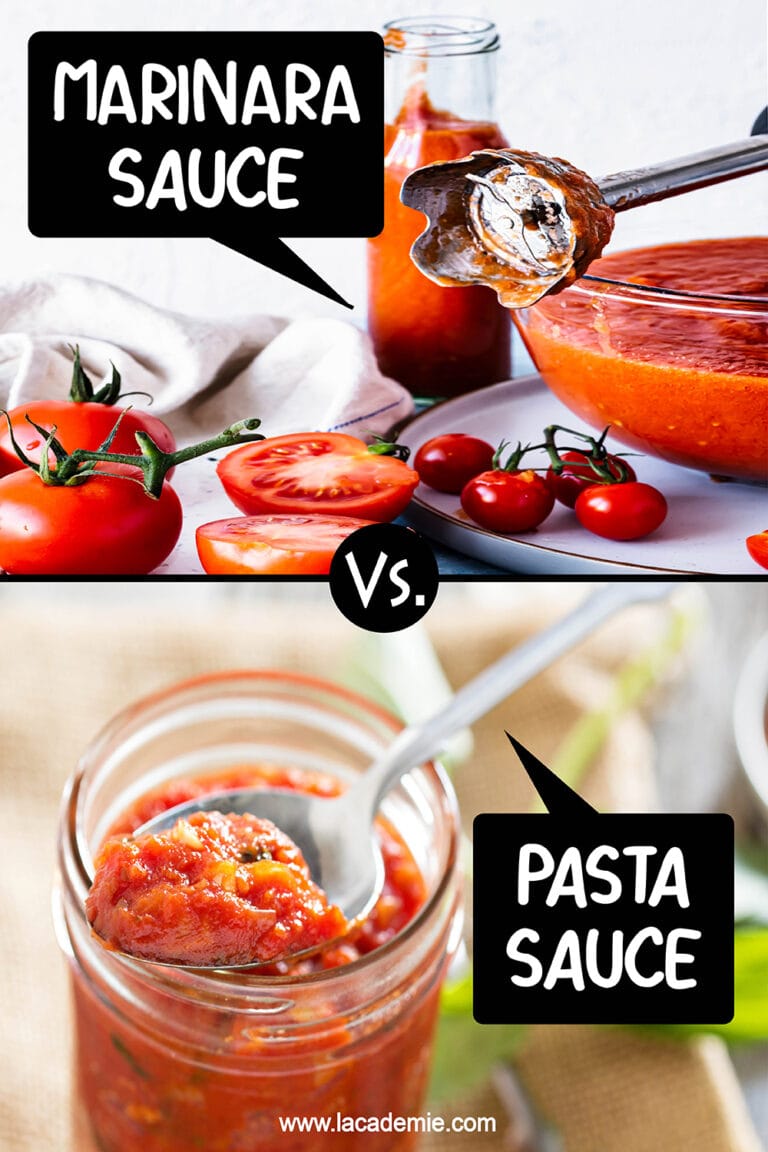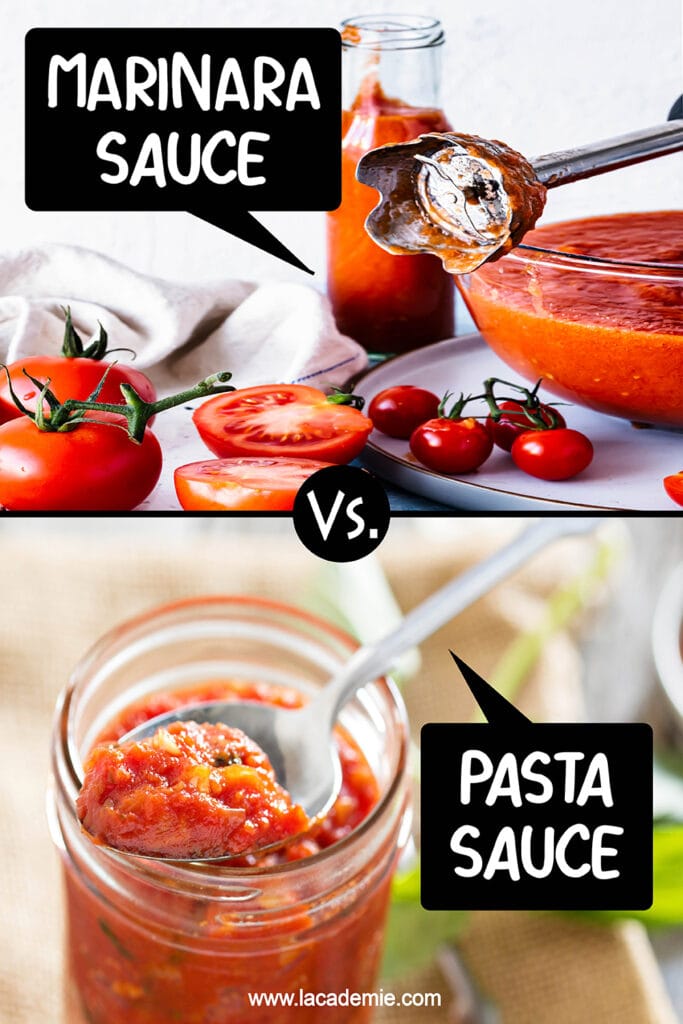 References
Contributors to Wikimedia projects, (2008). Marinara sauce
Contributors to Wikimedia projects, (2001). Tomato sauce